once we were sufficiently settled into our campsite at rifle gap state park, we got a good night's sleep and loaded up the next morning to head to a really popular hiking trail. hanging lake is a pretty intense 1 mile hike up 1000 feet to get to a beautiful turquoise lake and waterfall that look more like hawaii than colorao. the problem is, parking is limited and fills up quickly. it is located in the narrow gorge near the colorado river, and the exit from the highway feeds straight into the lot. and if you can't fit, like we could not, a not-so-friendly ranger redirects you to the on ramp to the very same highway from which you came. we drove to the next exit, turned around, and tried again, this time attempting to get some info from the snarky ranger. she wasn't much help, so we decided to go with plan b, a drive into aspen to see the most photographed vista in colorado, "maroon bells".
thankfully, despite it being the second day of the summer season, we were allowed to drive up, because we have a child still in car seat. thank you very much, hazel. otherwise, we would have had to drop $10 to park, plus another $24ish to take the shuttle up.
so, up we went. maroon lake is a quick 100 yard or so stroll from the parking lot. and this is the view.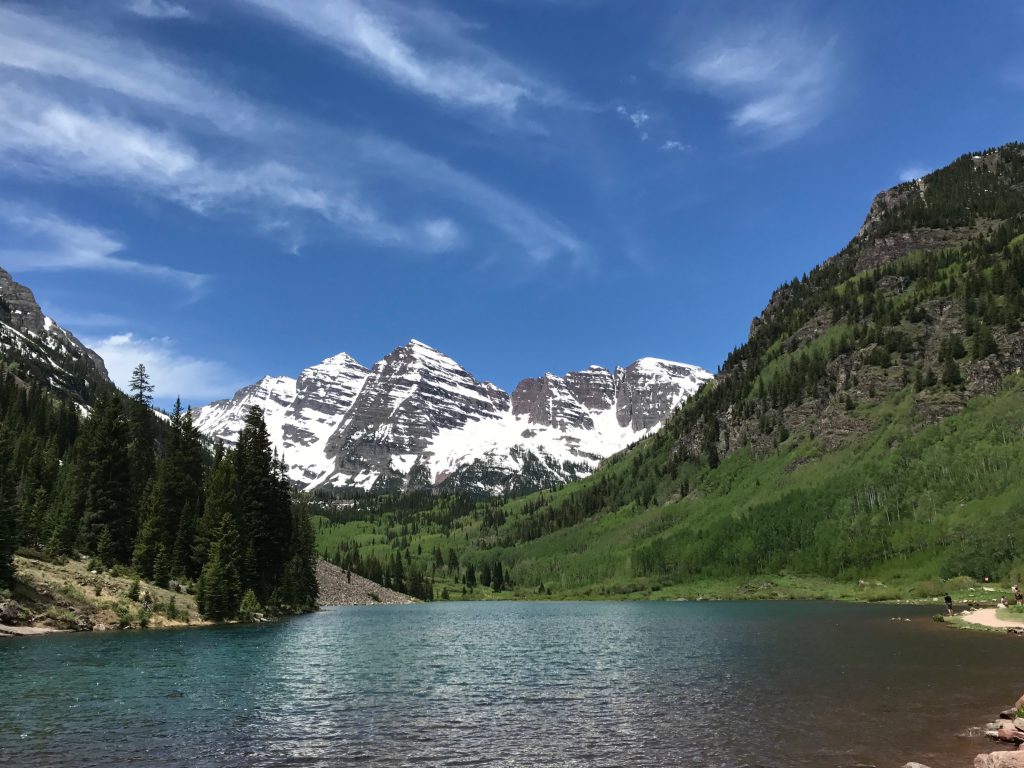 the kids obliged me with a picture. barely.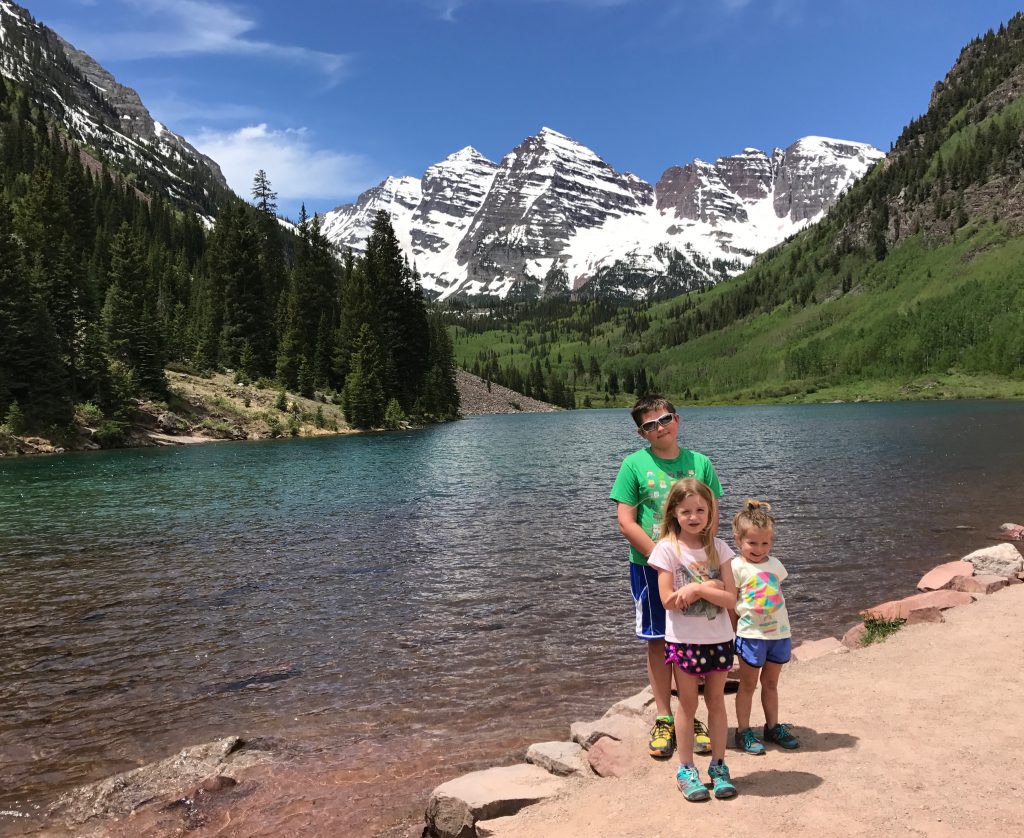 and then they fought over who got to take our picture.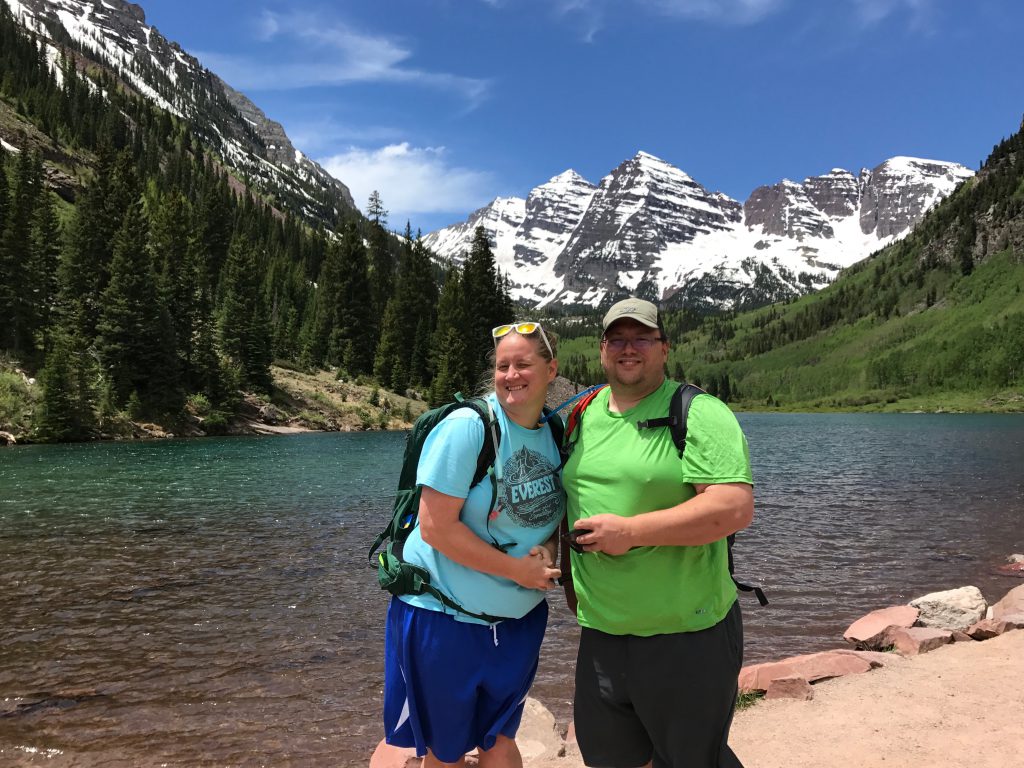 we walked around a bit and were happy with our days adventure. we stopped for lunch in aspen, and began our journey home. as we neared the highway, we made the executive decision to head east over to the hanging lake trail, versus west to our campground. we had very low hopes of getting a spot, as it was nearing 3pm and the snarky ranger had laughed when i asked if there was a better time to try back later. except, lo and behold, as we pulled up we saw several empty spaces. snarky ranger waved us through and we prepared for our ascent.
the paved walk to the trail from the parking lot follows along the colorado river for about .4 miles. then the one mile trail up is mostly just a big rock pile. the kids started off like gang busters.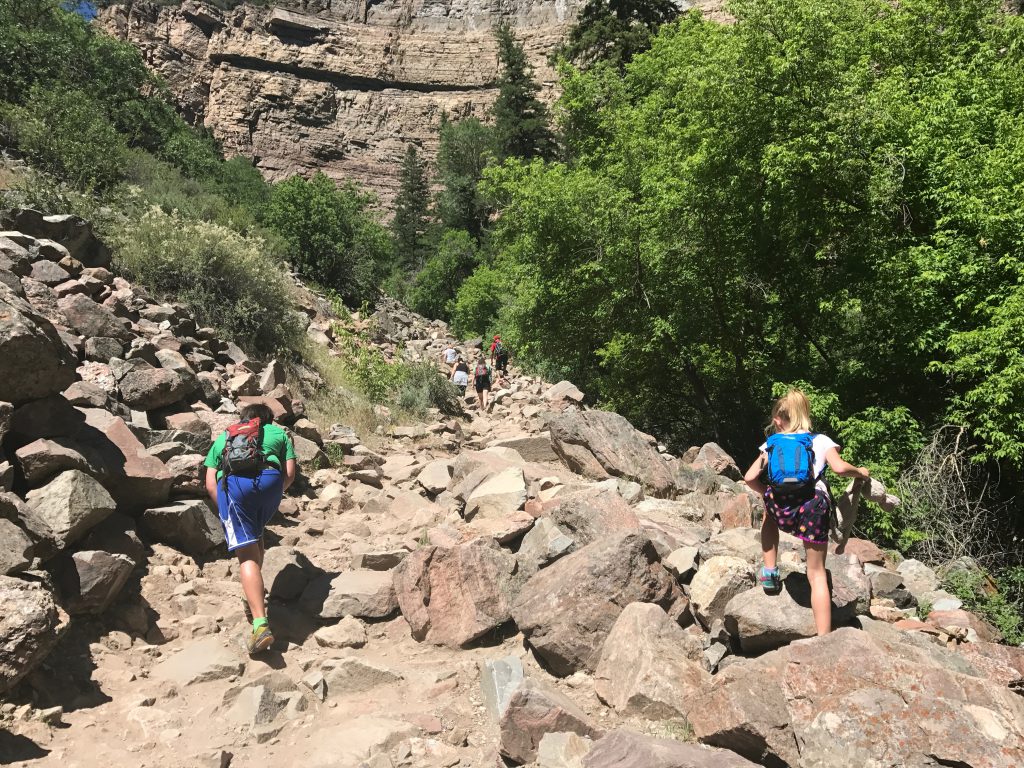 i brought the hazel carrier backpack, but let hazel do as much as she could on her own.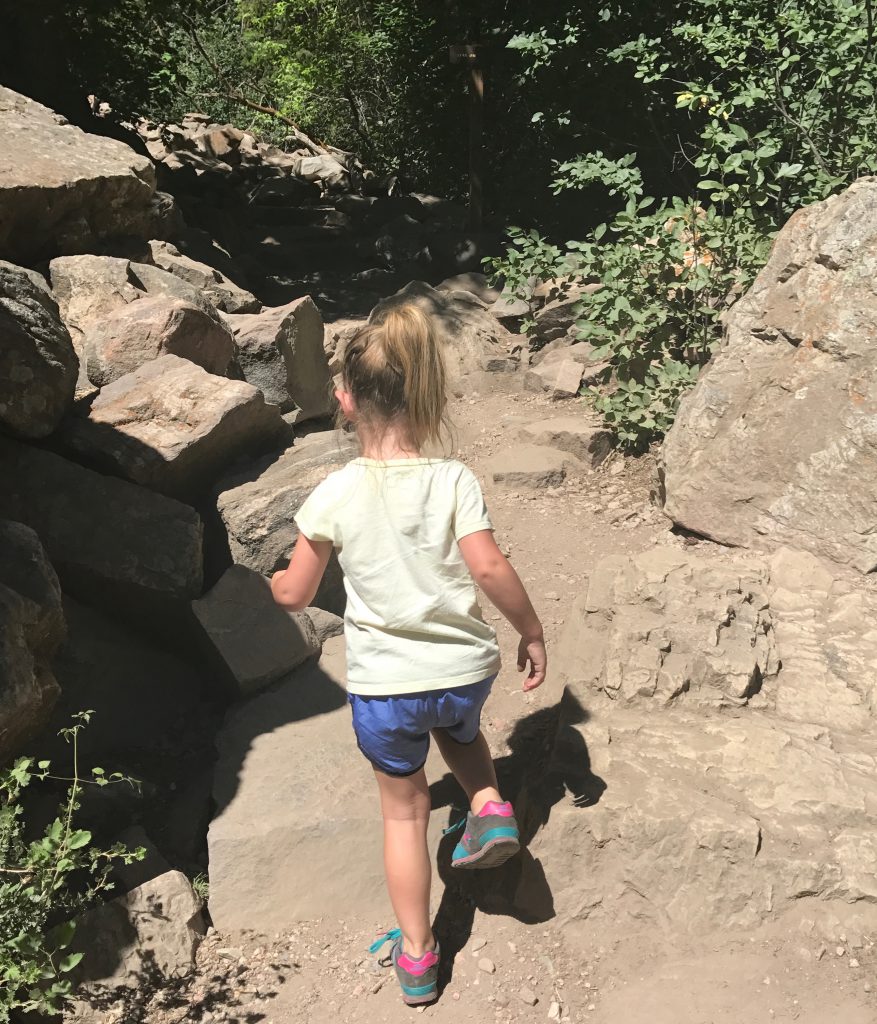 the trail follows along dead horse creek, crossing back and forth over it a few times.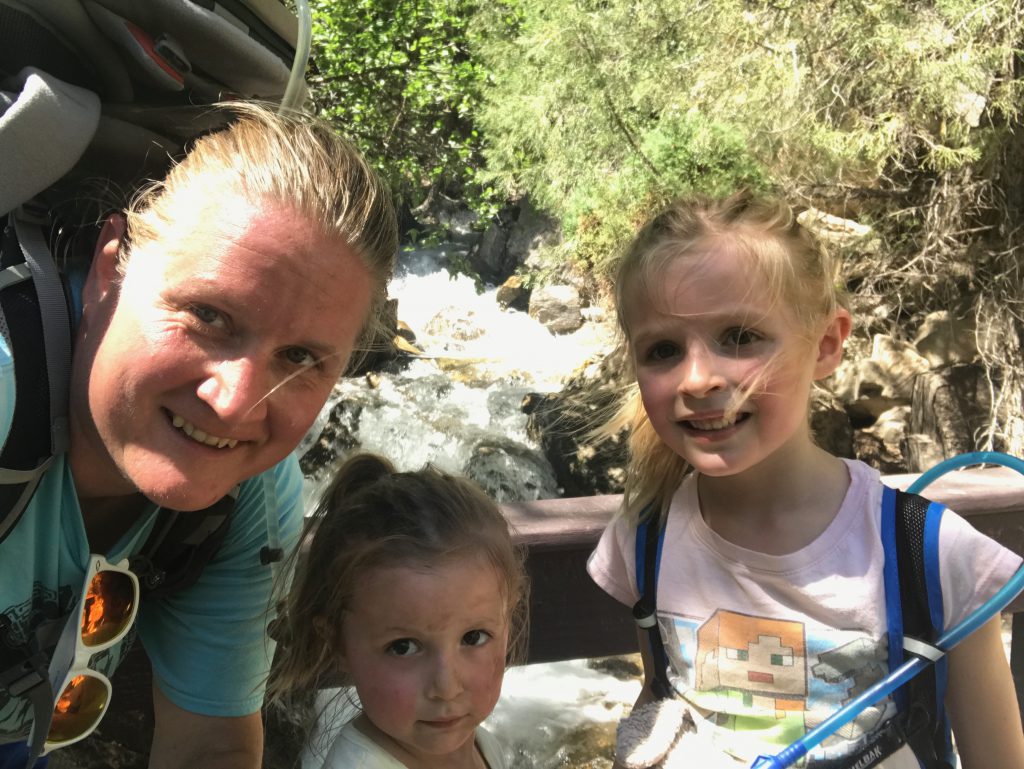 chugging along…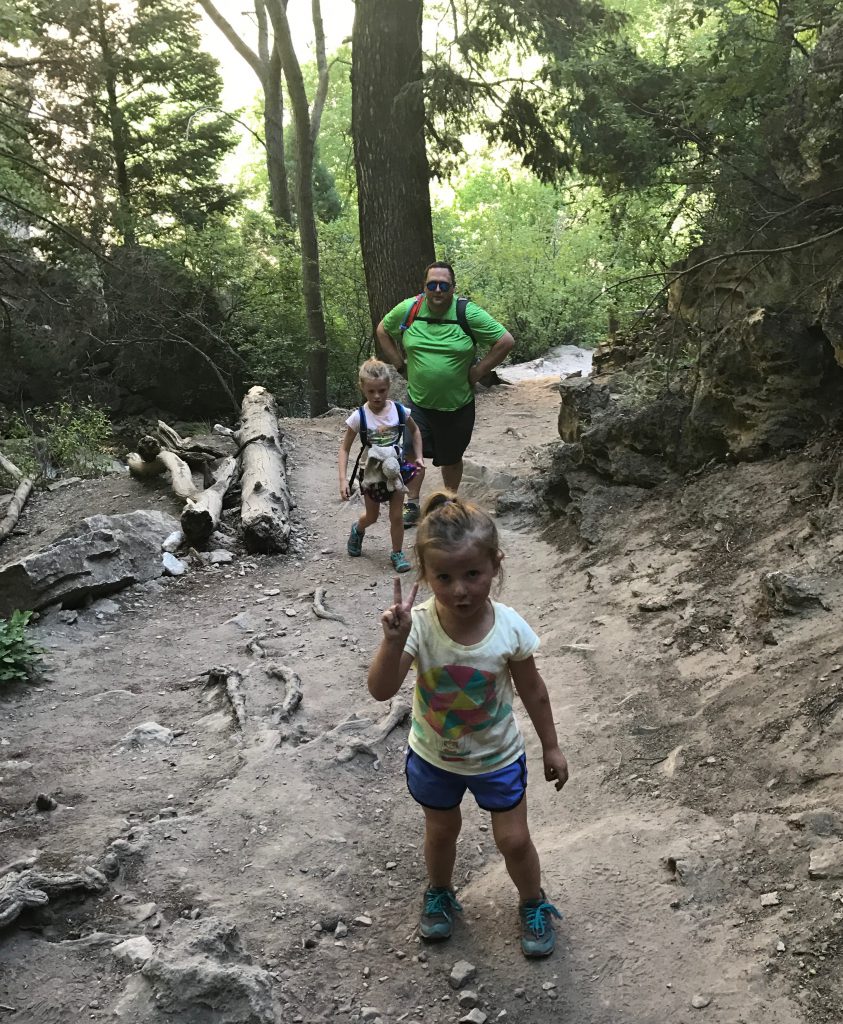 the kids mostly did great. anna insisted on climbing on random rocks on the way up, despite our warnings that she might tire out. she had to learn for herself, i guess, and towards the end she broke down in tears about being tired. but she pushed through.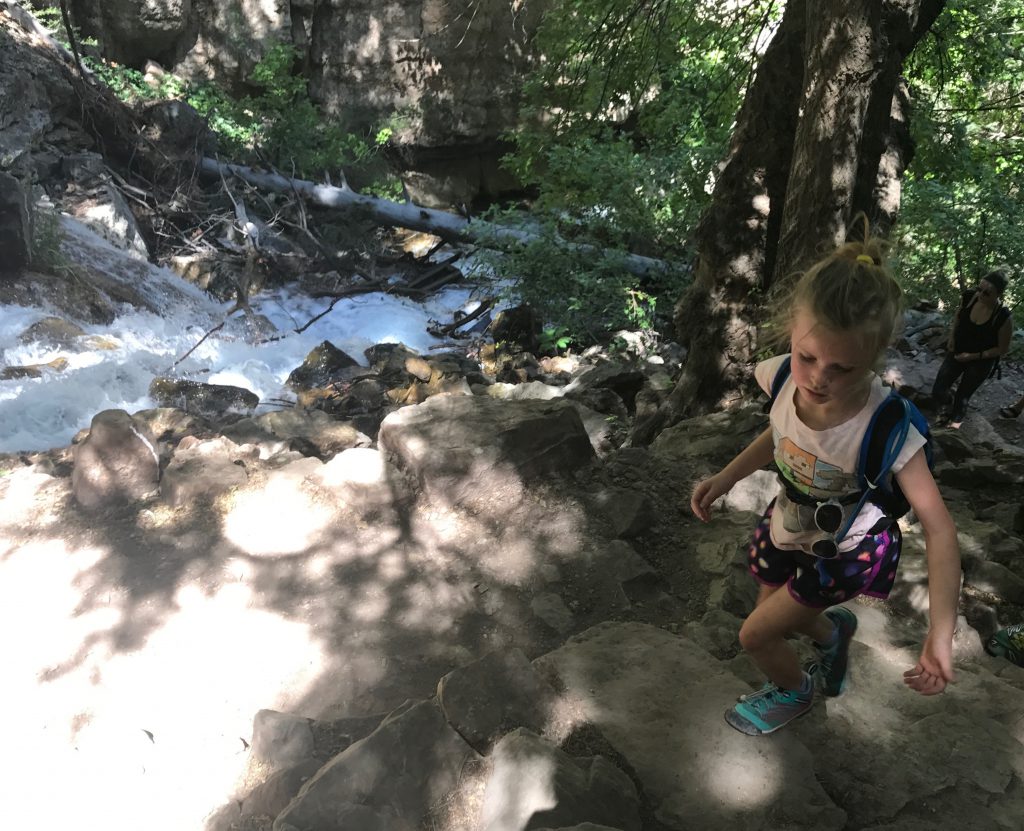 isaac was a little whiny at first. and then toward the end. but he did great overall.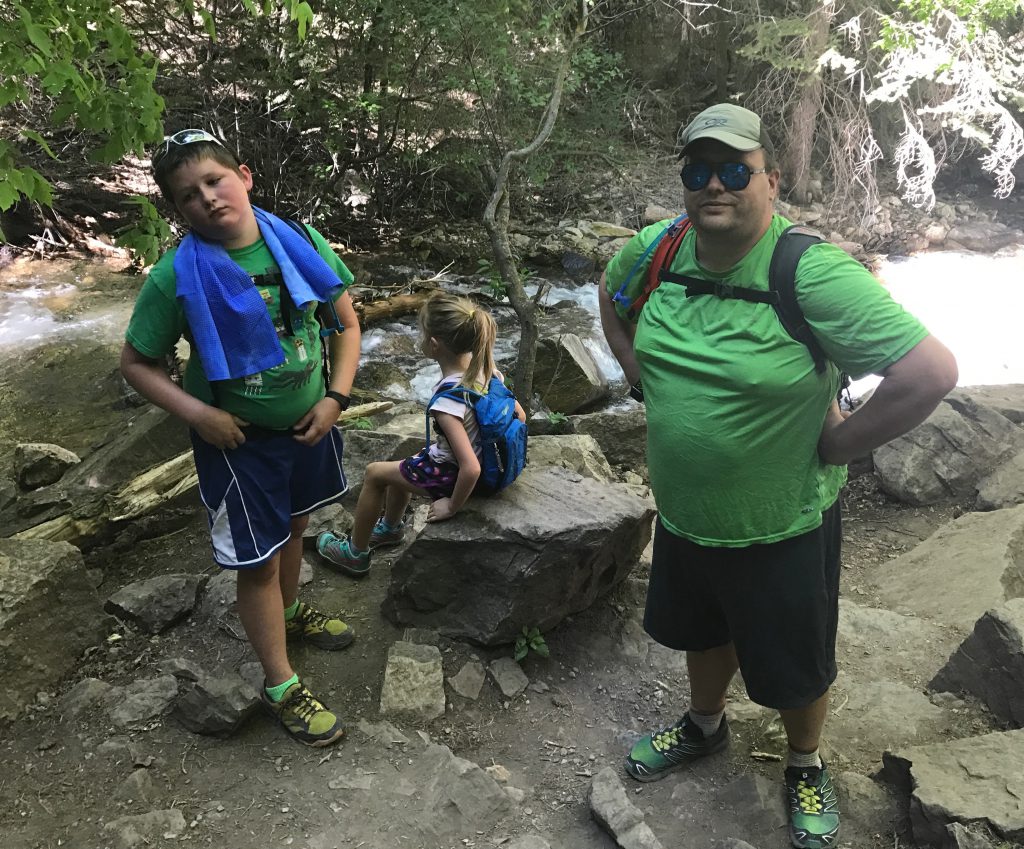 and this kid. she marched all the way up. she had a brief moment of telling me she was tired near the end, but i think she was just copying anna more than anything.

i don't know how she managed to get so dirty, but it was awesome.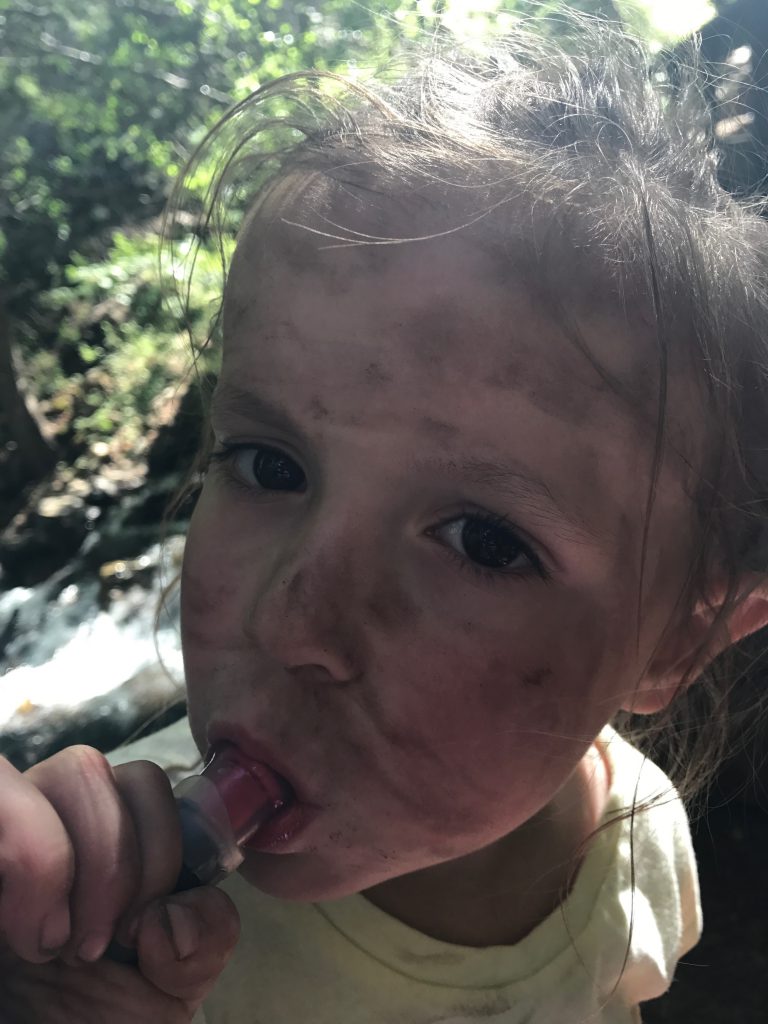 we had read that the trail was closed for the last week or so, for a cleanup effort. apparently there's been some litter, vandalism and folks veering from the trail and going in the water. in an effort to preserve this space, they put in some barriers and signs and such. here's one. people suck.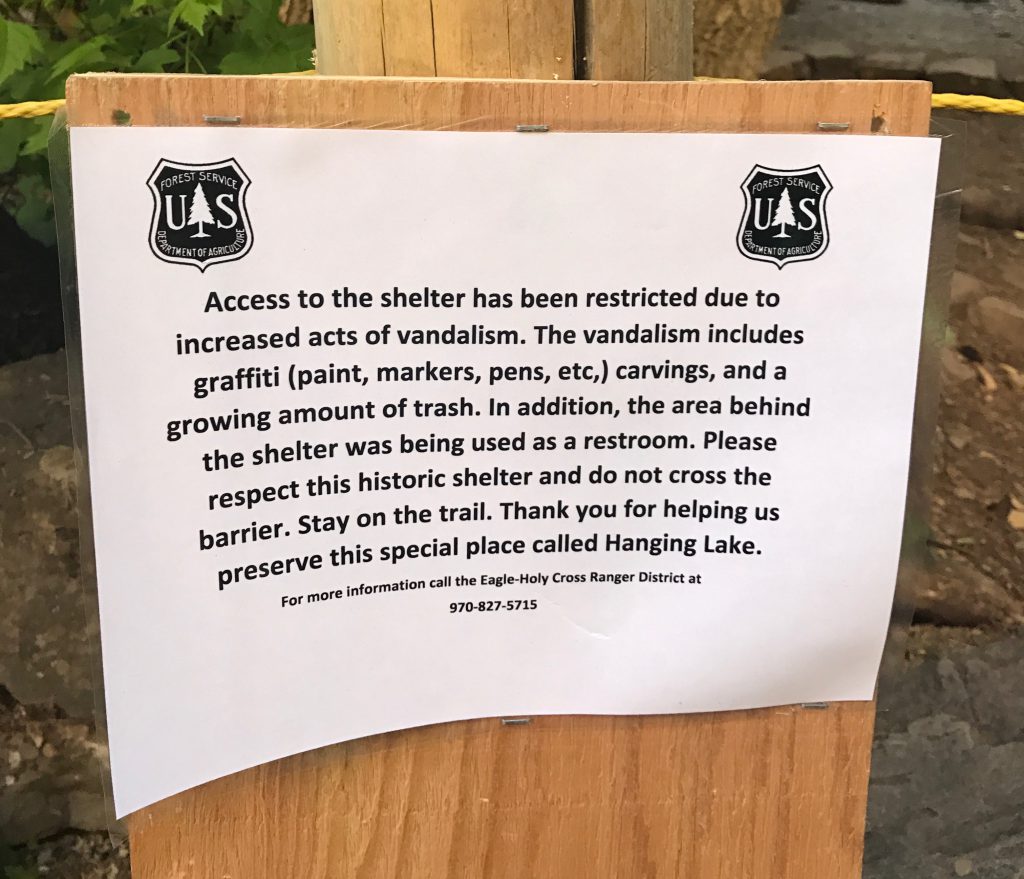 the kids favorite parts of the hike were these wet sections with carefully placed rocks for hopping across. they called it mr. jump, which is a frustrating ipad game that isaac is playing at the very moment i type this and he's about to cry.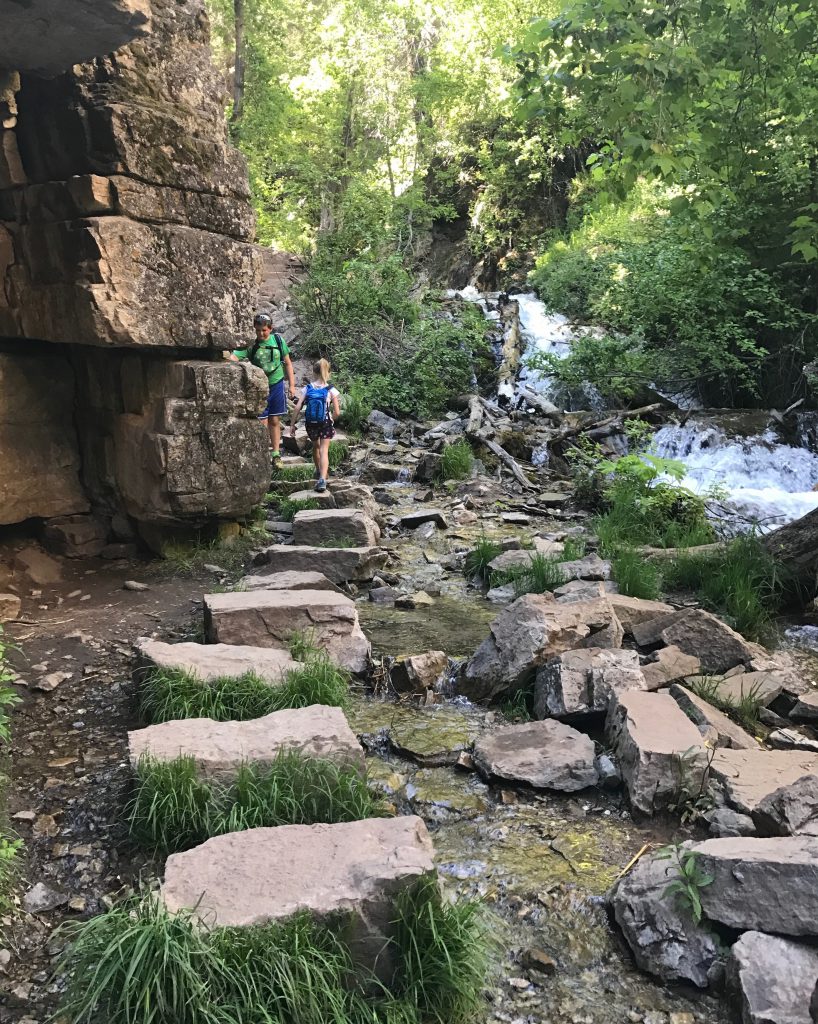 still not convinced she should save her energy.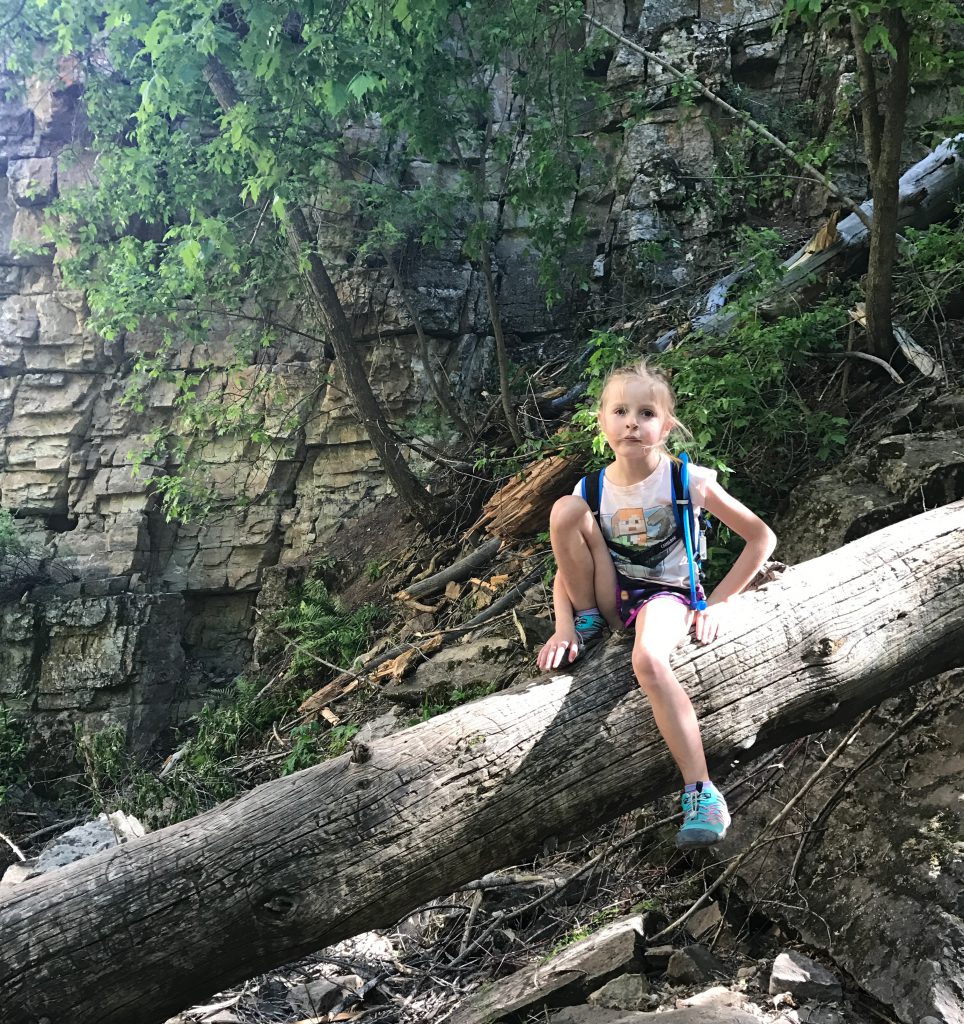 the final stretch to the top was a little scary. the handrails helped, but would definitely not have prevented us from falling to our deaths.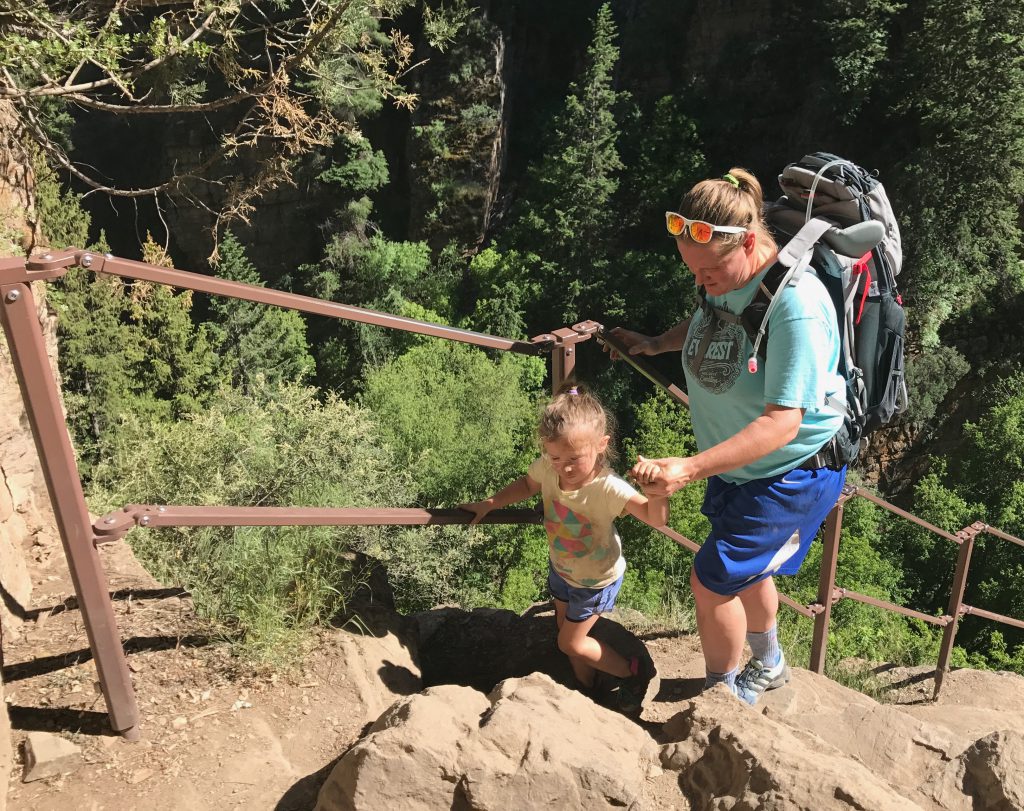 and then. we were there. it was so beautiful.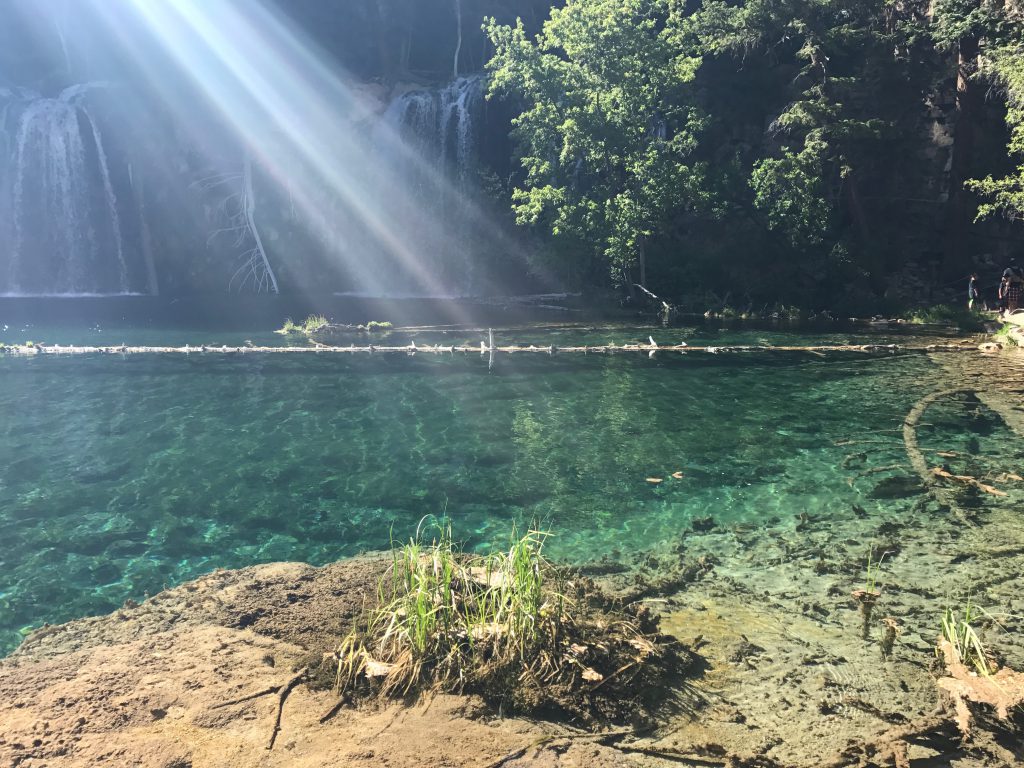 the lens flare from the sun made picture taking a bit challenging.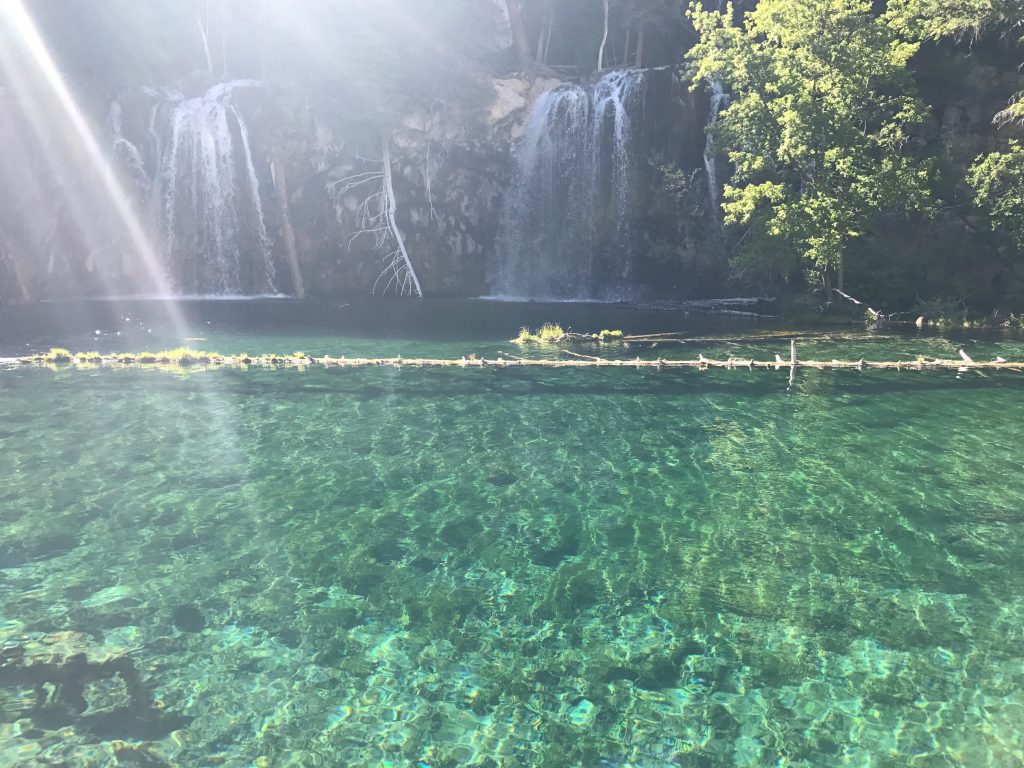 big kids.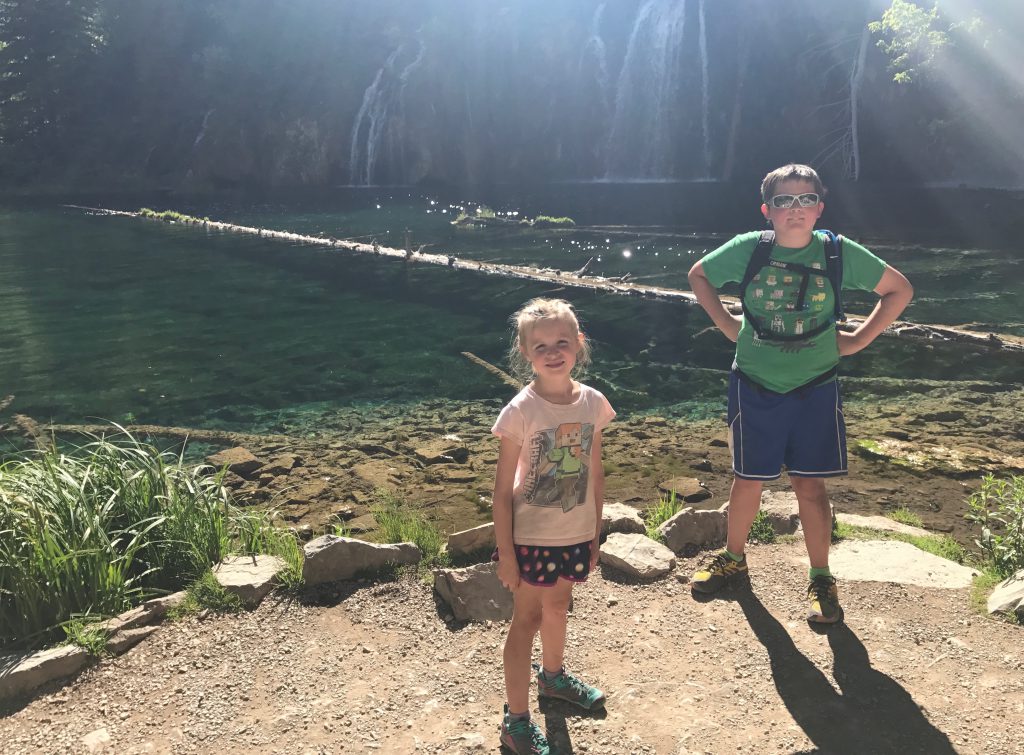 me and the lidkids.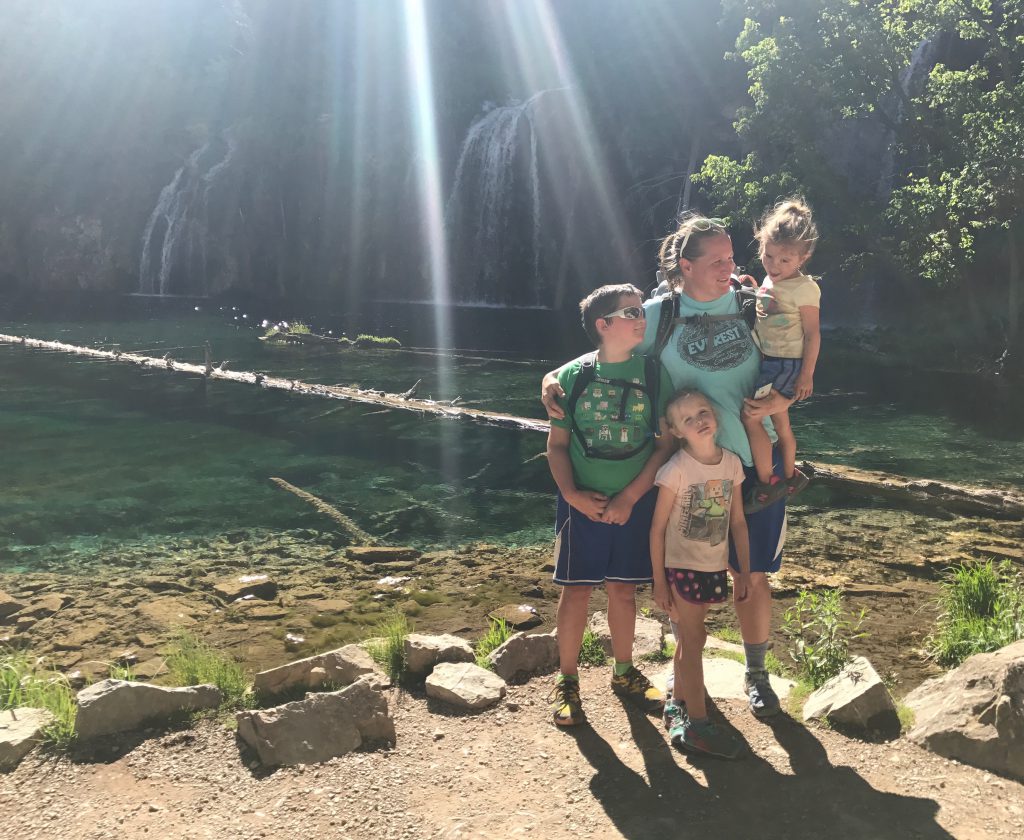 family pic.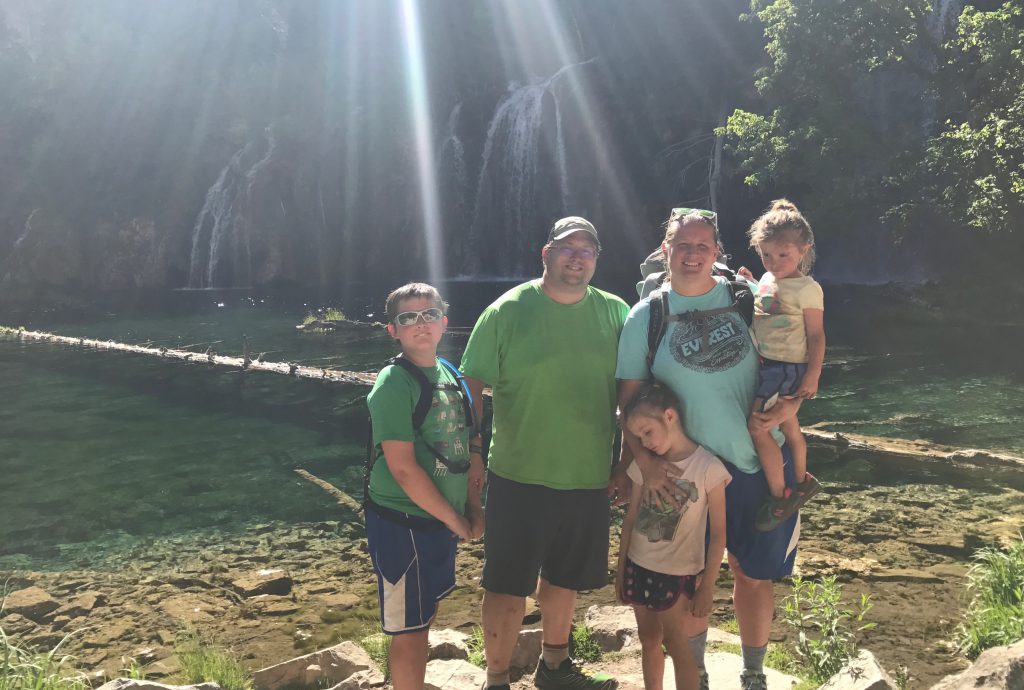 so. the ecosystem of the lake is very fragile. the rocks and logs and shoreline are covered in layers of travertine, which is basically deposits of dissolved limestone. the water also has dissolved carbonate minerals that gives it the turquoise color.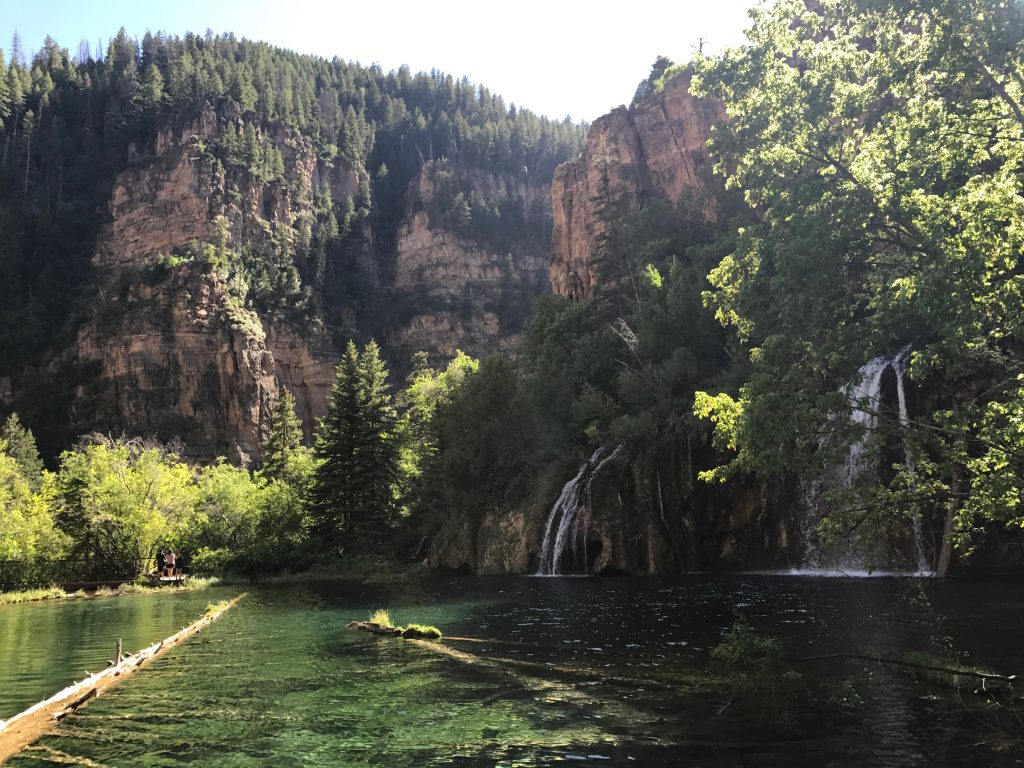 thanks to litter and people wading and swimming in the water or letting their dogs walk in the water, the ecosystem is being threatened. (littering, wading, swimming and dogs are prohibited. also. people suck.). the park is taking steps to limit the number of visitors and help prevent some of the wear and tear.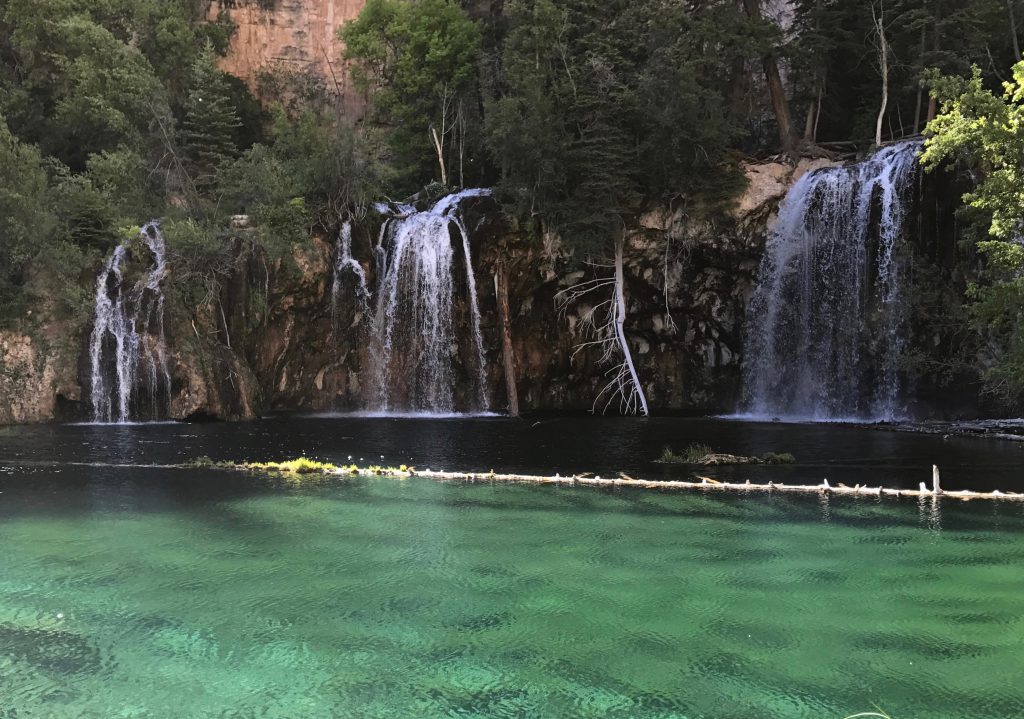 i won't lie though. after that hike, i would have loved nothing more than to take a dip in the water. it looked so cool and refreshing. it was taunting me.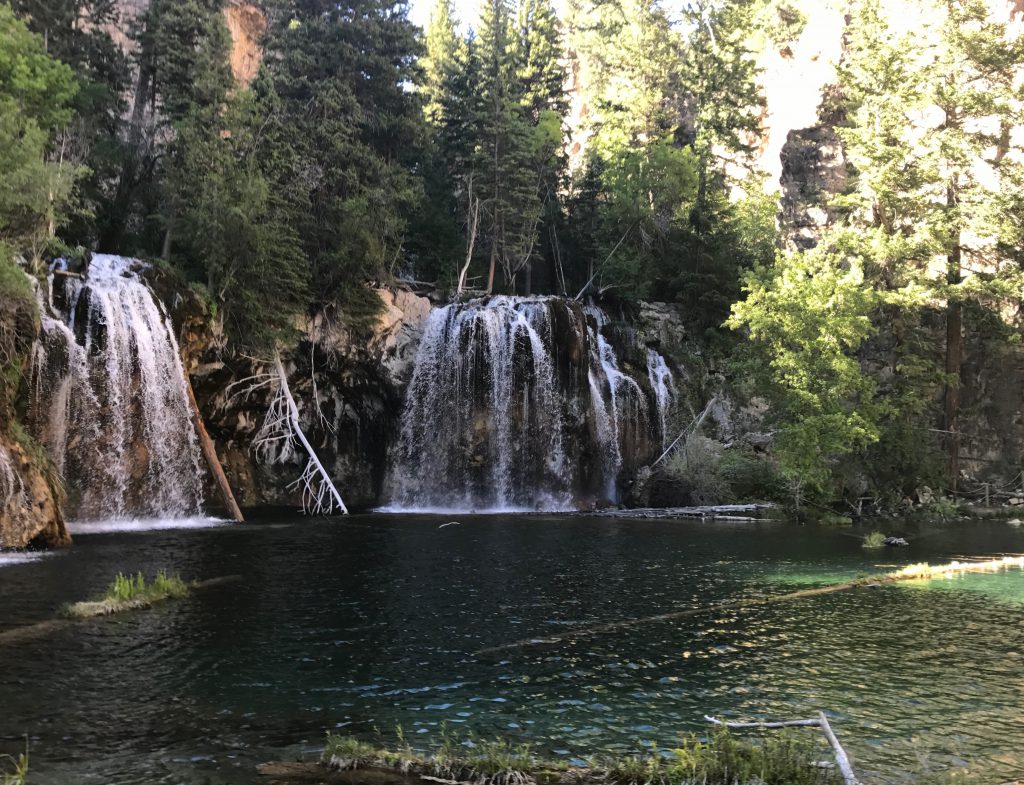 we did manage to cool off when we walked up just a bit past the lake, to the waterfall that is feeding into it. the mist coming from the falls was refreshing enough, i guess.

we were able to walk around behind the falls and through a tiny crevice to get to the otherside. hazel wanted nothing to do with the falls, so we had to take turns.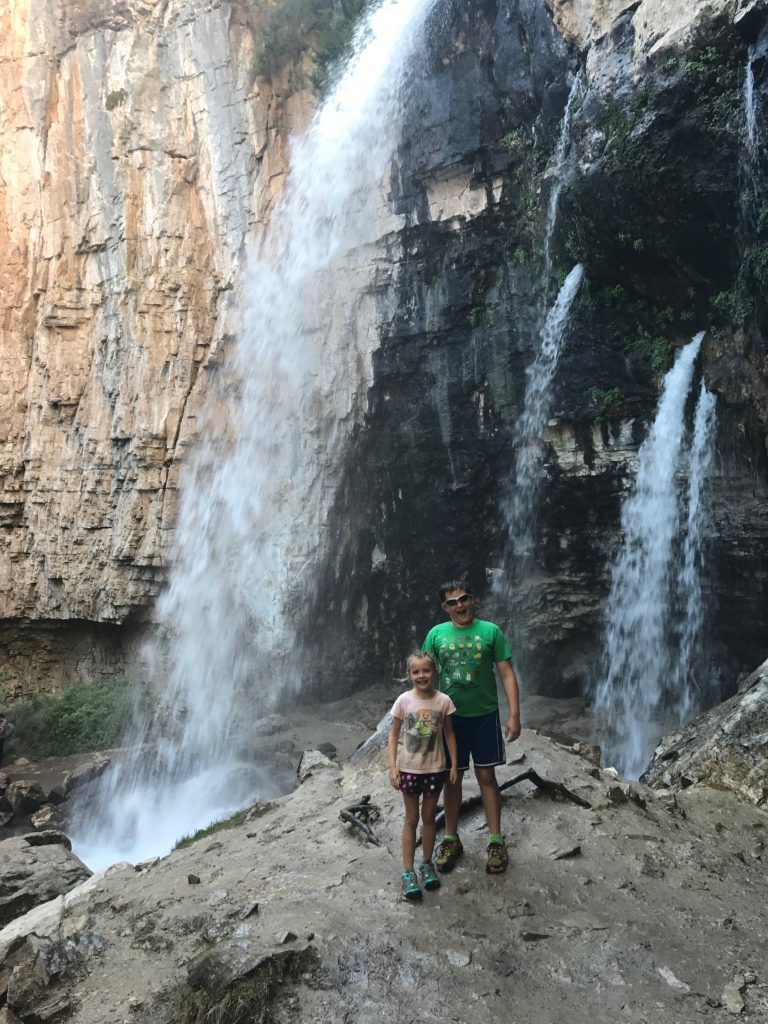 view from behind the falls.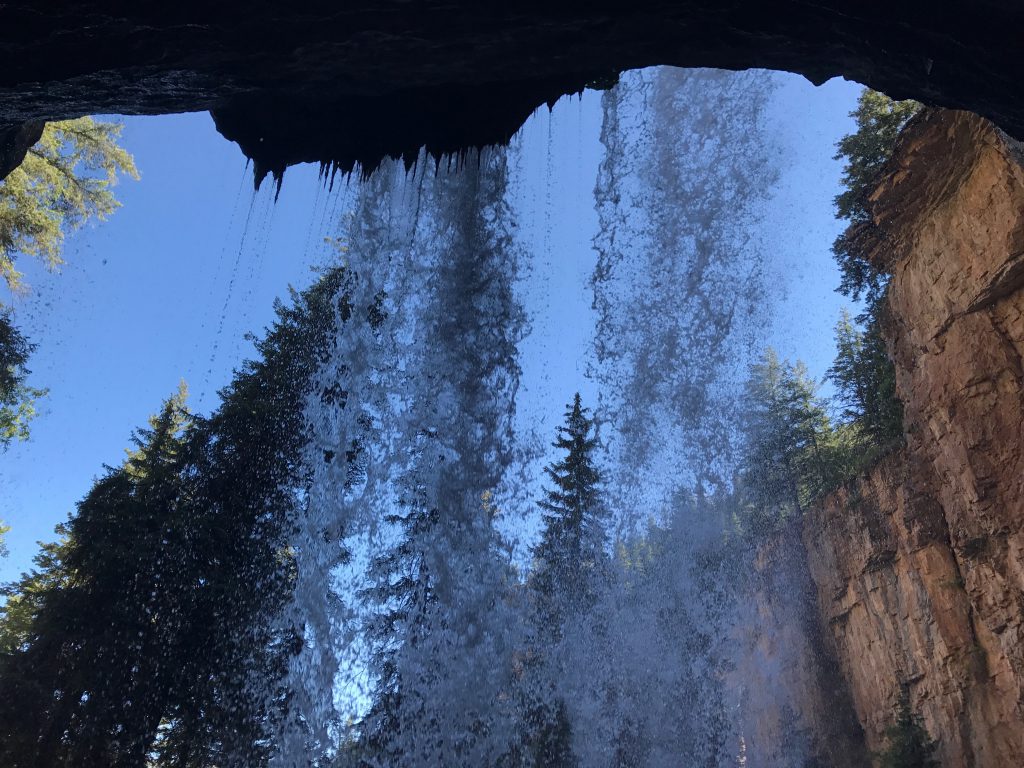 for the hike back down, i loaded up hazel in the backpack. i knew at least that i wanted to get us past the scary part near the top that felt even more scary going back down.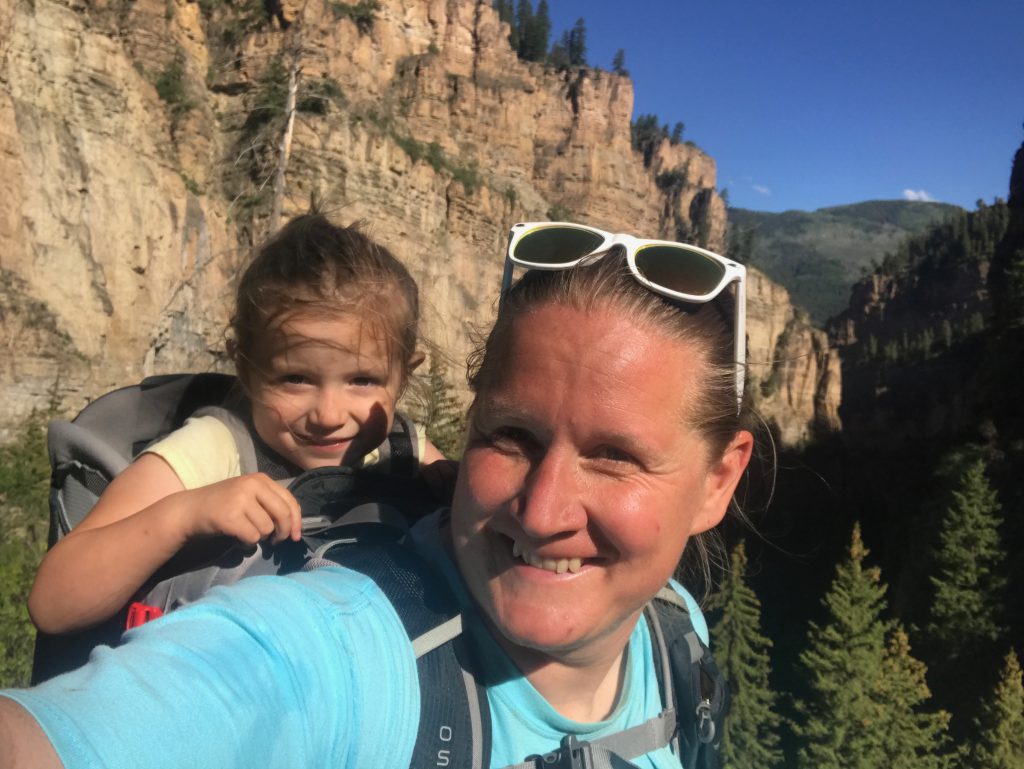 she didn't last long, demanding to be set free. i was relieved, because my legs were like jello and going down, with my thrice surgically repaired knee and a 35 pound passenger on my back, was slightly uncomfortable.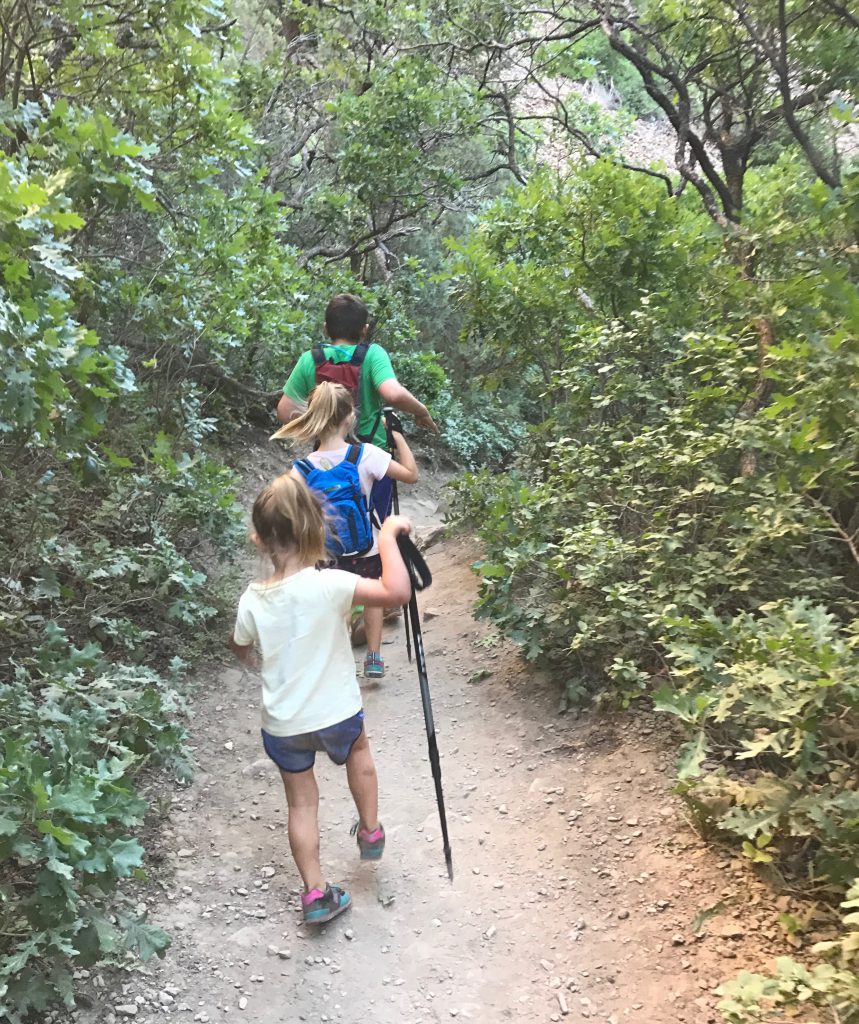 down down down the rock pile trail.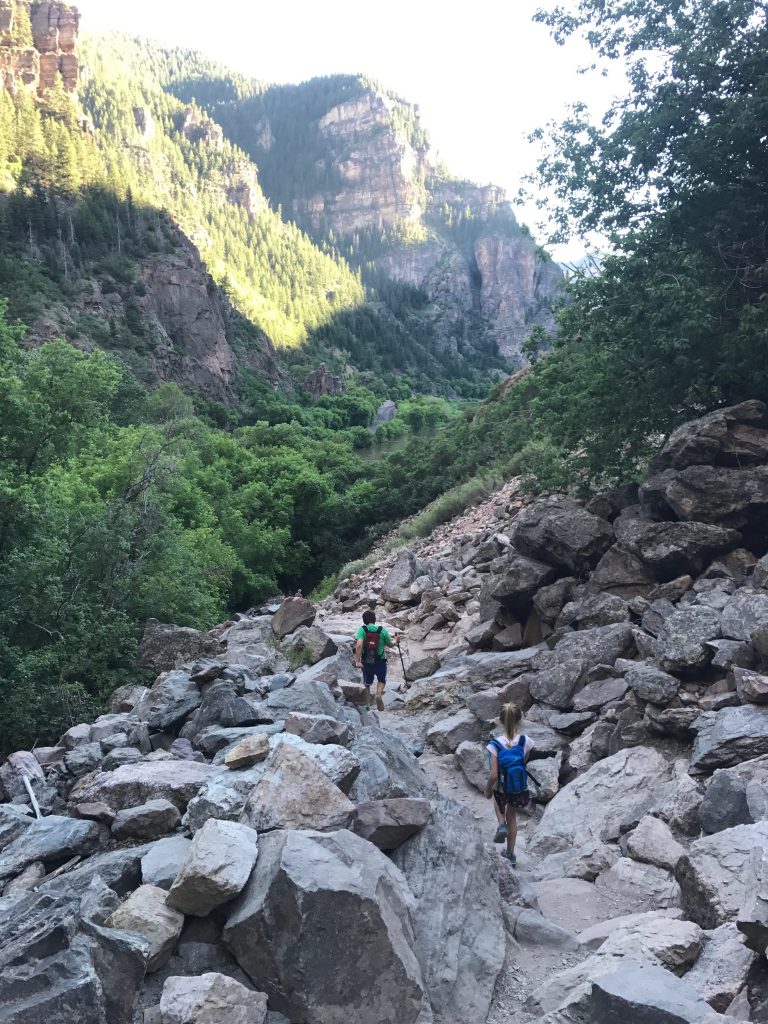 all the kids were troopers. this kid surprised me the most.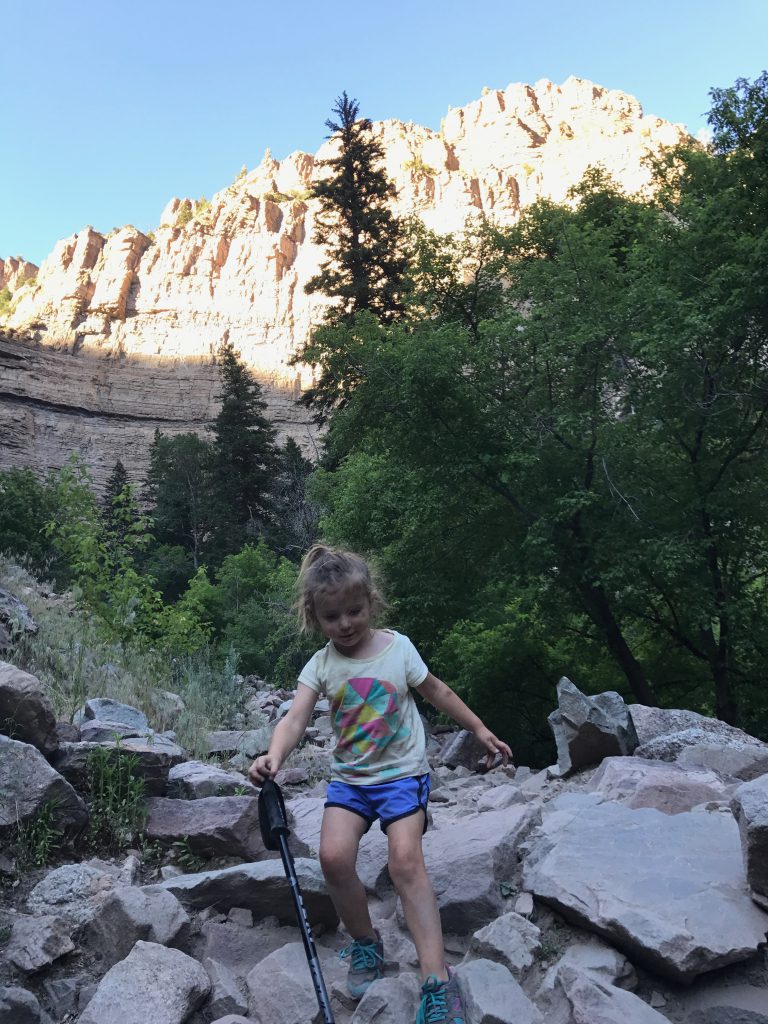 i was definitely throwing our bribes along the way. example: when we got done, they could have as much ice cream as they could eat. we stopped at kaleidescoops in glenwood springs and did just that.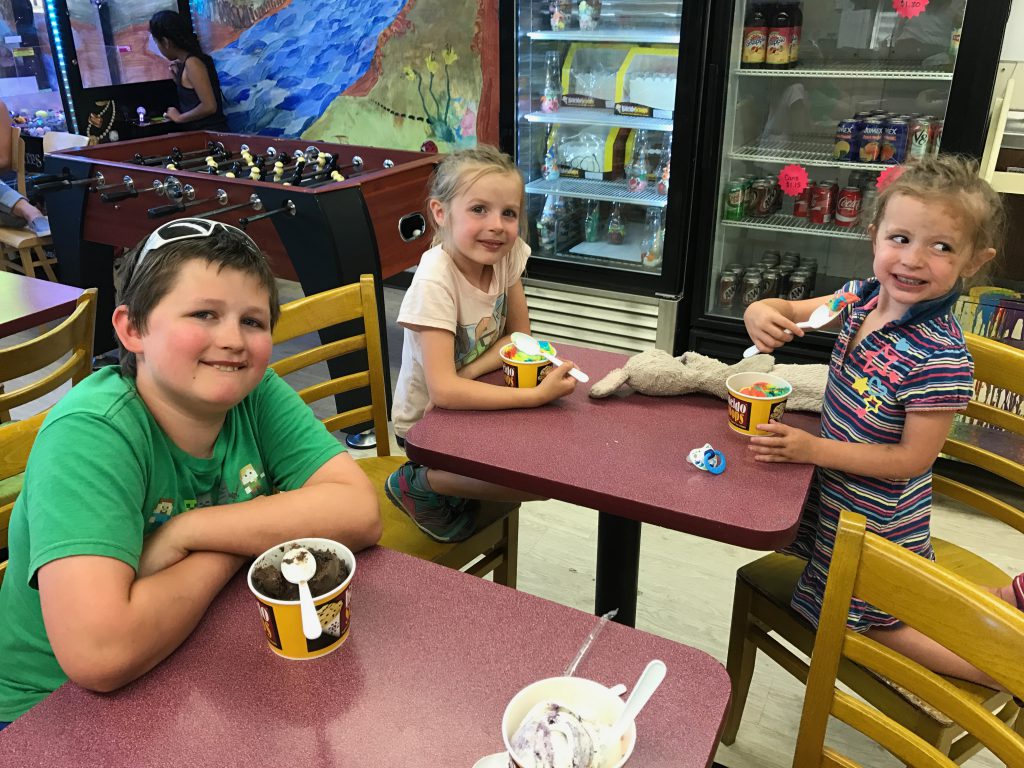 derek and the kids finished off the adventure by playing a bit of foosball. then we loaded back up and headed to the campground.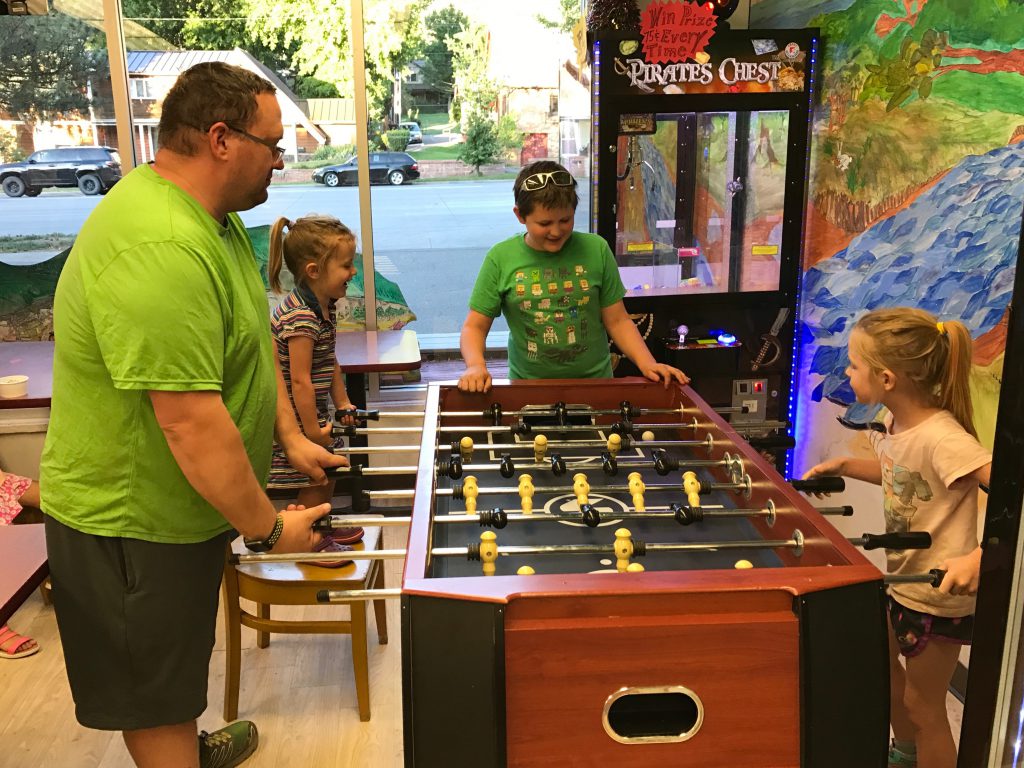 it was a great day. i was so glad we were able to get into the parking lot on our second try. and proud of the kiddos. and feeling a sense of accomplishment. it was a great way to cap off our time in colorado.