delicate arch is the most recognizable of all of the arches in arches national park. it's on the utah license plate. it is in half of the logos of businesses in moab. we had already visited the viewpoint, but we were saving the hike to get up close and personal for a day when derek could join us. so, when saturday rolled around, we woke up at the crack of dawn to beat the crowds and hit the trail.
the first bit was a boring gravel path. blah.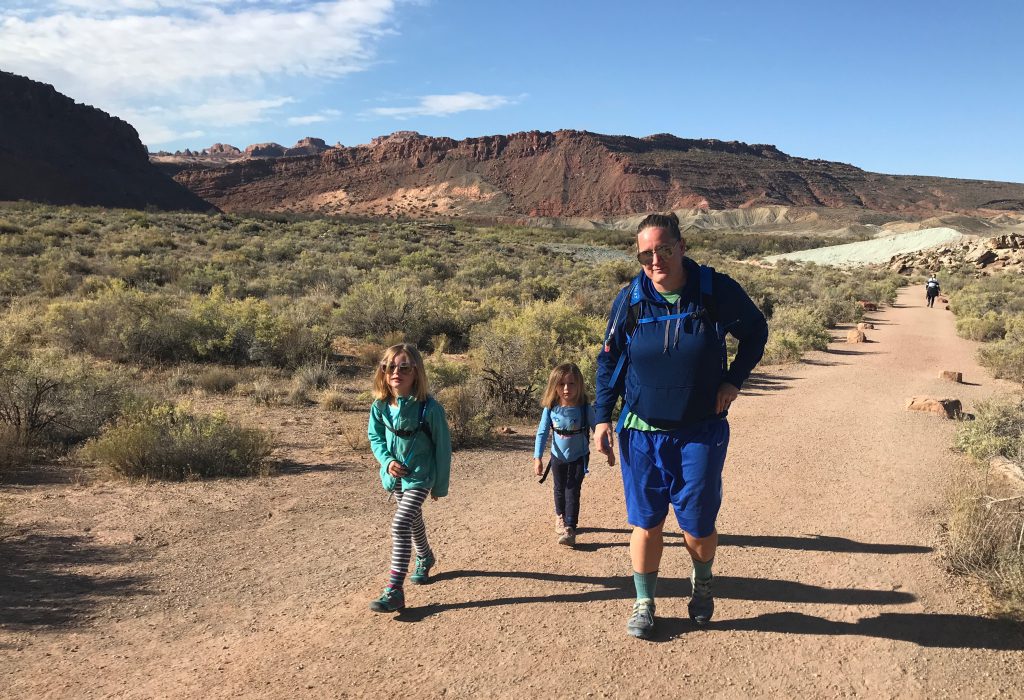 it isn't super exciting.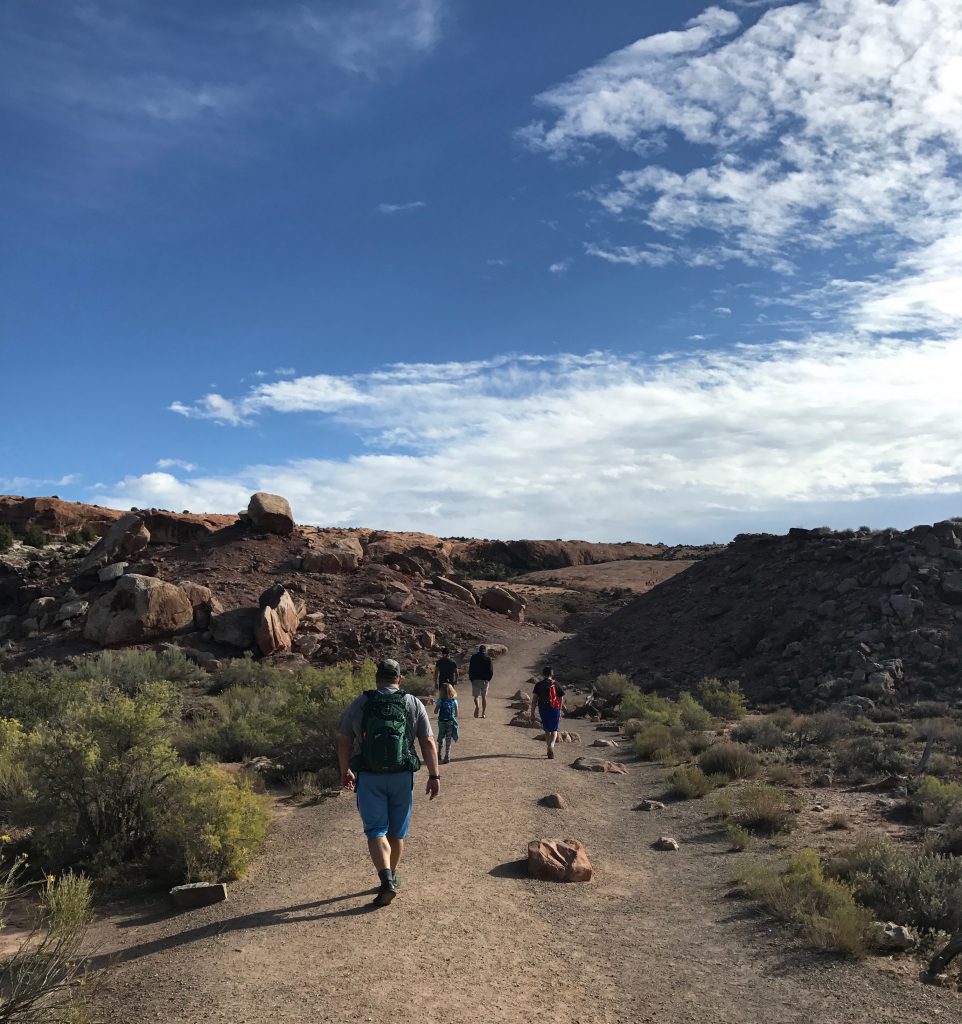 selfie.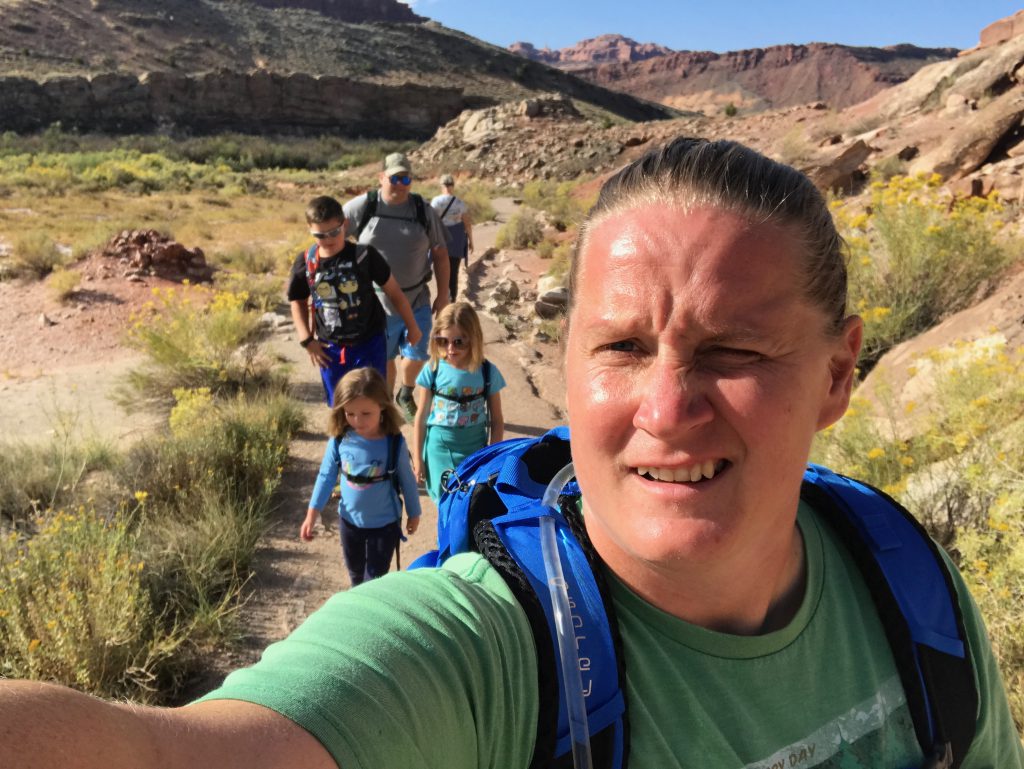 hiking posse.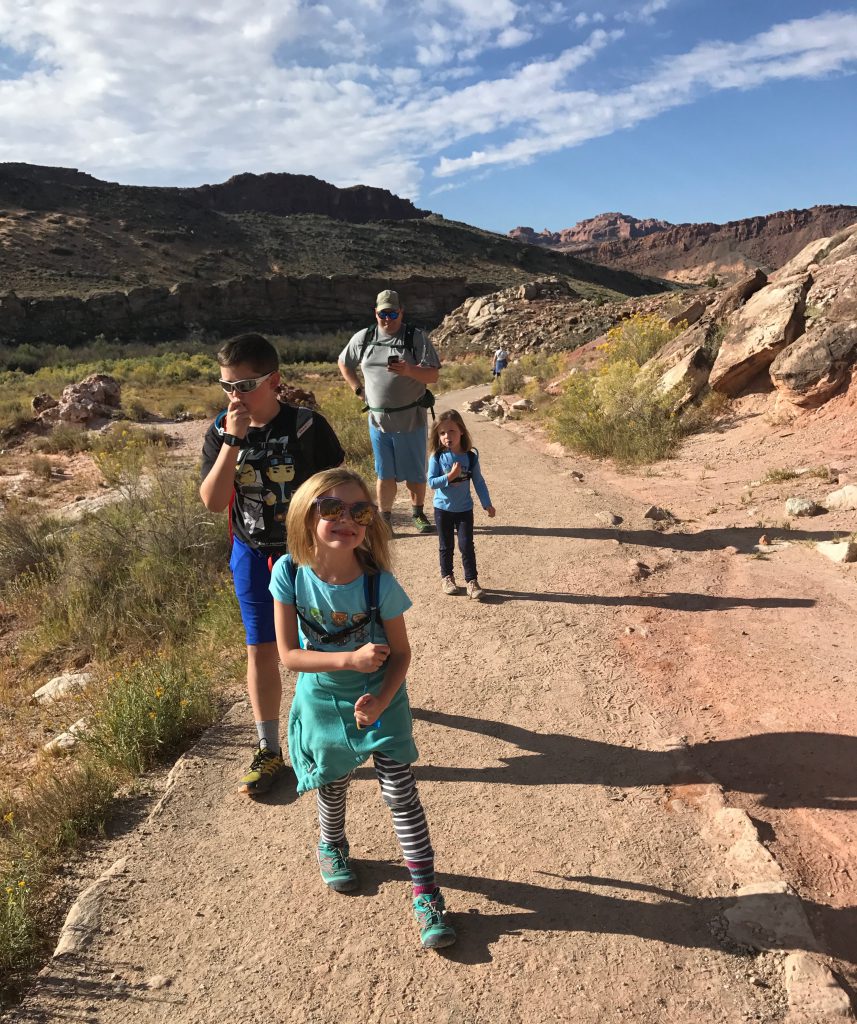 we survived the boring part and made it to the slick rock incline.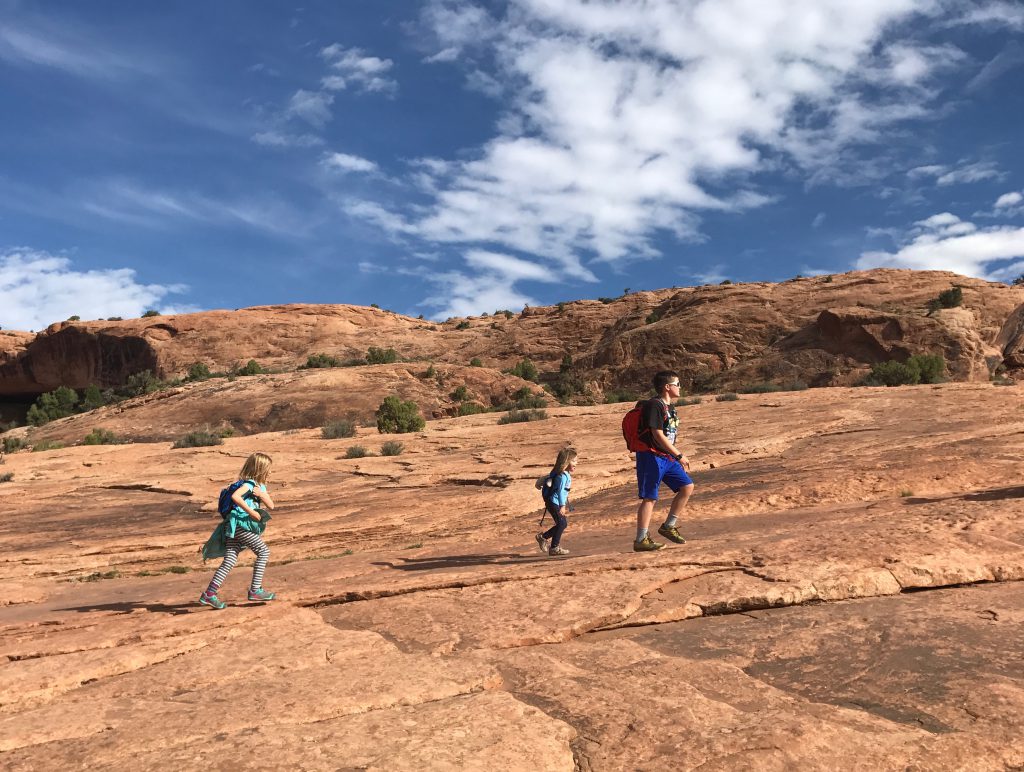 hazel perked up for this part. (she was pretty whiny in the gravel path portion of the hike).

happy slick rock climber.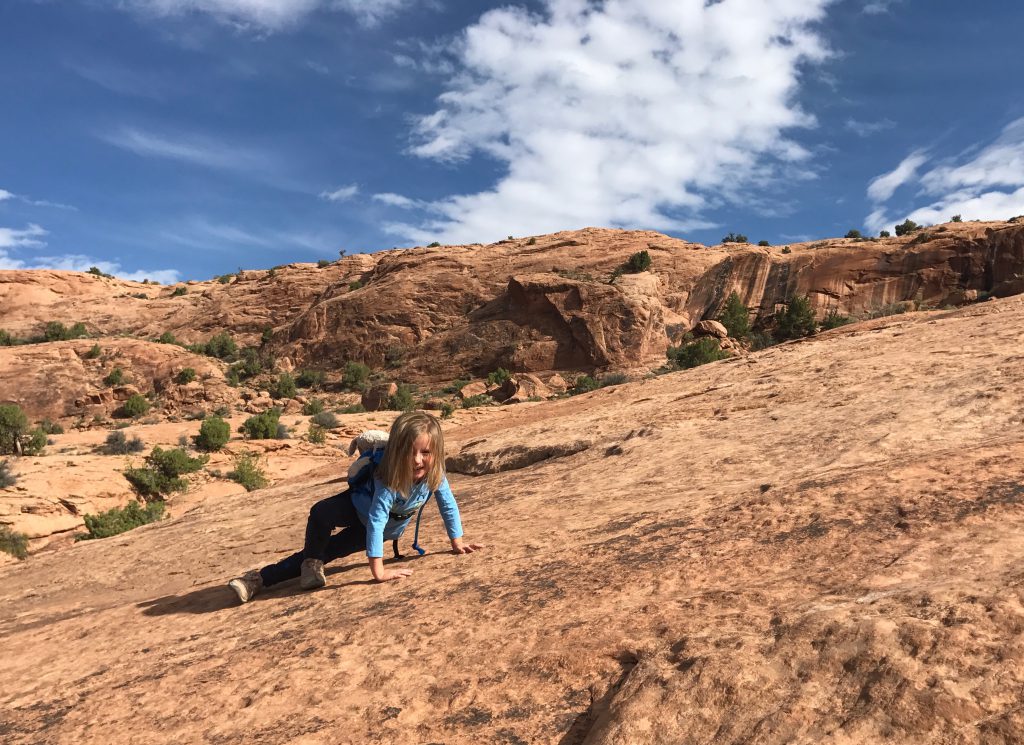 at the top, we then began a pretty fun section of winding through crevices and sand wash areas.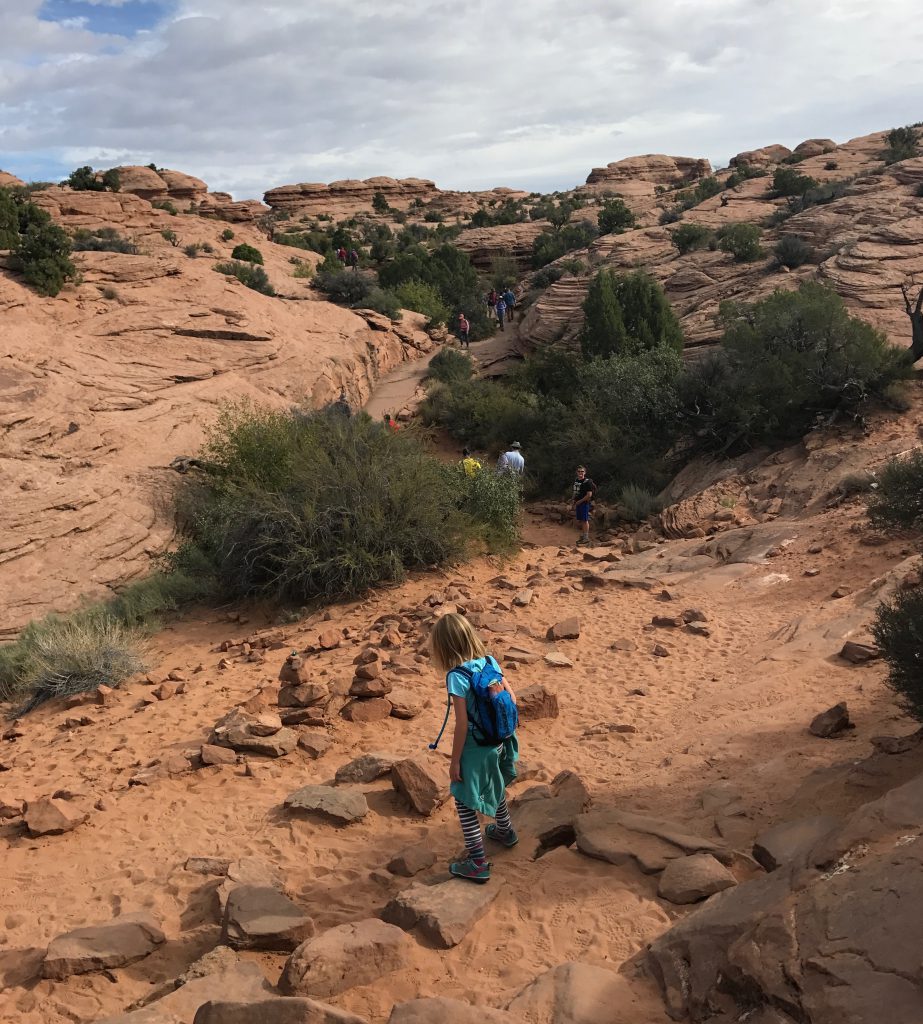 we happened upon this painted rock. later i read a rant in a facebook group about this technically being litter. it got heated.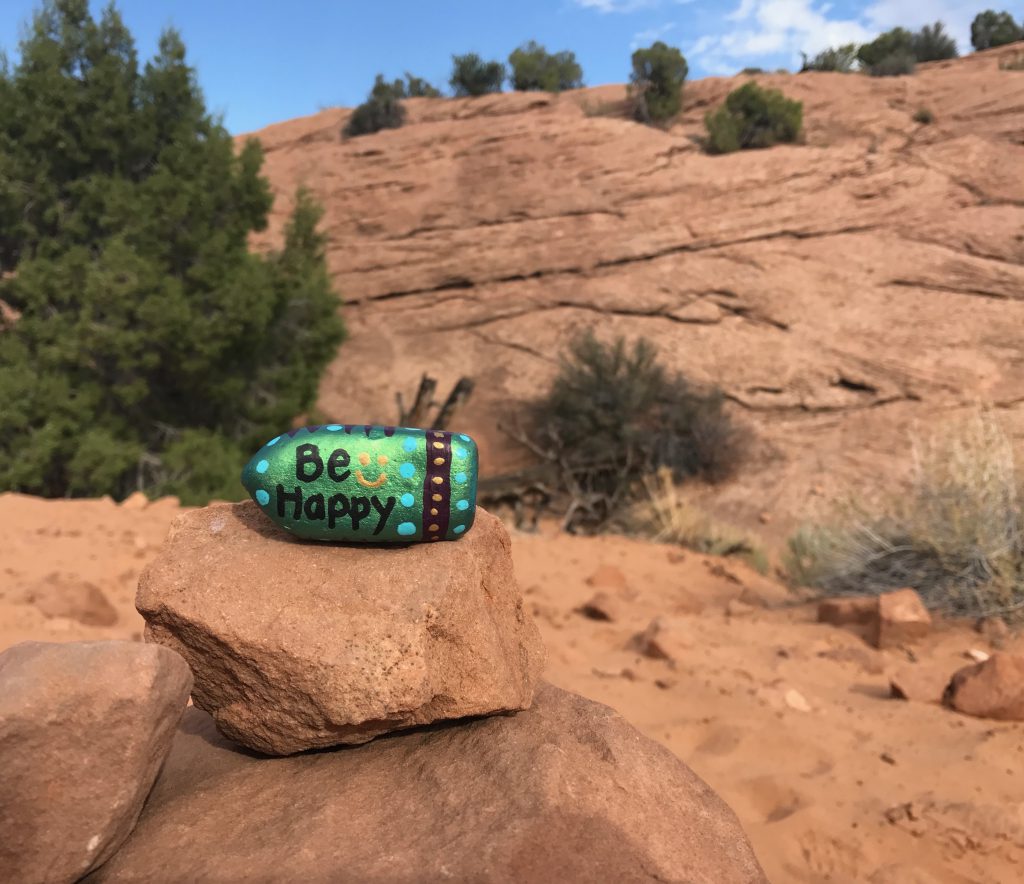 more climbing and scrambling and hopping and fun.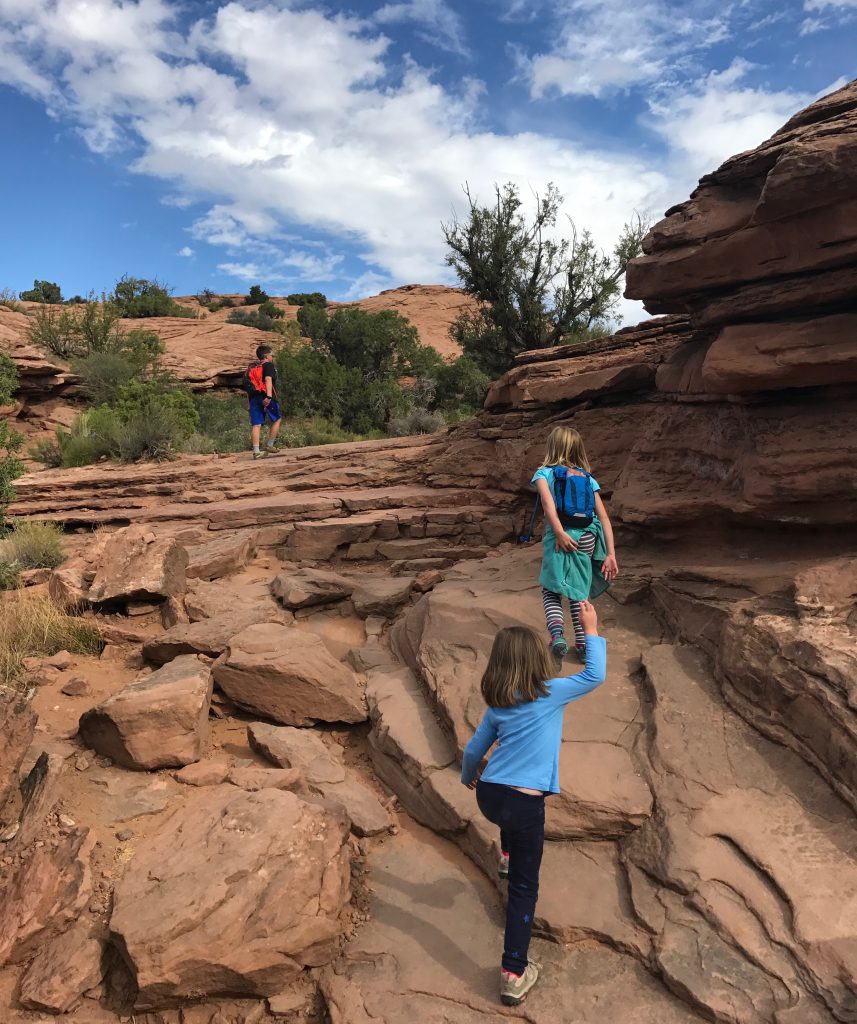 we came around a corner and it was back to slick rock.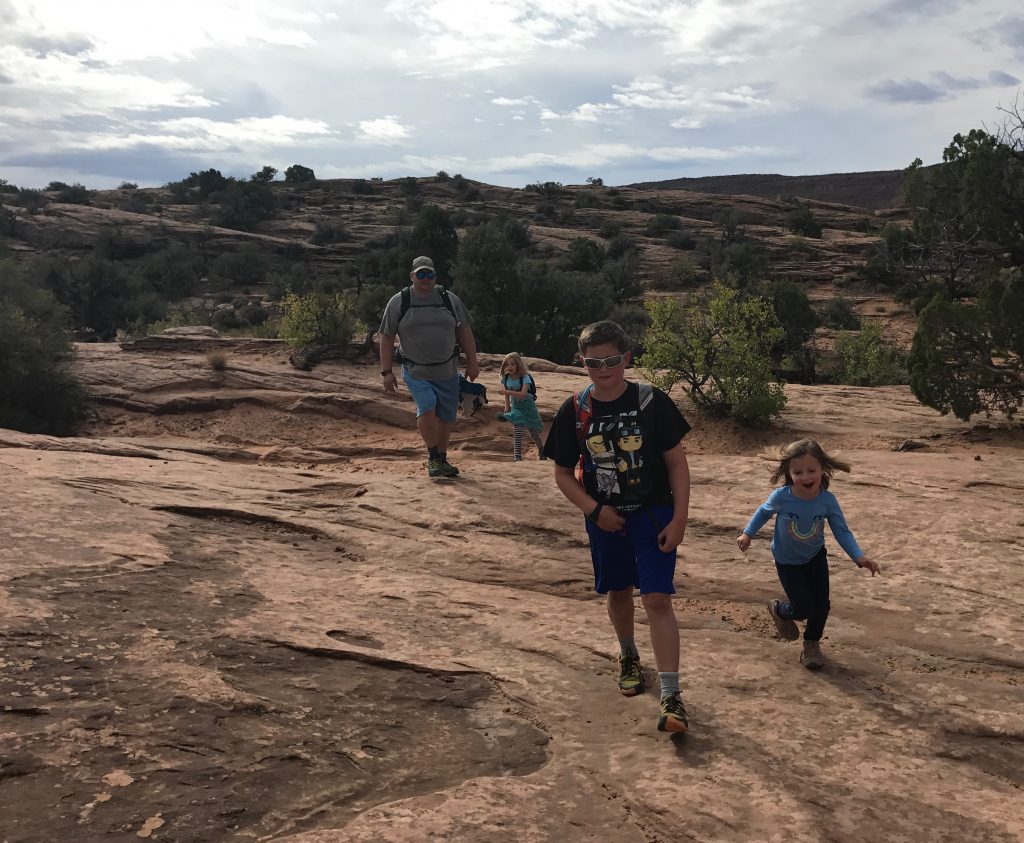 so cool.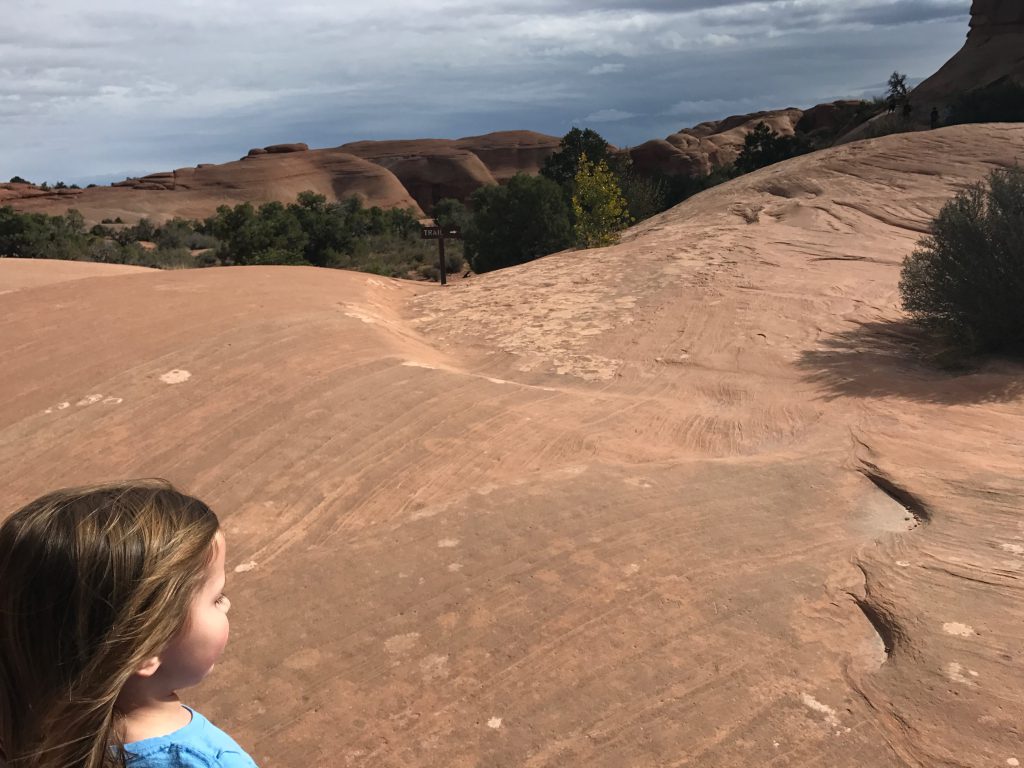 the last bit of the hike is winding around on a little ledge. the the left, huge dropoff. to the right, solid rock face. it was wide and not super stressful, except for the knowing of the consequences of the left hand side.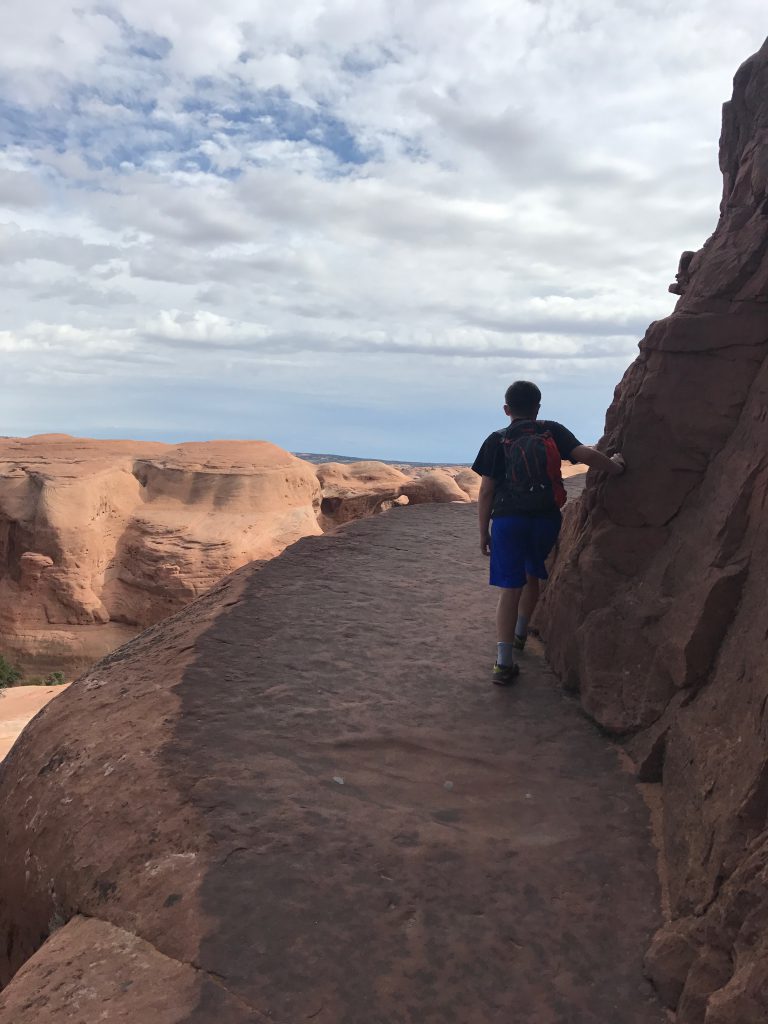 once we rounded that corner. delicate arch. so cool.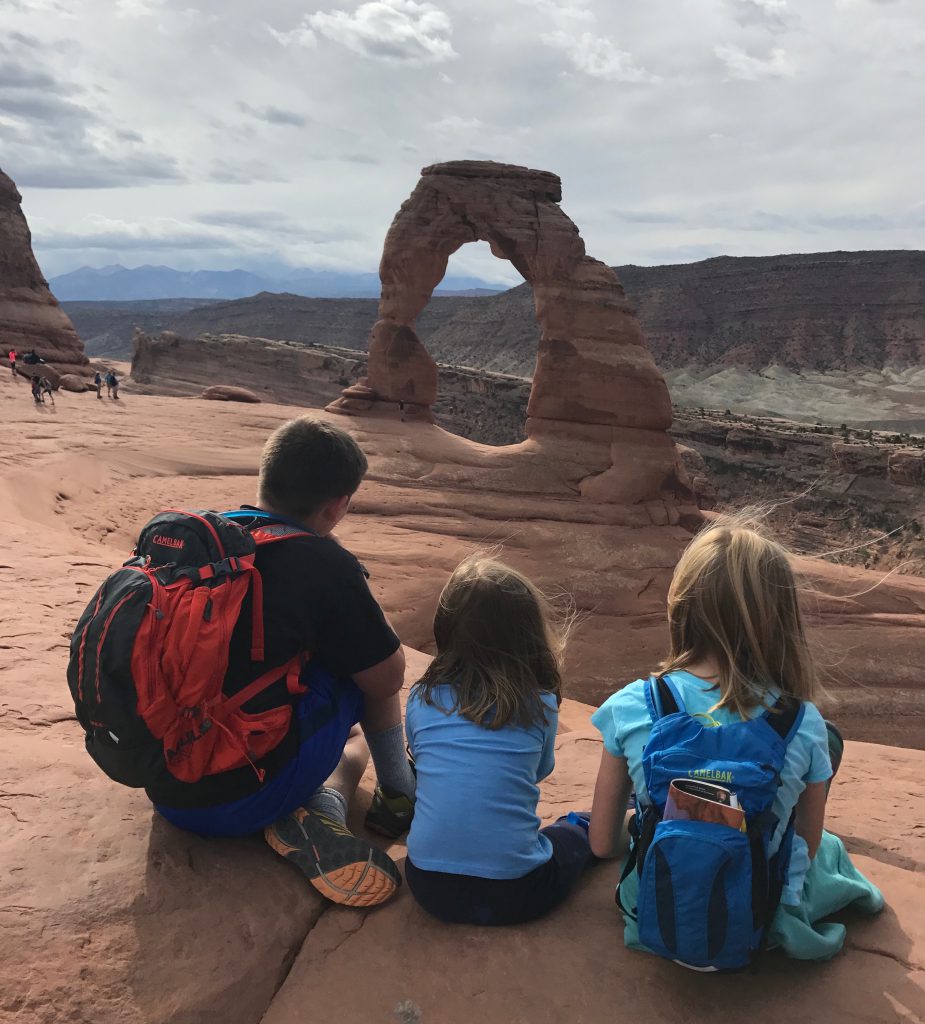 we claimed a sort of safe spot and set up shop. (the whole area is sort of precarious, with dropoffs on all sides. the walk out to the arch from where we were was on a more gentle slope, but still nerve wracking).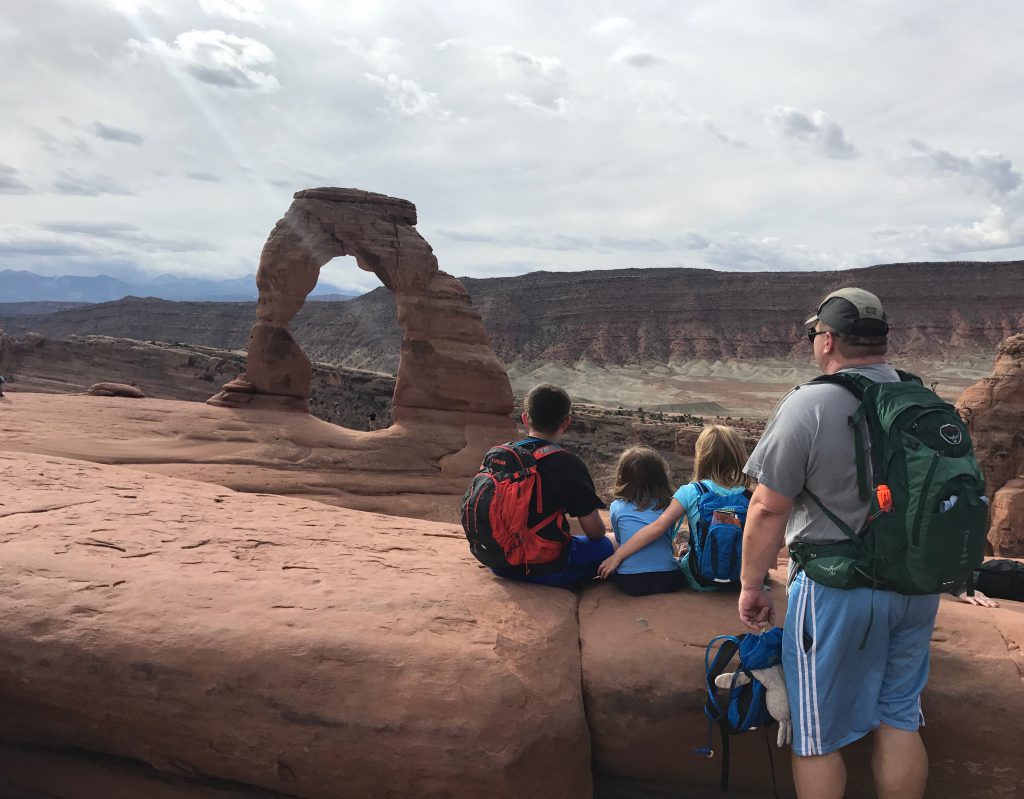 derek and hazel stayed in our spot while the big kids and i walked over to take our pic under the arch.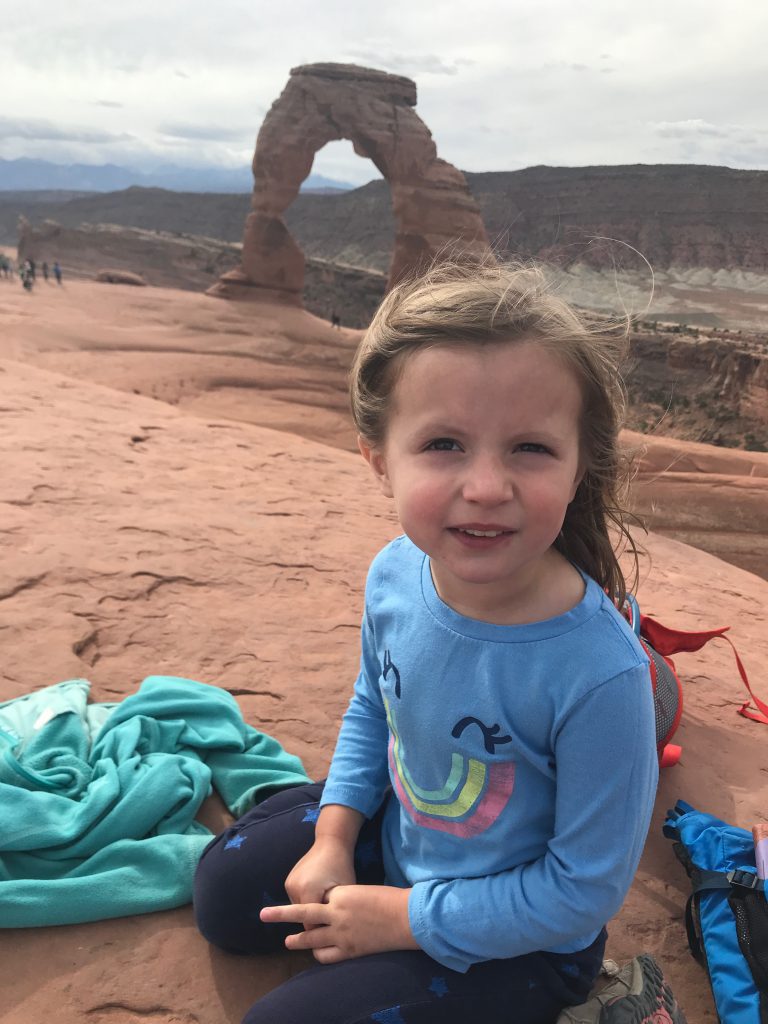 they were silly.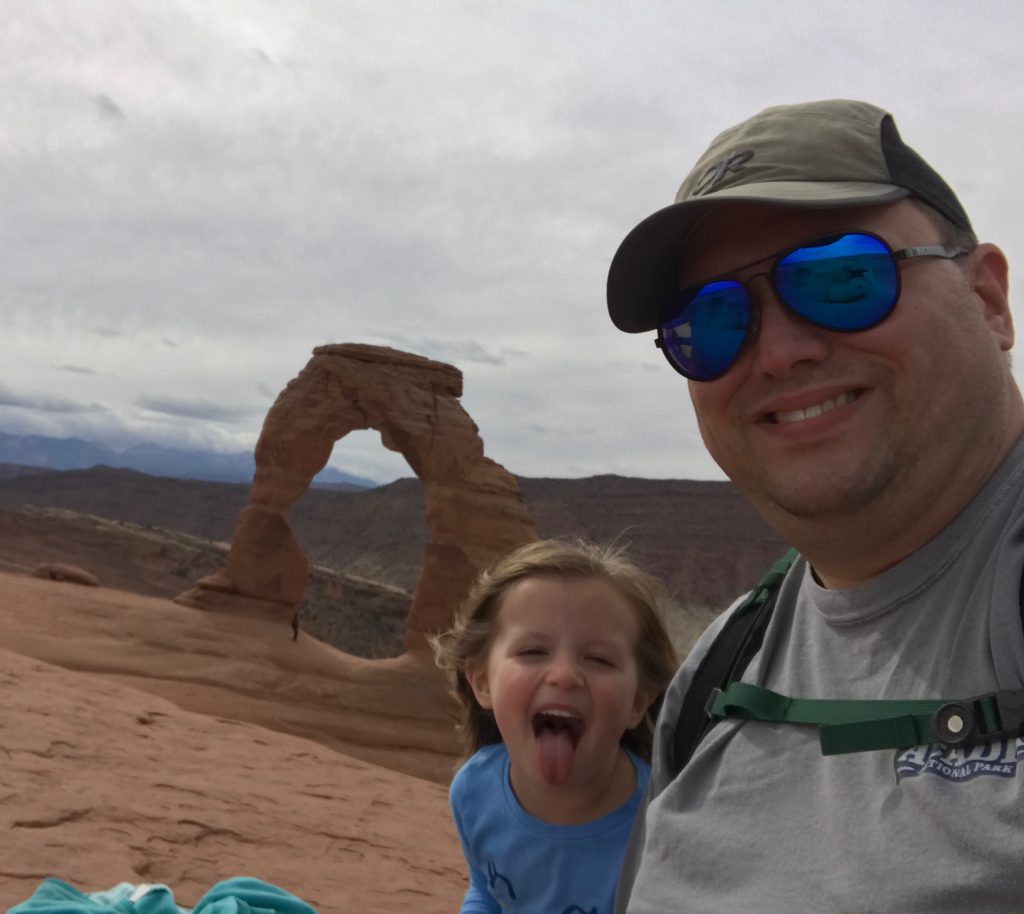 this is where i will remind to the other day, when the kids and i went out to the delicate arch viewpoint. this was our zoomed in view of the crowds from across the way. now we were some of those tiny people.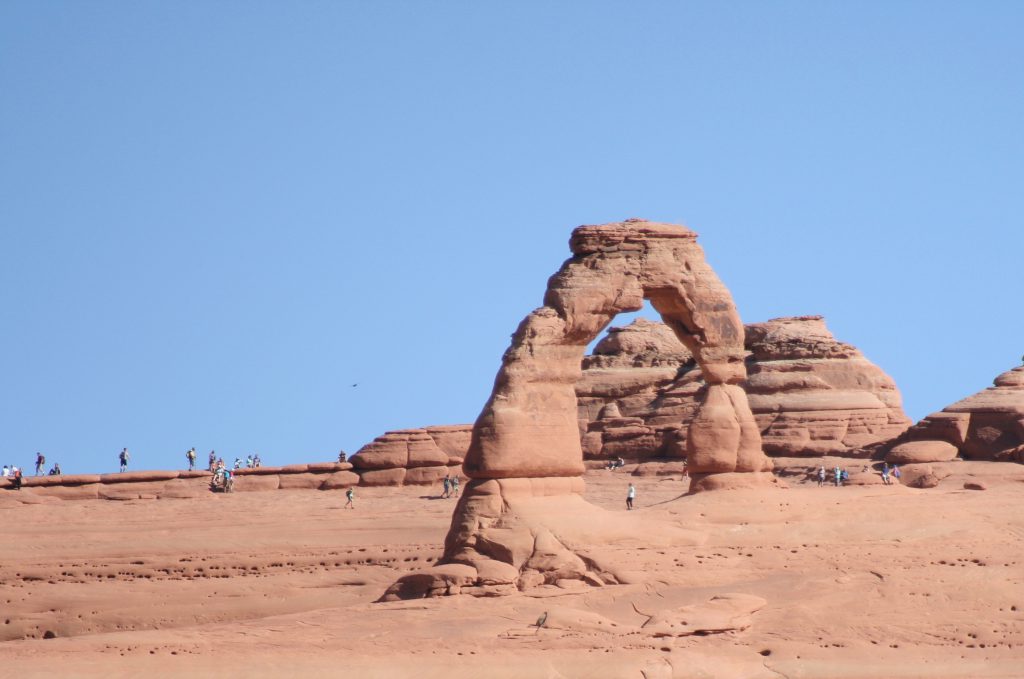 derek took this picture of me and the kids waiting in line. (i'm in green shirt and blue shorts).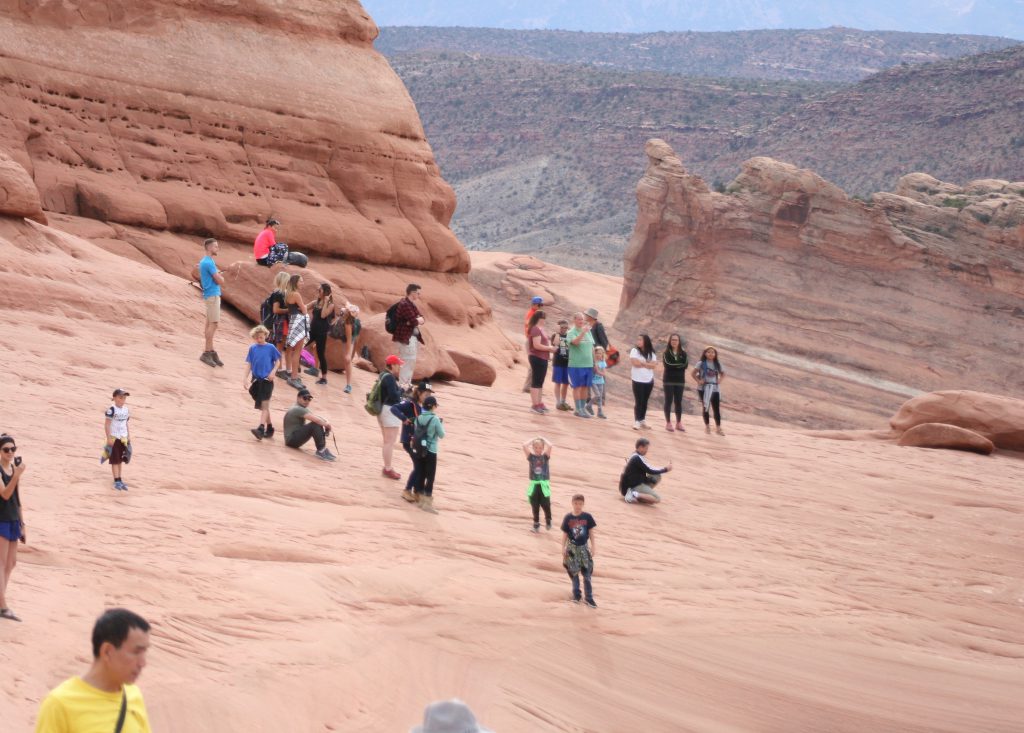 when it was our turn to head into the arch, isaac changed his mind and decided to sit it out. so, anna and i marched out to our spot. it was a lot wider than it seemed from afar and not super dangerous.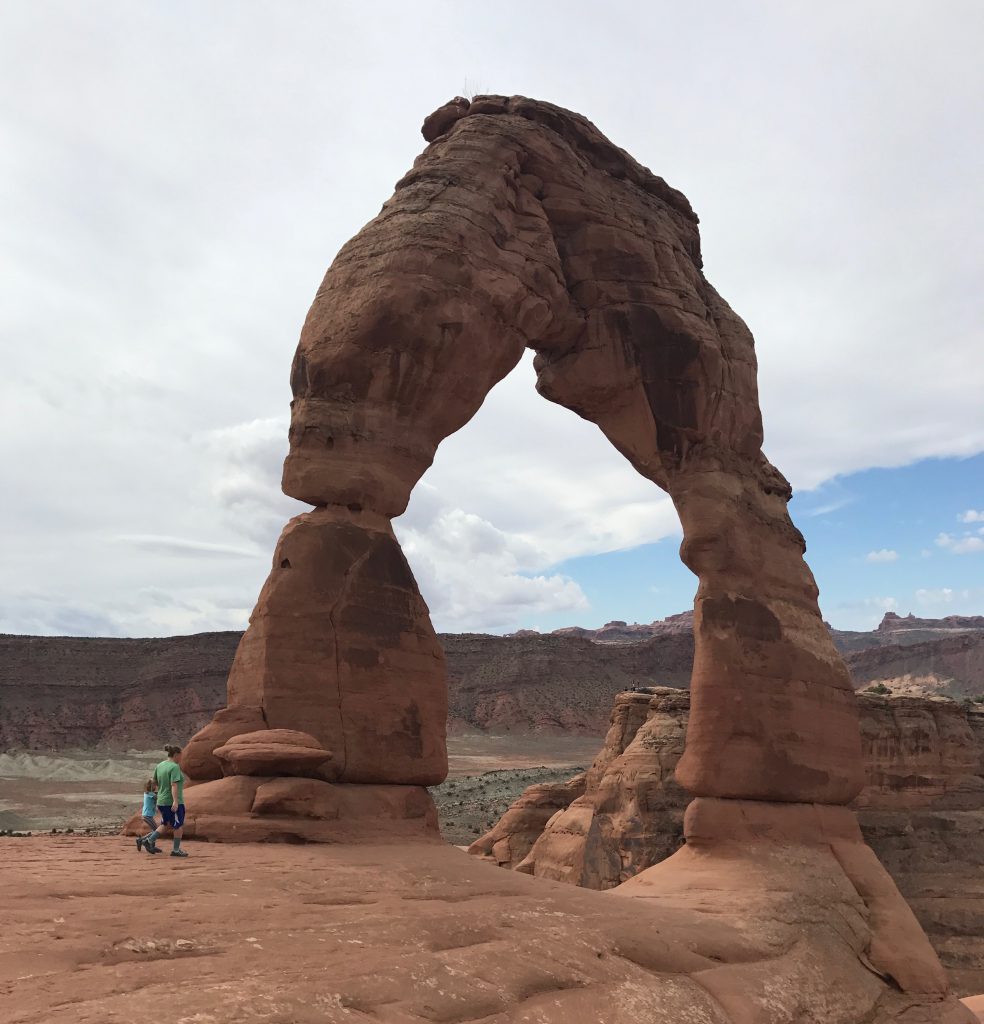 a friendly bystander took some pics with my phone.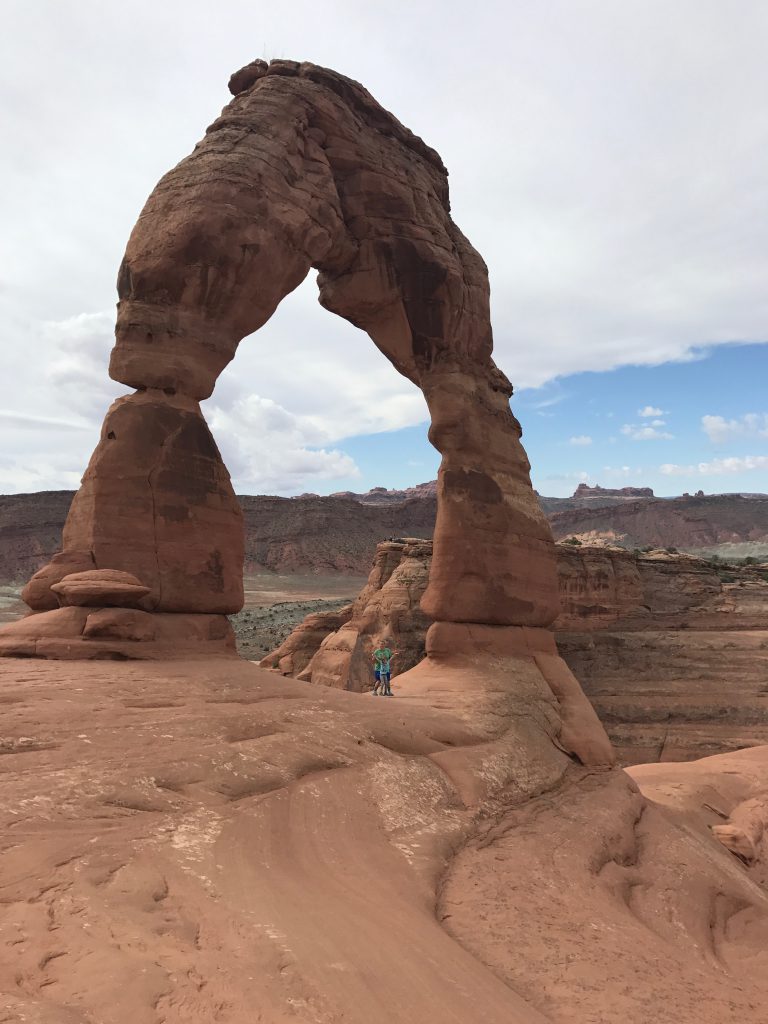 she even zoomed in for some. thanks friendly bystander!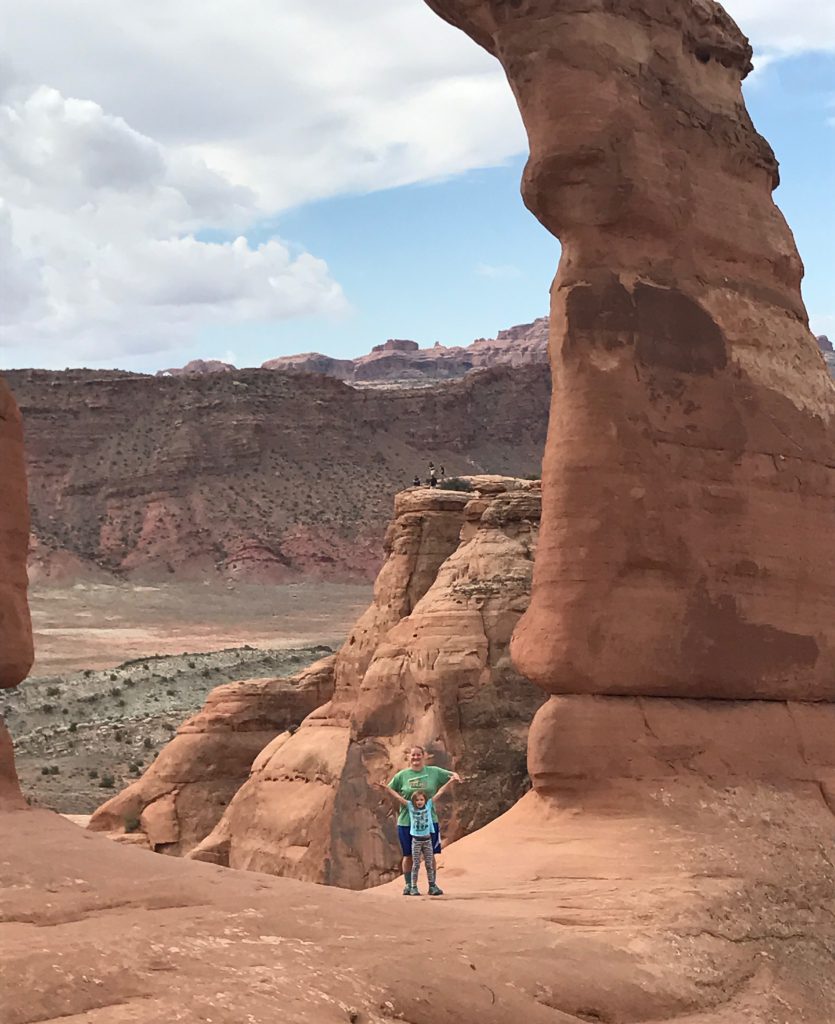 derek took a few from his vantage point.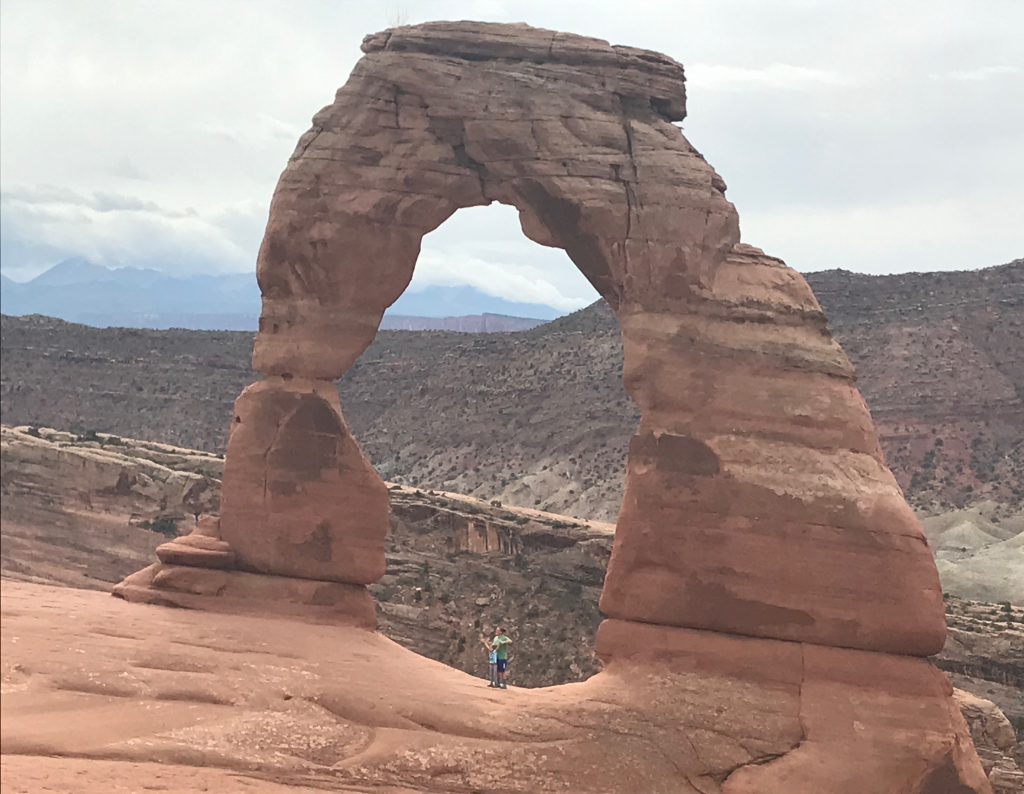 even one with the fancy camera with the extra zoomy lens.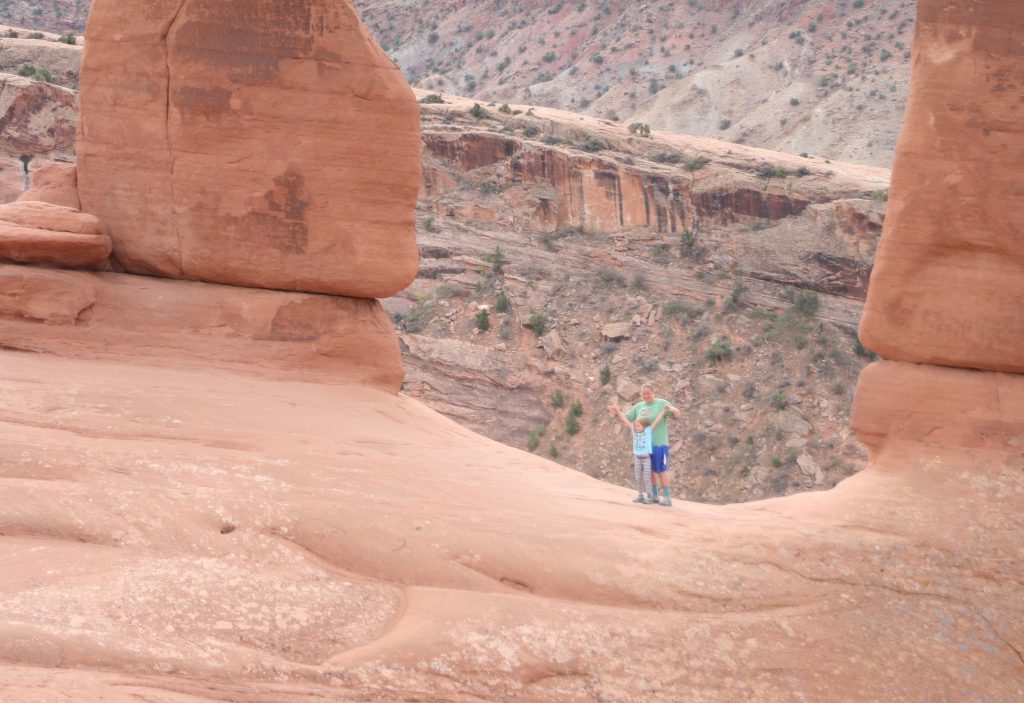 we returned to our base and had some snacks and watched more people take pictures. (some folks get extra crazy). then, we snapped a few delictate arch family photos.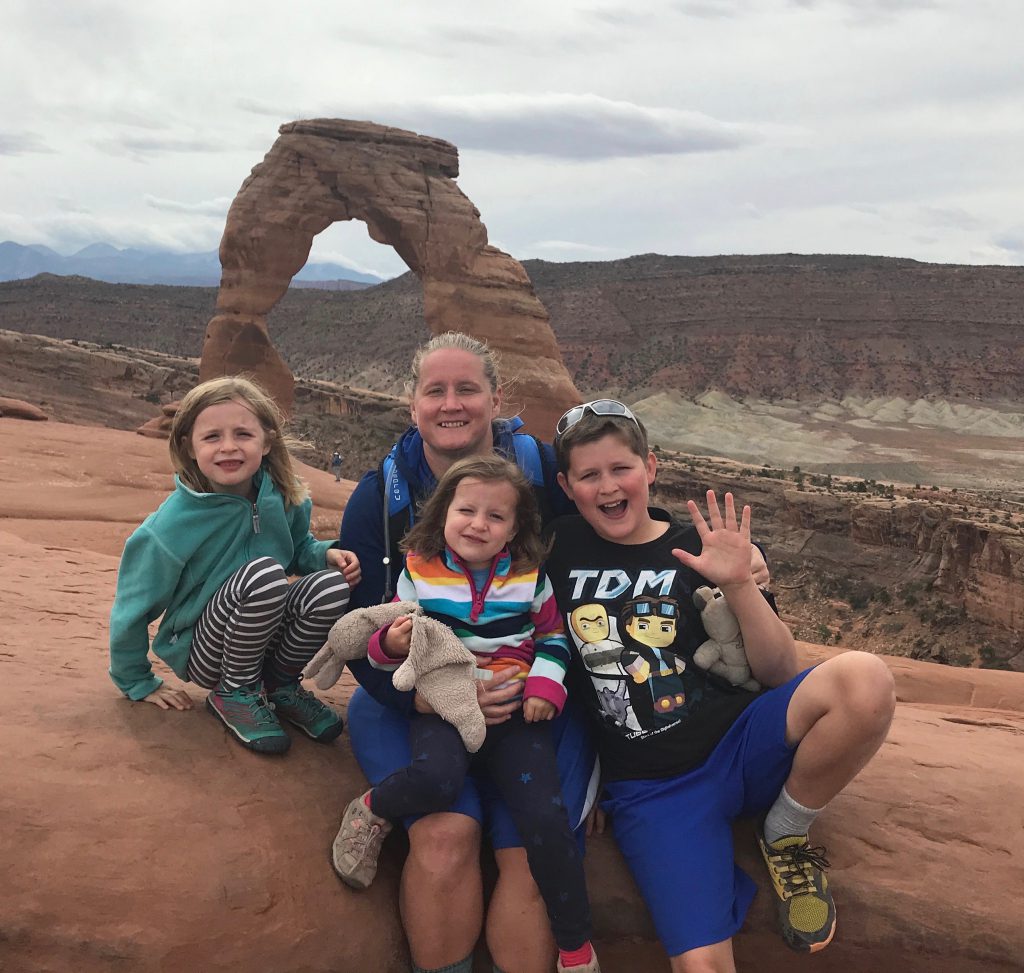 another friendly stranger took a full family pic for us.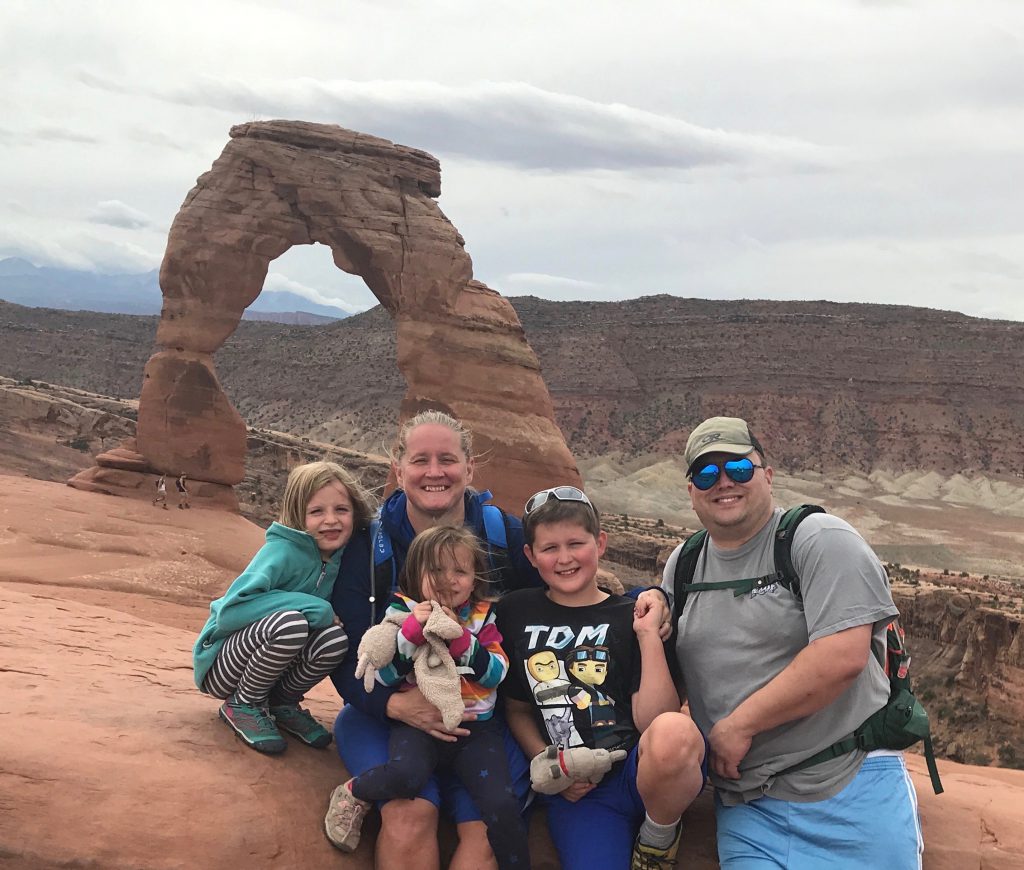 i tried to take some kid pics with the zoomy lens, but i had to get so far away that i was afraid of falling off a cliff, so this was all i got.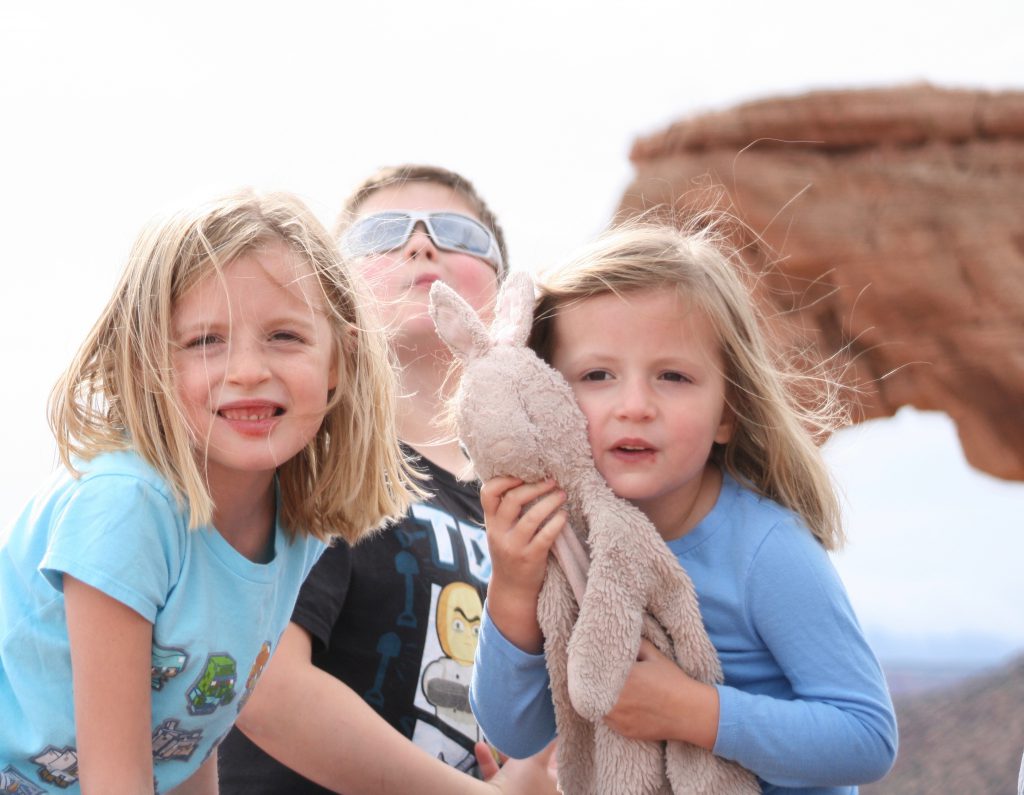 anyhooooo…. we began our trek back.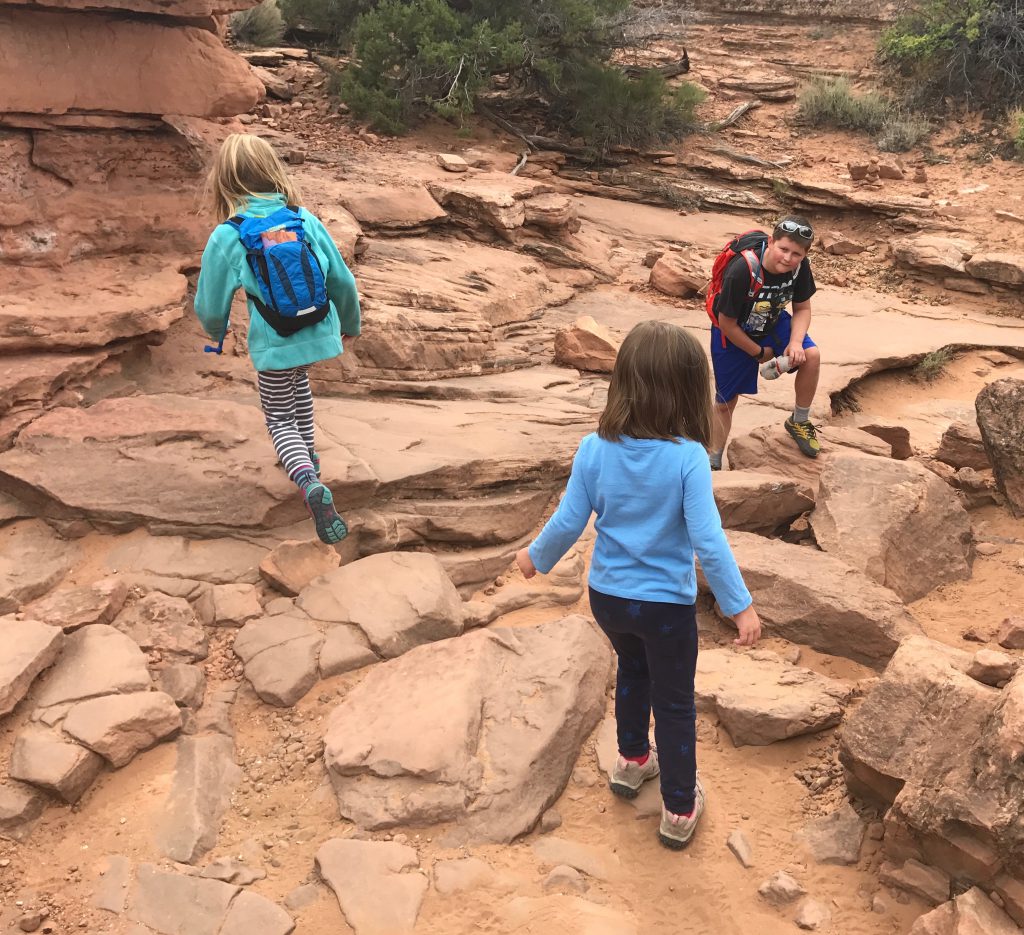 the slick rock portion was much easier as a decline.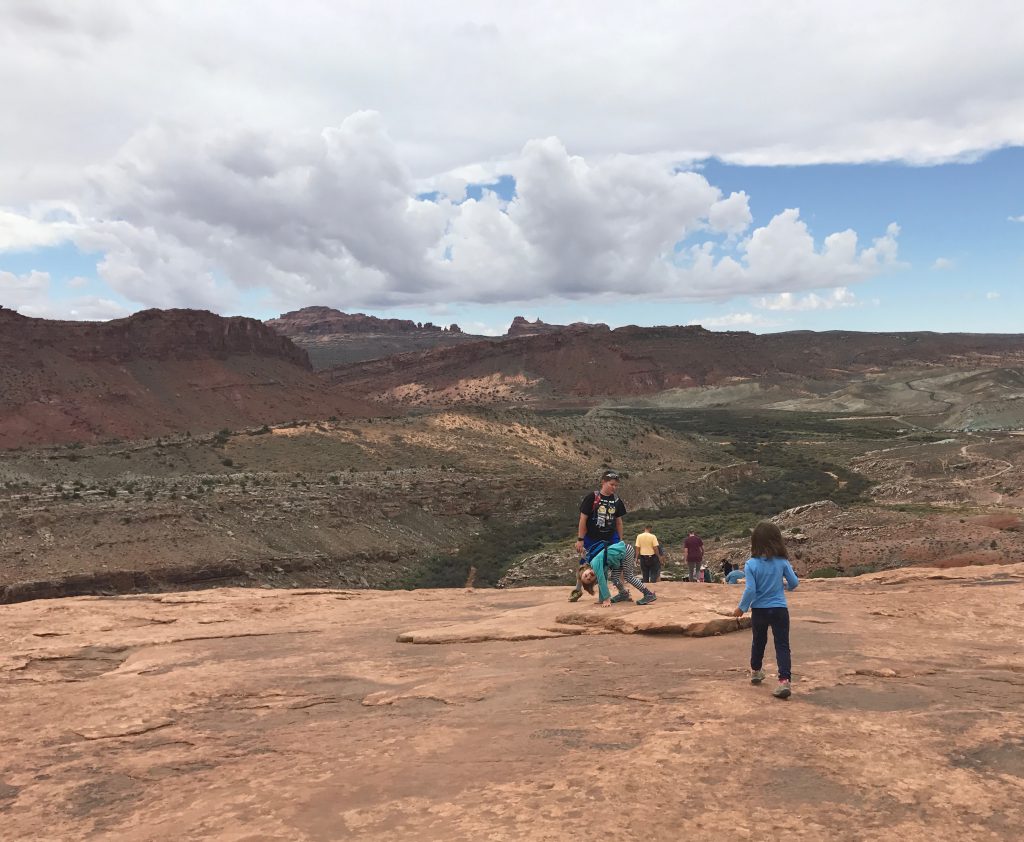 goony children.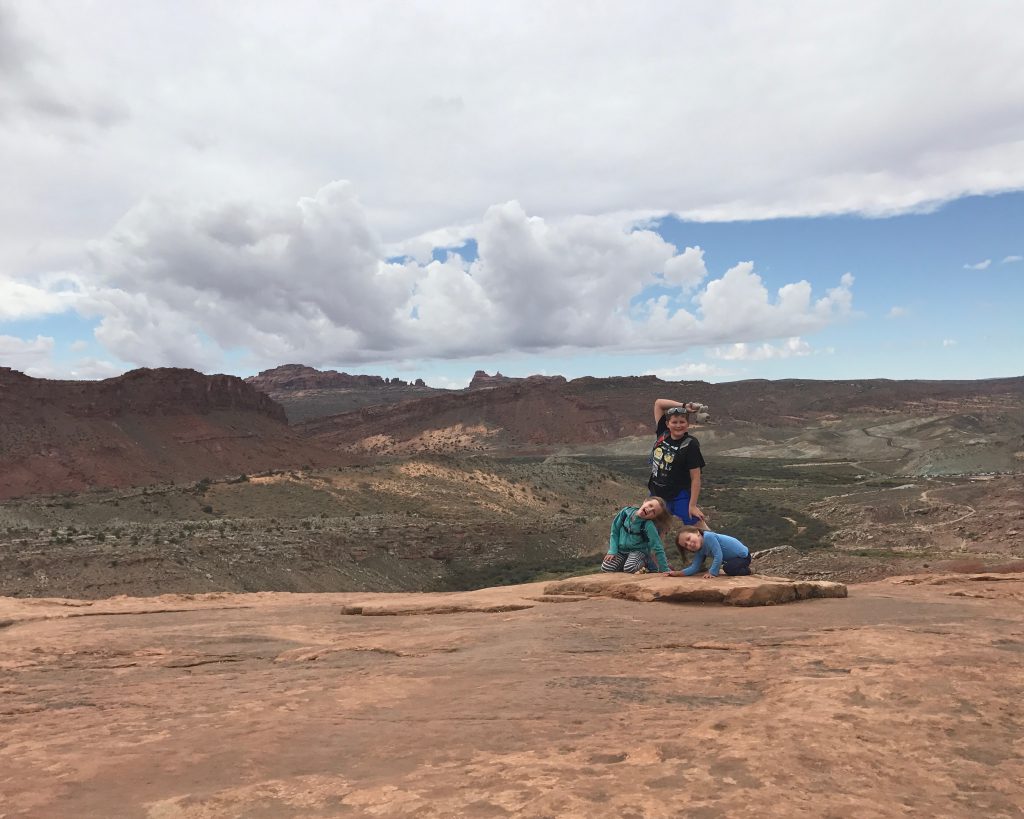 we stopped to climb on a giant boulder that we had seen on the way in but convinced both kids to save their energy for the hike and wait until the trip down.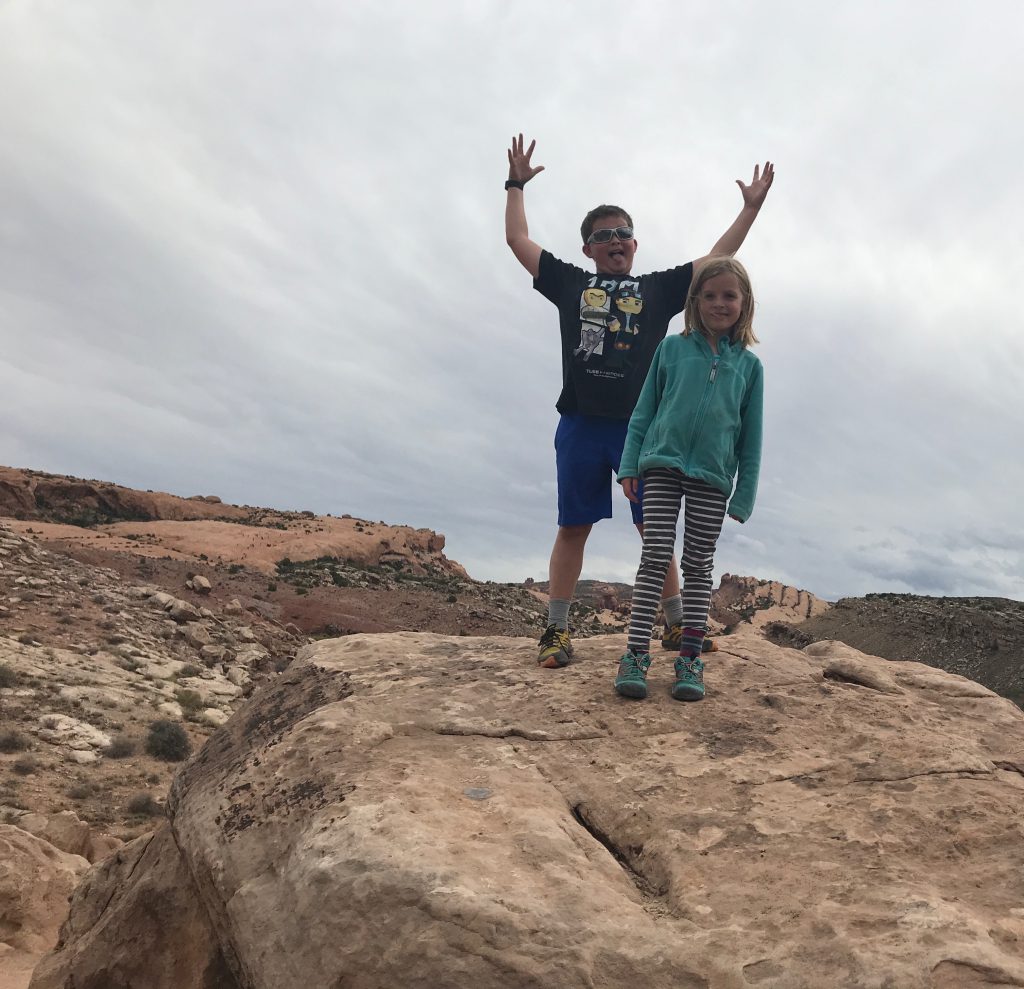 and at the end, we detoured around to see some petroglyphs just hanging out in the side of a rock face.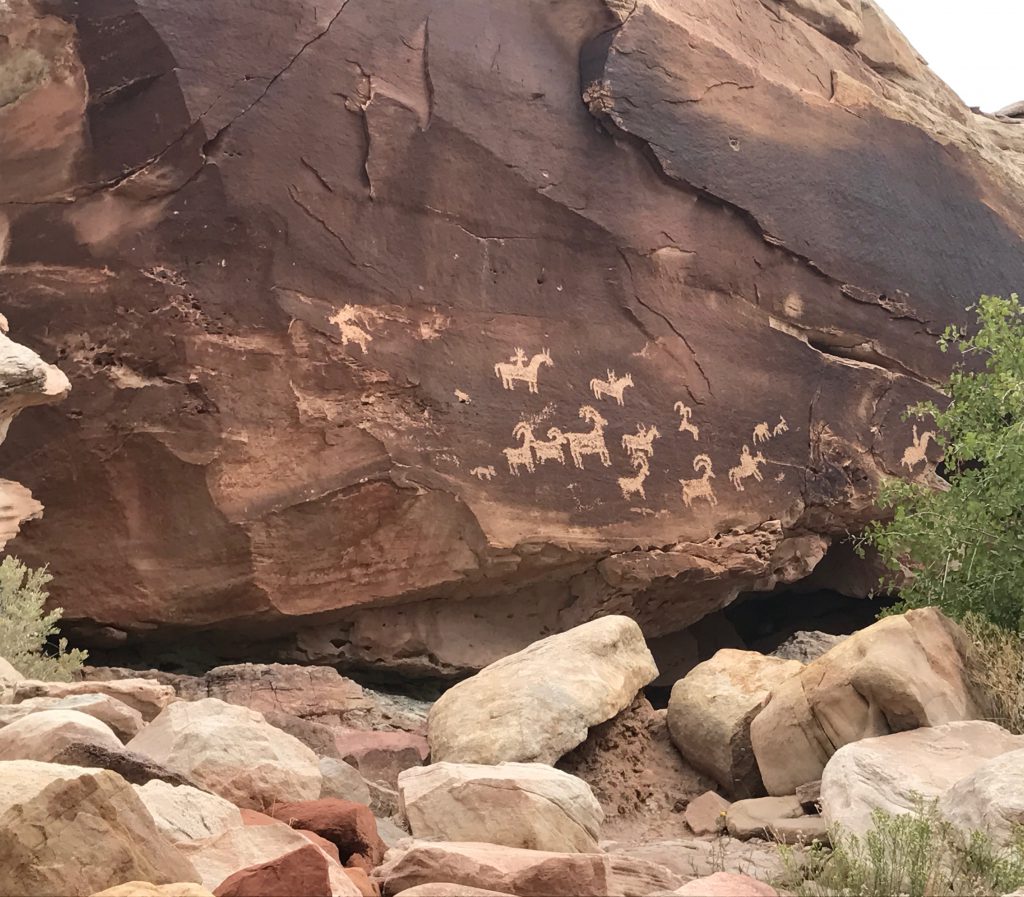 petroglyph close up.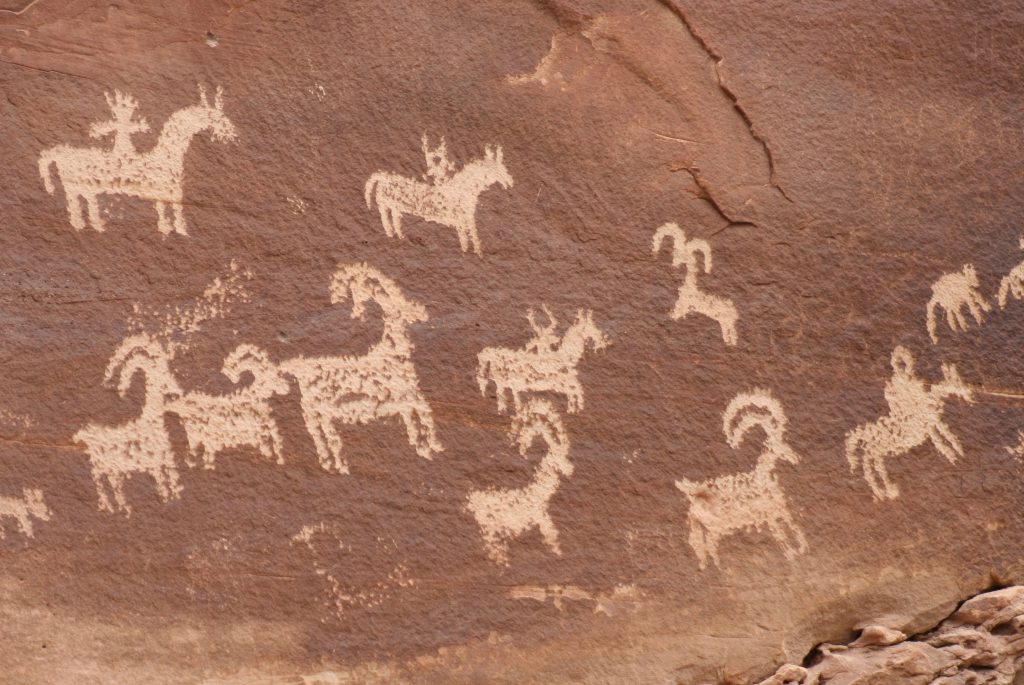 and then, we were done. the whole hike was about three miles. i'm so glad i saved it to do with derek, because i can't imagine just me and the three crazies during some of the more treacherous bits. but, we all survived to hike another day…