my mom had big plans to come visit us in june in yosemite national park. but, when western new york winter lingered on and on and on, she looked into changing her flight to come see us while we were on the california coast. she joined us while we were at thornhill broome and then traveled with us to our next spot. unfortunately, it was a little chilly while she was here, so she didn't get as much of a respite from the snow as she had hoped, but i'm sure that the windy beach is better than snowstorms in late april.
so, early on tuesday morning, the lidkids and i loaded up to head towards LAX, about 1.5 hours away. we found a starbucks nearby that we could hang out at while we waited for the call that she was ready to be picked up. (as previously mentioned, LA traffic is not my favorite).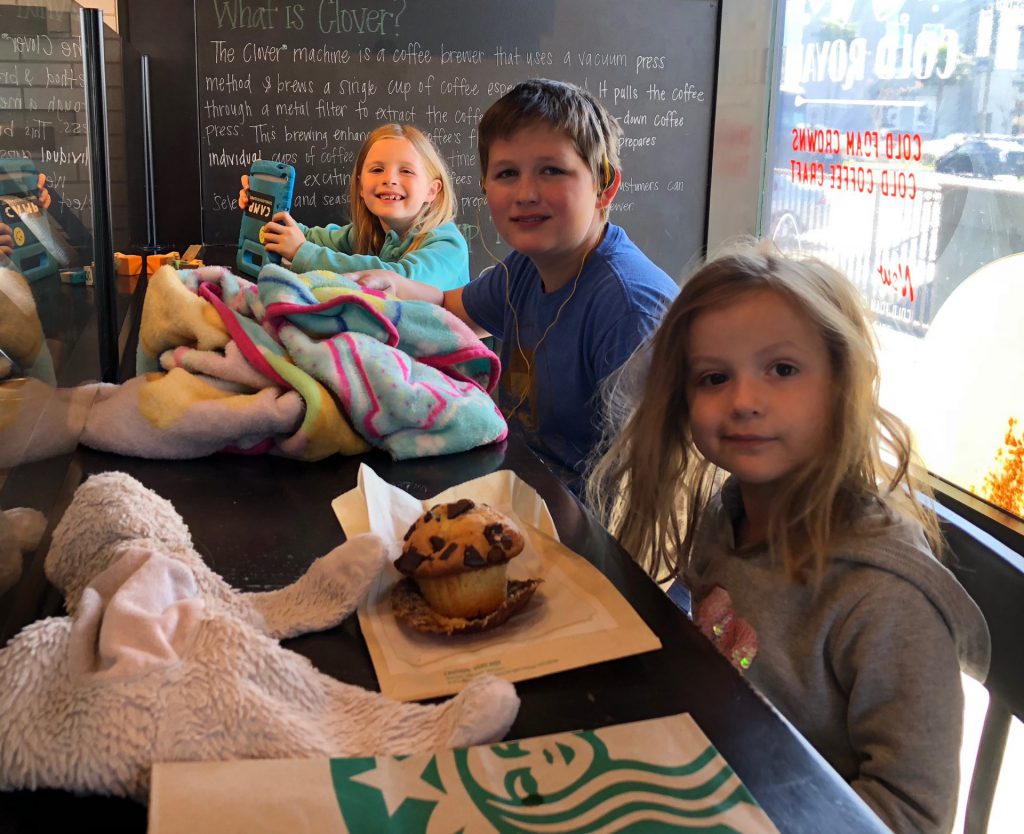 back at the campground, we immediately hit the beach, which was windy and chilly, in case you can't tell.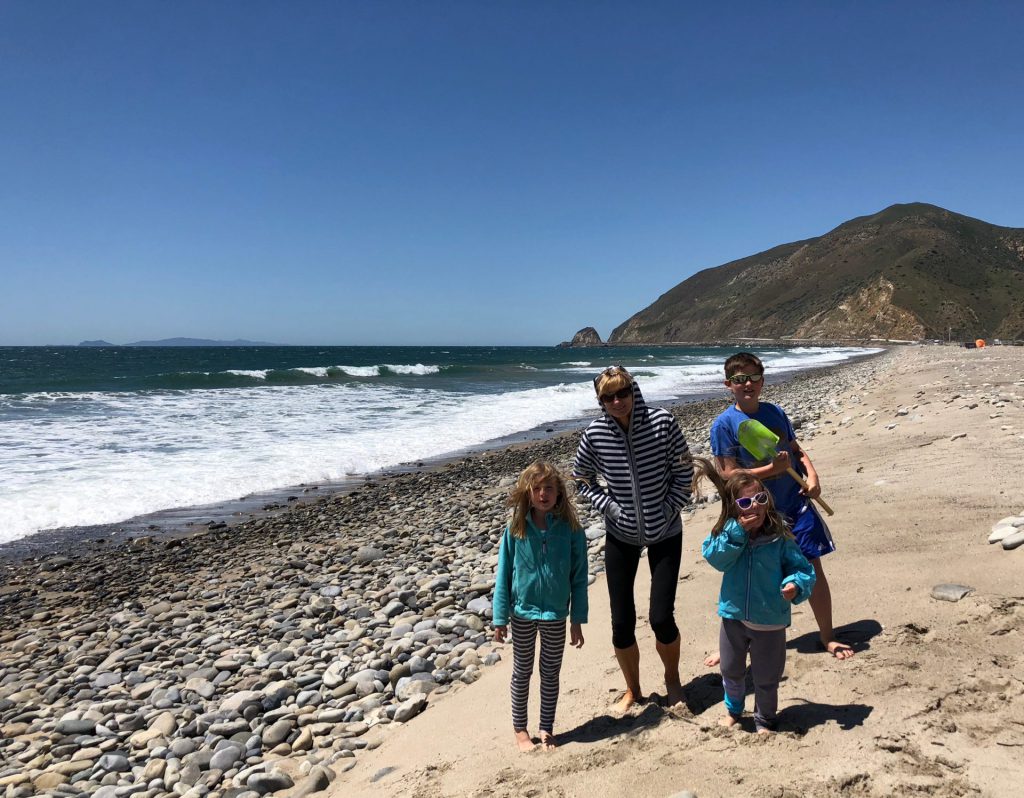 new gramma and her mini me, the anna baby.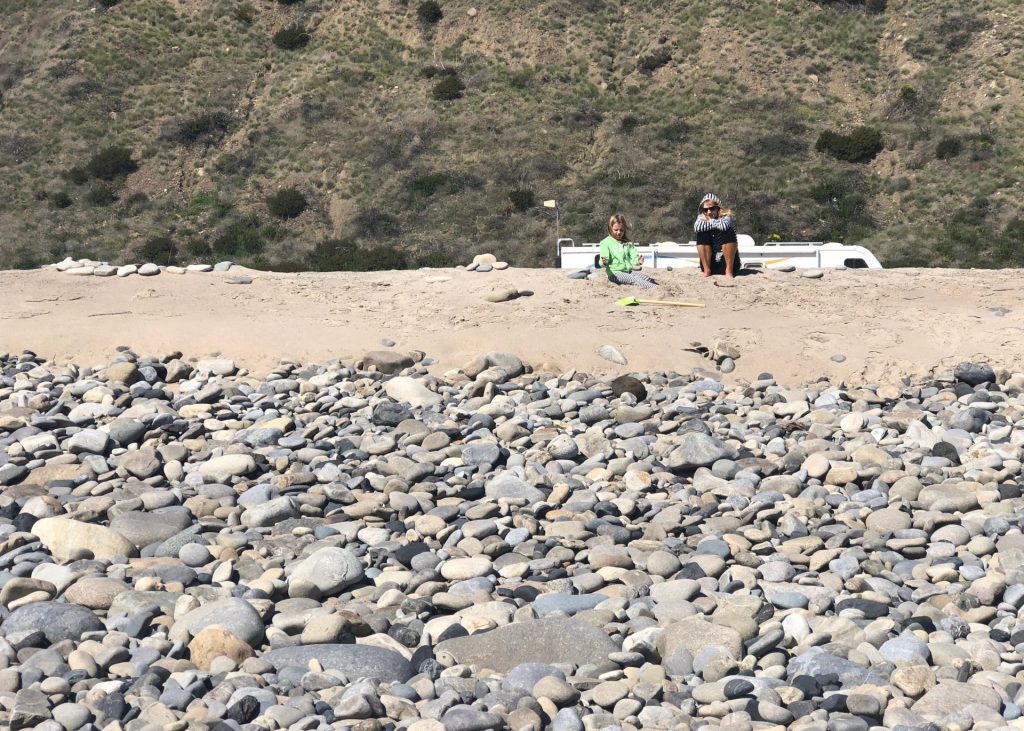 ok. so some of the pics in this post aren't new gramma specific, but i took while she was visiting and i'm a lazy blogger who posts chronologically and that's just how things are going to be. 🙂
hazel.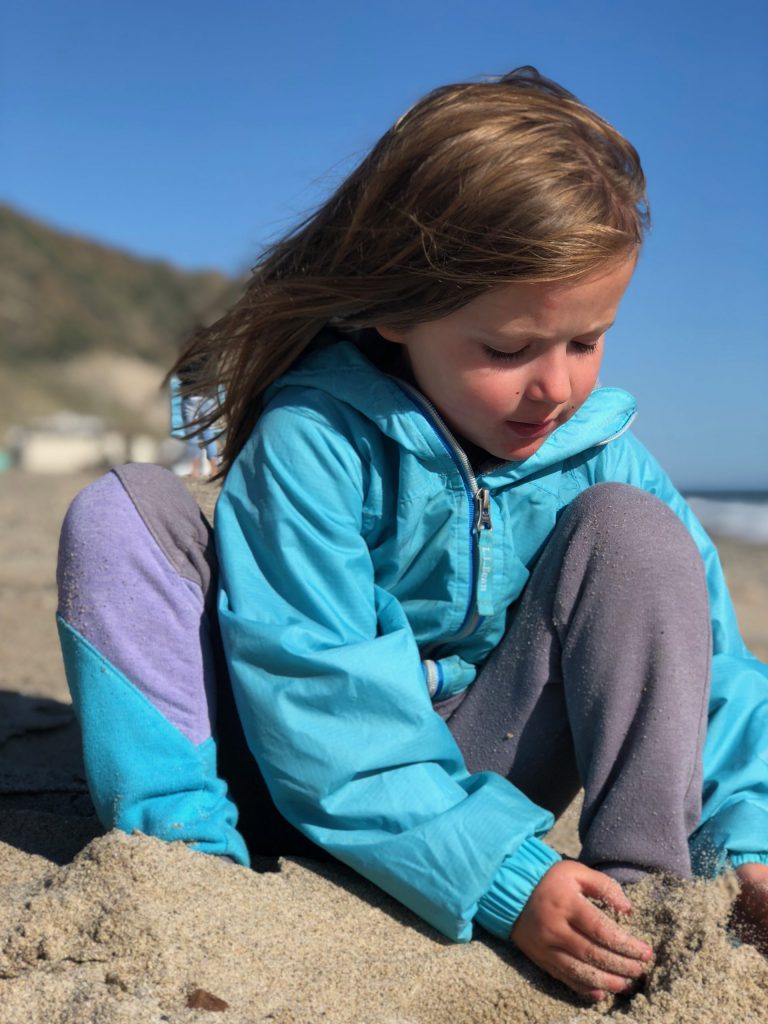 shoulder rides with dad.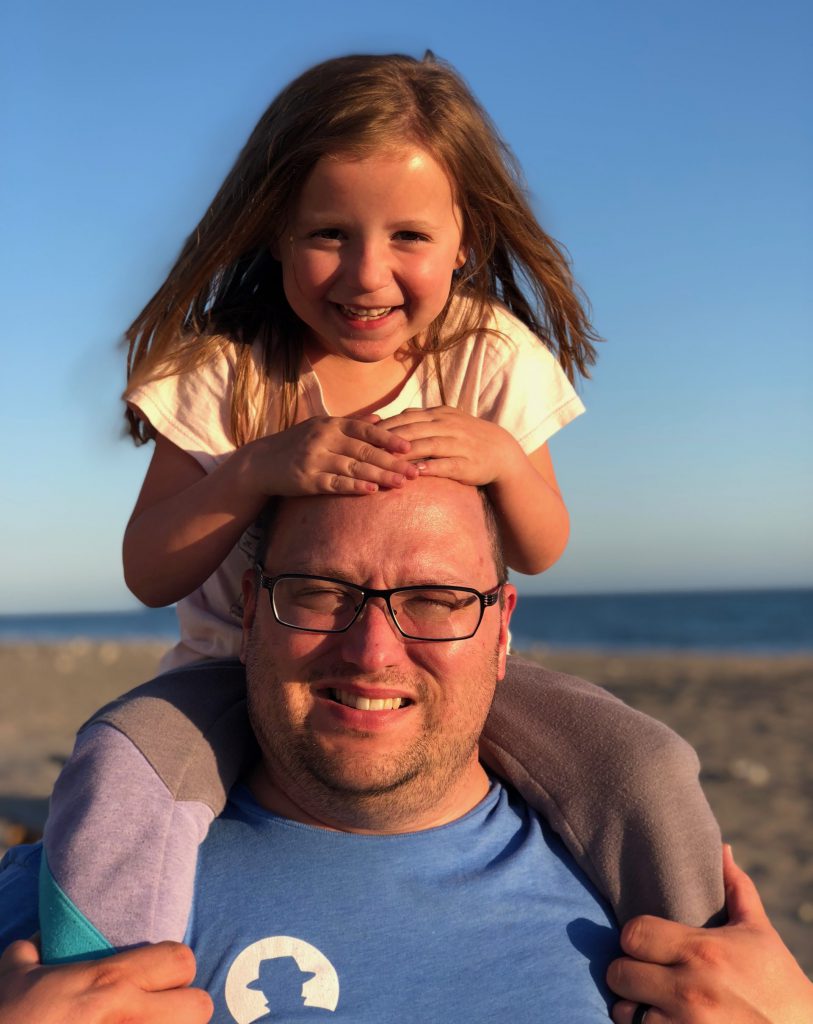 the time change was rough on new gramma, so she didn't make it to a sunset for the first few days. we were trying to keep her awake, but a few minutes after this pic, she wandered in and fell asleep.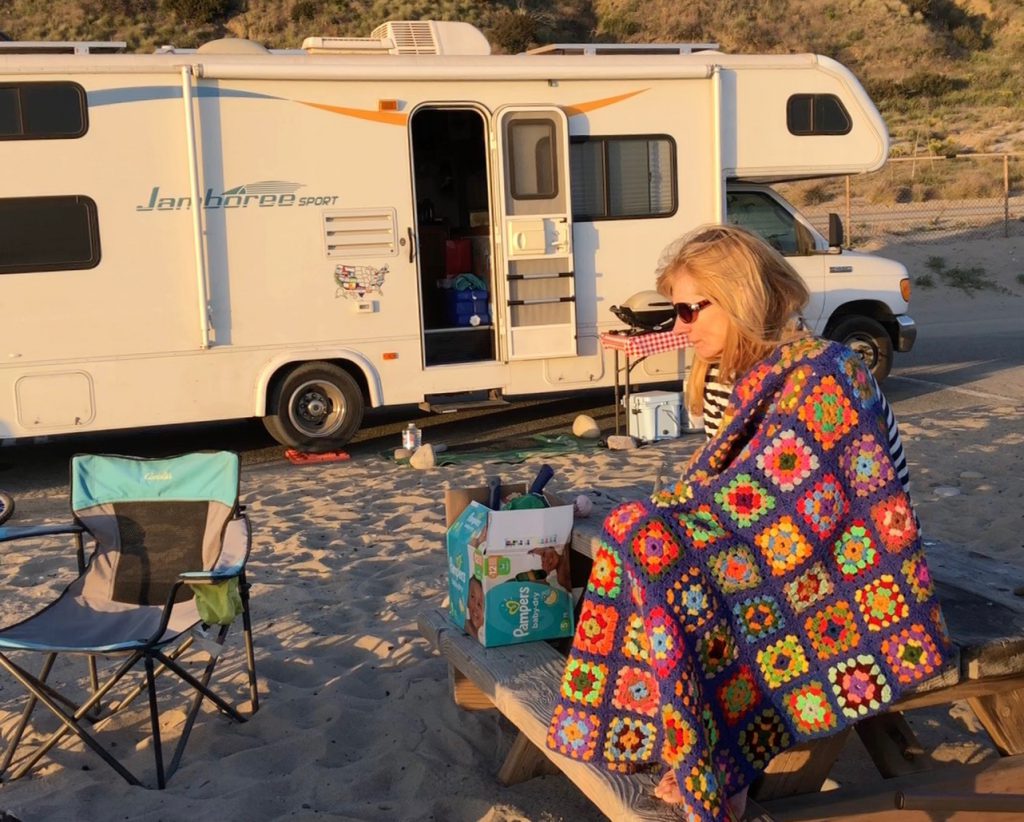 but that didn't stop me from taking 20 pics each night.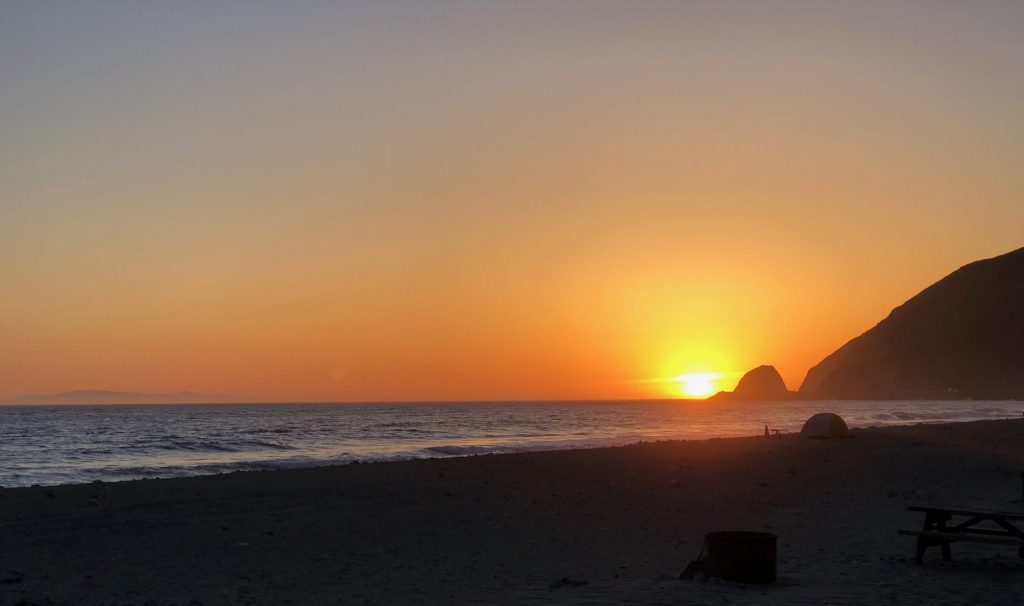 we were pretty excited one night when we could see super bright venus in the sky, just to the right of the moon. also, the skyline colors weren't too bad either.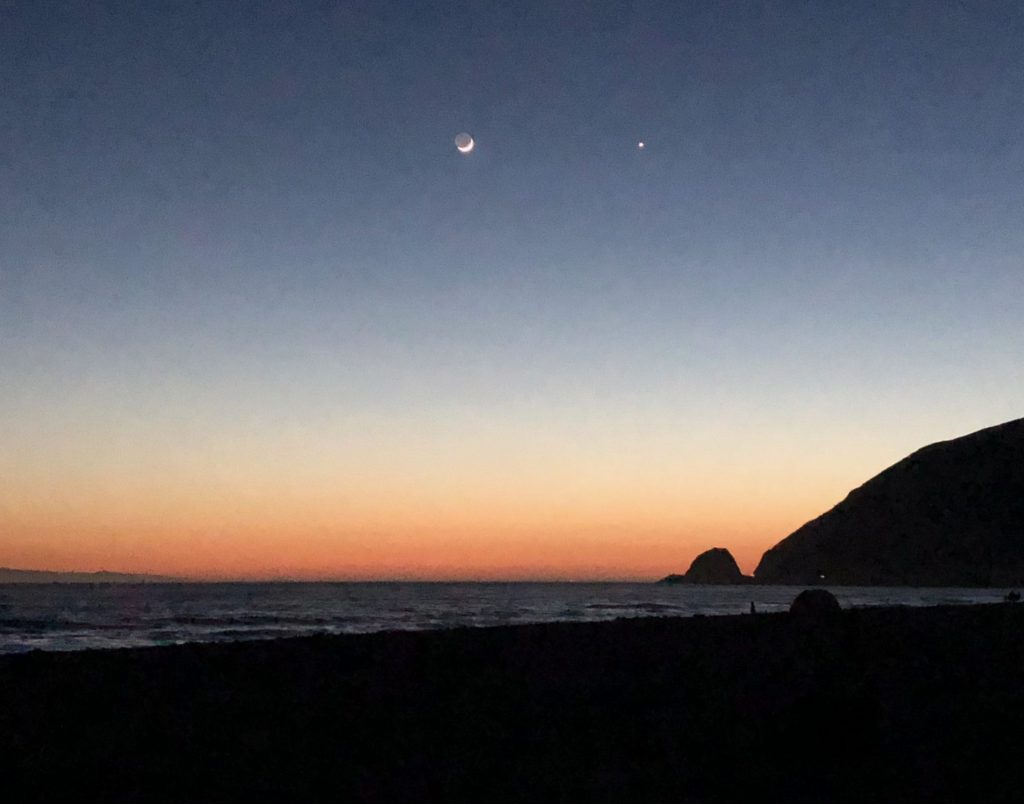 anna, joining new gramma for her not-so-peaceful meditation time. 🙂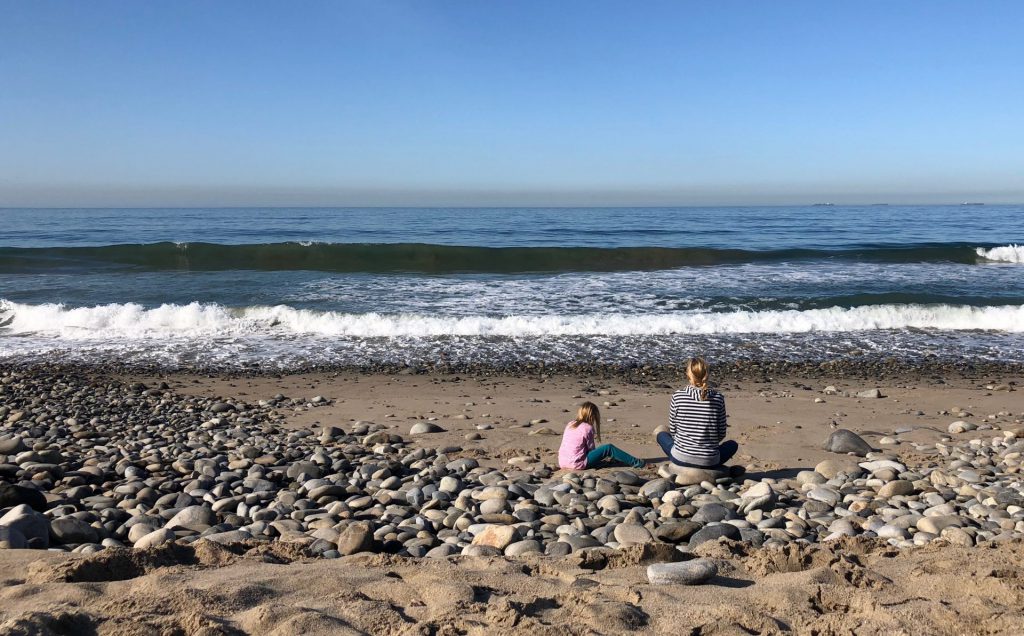 anna was super excited to take my mom back to leo carrillo to check out the tide pools and caves. and then we learned a lesson about pacific coast tides. there are two high and two low tides a day. about. and one high is super high. and one low is super low. and the others are more moderate. we were at the less low, more moderate low tide, which wasn't low enough for us to do much cave exploring. 🙁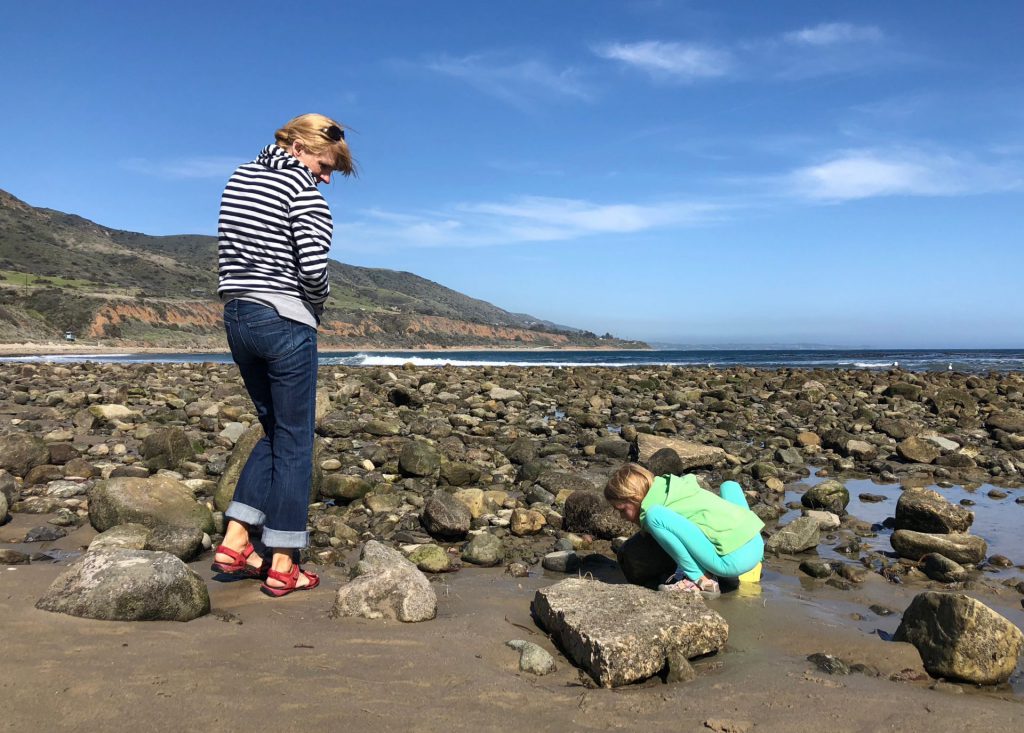 we were able to go through the first cave, with a bit of rock scrambling and getting slightly wet up to the knees or so. and when we popped out through the tunnel at the back of the cave, we came upon some sort of movie or tv or commercial shoot. a bunch of fake palm trees had been assembled and tons of crew members were standing around, while a camera man stood on a ladder videoing some folks bundled up in towels on beach chairs. they eyed us suspiciously and we rushed past to interrupt as little as possible, but not without examining the scene to see if we recognized any famous folks and taking a pic.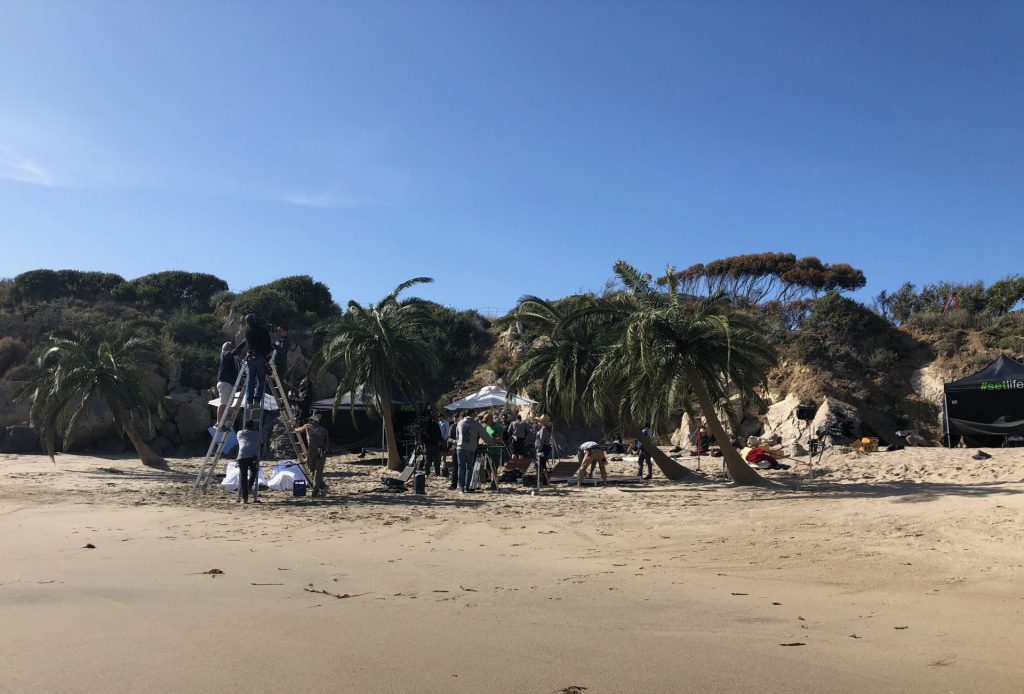 after our slightly wet trek, and a not super hot shower, even a campfire and some blankets couldn't warm up new gramma.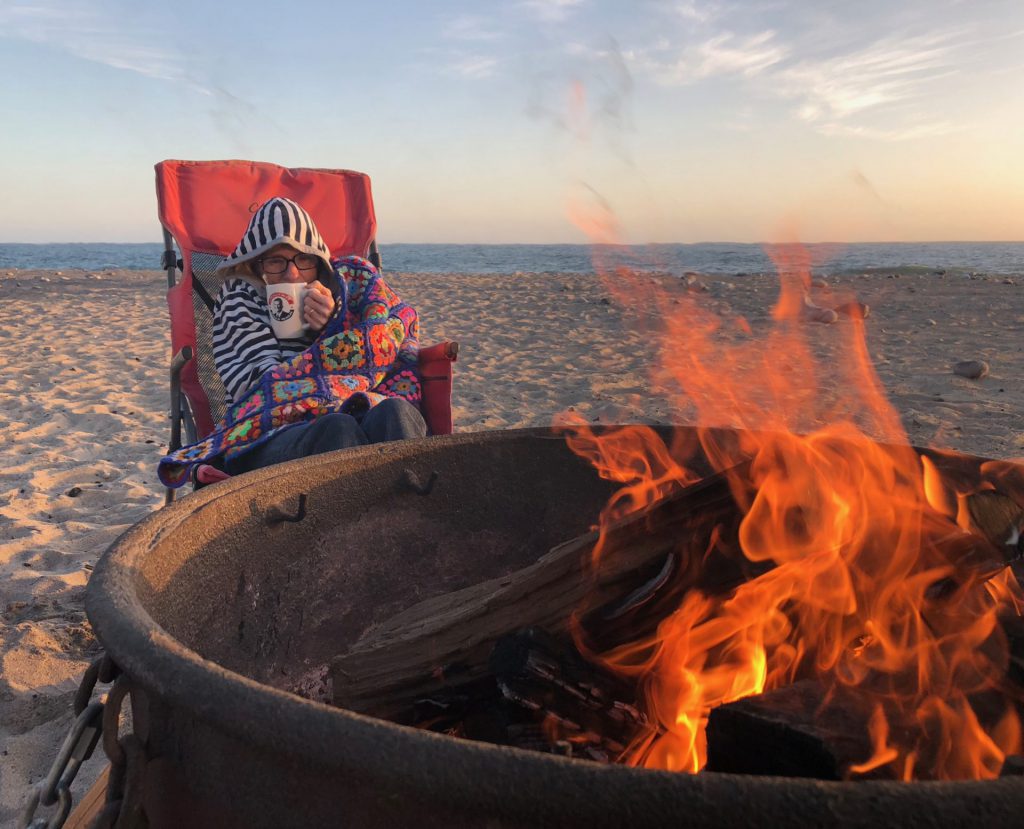 gymnastics sunsets.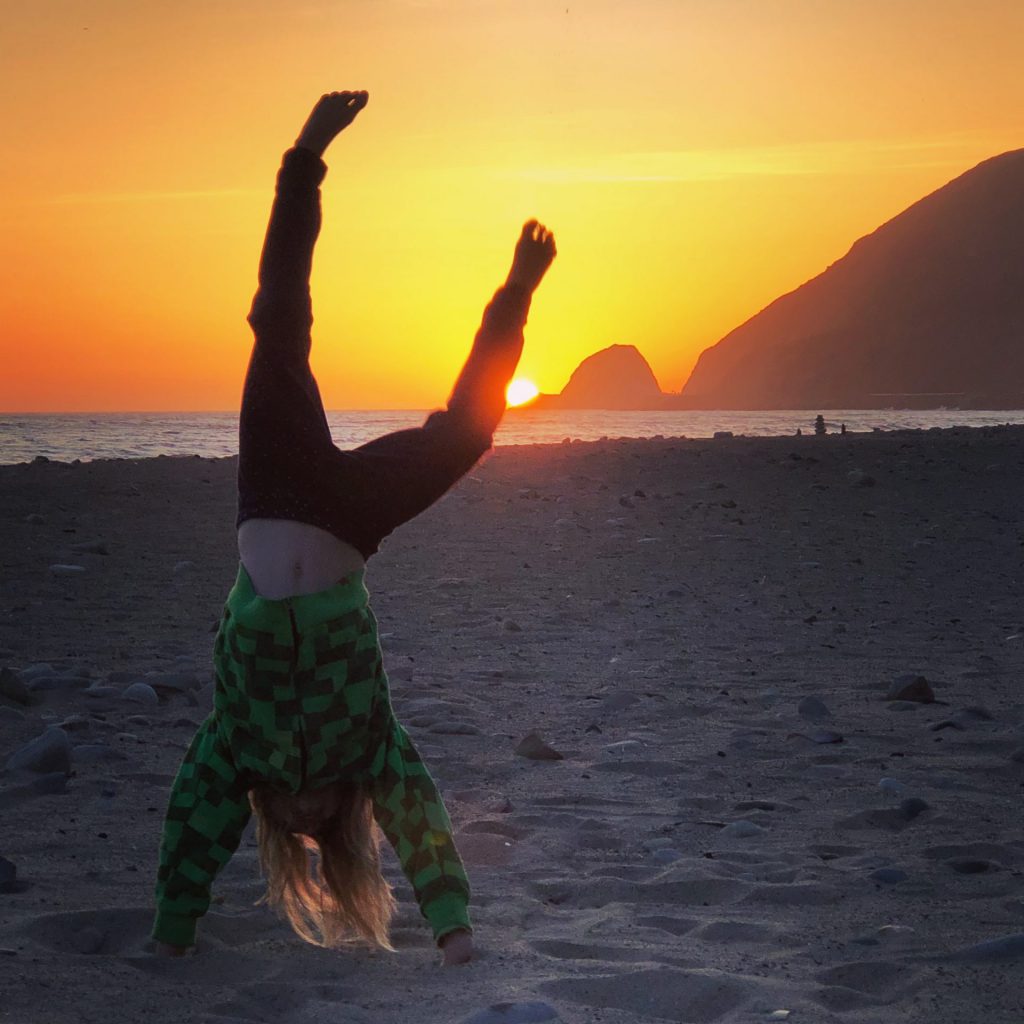 the kids talked new gramma into a quick game of dragonwood, won by isaac.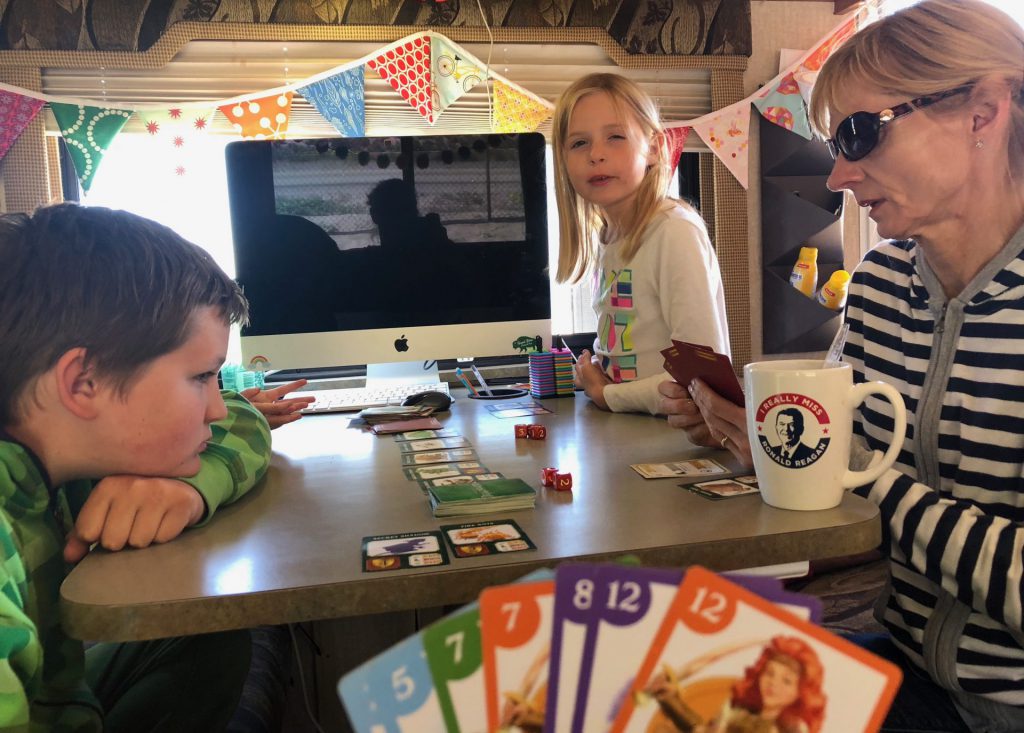 after derek successfully booked our ferry and a campsite for santa cruz island for anna and i, we decided that for her birthday, she needed an official backpacking pack. so, my mom and i took her to REI to make the purchase. she was so excited.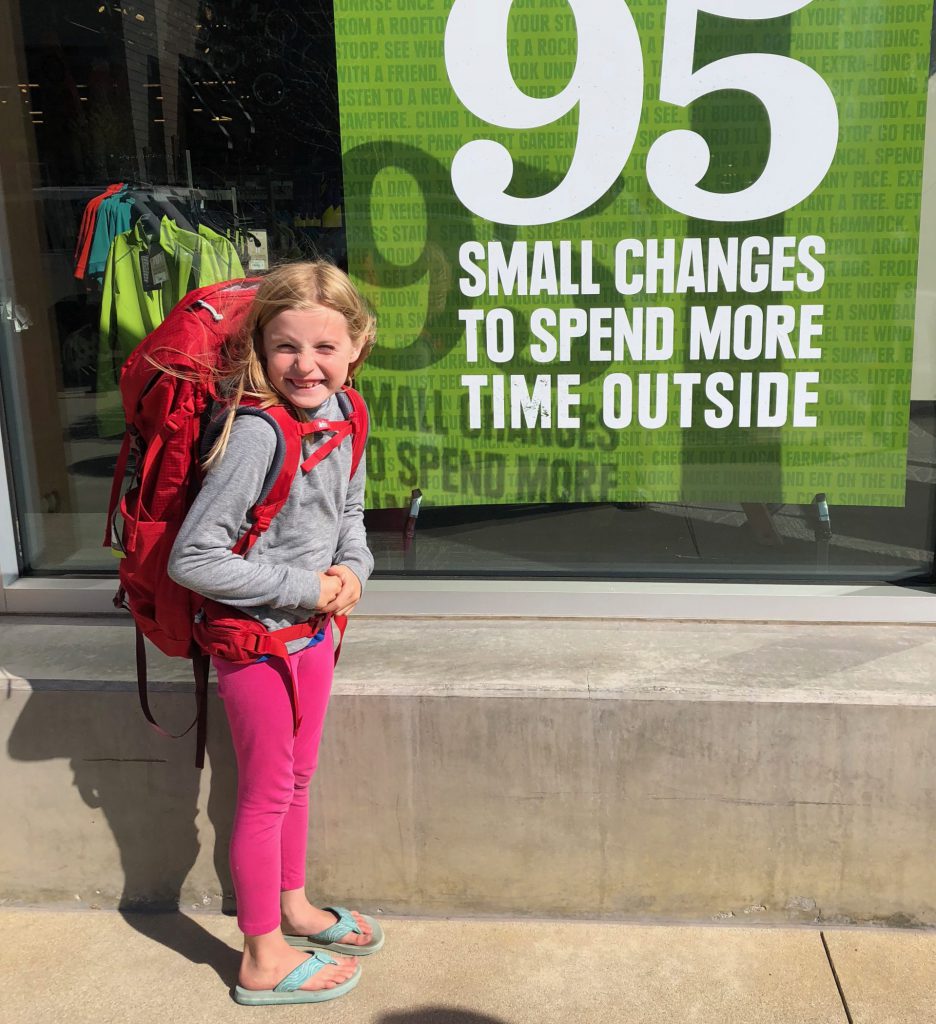 then, campground moving day arrived. time for some background info. for all of our time in the california state parks, we have battled with having to pay extra money ($10-$15 a night) for our car. the rule is intended to keep people from piling in extra parties into one campsite. but, if we TOWED our car in with the camper, it would all be just fine. but we don't tow, we caravan. it's safer and easier. but we are one family, with an rv and a vehicle, we just don't tow. at the first campsite, we ended up paying the extra money. at the 2nd and 3rd, derek offered to tow me in with a tow strap and they just let us through without making us go through the trouble. at this campground, carpinteria state park, an employee told derek and confirmed several times that we could hook up with a tow strap and pull ourselves in. so, derek waited for us and we hooked up and lo behold, upon our arrival, a friendly officer was waiting for us. it was maddening, because derek had asked several times if this was ok, and they gave us the wrong info. i assumed he called the cop, but the cop said that he was there the entire time, watching it unfold, which means he knew what we were about to do and then pulled us over. he was super condescending to me and then gave derek a long lecture. we made the appeal that we are just a single family from the same residence and we are being punished with extra fees for trying to be more safe as we travel, but to no avail. apparently though, this is their only hard and fast rule, as generators were on at all hours of the early morning and late and night. and the rule that you don't "disturb vegetation" which includes grass didn't seem to matter either. i think it's only the rules that give them extra money that they care about. either way. boo to california state parks for not being able to find a better solution for this problem.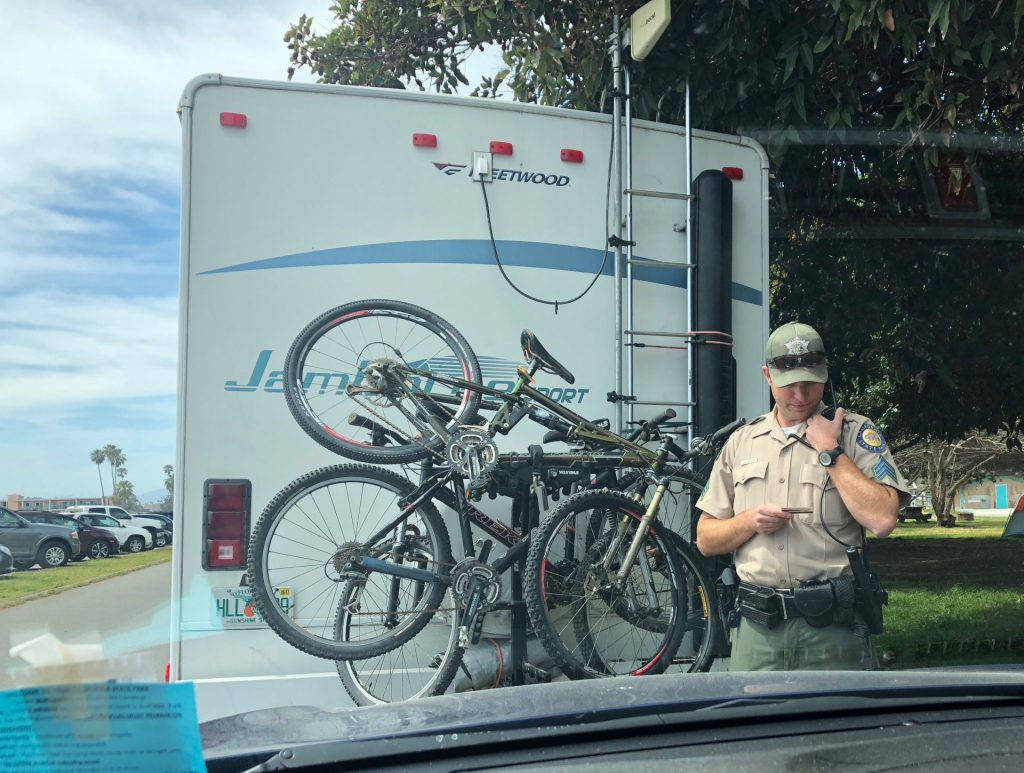 carpinteria state beach is crazy packed all the time. i have no idea why. the beach was covered in debris and driftwood. and the campground was just a regular old campground. the proximity to the cute little town was a plus, but that was about it.
we did find a bunch of really cool rocks, with *i think* shells bored into it, making perfect little circles all over them.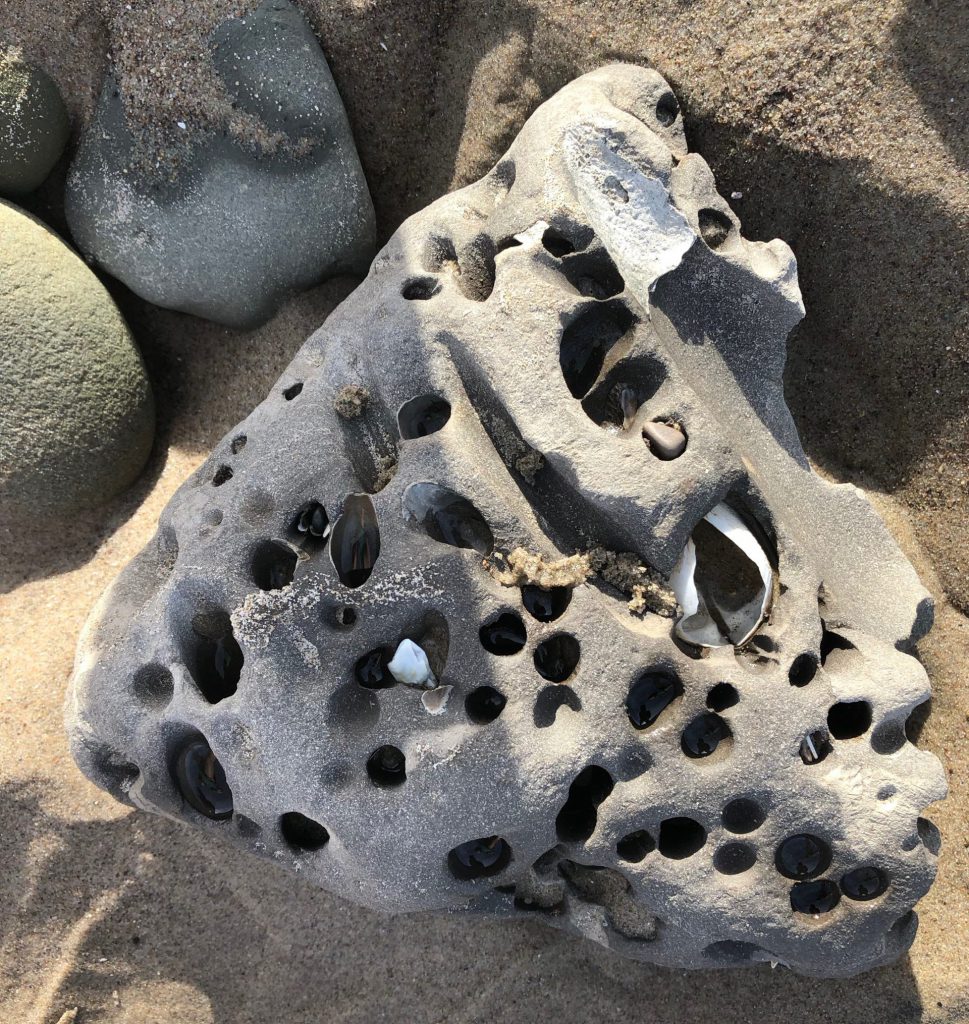 there was a very pretty walking trail that led into the town, which we strolled several times, to escape the confines of the camper.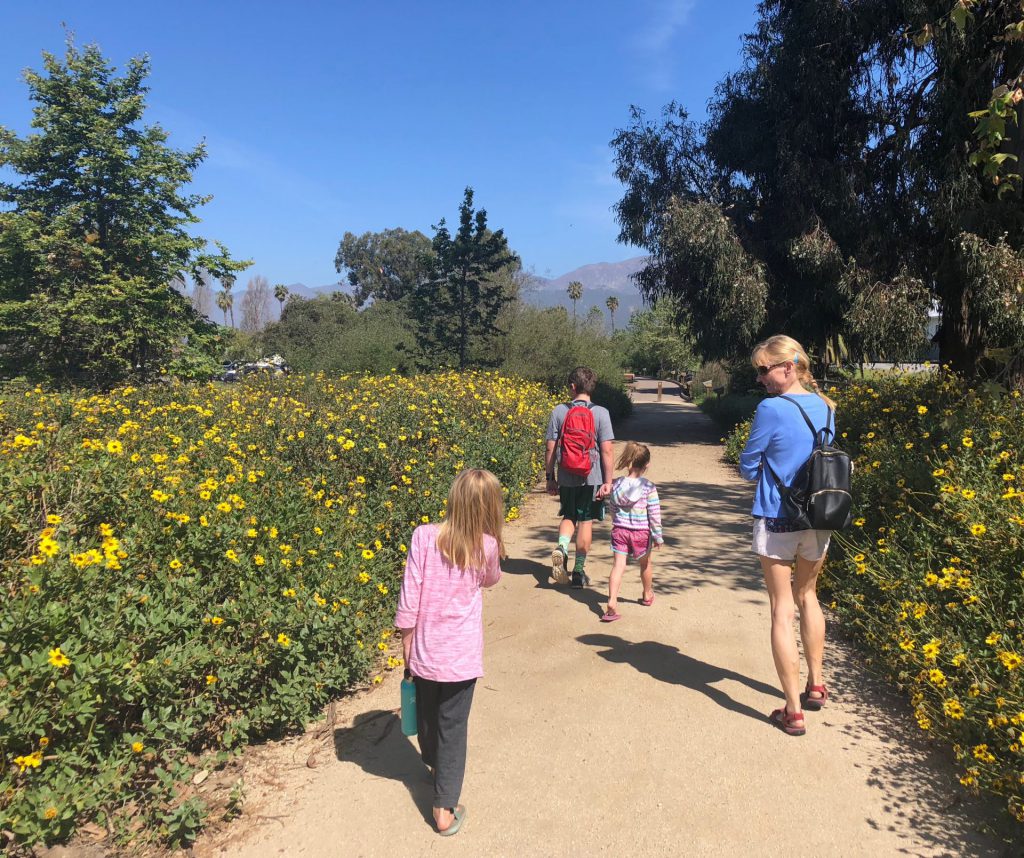 i bribed the kids with ice cream for the first trip. while they ate on a bench, my mom and i visited an antique/thrift shop.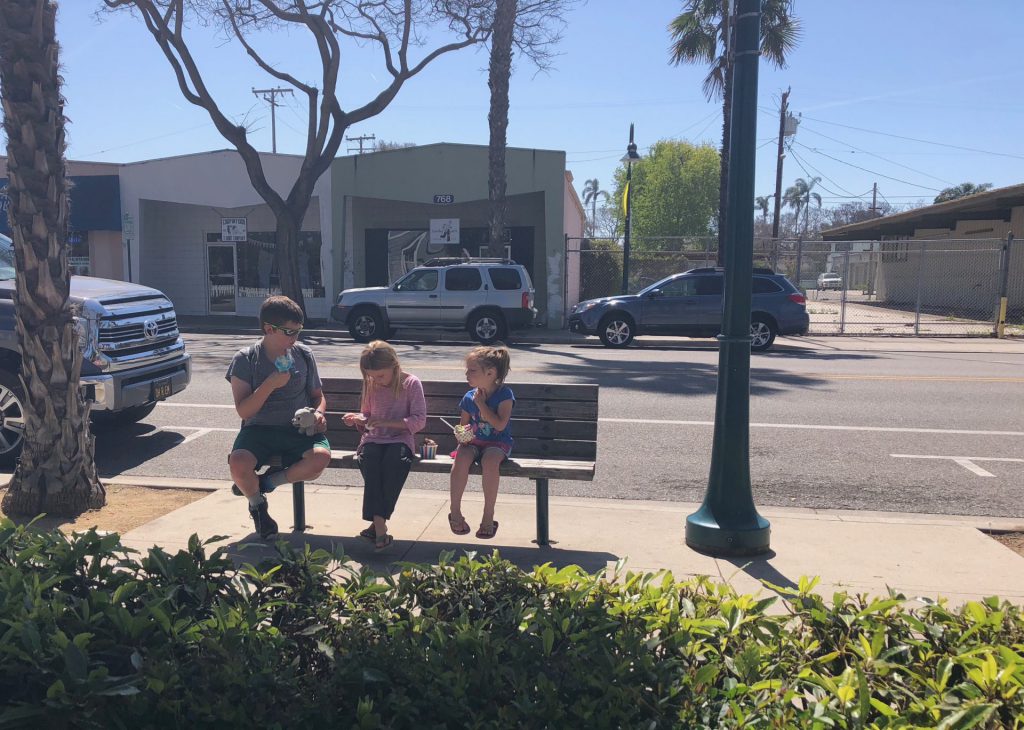 at a different shop, so many pretty bottles. (we could also buy sea glass for like $20 for about 8-10 pieces).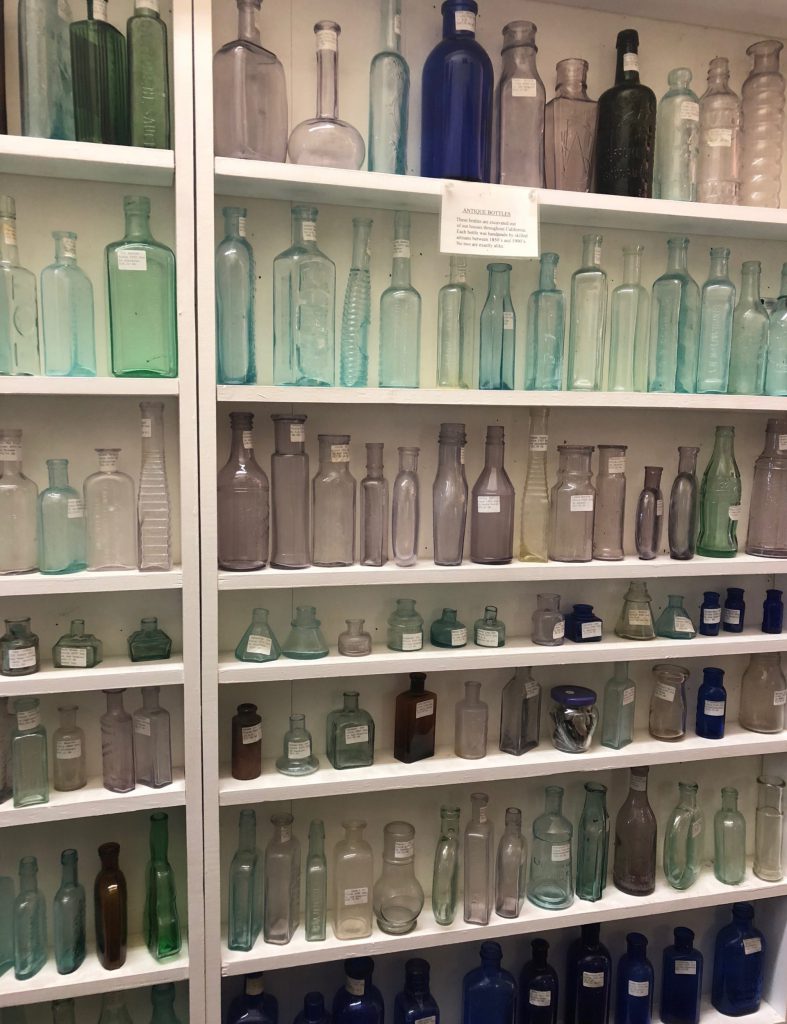 we happened upon a cute little produce cart, but having recently stocked up with groceries, we had to pass.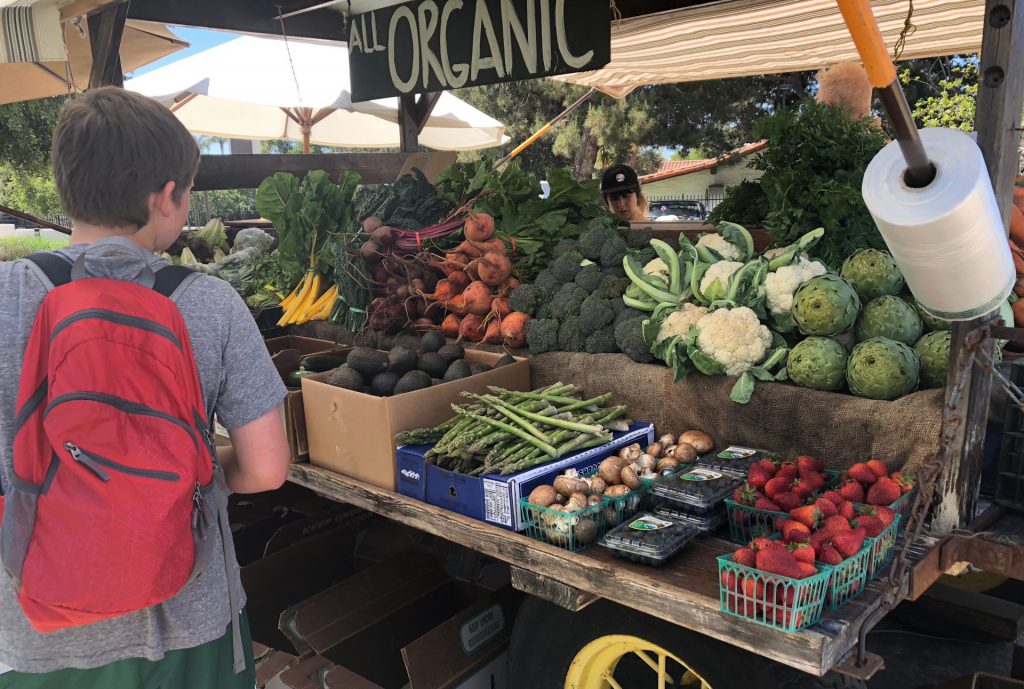 on one, sort of warmish day, we hit the beach for a bit, for some reading and kid frolicking. my sister, julie, gave this book to my mom before she came to california (some essays about california), so we took some photos to document the actual reading of the book on a california beach. one with mountain background.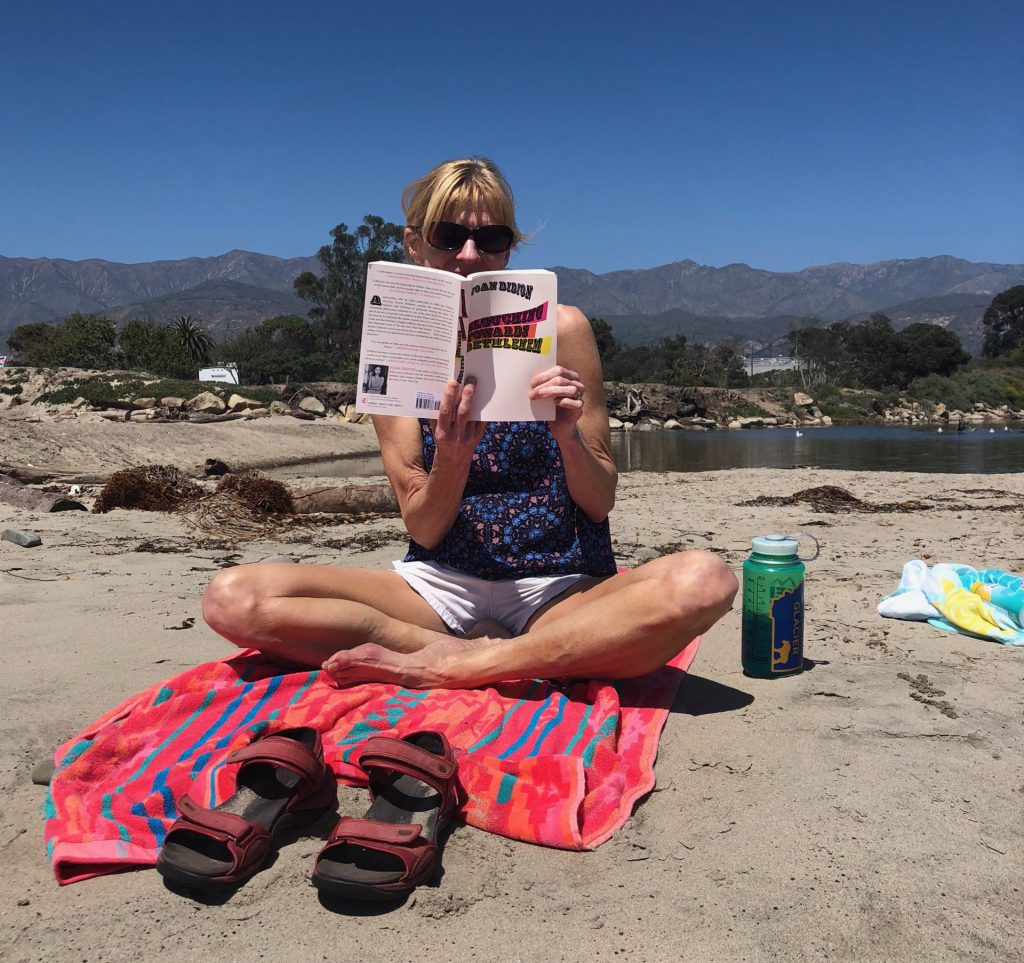 and one with ocean background.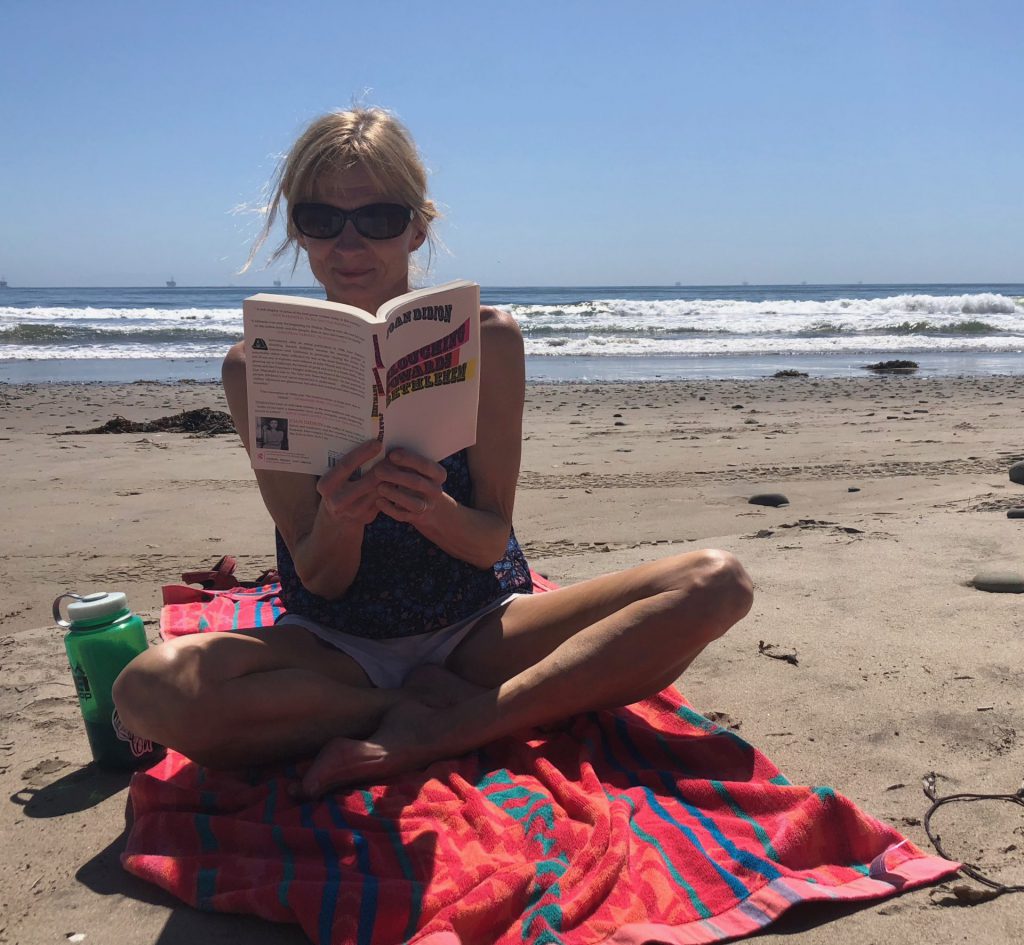 next to our campground, there's a creek that runs into the ocean, making a sort of murky lagoon after high tide. the kids loved playing in it. it was a little warmer than the ocean. and no waves. but, then a concerned local approached me and informed me that it was possibly still contaminated with bacteria and other gross stuff, after the recent mudslides and maybe some dumping by nearby plants. i don't remember. i just quickly evacuated the lid kids. so far, they seem to have avoided being poisoned. if they grow an extra toe or ear, maybe we will circle back to this event.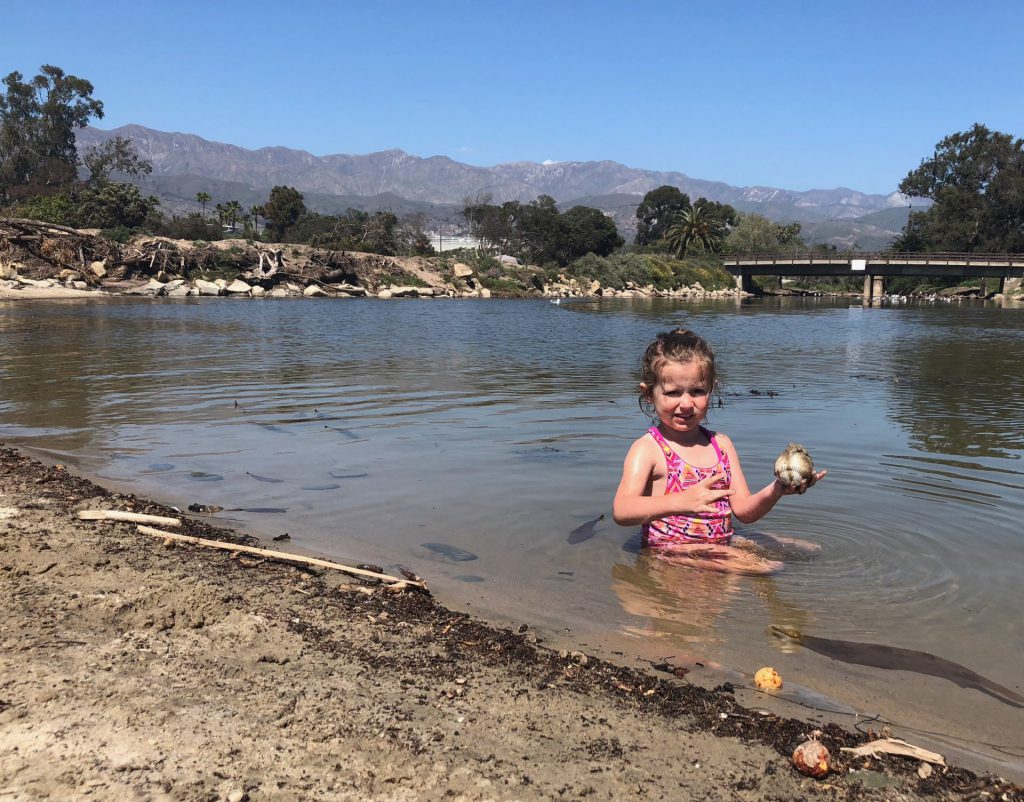 we have been reading island of the blue dolphins as a family after i picked it up at the last bookstore in LA. the kids have loved it. anna channeled her inner karana, by using driftwood and kelp to make a little tee pee in the sand.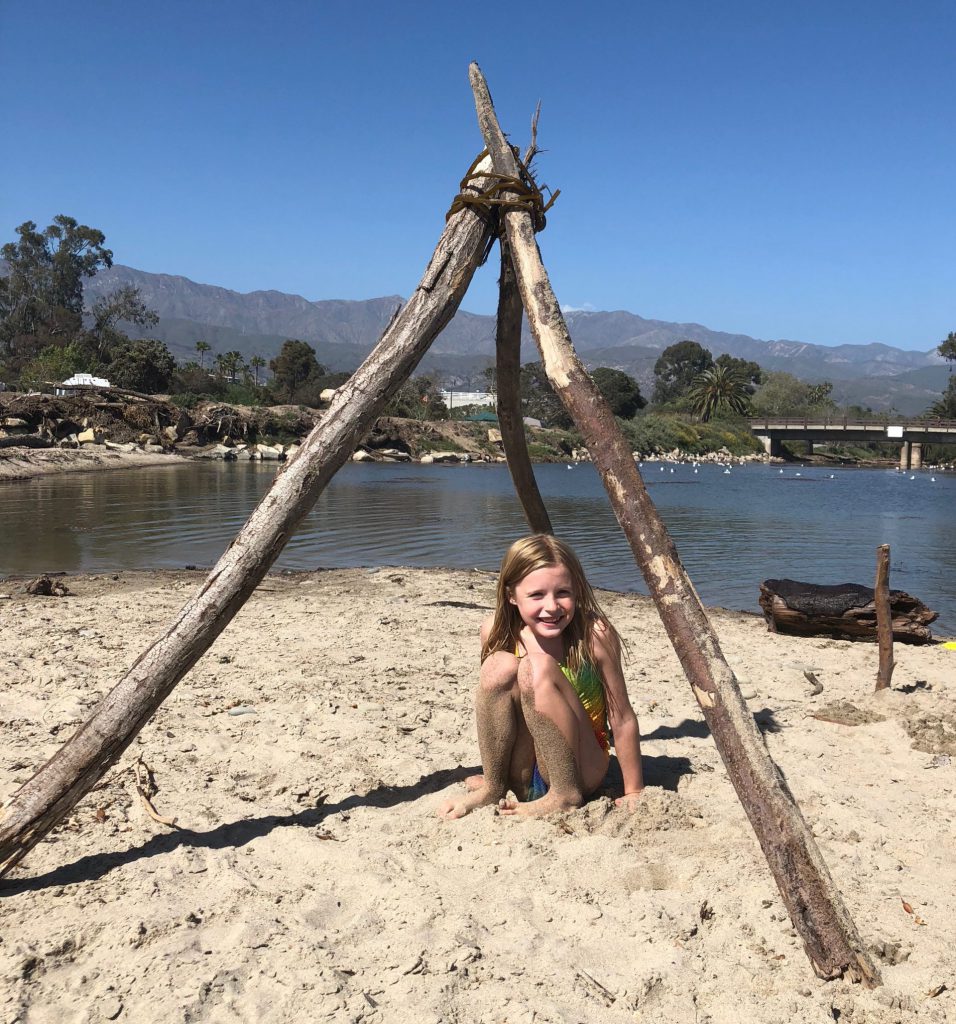 having lost the ability to play in the lagoon, hazel was left with no other option but to check out the ocean. carpinteria is billed at the worlds safest beach, which i assume has to do with the super gentle slope of the sand, making it shallow for a LONG way out. (it's certainly not because of the pristine lagoons). when hazel realized the waves never really came above her ankles, she had a slight change of heart about the ocean.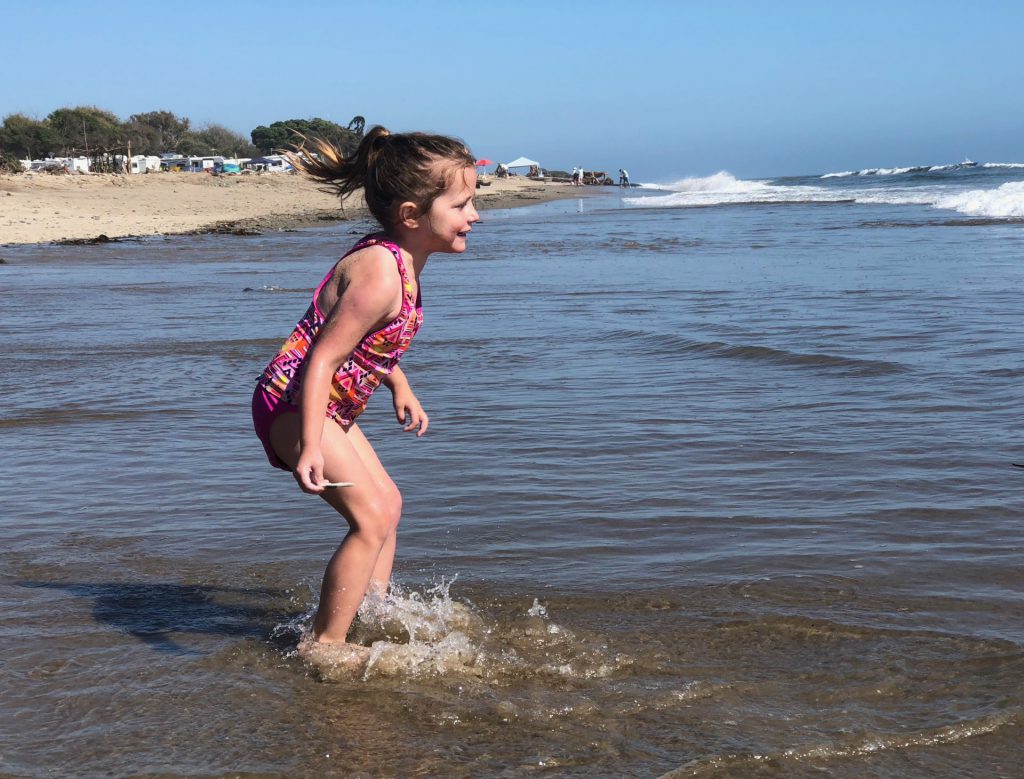 derek and i have been (sort of) eating keto for awhile. my mom and terry joined in awhile back, so derek was excited to make some delicious keto-friendly fare for my mom. these make your own keto fresh rolls with peanut (and other sauces) are awesome.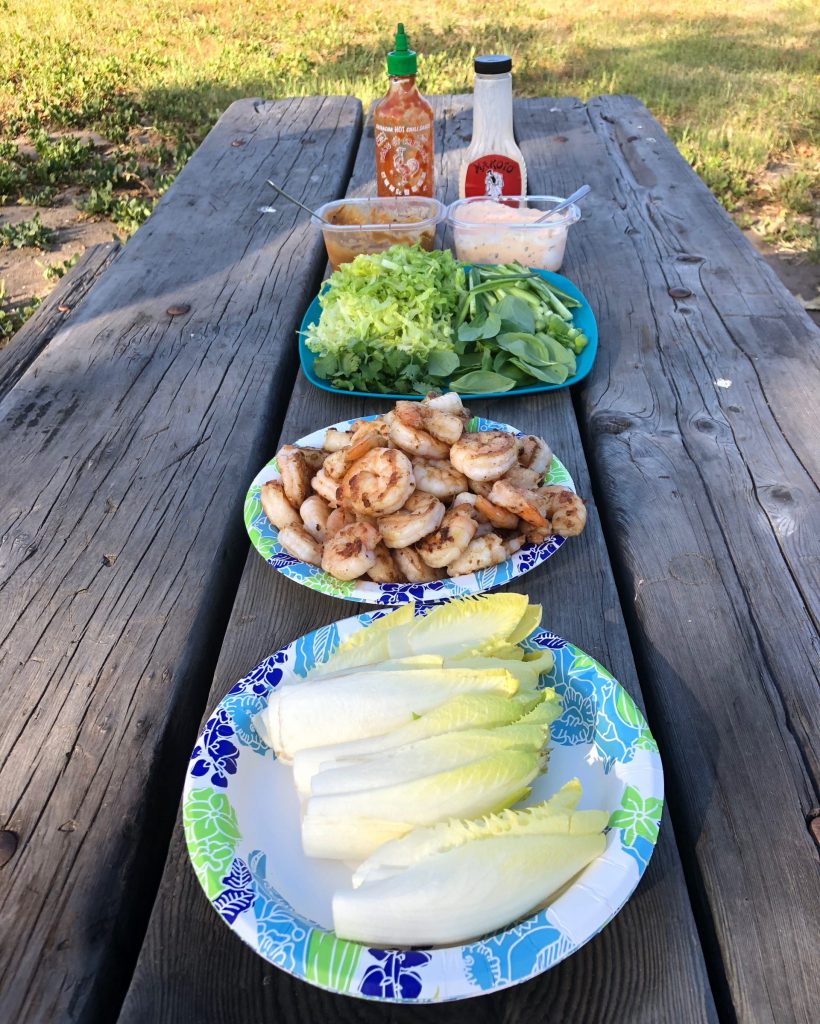 before we sent my mom back of the east coast, we made a laundry run. i was more excited than i should have been about these orange dryers.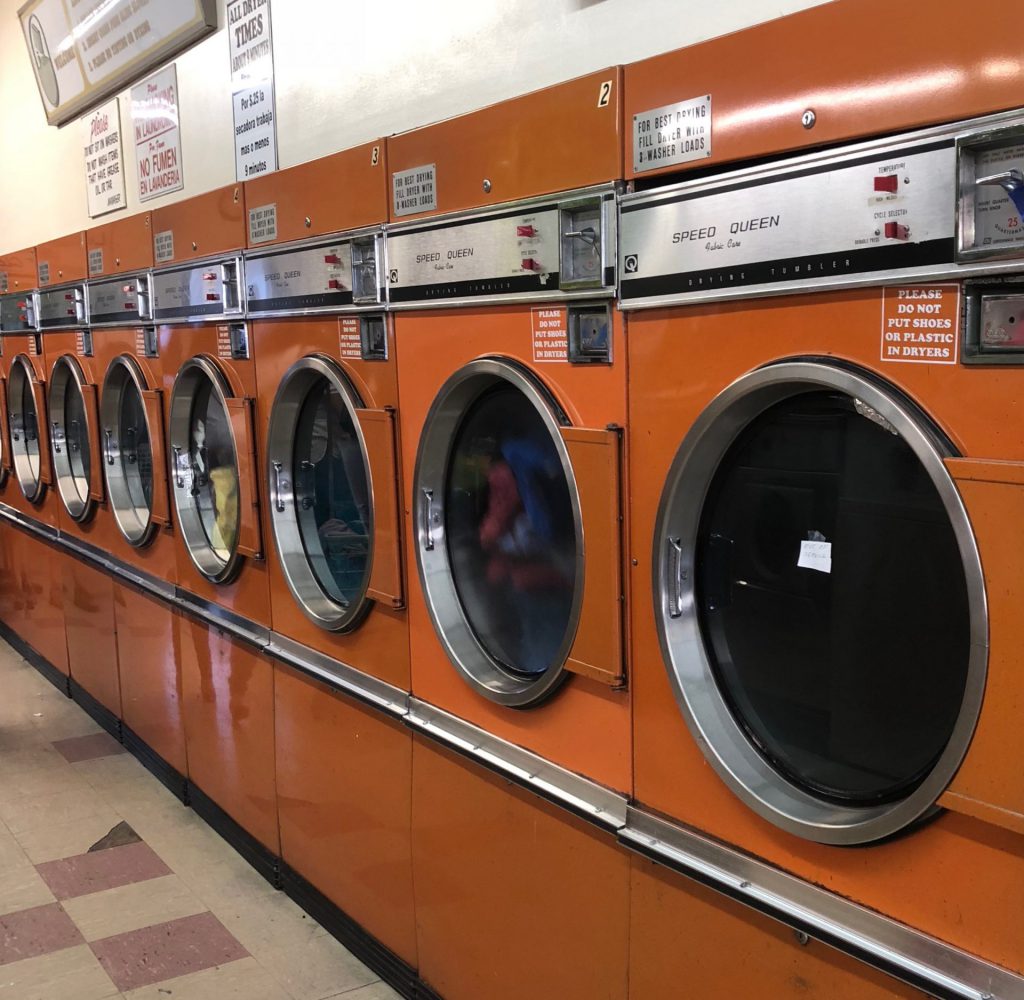 the kids are always happy to when i laundry, so they can play their ipads with reckless abandon. bonus if there's free wifi.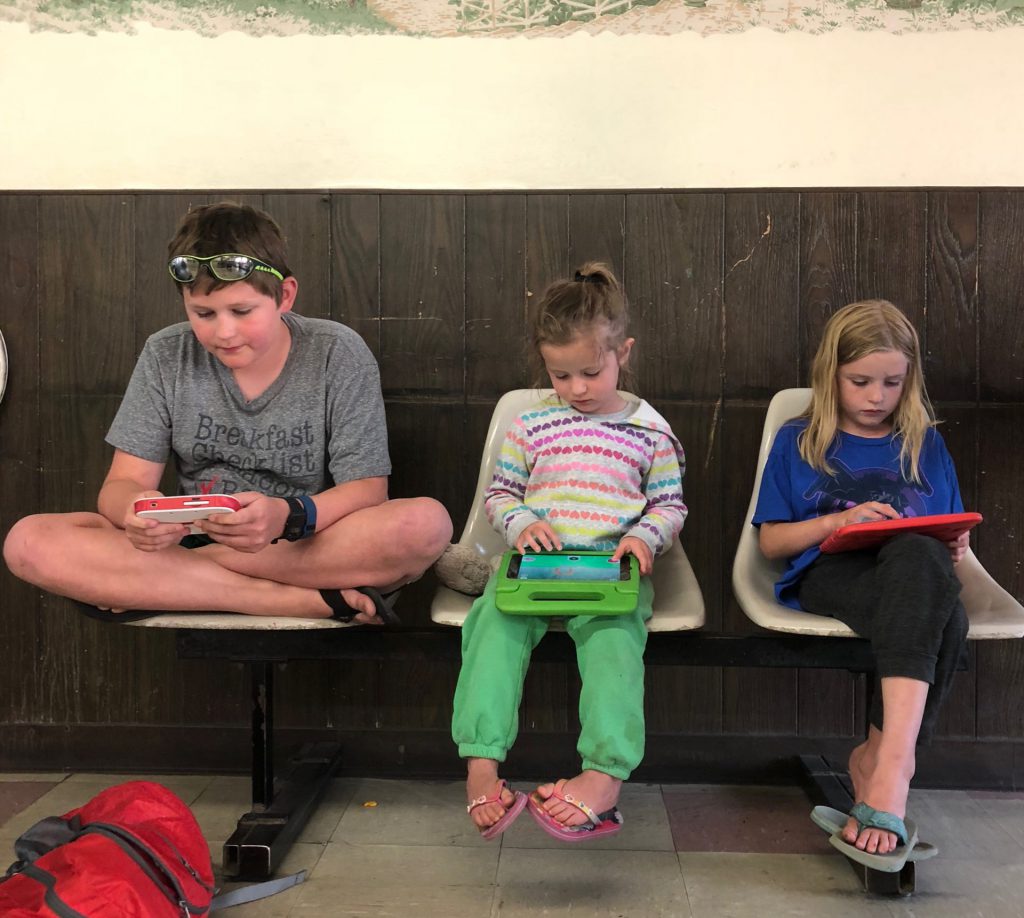 we kicked off new gramma's last day in town with a walk to a local coffee shop, which is attached to a fancy pants "heritage goods" store, which sold expensive items for hipster farmers. but, there were baby ducks, so we obviously had to check that out.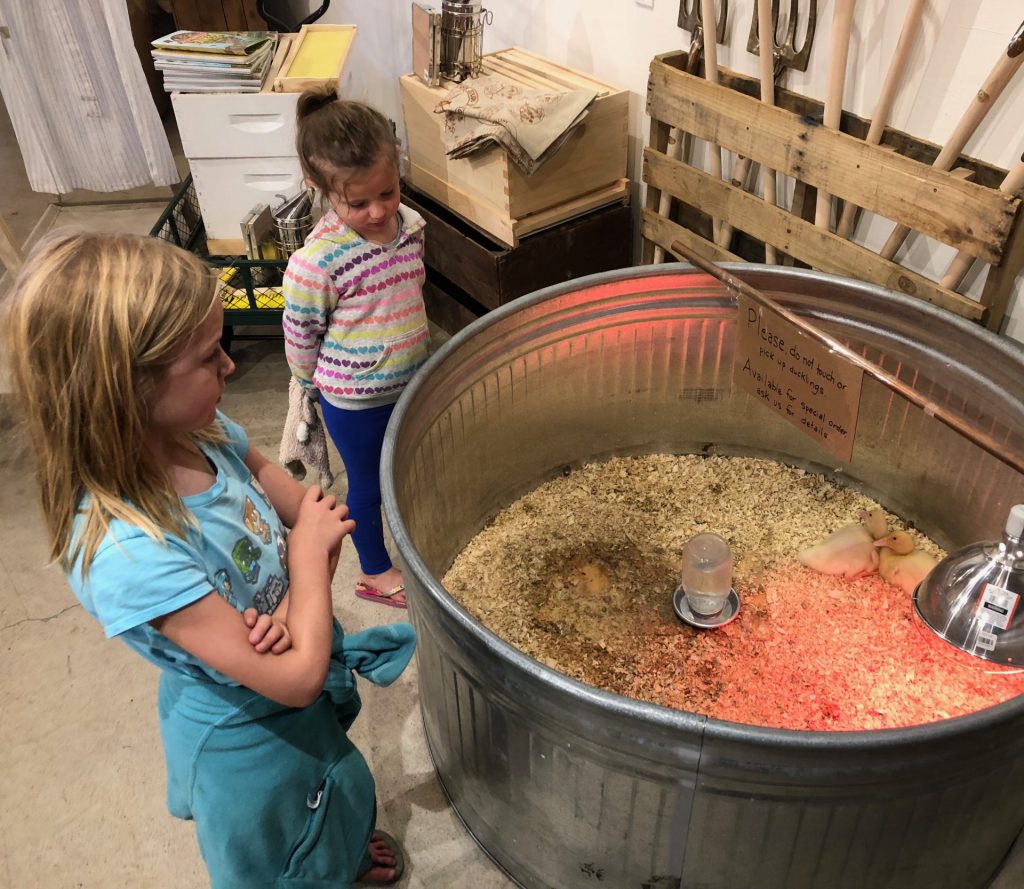 coffee from the lucky llama.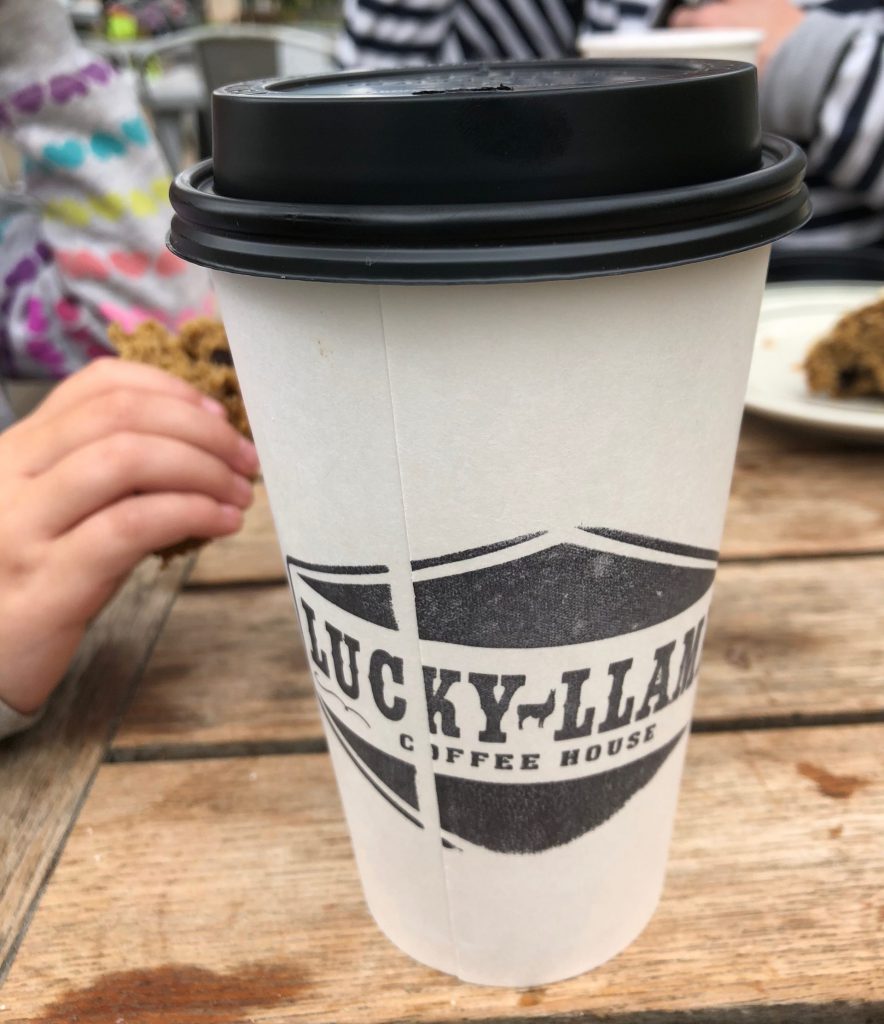 across the street was a used book store, run by the friends of the carpinteria library. we spent like an hour in there, picking out at least 20 or so books between us, at about $2 each. so awesome. here's my haul.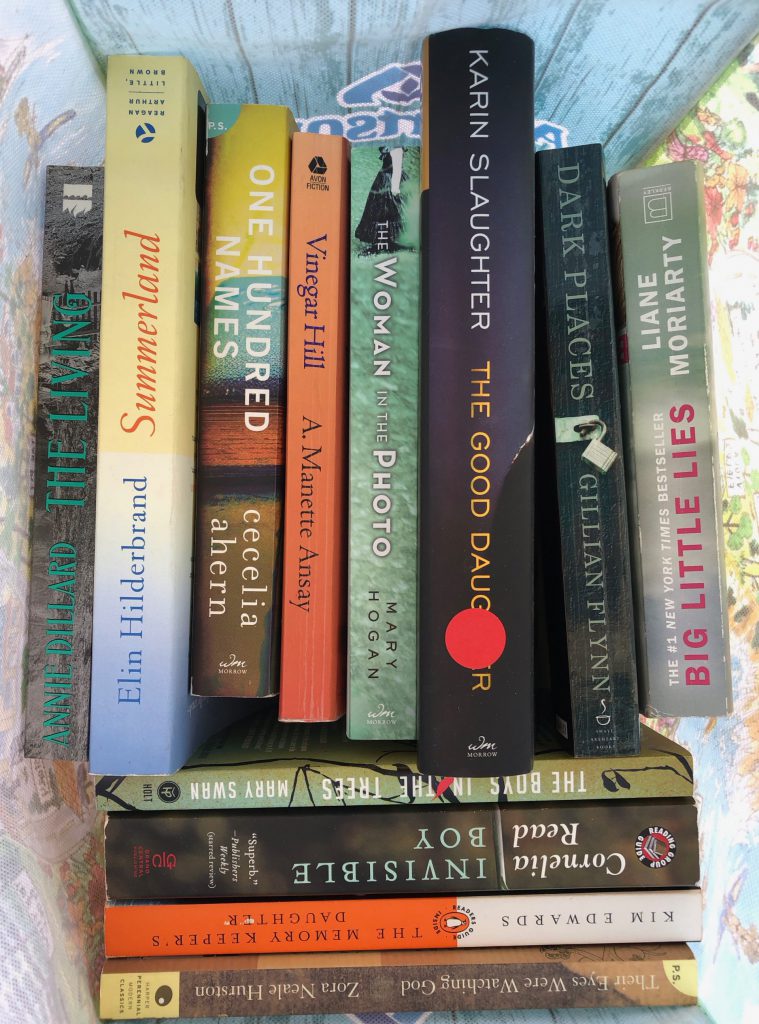 then, we took some lesser traveled roads back to camp, where we saw this historical marker and cool plants.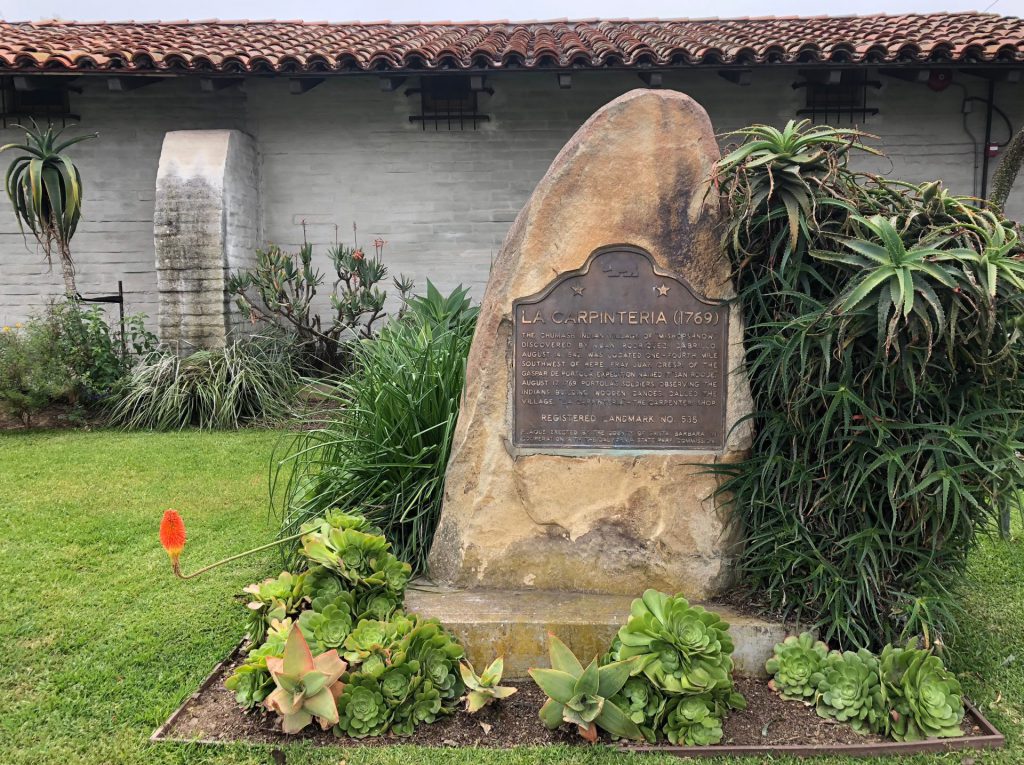 aaaaaand. a fabric shop!! i picked up some green background fabric for one last quilt to be made from a bundle of carkai that i have been carrying with my all over the country since we started this trip.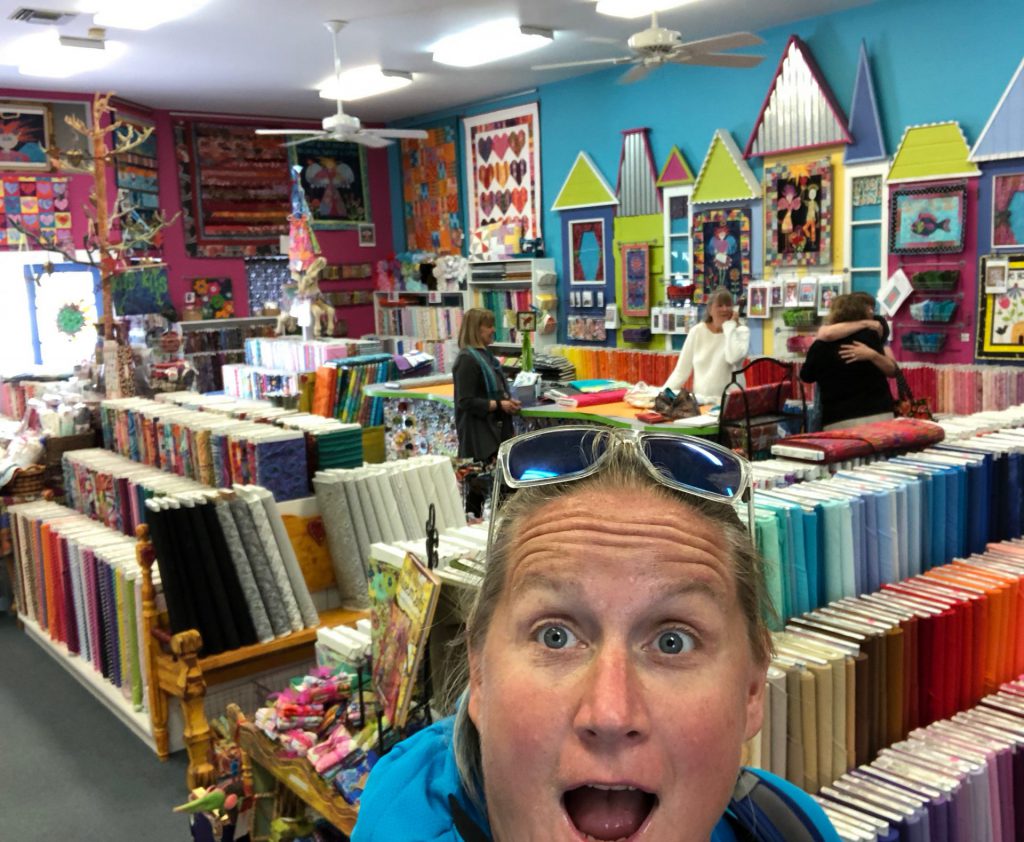 inspired by the new book purchases, new gramma and little new gramma set about reading together.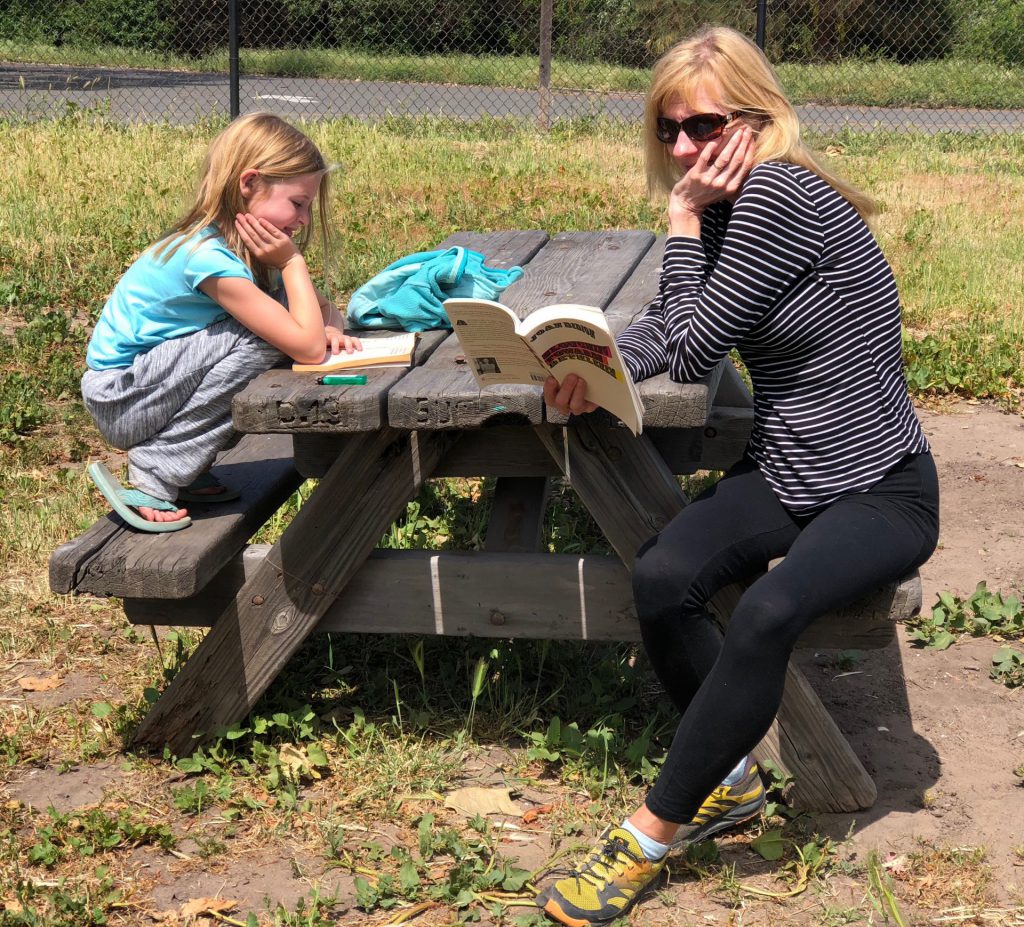 later in the afternoon, we decided to go to the bluffs to see if we could see some seals in their little protected area. the walk from the parking lot to the bluffs is through a nature preserve, much to the dismay of any lidkids who didn't want to "hike".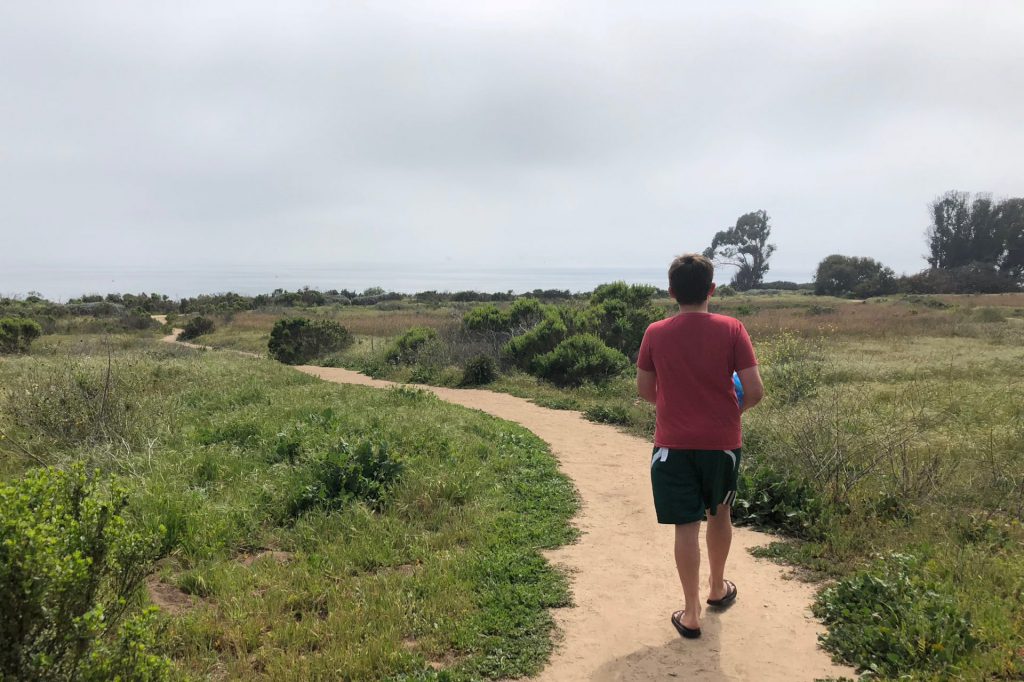 a railroad track runs along the coast (and next to our campsite, like many of the campgrounds we've been at along the coast). our last obstacle before reaching the bluffs.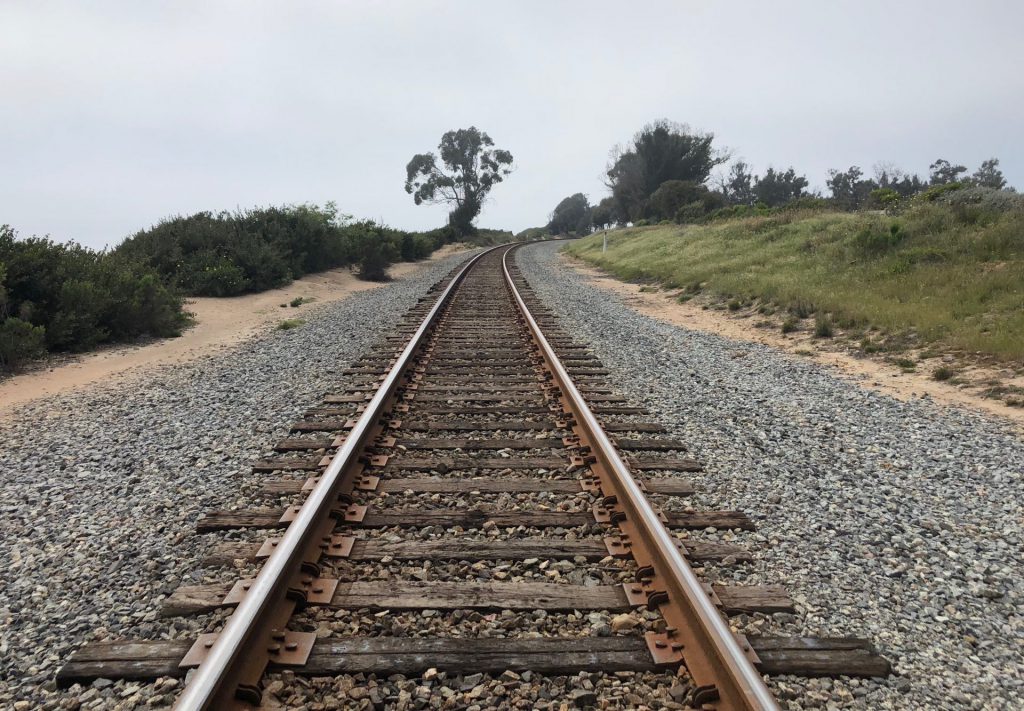 harrumph. not much to see here.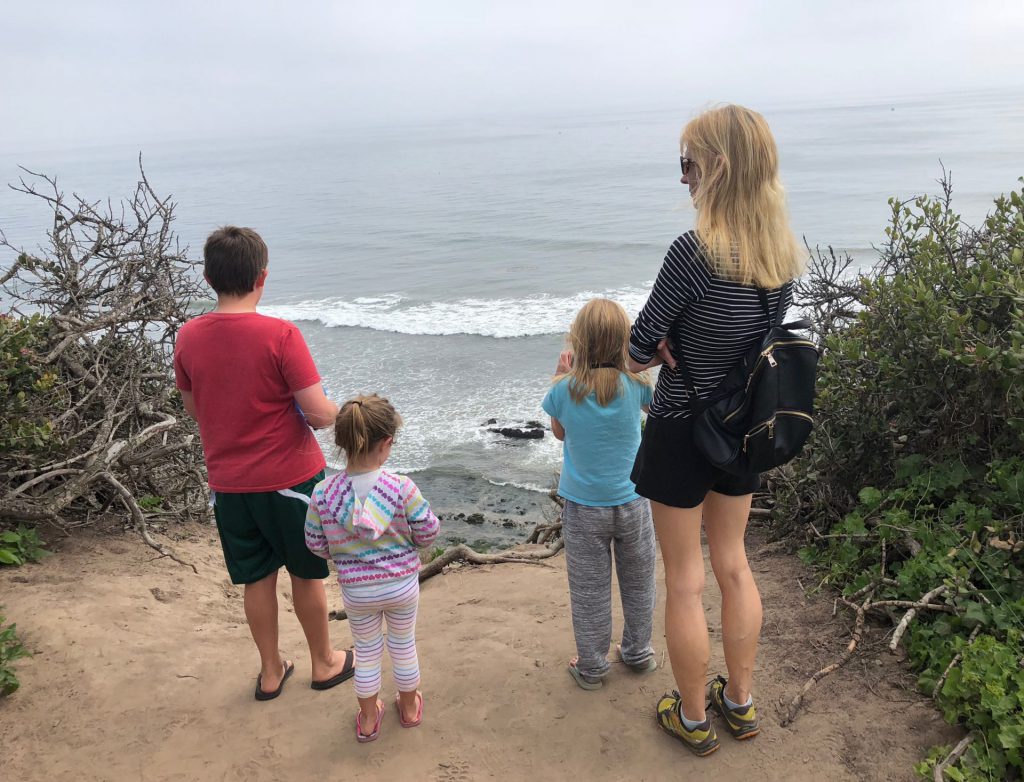 it was gray and foggy and not a seal in sight.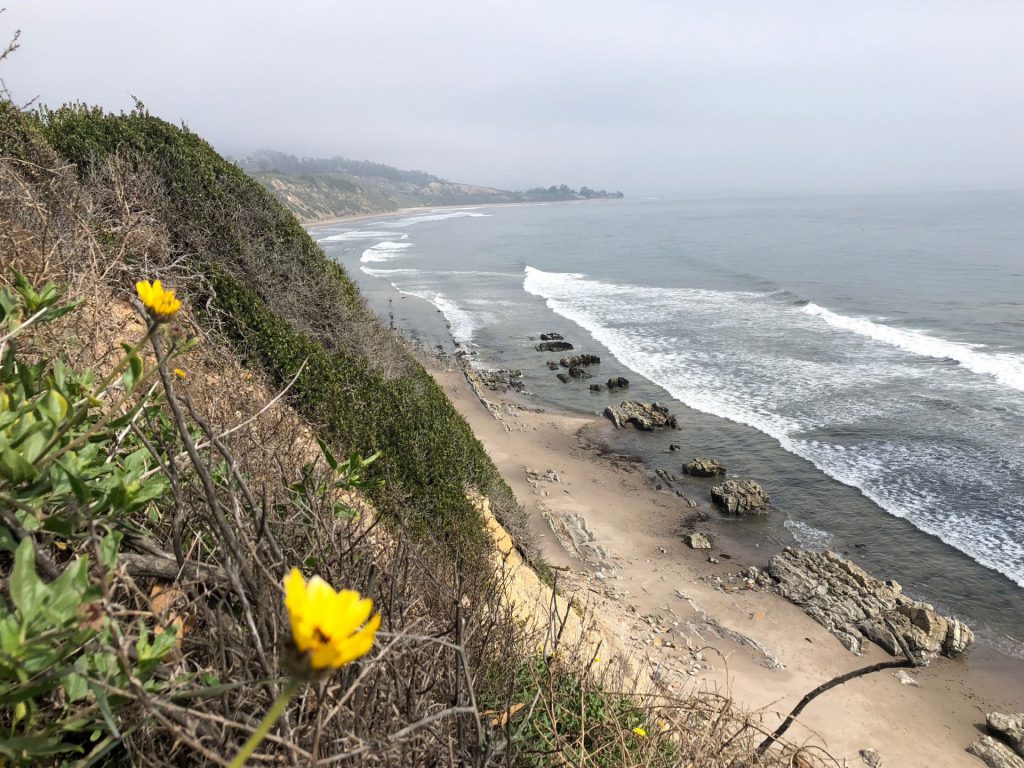 and then. like that. my mom's time in the camper was up. while we were planning to take her to the airport in the morning (a 2+ hour drive from this campground), derek found a bus that makes airport runs from santa barbara and had a pickup in carpinteria. it was cheap enough that it seemed like a good option, versus dragging the kiddos out for a 4-5 round trip drive to LAX. the only problem was the timing was a little off. either way too early, or cutting it a bit too close. we chose the early option, and took my mom over and bid farewell, and sent her off on a 14 hour travel day….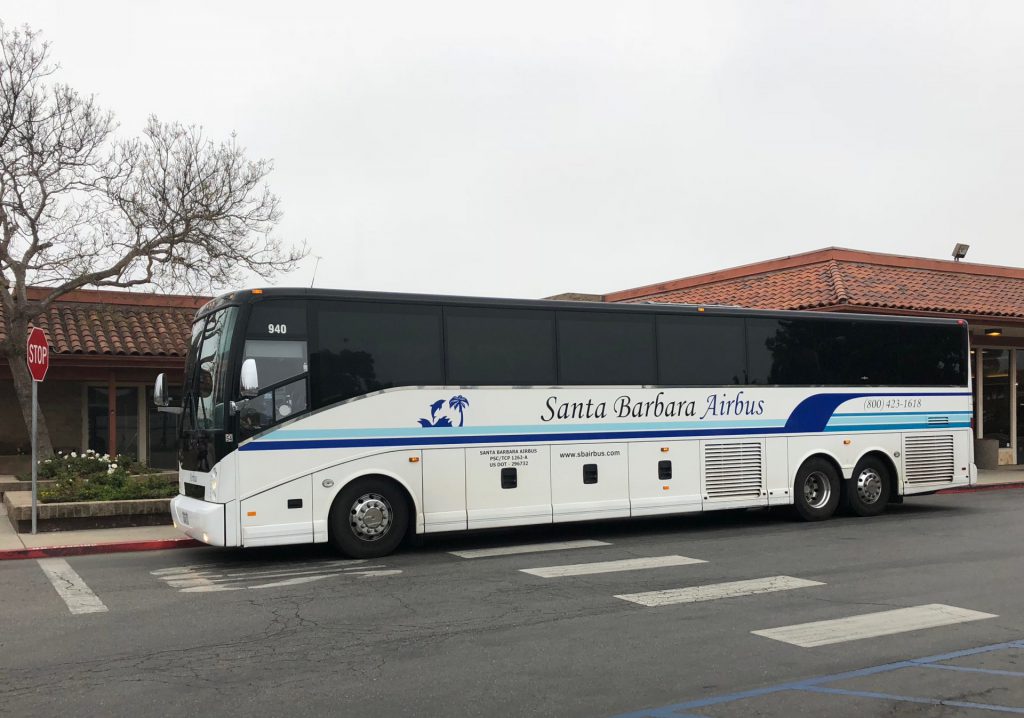 and, aside from a few upcoming posts about some adventures we went on with new gramma, that's the story of her time riding along with the lidbom rambling rambling road show on the california coast.