the whole thing started when i made a rainbow-y type layer cake a little while back. i decided then and there that for anna's first birthday, a 6 layer rainbow cake would be in order.
normally, we haven't been too extravagant with our birthday celebrations, but something about a may birthday and a new grill gently prodded me in the direction of doing a little more for the annababy. besides, technically, isaac got to go to disney world this year for his birthday. 🙂
so, with the help of my good pal, bridgette, we put together all kinds of rainbow-y decorations and party plans. i scoured the wide wide world of web for ideas. and here's what we came up with….
the cake table. i changed out all the black and white pictures of isaac for color pictures of anna (and believe me, he noticed right away). don't worry, i will put some of him back. covered the table in craft paper and rainbow ribbons. and, well, the cakes did the rest. the plates were cheap target plates arranged in rainbow order.

(i lied awake for hours the night before thinking through some of the party details, one of them being how to organize the cupcakes on this buffet server thing):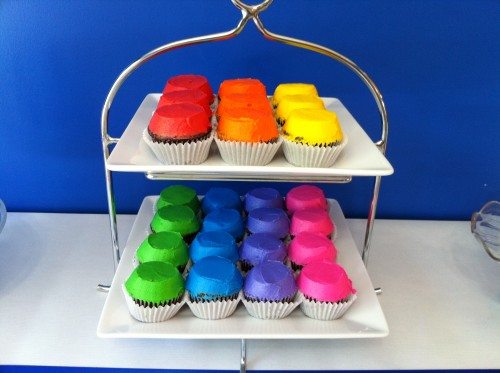 we put the sides and such on our butcher's block table, also covered in craft paper and ribbons.

i sent derek to the store, tasked with getting various colored beverages. he went above and beyond and came home with this assortment: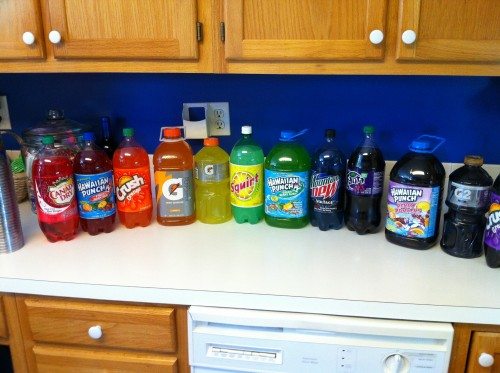 this next picture was 100% coincidence. i bought 4 planters from target awhile back, the big ones. i had the chives already in the orange. and i bought some basil and needed to plant them and my only "good" pot was the blue one. i didn't realize i created a rainbow until i was moving them from the table on the deck to the ledge. it was then i knew the rainbow party was meant to be. 🙂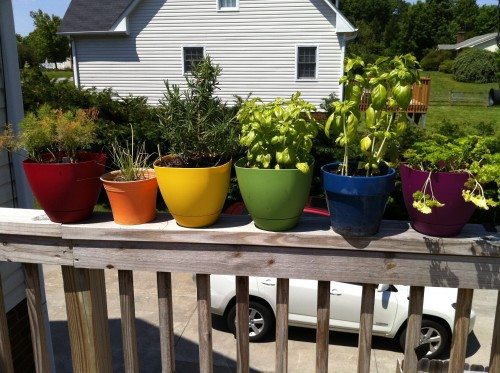 paper lanterns. i spent a good portion of early last week assembling this order and debating paying the $10 shipping charges. i'm glad i did. isaac has already laid claim to several of them for his room after the party. 🙂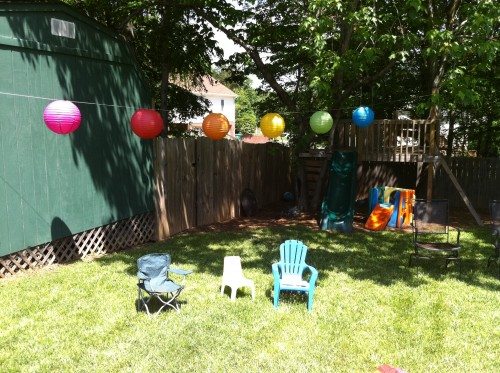 the backyard. it's hard to tell because the sun was so awesomely bright, but that's a rainbow-y quilt (that i scored from target last fall after the back to college stuff went on super clearance) for $10. it was meant for people to sit on, but no one did.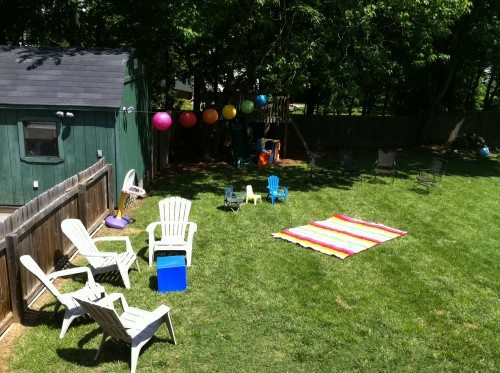 i forgot to take a picture of the candy party favor table. i'm hoping jude got some shots (i bet she did, because she tweeted that she took 665 pictures yesterday). we had all manner of rainbow candies for folks to take home in little rainbow ribbon adorned bags. skittles, m&ms (with no browns, thanks to crazy aunt madge), rainbow twizzlers, sour patch kids and gummy bears. mmmmmmm…
nothing left to do now, but destroy the cuteness. 🙂