on the morning of isaac's birthday, my mom called to tell me that my uncle ray passed away in the night. he's my mom's mom's brother. and we were all very close, growing up. i'll save his story for another post, but for now, here's the tale of our sad adventure home, to bid him farewell…
we had isaac's birthday festivities as planned. then, i spent sunday getting ready. we decided that i would take hazel, so derek could get work done from home while the older two were at school and/or being tv zombies at home. and because we thought hazel might brighten some spirits.
on monday morning, we loaded up and hit the road. hazel did great for most of the trip home. just after we got into new york, she started to lose it. which sucked. because it was dark and snowy and rush hour and i wasn't feeling great. but, we survived.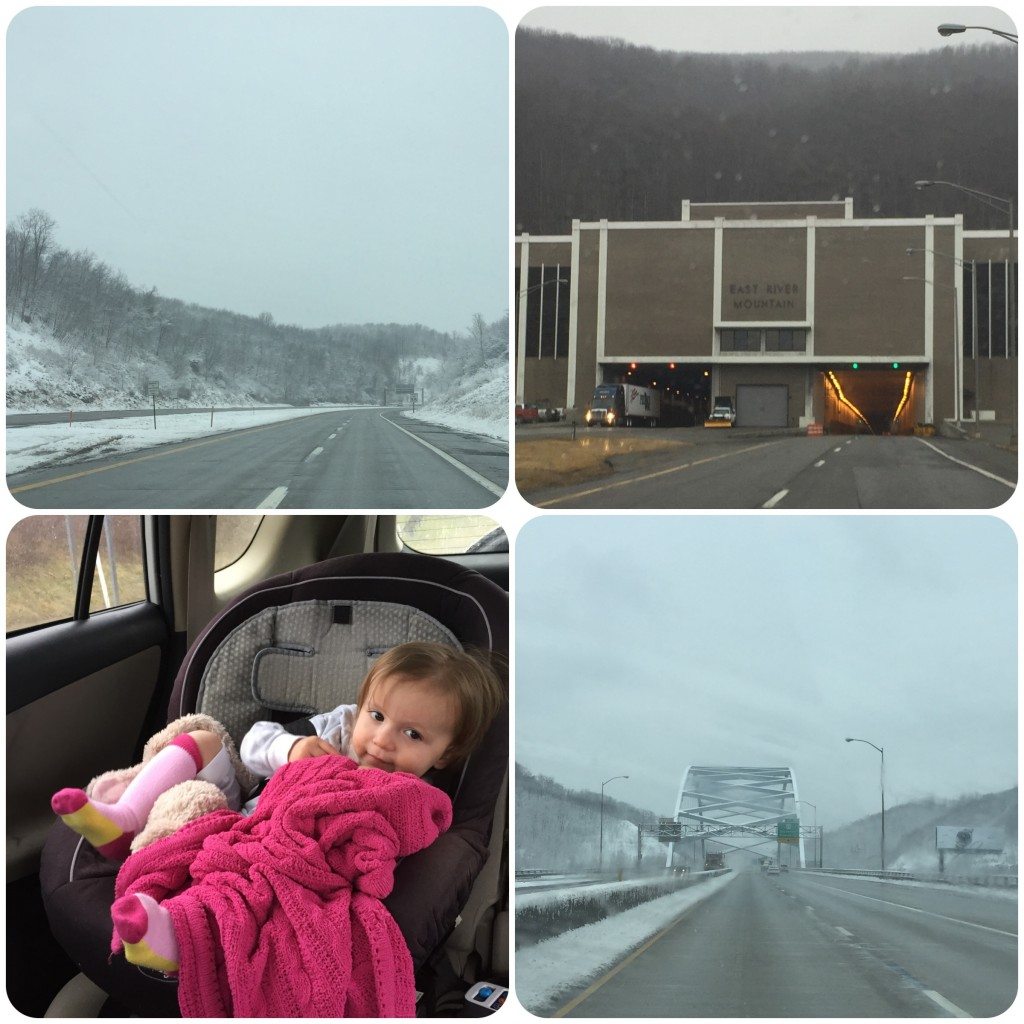 i took this happy picture before it became very apparent that i was going to be sick. i spent the next 24 hours throwing up and feeling crappy. thankfully, my mom was off and took care of the crazelnut. but, it was sad to not get to hang with family that was slowly rolling into town for the funeral.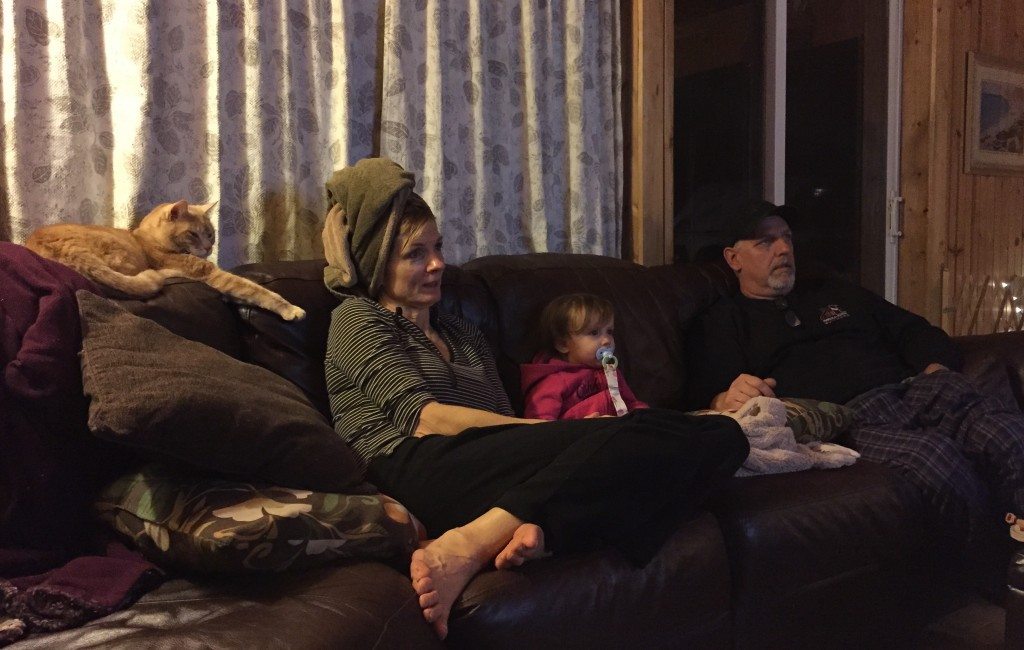 on wednesday, the calling hours and funeral started up at 11:00 am. hazel did ok during calling hours. but, as soon as the funeral began, she got loud and silly and squirmy. so, we had to hide in a back office of the funeral home. we watched videos. ate m&m's. played games. and took selfies.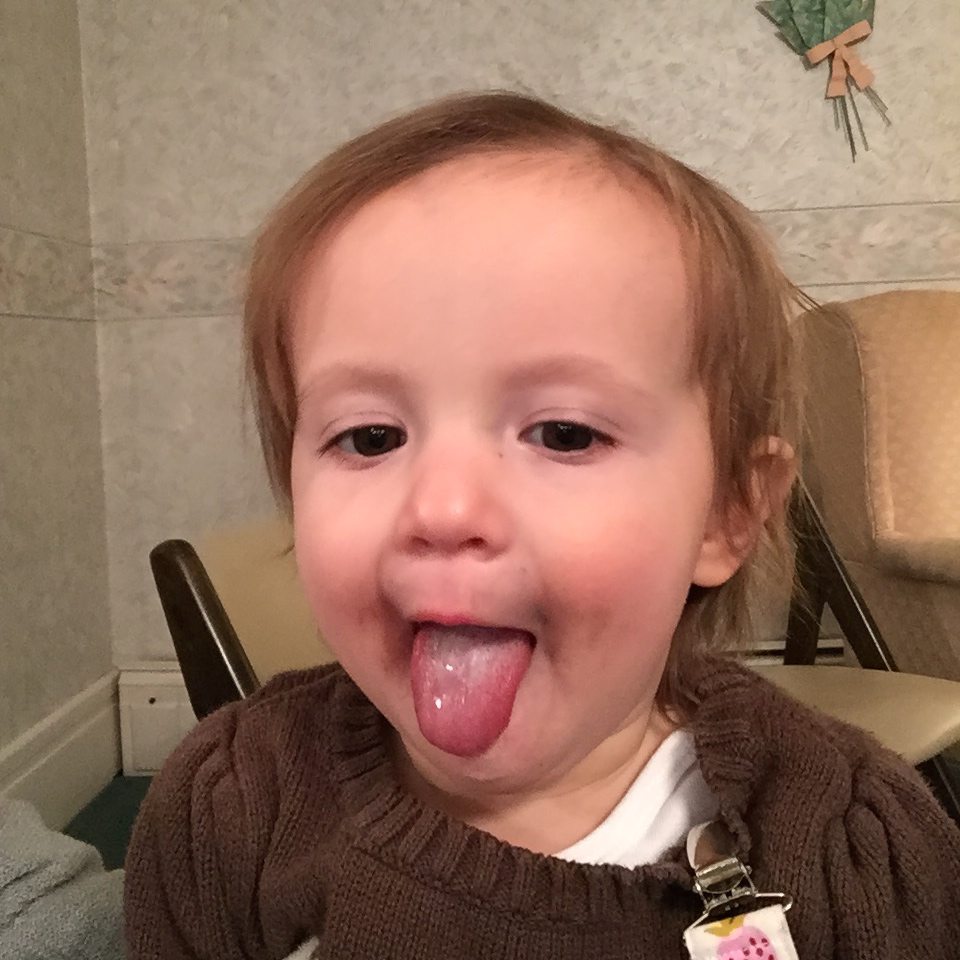 i snapped pictures of these two collages made by cousins sandy and kim (uncle ray's son's wives). it was great to take the trip down memory lane. and i can't help but notice how in every picture, my uncle ray has a big fat 100 tooth smile flashing. 🙂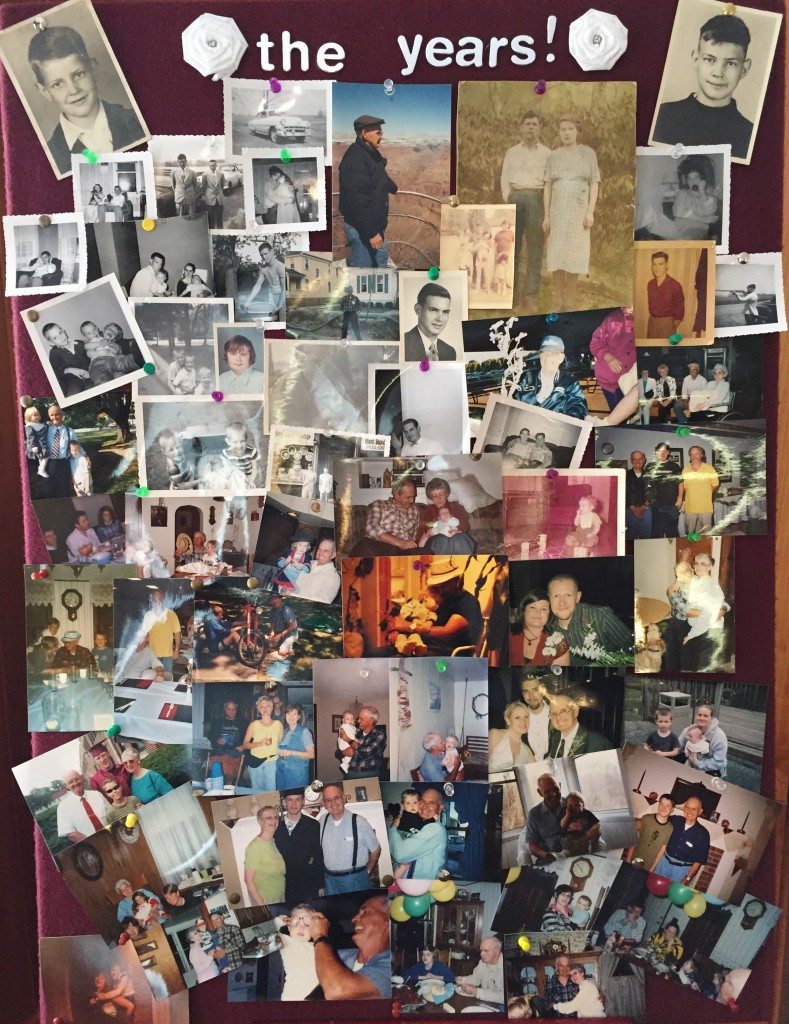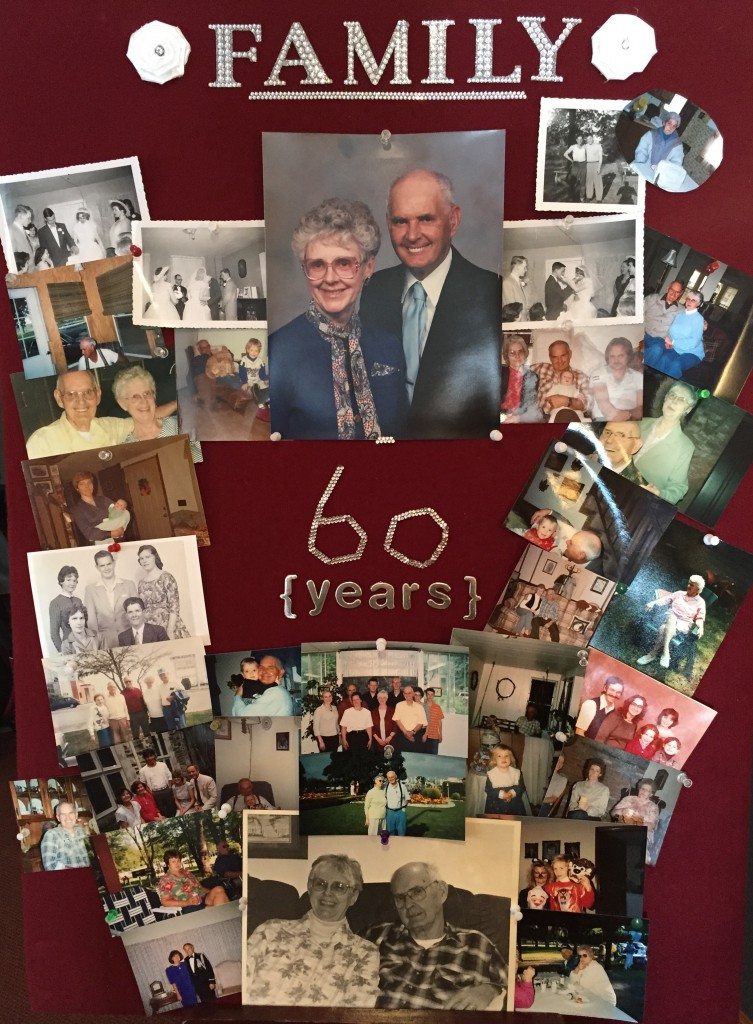 after the funeral, we loaded up for a little reception put on by the elba fire department. it was there that my little pocket of the family resumed our normal shenanigans. reminiscing. making fun of each other. etcetera. here, we are teasing my gramps about his sunglasses making him look like a white ray charles.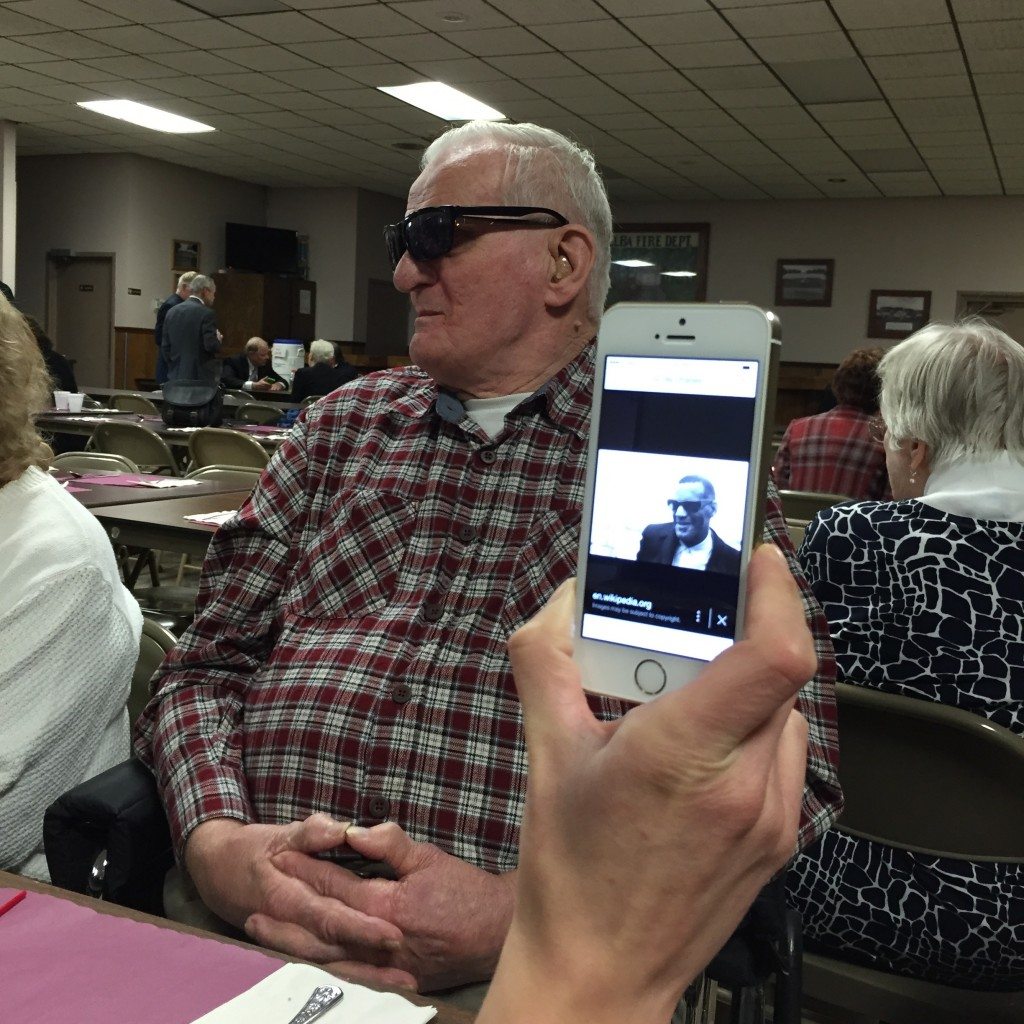 after eating and being goofy for awhile, we took some photos. like this one of gramps and hazel. (ps. my gramps has had MS for pretty much my whole life and he's fended off cancer. he turned 81 the day after this pic. not too shabby, gramps).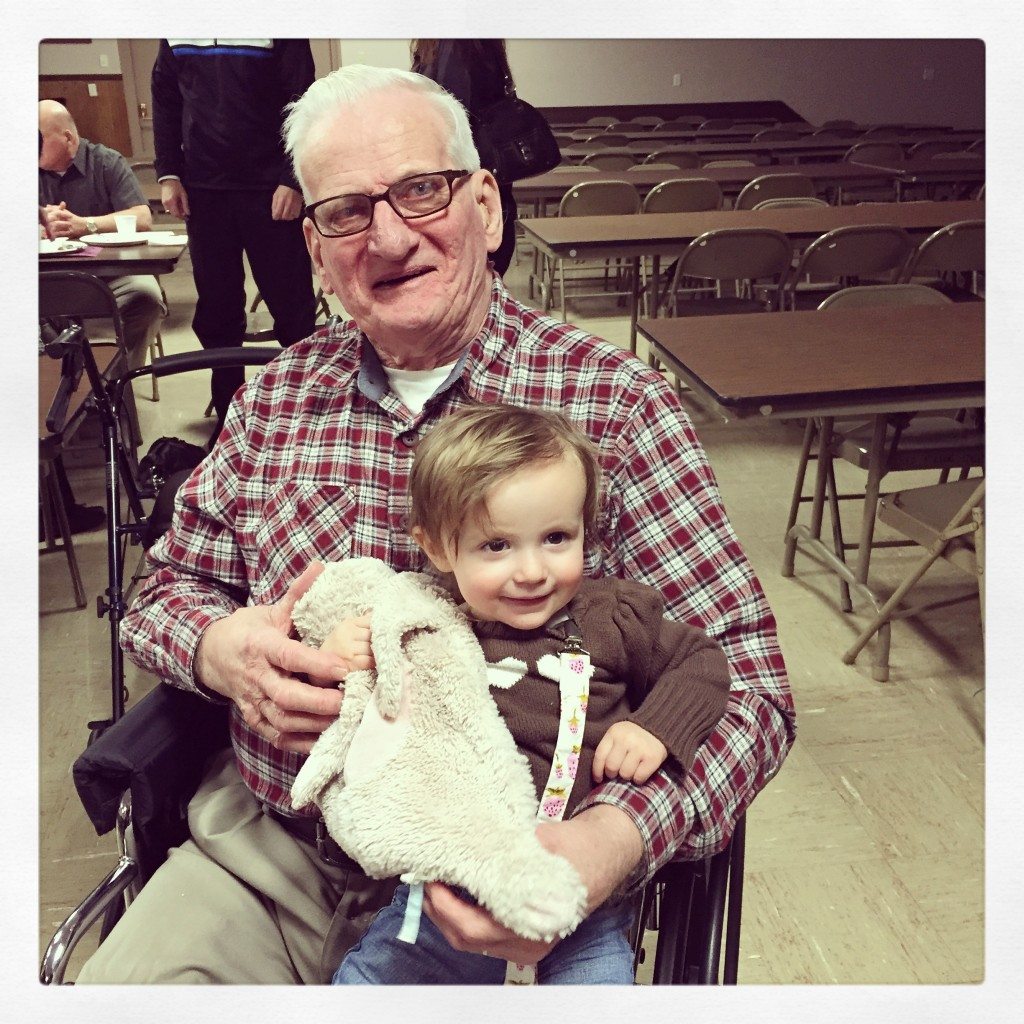 ok. so this pic needs some explaining. we have this 4th cousin 7 times removed (i'm exaggerating). i haven't seen her since my childhood. evalena. (surely that's spelled wrong). she kept insisting that jake looked like her grandson. and she took soooo many pictures of him. we were snickering about it each time. then, before she left, she insisted on one more picture. as she was taking it, i backed up to take a picture of her taking it because i'm a jerk. and my uncle frankie then photobombed it. my sister leslie just made a stupid leslie face. and my sister julie took a picture of me taking a picture of evalena taking the thousandth picture of jake. because that's how we roll.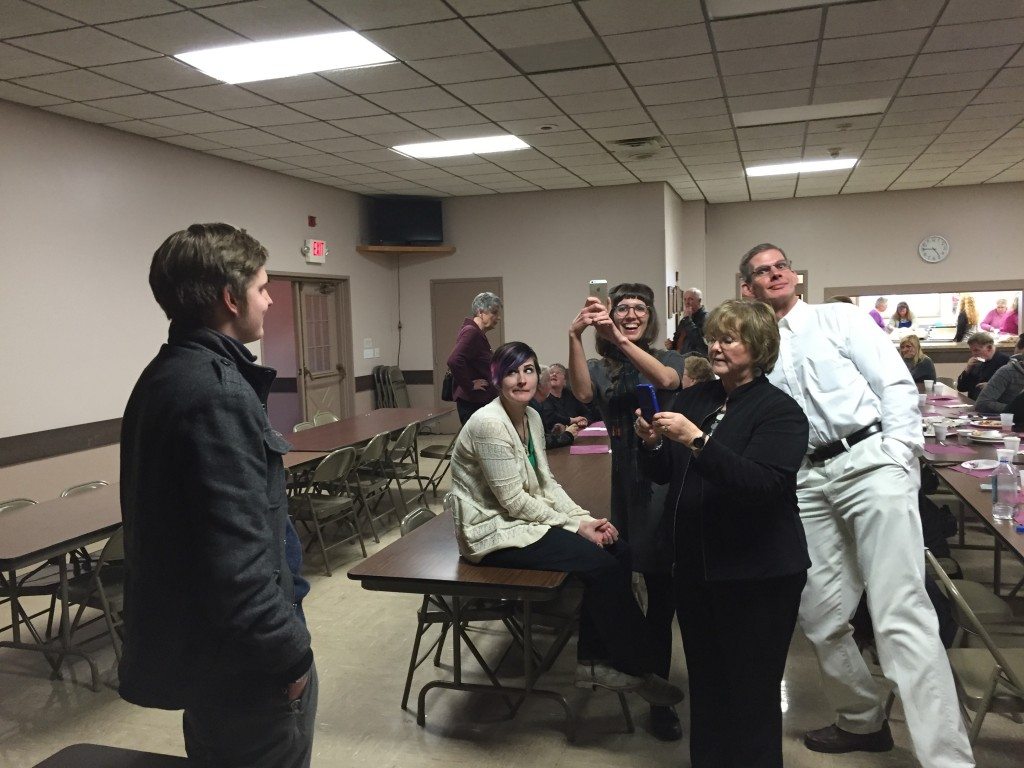 then. since we are NEVER all together. and will probably NEVER be again, we took a family photo. in the back, that's my terry (stepdad), deb (mom), jake (brother), julie (sister), me, hazel, leslie (sister). in front, frankie (uncle) and frank (gramps).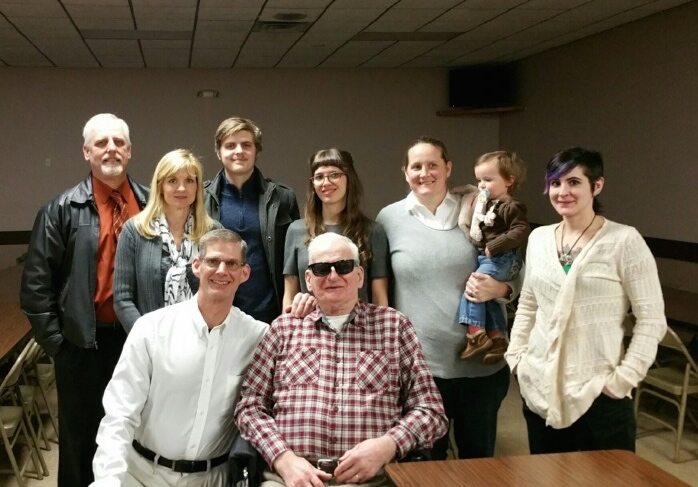 because of the awkward schedule, we skipped hazel's afternoon nap, except for a 10 minute snooze on the ride. so, we kept her up as long as possible, but by 6:30, she was out like a light.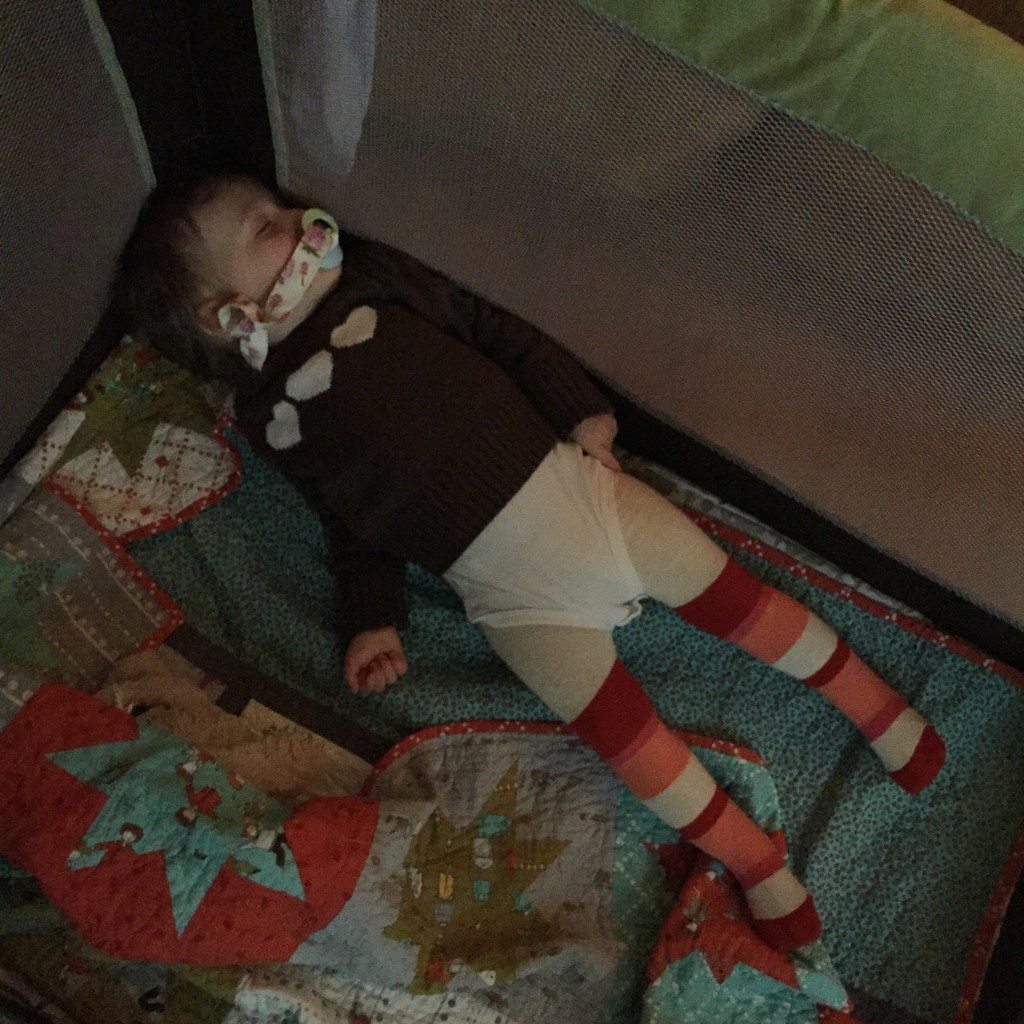 side note: hazel slept HORRIBLY for all of the nights in NY except for the first (thankfully because i was vomiting) and the last (thankfully because i had the long trip home).
on thursday, i dragged hazel out into the cold to go eat at the pok-a-dot. i mean. we were already in batavia. it had to be done.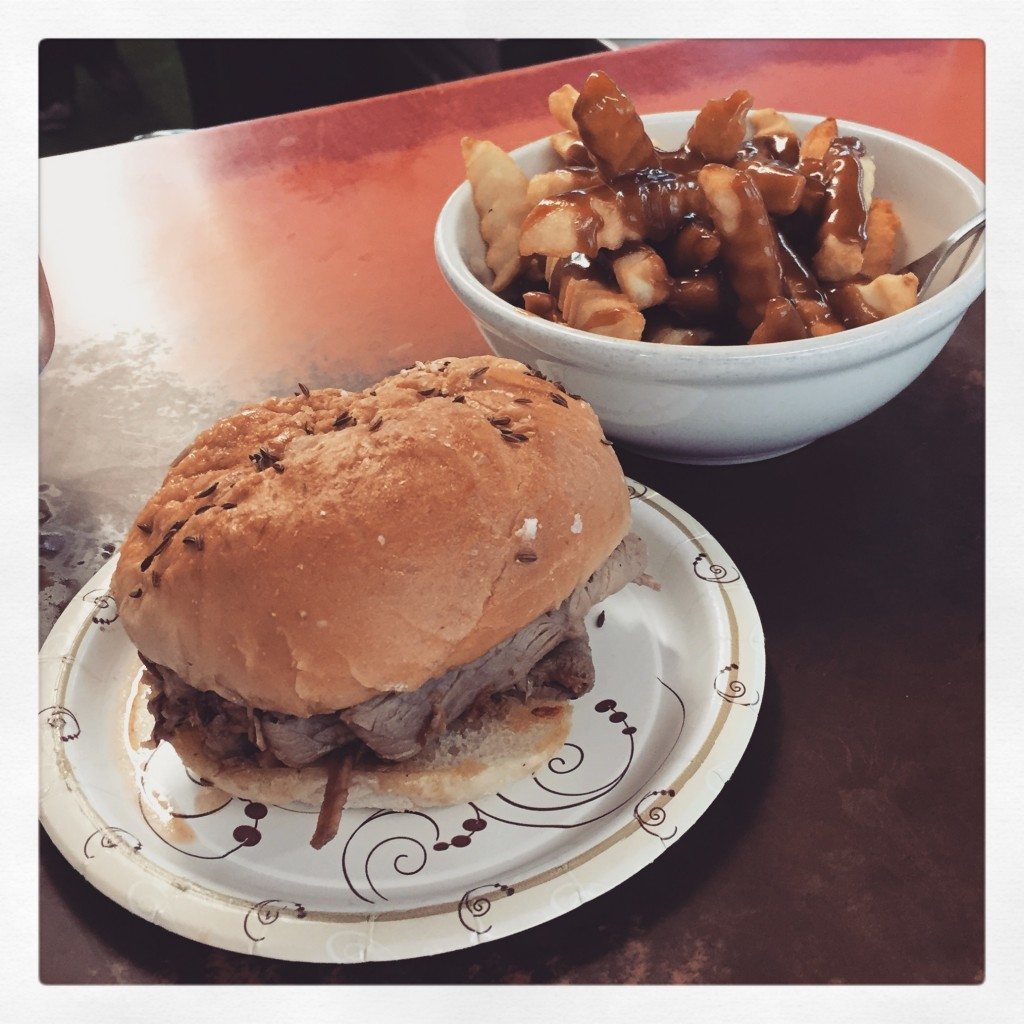 then, off we went to aunt eleanor's and uncle ray's house. relatives were rolling in and out all afternoon. it was great to see a lot of folks that i haven't seen since childhood. it brought back so many great memories. it's just sad that it had to happen how it happened. i wish i took more pics.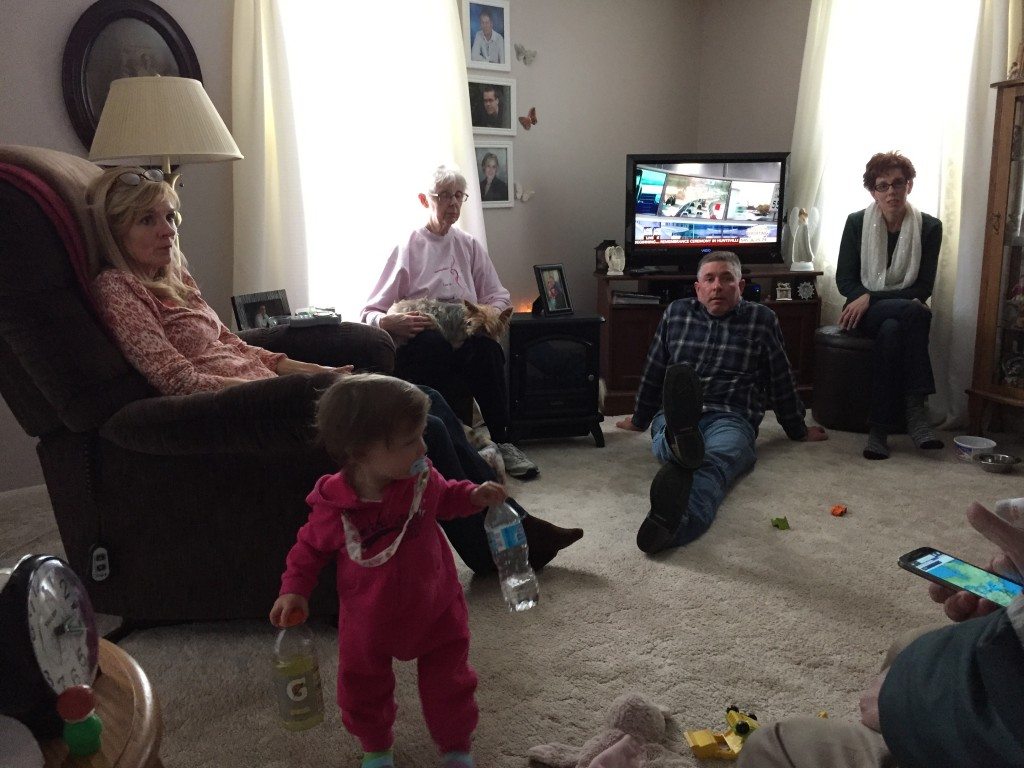 after our travels. and all of the m&m bribes. and the pok-a-dot grease infusion. hazel was in desperate need of a bathing. so, off to the sink for the girl. i can't even stand this face. 🙂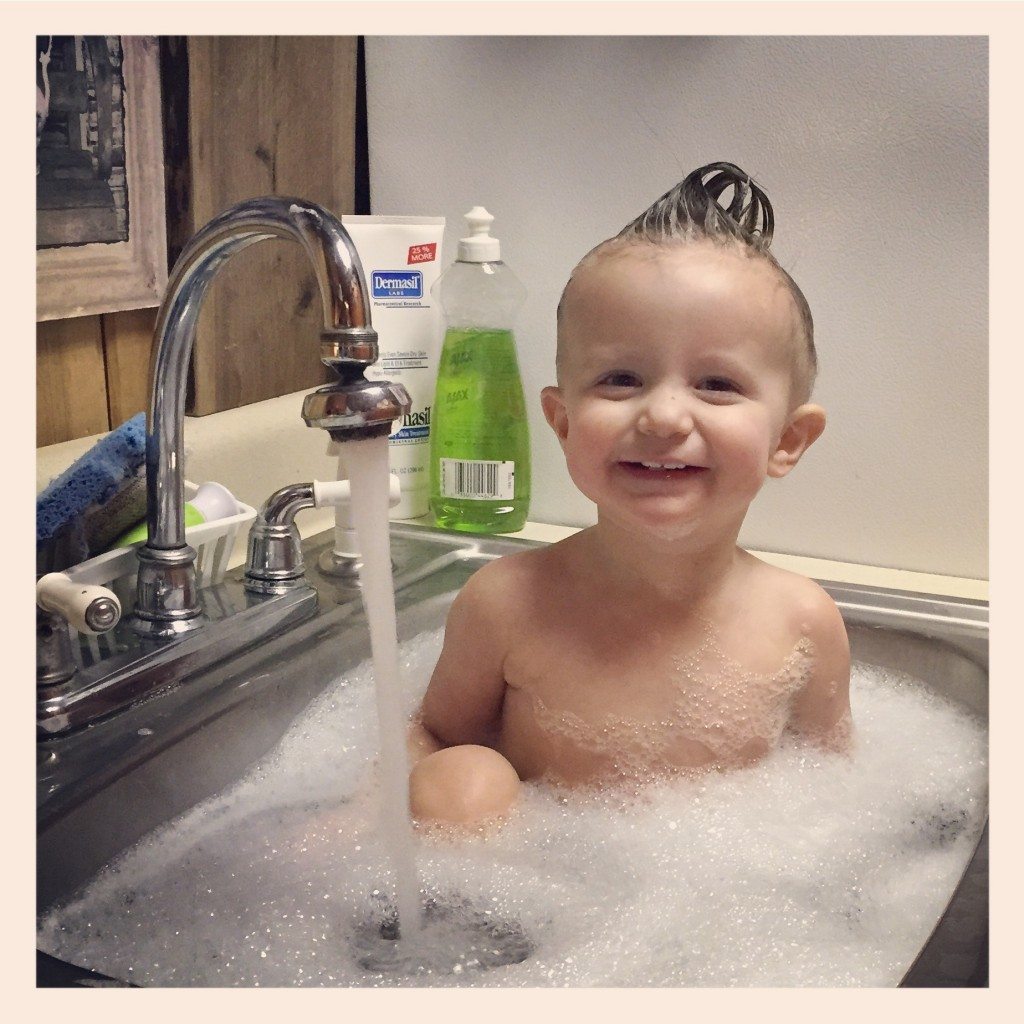 fresh and clean and playing games with grampa terry.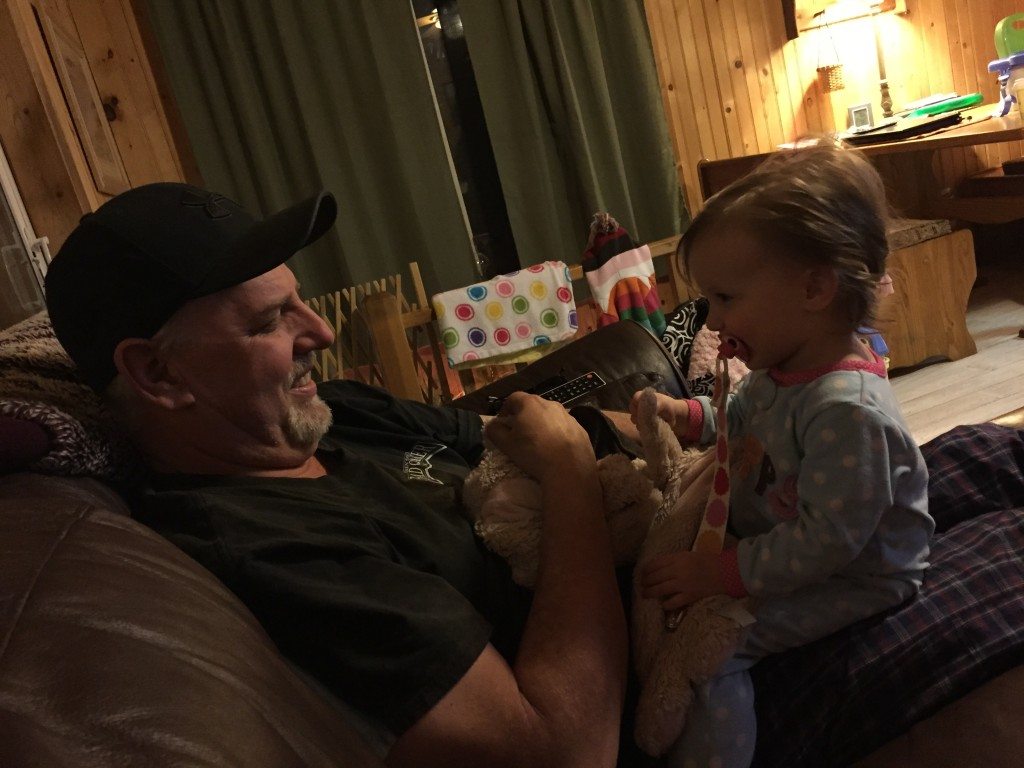 some evening snuggles before another night of crying and just being generally awake.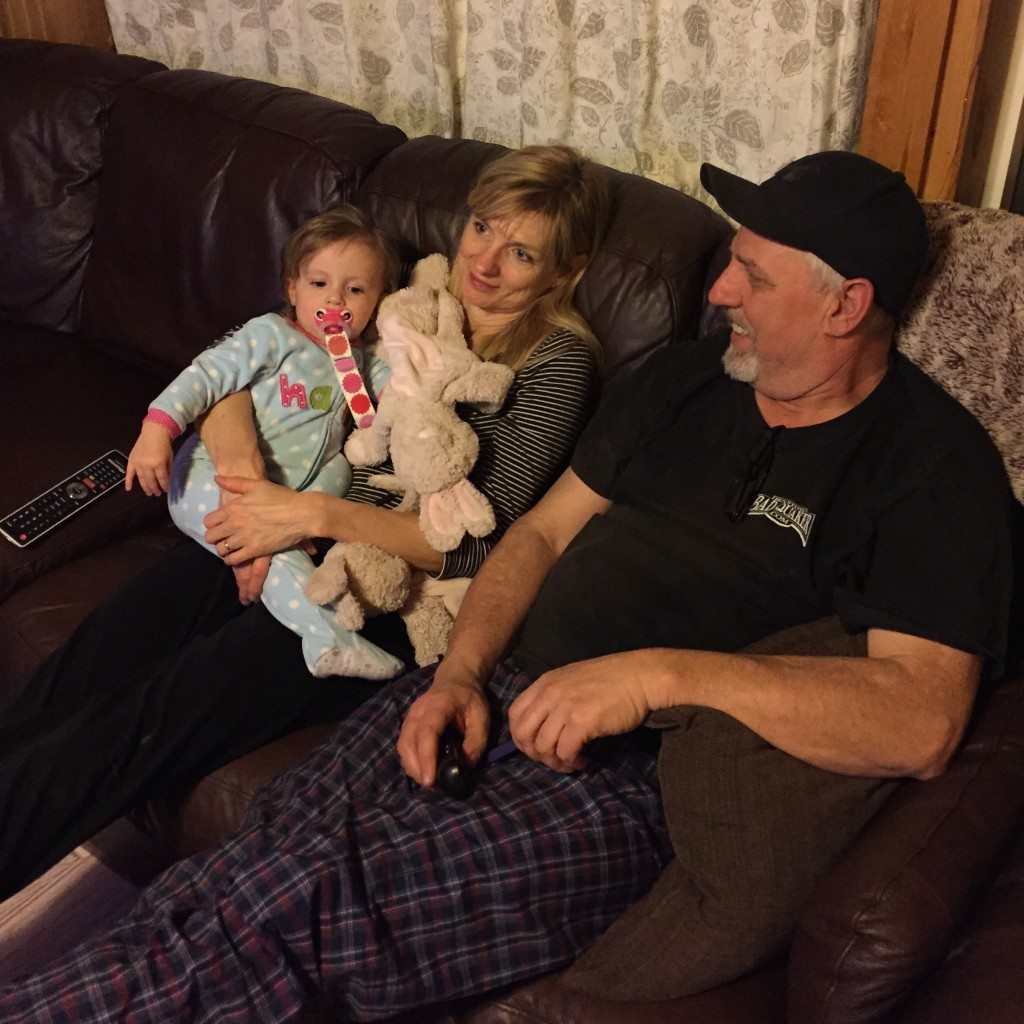 on friday morning, we ventured out to visit my pal julie redband varland. she's got three kiddos with a fourth on the way and they are more or less my kiddos ages. abigail and hazel haven't really hung out much, but we decided they make good buddies.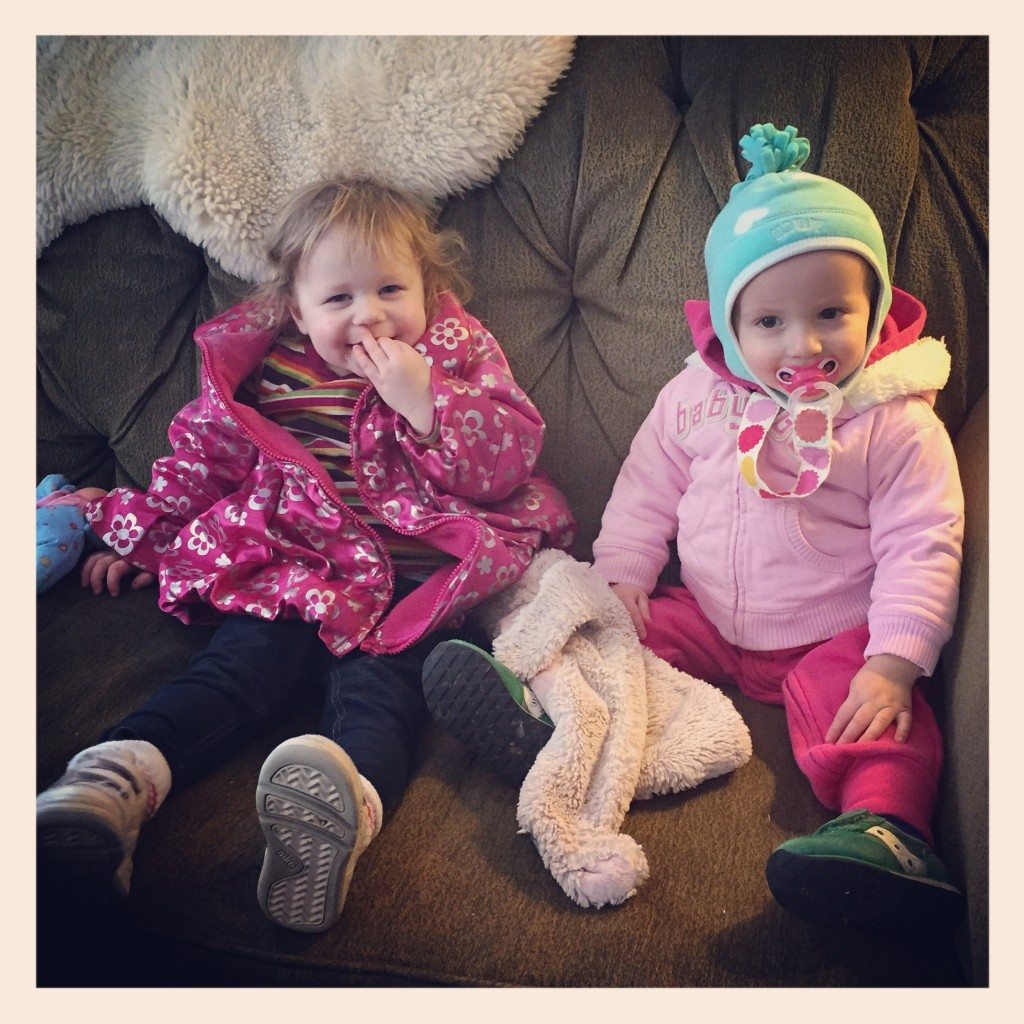 for lunch, i continued to make up for lost time, and picked up a chicken finger sub. i don't know why they don't taste the same anywhere else in the world, but they don't.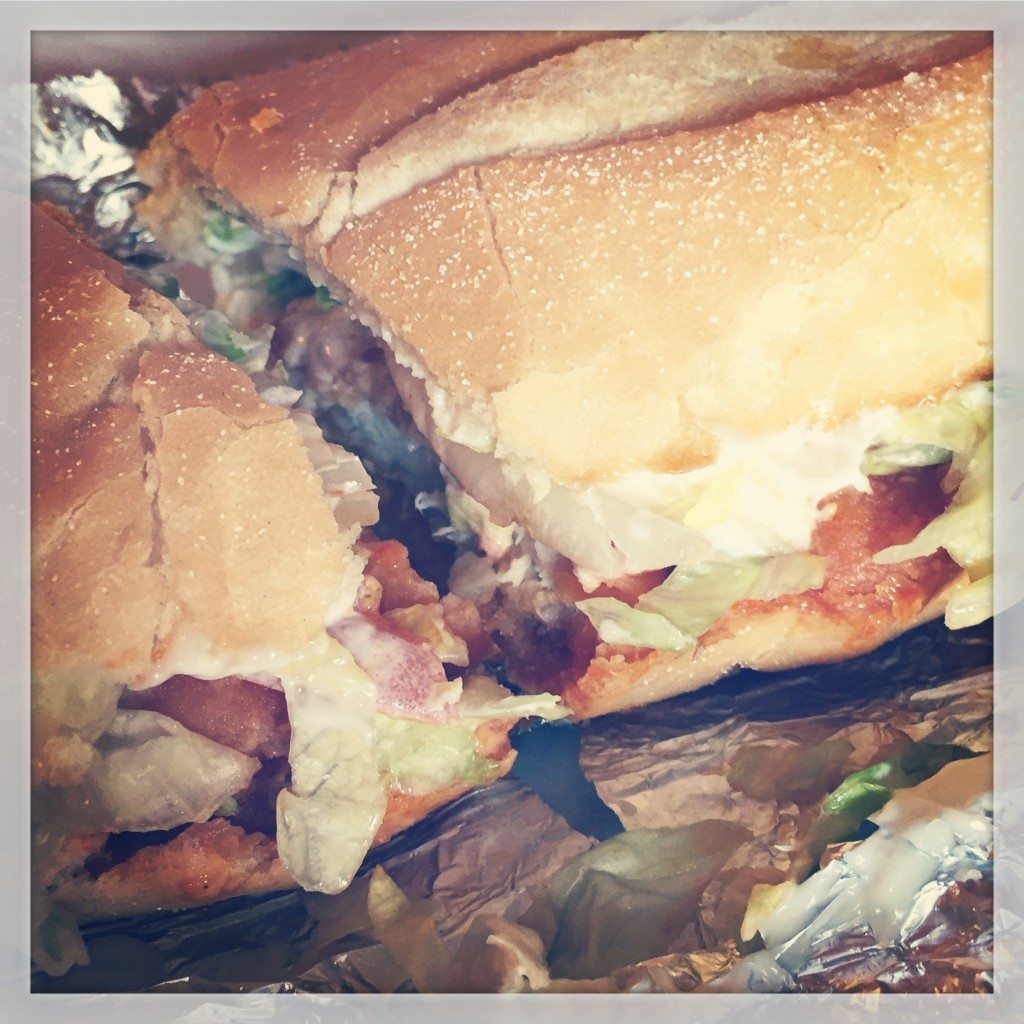 and like that. our trip was mostly over. on saturday morning, we packed everything back up and hazel and i were on the road again. it was bitter cold in new york when we left. bitter.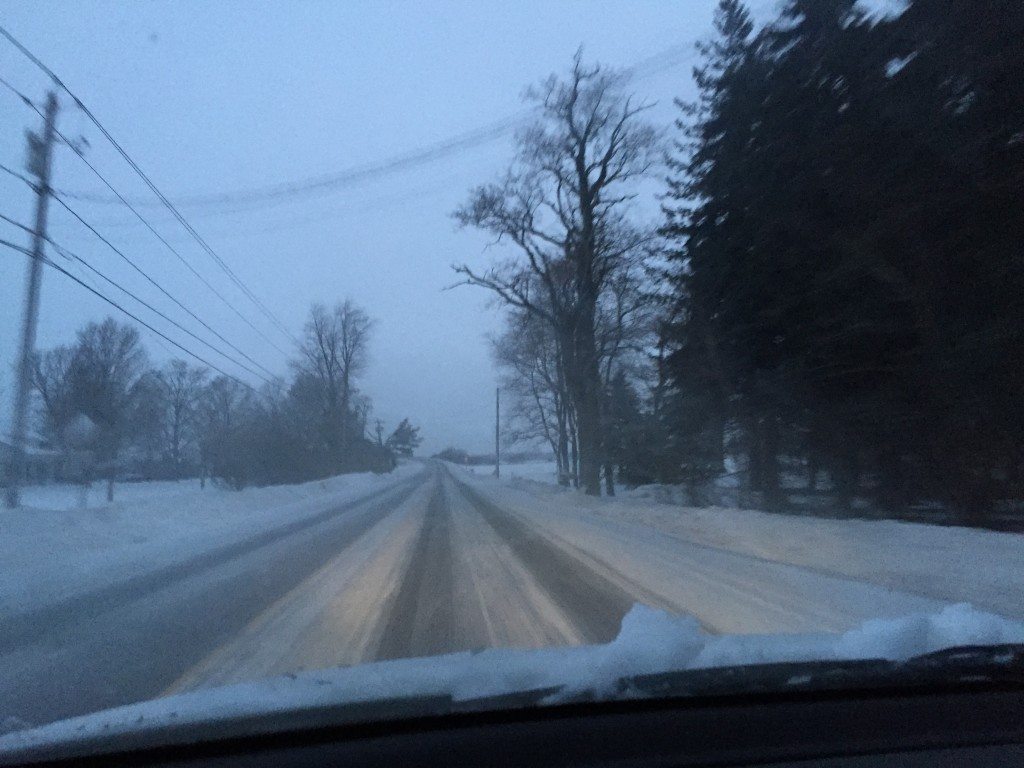 hazel was an absolute champ for the ride home. we only stopped twice. she dozed on and off and just looked out the window. and ate the middles out of vanilla double stuff oreos. 🙂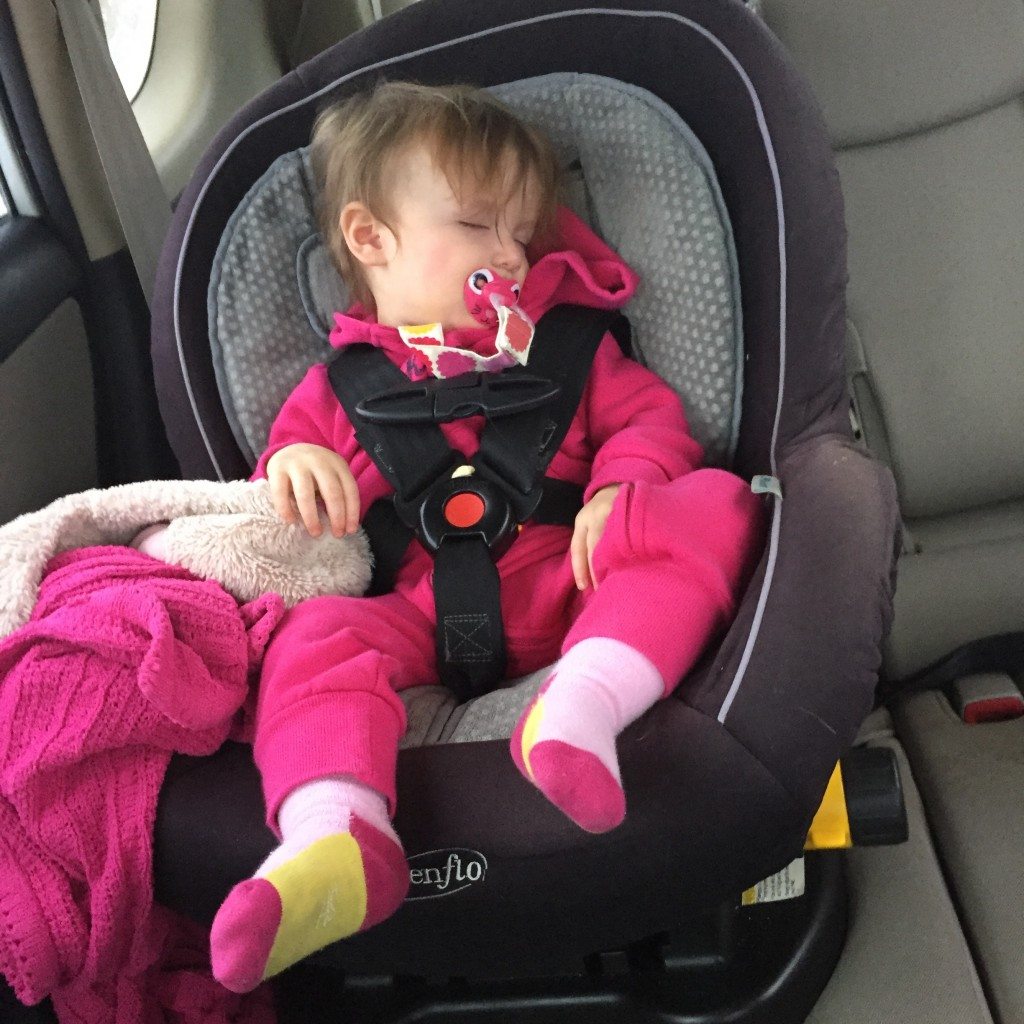 we arrived safely around 630. hazel ran rampant around the house for about an hour. and then she crashed. and then i crashed. and our whirlwind trip was over.