last saturday. isaac lidbom turned. eight.
eight.
EIGHT.
how did this happen?
anyhooo… we took some obligatory chalkboard pics of the boy as he entered into his ninth year on the planet…
first, one by himself. all proud.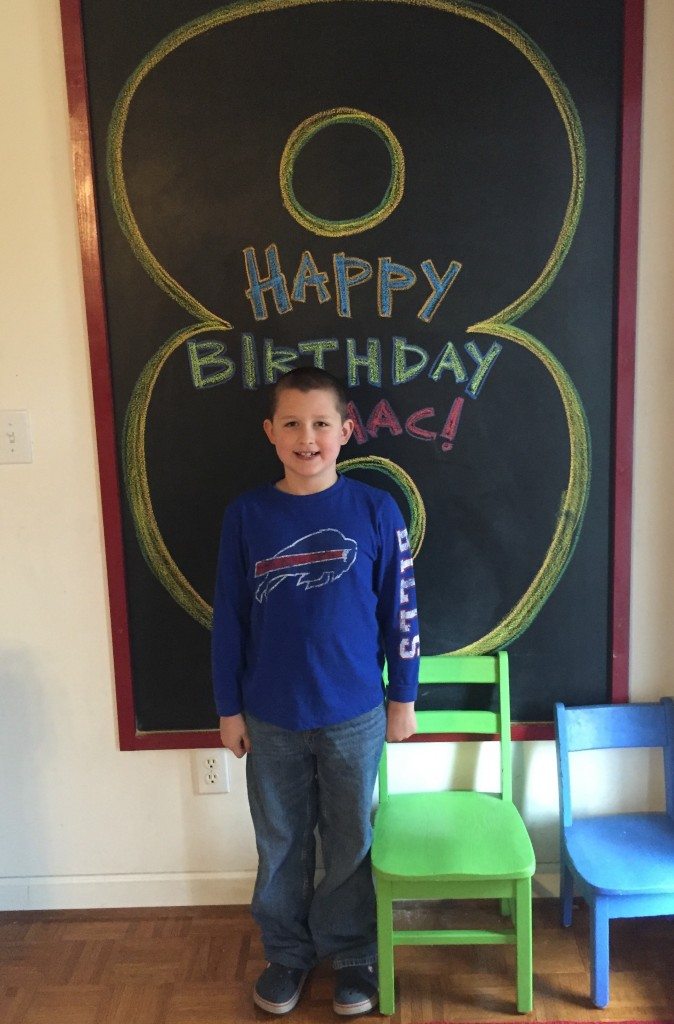 then, anna joined in the fun. except she wasn't feeling it was so fun to have all the attention on the birthday kid.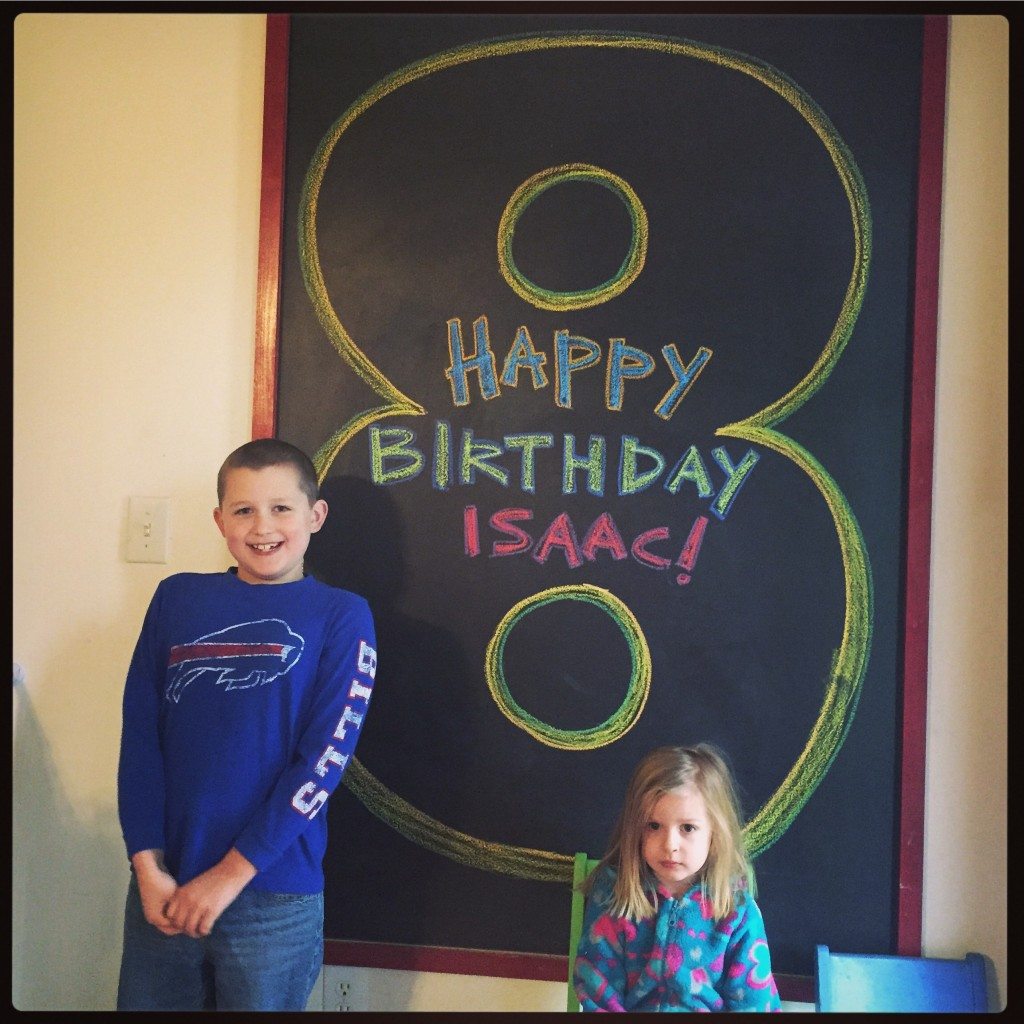 so excited…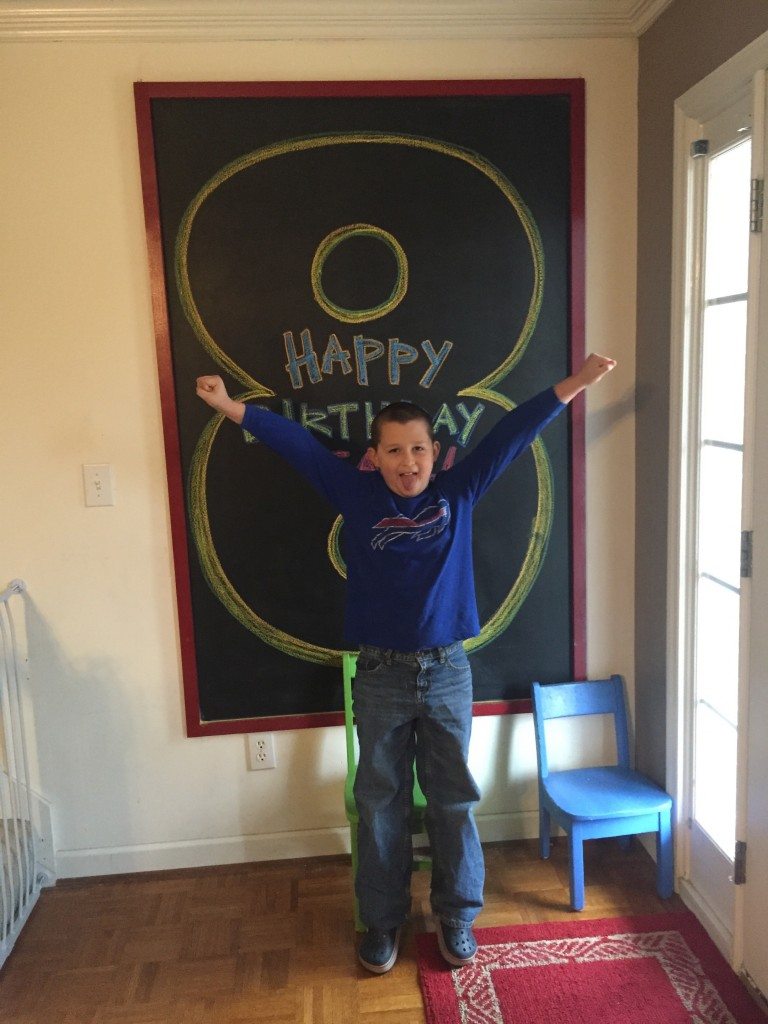 and now. for the festivities. i'm sure i've mentioned it one zillion times, but just like approximately 98% of male children in america, isaac is obsessed with minecraft. so a minecraft themed birthday was in order.
for his school "party", i made little square "grass blocks. by party, i mean, i got to go have lunch with him and pass these out during the allotted lunch time.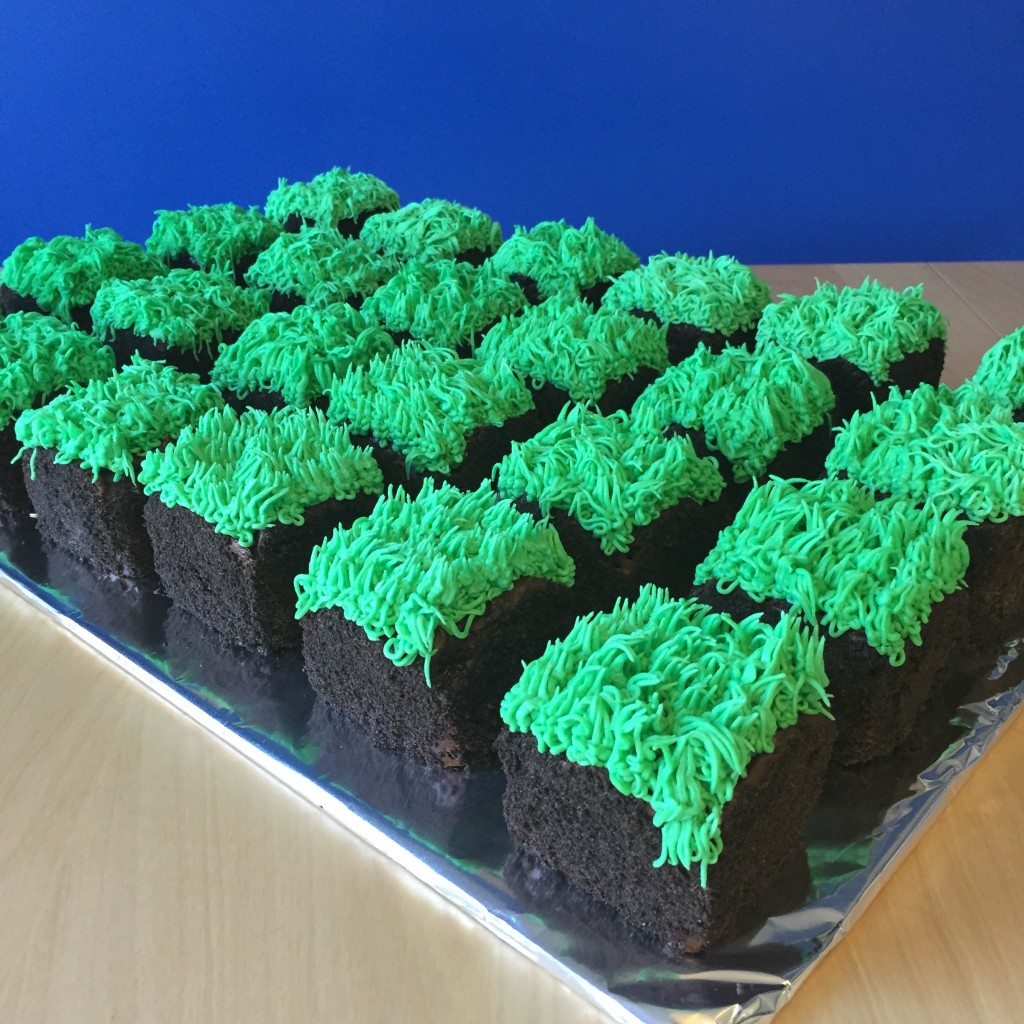 he was a happy camper.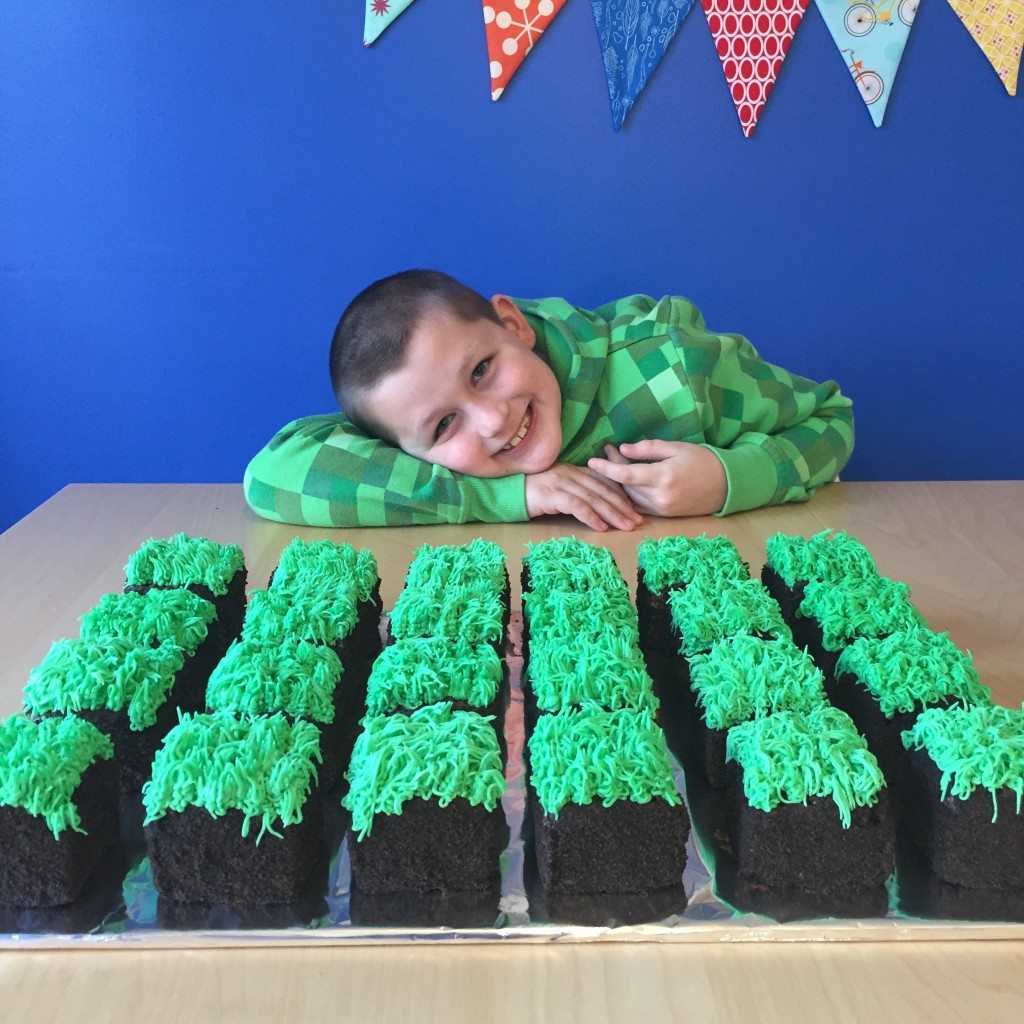 when a parent visits for lunch, the student gets to sit in a little booth and they can choose two friends to sit with them. i thought isaac would pick two of his rowdy buddies, but instead, he chose a couple of lady friends. smooth operator.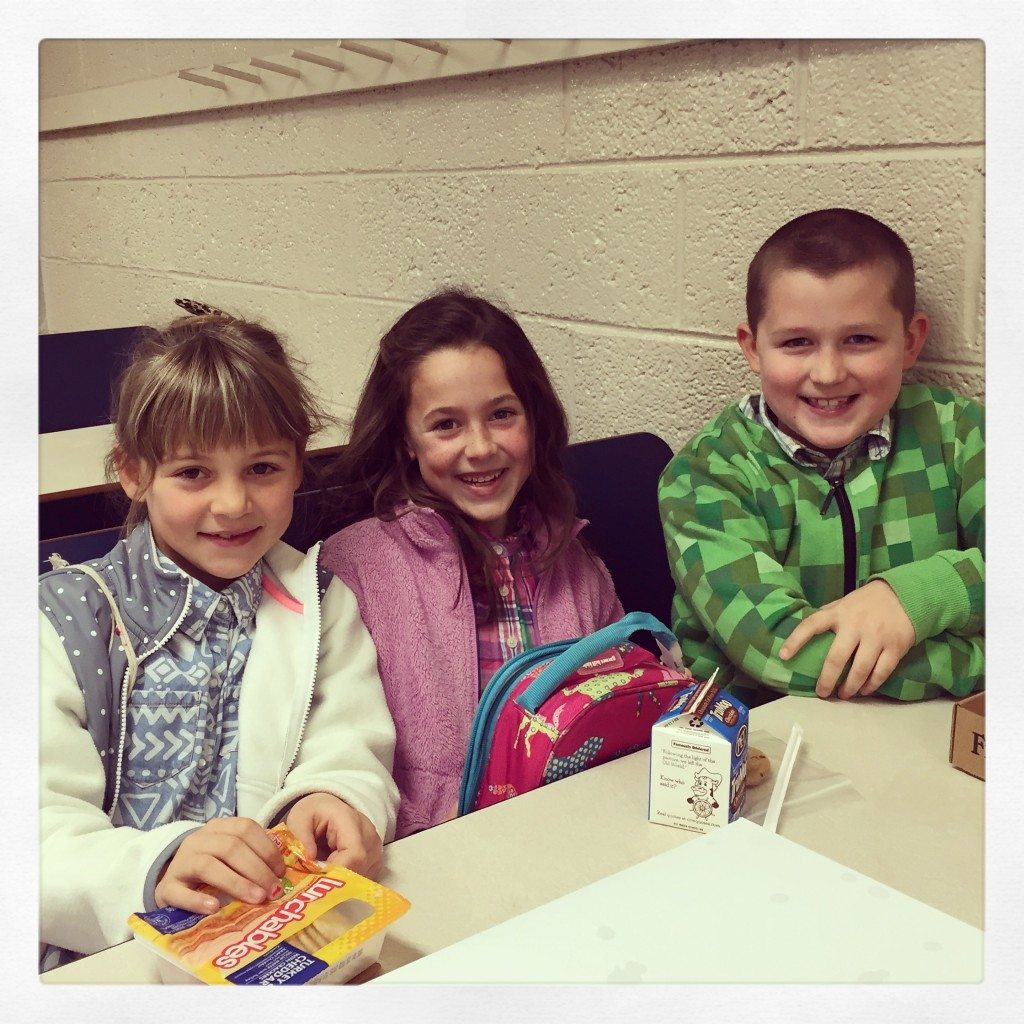 i took him a gigantic slice of his favorite pizza, from mario's. he chose that over chick-fil-a!!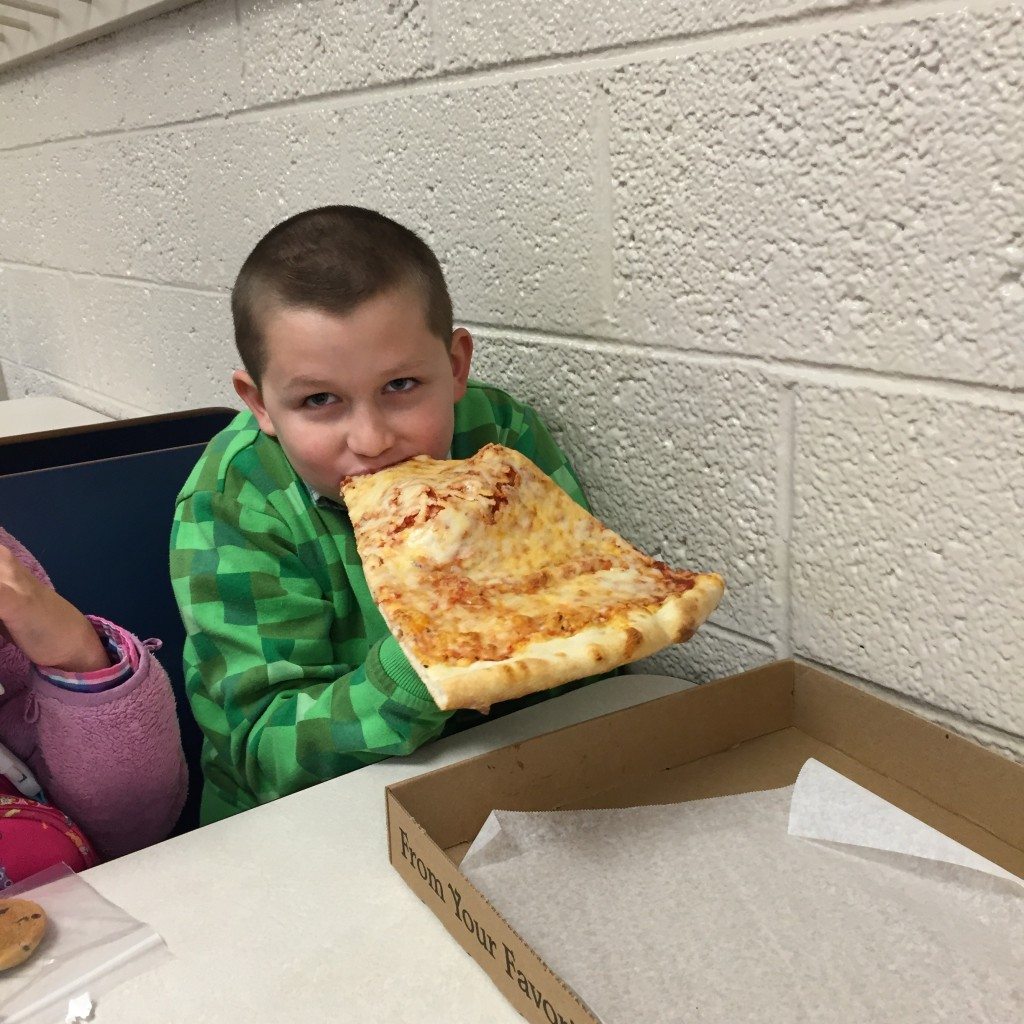 then, we moved on to the actual birthday cake and party….
i had been scouring pinterest for ideas. and prepping all week. i made rice krispy treats (sand blocks), blue jello (water), and red jello (lava) and cake (grass blocks). then, with derek's guidance and minecraft expertise, i assembled this landscape.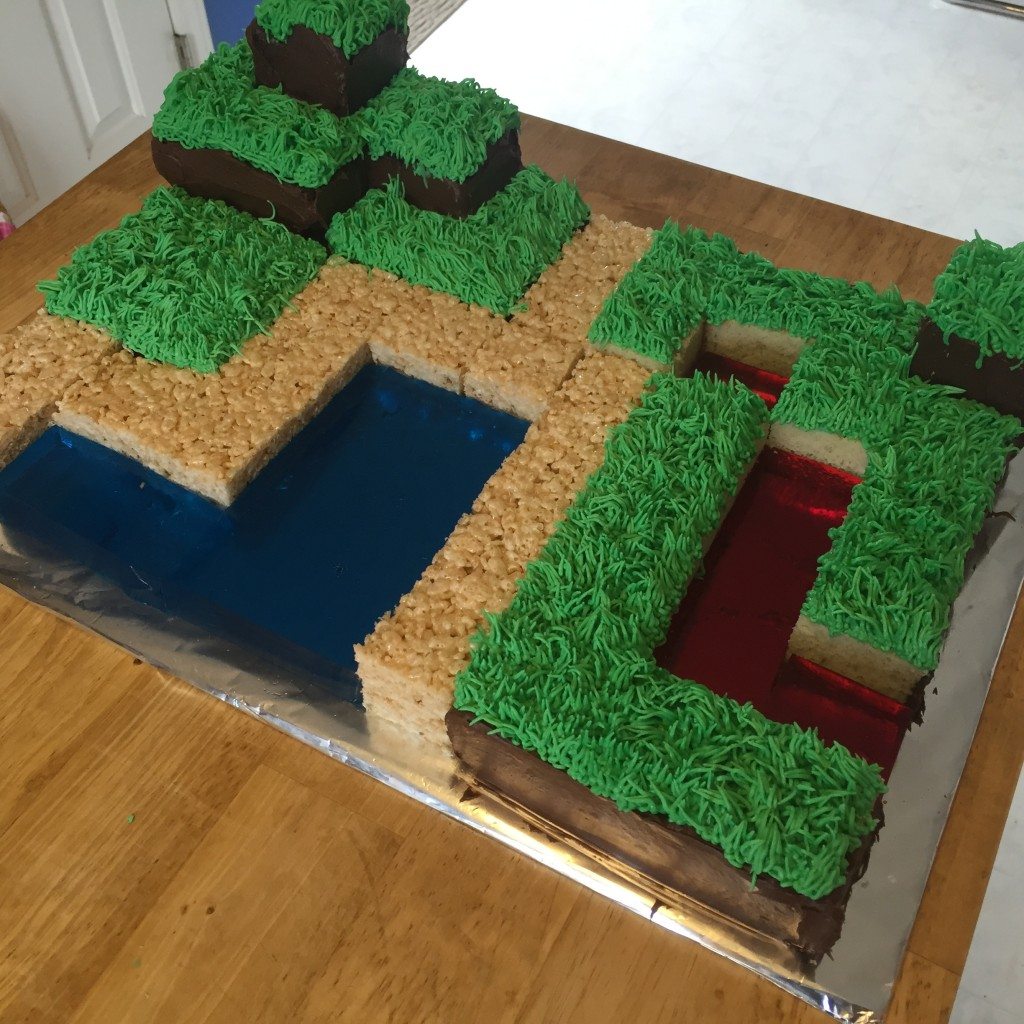 i made the executive decision to let go of a little cake making pride and purchase minecraft figurines for the top. for one, by the time i bought all the things i would need, it would cost about the same. for two, isaac DOES NOT CARE about fondant minecraft guys. and for three, i'm busy with a crazy baby. so. plastic figurines were plopped into place, and the cake was ready to go…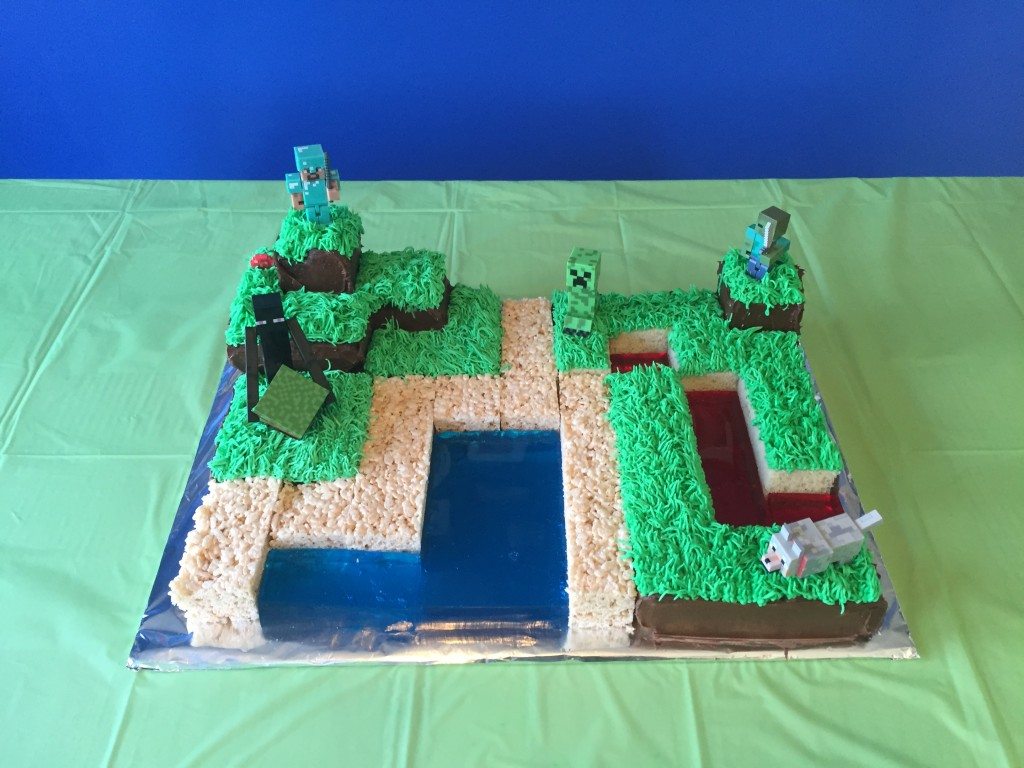 then, we had a photo shoot.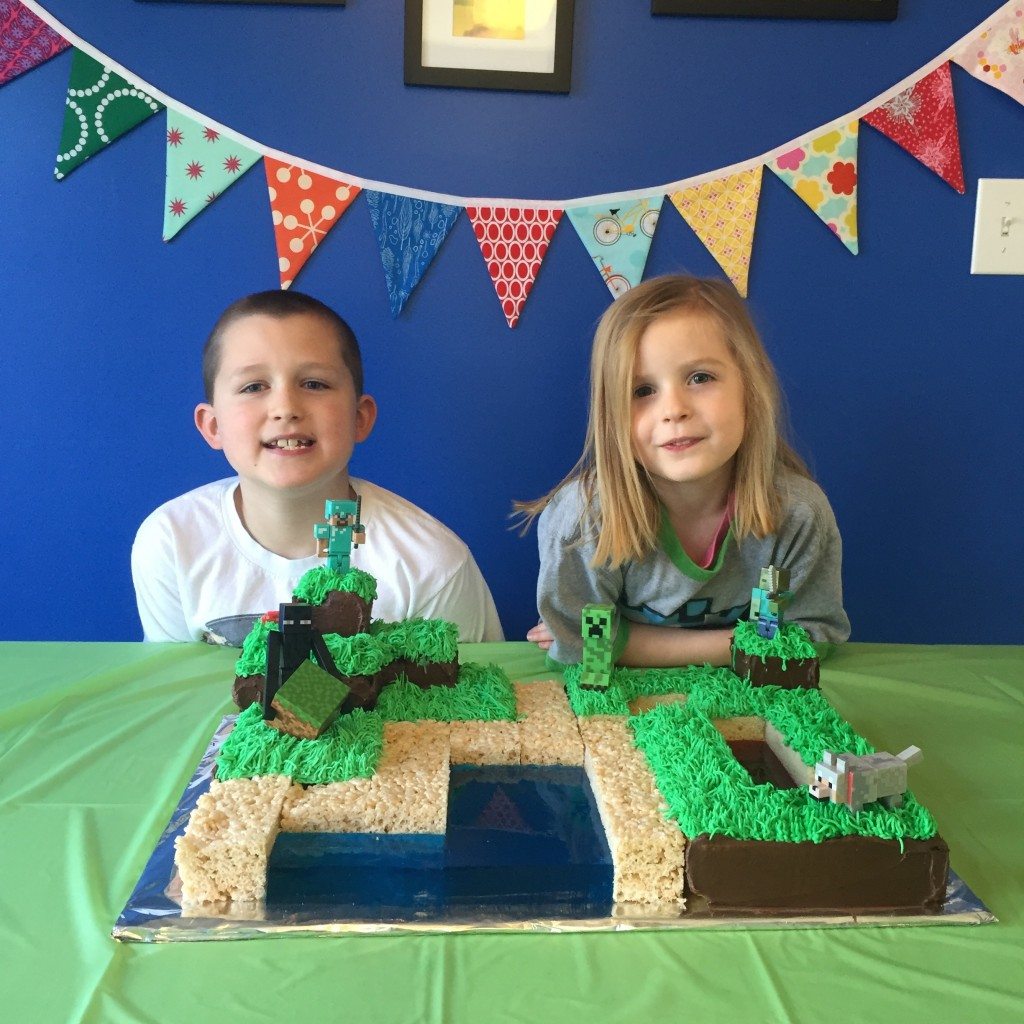 goofs.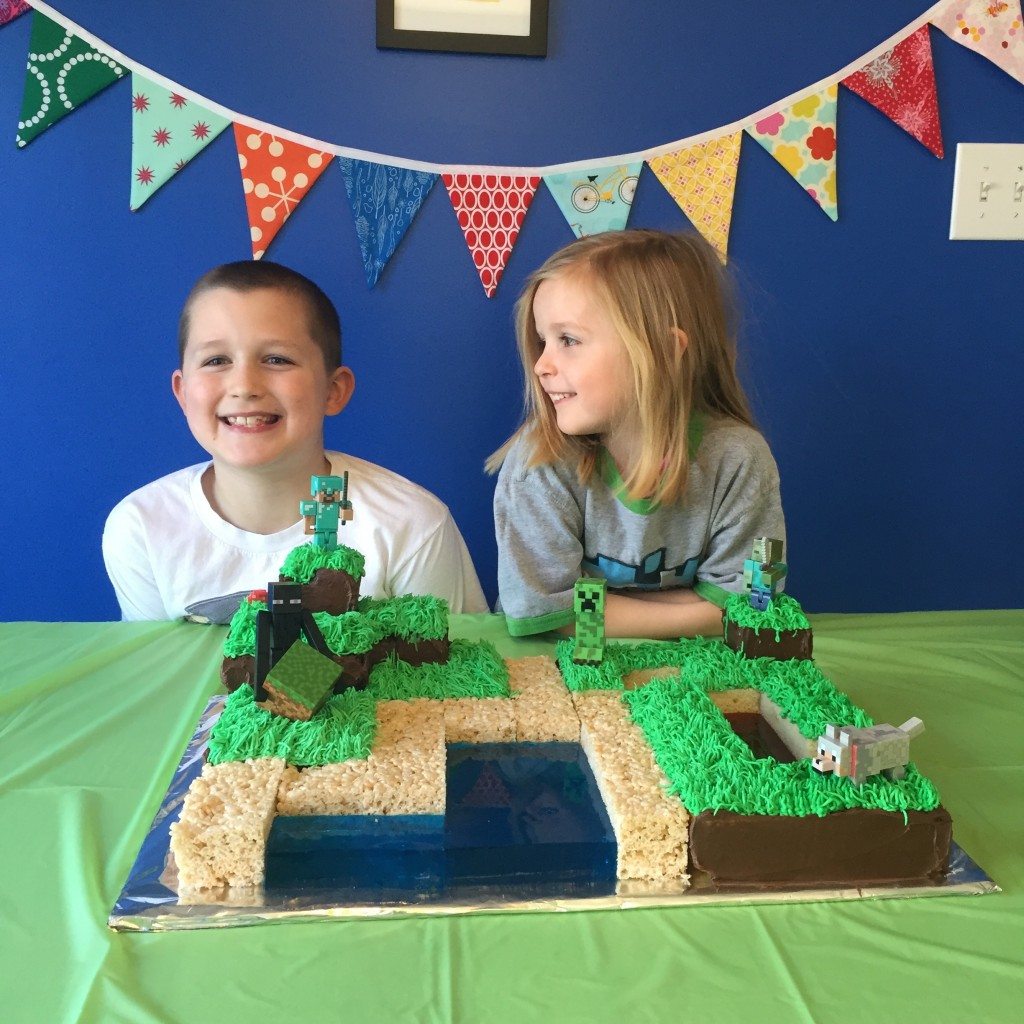 a few of ike's buddies and derek's parents rolled in and the party was ready to go. we even had minecraft pizza. (which was a waste because every last kid picked off the pepporoni).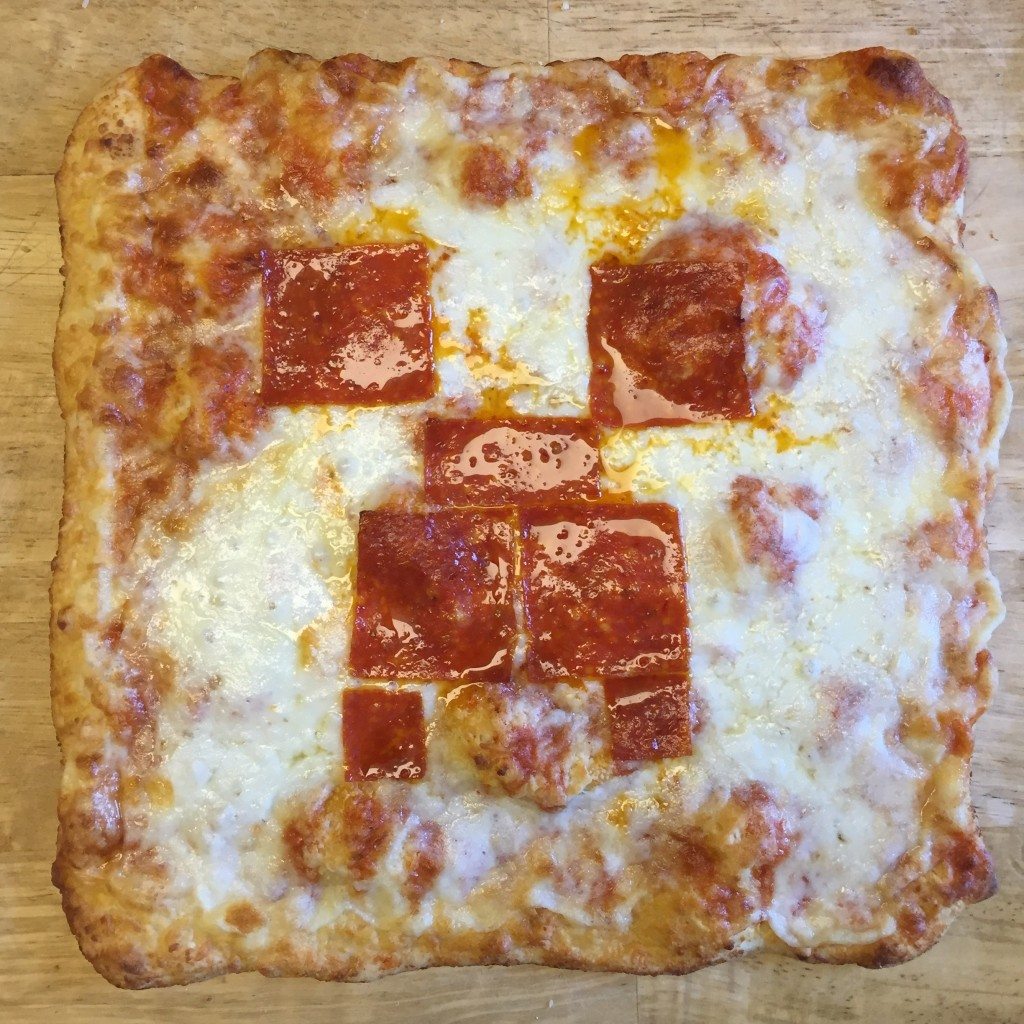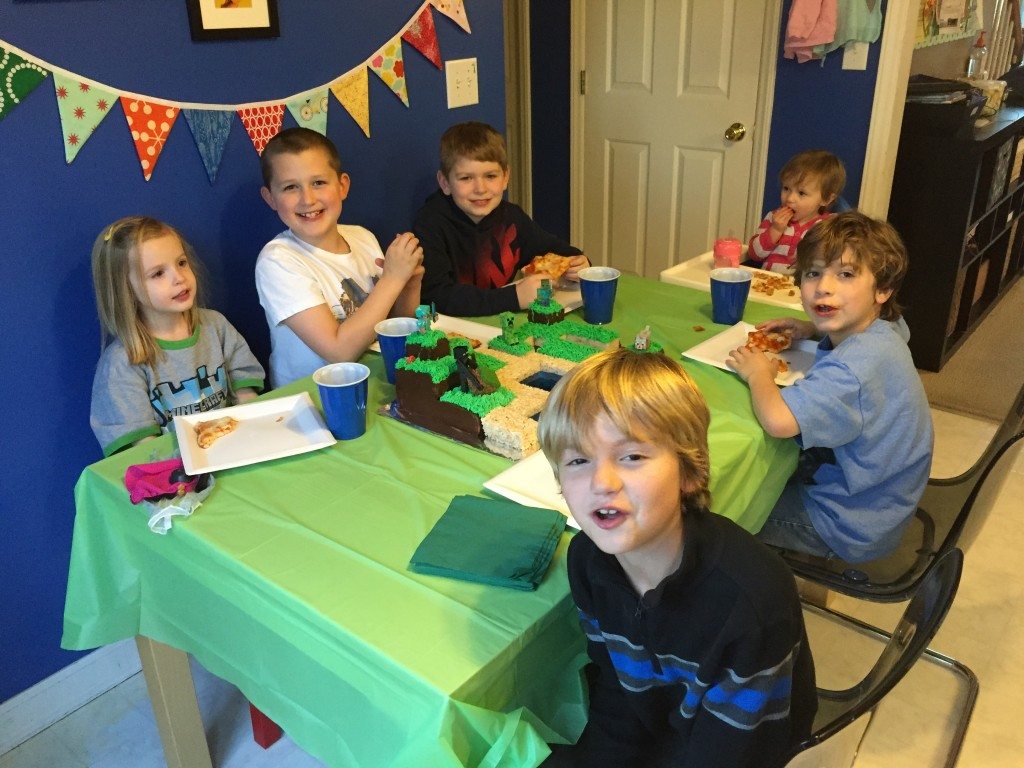 then, you know. we had candles and sang.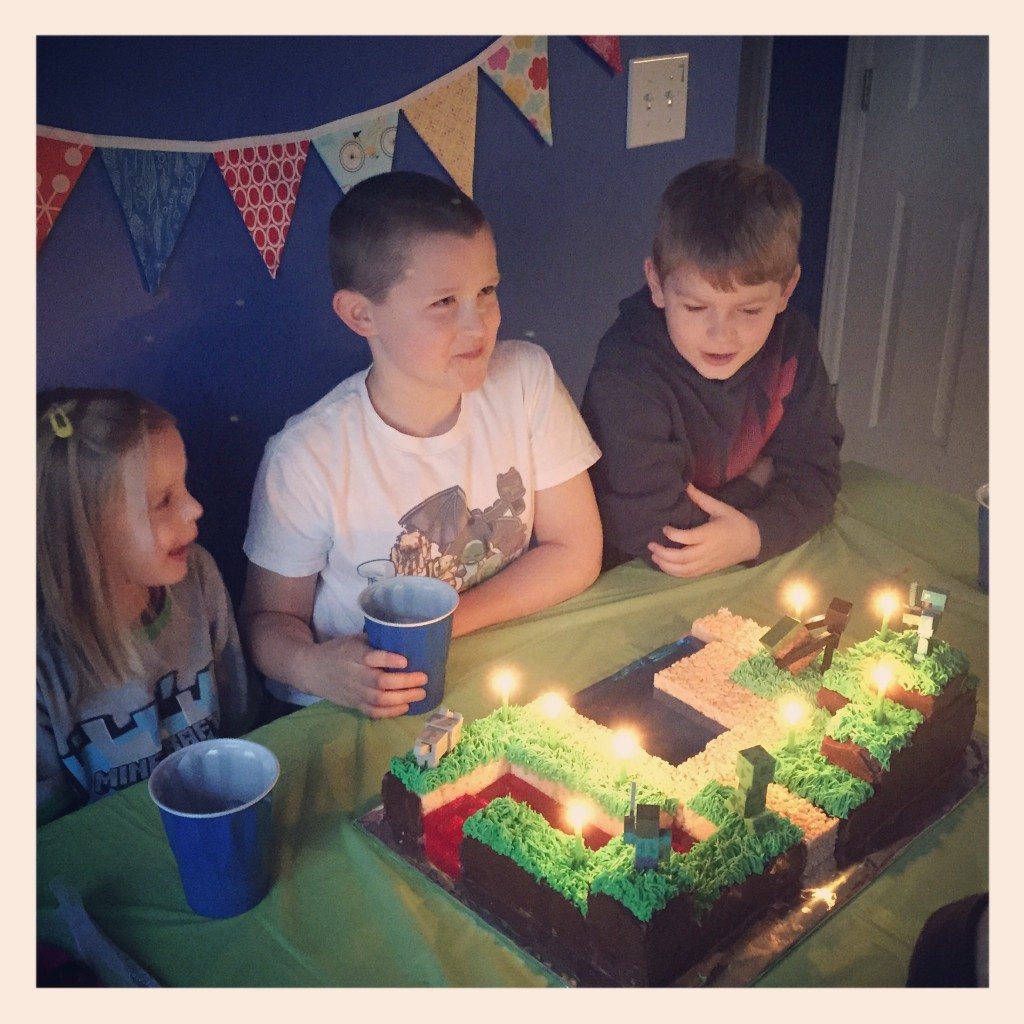 thanks to pinterest, there is no shortage of ideas for minecraft parties. and i might have gone overboard with little items from the game. at least i didn't label them with handy little printables that not one kid would have cared about. but for the non-minecraft literate. the pretzels were sticks. the cherry sours were red stone. the swedish fish were fish. :). the blue gumballs were blue diamonds. the green sixlets were emeralds. the rolos were gold. and the mini peppermint patties were coal.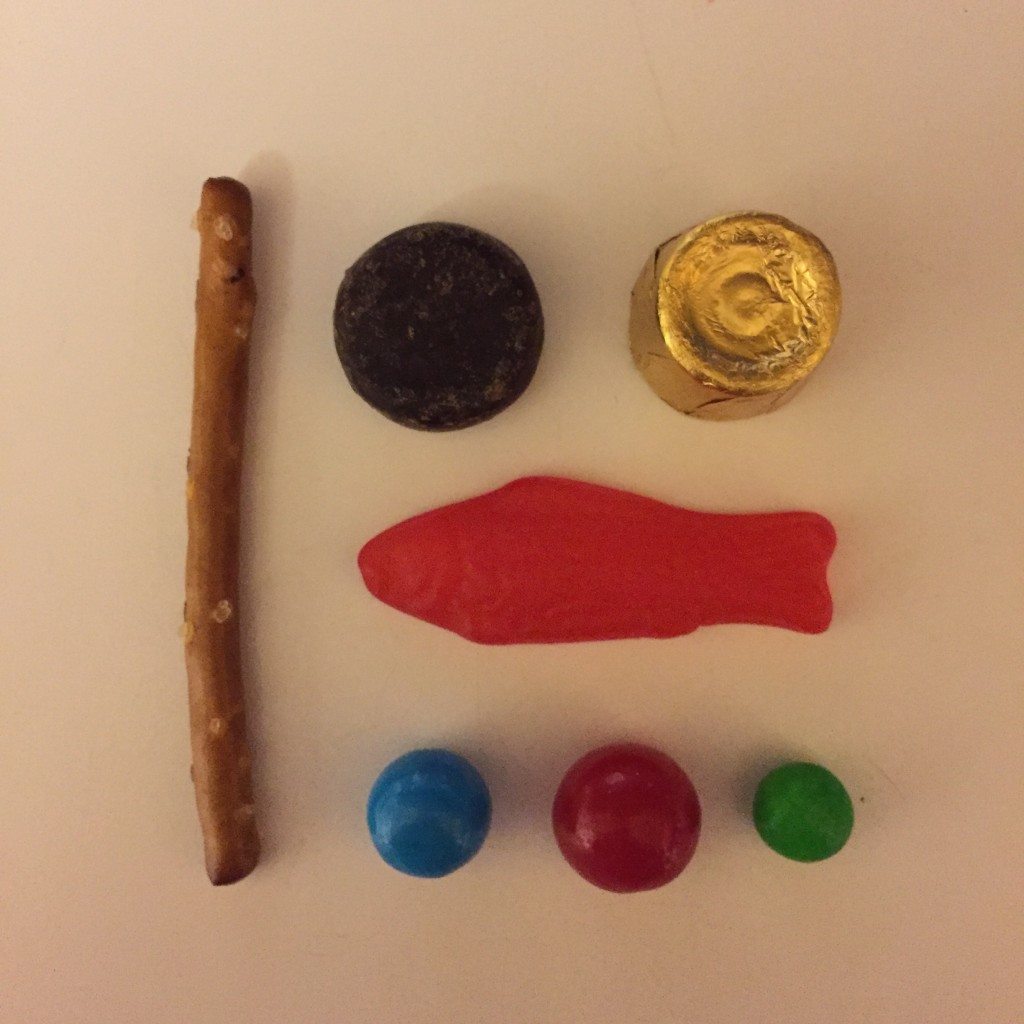 the kids were happy to cram as much crap onto their plate as possible. here's a bit of the aftermath.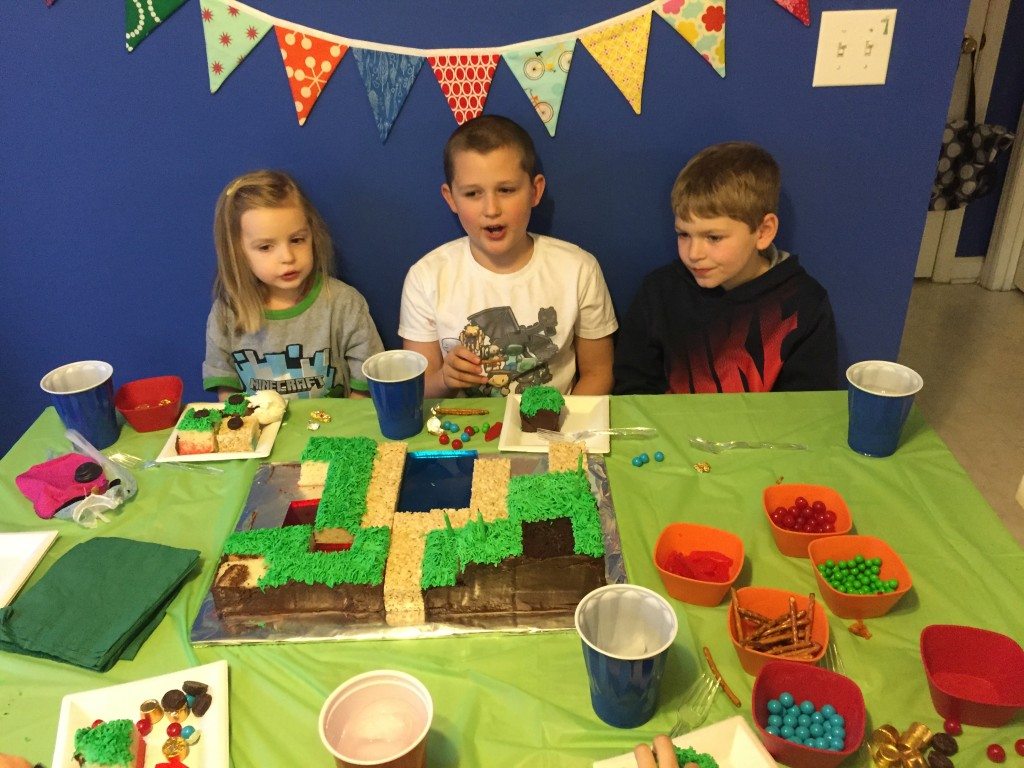 finally. with fully bellies. and all sugared up. they hit the couch with their various internet tablets and such and got busy minecrafting. even little anna joined in. they had so much fun interacting with each other in their little pixelated world.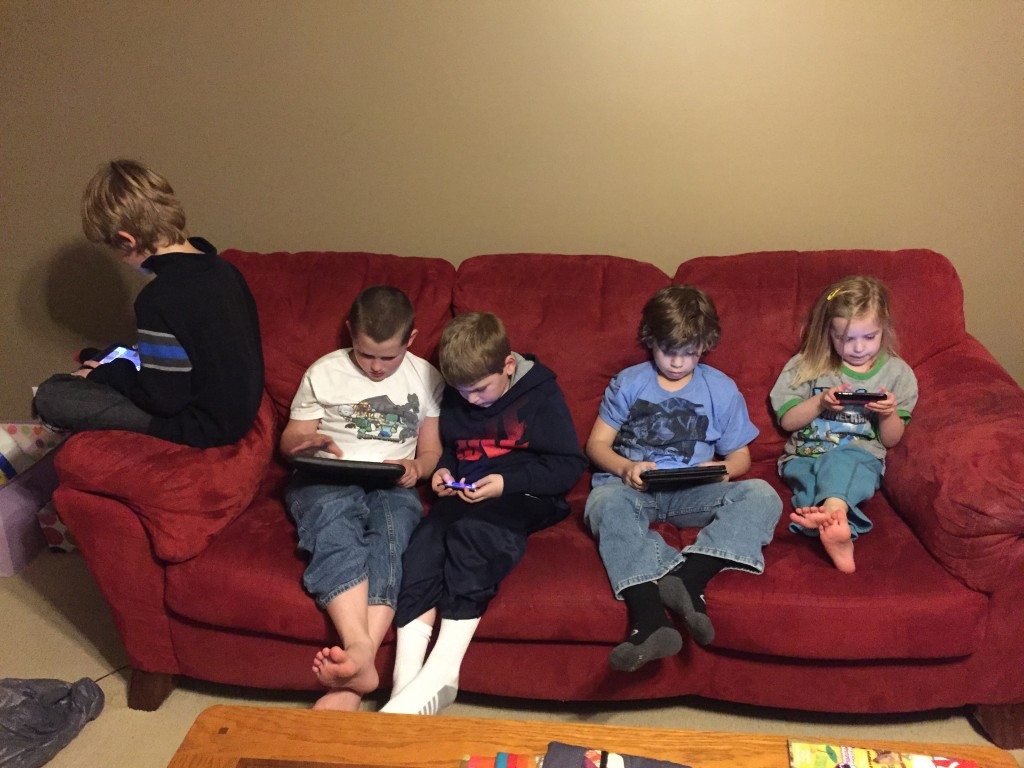 isaac received several minecraft lego sets for his birthday. here, he proudly displays the completed set from my parents.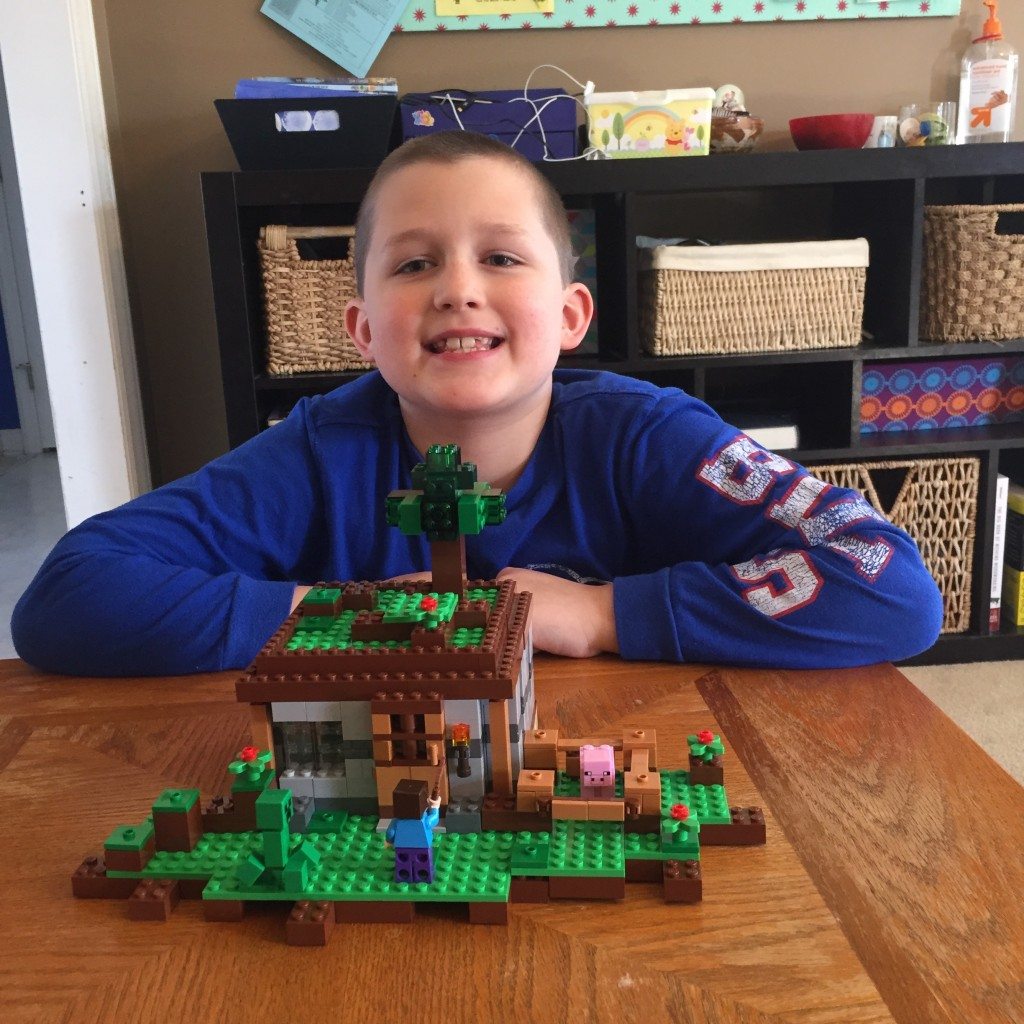 ok. that's it for the festivities.
i'll close out with a bit about the boy.
he's getting sooo big. sooo fast. when i was looking for old pics, i can't believe how much he's grown in a year. actually, i can, because he keeps needing new clothes. he's super duper smart. and very helpful with hazel. he has endless energy. and i think he's a good friend to his buddies. he loves outdoor adventures, like camping and exploring and hiking. he loves to spend time with his dad. he LOVES legos and he's always making up his own kits, by making some thing and then deconstructing it and writing his own instructions. he can be the very sweetest boy ever and he can make you crazy in the next second. but, i suppose that's how everyone is. 🙂
here's a collage from eight counting back to 3 weeks old…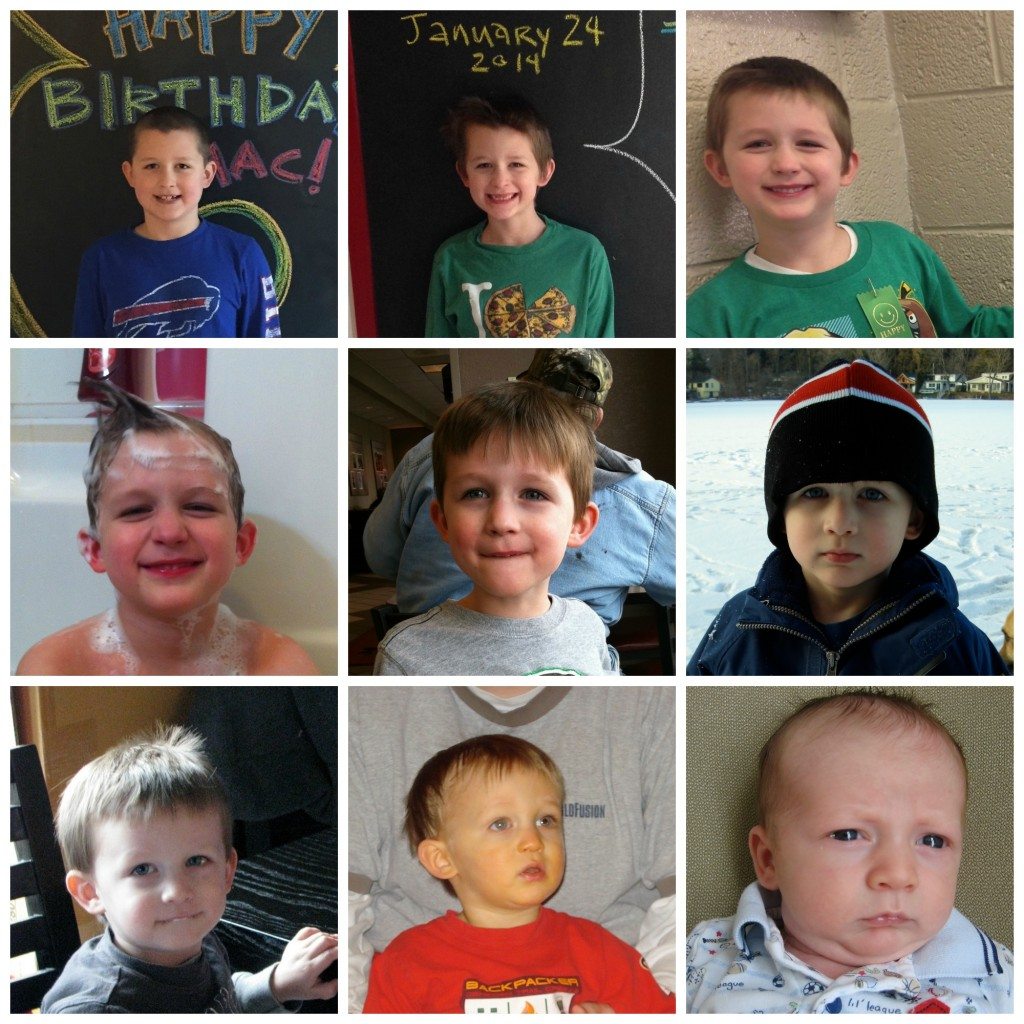 we love you isaaczilla!