i have two quilts to tell you about today…
the first, was for our friends, the browns. i used to babysit their two daughters for a bit before hazel was born. they are also from western new york (and have since returned to buffalo and abandoned me in the south, but i'm not bitter). anyhow. they just had a brand new baby boy. since they are non-gender-finder-outers, i had to whip up something quickly. i decided on blues and greens and white half square triangles…

i just quilted 1/4″ lines on each side of all the seams. it went quickly.

this navy blue cotton + steel fabric made a great binding.

i backed it in some big green polkadot fabric, with a strip of robot fabric.

i finished it up and shipped it off to the great white north. they were super excited and i stole this pic from their facebook of the two proud older sisters and baby micah with his new quilt.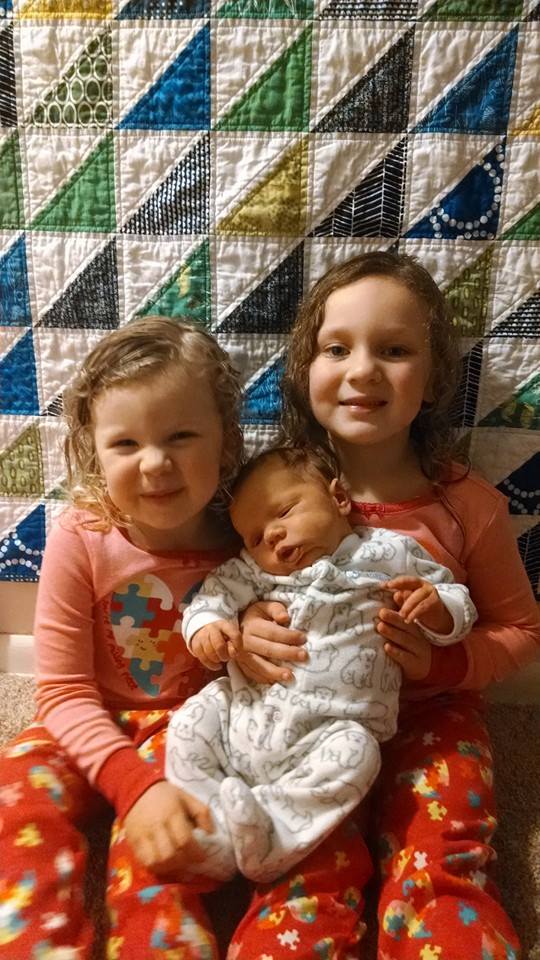 the second quilt. might be my favorite of all time.
isaac's teacher is pregnant with her first baby, a girl, due in june. i casually discovered that she's not super into pink and frilly. and more into gray and yellow, which i was struggling a bit with. so. i did what i do. rainbows and low volumes.
and this pixelated heart quilt was born.

i quilted it with an all over meander (my go-to).

heart close up.

i backed it in this super cute girlie fabric that i bought a zillion yards of at ben franklin before they closed. of course, i have a knack for making my quilts just a little bigger than the width of fabric, so i always have to piece in a stripe. 🙂

i bound it in this gray polkadot fabric and i love it. i wish i had hand sewn the binding, but not so much that i would undo anything. 🙂

i seriously love this quilt so much. i might make one to hang in the girls room. i will make one to hang in the girls room. or maybe our living room. 🙂
that's all for now.