well, we had big plans to go to page, arizona and then the grand canyon, before meeting my parent in vegas in a few days. but, we have some camper issues that we need to get looked at (specifically, some water damage in the floor), so take a more direct route to vegas, to get the camper in sooner. as a consolation prize, we stopped to spend the weekend near valley of fire state park.
our adventure began at the visitor center, where there's a super fun rock to climb all around on.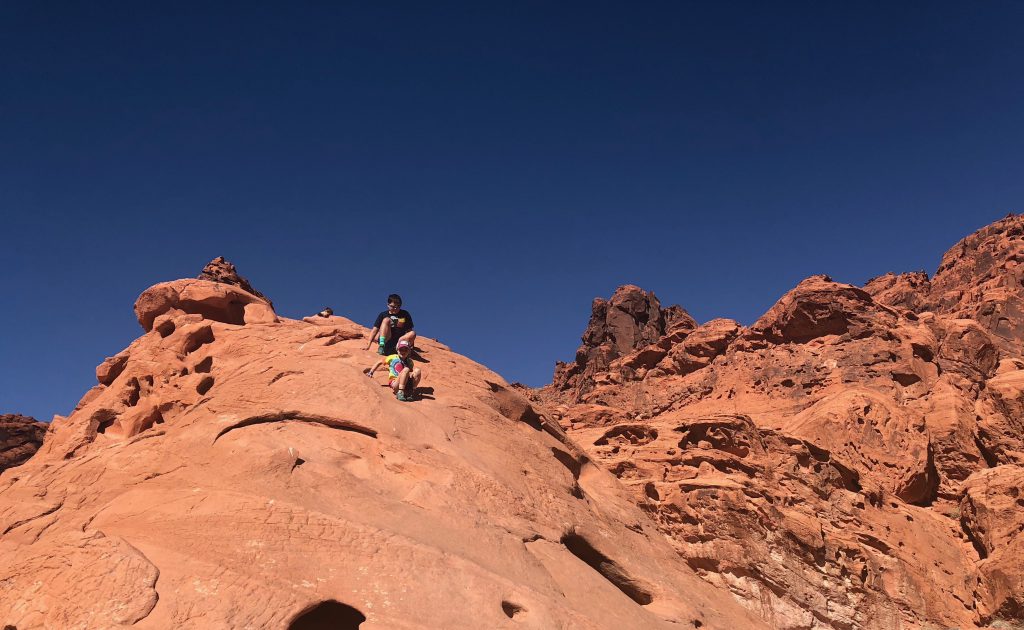 the lid kids love these eroded crevices and holes.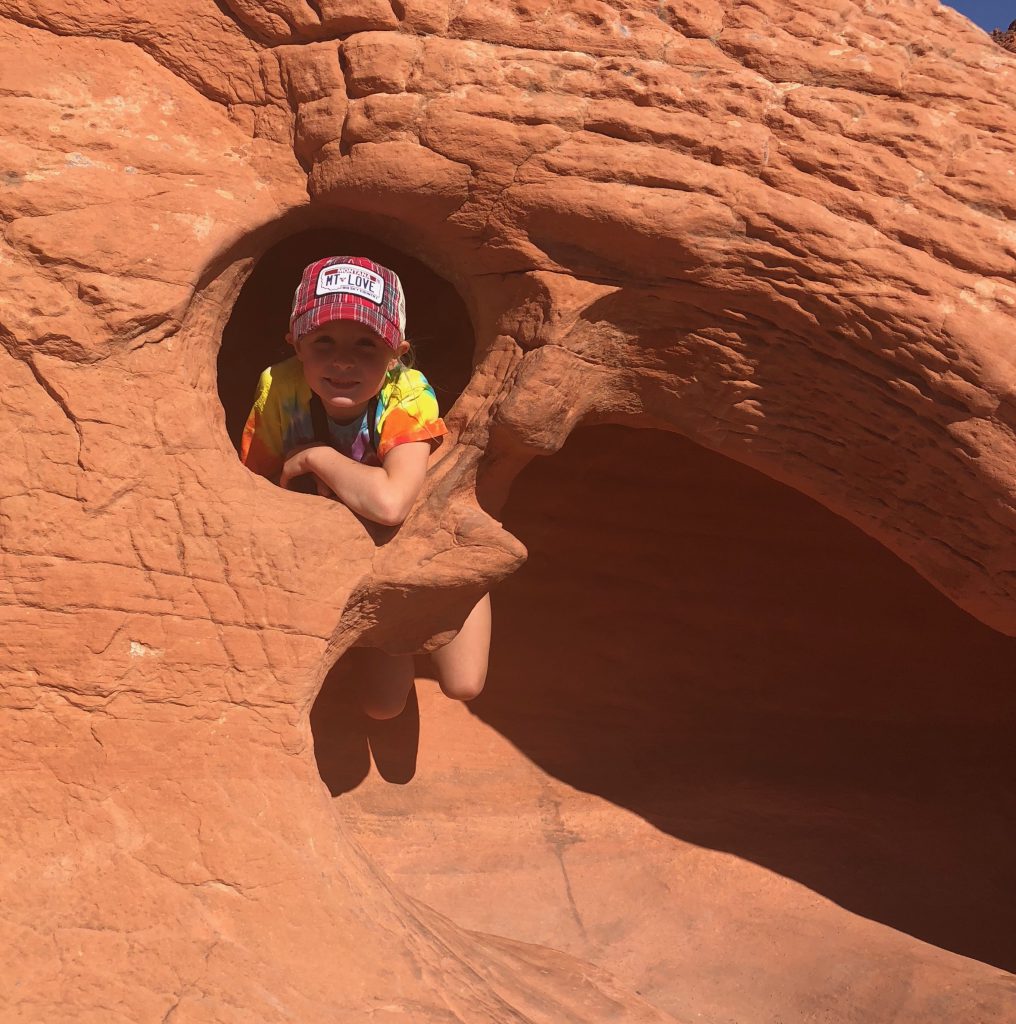 it's so strange to be in this gray-blah desert and then happen upon this colorful bit of rock, shooting out of the ground, in the middle of nowhere.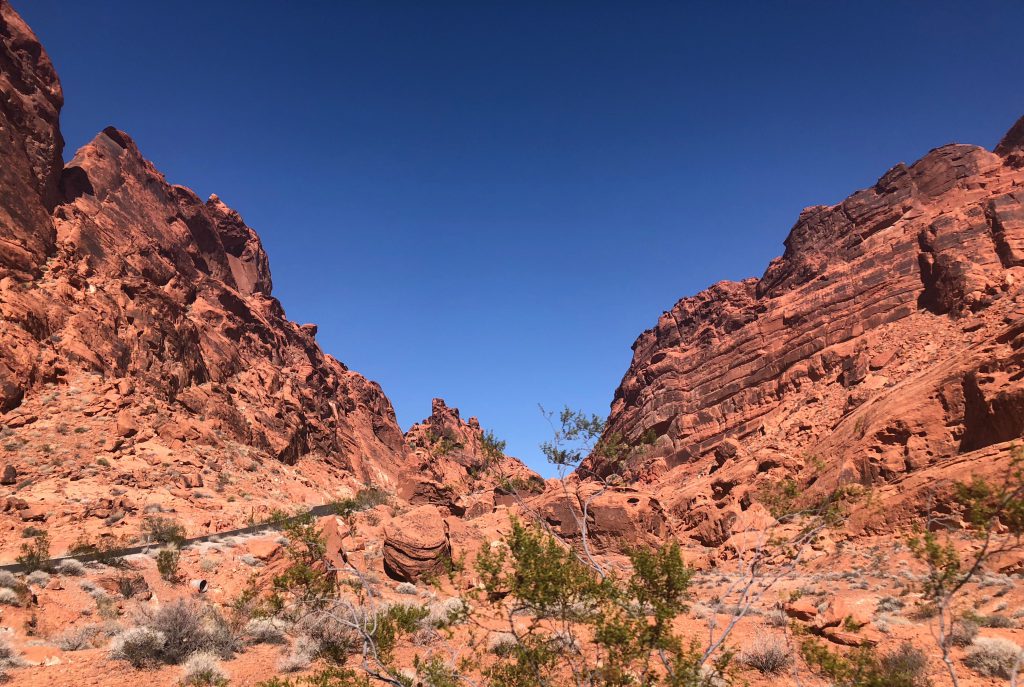 we settled on doing the "fire wave" hike on this visit. the first bit of it is in soft sand in the desert and made for tough hiking and a grumpy 10 year old.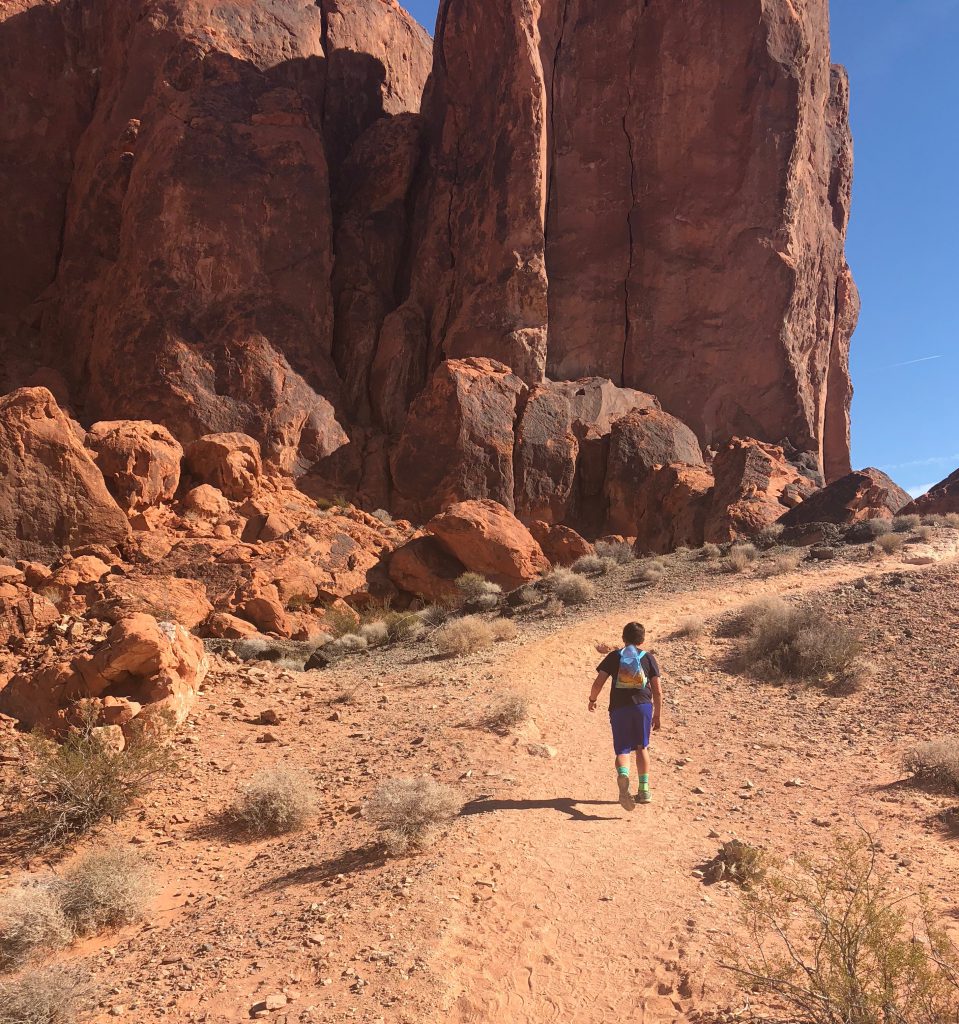 the fam. trudging along.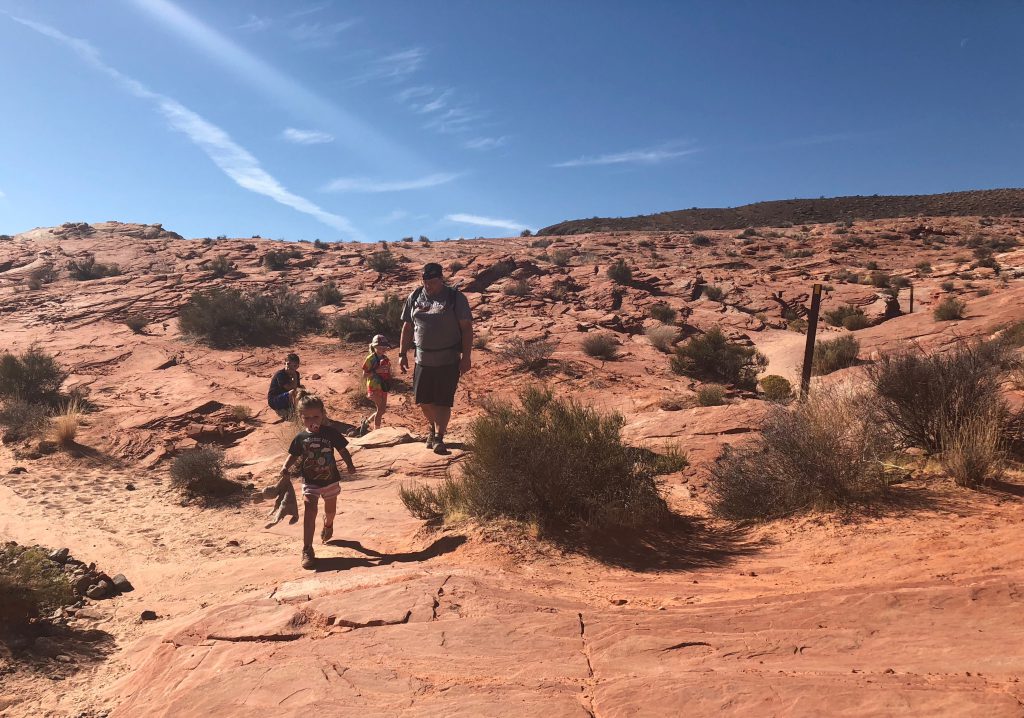 finally we reached some sandstone. much easier terrain.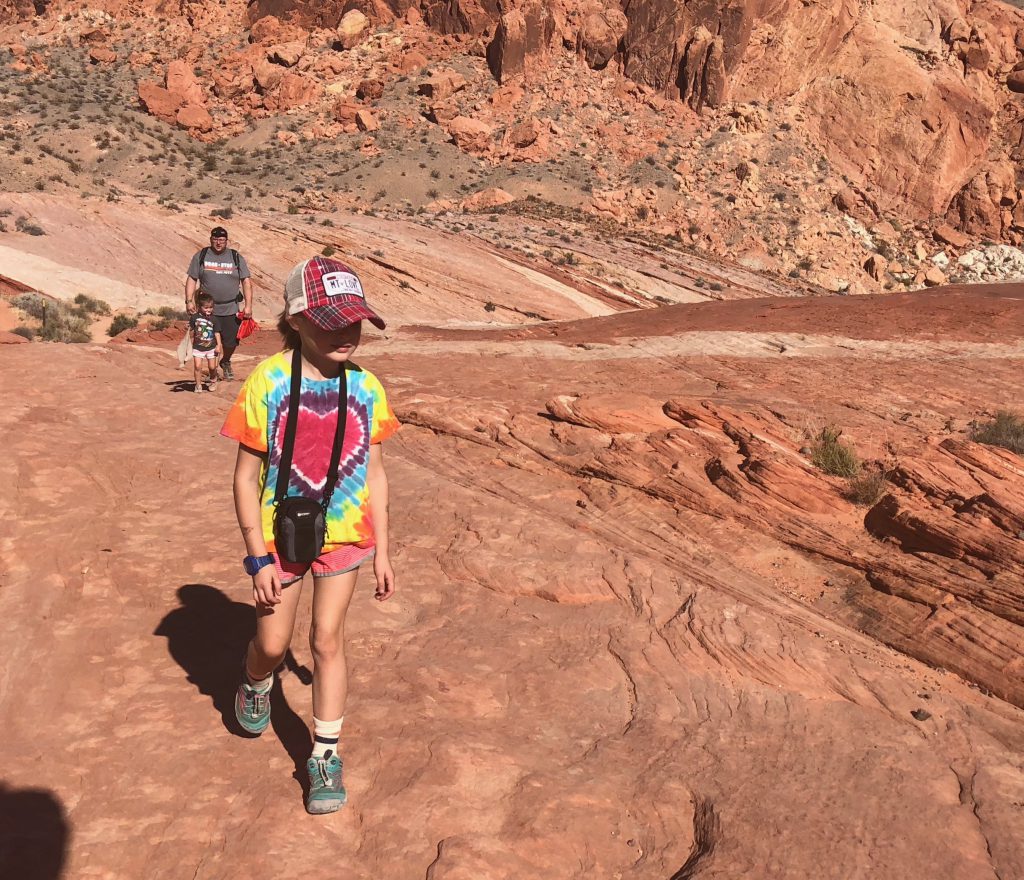 it was a little hot and there was still some grumpiness.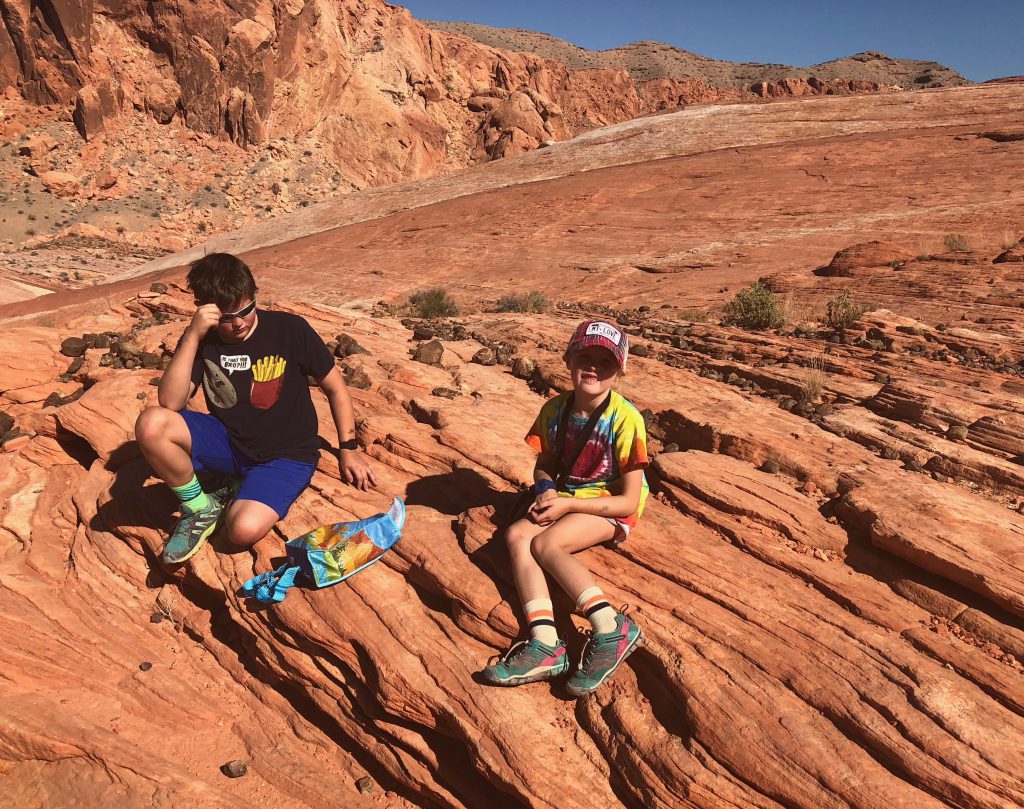 the rock formations are so cool and strange.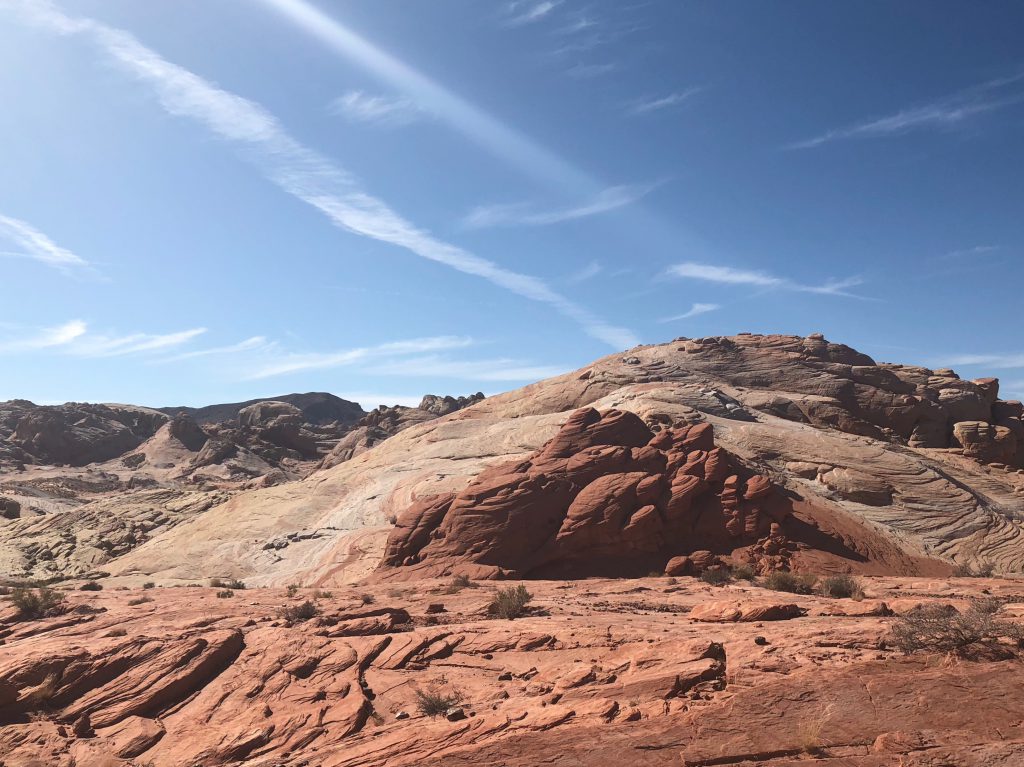 so basically, the sandstone is in layers of white and red and as it erodes, it makes really awesome patterns in the side of the rock. i took a ridiculous amount of pictures.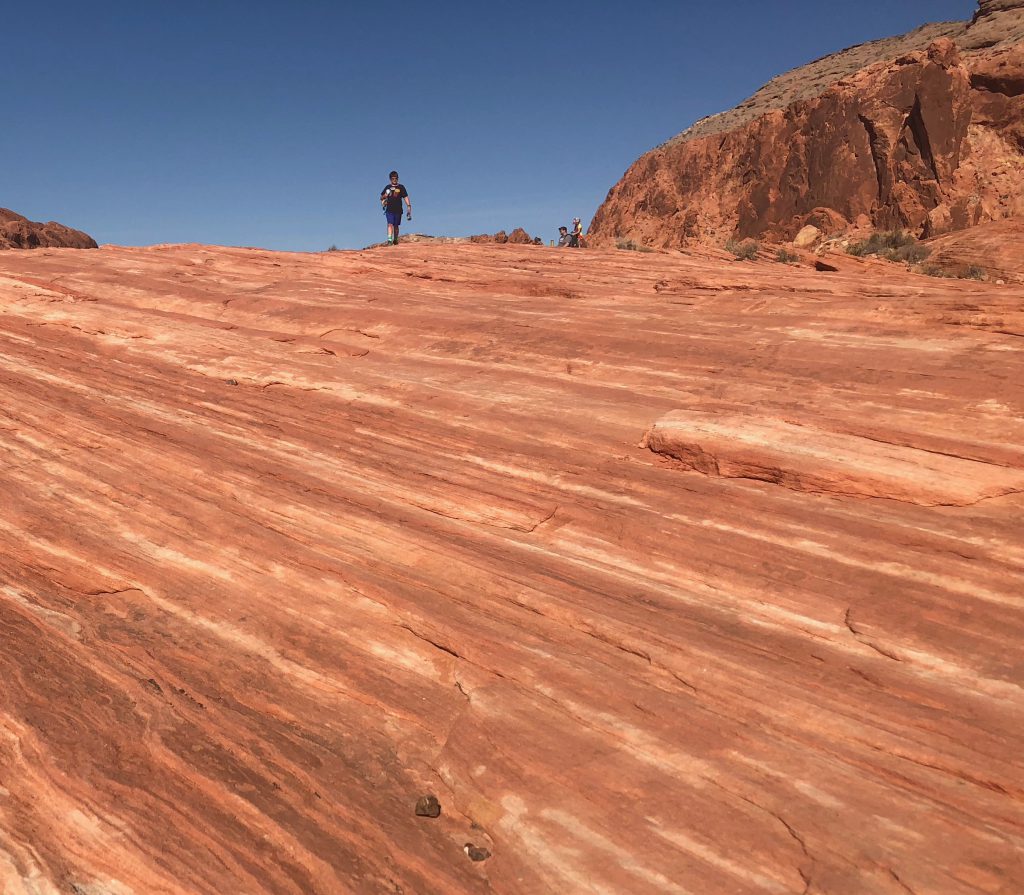 i couldn't help myself.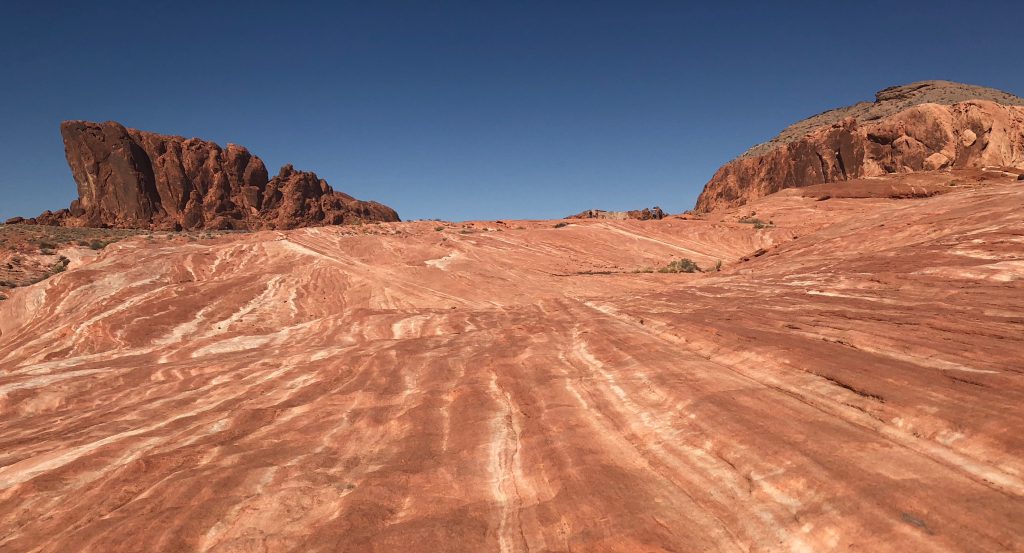 the not-grumpy portion of the lidkids.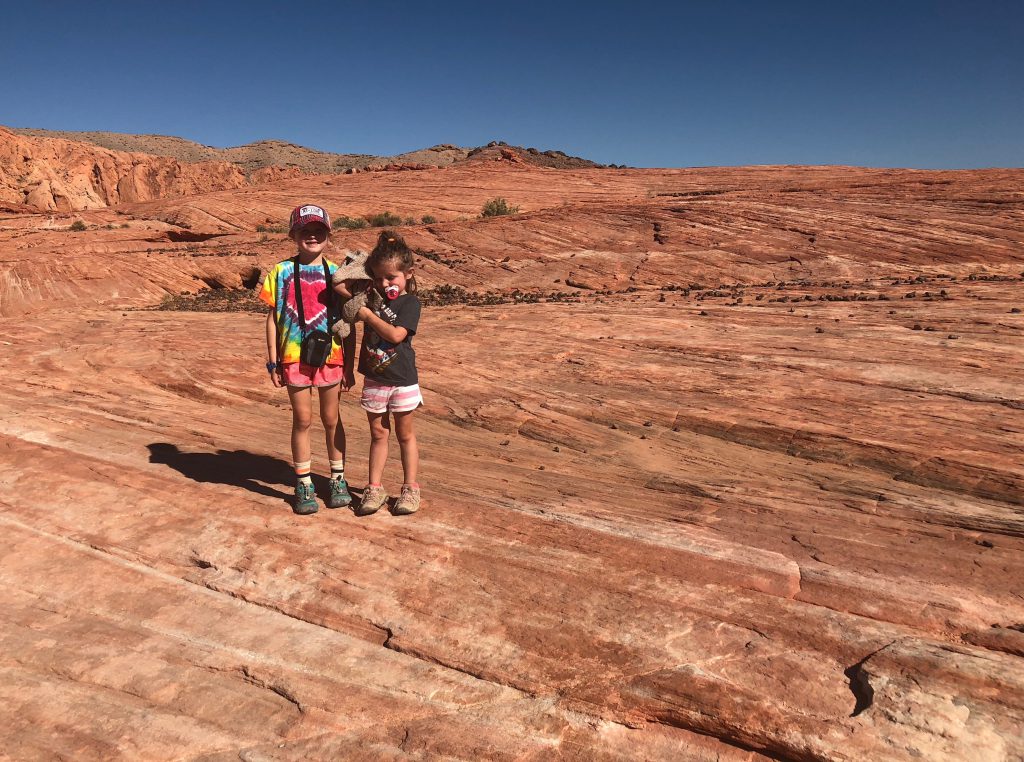 this kid. she's on paci notice. her birthday is next month and we've been prepping her for the cold turkey cut off.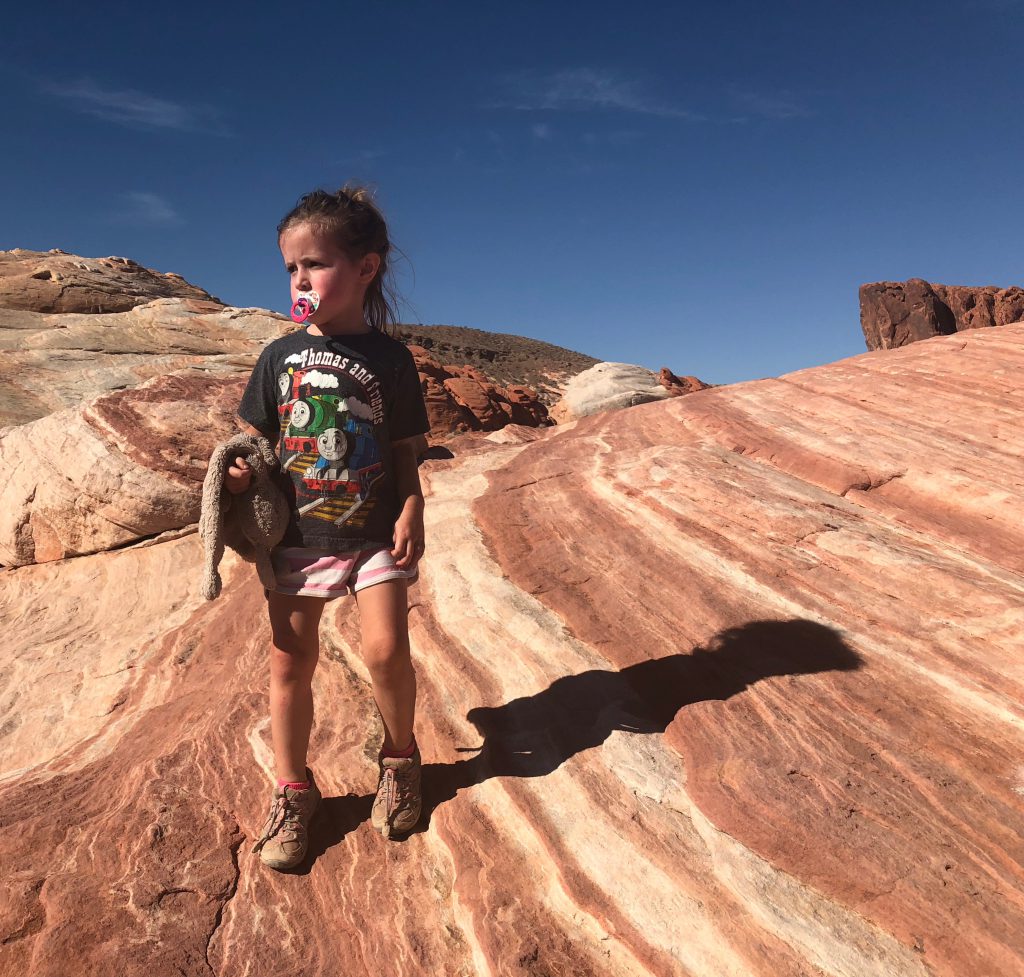 finally, we reached the official destination. so cool.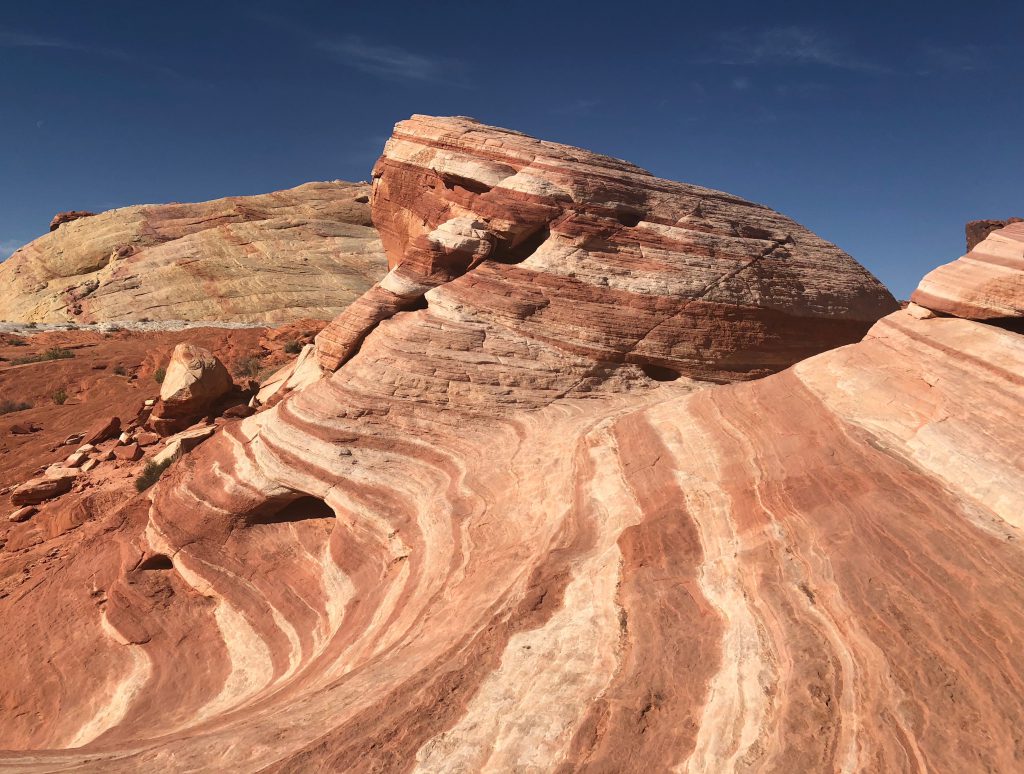 when we arrived, there were only a handful of people so we had the run of the place, pretty much.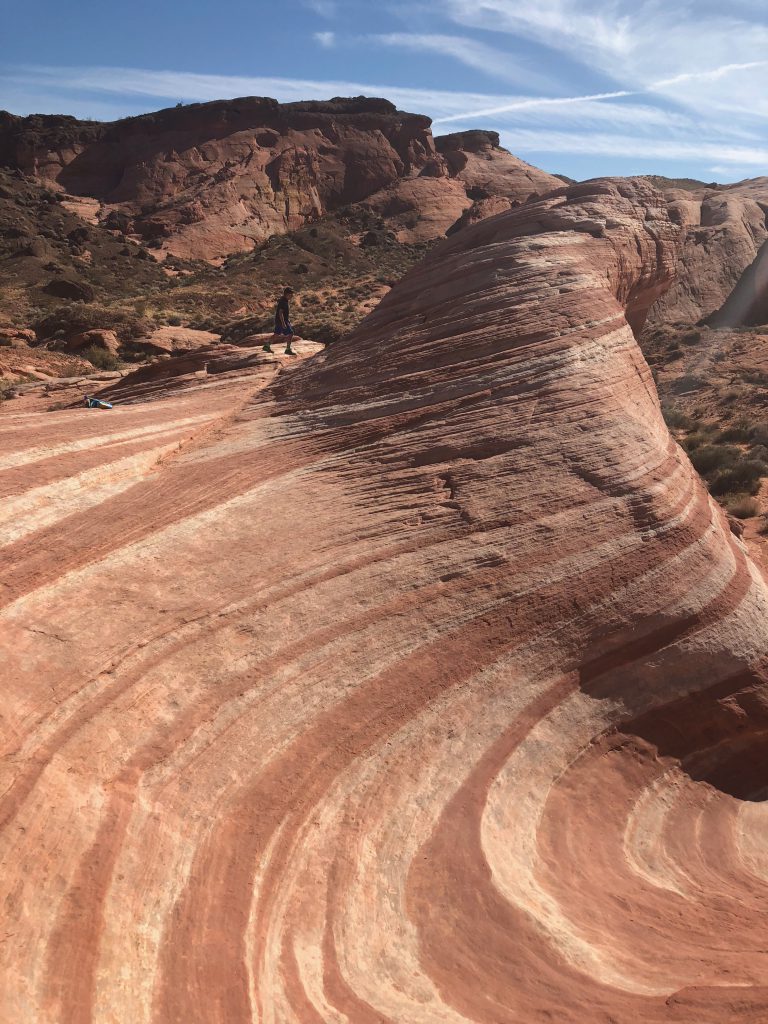 anna quickly climbed to the top of this thing. while hazel cried because it was too steep.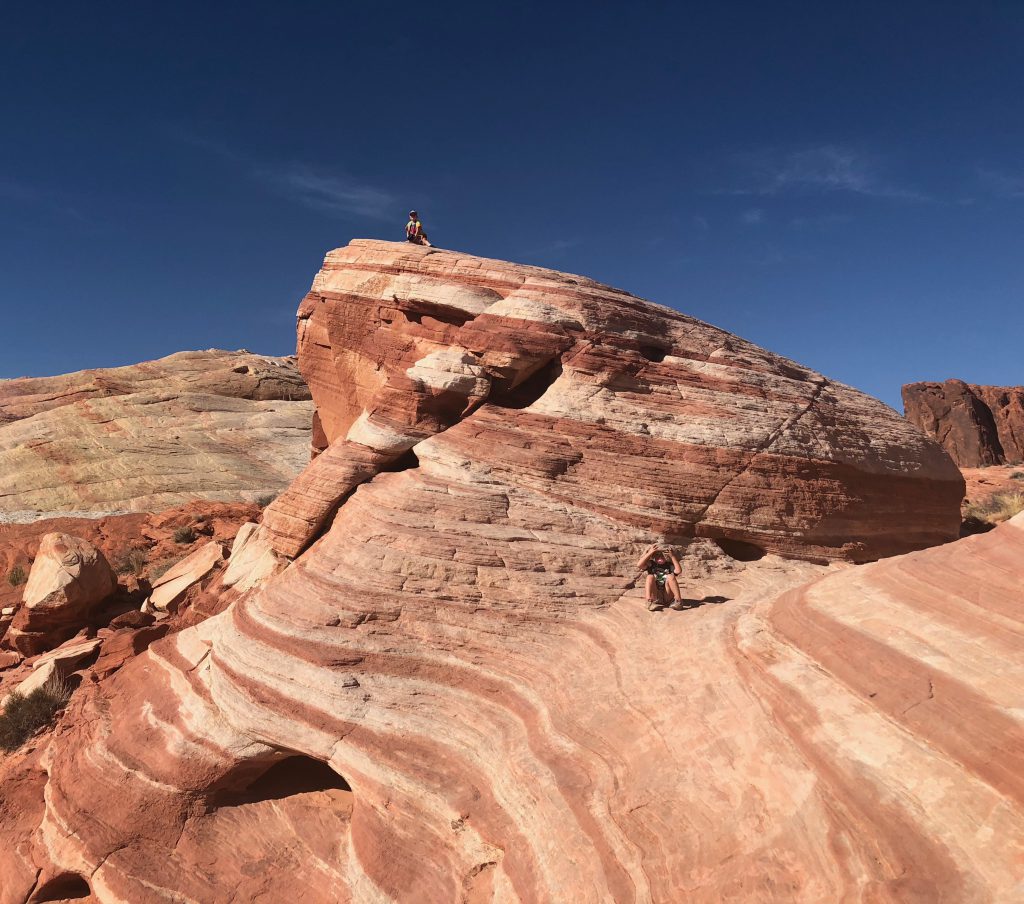 suddenly, isaac wasn't grumpy anymore, surprise surprise.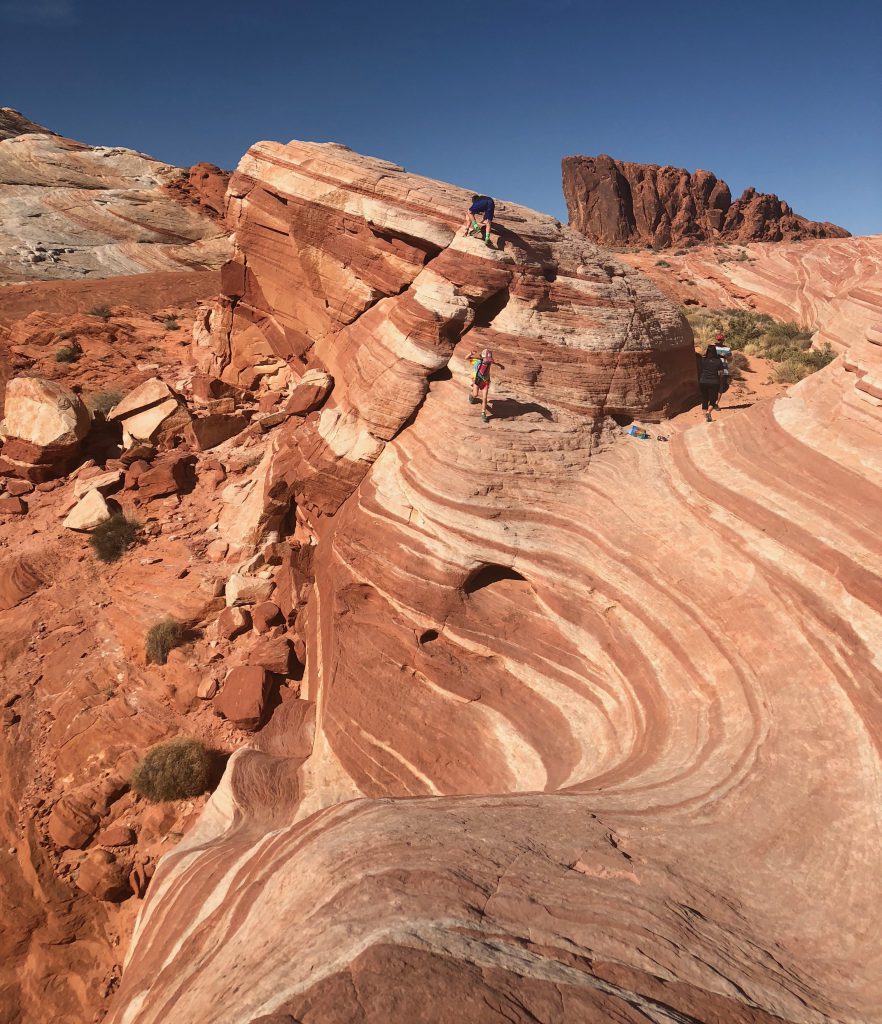 lidbom girls.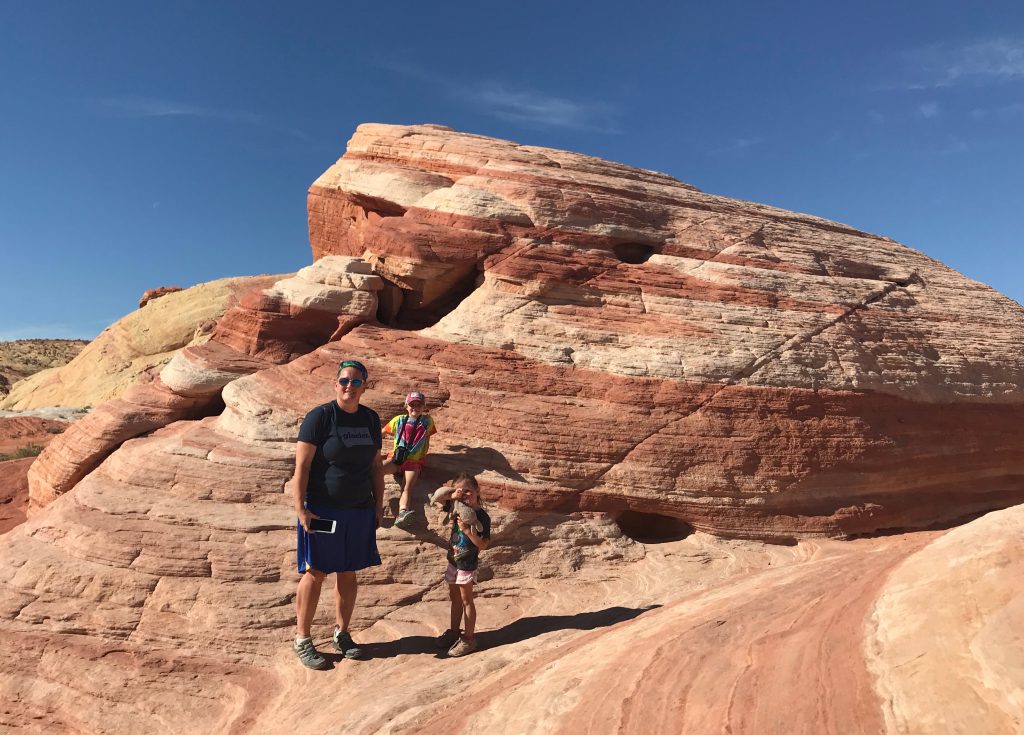 hazel was happy to be able to climb this less steep area.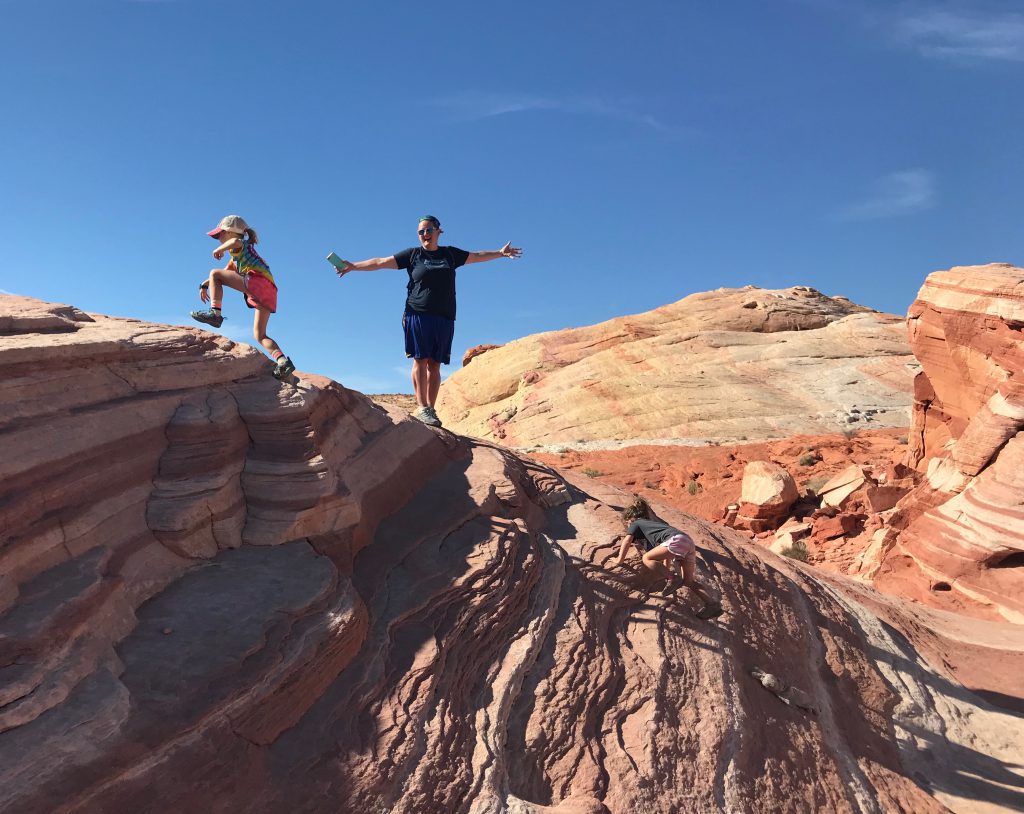 then anna and i decided to head up to the highest spot for a bird's eye view of all the cool stuff.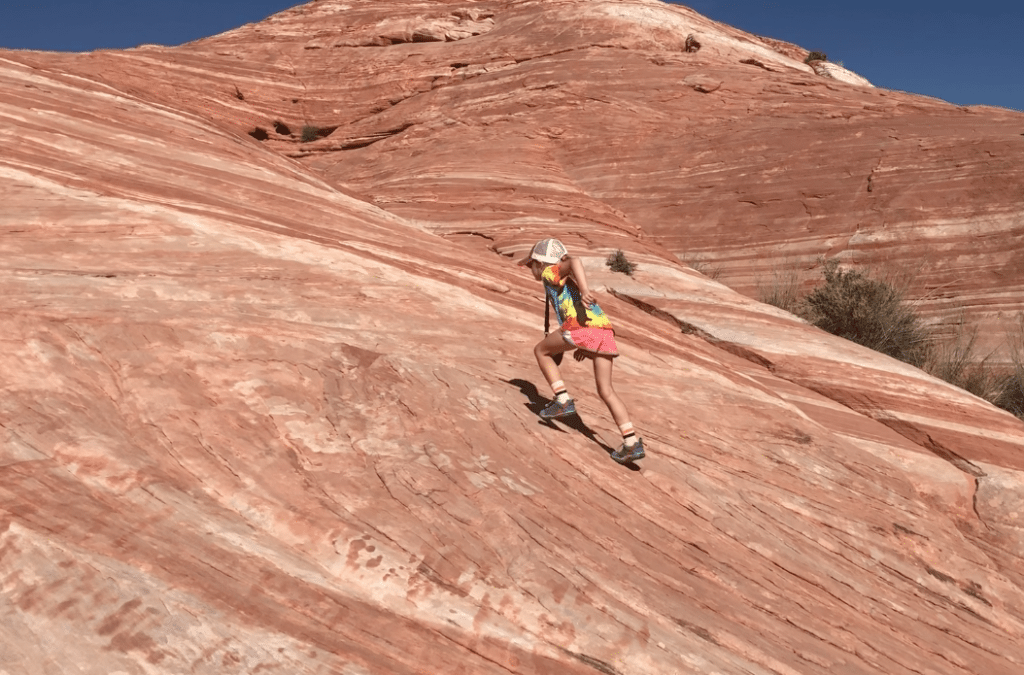 derek took this shot for us. isaac was on his way.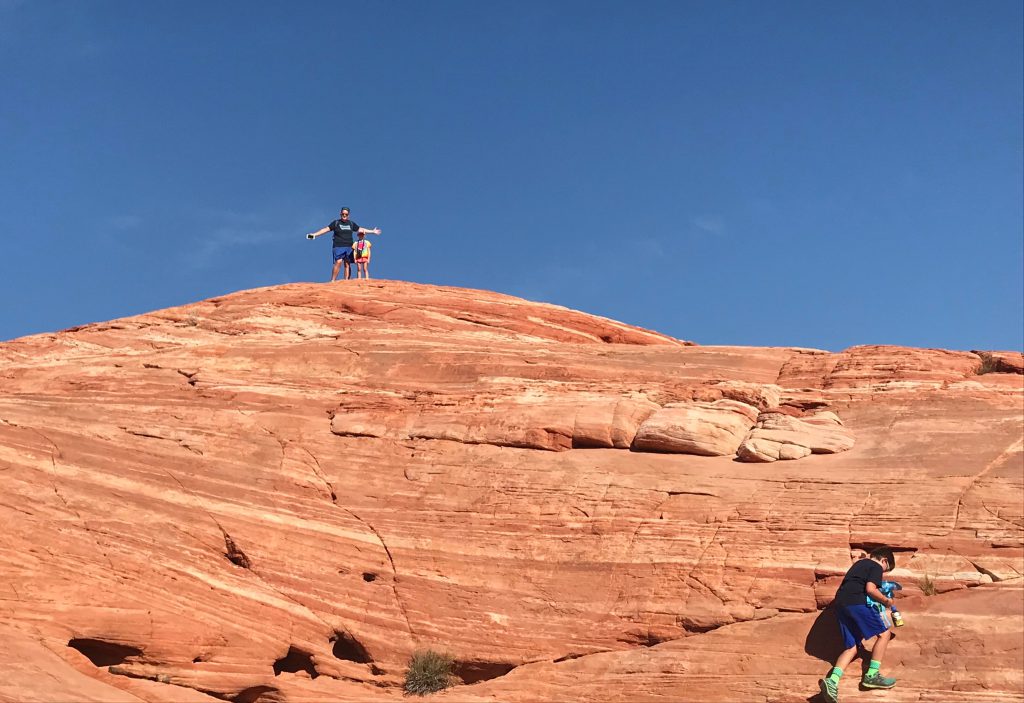 my view of ike, huffing his way up.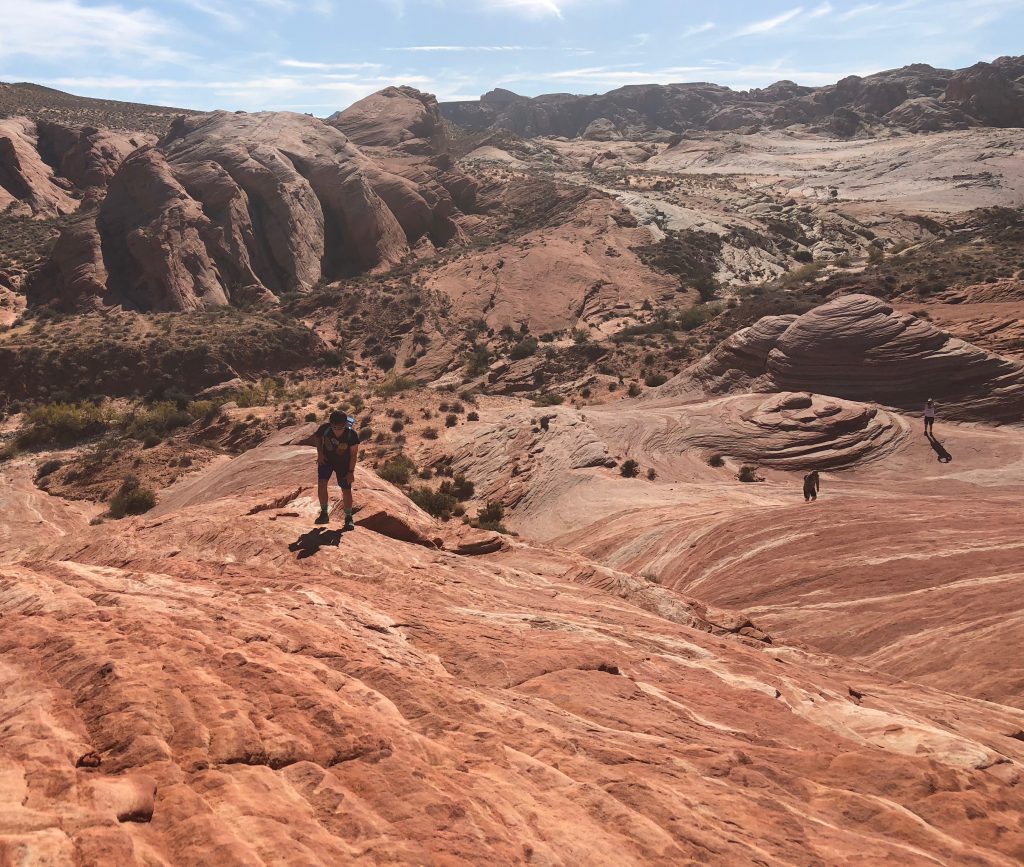 and then even crazel joined us.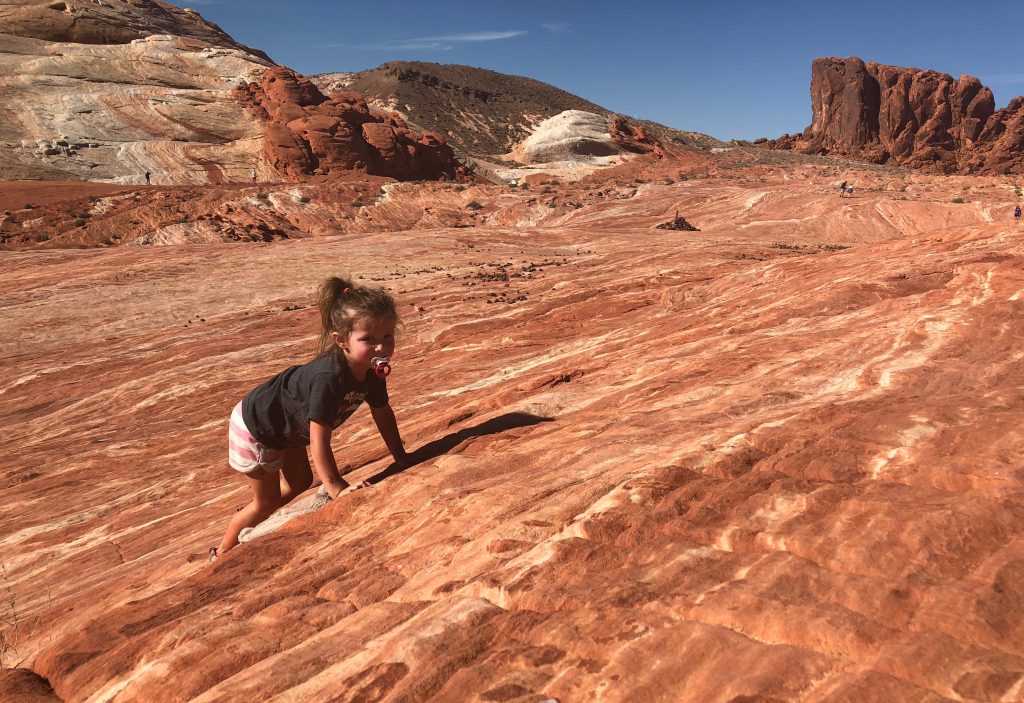 derek met us up there and it was a grand old time. 🙂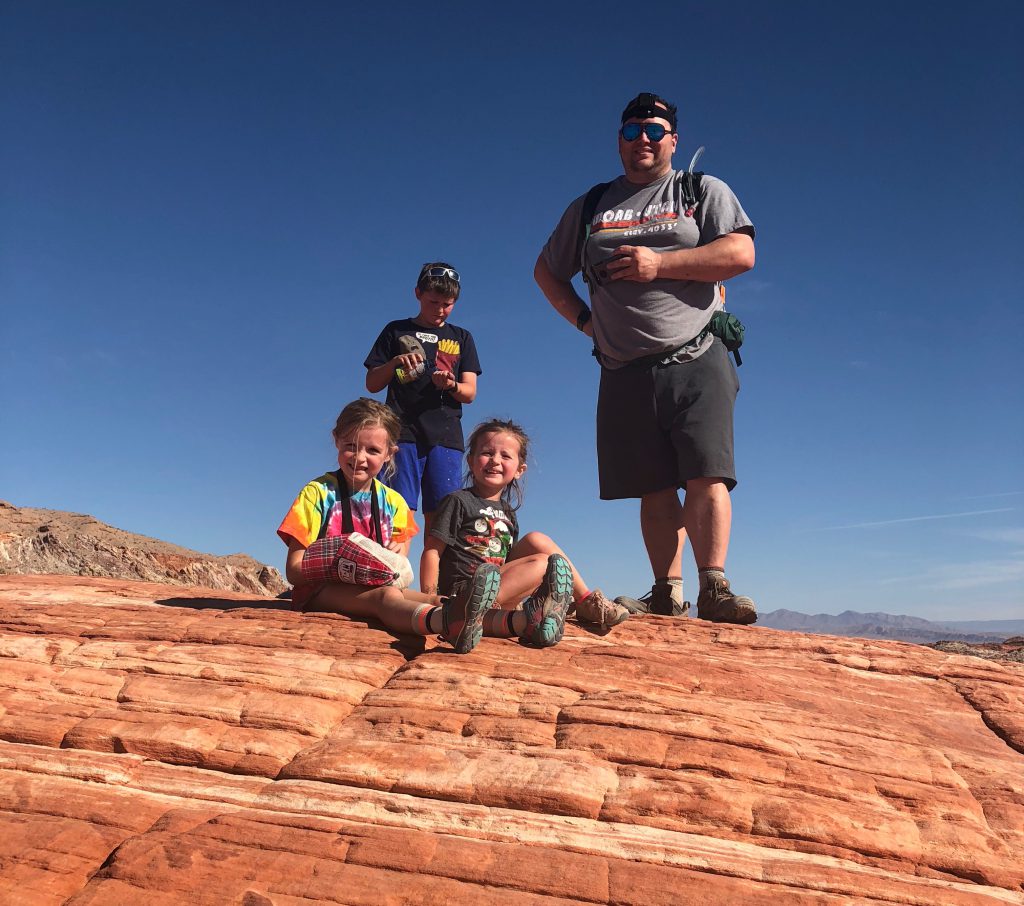 by then, there were sooo many people, we began to make our way back.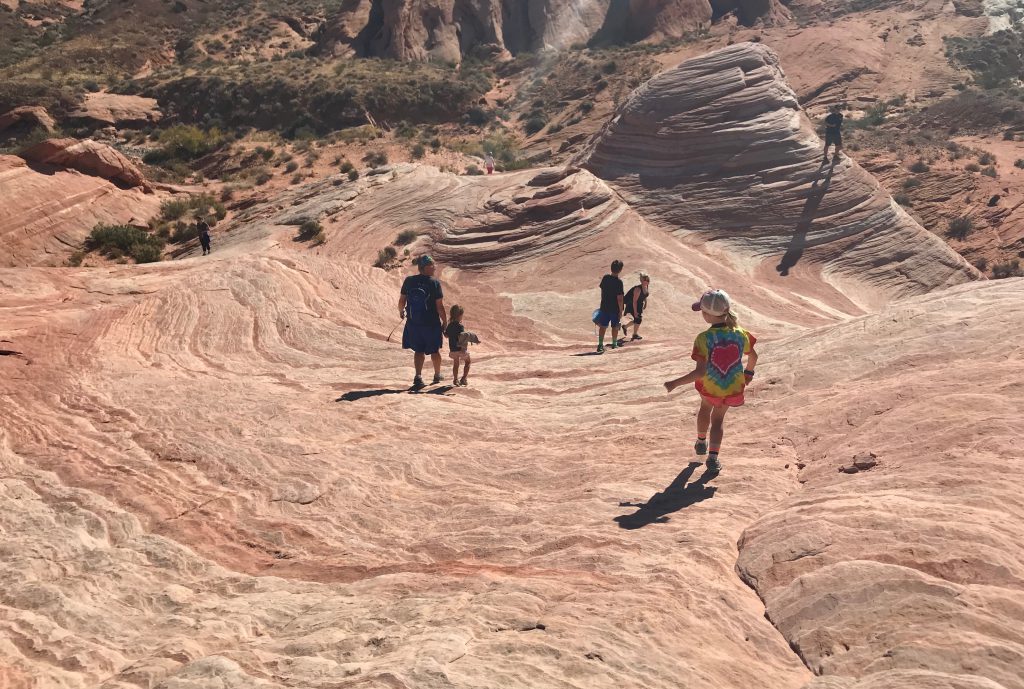 the views on the walk back were better, because of the direction of the sunshine.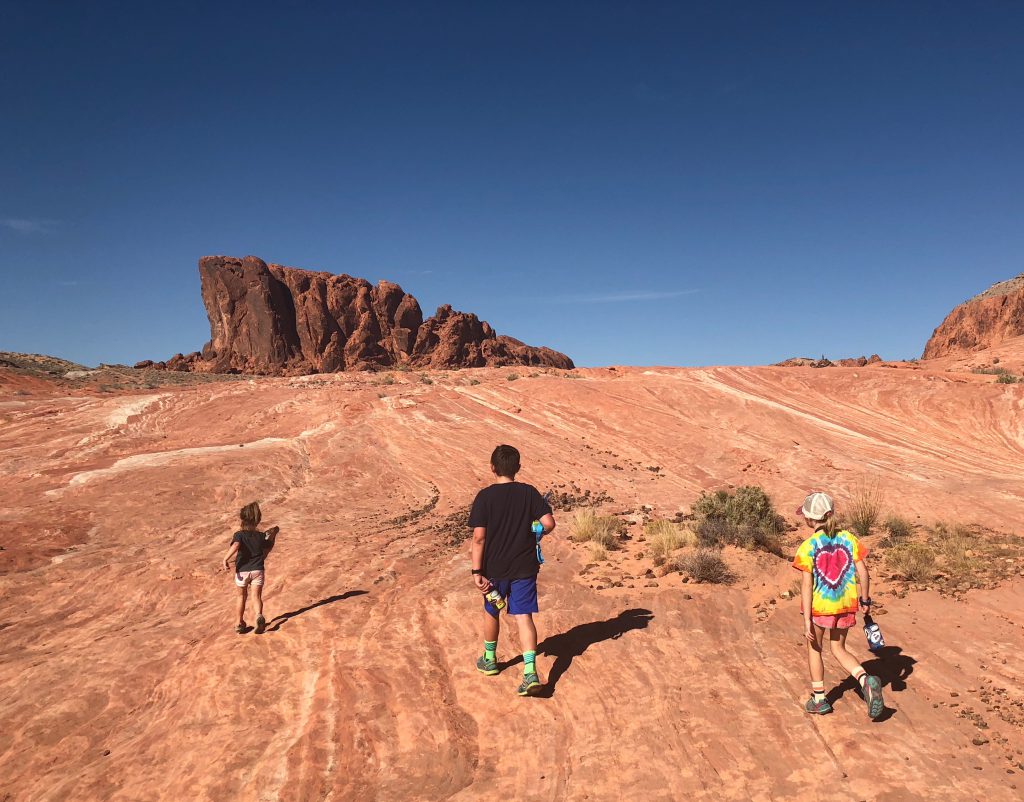 we stopped to climb around on a little spot we hadn't even noticed on the way in.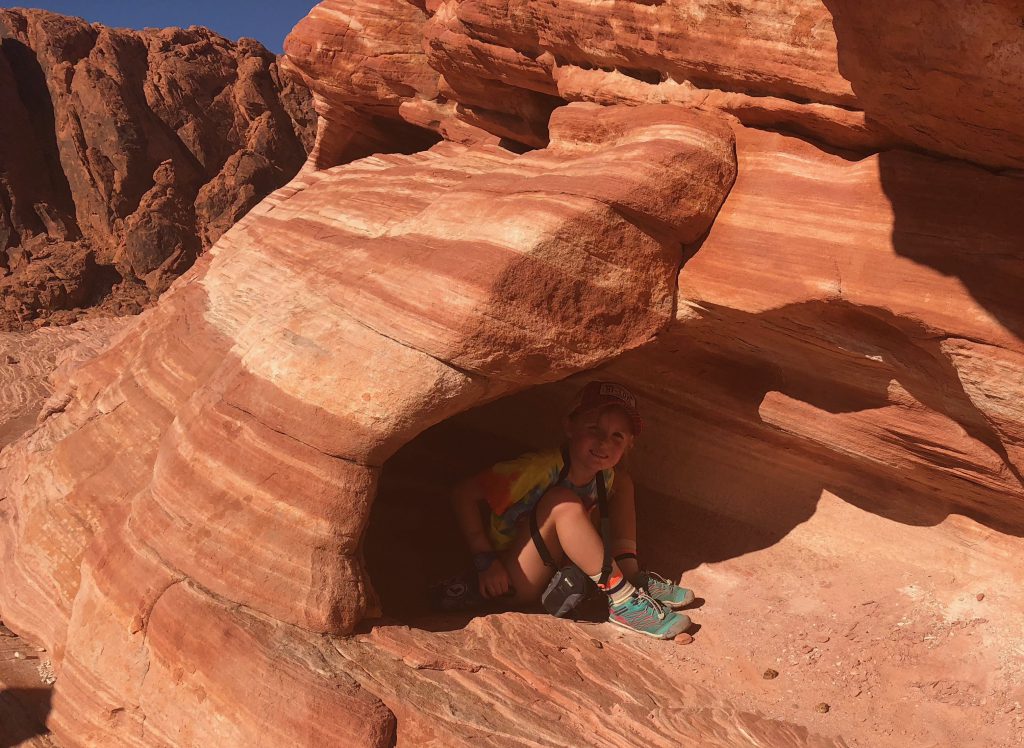 well. me and anna, that is. hazel was over it. and isaac returned to his former state of being grumpy about the desert heat.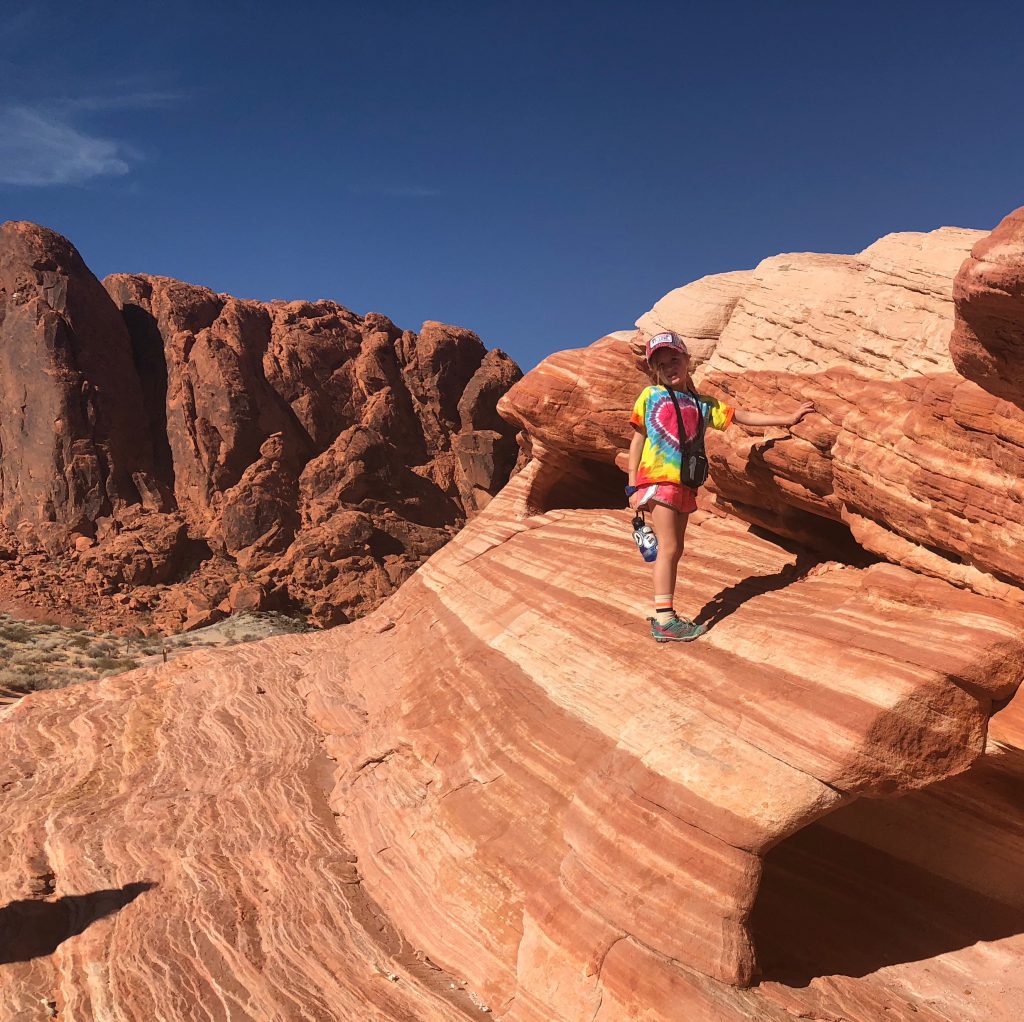 then hazel fell into a rock and there was a speck of blood so she had a major panic attack and had to be airlifted out.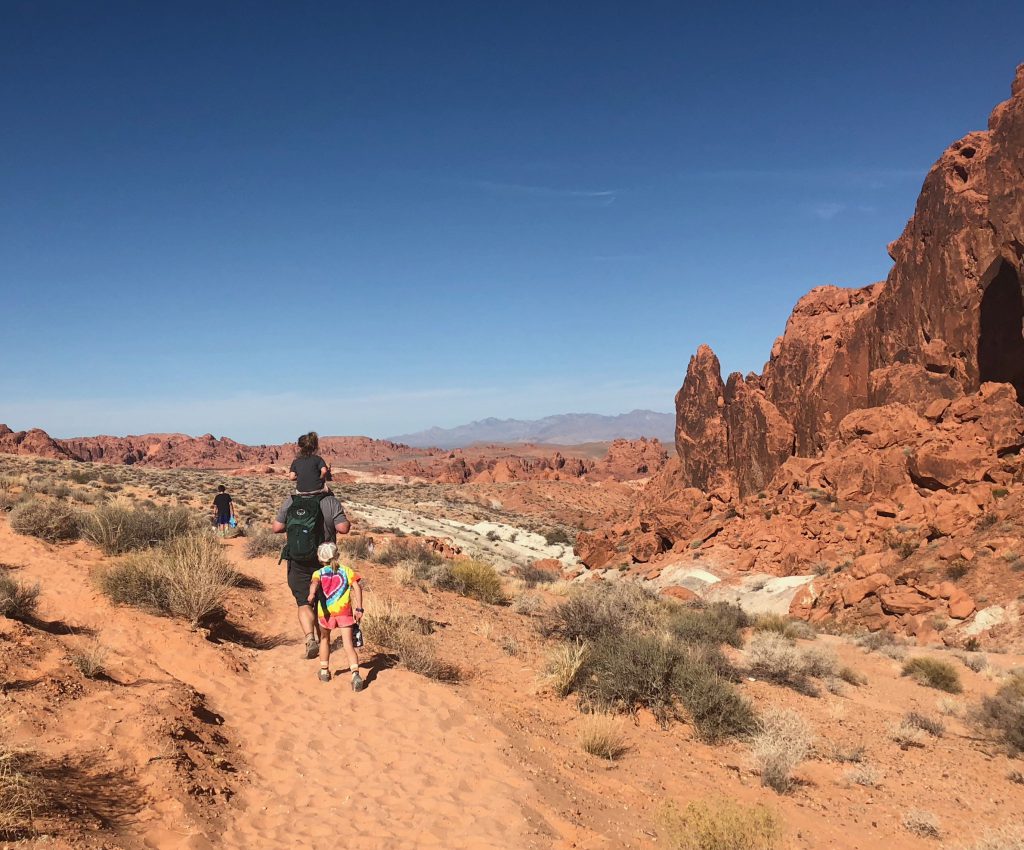 once we were settled back into the car and no one died of exposure in the desert, we quickly assessed that another hike was not on the docket for the day. we made our way out of the park, but detoured on a scenic loop, where anna agreed to join me to view some petroglyphs on a way up high rock.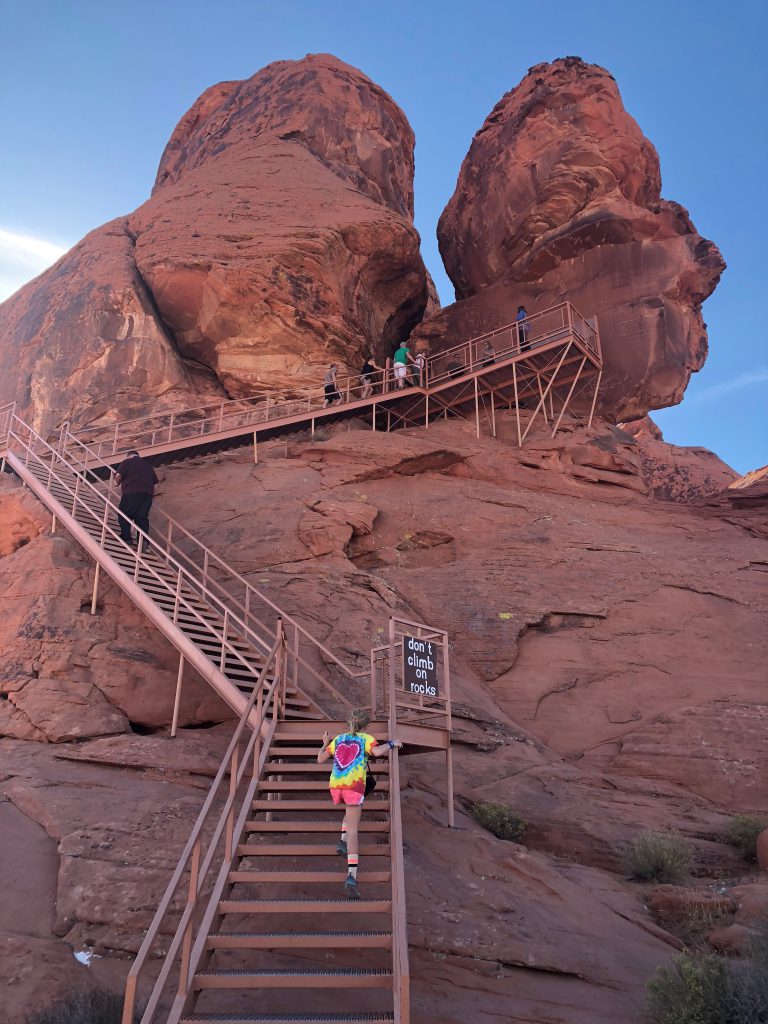 they were pretty cool.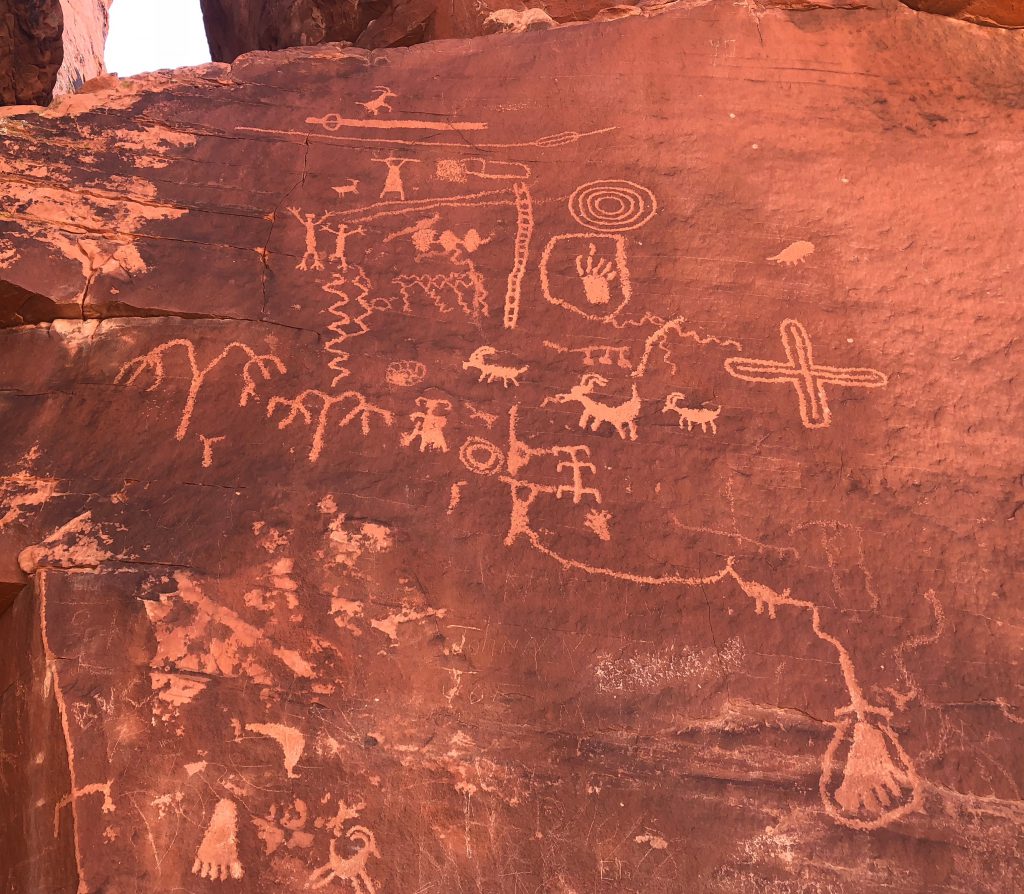 but because people suck, there was a good bit of graffiti. so annoying. isaac was disgusted to see that someone with his same name would vandalize these ancient relics.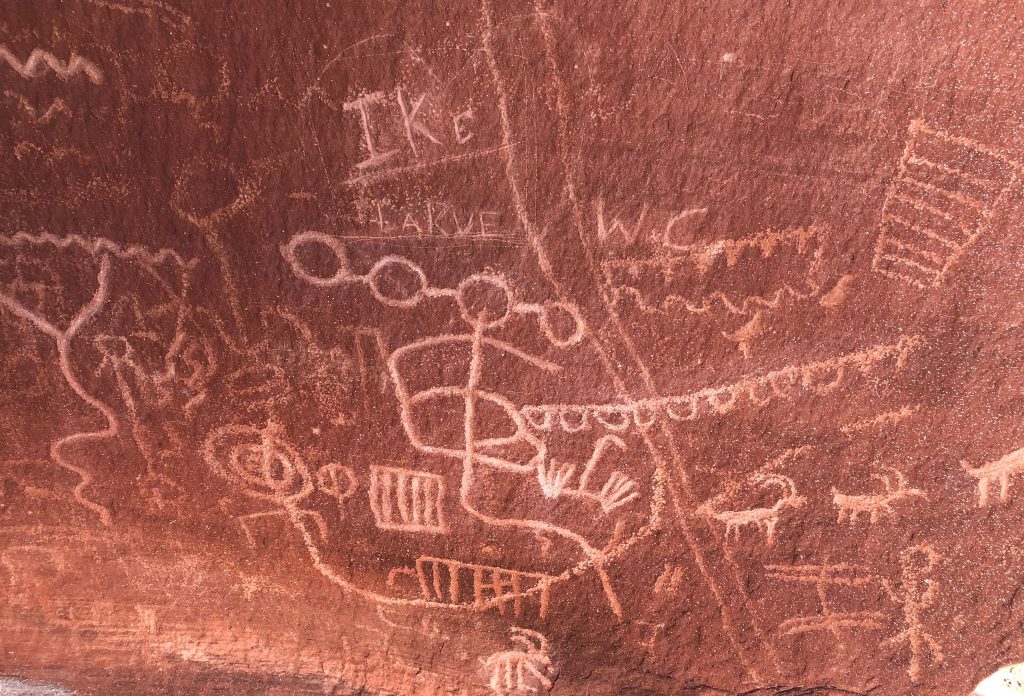 on our way out, the line to get into the park was backed up like crazy. so, if you find yourself in the area, my suggestion is to get there early, before all the hungover vegas folk begin their pilgrimage. 🙂
we had a lazy evening in the camper, capped off with this desert sunset (at 4:30!!!! – another time change. our sleep schedules are all wacky).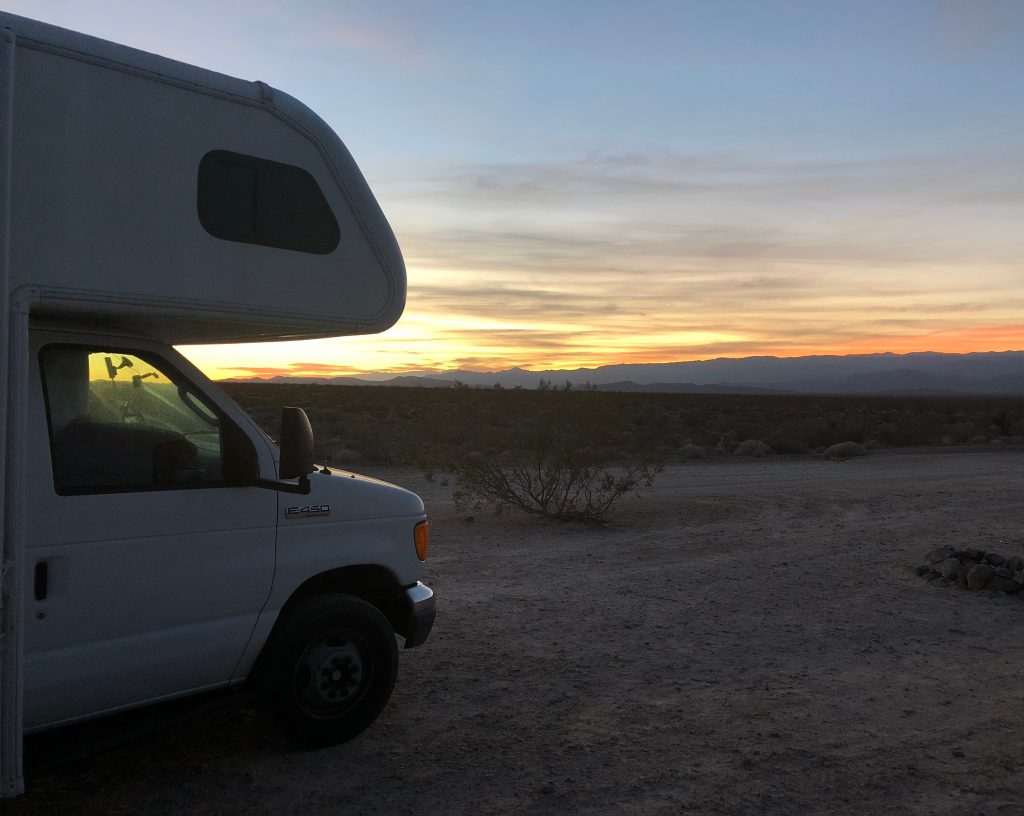 and, the next morning, we packed it up and headed into vegas. ugh.