so, derek and i ate at billy bob's silver diner last night. for the last 4ish years, i've been telling him i want to eat there sometime. it's shiny. it's a diner. what more can you want?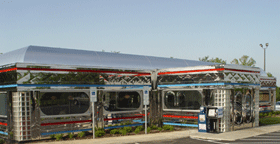 well, i'll tell you. better service. and food prepared the way you ask. that's what.
our server was a little slow. maybe we could call her multi-taskingly challenged. she just seemed to be on one track all night. whatever.
i ordered a "carolina cadillac" cheeseburger…. medium well done. not because i like charred meat, but because of the baby. it was served up and looked delicious. my first bite revealed bright red meat inside. so, i had to trade with derek.
the irony is: derek didn't mind because when he asked how big the burgers were, the aforementioned waitress told us about 1/4 pound. so he selected a different menu item, based on this information. well, lo and behold, the burger was quite gigantic, so due to the bloody meat, derek looked to benefit from the situation. so we switched.
derek had ordered a philly cheesesteak sandwich, but it came without tomatoes and mayo. getting our waitress to bring these items proved quite difficult, so derek got up and found her and got some.
besides this, our evening was quite enjoyable.