Today, right after Derek's mom came over to help with the boy, I heard the back door open. I looked through the kitchen, expecting to see Derek's dad, only to see Derek Lidbom himself standing there. He had changed his flight and come home a day earlier (probably because of my alluding to possibly putting the monster on ebay).
Anyhow, it was a big relief. The boy was glad to see him too. I was a little worried that there would be a little bit of relationship rebuilding necessary, but I was wrong.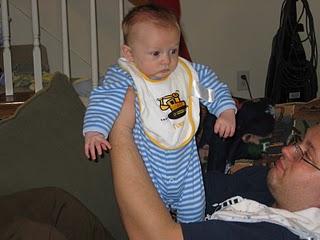 We went to the mall today, and it appeared that Isaac actually enjoyed it. He was very alert the entire time (but for a small short nap) and received many compliments on his cuteness.
SarahPowers and Jack came over tonight since they were in town for the Davis Cup. They came bearing gifts for the little man. He got a frog sippy cup, bowl, spoon and bib. And two new pacifiers that are total BLING. I think one of them says "Bling" on it. They have all kinds of jewels and sparkle. They were a little big for Isaac right now, but stay posted for when his little mouth grows and he doesn't gag on them. He'll be soooo cool.