My family has been here for two days now.
On Thursday, my mom stayed with Isaac while I went to school. He was very good for her, so she doesn't believe that he's ever fussy. He's got her snowed. When I got home from school, we went to the park. We took the ATS (All Terrain Stroller) down a bumpy path through the woods, and the boy LOVED it. He likes bumpy rides. I think that's why he likes the Element better than the Volvo or the Maxima.
Today, we took a big family trip to the mall. The boy only spent about 15 minutes in his stroller, before breaking into a scream festival. He spent the rest of the trip in the Baby Bjorn carrier. He even slept a bit.
The Children's Place was having a SWEET sale. There was all this great stuff for $4.99. We got some stuff for each of the upcoming sizes (3-6 months, 6-9 months and 12 months). Exciting.
Well, that's about all. Except for some pictures:
Jake says he "looks sad" in the picture. He was pretty unhappy during this photo shoot: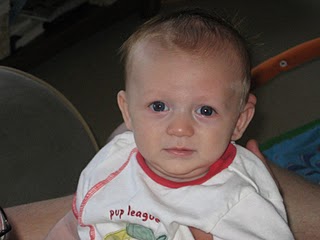 We took advantage of a pleasant post-feeding baby and snapped some superbaby pictures: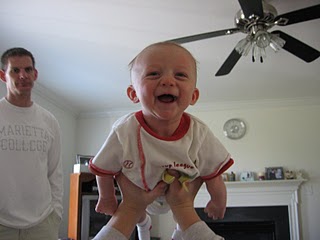 Me and Isaac at the park (at the plaaa-aaayground, ya know!):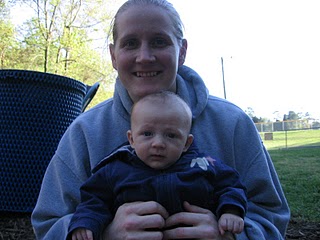 The first trip on a slide: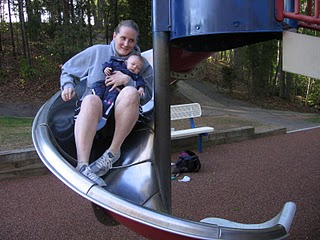 The bumpy stroll: