In the last couple of days, I haven't really had any blog-worthy events take place. But, the sum of all the events certainly is blog-worthy.
Let's see….
The monster has been sleeping a zillion times better. He eats, plays, gets fussy and lays down (on his belly, oh no!) and goes to sleep. Every now and then, he tosses and turns and mumbles, but then he goes back to sleep. He can access his hands pretty efficiently now, so that helps.
Last night, we went to a cookout at Steve, Lorena and Josiah's house. Isaac smiled when he saw his good friend Josiah. He had a rough time getting to sleep, but once he did, he was good for a couple of hours. When he woke up, he ate a big bottle and then talked at the Wii Bowling participants. He was very good. We got home at 10:30 and he was asleep in his car seat. I transferred him to bed and he slept until 5:30 this morning. Nice.
The cookout was lots of fun. The Nanny and her family were there too, so they just kept him yesterday until the cookout. I missed him a lot.
Lorena made some AWESOME cheesecake. She makes all the best treats (the Chocolate Chip Cream Cheese Ball is still my favorite). She let me bring some home. When I finish this post, I'm going to eat some.
Stephen Mann came over this morning to work in the shop with Derek. His fiancee, Correne (not sure on that spelling) came over and we planted petunias in the front yard. She was very helpful.
Well, I do believe that is all the news from here. Now, of course, I'll post some pictures of the monster that we've snapped over the last couple of days.
We tried (one month before the recommended age) to put the boy in his "Johnny Jump Up". He needed some blankets wedged in the keep him upright, but he didn't hate it for the first time: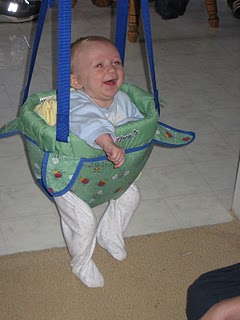 This is just a picture of Isaac chillin' with Derek before work yesterday: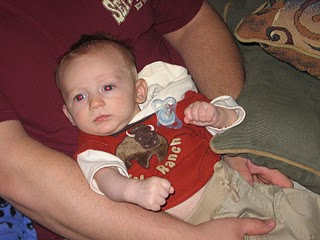 We bought a mesh BabyBjorn for the boy that always wants to be carried. He prefers facing outward, so that he won't miss anything.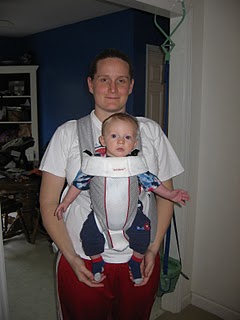 Here's a shot of Isaac in the tie-dye onesie that the Nanny's family made for him. This would be the best shot of the monster, if it weren't for the drool dripping off his chin: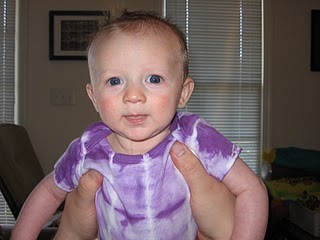 Finally, here's a picture from last Saturday, when the NY family was here. We were out to eat at the Golden Corral and my mom was on monster-duty: