these are the two most recent cakes i've made.
this is one i made for brie's shower. it's a devil's food cake, with chocolate ganache filling and chocolate buttercream icing. learning to make roses has taken up a large chunk of my life.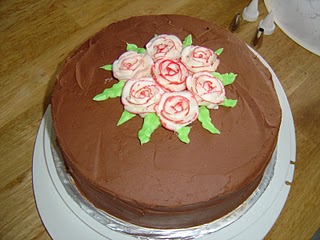 this is pooh. i'm taking a decorating class and our first cake was a "character cake". i'm not really a pooh fan at all, but i borrowed a pan from lora, so i wouldn't be stuck with a character cake pan that i would never use again.