on friday afternoon, derek, isaac and i headed out for a week long family mountain vacation in banner elk, nc. we got in around 7:00, after stopping for some groceries on the way.
yesterday, we rode a ski lift up to the top of sugar mountain, walked around, took in some scenery and then rode back down. isaac was pretty good on both 20 minute trip, except for a mini meltdown in the middle of each one. he wanted to throw things off the lift (sippy cup, my hat, his jacket) and became infuriated when he was not allowed to.
later, we went swimming in the pool at our vacation residence, out to dinner at some steakhouse whose name escapes me at the moment, and then to the park in banner elk. isaac loved loved loved the park. there were like 6 different slides, rope ladders, swings, a tire swing, plenty of stairs and ramps, and best of all – a stream with a semi-pond type area for splashing, getting muddy and exploring.
all of these activities are documented with numerous photographs, but unfortunately we have super slow internet connectivity, and so i will leave you with this one family shot, and hopefully find somewhere else that i can upload some shots at a faster rate.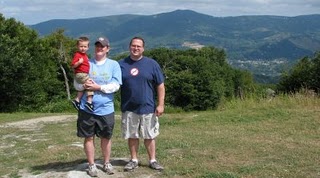 Banner Elk on Dwellable