so here's the thing about glacier national park. there's one road through. so, there are a handful of smaller, kid friendly types of hikes. and the rest are a bit longer. and also, more likely to be visited by bears. so if i wanted to do one, it would have to be sans lid kids.
i really wanted to do one of the longer hikes, out to one of the beautiful lakes, with glacier covered mountains in the background. the problem was, most of these were across the park. i would have to drive over two hours, along the one and only road, out of the park and back into the "many glacier" entrance. then embark on whatever i hike i chose. due to the bear threat, i wanted to do a ranger led hike, so i would be in a group, and less likely to be eaten by a bear.
after scouring the park newsletter, trail maps, and instagram (to see which lakes were the most beautiful), i decided on the iceberg lake hike. it was about 10 miles round trip, an out and back to a lake, aptly named after the giant hunks of ice floating on it, even though it was august. the ranger led hike was scheduled for 8:30 am, so i would have to wake up at 5 or so and get an early start.
here's the other thing. for the first 10 days of our trip, the weather had been warm and sunny. not a clowd in the sky. picture perfect. so, when i woke up on the morning of my hike (wednesday of week two), i was disappointed that it was cool, drizzly, overcast and foggy. oh well… today was the day…
going to the sun road was decidedly less pretty on my 530 am drive across the park. it got a little tricky when i got to logan pass, when the road was completely engulfed in fog. i was sure that i was going to drive off a cliff and no one would know until the fog lifted. what a sad story.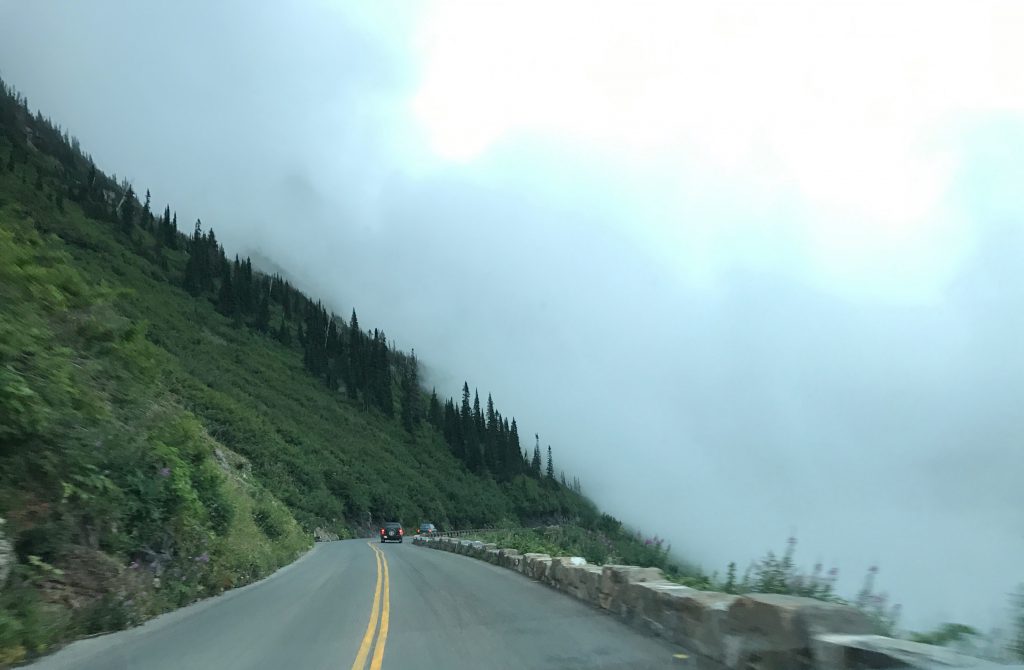 well. i very much survived the commute. and actually made really good time, which gave me some room to grab some coffee at a little diner at the many glacier area. i met a couple of fellow campers and outdoor enthusiasts. one from buffalo! when it was closer to 830, i found the meeting spot and introduced myself to a few of the other folks waiting around. eventually it was actually time to leave and our ranger strolled over and gave us an overview and we were off!
i was really hoping that the fog would lift by the time we were heading back down. but this was our view most of the way.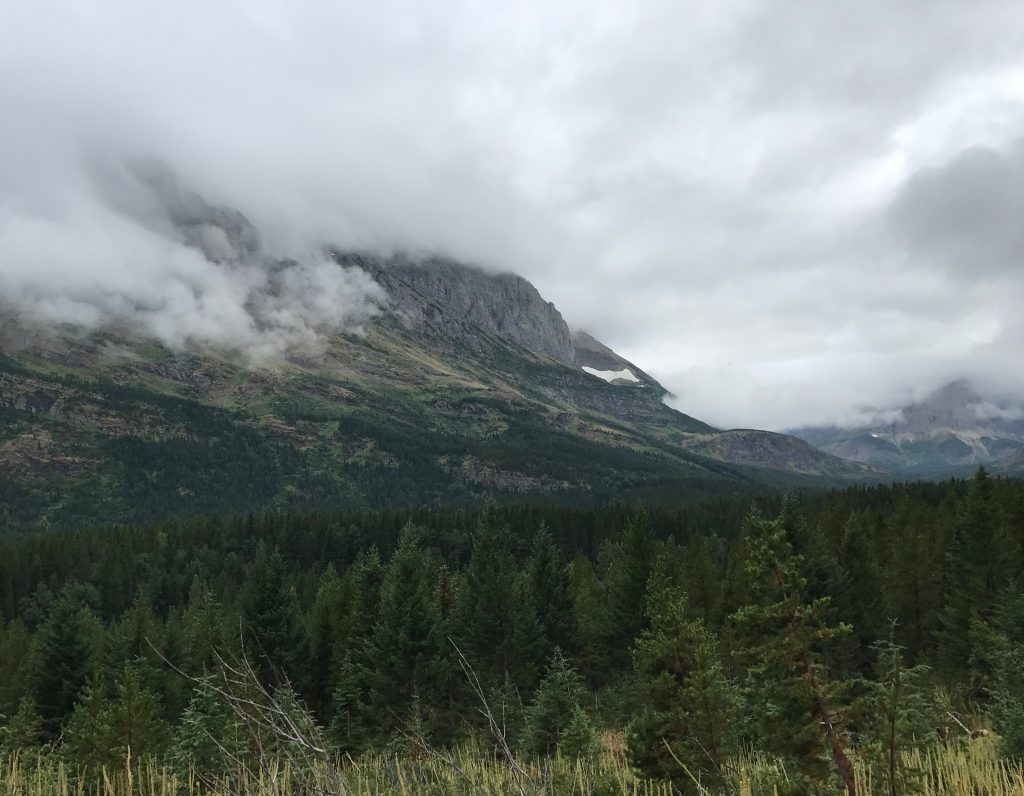 i would guesstimate there were about 15 people in our group. we kept a pretty good pace. i was worried that i would either be dying from trying to keep up or frustrated with moving too slow. instead, it was perfect.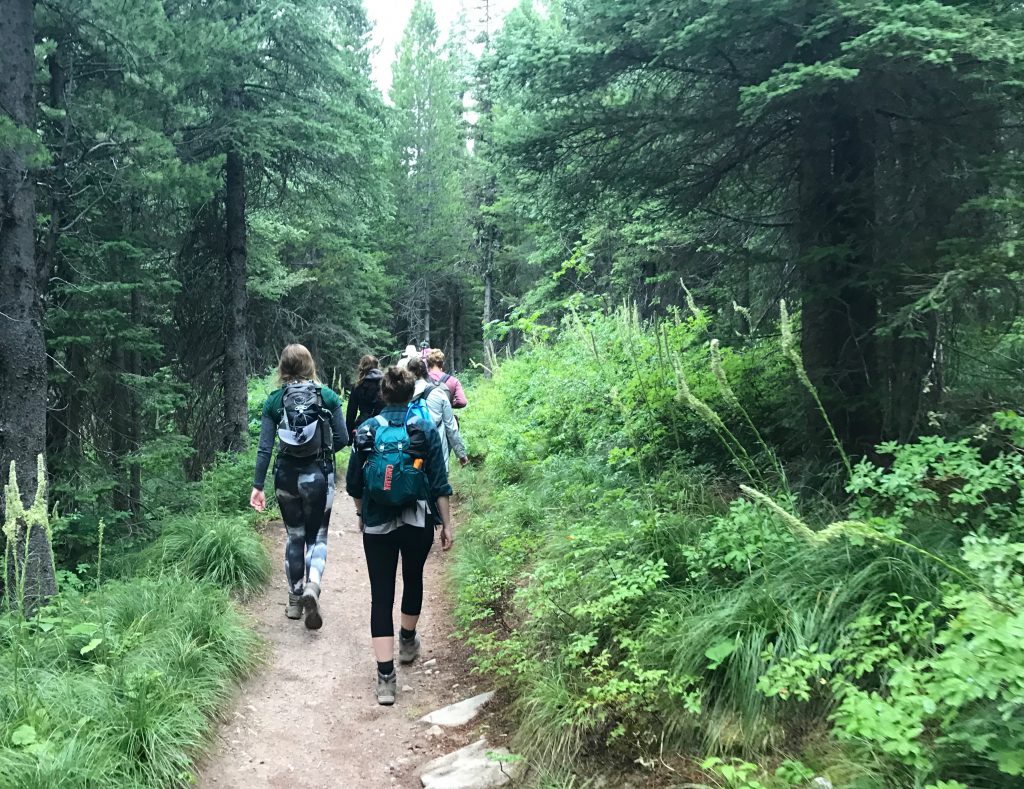 we took a couple of breaks along the way. one cool spot was at this waterfall-y bridge area. we all took turns taking pictures for each other while standing on the bridge.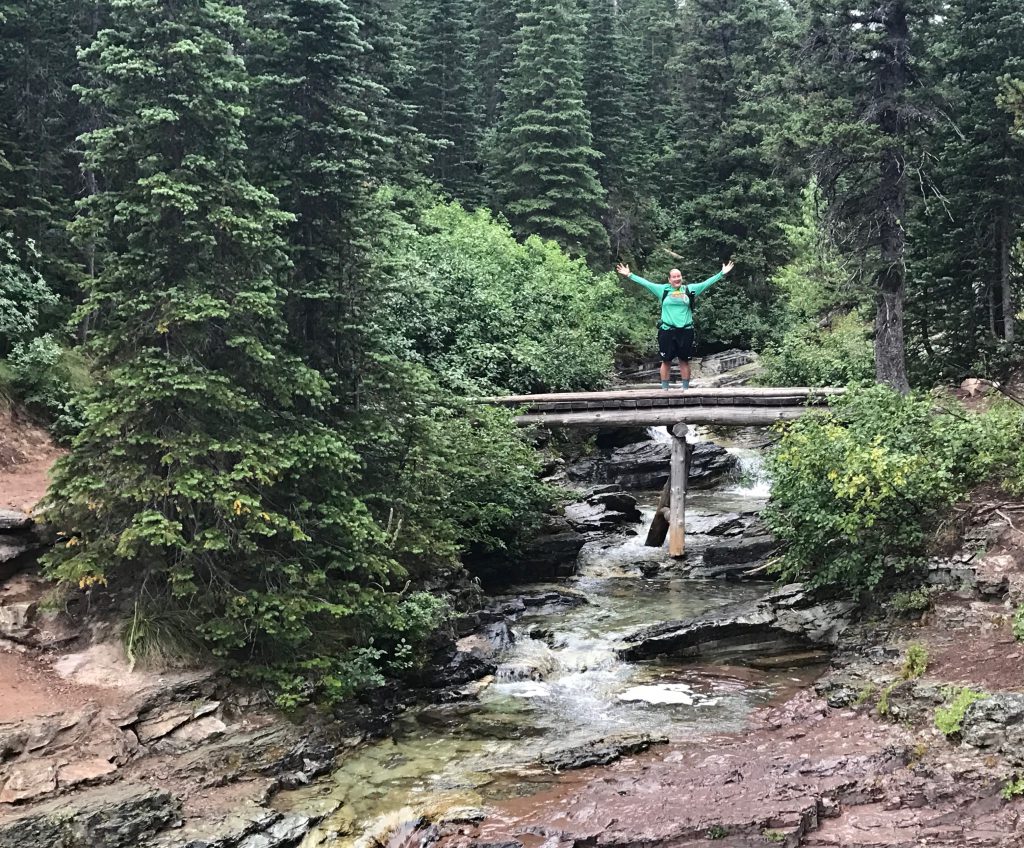 probably not the best pic, but this is the view looking down the falls.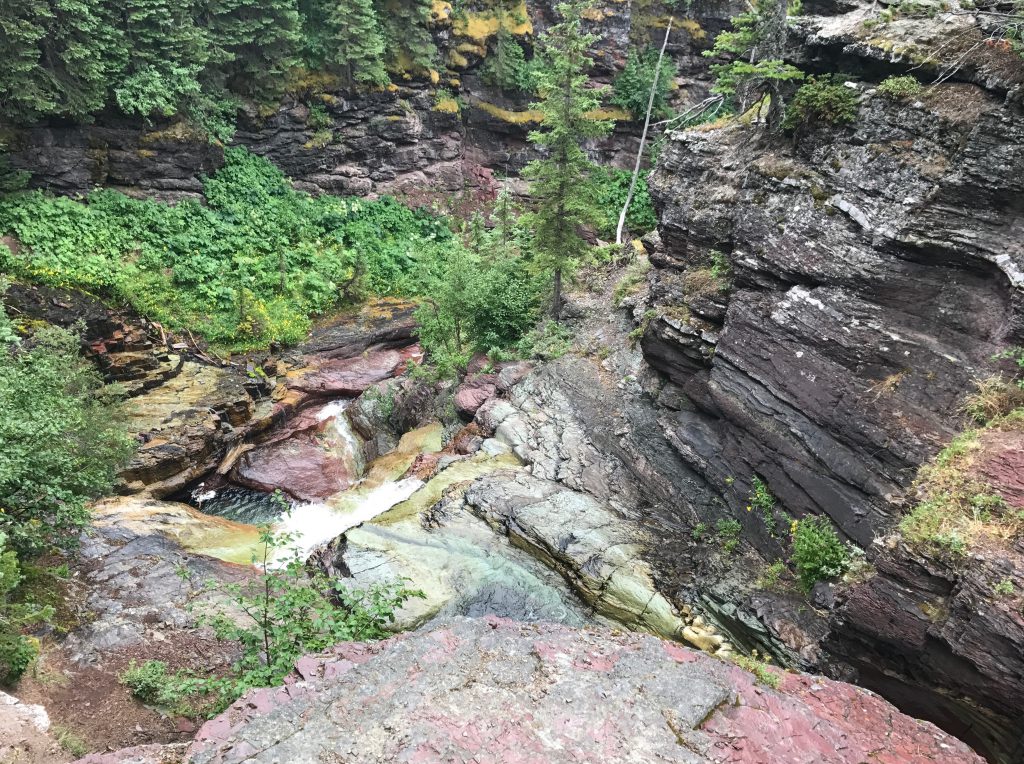 more foggy forest.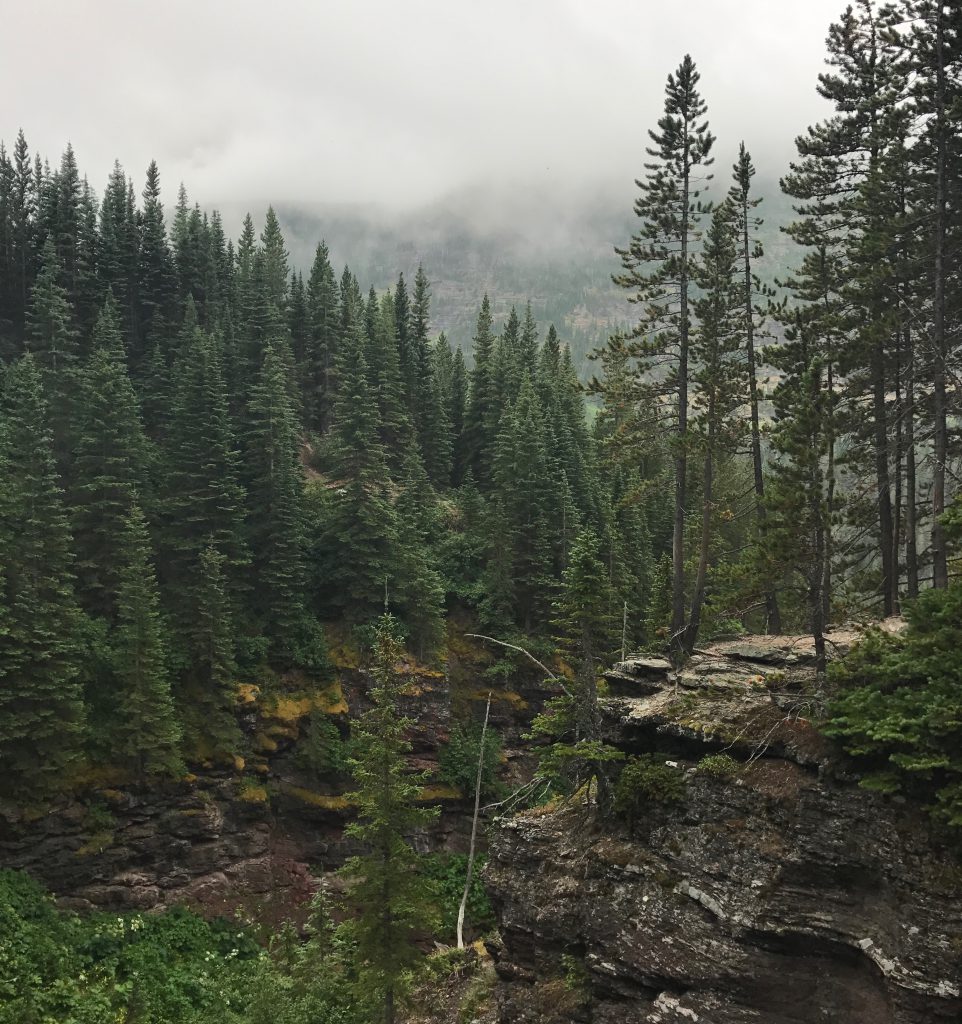 so. this is bear claws on a tree. i meant to ask if bears intentionally mark trees or if this was just a random thing. but i forgot. so if anyone knows, feel free to comment. or i guess i could google it.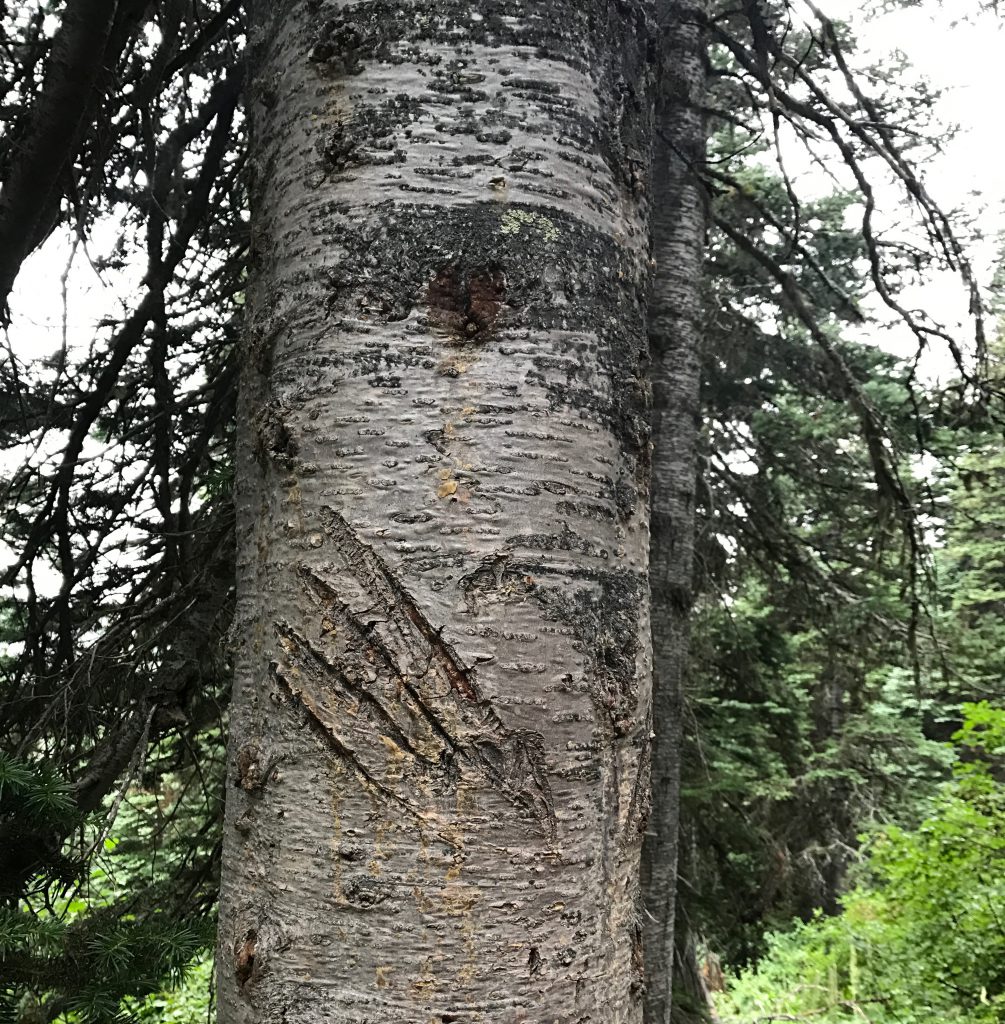 as we rose and moved along, we had a pretty good view of the valley. except for the stupid fog.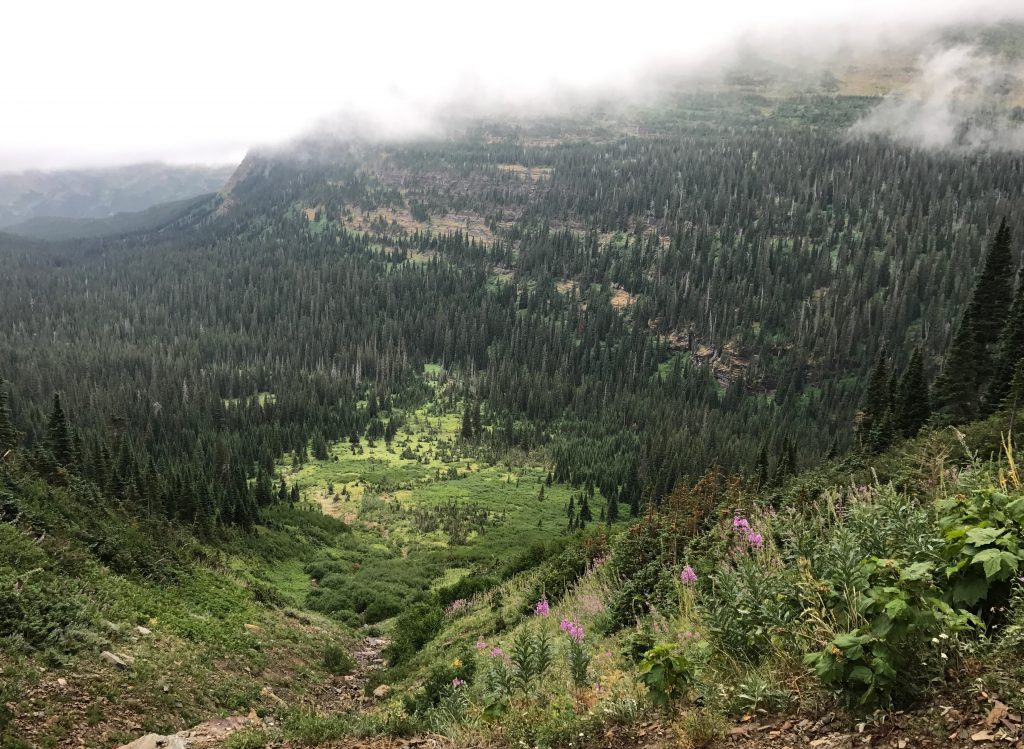 as we got closer to the lake, the wildflower scene really upped it's game. i guess this is an avalanche path, so this area has only recently been not covered in snow, so it's like spring here. in august.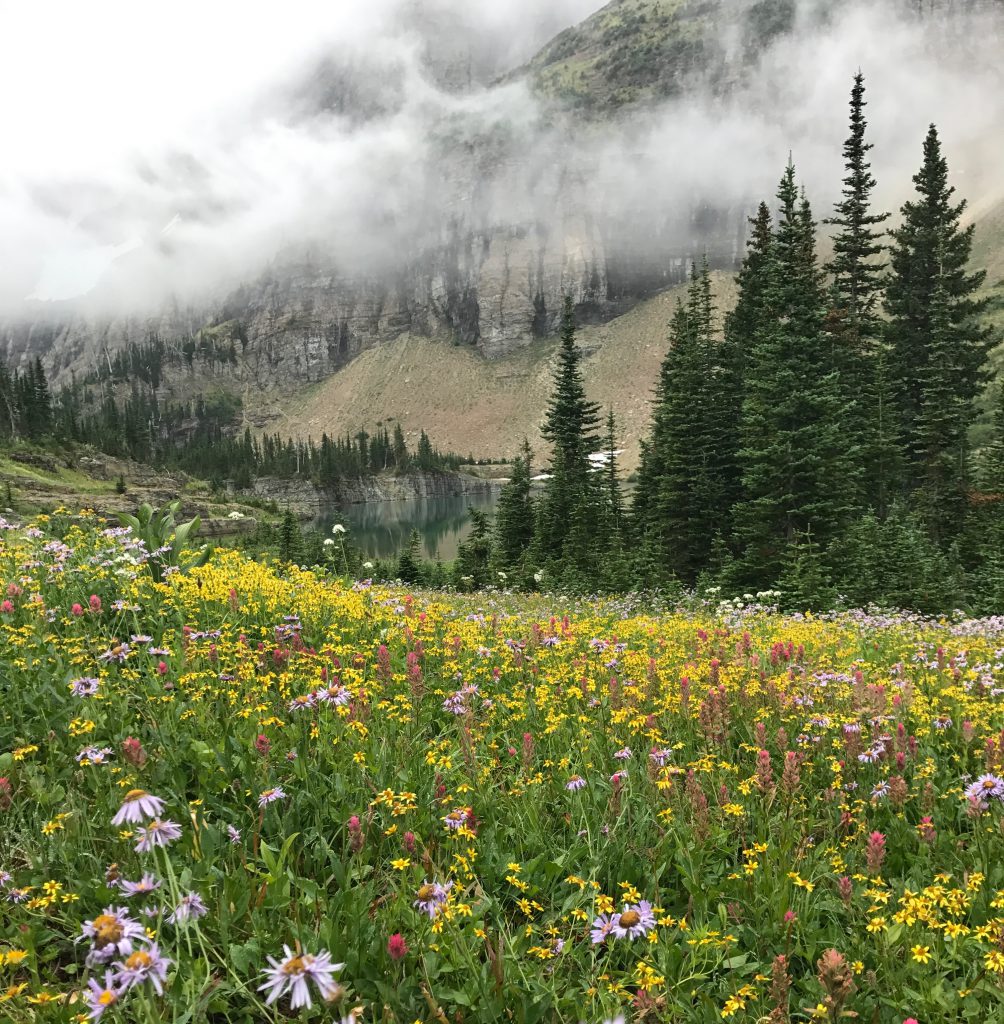 finally, the lake was in our sights. it was really cool. and the pictures can't do it justice. but, it was still overcast and foggy, so it looked dark and ominous. i was losing hope that the fog would lift.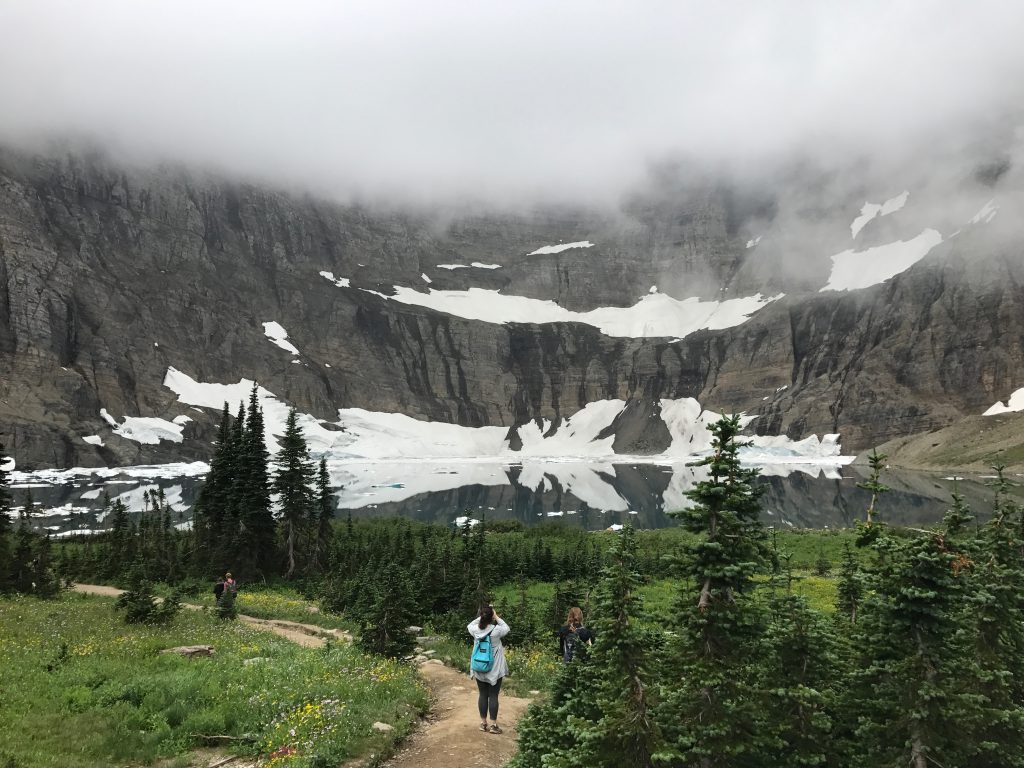 it's hard to tell the difference between the reflections of the snow on the mountain in the background and the "icebergs". if it wasn't cold and wet, i might have been willing to wade out to one of the icebergs. but it was cold and wet.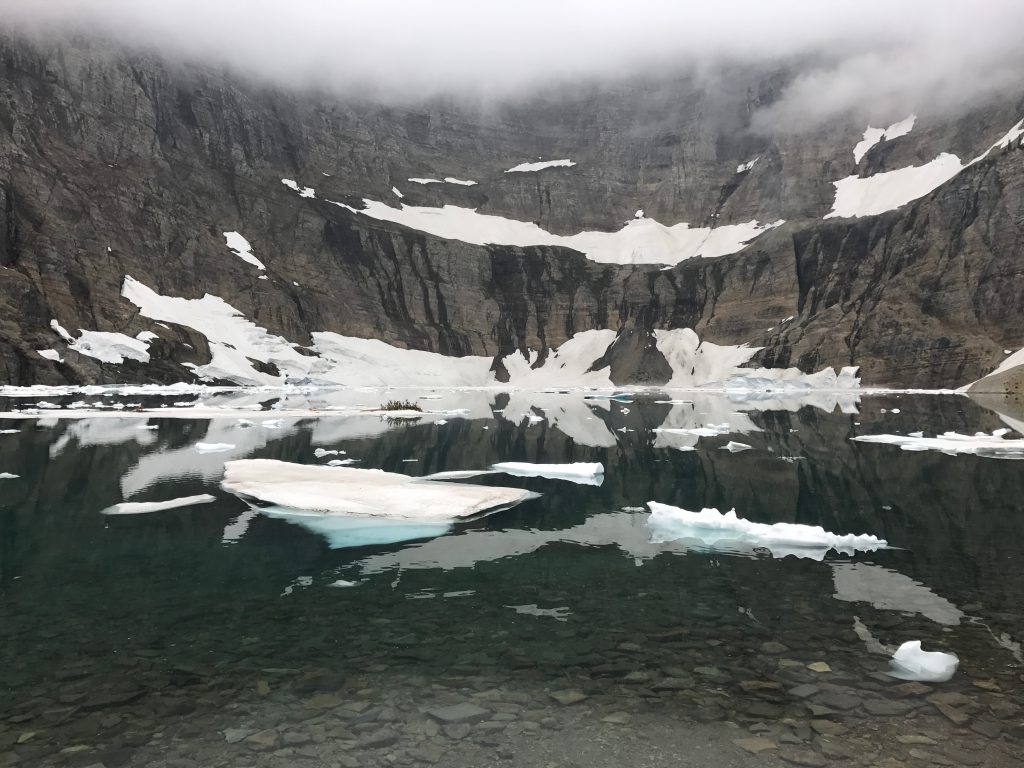 again. another round of picture taking by everyone.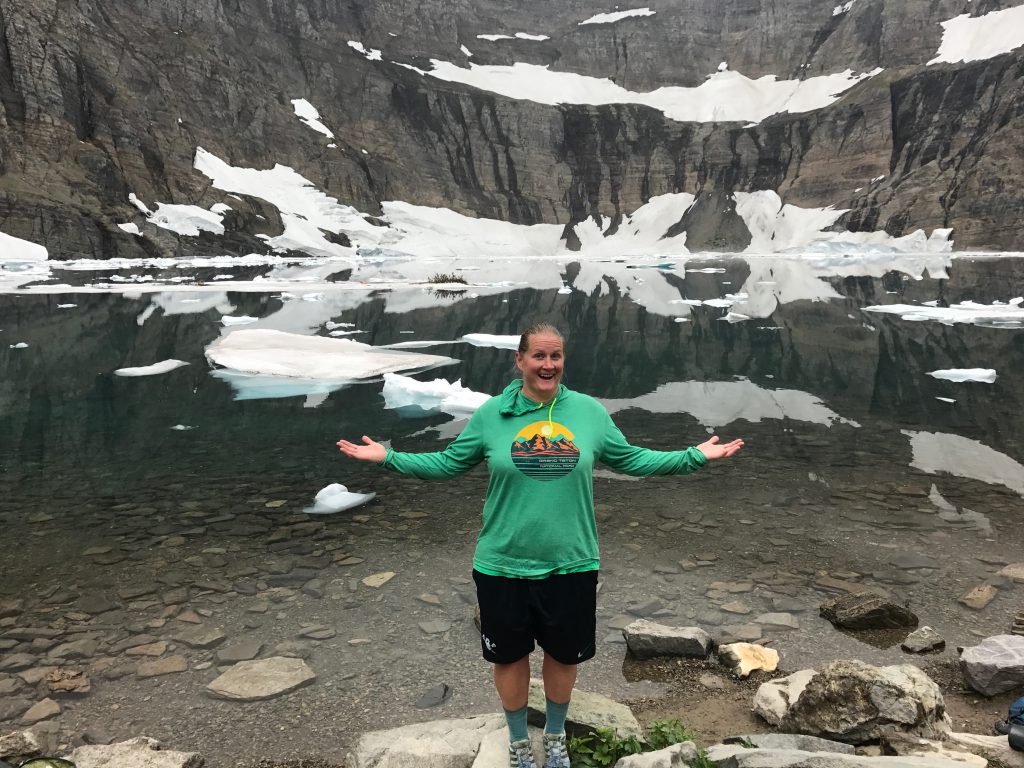 the lake water was crystal clear. it's crazy. i will definitely have to go back on a sunny day when we (hopefully) return.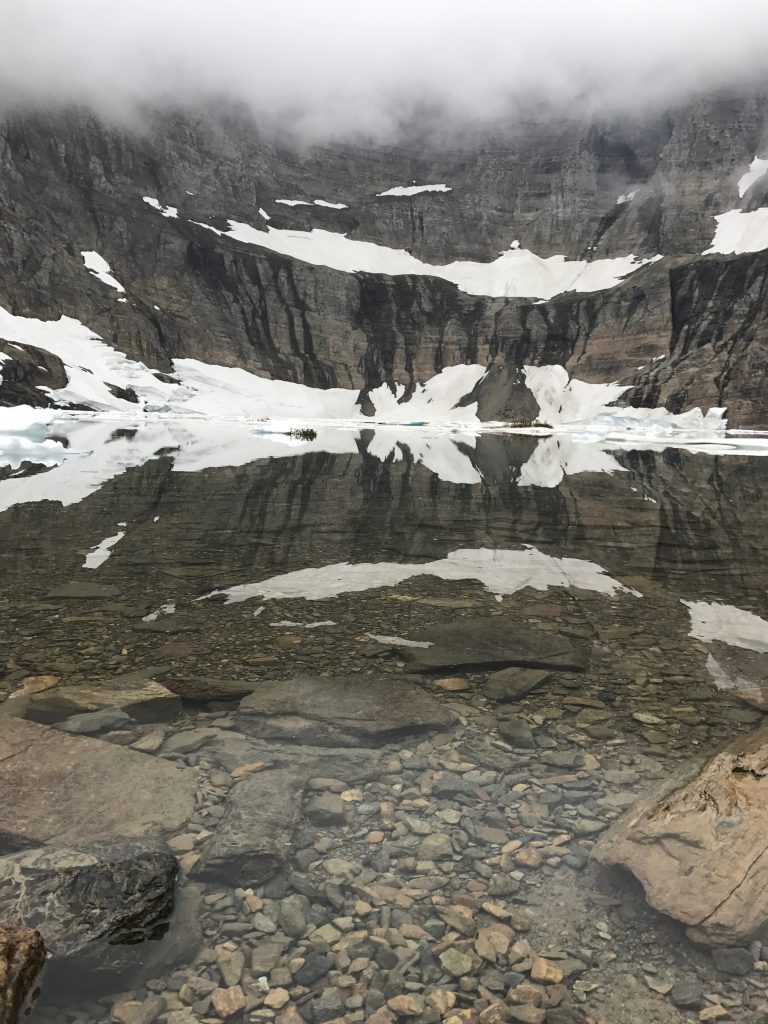 our ranger said he would stay an hour and then head back, so if we wanted to go sooner, to go in groups (bears), and leave when we wanted. since i was pretty sure that the fog wasn't going anywhere, and i still had that two-ish hour drive home (this time with a million other cars on the road), i took a few pics and found my "group" and started back.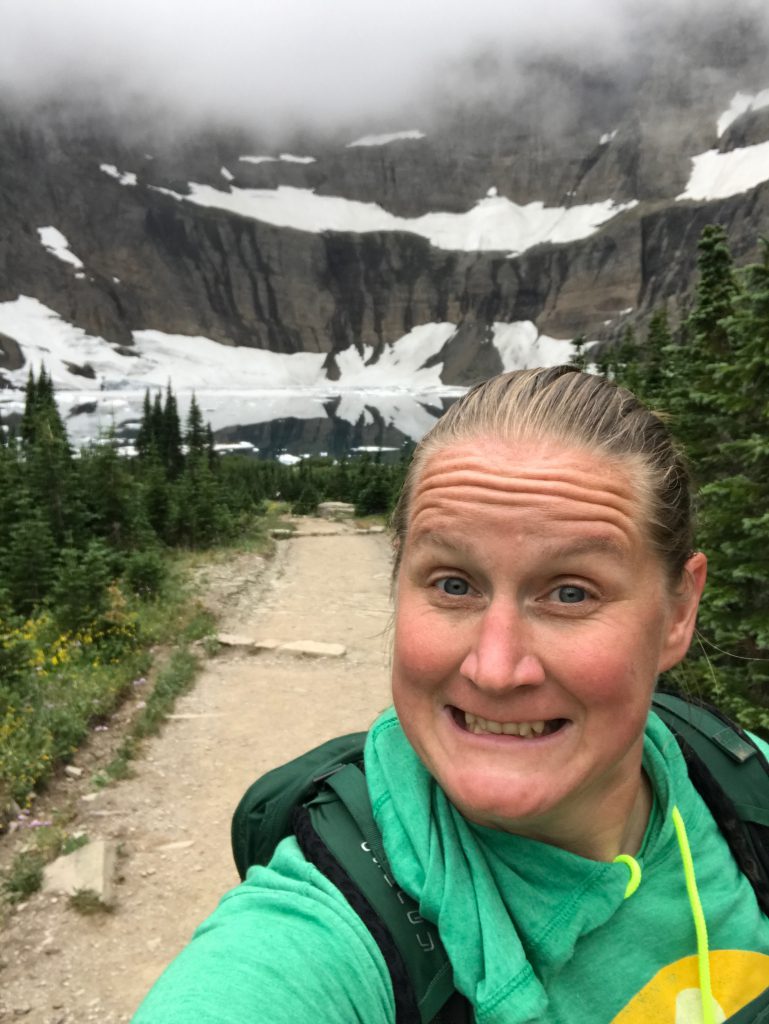 the first two folks i met while waiting for the hike to start that morning were a retired couple from florida, lynne and cindy. we chatted on and off on the way up (as much as you can when you are walking along single file, trying not to roll an ankle and looking for wildlife). they had actually walked over a mile to get TO the hike, so we made plans for me to taxi them back to their hotel at the end of the hike. they were my group. i warned them, that i was planning on taking lots of pictures on the way back, involving finding the proper angle for the best possible shots.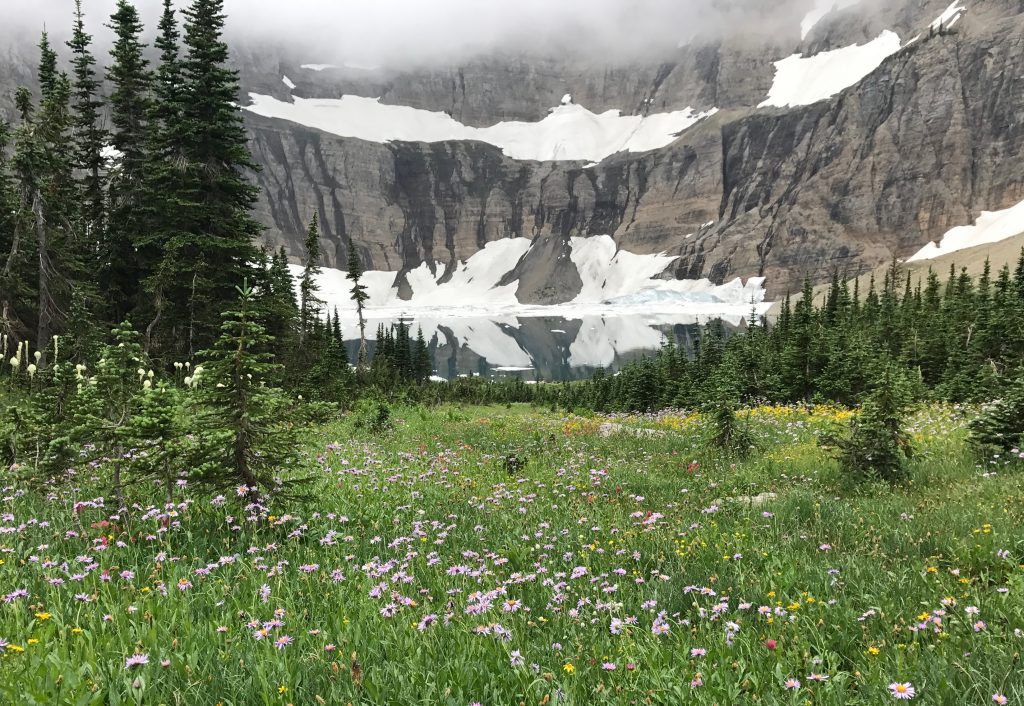 bear grass. *not actually eaten by bears.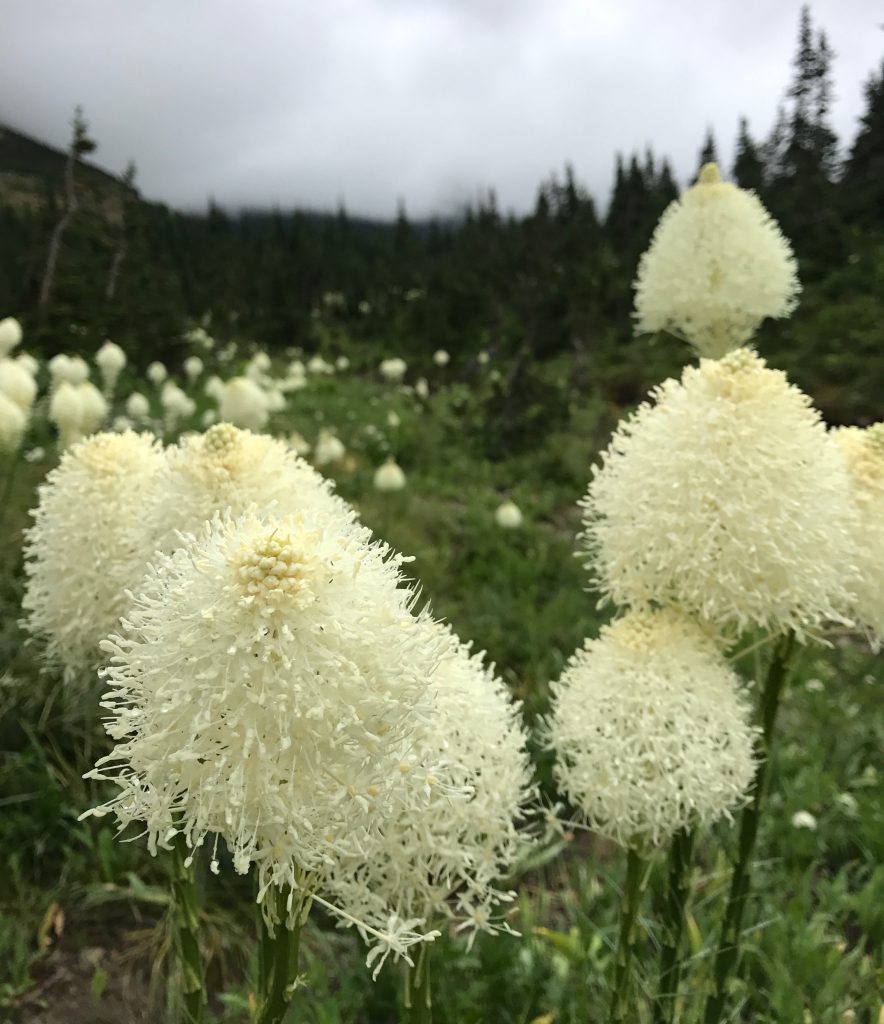 the fog was not cooperating with my wishes.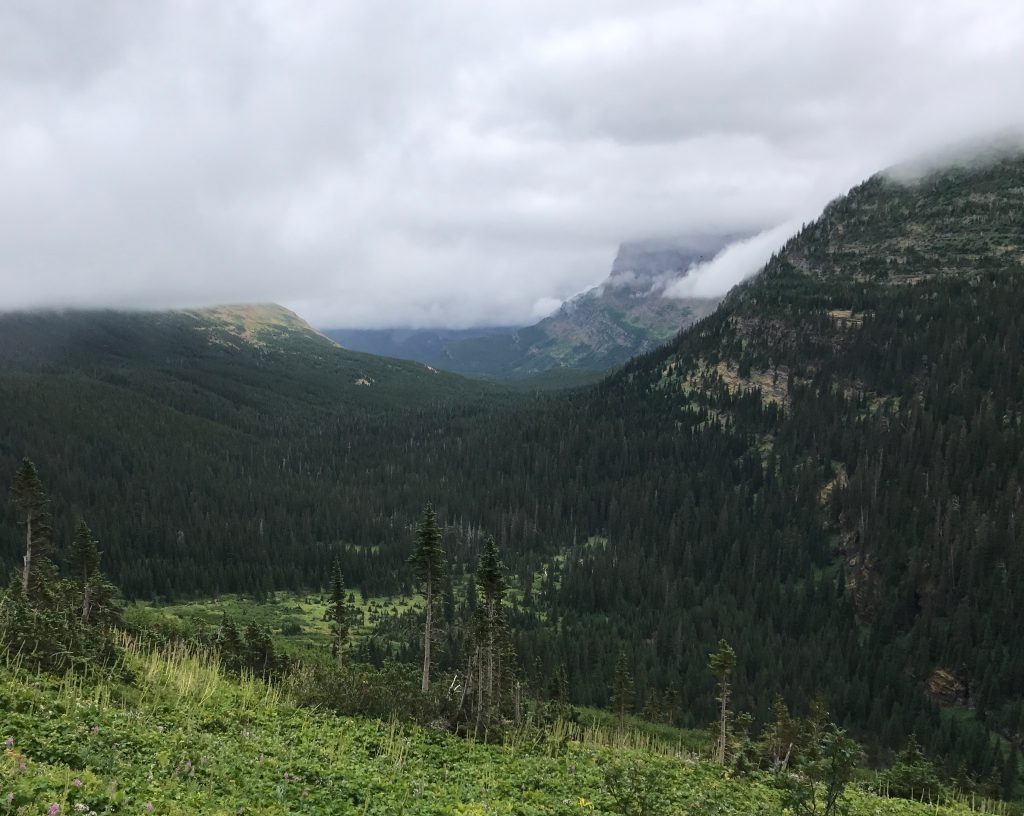 the trip back down went more quickly, but was more painful. my feet began to ache. and my thrice surgeried knee was shooting pains up to my hip. but we trudged on. our only wildlife sighting was these two deer on our path. we all scooted to the side to let them have a path to leave and after a few minutes, they made their way into the thick brush. there met several folks who had seen grizzlies along the hike, but we never saw any. which i was ok with.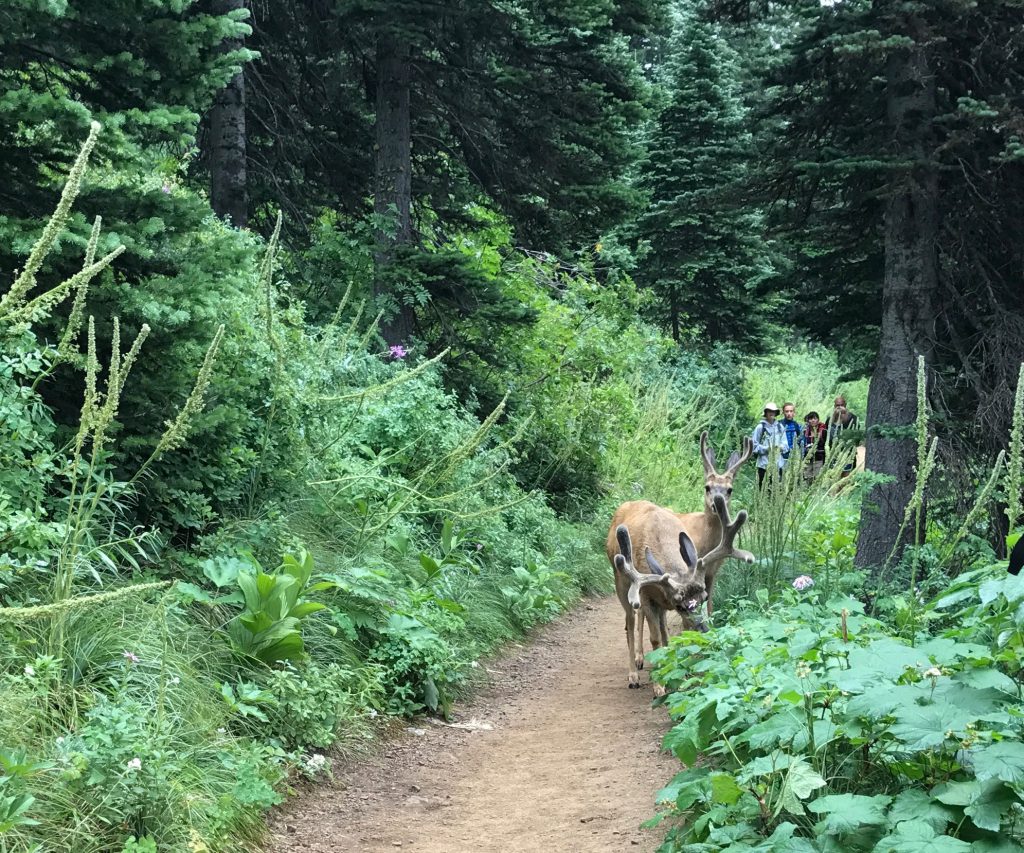 we finally made it down. survived. we stopped for lunch at the diner. and then i drove them back to their hotel. and headed home…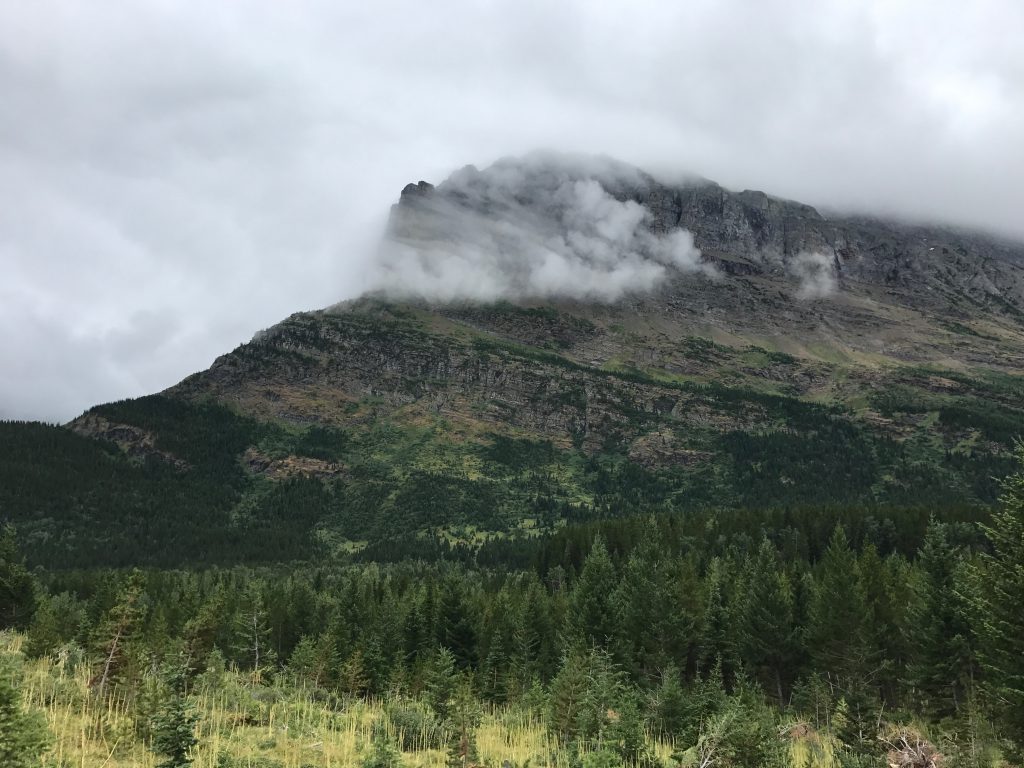 i never got a picture of my new friends, cindy and lynne, mostly because i was dying and that was all i could think about. i'm hoping they will send me some when they get home from their epic road trip, and i can update the post.
my drive back to our side of the park was uneventful, but a bit longer. when i pulled in, the kids greeted me. hazel said she was glad that i didn't get eaten by a bear. isaac said that i was one million more times likely to have a heart attack than be eaten by a bear. anna just hugged me.