after our weekend of exploring glacier by car and boat, i was very excited to do some hiking. but, a lot of the hikes were too long to do with the kids. and the ones that weren't, we wanted to save for the weekend to do with derek. also, we had moved the camper 4 times in 4 days (from campground to boondock to campsite with no internet to one with better to one with maybe even better). so, even though all i wanted to do was hike, on monday, we had a down day. we drove over to our friends campground and the kiddos just played while she and i talked and planned for the week. the boys were on ipads for most of the day. and the girls rustled up some leaves, twigs, rocks, and sap for a little nature art project. it got messy.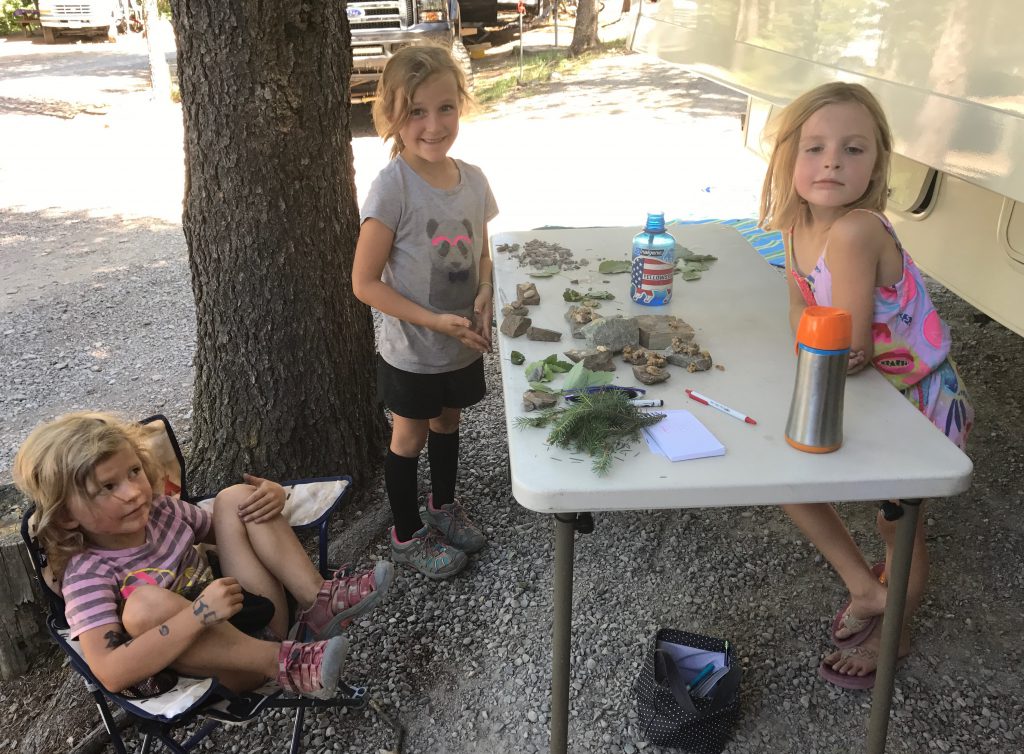 so now is as good a time as any to talk about the campground, i suppose. there are no hookups. it's straight dry camping. but there's plenty of fresh water stations around. there's a dump station, but you can also dump gray water at a spot near the bathrooms. so every night derek would take our dishwater and we didn't take many showers. we only had to go to the dump station once. we could only run our generator from for two hours at 8am, noon and 5pm. and we pretty much needed to do all three or our battery would get too low. there's a lot more to think about during boondocking weeks. the worst part was waiting until 8am to make coffee, because we have an electric kettle. blerg.
anyhow. anna was a super helper and was always willing to fill up our water jugs at the water station nearby.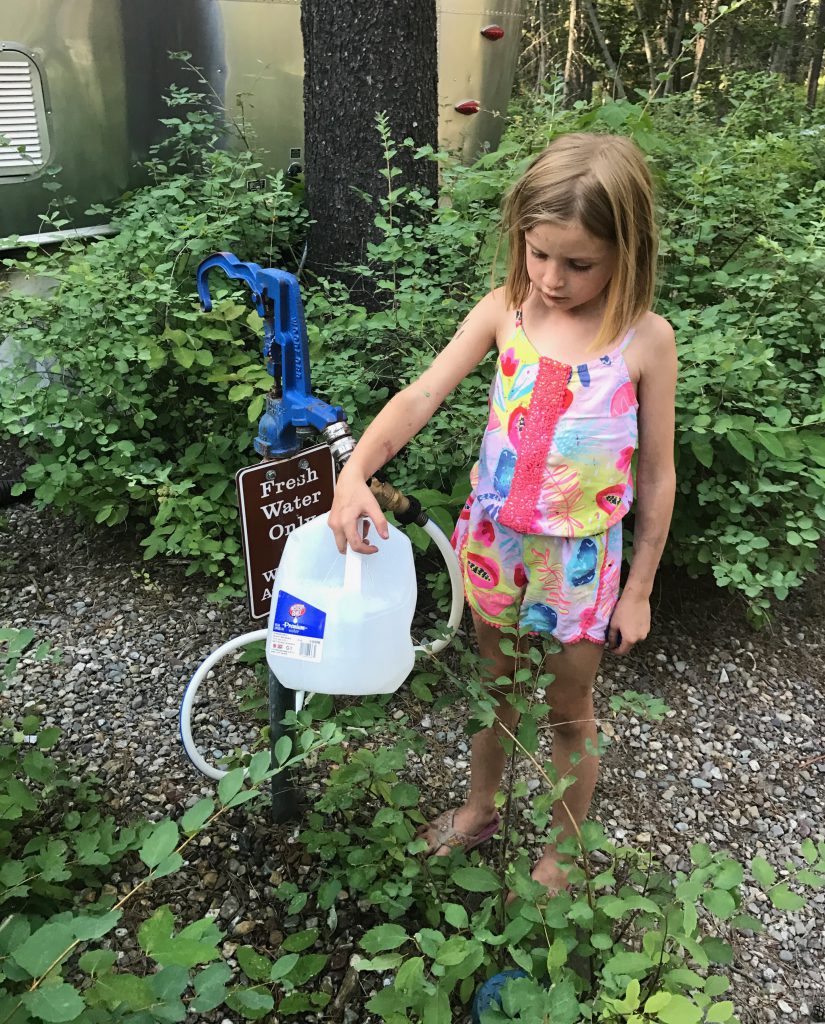 we only got to have a couple of campfires, before a burn ban was issued. (it was issued approximately 42 seconds after we purchased a bunch of firewood). anyhow. here's one of the few.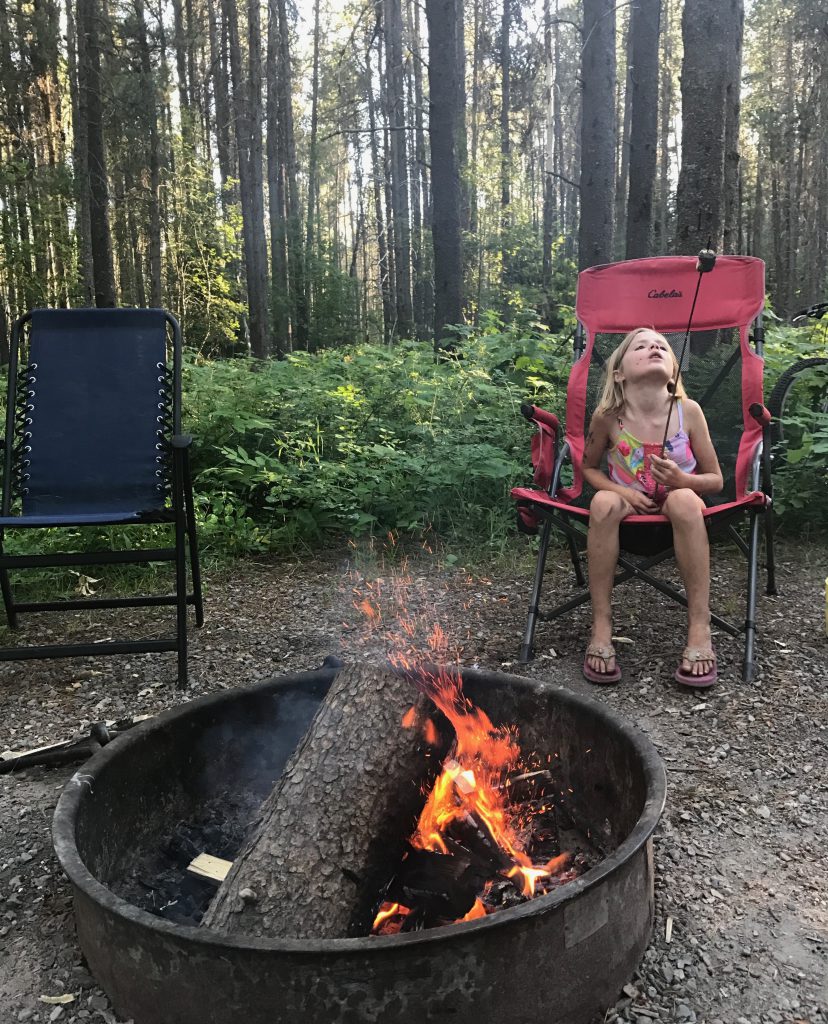 on tuesday, we went on a short little hike (finally!) with our friends, a two-ish mile out and back along lake mcdonald. the crew…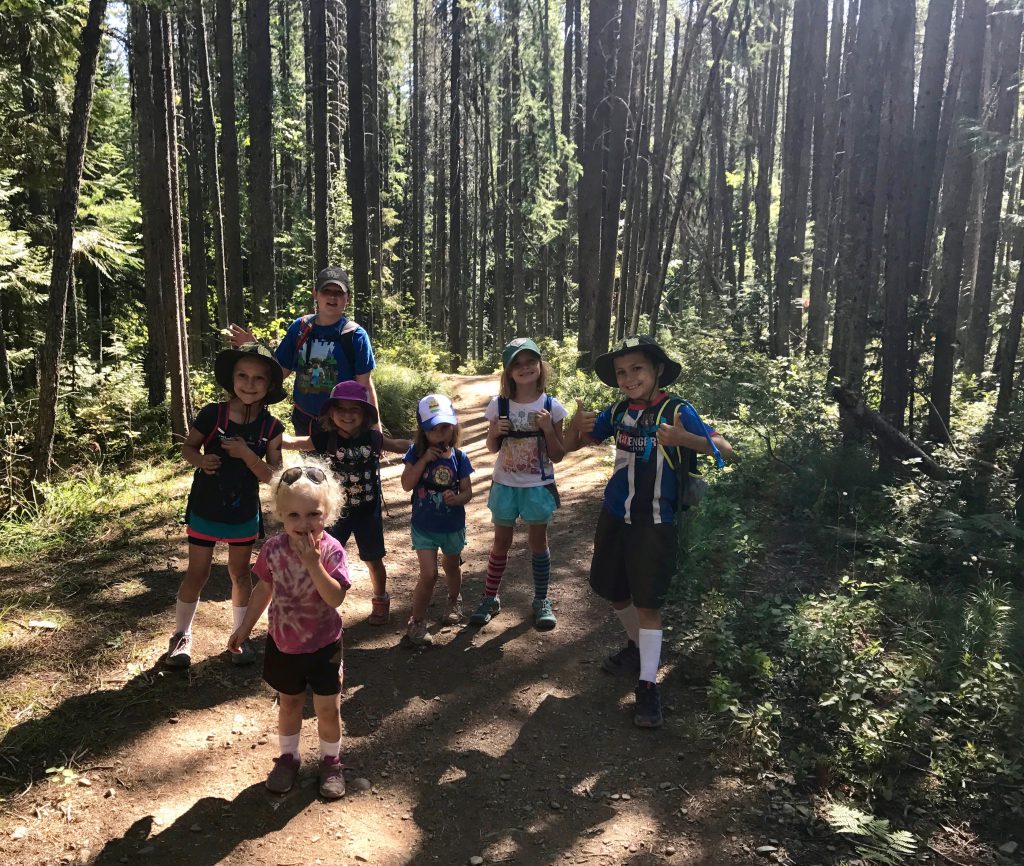 my kids love having hiking buddies.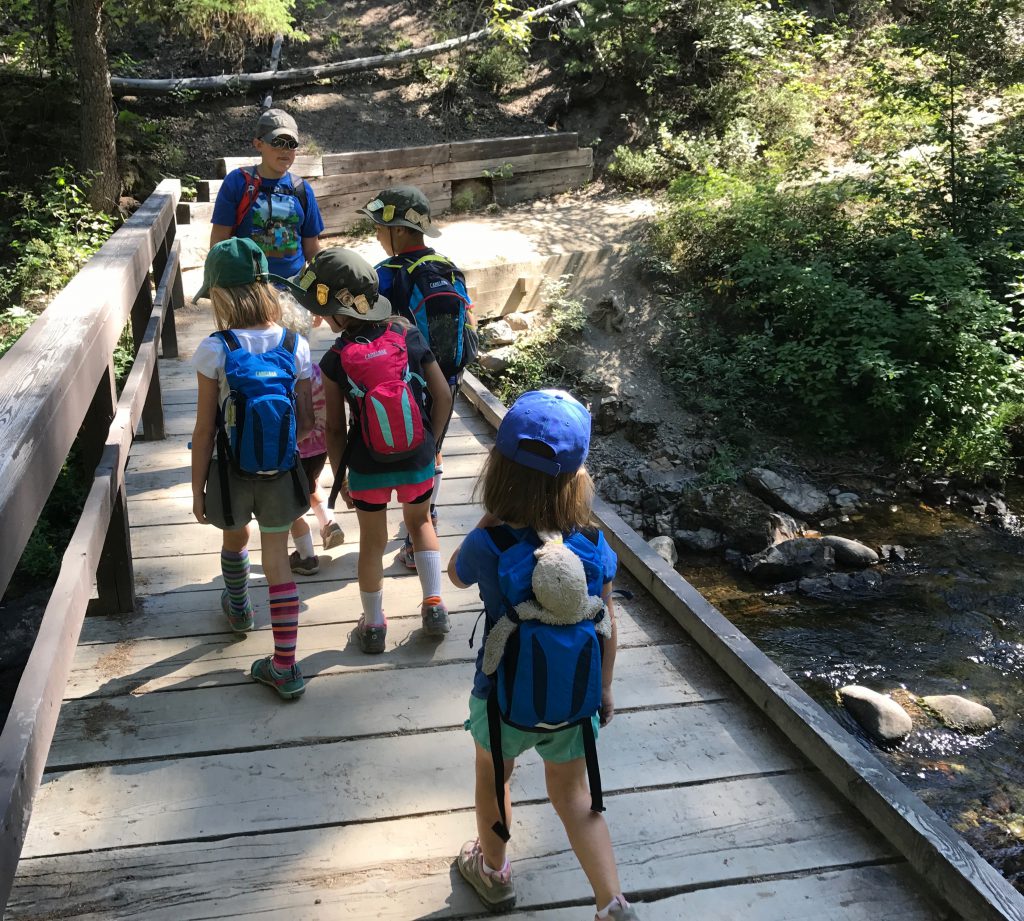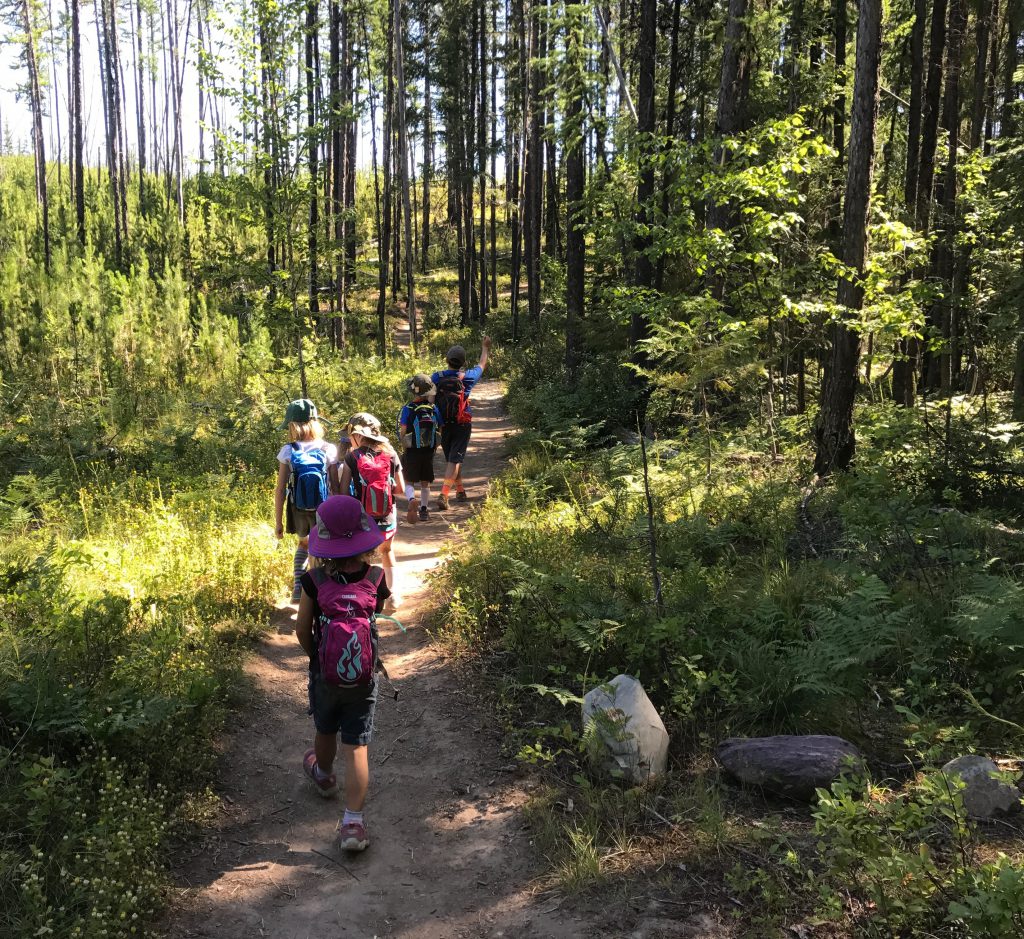 snack break.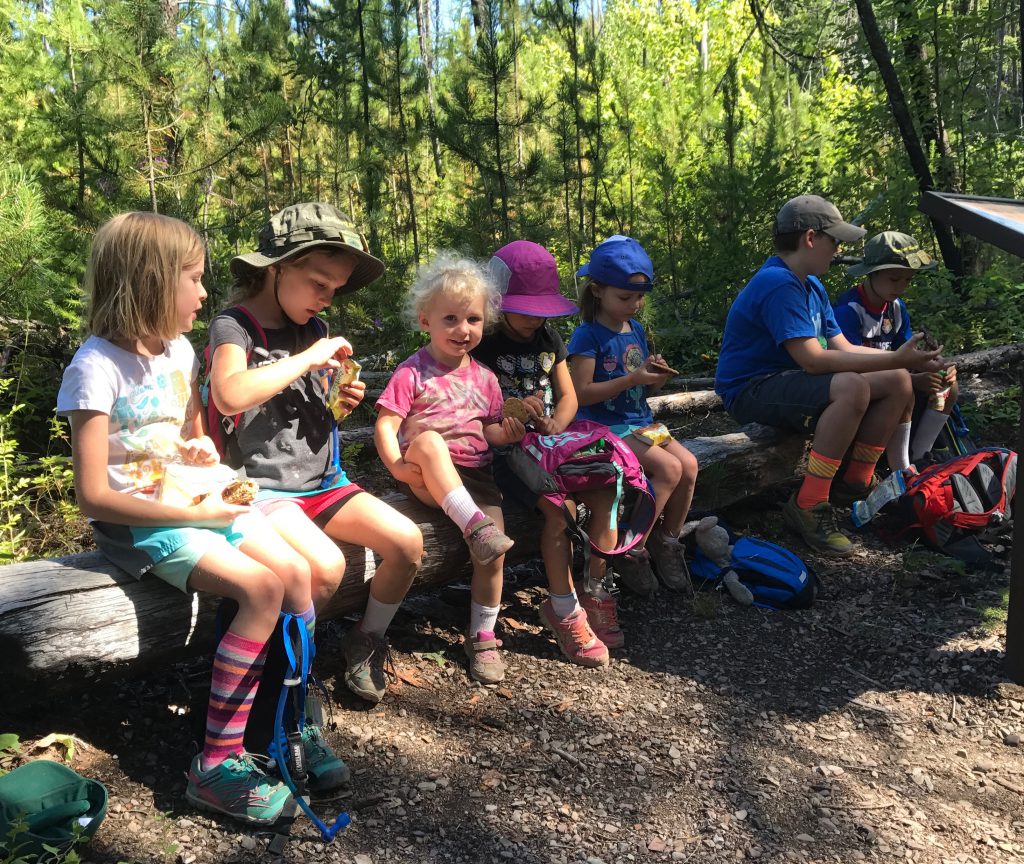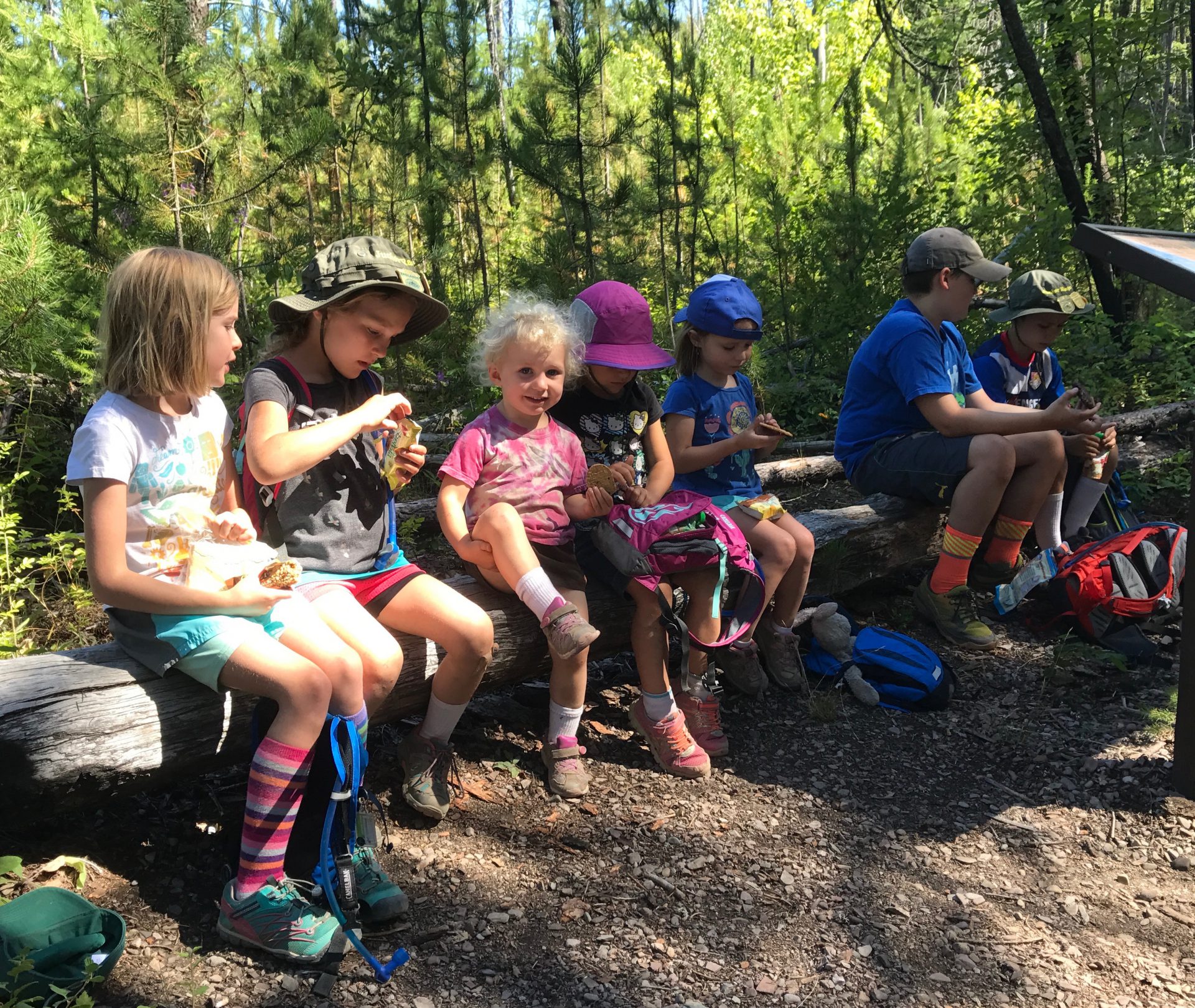 when we reached the lake, we obviously had to take another break to play in the water. the rocks were a lot pointier over here and the kids didn't last very long.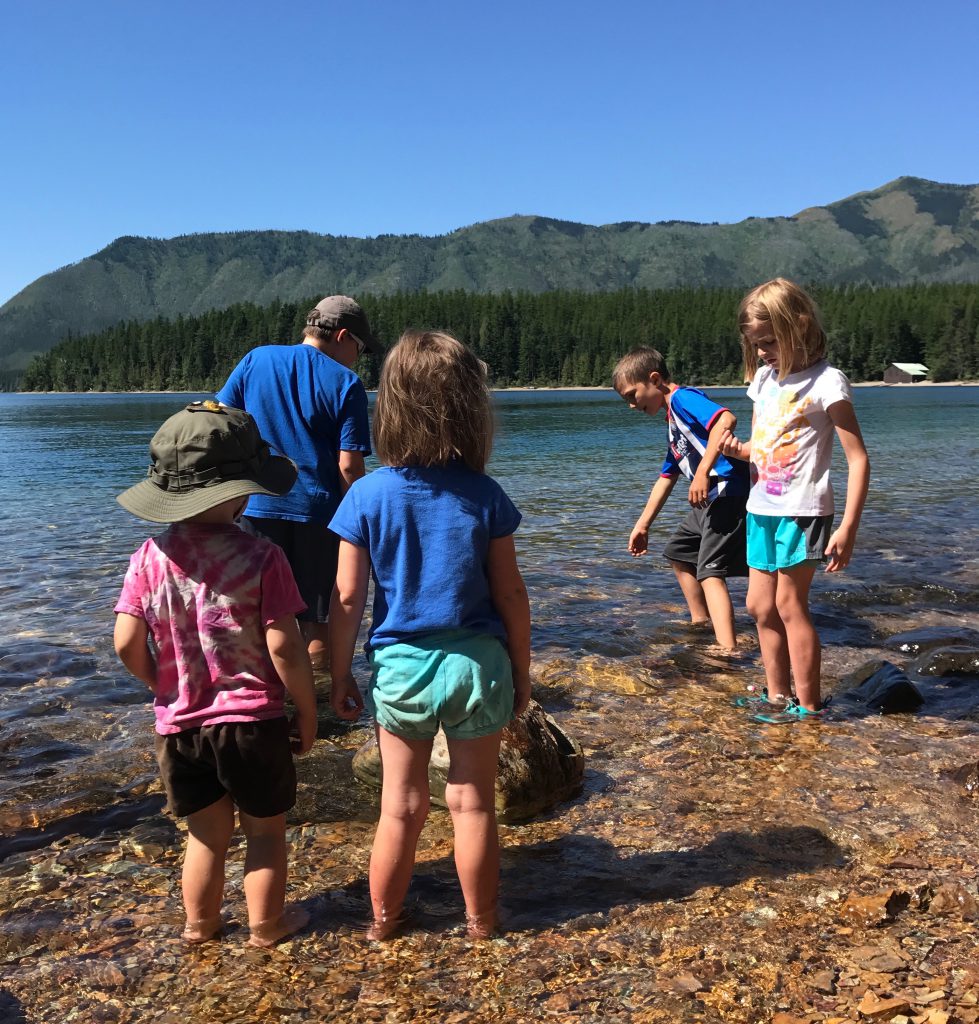 after eating, taking several bathroom trips, swimming, drying out and getting dressed, we pressed on. the next stretch had a few nice little overlooks.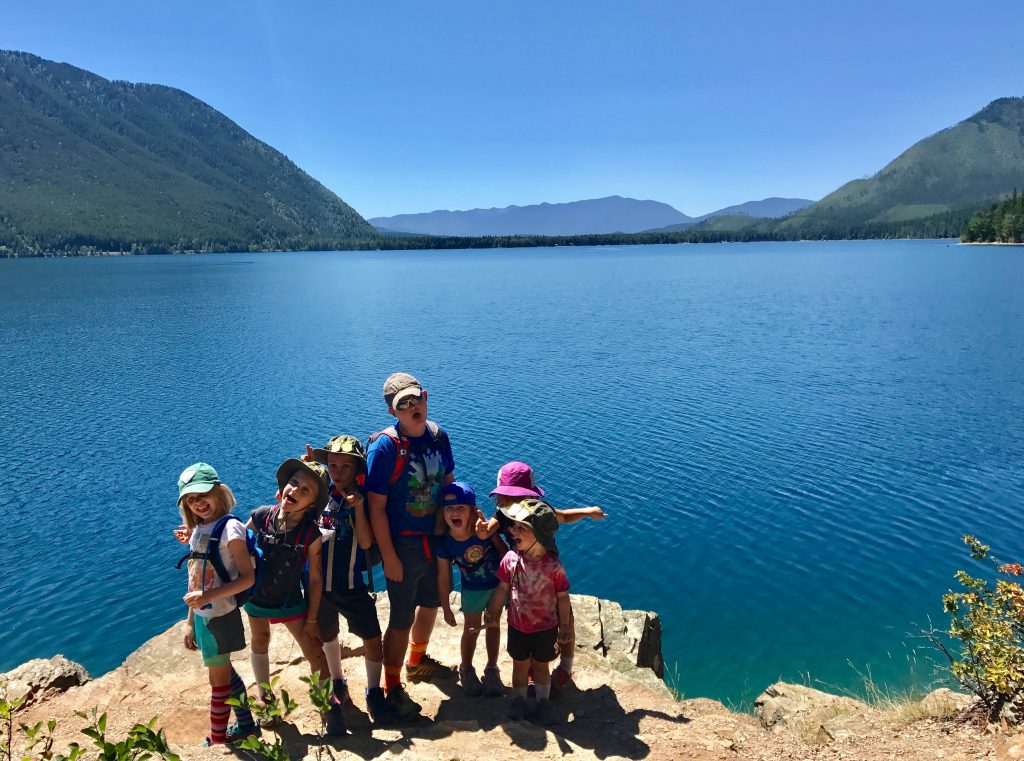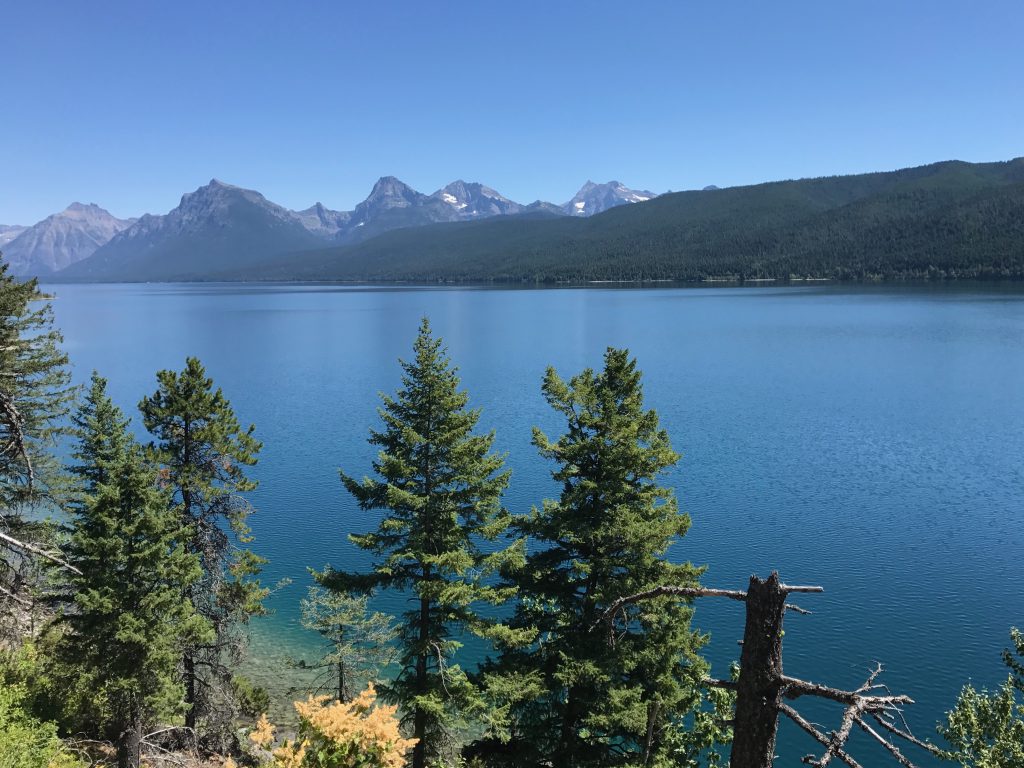 goofs.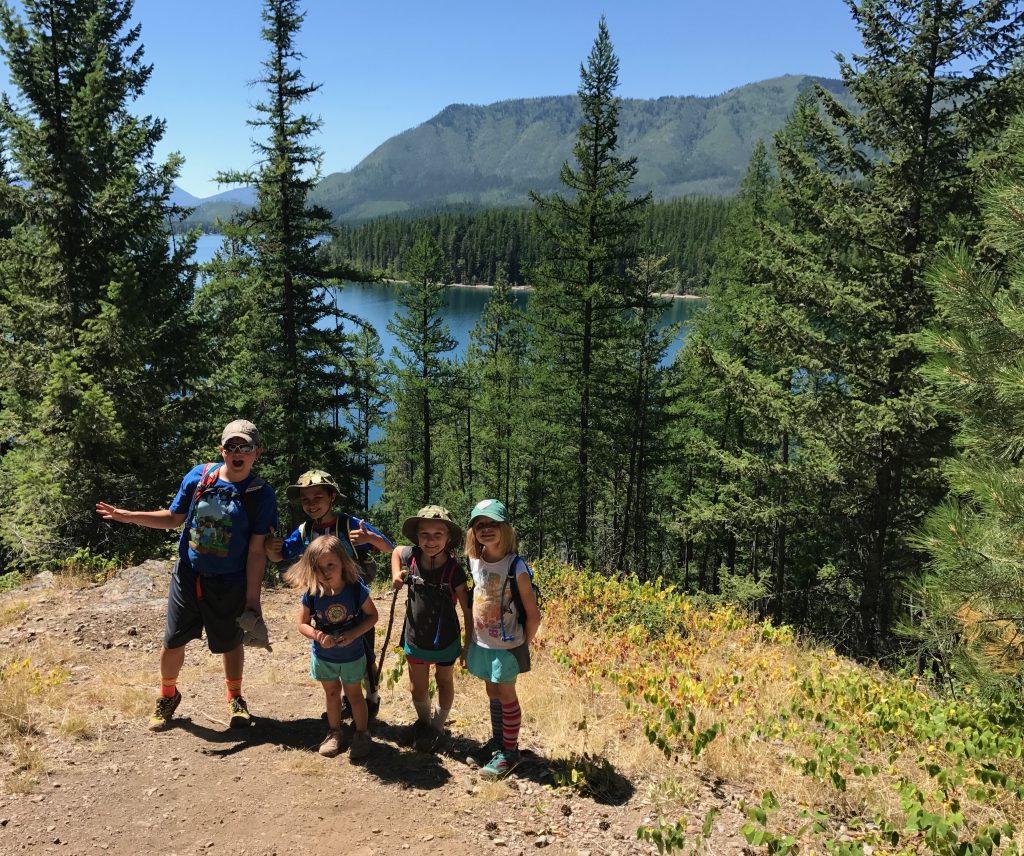 the kids trudged through the rest of the hike. it wasn't super interesting.
back at camp, we set up for some outdoor showers. i was hoping that this would be the answer to keeping the kids sort of clean during the two weeks of boondocking. unfortunately, they were not fans. but, at least they were clean. for a minute.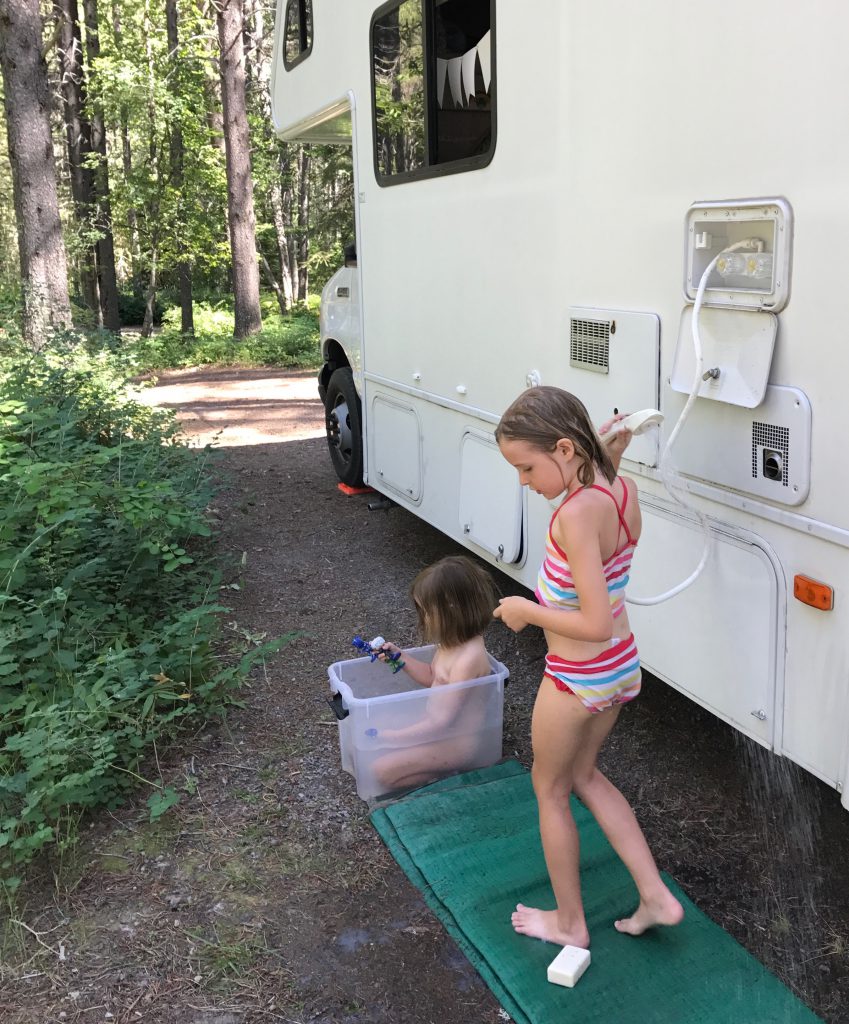 on wednesday, we went to the best ever junior ranger program. i had signed them up on sunday for "creatures in the creek" and assumed it would be full of fellow junior rangers. but, when we arrived, it was just us. and another ranger who was tagging along for the day. so basically, the kids each had a ranger at their disposal. (i left hazel at home, she was too young). so firstly, ranger steve gave us a little lesson in some calmer waters.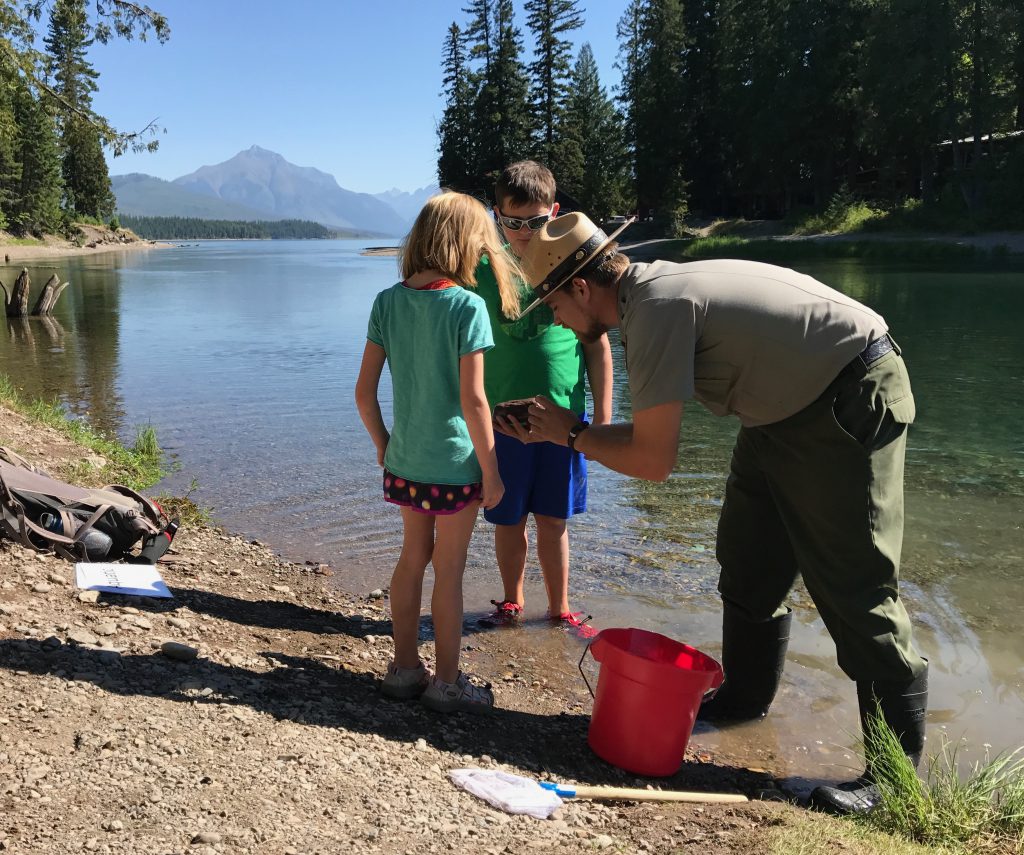 then we headed over to apgar creek, which was smaller and a little more treacherous to walk in. and cold. so cold. the kids would kick up rocks and then scoop up the floating dirt that had been stirred up. they did this several times and put what they scooped up into a bucket. after about 20 minutes, we gathered with our buckets to see what we had caught.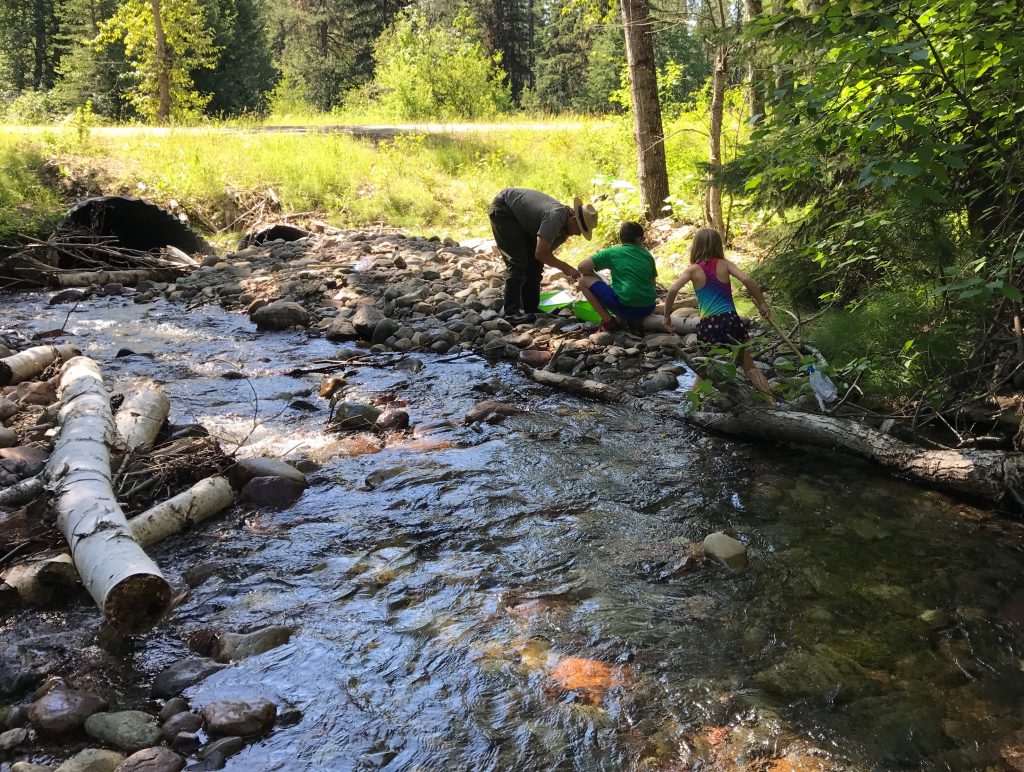 basically, we were catching water bugs. macro aquatic invertebrates. we plucked out individual creatures and compared them to a chart to identify them.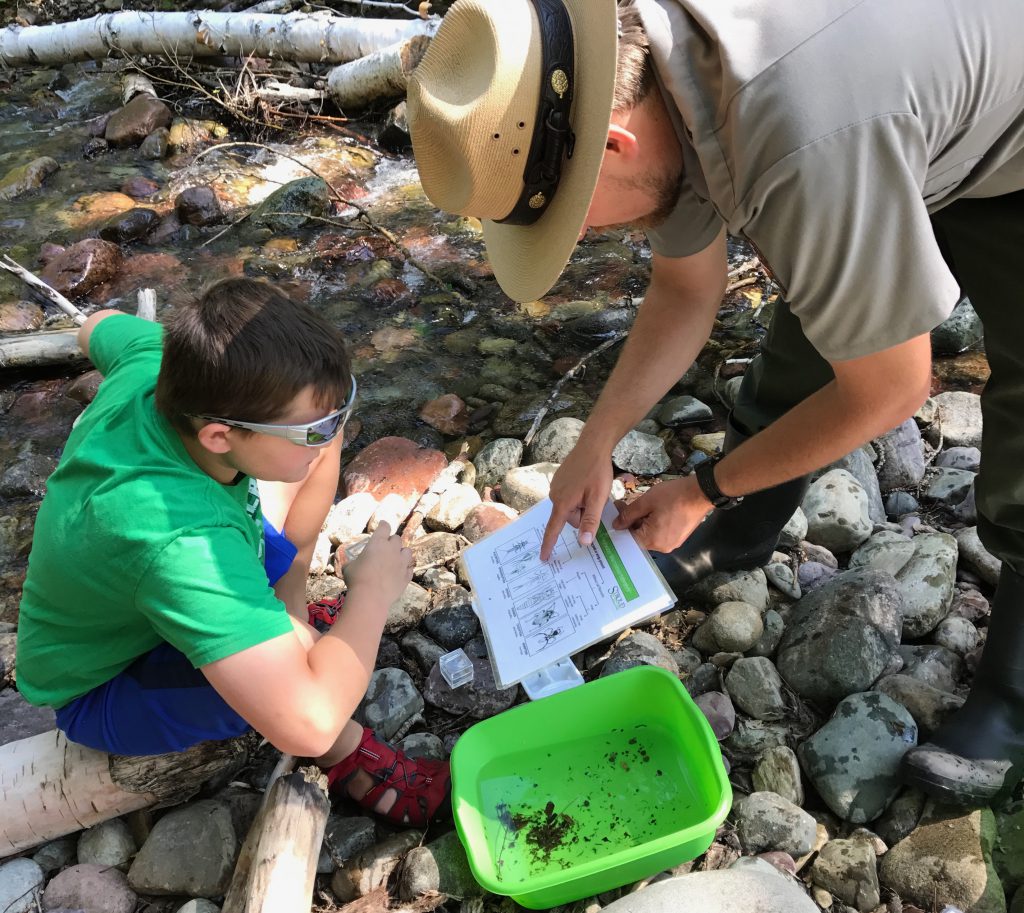 isaac was waaaay into it. it's safe to say that ranger steve is his hero. we spent a long time identifying, recording, logging and examining the local bug population.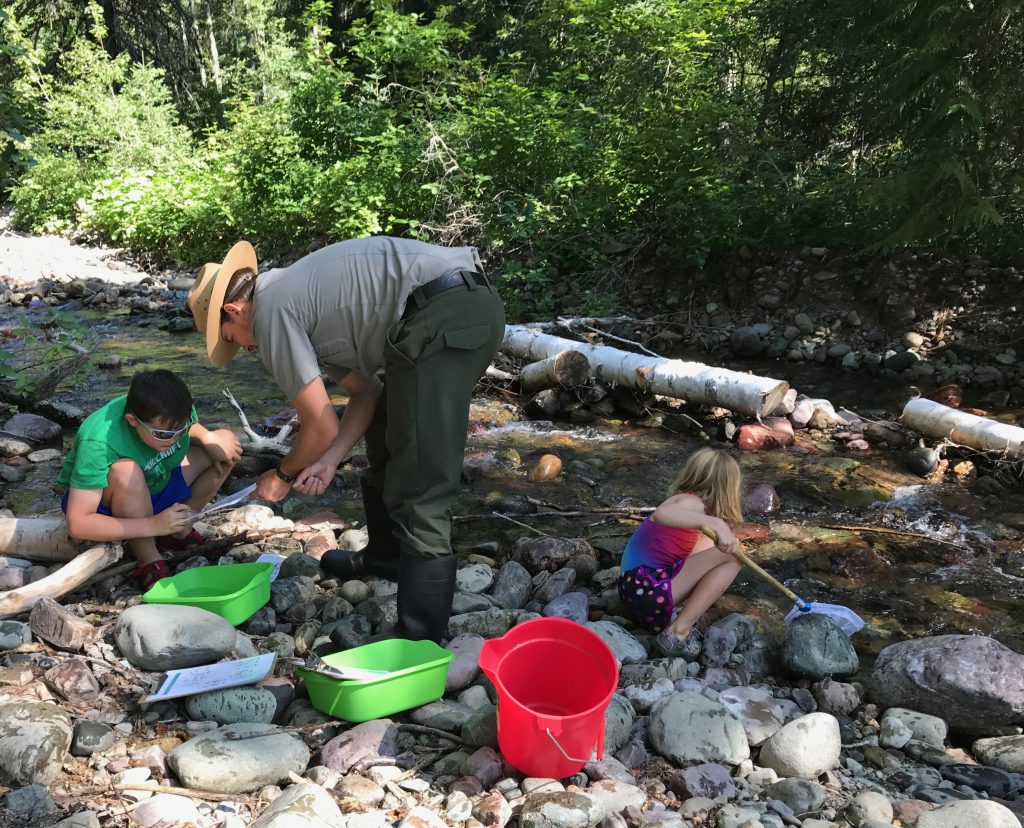 anna had a lot of fun too, but catching them was a little harder for her. and the identifying was tricky sometimes.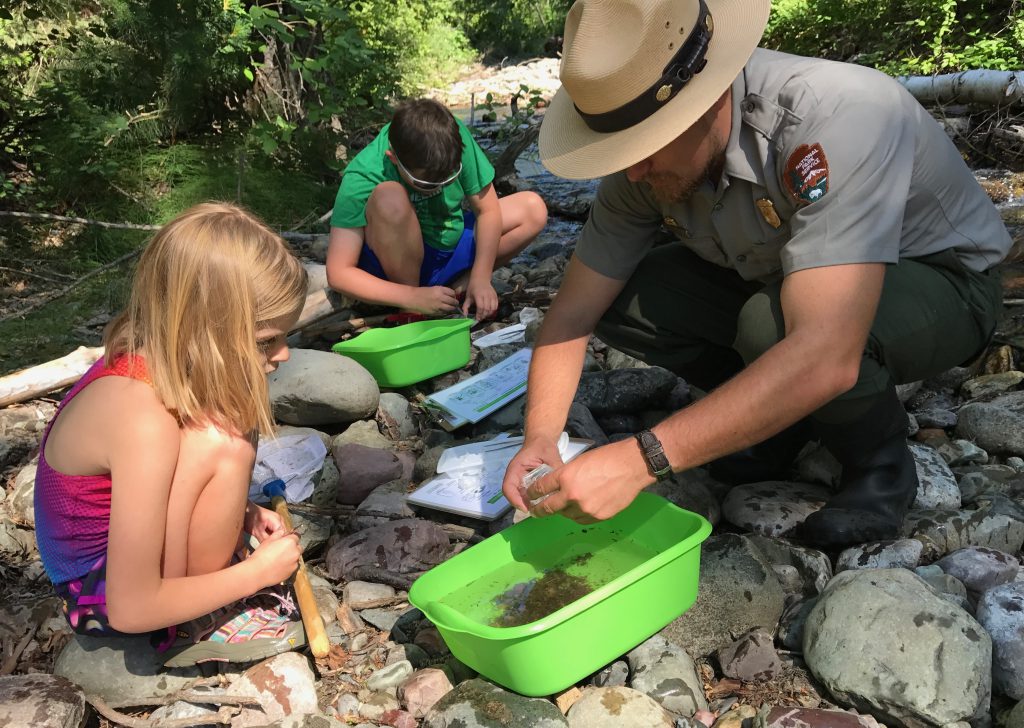 we mostly caught mayflies. some dobson, dragon and caddis flies, too.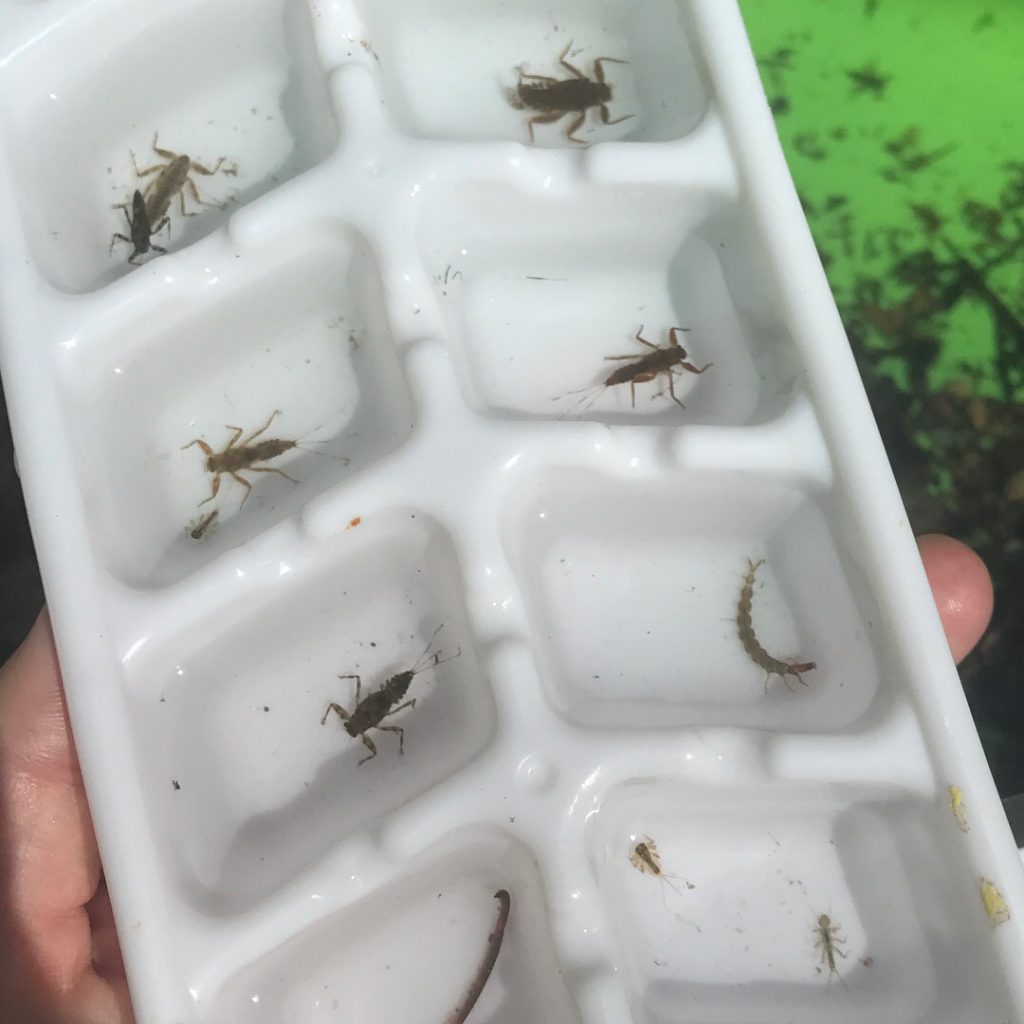 then, we gathered to learn about what our findings might tell us. basically, the abundance of mayflies indicates that there is low pollution in apgar creek. which makes sense, it being in a national park in the northern corner of montana and all.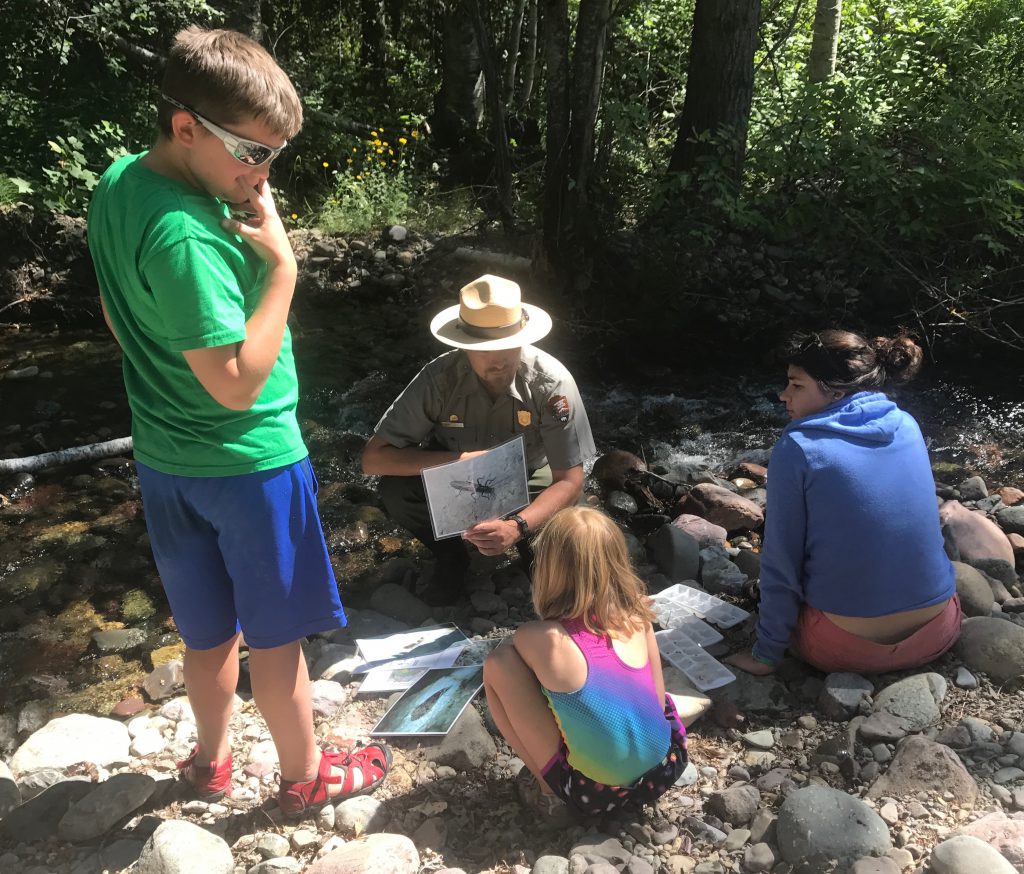 this ranger program ranks at the top of all of the ones we have ever done. the kids had a blast and learned so much. i learned so much. so, thanks ranger steve! (and if you're ever looking to adopt a kid, i know one who would gladly abandon me to come have you for a dad).
anyhoooo. with our ranger program completed, the kids were done with their books and ready to get their badges, so off to the visitor center we went…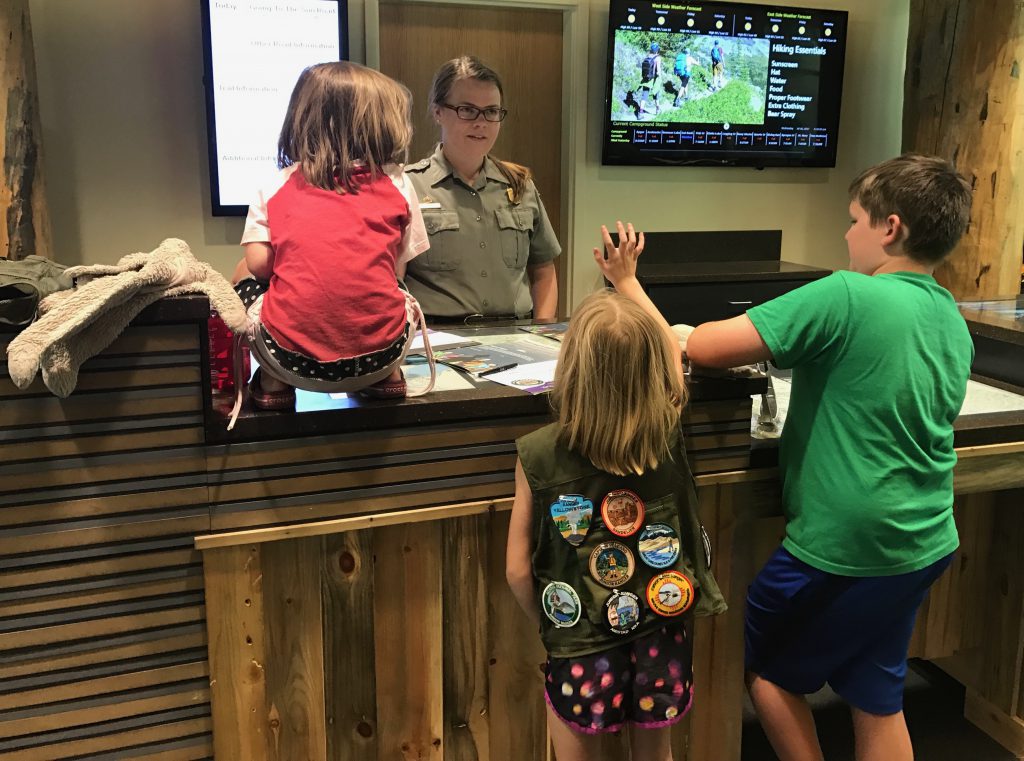 ok. thursday.
i had contemplated going on a long ranger led hike with the kids, but the thought of getting up super early to drive and park before the masses and the equally discouraging thought of riding the shuttle with the kids did me in. instead, we went on a junior ranger nature hike with our friends. it left from apgar village, so we met at our campsite and rode our bikes over. parking spot finding crisis averted. i hauled hazel and jazzy. bike trailer buds.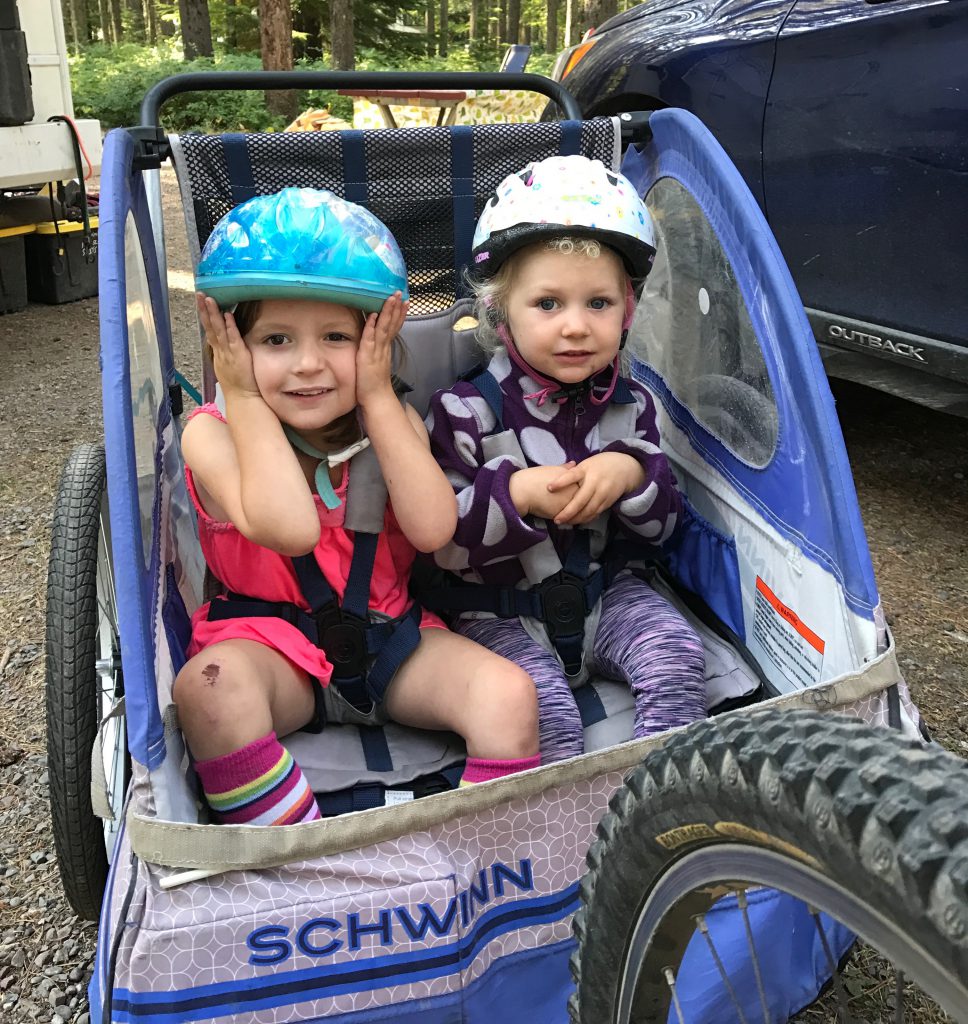 the nature hike was pretty cool. the ranger sent the kids on a little scavenger hunt. and then had them smell a bunch of different evergreen trees. and then walk quietly and cup their ears to listen for different sounds. we even got to taste some different berries.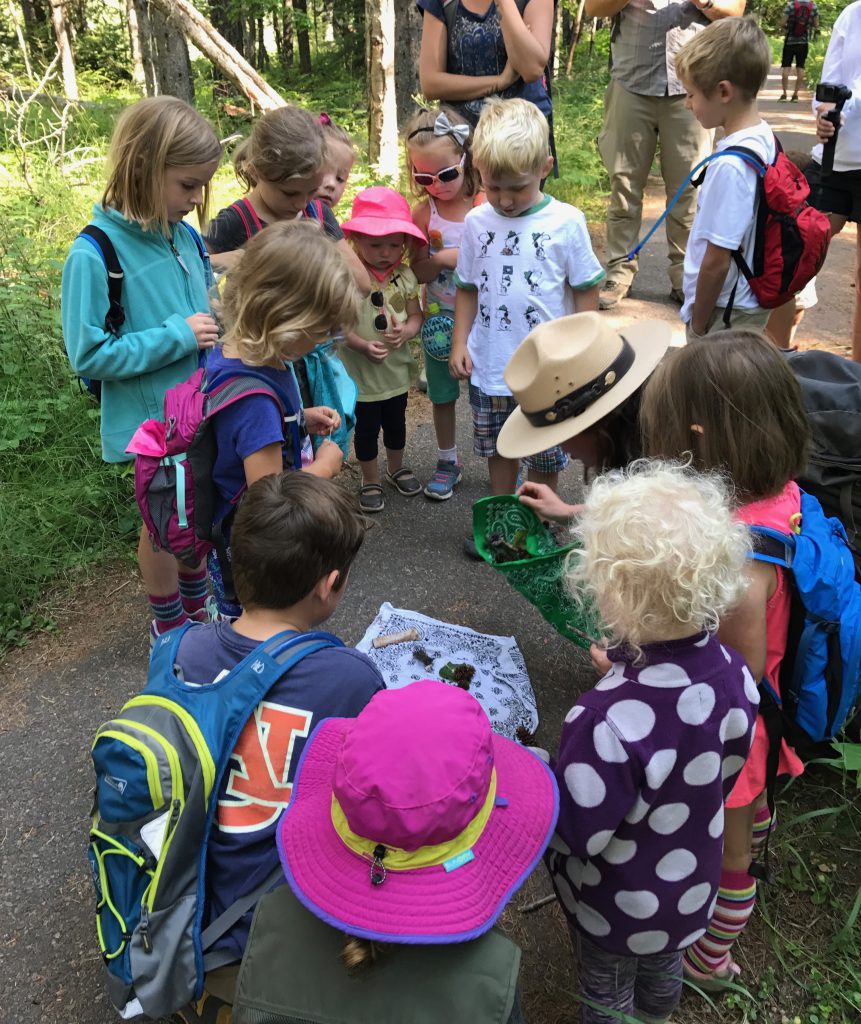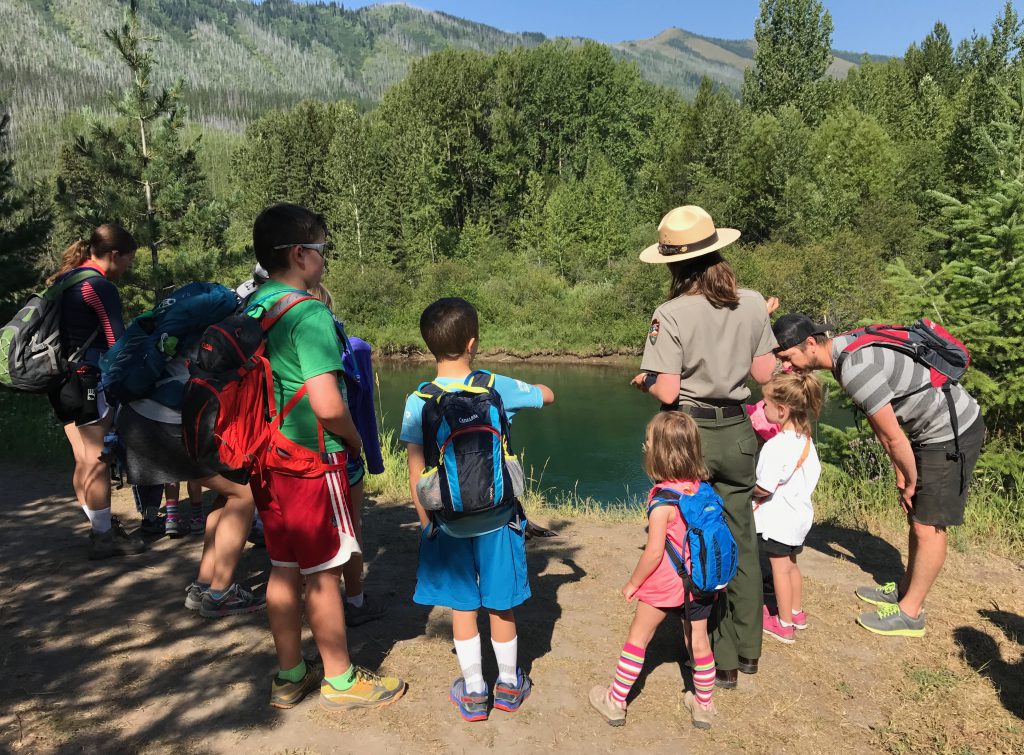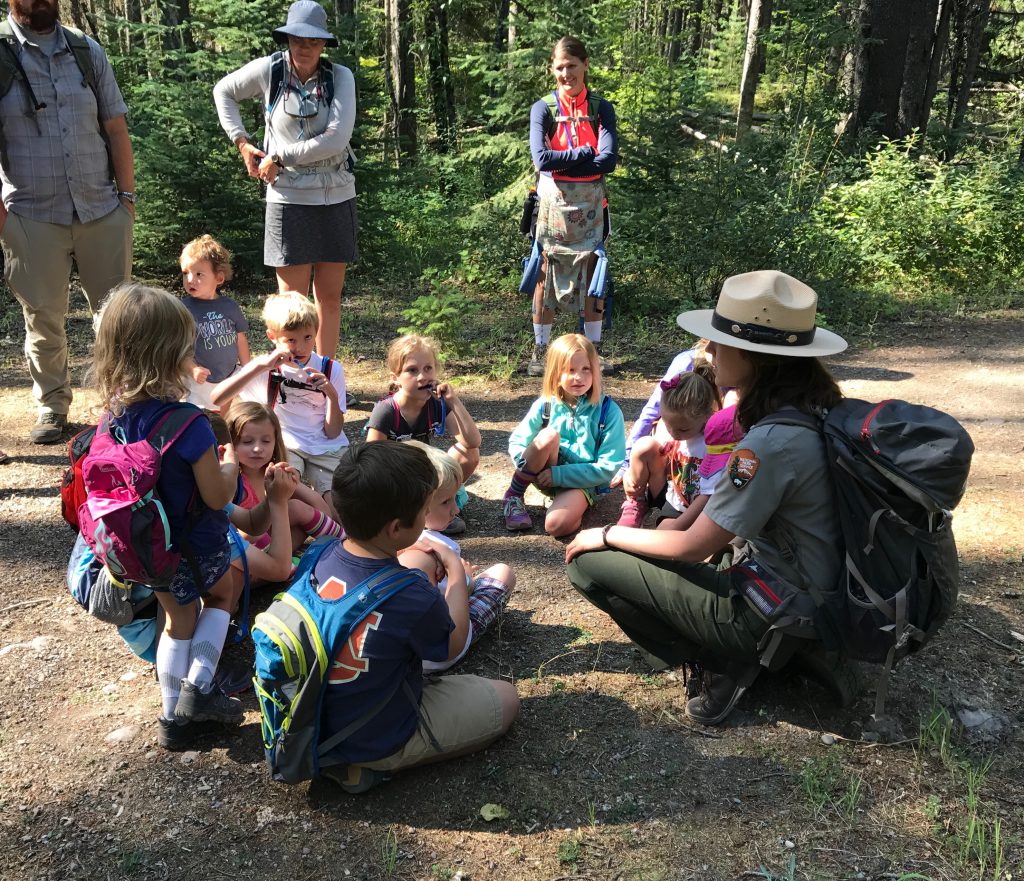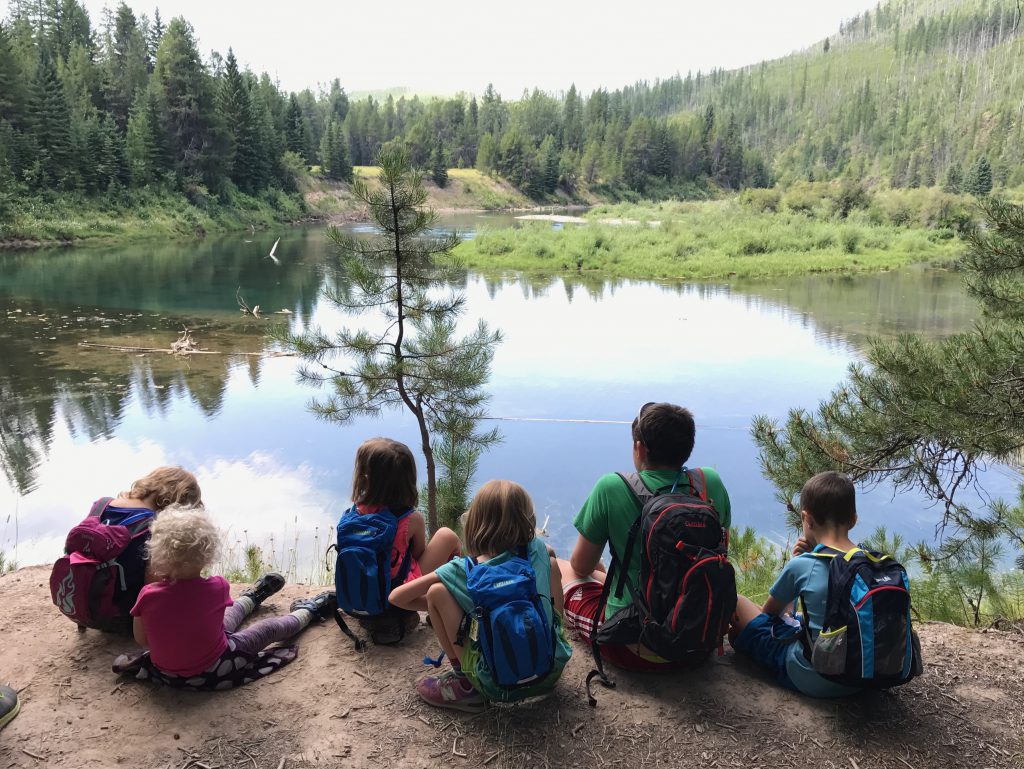 on friday, i planned a down day. i wanted the kids to be rested and happy for the weekend, because i hoped for a lot of hiking. there was a lot of play food making. mostly rocks and twigs, but an occasional pinecone to spice things up.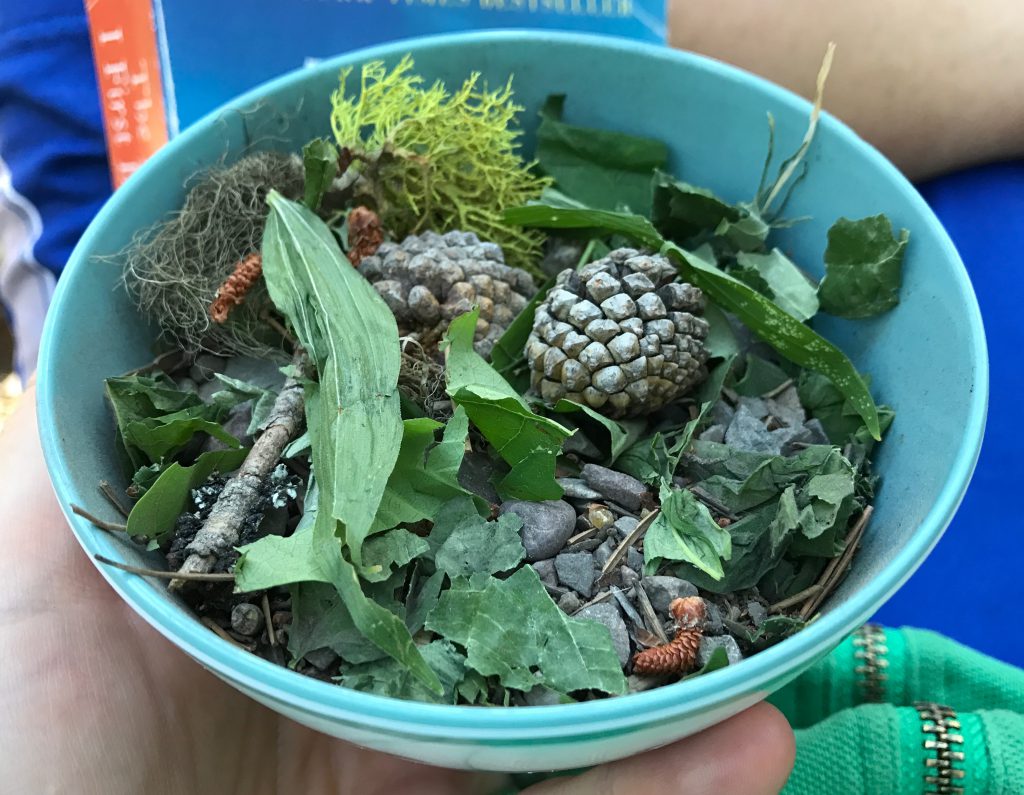 anna had made a friend a few sites over. apparently she was very worried that she would miss her friend coming by, so she left this super cute note on the back window of my car.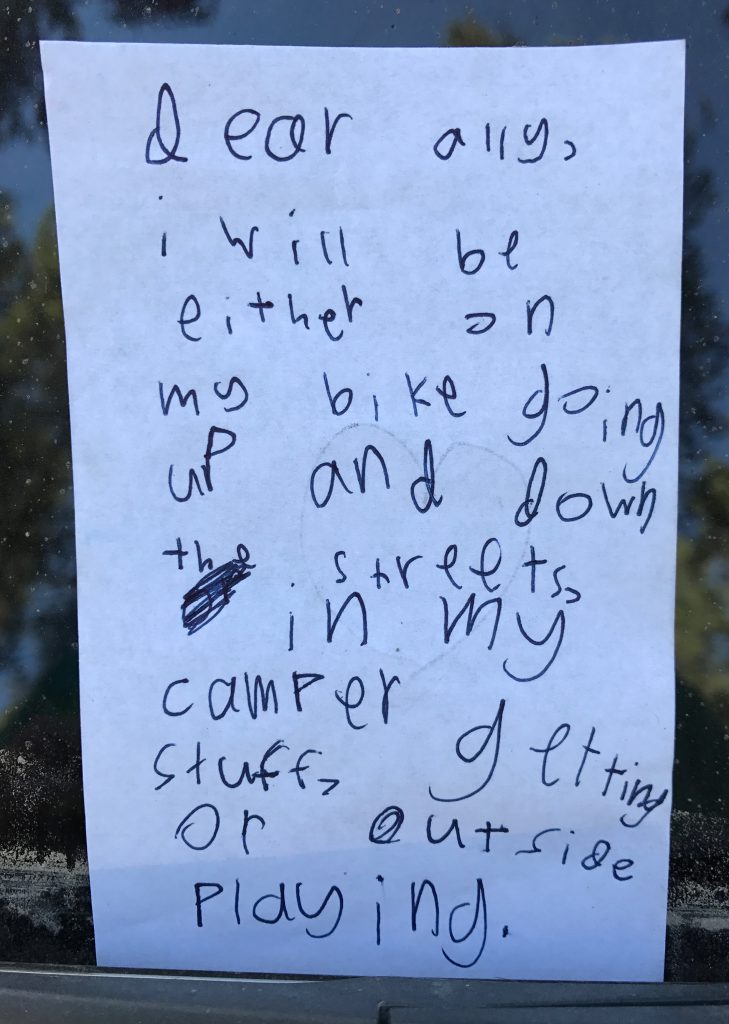 on friday evening, we rode over to meet our friends at the lake when they were done kayaking. they got to splash around a bit and maybe even clean some of the dirt off their grubby bodies.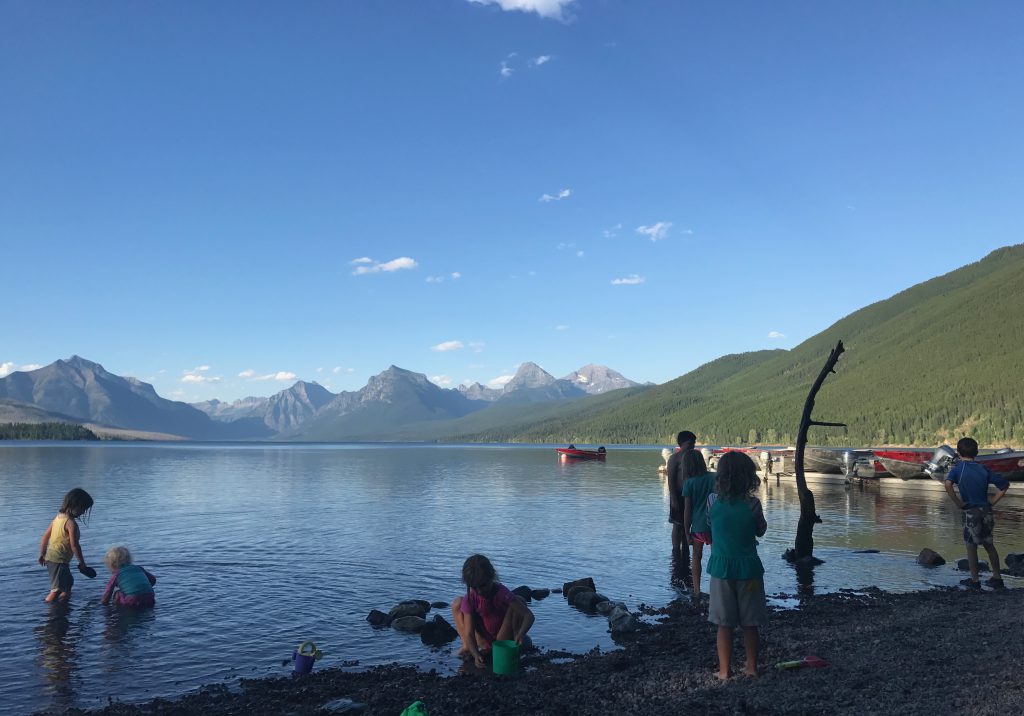 slashing crazelnut.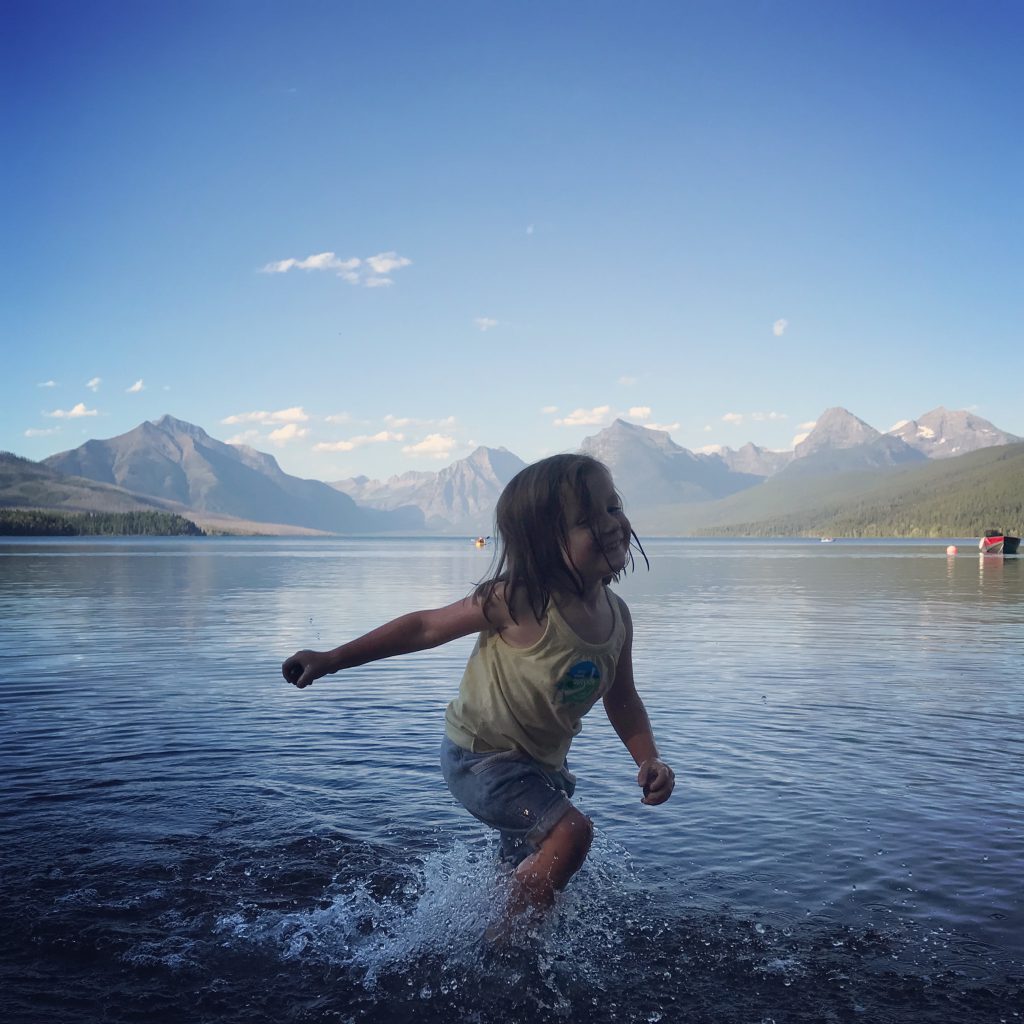 and thus concludes the work week grind. on saturday and sunday, we would be hike hike hiking away….