for our third fun adventure outing during our time at green mountain rv resort we spent the day outside of boone, floating in tubes down the new river. it was nice to be outside, but not without all the work of hiking, and with the ability to cool off in the refreshing waters.
we were one of the first groups to set out, and i definitely bit it as i tried to get on my tube for the first time. not embarrassing. hazel was tied up to me and anna was tied to derek for most of the day, and off we went.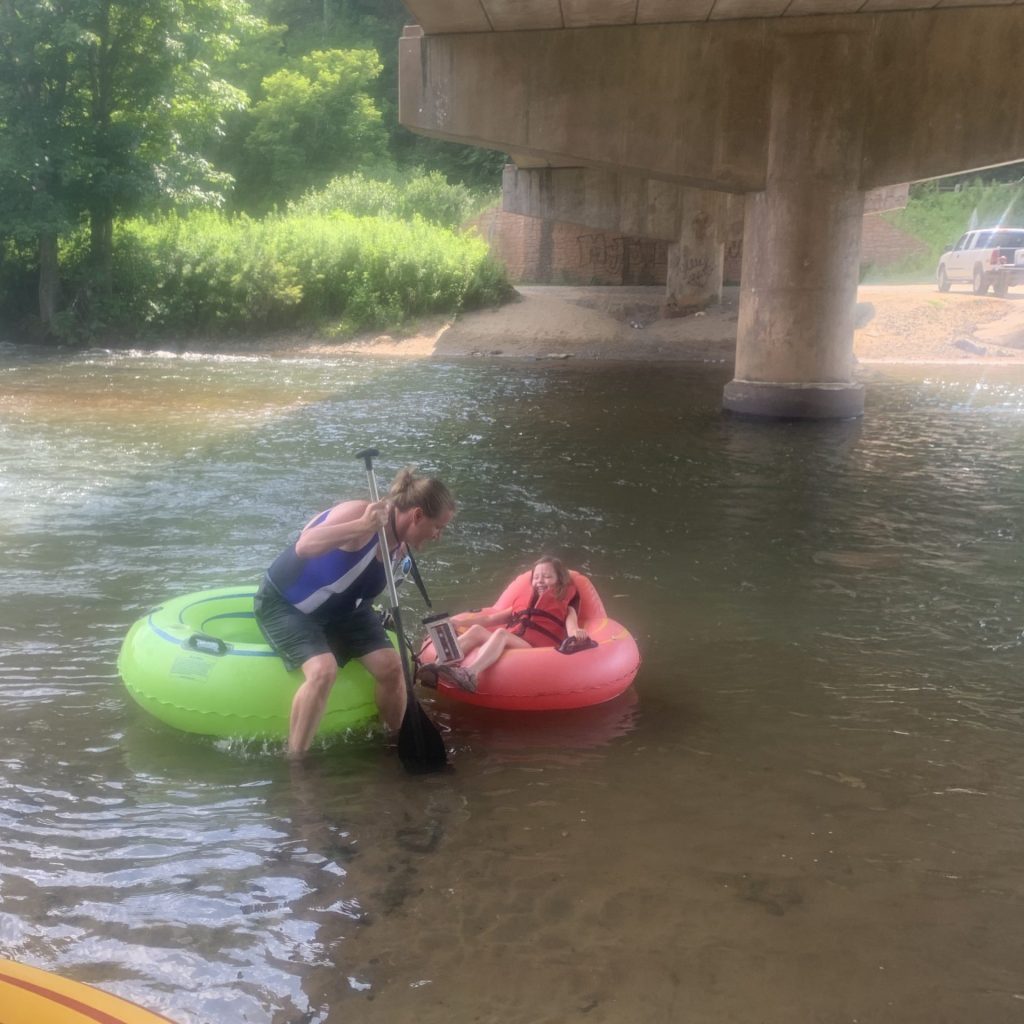 i didn't quite appreciate how spaced out we would often find ourselves. if we kept things "lazy" we ended up drifting apart, sometimes very long distances from each other, as one person caught a current, while others swirled in an eddy. it was a lot of work to keep together. derek captured a few pics of me and/or hazel (and isaac) when we were nearby.
since i was tied to hazel, i have a LOT of pics of her. she was mostly bored. and then frustrated when she dropped two boxes of sprees, one gatorade, and one pair of sunglasses into the river. luckily all we recovered, but the sprees were unsalvageable.
isaac, who was the most nervous about the trip, had a blast. he only fell out into the shallow waters about 20 times. and since he was not attached to derek, he was sometimes nearer to me, so i was able to get some action shots. he was less about the lazy part, and more about the adventure part.
so. i barely saw anna on this trip. she stayed close to derek. and for a long time, they were way far behind us. eventually, she detached from him and stayed on cooler supervision detail. it was touch and go for anna, who was the most excited about the trip beforehand, but in the end, i think she enjoyed herself.
a few times, we were close enough to get some action shots of each other. getting a good shot with happy faces was a whole other story. as we floated, we would be spinning, and the other group would be spinning, and maybe we would be getting closer or drifting apart. there was also the added drama of keeping our phones dry (in a little waterproof pouch) and cool. so, often by the time a phone was out and ready for a pic, the opportunity was lost…
my crew. minus hazel and me. plus our cooler.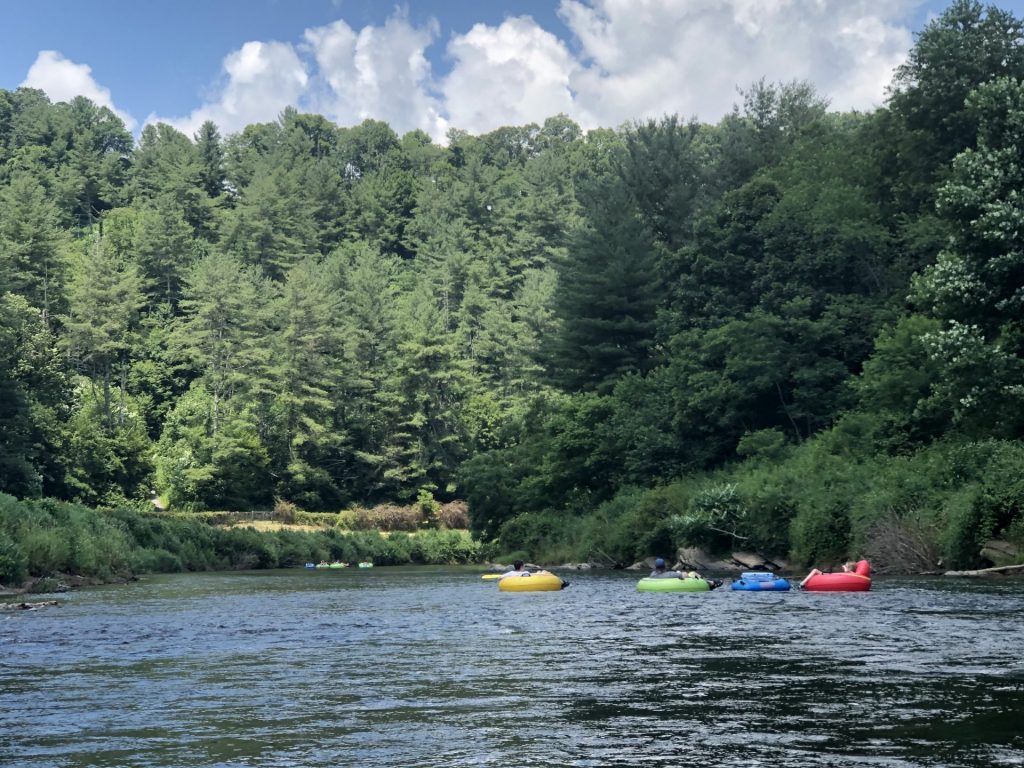 we did manage to all meet up and stay put on a bank for a bit, long enough for a snack and photo op. so, here's our official family photo from our day tubing on the new river.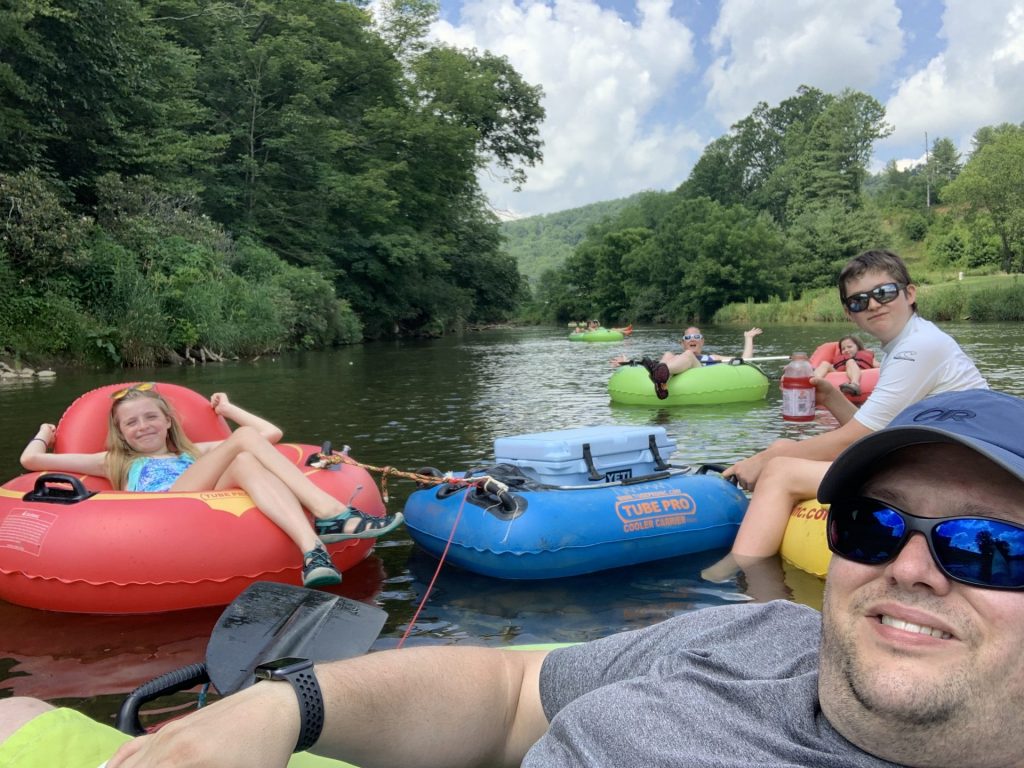 the entire day was great. well. until we got out. and found ourselves standing on the side of the road, waiting FOREVER in the scorching sun for the shuttle bus, with several of our new friends (we actually met a family from our area, who were at the same schools as isaac and anna before the grand rv adventure). after 20 or so minutes, it arrived, and thanks to pandemics, shuttled only the drivers back to the parking lot, and 20 more minutes later, derek arrived to ferry us back to civilization.
another note. i got a pretty terrible sunburn. pretty much on the front of my arm pits, along the edge of my bathing suit. i think because of rowing and helping with hazel, i maybe rubbed off the sunblock more quickly. the rest of my pasty white skin fared well.