our site in custer was pretty close to a lot of things, but badlands was still about a two hour drive away. thankfully, we had THE BEST neighbors, who also had a sweet pup, who offered to check in on ruby and take her for a few walks throughout the day, so we were able to take an extra long day to head out to check out the badlands.
on the way, in the middle of nowhere, we stopped at a minuteman missile silo. we left hazel and isaac in the car to check out the giant hole in the ground with a defunct missile forever waiting to be called upon to defend america.
after this, we stopped at the minuteman missile national historic site, but only derek went in for a bit, to read up, buy some books, and learn as much as he could, as quickly as he could, about this time in american history. and then departed for badlands national park.
most of the hiking options in the park are in the first mile or so once you enter. after listening to our guided tour app guy tell us about some of them, and perusing the options on alltrails, we decided to do the notch trail. it was only like a mile or so, and winds through the other worldly rock formations and ends at a, well, notch in the rock, that looks out over the surrounding area.
off we went.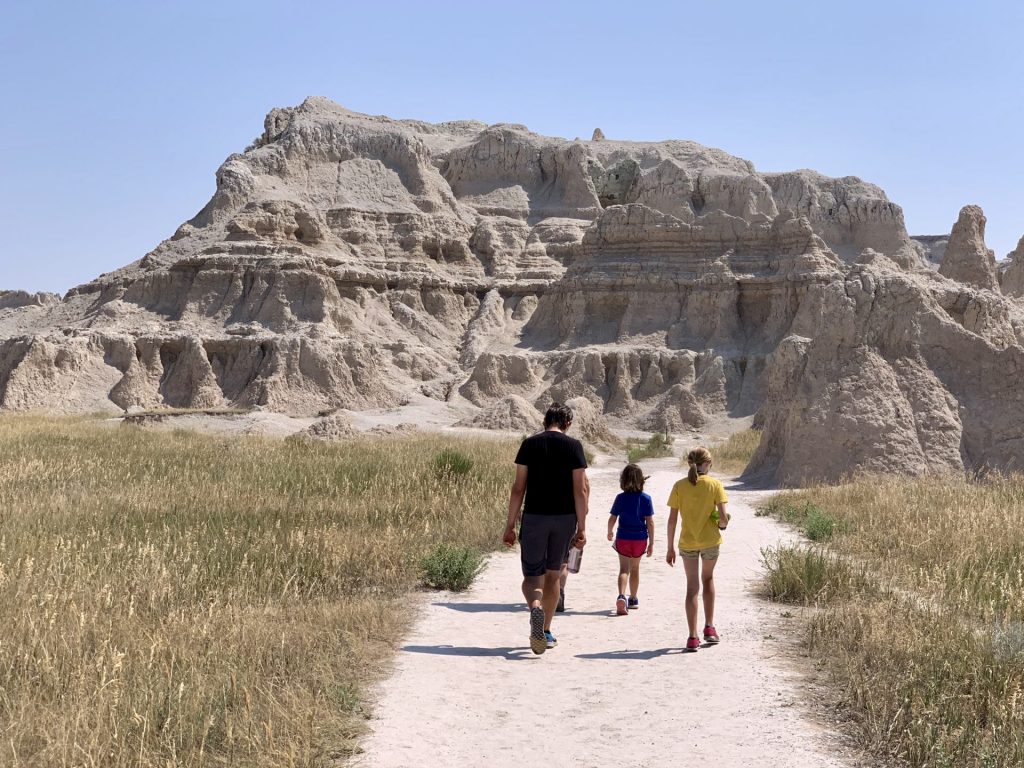 it was scorching hot that day. (continuing theme). we made our way along a dried up riverbed, where we saw some really cool bird nests, and eventually arrived at the highlight of the trail. a fifty foot cable and wood ladder to the top of the ridge that overlooks the riverbed. we had to wait for a bunch of people who were coming back down, but then it was our turn to scramble up and continue on….
from there, we just followed along the ridge and before too long, we were at the notch.
the views were cool. the kiddos and derek took a snack break, while i climbed around to explore more.
i forced all the hot and miserable family to take a million different pictures, from various angles so that other humans weren't in our photos. 🙂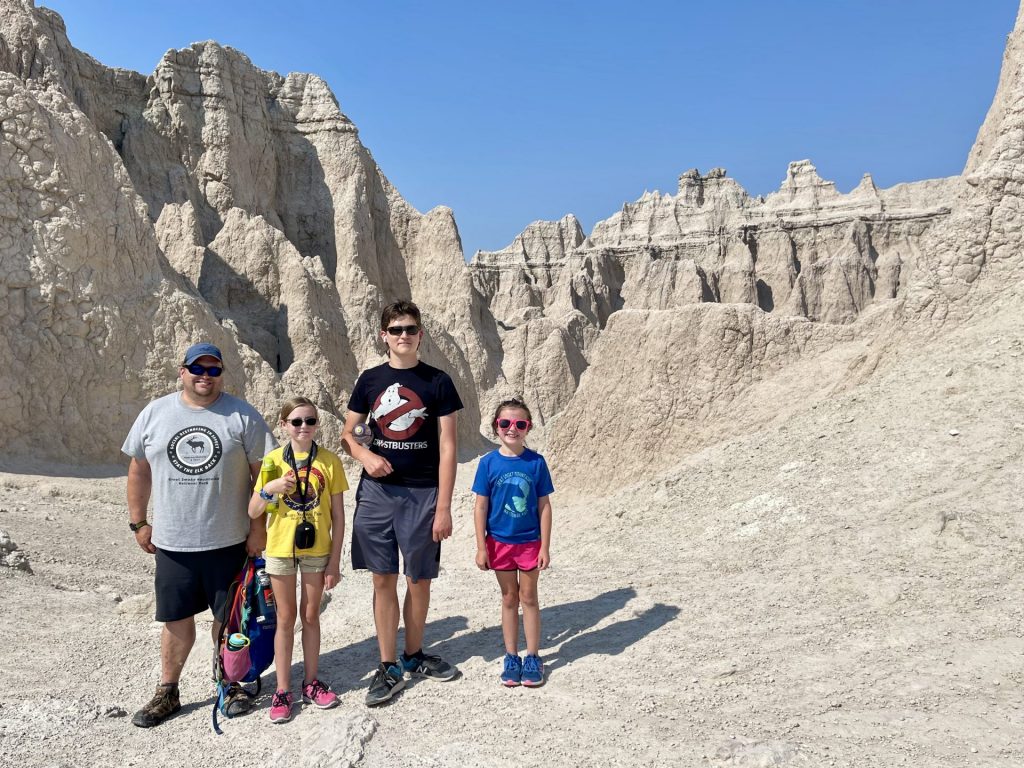 once we were rested back up, we started back. the trail was a little treacherous. we weren't wearing our best footwear, and the gravel was slippery, so there was a lot of frustrated slipping and sliding and falling taking place. at the ladder, we had to make some decisions. there were a lot of people backed up waiting to go down and some waiting to come up. hazel and derek and i opted to go down a super steep side trail, and by the time we made it, the line had cleared up and anna and isaac just casually strolled down the ladder. 🙂
after a stop at the visitor center to check out the museum and archeology room and get our junior ranger items and souvenirs, we departed for the scenic drive. it is a winding path through the badlands and comes out at the other end (closer to our campground), and there are zero amenities along the way.
it was a lot of the same landscape, but nothing quite as awesome as our up close encounter with it on our hike. we did spot a big horn sheep just wandering around at one point, so that was pretty cool.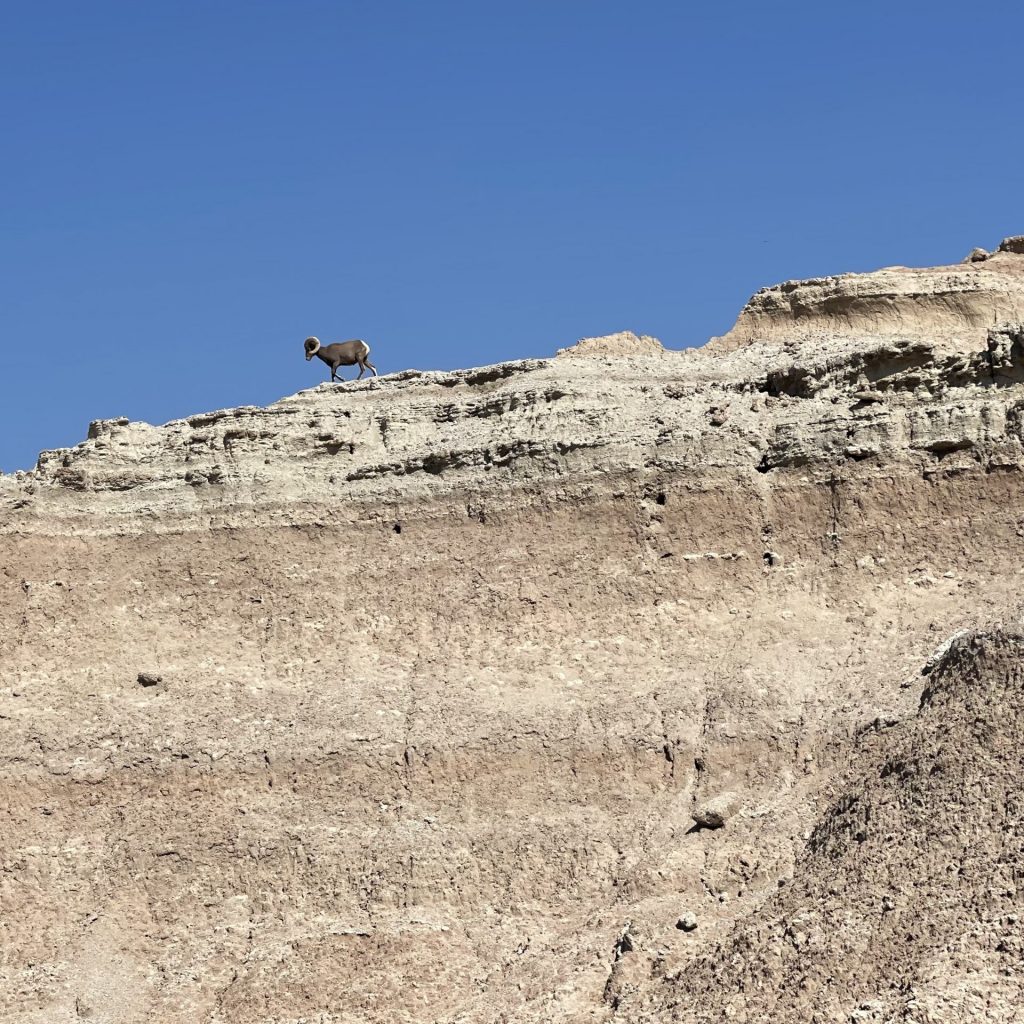 most of the overlooks looked something like this. we hopped out at several and took a million photos that don't do it justice.
can you see derek? he really should wear brighter closing in this landscape.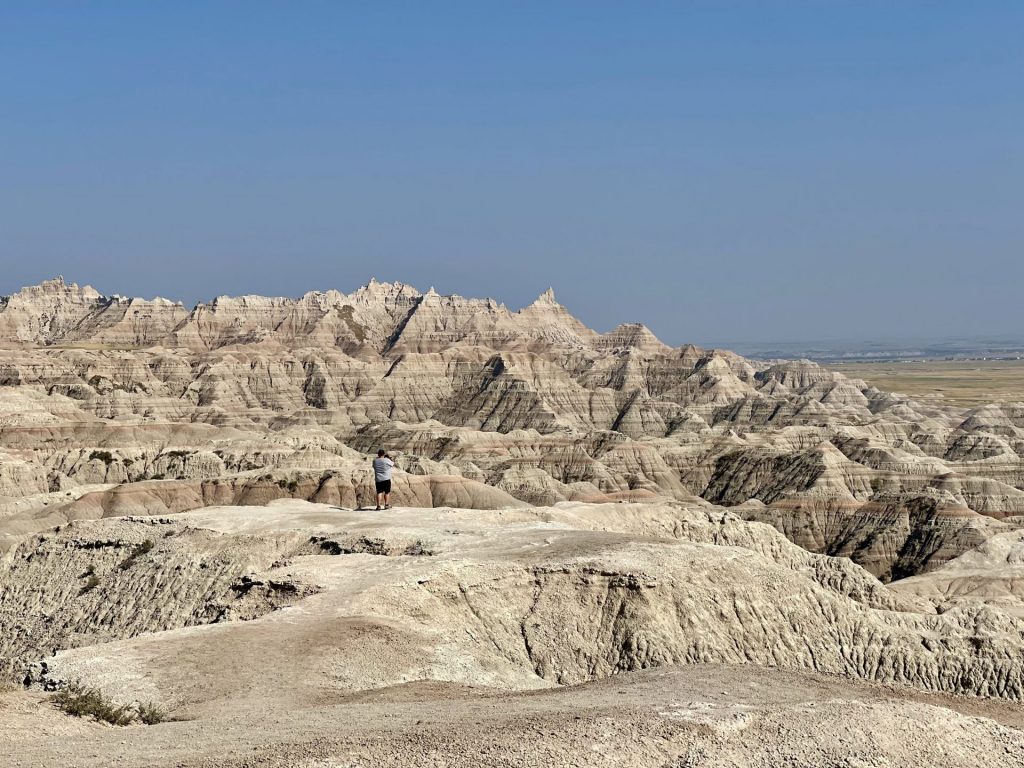 the painted hills offered a slight break from all the beige. :). and then back to more of the same. it was all really cool, but eventually we tired of the same views. at the end, we snapped a lidkid photo and then our badlands excursion was over.
we really had no intention to make wall drug, sd a destination on our trip, but after watching nomadland, and since we were literally passing right by it, we figured it was worth a stop. in retrospect, it wasn't. it's a giant tourist trap. we had a very expensive and not very tasty dinner (bison burgers) and wandered through the maze of crappy gift shops before making our escape.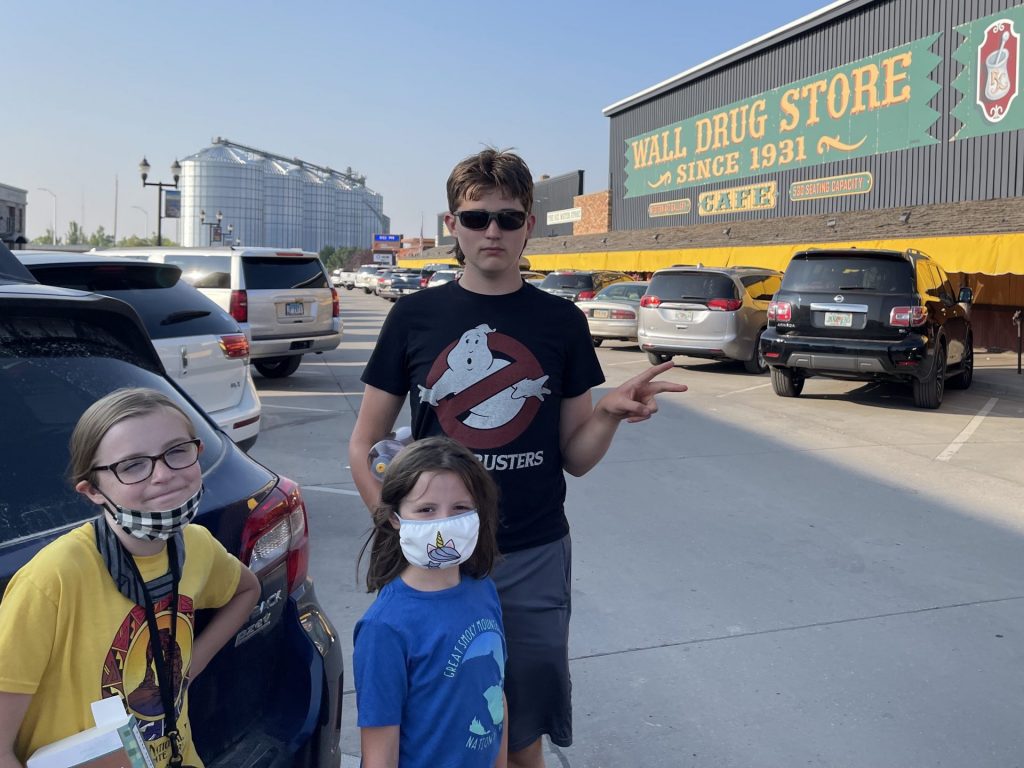 we made the long drive back to camp (derek did actually), where we were reunited with ruby. our neighbor had taken her on three hikes, totally six miles in all, and she was completely exhausted. also, i'm pretty sure she likes him more than us now. 🙂