as promised, in multiple previous posts, finally, an update on my sewing.
as i type this (april 16th), i currently have five quilts in various stages of completion. normally, i like to make one entire quilt at a time, from start to finish. but, i decided to branch out, and channel all of the energy of my co-workers and customers at the shop, and work on multiple projects at a time.
it all started a few months ago, when i got the bright idea for my next epic anna maria horner project to be an english paper pieced quilt. specifically, i chose the "cherish" pattern, because it showcases the bigger prints in the middle, with some of the smaller and blender prints to be used on the outer rings. i also went with fussy cut diamonds pointing outward from the center of the block. (you'll see what i mean).
derek bought a silhouette cameo and whipped out all of the paper pieces i needed. and i assembled all of my notions into a little kit so i can keep all of the tiny parts together. the fun thing about this project is it's something i can work on while watching tv (football games until that ended sadly). it will also serve to use up a good bit of my stash, because it tends to be a bit wasteful, as you can see in the bottom right photo.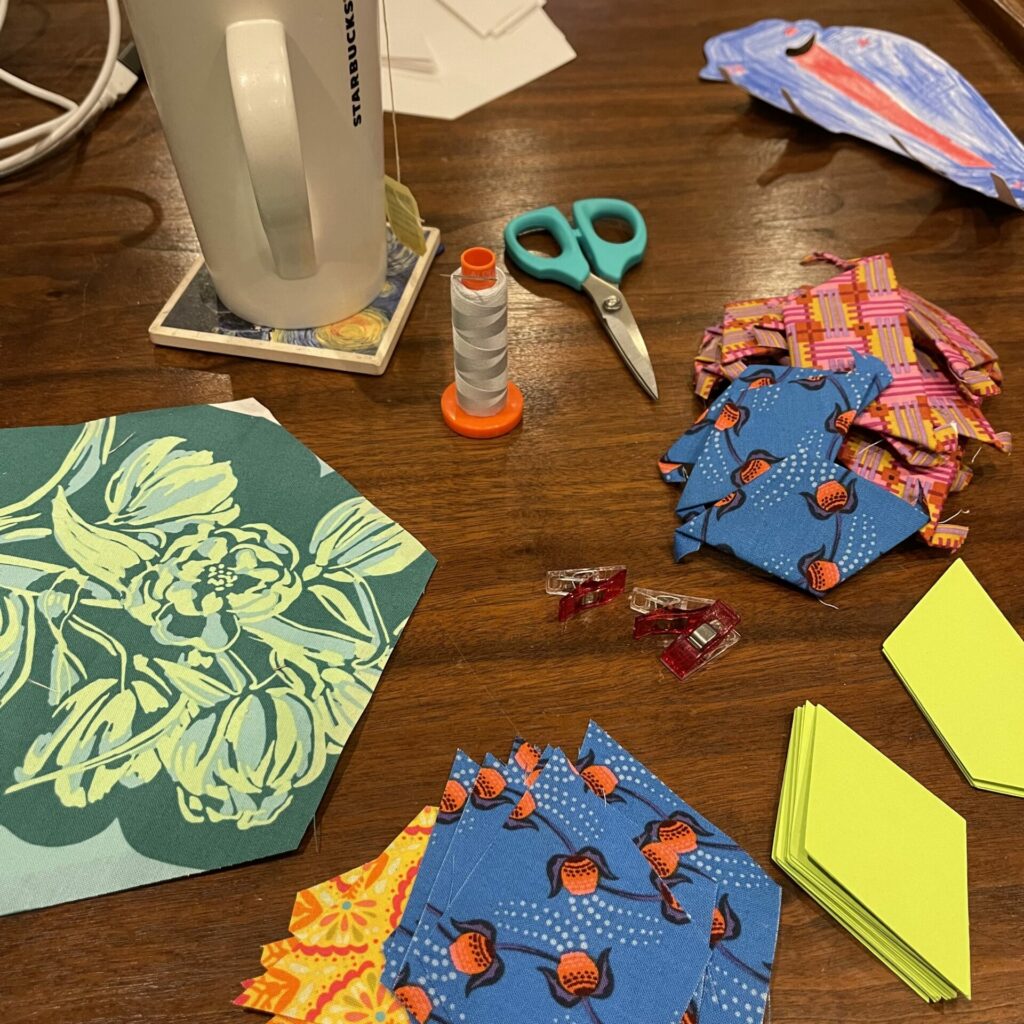 each block takes about 6 hours. so, it's a slow moving project. and i've sort of stalled out a bit at this point. (related to end of football perhaps?). but i'm over the halfway point, with 25 cut and planned, before i have to make some executive decisions about how to finish the edges.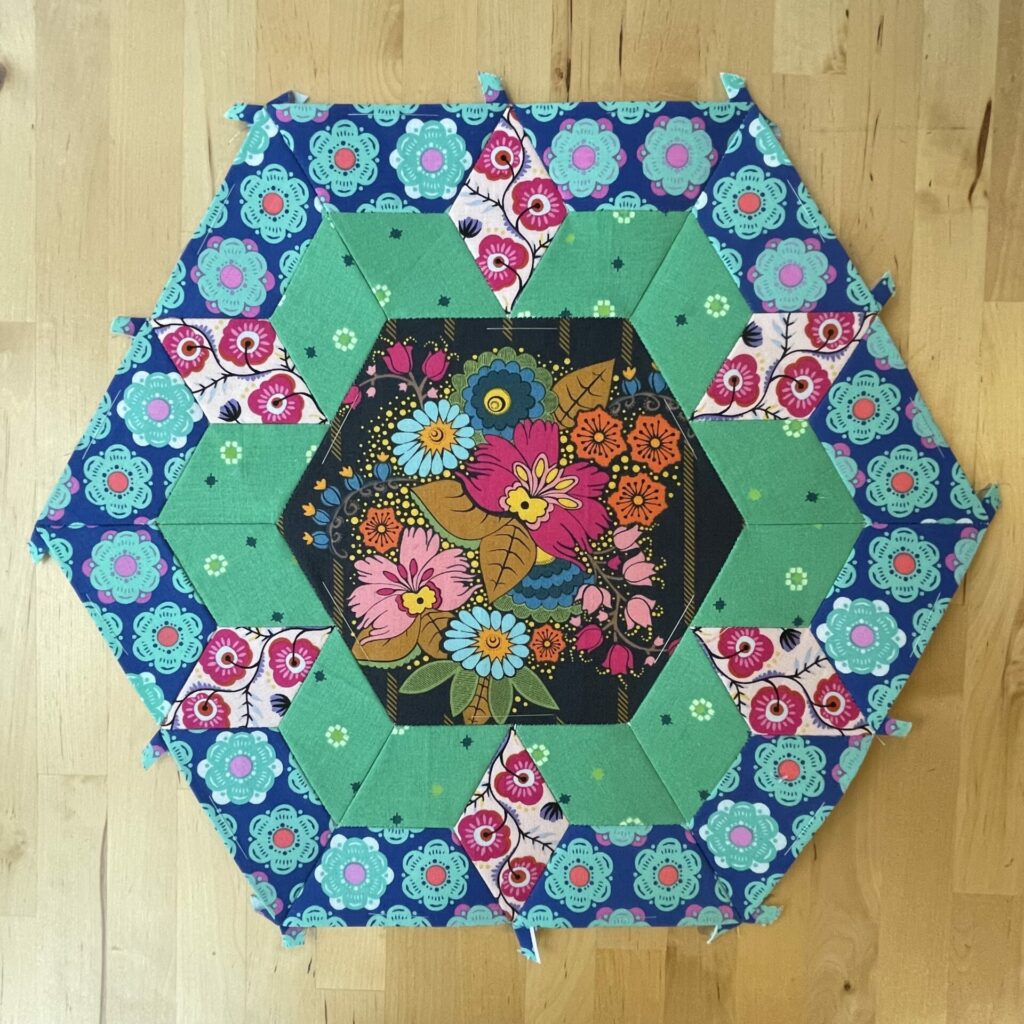 each piece (31 per block) is hand basted around the paper piece, and then they are all sewn together, again by hand. it's slow going, but i am really excited about how it will look when it's finished. here's a sneak peak.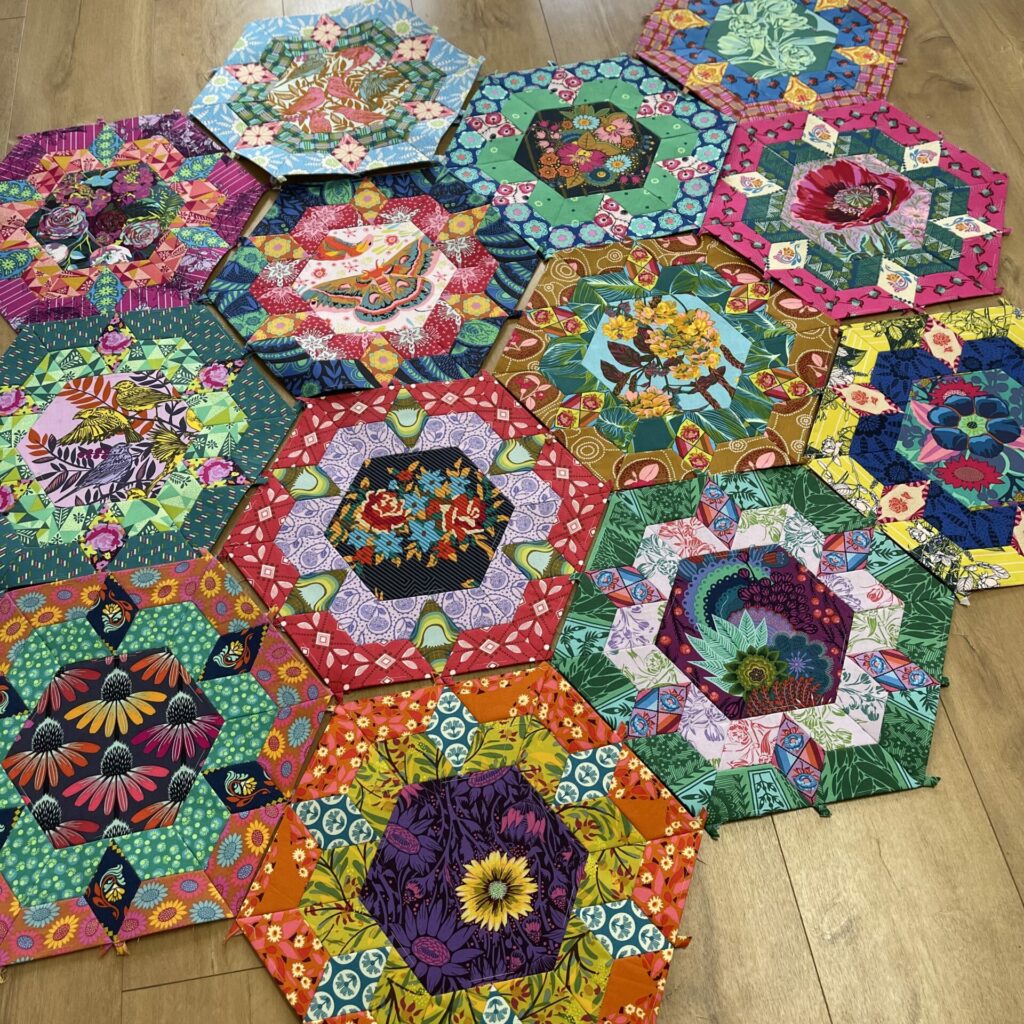 after i finished up the quilt room makeover, i had new life. suddenly, i wanted to make all of the projects. at work, i had been assembling kits for a christmas block of the month they are hosting soon. while i was cutting the pattern pieces for the sample quilt, i offered to make it for the shop, and they accepted. so, i had the perfect first sewing project for my updated space. before too long, this top was completed. (it would then be quilted on the long arm at the shop and all bound up by me. to be posted at a later date.).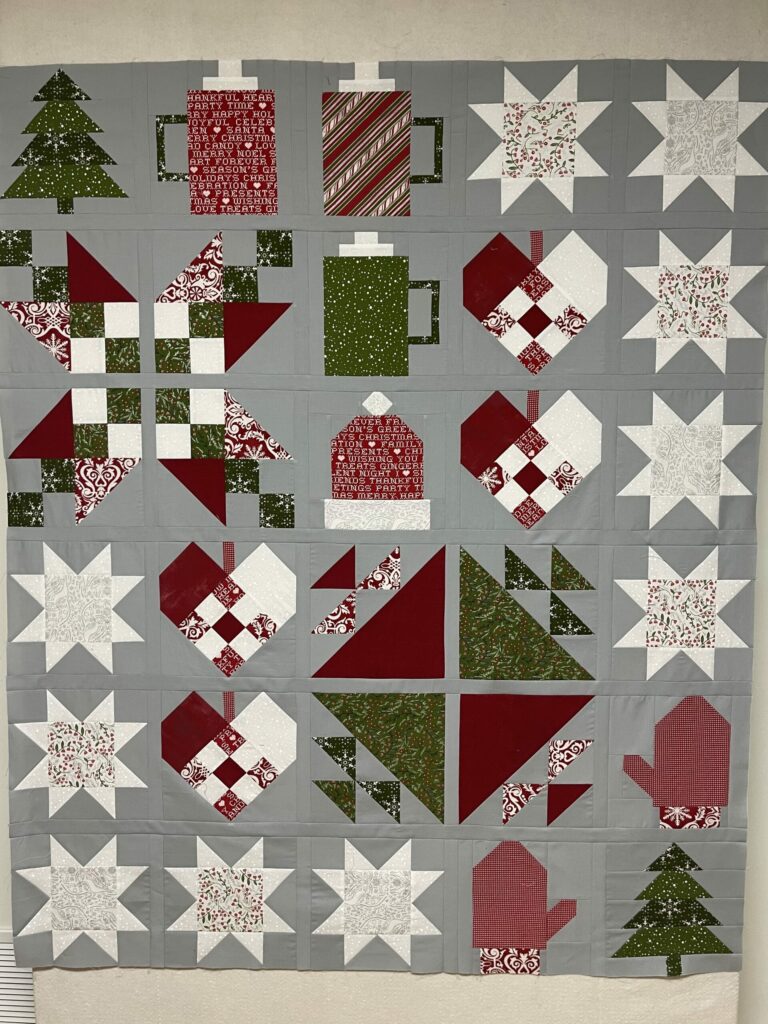 with a full tank of quilt mojo, i kept the party rolling. next up, national park wall hangings/quilts for the lidkids. derek bought me a zillion panels when we first settled back into the house and i never really knew what to do with them. recently, i ordered a bunch of coordinating fabric on clearance, so with the zillion panels plus like 12 yards of various coordinating fabric on hand, it seemed like a good time to make something happen.
i started with ike's wall hanging, and he chose arches national park. i had the bright idea to cut up a panel of postcards of a bunch of the parks and put them around in a border. it was miserable. they were weird sizes and the math was dumb. but, eventually i had the top, bottom and sides. i scoured my fabrics to make scrappy cornerstones. and hit up the thrift store for neutral, national park-esque, top sheets to be used as (cost effective) backings.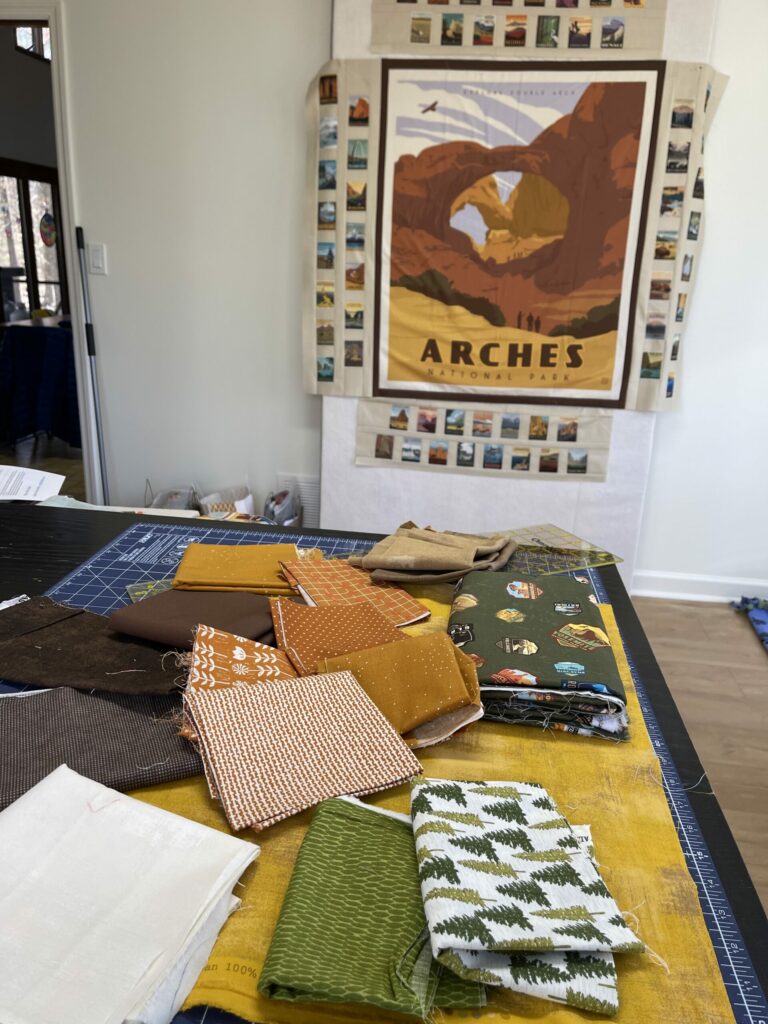 i returned to my quilty roots, making scrappy wonky stars for the cornerstones and i couldn't love it more. the quilt is currently basted and awaiting quilting. and i have no idea how to proceed.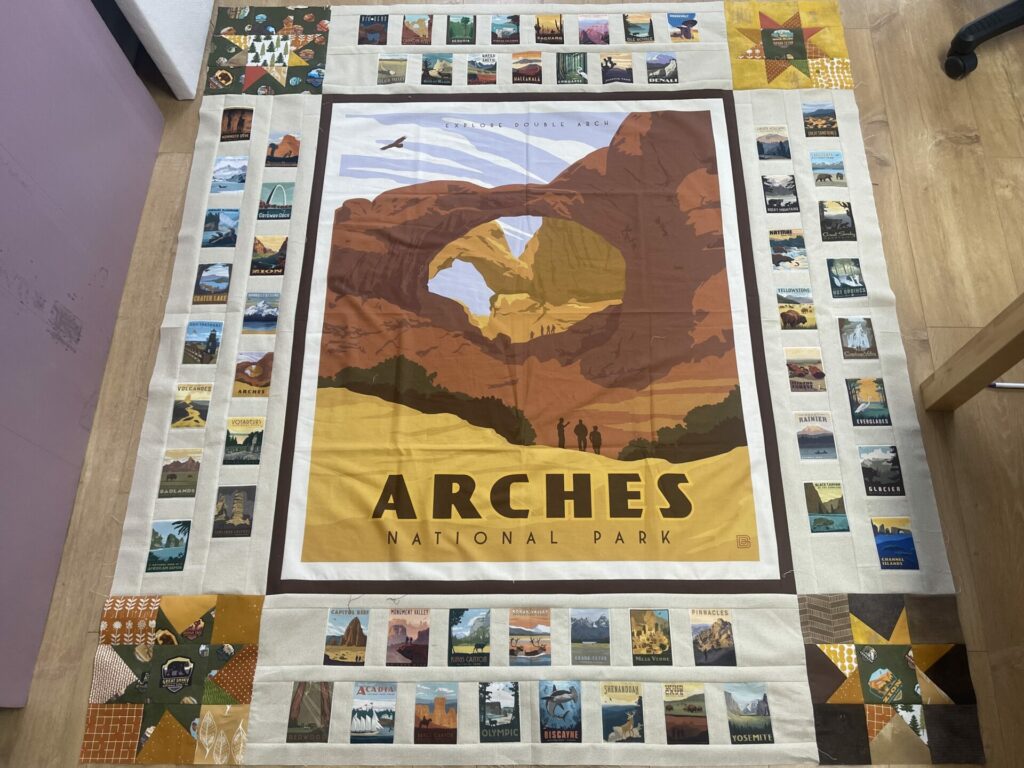 so, instead of proceeding, i folded it up and started another quilt top. this time, it was everglades, for derek. this will be an actual quilt and not a wall hanging, so i'm trying to make it a little bit larger. it was a lot easier to pull fabrics for this color scheme. especially with the help of these two.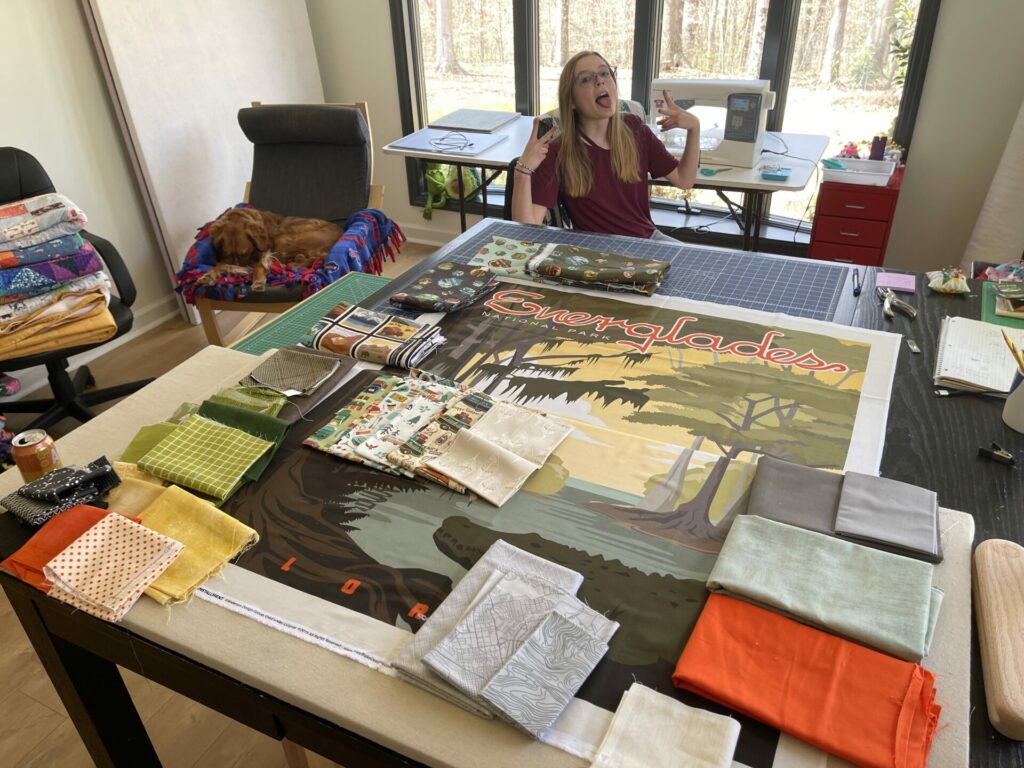 i carefully calculated that if i added a certain amount of border, i could put a border of flying geese going all the way around, without cutting off anything. these panels are really testing my math skills. anyways. i made the geese scrappy, but used a grunge background that i picked up at the shop that goes perfectly with the waters in the 'glades. i added an outer border of national park patches and this sucker is ready for a backing. a backing that i do not possess. so. i folded it up and started on a new quilt.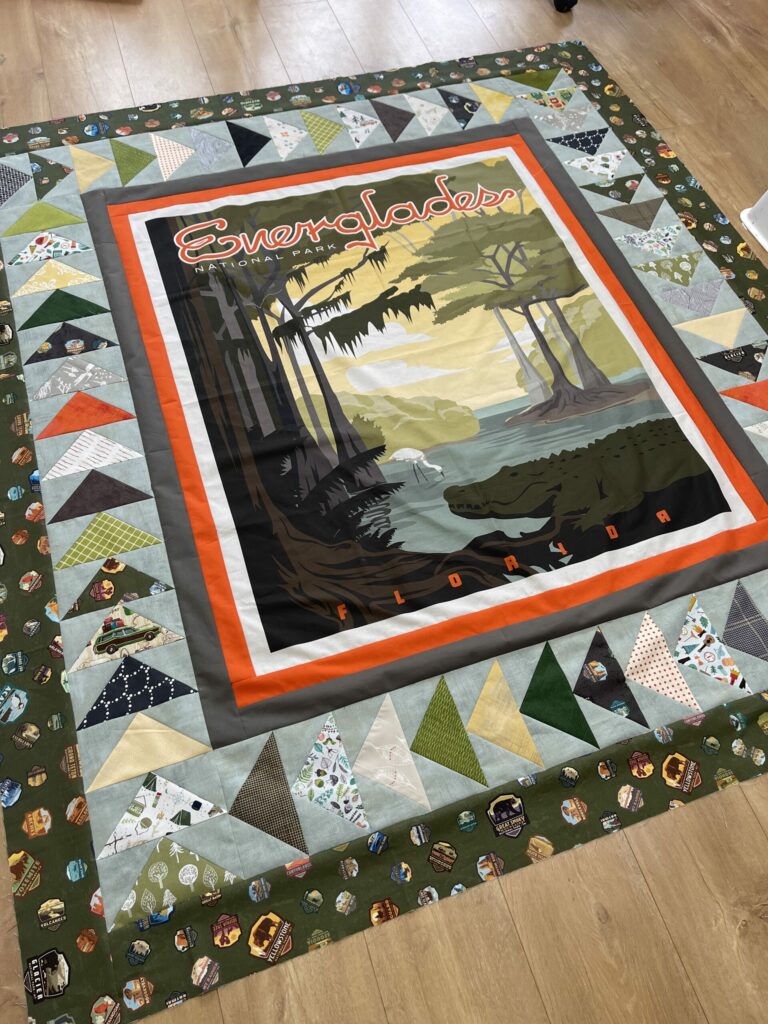 since i'm actually making pretty good progress on this next one, and i hope to finish it up soon, i will not sure much but this sneak peak of the fabrics all cut and ready for assembly.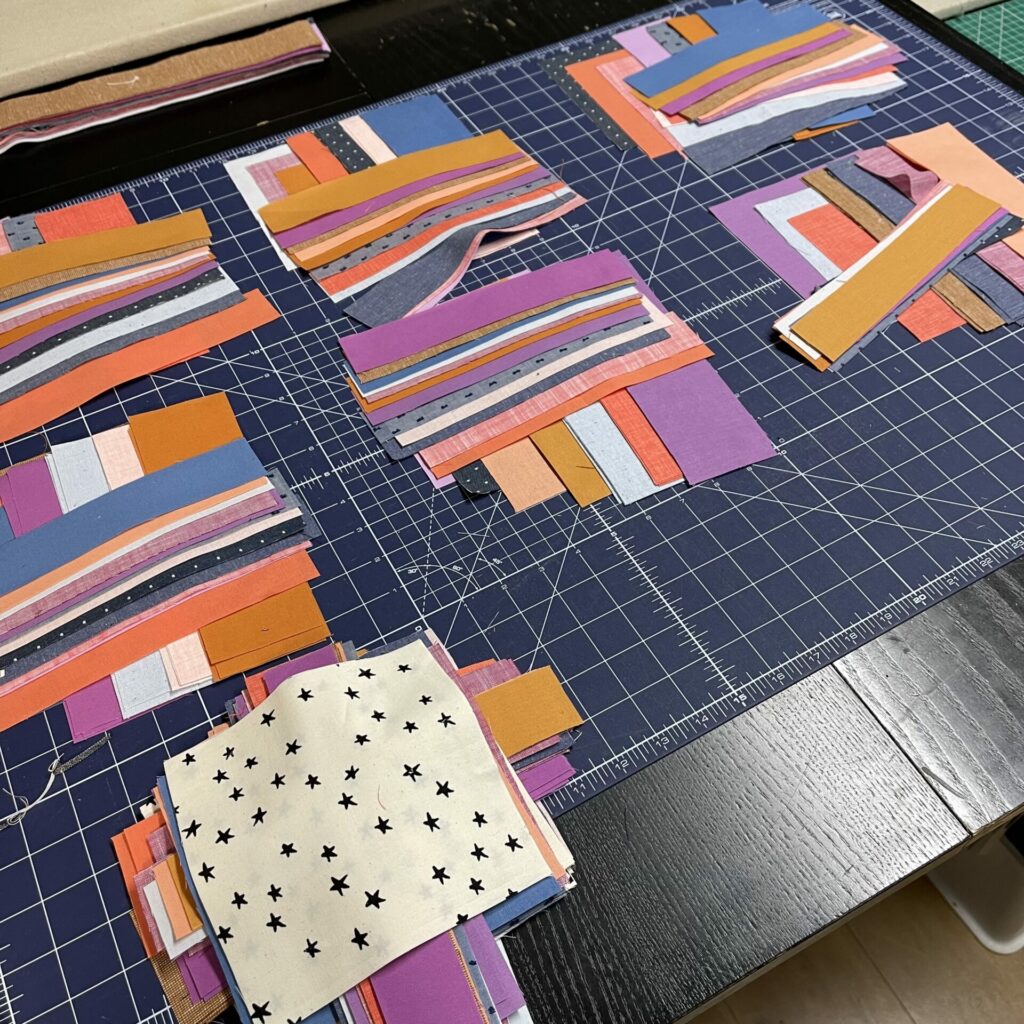 aaaaand. that brings me mostly up to date with my quilting life. lots of starts. not many completions. but a lot of fun stuff in the works.