for the last week of our great northeastern summer adventure, we had a week booked in lincoln, new hampshire at a time share resort gifted to us by the grandlidboms for christmas. but i'm getting ahead of myself. first, we had to get there, with some stops along the way.
we woke up bright and early in our little lodge in the adirondacks, partook in their free saturday made to order breakfast, and loaded up the old subaru for our trek. at the border of new york, we encountered our first obstable/adventure, a quick little ferry shuttle across lake champlain into vermont. very exciting.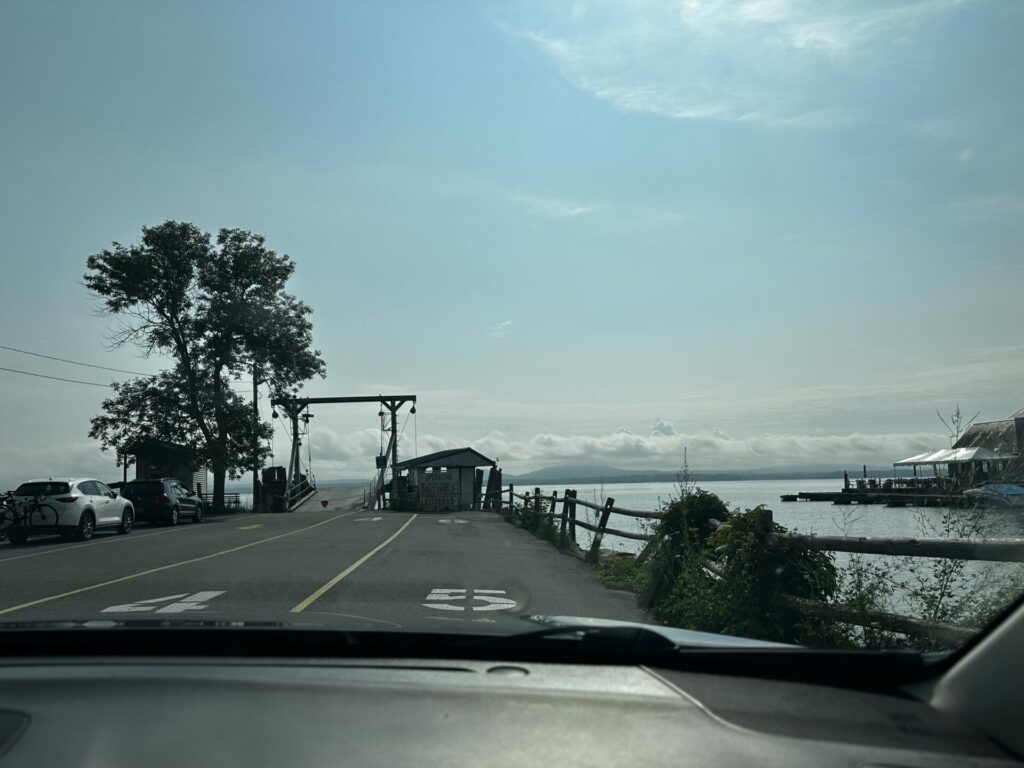 once we were back on land, we started north towards burlington, where we planned to go to a huge farmers market. then, we happened upon a much smaller, but cuter, farmers market in sherburne, snagged a parking spot, and proceeded to buy excessive amounts of sugar and carbohydrate laden items. breads, pastries, pretzels, maple syrup, macarons, and of course, the food most often spotted on farms across america, cotton candy.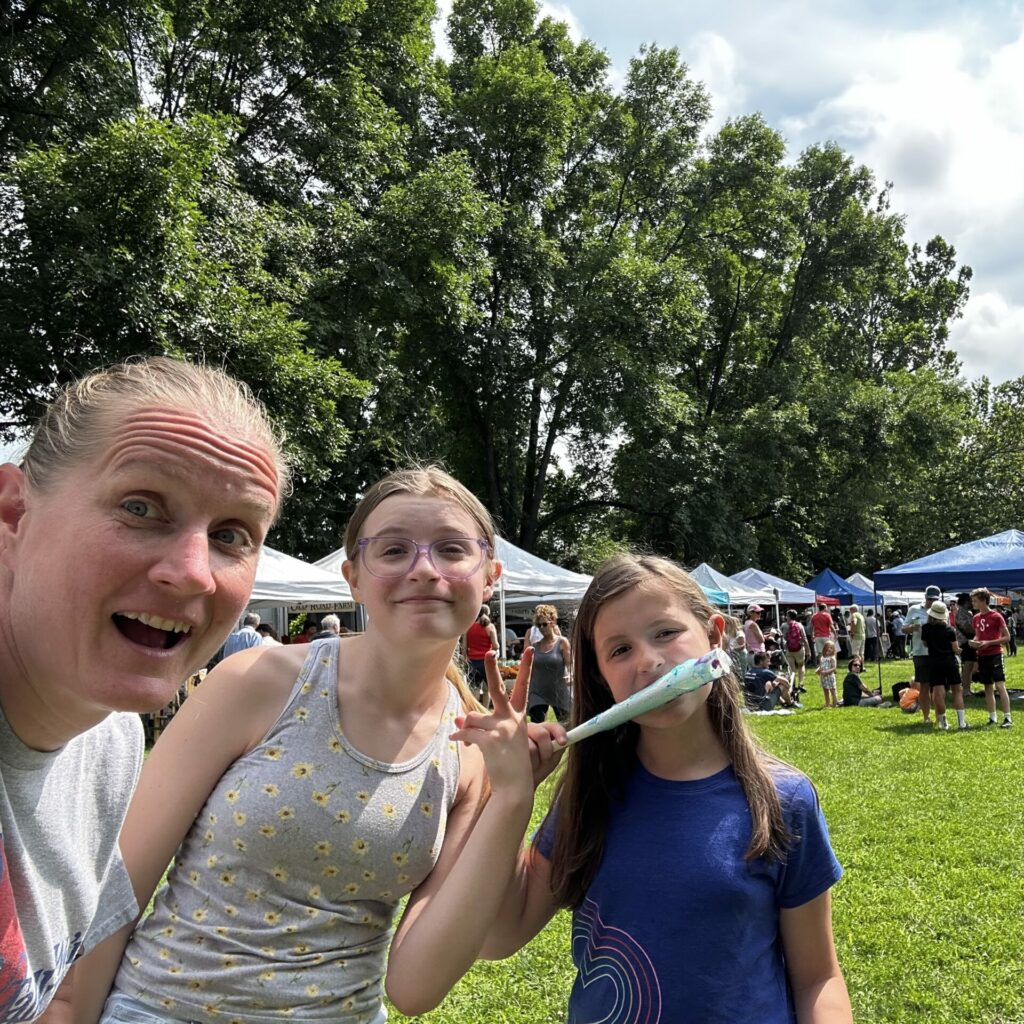 after hitting up all of the stands, we piled back into the car, and continued on to burlington. the farmers market there was HUGE and parking was stressful, but we made it happen, and soon found ourselves the proud owners of even more maple syrup, maple candies, maple hot sauces, and maple lemonade. it was getting hot at this point, and close to lunchtime, and we didn't want to spend a million dollars and hours to eat at the farmers market, so we found a local diner and scored some relatively cheap lunch fare.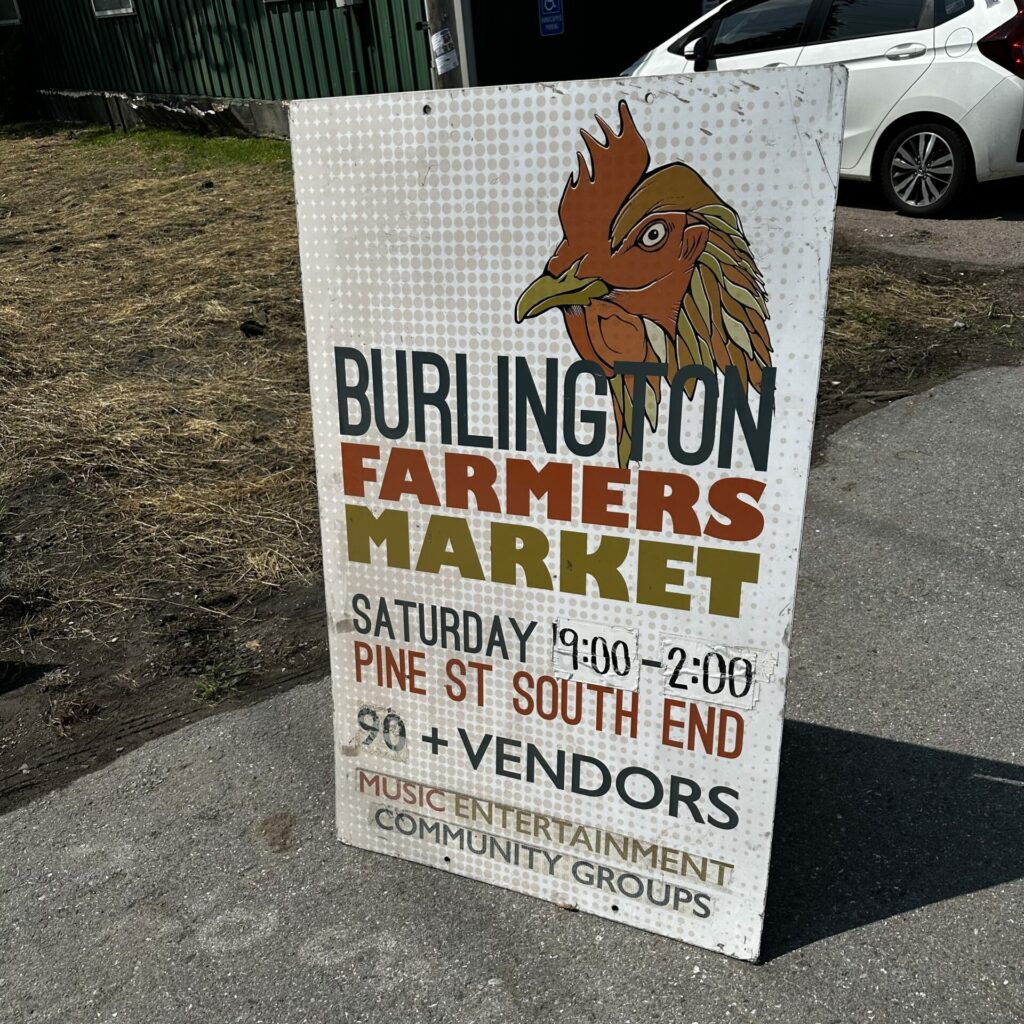 i don't have a lot of pics from the rest of our time in burlington. we stopped at a few outdoor shops before driving to our hotel and getting settled in. (the hotel was super cute, in a quaint/expensive little ski town, and i have no photos to prove this claim).
after a little afternoon rest, we rallied the troops for our big vermont themed adventure, a ben and jerry's factory tour at their original location in waterbury, vermont. (we scrapped all the hikes and outdoor adventures due to unwilling participants).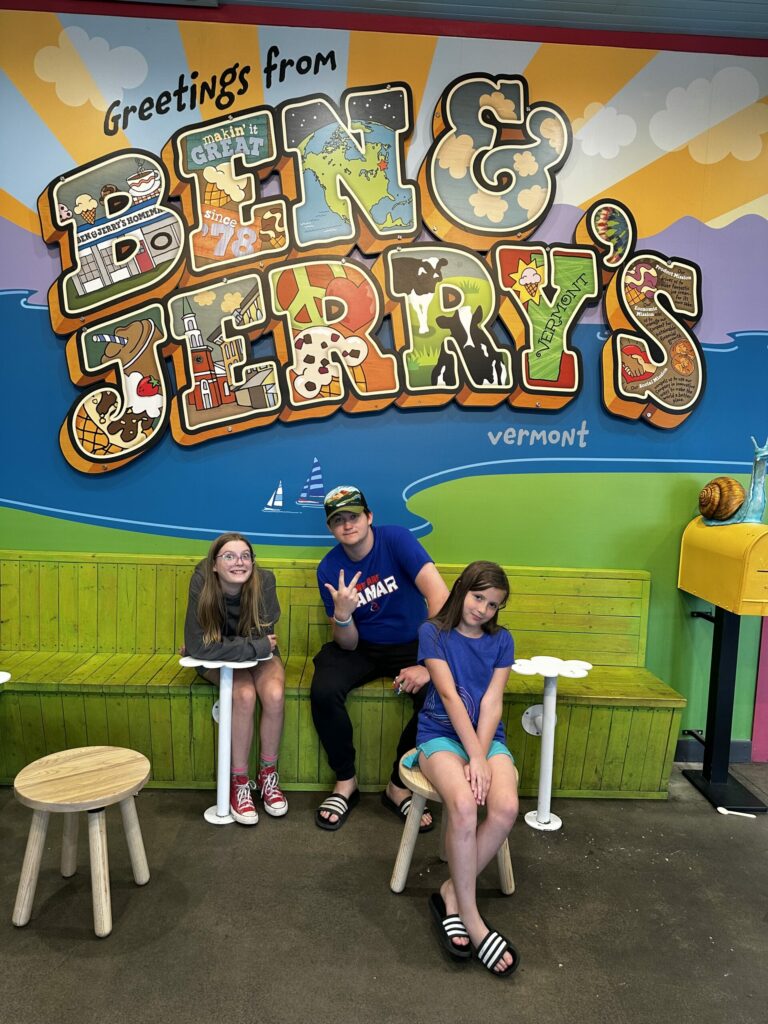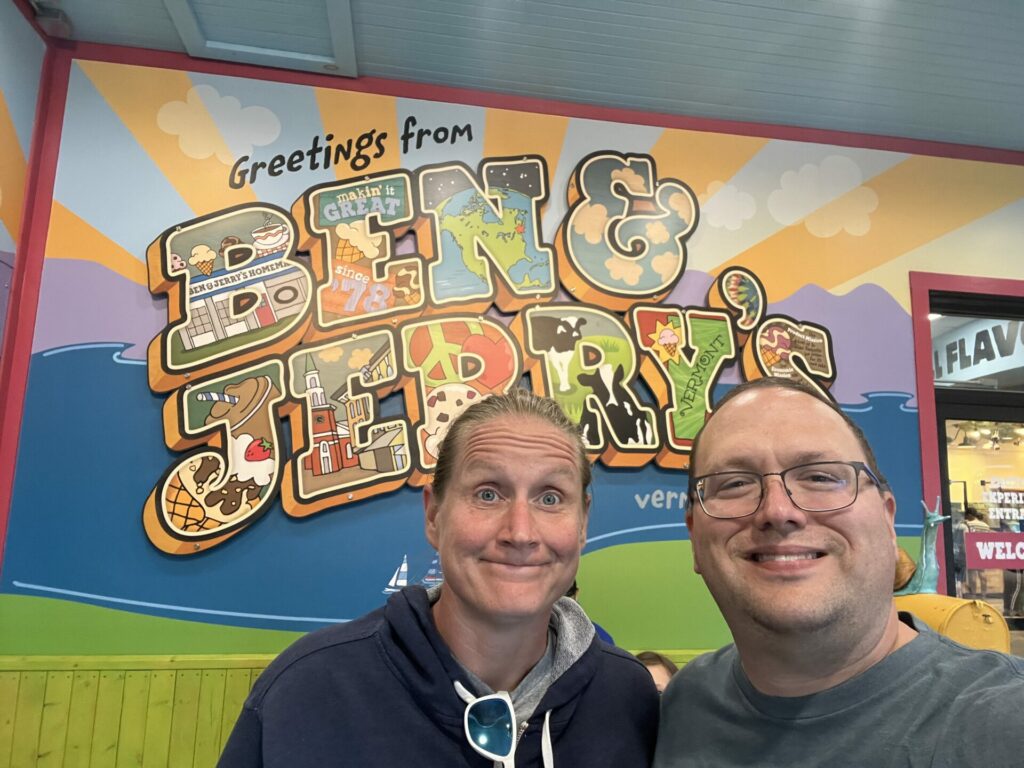 the "tour" started with a video, followed by a quick explanation of what all the machines on the factory floor did, while we overlooked the operations from behind a window above. it was an evening tour, so there wasn't really anything happening on the floor and we weren't allowed to take photos of the nothing happening anyways. the final stop of the tour was the tasting room, which was delightful for all attendees. when we were done, it was time for a more proper tasting, purchased from the official ben and jerry's ice cream shop.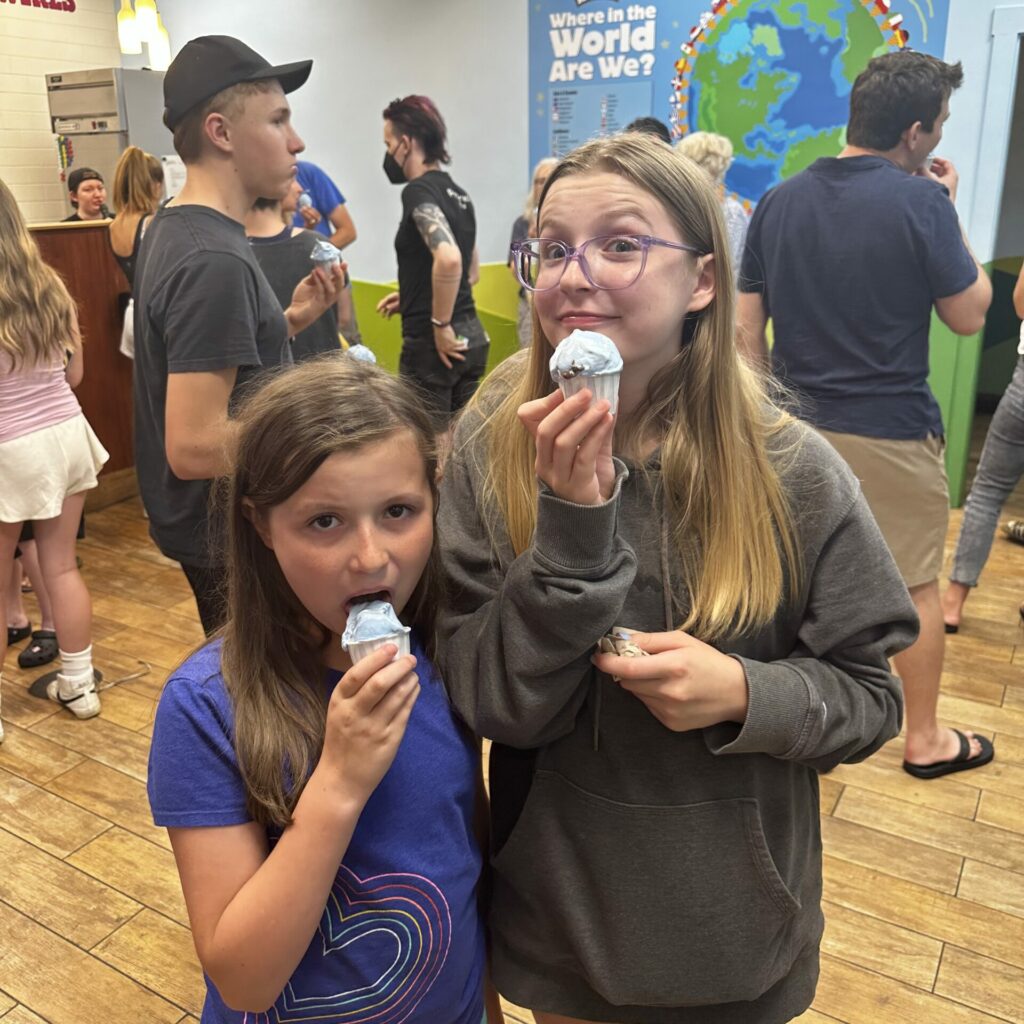 before we left, we strolled over to the flavor graveyard to read up on all of the retired (dead) flavors, including a favorite of mine and derek's from our early married days, oatmeal cookie chunk.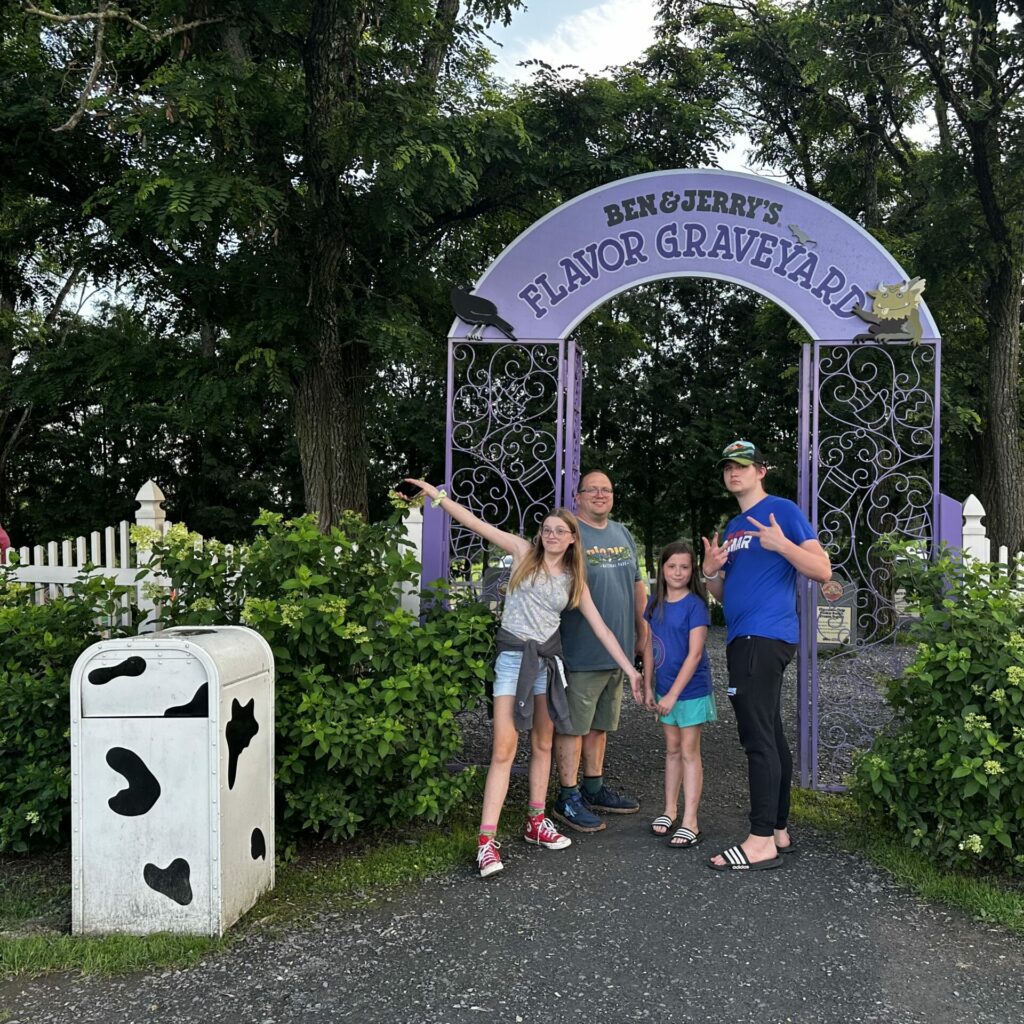 then. back to the hotel. sleep. wake. back on the road.
in the morning, we made a bee line for montpelier, vermont, to knock another state capital capitol building off of our list. sadly, montpelier (and much of vermont) was in a state of emergency, due to flooding from the rains that had been battering the adirondacks around the time we were there. it was very sad and surreal driving through town and seeing all of the cleanup and aftermath from the devastation. especially the piles of books outside the library. we had to walk to the capital, because the roads around it were closed, and we tried to just get in and snap a pic and get out, since tourism is the least important thing to these folks on this day.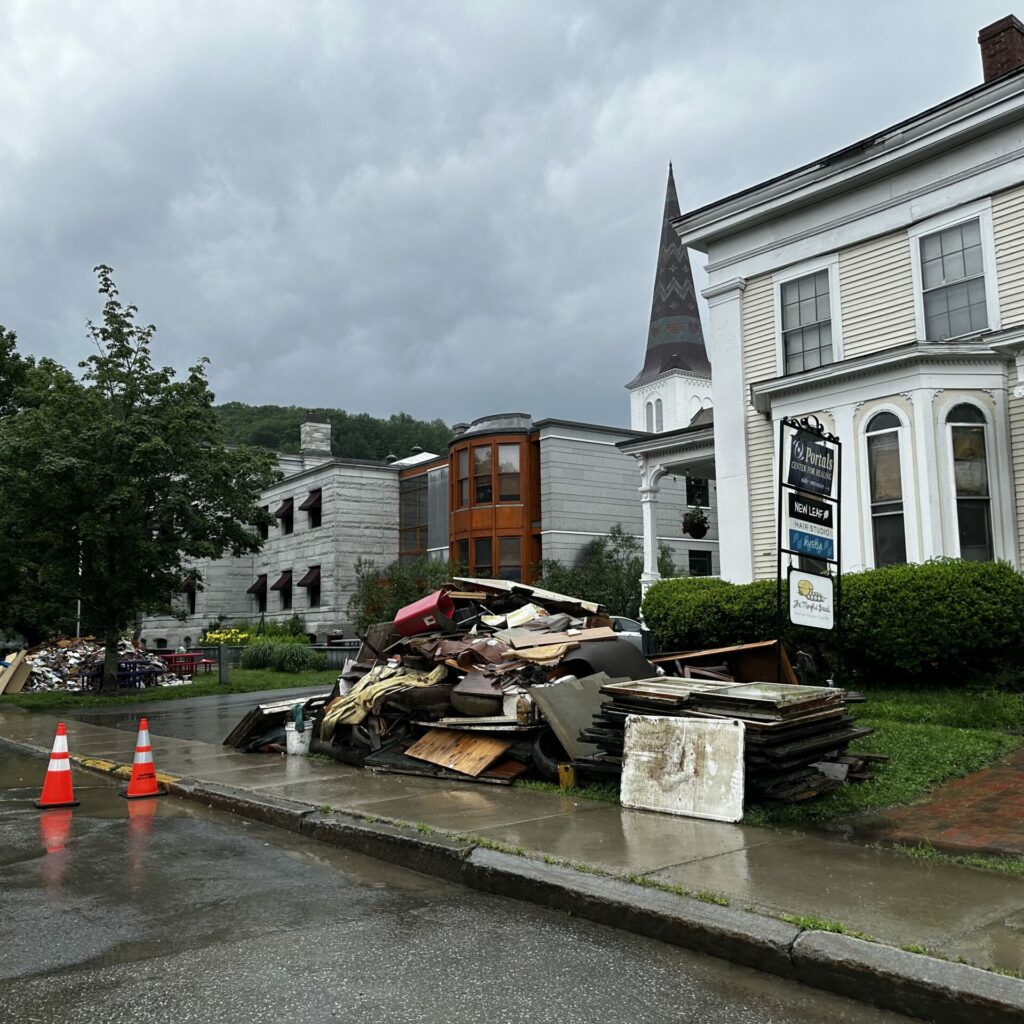 we headed north out of montpelier, not all that far, to morse maple farm. our first order of business was taking the "tour" (a video and a self guided walk around the equipment) of the farm.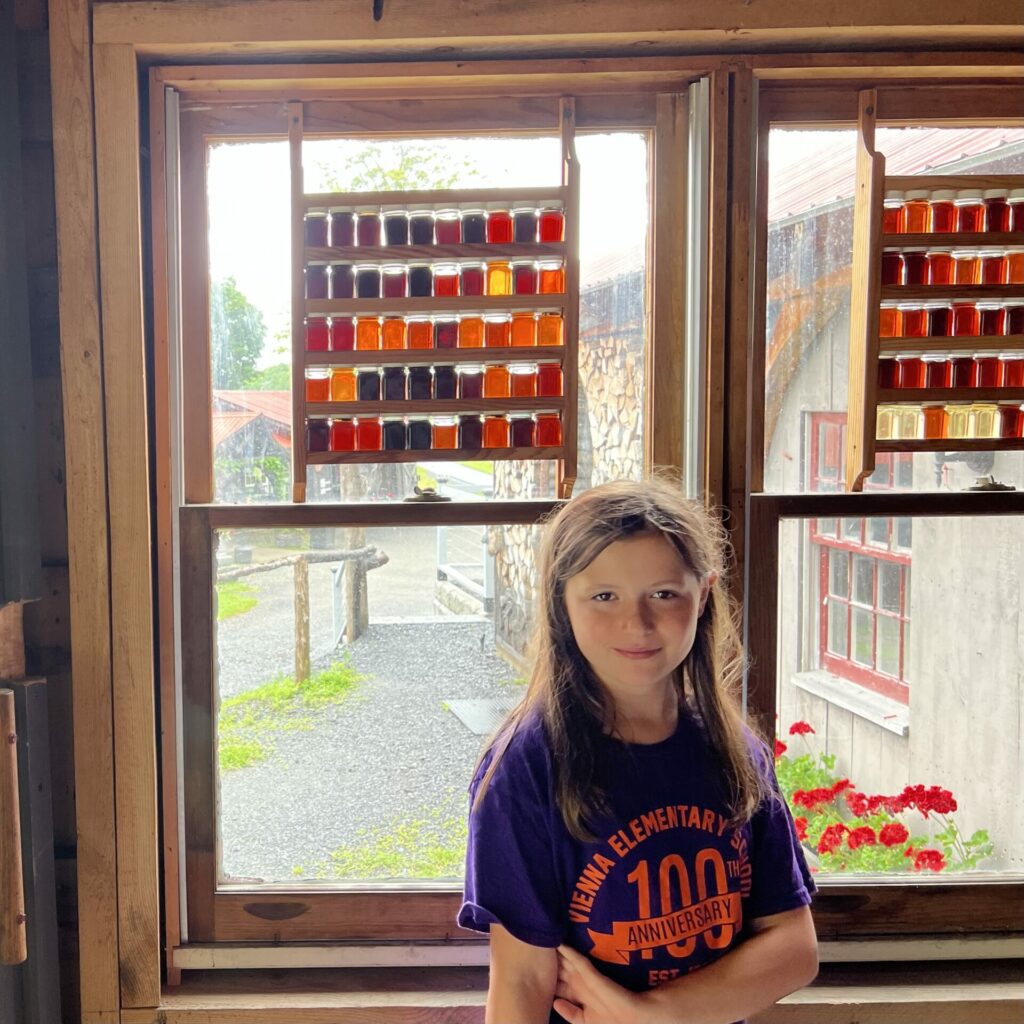 we also bought some food to feed the goats.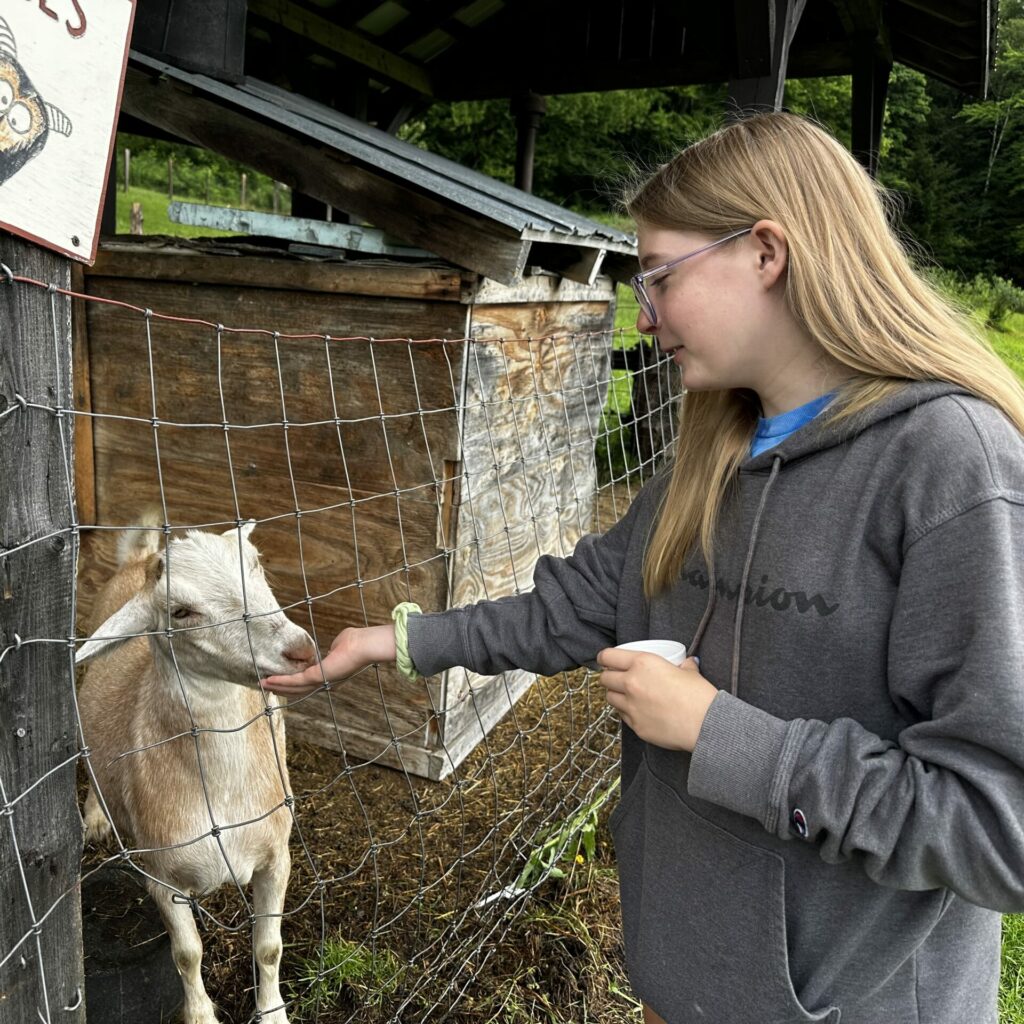 we scoured the store for all of our maple themed needs. and of course bought MORE syrup. we basically bought maple syrup everywhere we saw it, from ithaca until the last day of our trip. we are probably set for awhile.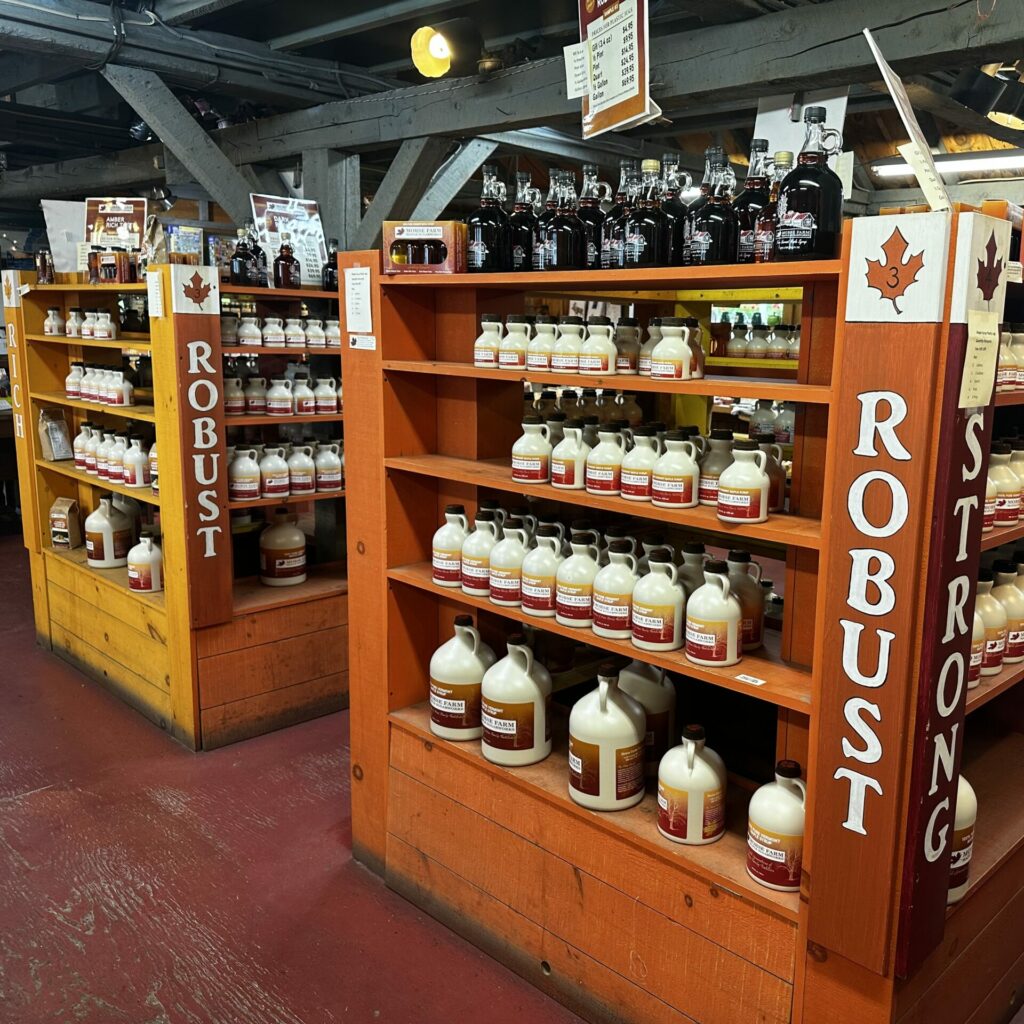 and for our grand finale, a maple creamee. yes. hazel had hers in a cup. derek and i had a cone dipped in maple sugar. and anna had a sundae, complete with syrup, maple sugar sprinkles, and whipped cream (not shown). she didn't finish. isaac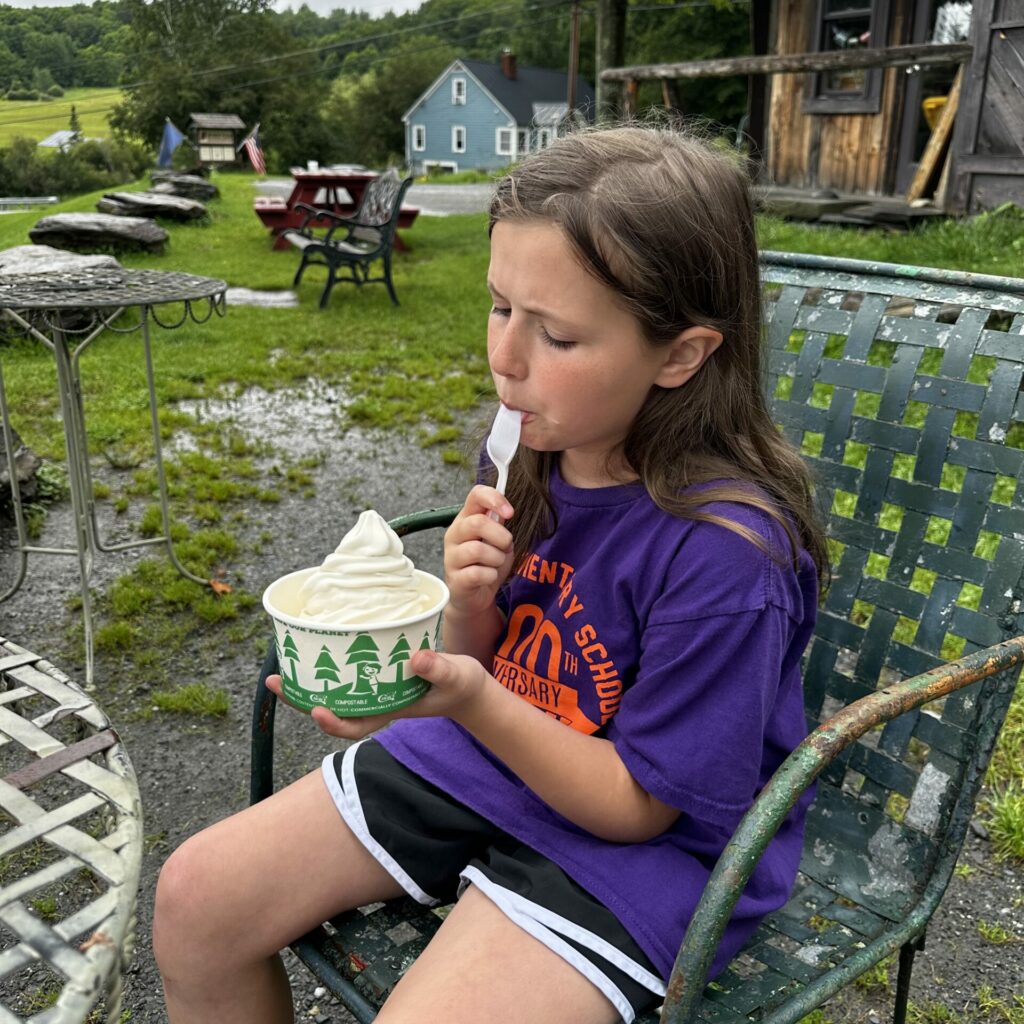 so. we were so excited when we arrived at the maple farm, when we spotted a replica of the state capital in montpelier. we made sure to get a photo with said replica before we left. probably one of our favorite state capital photo situations to date.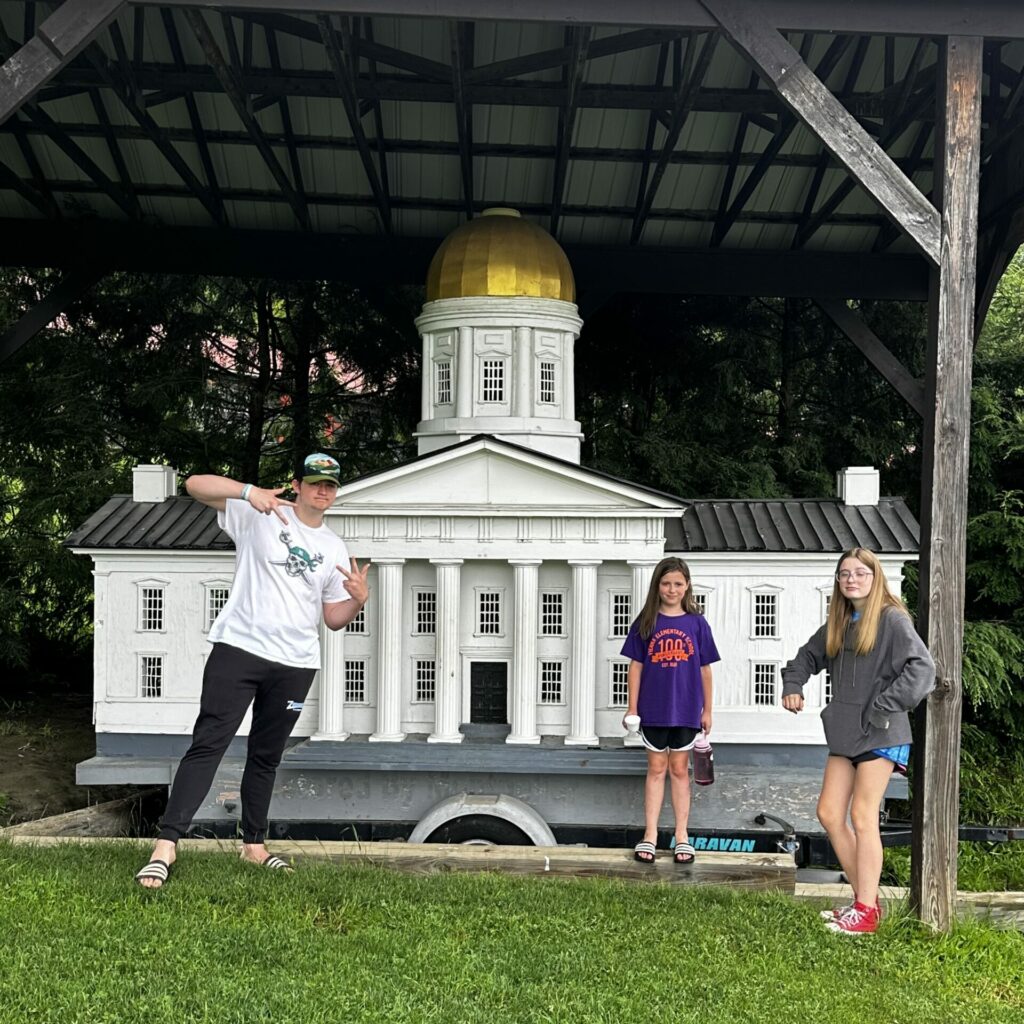 oh my. still so much to do. like finish the drive to new hamphire. but first. a stop at a covered bridge. and then a long drove through flood ravaged vermont, which was so sad.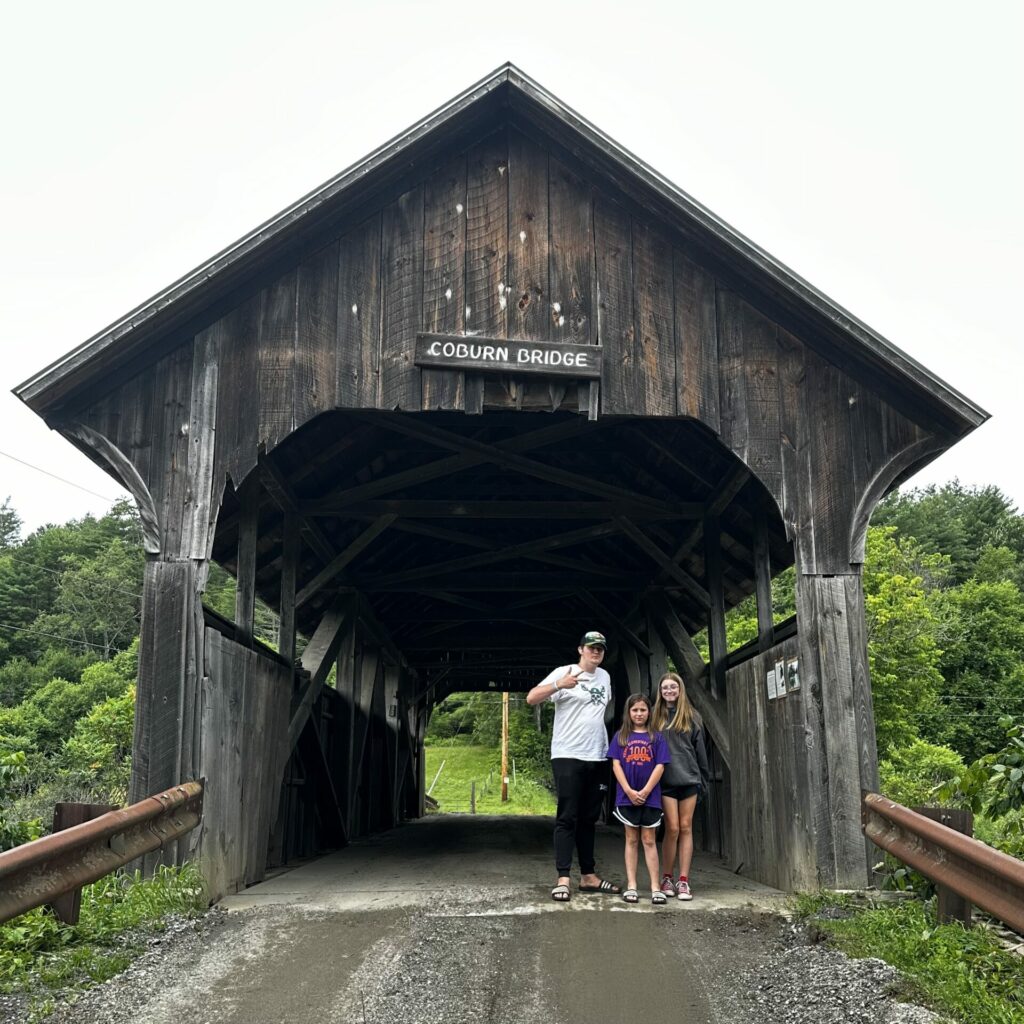 the travelers started to become hungry and we knew we couldn't make it to the resort (and grocery shop and prepare a meal) before eating, so i found a little hidden gem along the way. we weren't really passing through regions that looked inhabited, let alone had many restaurants, but this little pizza/bakery spot was a very short detour and it was ah-maze-ing. now i don't even remember what kind of pizzas we got, but one had clams and the other sausages and ricotta and we had enough leftovers to have them again for another meal.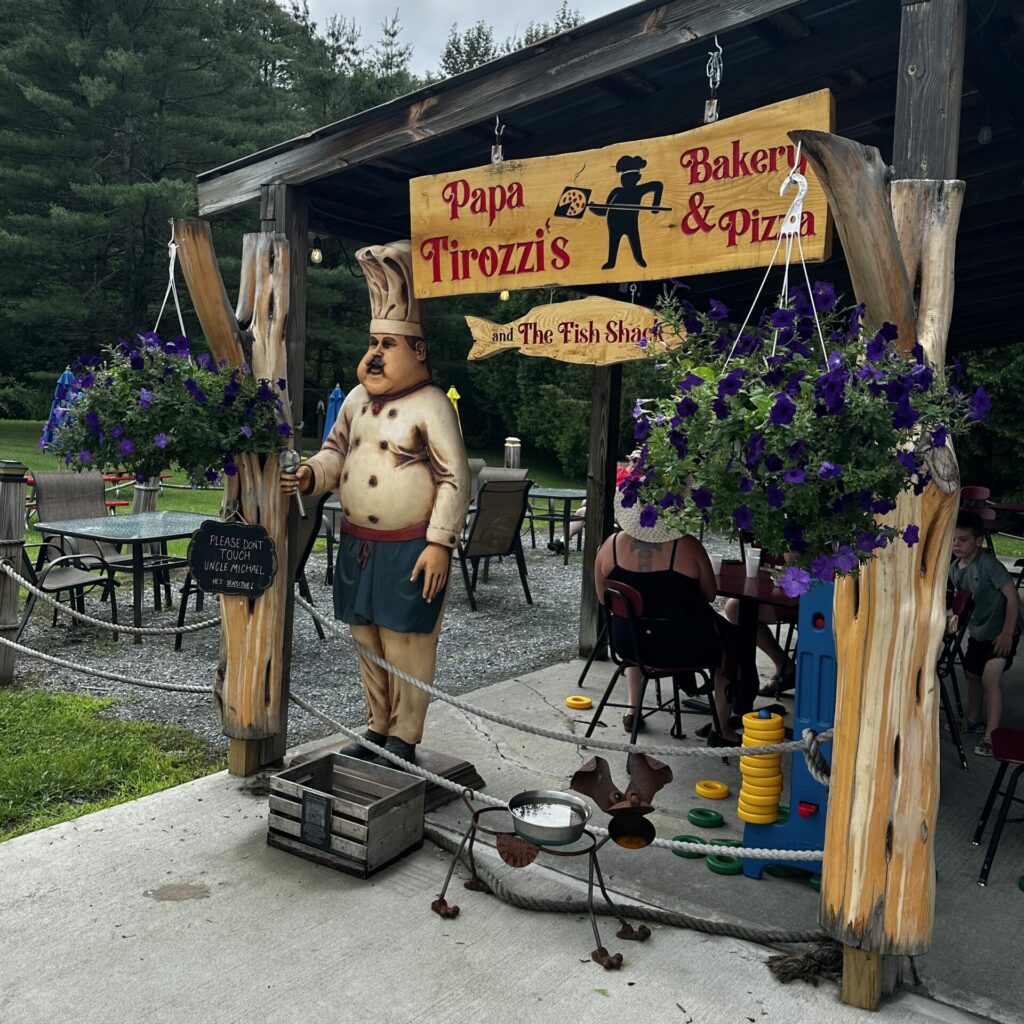 sooooo. we eventually made it to our resort. it felt like FOREVER. there was pretty sketchy weather for the last part of the drive. and then the unloading of alllllll of our stuff. we were exhausted. but of course. the kids still wanted to check out the pool. and after a long day/week/weeks of doing all the things i wanted to do (although i don't think they minded all the ice cream), who was i to deny them?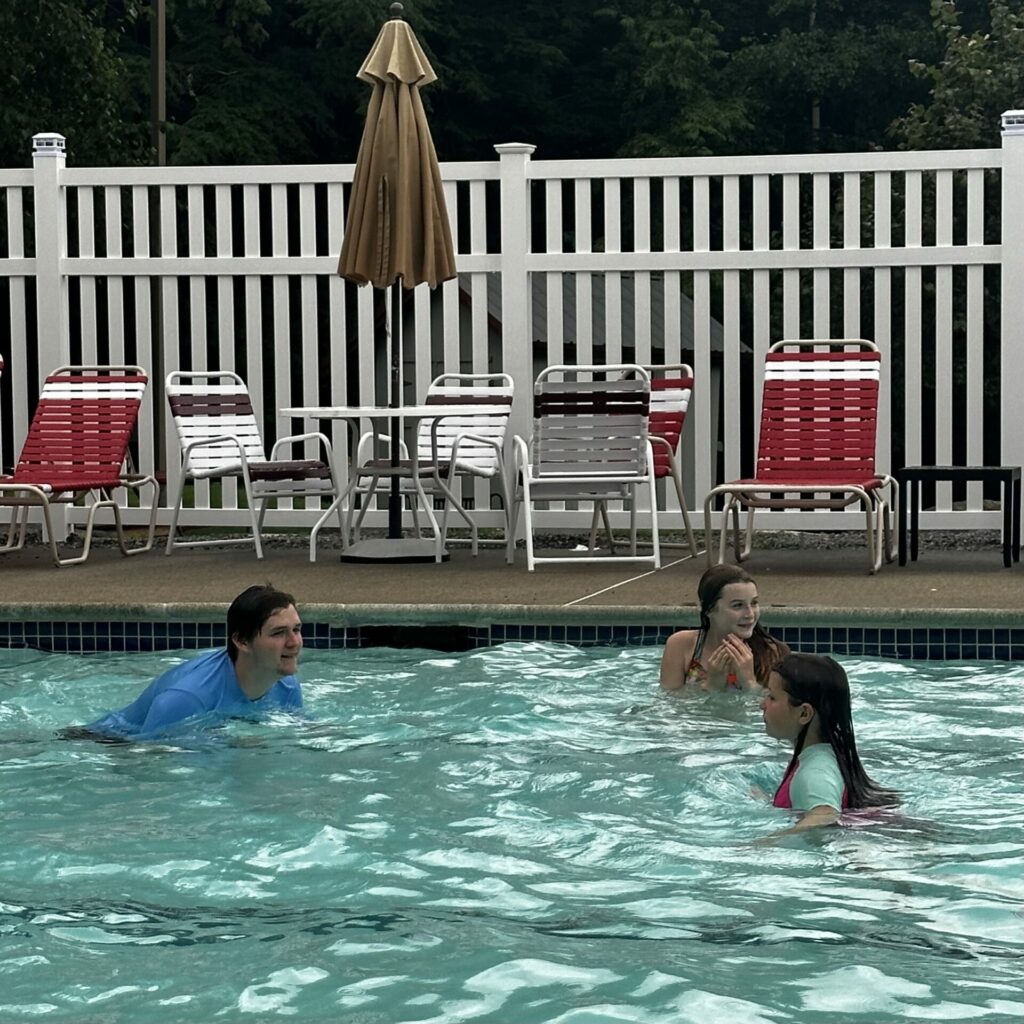 and that brings us to… our final week in new hampshire. (and i MIGHT just get this blog caught up before we head off to our next super BIG EPIC adventure in two days).