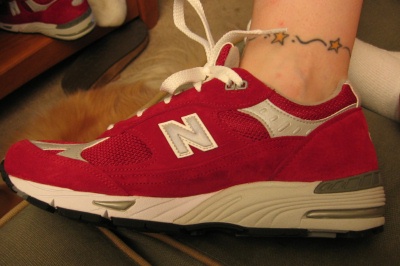 Today, when I arrived at home, I was greeted by my husband and our faithful companion, Lucy. Lucy was wearing her hiking pack and was rambunctious, and I assumed that Derek had gone on a walk with her.
I sat down to eat my [warmed over] dinner and Derek pointed out that there was something in Lucy's pack for me. I gave the sides of the pack a squeeze and the realization that they were sneakers came over me.
I unzipped the sides to reveal my heart's desire: Red 991's. The room filled with brightness. I'll never need another sneaker. This is the last pair. (I say that every time).
In other news, Julie starts back to school with her crazy teacher tomorrow. The sentence was served.