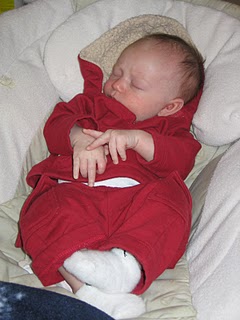 So, the boy is five weeks old today.
He's changed a lot lately. He's been sleeping a little bit better. And he seems happier. He still needs constant entertaining, but at least he's not crying all the time. We'll see if it lasts….
I decided to see if any of his "cute" clothes fit. He mostly wears pajamas, because they are easy and we don't go many places. I chose the outfit that Lorena (and Steve and Josiah) gave him (before he was born). I don't think he'll be able to wear it too long, because of the weather. The pants are a little big, but that makes it all the more cute. I can only take pics of him sleeping in the day, because of the whole "constant entertaining" thing. For the record – getting his picture taken doesn't qualify as entertainment for the boy.