on thursday january 21st, isaac and i embarked on a trip to batavia, new york, 14020. little did we know the fate that awaited us…
the trip up:
we had planned to leave on friday, but the local forecast didn't look too hot for the morning, so we decided to get on the road thursday night to beat the storm's arrival. we left around 5ish and planned to stop around 10 or so. we found a delightful little comfort inn in weston, wv and settled in for the night. in the middle of the night isaac started squirming and whining and coughing. the coughing worsened and then turned into throwing up. this made for not a very restful night, to say the least. but, we managed to get back to sleep and then back on the road in the morning…
batavia:
we rolled into town around 2 pm. the entire ride, isaac implored me to turn around and go home. he informed me that he didn't want to see "any of those people" that i mentioned we'd see while in new york.
batavia was snowy. and cold.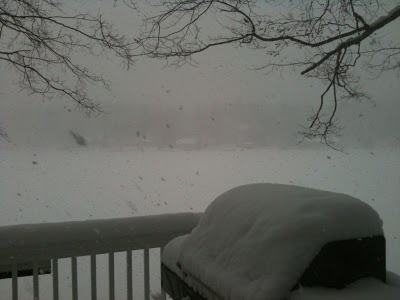 and it seemed to continue to snow and be cold for the duration of our trip. dragging isaac in and out of the elements (as well as my pregnant fat self) was a daunting task, so we felt snowed in. except for the day that we went to julie redband's….
the accident:
on wednesday, we went to julie redband's to play with her kids (and some others that she keeps). then, we went out to pick up some subs (some delicious subs) and head out to visit my aunt eleanor. after carefully letting every single car in sight pass by, i pulled out of the parking lot of the deli. as i approached a red light, i slowed down. i glanced away for a moment, and when i looked back, i was pretty much ramming into an old man in a ford focus. i don't really know how it happened, but the best i can figure is he was slowing down way way way before the light, the way sometimes "older" folks tend to do. (i do still take full responsibility for the accident, i'm just trying to make sense of it all…)
insert funny isaac story here:
after the initial smashing of vehicles, isaac began to cry. i asked if he was alright, to which he replied, "i spilled my drink". while we sat and waited for the police, isaac kept apologizing, saying, "mom. i'm sorry i made a big mess back here". i reassured him that it was ok. it wasn't his fault. it was mine. then he apologized, "i'm sorry that YOU made this mess back here". funny boy.
anyhow… the damage didn't look too bad, but i was worried that i did something to the part of the car that magically makes it turn on and go. so, i had my stepdad take a look and a spin. he gave me the ok to wait until arriving back in nc before repairing it.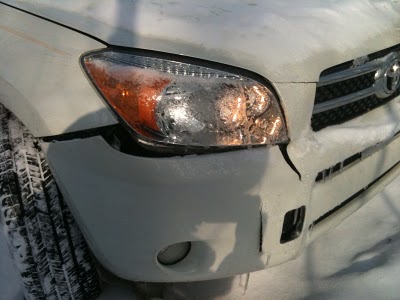 snow storms and delays:
between the terrible weather in north carolina that caused schools to close for nearly a week and the continuous snowing in new york, we pushed our departure day back from saturday to monday.
(here's where it gets fun)…
the trip home.
on monday morning, we packed up the sweet ride and headed on our way. we were making seriously good time and were about 4:15 into the trip when i started to hear a weird clicking sound and most of my warning lights lit up my dashboard like a christmas tree. we pulled over at the first available exit. ruff creek in pennsylvania. aka: the middle of nowhere.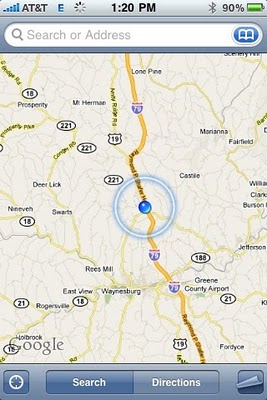 i opened the hood (as if i knew about anything i was going to be looking at, only to find it completely spattered with gooey pink liquid.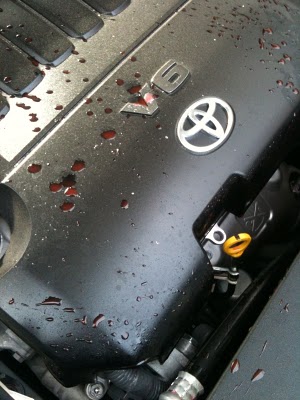 i'm smart enough to know that that is bad. so, i called derek….
an hour later, we wound up getting towed (which isaac greatly enjoyed) to waynesburg, PA, about 6 miles away.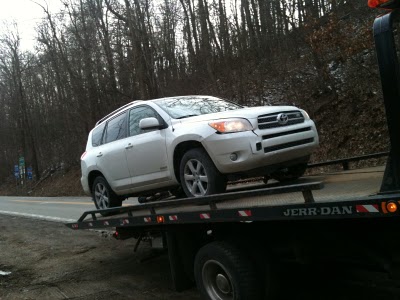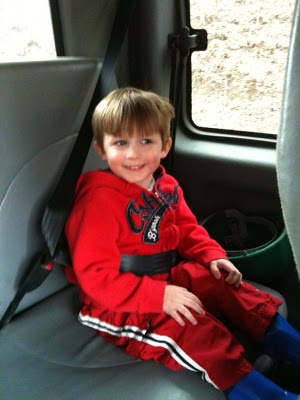 upon our arrival, we learned that i would need a new radiator. (note: in PA, they pronounce radiator with a soft a sound. like radical.) the repair would take until the following afternoon. so, we secured a rental car, a kia rio, and a hotel and began our unexpected layover in the not-so-happenin' town of waynesburg, PA.
our night in the hotel was much more enjoyable this time, with both of us sleeping solidly through the night. the problem was, we had to check out at 11 and the car wouldn't be ready until "the afternoon". we found a walmart and bought snacks and a couple of toys to kill some time. then a burger king with a playground that helped us get to about 1 pm. from there, we found a library, with a great childrens section with lots and lots of toys. this would be a lifesaver.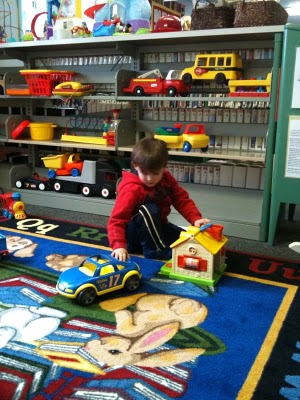 AND, since waynesburg, PA is not on AT&T's 3G network, my phone was draining power before my eyes. the librarian let me plug my phone in and get charged up for the days 50 zillion phone calls (and endless checking of facebook out of complete boredom).
at 3:30, i got the call that my car would be ready at 4:00. we made a quick exit and got the rental gassed up, turned in and made our way to good ol' chuck's collision, where our chariot awaited us. by 4:18, we were back on the road. we arrived home a little after 10 pm. derek and lucy were happy to have us and i have never been so happy to see my house. my couch. my bed.
reflection:
i'm very thankful for a lot of things. that isaac and i were ok during the accident. and the girl baby residing inside of me. that we were only a few miles from a town with a tow truck. that the town with the tow truck also had a nationwide blue ribbon shop, since our repairs are covered by insurance because they were caused by the accident. that nationwide let us split the repairs between what was needed to get back on the road and the cosmetic stuff to be completed here. the iphone (to take and mail pics to derek, to figure out where we were, to find the hotel, walmart, library, etcetera, and of course to facebook when completely bored out of my mind). the library! the great folks at chuck's that were extremely helpful and helped entertain isaac during some of the frantic moments.
the biggest tragedy of all: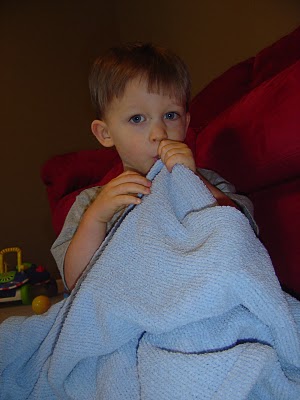 in all of the madness of the day, we misplaced the beloved blue linus blanket. the last place i remember it was the hotel and there was really no other place it could be, but they don't have it (confirmed by 3 phone calls in 3 days), so it looks like it's gone for good. isaac is handling it like a champ. he has slept two nights and one nap without it, without incident. i think i'm the saddest of all. i miss the cute boy bundled up with his blanket over his face. oh well. i can't complain. the transition has been so easy.
so, thanks for bearing with my story. have a nice day!