well, it appears that i've made it through april and that this baby will be born in the month of may…
still no signs of a baby on the way, however.
i went to the doctor yesterday and my blood pressure seems to be creeping up a little lately, so i go back on monday, so they can keep an eye on it.
the due date is wednesday, which is 4 days away. which, coincidentally is the day i had isaac. four days early. so, beginning today, i will be the most pregnant i will ever have been. 🙂
i honestly don't feel that bad. i'm not really swollen. i'm not gigantically huge or anything. i'm just not sleeping great and i'm anxious to get the show on the road.
in the meantime, we've been just keeping busy, trying to do things around the house. little things. we took the tutoring table out of the nursery (the "baby's office" as isaac says). adjusted the crib height from "2 year old who could almost climb out" height, back to "baby that just lays there" height. hung some paper lanterns for a little decor in the corner…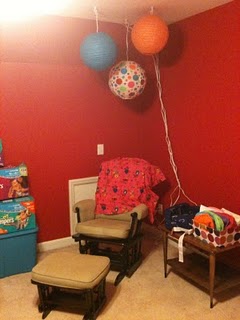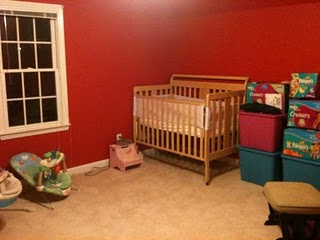 so, that's that. i'll be sure to keep the blogging world posted. even though i'm pretty sure that i'm the only one that reads this blog thanks to stupid facebook. but, i'm not bitter….