Derek here…
While our kids are usually decent during the day (aforementioned exceptions excluded), Anna's lack of post-midnight sleeping takes its toll on Sarah. I often ask how the day was when I get home.
This evening, I realized that there is a non-verbal indicator of how the elder lidkid behaved during the day…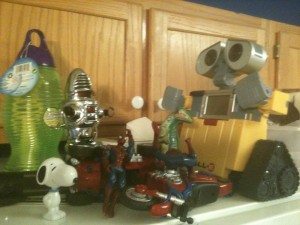 Yep…the top of the fridge. That's where toys go when Isaac throws them or is rude with them, hits someone (much to her delight, Lucy, in this case, does count as a someone) with them, etc. Some of the things (the bubbles) stay up there all the time because they're out of reach, but the rest of what you see has been confiscated.
Now, maybe I can get a feel for the day before I even ask!