so the story starts like many others:
i follow a lot of blogs. and i've created a rather long list of crafty things i want to try someday. one of them was to dye my own onesies. why? why not just buy them the color i want them? well, there's a few reasons. for starters, it seems that most baby clothes companies like to put ridiculous appliques on all their onesies…. "daddy's sweetie" and "little cutie" and so on… another reason is that when you dye them, since the threads are polyester, they stay white. i like the way that looks. thirdly, it's cheaper. packs of white onesies are cheap. dye is cheap. there you have it.
so, the other day, i got started. i dyed 2 short sleeve onesies (one in anna's current size and one in the next) and 2 long sleeve (same thing) and one old white long sleeve tee of ike's that looks like a boy t-shirt, but might be more girly if it was pink. 🙂
this color pink, to be exact: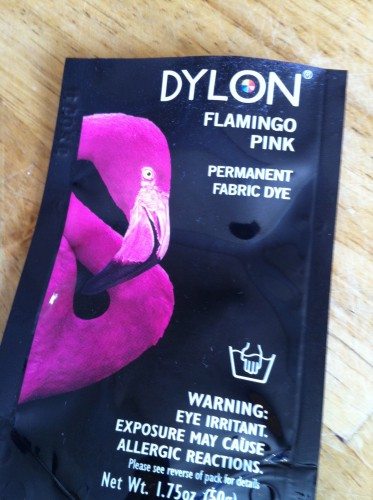 i swished them around in the sink for a while: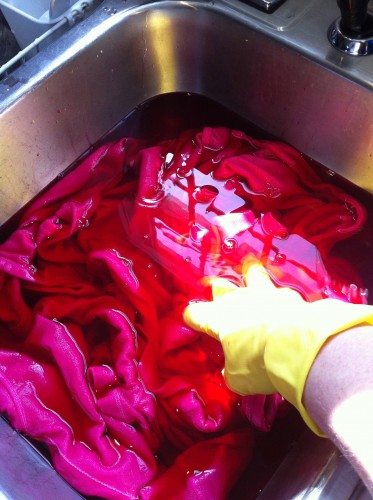 here's the full collection after washing and drying (i thought for sure they would fade to a ridiculous soft pink color, like i dreamed about):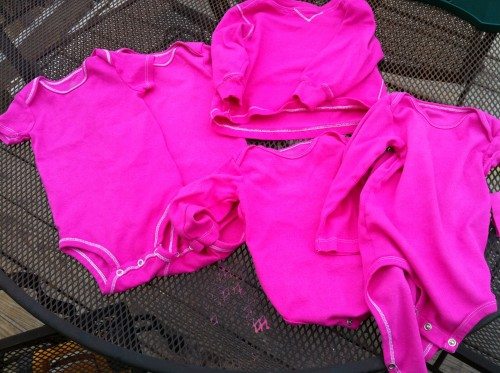 and an up close of one of the onesies. i am having a hard time getting the true color to show up via my iphone camera: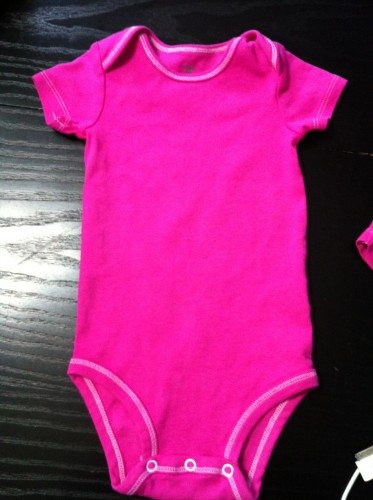 hmmmmm…. now, what do i do with all these pink onesies? i have a few ideas, but the one i went with first, was another idea from bloggy world that has been stored away in my head for some time… freezer paper stencils. when i bought the pink dye, i also picked up some white fabric paint and a brush (and later some freezer paper from the grocery store, even though i think it would be wise for the crafty type stores to sell it… come on joann's!!).
first up, a cupcake…
i sketched it out by hand, and began cutting with my trusty exacto knife. i ironed it down and i was all set to go: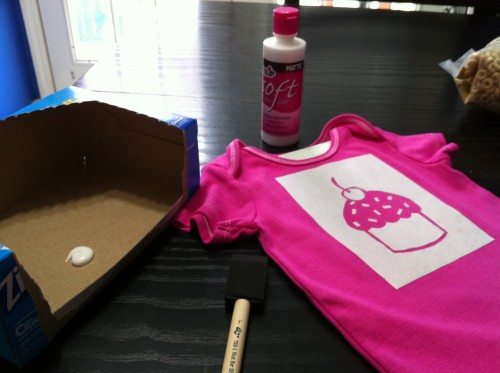 (side note: it is a well known fact (at least to derek) that patience is the biggest hindrance to my crafting (and life) success.)
i may have peeled up the freezer paper a bit prematurely and caused a little bit of the paint to get on the shirt. which didn't really matter, i guess, because some of the paint near the bottom of the cupcake seeped under my freezer paper: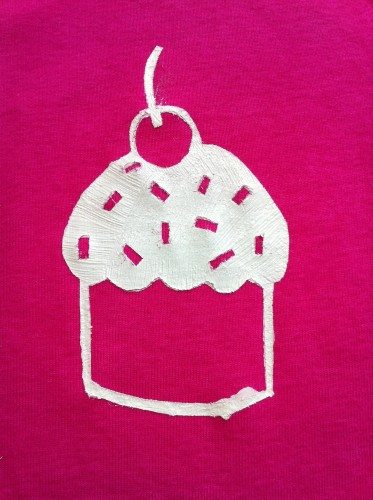 finished shirt: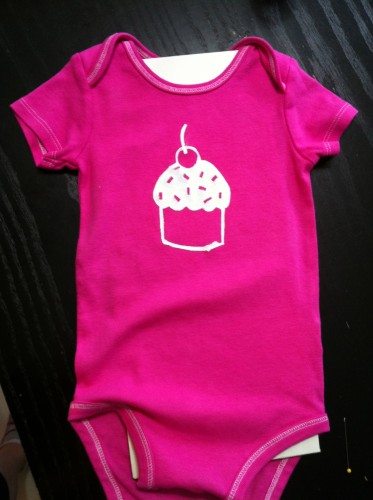 and of course, i needed a picture of the cute model in her cupcake shirt. i haven't washed it yet, and i'm terrified that the paint will fade, so i am getting one good wear out of it first…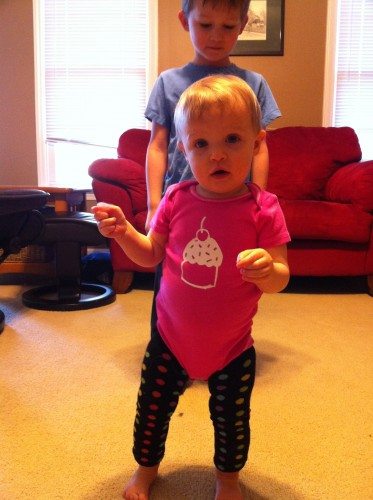 (ps. check out those baby legs!!).
next up: robots!! i've been stockpiling plain colored tees for ike from megathrift and consignment sales. i have a host of ideas: robots, dinosaurs, bugs, and all manner of boy things. and of course, anna needs a pink robot onesie, too. 🙂