a few months ago, i ran into isaac's teacher at joann fabrics (awkward story: i had picked him up early from school, picked up the babysitter, and dropped them at home so she could babysit while i selected fabrics. like any good mom would do.) anyhooooo… we chatted about cakes and fondant and buttercream and stuff when she decided it would be a good idea for me to come to the class to do a little fondant demo for valentines day cookies. so, i did. fun.
flashforward to a few weeks ago. she called and asked if i could make some fondant figures for the top of a cake she's making for a graduation party for her son and some friends. at first, i was a bit hesitant, because it took me about a month to make the only two other figurines i had ever attempted (steph and jeremy's wedding cake topper). but, it would be a good learning experience. and at the time, i had no other cakes in the general time frame that she was asking for.
flashfowarder to early this week. i busted out the different packs of fondant and got to work. bridgette came over and played too. and helped greatly.
i'm hoping to get a shot of these guys adorning the top of the cake, but i forgot to ask her.
anyhow, here are my new fondant friends…
boy sunbather.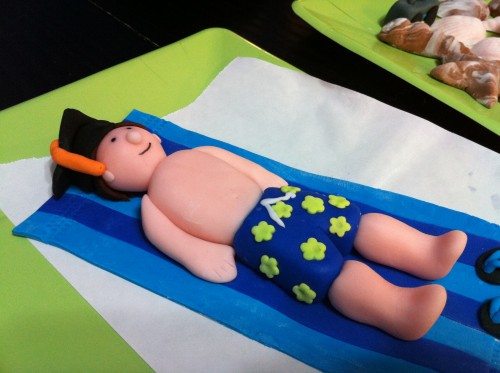 girl sunbather (made by bridgette!).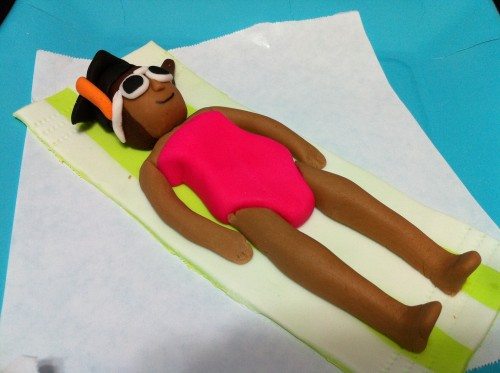 shells, beach ball and boom box.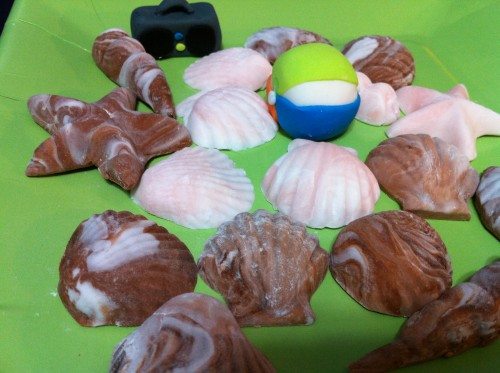 up close boom box. 🙂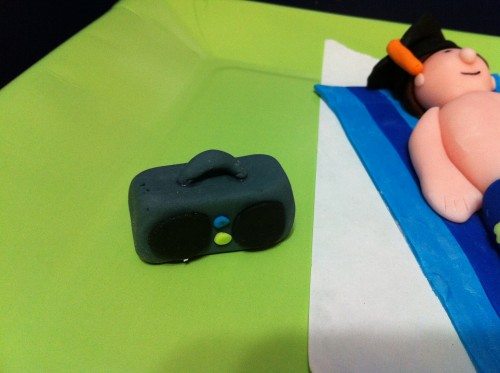 so, i have 60 cupcakes for next weekend and then i'm taking a summer break from cakery! well, unless i want to gift a cake to someone. but, i will be doing no orders. and i'll even be turning down dear friends. but, it's too much without ike at school for a few days a week. and it's too hot to make cakes in the summer. and, well, i just don't want to. and that's reason enough.