the last day!
friday.
back out to the beach. to soak up as much sun, salt water and sand as possible.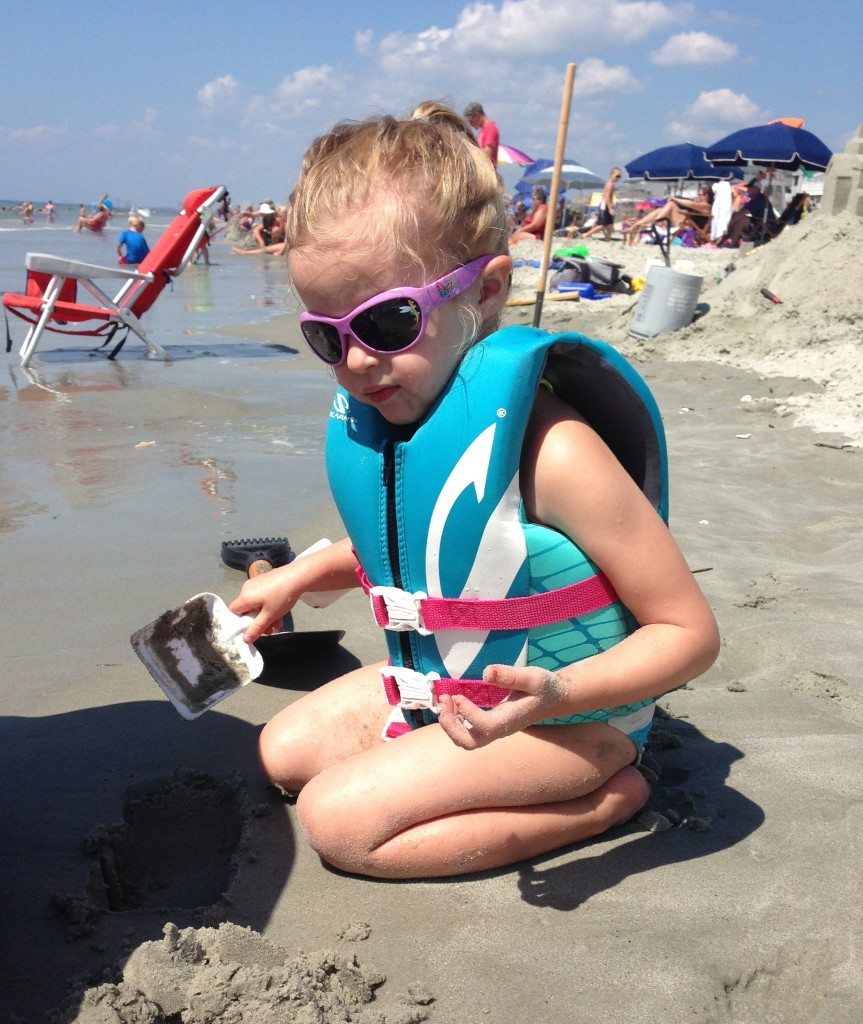 isaac quickly found a group of boys to hang with. and they were JERKS.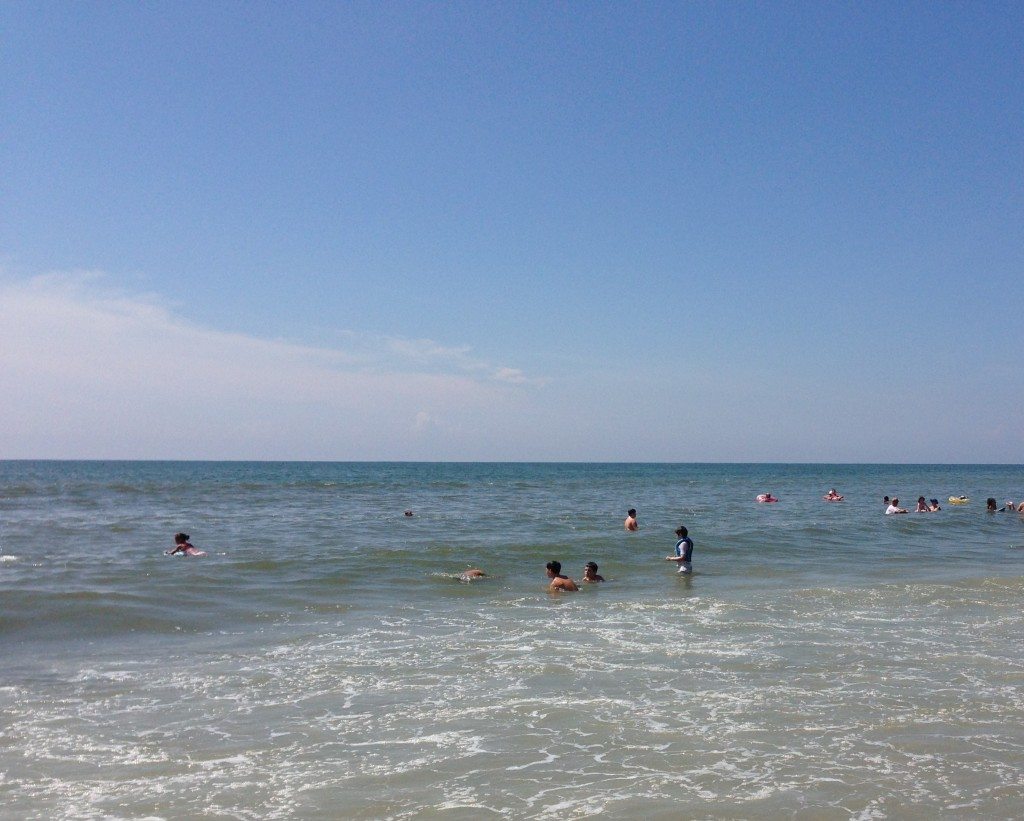 at one point, he came back and asked if he could take off his life vest to show them that he could swim without it (he can't). i made him keep it on because i'm super mean and he headed back out with them. then, i noticed they moved way way down the beach. (side note: they were 9, 9 and 11. ike is 7.) so, he was playing with them still and then he came running towards us and said, "dad, is mom calling me?" derek told him that i wasn't and he said "because my new friends said they thought they heard my mom calling me." i wanted to go over and throat punch every last one of the little jerks. now, i know first hand, that isaac can be annoying. but, it still made me sad. there were a couple of other kids closer by and we explained that those kids weren't being nice and he should try to meet the other kids. he did and they played the rest of the time. and i spent the rest of the morning thinking about going out to the other kids and dunking them.
anyhow. back to beach fun.
it was friday. and there were zillions of beach folks.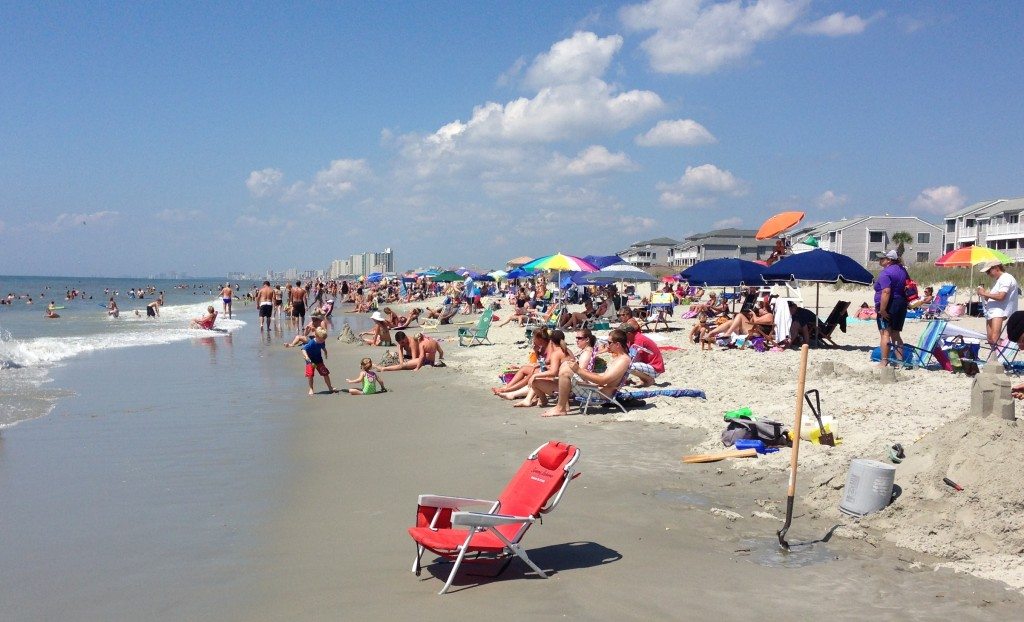 anna was hard at work for her last day.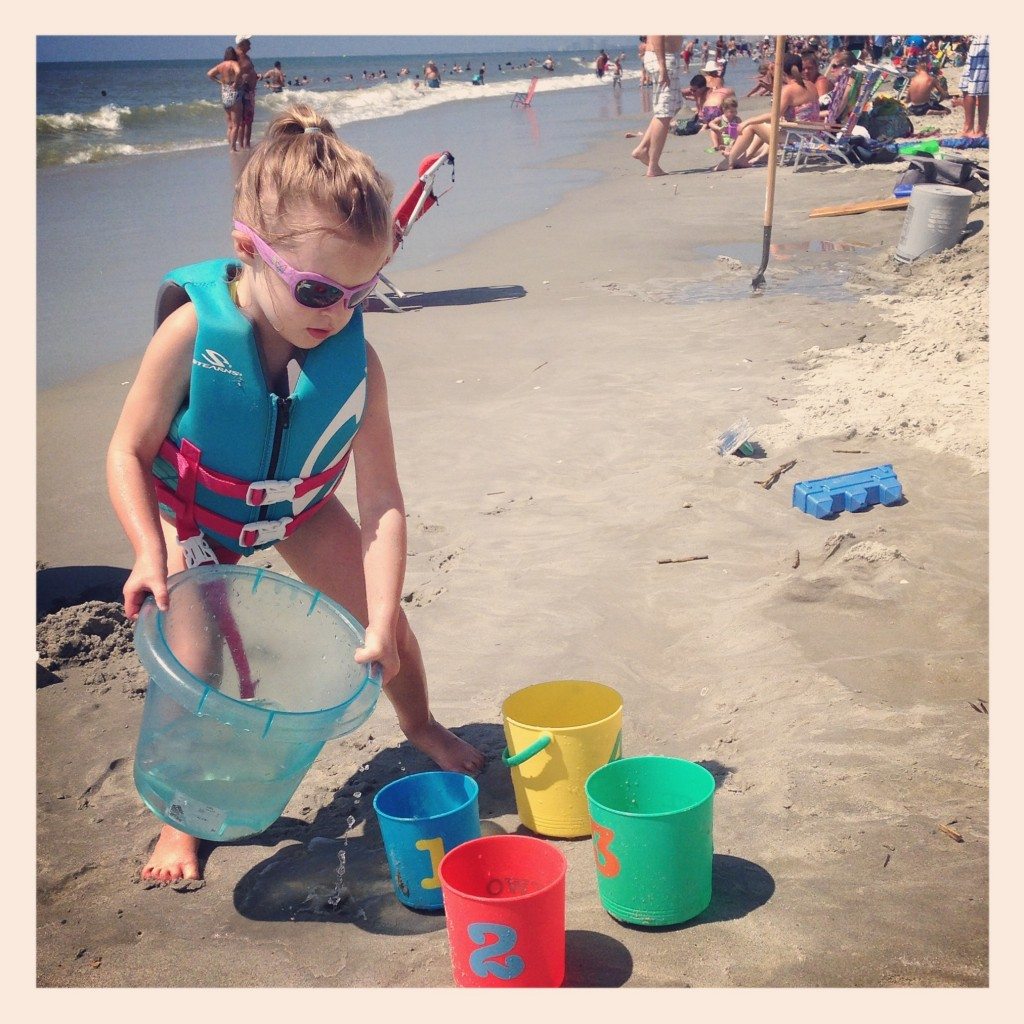 and hazel was everywhere. i tried to keep her under umbrella as much as possible because it was scorching hot and we didn't have the rash guard (or more accurately, the matching bottoms to the rash guard and i'm so vain). and it's so hard to re-apply sunblock to a wet, sandy, slippery little baby. and yes. she ate some sea shells.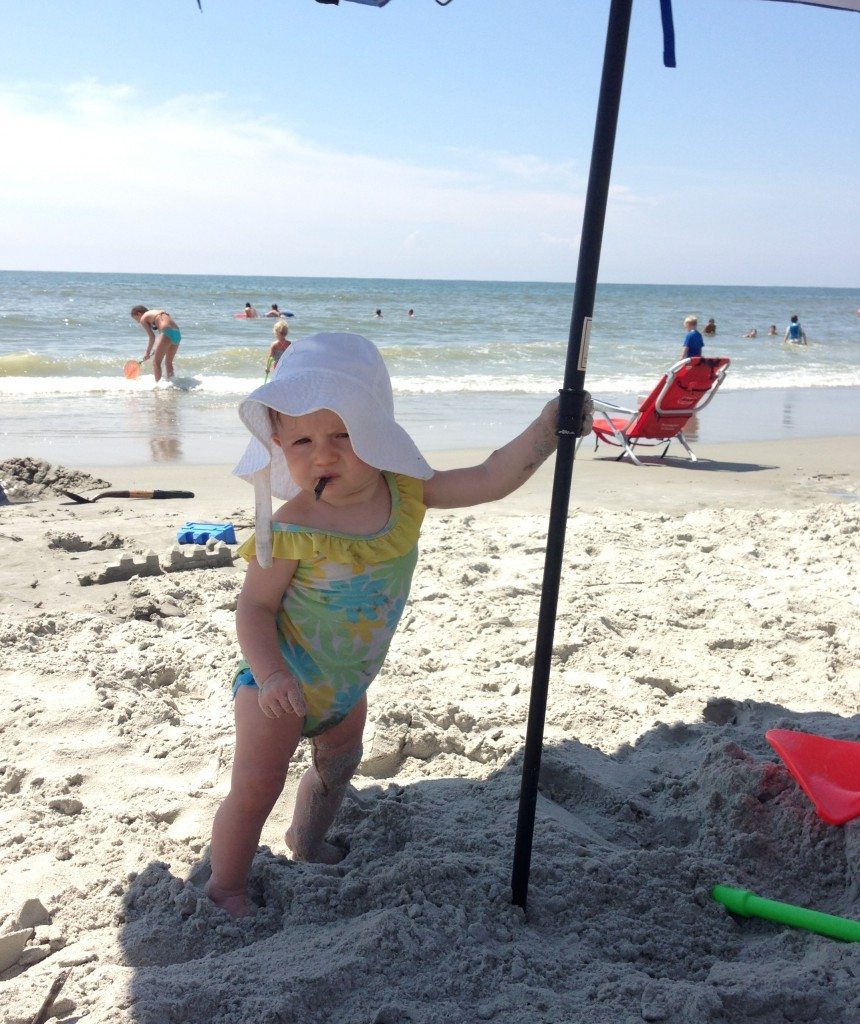 laborer.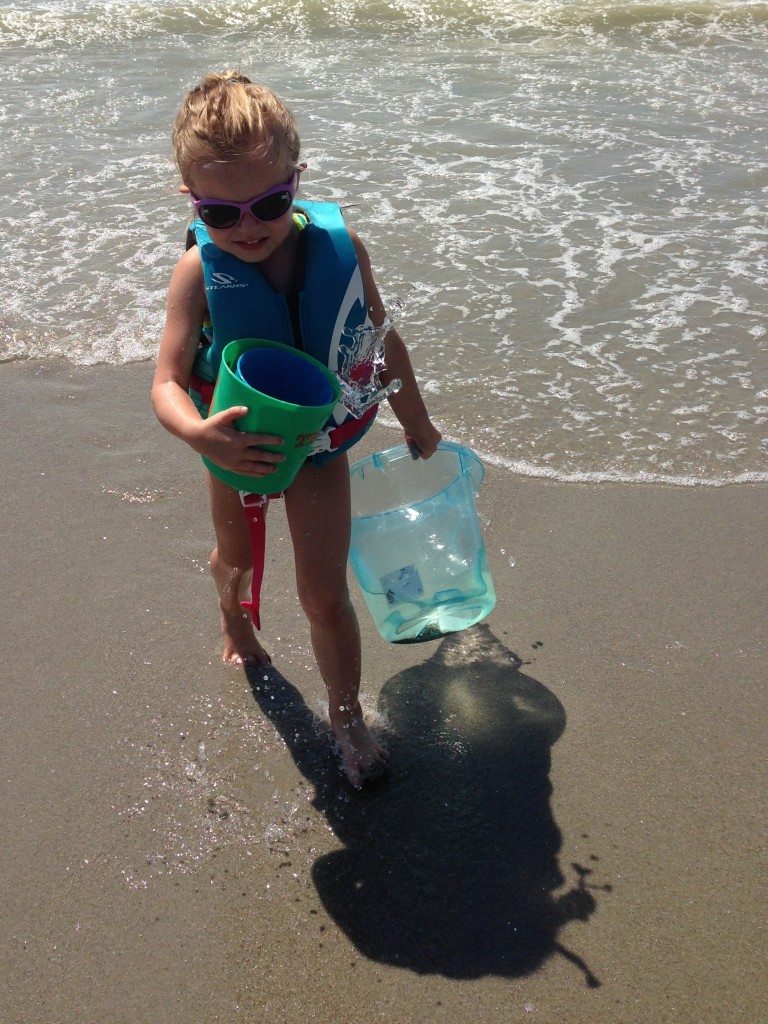 another beach nap for hazel. i need a beach at my house.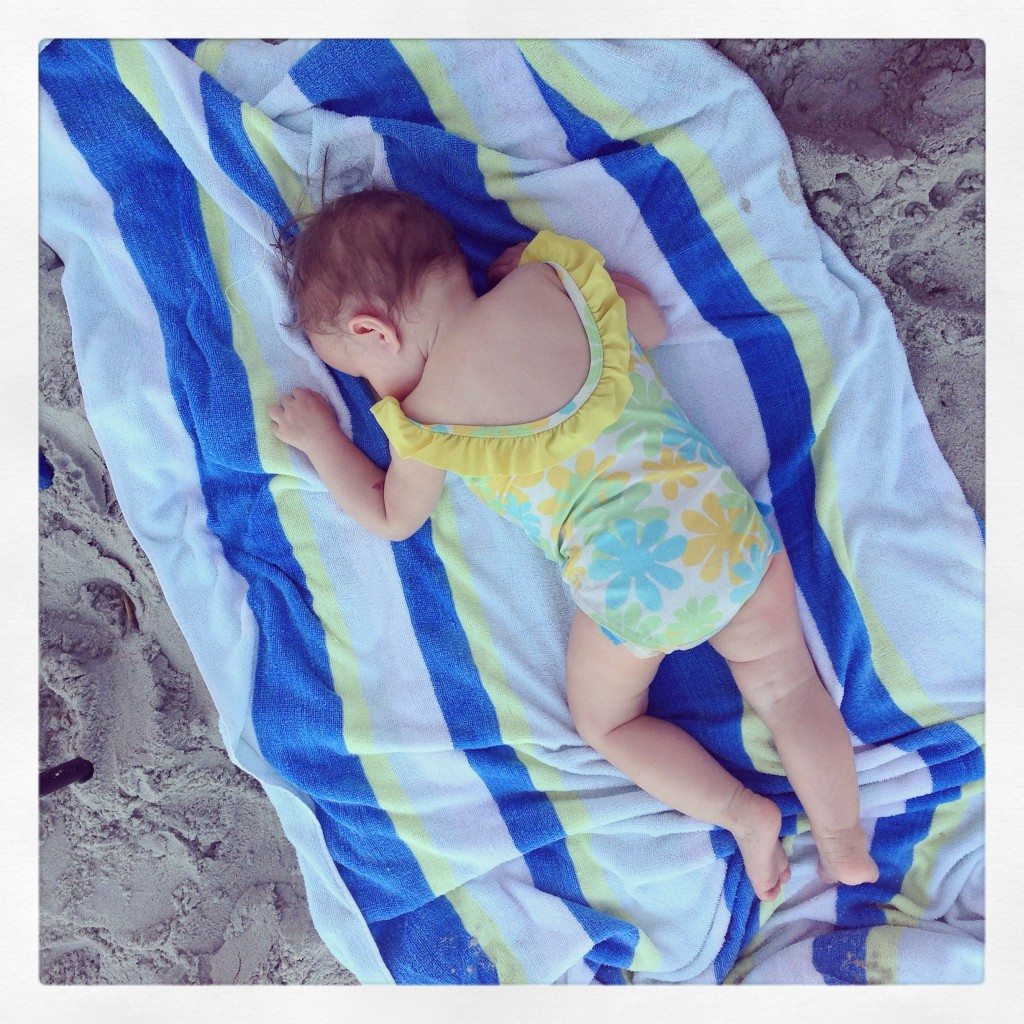 everyday, for the entire week, this guy was out building some seriously intricate castles. he wasn't very friendly though. so we steered clear. they took ALL DAY. we could look out in the evening and see him still hard at work. i think derek took a pic of a finished one. i'll try to post when i get to one of those massive update posts that covers two weeks of the lives of us five.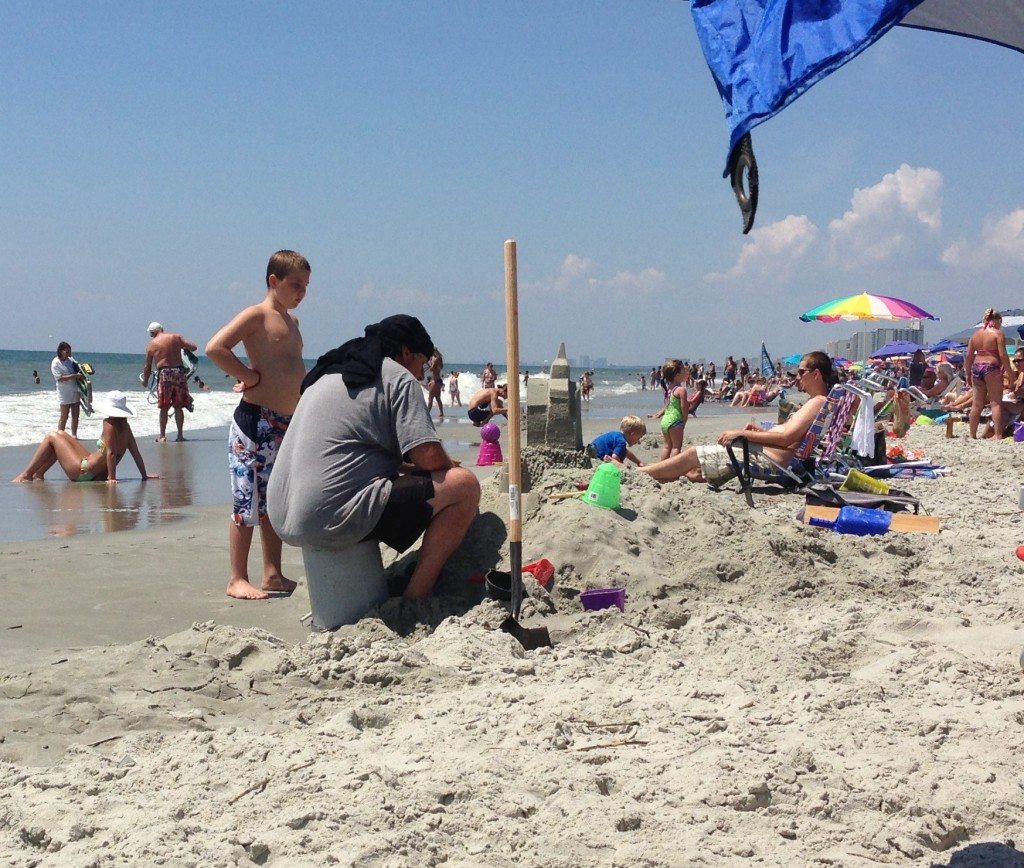 our castle looked ridiculous in comparison.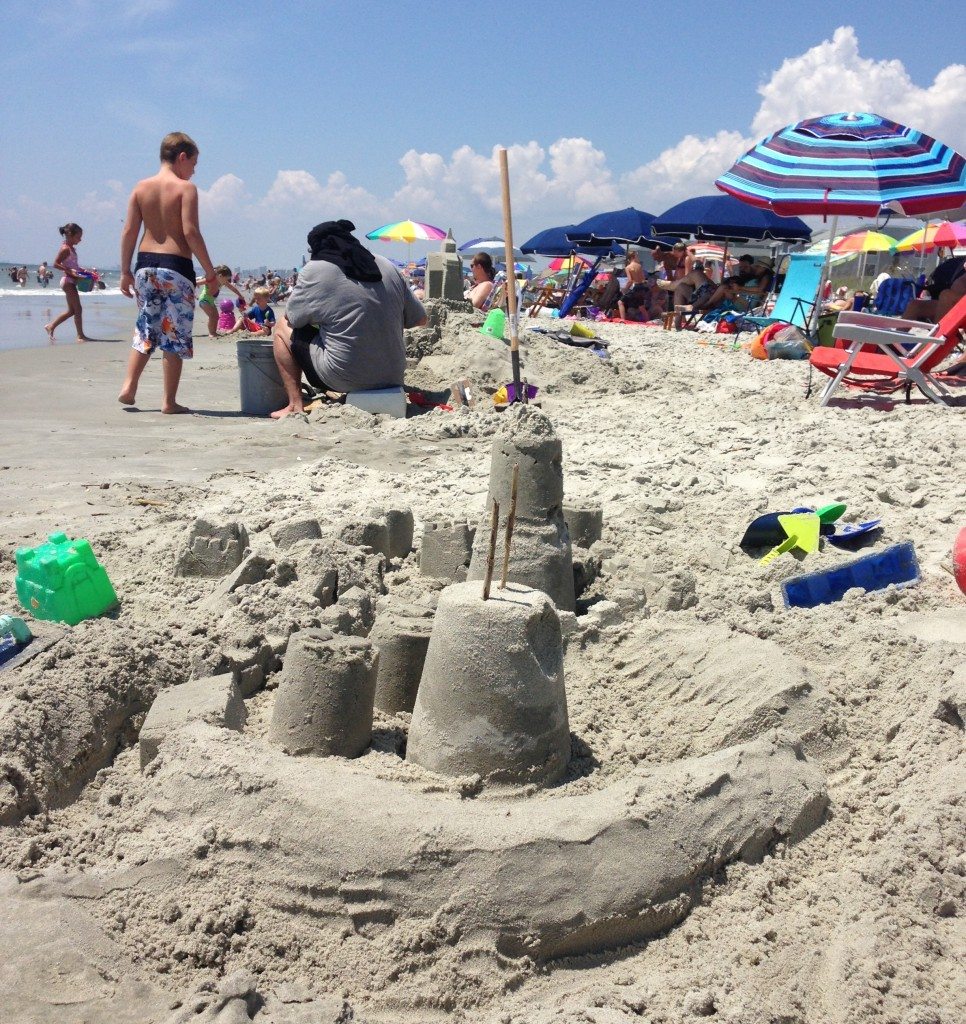 the boy. i have so few pics of him, because a) he's less agreeable to the paparazzi and b) he spent most of his time way out in the ocean. and i don't want my iphone to be at the bottom of the sea.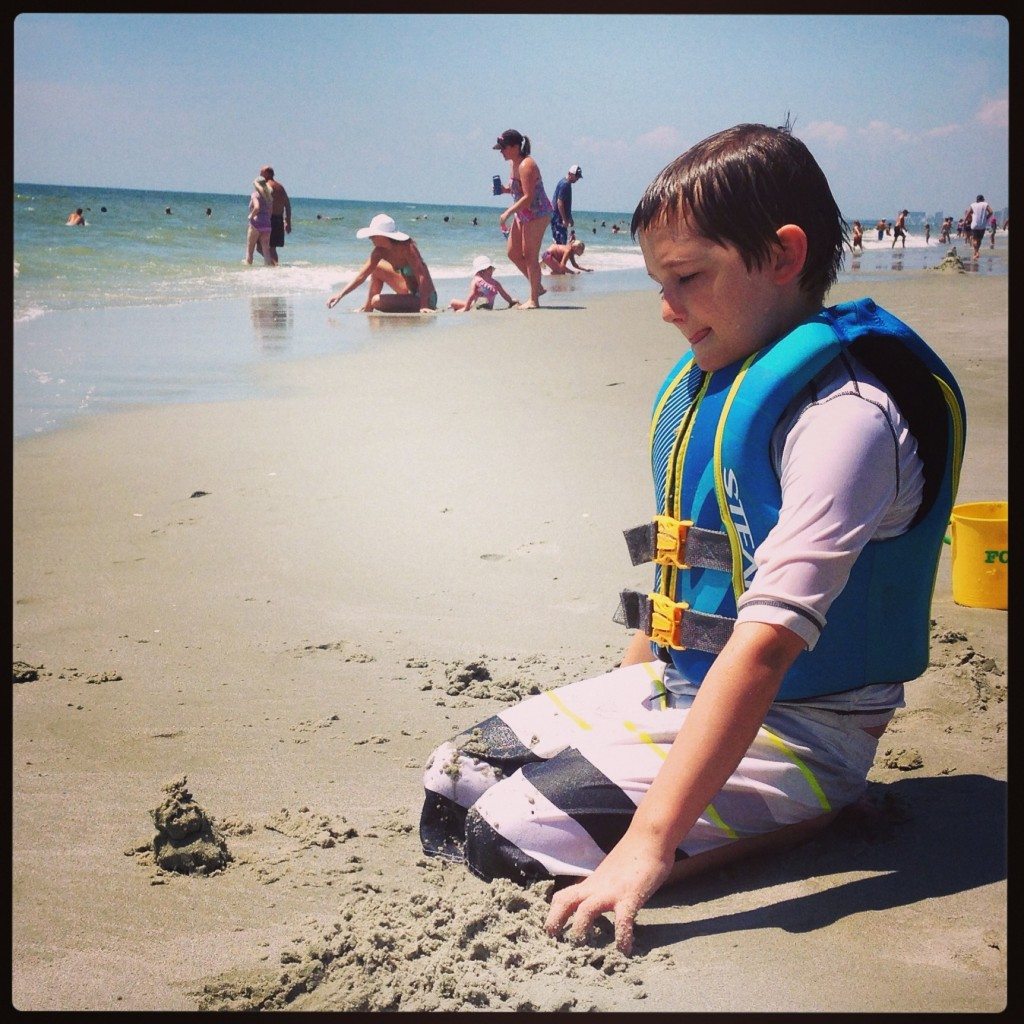 hazel. and our castle. 🙂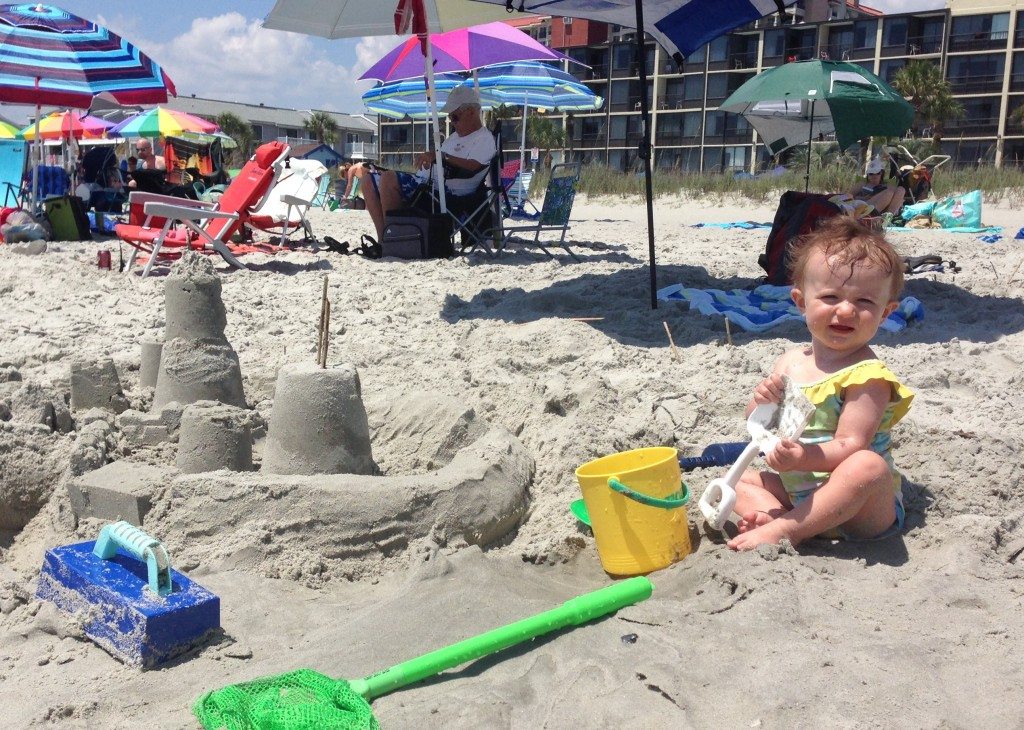 we had debated all week about whether or not to go to an all you can eat seafood buffet. they are super expensive. and the kids don't eat much. and the kids also do not usually cooperate in restaurants. but, we had a coupon. and we ate a late breakfast, so on the last day, we made the call to go to an early dinner at this place. so much crab legs.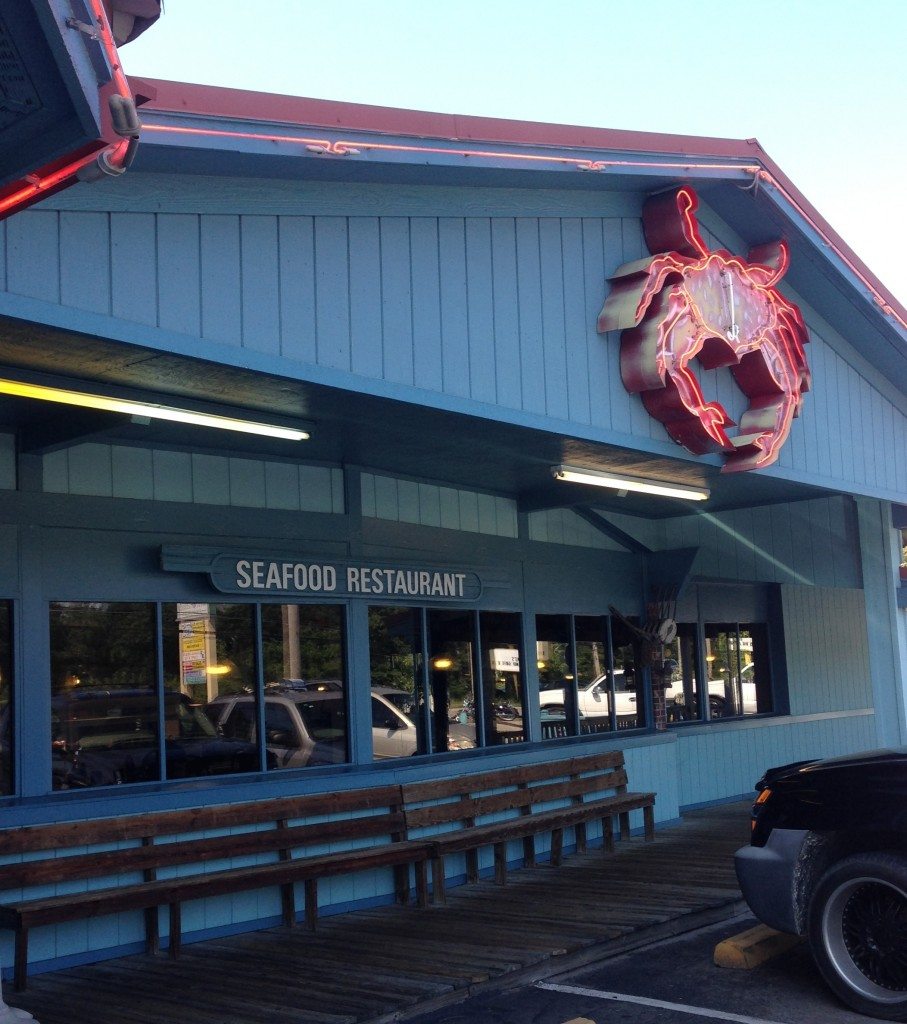 when we came back, i kept hazel in the room and packed and packed. and derek took the big kids out for a bit more beach. and took this pic for me. :).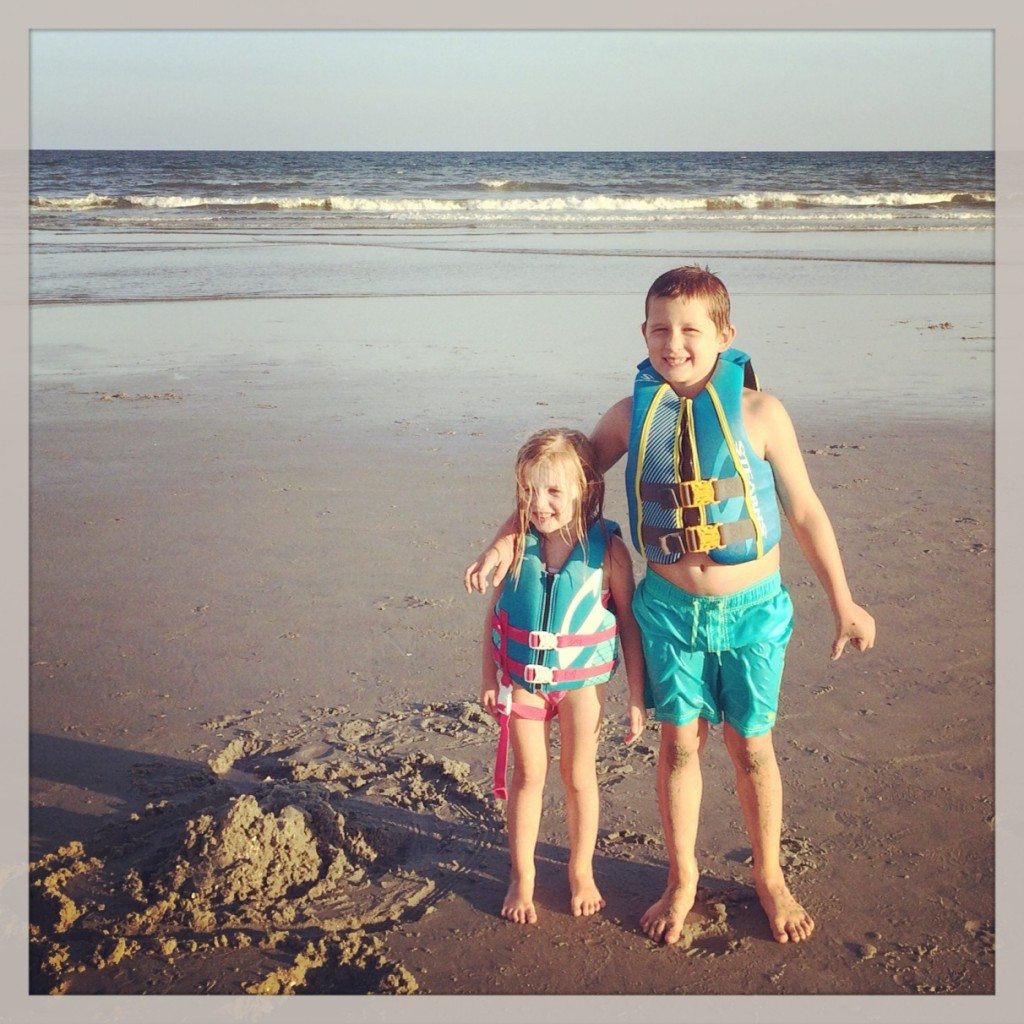 we packed the car. went to bed. and that was that.
(and by that was that, i mean, we drove the long stupid long drive home all day the next day).