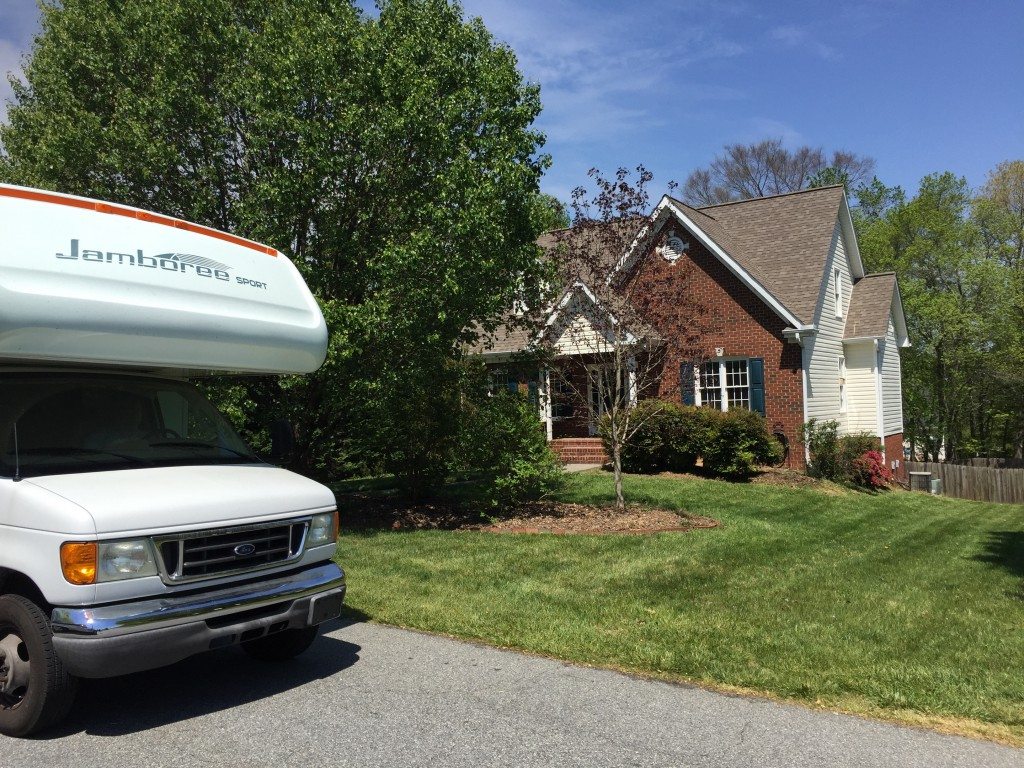 firstly, sorry for the lack of blogging since we returned from our trial run. our lives have been completely crazytown!! more on that later. the big news is:
we are officially moved into the camper and out of our house and sort of on the road. we are in a thousand trails campsite nearby, while we finish up the business of getting the house ready to put on the market. we actually left wednesday (it's sunday now), but we are still settling into our new life. and driving back and forth for last minute appointments for us and the kids and to check on things at the house.
on may 2nd, we will drop the camper off to have the roof repaired for four days, while we stay at derek's parents, and when it's done, we will hit the road!
anyhow, now for the boring details of how we went from a house full of stuff to a camper full of stuff….
before we left for the trial run, i had already set up a facebook yard sale group where i could post items for my friends to have first dibs. when we got back, i continued that process, but it was tiring. between taking good pics, managing the status on facebook, and storing piles for pickup all over my house, it grew old. but slowly and surely, our house emptied out. i was putting together old lego sets, miraculously finding all of the pieces for hazel's toys, and pawning off stuffed animals to people who came to get their stuff. i invited quilt friends to come have at some of my stash (never fear, i kept a LOT.)
when we got down to kitchen items, tools, craft supplies, home goods and furniture, we had a yard sale. and it was epic. when all was said and done, we had a few bins of stuff to store at my in laws. and a camper full of the bare necessities. and enough cash to cover all the paint and carpet and repairs to be done on our house to get it ready.
we had hoped to find someone who would move in as is. for cheap. without realtors. we would save the time and energy to do all that. they could save the cost of us making everything neutral. a win-win. but, nothing really materialized. a friend had a hookup for a home flipper crew. we called. they came and quoted it. we said yes. and suddenly everything became very real very fast. (they started the day before the yard sale).
so, we are officially a fulltime rv family. i'll try to play blog catchup in the next few days. you know, the last 6 weeks or so of everyday life. and then, only epic adventures from the lidbom rambling road show!