our stay in watkins glen state park ended on a friday morning and since we didn't want to a) have derek use personal time to drive to our next spot and b) leave the finger lakes area, we hopped 45 minutes over to a campsite in ithaca for a couple of days.
derek went straight to the site.
i went straight to ithaca to waffle frolic for this delicious breakfast: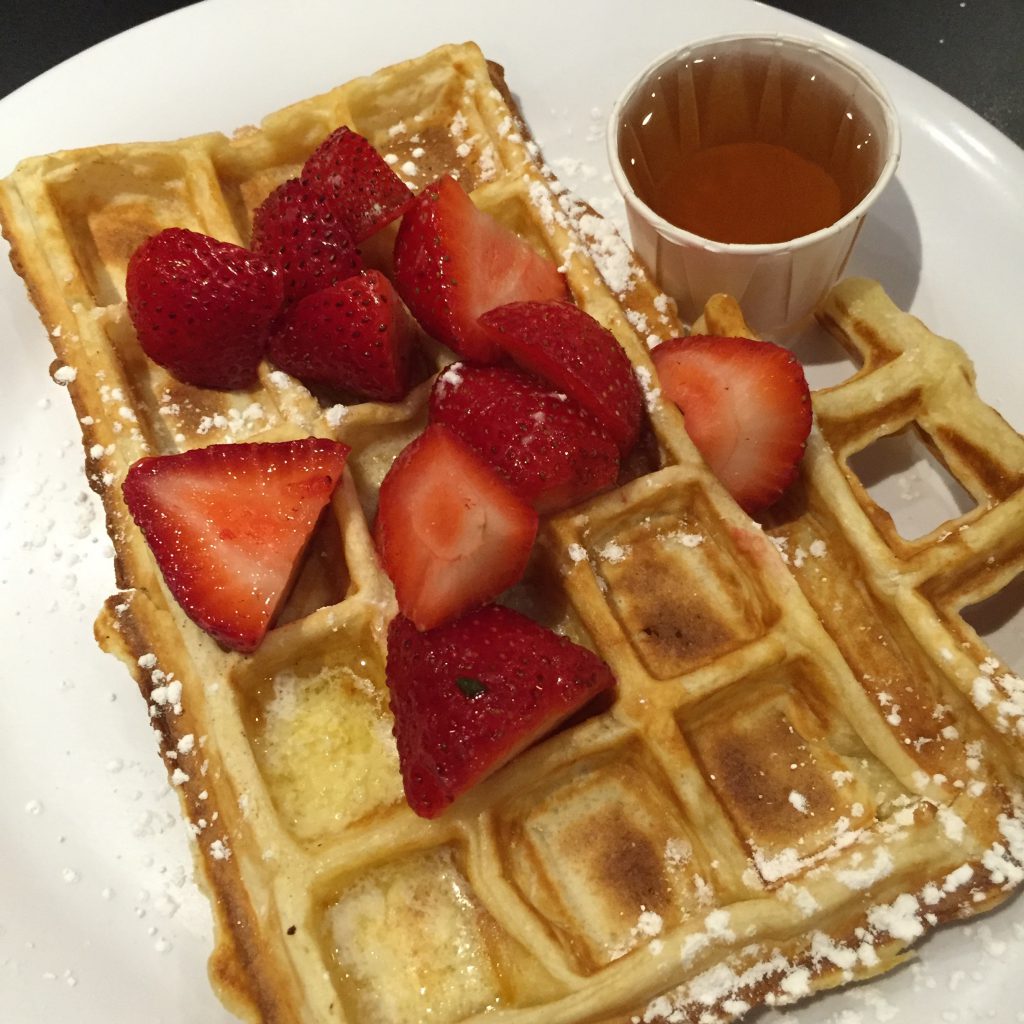 my longtime pal, mary casey, met up with us there and we made our way to buttermilk falls state park. i had planned on hiking and making a day of it, but when i realized the cool swimming hole area was right by the entrance, i was cool with just playing for a bit.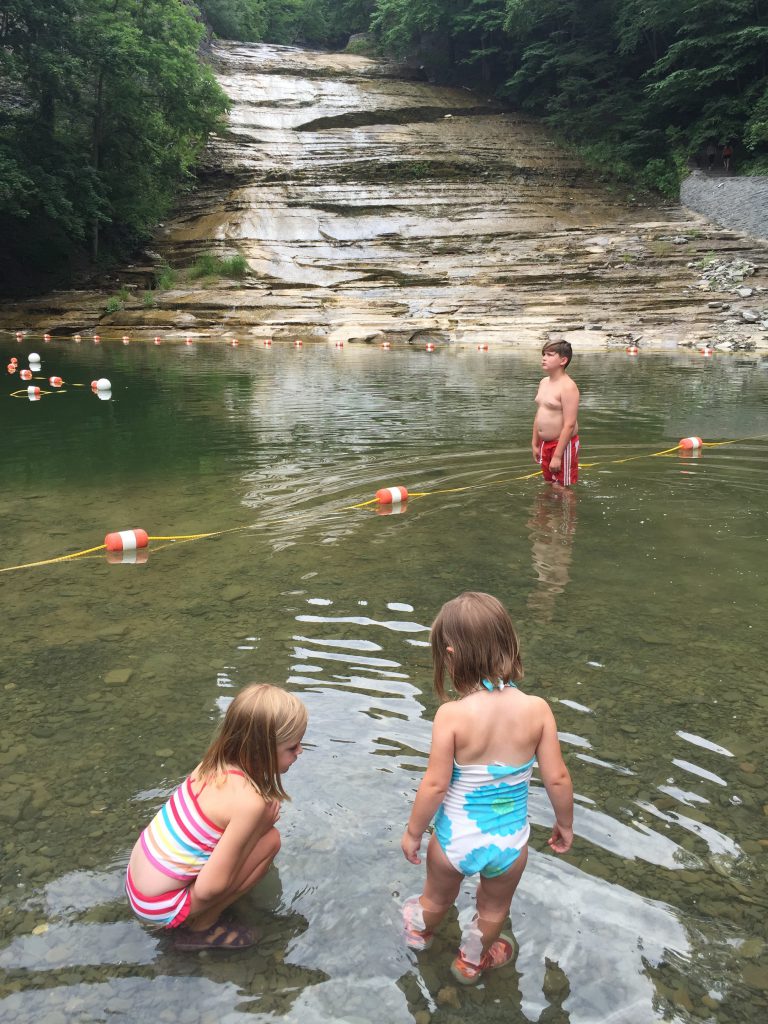 the water levels are low in all of new york pretty much, so the water fall was a little straggly. but it was still cooler than any old pool. 🙂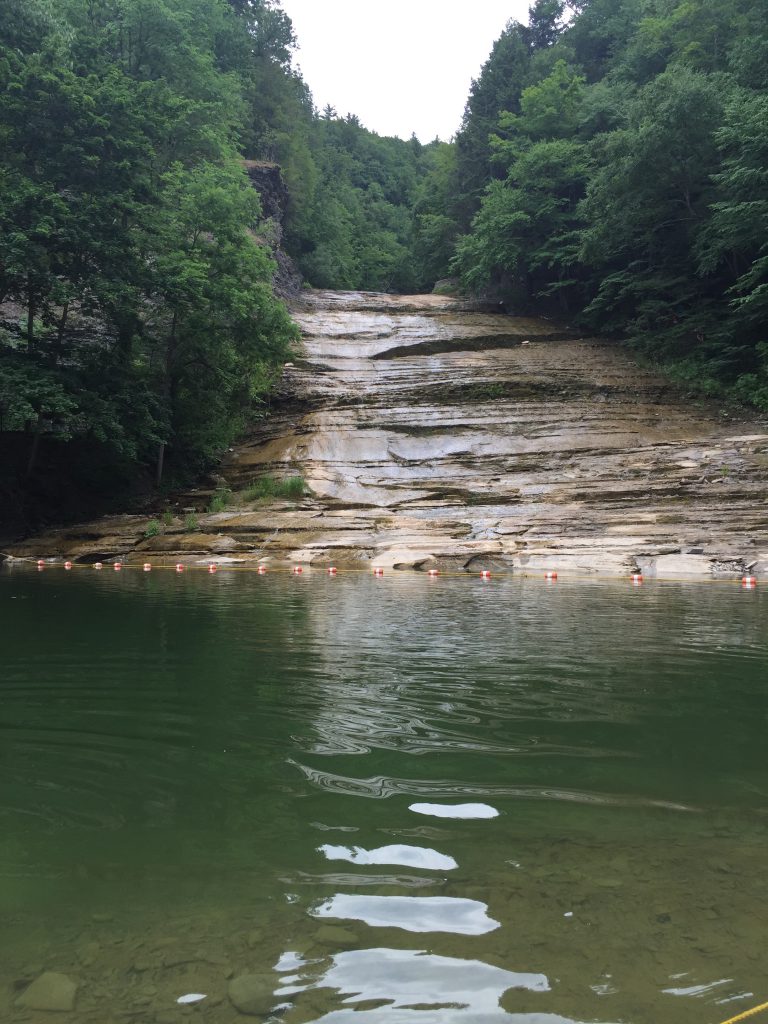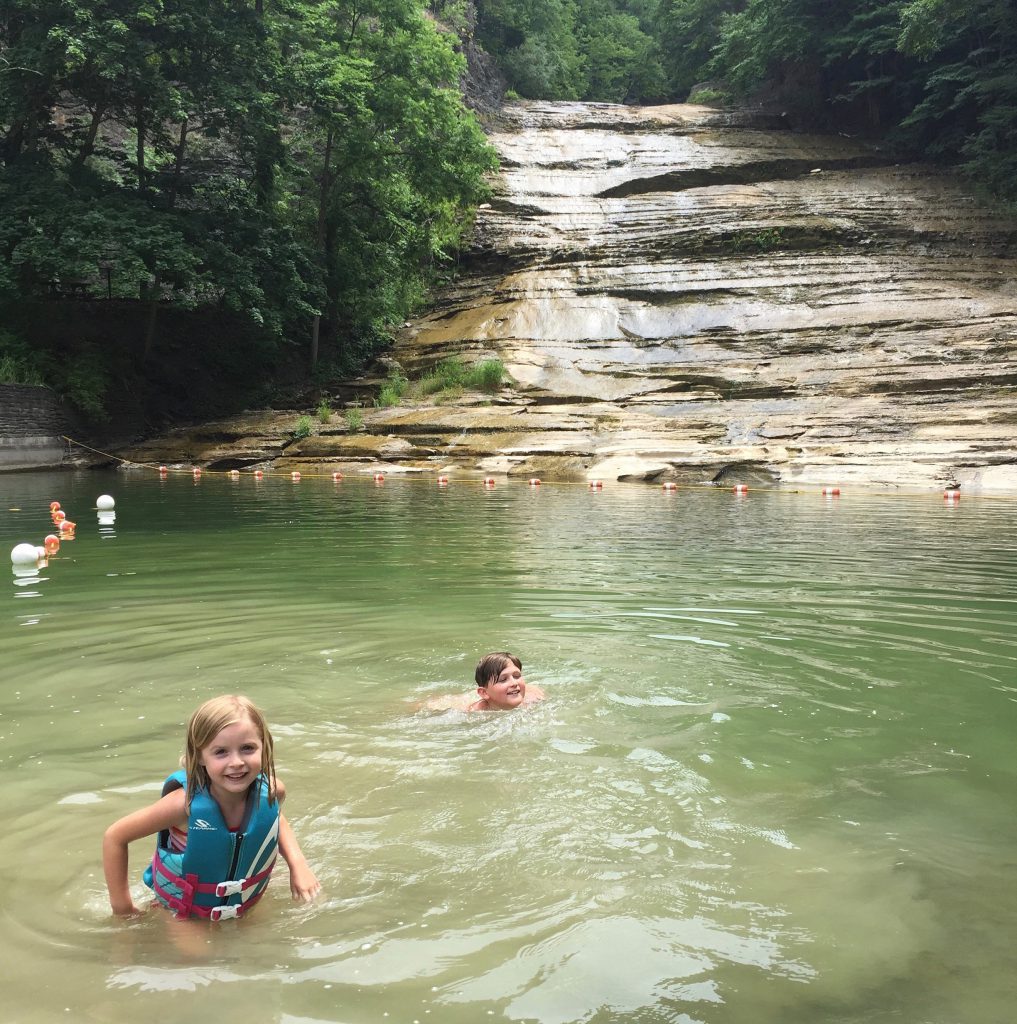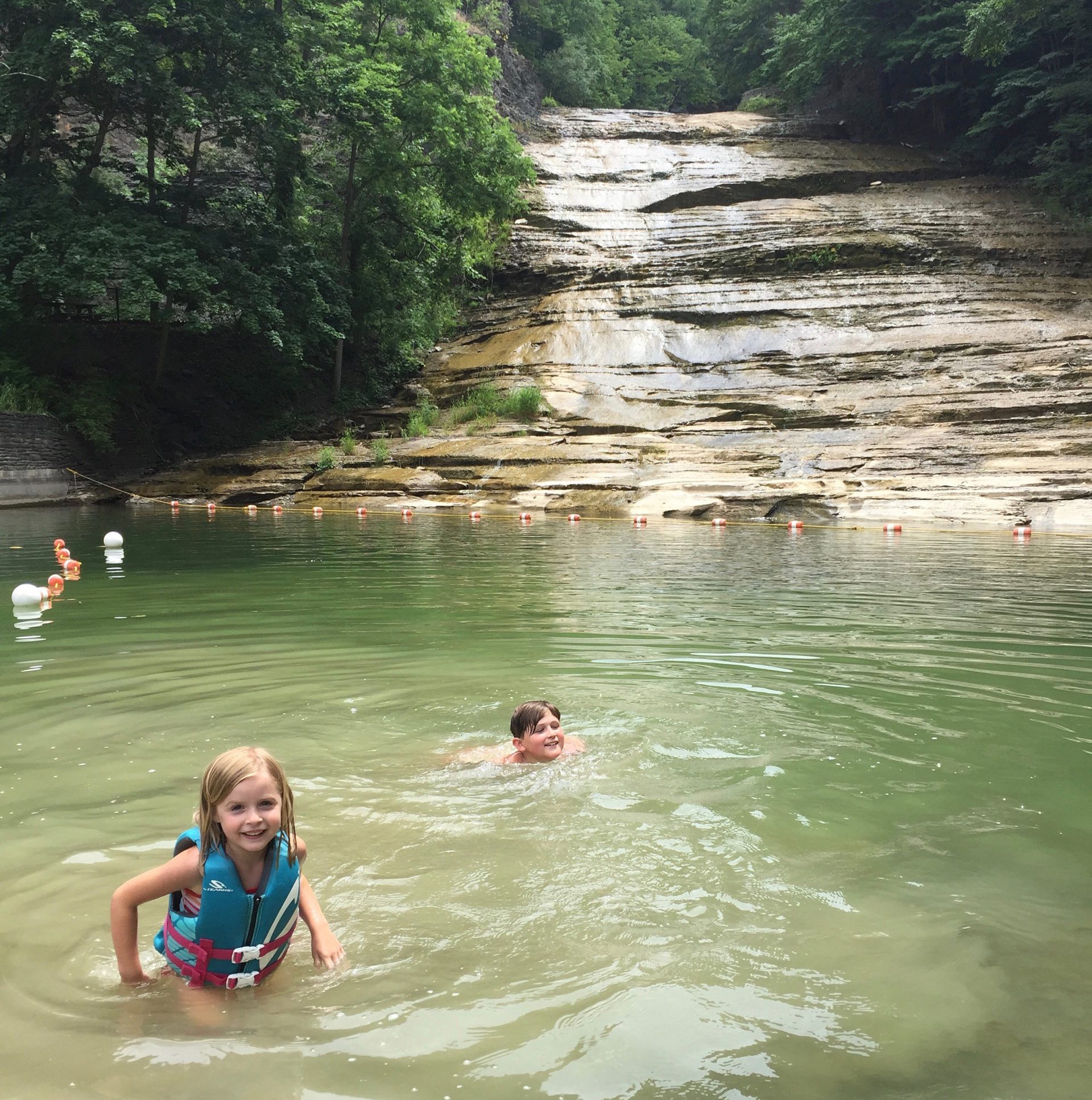 after a giant posse of kids showed up, the life guards cracked down on the rules, so my grumpy kids decided to sort rocks.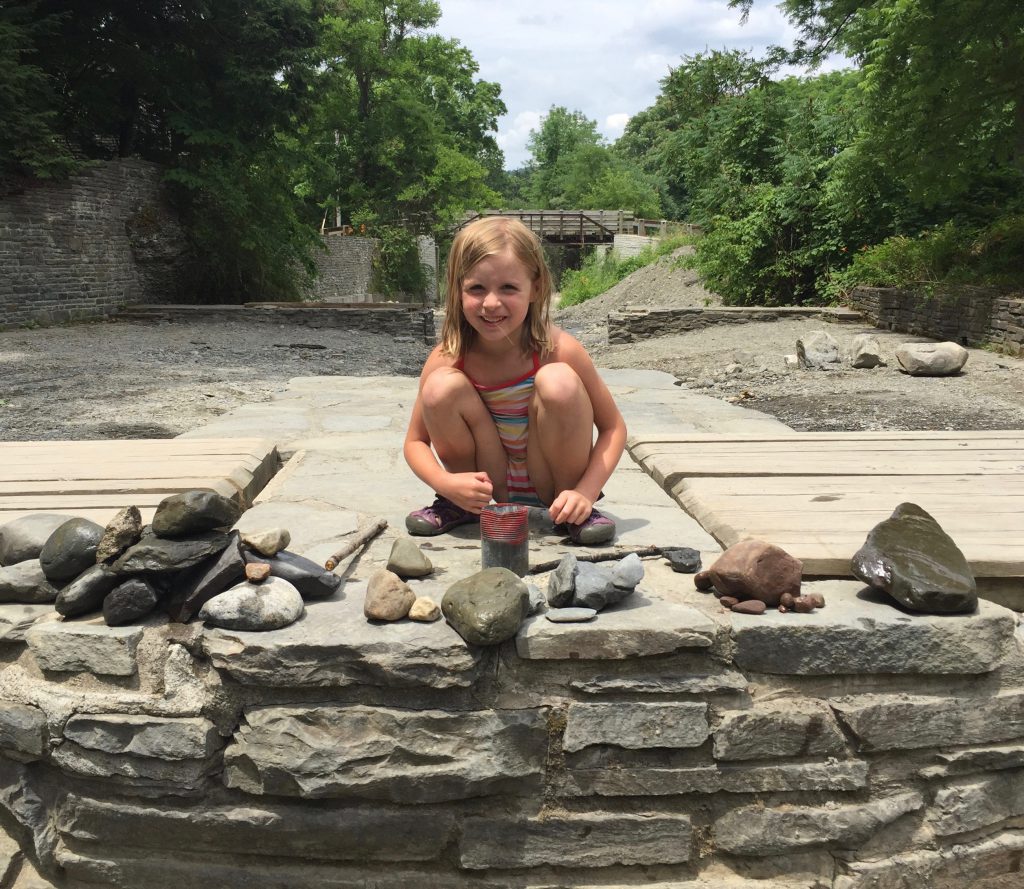 when everyone was done (clearly over it), we walked over to the playground area, where mary casey showcased her stretchy skills with hazel.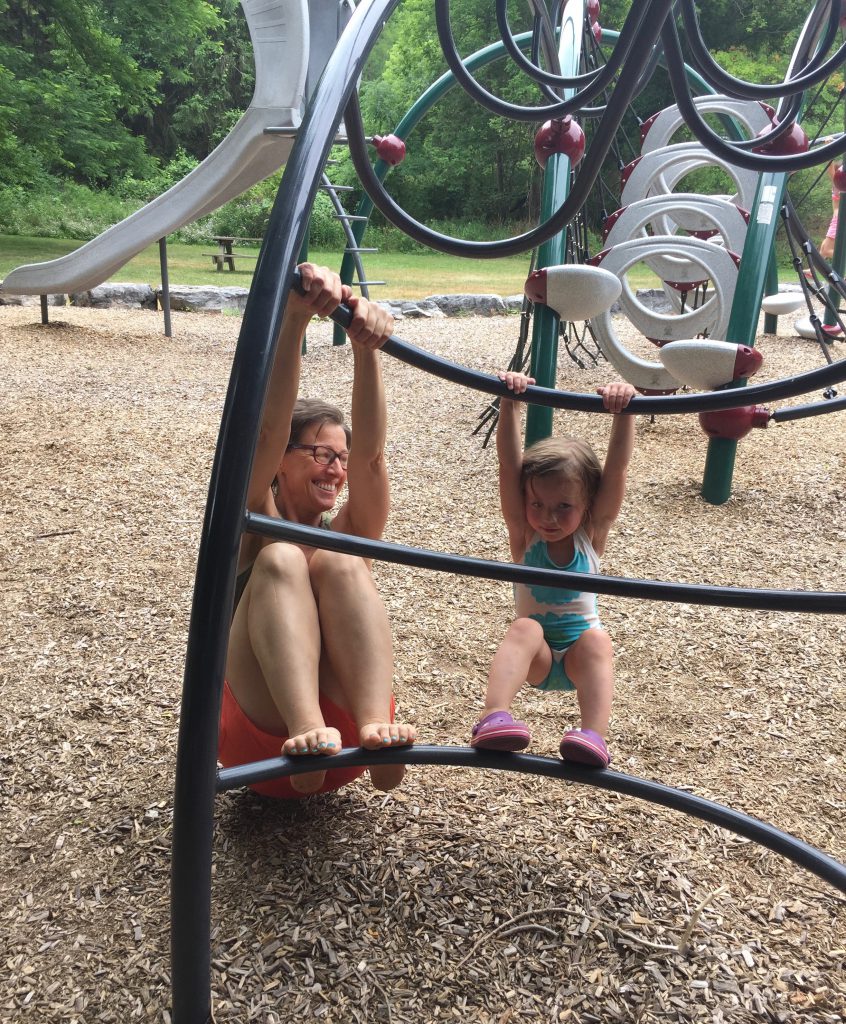 we went back to the campsite for the afternoon and tested out their pool for a bit. when derek was done with work, we went to trumansburg for dinner. our first few options were packed out and would take awhile, so we settled for ron don's village pub. i think. the annababy is a bookworm and came prepared for the wait.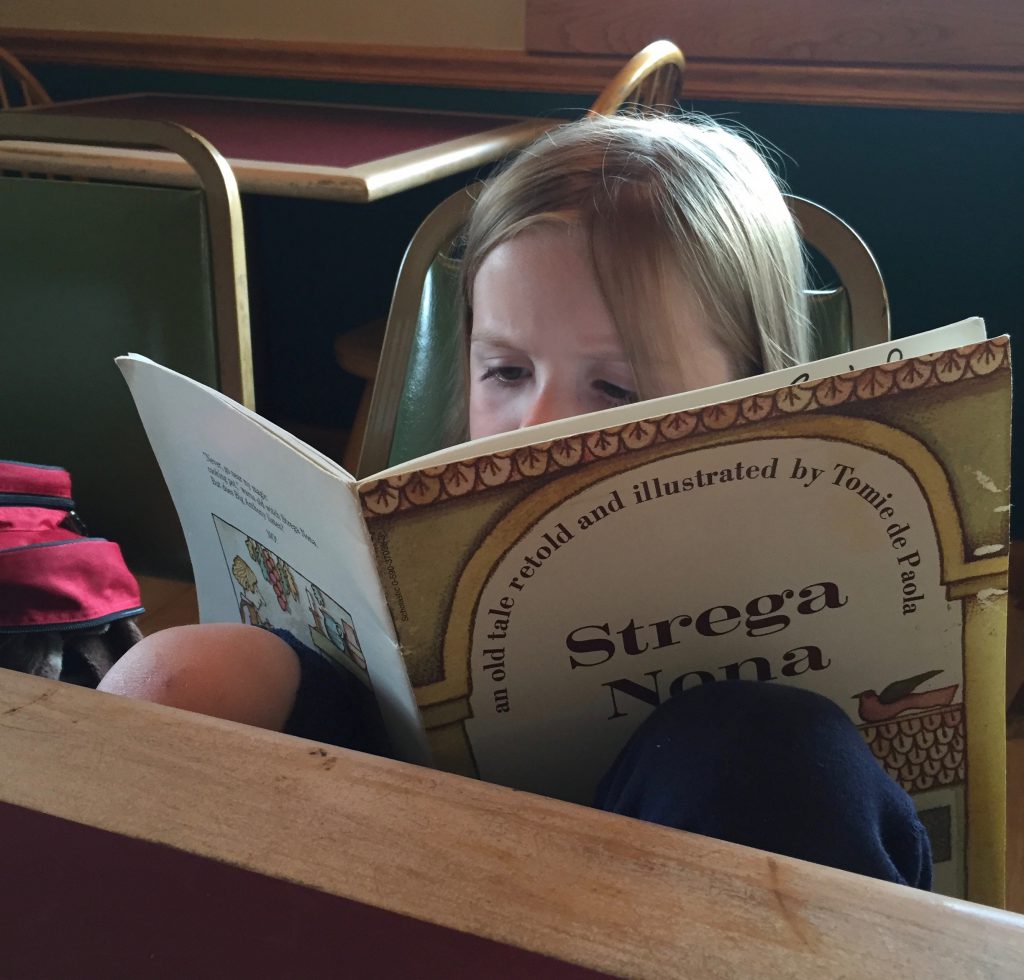 i obviously ordered a chicken finger sub. 🙂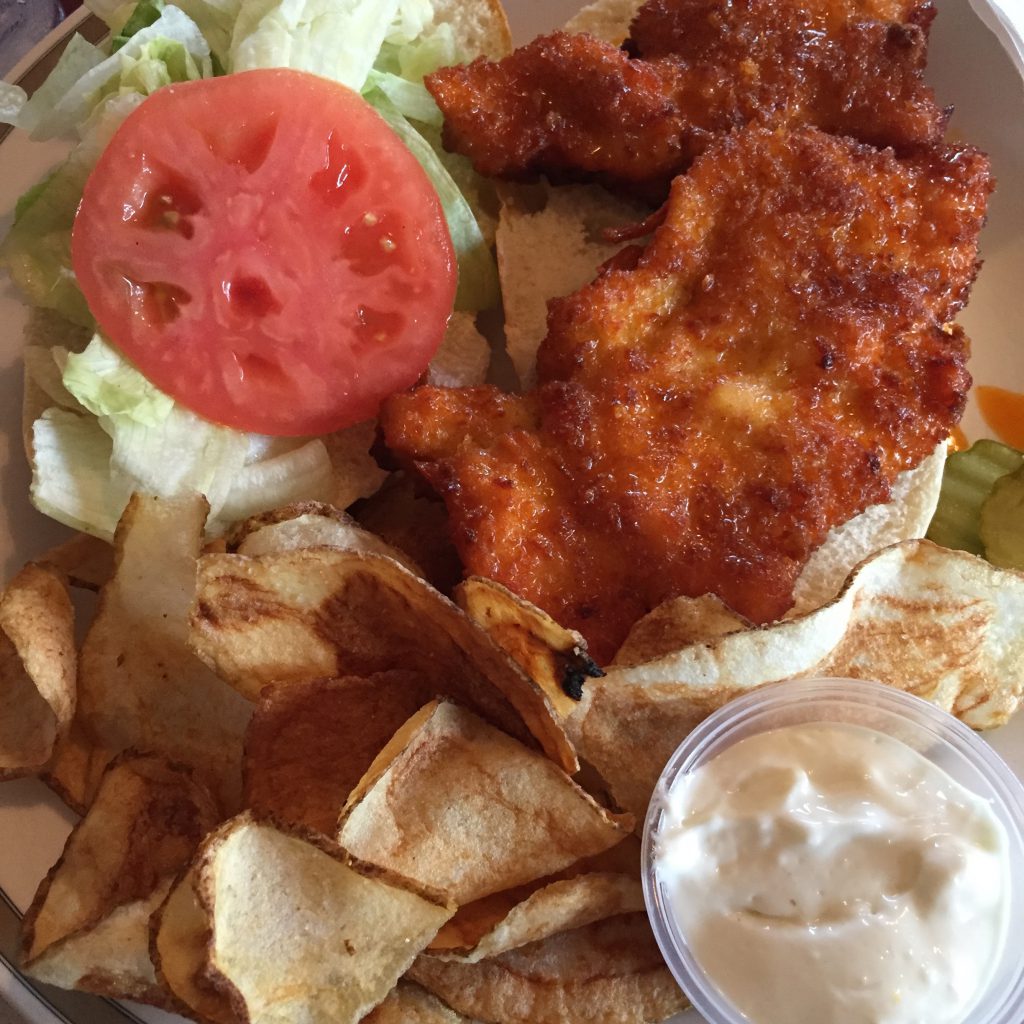 from there, we headed up the lake to the boathouse beer garden, where mary's band, the hilltoppers, were playing a gig.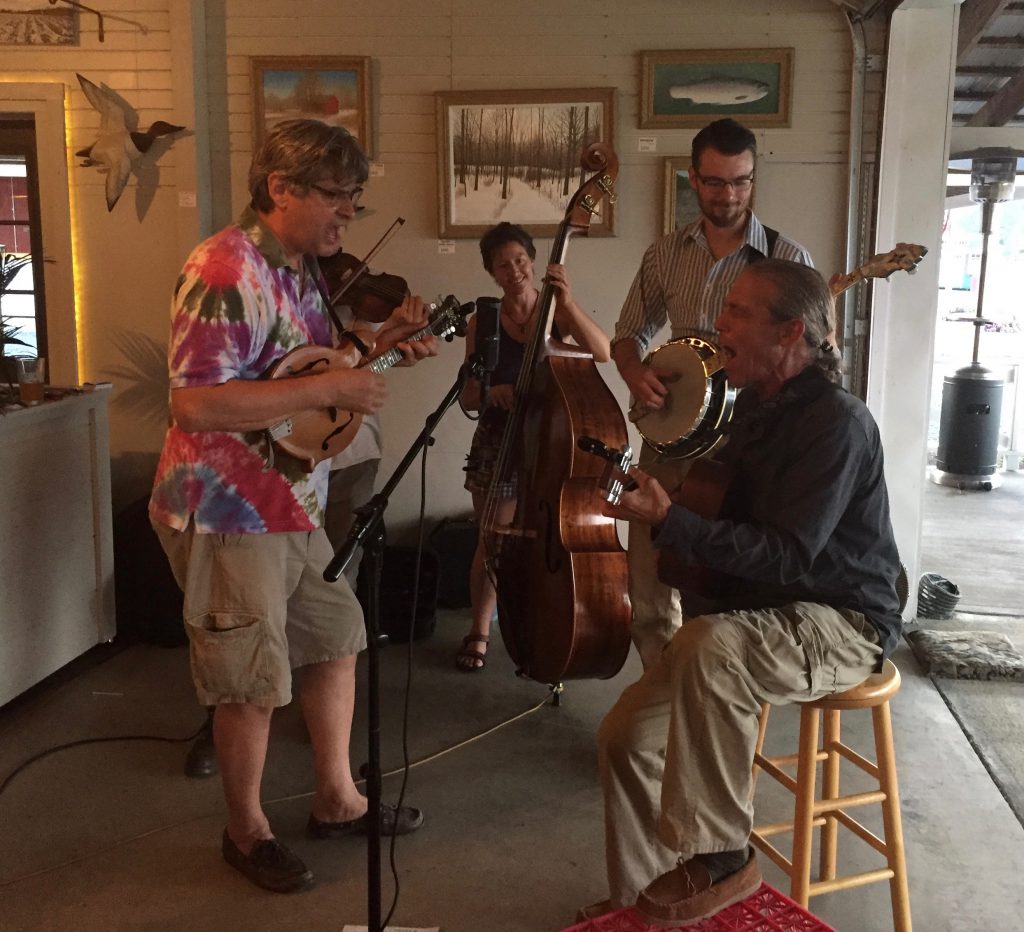 the kids danced and played with other kids. i drank beers. derek took pictures.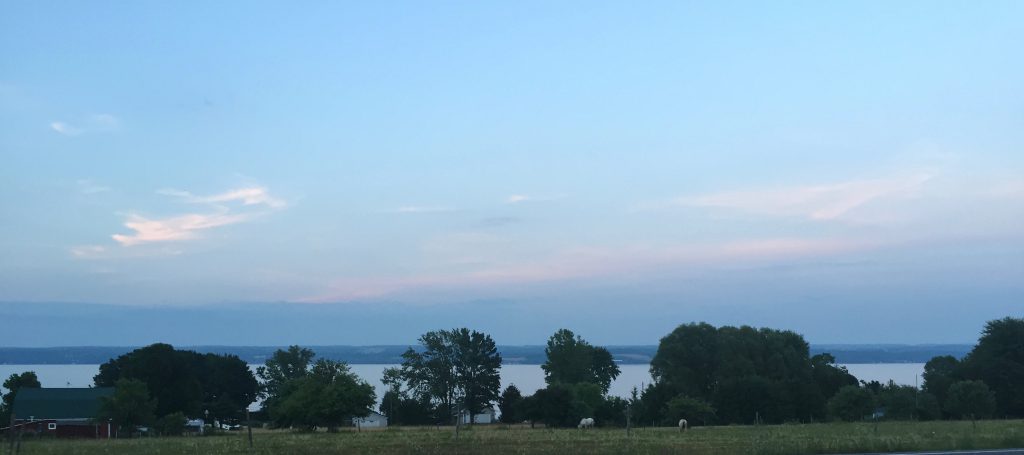 when the music was over, and the band was packing up, we stopped to chat and mary and hazel took a little nap inside her bass case. nerds.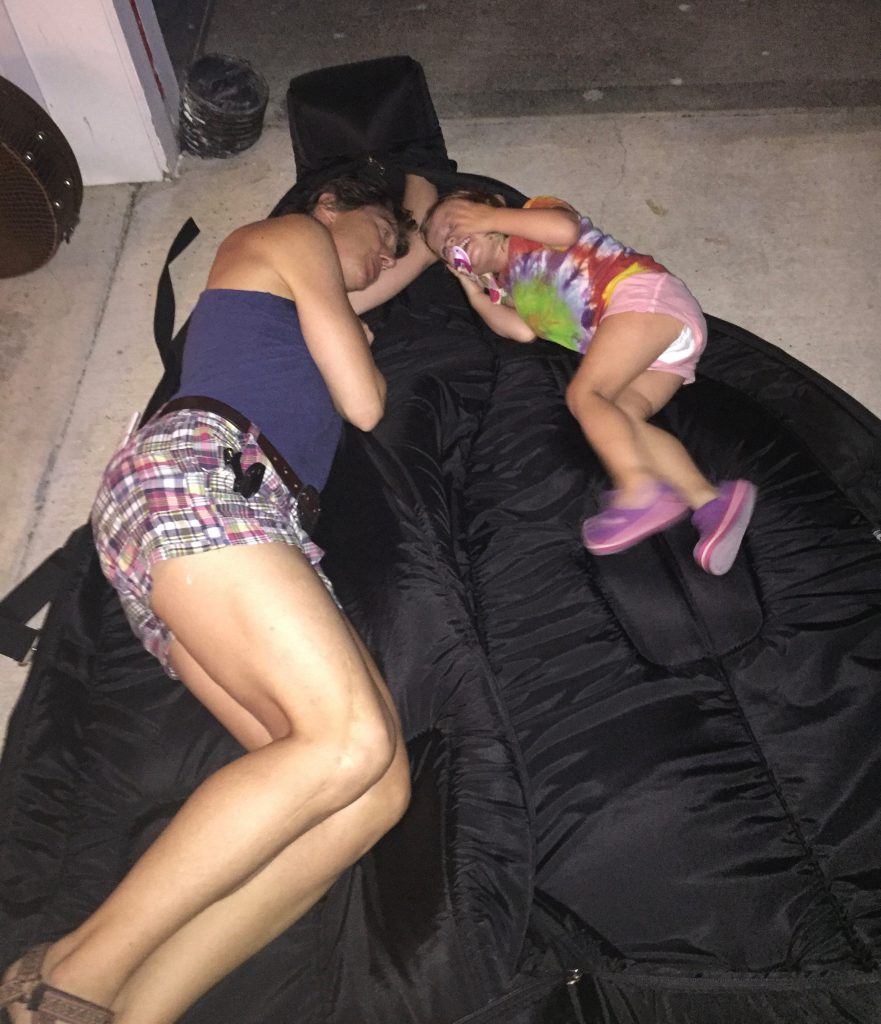 day two. we woke up and had an extra slow morning. finally, we got our act together and went to the ithaca farmer's market, which was super cute and granola-y. it was packed and we mostly just took it all in, but stopped for cookies at the stand of one of mary's bandmates. (the fiddler).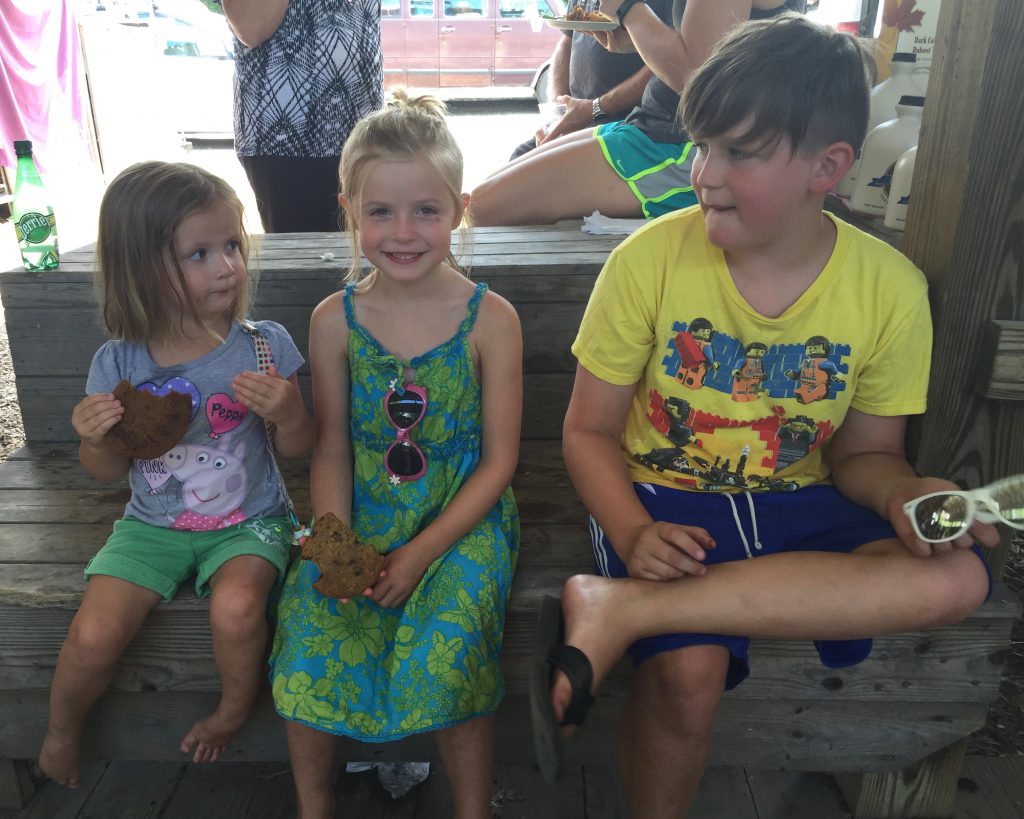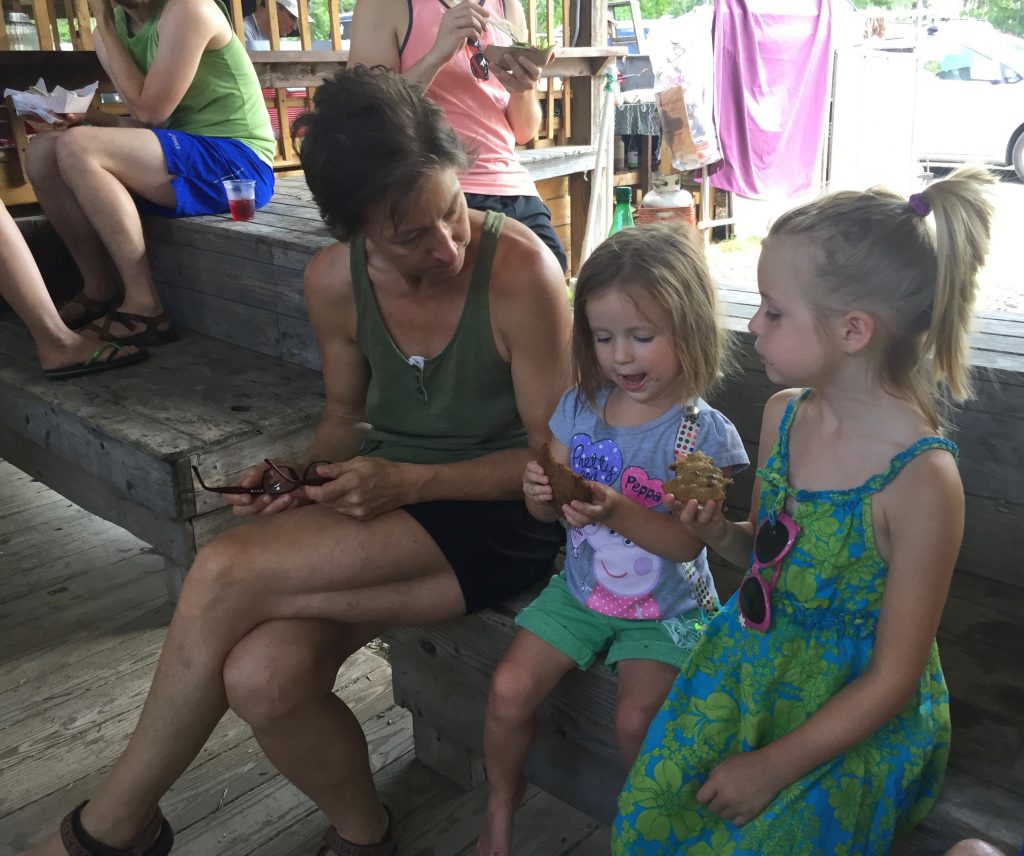 by the waterfront, this happy guy played music for all the hippie moms.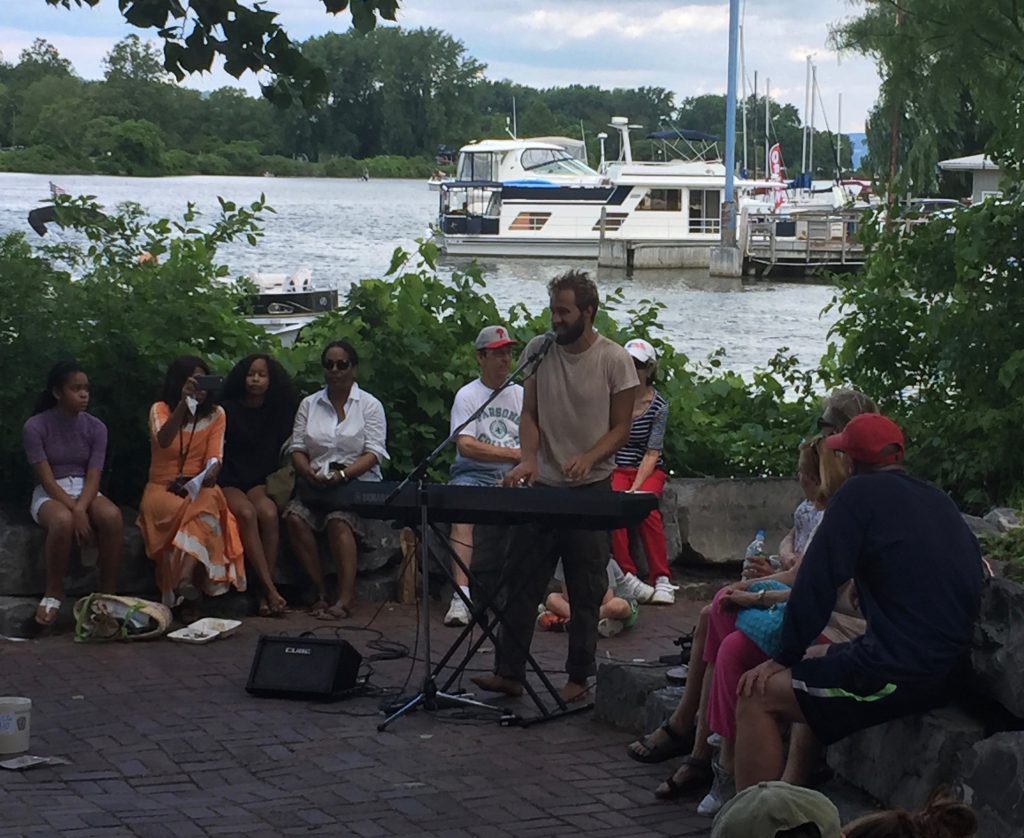 i meant to get some decent shots of the farmers market, but this was probably the best i got.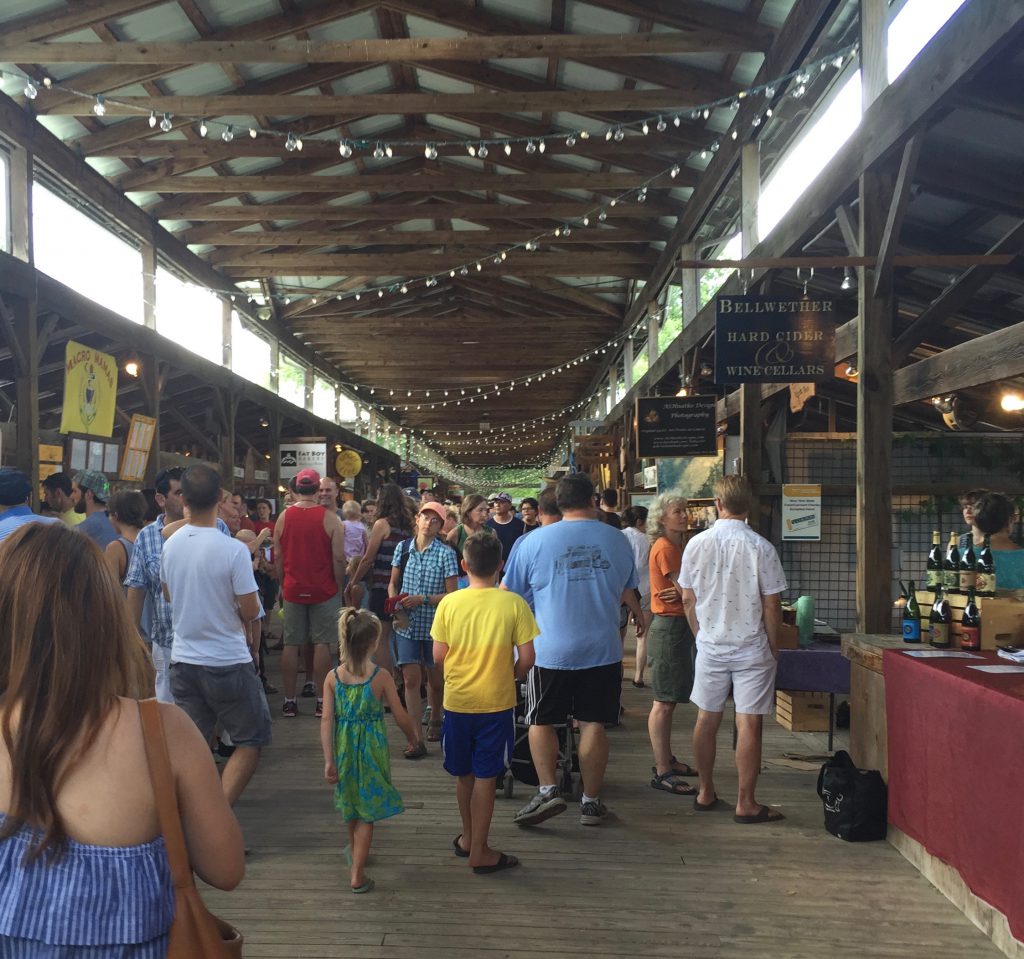 the walk back. along the river(?) (waterway?) that comes out of the bottom of cayuga lake.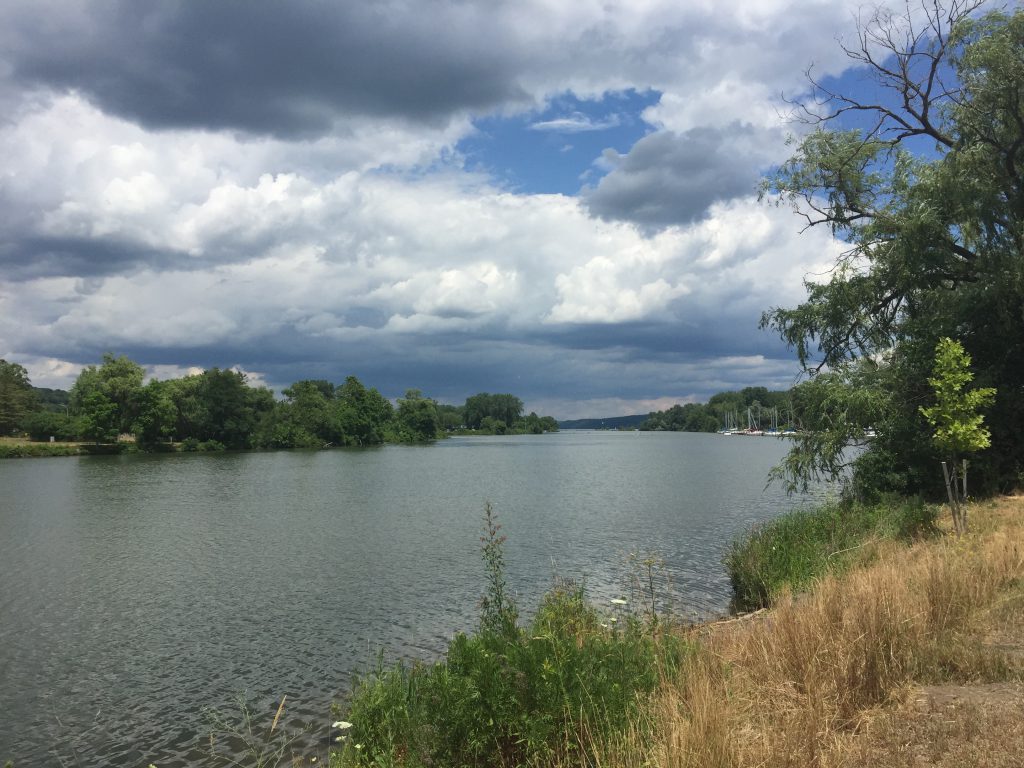 kidz.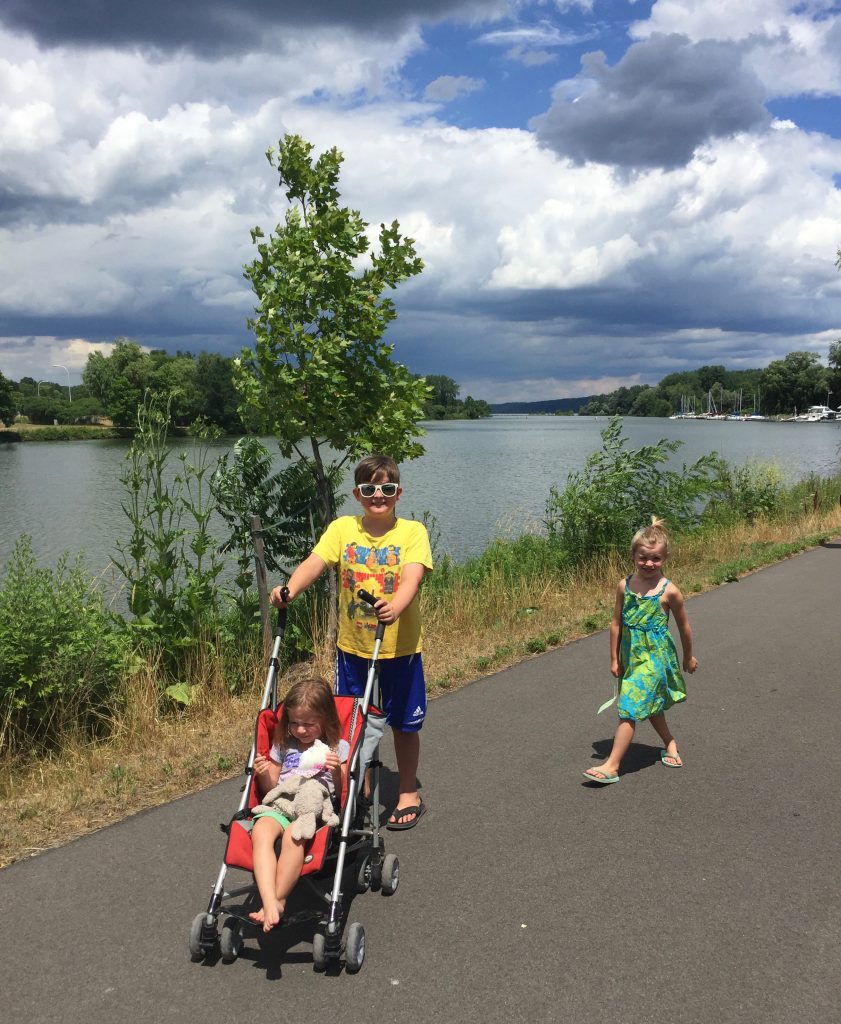 we decided to go back to ithaca commons (where we had waffles the day before), so i could get my hands on a new used book and an "ithaca is gorges" t-shirt. outside of the parking garage, like most of ithaca, there was a mural, so we stopped for a photo shoot.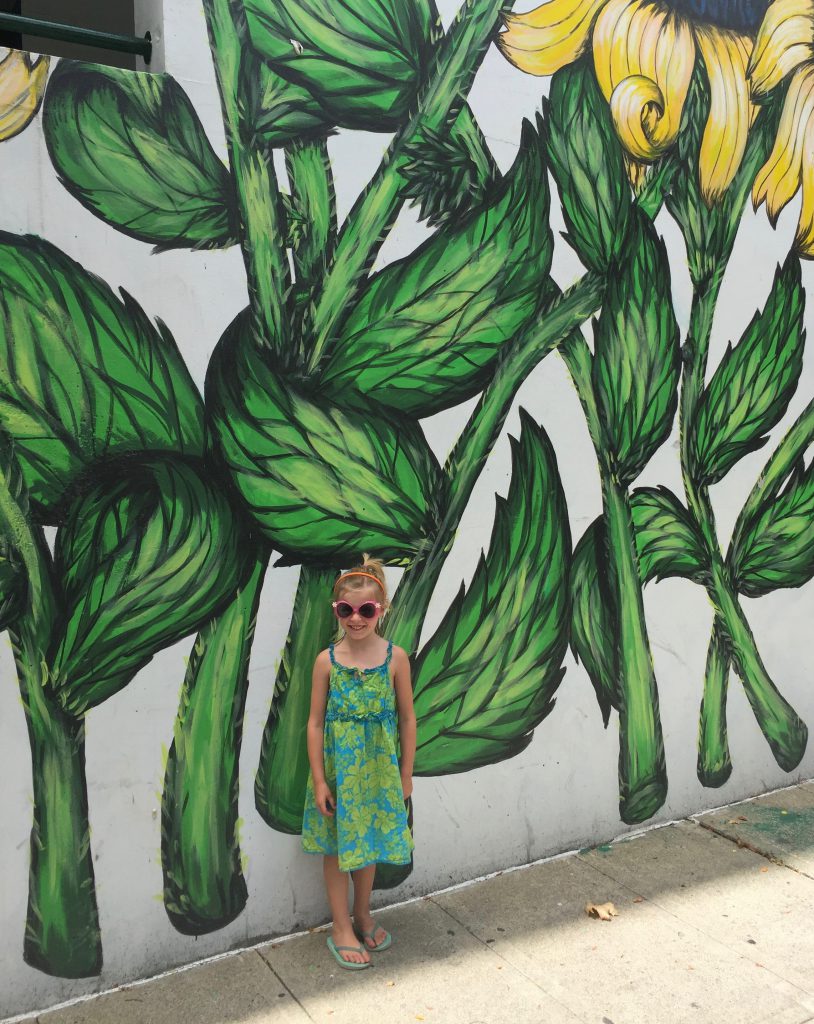 the weather wasn't looking promising.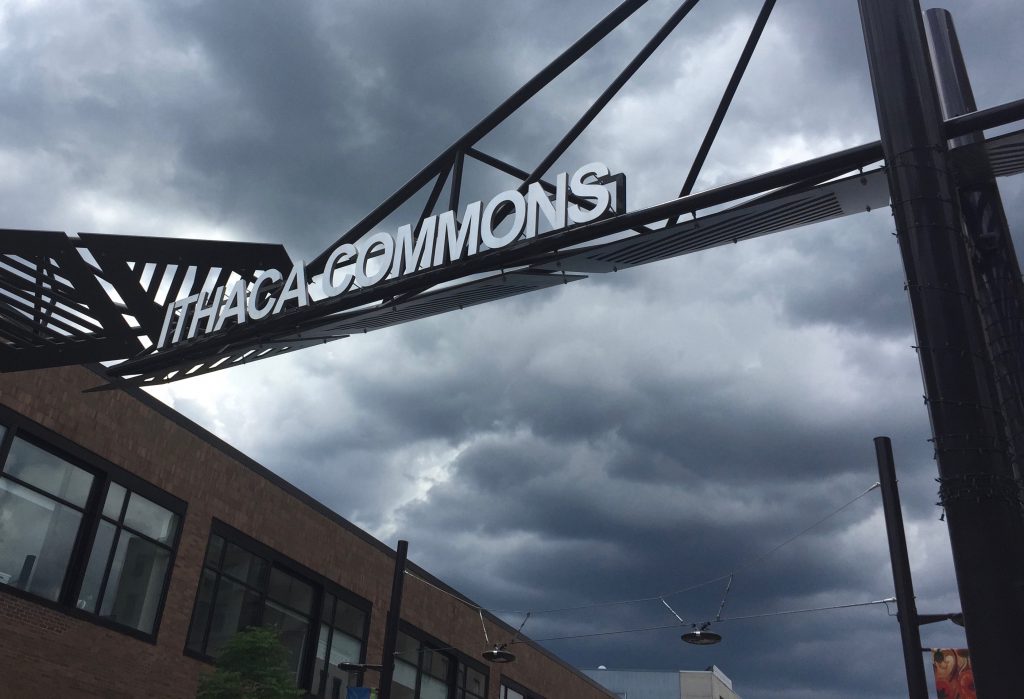 in the bookstore, anna read for a VERY long time. derek had other two kids at the playground. i found two books (one of which i read in like two days. and one that i have read about a page a day in and cannot get started). of all the books, of course anna picked out a vintage out of print book that sold for $20. i talked her out of it and into something else, but felt like the worst mom.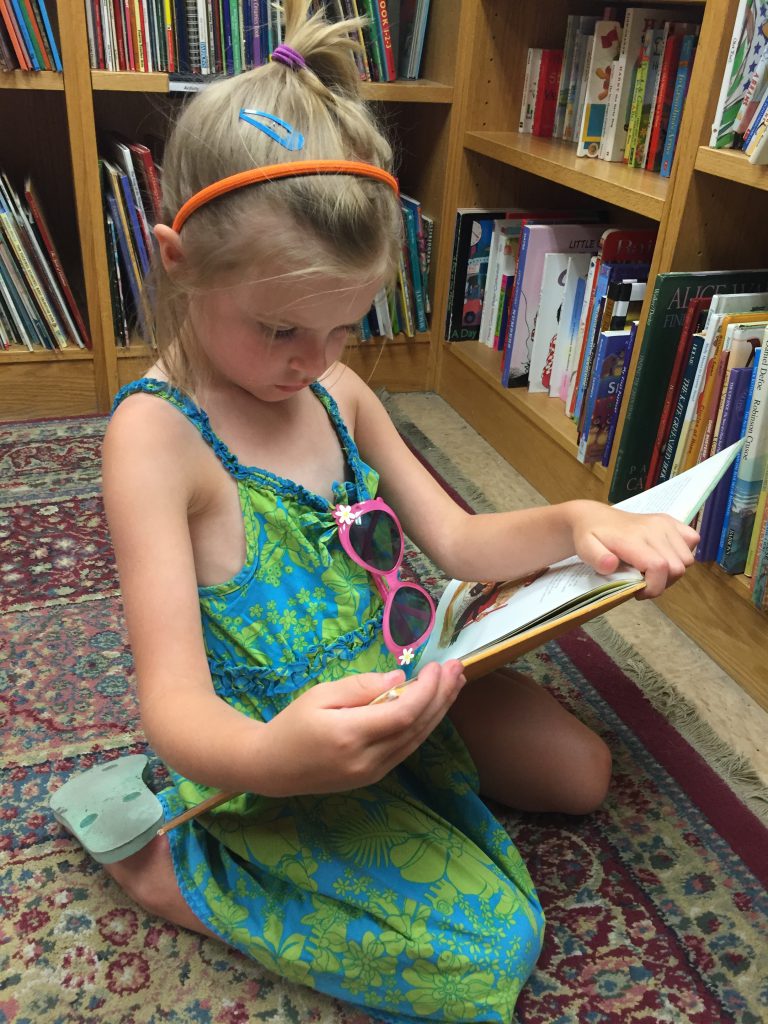 the playground. this shiny ball.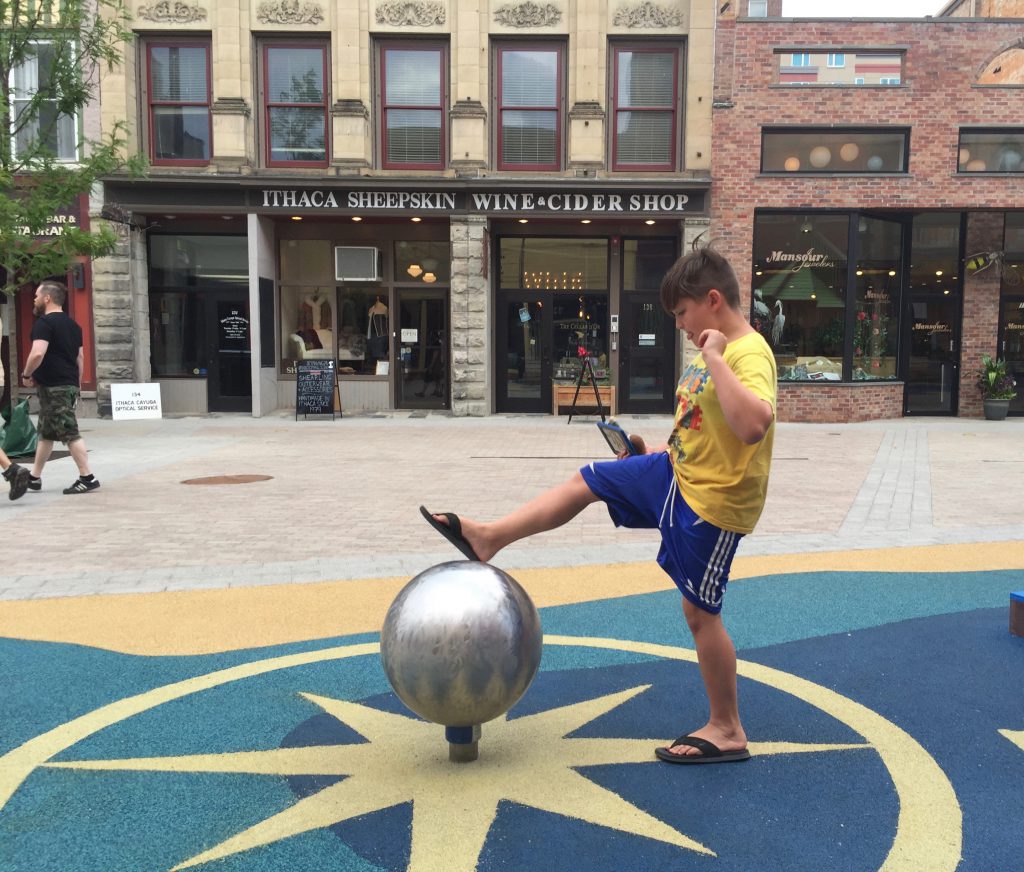 it caused about 12 separate meltdowns for hazel. and she pushed a boy. my first pusher.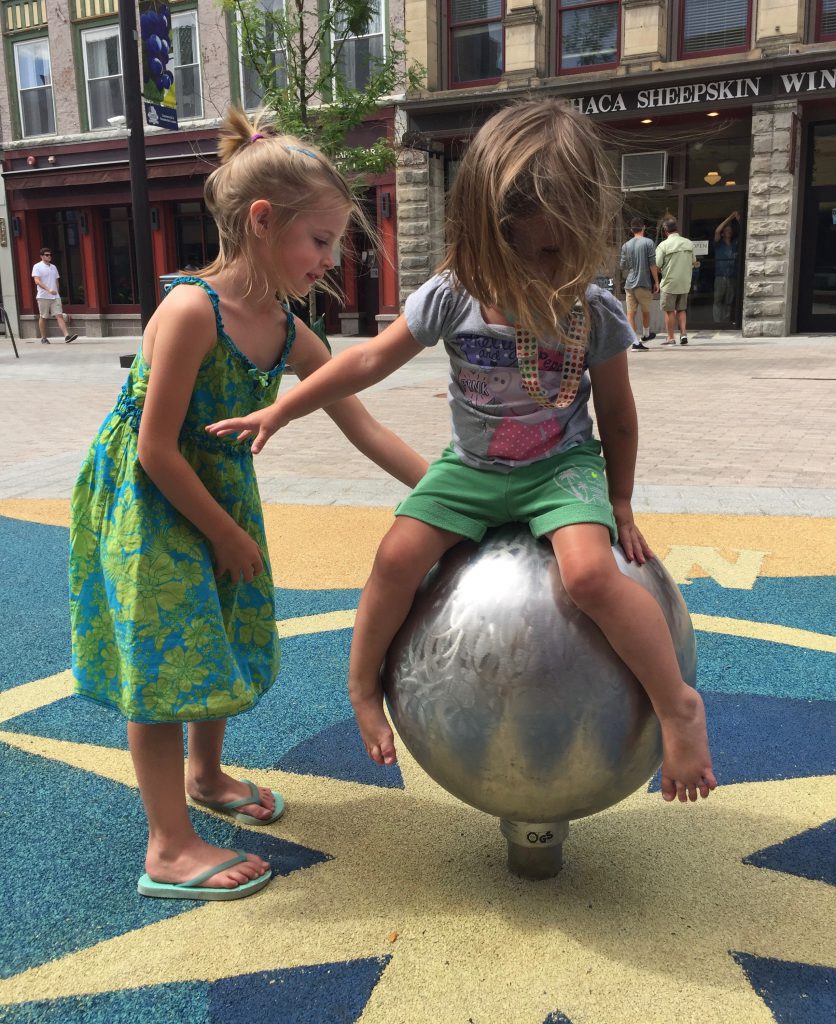 i'm not sure what we were thinking, but on the way home, with meltdown-y kids all around us, we decided to go to wegmans, which is another entire adventure.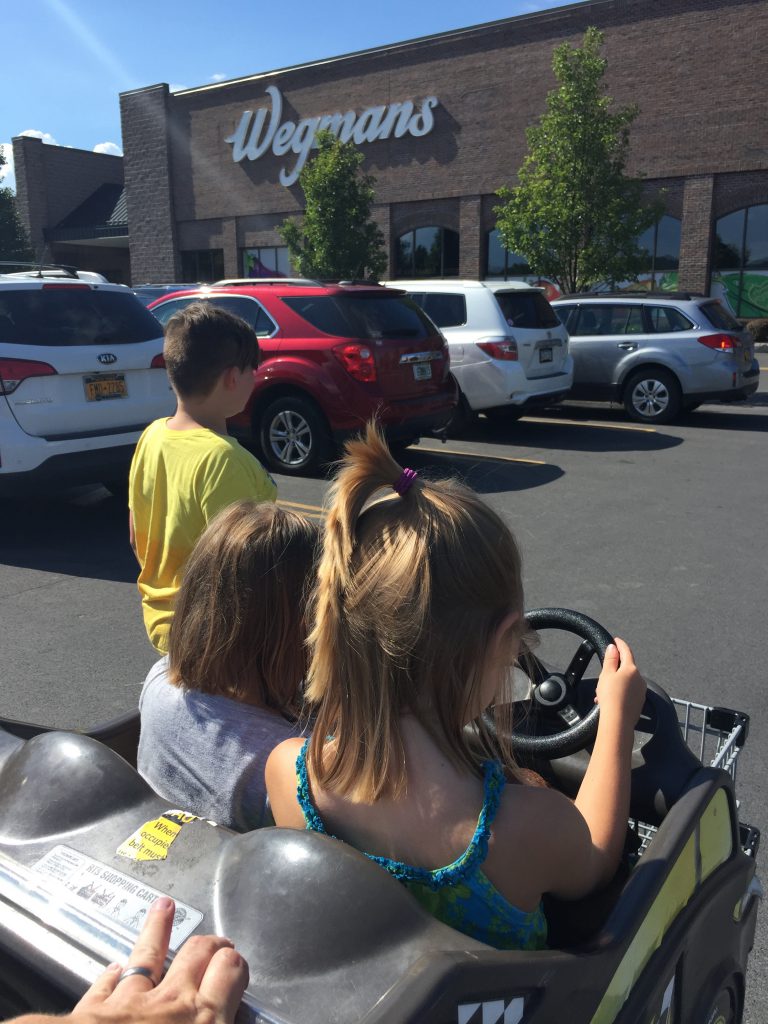 anna, the fisherman, face to face with the very creature she hunts for sport.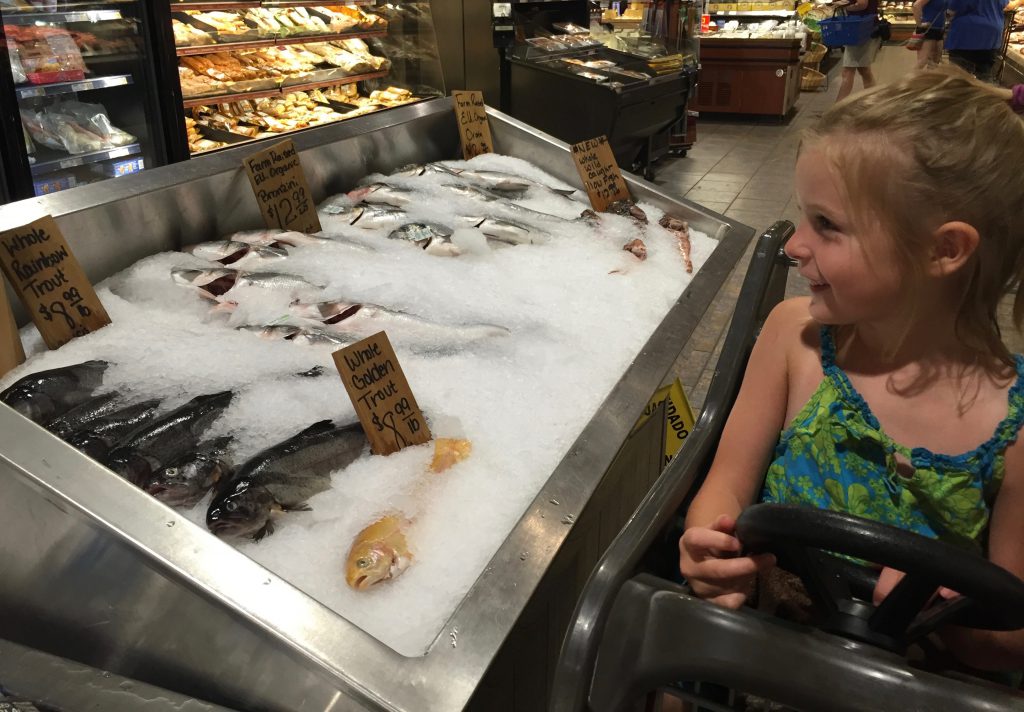 derek was overwhelmed with sushi options.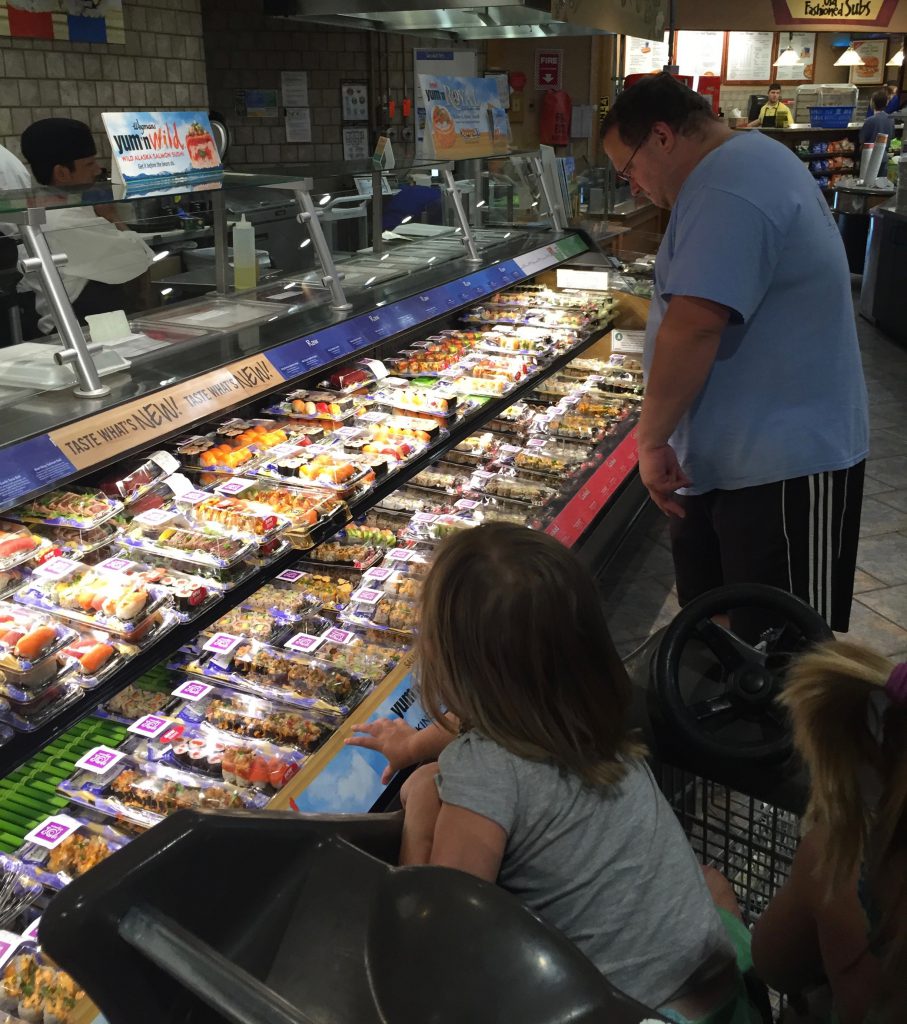 lobsters.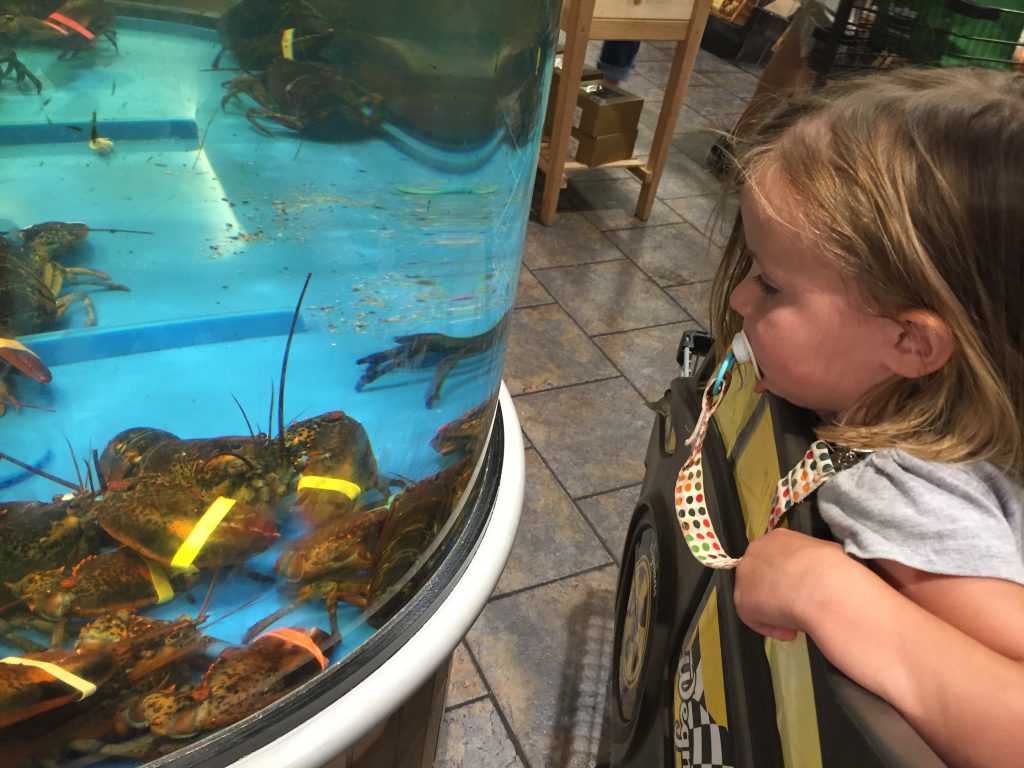 on the ride back to our campsite, we took a detour, so i could maybe get a good shot of the lake. we found a little parking area and wandered over. derek took these pics while i hightailed it back to the car, because we had inadvertently happened upon a yacht club, and we were clearly out of our league.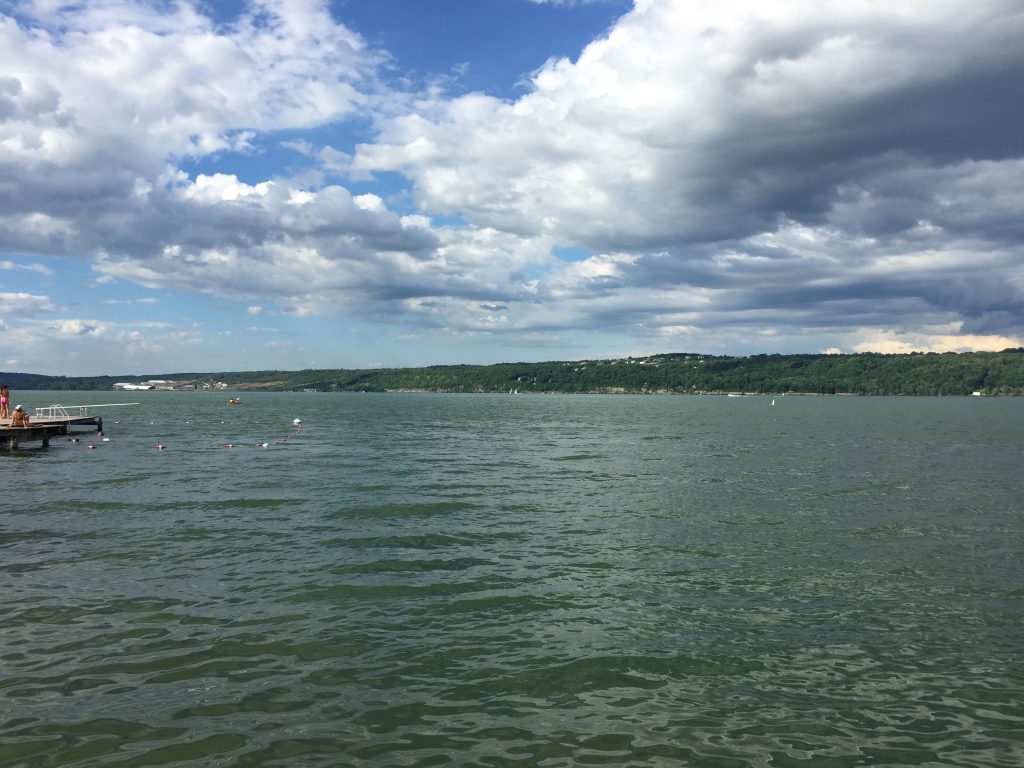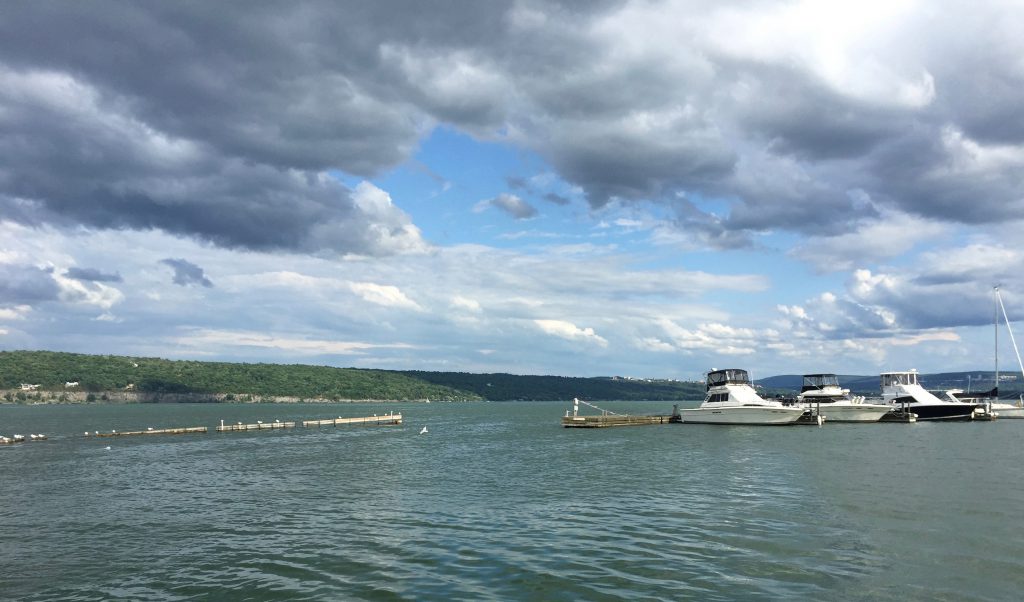 finally, back at the camper, derek busted out his sushi. and mary casey came over with some beers and we got to have one last hangout, before our road show pulled out in the morning.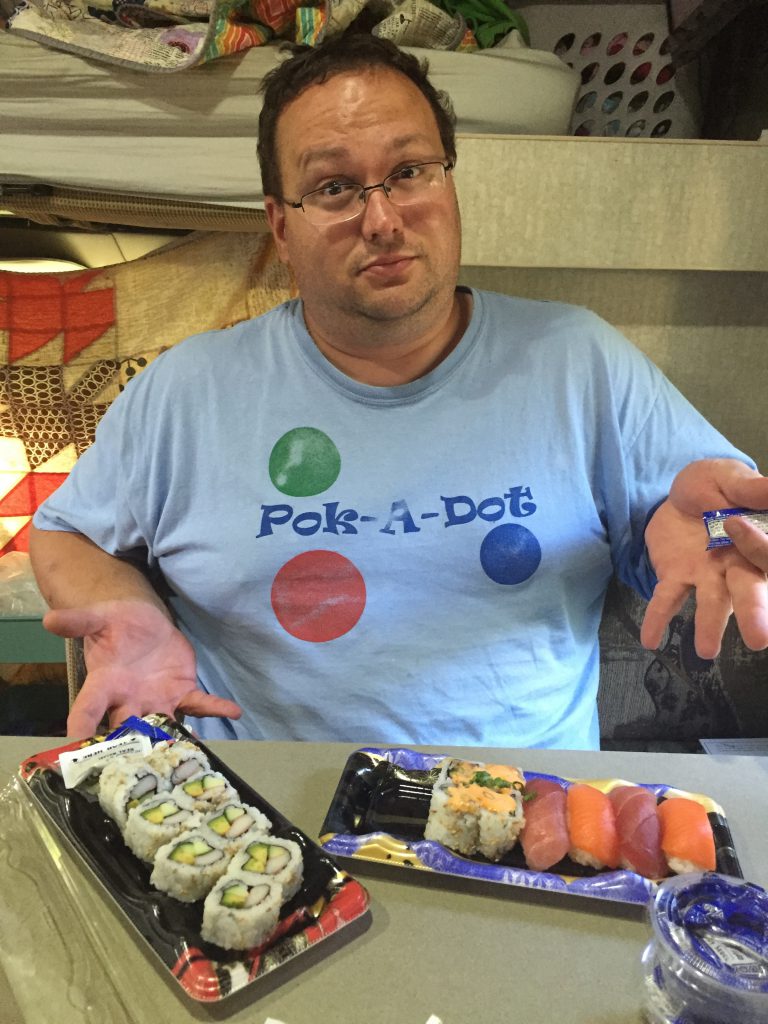 and then, our brief time in ithaca was over. 🙁