**warning: this post is mega-long**
the spot we finally decided on in sturbridge was next to the beach/lake, store/office, pool and rec area. it's pretty convenient, even if strangers tend to feel very comfortable taking a shortcut through our site to get to any of these places. (and messing with our stuff…)
lakeside: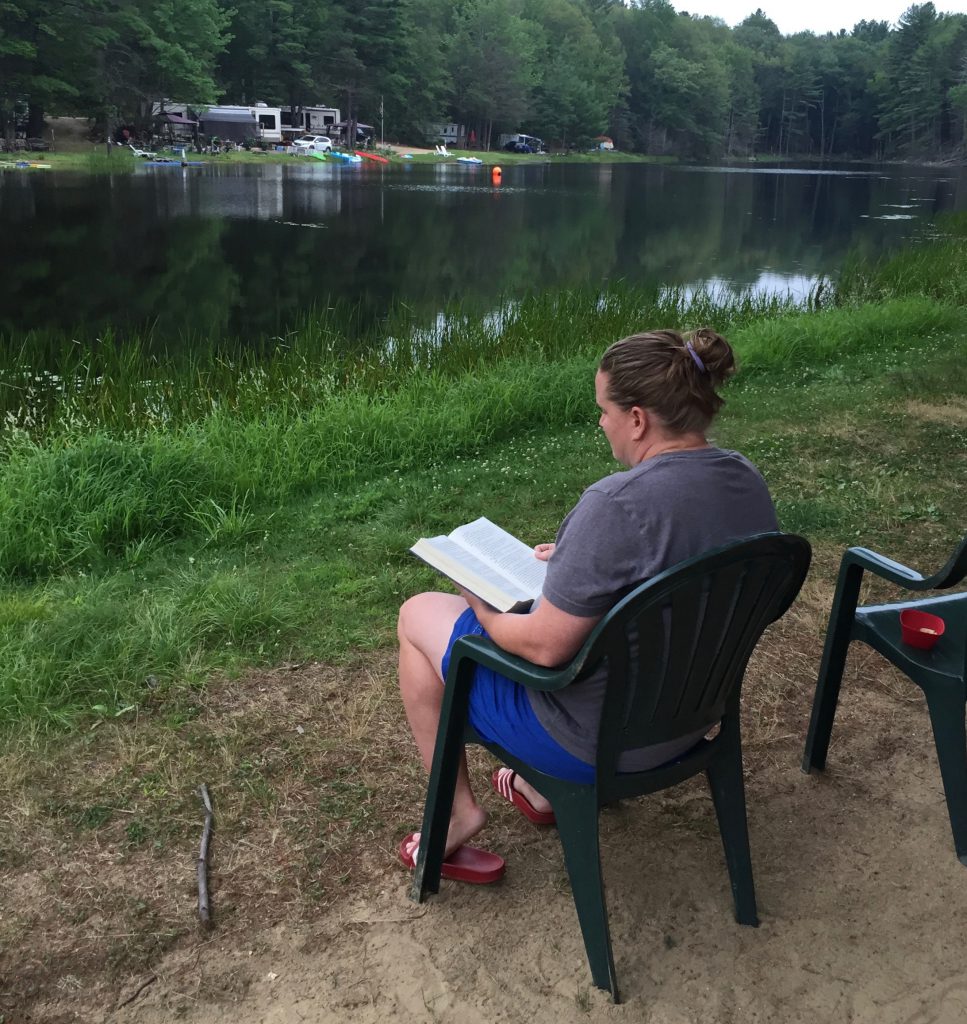 being next to the beach might not be as wonderful as if first sounded. the kids are covered with sand all day every day.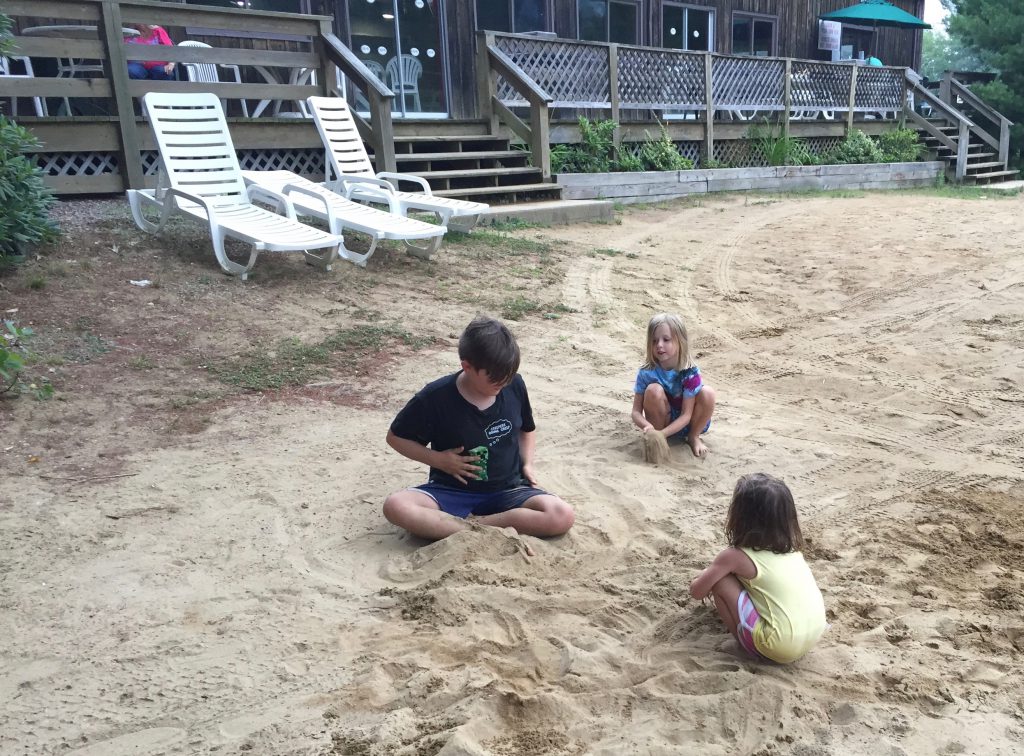 and it's not the nice kind that just brushes away. it's very clingy sad. as evidenced by this sand face.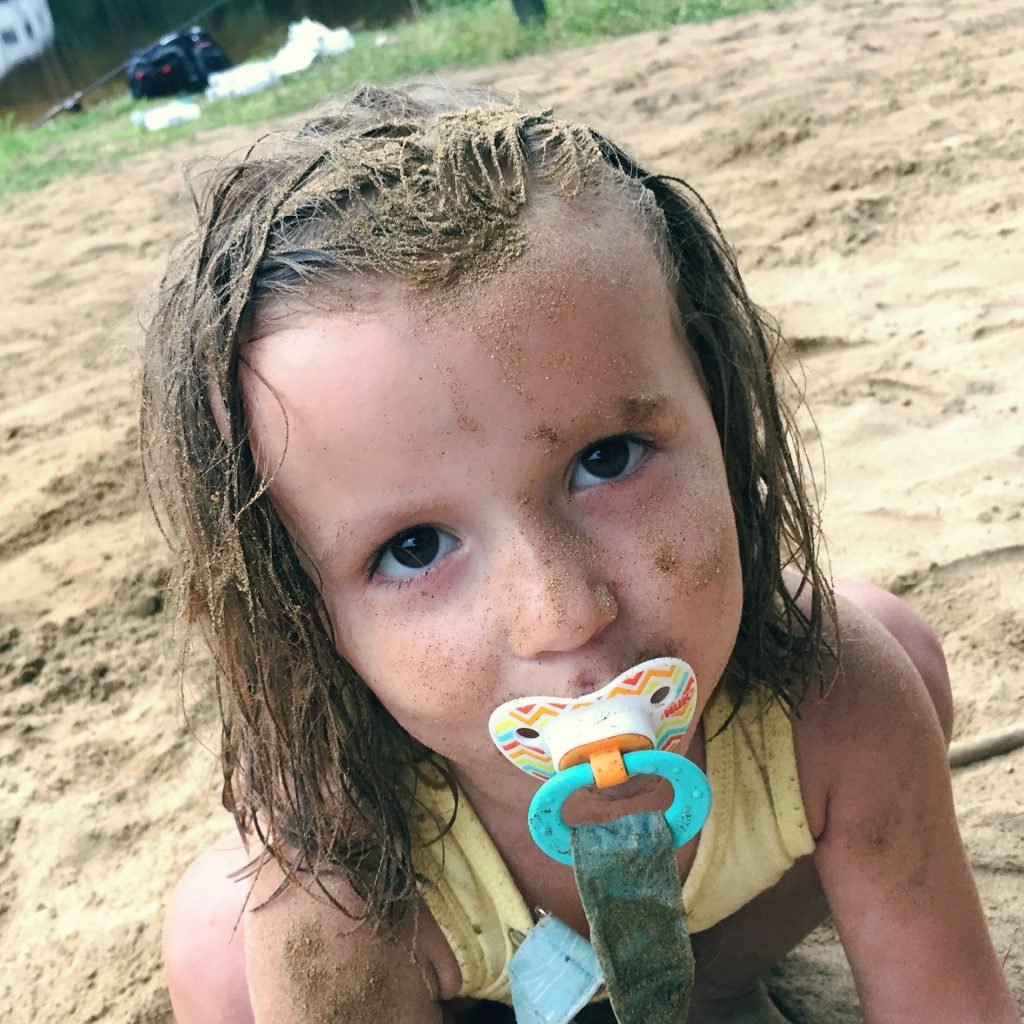 the site we are at doesn't have sewer hookups, so on mondays and thursdays, a truck comes around to pump out the tanks. so, we have to be careful with how much water goes into the tanks, making the outdoor shower very useful for desandification.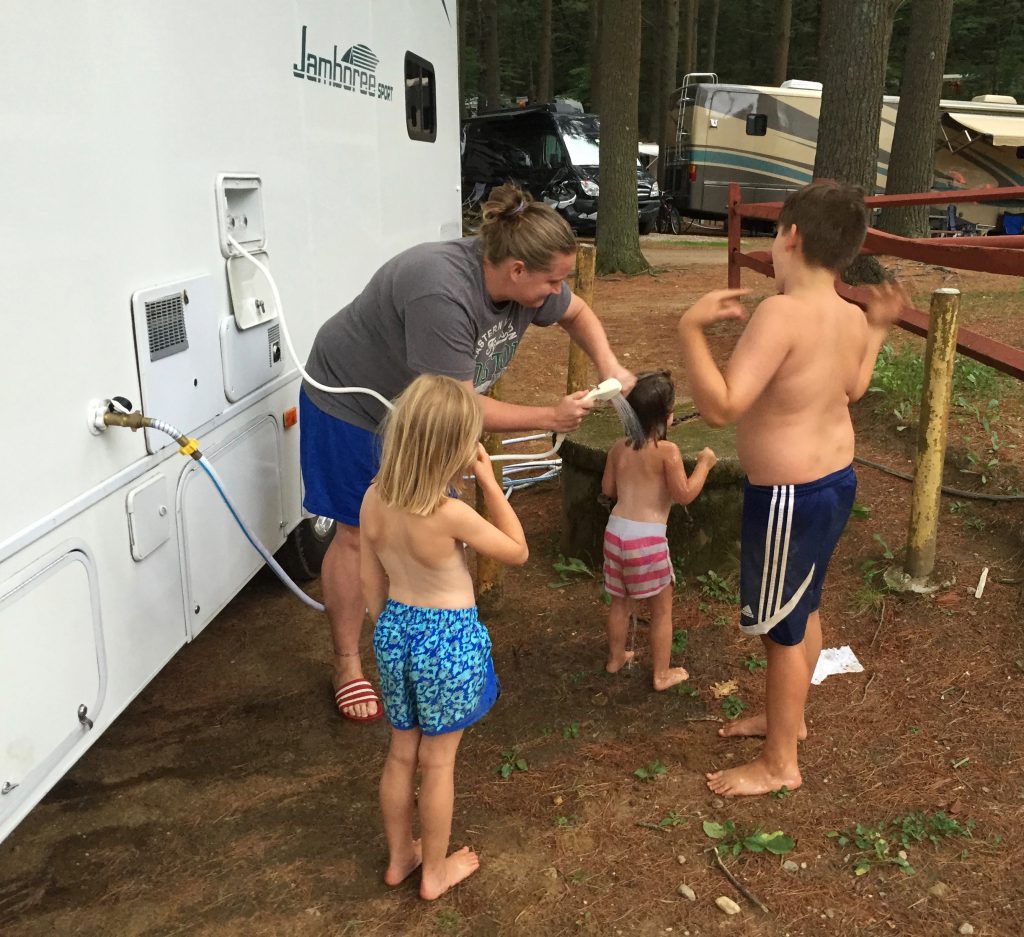 we spent our monday getting ready for derek to leave for work for a week. anna and i went grocery shopping and ended up with a playdoh pizza kit.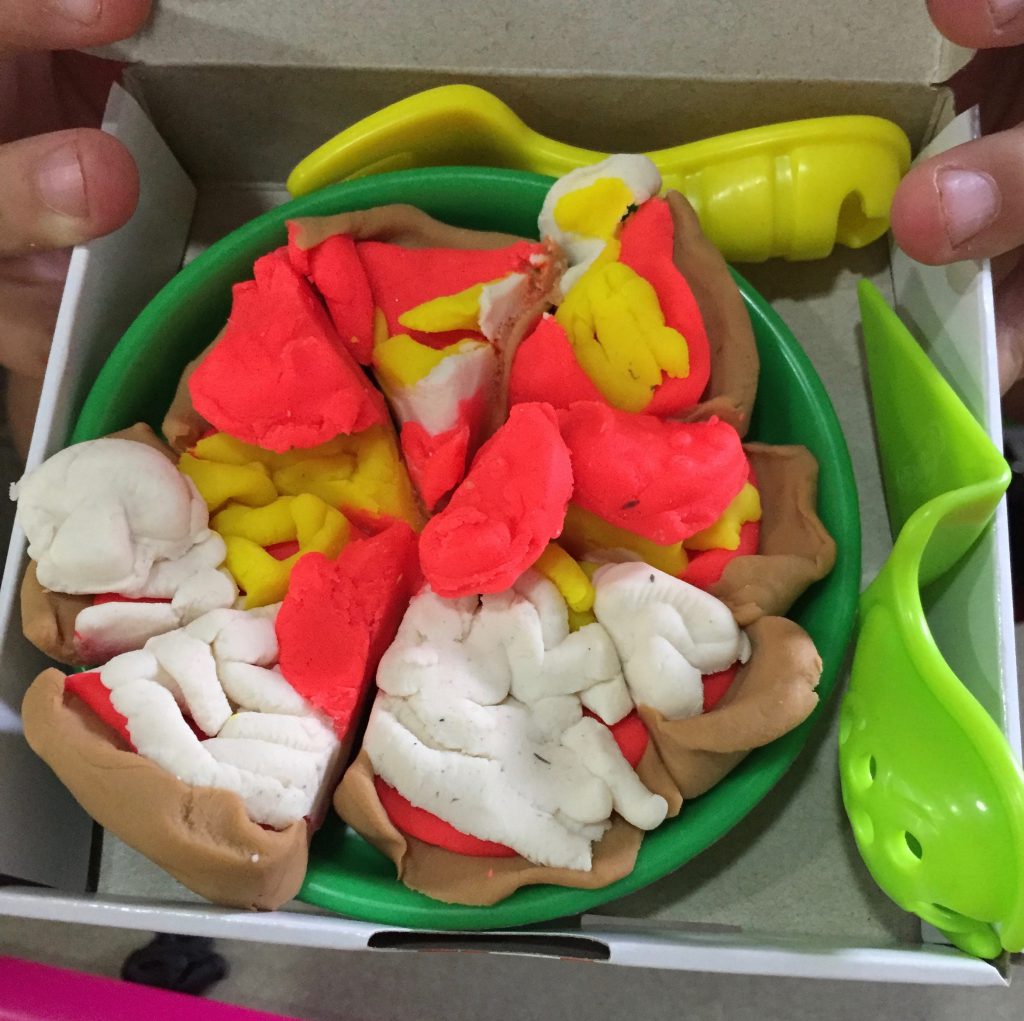 hazel kept busy with her trains and the "train playground".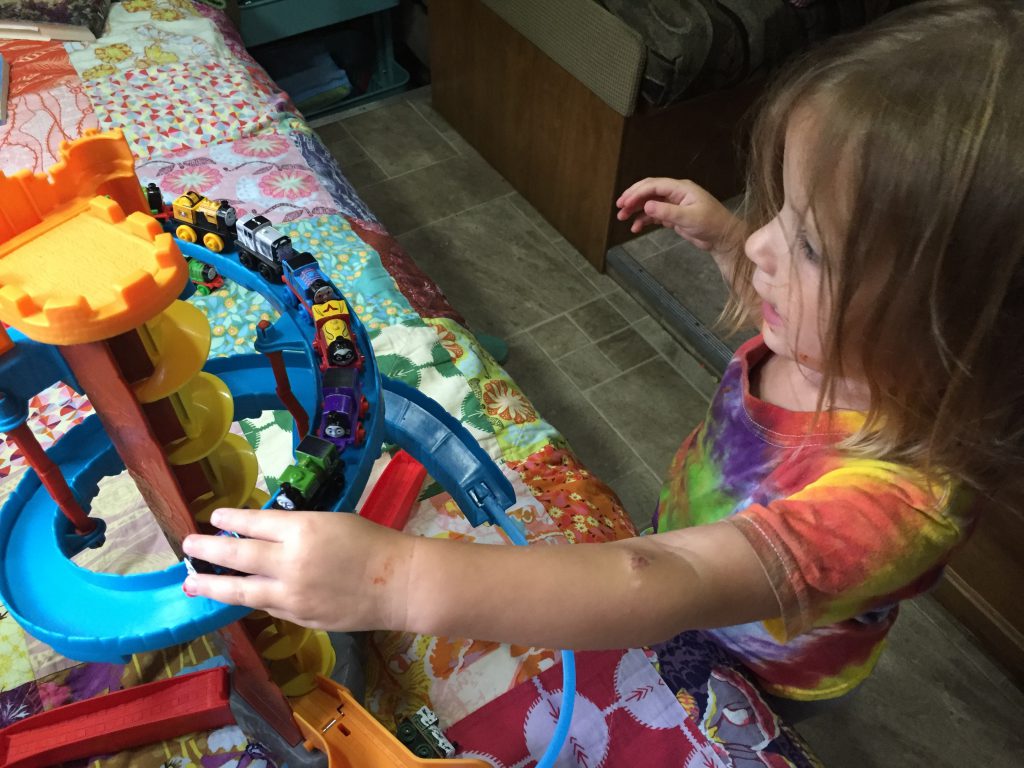 derek went out to get a haircut, and isaac, who has grown tired of his cool swoopy hair, decided to tag along to be trimmed up.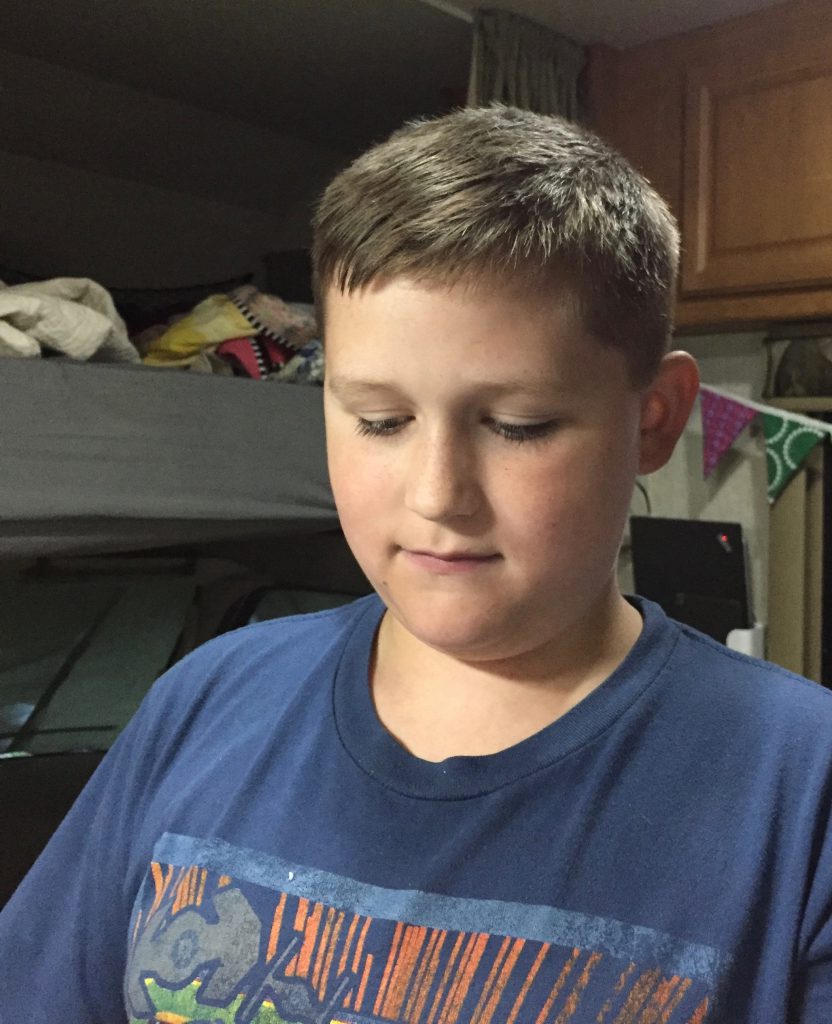 on the way back, they stopped at mcdonalds, where apparently in new england, you can get a lobster roll. so, we obviously had to try one. and it was not that great. nor did it look that great. but it was much better than i might expect from mcdonalds.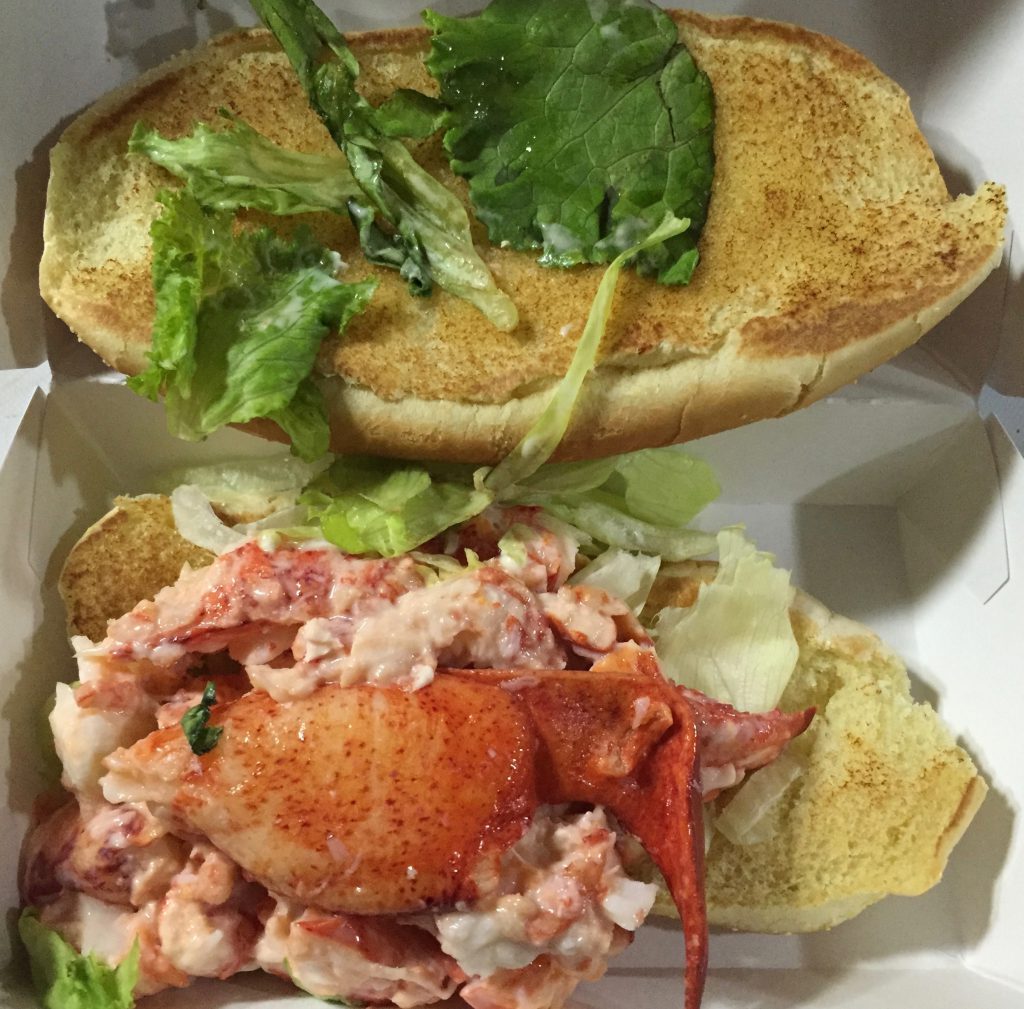 anyhow. on tuesday morning, we all loaded up and took derek to the airport in boston. his flight out of providence was canceled, and i had spent a good amount of time planning a day of adventure in providence after we dropped him off, so i was a little grumpy about the change of plans. after we dropped him off, i attempted to find a restaurant that i found on trip advisor, only to get us lost and very stuck in downtown boston traffic. everyone was starving. and it was stressful. finally, we made it out alive, and onto the mass turnpike. once we were in the clear, we hopped off at an exit and the first restaurant we saw was CHIK FIL A!!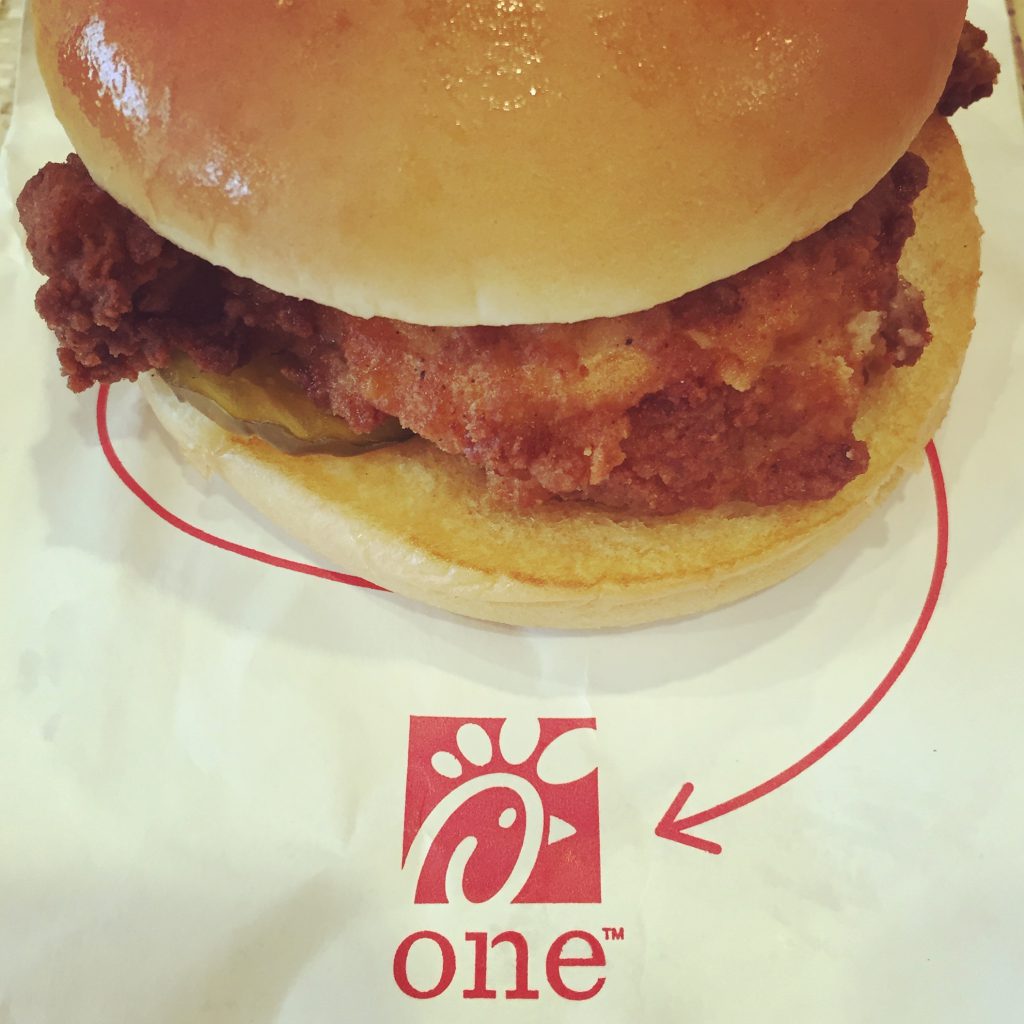 the kids were so excited — it's been a long time since we've had their favorite delicious southern fast food.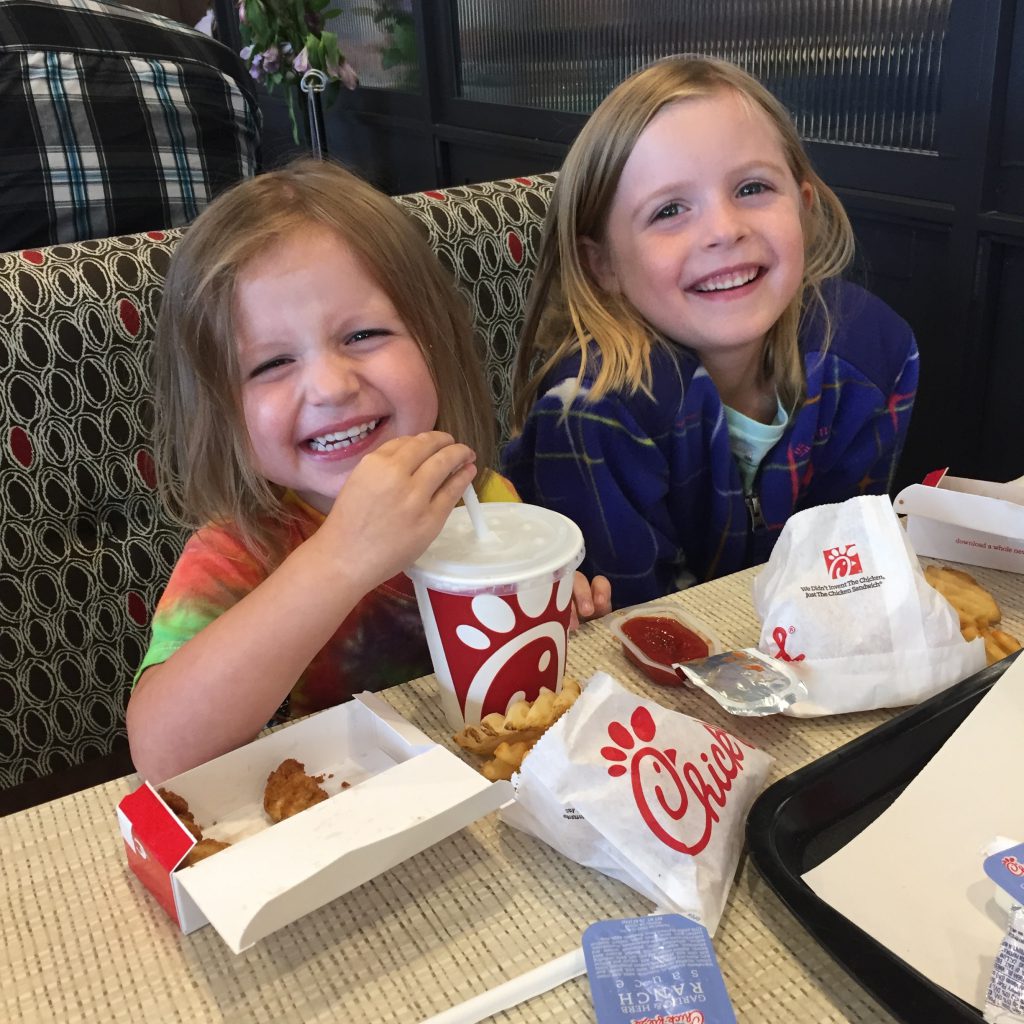 we also hit up a target to pick up a few necessities, including this dry erase usa map that i had spotted online and decided i neeeeeeeded. it's also very big and this is the only spot it would fit.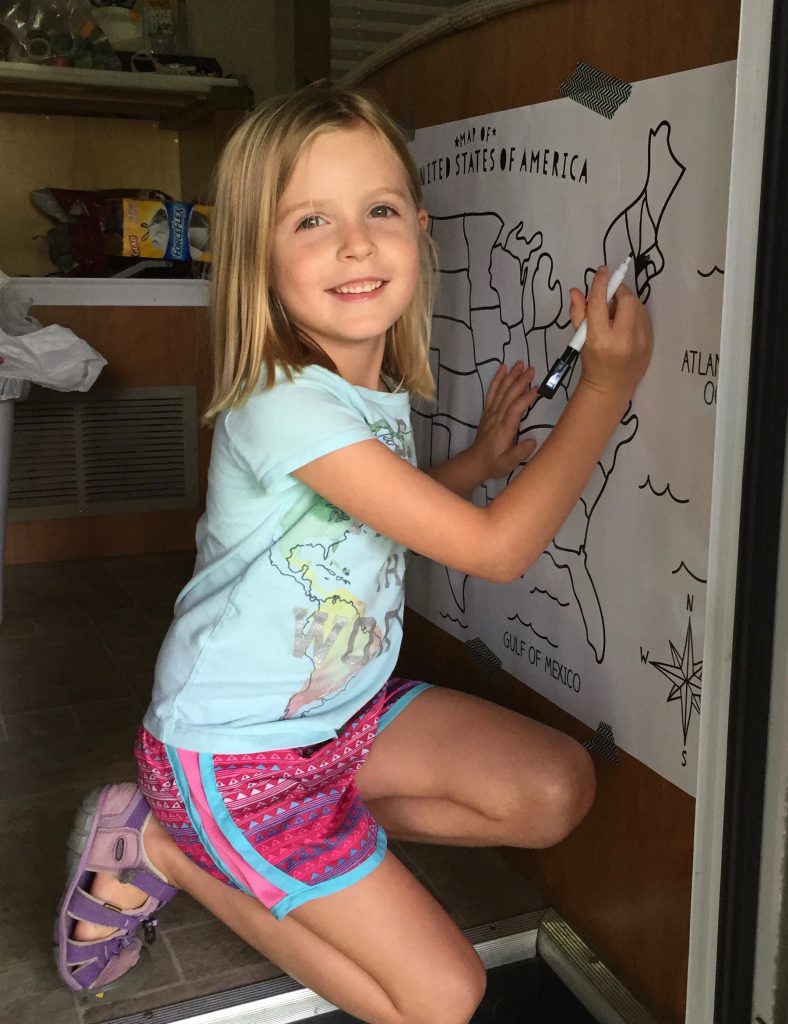 back at the campsite, with my week of being single mom kicking off, we jumped back into the playdoh pizza kit.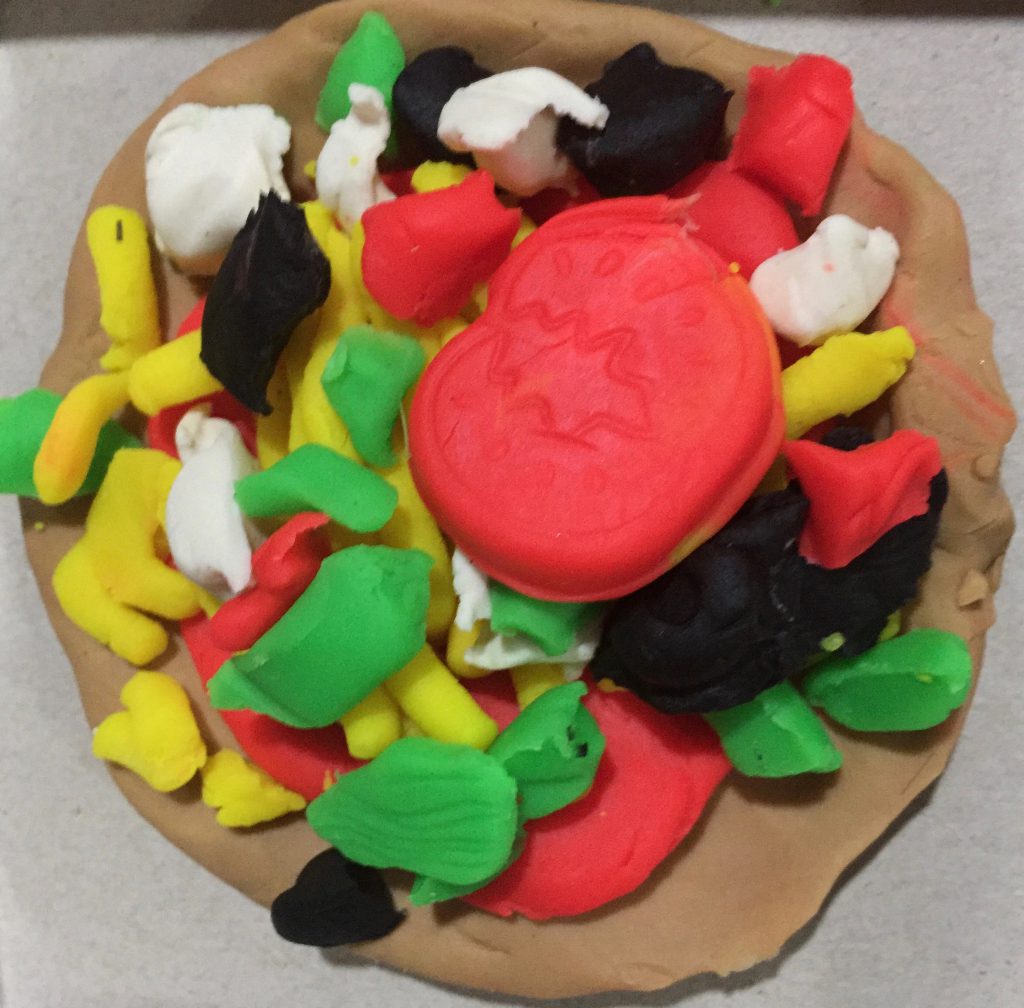 there was a lot of very lazy days around the campsite.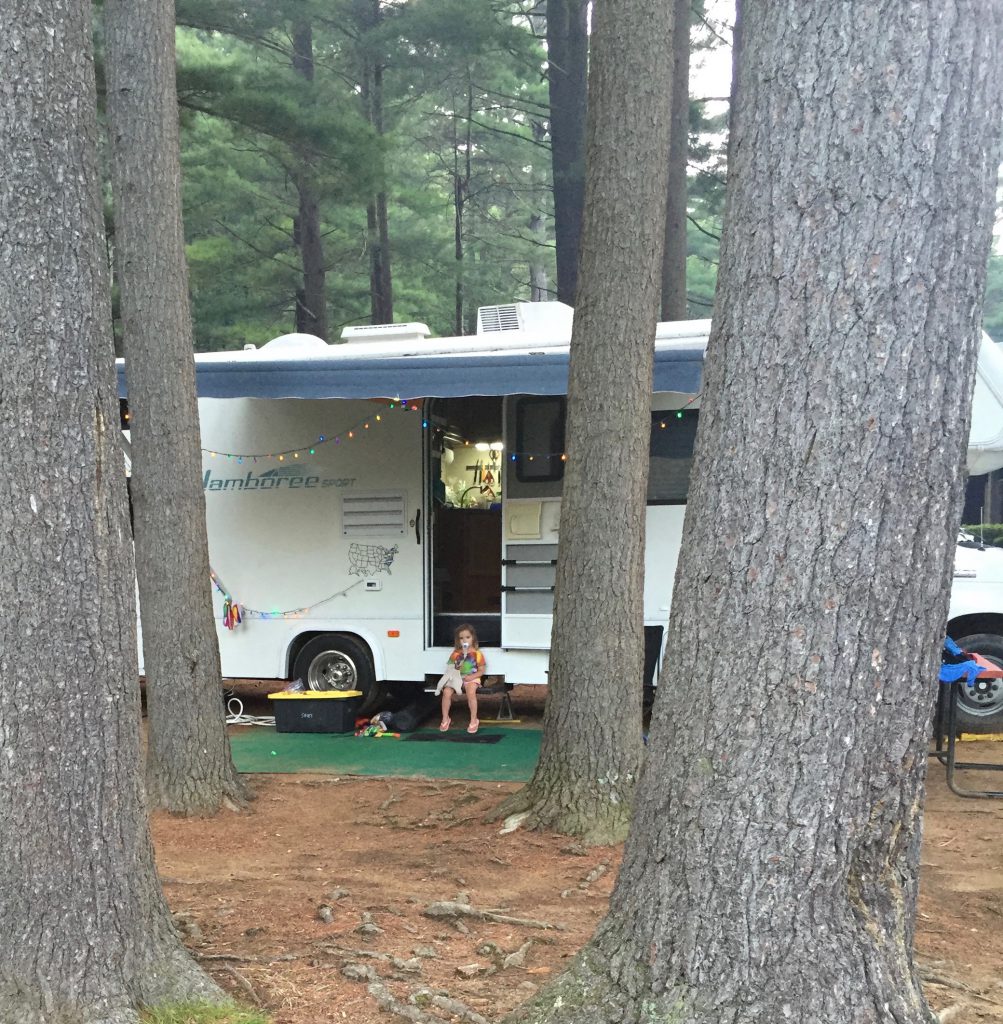 the kids love to go to the camp store for ice cream.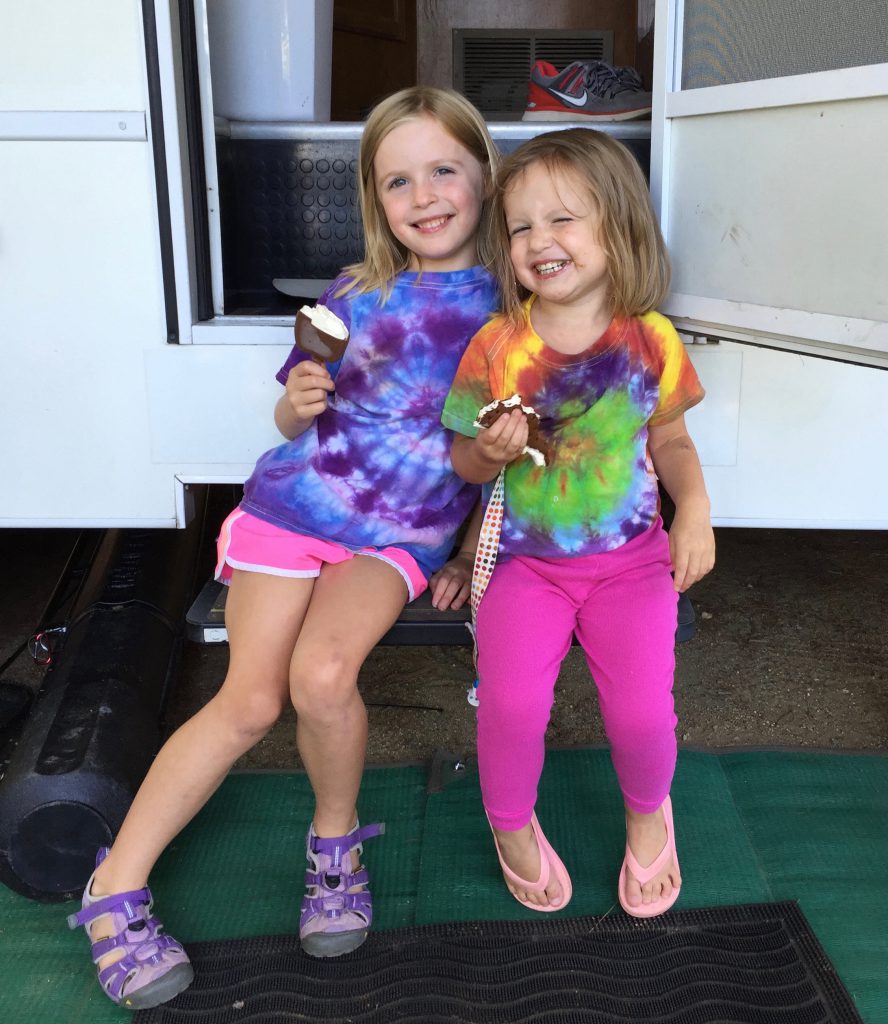 one day, we ventured into southbridge.
lunch at a pizza deli type place.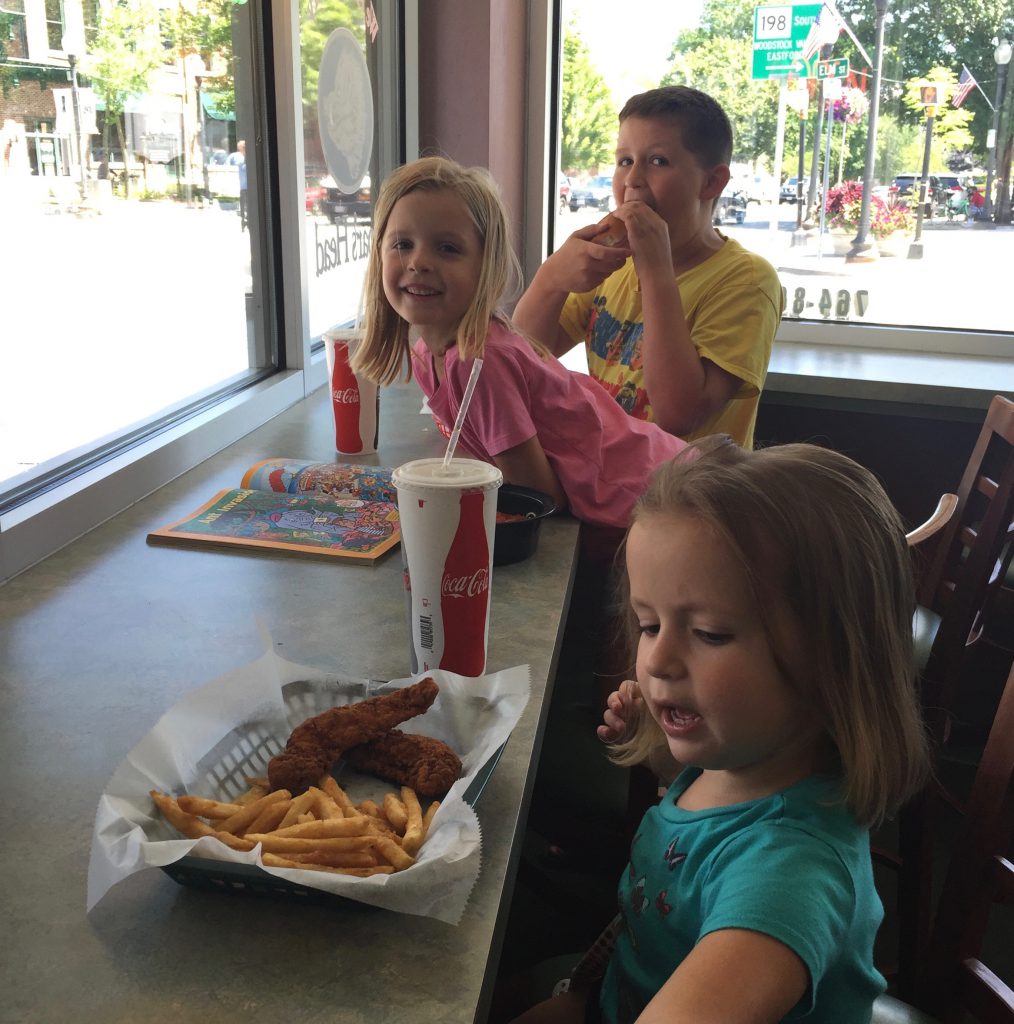 my delicious sub (a "grinder" in new england speak).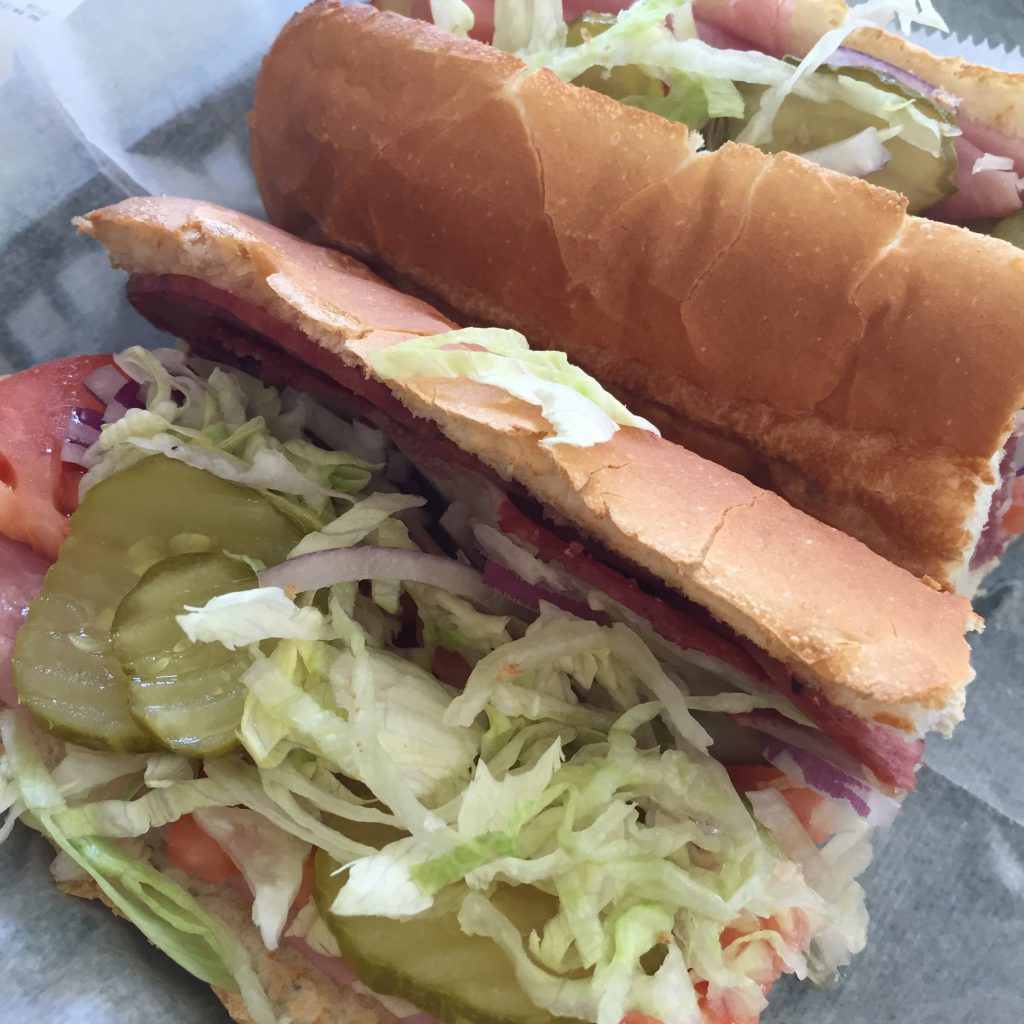 the restaurant was near a fire station, which made hazel very happy. (and we missed a lot of commotion and excitement by about 5 minutes).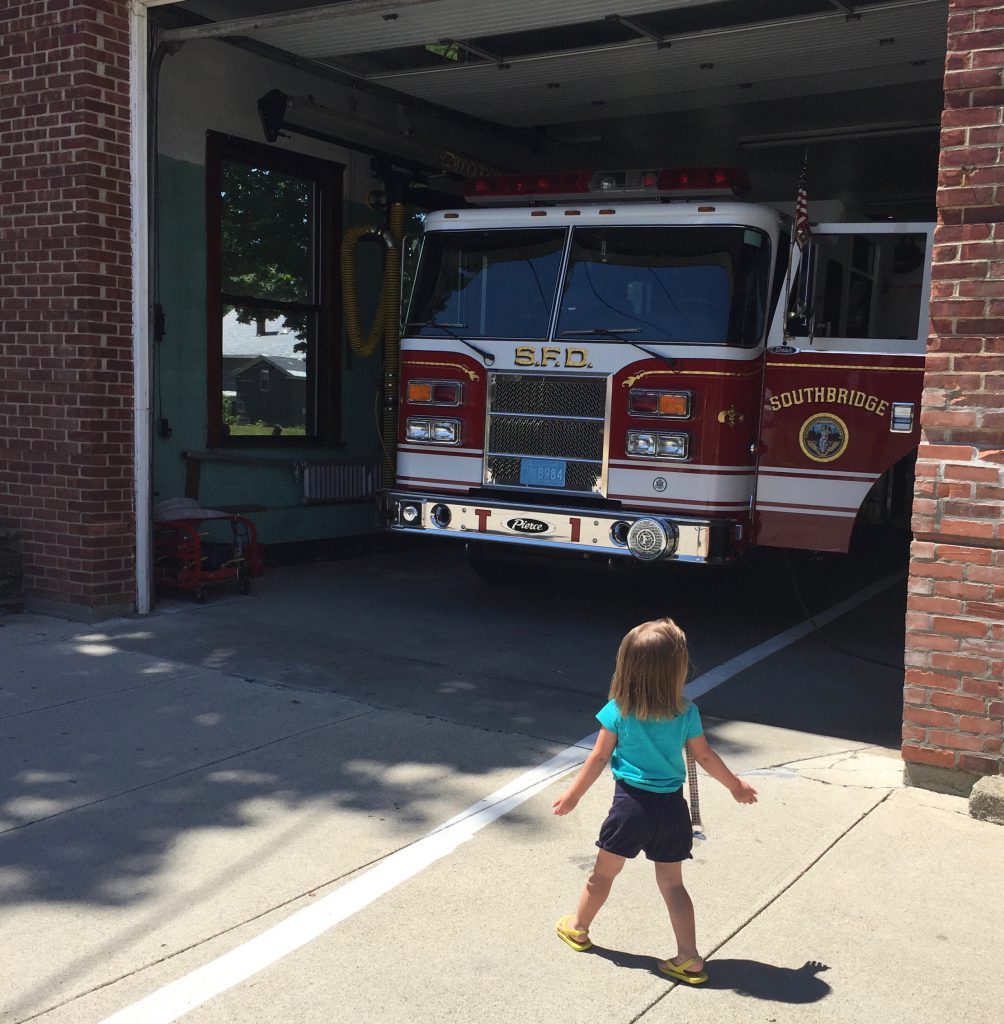 we drove around a little (which is when the excitement and commotion was brought to our attention), and then found this "eyeglass monument". so, a photo shoot took place.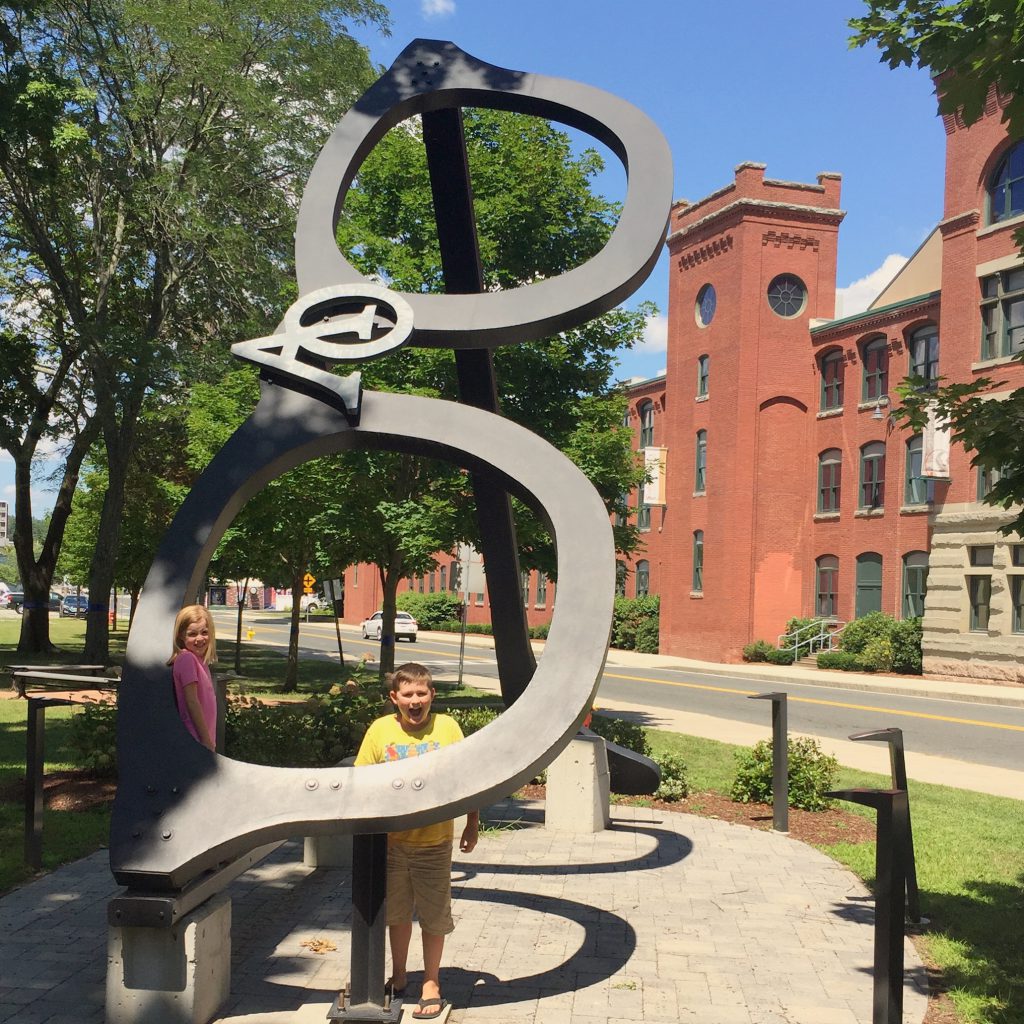 the monument, with it's parent company in the background. (i'm not actually sure that it's still "american optical" or if it's something else now).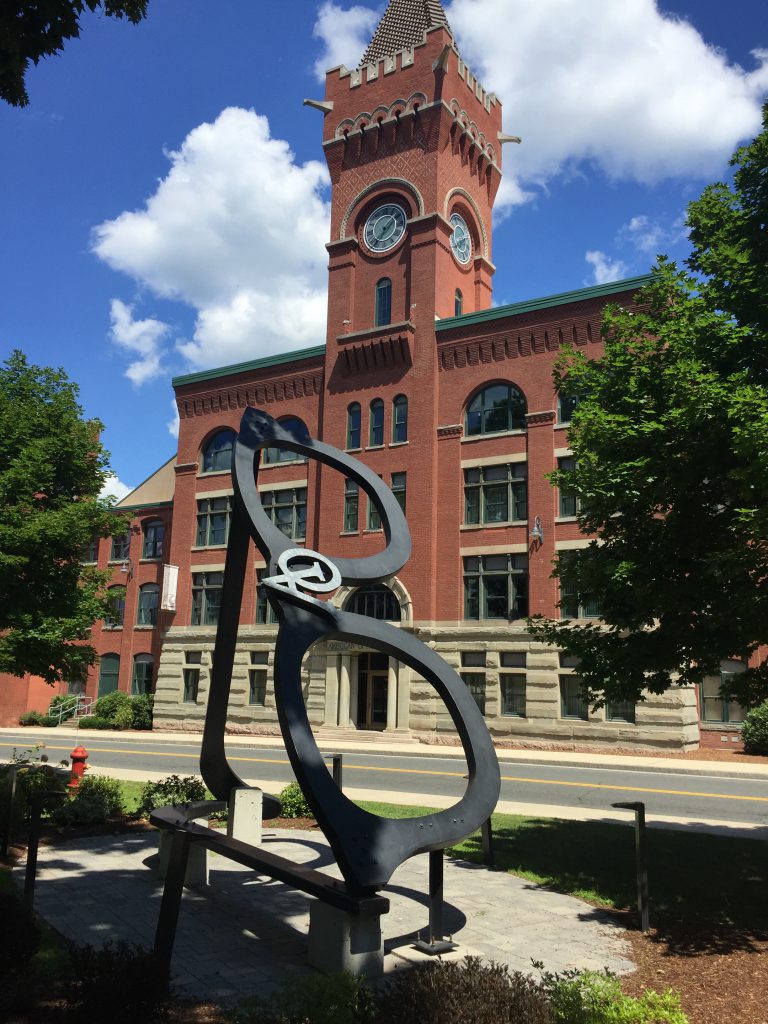 on the way back through town, we snapped this pic of the other big attraction in southbridge, the notre dame cathedral.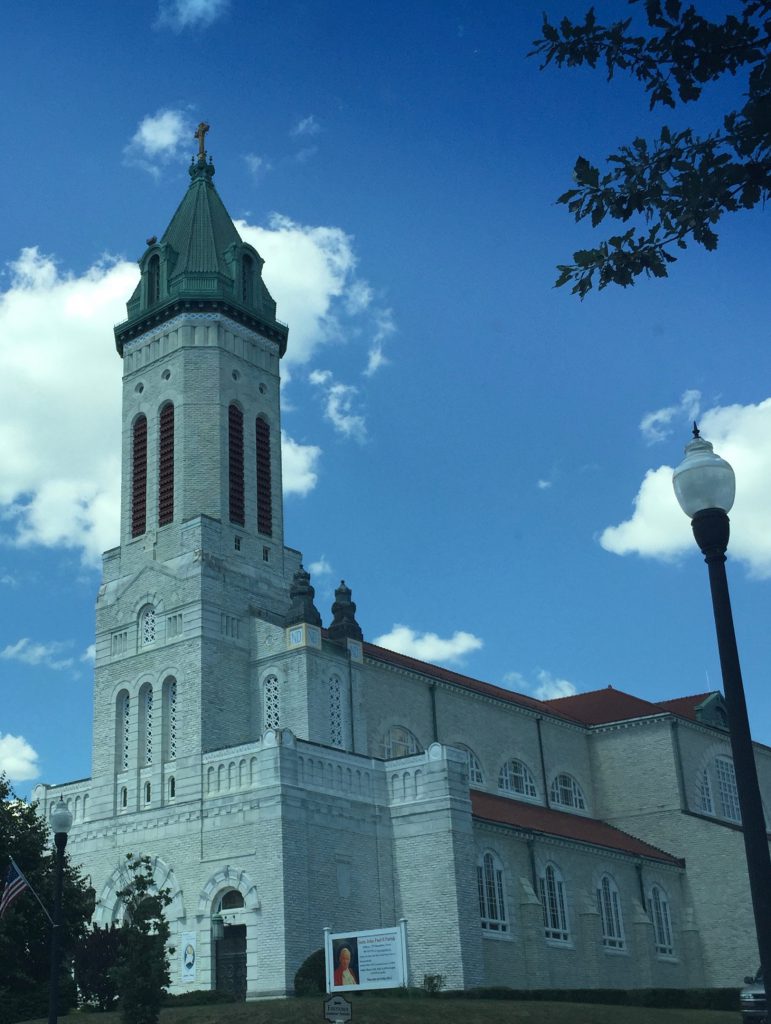 back at campsite, just a lot of hanging out. hazel and her dorito pile.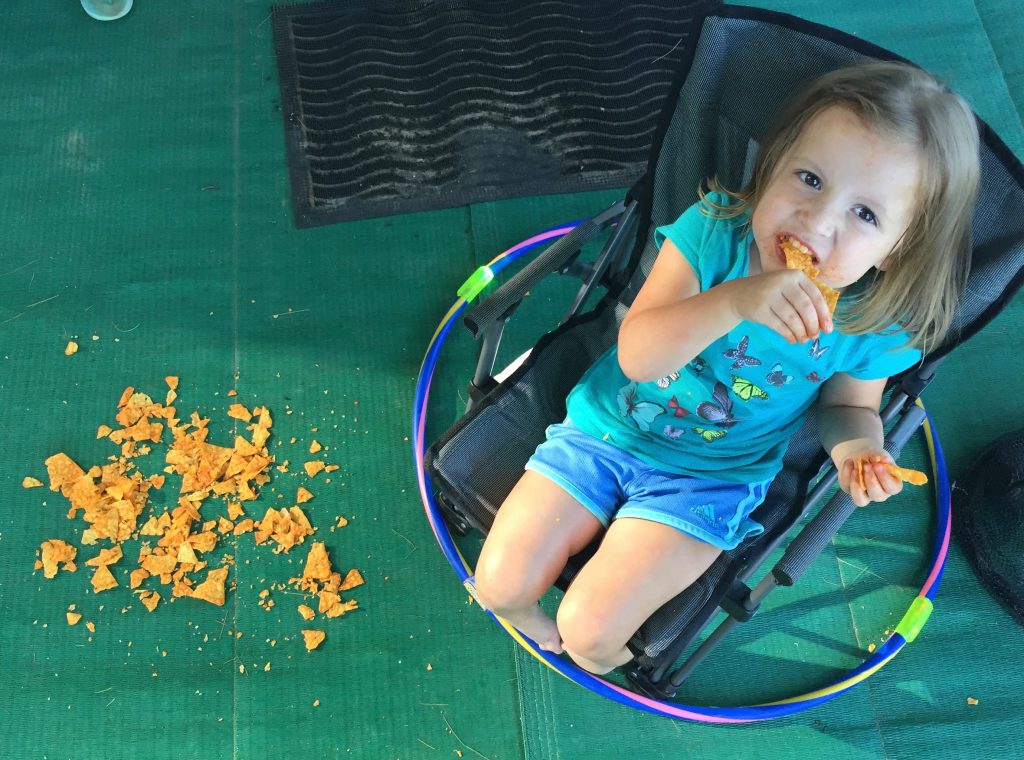 the playground is just past the beach, so i can stroll over and sit with a book and keep an eye on my kiddos. mostly the tiny one.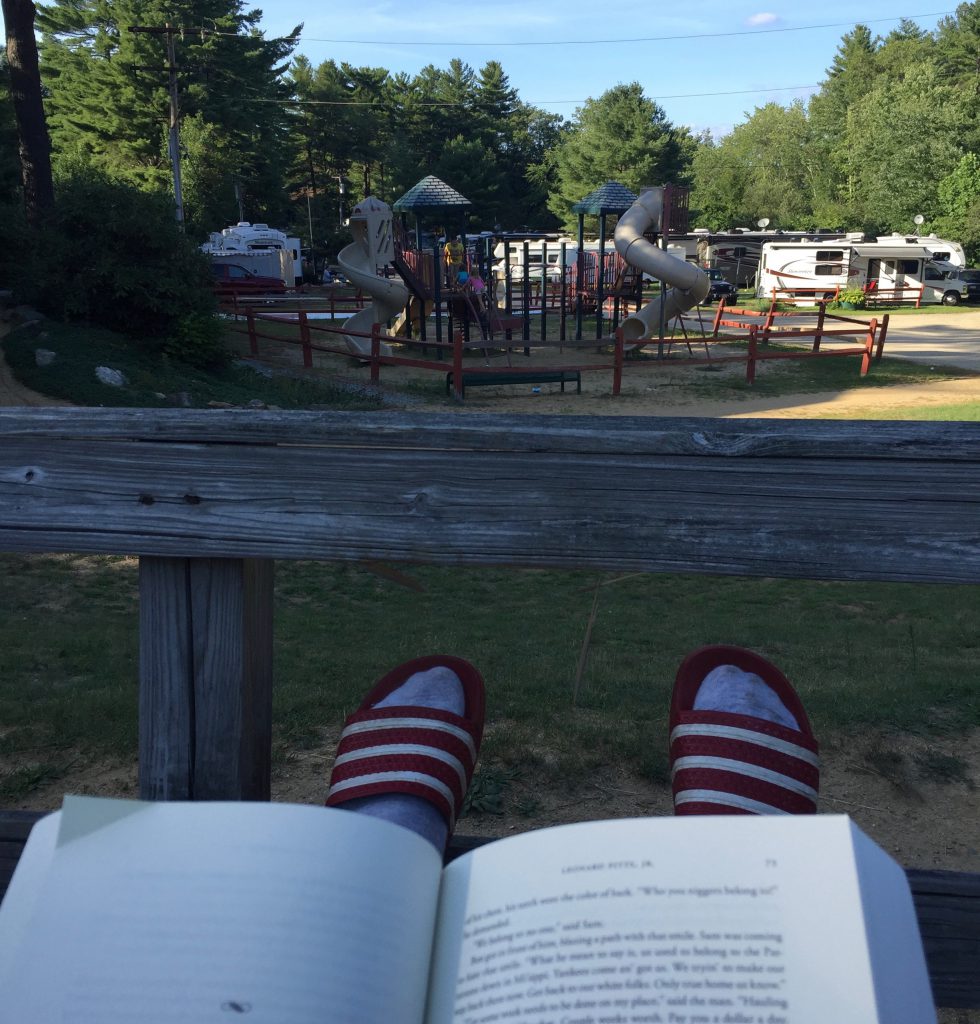 during my nightly research sessions, i discovered that we had free admission to the springfield science museums, about 45 minutes away. so, on friday, that's just what we did. in the courtyard of the museums, there's a dr. seuss sculpture garden, so that was our first stop….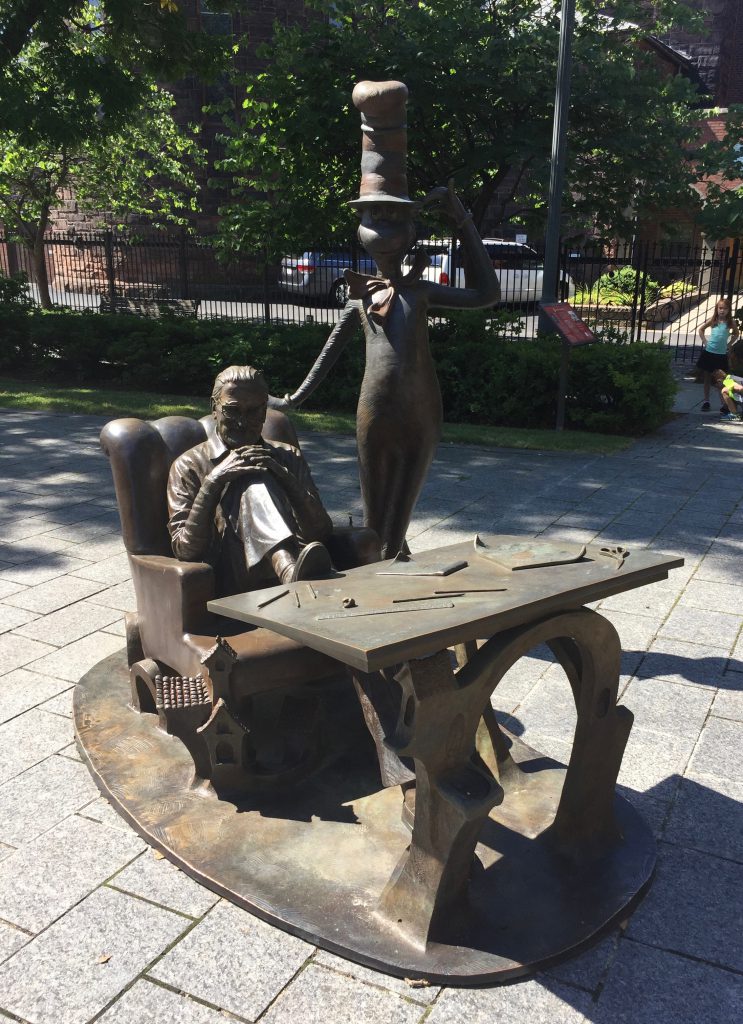 oh the places you'll go…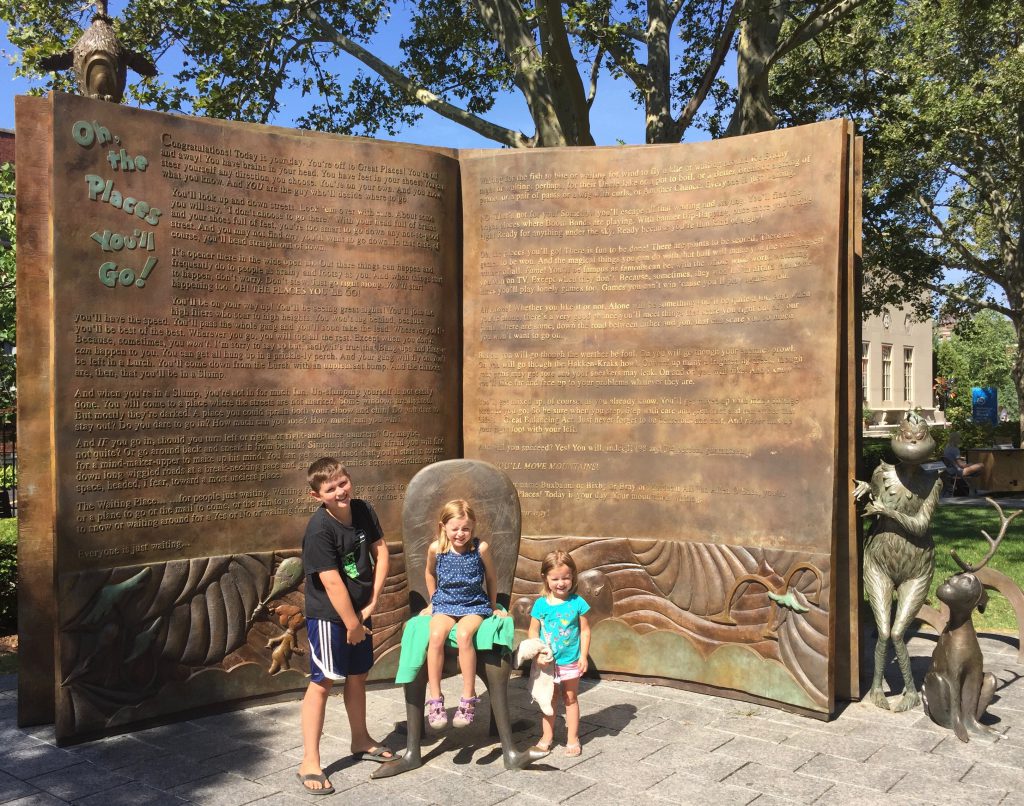 the doc and the cat and the lid kids.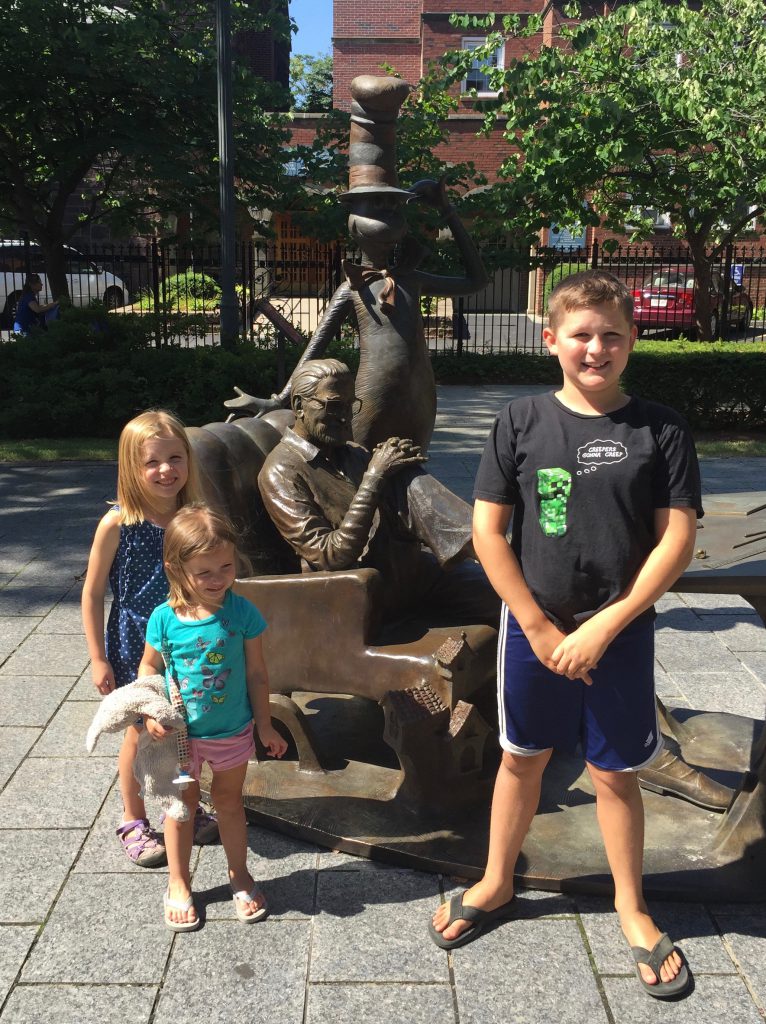 goodhearted moose.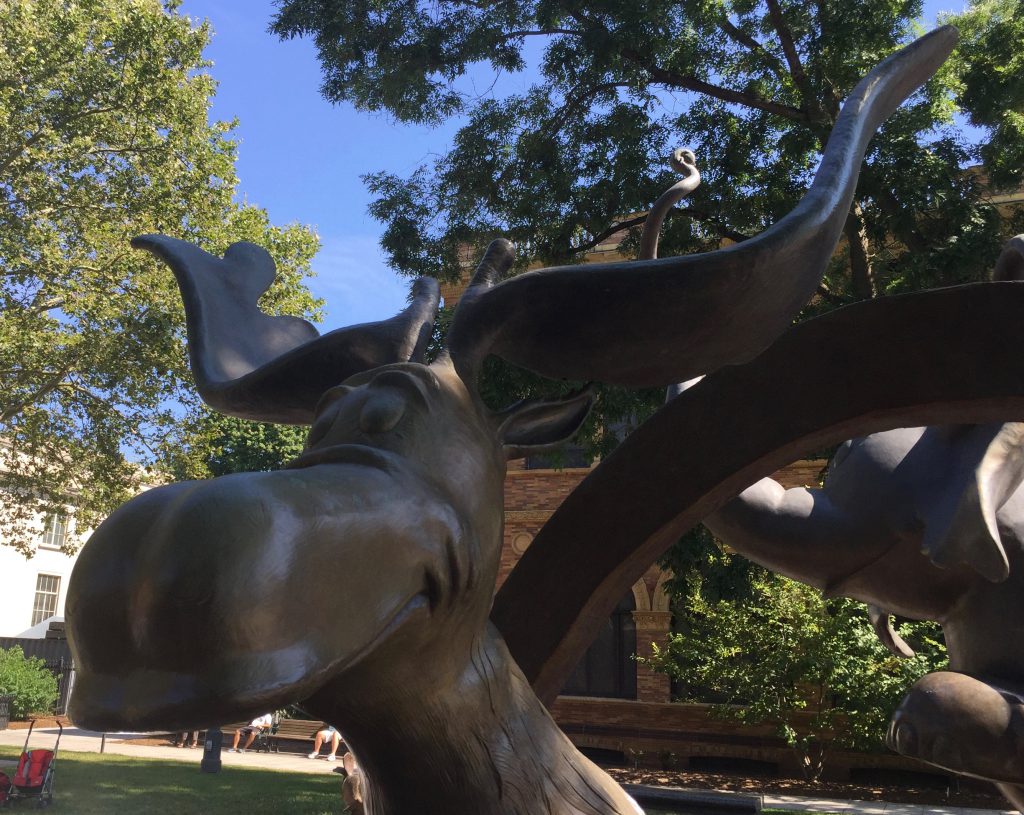 sam i am and anna banana.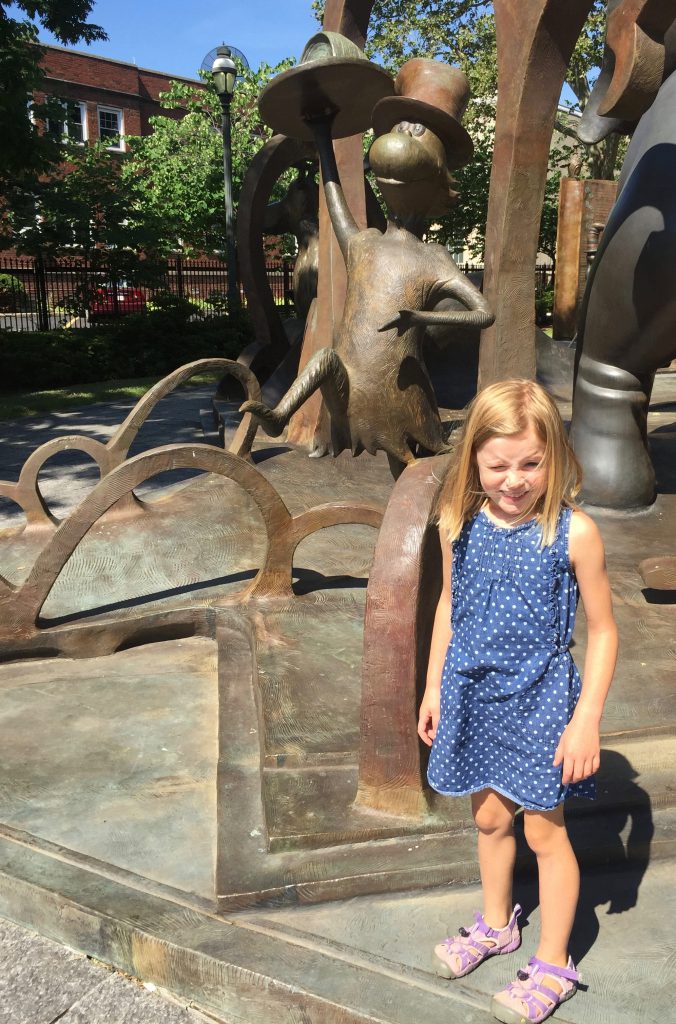 thing 1 and thing 2 and thing anna.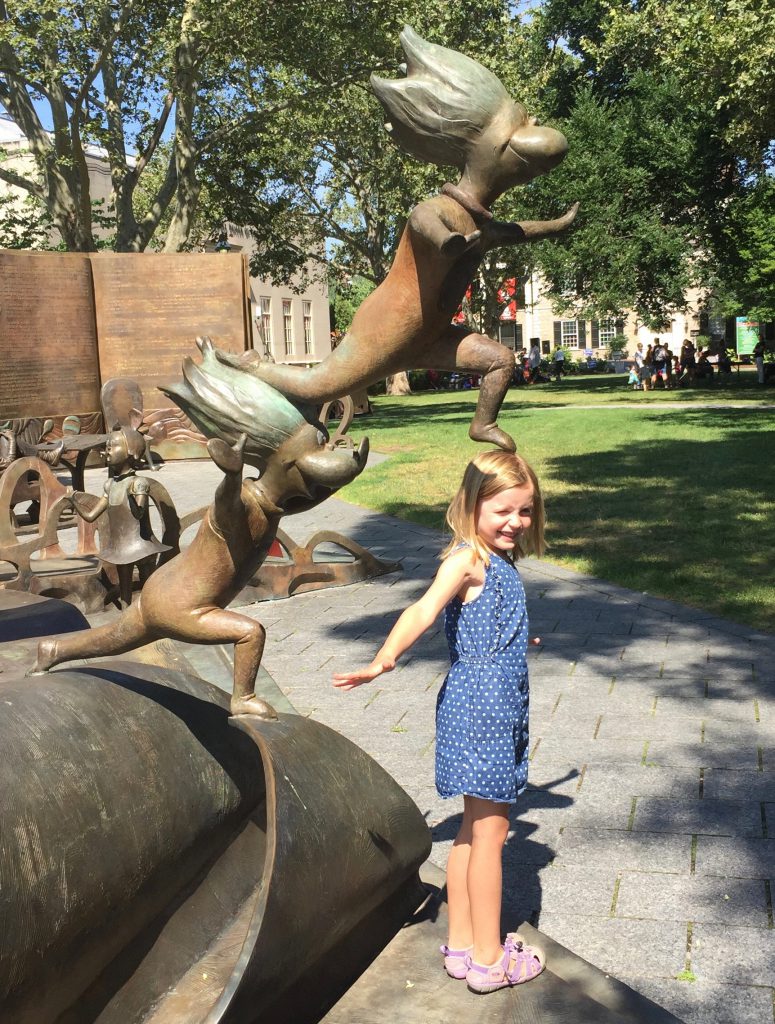 finally, we were ready for the first museum. as we made our way to the front desk, we were redirected to a little set-up outside, where it was clear there was something special going on. we soon found out that it was "free friday" and admission to the museums was free. for everyone. bleh. we seriously try to avoid the masses, but it was too late now. we pressed on.
the first thing to great us in the science museum was this guy.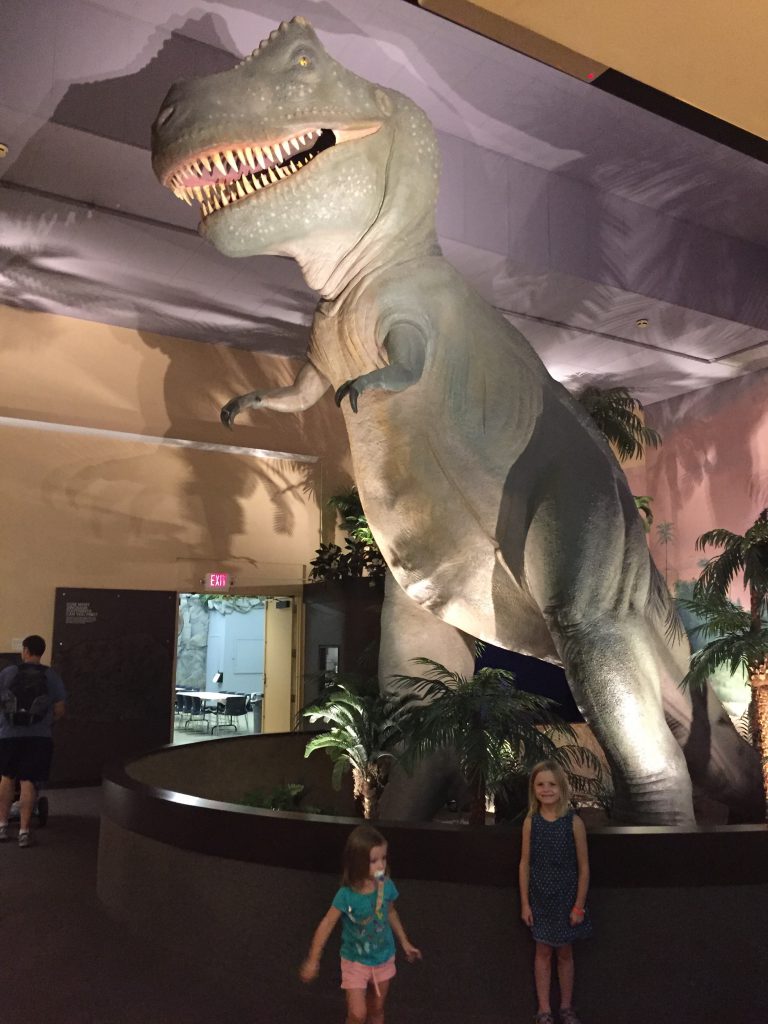 i'll spare you a million pics of another science museum, mostly because i didn't take many…
but this was cool. some blown glass. it was in the planets/minerals/earth science-y area.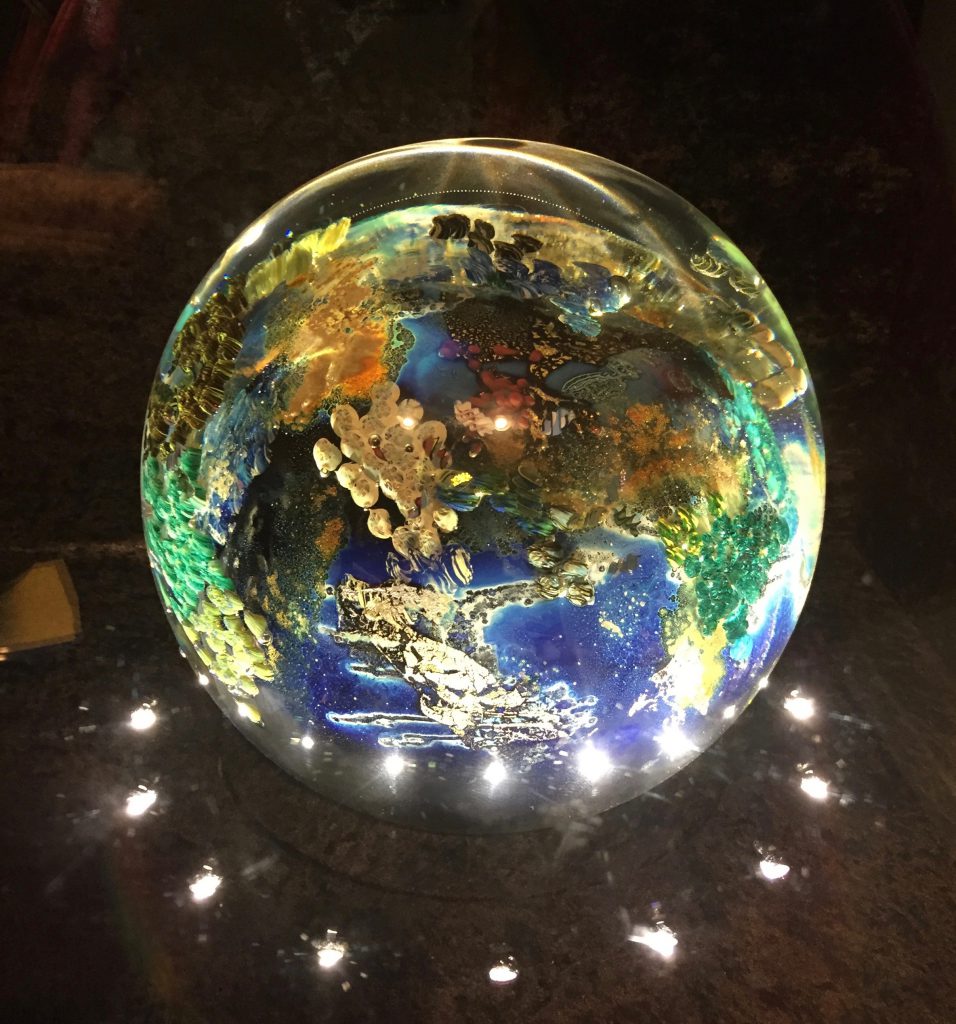 the girls, picking out their favorite rock.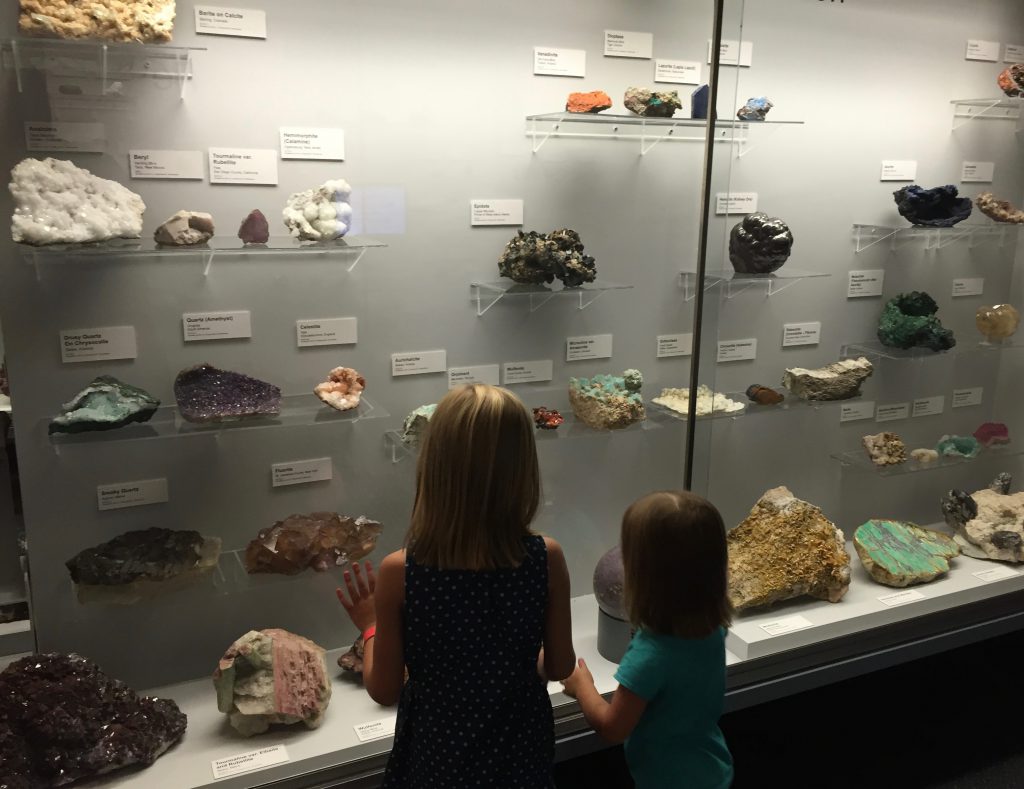 another (goodhearted?) moose.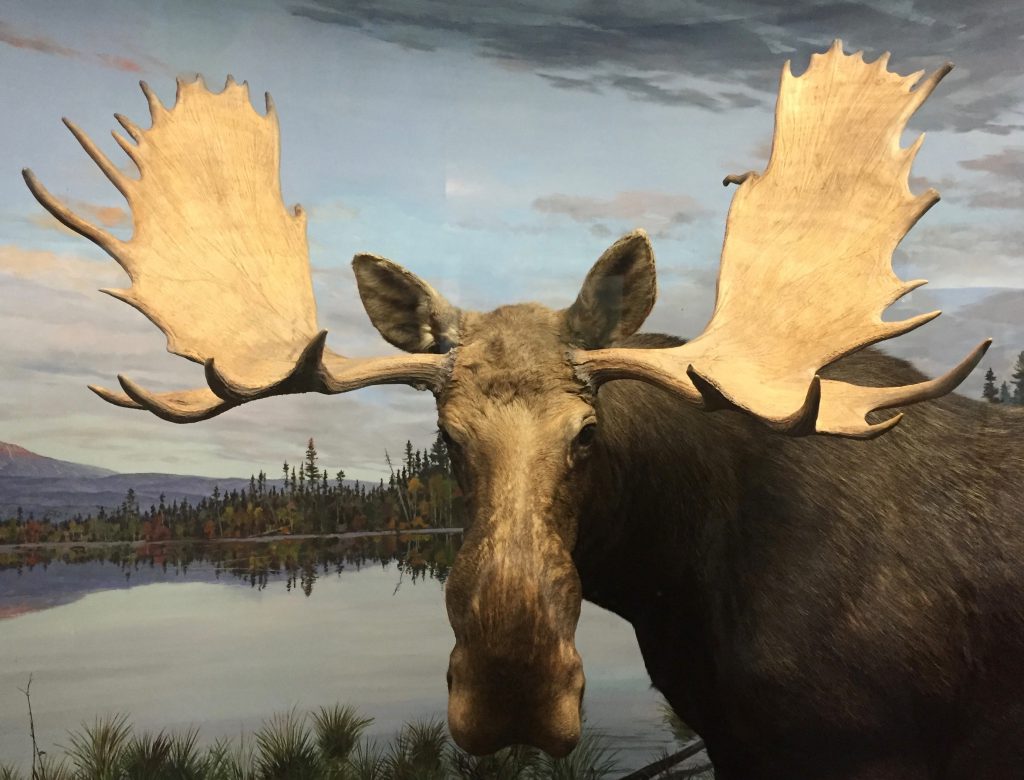 after the science museum, we were off to the history museum. they both were pretty small, but the history museum was definitely not super exciting for my kiddos. we strolled through the old time-y cars. and some motorcycles.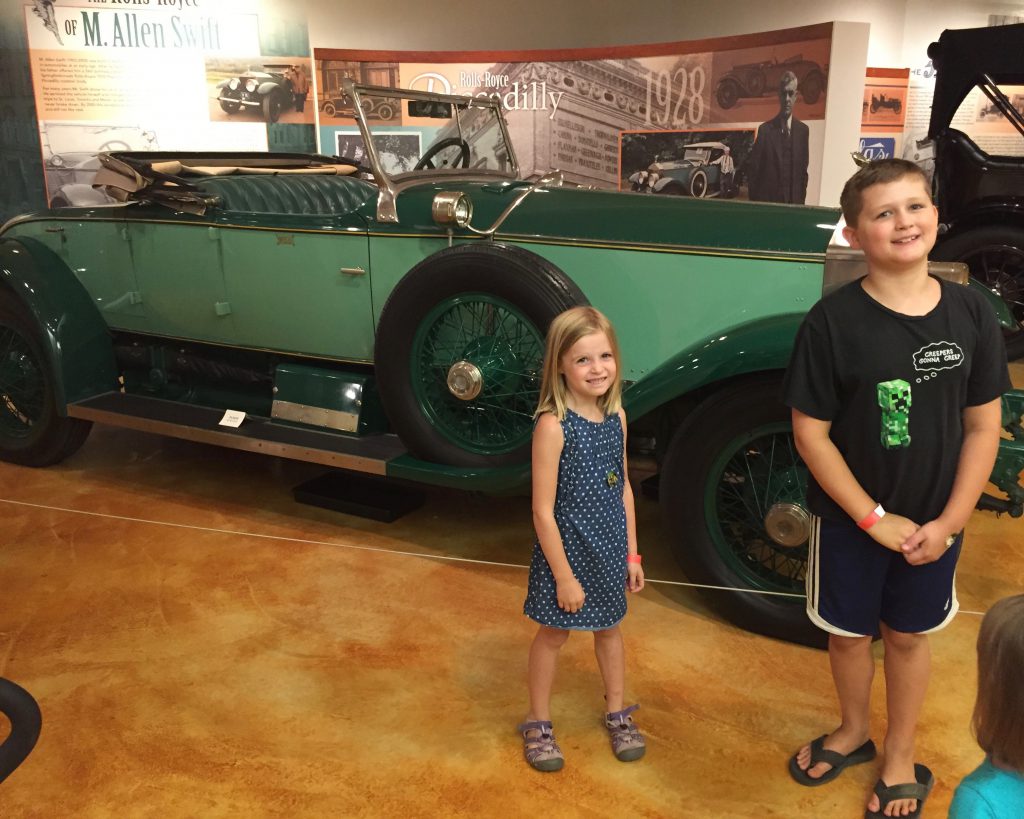 but the highlight was the hasbro game exhibit.
giant simon game.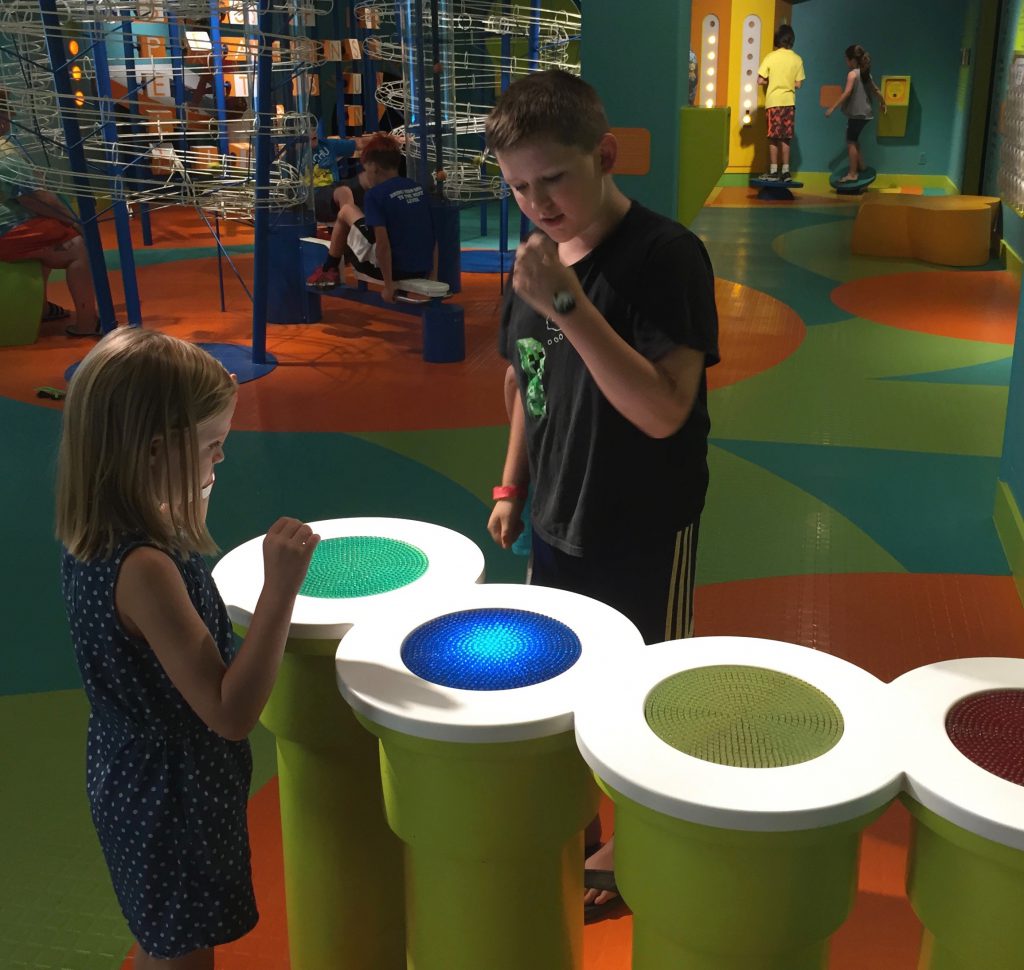 a giant marble run, that runs off kid energy.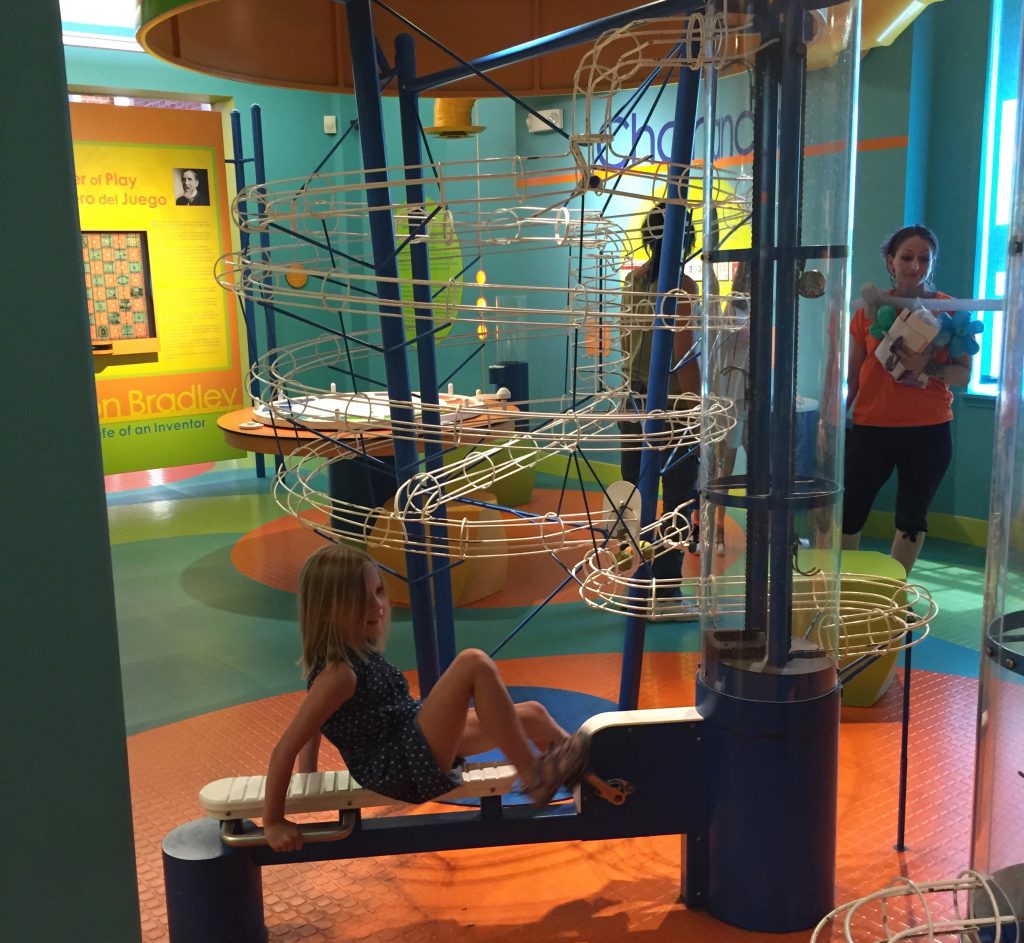 giant game of life spinner.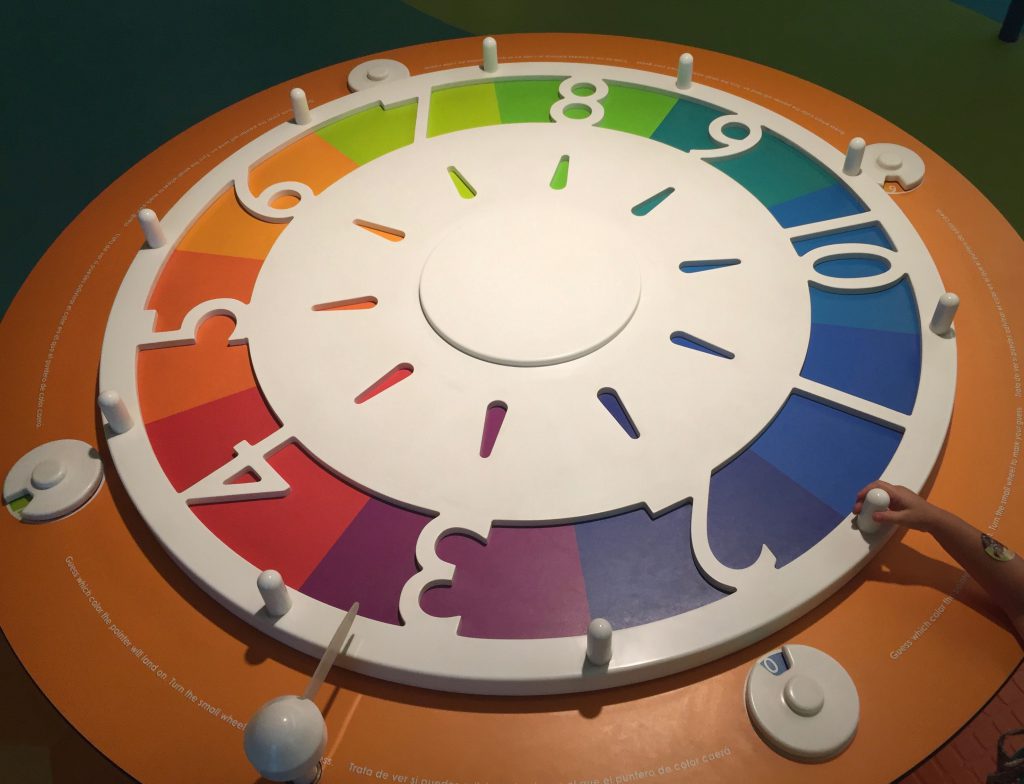 after we had seen enough science and history, we made our way back through the seuss garden, where we stopped for a pic with the lorax (he was busy on our first pass through).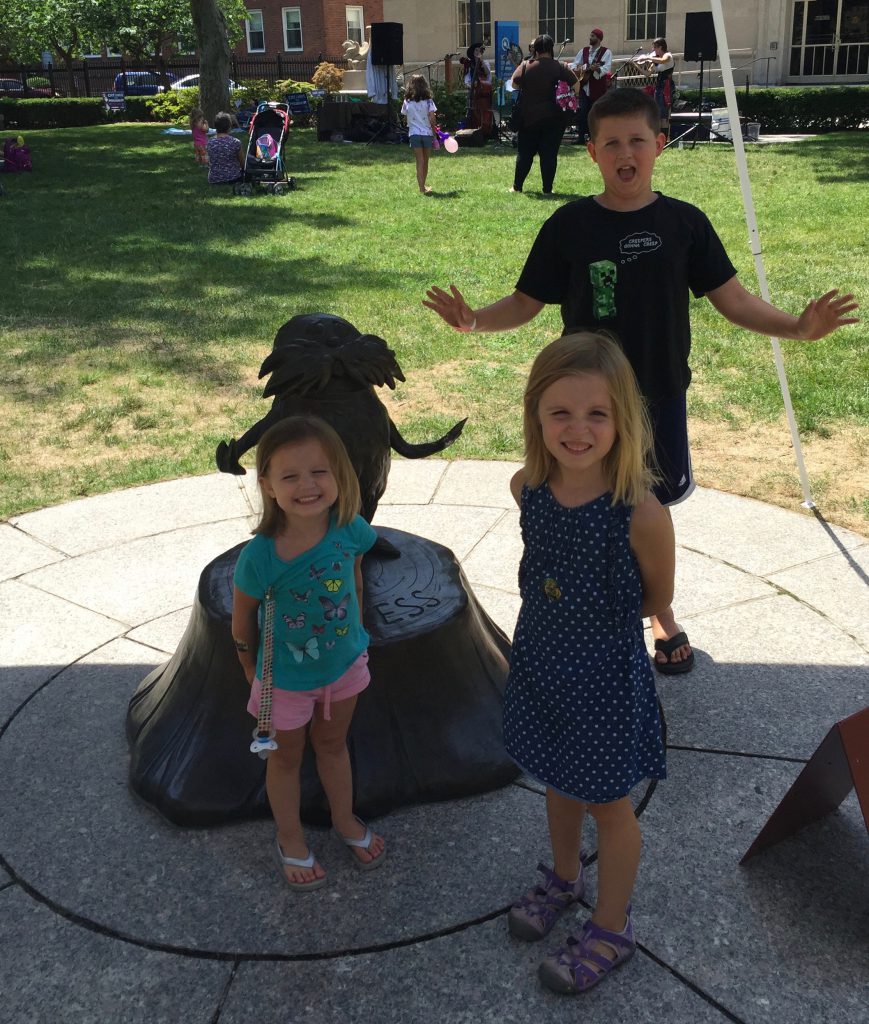 we attempted to find a restaurant before leaving the city, but nothing seemed particularly kid friendly. so, we started to head back, and hopped off at an exit that boasted some fast food establishments. as i looked on my map, a restaurant called 'eat' popped up with tons of great reviews, so we decided to give it a go. it was this tiny little building on the corner of a very run down section of still-maybe-springfield-but-i'm-not-sure.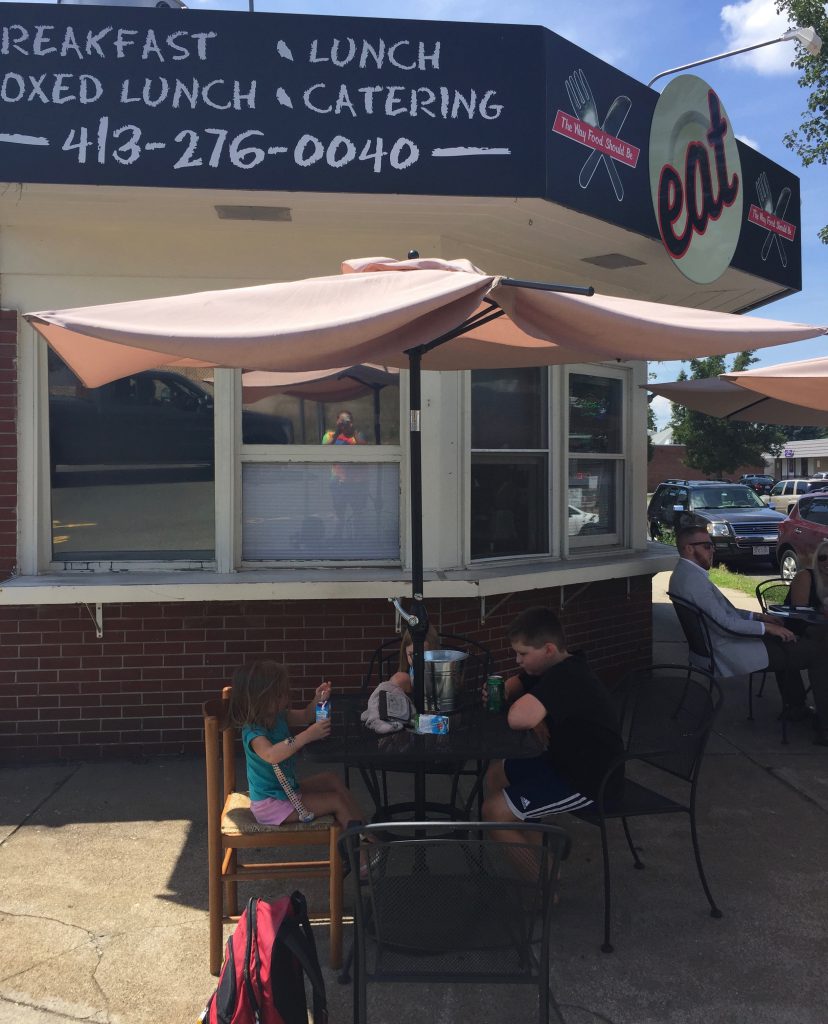 the reviews were correct. my food was sooooo good. i think this is called the big beef. the kids got huge hamburgers, fries, and a drink for $5! i'm so glad we didn't go to mcdonalds.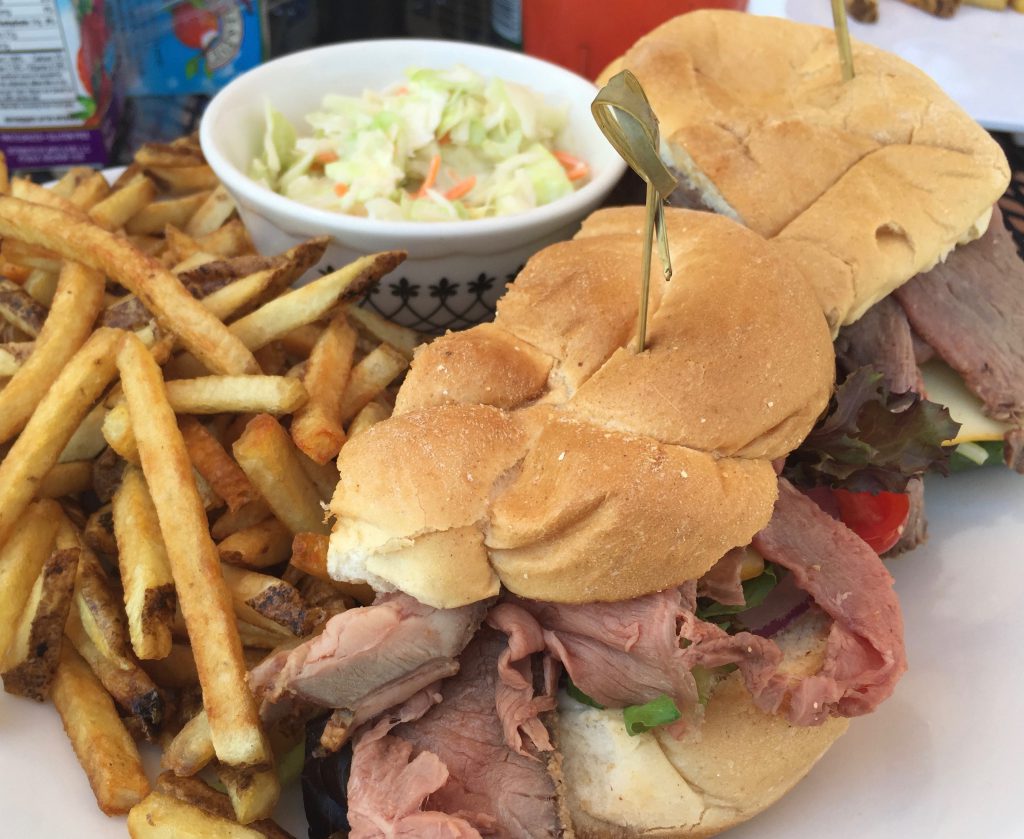 friday night was low-key. some frog catching.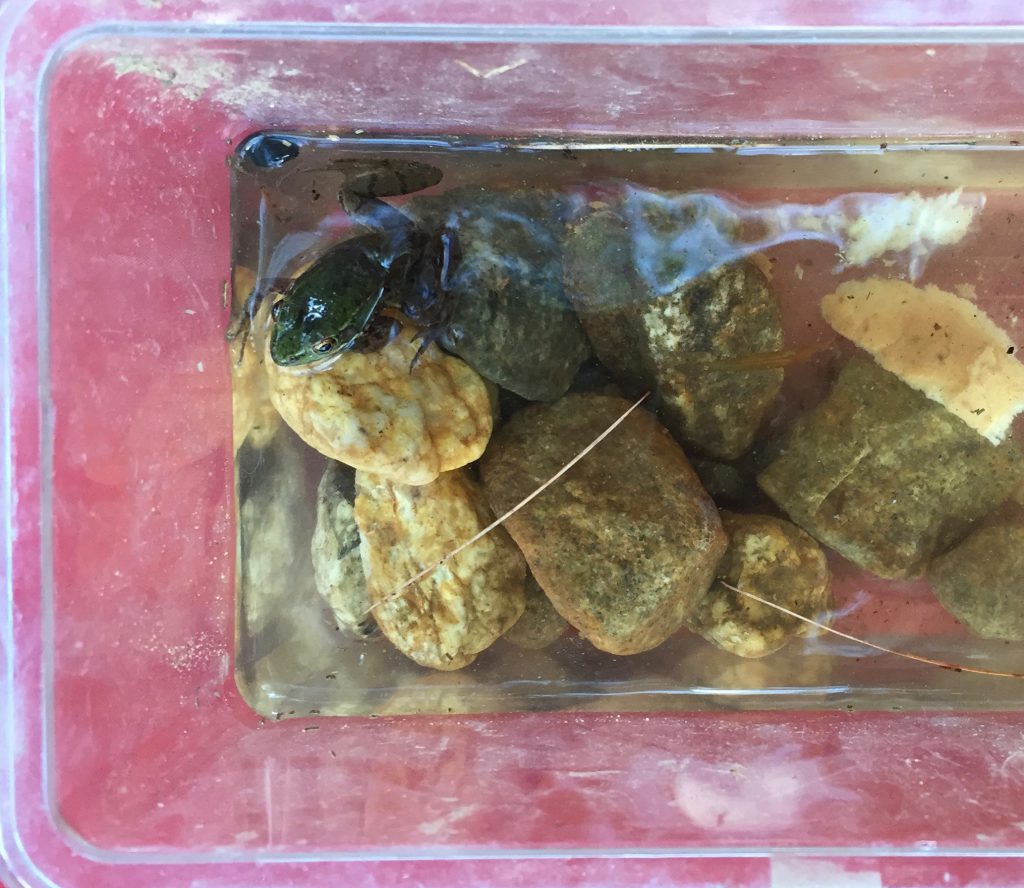 a campfire and s'mores.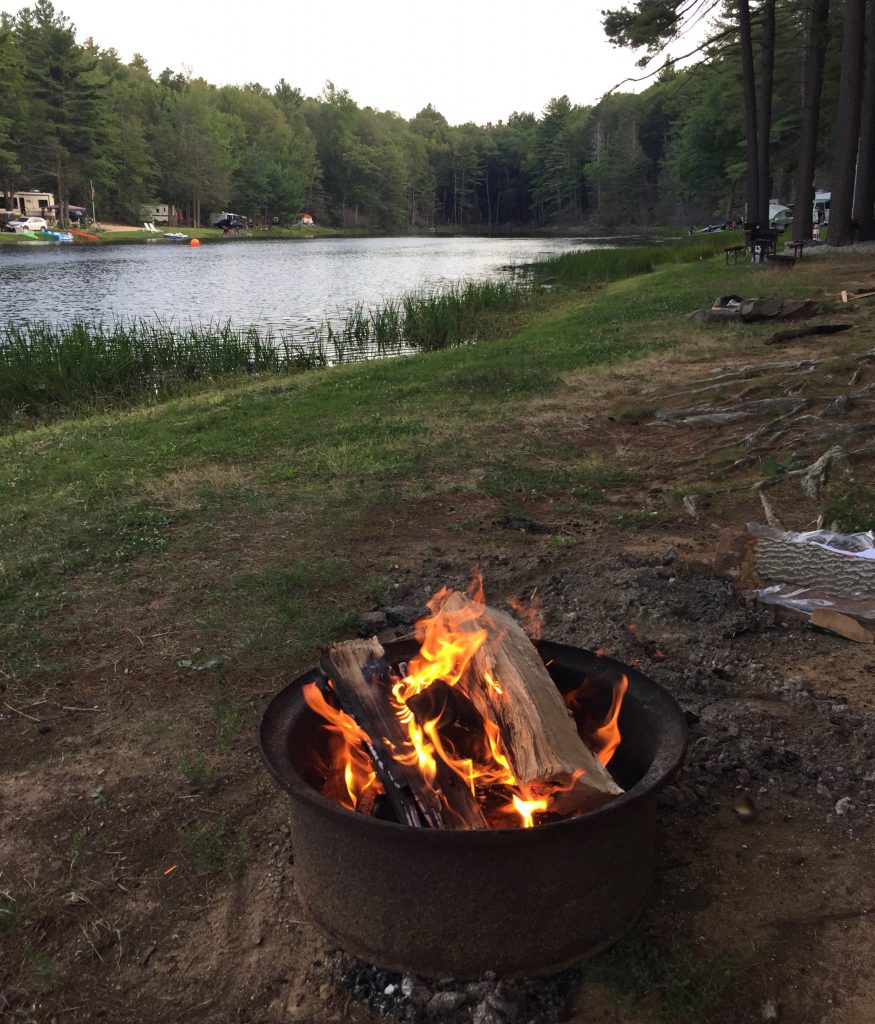 we spent the weekend around the site. the whole dynamic of this campground changes on the weekend. there are parties everywhere. one site, across the lake, had a bounce house set up! a package came from my mom, containing a bunch of toys to keep the kiddos busy. by far, the favorite is this stomp rocket.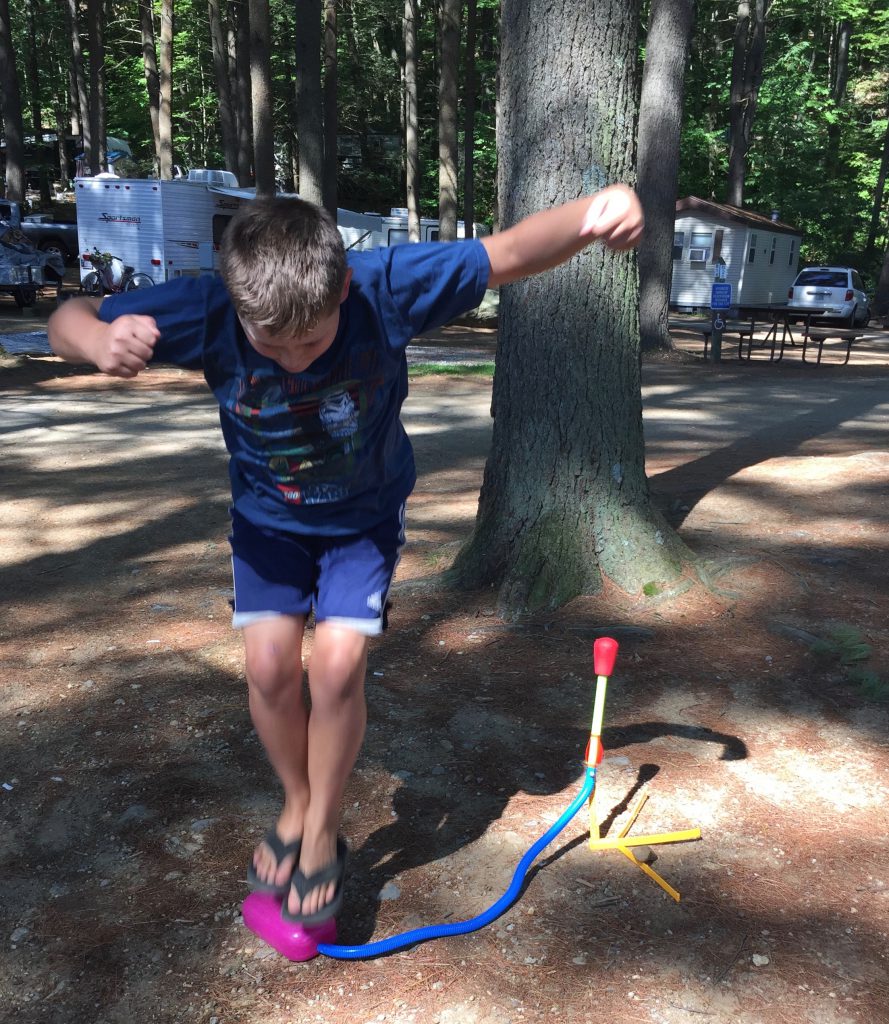 hazel even gets in on the action. also. this kid. he wanders over unsupervised quite a bit. with one shoe.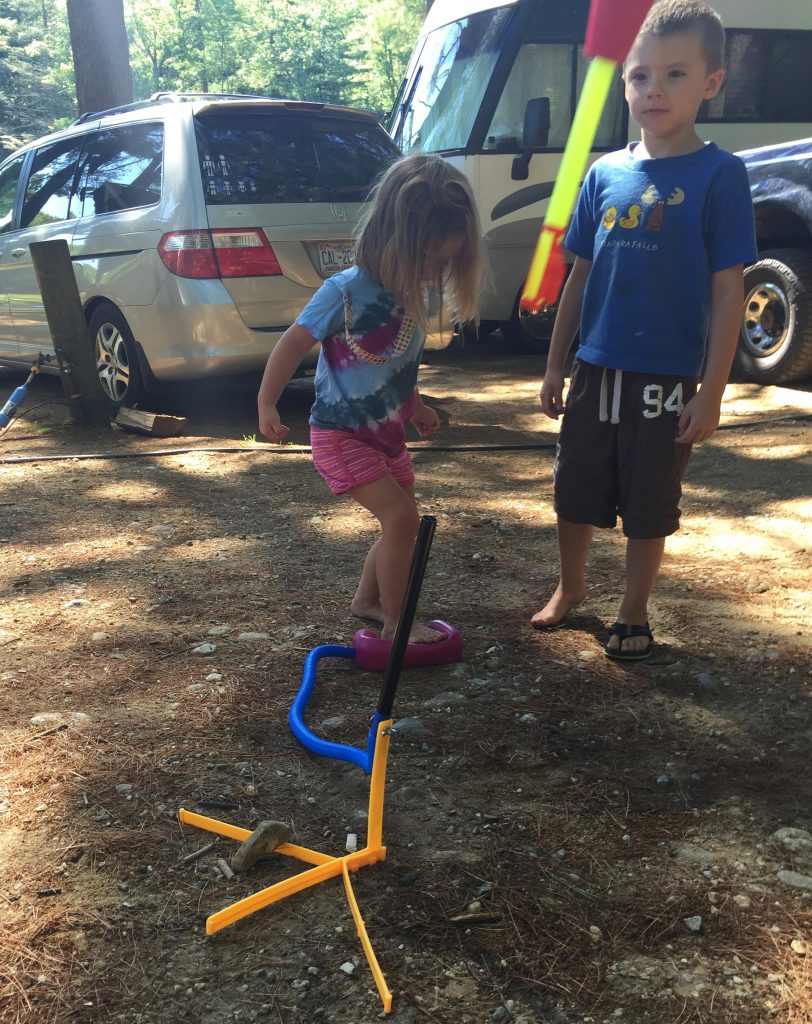 also in the package, a pogo stick. if it can be called a stick. anna is a fan. it didn't take long for the kids to start using the pogo stick to jump onto the stomp rocket. because of course they would.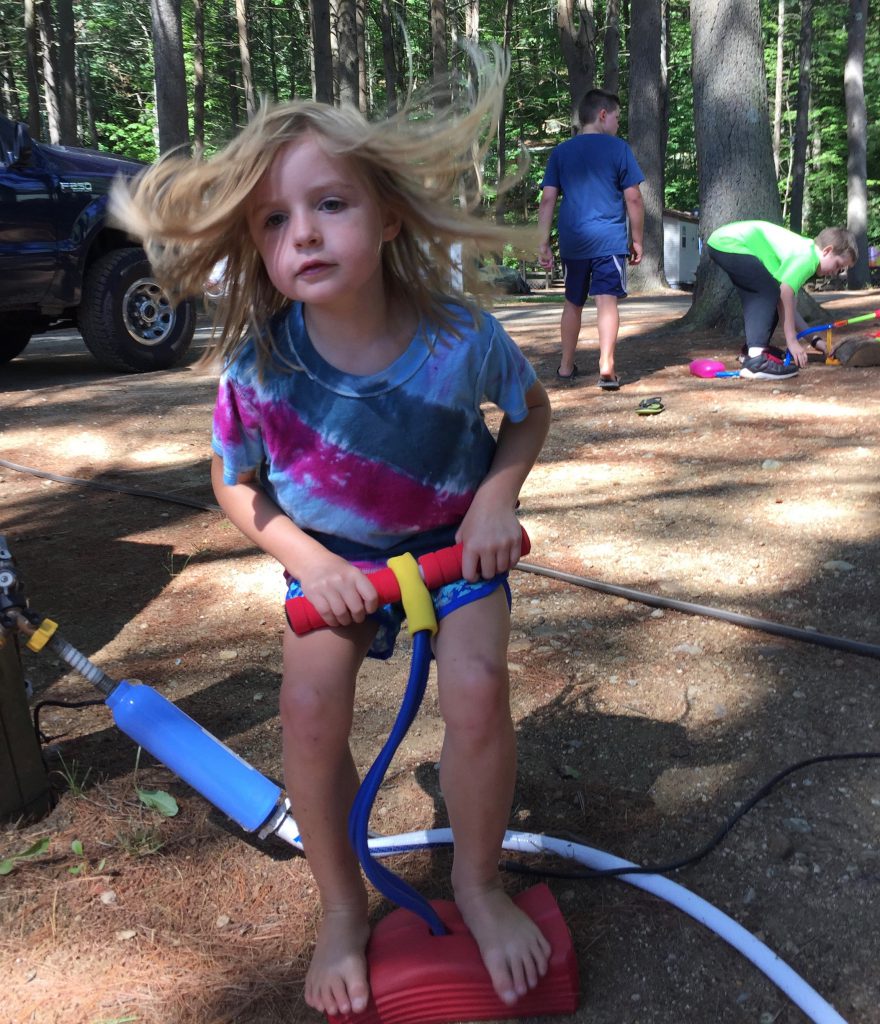 anna's favorite gift was this rainbow loom. she has made about 20 bracelets so far. the irony is that we had one before we sold everything to hit the road. no one played with it. (in her defense, it was a little hard for her to use a year ago).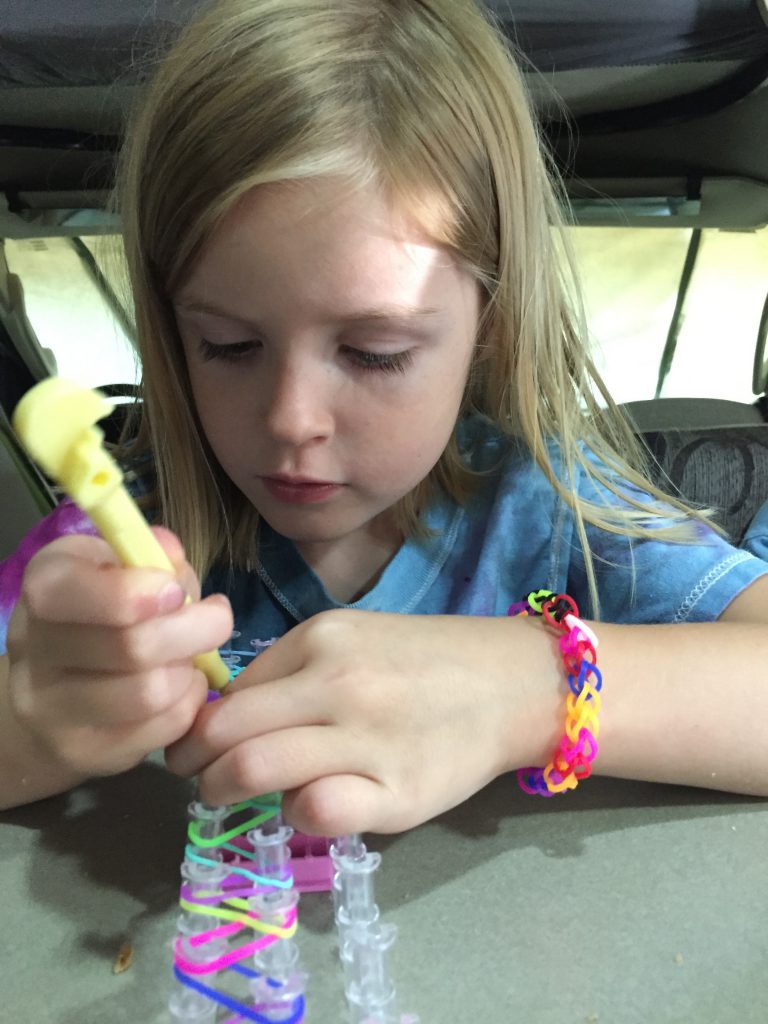 on sunday night, we finally escaped the campground for a bit, to get some dinner. more pizza and spaghetti of course. we are nothing if not predictable.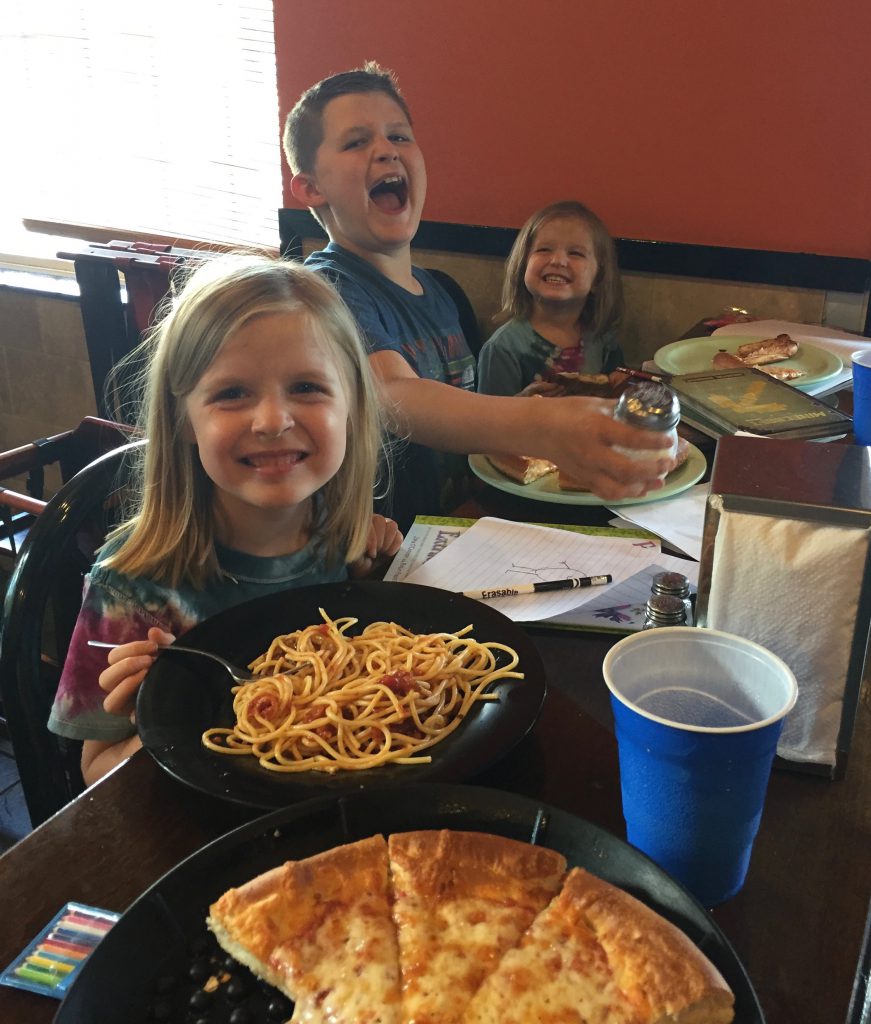 we also picked up some new playdoh. it doesn't last long around here. the kids LOVE it. hazel tends to mix it all together. and anything dropped onto the floor becomes sandy and gross. with a fresh set of colors at their disposal, the kids got very creative.
anna transformed one of hazel's trains into a princess anna.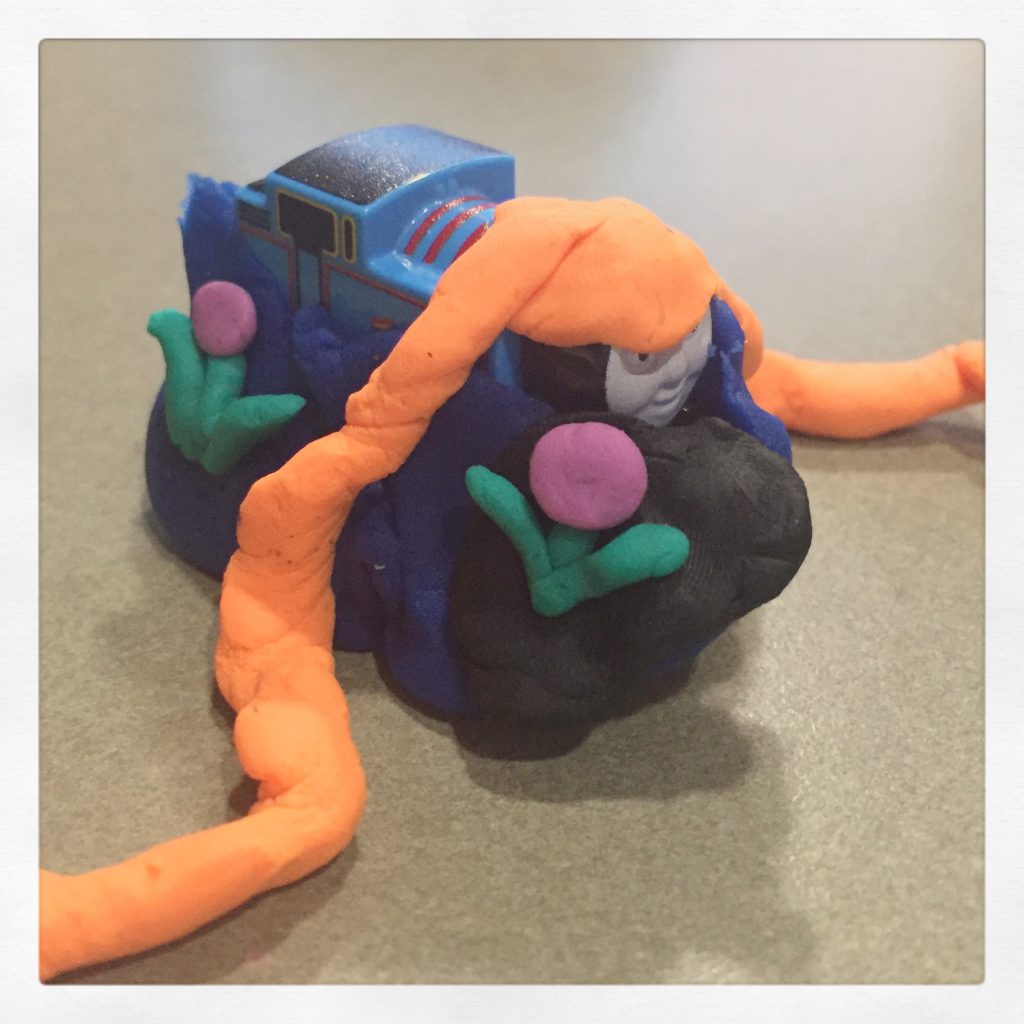 and isaac recreated anna, elsa and olaf.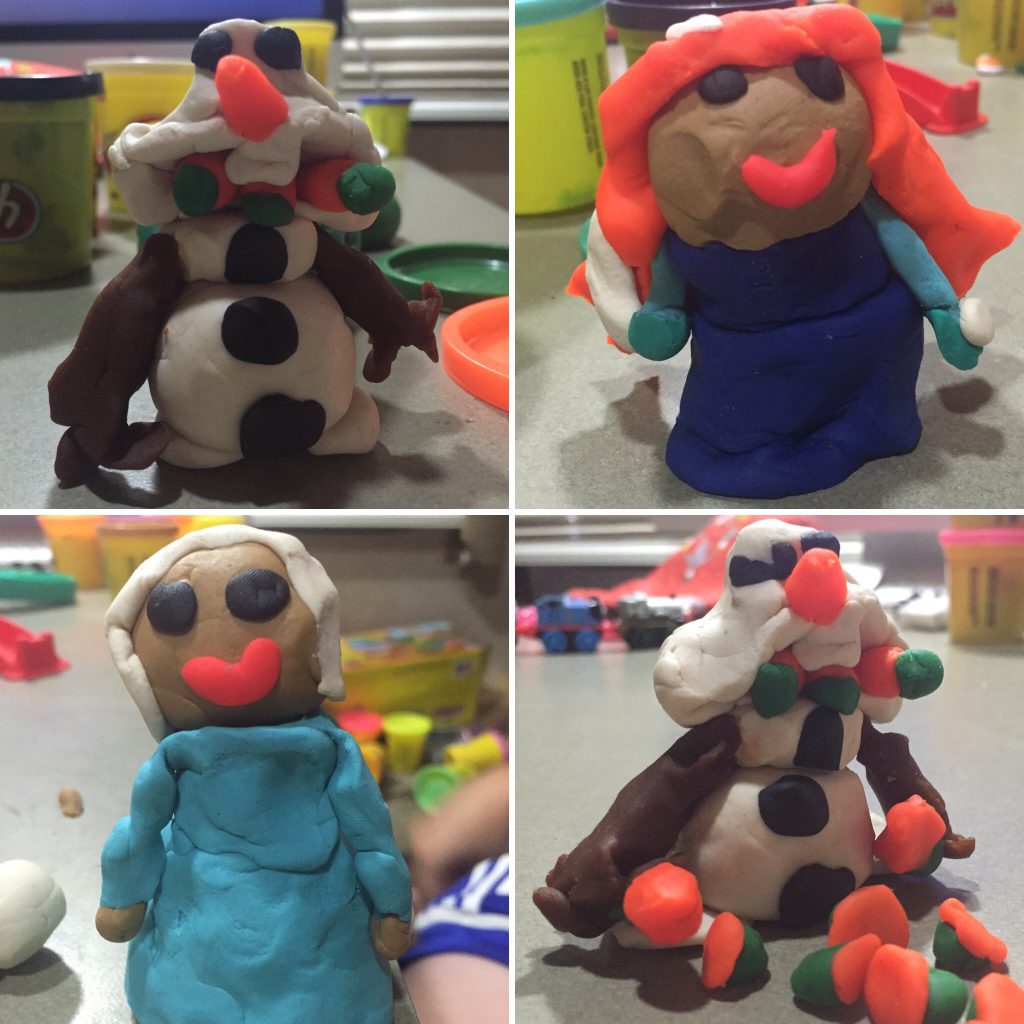 finally, on monday night, we drove to providence to pick up a very jet-lagged husband/dad, and my time as a stay-at-home single mom on the road was over. 🙂