i think i've already mentioned that our current campground is about an hour west of san antonio. and it's not a very "fun" hour of driving. my gps isn't quite up to speed with the most recent construction and traffic patterns. there's lots of current construction. and it's just general insanity driving in such a big city. nonetheless, yesterday, we hit the road bright and early and made our way to the "DoSeum" (a play on "museum", i suppose). it's another free science museum, thanks to our discovery place reciprocal membership. hooray.
our gps also led us to a parking lot that was behind the museum and thanks to an unfortunately placed fence, we had to walk like 350° around the building to get to the front door. but alas. we arrived.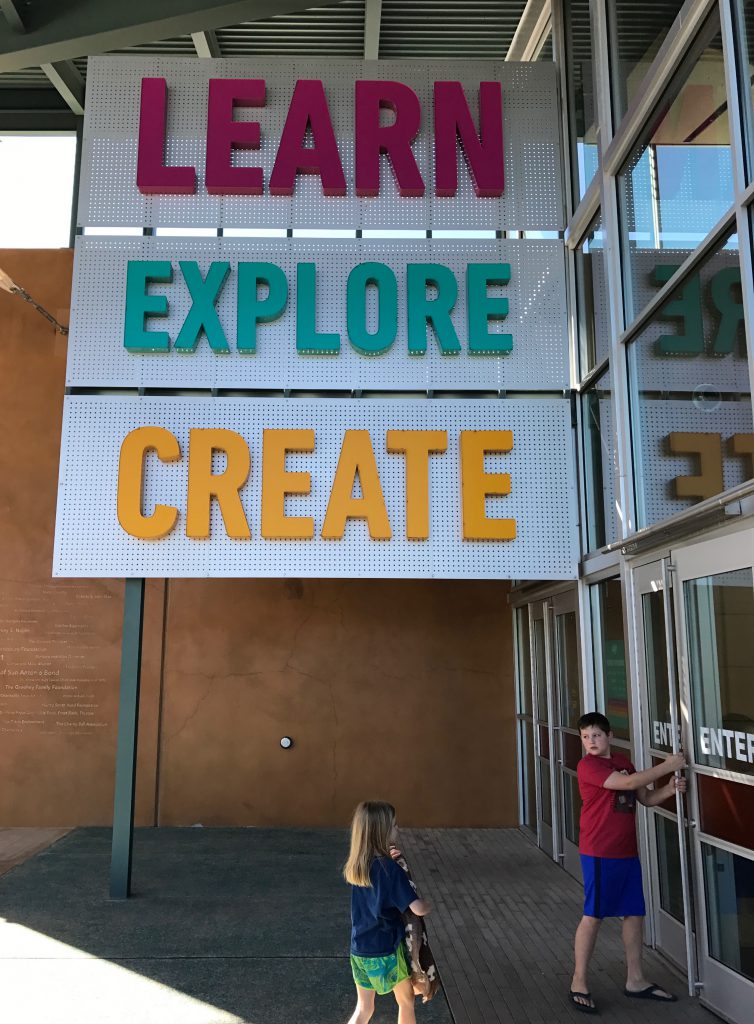 the first room we hit up was "little town" (i think). it had a grocery store, bank, park, food truck, airplane, and a little road connecting them all, stocked with cozy coupes for tiny drivers. the room was designated as 5 and under, but "responsible" older siblings were allowed. the older siblings agreed to attempt to be responsible, so we were granted access…
the tiny grocery shopper.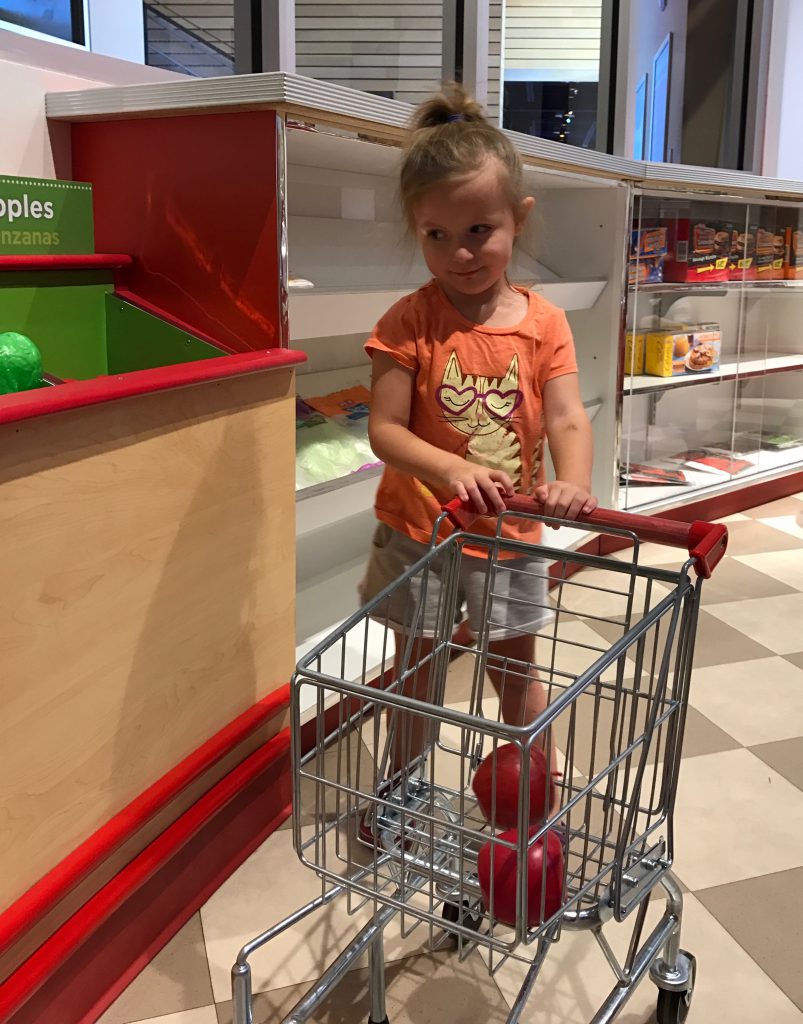 isaac got some cash from the atm.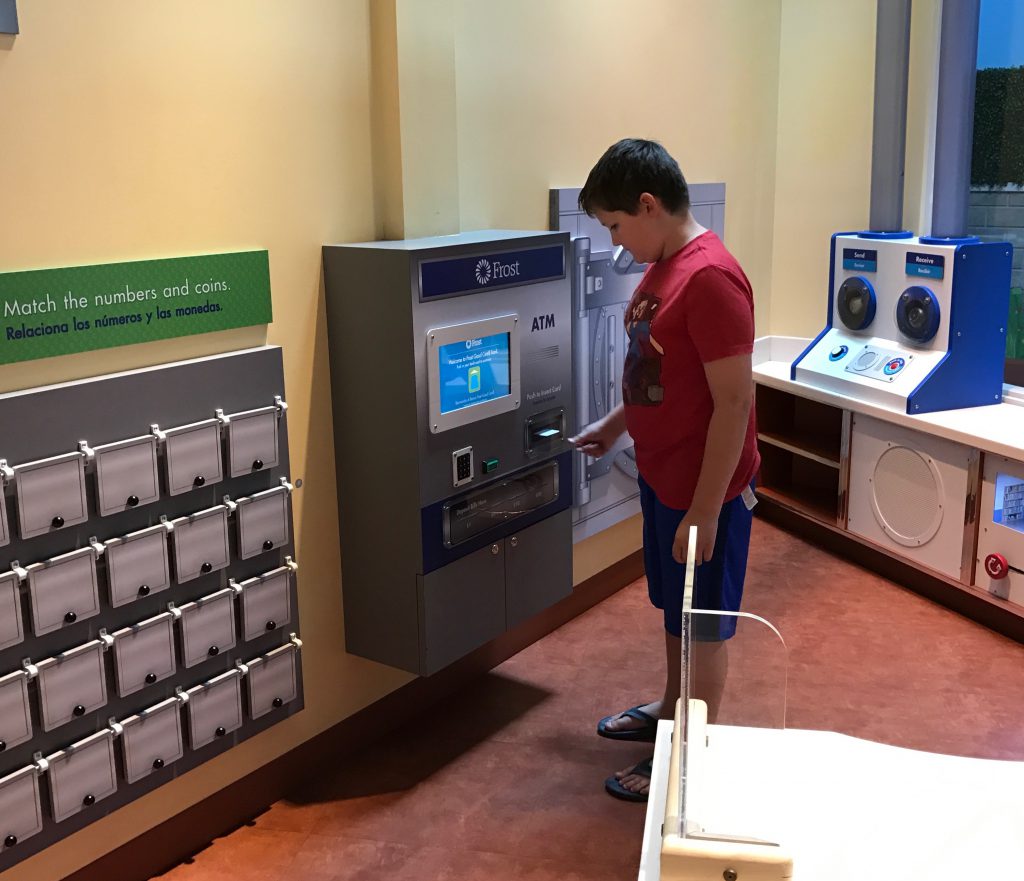 anna, the lobster enthusiast, located the crustacean section of the grocery store.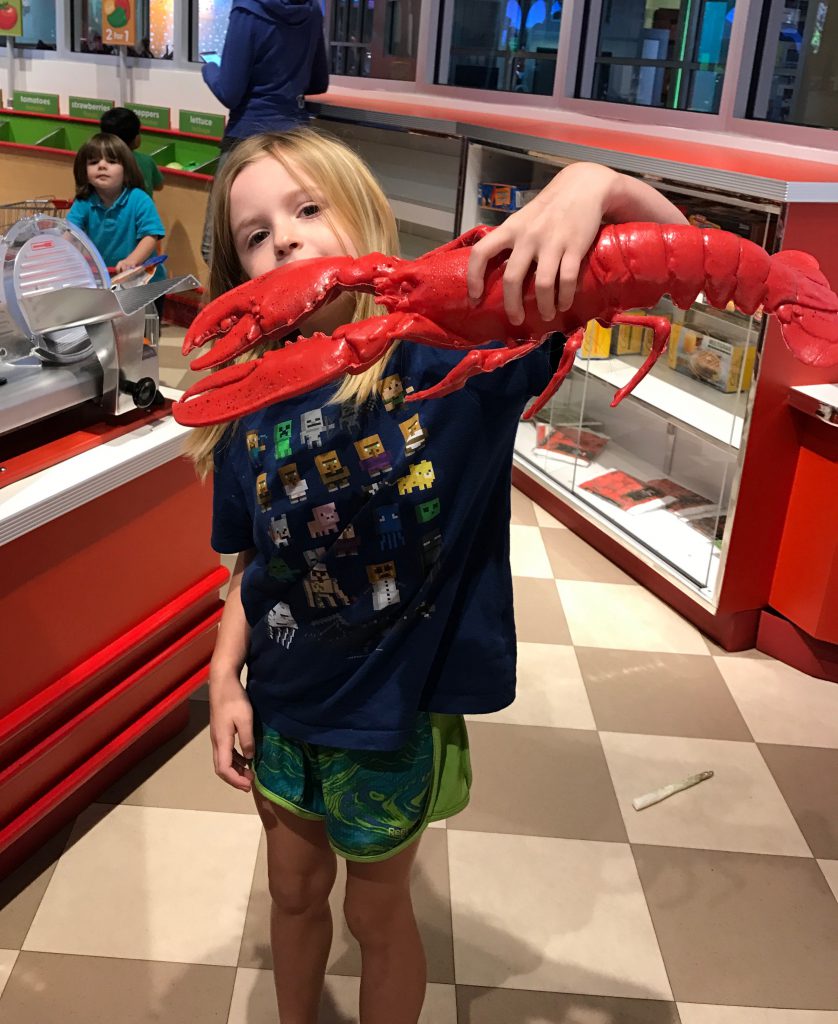 taxi. missing a steering wheel, so the excitement of finding an unoccupied cozy coupe wore off quickly.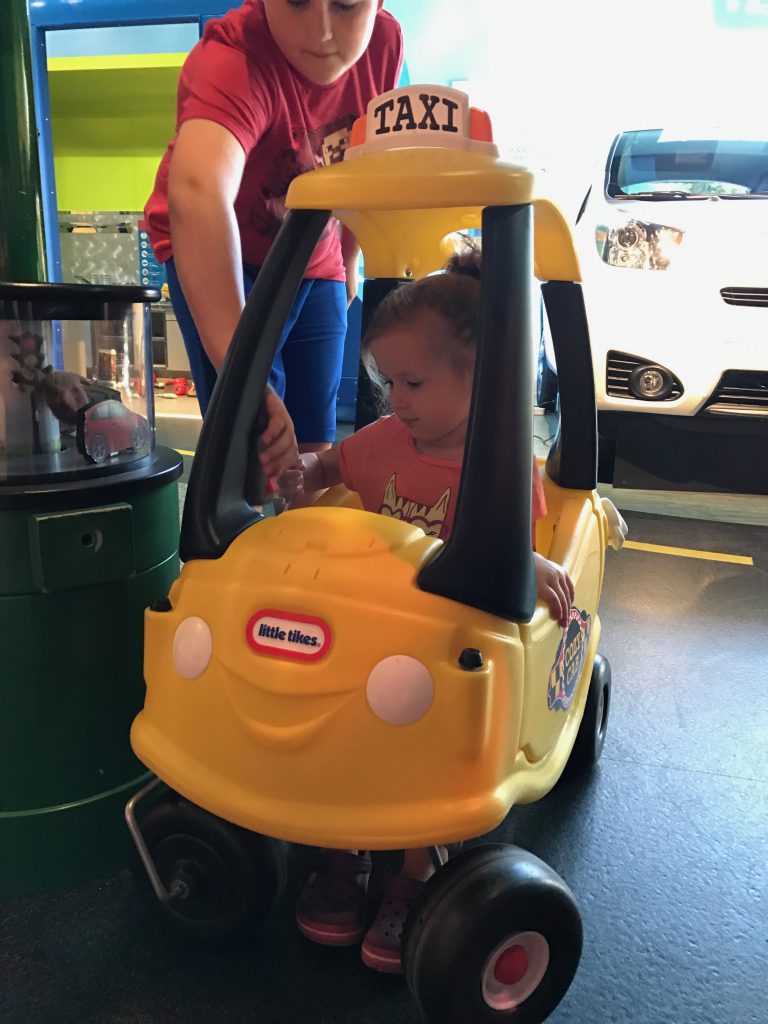 food truck. (it's here that i should note that my one complaint about this AWESOME museum was that the place was trashed. i don't know if was just this day for some reason. but in the town, the items for each part were scattered all over the place. i blame unengaged parents, mostly.)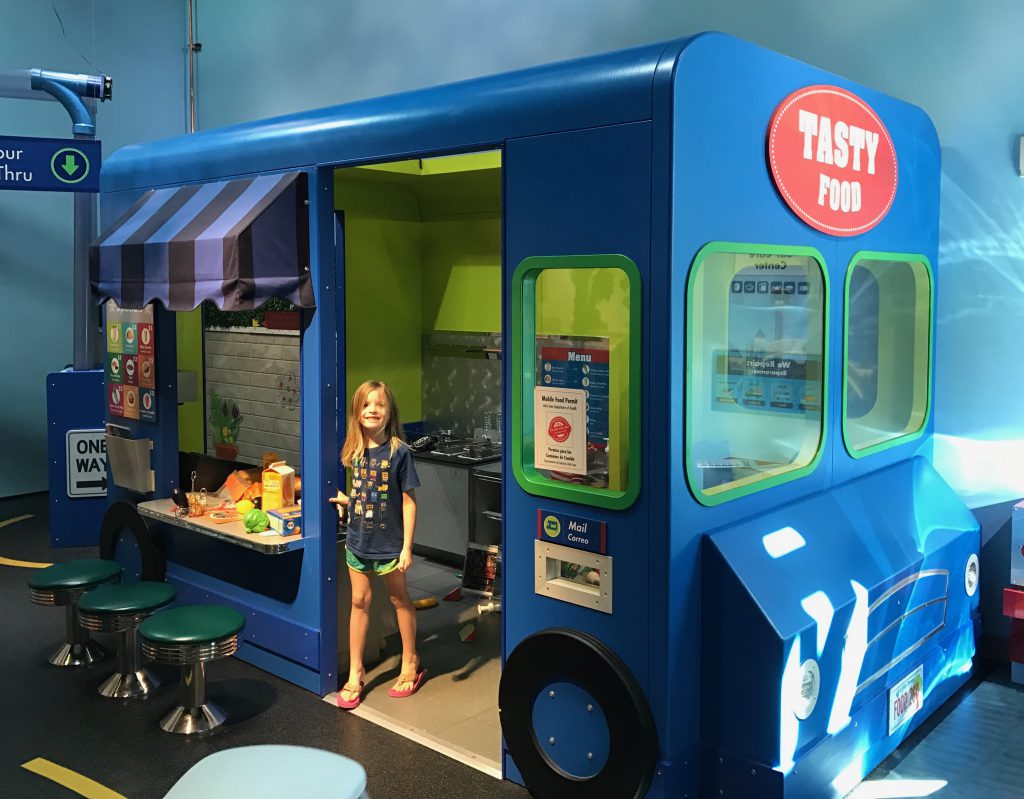 the three lidkids. checking out.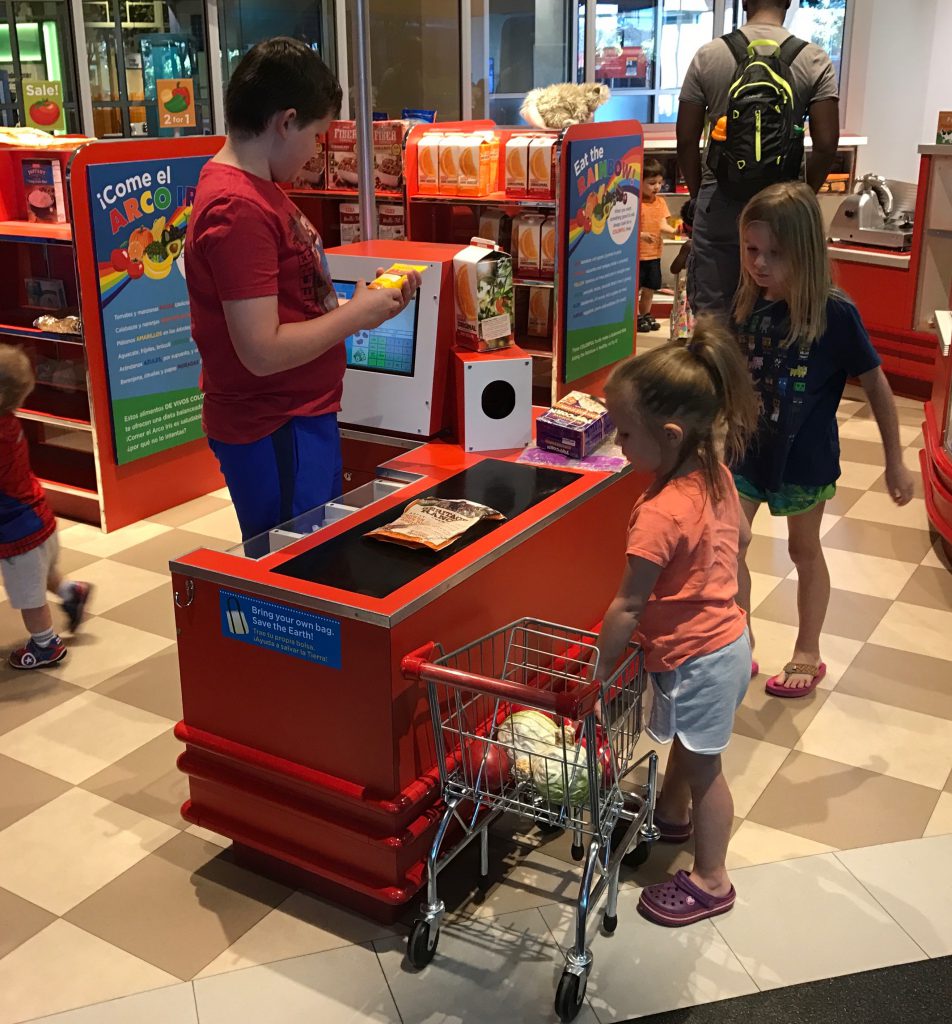 we coaxed hazel out of her little village and went to the spy zone next. anna completed a checklist of tasks and got to register and get a badge as an official spy. it was a pretty cool area, but it requires a bit of help from a staff member to figure out how it all works, and there were a LOT of kids, so they were stretched pretty thin.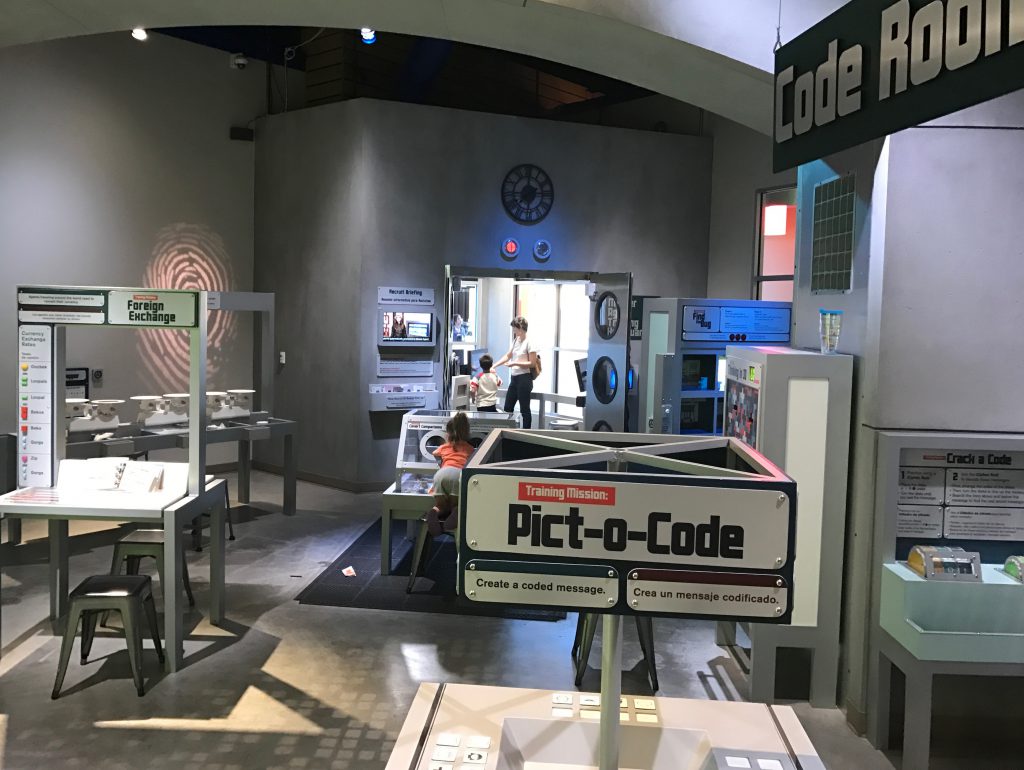 one of anna's quests was to climb inside a vent and locate a number for secret code. isaac was glad to lead the way.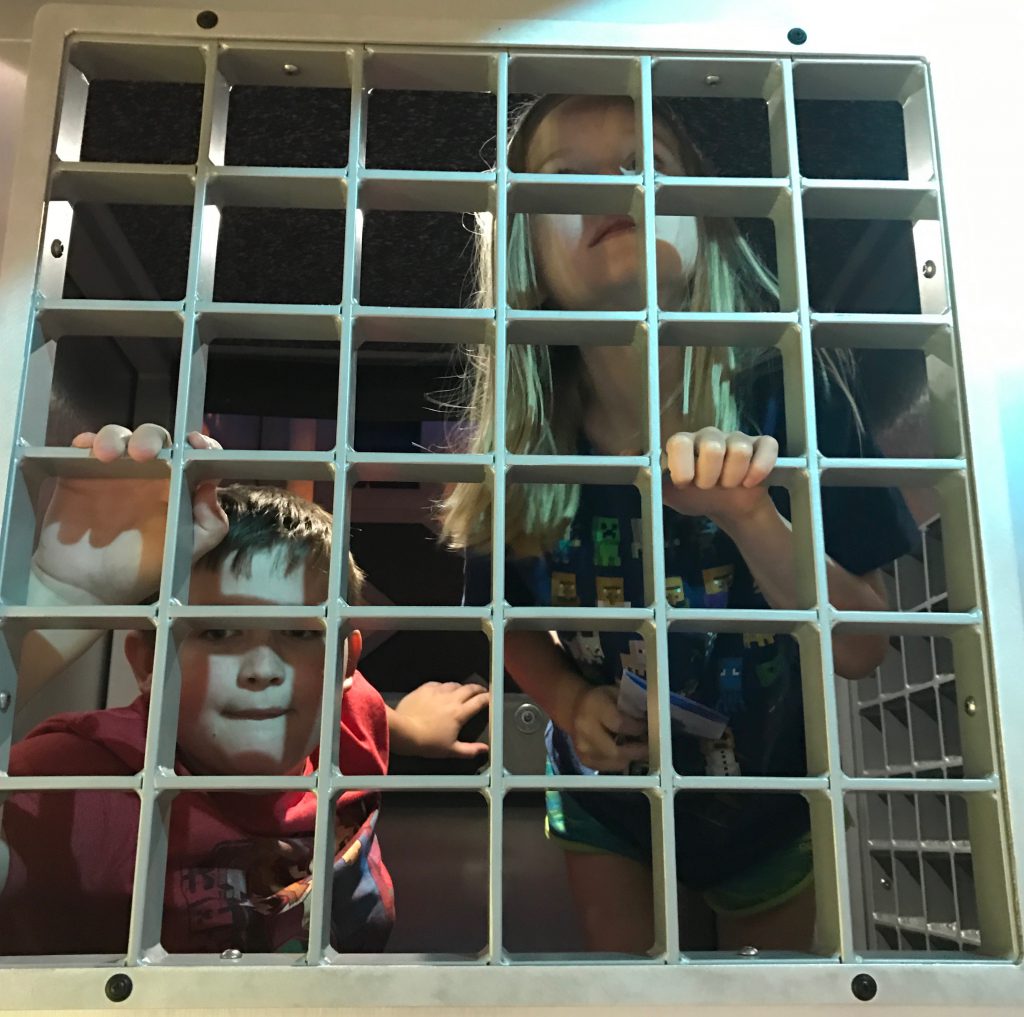 another mission was to figure out the weight of a pair of binoculars, which was actually a bean bag with a picture of binoculars on it. it also wasn't exactly the weight of any of the numbered bean bags, which messed with the perfectionist lidkids, but it was close enough to 6 to be correct, for top secret spy work.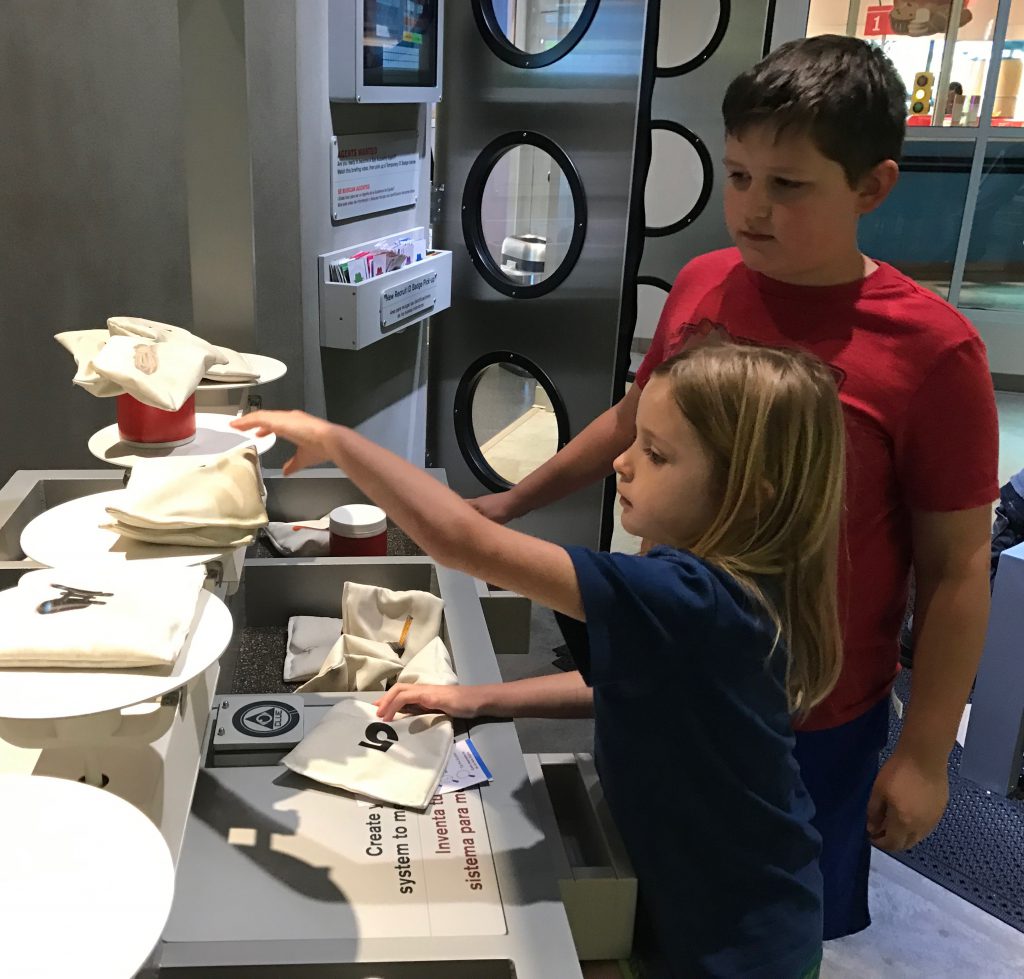 after we got anna's badge, we moved on to the mars room. filled with space agey furniture and a costume bin filled with robots and astronaut and alien type clothing, it was a big hit. except that it was filled with school groups. packs of 20 kids who all know each other and are being set free from their normal school environment do not behave in the same way as 20 random kids might act, despite all the chaperones and teachers looking on. so, my kids asked to move on. but first, we managed to secure a robot mask in between packs of wild school groups long enough for some pics…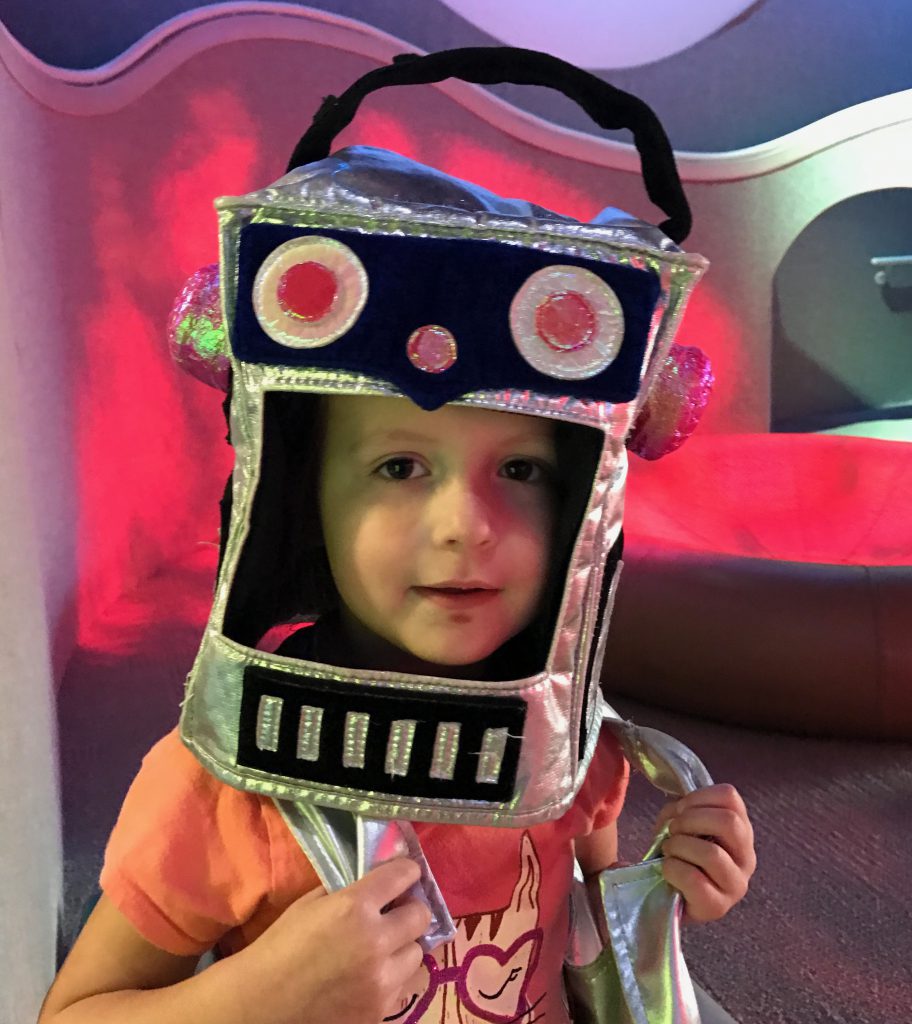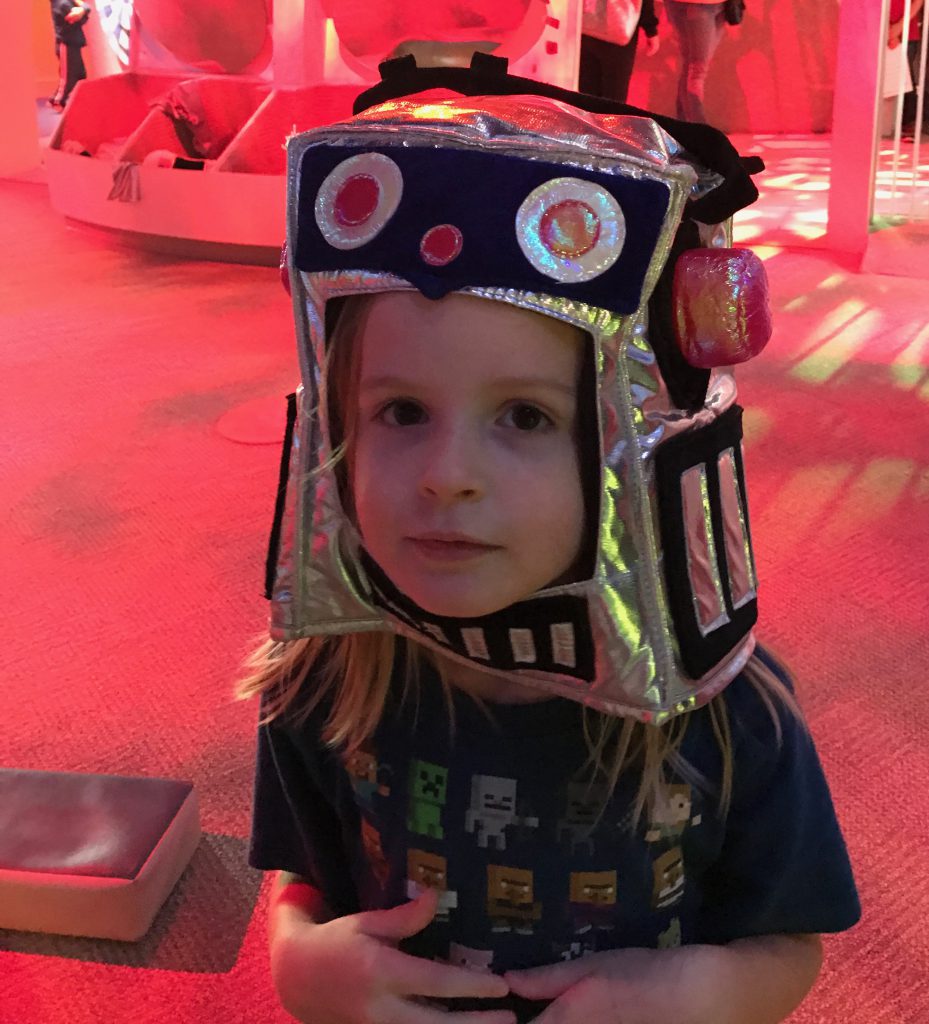 the outdoor water area only had a few other kids, so that was where we went next.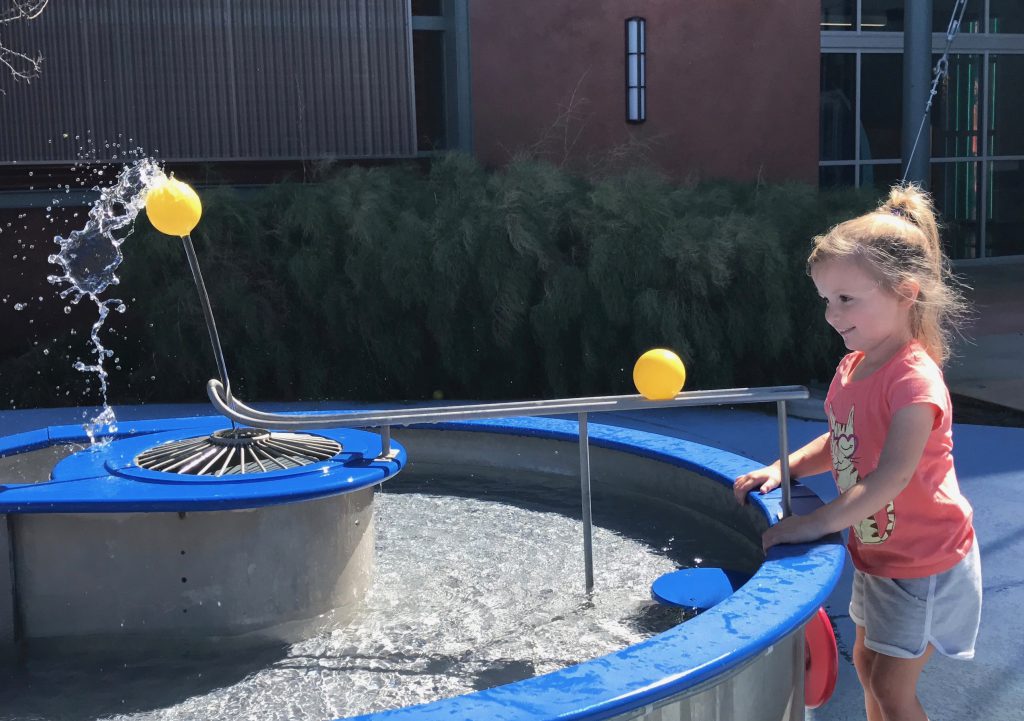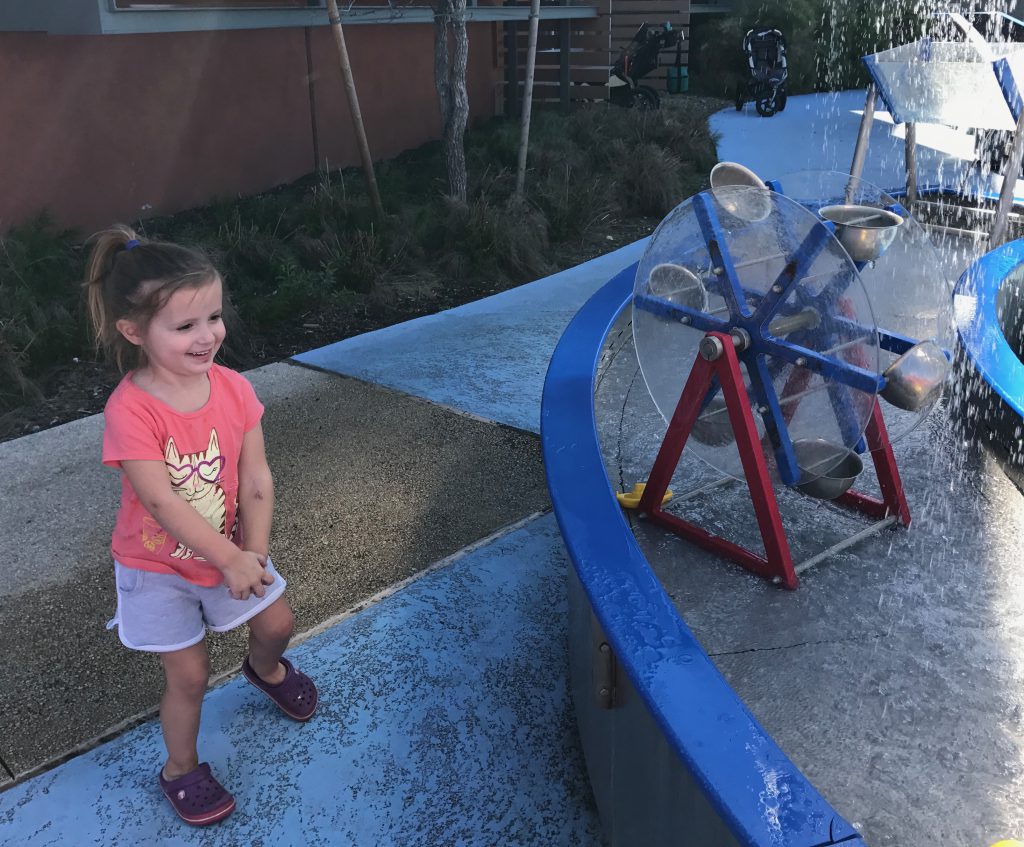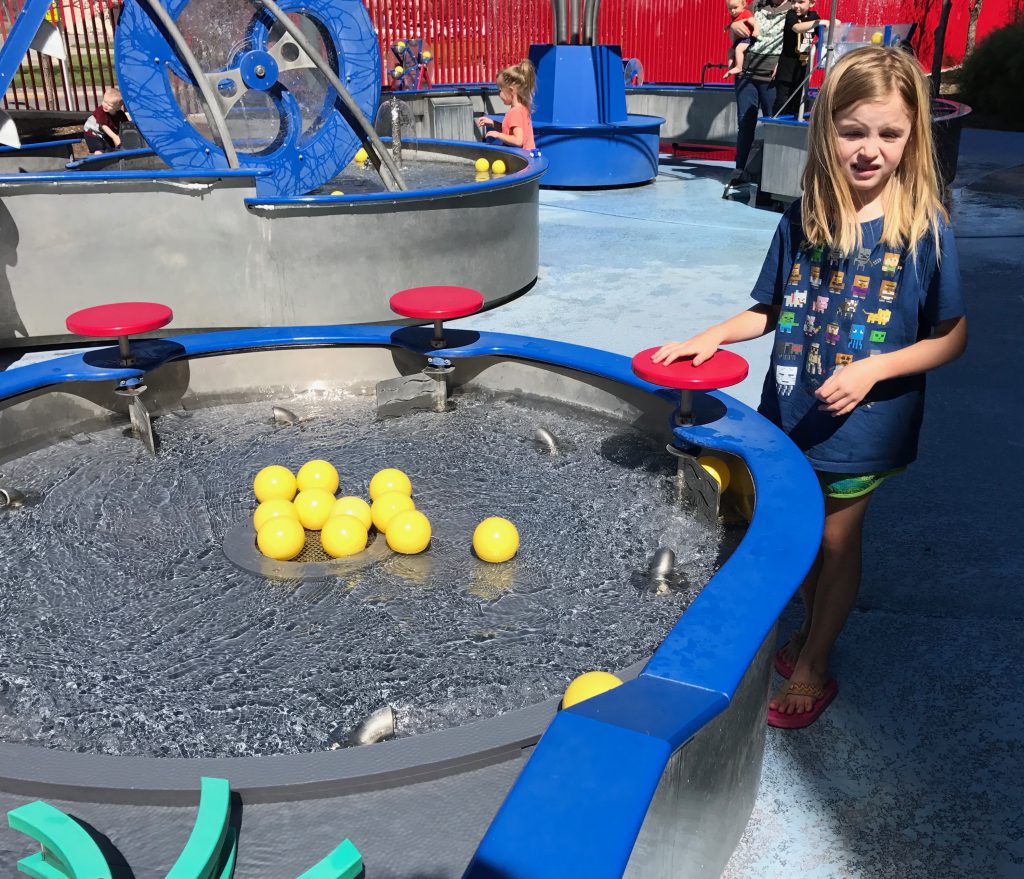 while we were outside, isaac spotted a giant checkerboard and convinced anna to come play. it took them forever to get it set up because they did not consult about the orientation of the game board. it was amusing to watch. then when it was all set up, anna asked "how do you play?" and i declared that this was not the time to be learning checkers and we went back inside.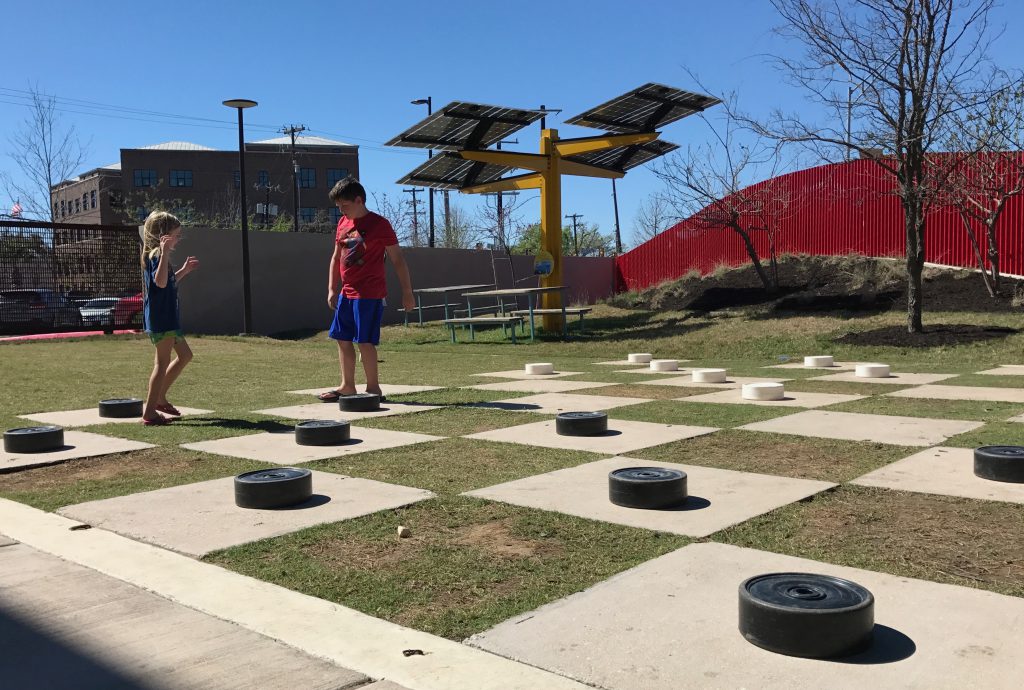 the door we chose to go back in led us to the light room. this cool blob of mirrors hung from the middle.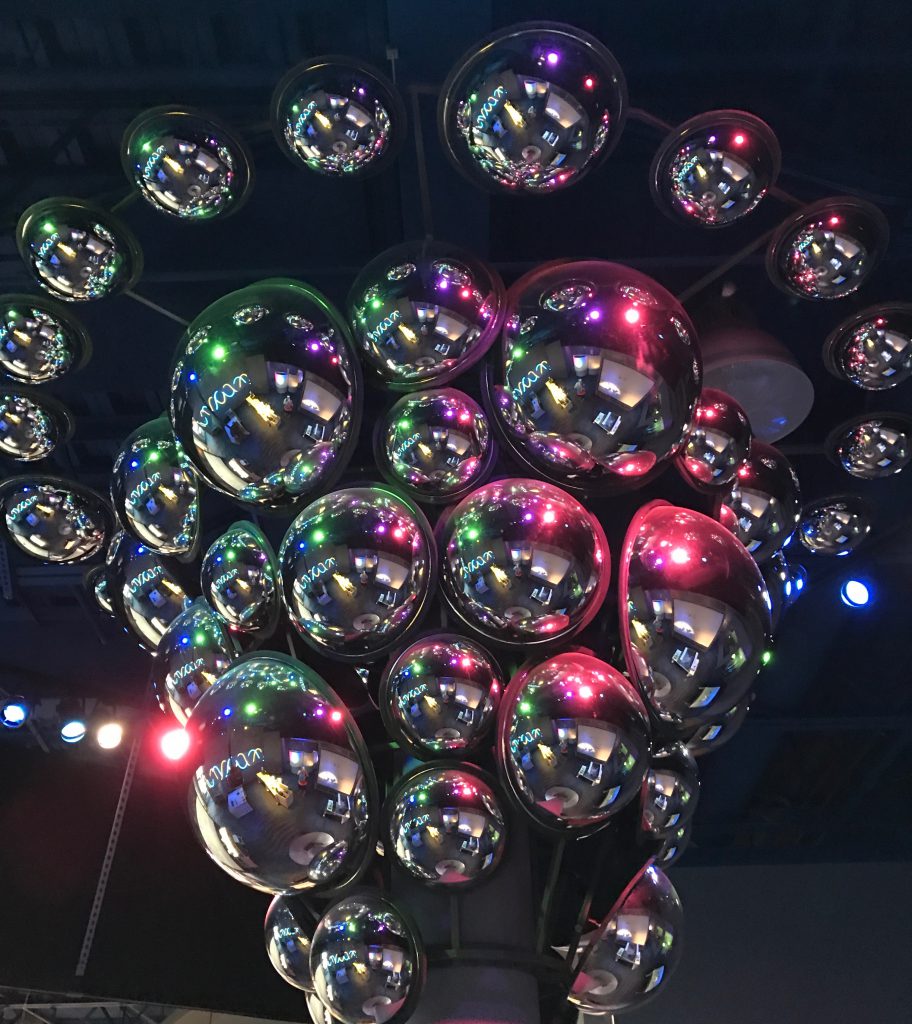 isaac got to work assembling a periscope.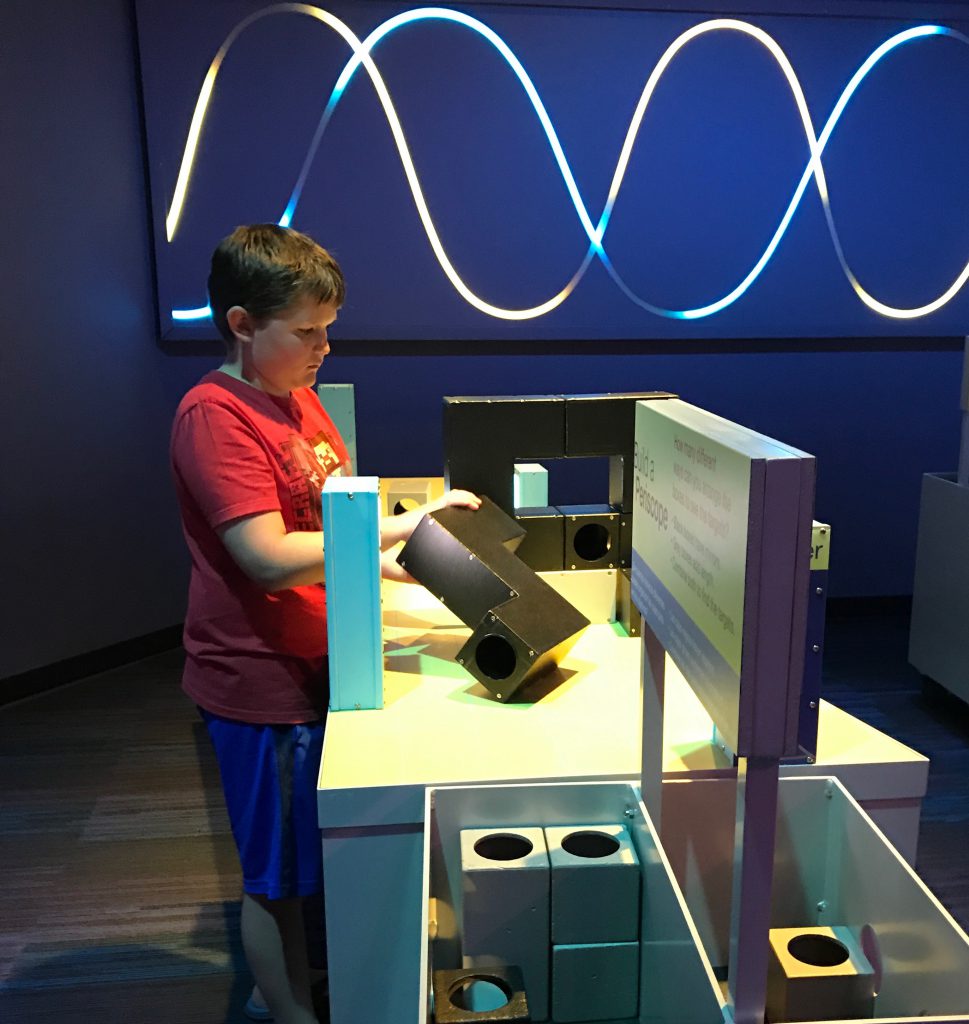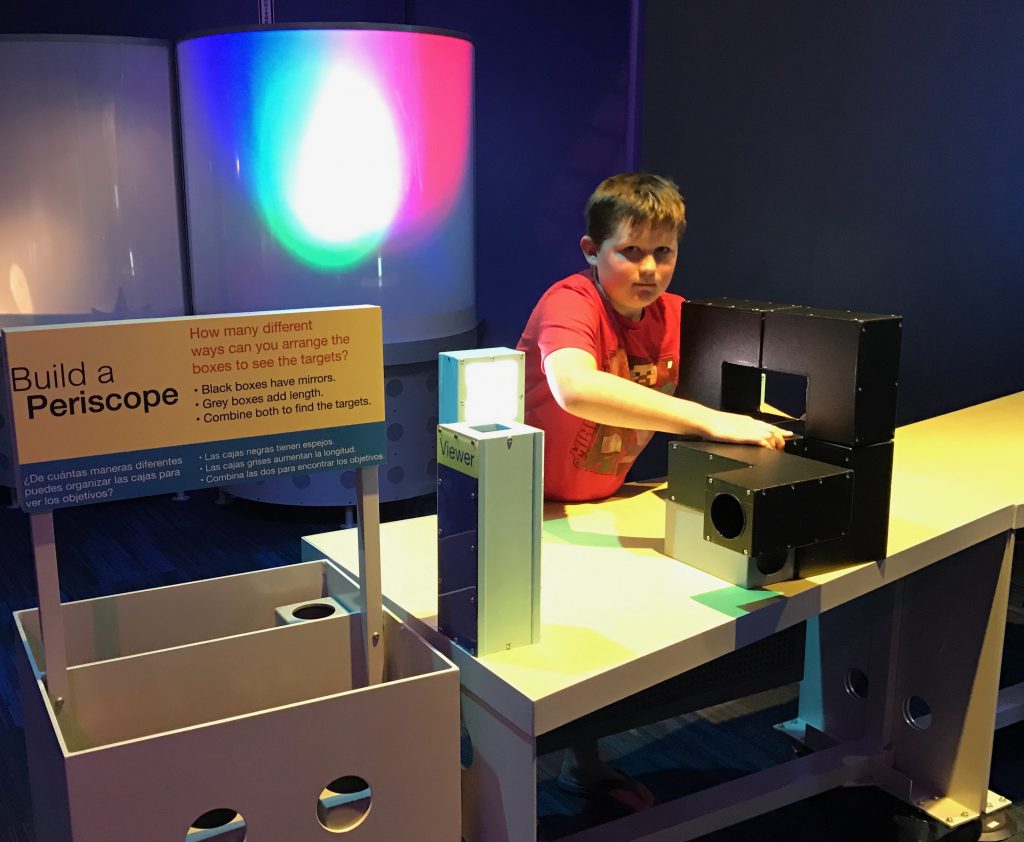 hazel found the supply of magnatiles and planted herself at that station.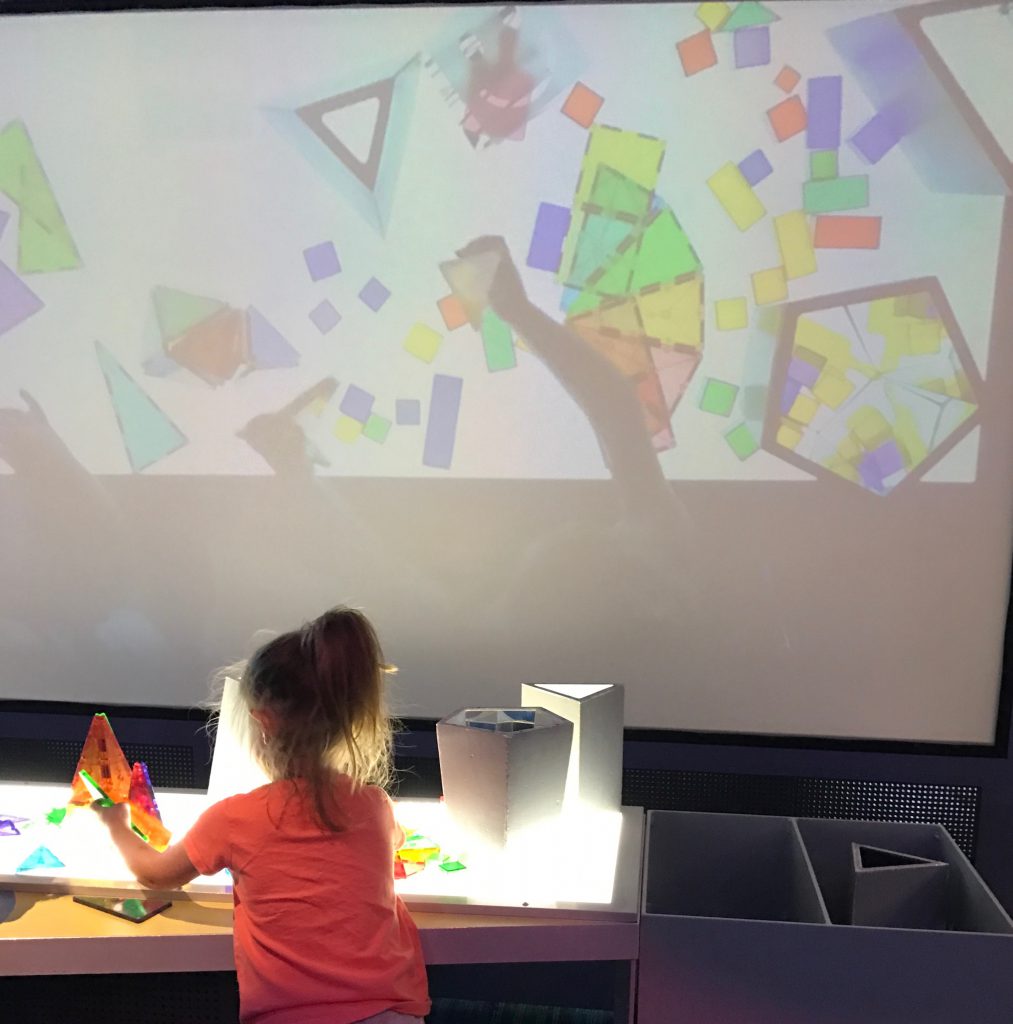 when our light room fun came to an end, we went back outside, this time on the other side of the building, to a big treehouse. one trip up and they were done.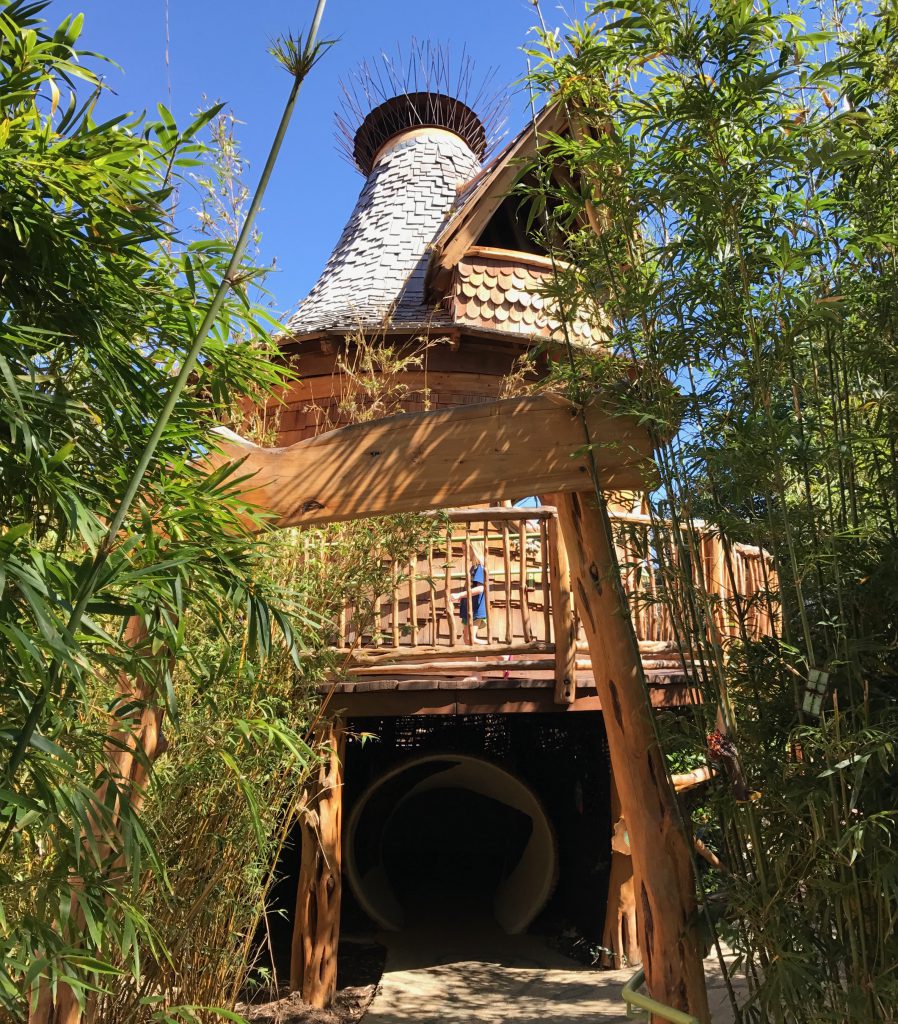 behind the treehouse was this cool man made stream thing. i wish i took more pictures, but i started chatting with another mom (of the boy in the pic) and forgot. also, isaac was mostly in my other ear, whining about how boring this stream was and that he just wanted to go back to another play area that he had seen earlier, but at the time was infested with school groups.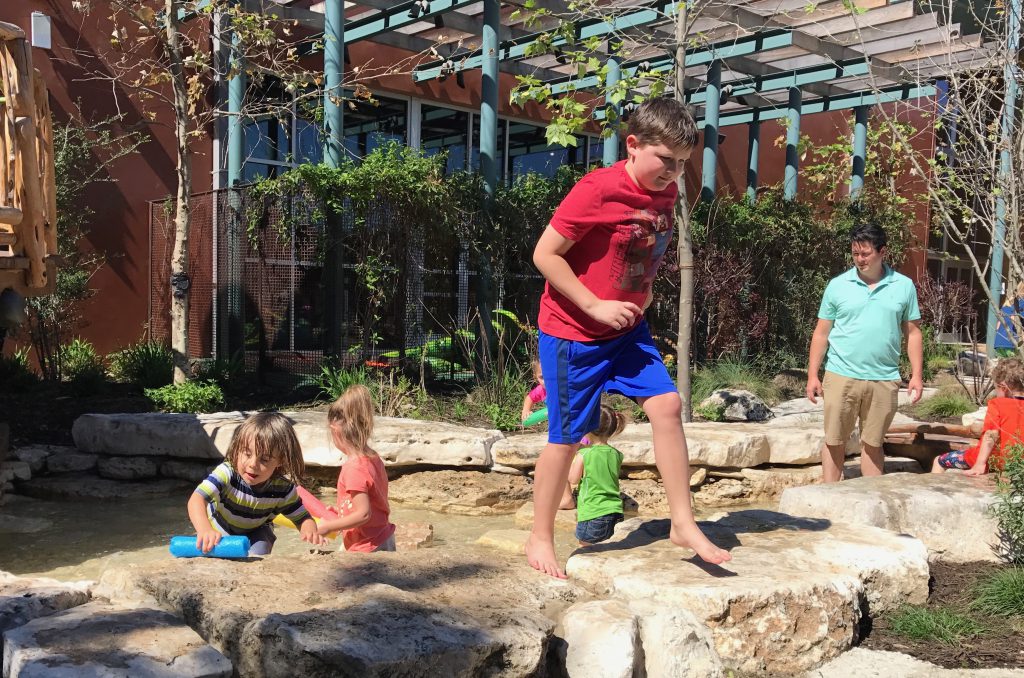 in the end, he won, and we went back to the other (super hot) play area.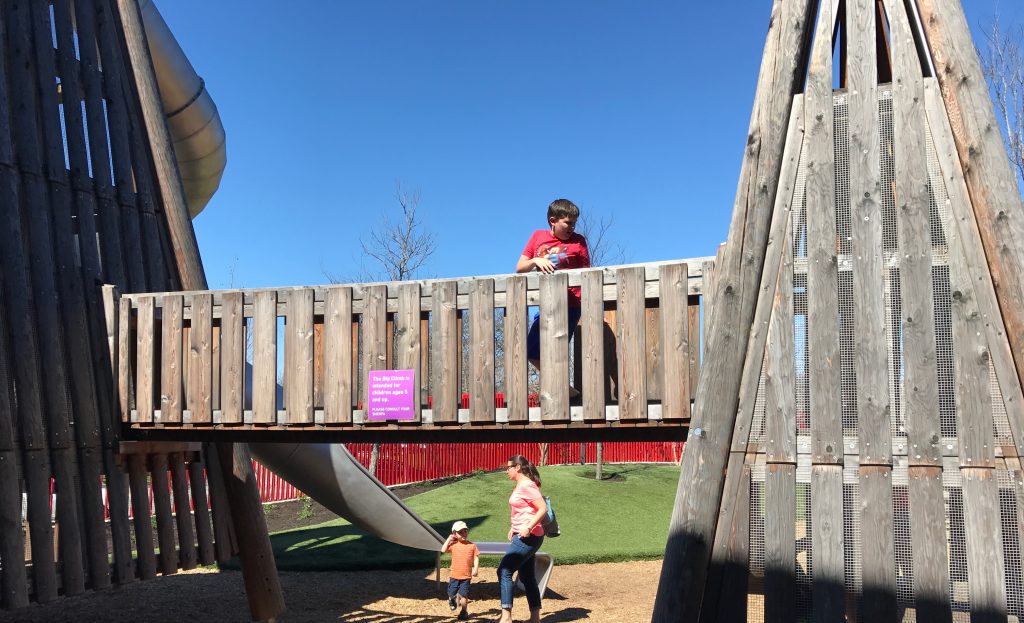 climbing wall expert.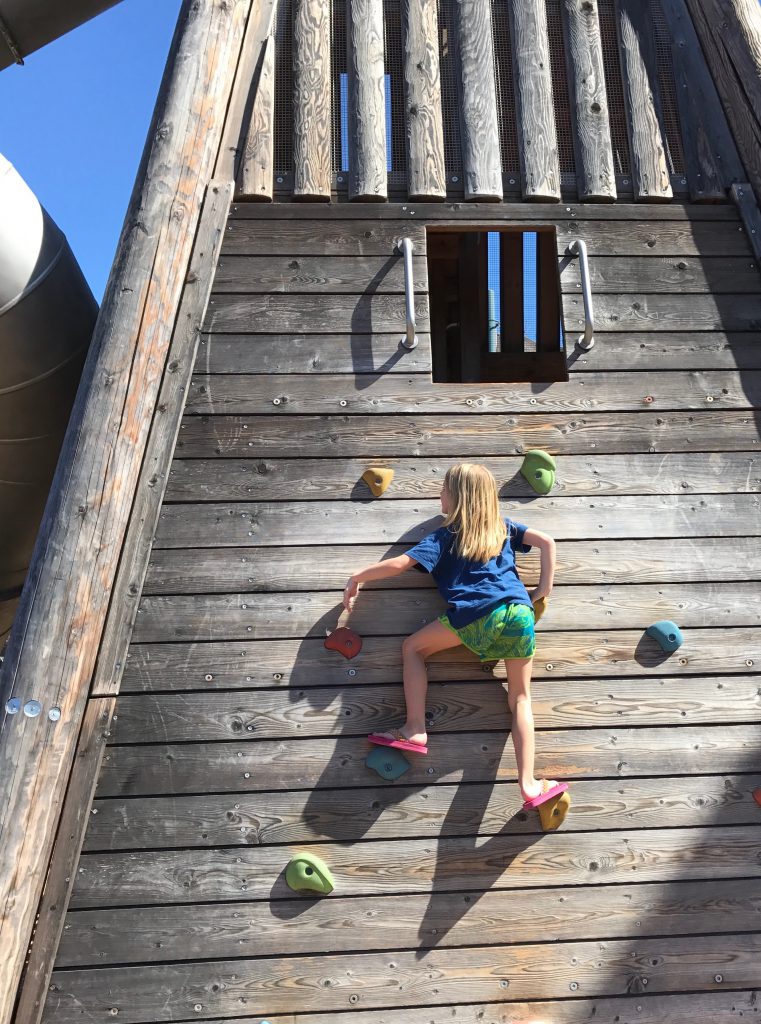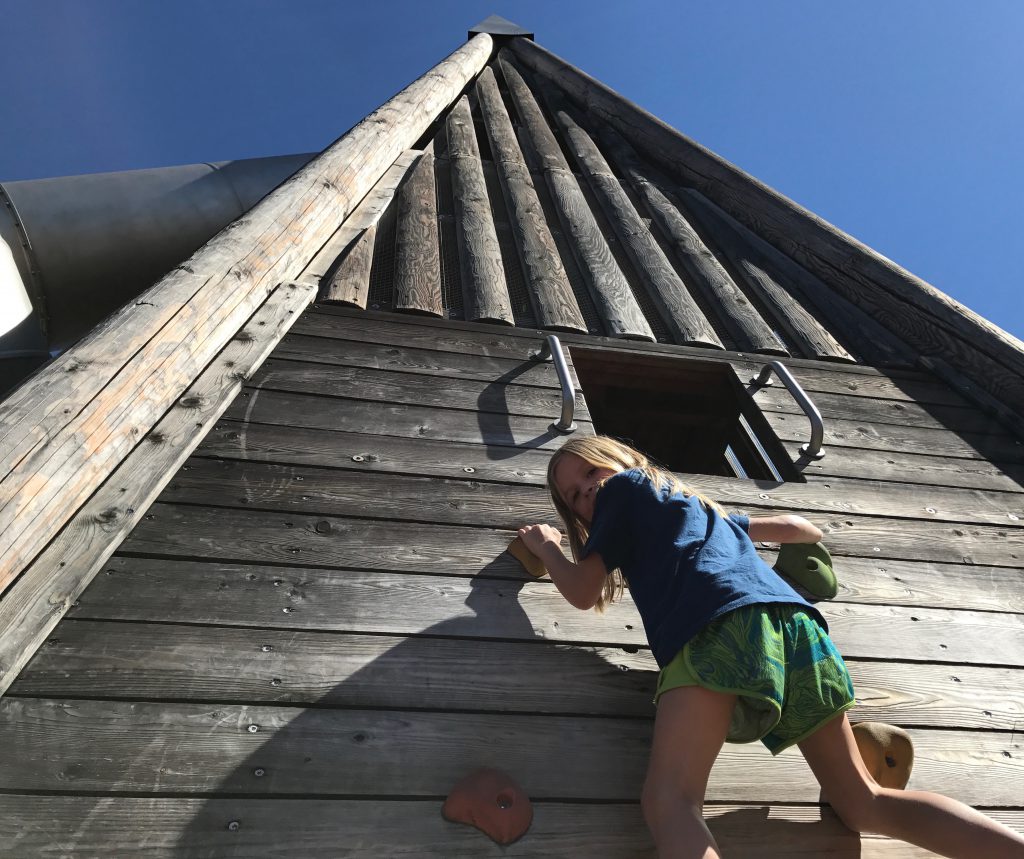 we didn't last long in the blistering heat, so back inside it was. the kids desperately wanted to go back to the mars room, so i camped out while they ran rampant. it was much more pleasant this go around. i also couldn't resist some more dress up pics of the kids.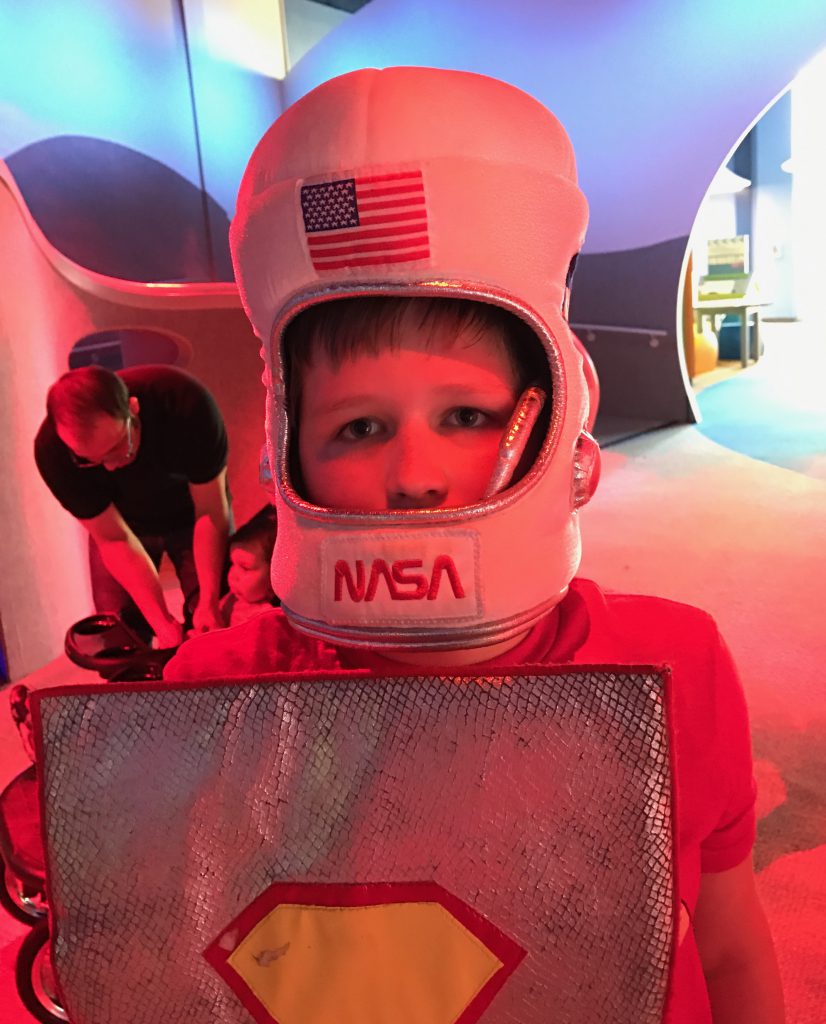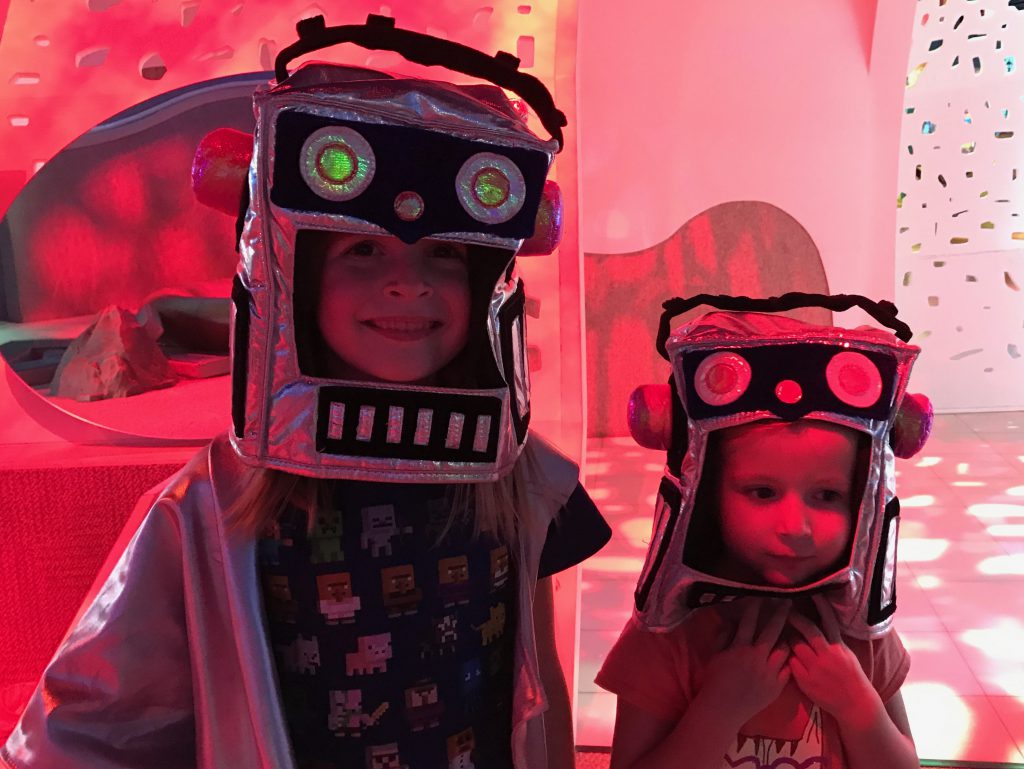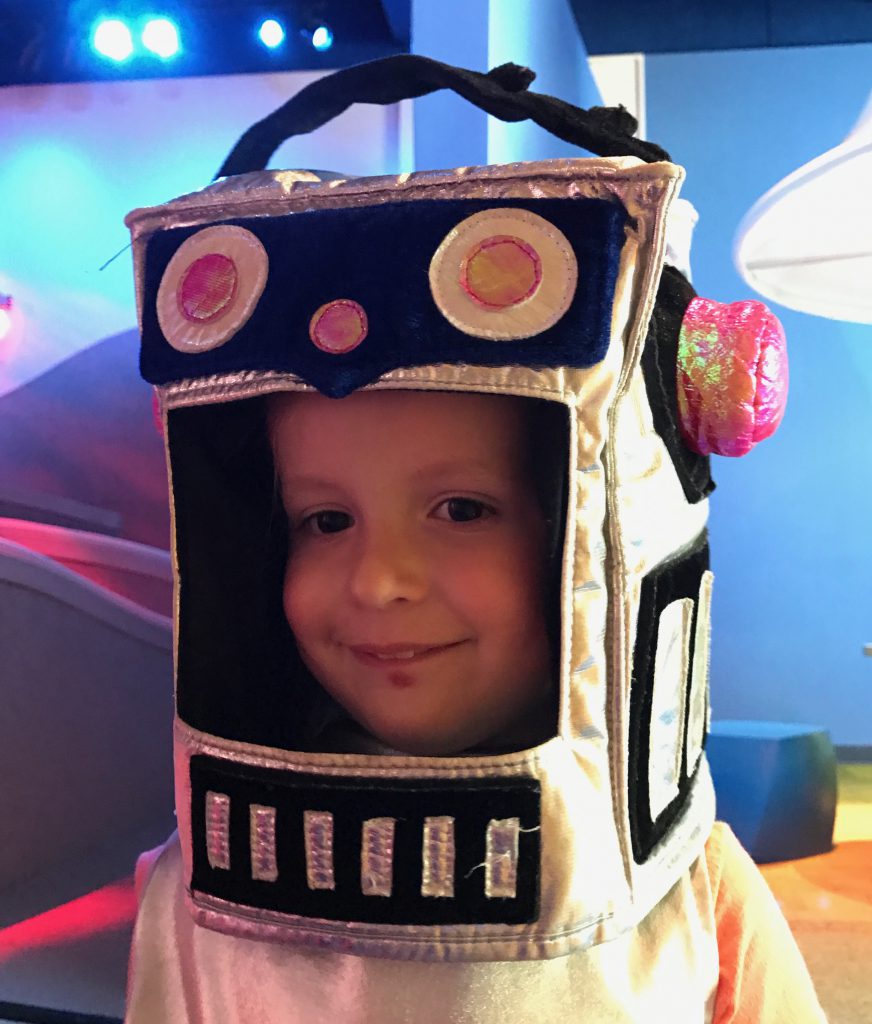 just when i had them convinced we should leave and beat any possible rush hour traffic, they discovered there was an entire upstairs (musical stairs, at that), that we had yet to explore. i wish we had more time, because all the stuff was pretty cool, even if it was completely ransacked and mostly trashed. hazel occupied herself with some building toys, isaac found a video game where you can operate various construction vehicles, and anna and i constructed a trail of dominoes to knock down.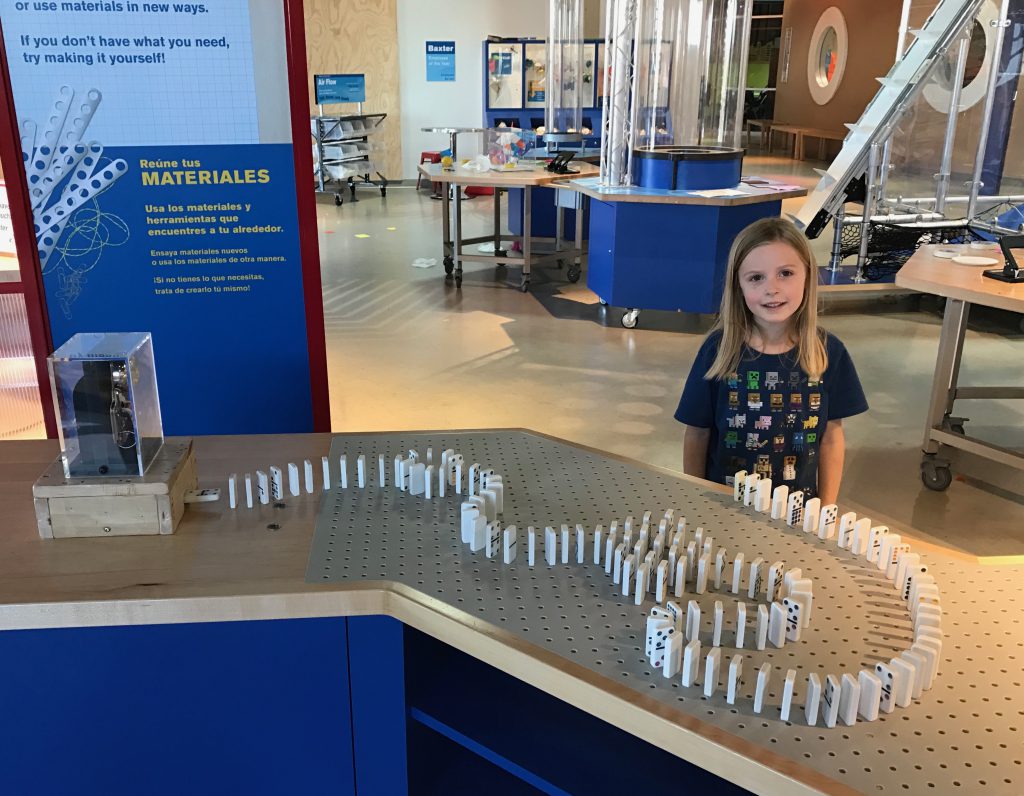 then, we spent a good amount of time in the "ball room".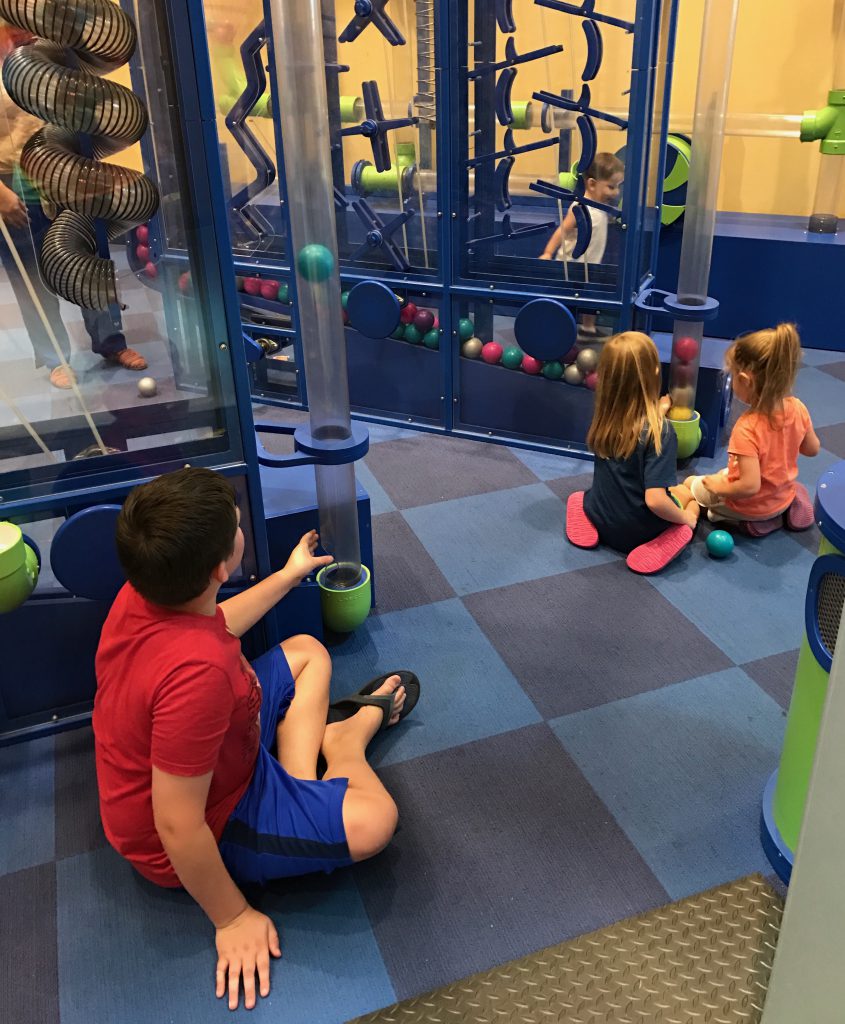 finally, on our actual way out, we stopped for a quick trip in the wind tunnel.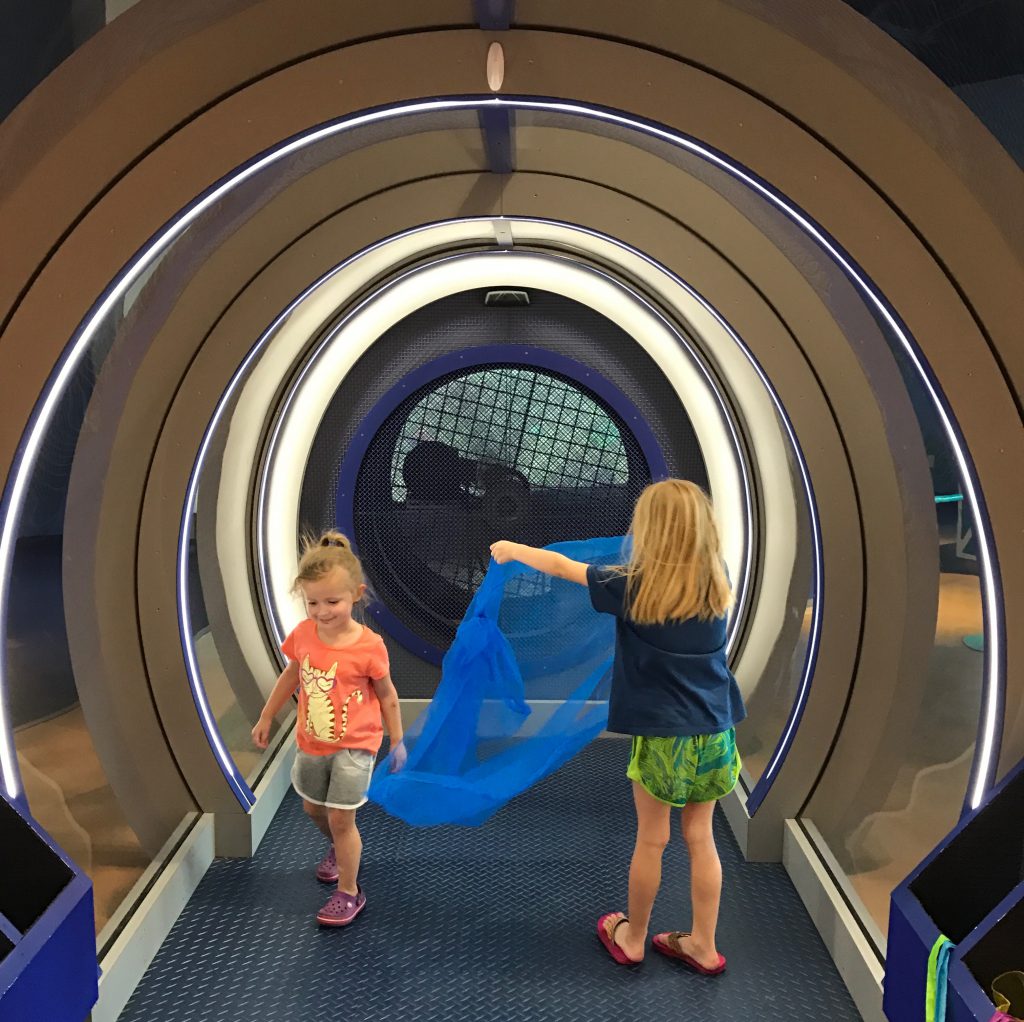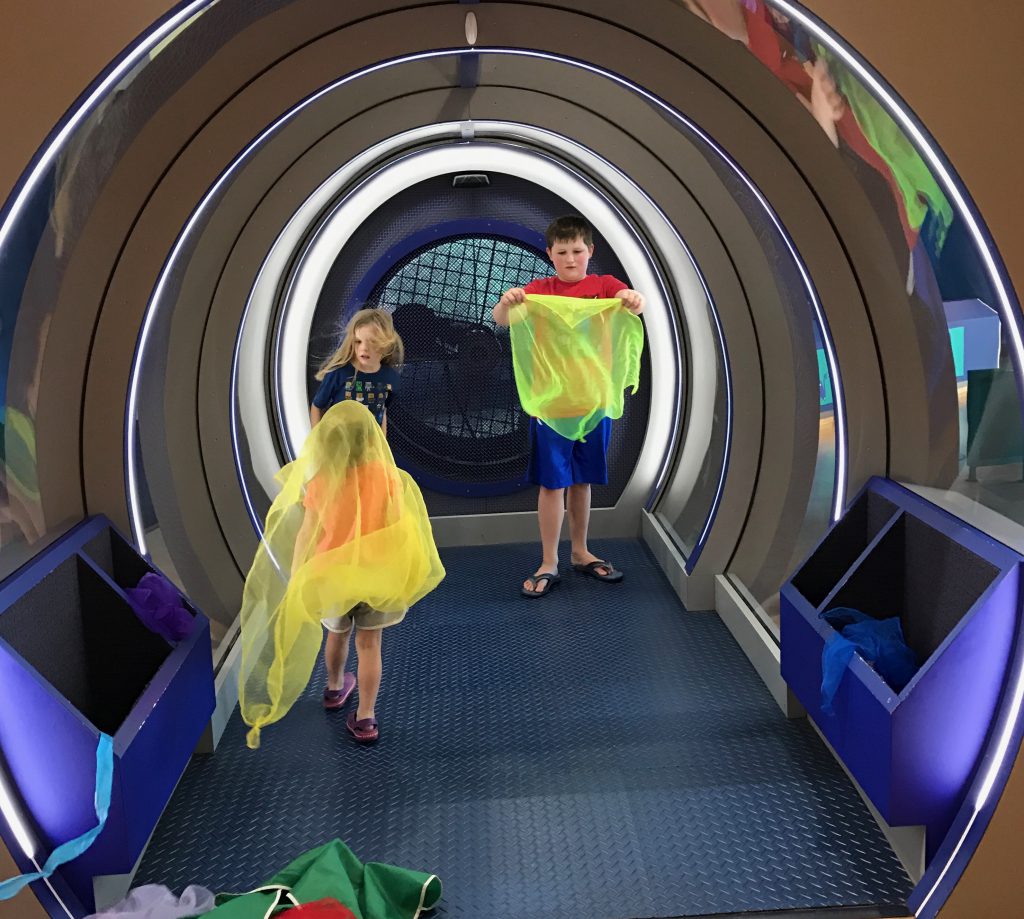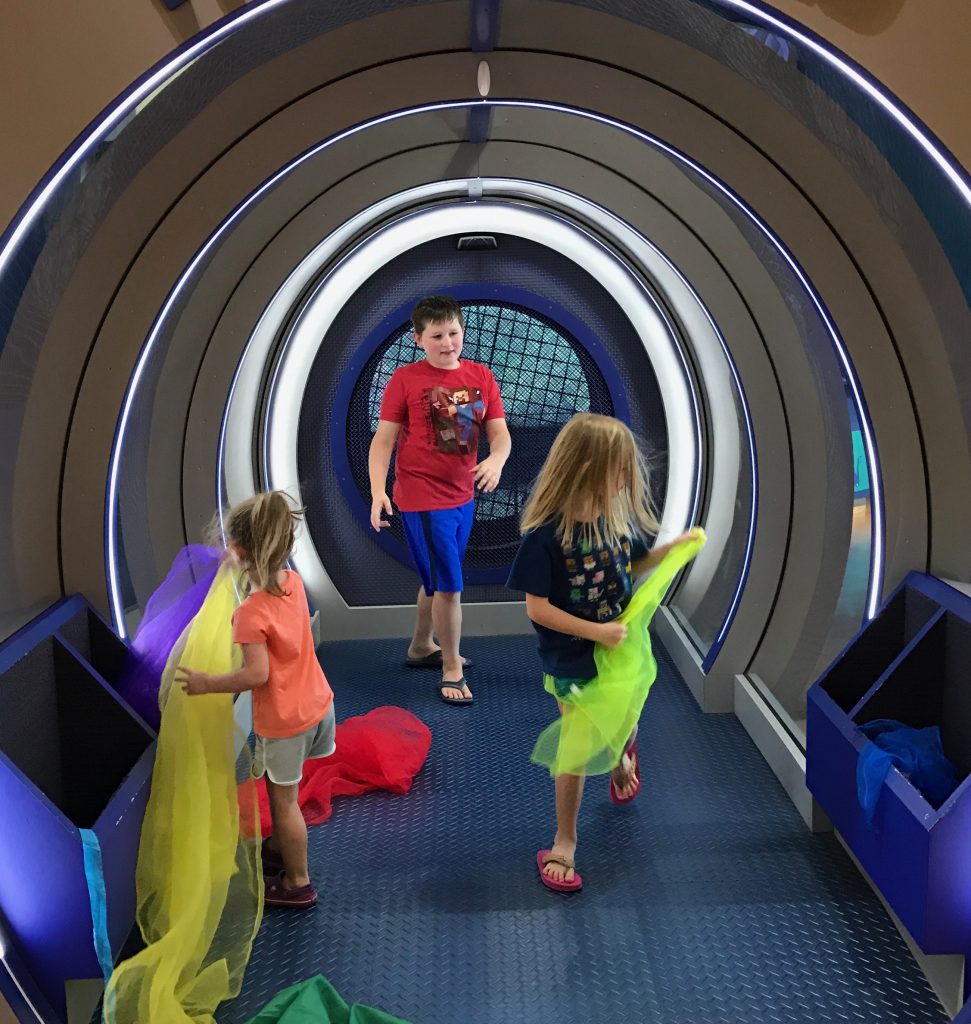 this was probably one of our favorite childrens/science museums so far. if it didn't seem so chaotic, it would be the best by far. it's not a lot of fun have to pick up a bunch of messes you didn't make to be able to fully use an exhibit. or to be missing items critical to whatever thing you are trying to do. but, there was soooo much to do, that we were just happy to skip the things that were trashed and it still was an awesome day. the kids want to go back, and if we do, i guess we will find out if it was just an off day because of the school groups or if it's a regular thing.
the end.