this is the post about our two weeks in carlsbad, when we weren't exploring nearby national parks.
but, before that, our trip from big bend to where we were staying near carlsbad was over 5 hours, so we broke it up with a layover at the fort stockton, texas walmart. decidedly less cool than big bend.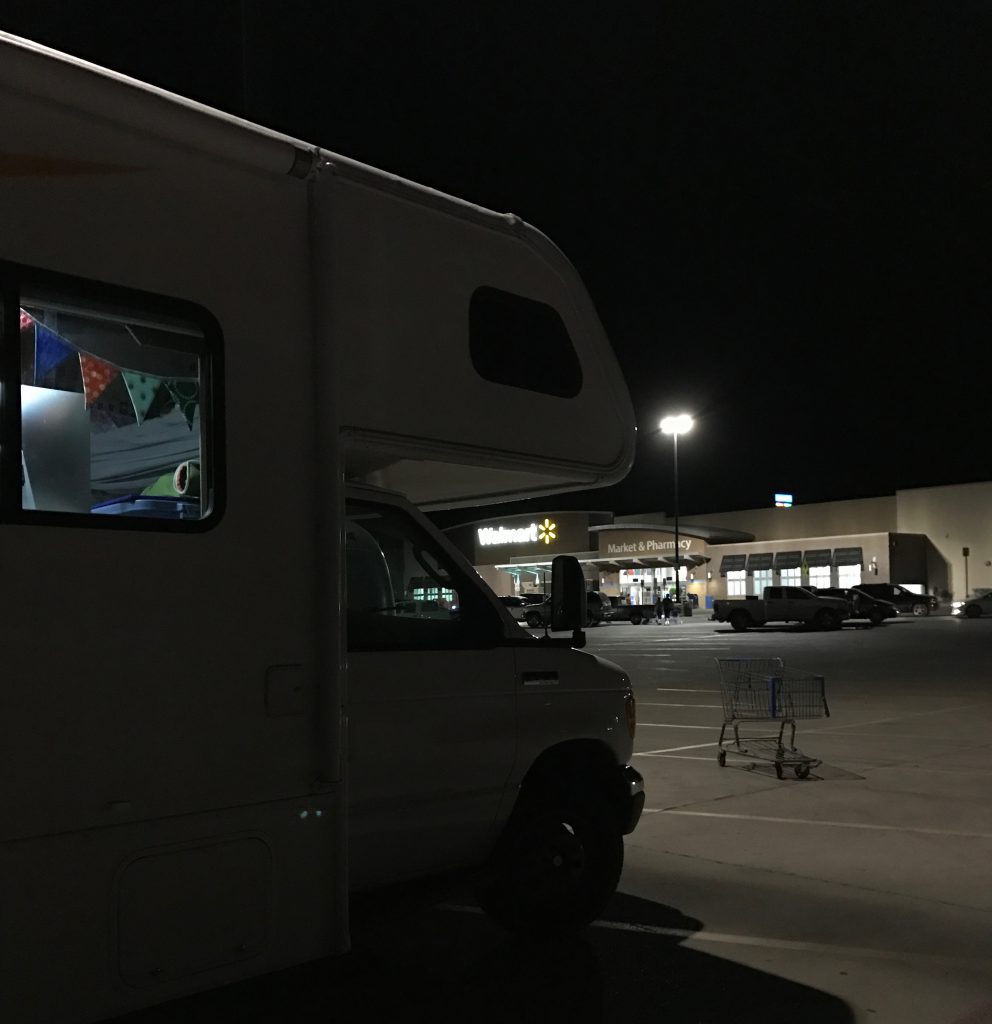 we also hit up a local mexican establishment for some very delicious dinner fare.
i had the "tacos oj", a house specialty.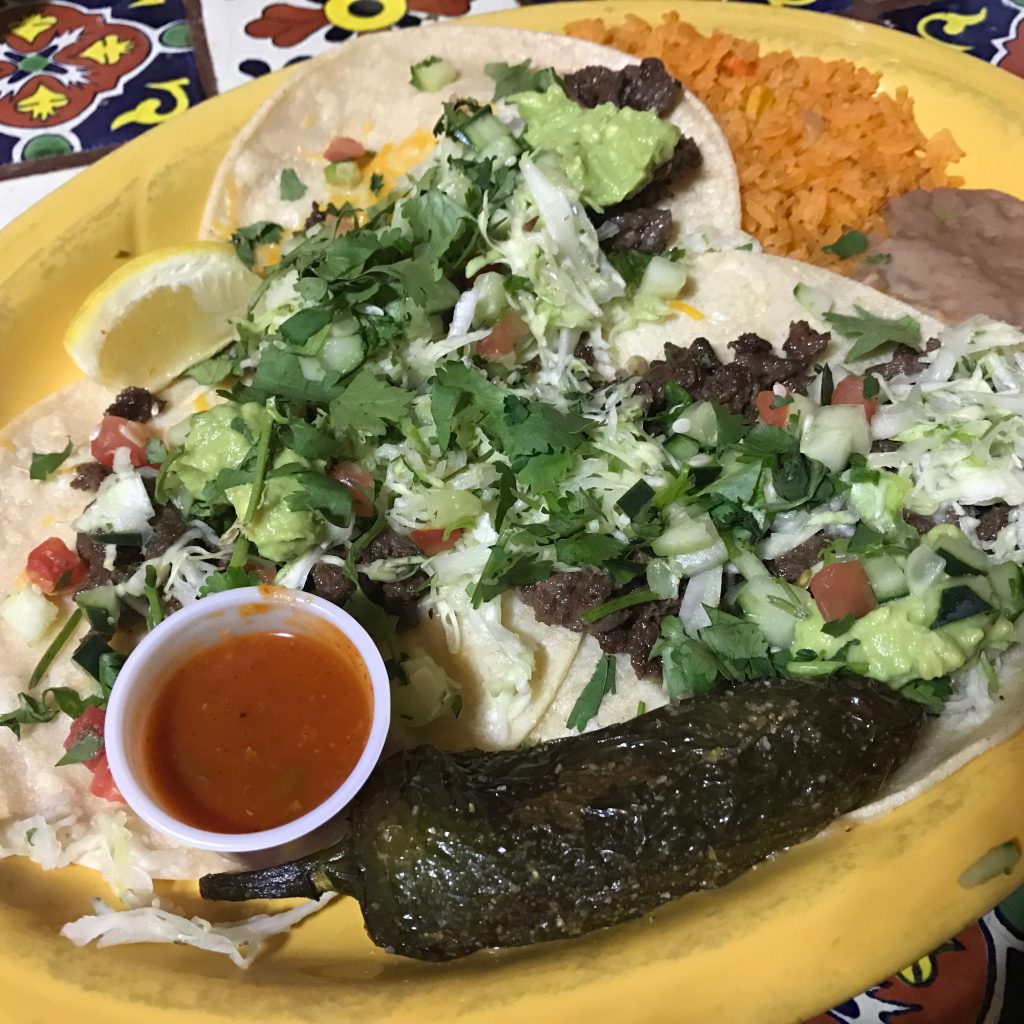 and derek went with this giant bowl of various meats and veggies. i forgot the name. but it was so much food. it seemed like a soup, but came with tortillas and extra stuff like fajitas.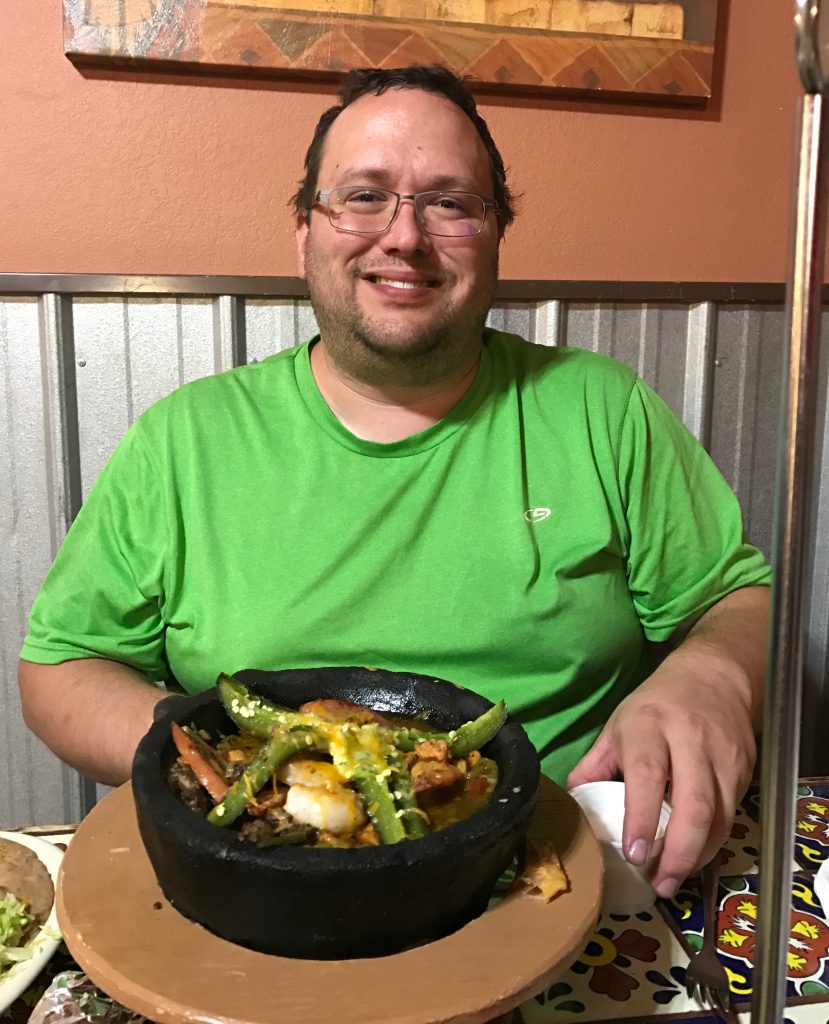 that night. everything went to crap. i woke up, with a bit of nausea, and laid awake uncomfortable for awhile, before finally throwing up several times. i was awake most of the night and completely miserable. i was hoping it was the food or a strong reaction to a bunch of carbs and sugars after not eating any for a long time. the next day, i was not up for completing the drive to carlsbad, so we lounged around the walmart parking lot awhile. i slept. derek managed the lidkids.
around 4 or so, i felt a bit better. well enough to attempt to get us to our final location. about 30 minutes from the campsite, anna said she didn't feel so good. i hoped it was a little car sickness from playing the ipad, but i was wrong. a mile from the campsite, i had to pull over for anna's turn to be sick. sick kids are far worse that sick grownups.
we got to the site. got set up. and by then, i was feeling pretty crappy again. and anna was a mess. but our new site was pretty.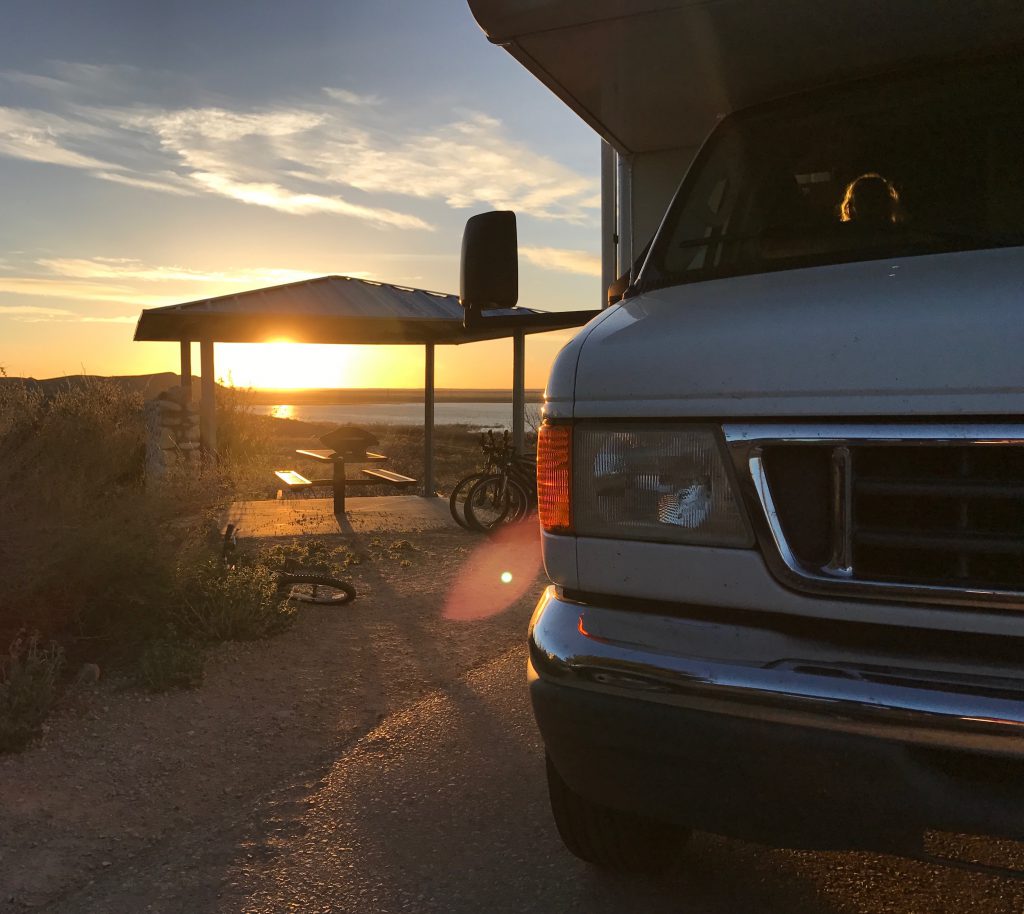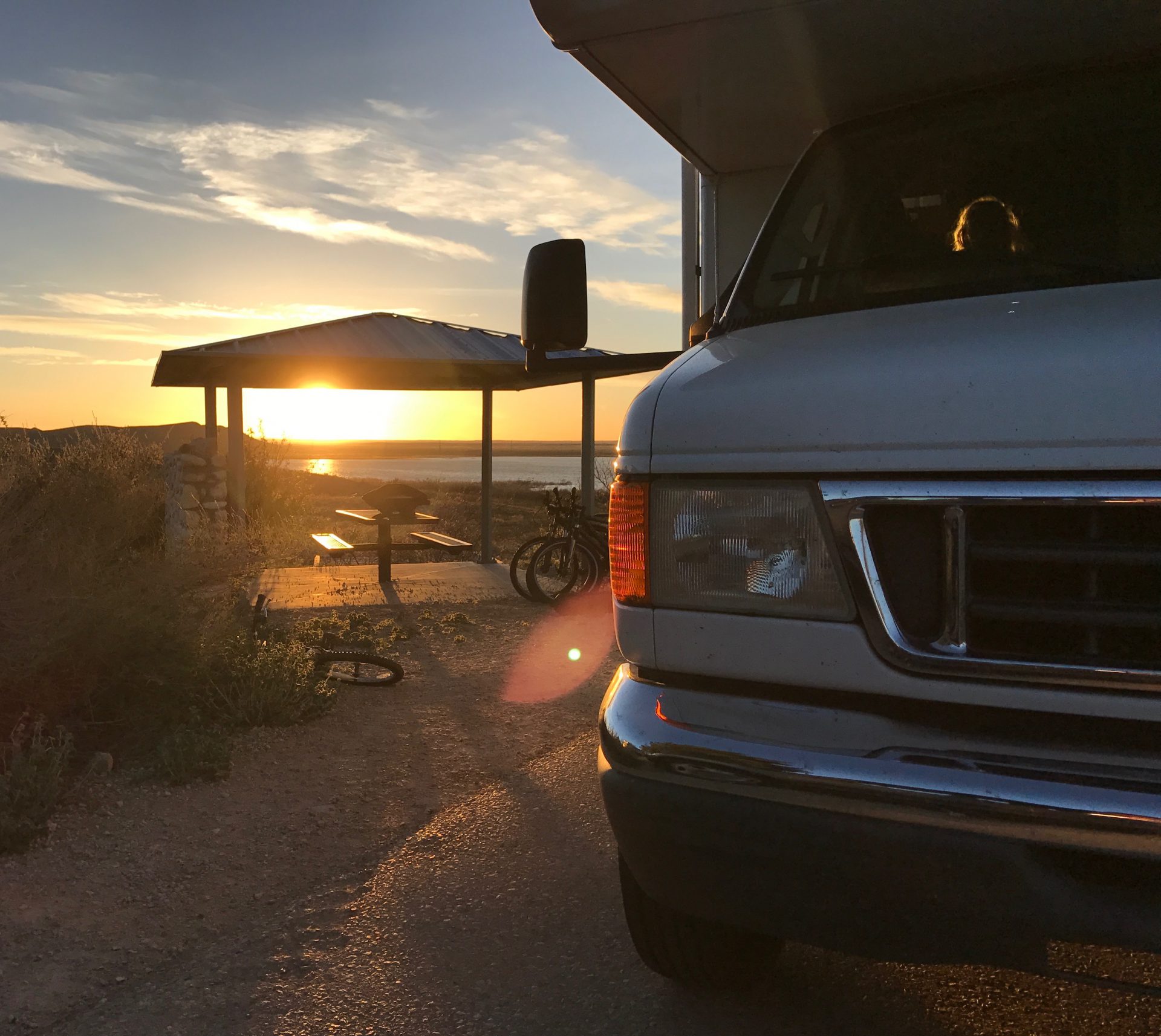 anna slept on the couch and the poor kid threw up several more times. and then, at some point in the night, isaac threw up. and it was a full on plague. the next day started out with some lazy rest and recovery.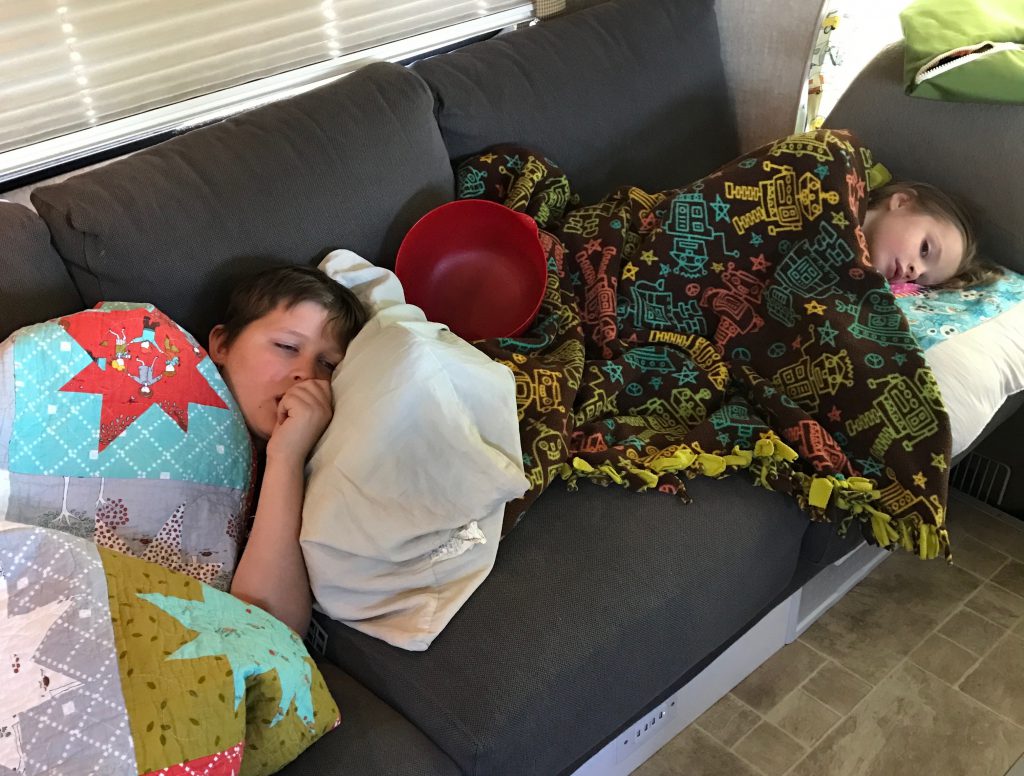 except you know how kids are. in between feeling bad, they feel completely fine, and don't have the sense to just rest, so anna was out with hazel, playing trains. check out that "it's been awhile since i took a shower and then two days in the car and then a vomit session" hair. blerg.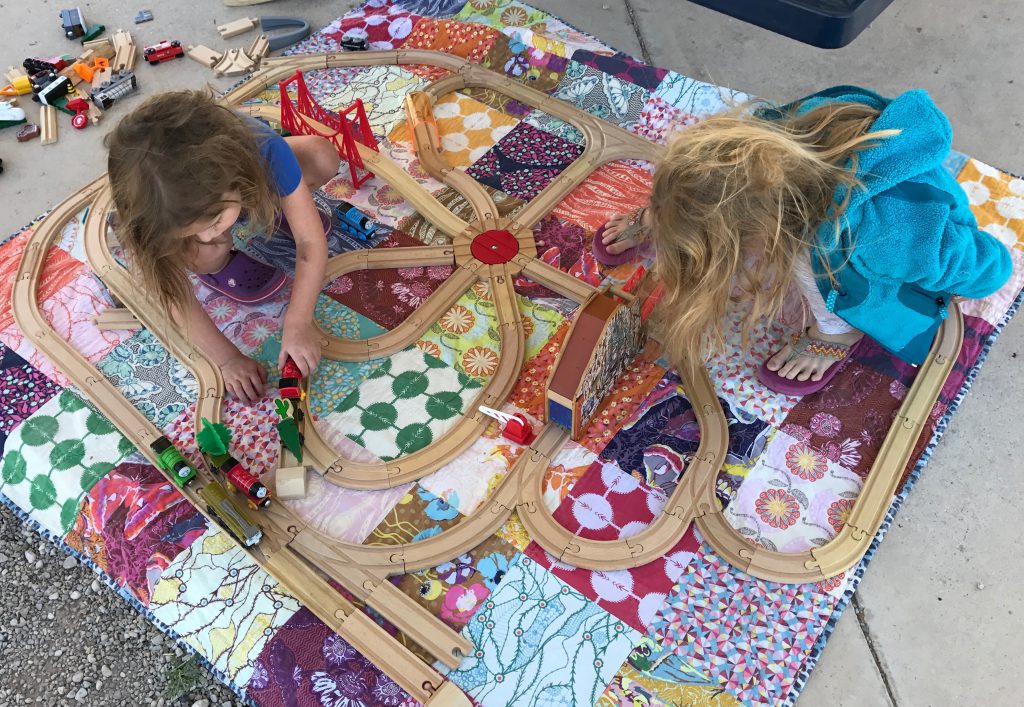 i gathered up all of the infected laundry and headed to the laundromat in town. isaac was sure he was feeling well enough to join me (and play his ipad, of course). fresh clean puke free laundry: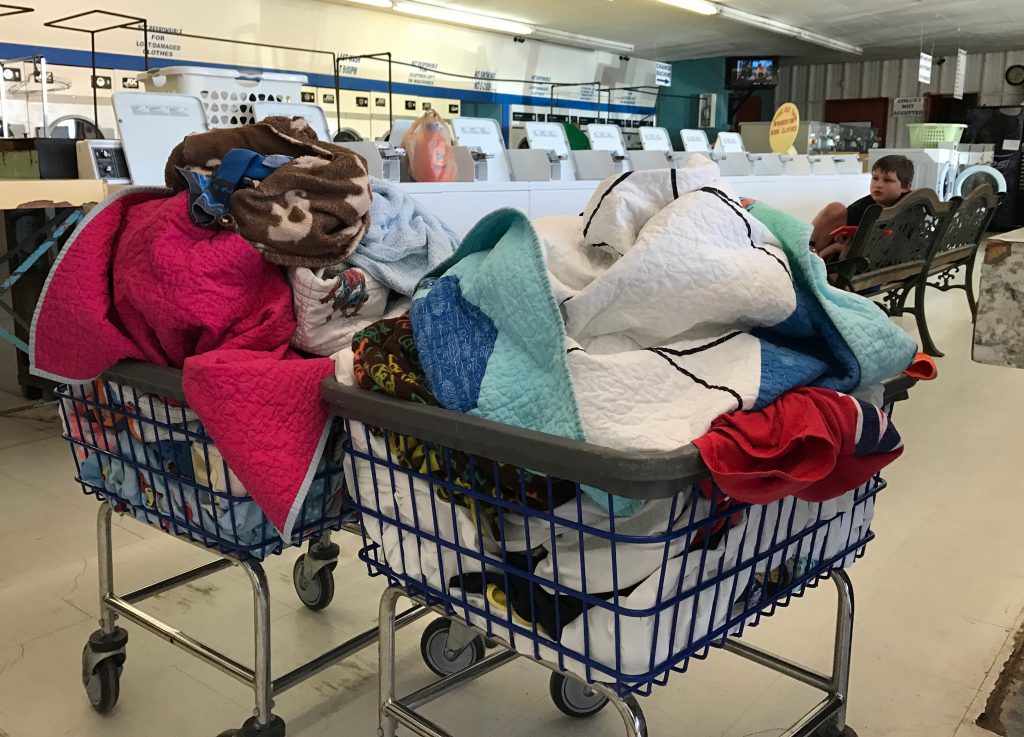 the laundry trip must have worn him out though, because isaac fell asleep around 6 pm, watching harry potter, and a snapped this award winning shot. 🙂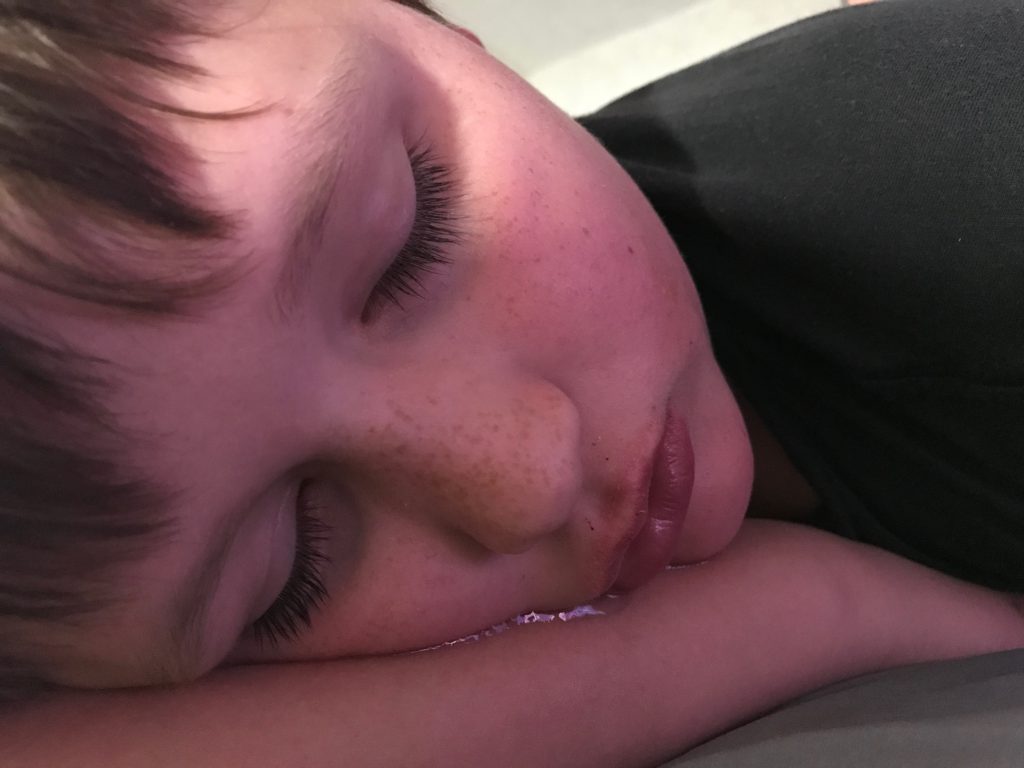 the next day, we decontaminated all the bodies. anna loves when we have to use the bath houses. she's a fan of long luxurious showers. (our hot water heater size severely limits her).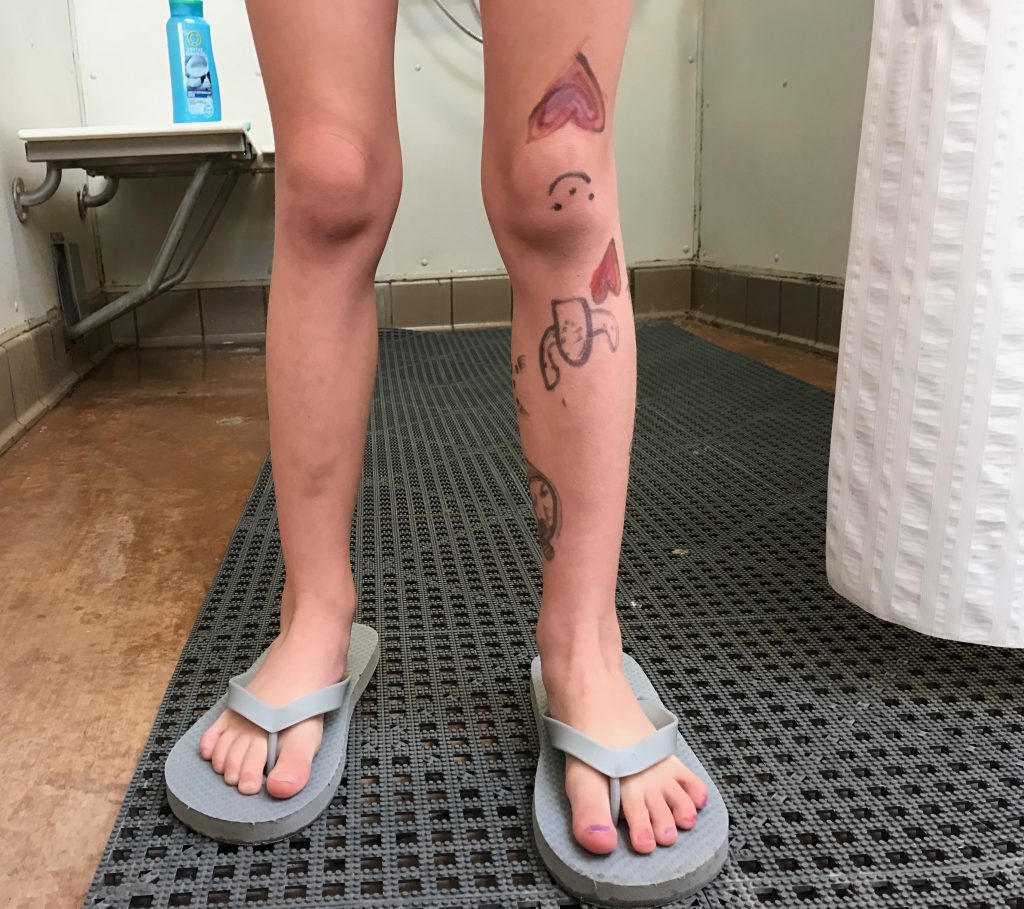 despite not having sewer hookups, hazel took a bath in the camper, since we were going to have to dump soon anyways. she doesn't mind a shallow bath, as long as we dye it different colors each time.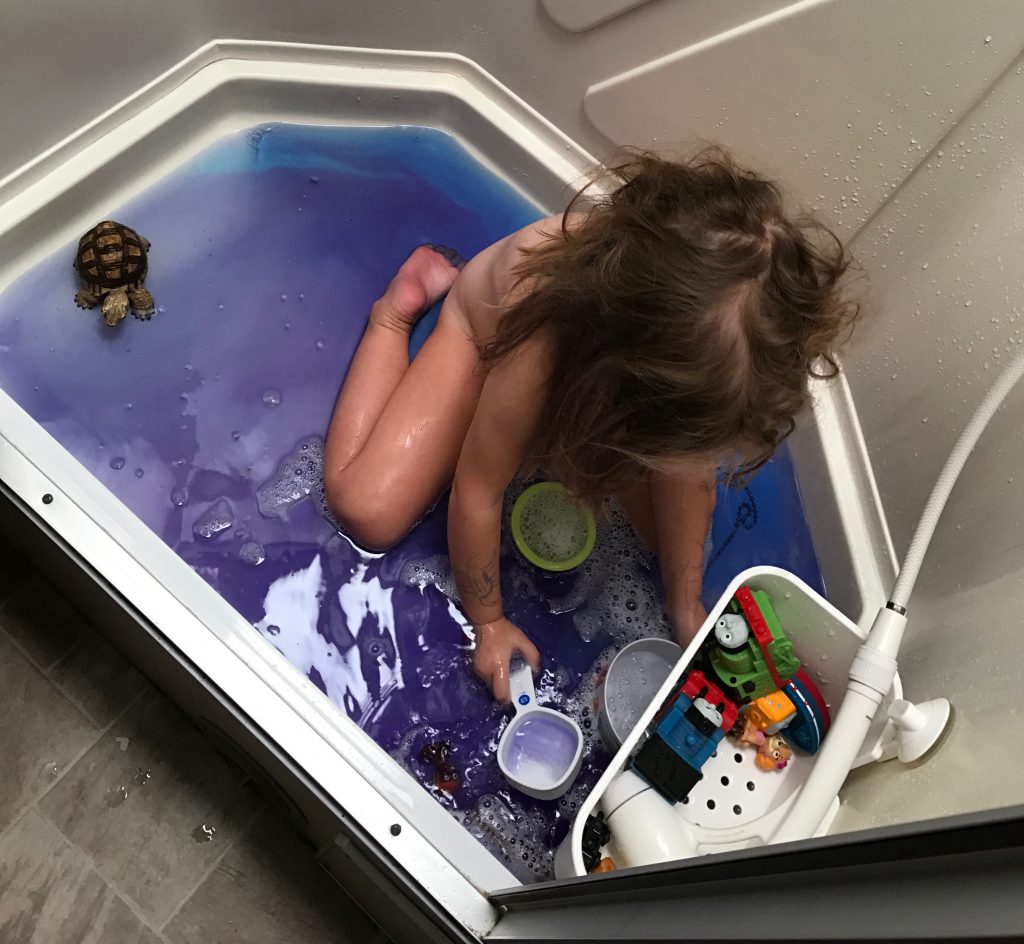 we pretty much had a low-key first week. i went on a purge session, mostly with legos, so of course, i had to have some "advisors". there was a lot of tv watching. derek never fully got what we had, but he felt pretty terrible, on and off all week.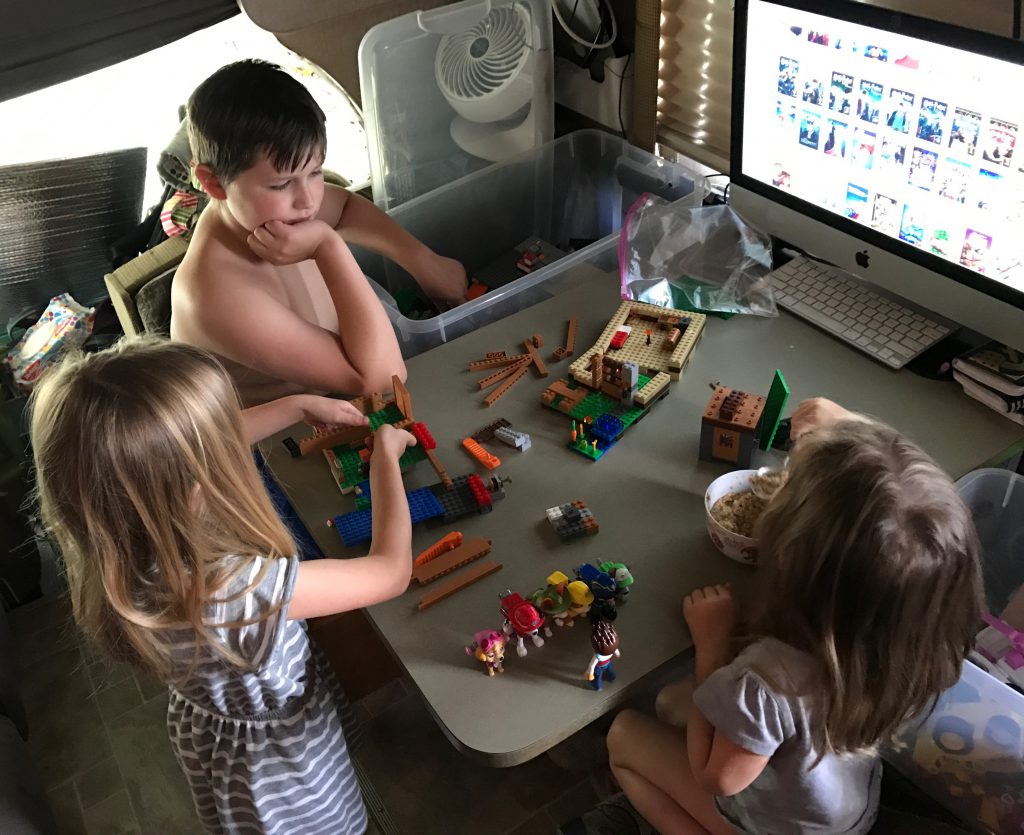 movie night. pirates of the caribbean. a new ike fave.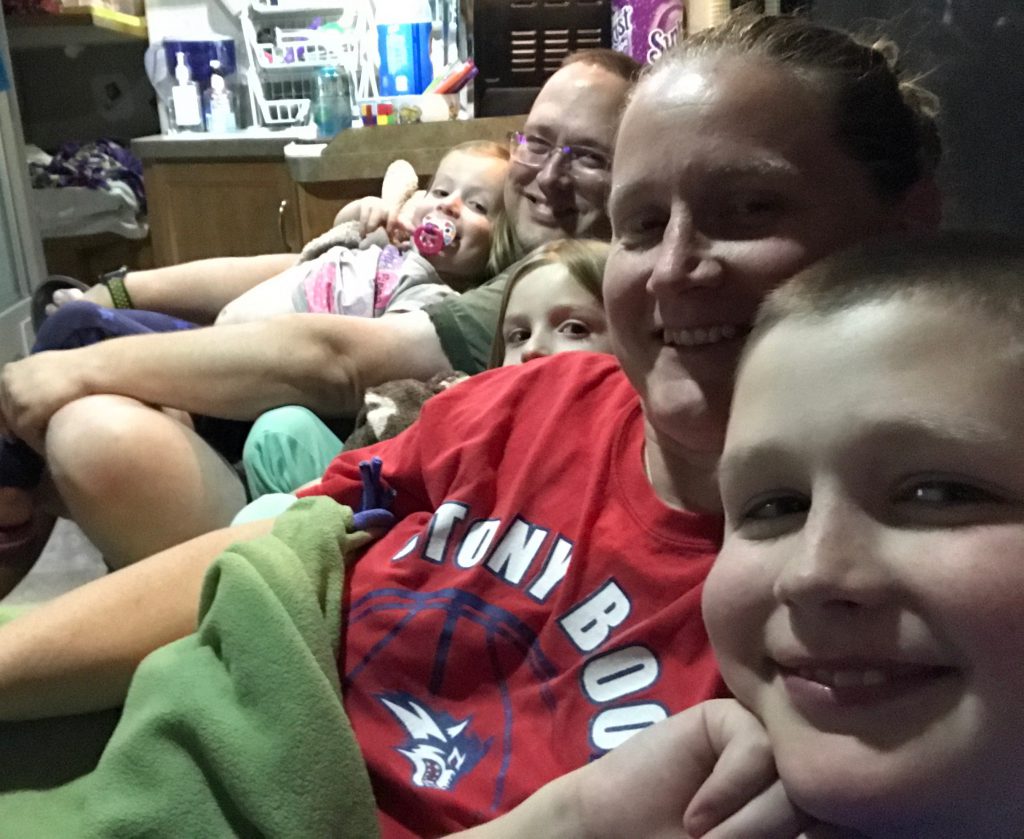 making breakfast. overlooking a lake. can't really complain.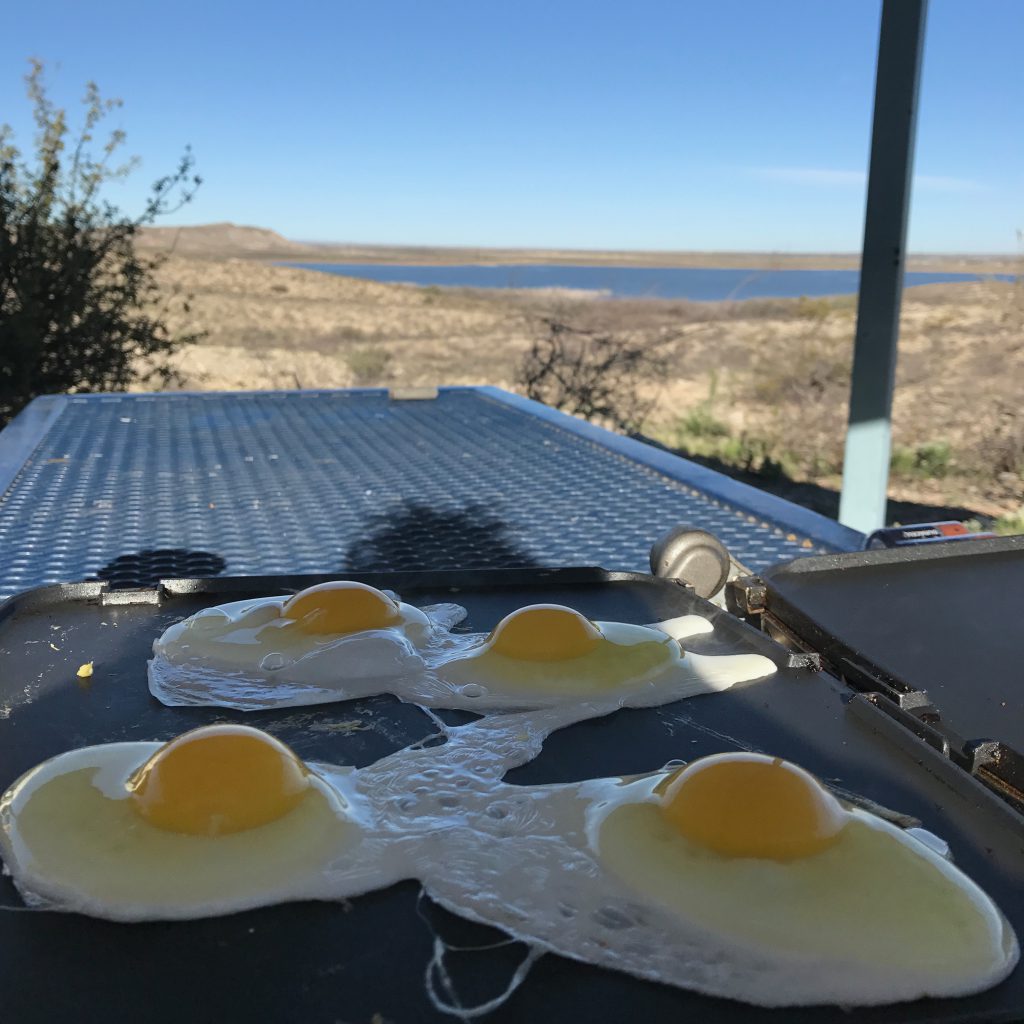 late night snack for crazelnut.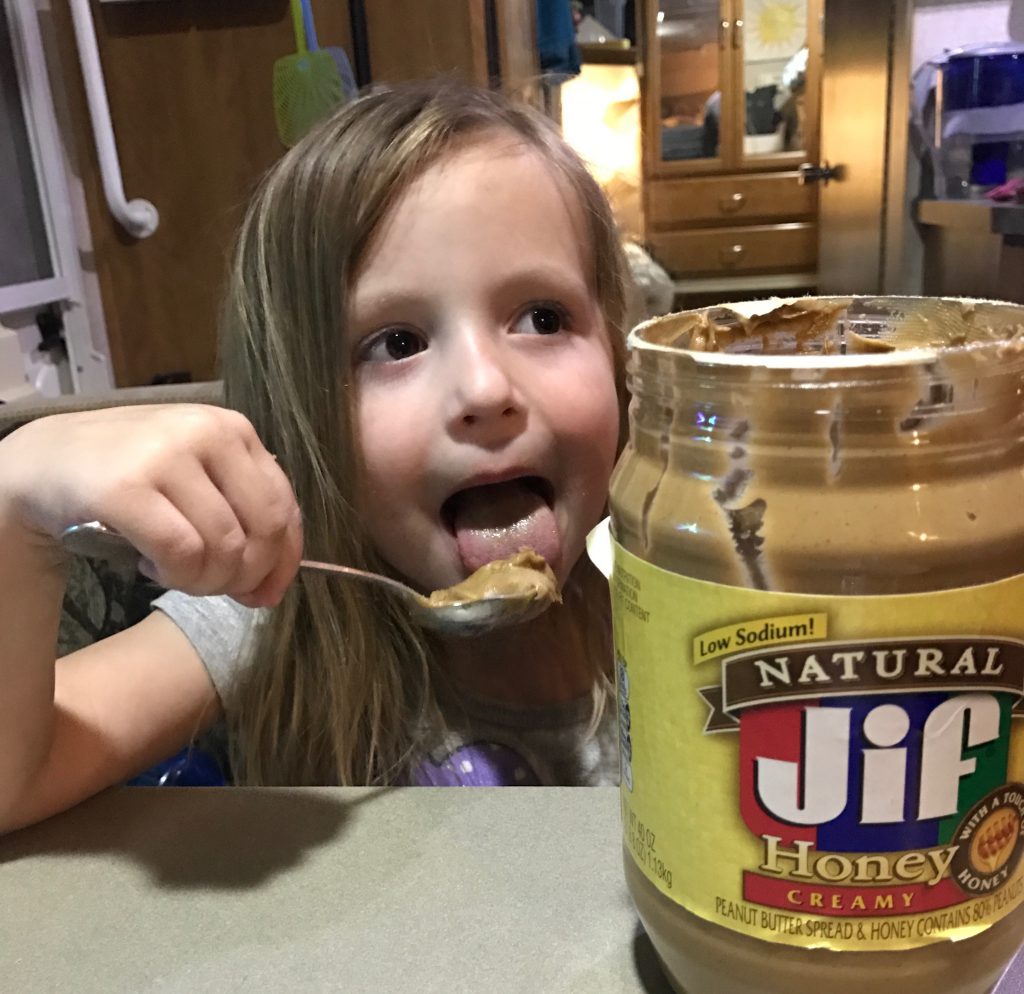 the kids had a lot of fun at the campground playground. it was close enough that i could just send the older two off alone without worrying. and they can even keep an eye on hazel in short spurts. we met some new friends, who were camping right next to the playground, so the kids were there constantly during their stay at the campground.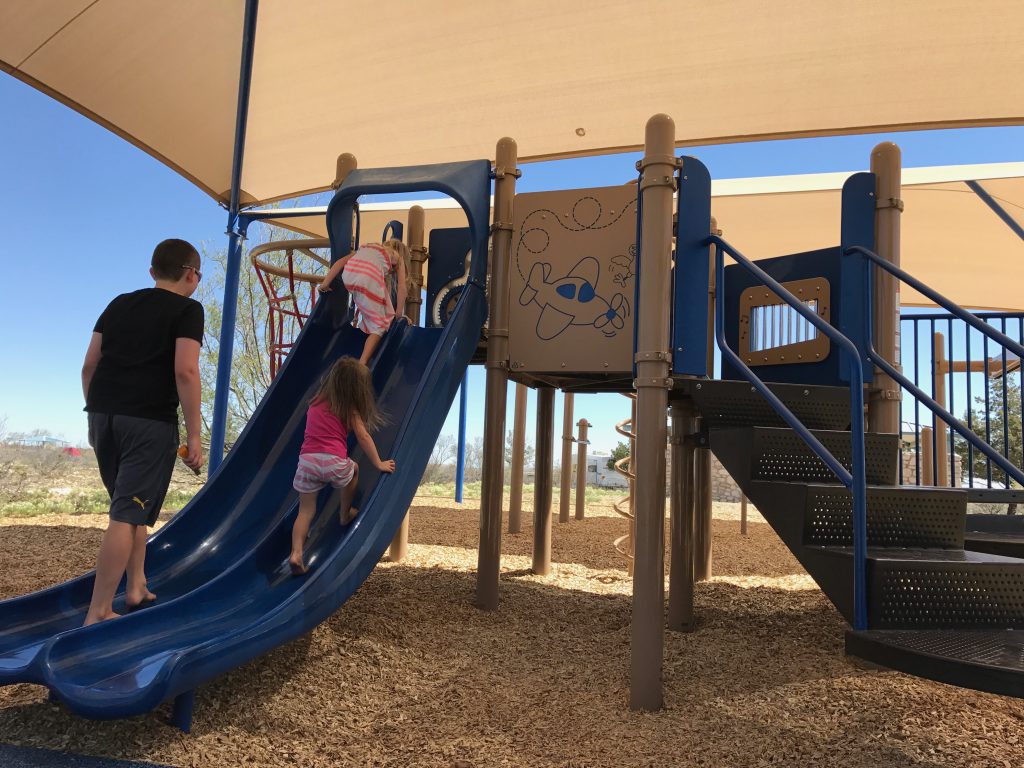 pretty annababy.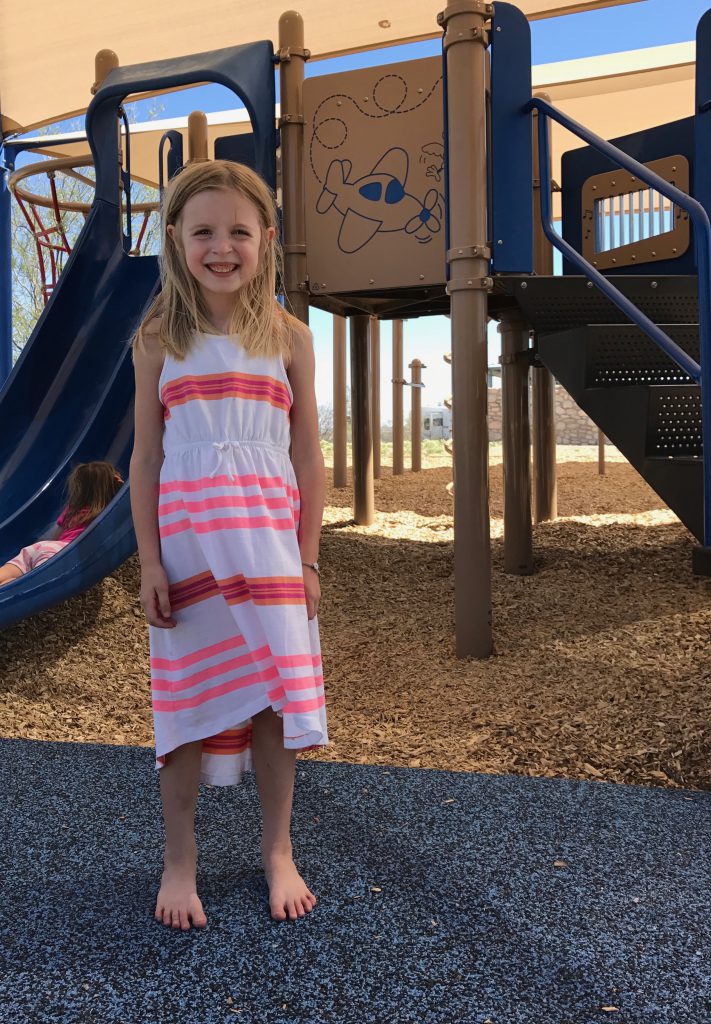 when we saw the cool picnic table shelter at our campsite, we knew a purchase of sidewalk chalk would be necessary. the girls put it to good use. also, i drew a portrait of hazel to keep her from being sad about being banished from the playground by the kids.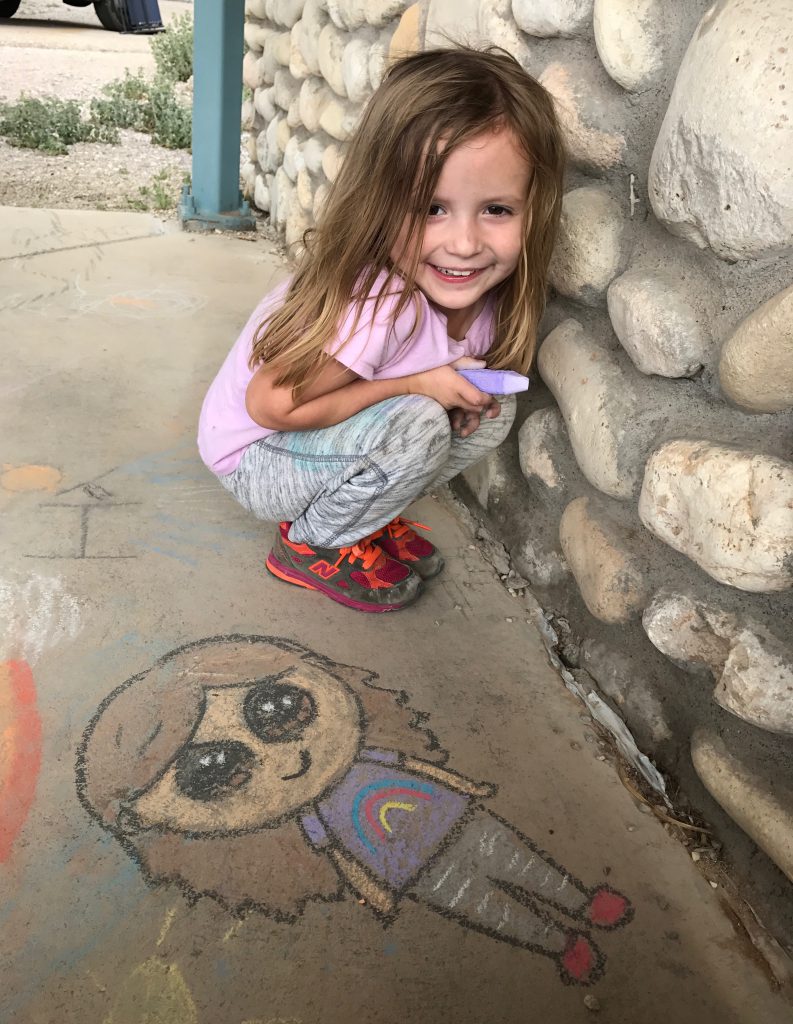 anna and isaac are obsessed with writing long stories about adventures in minecraft and clash of clans. usually, i'm not allowed to set eyes on these tales, but for some reason, anna allowed me fleeting access into her little world.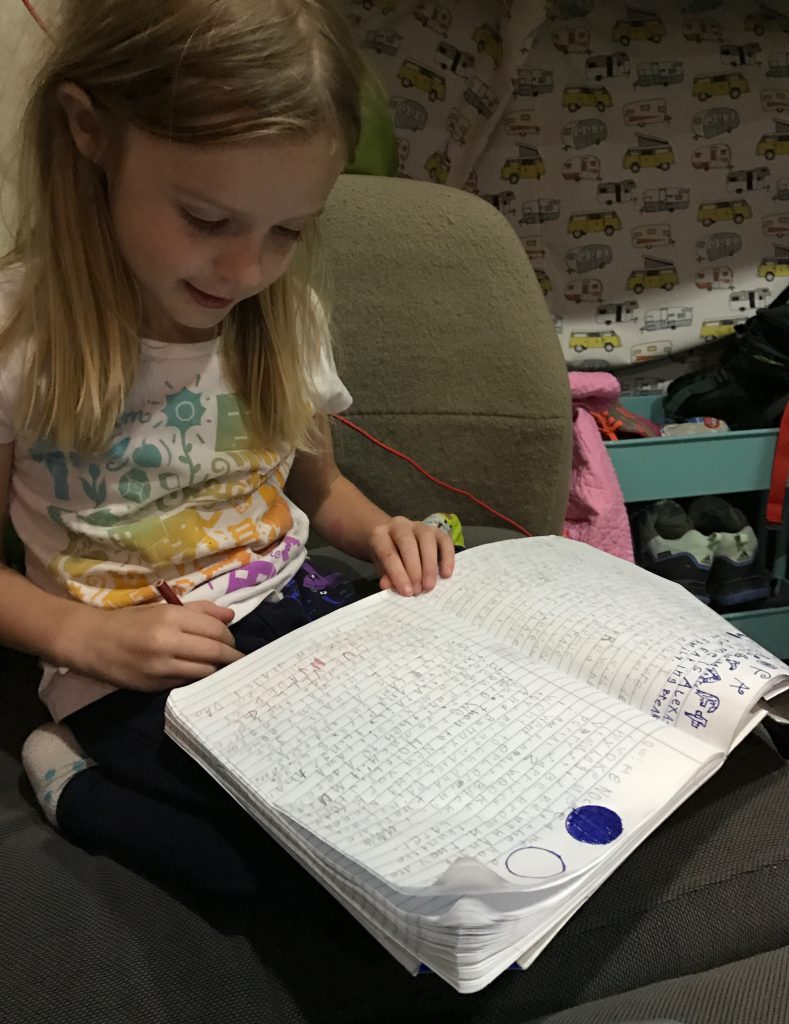 for hazel's second bathing at the campsite, we tested out a new plan. in the handicapped shower stall, there was a shower head that i could take down and use to fill an empty (formerly full of legos) bin, for a makeshift bathtub. hazel LOVES it. and it worked perfectly.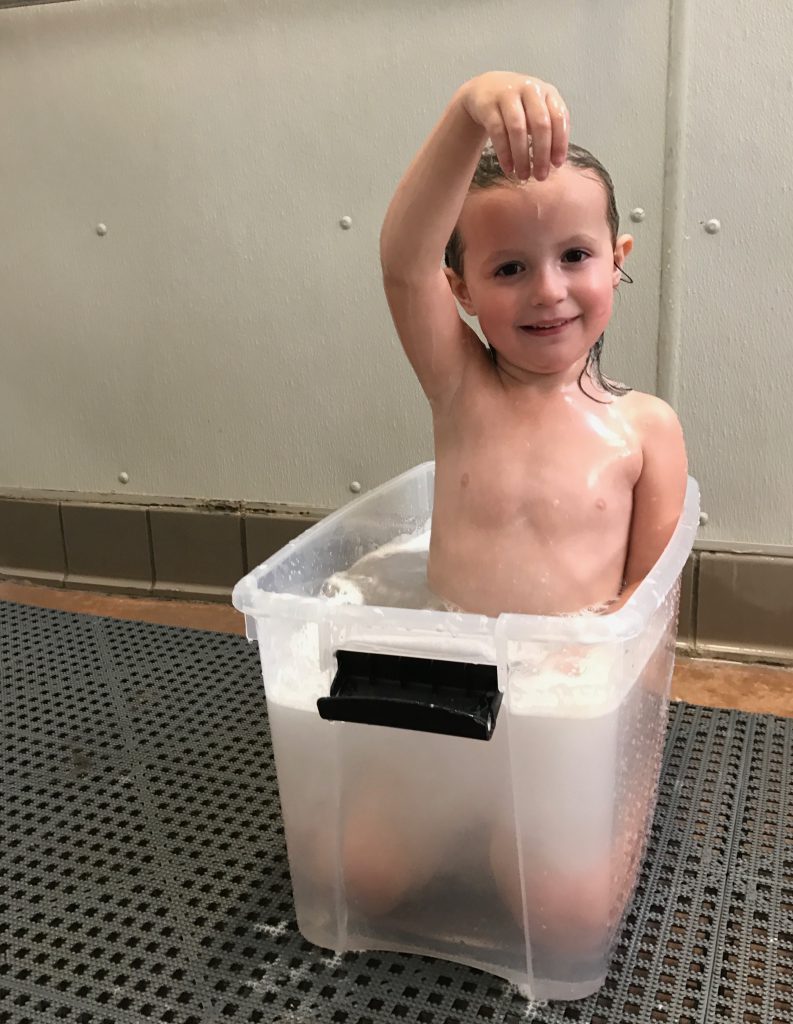 so there were a lot of very windy days (and nights). one stretch was so bad, we didn't even leave the camper. the kids couldn't open the door or it would slip out of their hands and slam against the side of the camper. i struggled to get it closed. the camper rocked. and the bathroom door rattled from the wind coming in the fan. it was crazy. so, we found inside activities. isaac spent a couple of solid hours constructing this guy.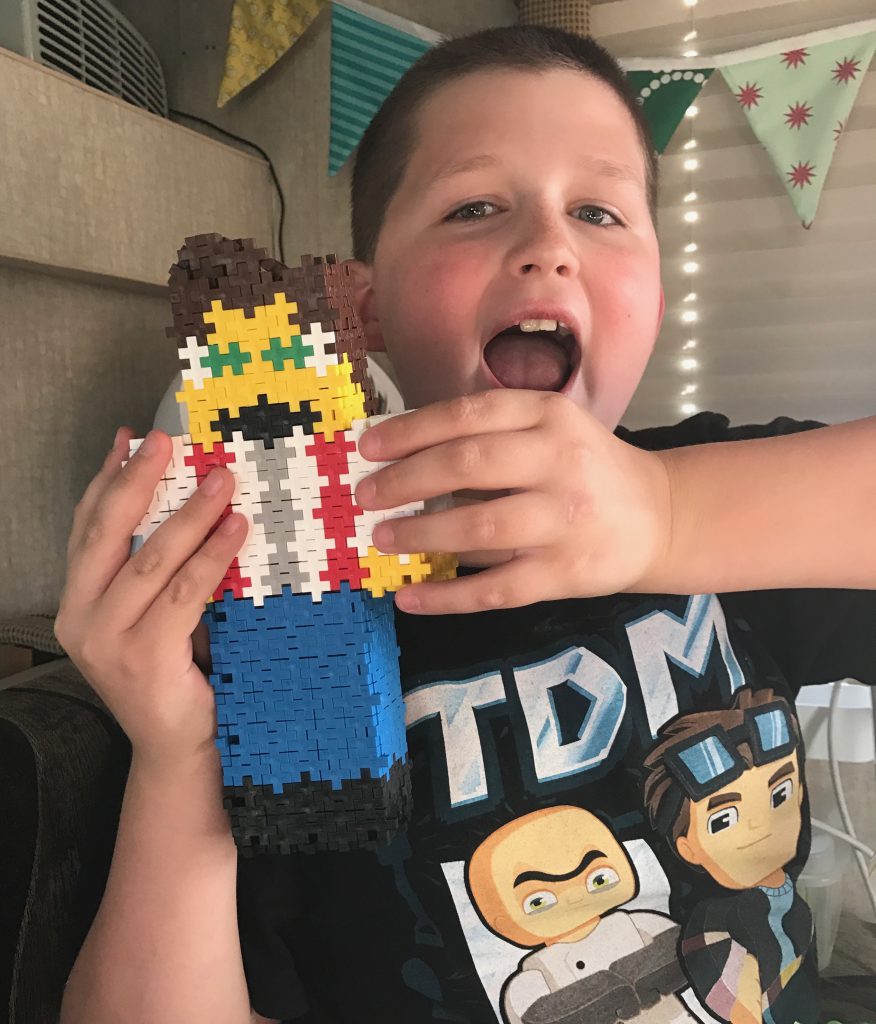 i made this bacon one morning, before the wind started up. after we ate and i went out to clean the griddle, i couldn't even pull the grease tray out, because the wind was so strong it would slosh the grease everywhere.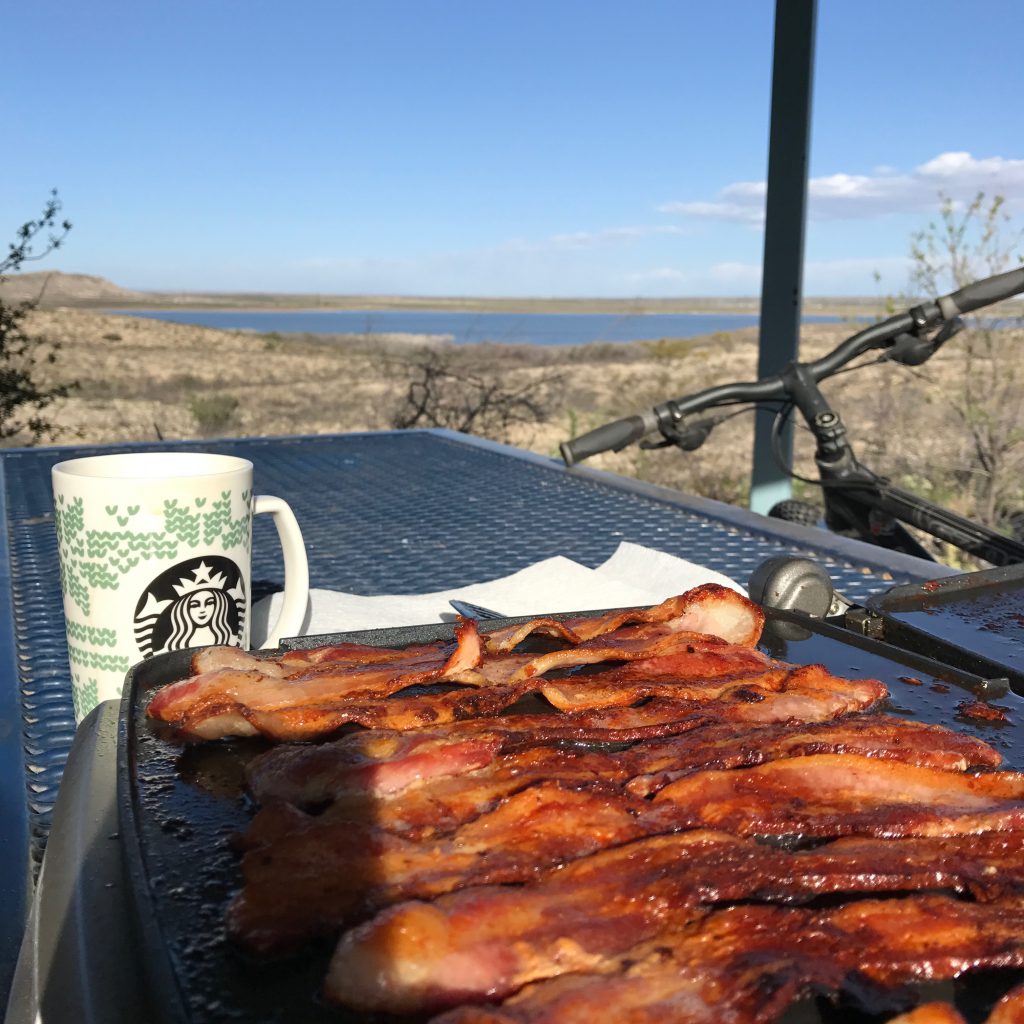 in case you ever consider eating some leftover food off hazel's plate, here's a pic of how she eats. it's also why her feet smell like bacon.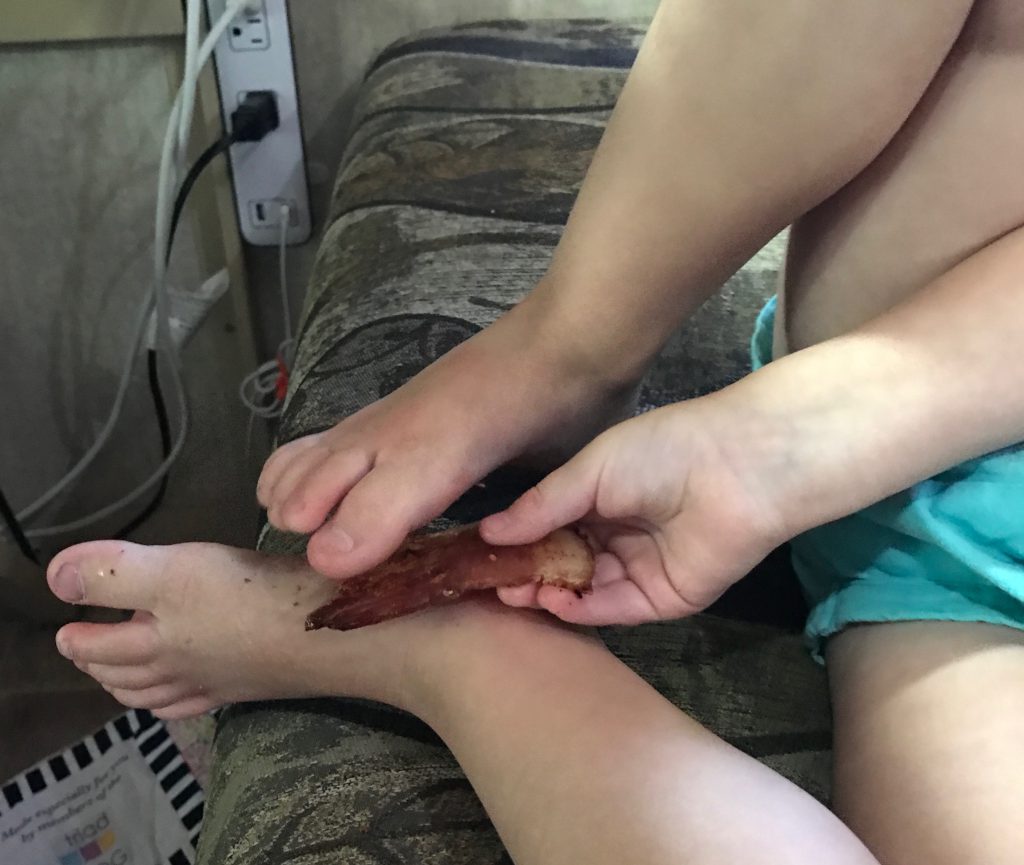 we had a bit of an adventure one afternoon when we took the camper over to the dump station. after we dumped the black tank, derek started to fill it with water to flush it out. i was watching the sensor lights that tell us how full the tank was. sometimes, the sensors get "residue" on them, which sometimes makes the lights show the wrong thing. so, we were pretty sure it was empty when it read 3/4 full. so i watched and watched and watched, waiting for the full light to turn on. only. for some reason, it never did. and i heard water running over in the bathroom. i yelled to derek to empty the tank and ran in, only to find the toilet full and the bathroom covered in slightly contaminated water. then, the ONLY towels we had in the camper were brand new because we had JUST done laundry and it was all in the car. so, i sopped up the poop water with brand new towels, which threw away immediately afterward. and then spent a good amount of time with a bottle of cleaner and a roll of papertowels. blerg. so, it's not all fun and games.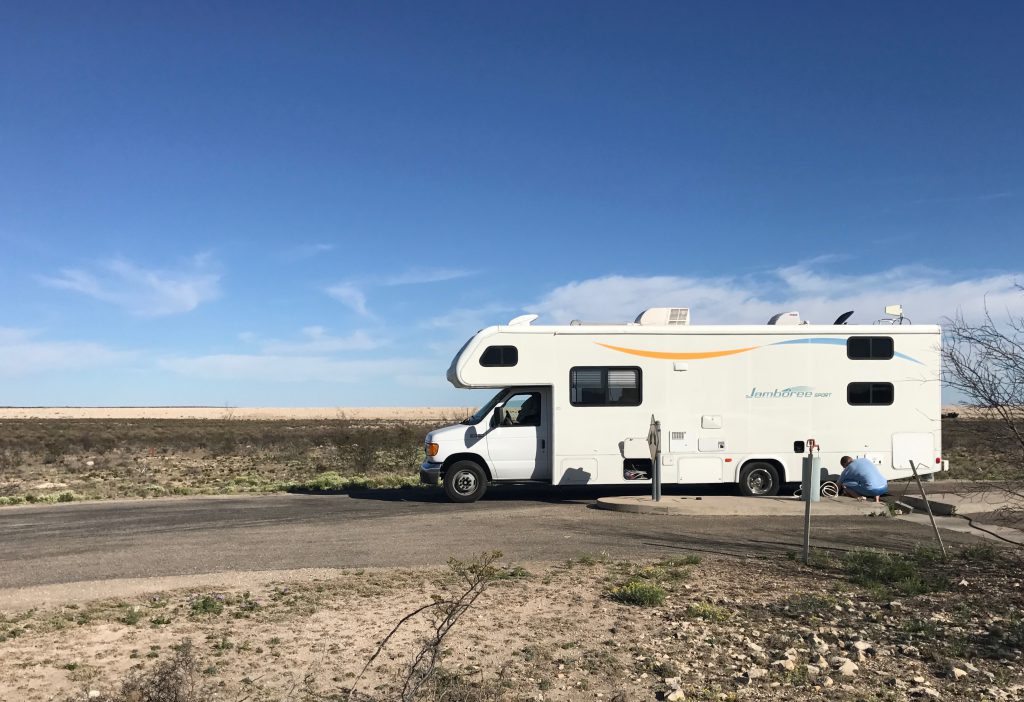 during our trip to carlbad caverns, we picked up a bunch of junior ranger booklets that are not park specific. i assumed it would take me weeks to get the kids motivated to do them, but i was pleasantly surprised and they finished them in days. so, we drove back over to the park to collect our hardware.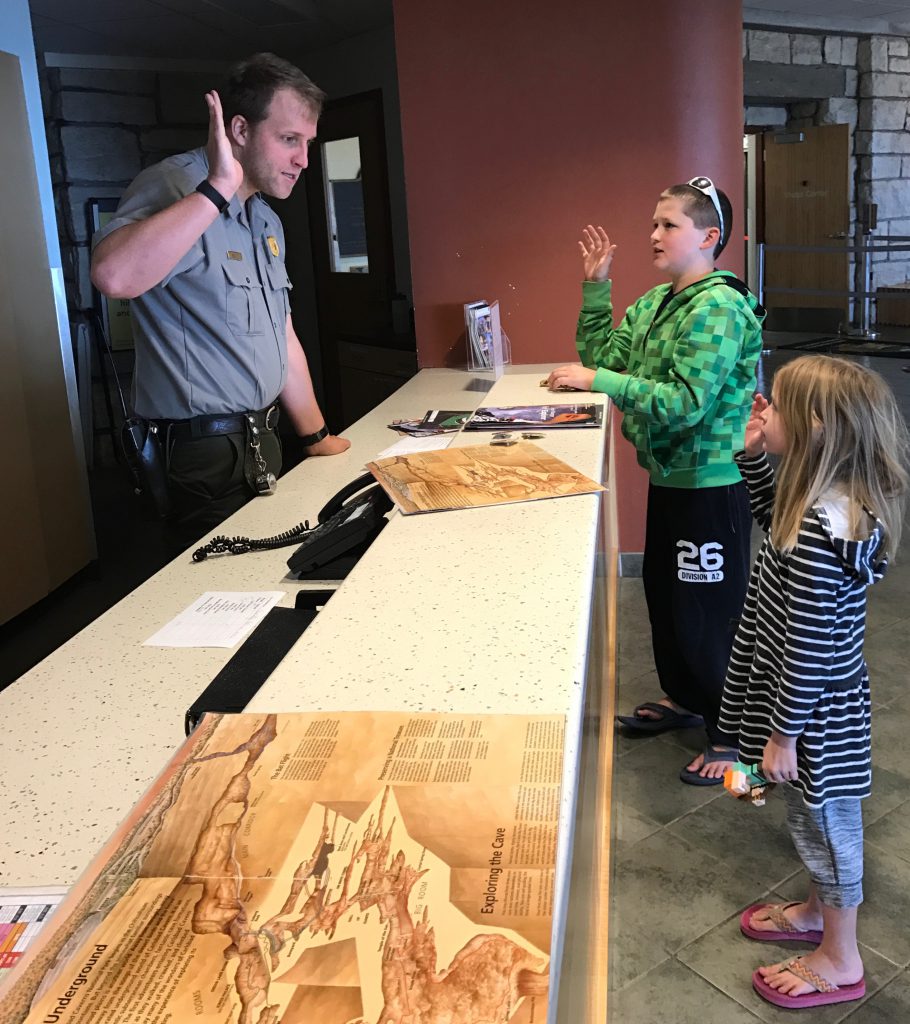 more chill time in the camper. hazel may or may not have an over abundance of tiny thomas the trains.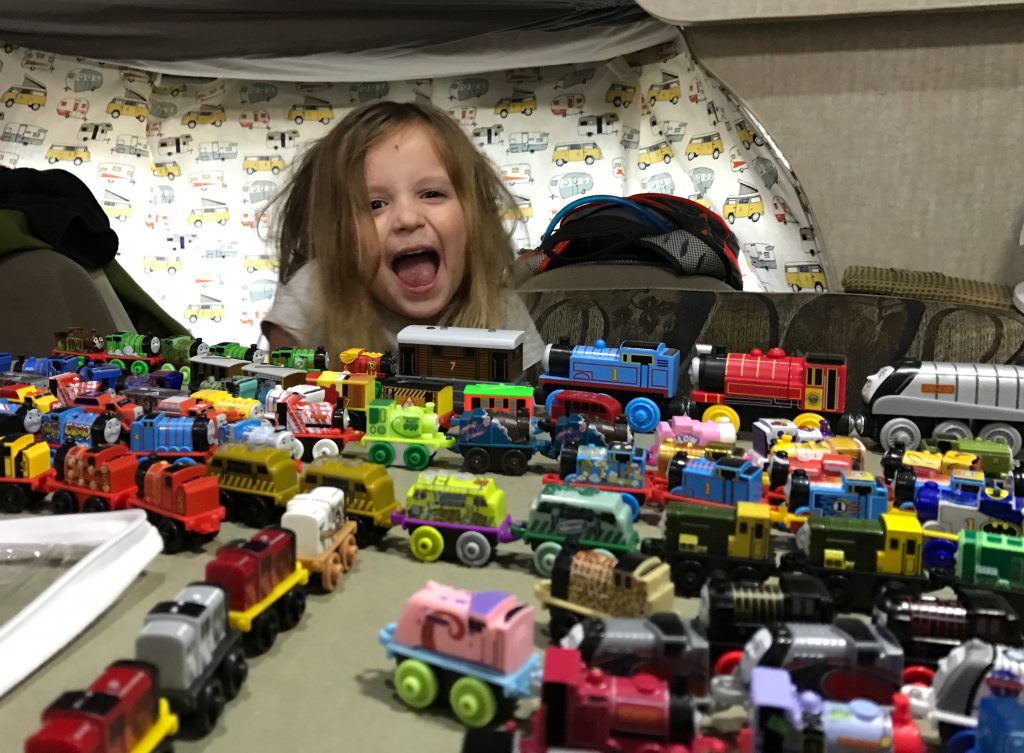 crazy sunset on our last night.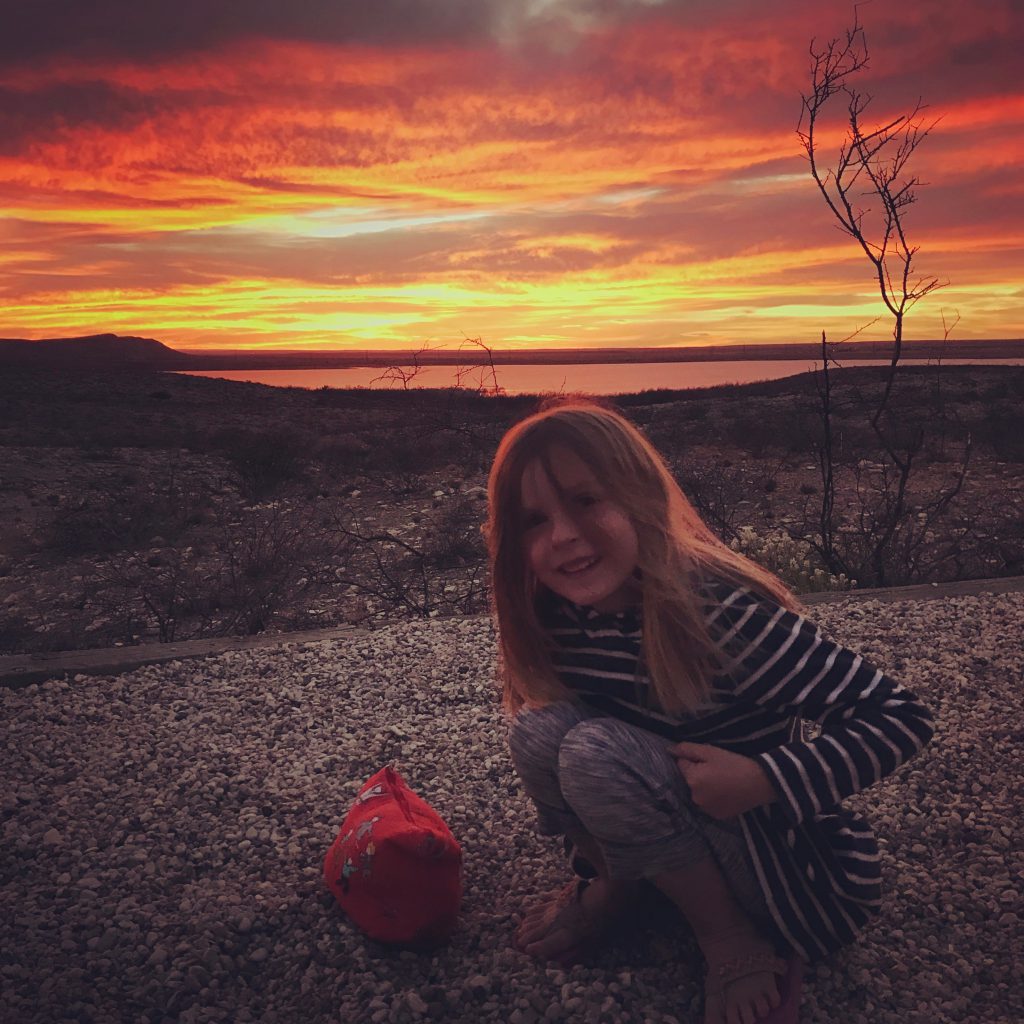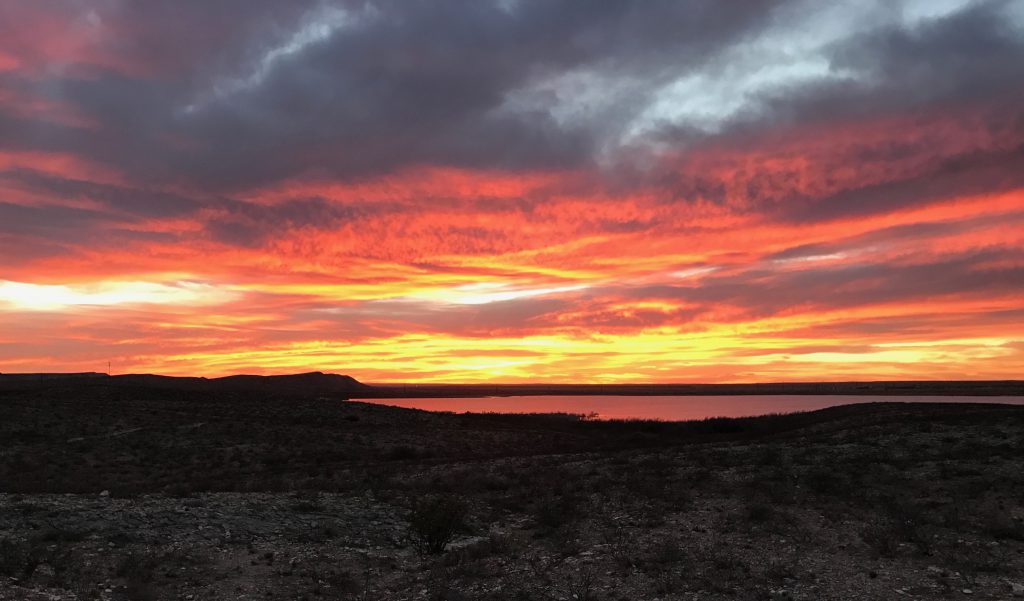 due to the wind, we left yesterday (friday) afternoon, to head west to alamogordo, nm for our next leg of the trip. we are in yet another walmart parking lot, and we will check into the campsite a little later. the wind was supposed to be pretty bad this morning and afternoon and it's not a lot of fun for derek to drive in those conditions. plus, now we get an extra full weekend day here. so, that's pretty cool. and there's lots of adventures planned for this two weeks. stay tuned…