welcome to part two of my grand teton adventures blog. i'm going to cram in a lot, so get ready. without further ado…
we kicked off our tuesday (at 1:30pm) with a trip to mormon row. it's a little abandoned settlement that sits on the national park property and has some old barns that make for some iconic photo opportunities. when i realized there was a ranger program there, i decided to kill two birds with one stone. i could take some cool pics and the kids could knock out that requirement for their badges.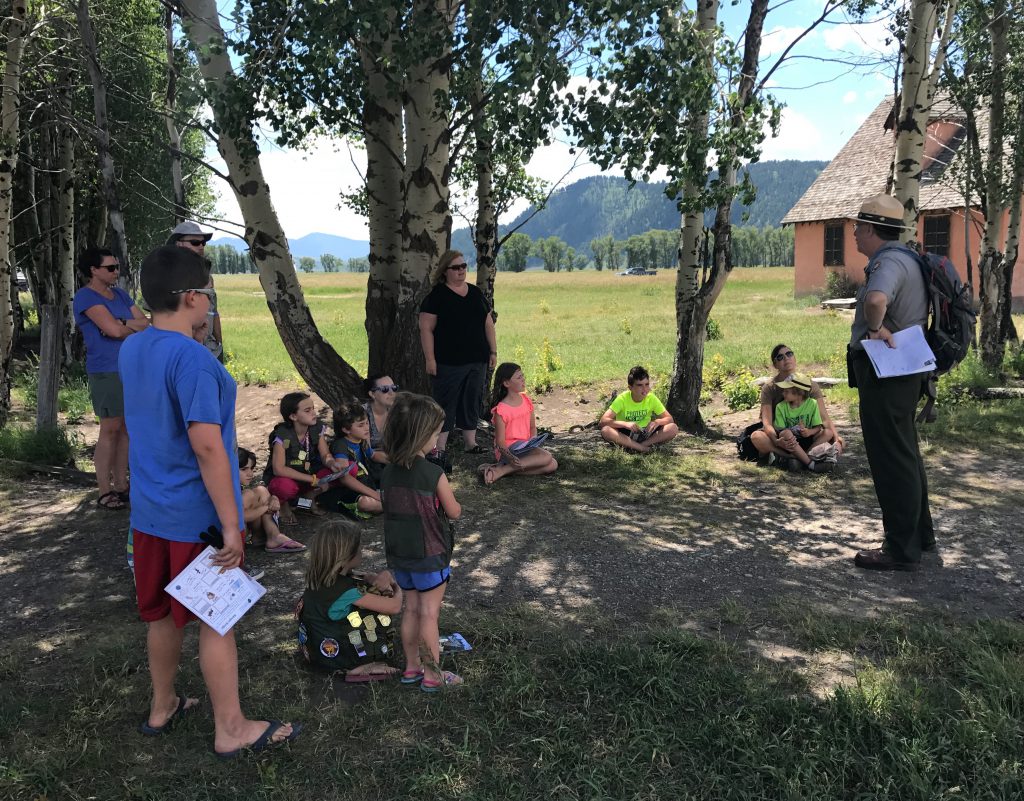 while they learned about the mormon settlers and their way of life, i wandered around snapping shots of this barn.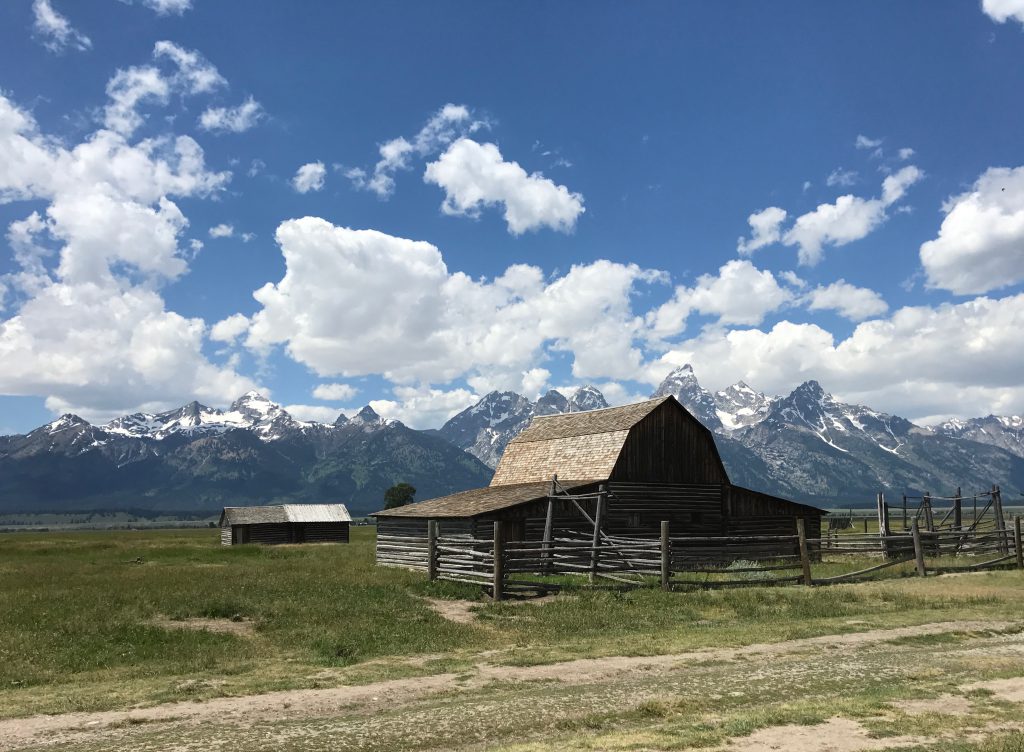 when they were done, we drove a little further down, to the t.a. moulton barn, which has been photographed a zillion times. i added about 20 more to the total. the sun wasn't really cooperating and the barn was a little dark. and my expert photoshopping (clicking the enhance button in iphoto) didn't help.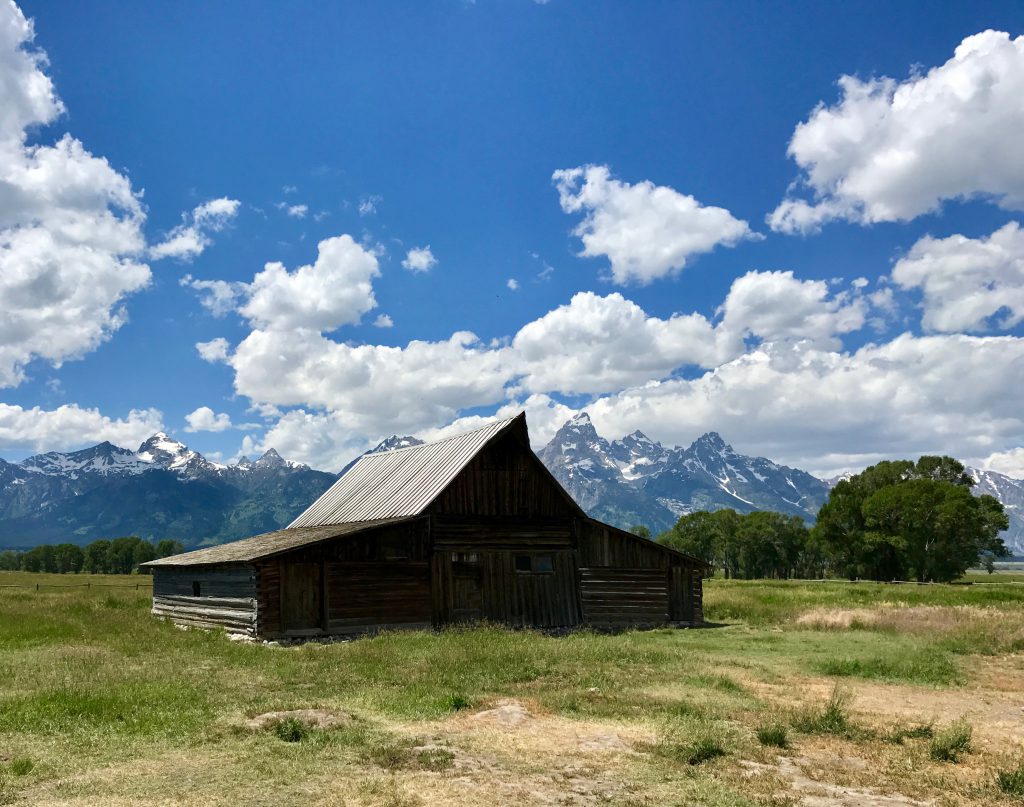 the ranger program was the final task for the kiddos to finish up their badge, so after we wrapped up in mormon row, we hit the visitor center, where the same ranger who led the program was already back, ready to swear us in.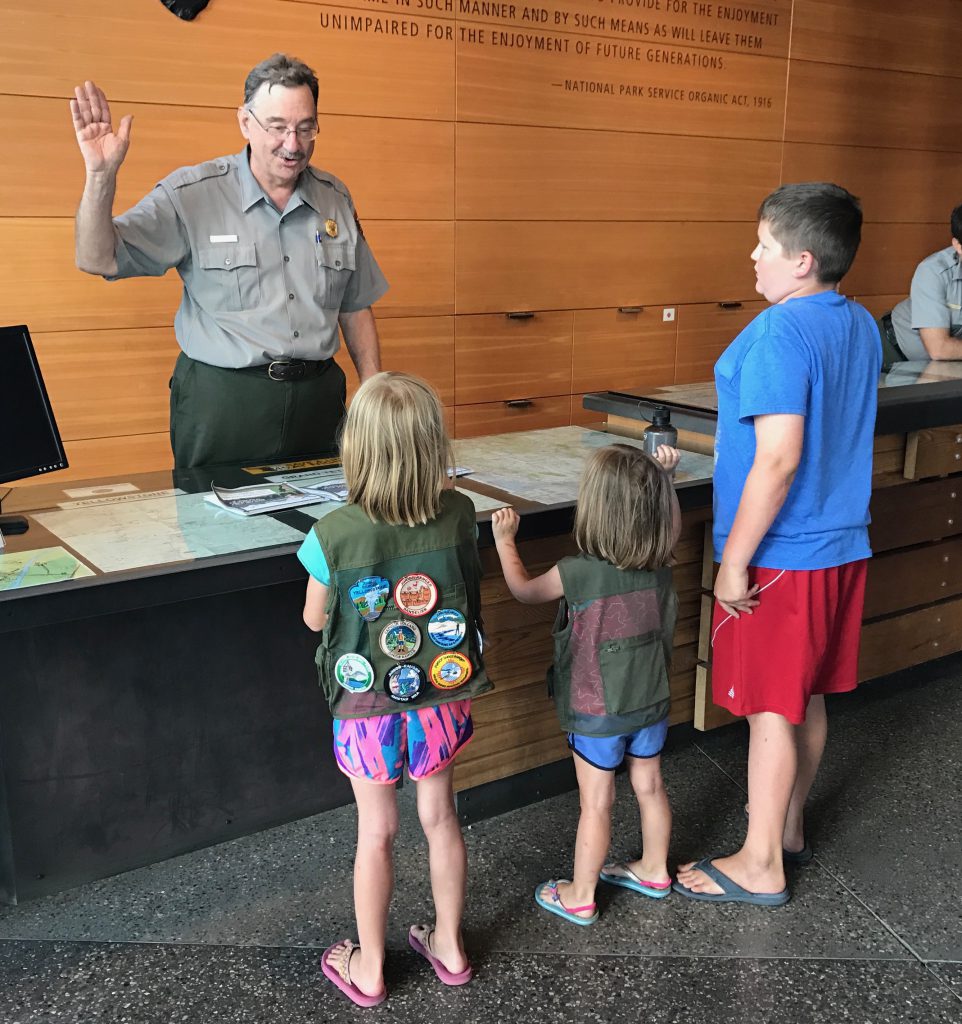 we walked around the interactive museum-y stuff. and pretended to be antlered animals. elk hazel.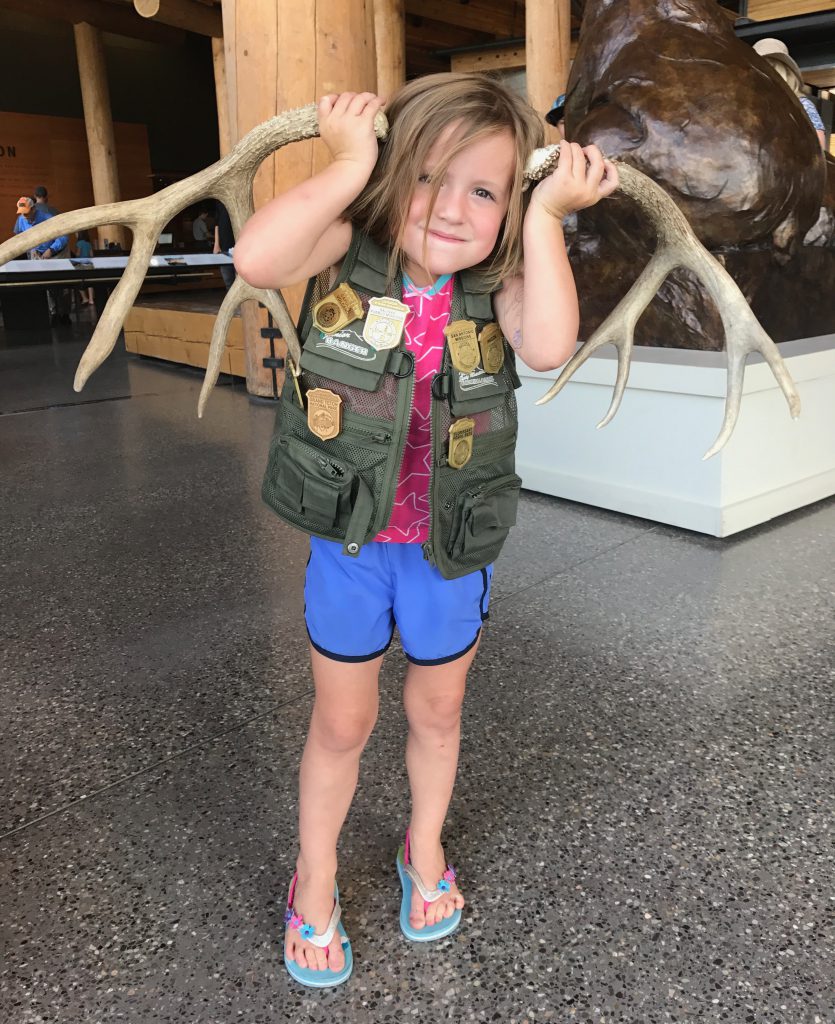 ike, who picked up the heaviest antler he could find and then struggled to lift it high enough.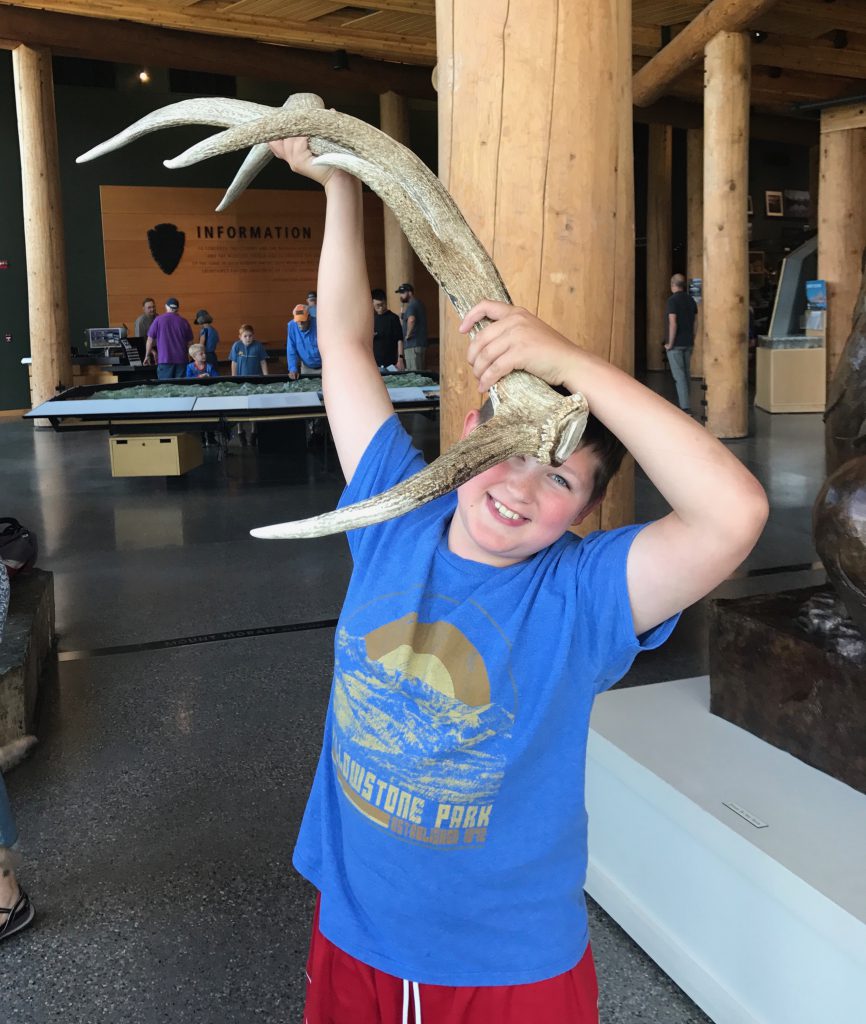 junior ranger elk anna.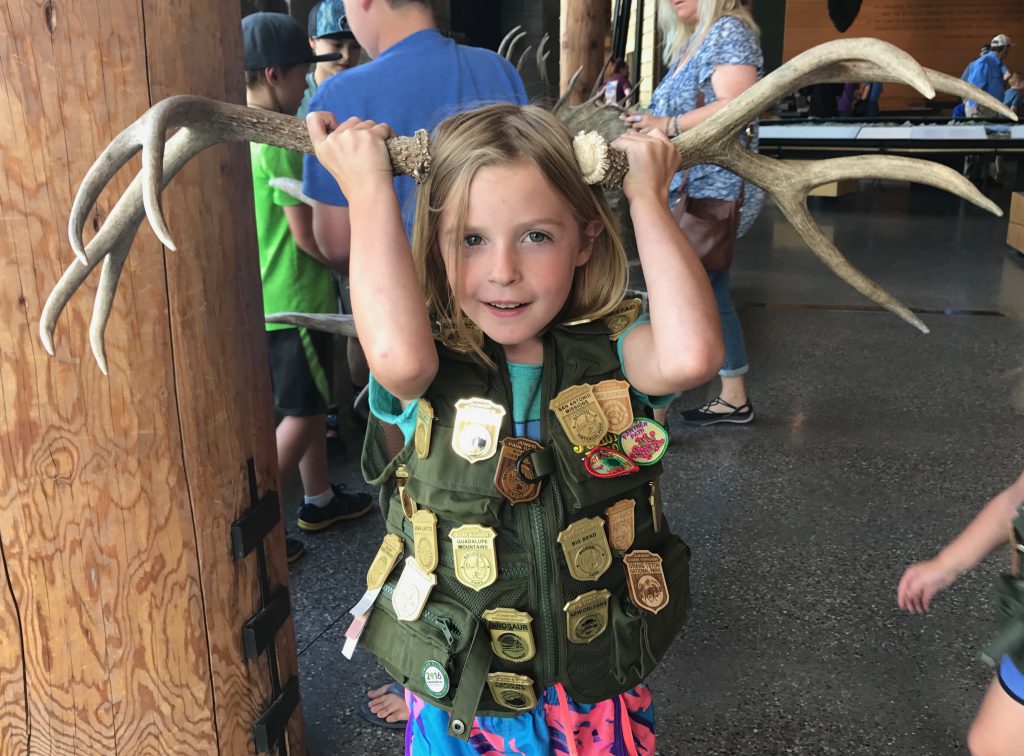 the next day, we pretty much hung around the campsite, because it was our friend's last day there. so, on thursday, i wasn't about to lose another day, so i dragged the lid kids to another hike. a ranger had suggested a short hike, starting at the death canyon trailhead, which sounds terrible. but, it was very pretty and about a mile in, there's a sweet overlook. our plan was to go to the overlook and then turn it around. derek was working, so he had taken the car to a better internet source, so he came back to get us, so we could drop him off and go hike. but we forgot the bear spray. so, we went back to the camper and then back to the park again. and everyone was kind of losing steam. but, we drove out a super bumpy dirt road and managed a parking spot and loaded up and hit the trail. hazel opted to be carried.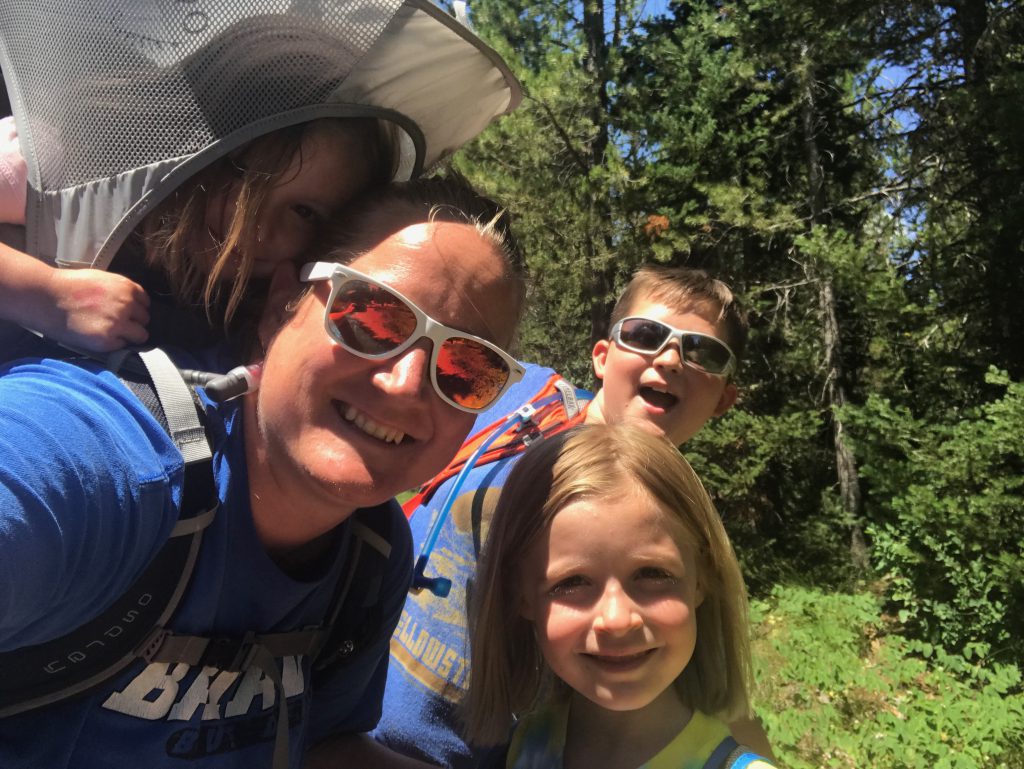 it didn't start well. everyone was super grumpy. hazel only lasted like 400 yards in the carrier, so i got to carry an empty child carrier up and back. anna was miserable. isaac was the lidkid in the best spirits, which is a rarity.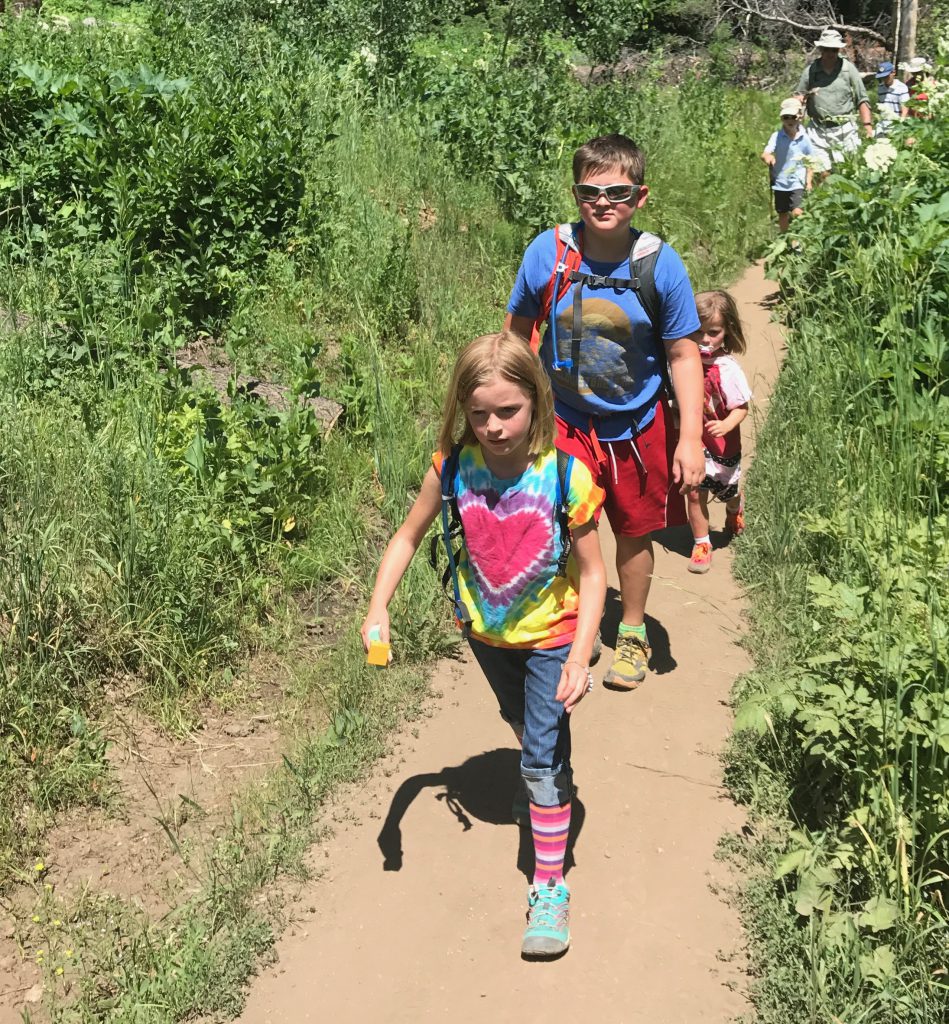 the happiest death canyon hiker.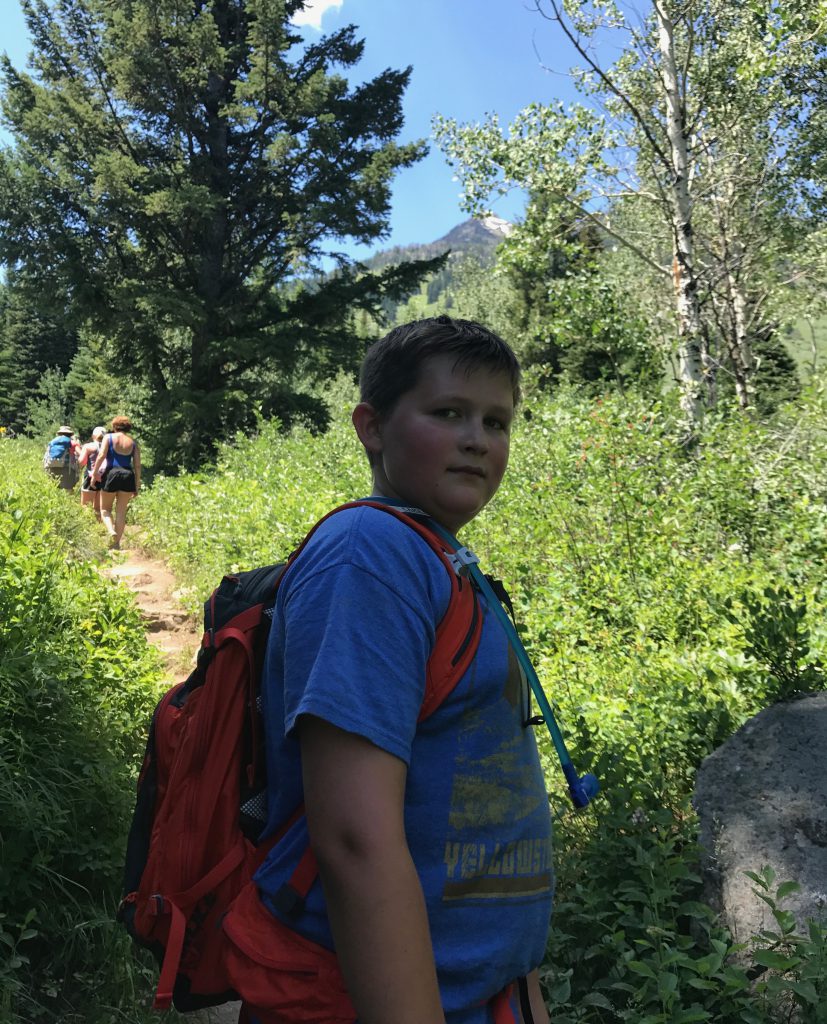 the views were awesome.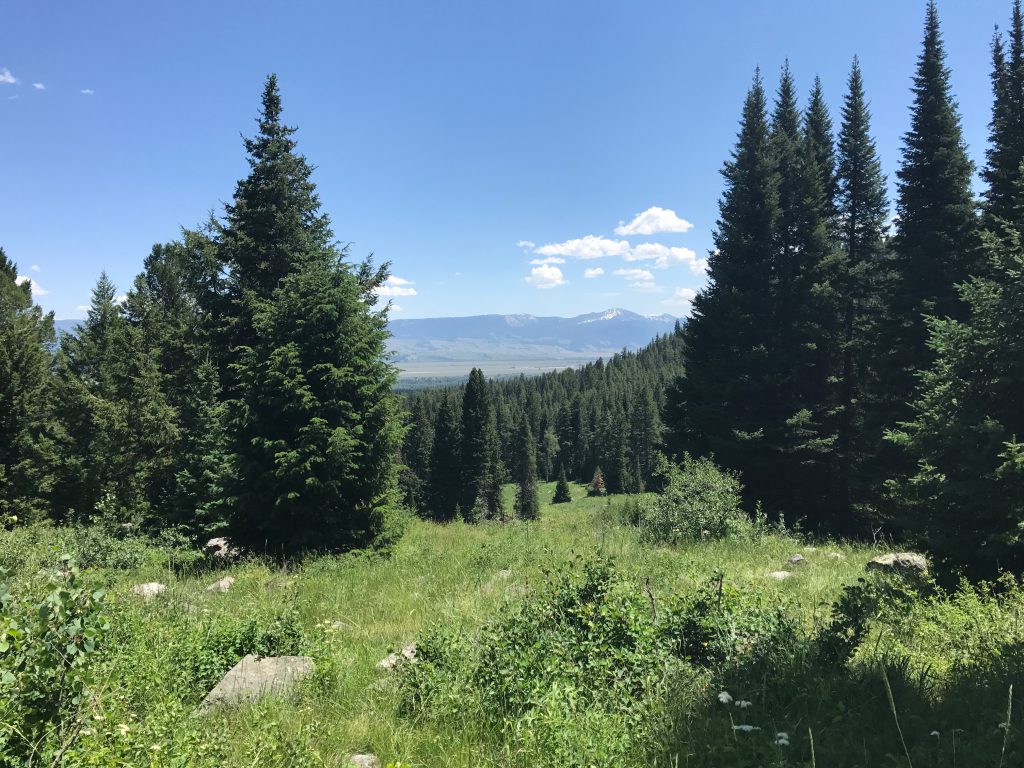 i was forever corralling the kids. isaac and hazel were off to the races and anna was dragging behind, whining about being tired.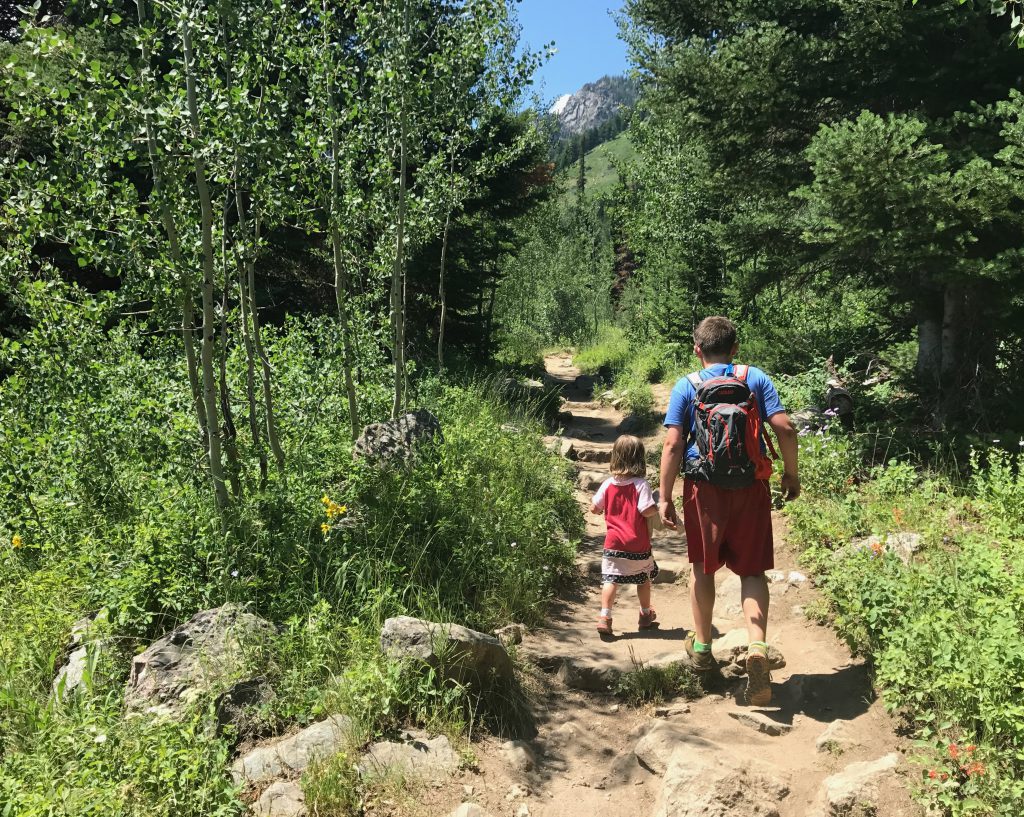 these massive dandelion looking flowers are everywhere. they are about the size of a baseball.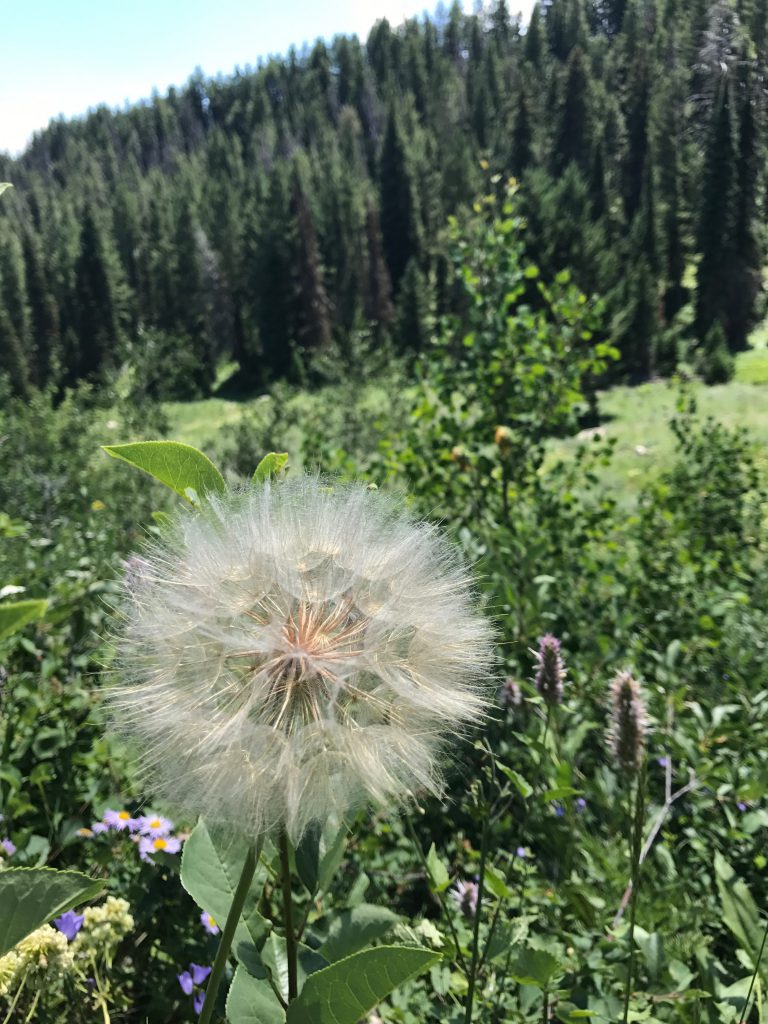 we stopped at all the streams to splash water on our heads and necks and arms to cool off.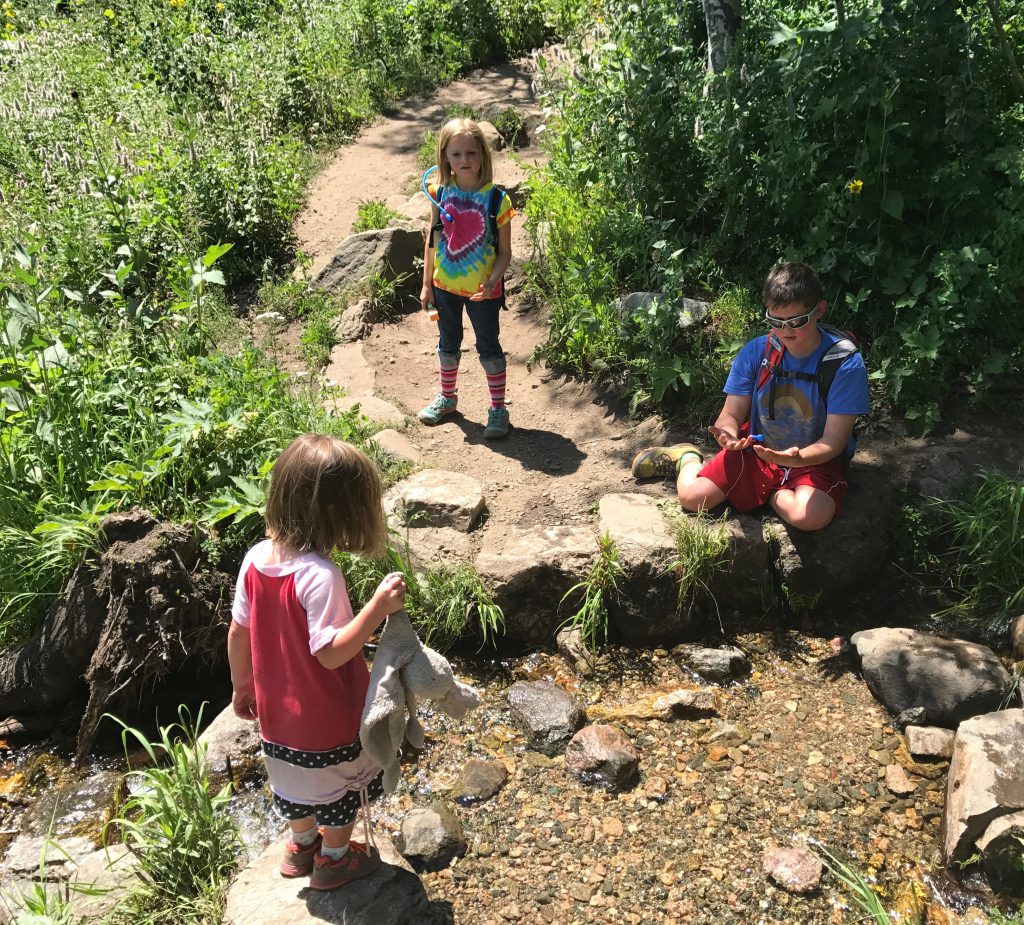 on and on.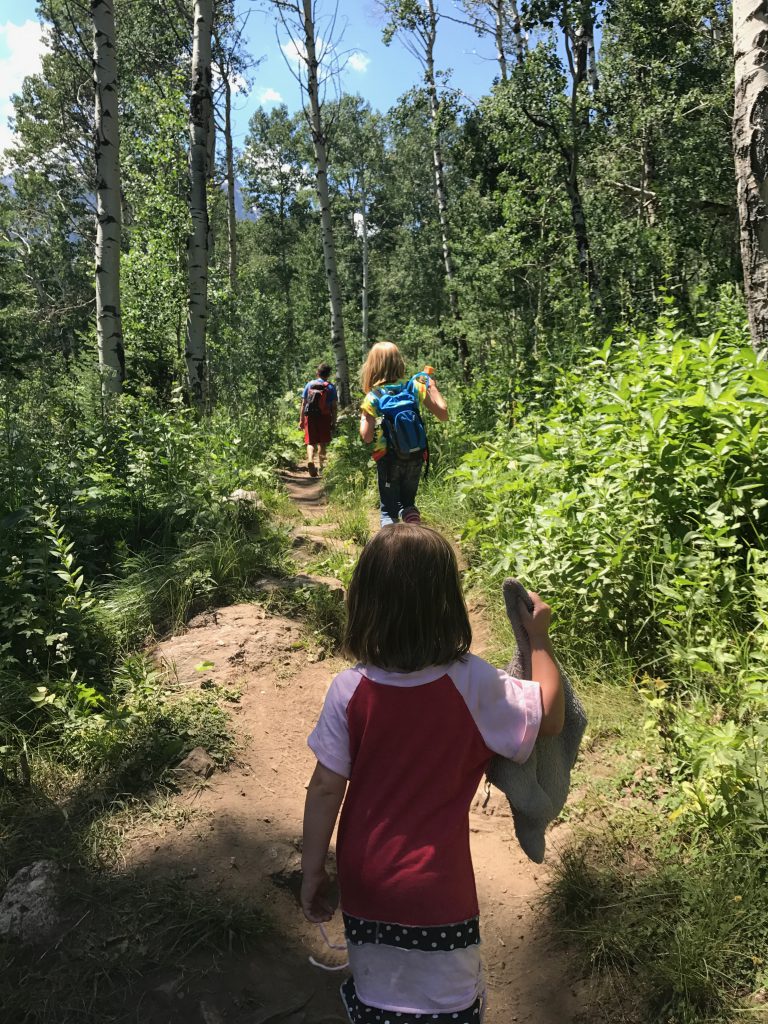 daisy.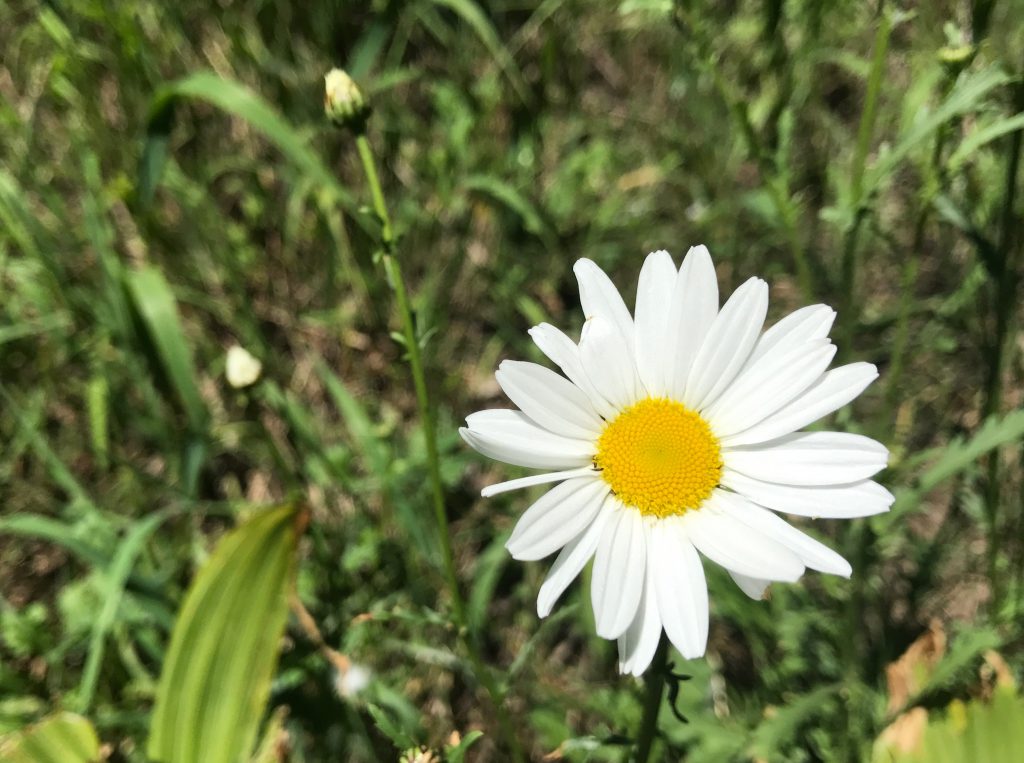 finally, we arrived at the top. it was about 400 feet in elevation gain. and a lovely lake phelps view at the end. the trail continued on, into death canyon and down to the lake where lots of folks seemed to be heading. (some with towels and coolers, others with ginormous packs with tents and sleeping bags).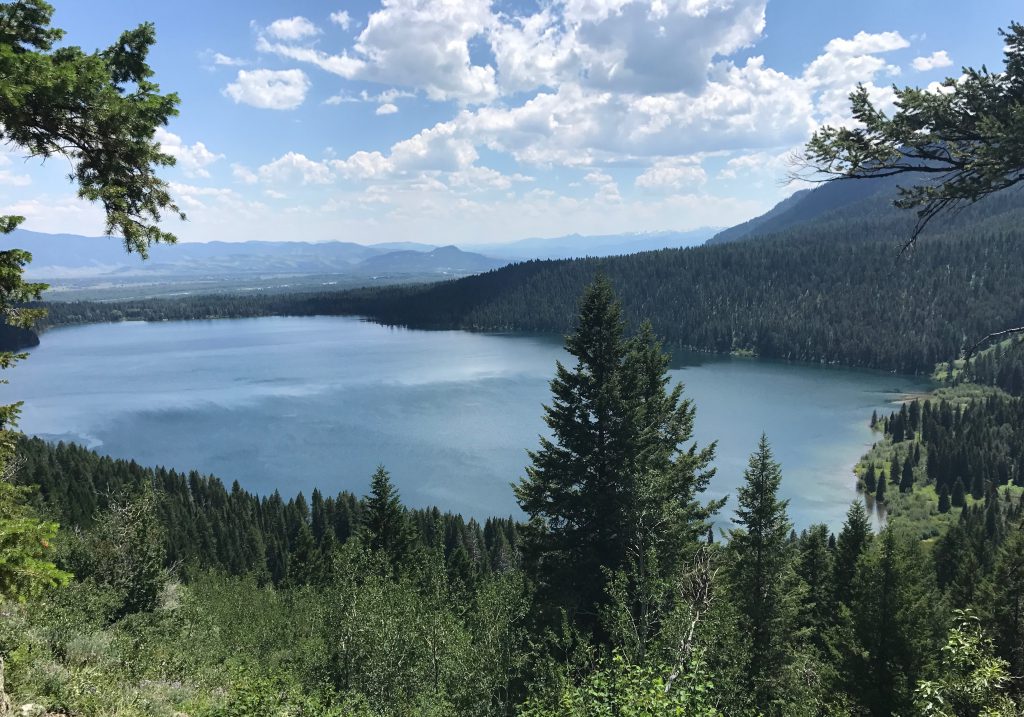 the kids could not care less about the lake view, instead opting to see if they could mangle themselves on this fence.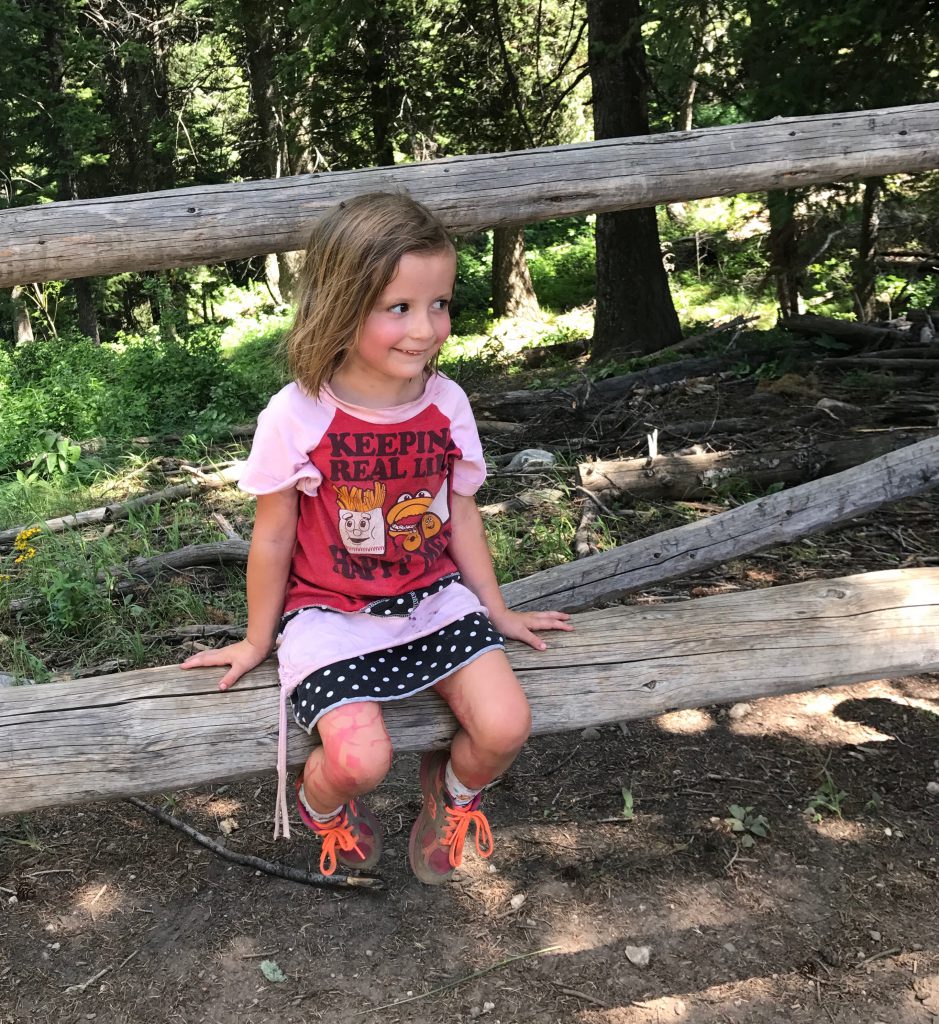 i did convince them to take a group pic. they look much happier than they were.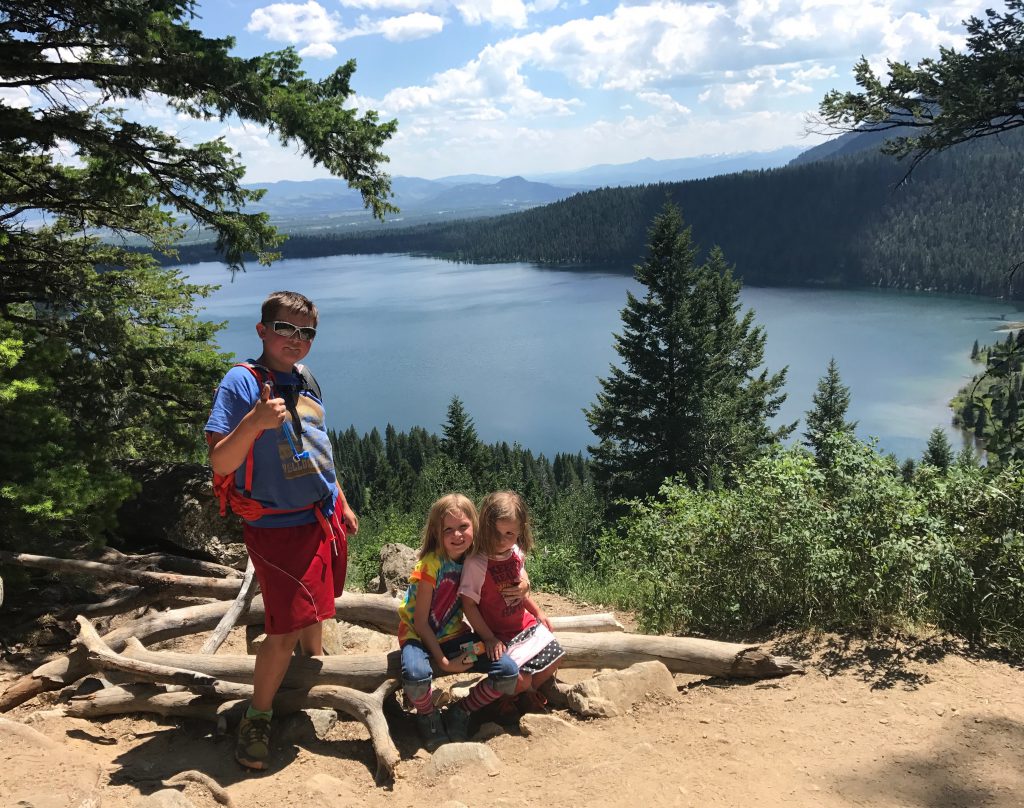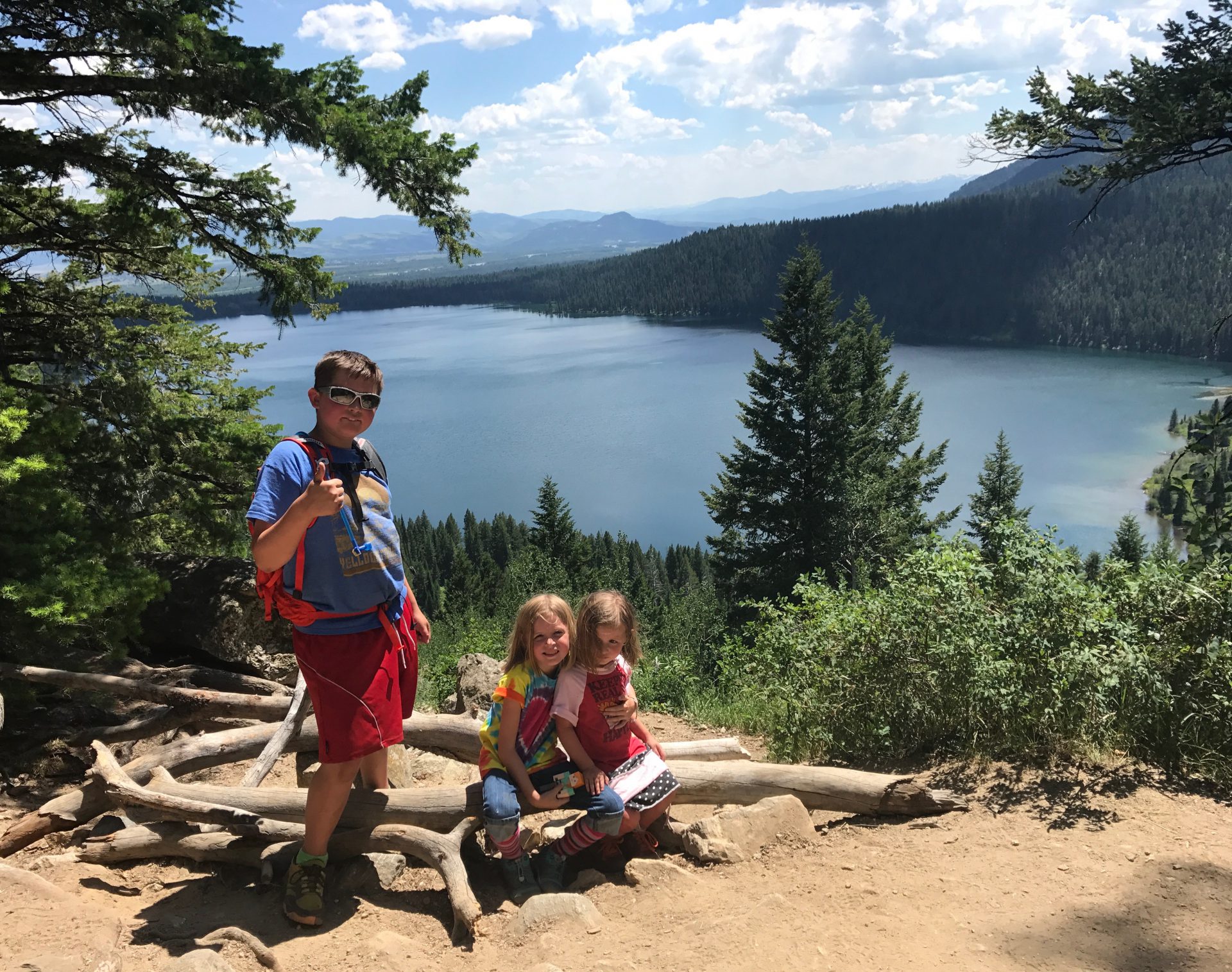 the hike back down was much more pleasant. happy children. descending. knowing they were almost done…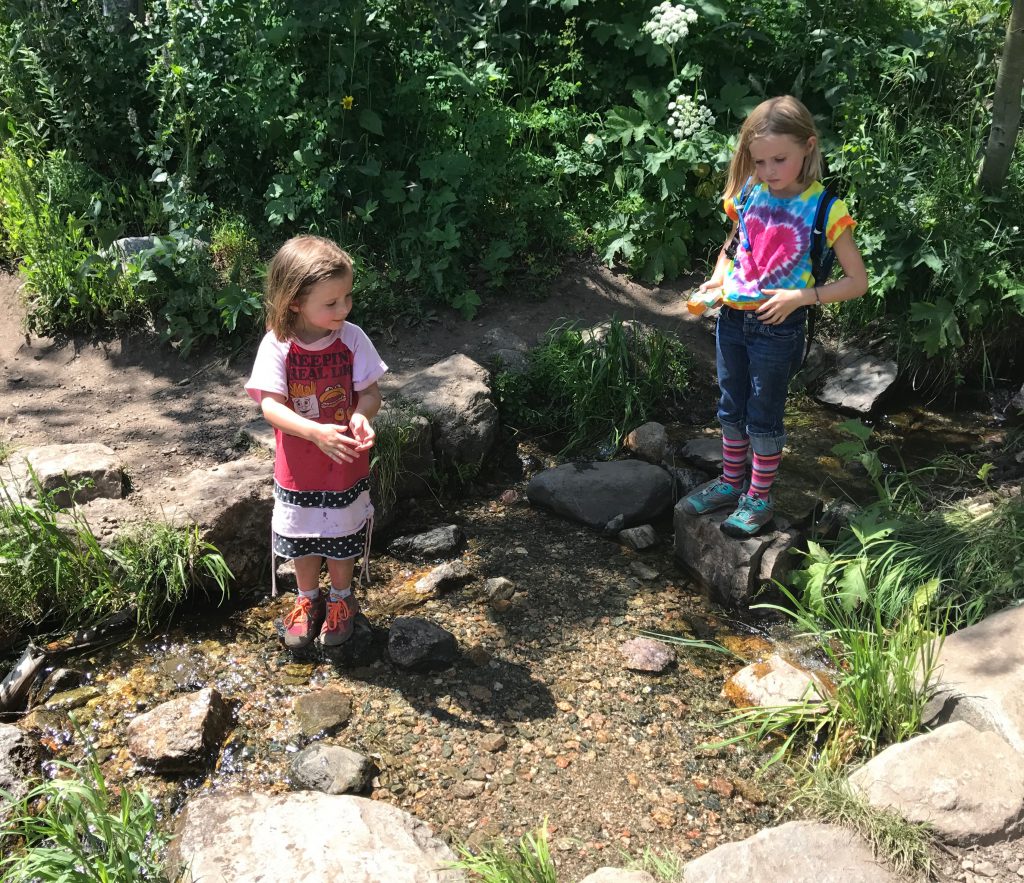 more flowers. these giant white flowers were everywhere. anna said they reminded her of queen anne's lace and she got a weird feeling everytime she looked at them.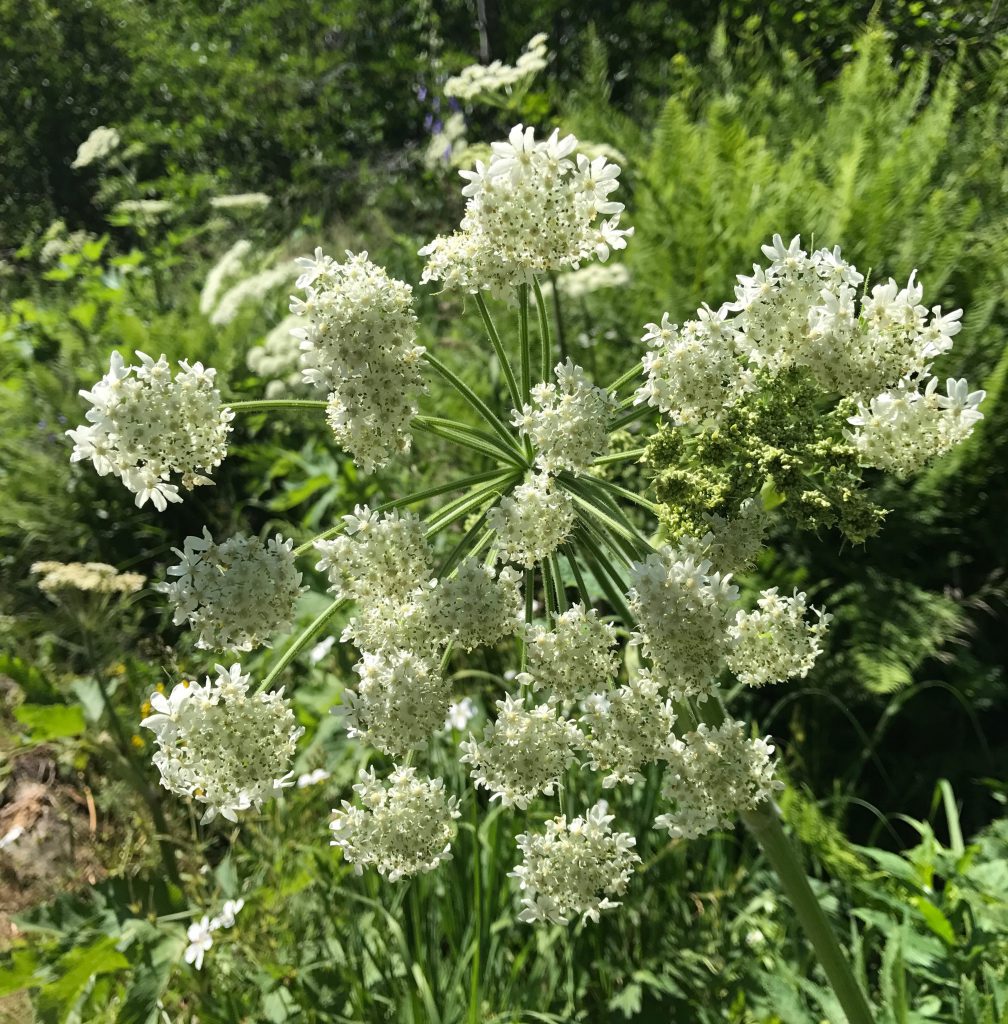 purple flower. one of our faves.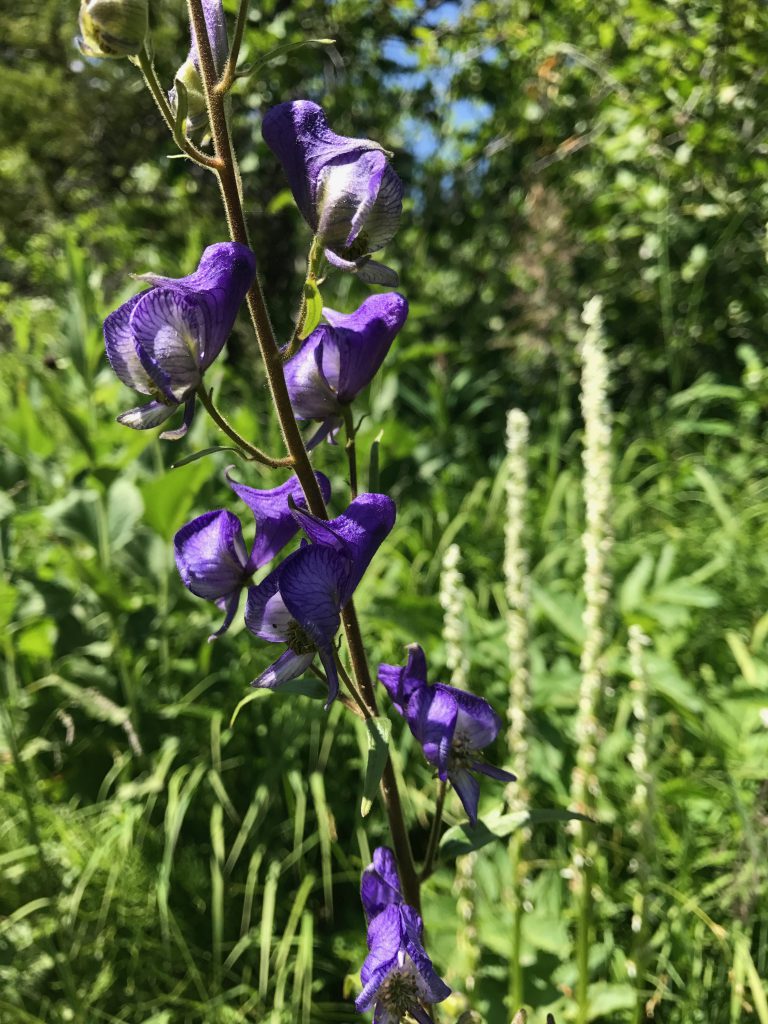 we finished up. rumbled out. picked up derek. and headed home.
the next day was our last day in grand tetons. we made plans to meet up with our old friends who abandoned the campground for better internet and our asheville friends (who were still at the cool kids campsite). we decided to swim at string lake, at 11:00, which i think is the worst possible time to find parking. but we got creative. and managed to find each other. and secure a sweet "beach" location, with this delightful view.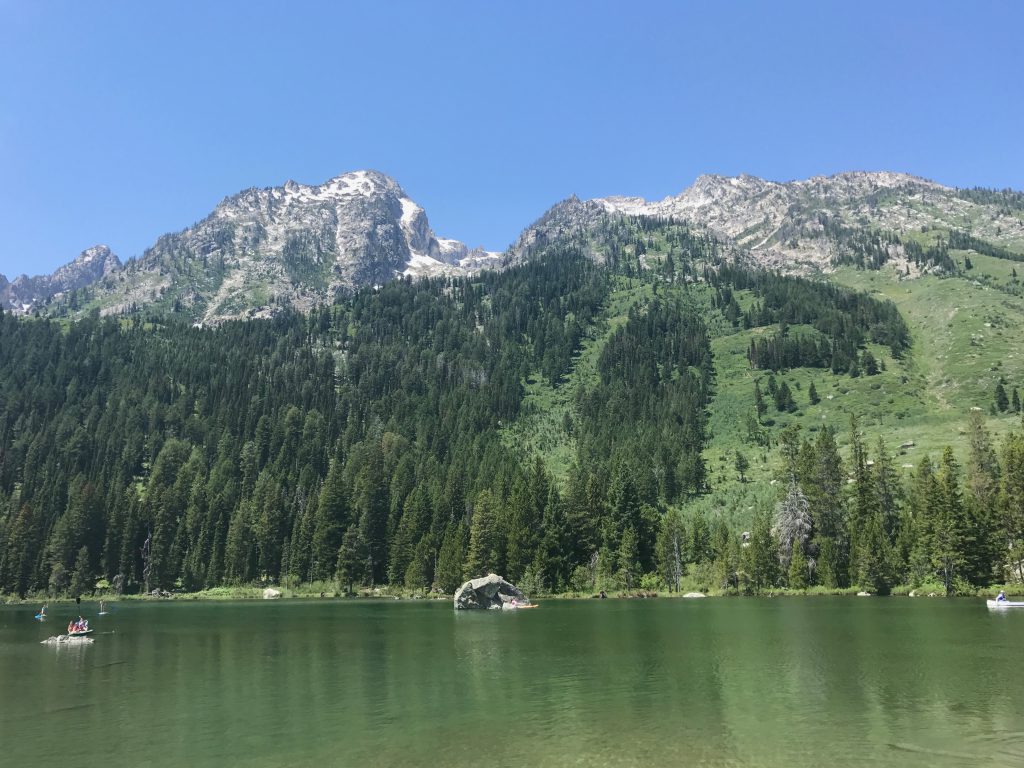 hazel got busy scooping and digging.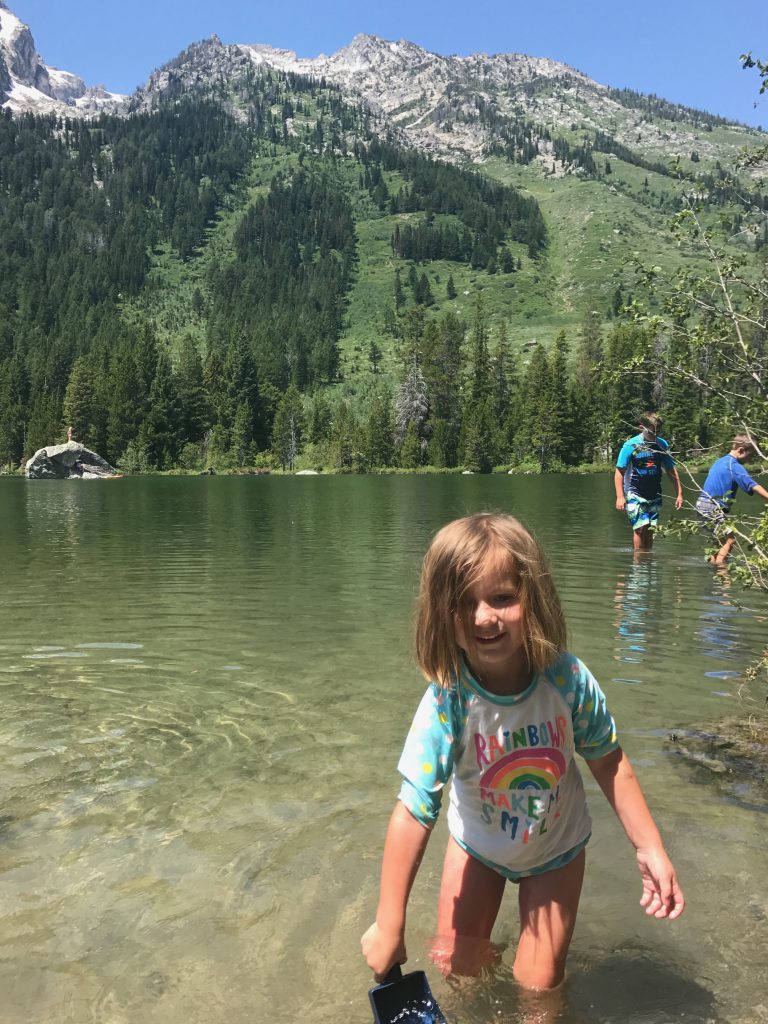 ike doesn't mind the ice water.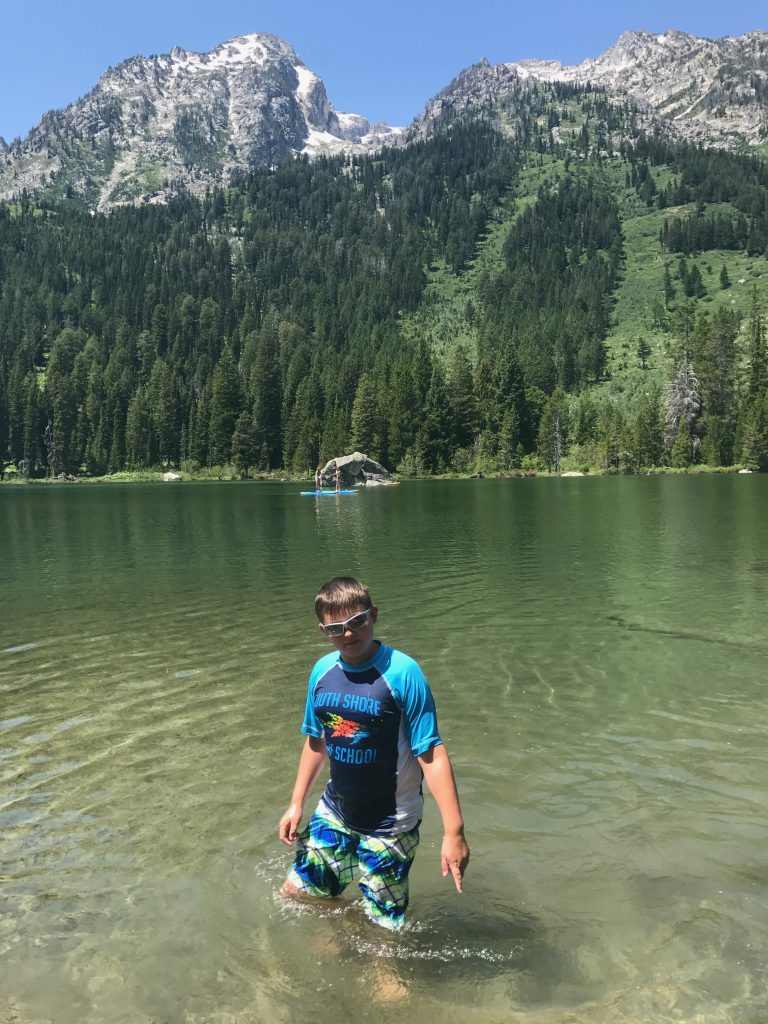 isaac and riley headed off to find a dangerous log to try to stand on.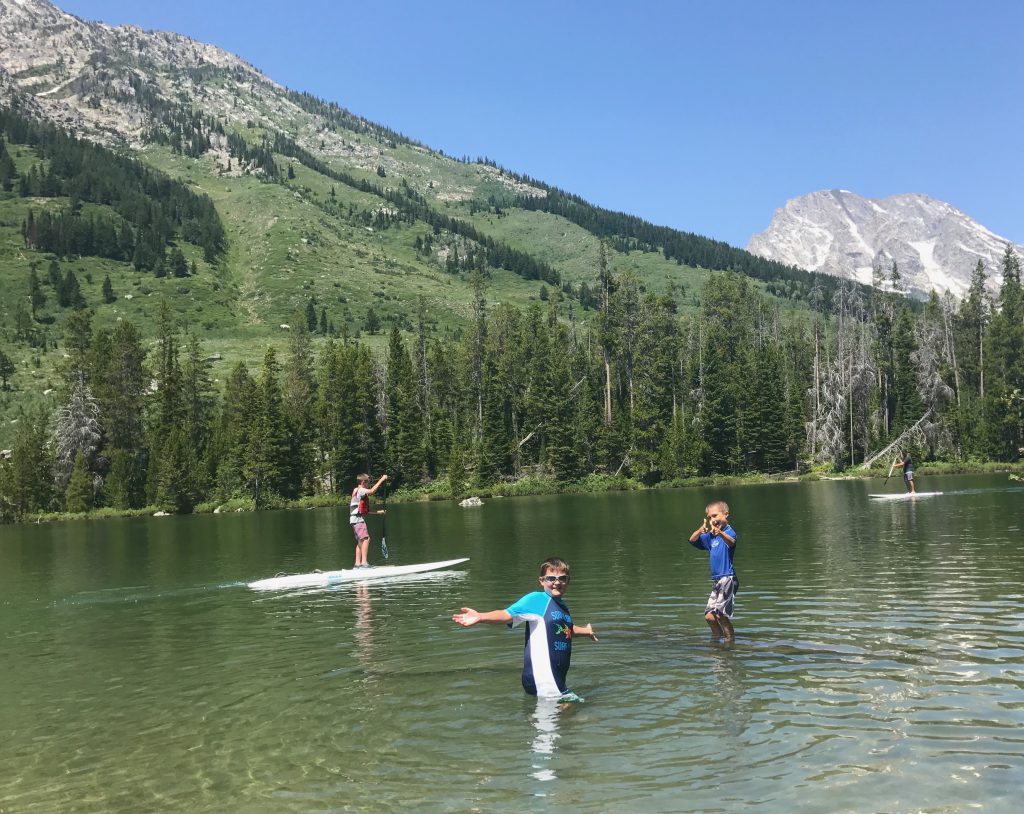 anna made various "soups".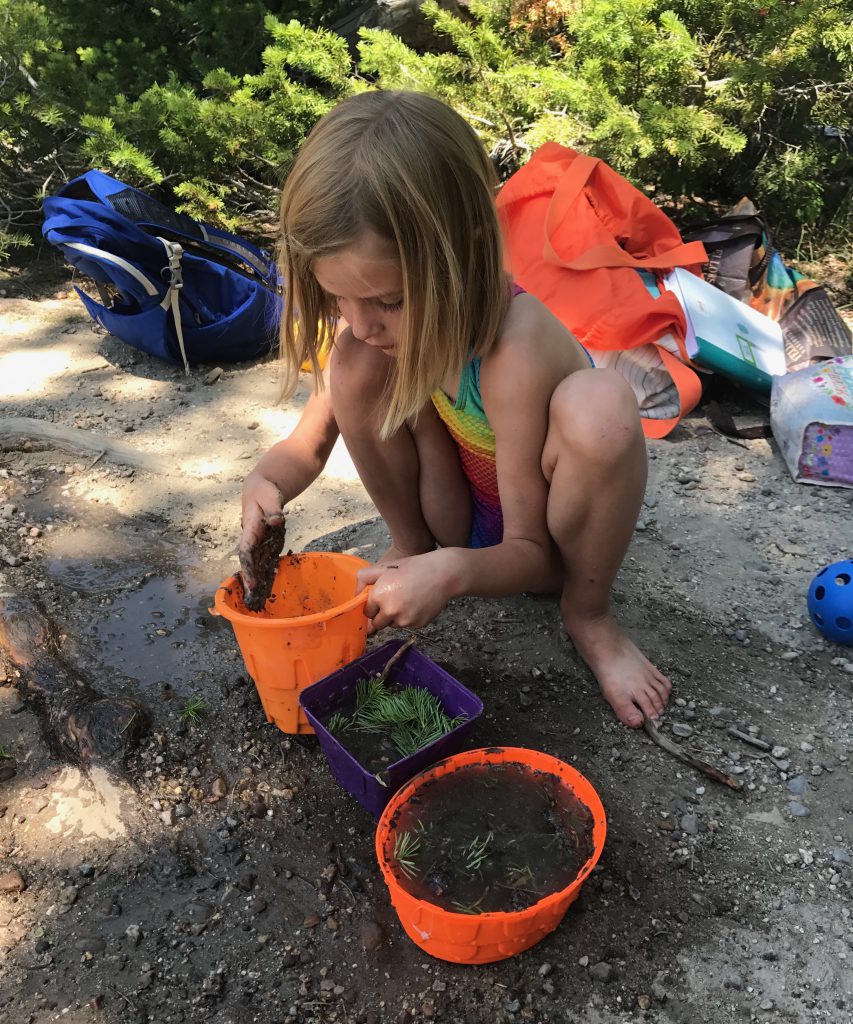 we managed to get all of the kiddos together for a picture before there were any meltdowns.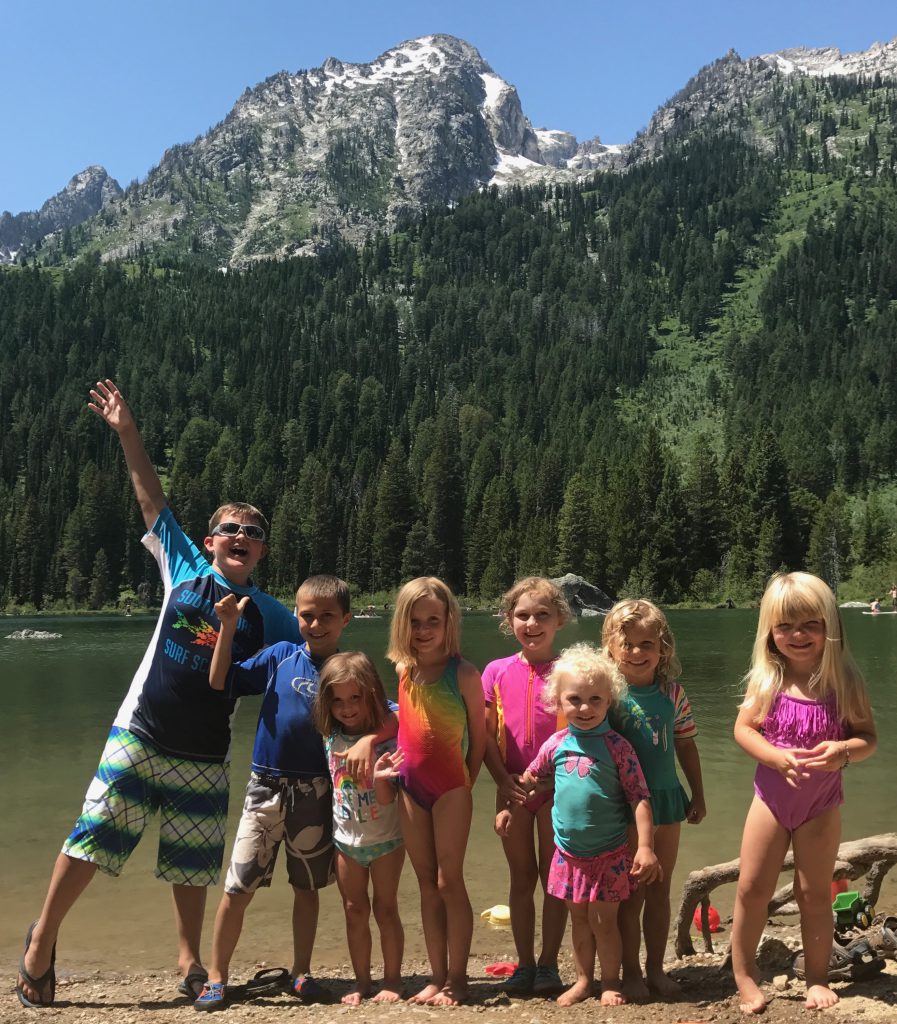 more soup making.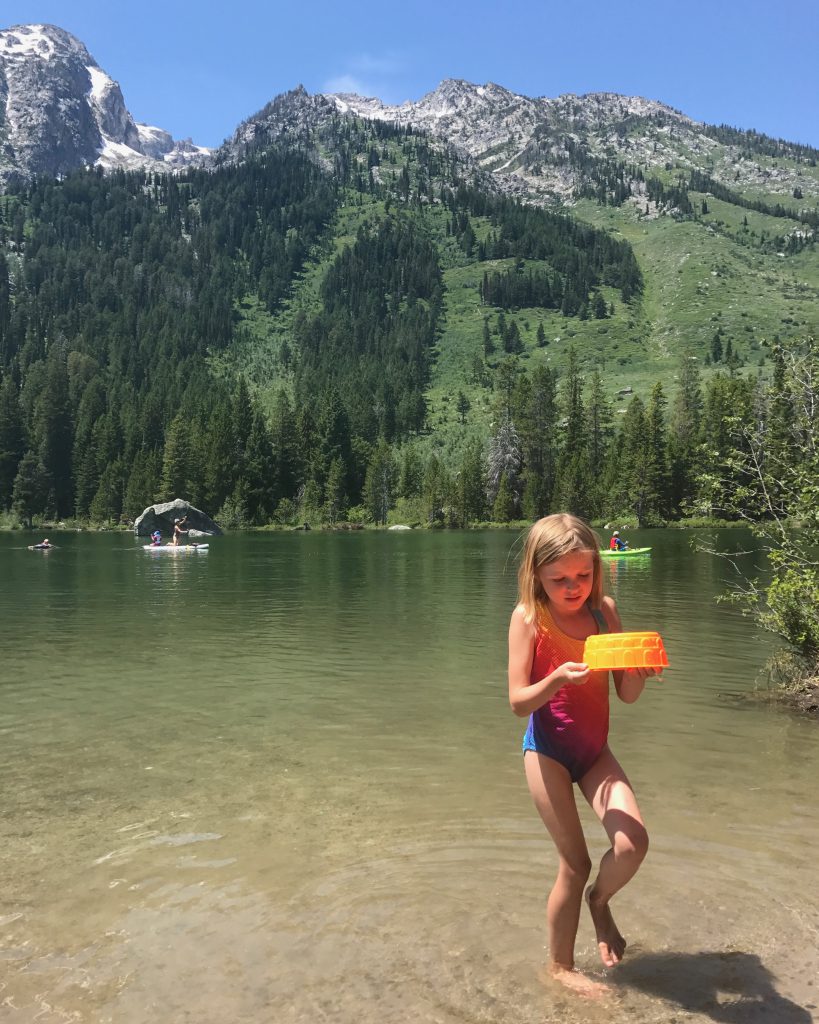 jazzy and hazel. i like to think they are cooperating.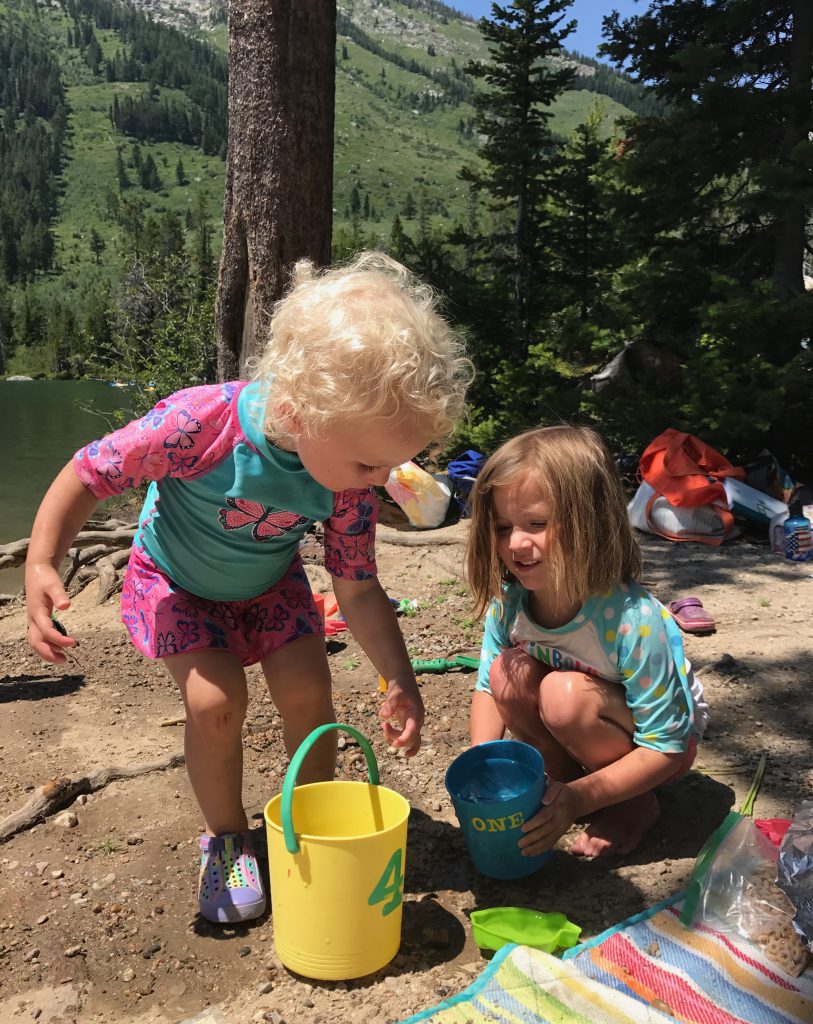 jami (asheville mom) took this cool pic of the tetons in my sunglasses.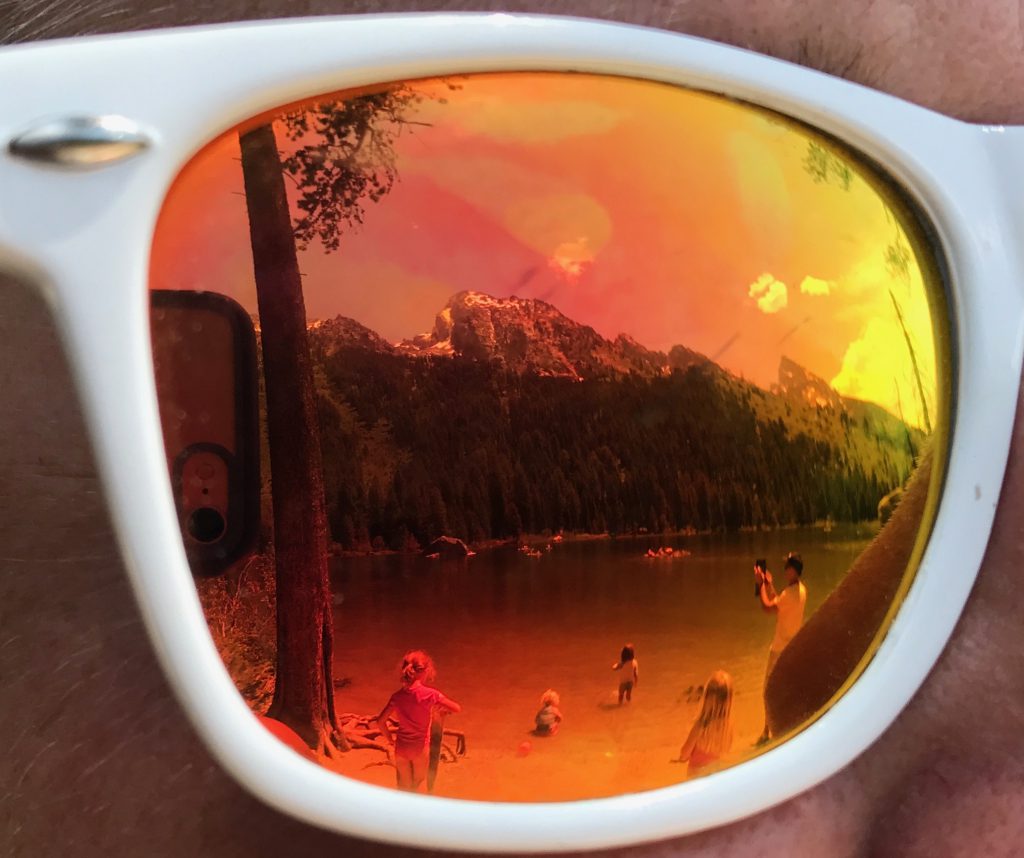 a bunch of string lake frolickers.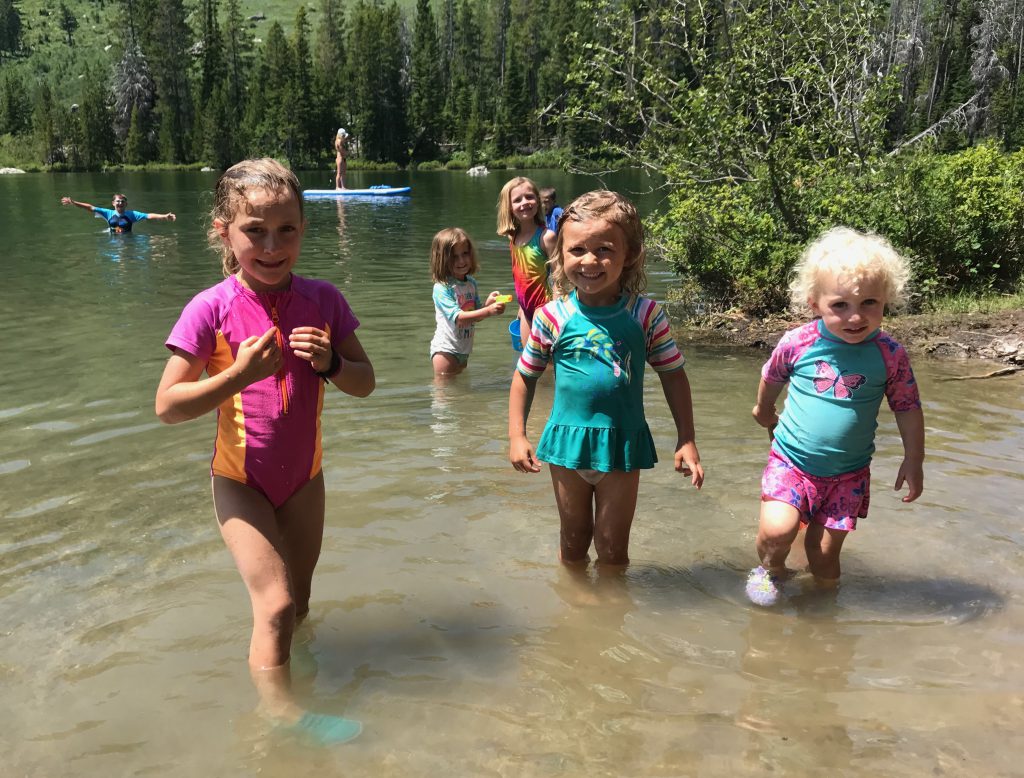 it was a great day and a fantastic ending to our time in the grand tetons.
we will miss all of these friends and the beautiful mountains, but we will see them all again, i'm sure of it.