finally. the day was here. the grandlidboms arrived in san diego. we woke up, ate a quick breakfast, and then headed out the door to meet them at the birch aquarium. we had our happy greetings and then started exploring…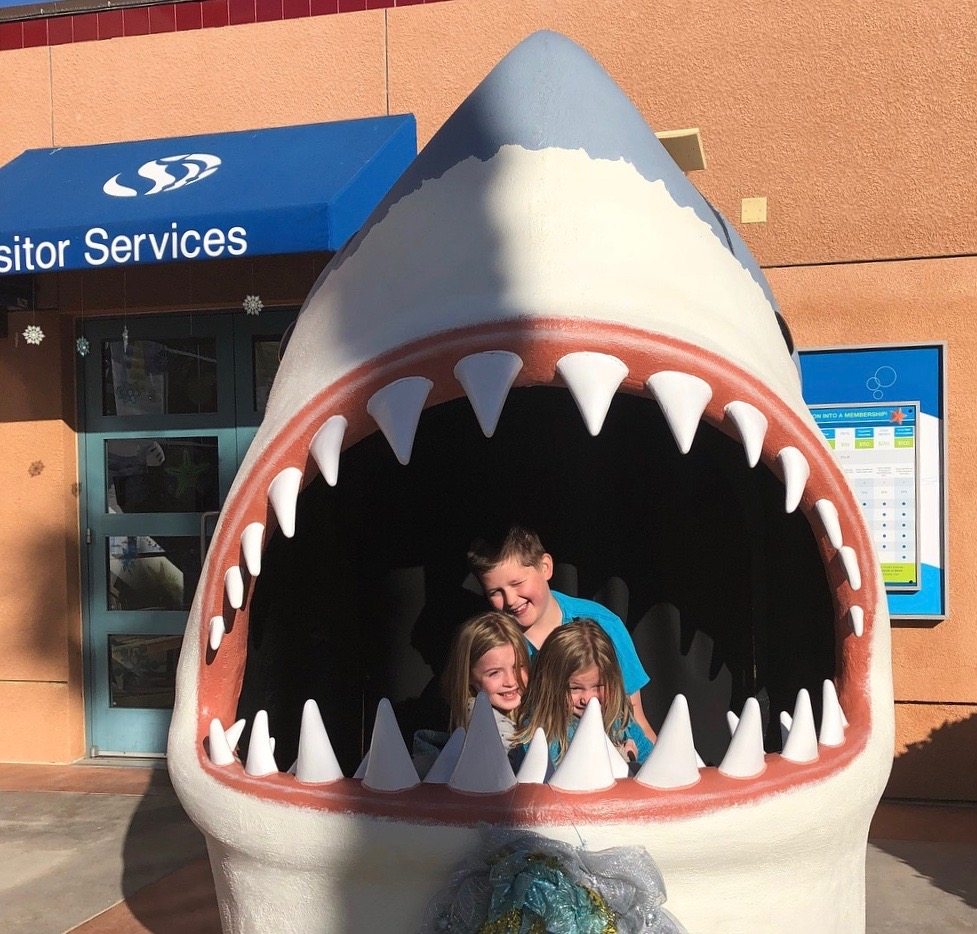 while the whole place was pretty educational, the first bit that we walked around in was extra educational. it was full of displays and exhibits full of info about oceans and reefs and such. at the diving section, anna was the only lidkid willing to try out a sweet scuba suit.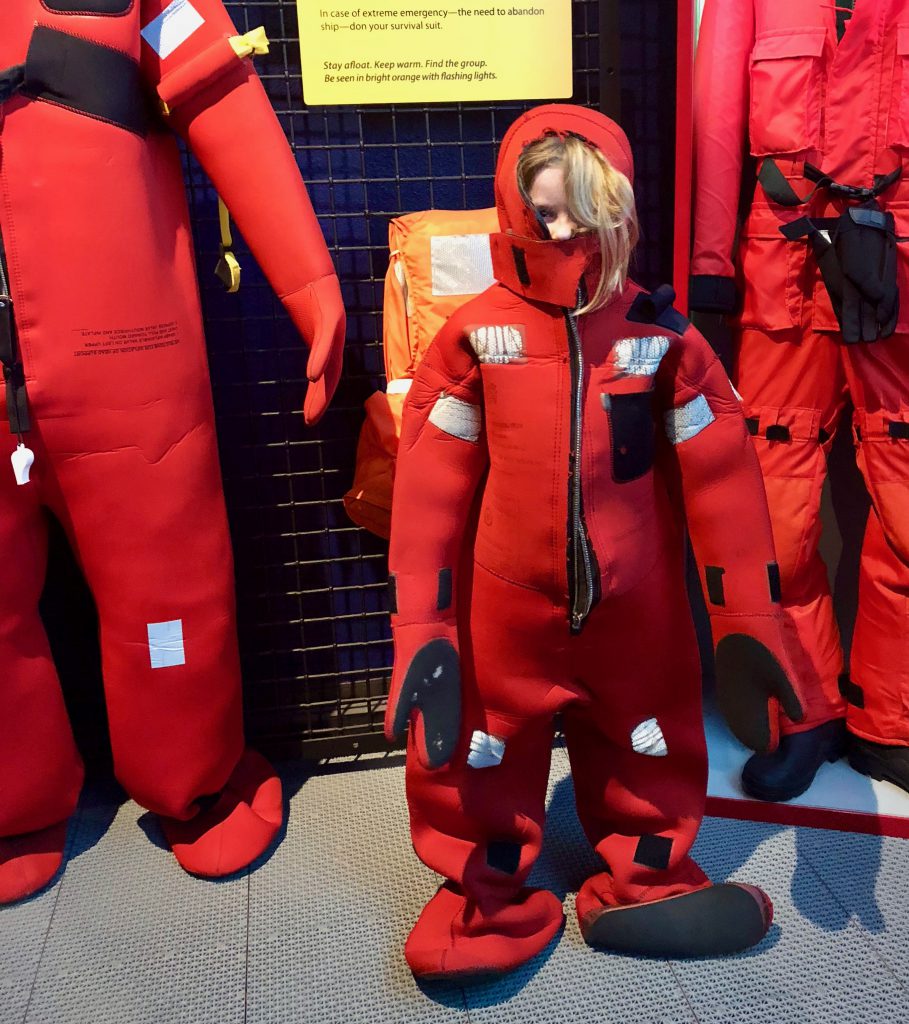 in the seahorse room, we saw the coolest thing we would see all day. it's a leafy sea dragon, found only along the southern coast of australia.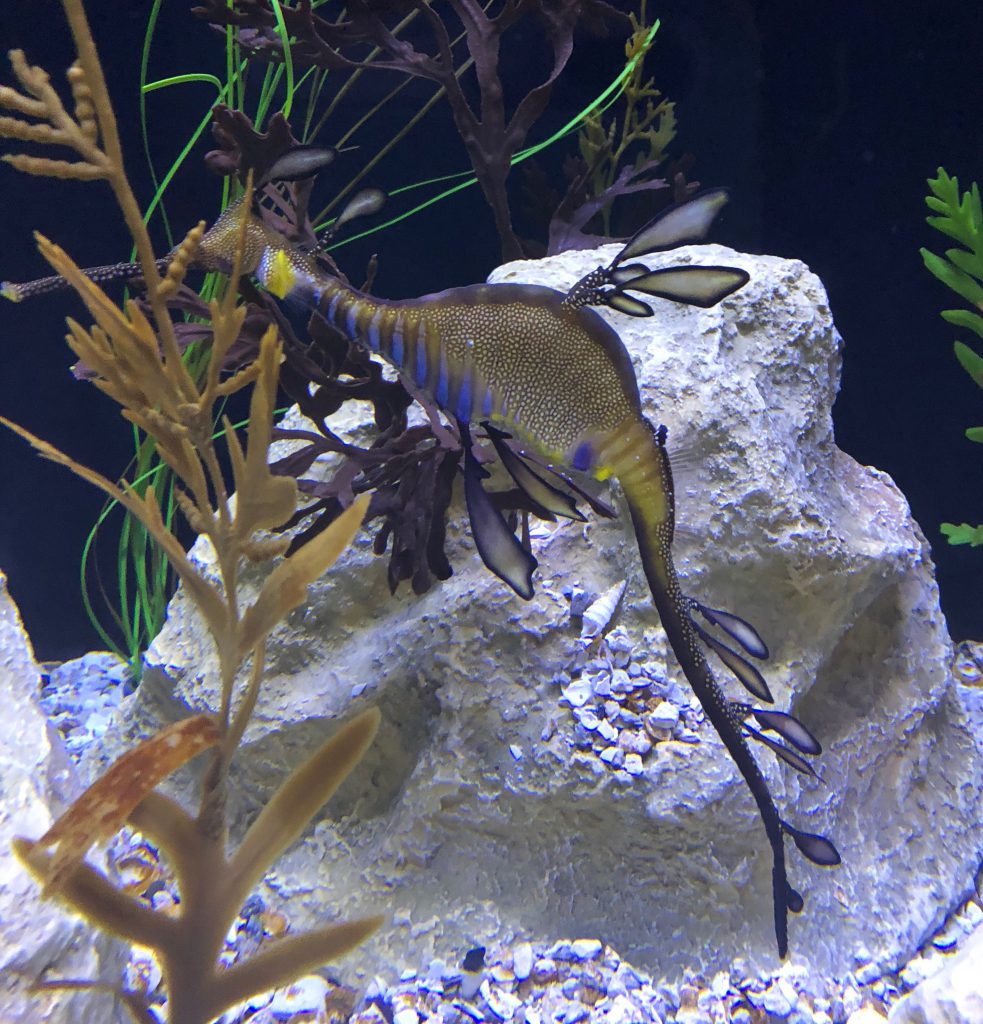 we were mesmerized and spent a good ten minutes watching these guys.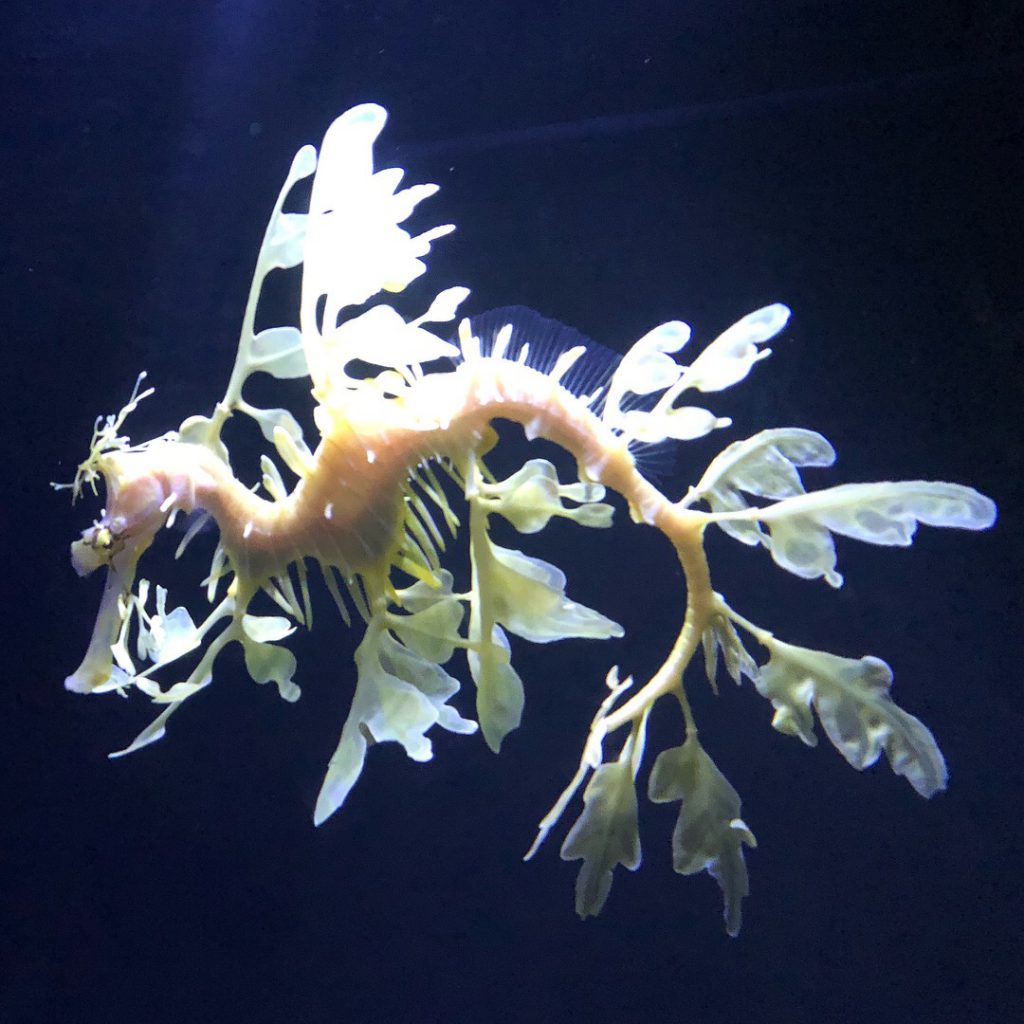 on the back deck, there was a touch pool, but it was pretty chilly and most of the lidkids weren't interested in touching sea life.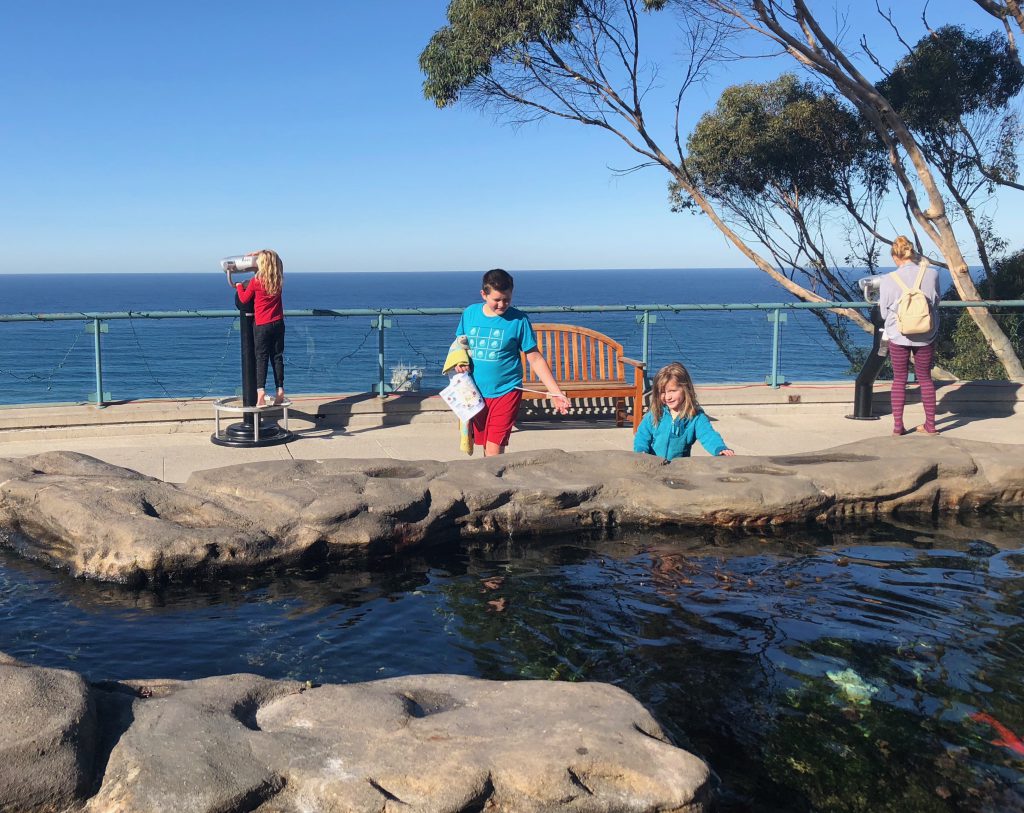 one lidkid was all in.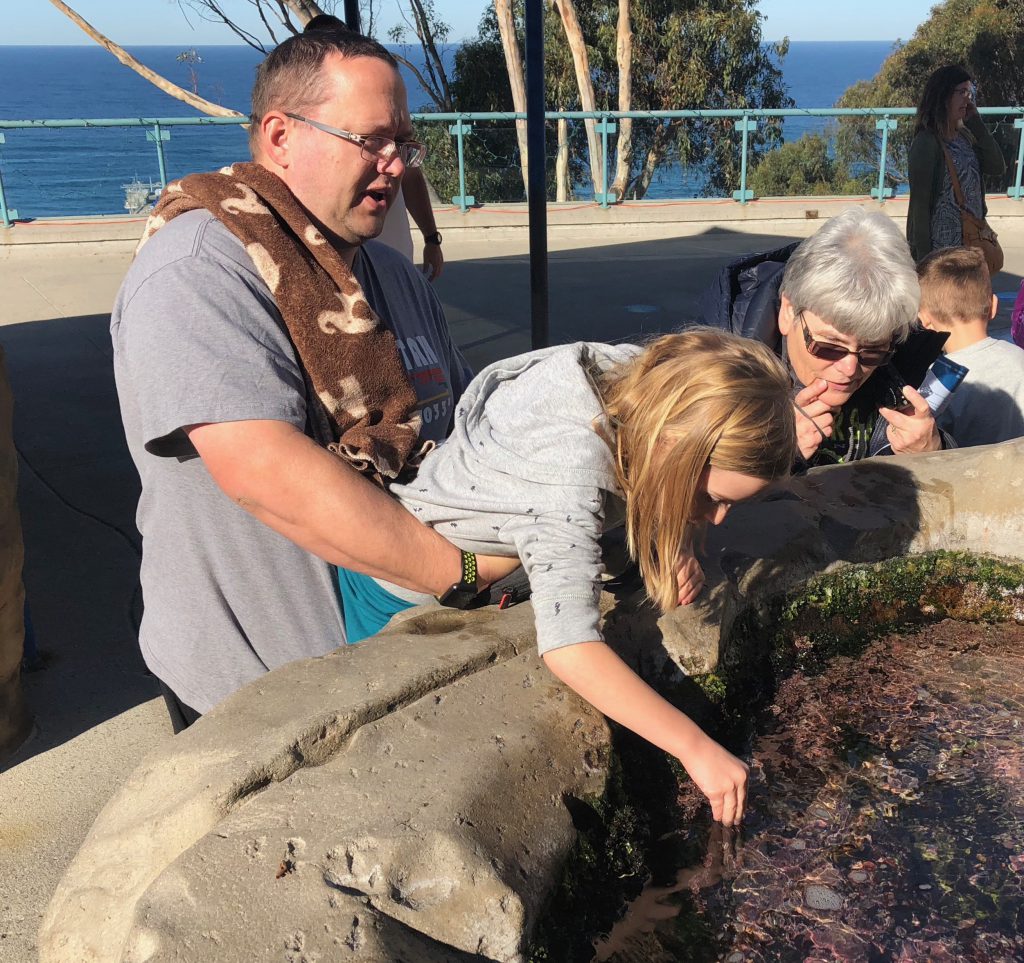 around 1030, we made our way to the shark area, to see a feeding.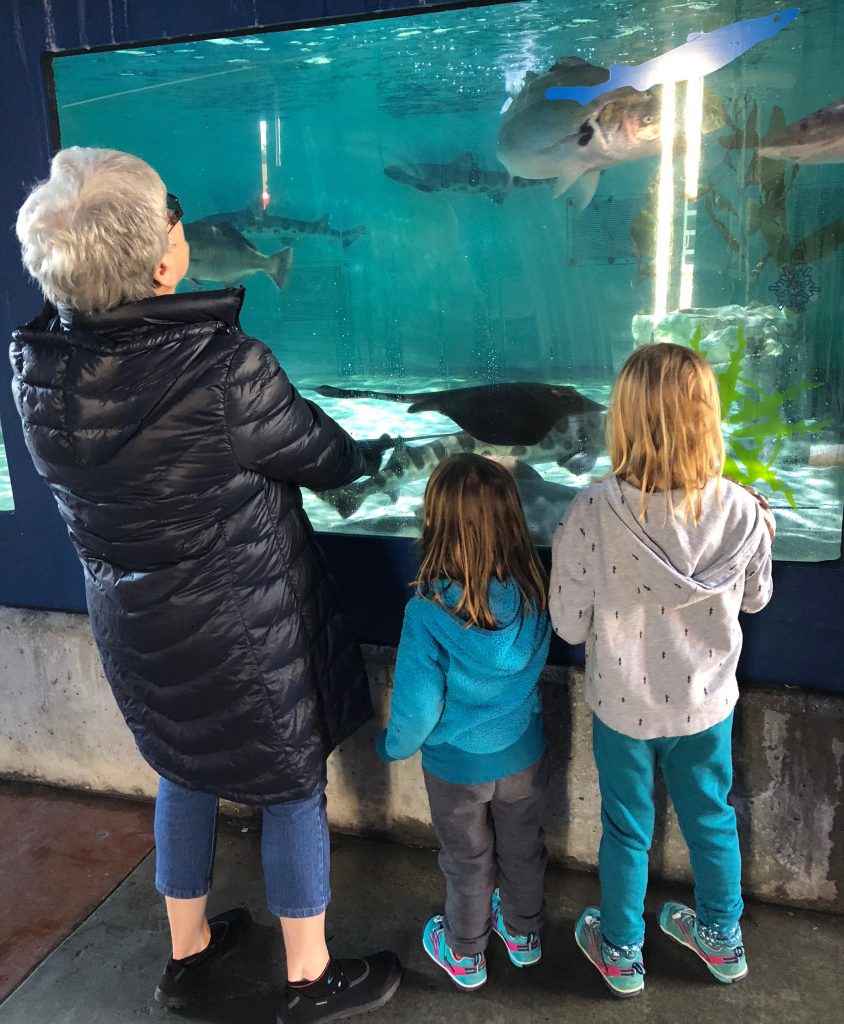 while we waited, a friendly sting ray stopped by to smile at us.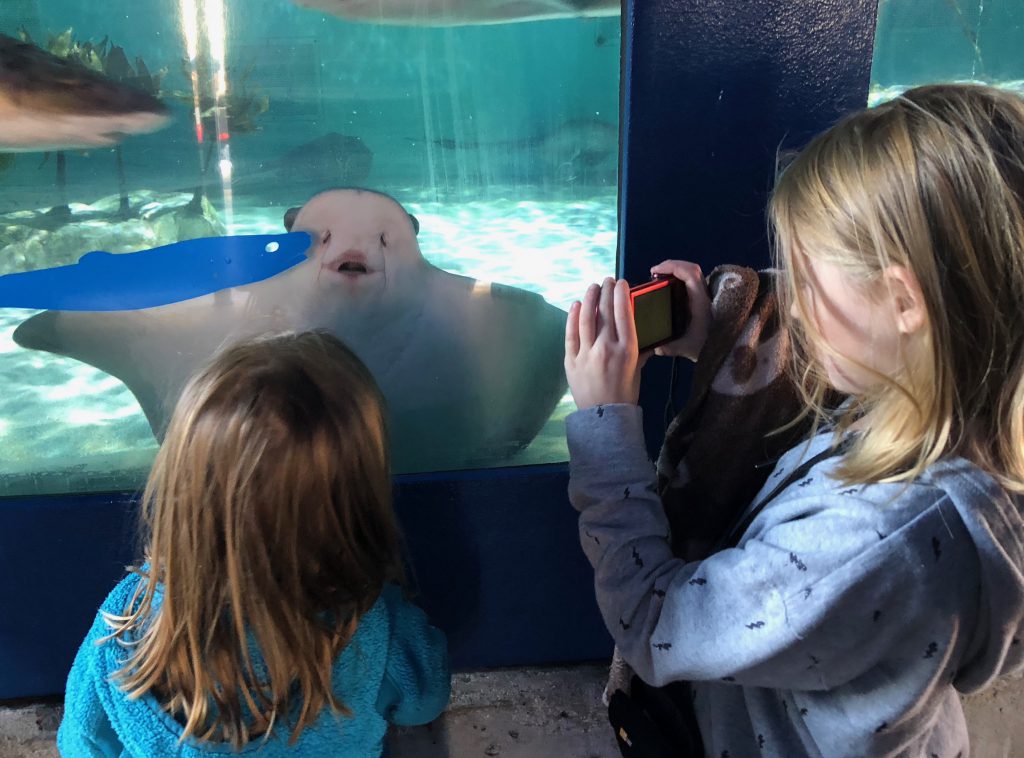 bffs.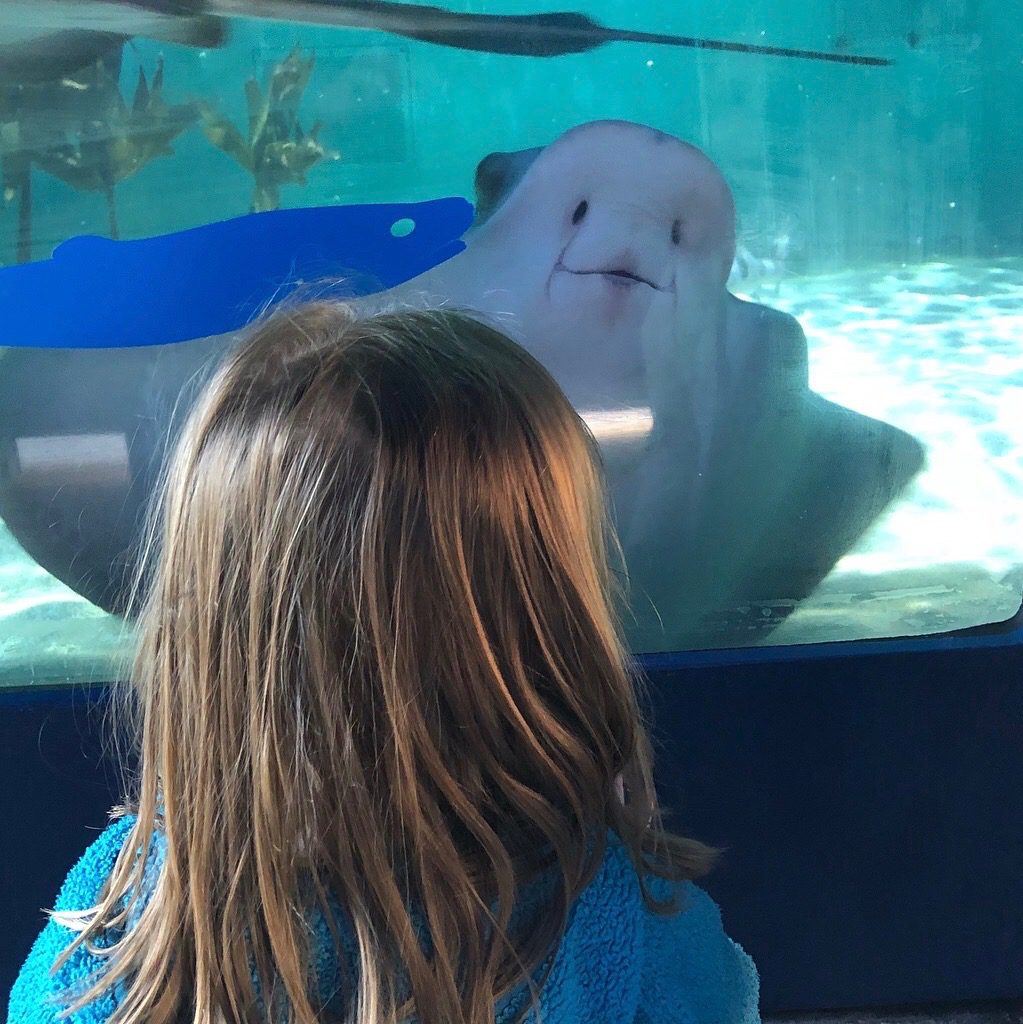 after the shark feeding (which was a bit of a bust), we headed over to explore in they way cooler part, with tanks full of colorful and strange sea creatures. like this guy poking his head out of a hole.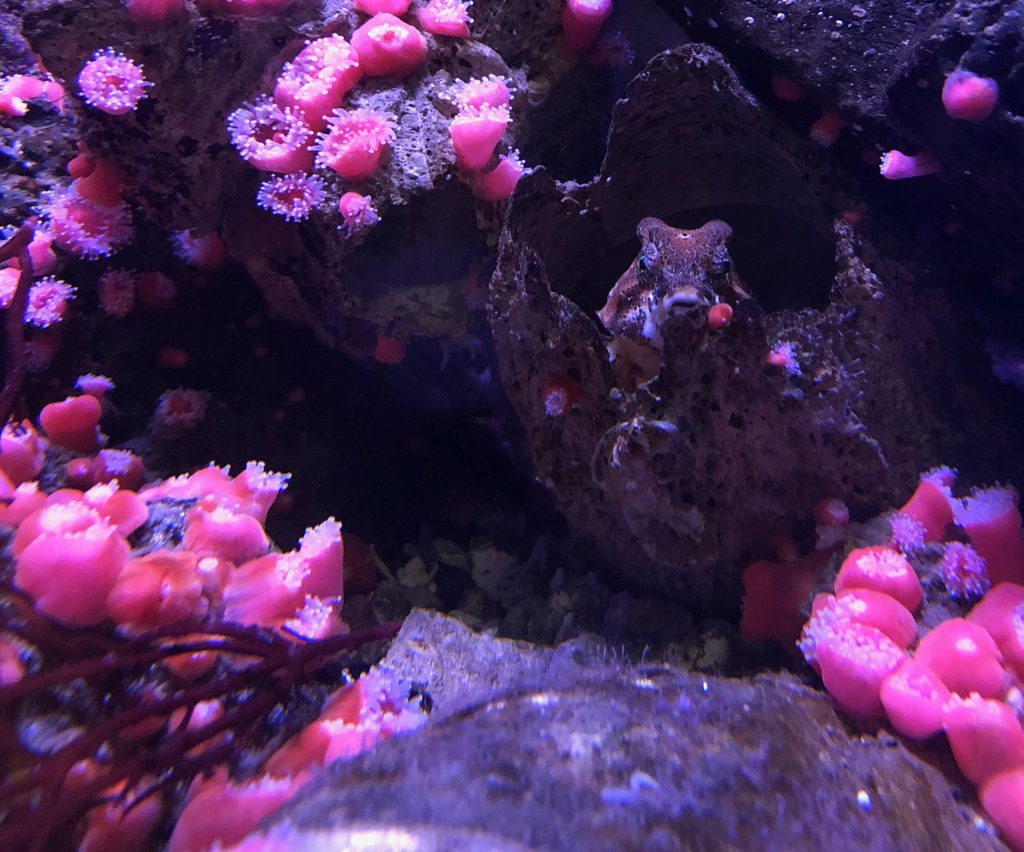 jellyfish are always a fave.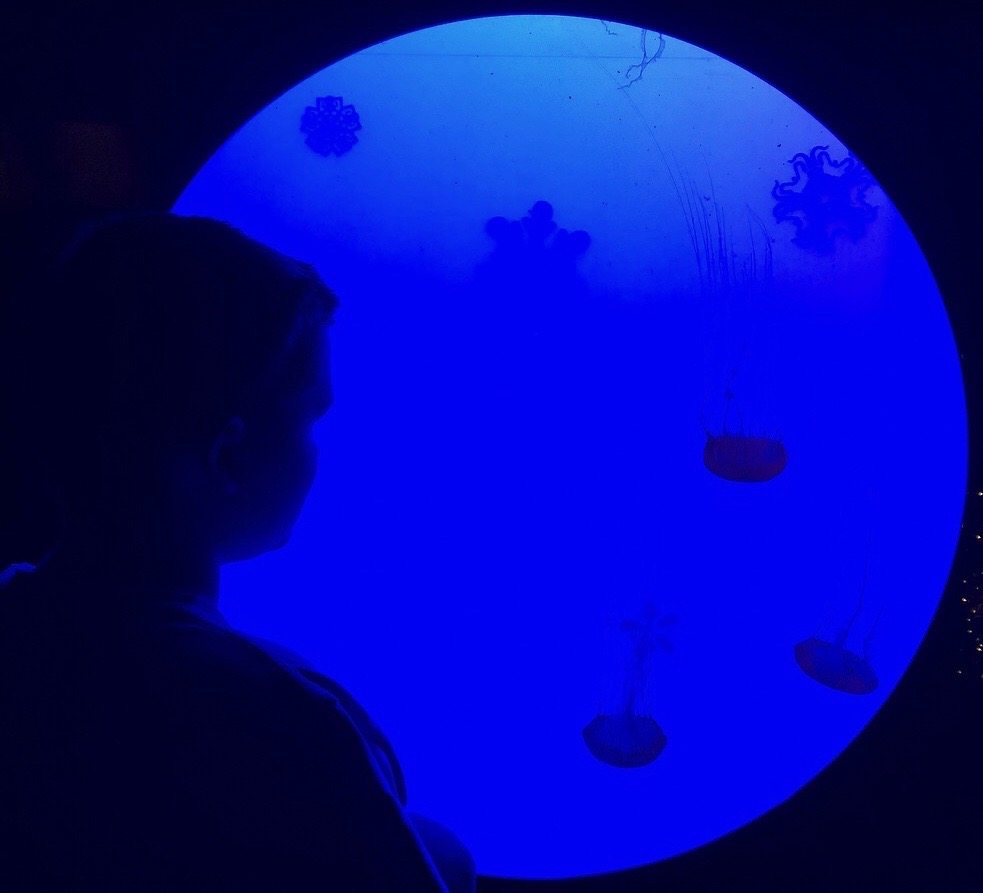 so cool.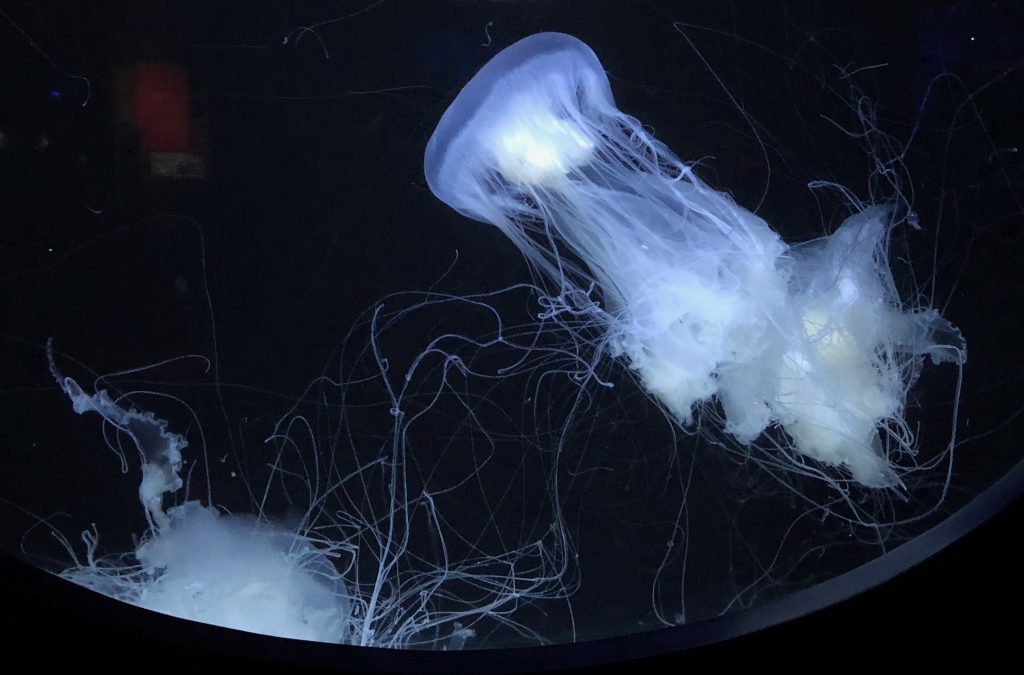 this spiny california king crab was posing for me.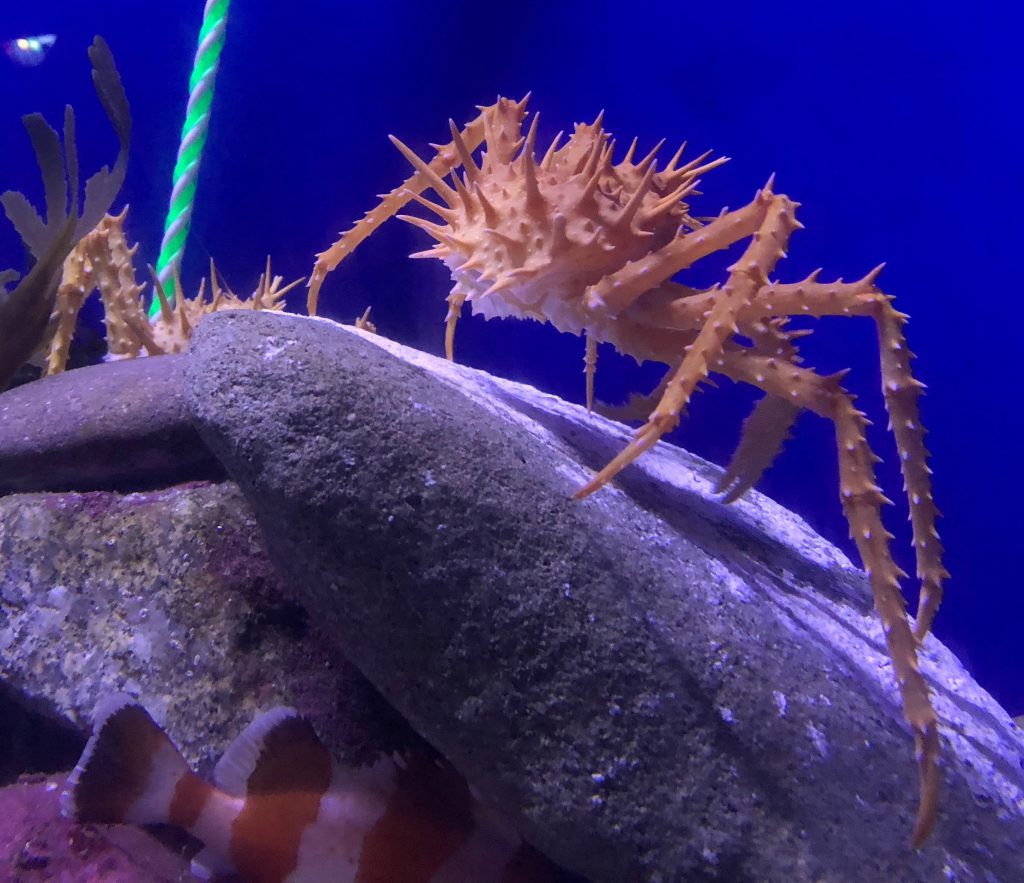 giant majestic sea turtle.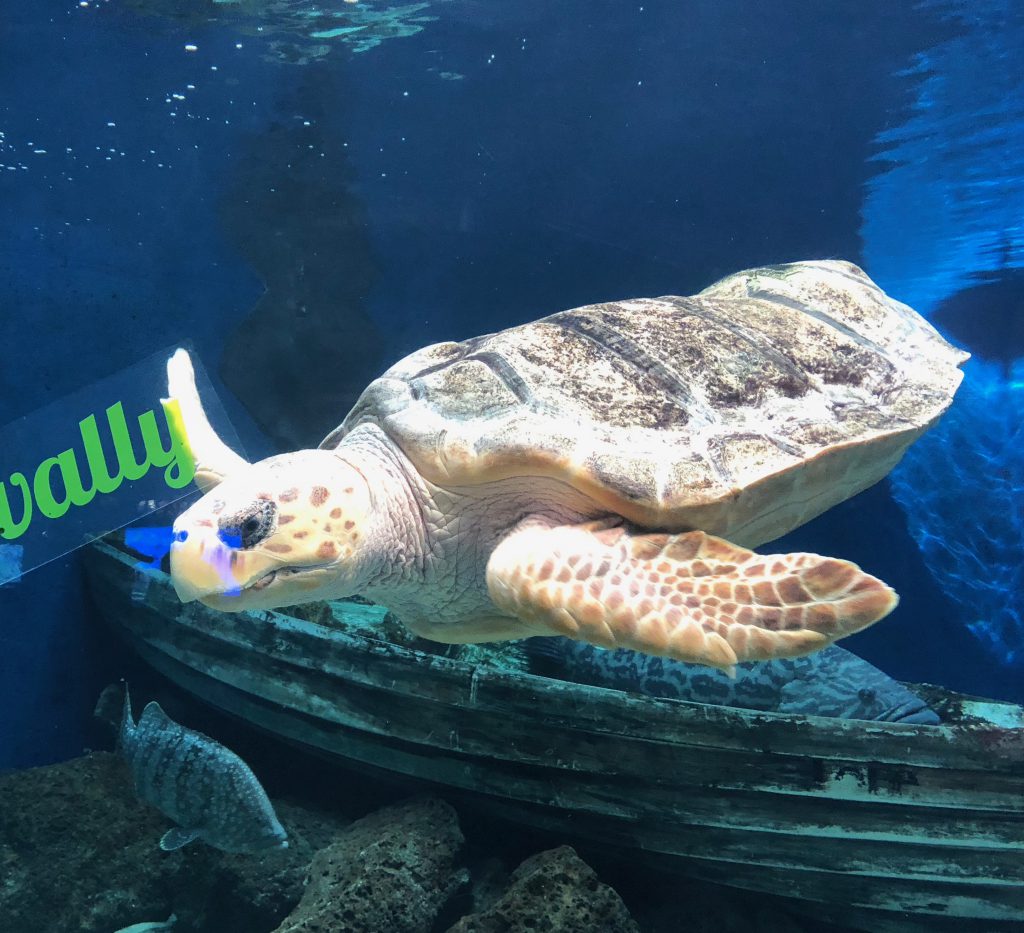 super giant colorful aquarium.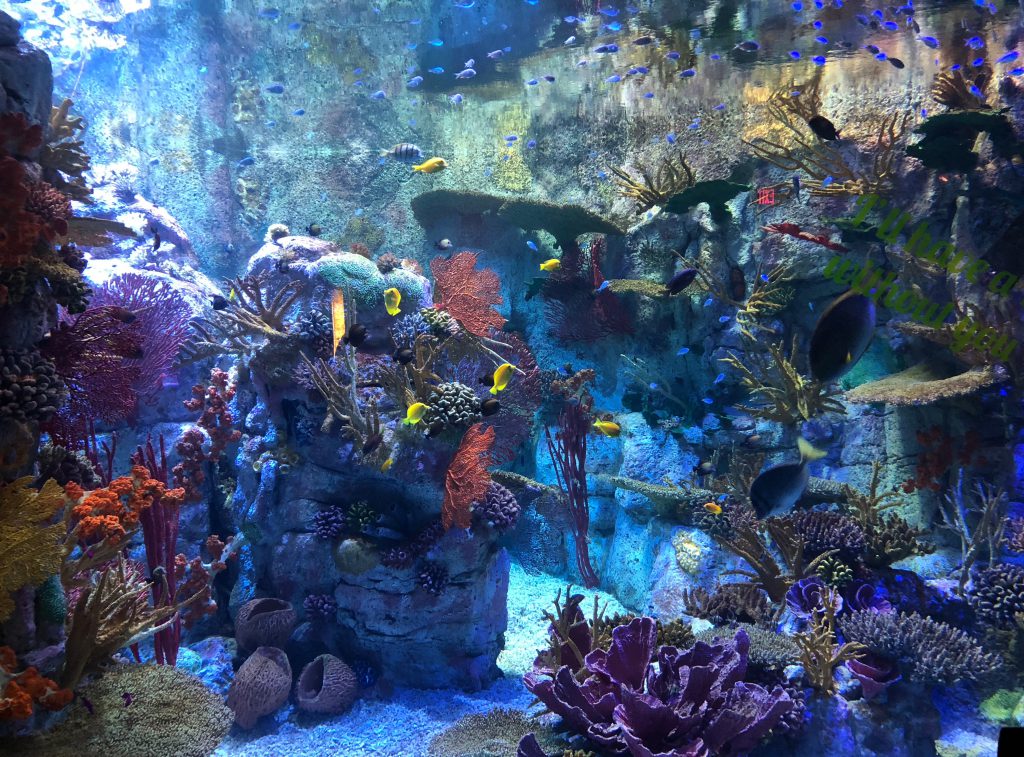 obviously, we looked for all of our friends from finding nemo.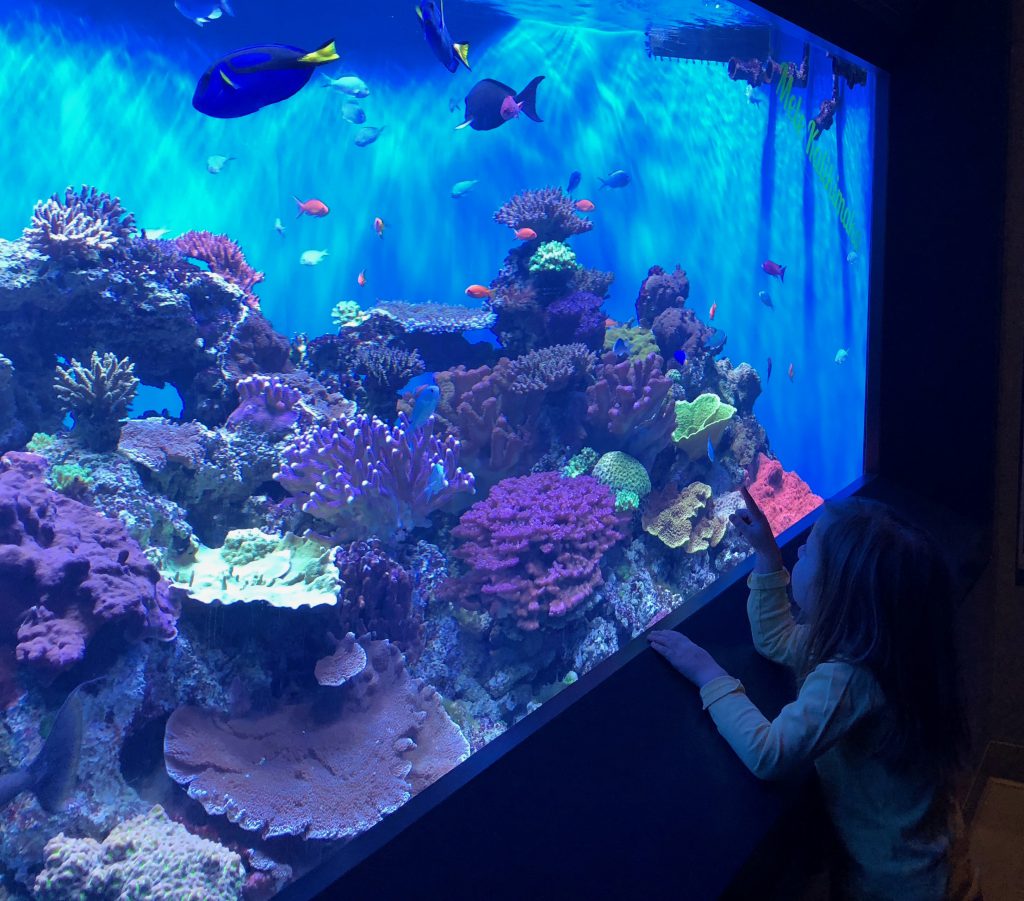 after the aquarium, we grabbed a quick lunch and then made our way to the soledad memorial, which was high on derek's dad's list. (he grew up in san diego, so he had several spots he wanted to show off). it sits high up on a hill, giving a great view of the pacific ocean on one side and san diego on the other.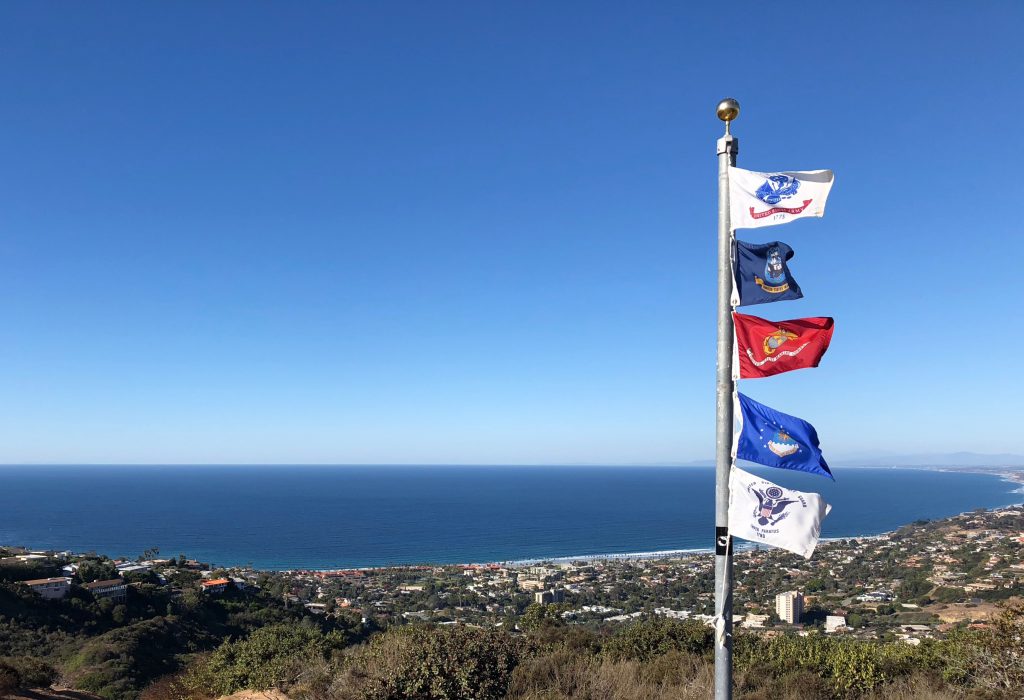 grandlidbom photo at the top of the memorial. there are rings of walls as you come down the memorial, filled with biographies of thousands of veterans. and of course, i didn't get a picture of that. :/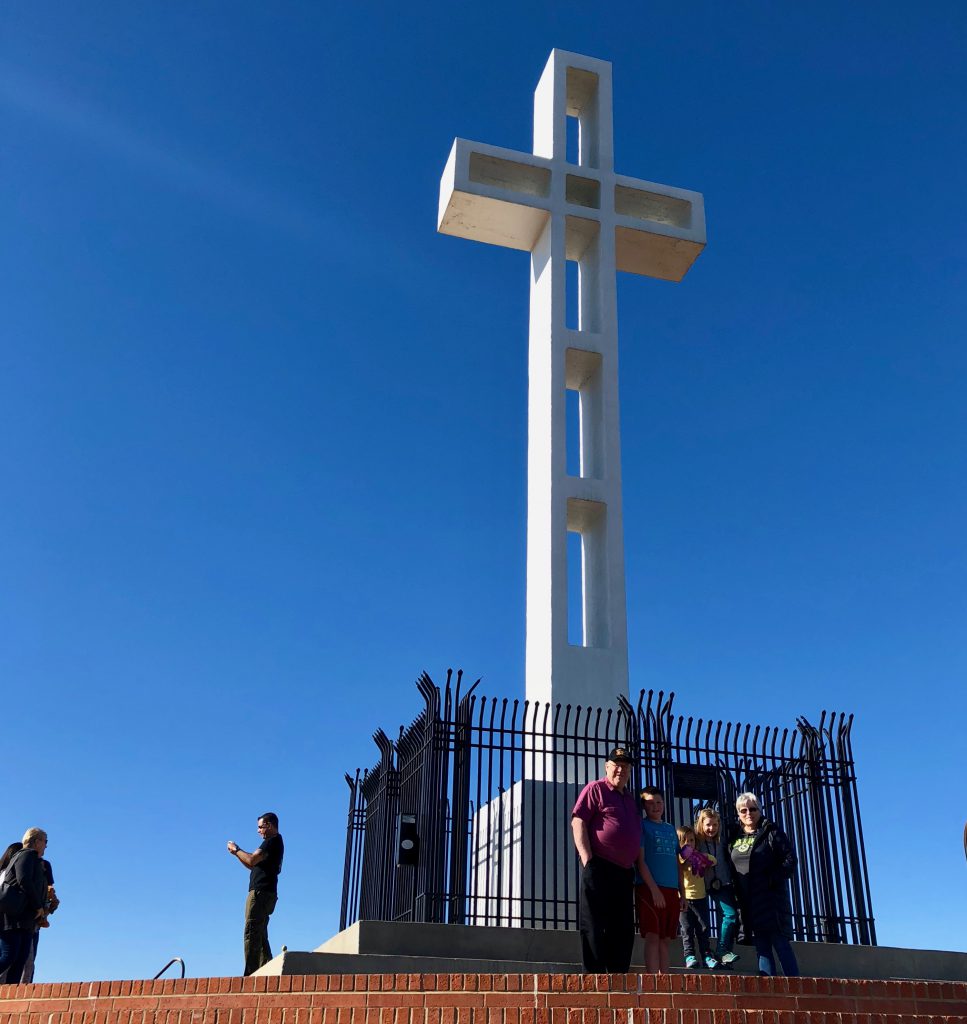 for our final adventure of the day, we hit up the tide pools at la jolla. we were ahead of schedule, so the tide wasn't fully out, but we stayed long enough to get to do a good bit of exploring.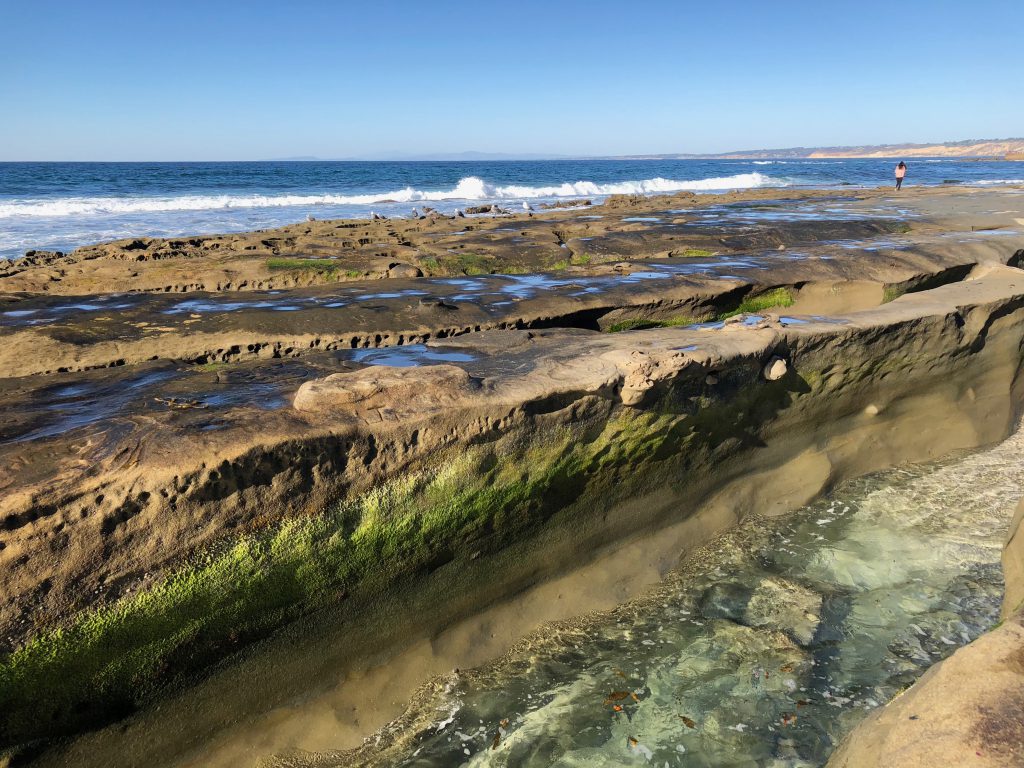 it was pretty slippery. and i think just before this picture was taken, i had taken a pretty good fall, but thankfully sustained no terrible injuries or iphone screen cracks.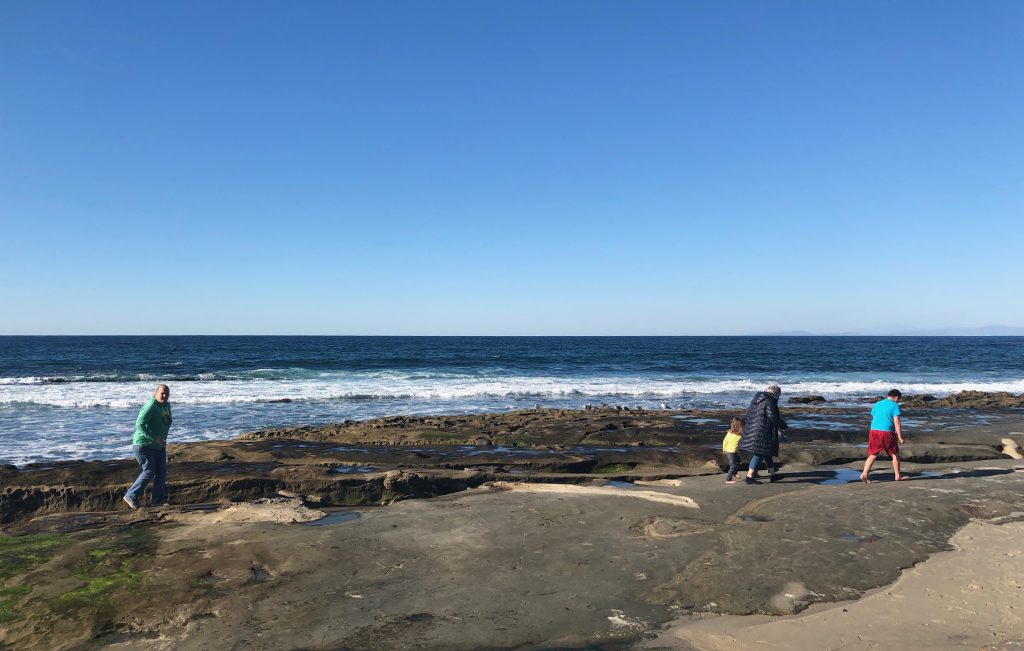 this kiddo was so excited to dip her hands in some tide pools. the way the water has carved through the rock on the coast here is pretty amazing.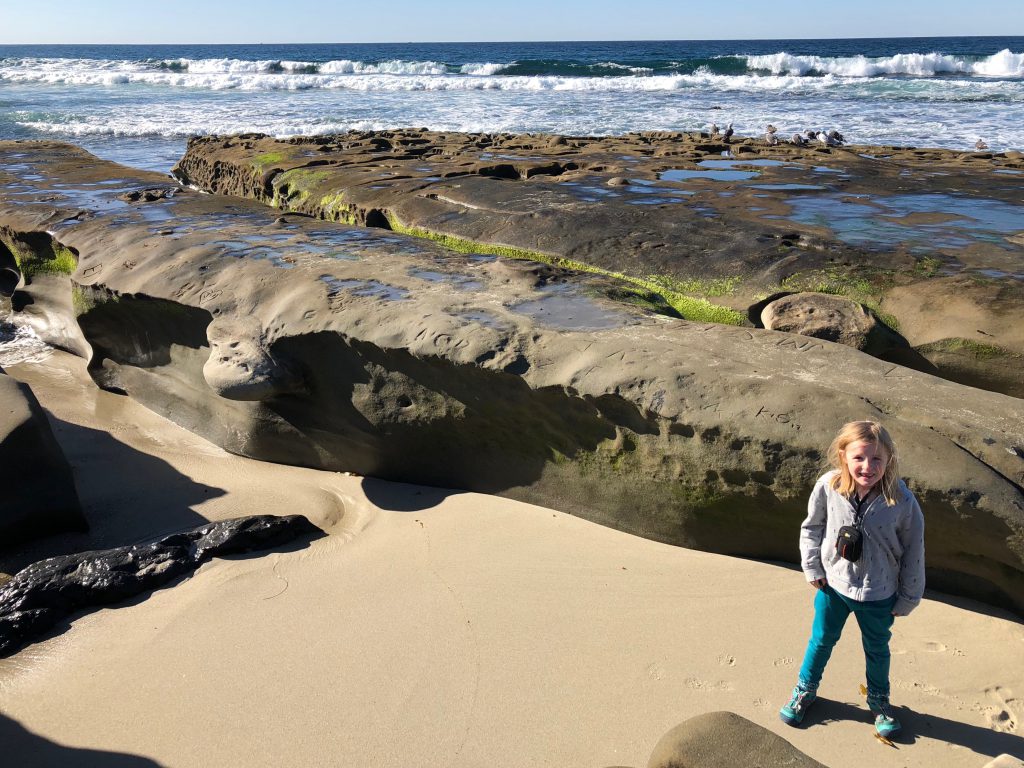 gramma did a bit of exploring with us, but eventually decided to play it safe and hang with hazel in the sand.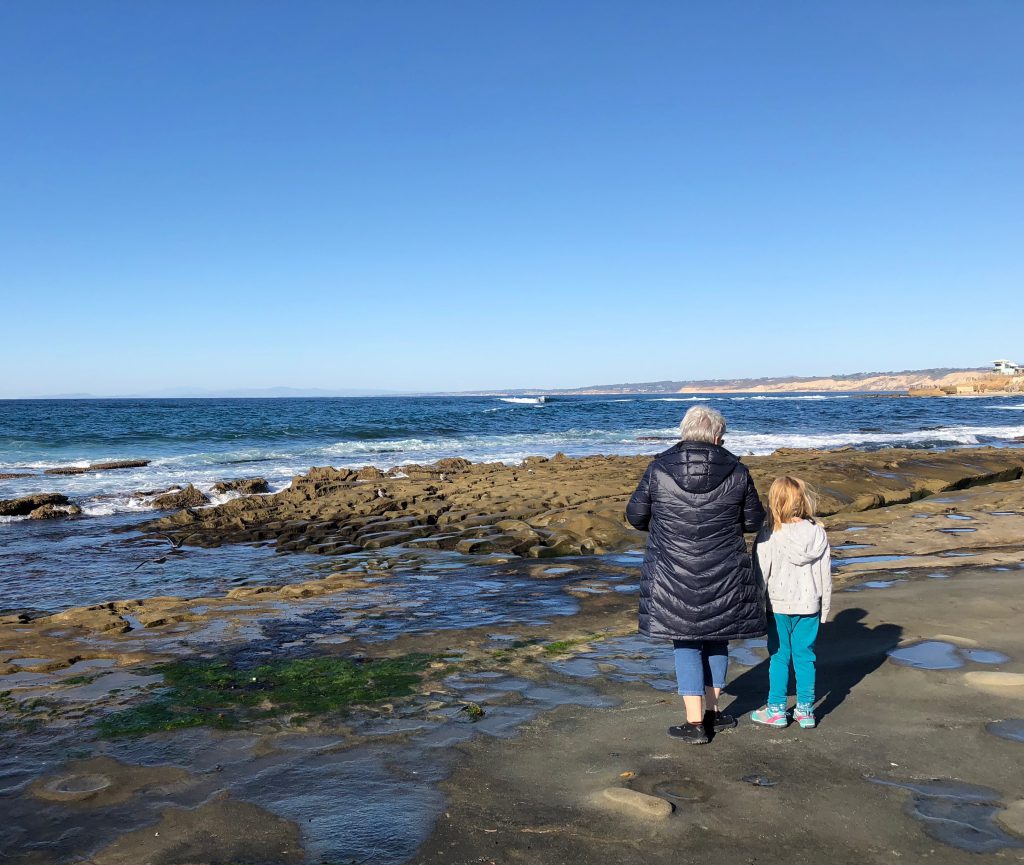 but first. a picture with the tide pool explorers.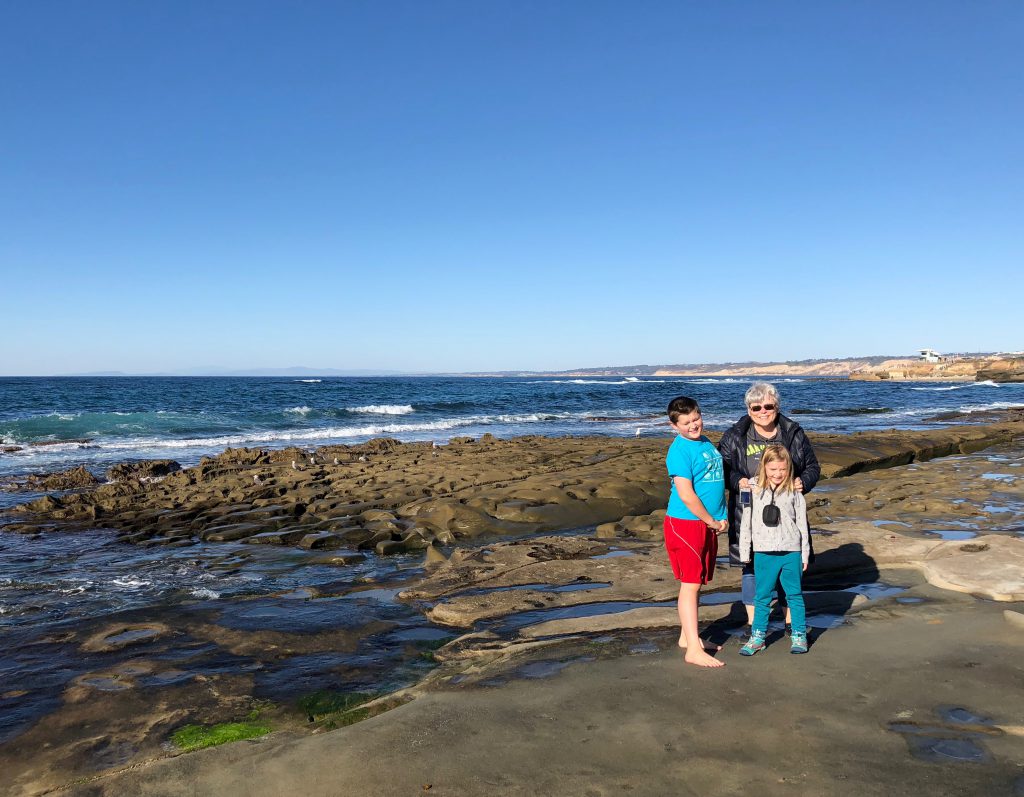 we chased around this pack of sea gulls, figuring they knew where the live food/creatures would be.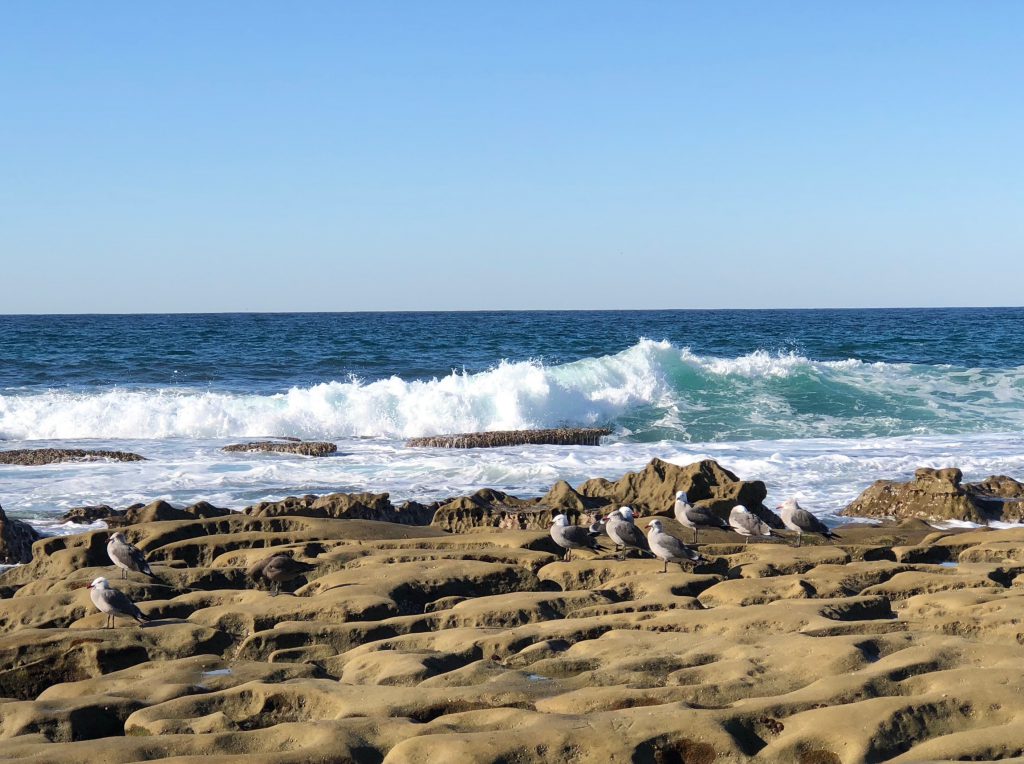 derek and anna found a ton of mussels, anemones, hermit crabs, and barnacle-y type crusty stuff.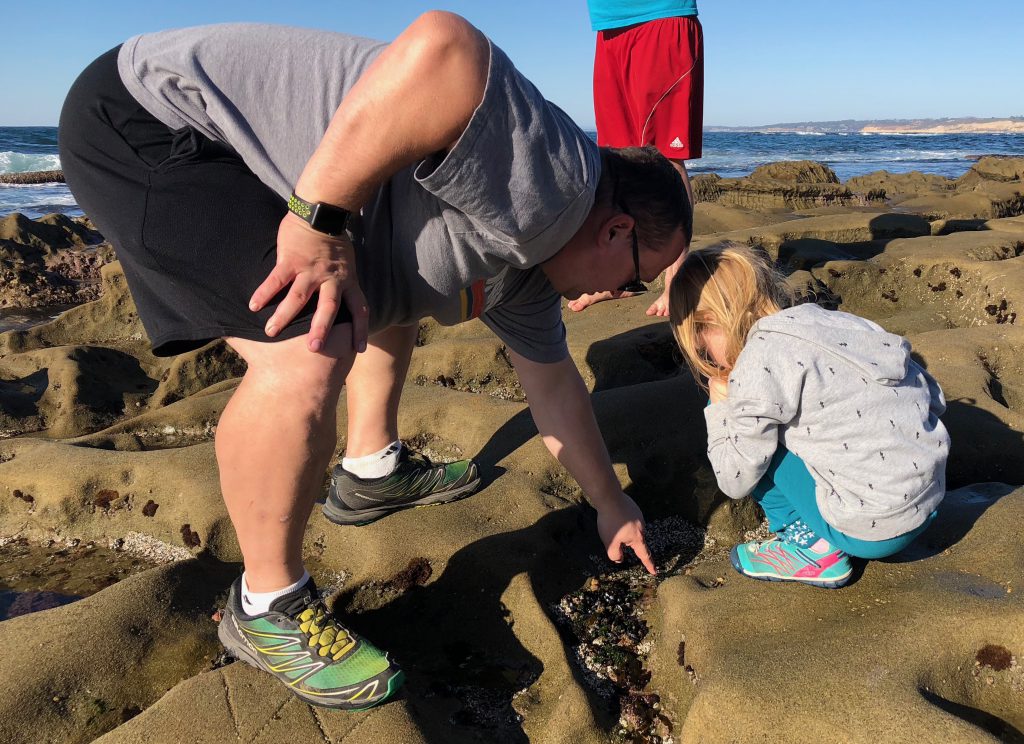 a good amount of time has passed since we were last in an area with tide pools, probably acadia in maine, which was well over a year ago. so, it took anna a good amount of time to work up the nerve to touch any sea creatures. of course, isaac took this as a great opportunity to one up his sister and bravely reached in to touch an anemone and gain bragging rights for the day.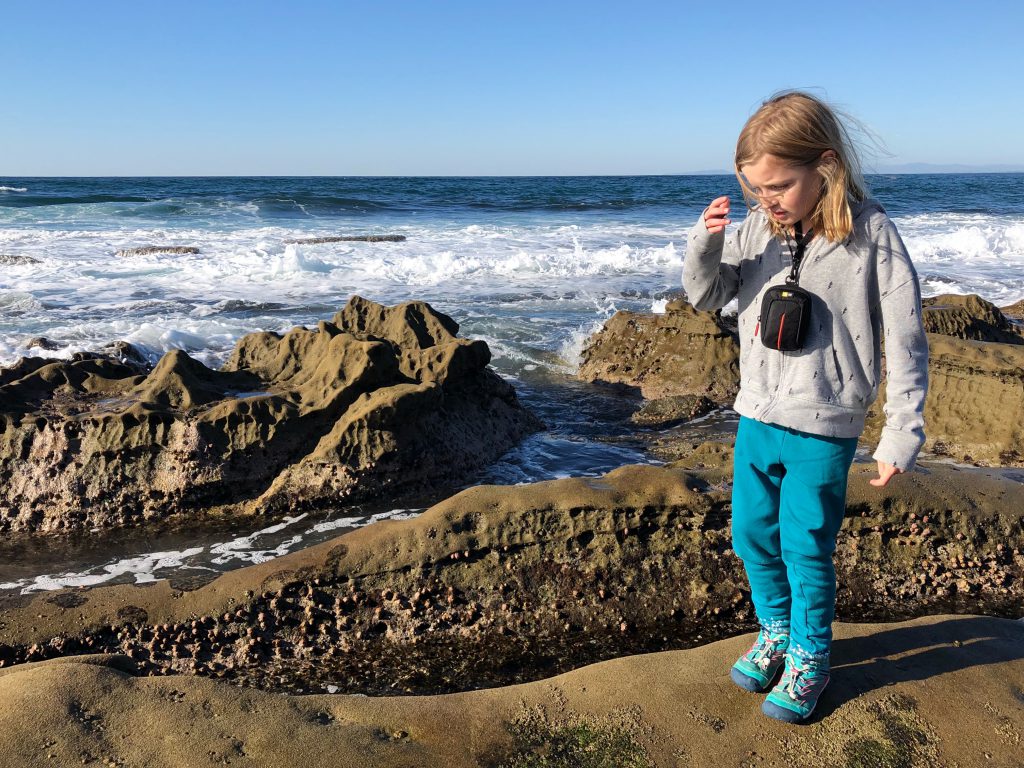 derek stayed out with her, while she alternated between working up the nerve to touch one and then breaking down because she was afraid. she never did get over the hump on this trip. but they saw a lot of cool stuff and had fun.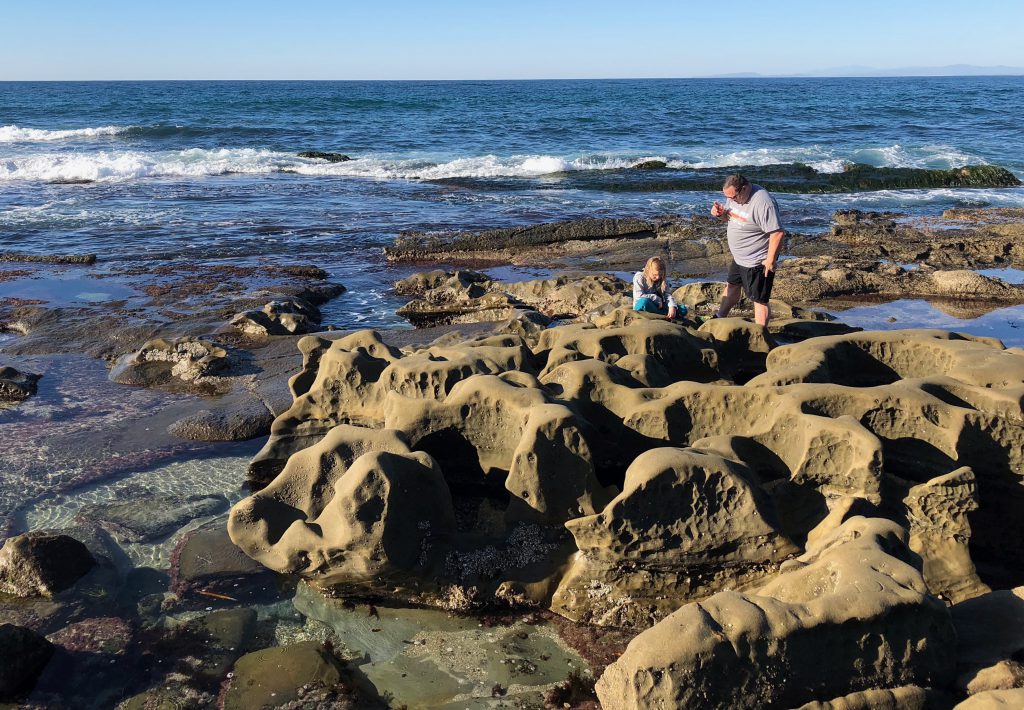 meanwhile, i relieved gramma from sand box duty and took over playing with hazel.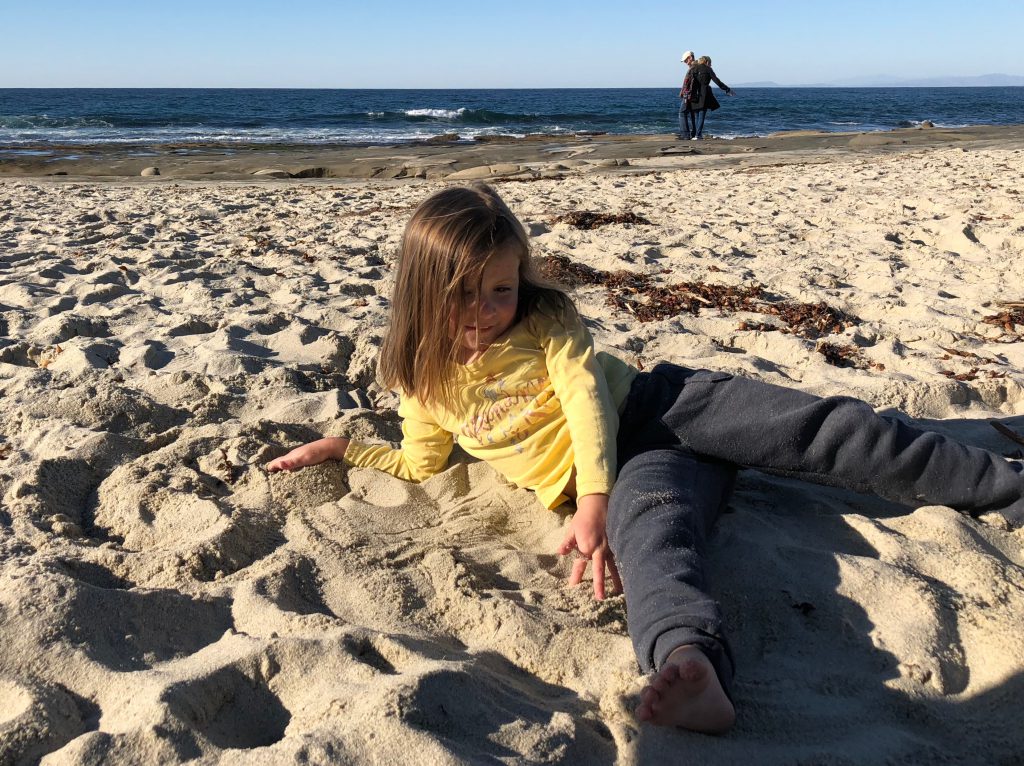 since i was wet from my previous fall on the rocks, i decided i might as well get sandy too, and removed my socks and shoes and rolled up my pants and got busy getting buried and making castles.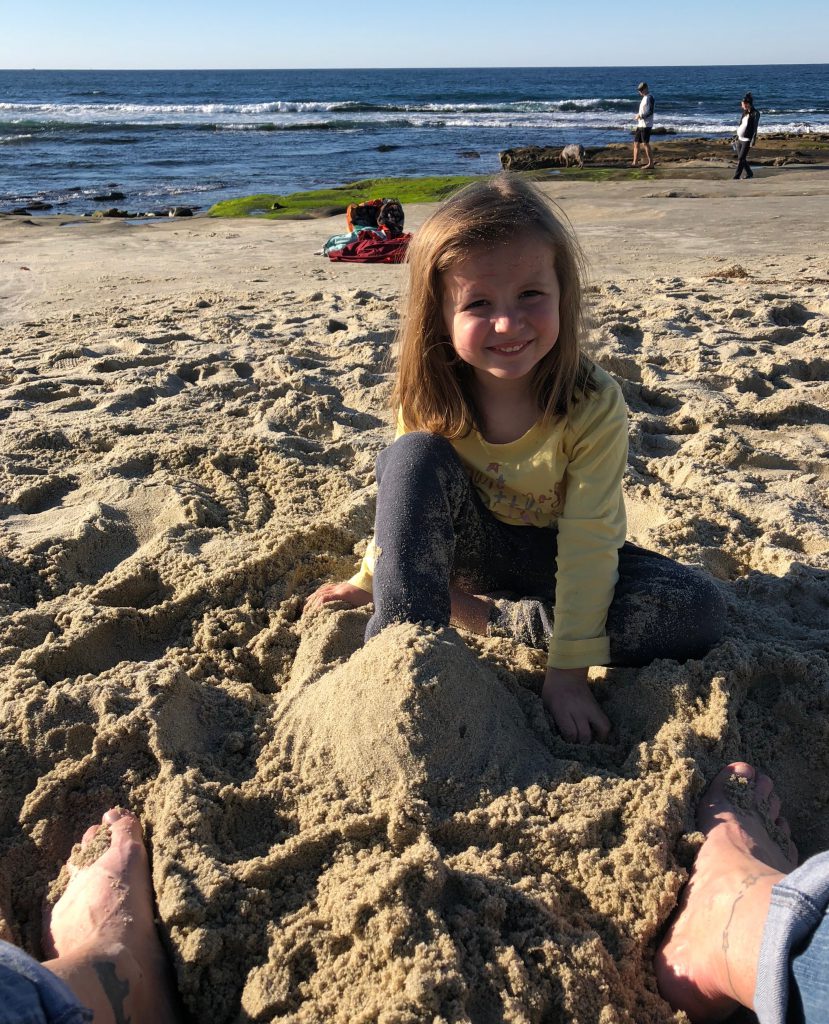 derek's parents took a drive to find a restroom and while they were out, they happened upon a seal sanctuary, where the beach was closed and dozens of seals were basking in the sun.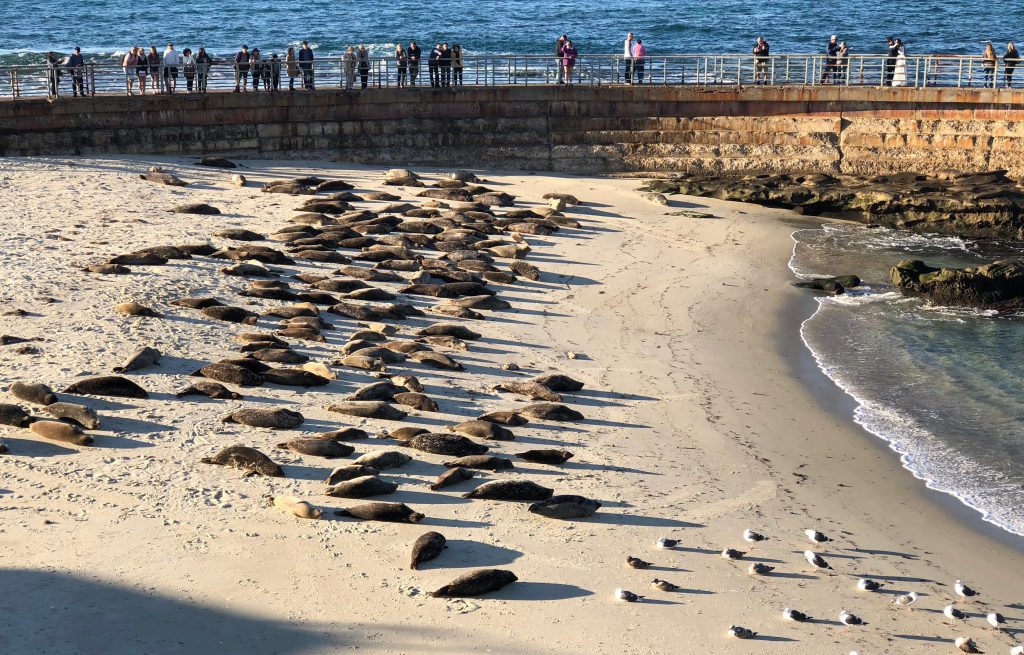 we drove over to meet them and spent some time just sitting and watching the seals. every now and then, one would flop to a new spot or float in from the water.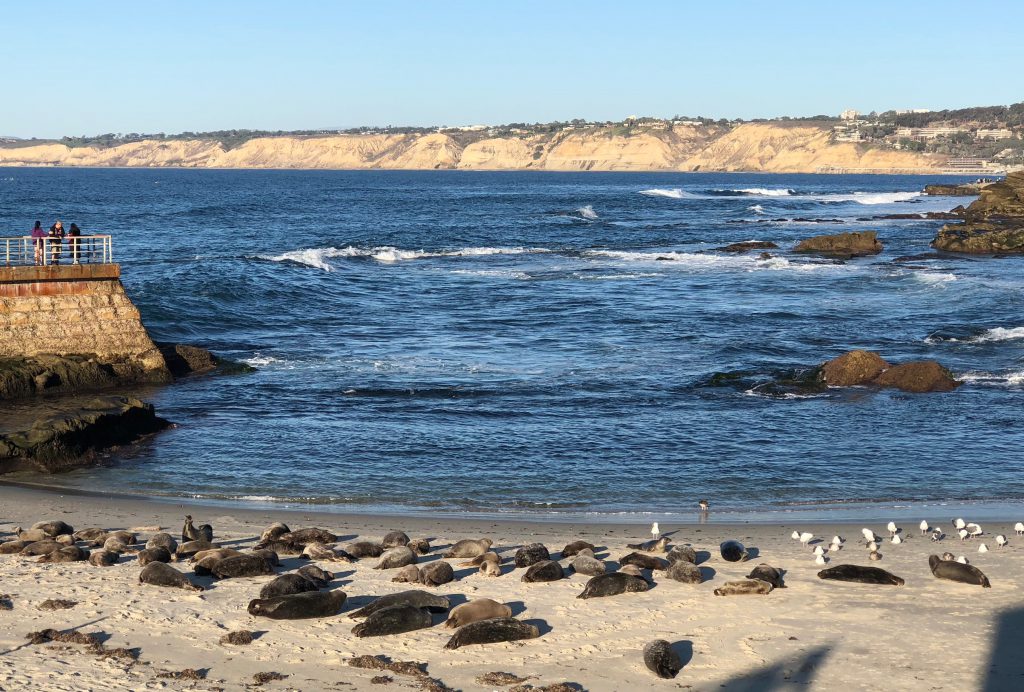 our resident animal enthusiast and photographer documented the event.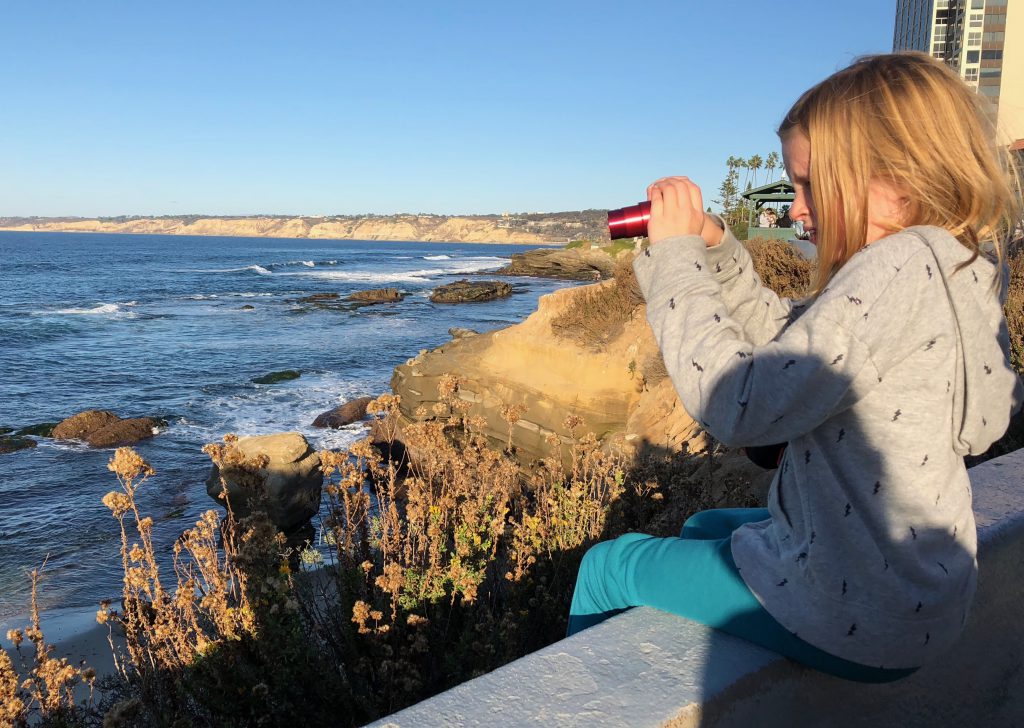 the view of the little cove-ish area wasn't too bad either. i guess, when this area isn't locked down to protect seals, it's a gentle little beach area for kiddos, where derek's dad would have gone with his mom as a youngster.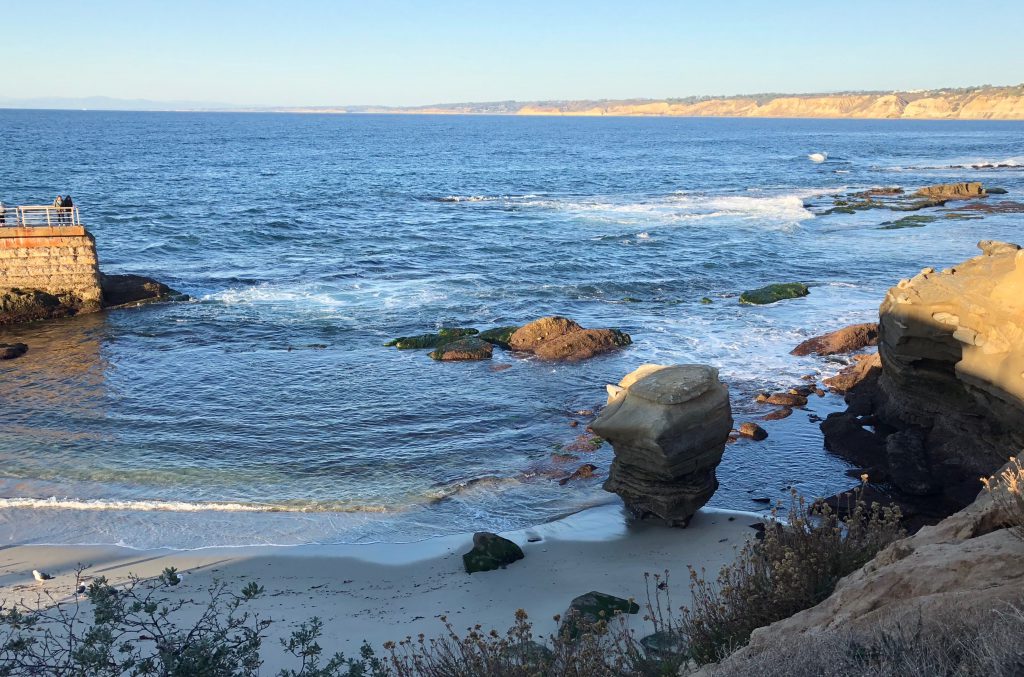 after our beach time, we were still a little ahead of schedule, so we went back to the grandlidbom hotel suite, to get them settled in and research dinner. we settled on a place called lupes tacos, where i felt obligated to order a couple of tacos, even if they wouldn't let me substitute a flour tortilla for corn.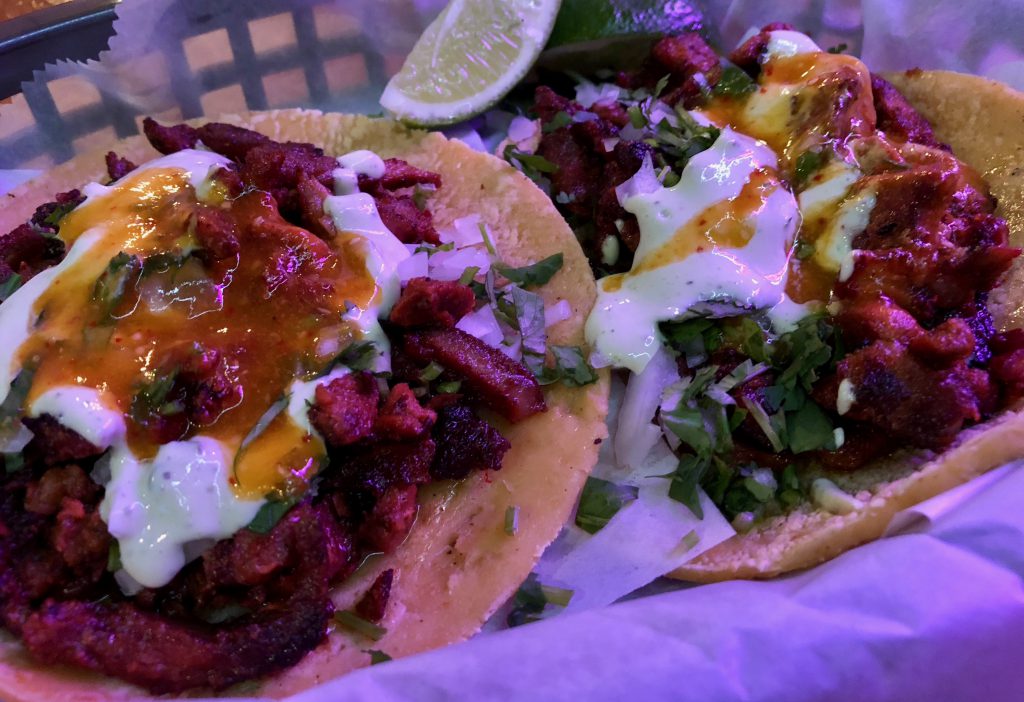 also. apparently, the "in" thing in the taco world right now is to put french fries inside of burritos. i balked at this arrangement, but then made an impulse decision to order carne asada loaded fries when a server walked passed us carrying them.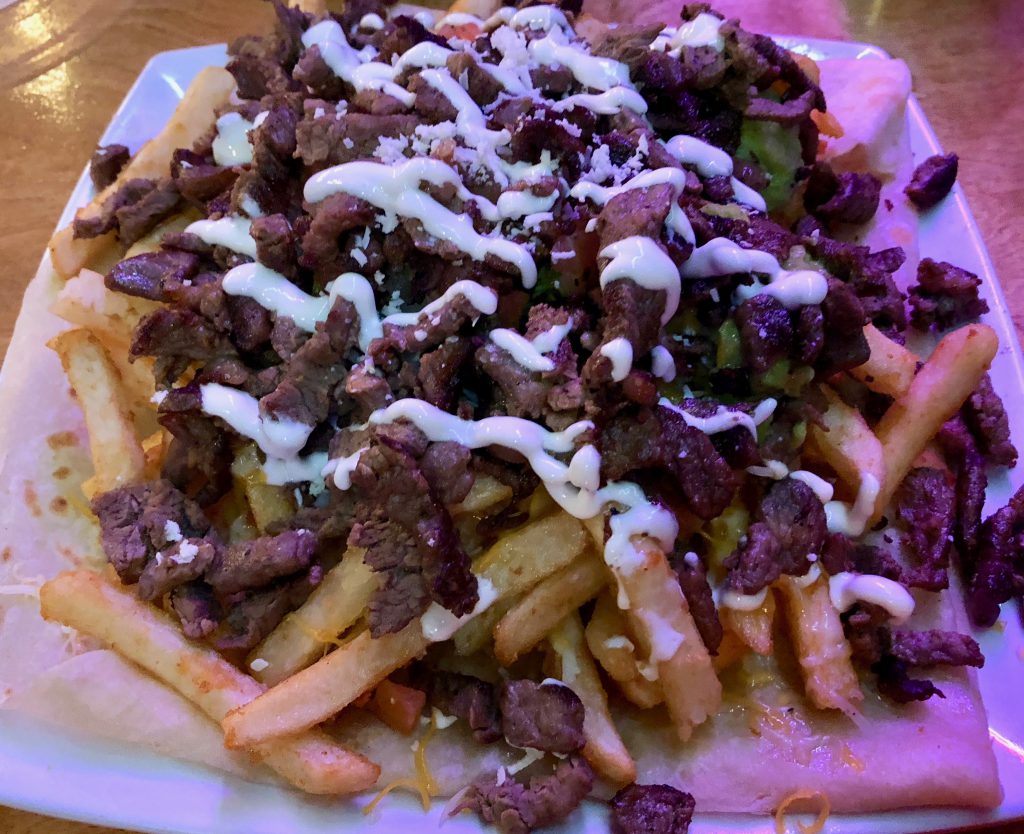 anyhoooooo…. this was the end of our super busy first day with of the grandlidbom san diego christmas extravaganza….