from the moment we knew we would be returning to a campground remotely close to joshua tree national park, i knew at least anna and i would take a side trip to do a bit of tent camping in one of the park campgrounds. the first week in palm desert was unseasonably cold, so we postponed until the second week. unfortunately, it wasn't much warmer, but we didn't want to miss our chance, so we picked the campground that seemed like it would be the warmest, which was actually the same one we camped at back in december.
we used google earth to scout good rock scrambling and then reserved a site a few days in advance. then anna and i set out for our adventure. (site 68 was great. site 66, our original choice was not, but thankfully we were able to move).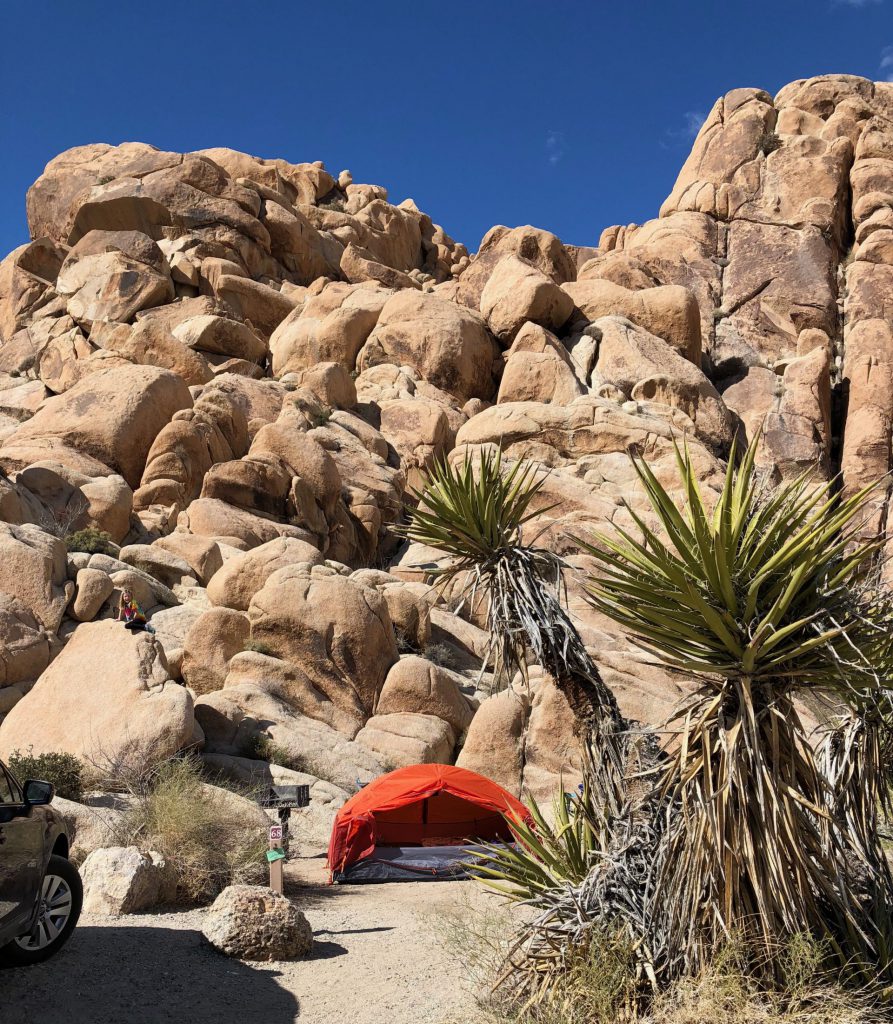 while i set things up, including like 48 blankets, anna wasted no time getting familiar with the granite boulders behind our site.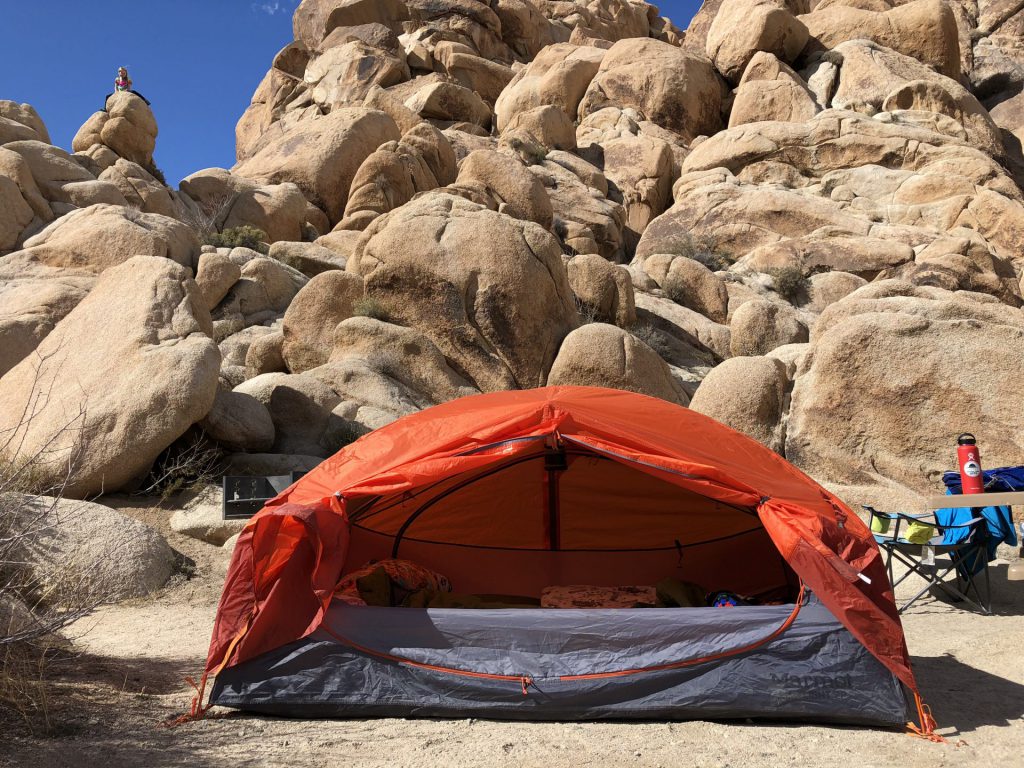 she took my phone up, to get a birds eye view of our campsite.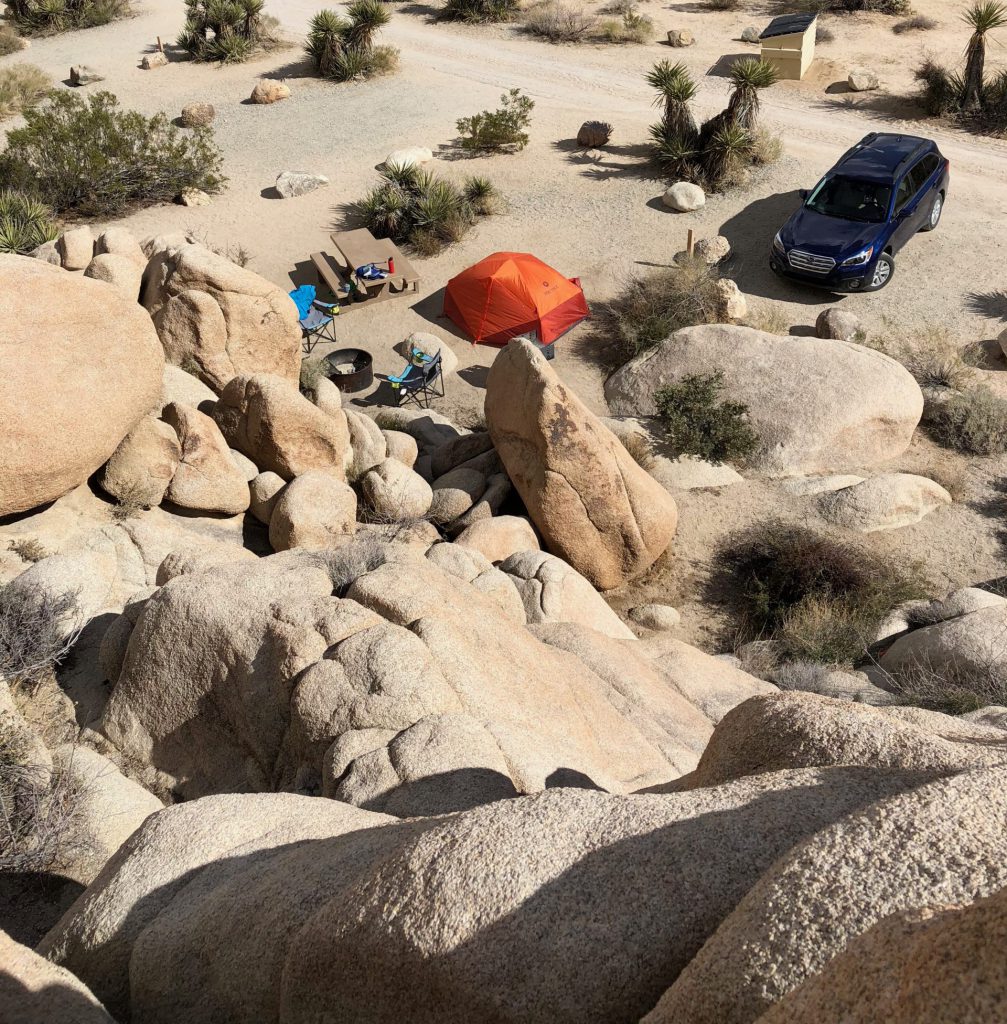 scrambler expert.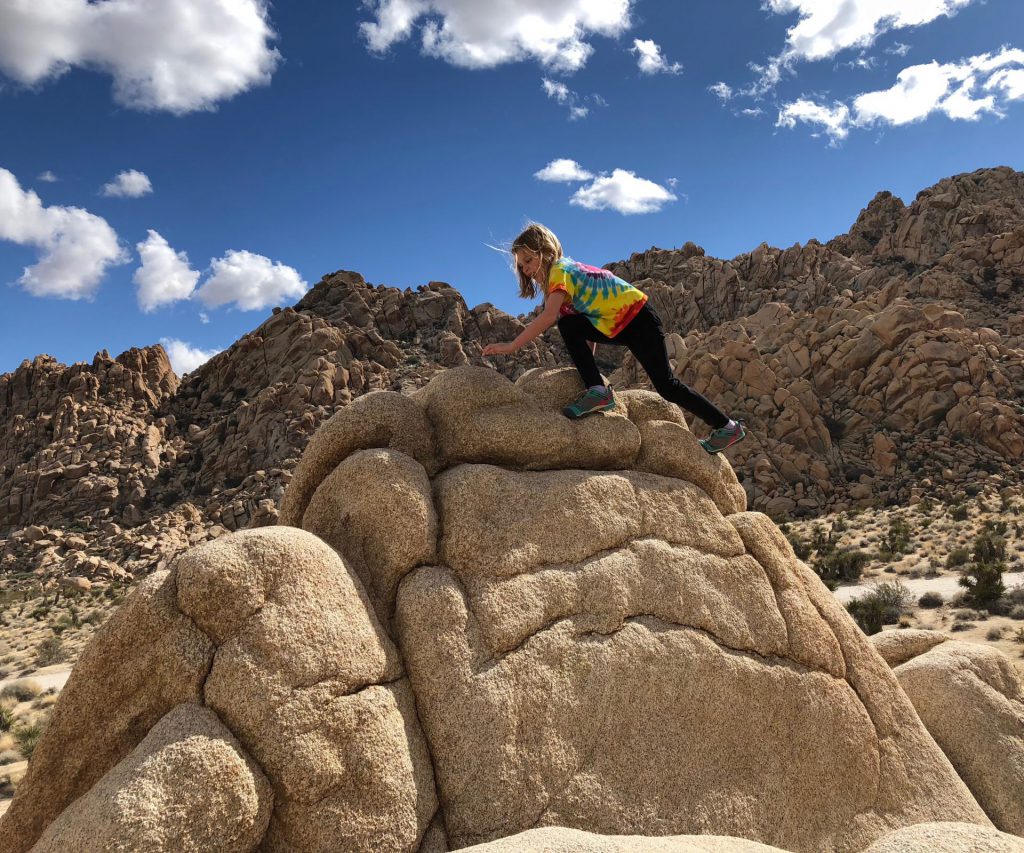 more tent/car/boulder views.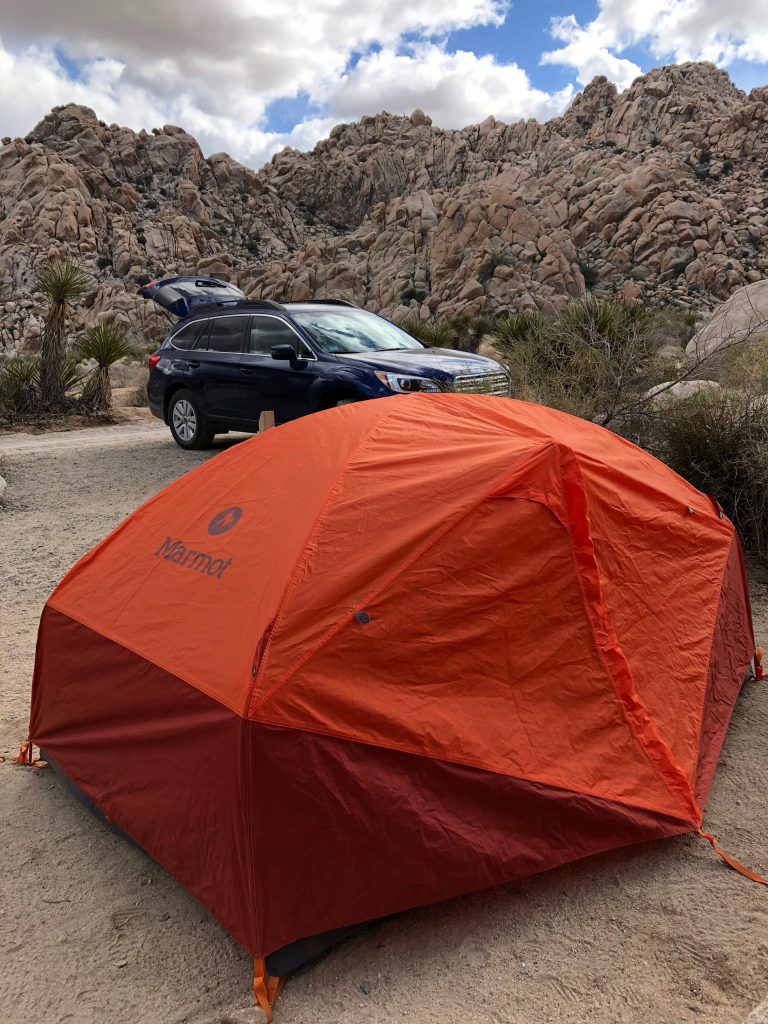 as the temps dropped, anna bundled up. i spotted her, keeping watch, in full creeper mode.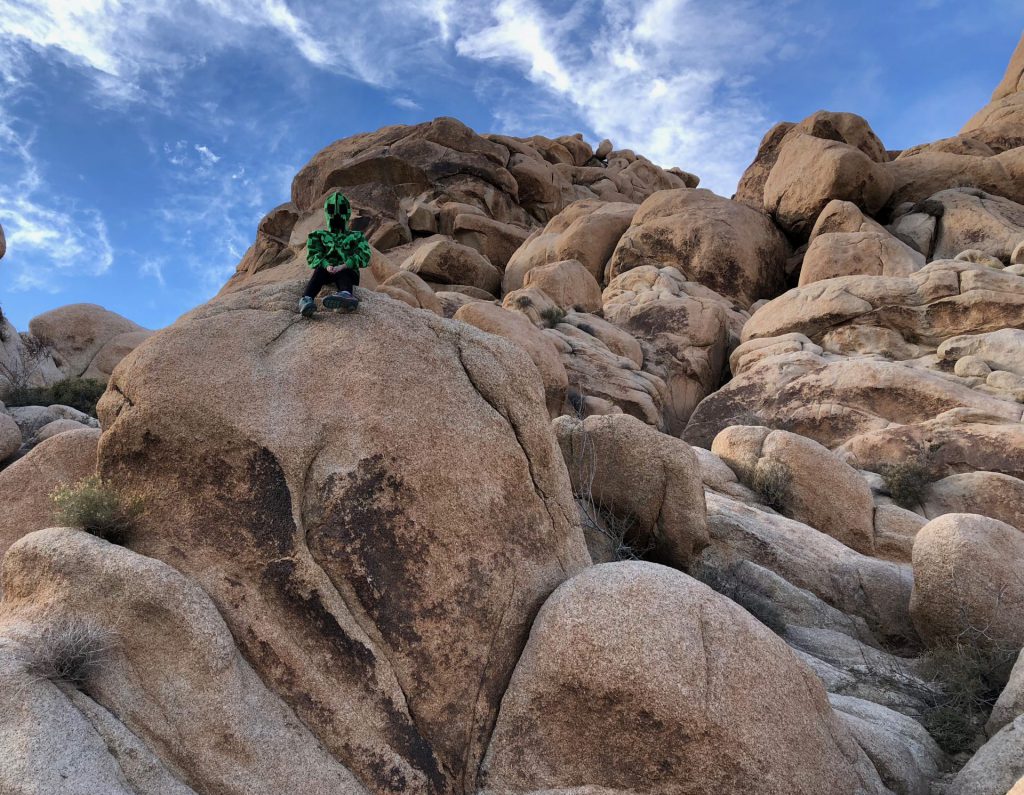 we even walked over to our campsite from december, to do a bit of nostalgic scrambling.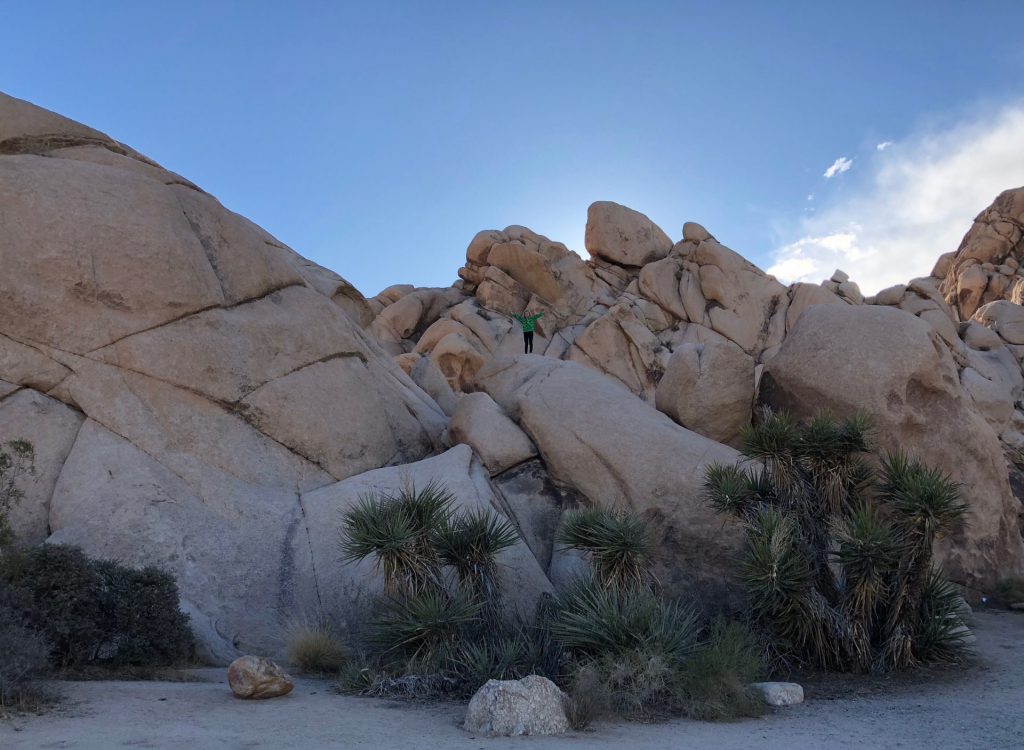 then it started to get cold. i sat with my trusty books, bundled up, while anna climbed her little heart out.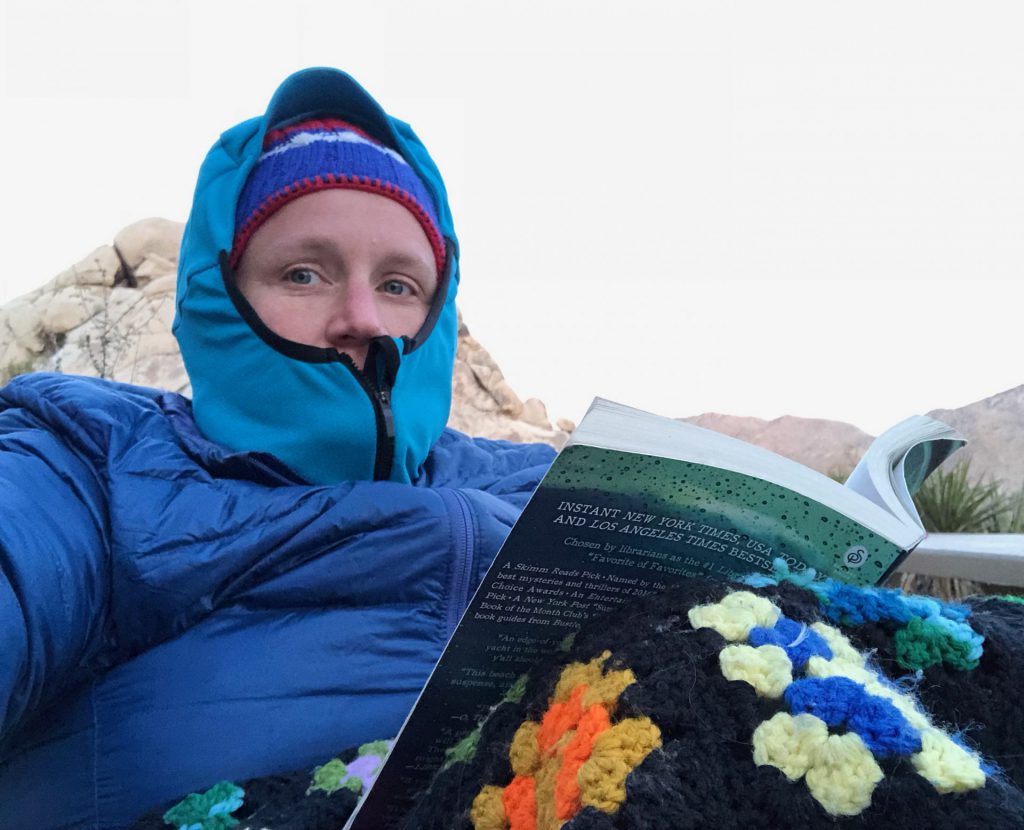 eventually, after a terrible attempt at cooking dinner in a pan on our tiny jetboil, we started up a campfire. i was a little worried about my skills, as that's usually derek's domain, but with some cardboard trash and a bit of kindling given to us by the lady who sold us the wood, we were good to go. maybe a little smoky and with watering eyes. but we made a fire.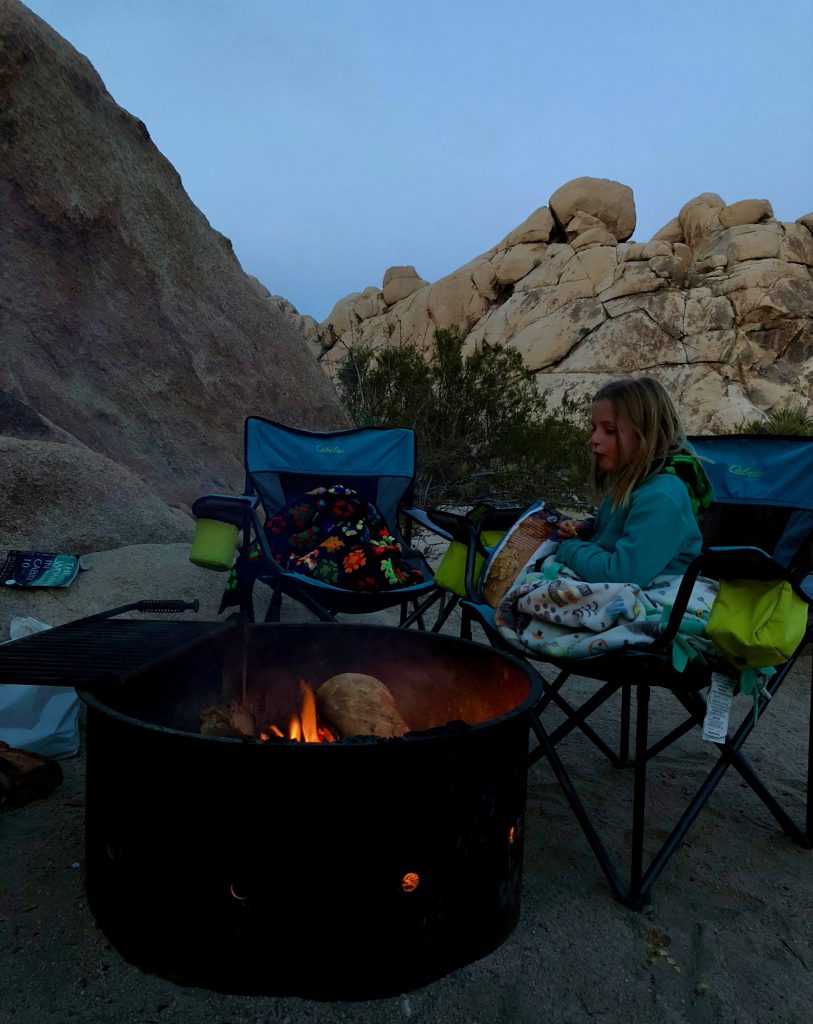 ok. so. i was so excited because we bought an air mattress. we realized that most of our camping is done very near to our car. it's not like i'm hiking into the forest and need to use tiny lightweight and super uncomfortable camp mats. but here's what i did not anticipate. the air in the air mattress was soooooo cold. the temps dipped to the low 30s in the night. and even though we had like 7 blankets on us, plus our sleeping bags, i might as well have been sleeping on a sheet of ice. it was completely miserable and i barely slept. anna, though, she was fine. we woke up, freezing, but with warm sun shining through our orange tent, heating us up quickly.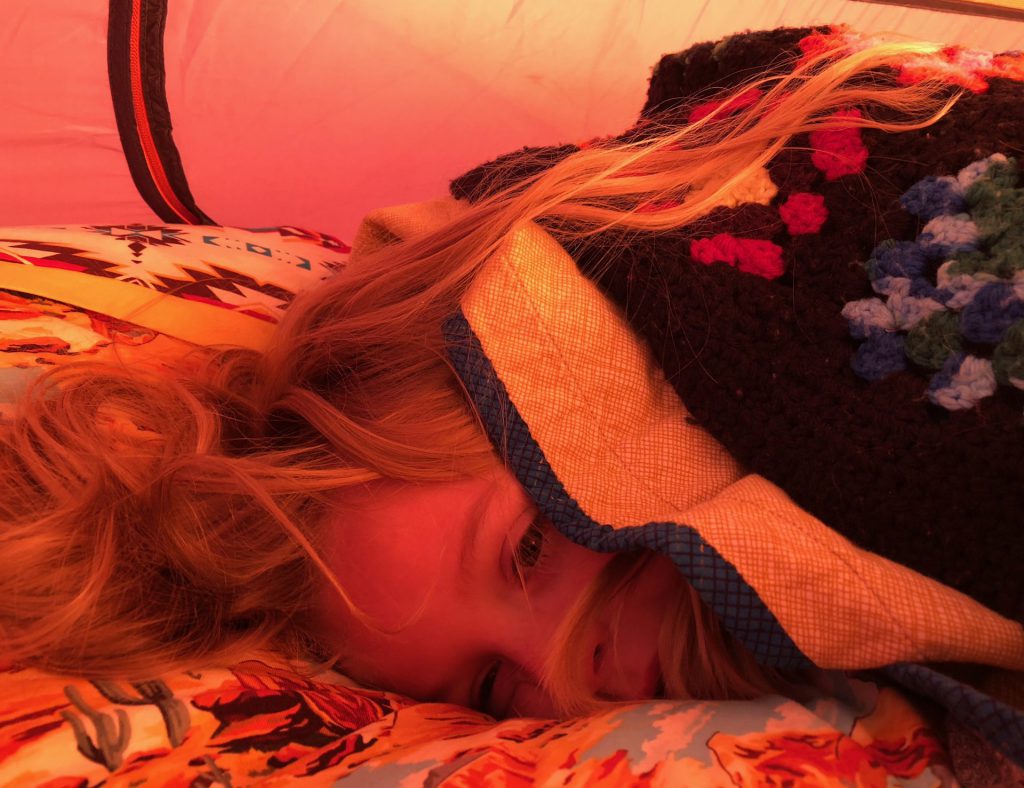 we decided we would have coffee and hot chocolate to warm up and wake up (do you need to wake up if you didn't actually sleep?). but we would go into town for breakfast, rather than another cooking fiasco. (the campground we were in has a separate entrance than the main park entrances, so we had to drive out and around anyways, so it was a no brainer).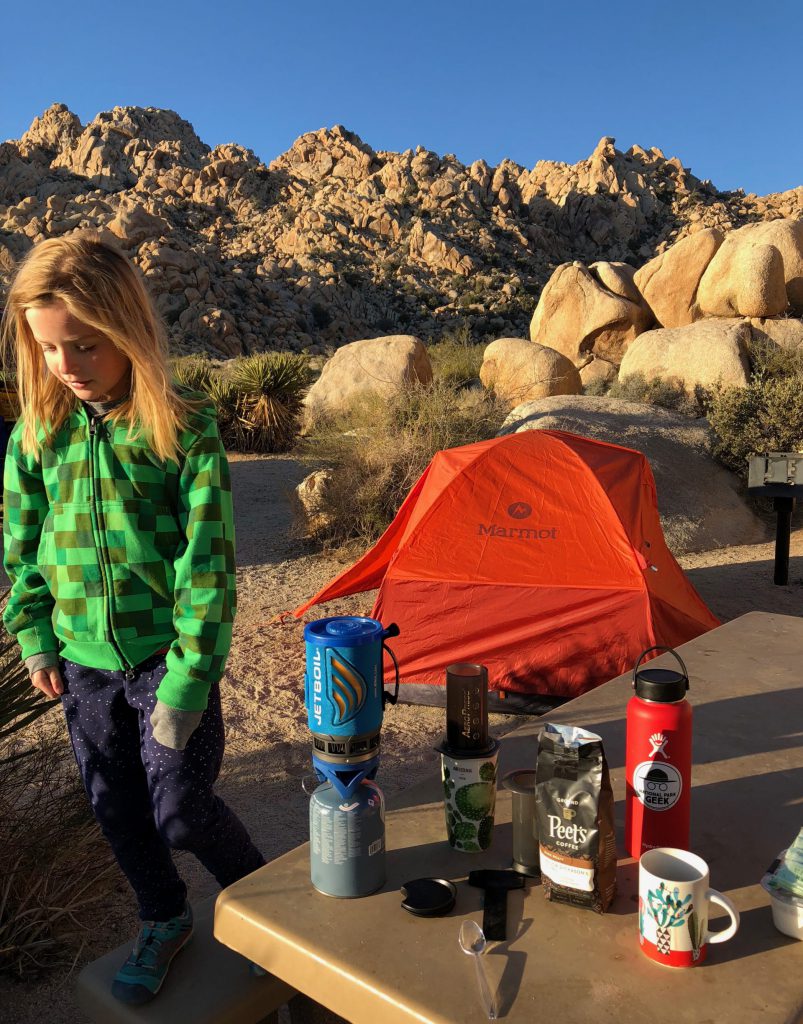 hot chocolate lover.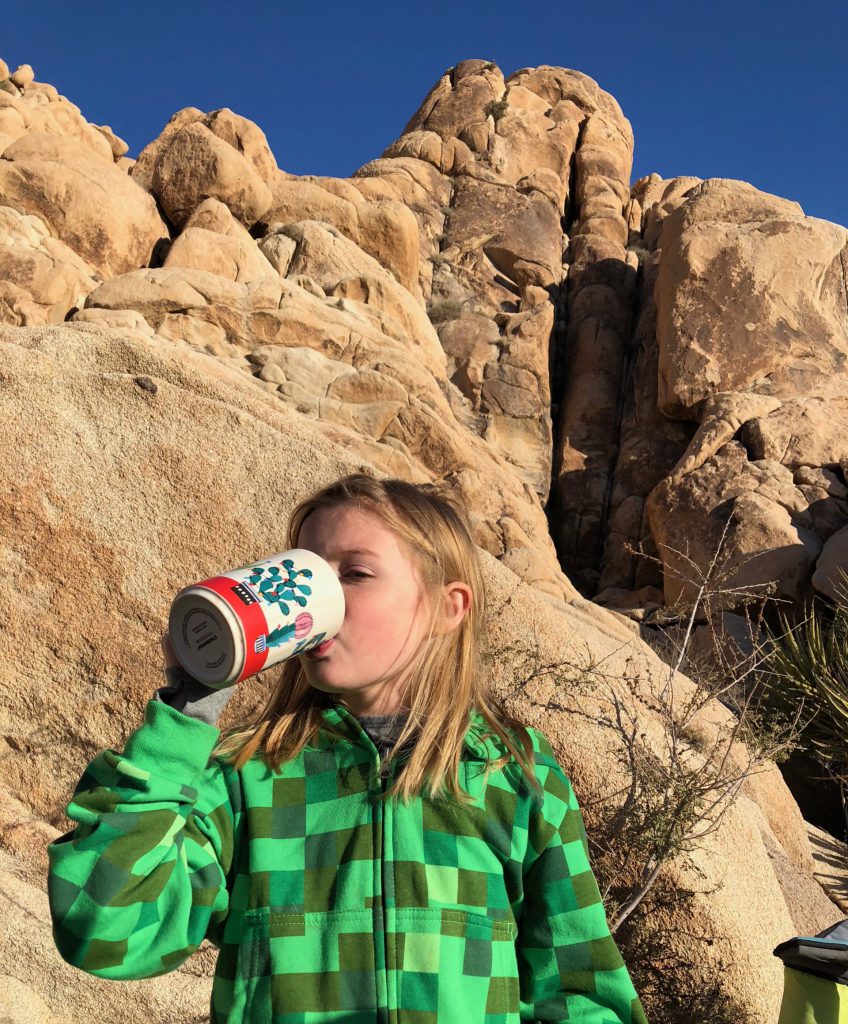 anna insisted i bring her hot chocolate up to her on her rock perch.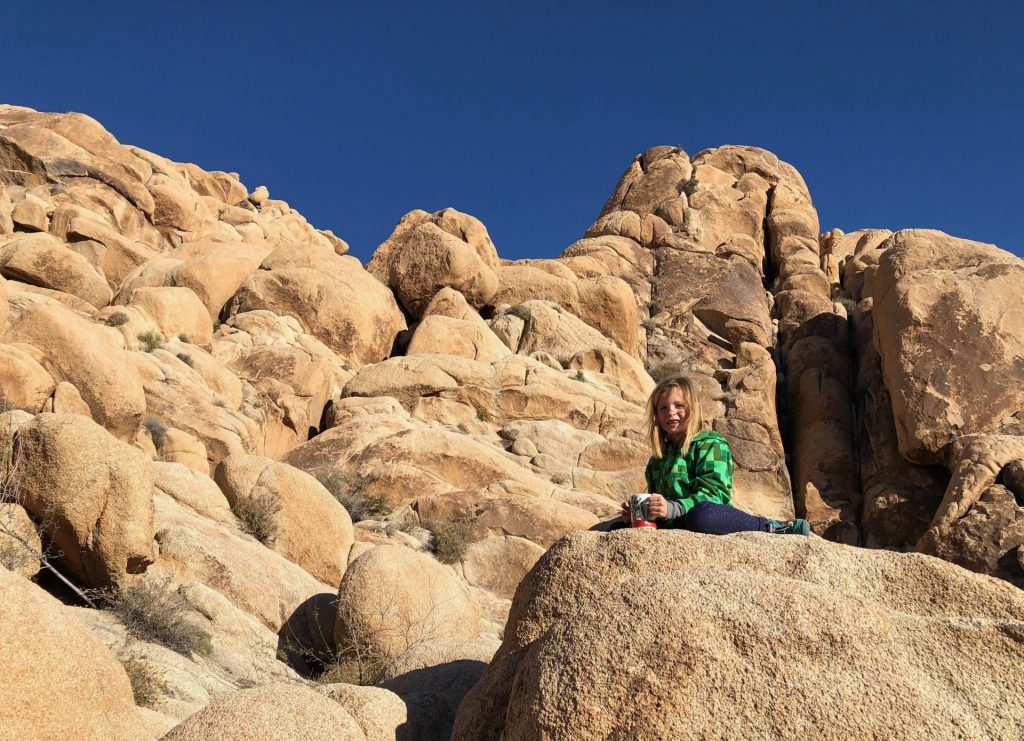 while i had actually planned to just sit around the campsite all day and read while anna climbed, she informed me that she wanted to go do some stuff in the park, the most important being the cholla cactus garden that we visited in december.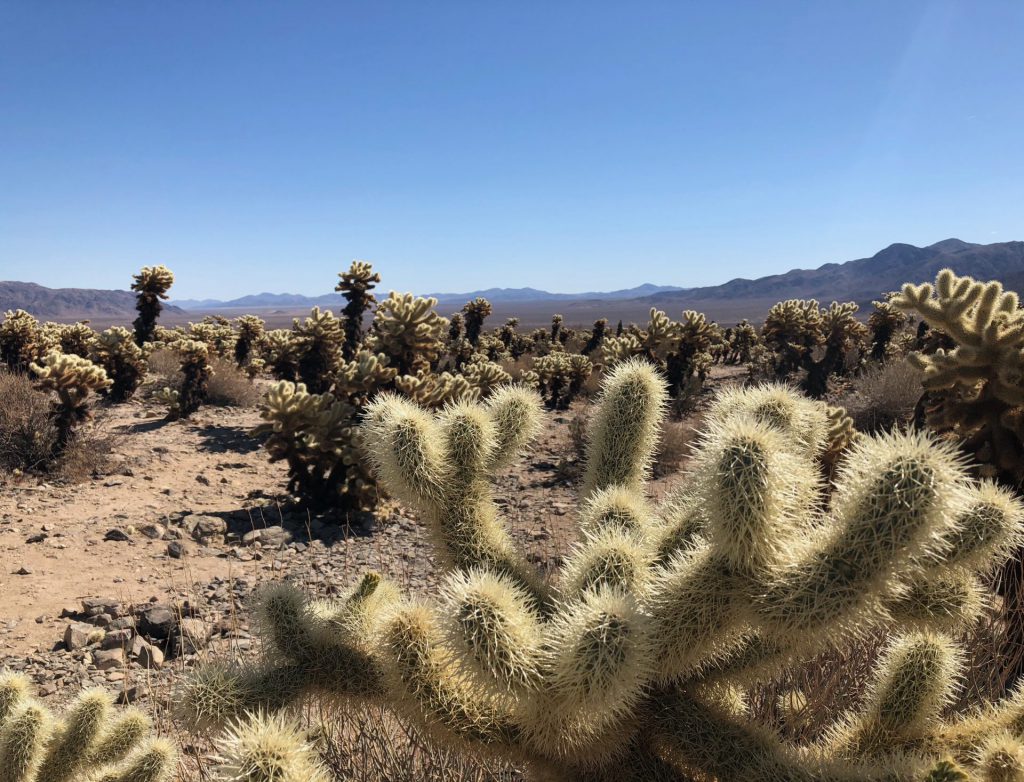 happy cholla cactus lover.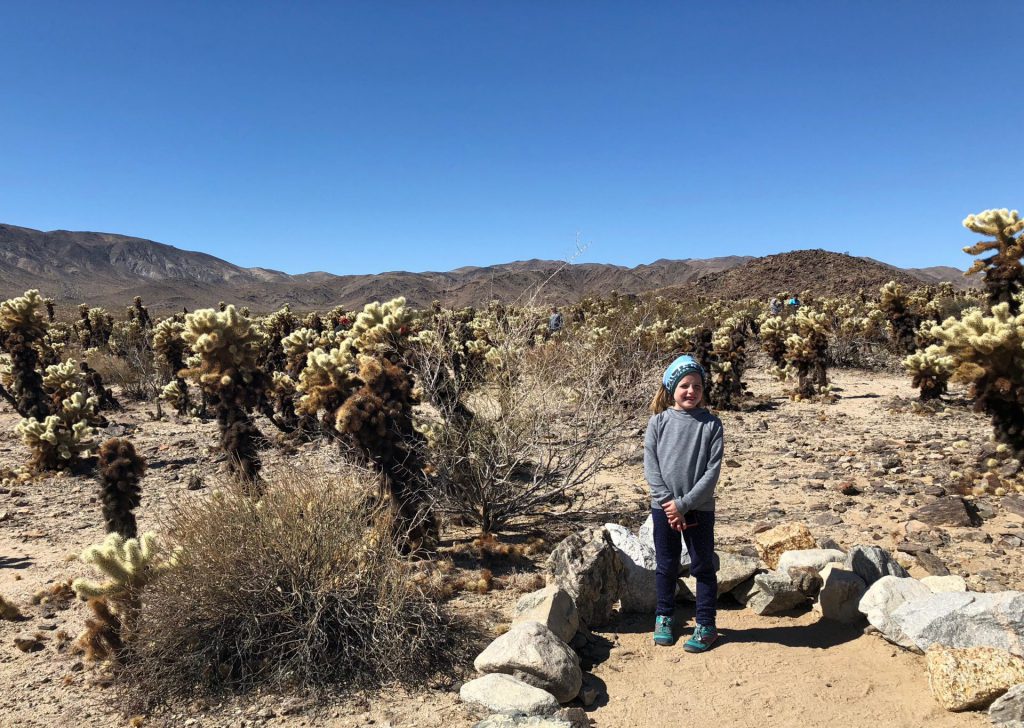 when we visited in december, there was a bit of an issue (read: complete meltdown) because anna forgot her camera for the cholla garden. so, the main reason she wanted to return was to take proper photo documentation of this cactus wonderland.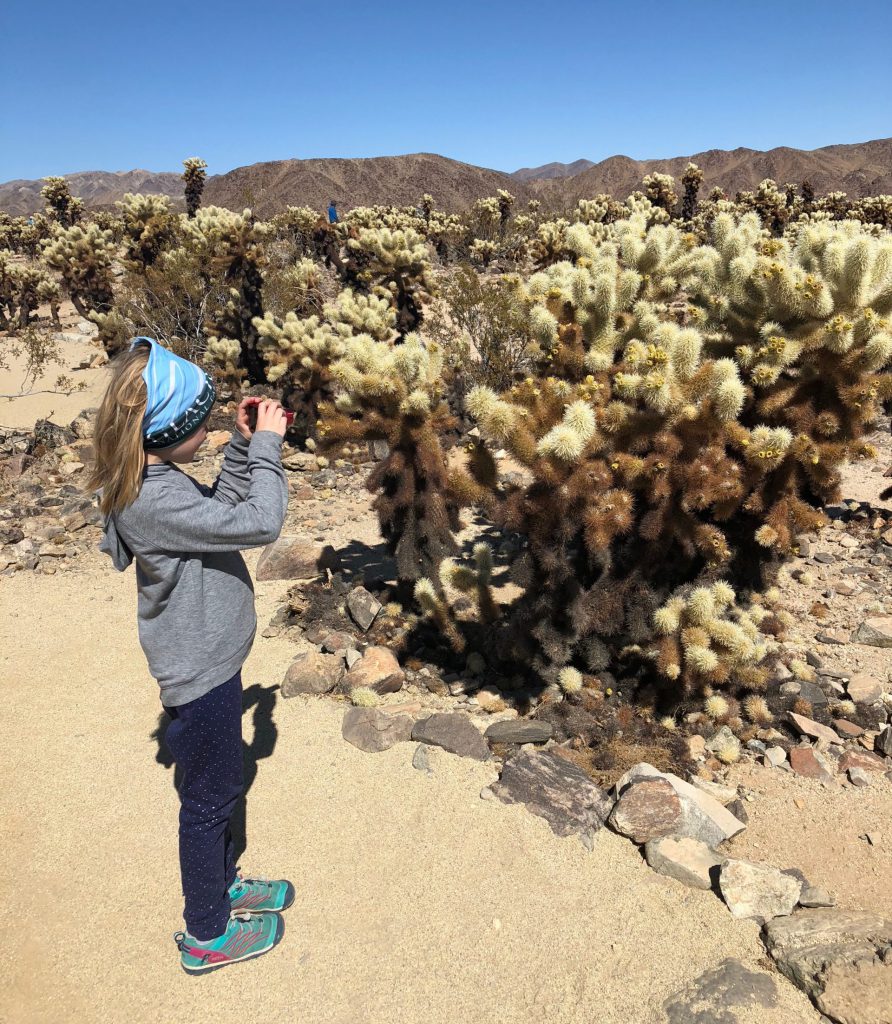 cholla, up close and personal. these are affectionately referred to as jumping cholla. a slight brush and the end of the cactus will break off (jump) and stick into you. if you try to flick it, it will just roll along your skin, clinging for life. thankfully, we did not encounter any such events.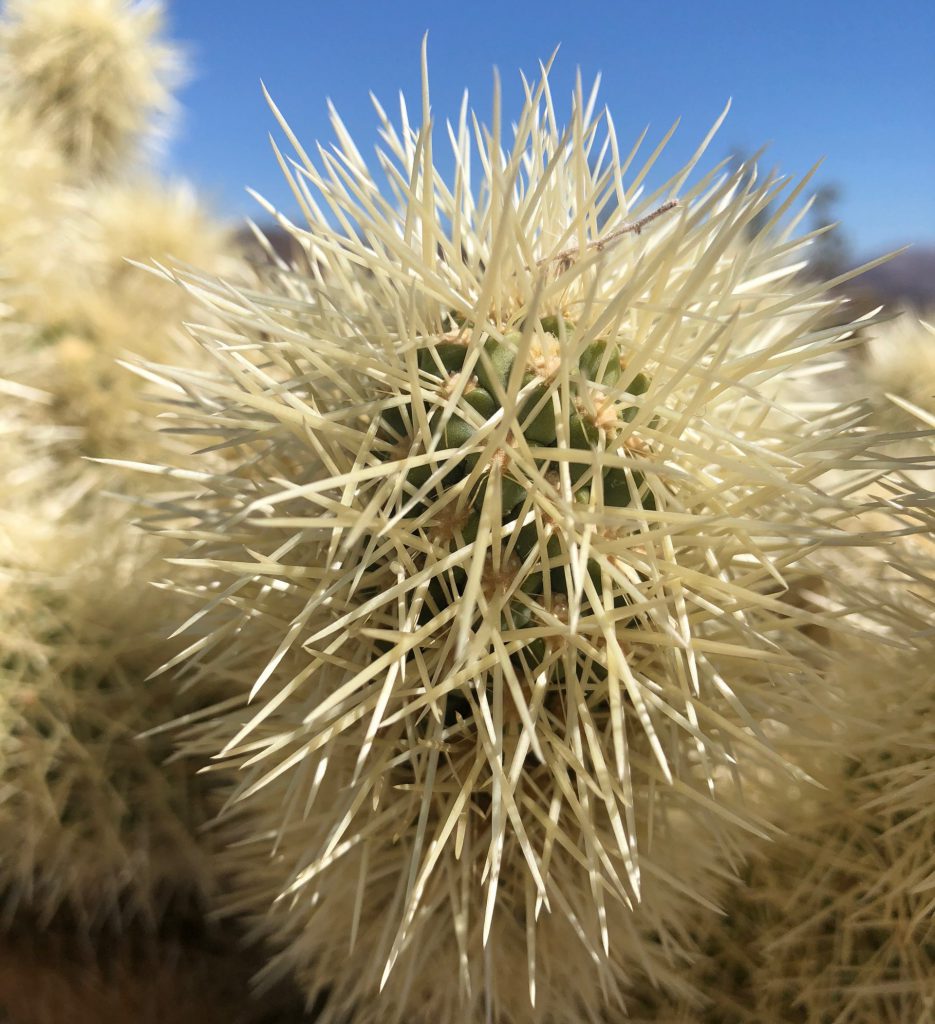 future nature photographer?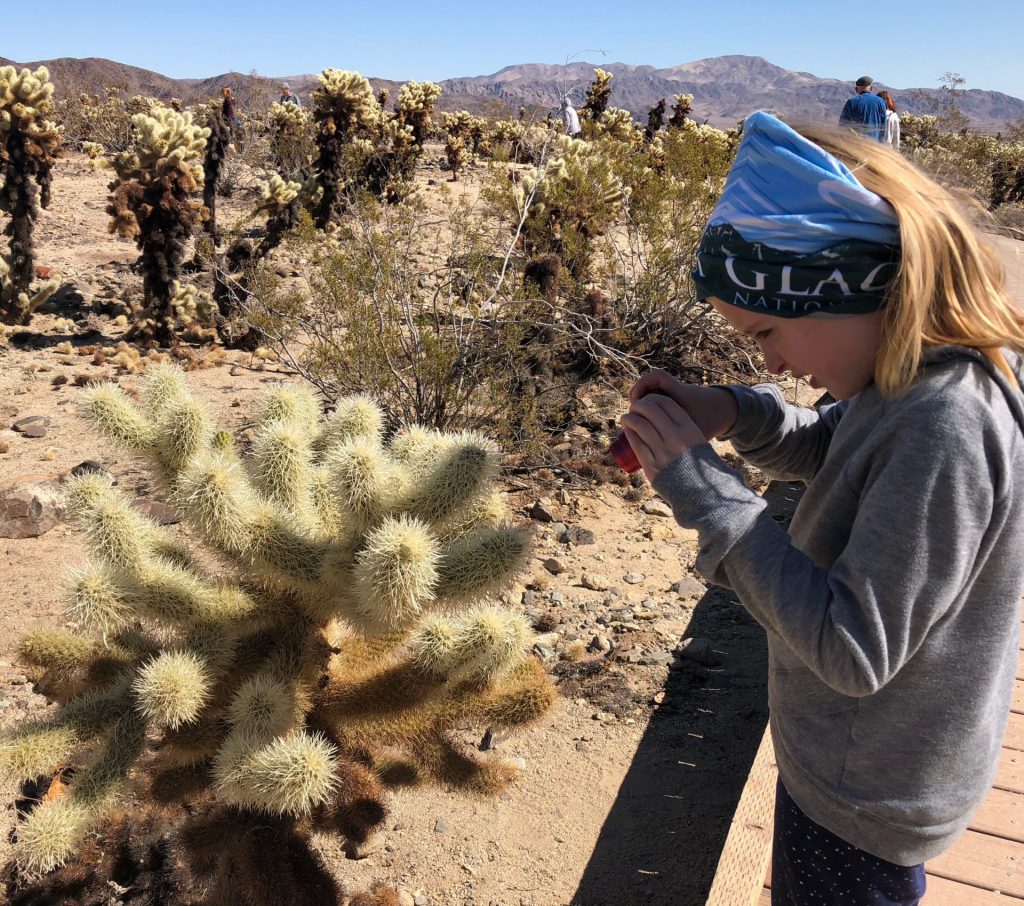 one last view of the sprawling garden. we had gone at sunset last time, so it was a bit different on this day. also, there were new fruits on the ends of all the plants.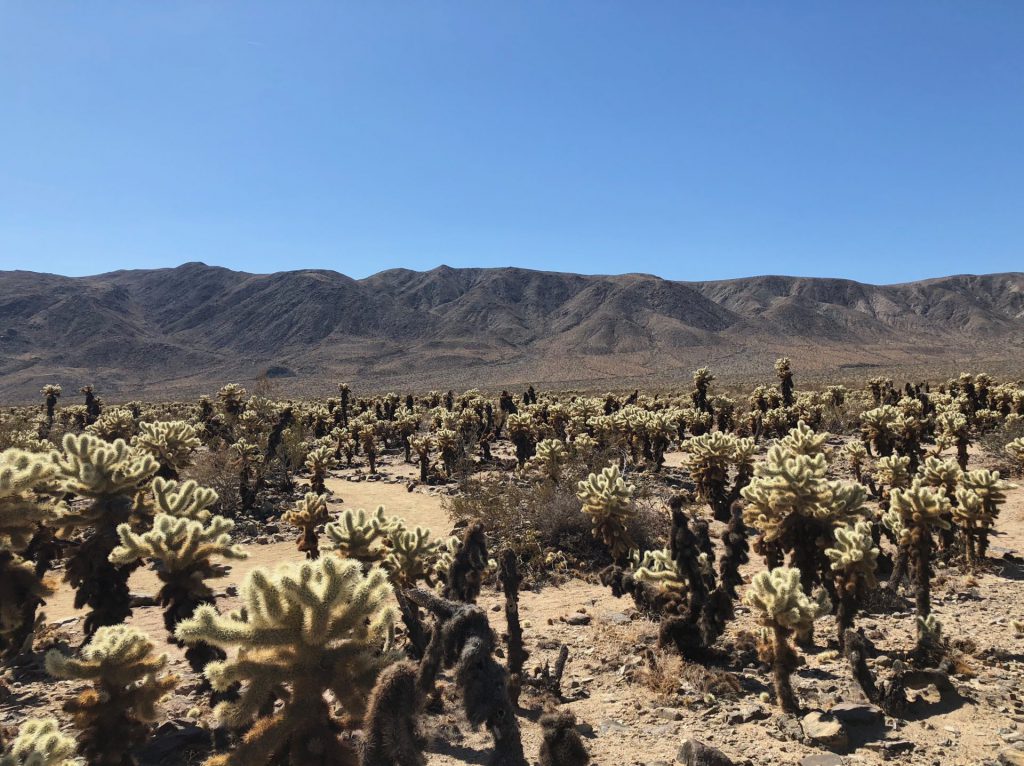 when we were done, we started back towards the middle-ish part of joshua tree. where all the stuff is. and people. we stopped to climb at several promising clumps of rocks.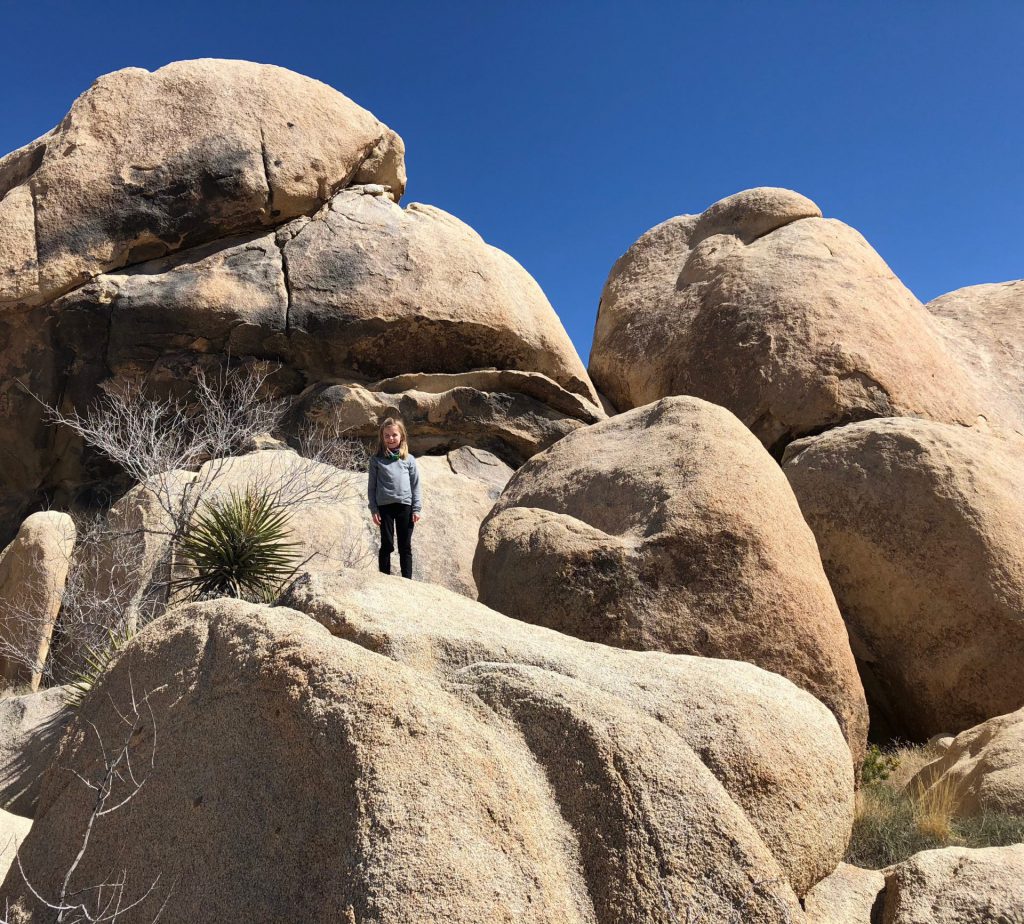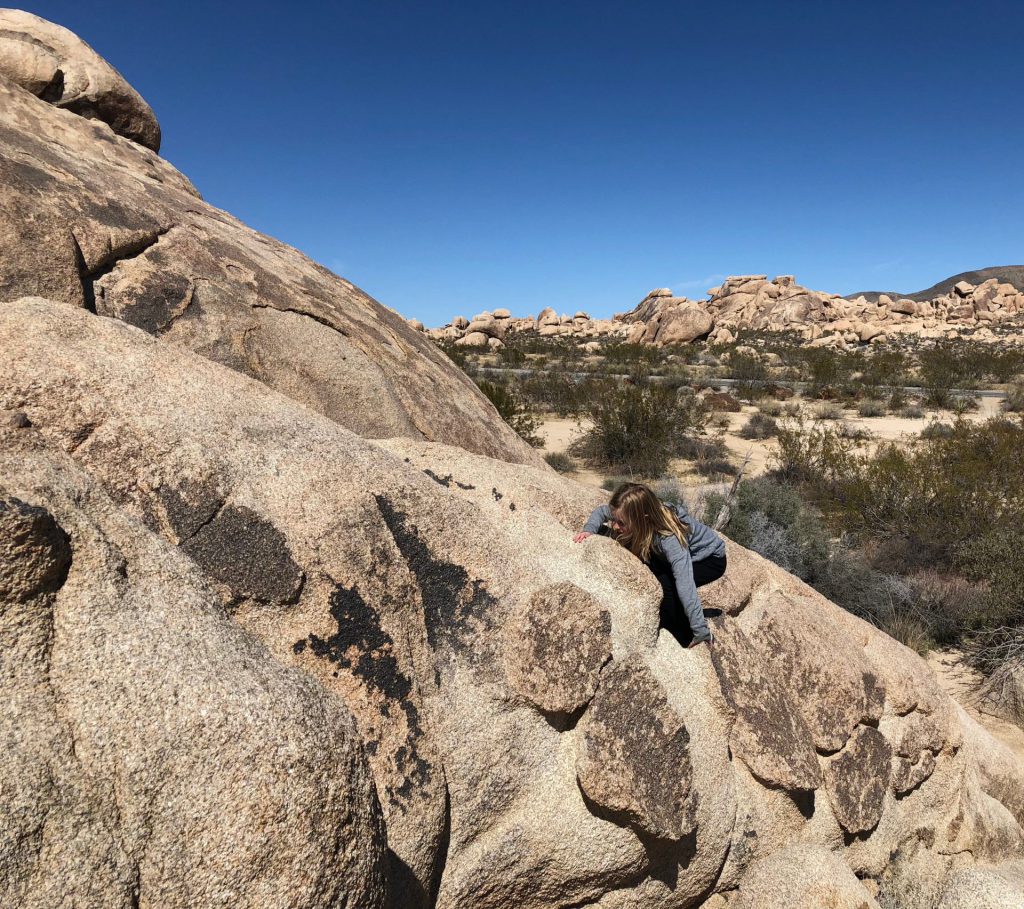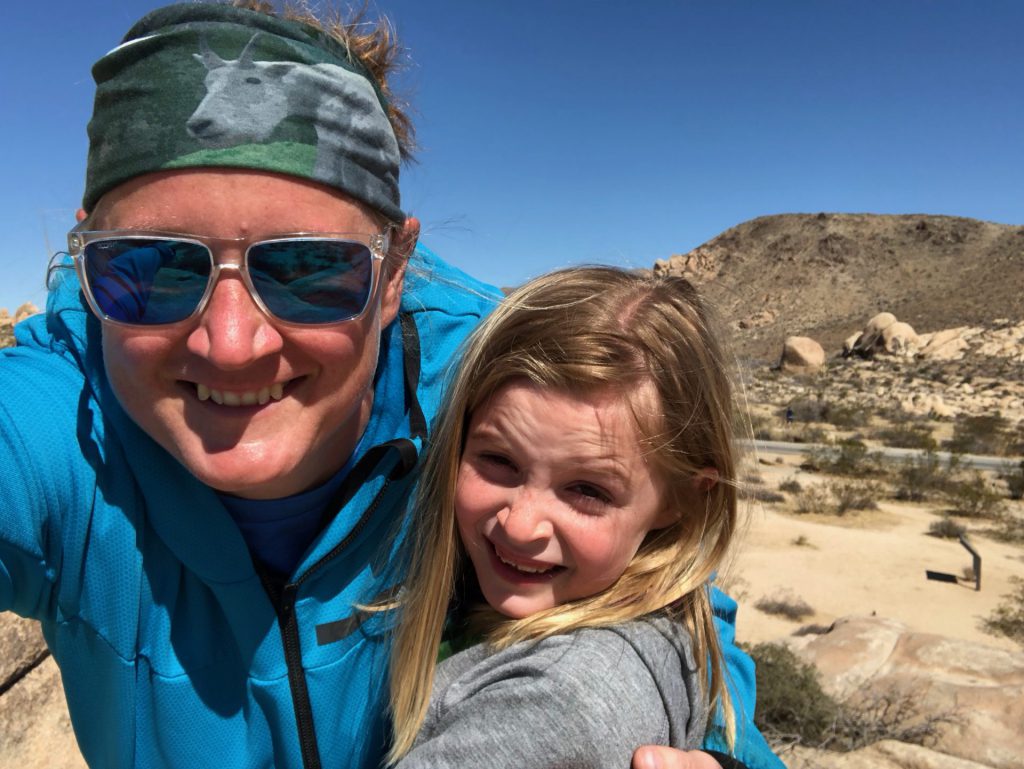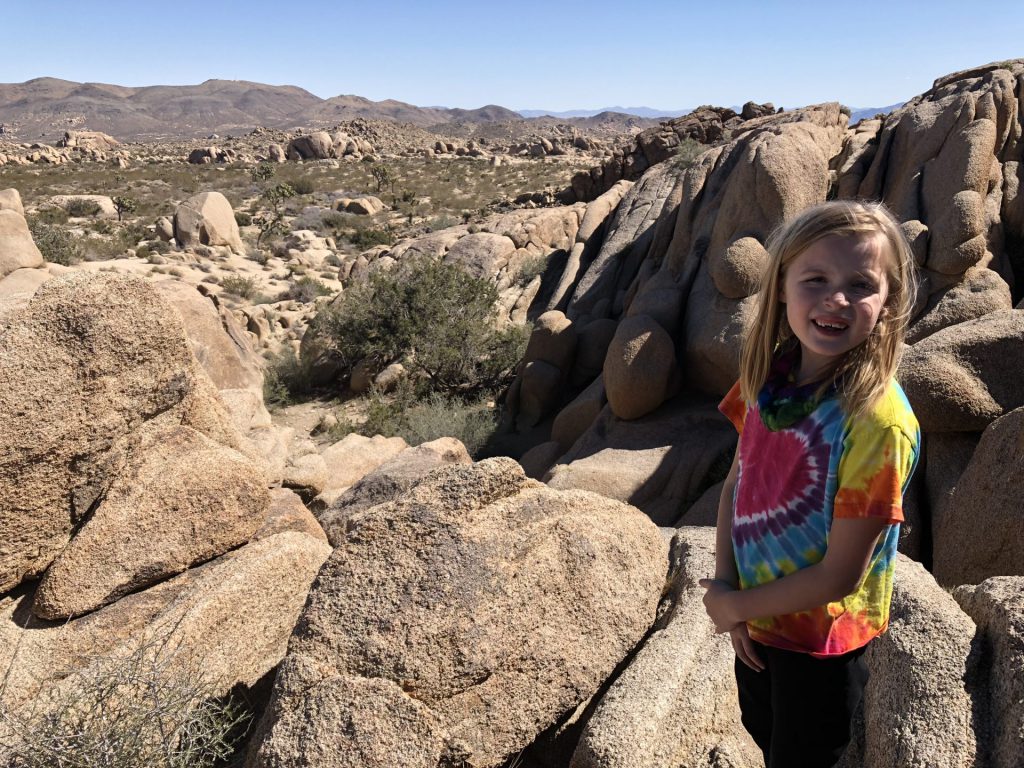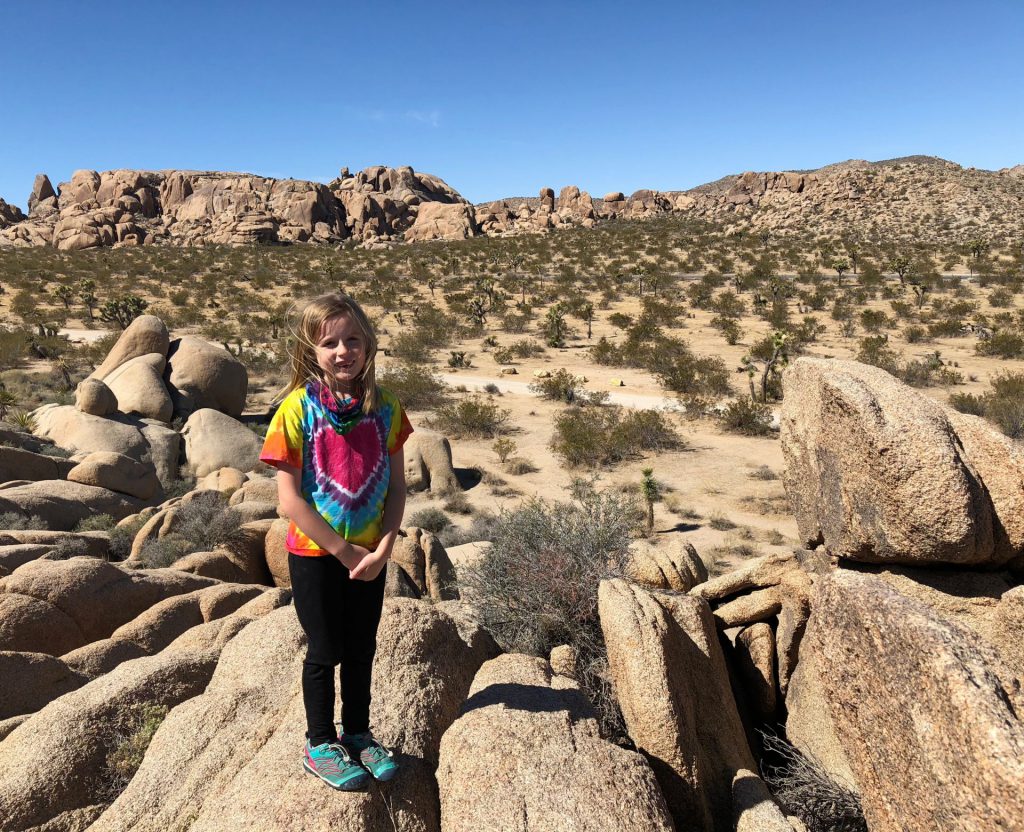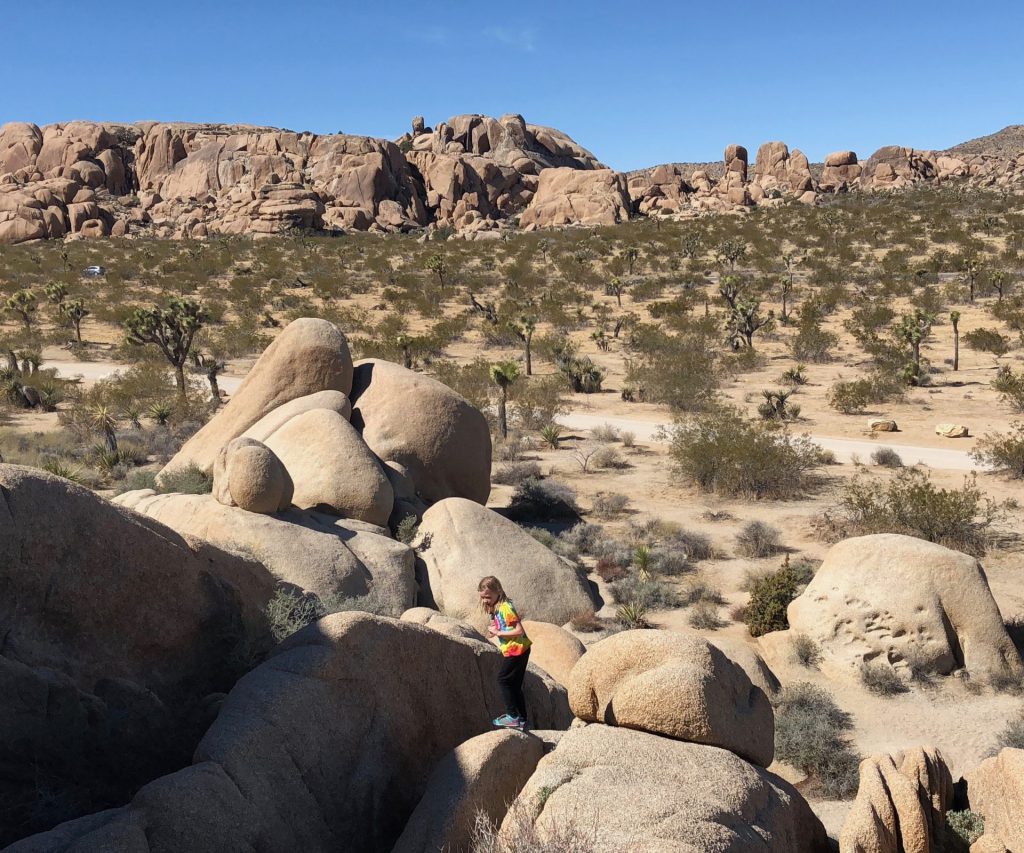 finally, we reached a more popular destination, "skull rock". we weren't that impressed with the actual skull, and determined it was only famous because of it's accessibility and proximity to the road.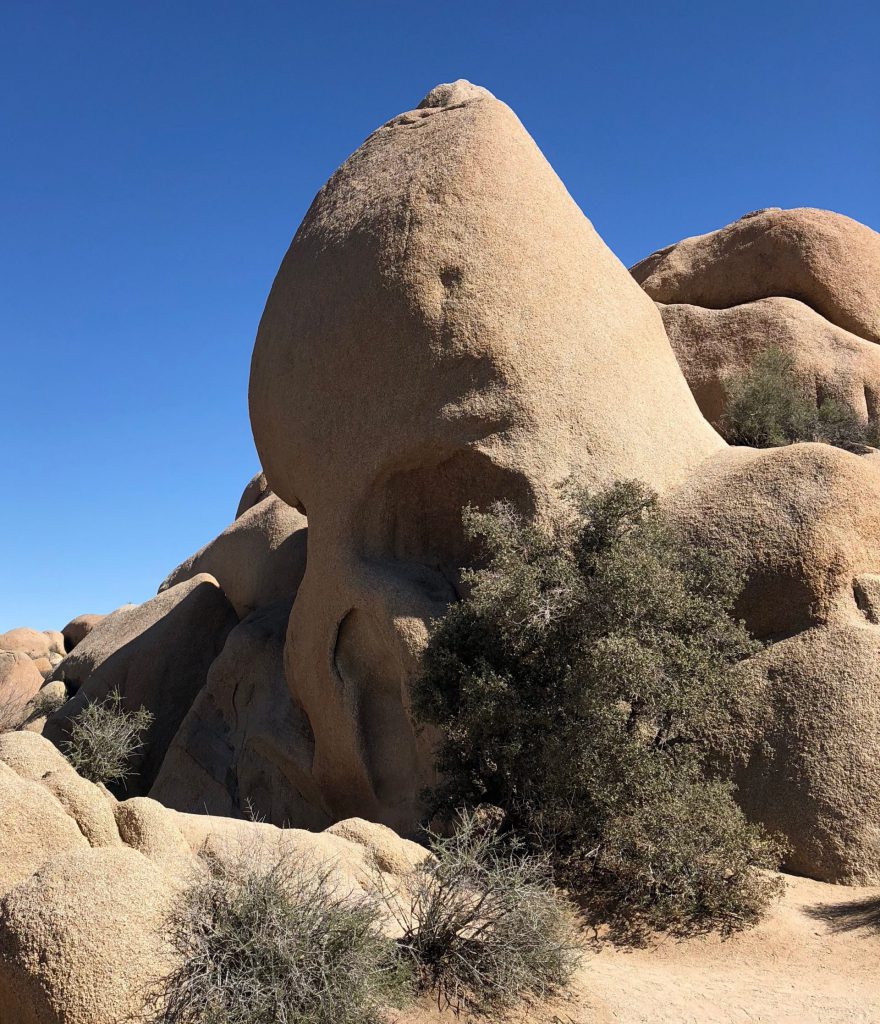 we scrambled and climbed further in and it quickly became one of our favorite locations.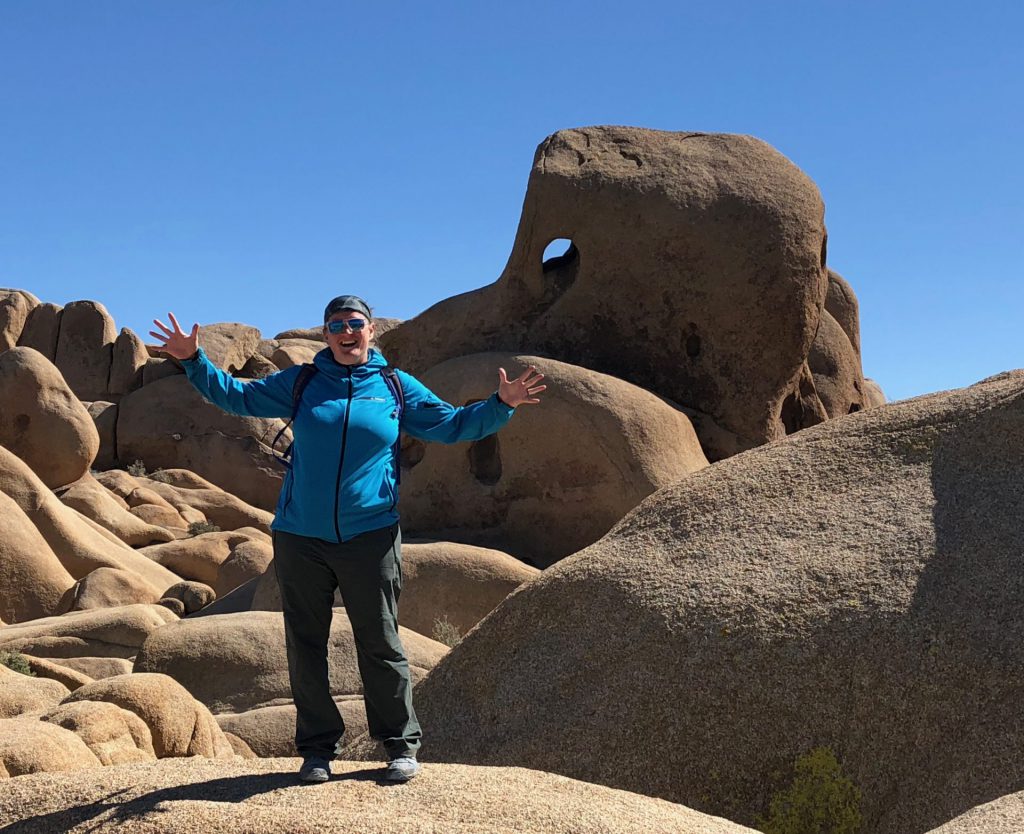 we met a family of two 8 year olds and their mom and enjoyed playing and chatting with them. but i forgot to take a picture.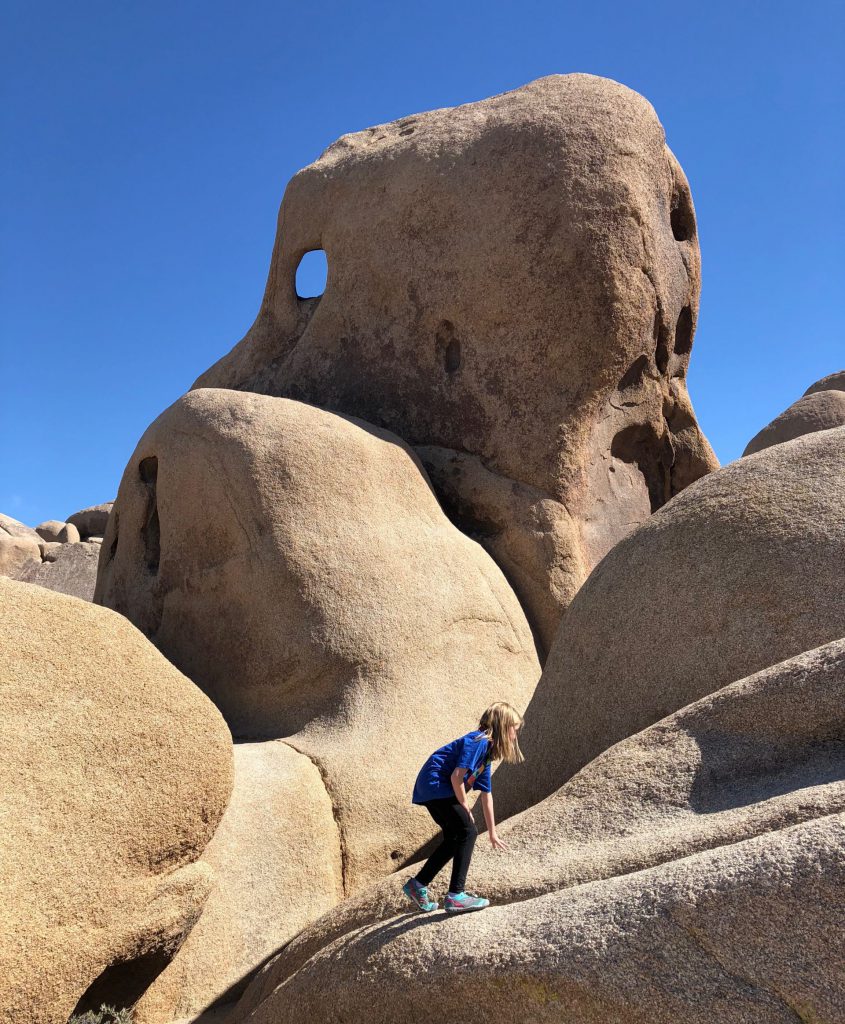 anna would have stayed here all day. except for an untimely need to use the bathroom. we hurried out and drove off to find a lovely pit toilet.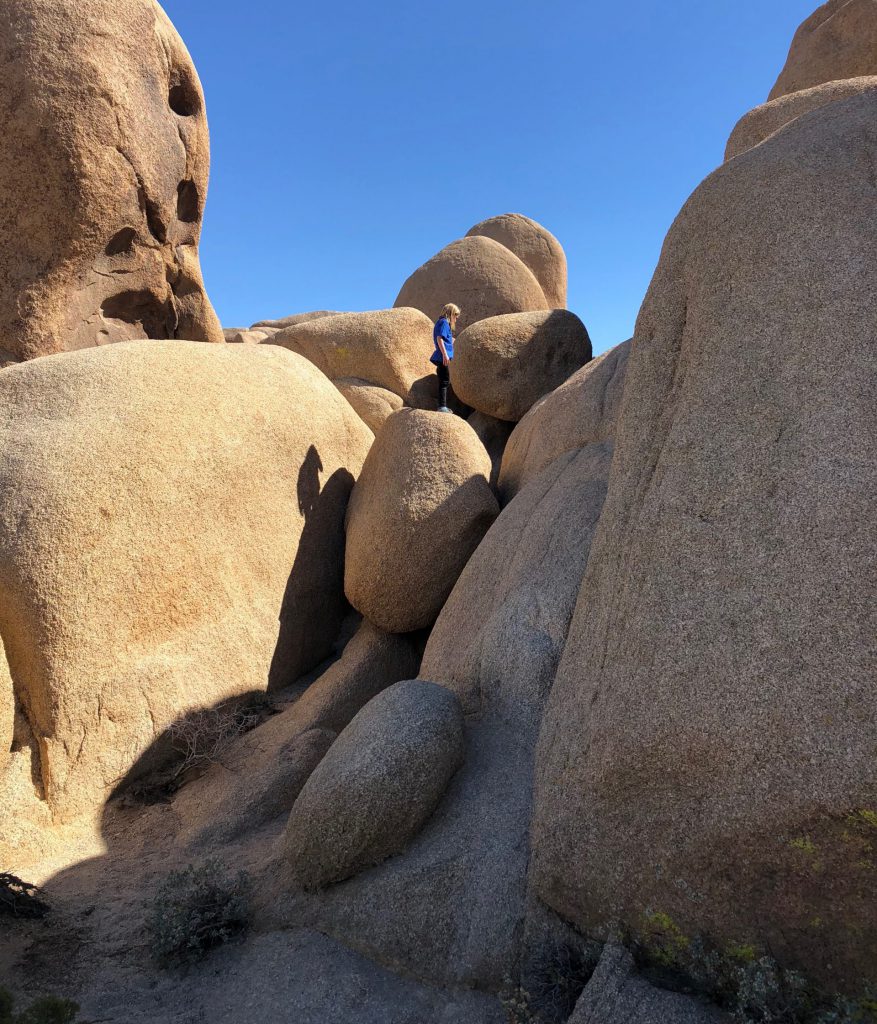 from skull rock, we took a turn down a dirt road to take a more scenic (and less tailgater-likely) view of the landscape.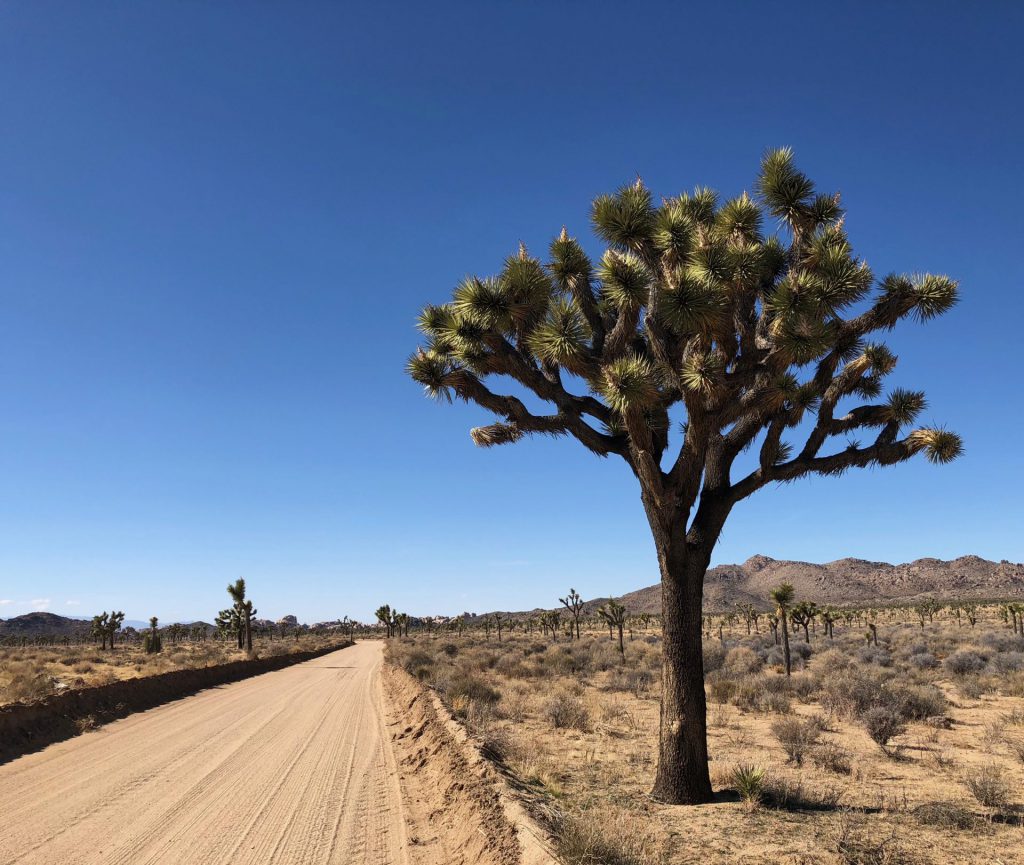 we were searching for our favorite joshua trees. i have dozens of pictures, so it was hard for me to narrow them down, but i know no one wants to look at them on a computer screen.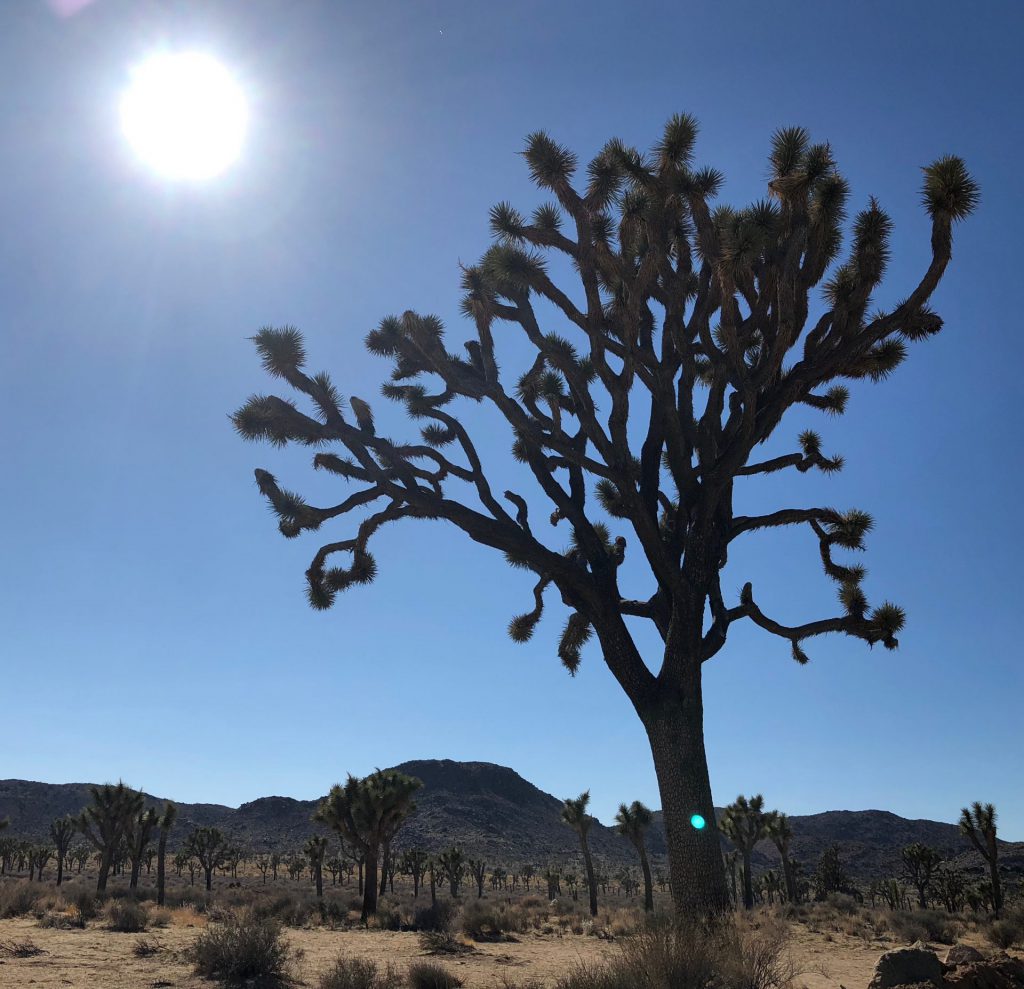 we had hoped to be able to snag a parking spot at barker dam, but it was packed out, as were the first few pullouts near it, so we just drove on down the road towards other things, stopping for a few cool photo ops.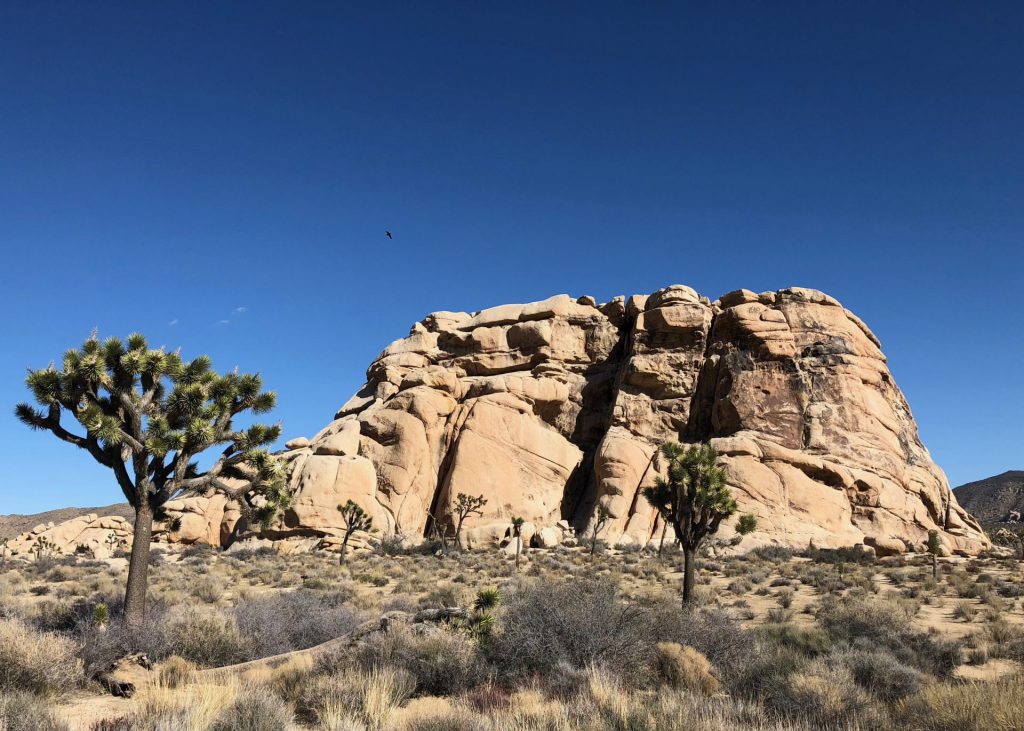 we ended up at hidden valley, where we went on a pretty sweet hike last time, but this time just did a bit of climbing and exploring. and joshua tree admiring.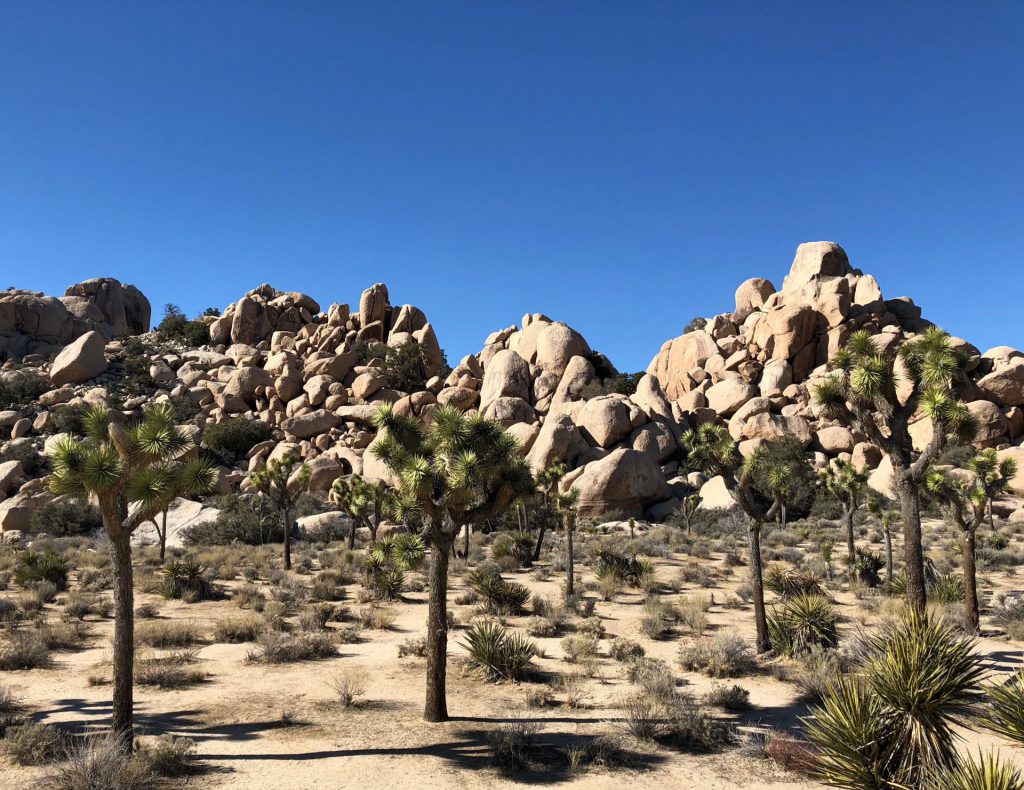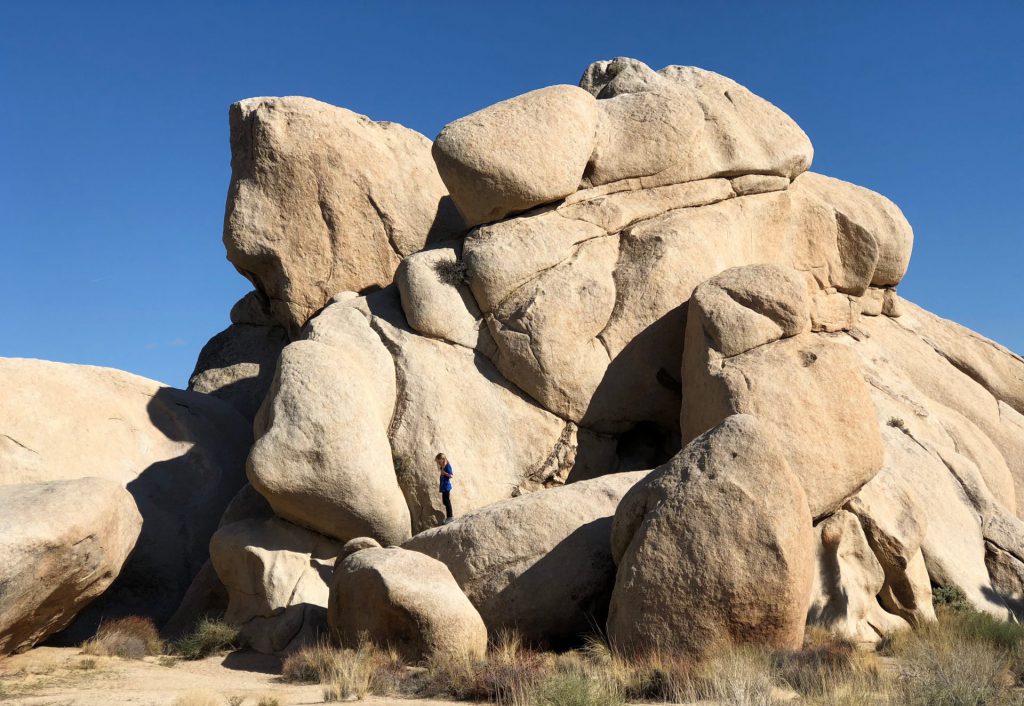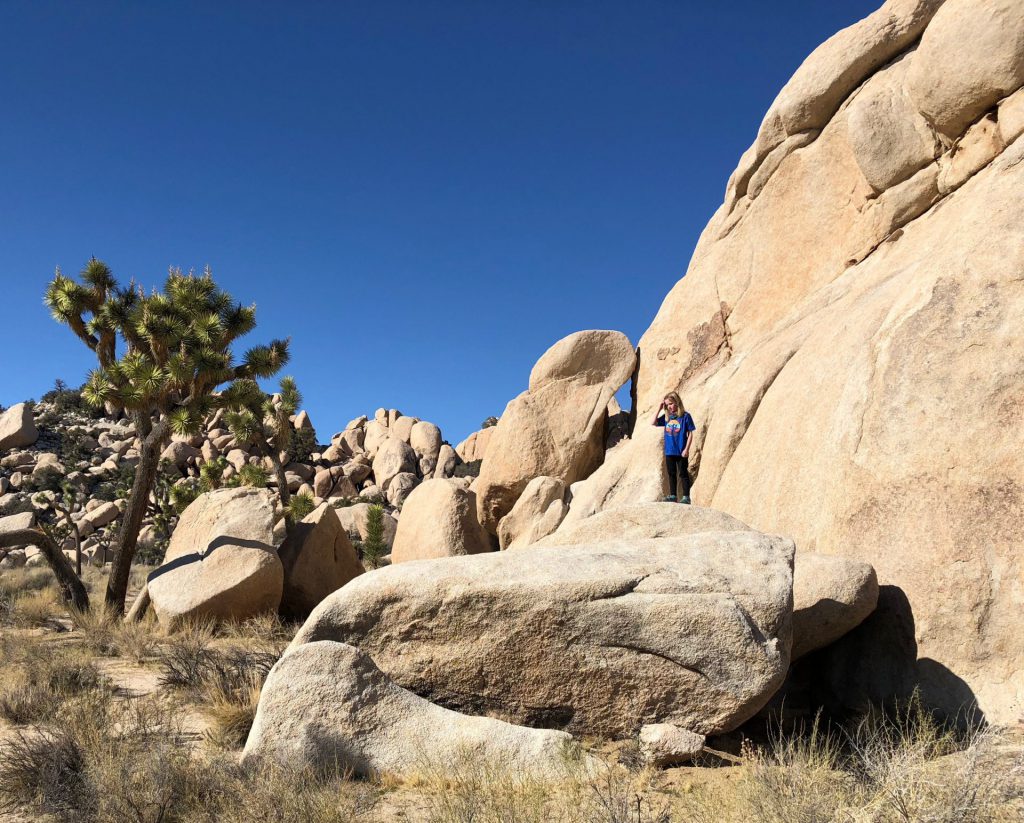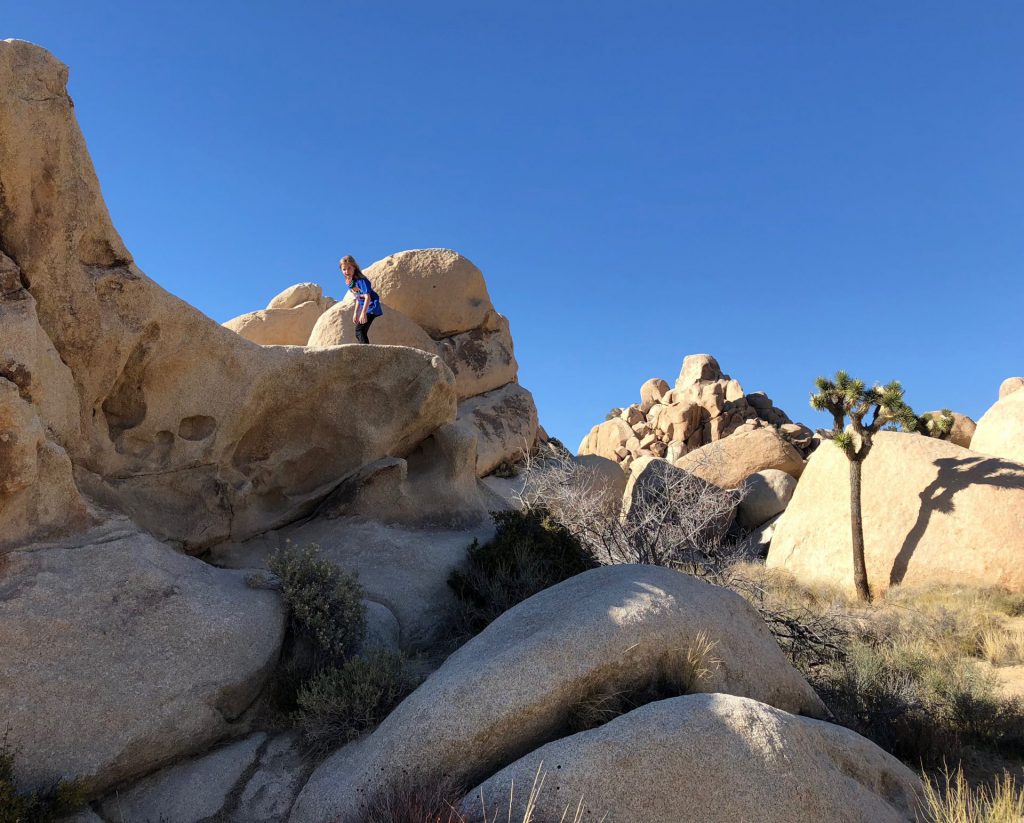 finally, we were ready to call it a day. at this point, we weren't sure we were even staying to camp another night. but, we had firewood and a new plan to keep warm and had paid for the night, so we were determined to make it work. we had dinner in town, before grabbing some s'mores ingredients and heading back to our campsite. it was already chilly, so immediately built a campfire. (after another smoky start).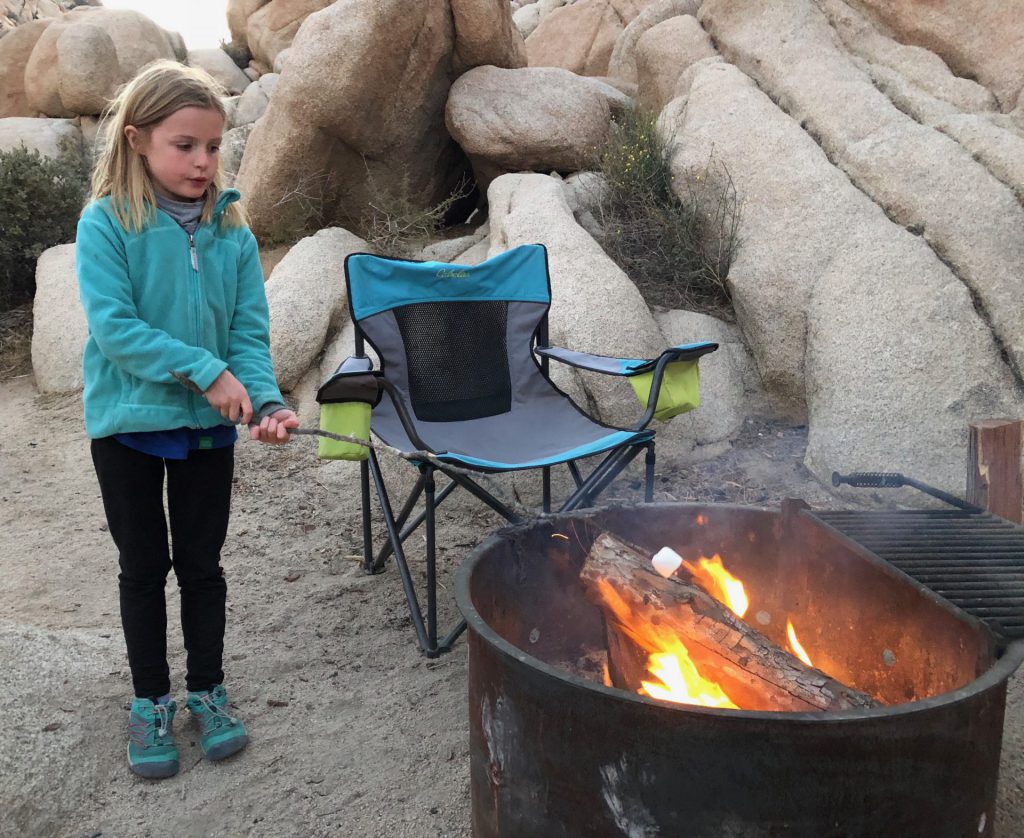 i've been on the keto diet for quite awhile, but since i succumbed to the chips at the mexican restaurant we ate at, i figured i might as well have a s'more before i got back on track in the morning, right?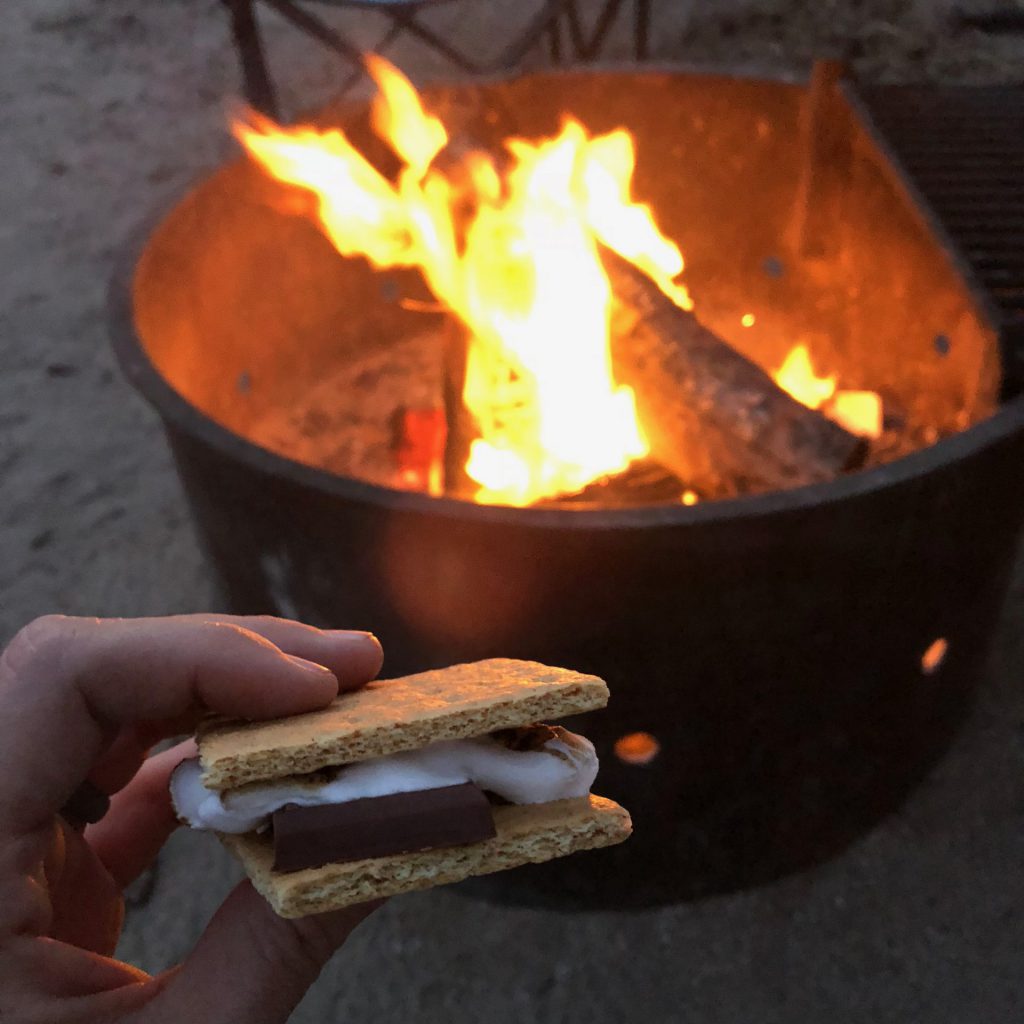 since we weren't trying to save wood, we built a pretty epic fire. during one of my strolls to just across from our campground where i could get a sliver of internet and let derek know our status, i captured this picture of anna, snuggled up with the first (and probably shoving down her eighth s'more). it really is quite a beautiful campground.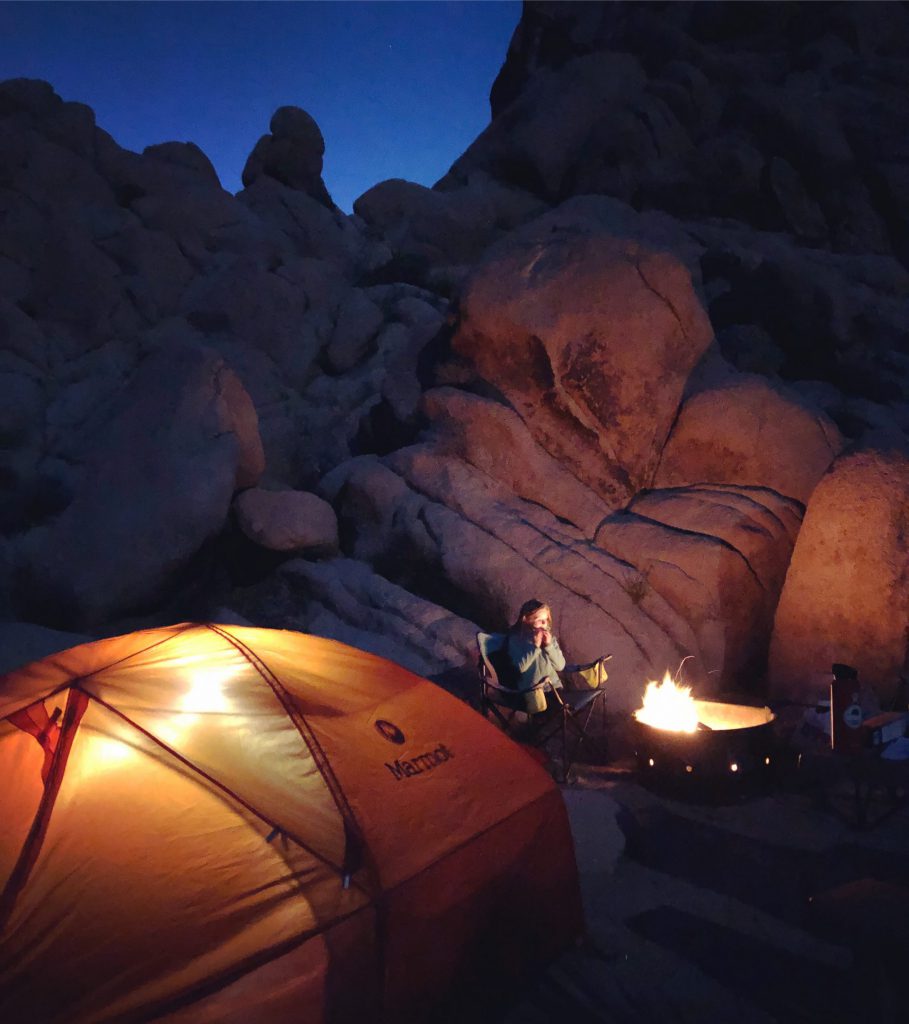 our plan to keep warm worked, and we woke up refreshed and ready to go. (we put the camp mats, which reflect back your body heat, on top of the air mattress. if anything, we were actually a bit too warm, and when the sun started baking the tent we became slightly uncomfortable). but still. coffee was needed….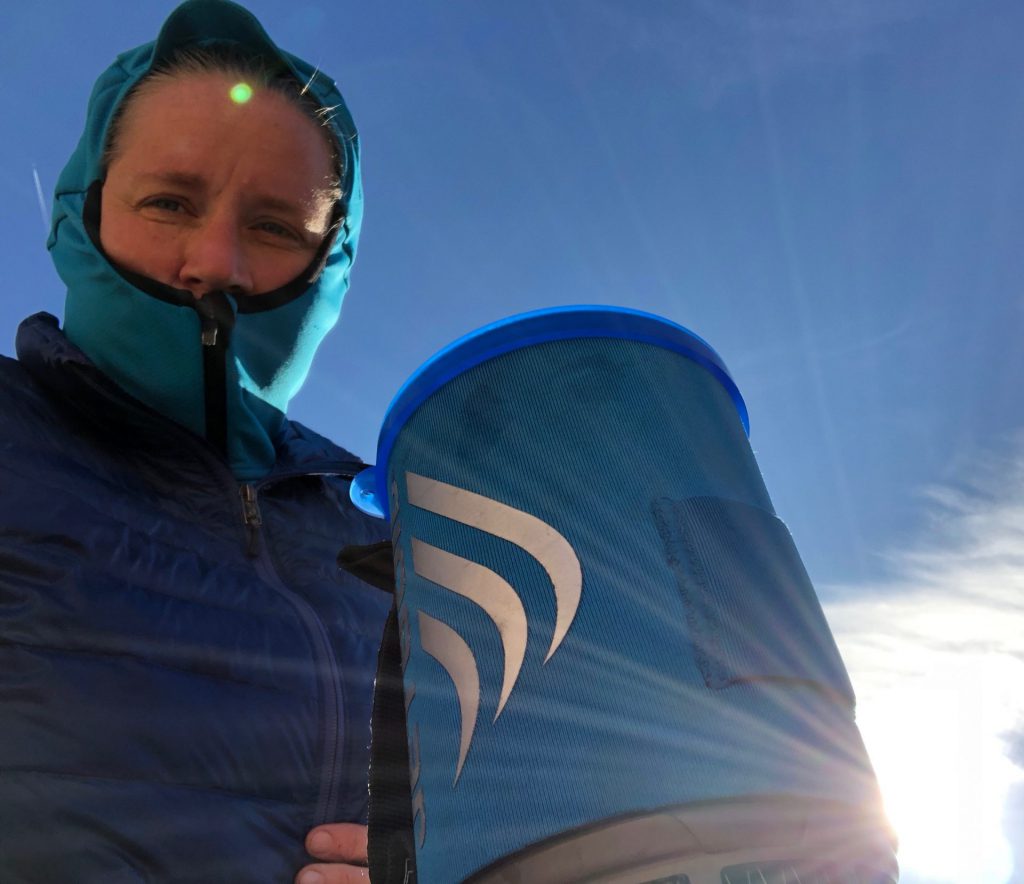 we didn't have to check out until noon, so anna got in some last minute climbing.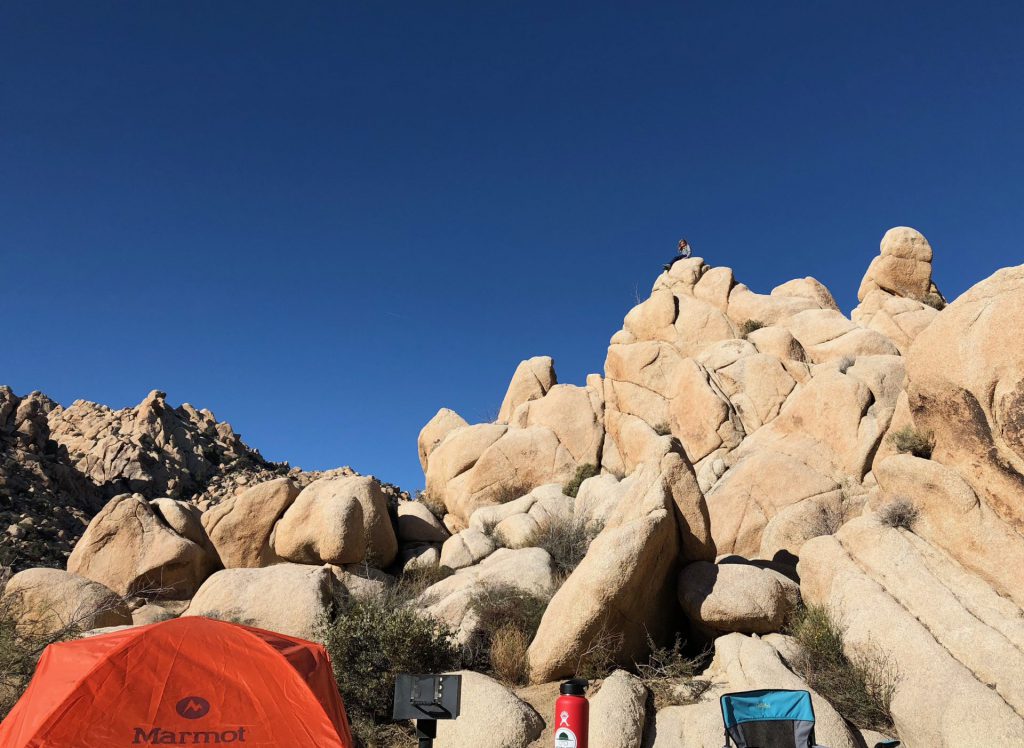 while i returned the campsite to it's original state.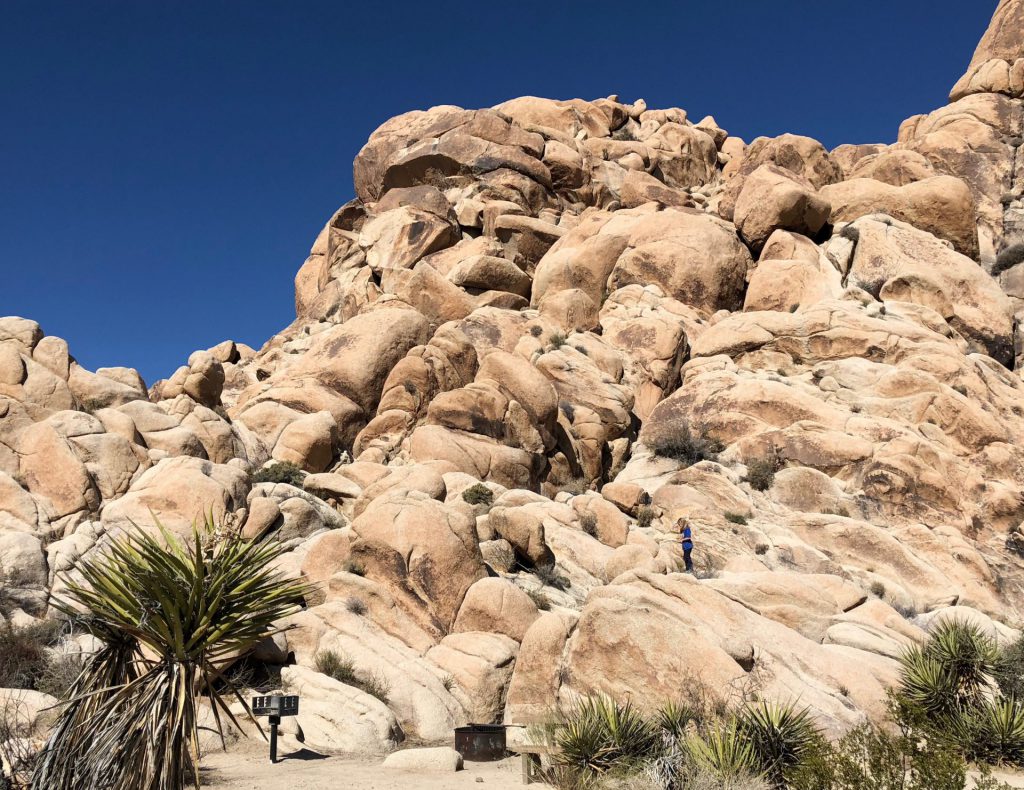 i managed to finish at least one book, "the woman in cabin 10" which was slightly disappointing, but decent.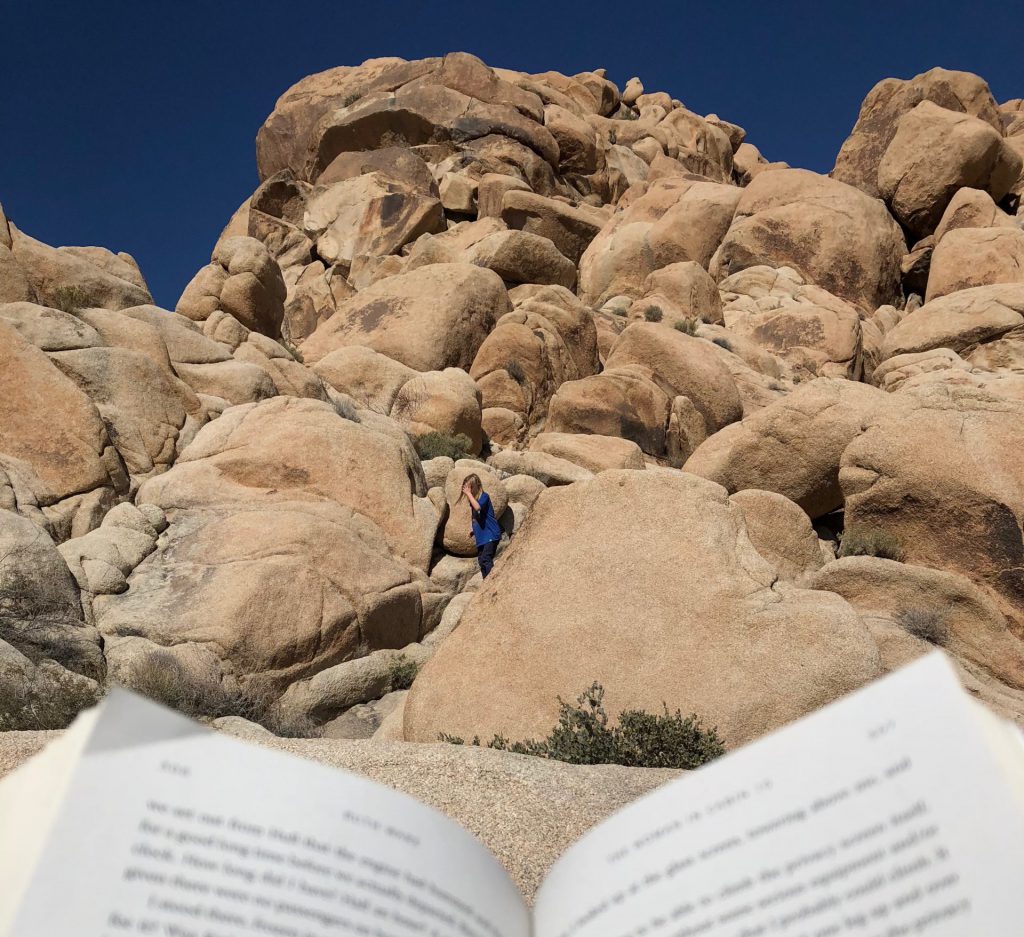 while i read, and anna climbed, a volunteer ranger drove past, and offered to stop and swear anna in and give her a badge. (she already actually has the joshua tree badge and wanted to do the book again, just for fun, but another badge was an added bonus).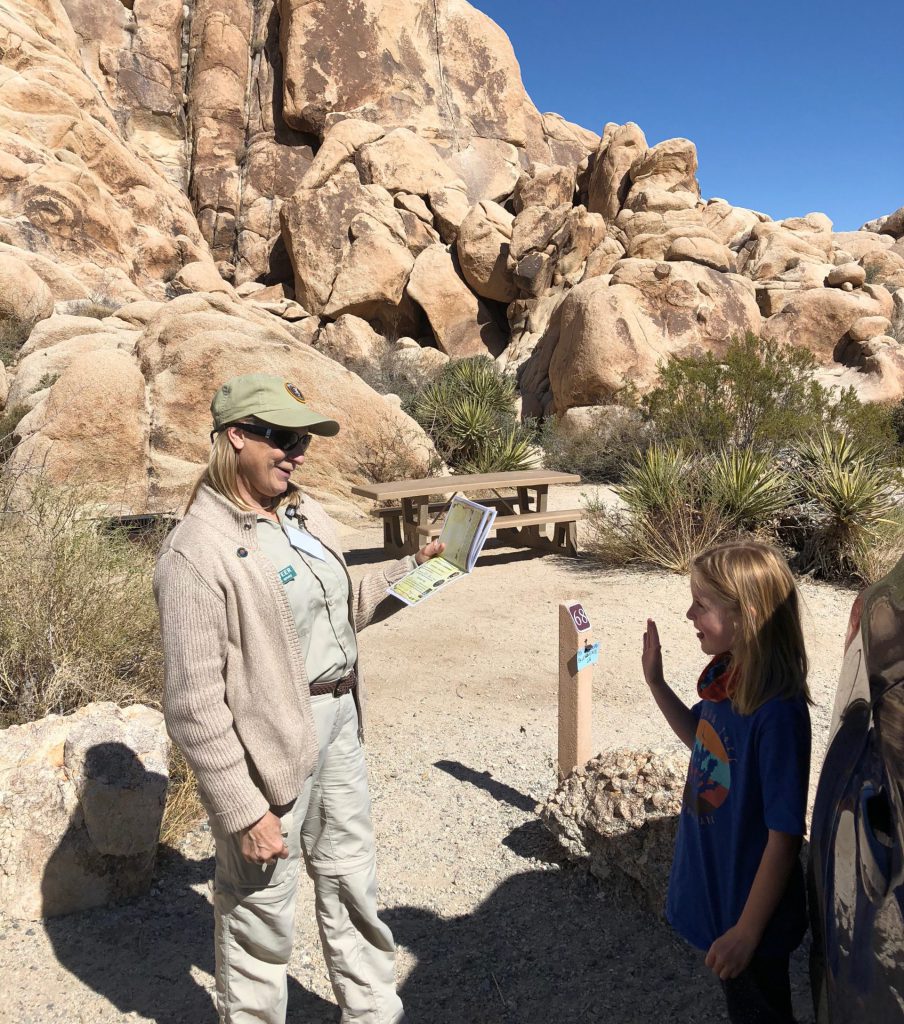 and, one final detail about our trip. a few days before we went, my friend wendee contacted me to see if we could help with her daughter's flat stanley project. he oldest son was in kindergarten with isaac and now her daughter has the same teacher who we LOVED when he was in 2nd grade, so we were glad to help out. flat stanley is a book character who goes on all sorts of adventures, so for the project, the kids are supposed to send him off to somewhere in the world where he can have an adventure and report back about where he was. she emailed a photo of flat stanley and we printed him (futuristic travel!!), anna made him some camping gear (backpack, snacks, water bottle and sleeping bag) and we took him along with us to camp. here's a collage pic of some of our adventures. anna even sent her junior ranger back with him, since she already had one. 🙂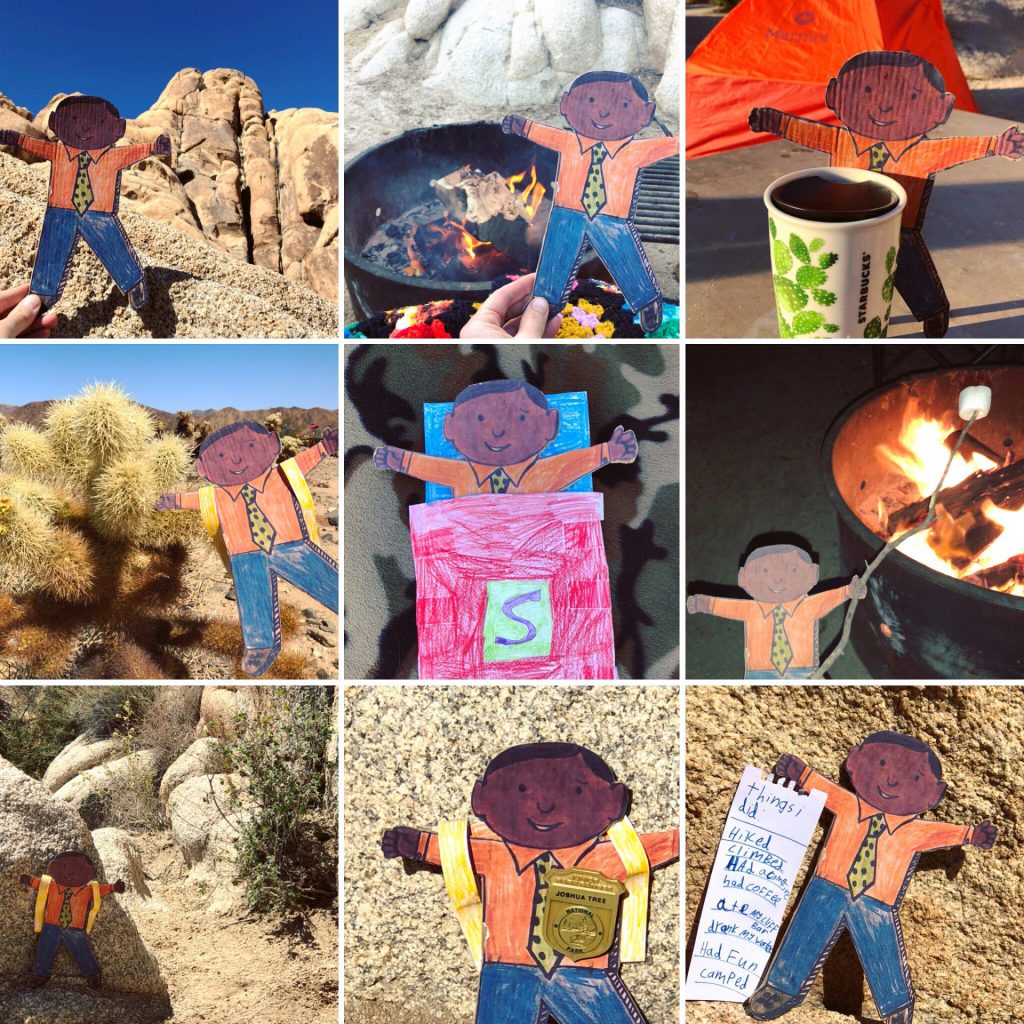 anyhooooo… after we were all packed up and hit up the bookstore for some last minute memorabilia, we were on our way back to the camper, ending our joshua tree tent camping extravaganza, one of our best yet.