beach number two on our california state beach tour was leo carrillo in malibu (which meant we got to do a bit of l.a. traffic driving on our way north). we got in pretty late, and got set up, and then derek had to pack for a morning flight back to north carolina for the week.
after we sent him off in the morning, we were on a quest to get stocked up with groceries. i found a walmart about 30 minutes away, so off we went, up the coast. but first. we stopped at the beach, to scope things out for the week. i wanted to stay longer, since it was beautiful, but once i told the lidkids we were going on a half hour ride and they could play their ipads on the way, there was no turning back.

they did let me stay for a few moments. and we spotted one of the channel islands in the distance, and put it in an arm frame. if it's anacapa, then anna and i will be camping there in a few weeks…

we also stopped for a giant box of giant roadside strawberries.

once we went to walmart (the worst walmart ever) and then another grocery store to get the things we couldn't find at walmart (because it was the worst ever), we settled back in at the camper, before loading back up to bike over to the beach for a bit. this section of the beach had fun rocks to climb and the big kids wasted no time getting to work.

mostly, though, they just ran rampant in the soft sand.

at our campsite, we splurged for $8 firewood bundles from the camp store and had a fire, so we could make s'mores with our walmart and grocery store s'mores supplies.

even though we were all suffering from a pretty blah cold, it looked like monday was the only sunny day in the forecast for the week, so we sucked it up and hit the beach for the day. the path there went under this bridge and we grew fond of the moment when the ocean came into view.

back to rock scrambling.

the views were pretty much awesome and i took a million pictures and i'm trying to keep myself under control with how many i post.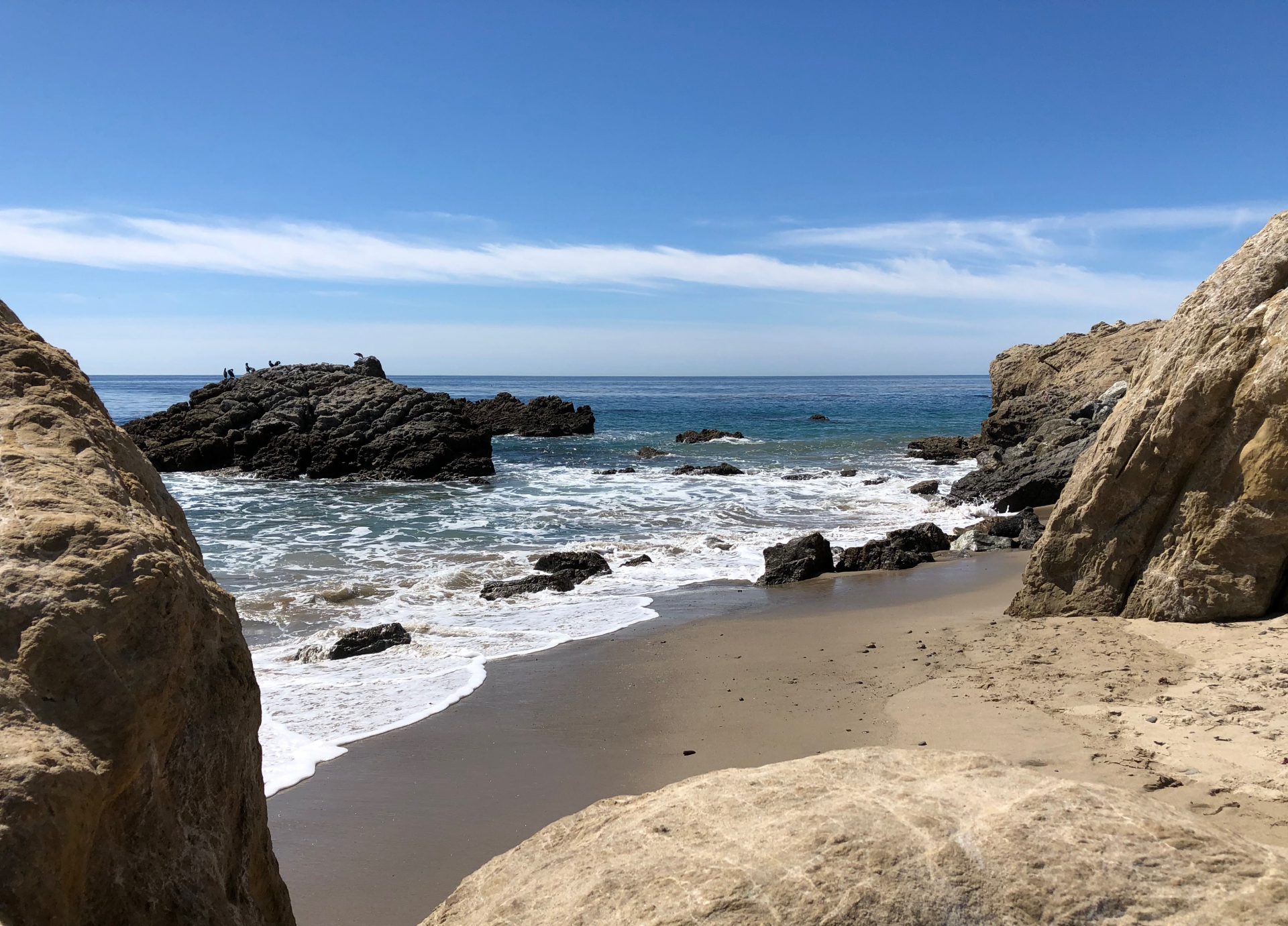 the big kids found a little nook in the big rock to sit in, and the tide was perfect for occasional waves crashing up and onto them. i tried to wait for one in this shot, but also had hazel off in the distance crying that i was too far away from her.

their favorite spot was on a low dip in the rock where they could climb over and end up in this little cove (as long as it wasn't high tide).

happy beach bums.

the view from the other side, as they hop down over the wall. (at low tide, you could just walk around, which is the path hazel and i opted for).

also at low tide, all these rocks are exposed and all sorts of sea creatures are scrambling around in there. anna spent the rest of the day catching creatures.

i love her curiosity.

these two played figurines. back on the soft, dry sand, far far away from any possible (or impossible) waves.

with no hookups and very spotty internet, we had to go easy on computer use, so the lidkids we actually quite creative all week, creating minecraft cut outs and other various artwork. this is hazel's steve, which i was pretty impressed with.

our setup. the campground is a long skinny loop that stretches back into a canyon from the beach. it feels more like being in the mountains than at the beach, which i suppose it was.

tuesday's forecast was overcast with rain later in the day, so we made the most of it, bundling up and heading over for a bit, before it began to rain for days. hazel and i set up shop, playing with an assortment of figurines.

there's a lot of fighting and rescuing going on.

it was pretty chilly, and even though we had planned to stay out of the water, the two big kids found themselves soaking wet and freezing, so we didn't stay too long, before heading back for the monsoon. i packed up the outside of our camper. and then it began. this was the view on wednesday and thursday. pretty much non stop.

i had actually planned to go to a bit of laundry during the rain days, but the laundromat was 40 minutes away and there were warnings of flash floods and mudslides in the areas affected by the recent wildfires. i tried to find a map to give me more accurate info, but when i couldn't, i decided not to brave these roads just for clean clothes. especially when we saw this was the radar of the storm.

so. we stayed inside. i read. the kids watched the greatest showman about 13 times and memorized every single line.

anna made worksheets and informational brochures.

and rules for her bed. please see #9.

finally! on friday, the sun came out and it was beautiful and warm. we packed up snacks and toys and everything we would need to spend the day at the beach. back to our favorite little cove.

i tried to talk the kids into doing a bit of exploring because we had heard there was good sea glass finding somewhere nearby. but hazel wasn't having it.

i managed to sort of convince her to take a pic with anna, but she wasn't happy about it.

isaac found a friend, so he and anna and the new friend went exploring for creatures…

…while i set up at a safe distance from the water to play with hazel.

eventually, the new friend wandered off with a different crew, and the big kids joined us for sand frolicking.

but before long, anna took off to find more creatures in the tide pools.

this was our favorite find, a california sea hare. (a mom of a kid that was looking in the tide pools with us was a marine biology major for awhile and knew all sorts of great stuff about sea life).

while we were frolicking on the beach, derek was flying back from nc and catching an uber back to our campground. he met us out on the beach and the lidkids were all so excited to see him. we stayed a bit longer, but he was pretty exhausted, so we loaded up and headed back to camp.

(when we left for the beach that morning, there was NO ONE in any of the sites near our campsite. when we came back, there were tent cities in all of the sites. so many families. so many kids. kids throwing rocks. kids riding their bikes between our camper and rv. it was crazytown. one kid even wandered into our camper at one point, confused, or lost, or something.)
we had one last campfire and s'mores fest, before packing up in the morning to head to the next (boring and dumb) spot.

when it was time to leave, it was so beautiful, so i decided that we would squeeze in one more beach day. derek wanted to get on the road and get some things done and isaac wanted to go with him, so it was just me and the girls for the day. when we got to the beach, the tide was as low as it had been at any point while we were there, and we were able to walk further along the cove. we were pleasantly surprised to happen upon a little cave, and in the back of it, there was a hole that popped out onto another section of the beach. anna climbed through, but hazel was a hard no.

the view from inside the cave looking out to the ocean was pretty amazing. (there was actually a family getting senior pictures taken in the very spot, but they stepped aside for a minute so i could get a shot of theannababy, while hazel clung to me for dear life).

the dad of the senior pic fam also generously took some pics of all of us.

as we wandered around, the rocky areas, we found a bunch of sea glass and some other treasures. hazel had a hawkeye for sea glass bits, finding most of them.

proud sea glass hunter.

we put our little pile of treasures on our blanket and then went off to build sand castles in a more wet packy sand area of the beach. i noticed that the beach was filling up very quickly, with groups of families with tons of kiddos, much the same as at our campsite. the kids were running wild, and it seemed that everything was community property, including our stuff, which was fine mostly. until i returned to our blanket to find our pile of treasures was nowhere to be found. we were pretty bummed, and i hope that it was just a random toddler that saw pretty bits of colored glass and thought it was fair game and not some stupid teenager that stole treasures from a four year old. but, now we will have to come back sometime and get more. 🙂
anyhow. after a few hours, we decided to hit the road and catch up with derek and isaac. and now for two long weeks at a dumb rv park in the middle of nowhere. but. with hookups. and derek.