we aren't superfans of big cities. at least i'm not. i mean. the history and architecture is often pretty cool. and there's usually so many great places to eat. and museums. but the people. and the traffic. ugh.
after our two beach weeks with no hookups, we moved a bit inland to a thousand trails campground. there's not much to do out here, so over the (long) weekend, we braved the traffic and took a few trips into los angeles to do a bit of exploring.
first up. last thursday, derek took off a bit early (and he works east coast hours, so it was like 11:30 our time) and we attempted to get to griffith observatory for their first planetarium show of the day, because it's the only one that allows kids 5 and under to attend. the traffic was a little blah. and then the parking lot was full when we got there. BUT, we happened upon super close street parking AND when we were at the meter station to get our parking stub for our dash, a friendly family pulled up and handed me a ticket with over two hours remaining on it. the bad news was, we still weren't in time for the early show, so derek got tickets for the big kids and him for the second show.
anyhooooo… basically. the actual museum part of the griffith observatory is free. so. LOTS of people. plus, it's spring break.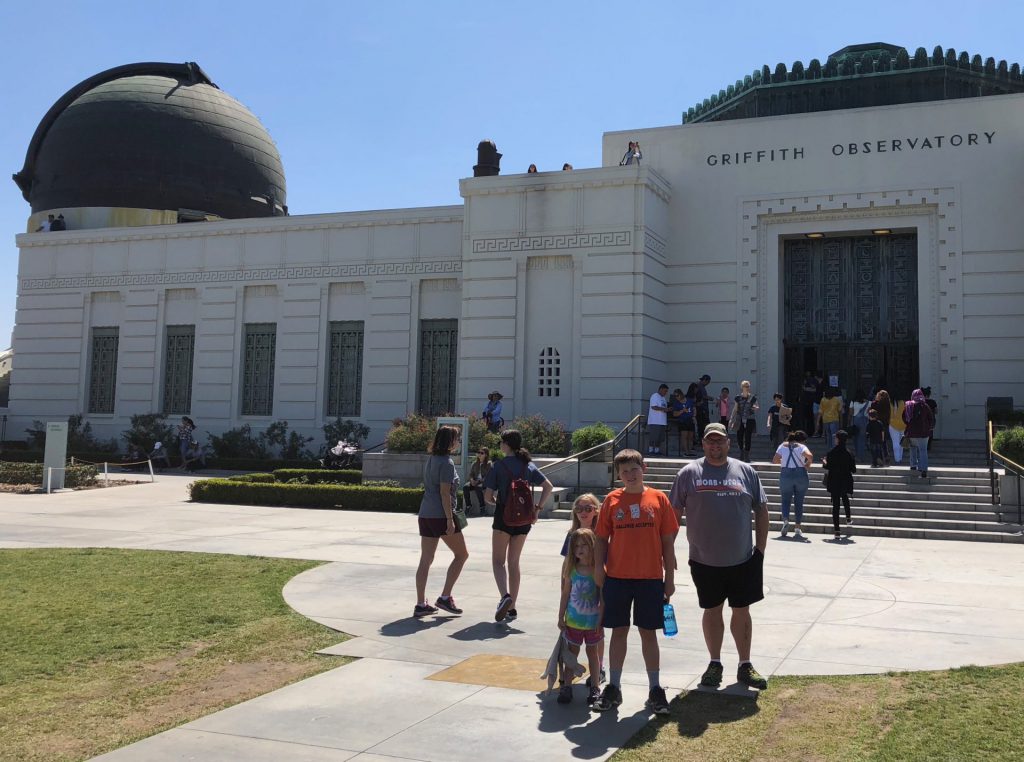 it's high up, offering great views of the city and the famous hollywood sign.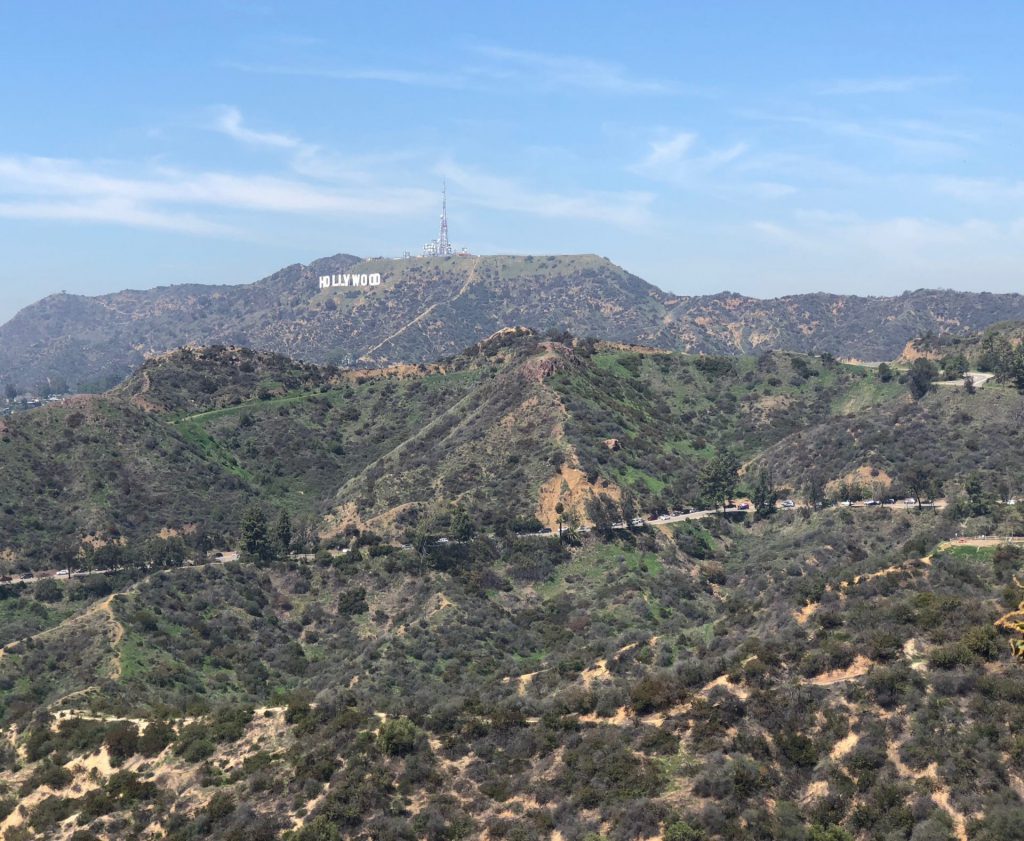 the kids recognized the sign, surely from one of the 8,000 movies and/or documentaries and/or movie extras they've watched.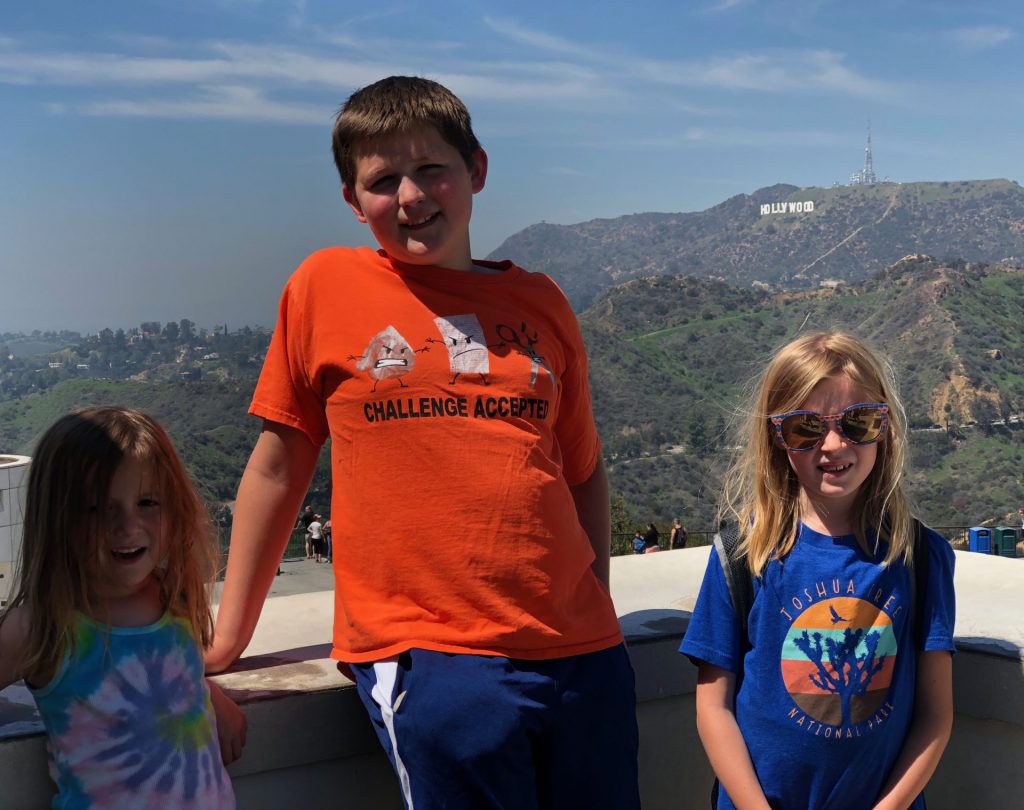 the LA skyline was a big fuzzy. i'm not sure if it was fog or smog or what. but it wasn't as impressive as the pictures online would make it seem.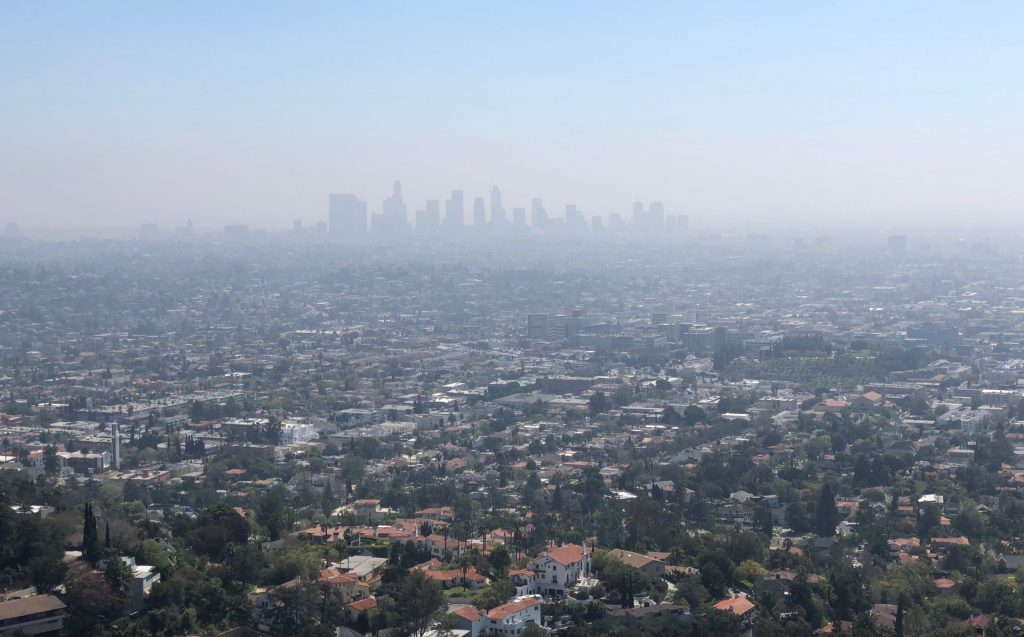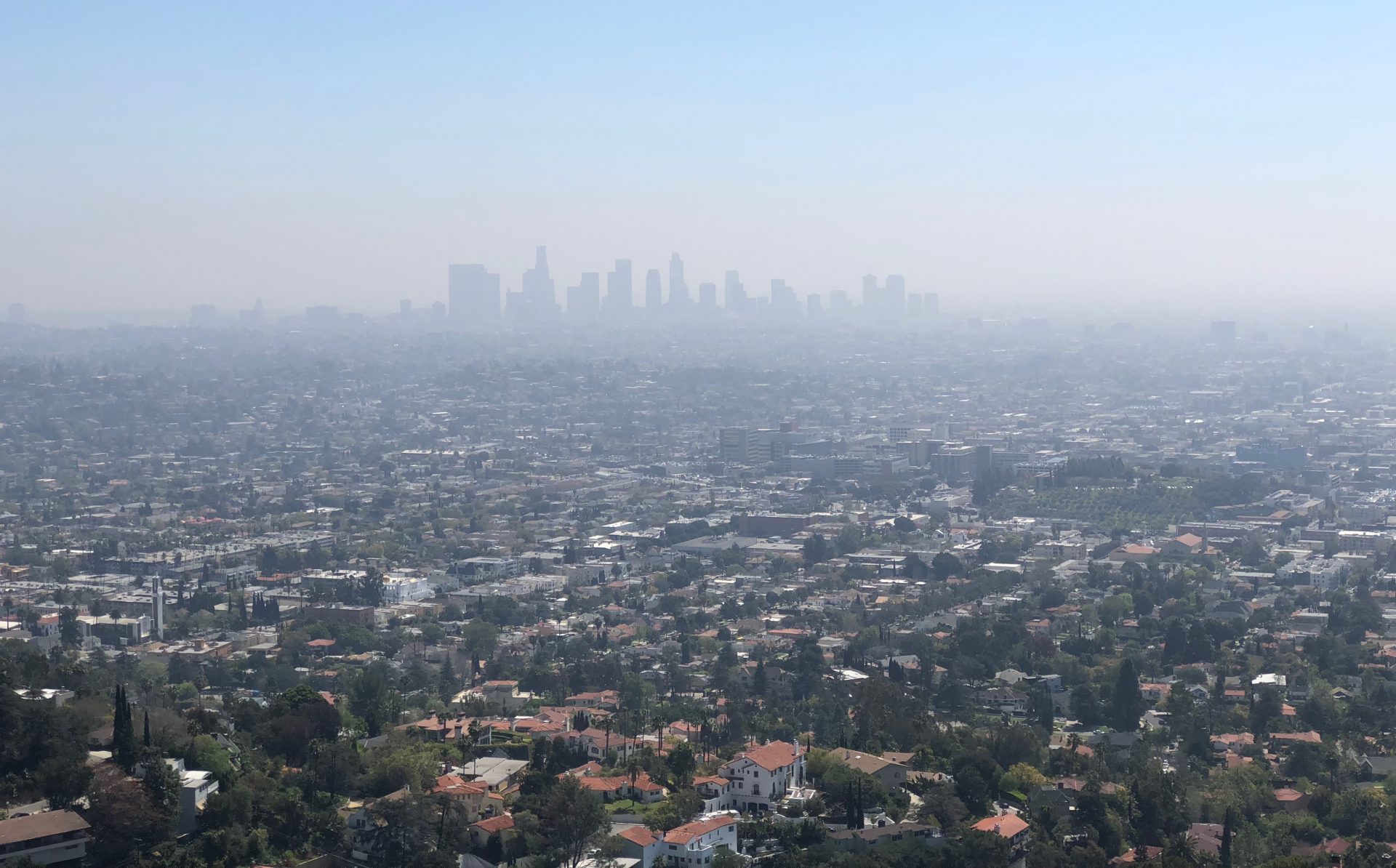 while the big kids and derek were at their show, hazel and i wandered around the museum. so. many. people. this is the area around the fouccault pendulum.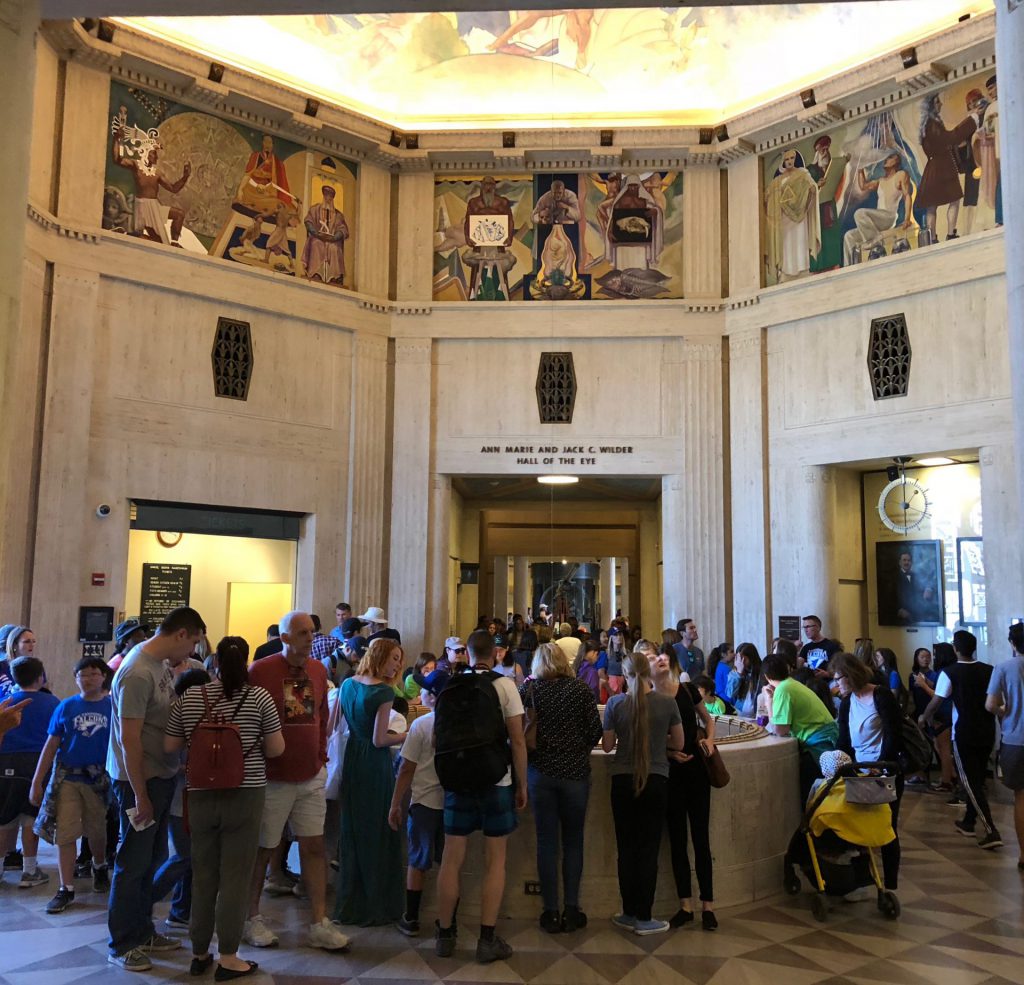 we did get a pleasant surprise when we wandered up to the tesla coil just a few moments before a demonstration began. this was hazel's favorite part.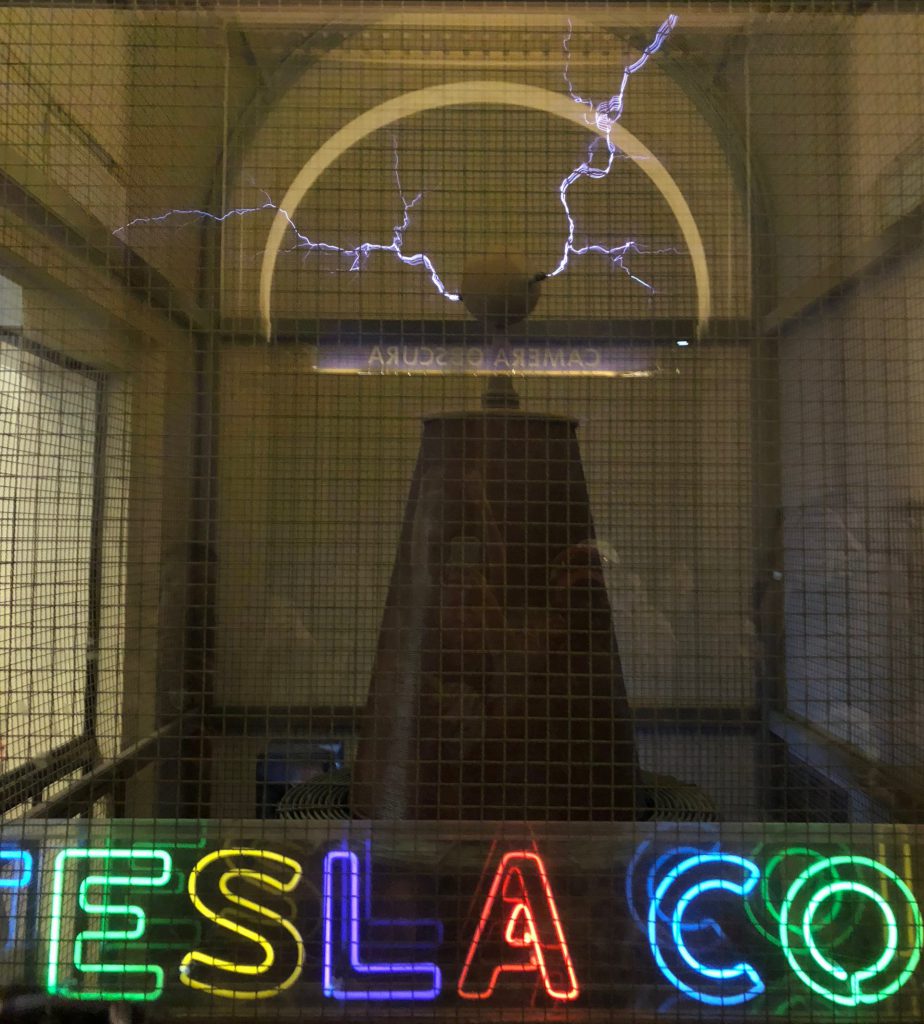 we got tired of the massive hordes of people inside, so we wandered around outside for awhile. obviously we stopped to take pics of this tower of science dudes.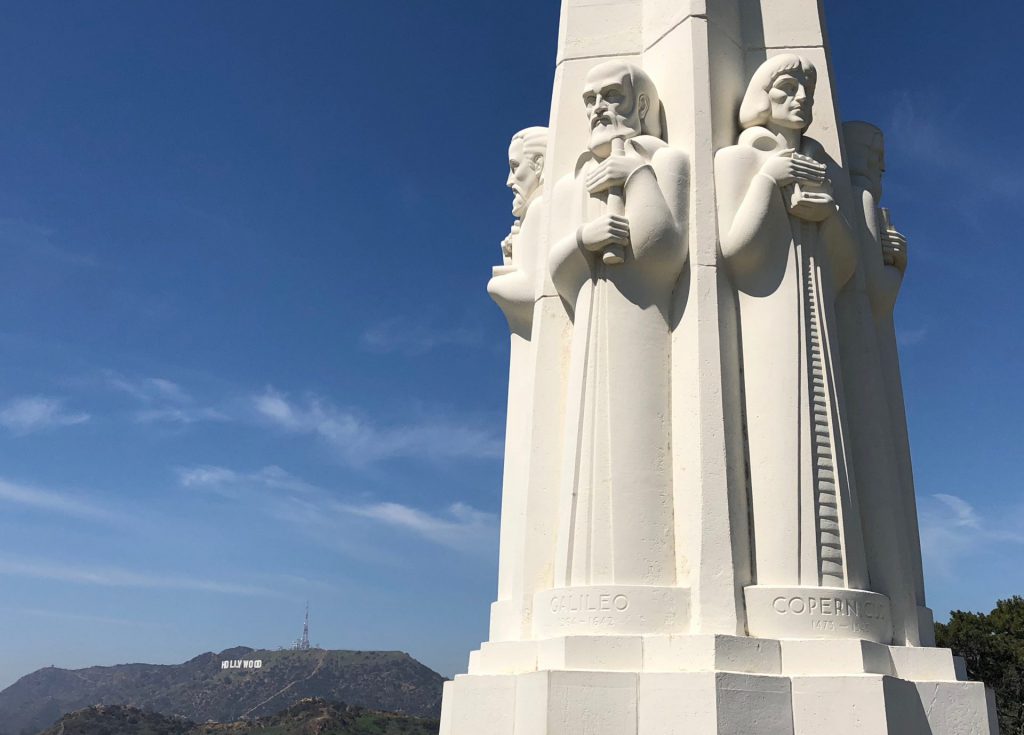 we finished up our visit by ordering a $6 cinnamon roll and eating on the patio overlooking LA. i picked out all of the nuts and hazel ate all the frosting. then we split the remaining carcass of dough. the kiddos finished up. met us in the gift shop, where everything was a zillion dollars, and then we hit the road.
the next morning, we packed back up to head to venice beach. our old pals, the hungerfords, are in town for spring break and had a day to squeeze us in for a beach trip. i was excited to see an actual LA beach like in the movies and stuff. and the weather was already sunny and warm when we left. but. it was cold. and foggy. and windy at the beach. and there were homeless people and trash everywhere. BUT. these crazies were SOOOO excited to see each other.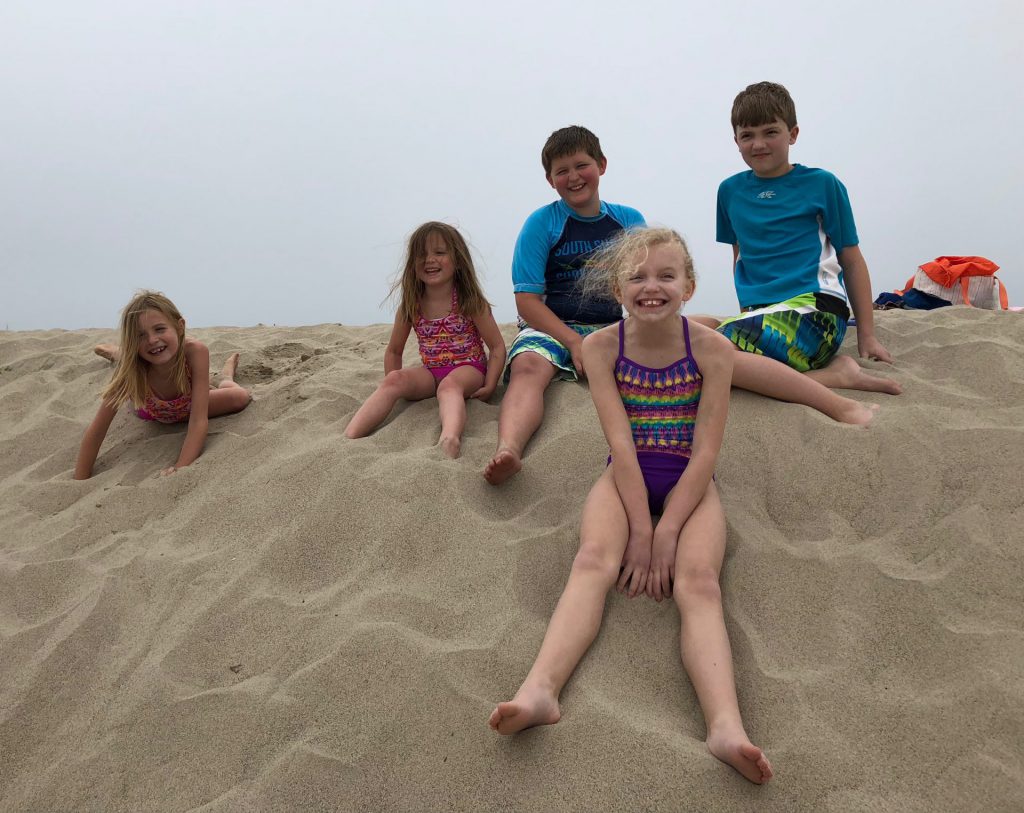 they played in the sand for hours, while lorena and i chatted about the good old days. eventually, they were all starving, so we made our way over to the boardwalk to get some food. along the way, we passed muscle beach, where big beefy dudes were working out for all the passersby to admire them. and we attempted to shield the kids eyes from the t-shirt shops with inappropriate slogans on one side and the wide open pot smoking on the other. we had to order from more than one location, because: picky eaters. so, double the waiting.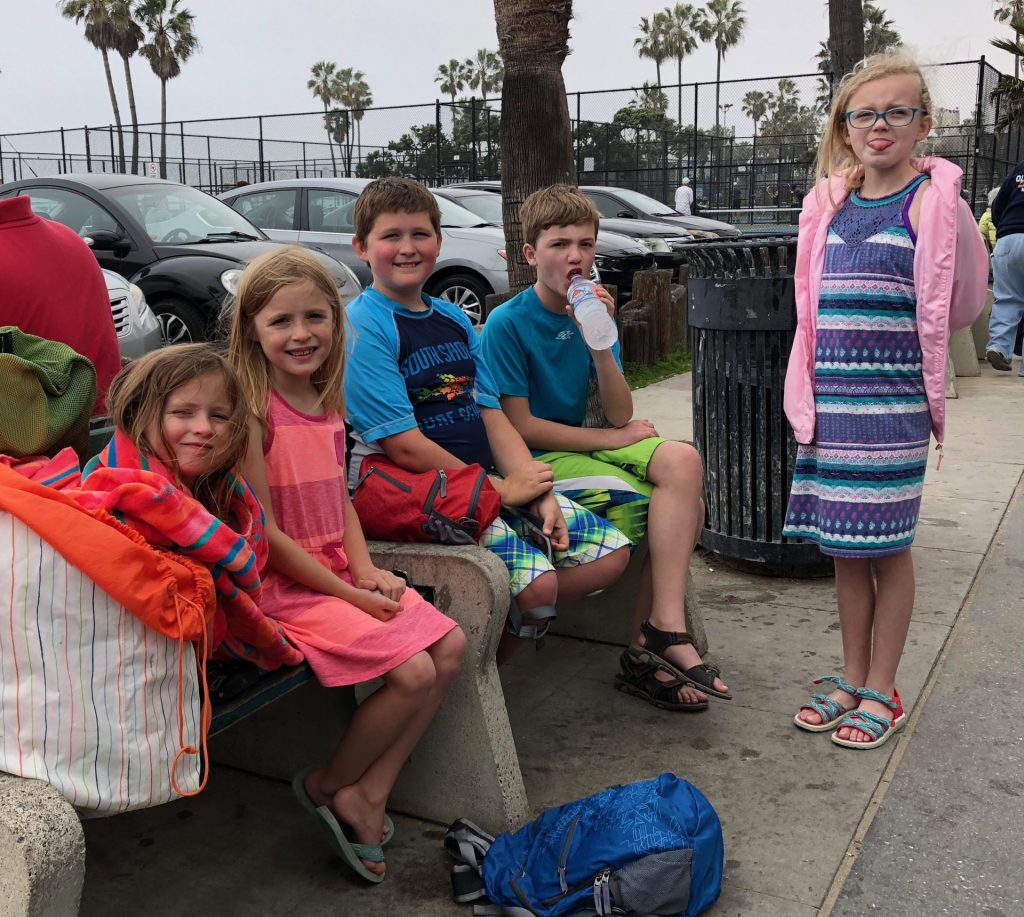 finally. all the food came and we managed to find a picnic table to seat us all.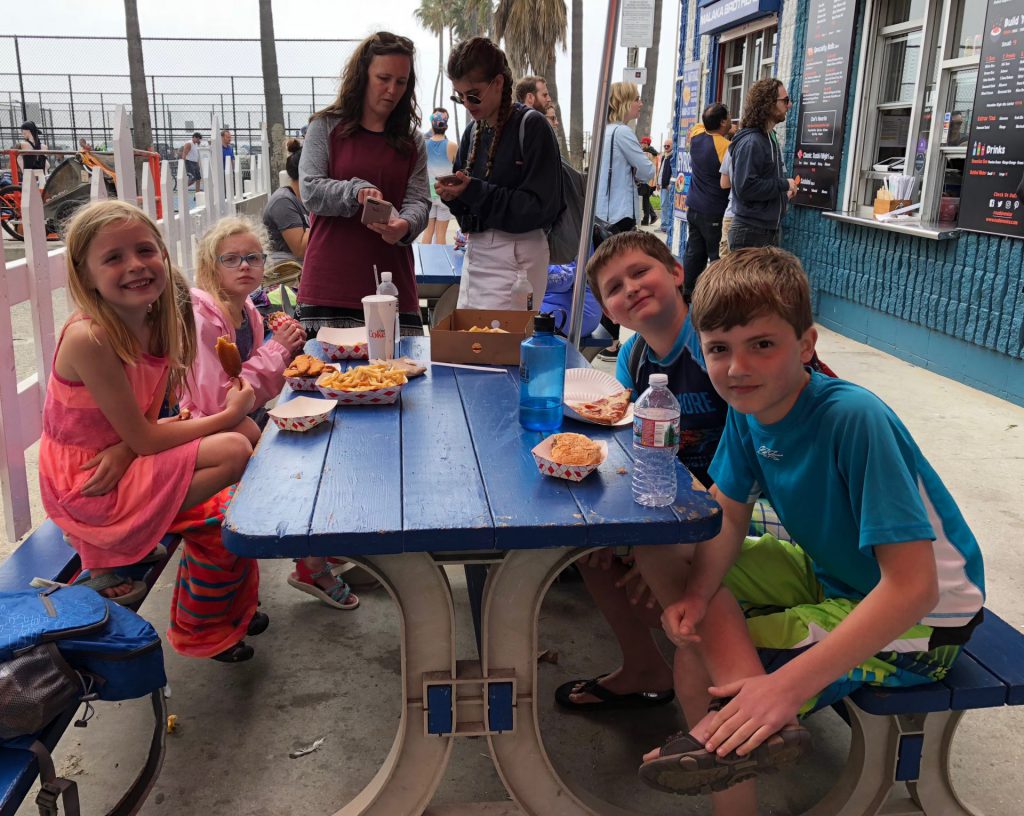 back at the beach, some of the kids wanted to walk over to the jetty to do a bit of rock climbing and exploring. i took them while lorena happily sat in the sand with the non-rock-climbers. anna was determined to catch some cool stuff, but all we found were thousands of anemones.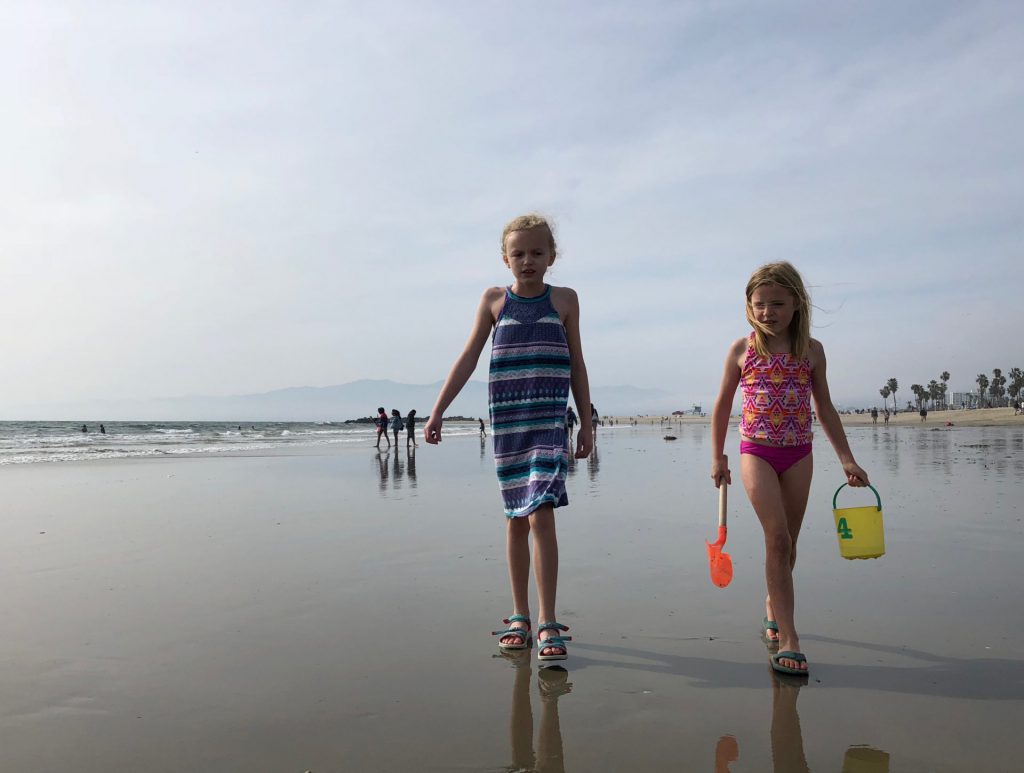 so we just played on the rocks.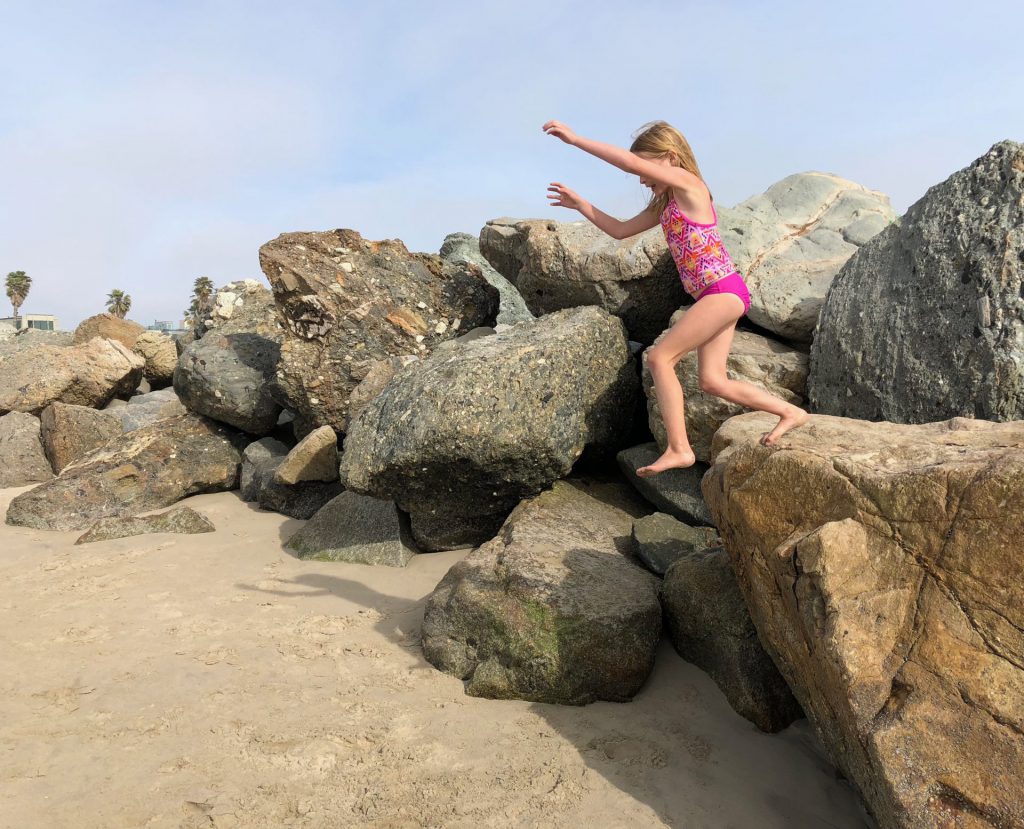 all the big kids. looking like they love each other. (the hungerfords probably do. my kids, i'm not so sure).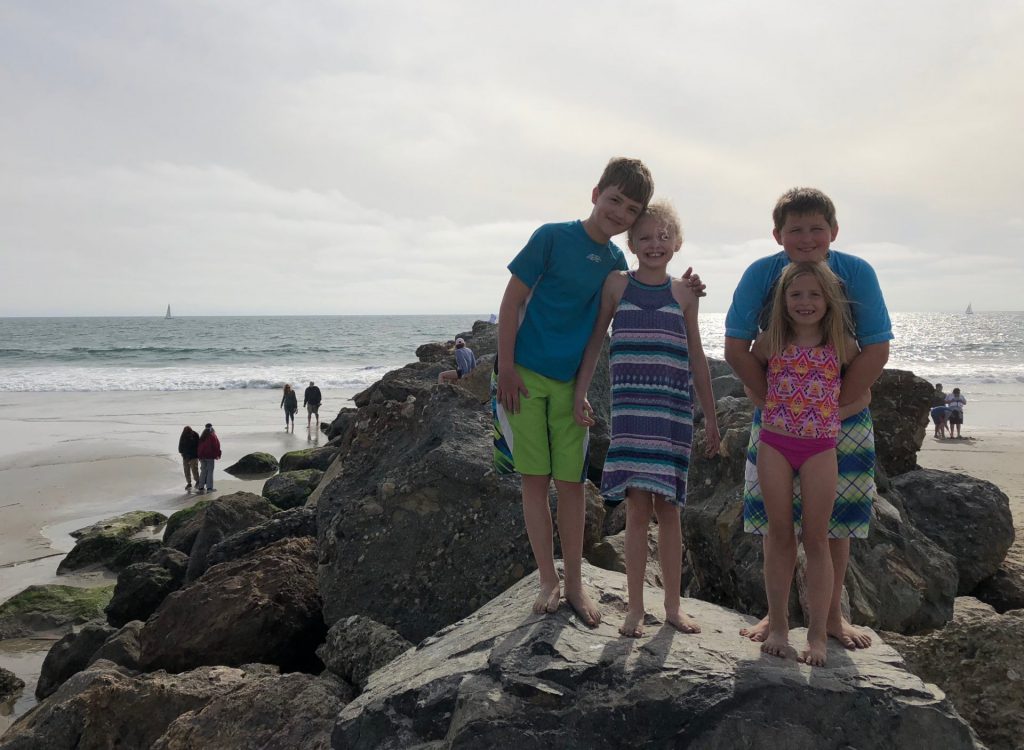 when we got back to our spot, a group of teenagers was right behind us. like, ridiculously close, given the size of the beach. and they were dropping f-bombs and talking very loudly about very unkidfriendly material. we were pretty annoyed already when they stood up to leave and left all of their trash to blow across the beach (and one in-n-out bag full of trash and leftover food right into isaac who just picked it up and took it to the trashcan like TEN FEET away). but then, the final straw, was when they flung their leftover french fries into the air, drawing approximately 900 seagulls to the area. so. thanks.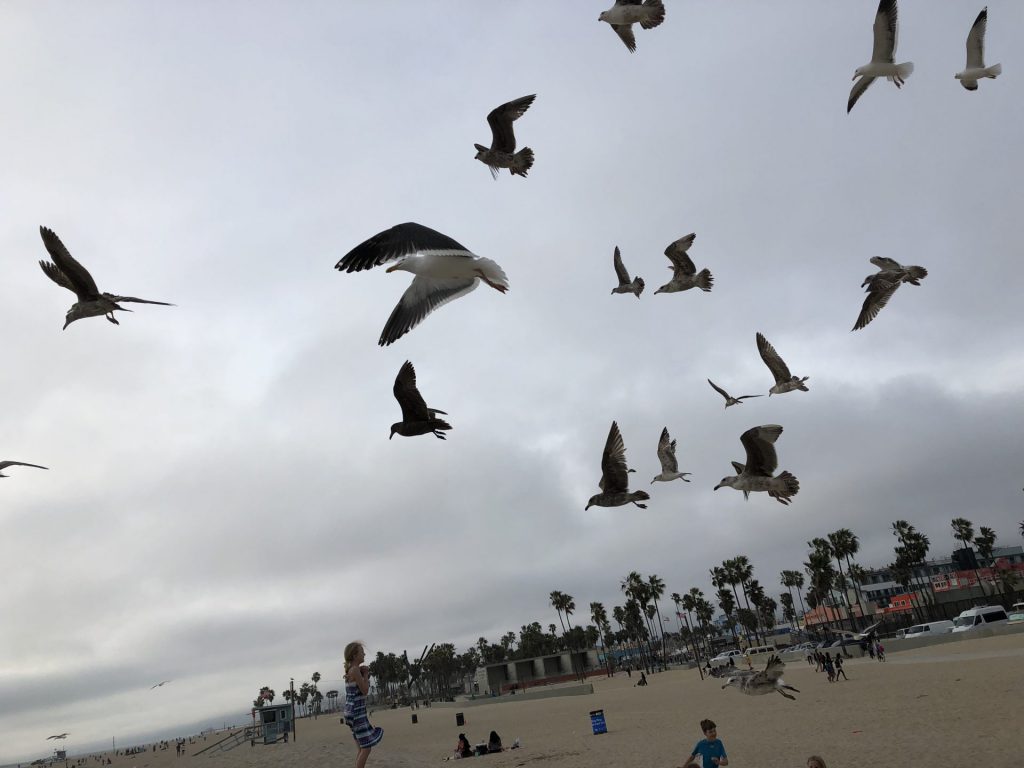 even though we never really saw the sun, as it got closer to sunset, the weather turned uncomfortably cold, so we took that as our cue to head to the car. at the parking lot, we said our goodbyes, before our friends walked back to their rental unit. these two boys have been pals since they were babies. they have so much in common and always pick right up where they left off when we see them. so glad we were able to meet up with them on the road.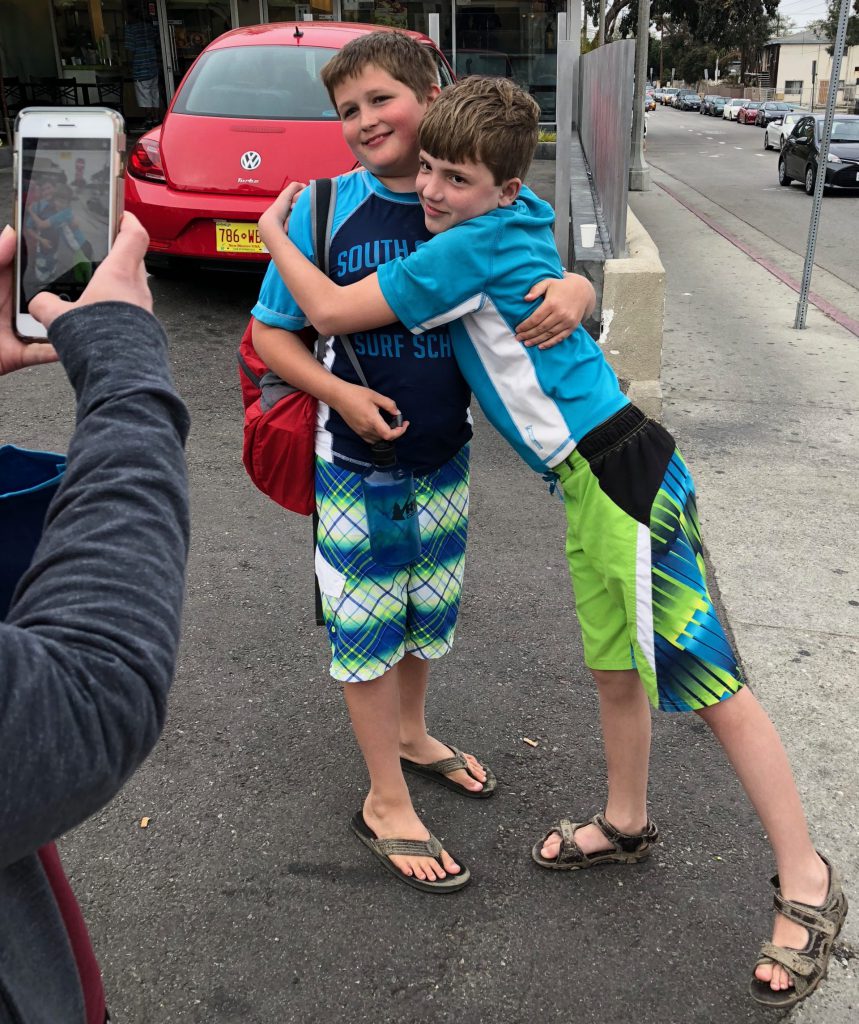 then, i braved the friday afternoon traffic out of LA. ugh. so miserable.
on saturday morning, we were back at it. we packed up the kids and rolled back in (for the record, it was at least an hour for each trip. often closer to two.)…. our first stop was really the only place on my list and definitely my favorite, the last bookstore. we scored parking RIGHT across the street and the meter even had some money left on it. we are definitely having excellent parking fortunes in LA.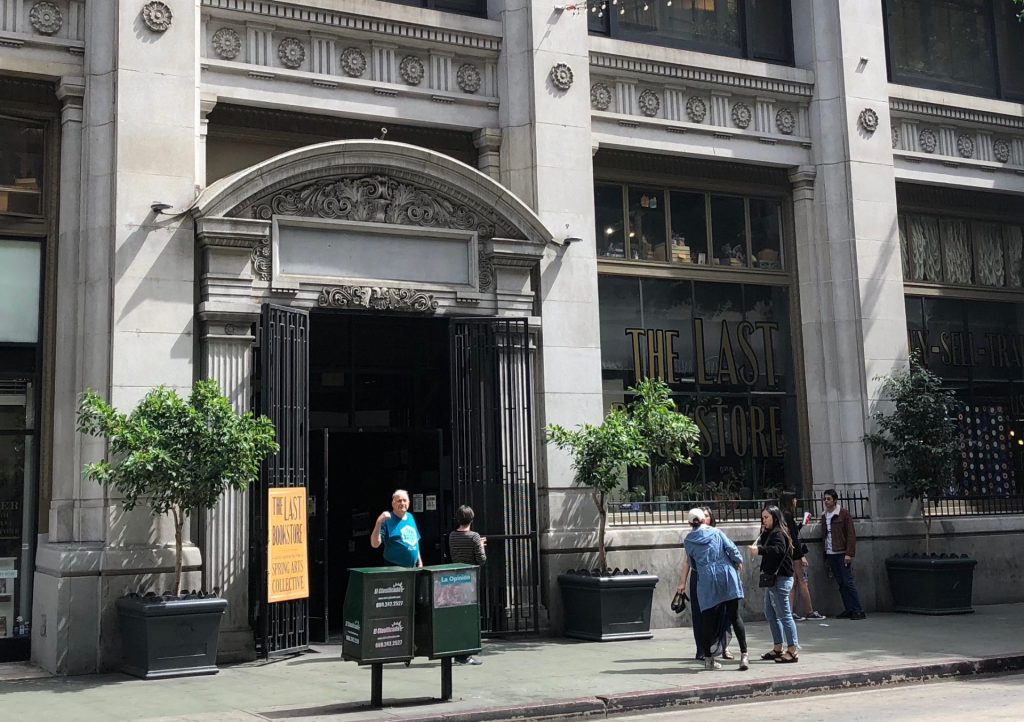 the inside was massive. derek found a spot to hang with the kids, while i set off to explore. upstairs has all the cool art installations, some actually functional, like this shelf of rainbow books, available for purchase for decorative purposes.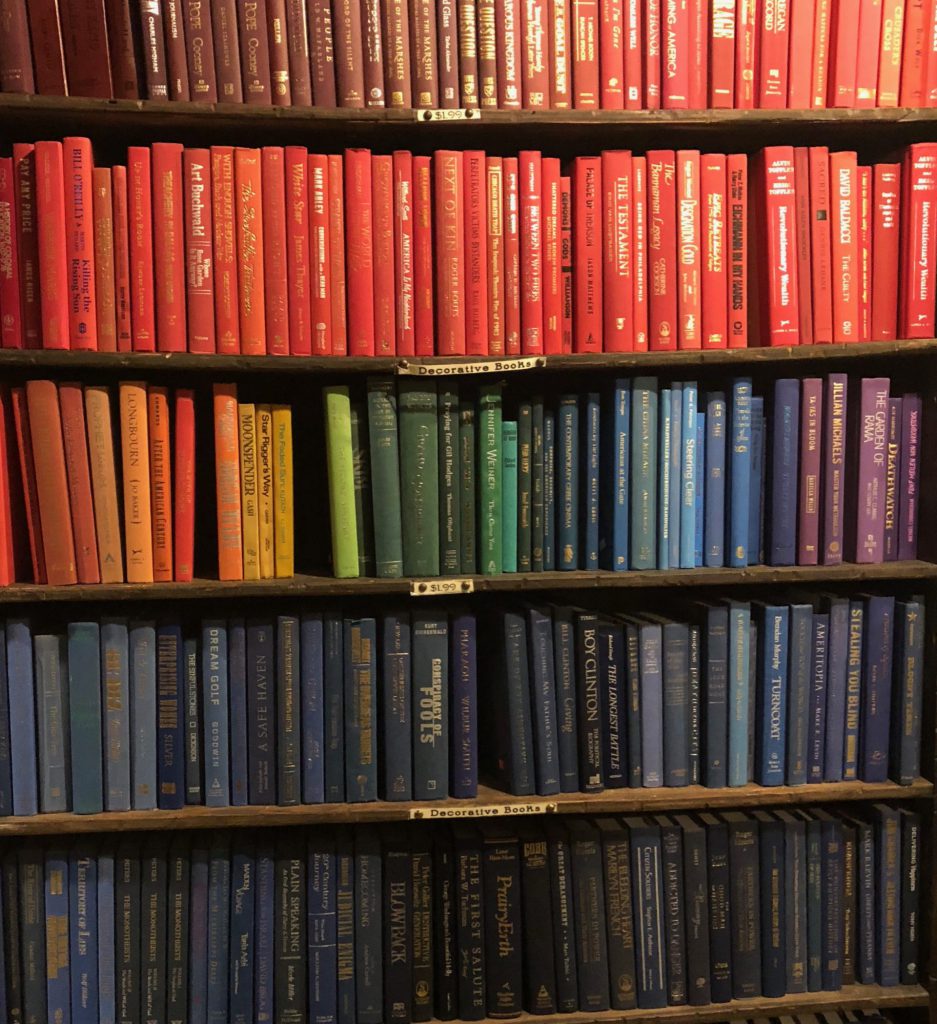 from upstairs, i spotted derek and the fam, reading and ipadding. (ike and hazel are behind a pillar). i recruited them to come up and help me with some photos.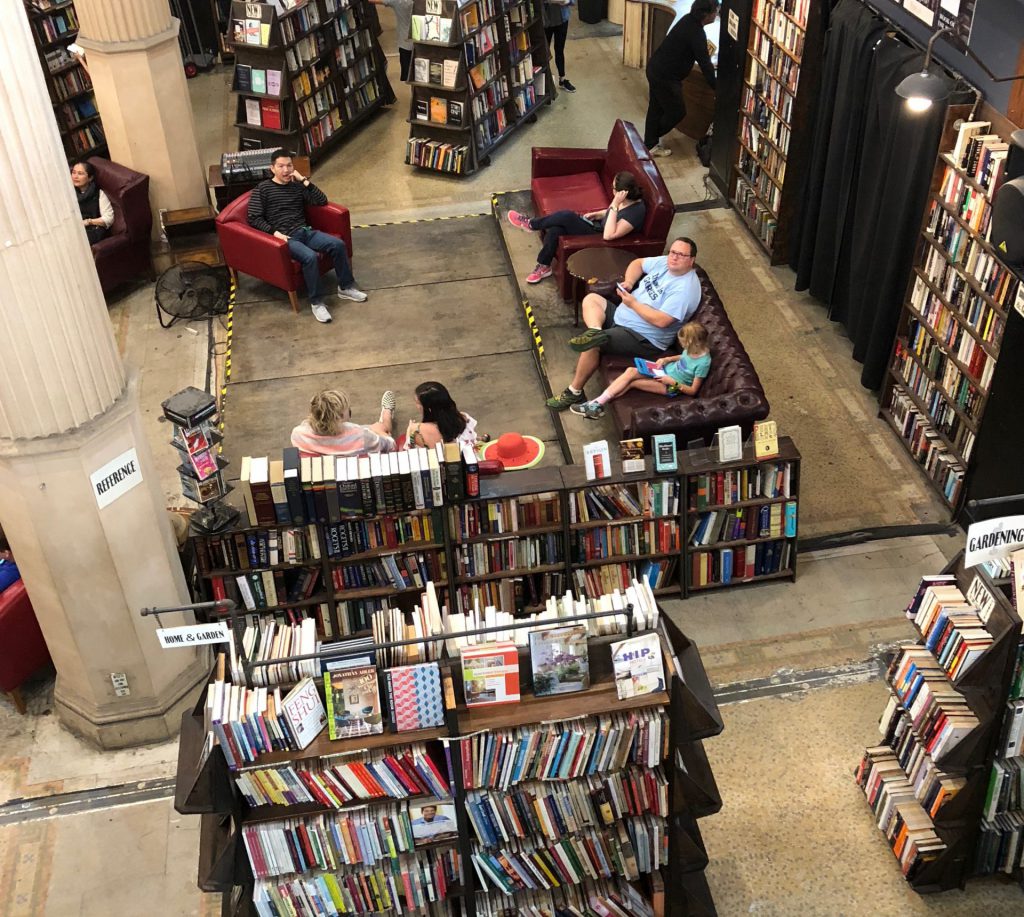 like peering through this hole in the wall of books.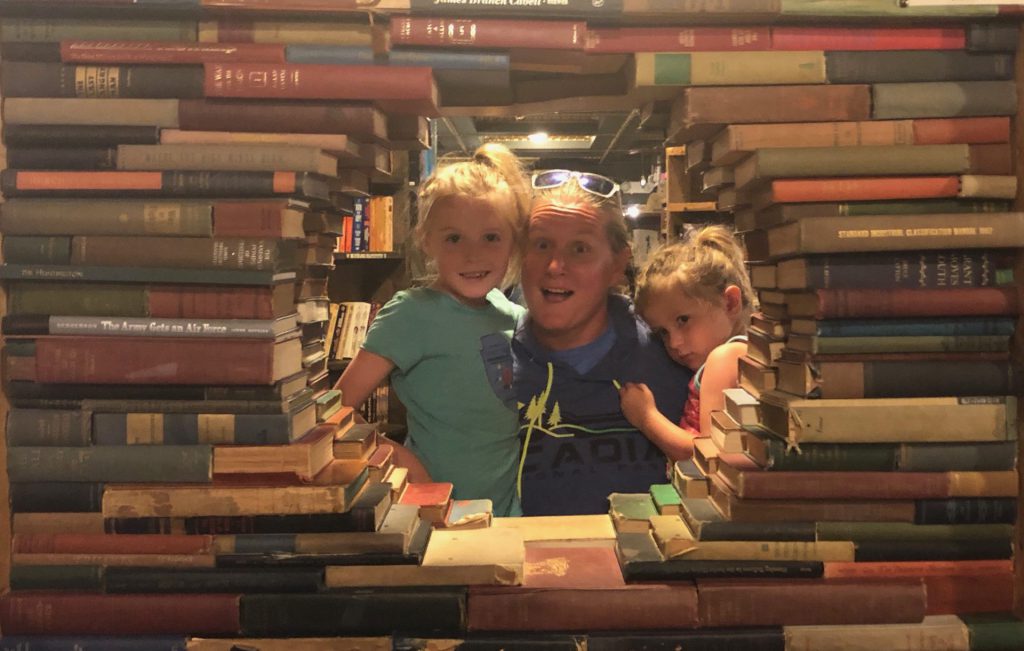 and hanging out in this tunnel.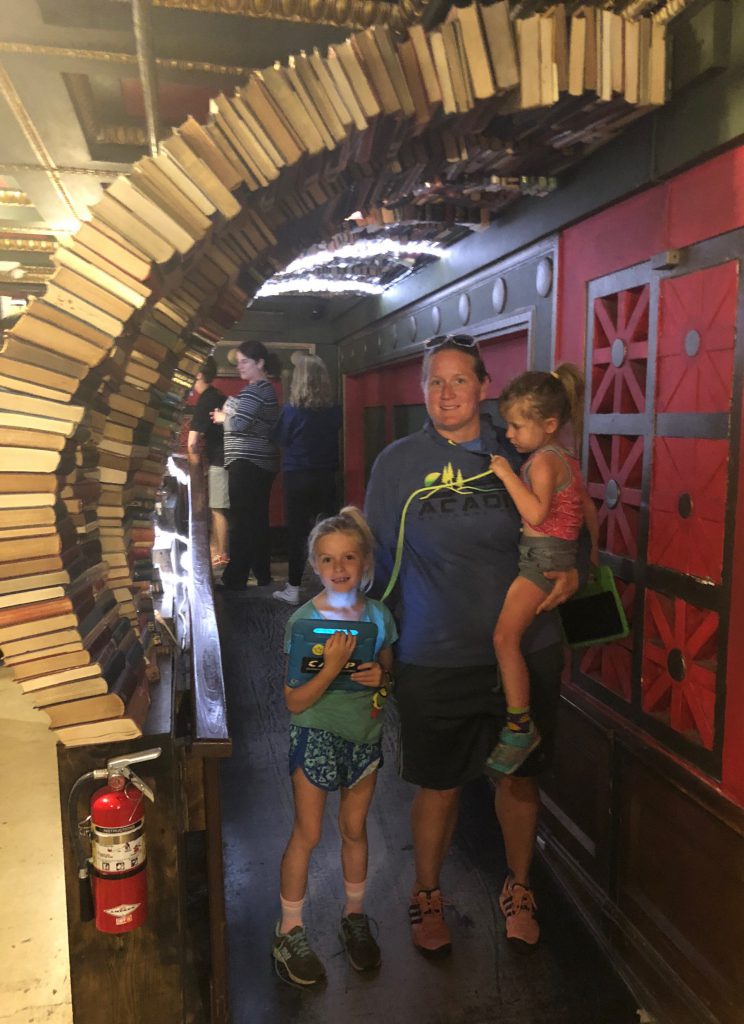 the outside of the tunnel is pretty cool too.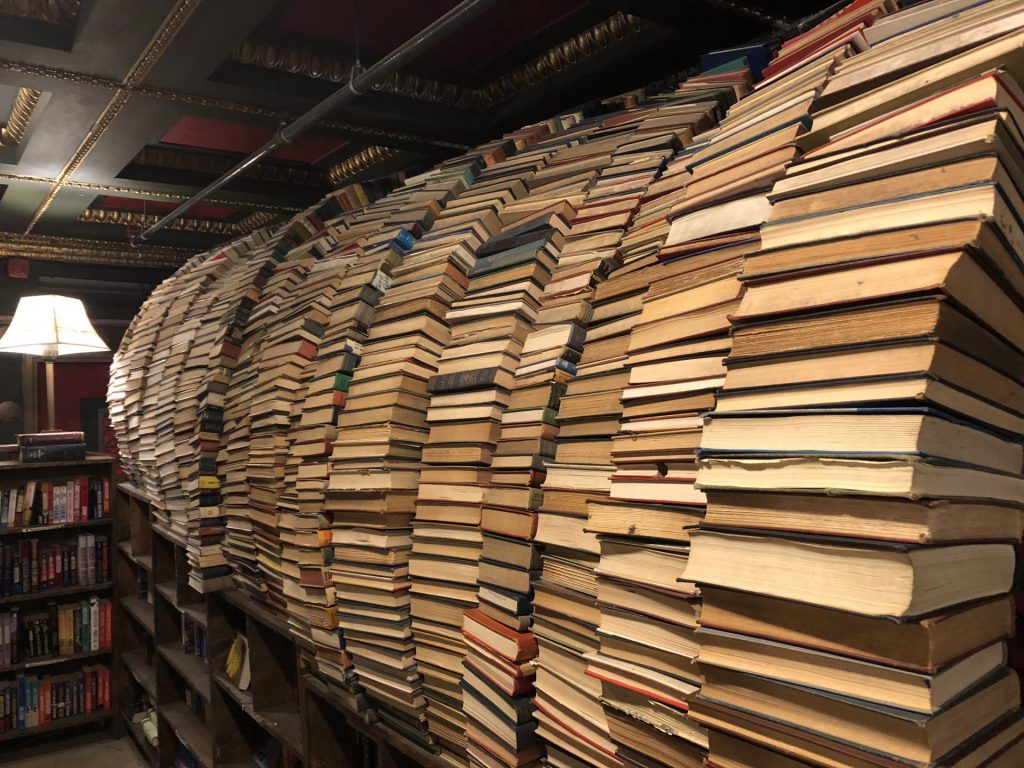 more views from up high.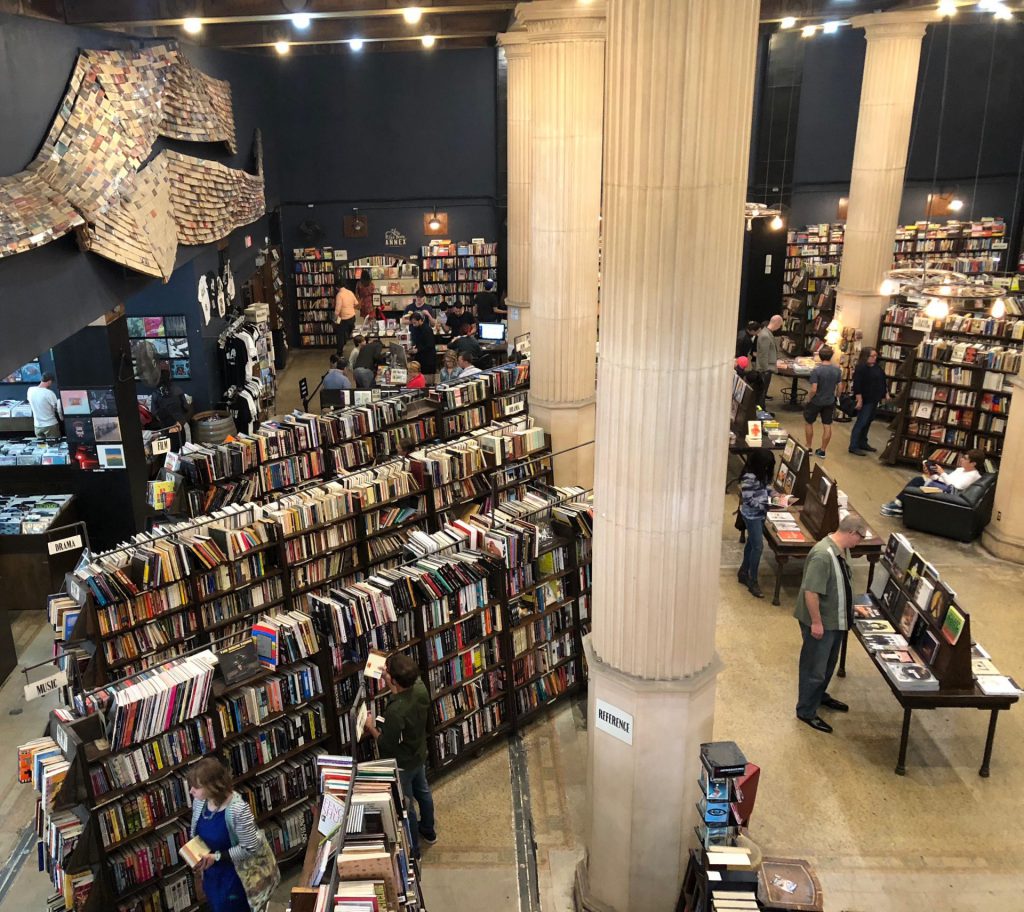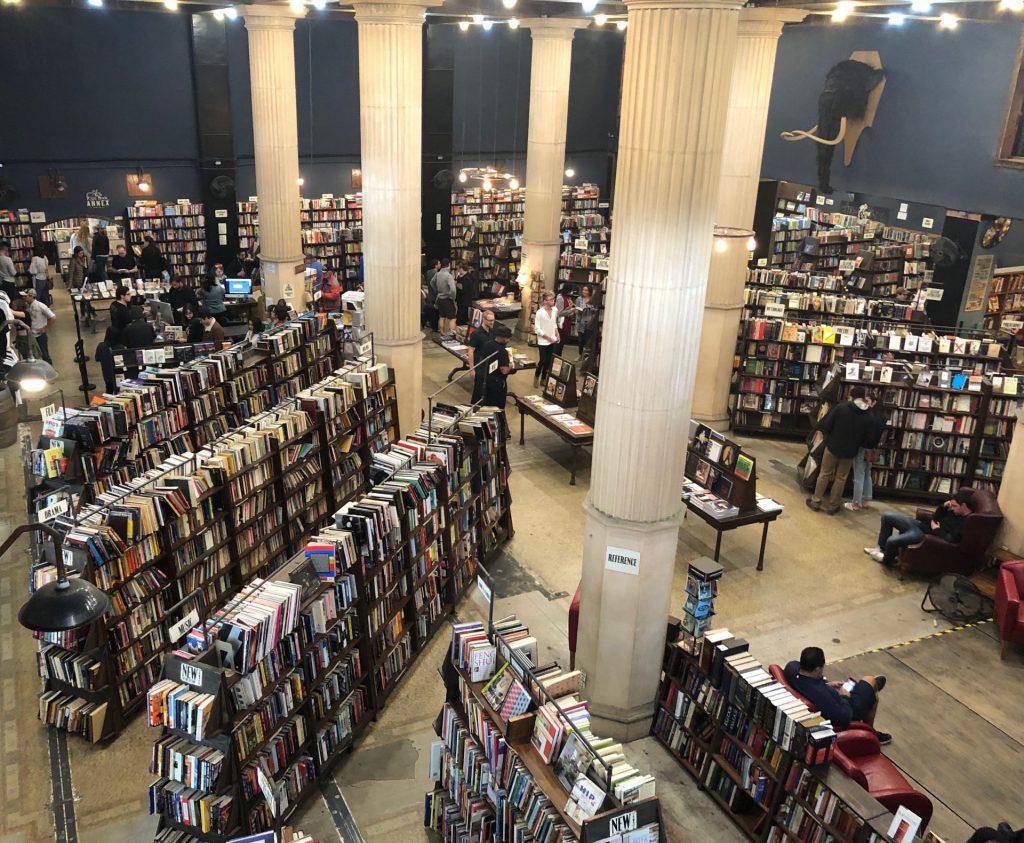 another bit of book themed art.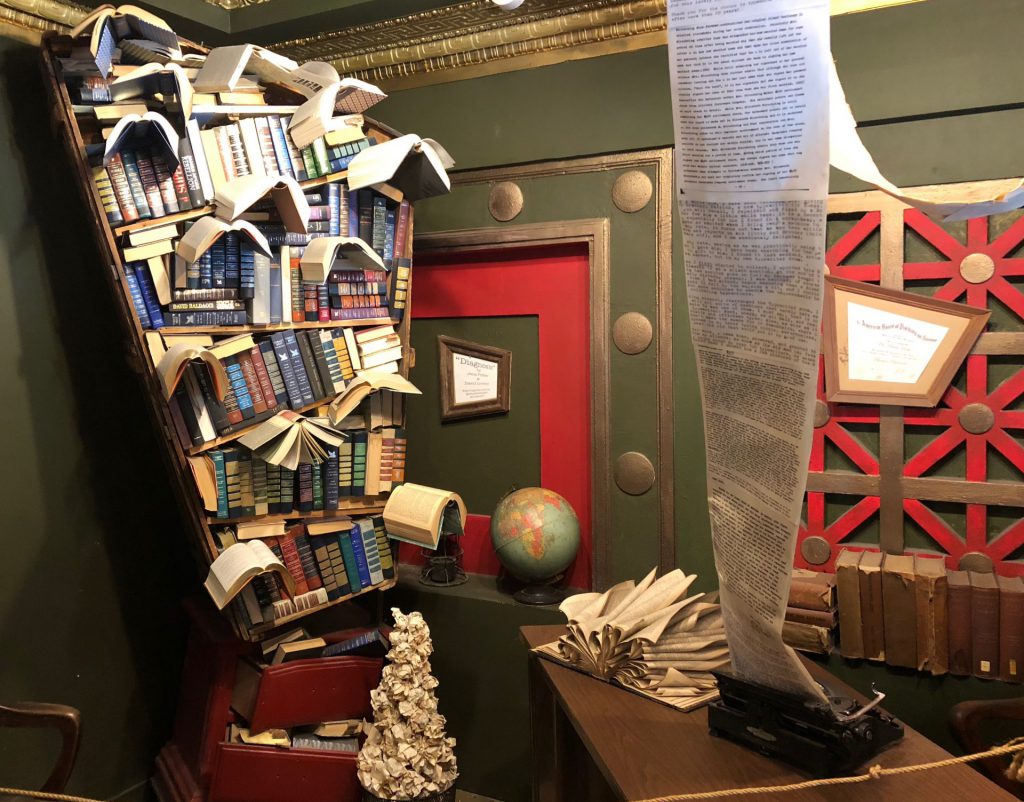 cool staircase labels.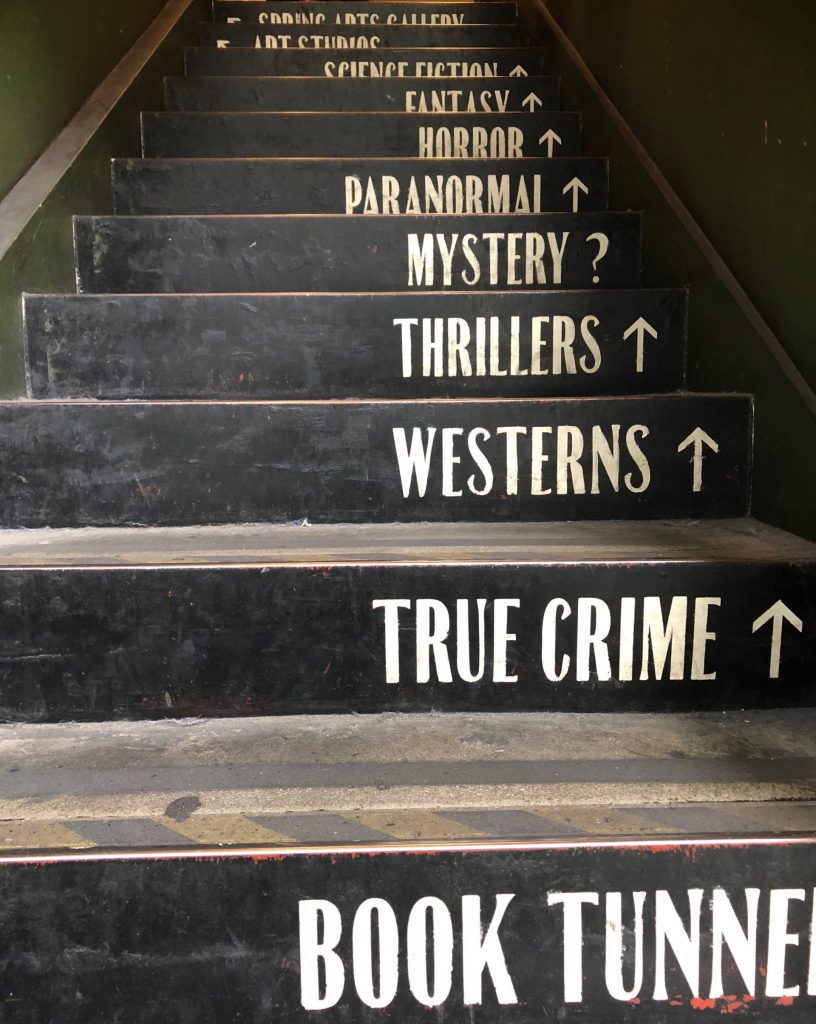 i made it out in under $100. i found lots of used books that i have wanted to read. and i decided against the donald trump adult coloring book, which depicted him in a variety of situations he would never be found in, most hilariously, this one: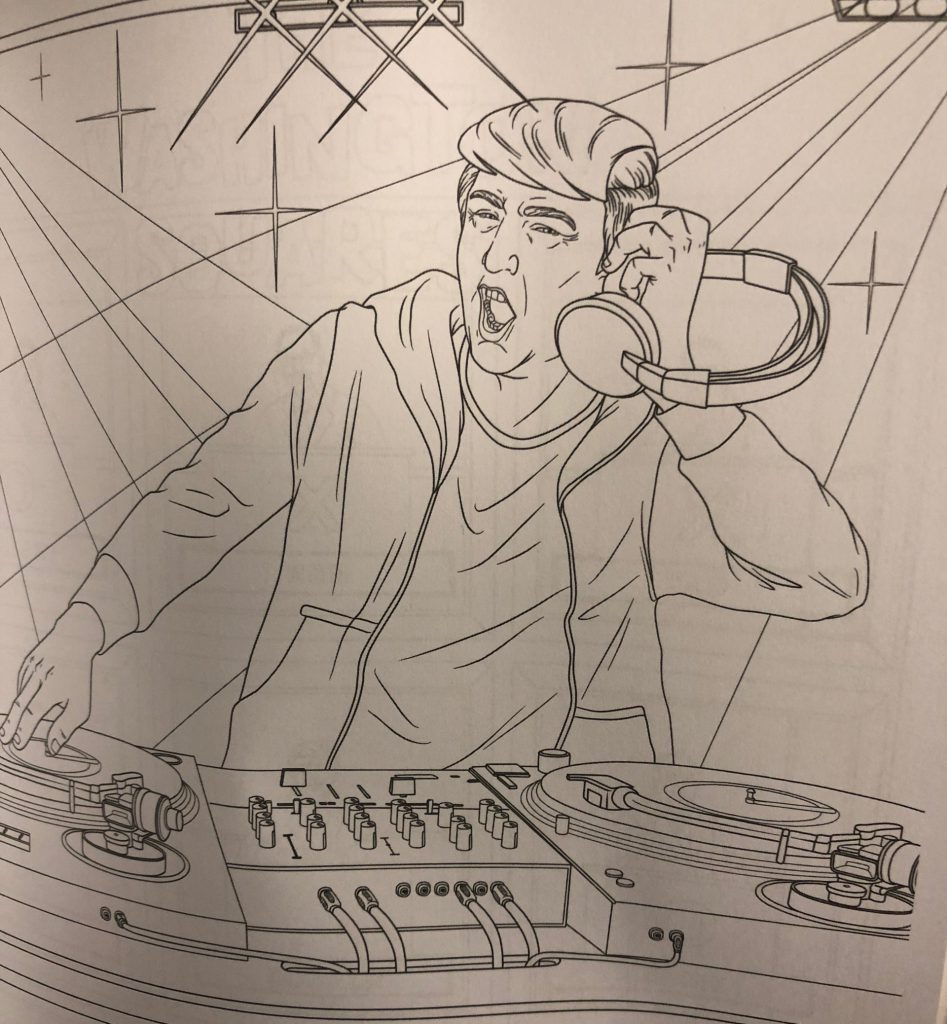 after our last bookstore trip, we set out on a quest for lunch. eating with our kids is a big fat pain in the butt. they only eat junk. and we get tired of eating junk. especially when there's so much excellent food. we finally settled on some food trucks, near our next stop, which meant everyone was happy. derek with thai. anna with tacos. and ike and hazel with a hamburger and chicken tenders, respectively. i got a shrimp burrito from this truck and it was AWESOME.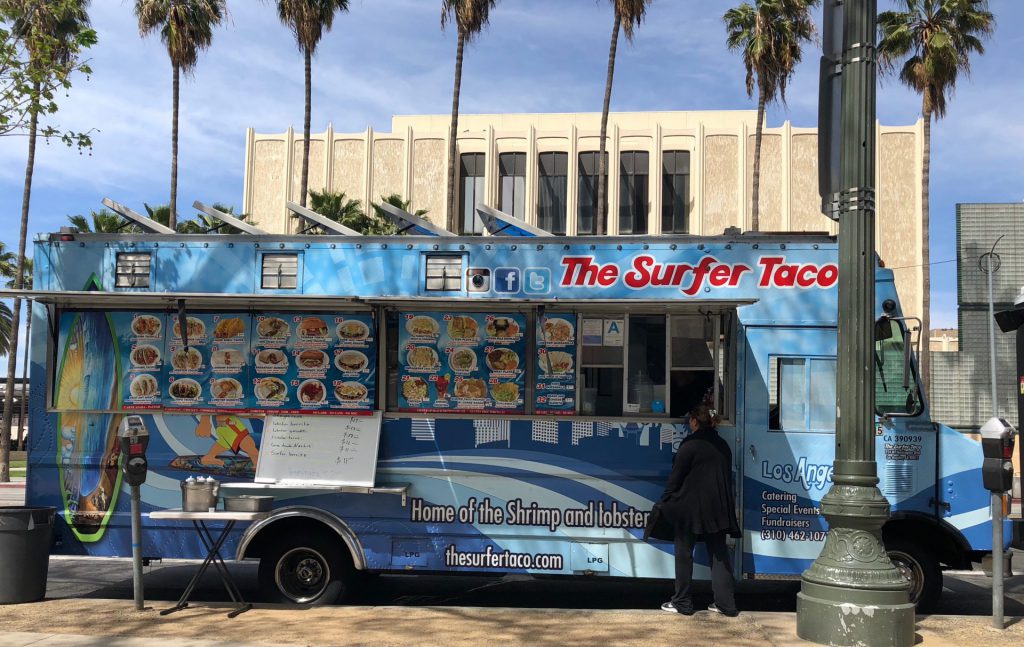 next to the food trucks was this cool bit of art. so. win.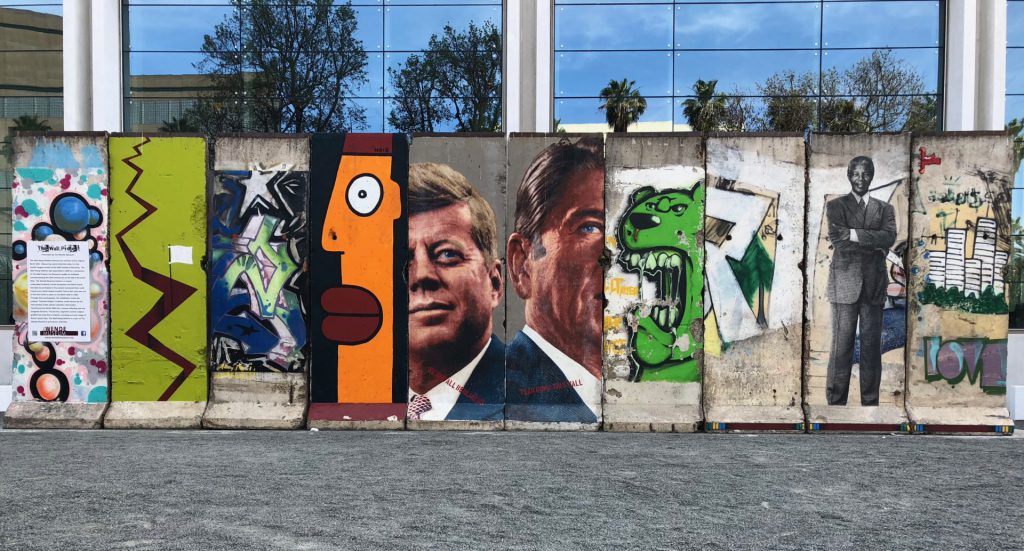 and across the street from the food trucks was the LA county museum of art, which has the iconic urban light display.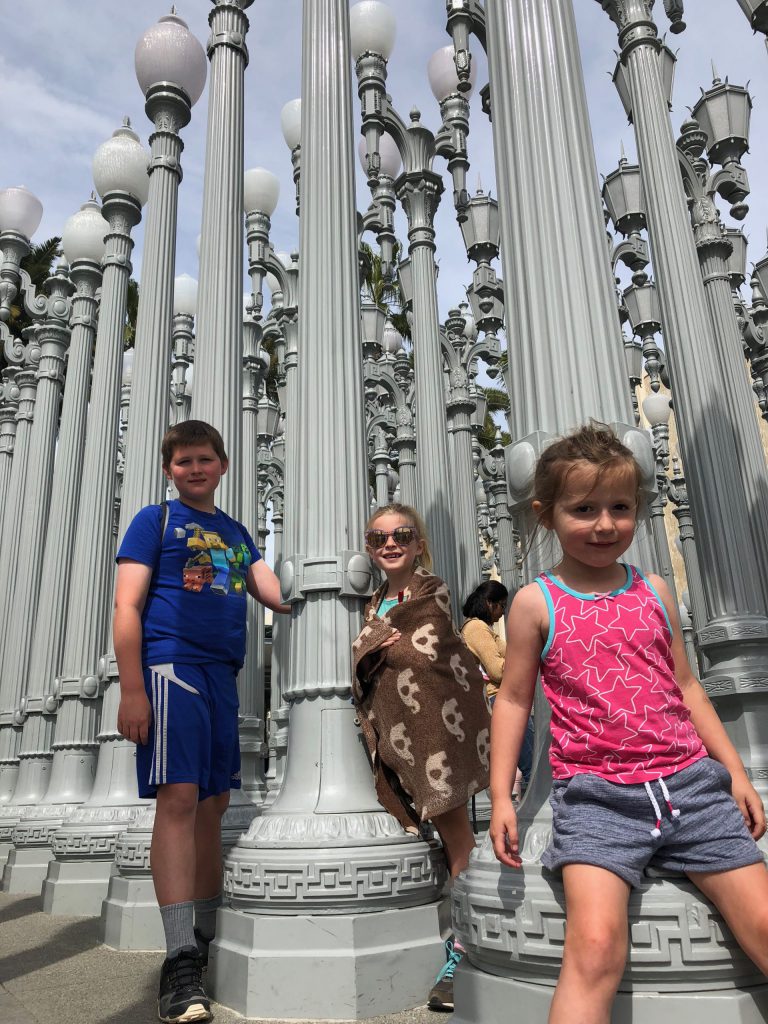 after we were done posing with various random arts, we walked over to the actual thing we came for, the la brea tar pits and museum.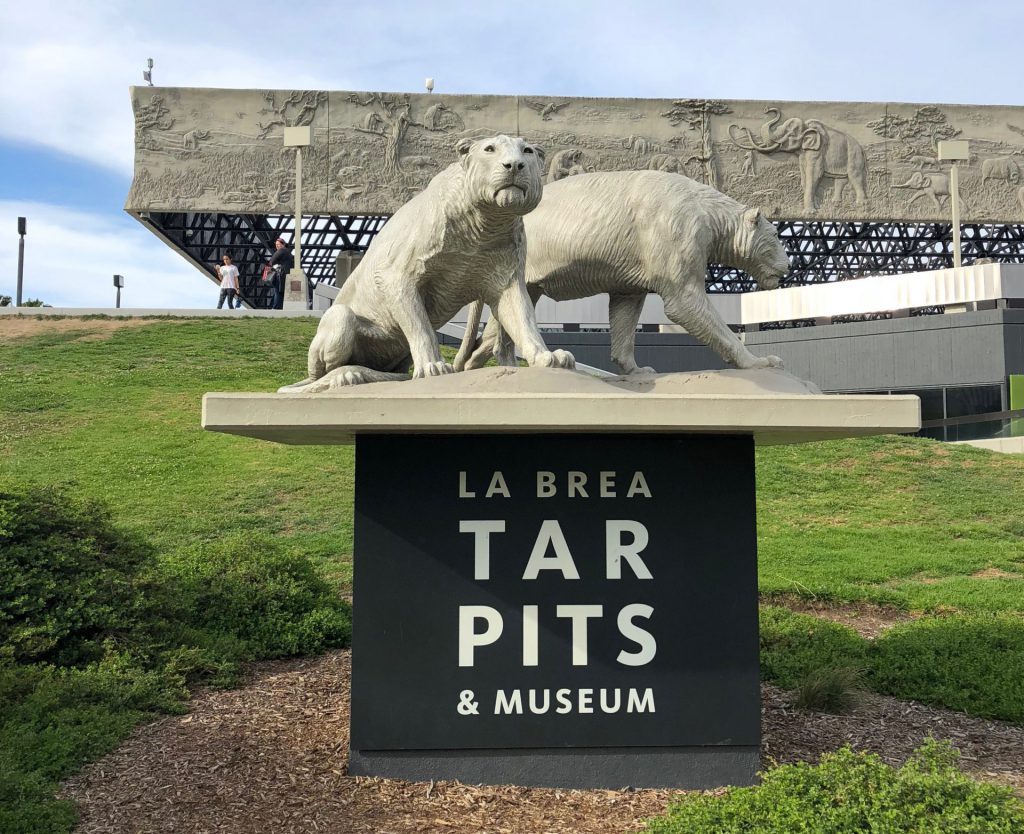 the pits are scattered around a park, and you can walk and see them without paying. the biggest is filled with water, too, more of a lake, with tar bubbling to the top. a reenactment of a dying mastodon for your viewing pleasure.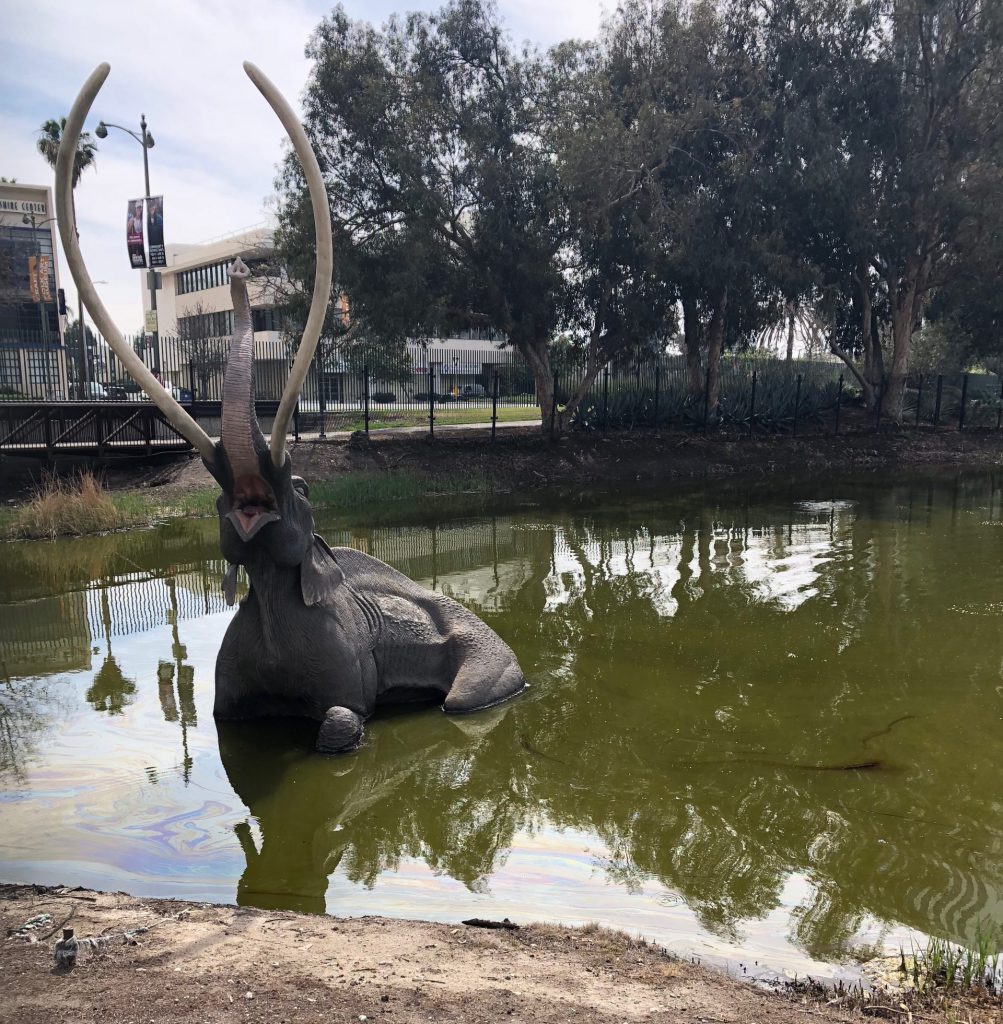 inside the museum are dozens of full skeletons of ice age animals found in the tar pits.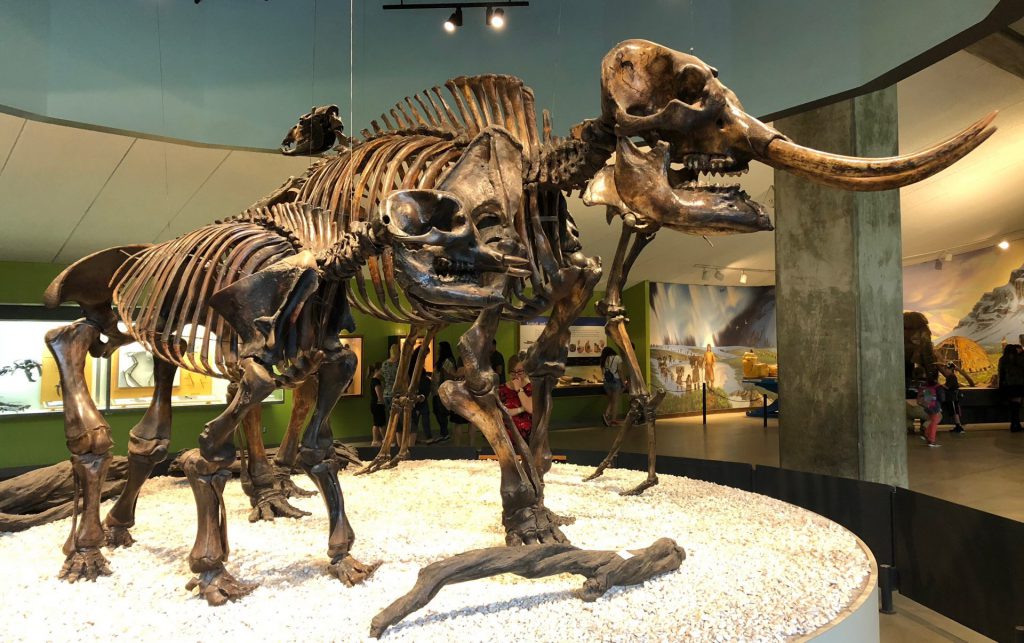 the tar actually seeped into the bones, preserving them better than standard fossils.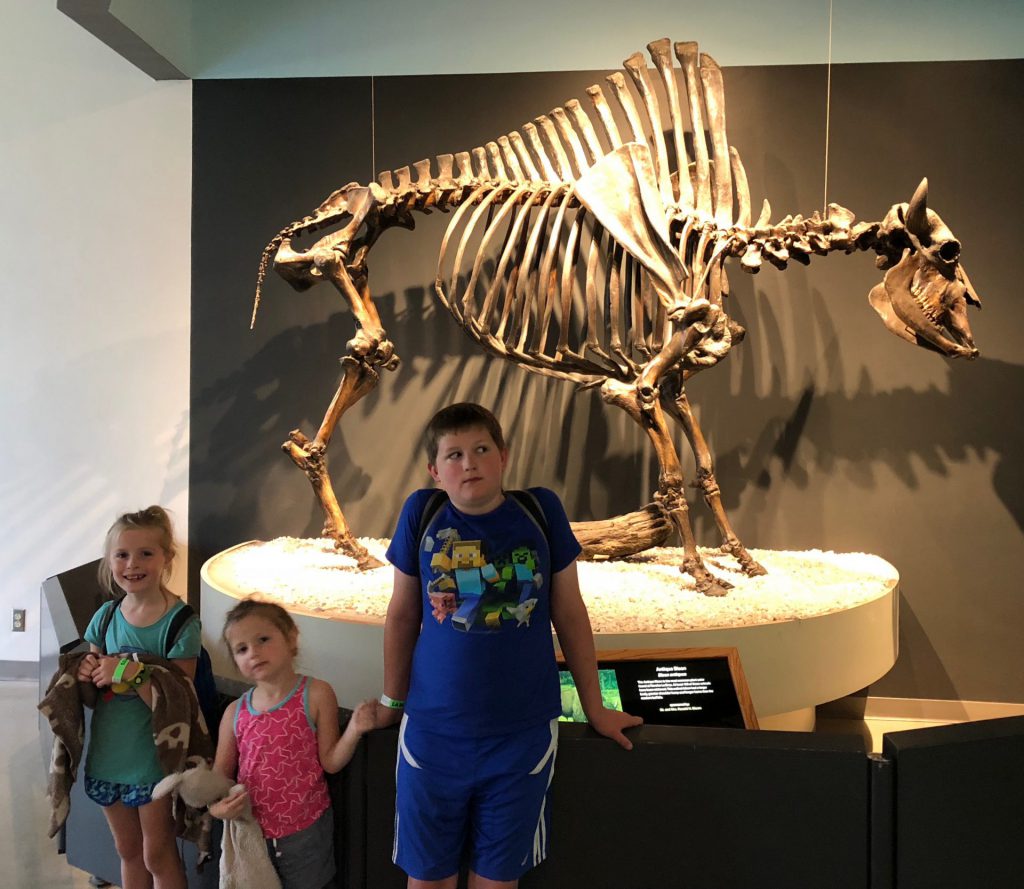 my fam. plus wooly mammoth.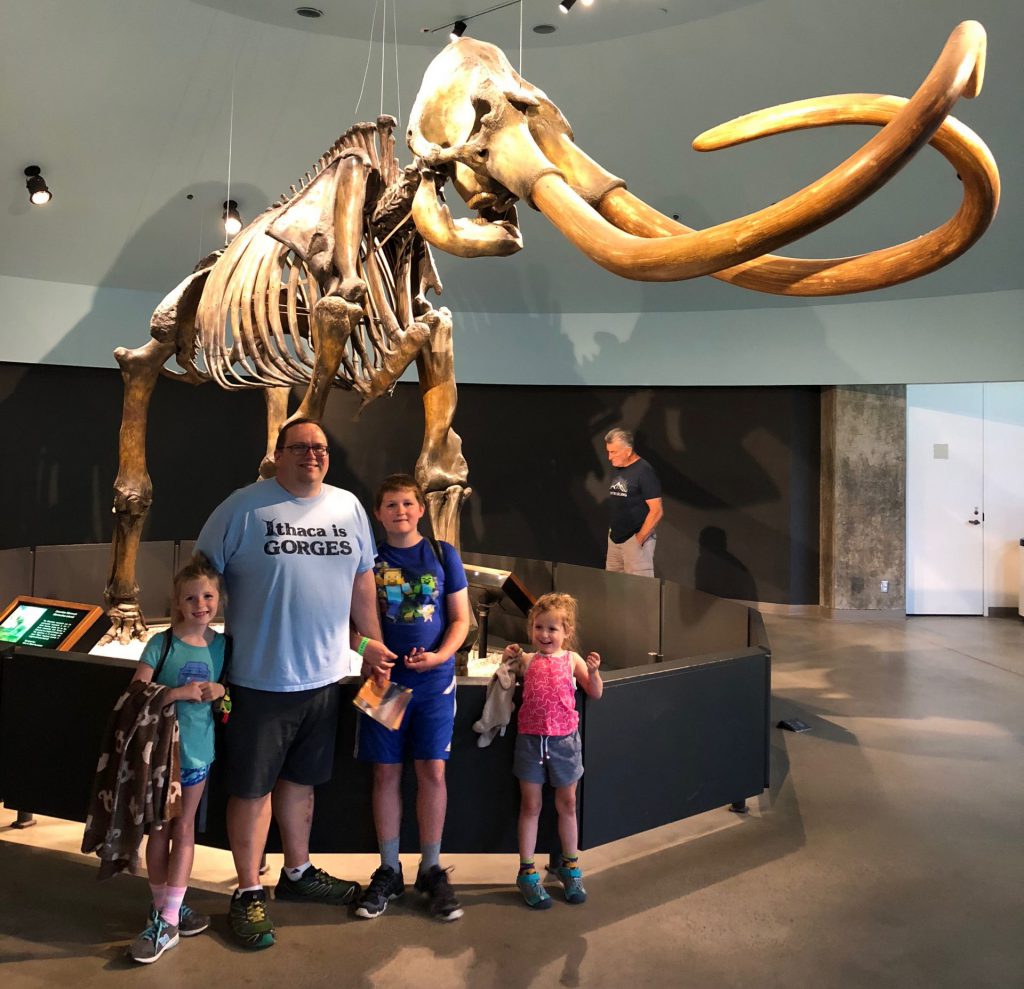 from above.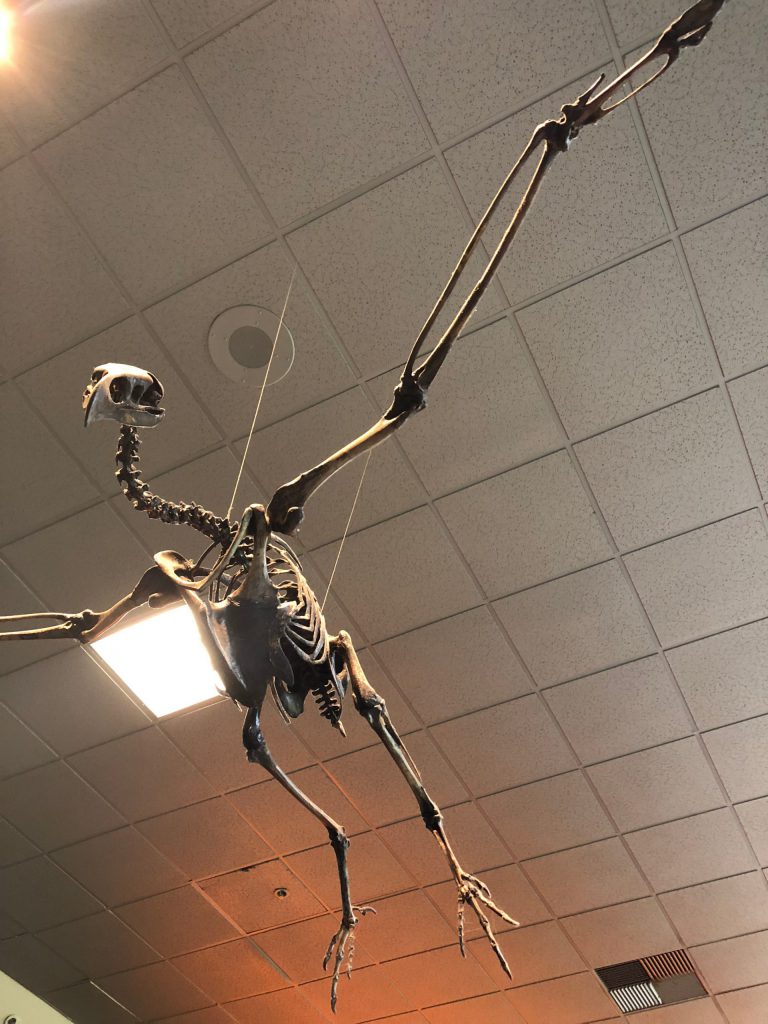 wall of wolf skulls. (one of many panels).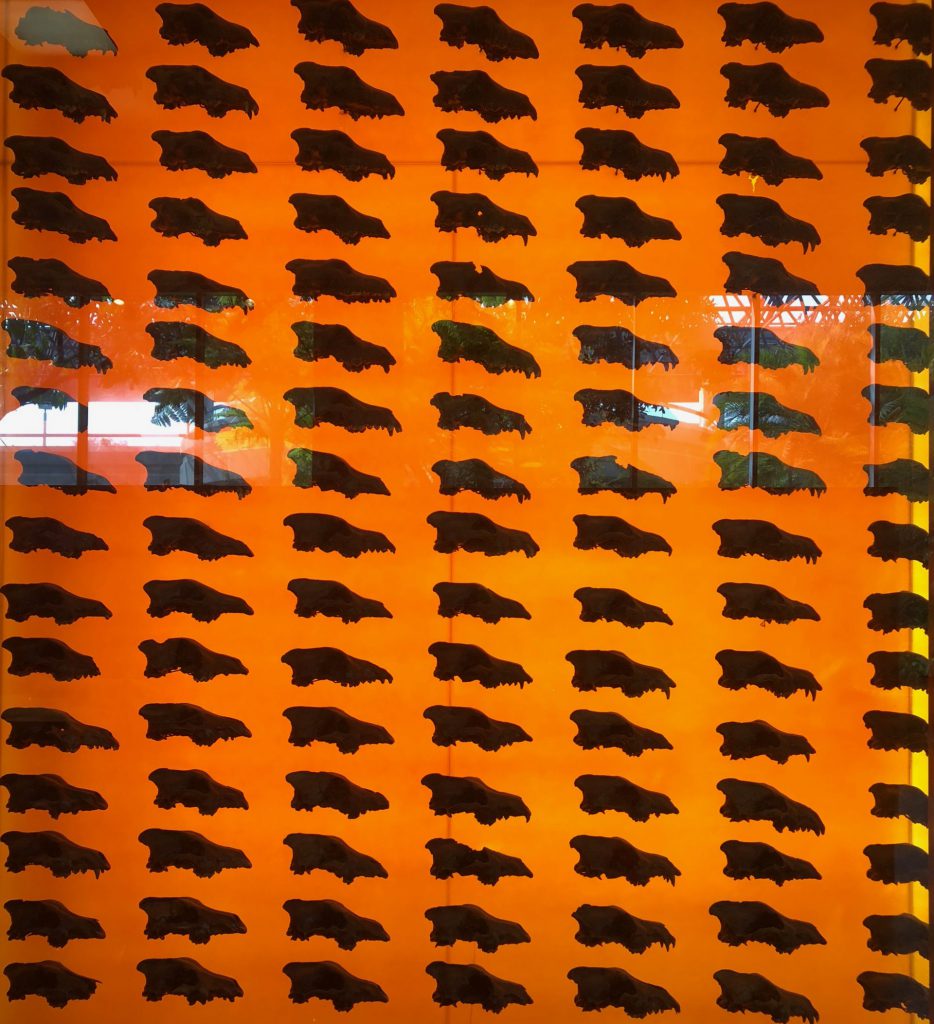 bums.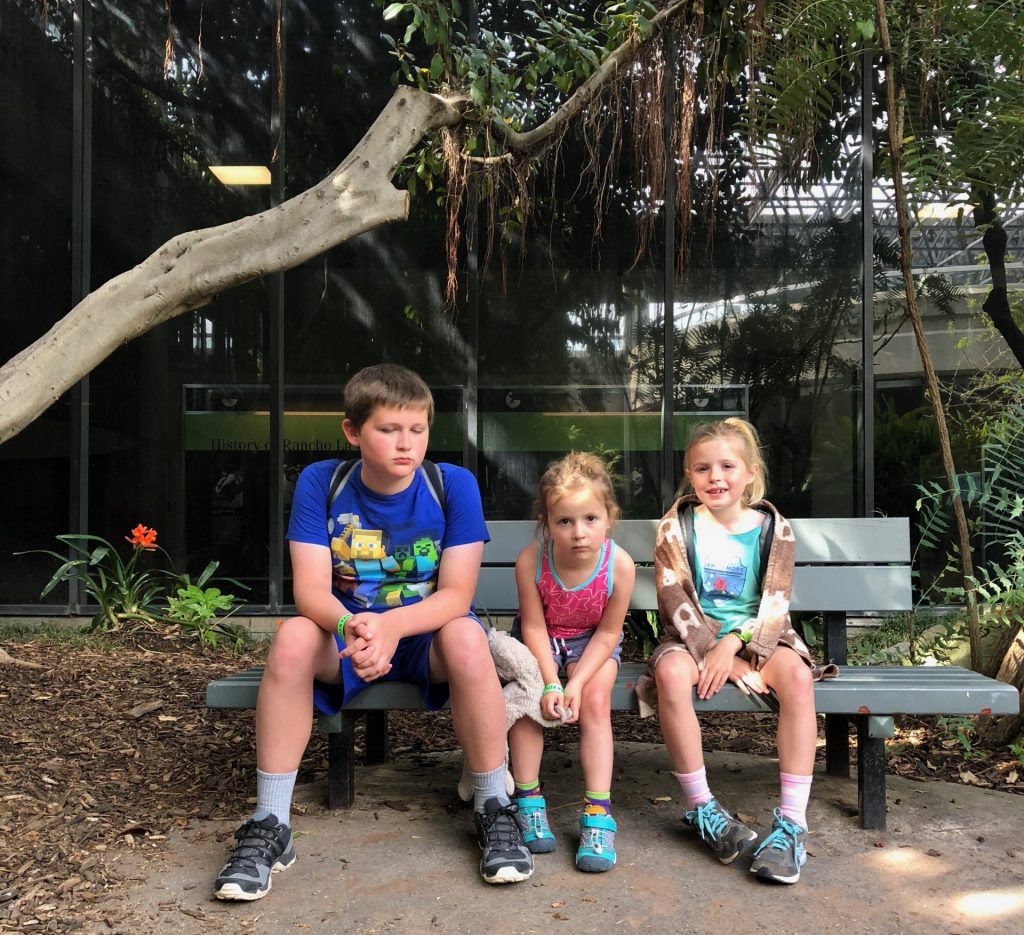 probably the best part of our visit, was a 3D movie about the tar pits in the ice age. the CGI animals were realistic and it gave us a better understanding of what went down, without having to actually read signs and stuff. when we were done, we walked around the park a little. checking out various pits of seeping tar. it's so surreal, this untamed bit of landscape, right in the middle of LA.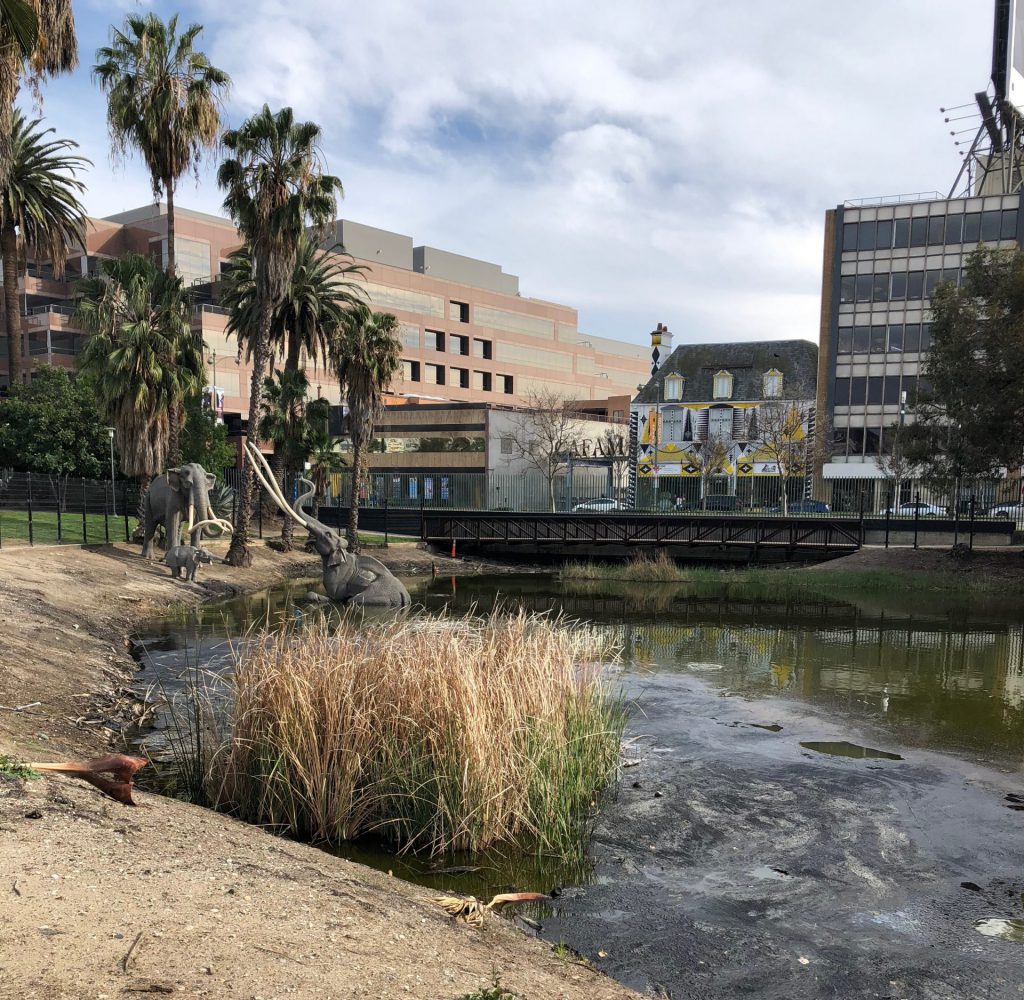 the pits are all fenced off and filled with trash and are sort of gross. and one of them now contains anna's bouncy ball, much to her dismay. and mine, for being one of THOSE people.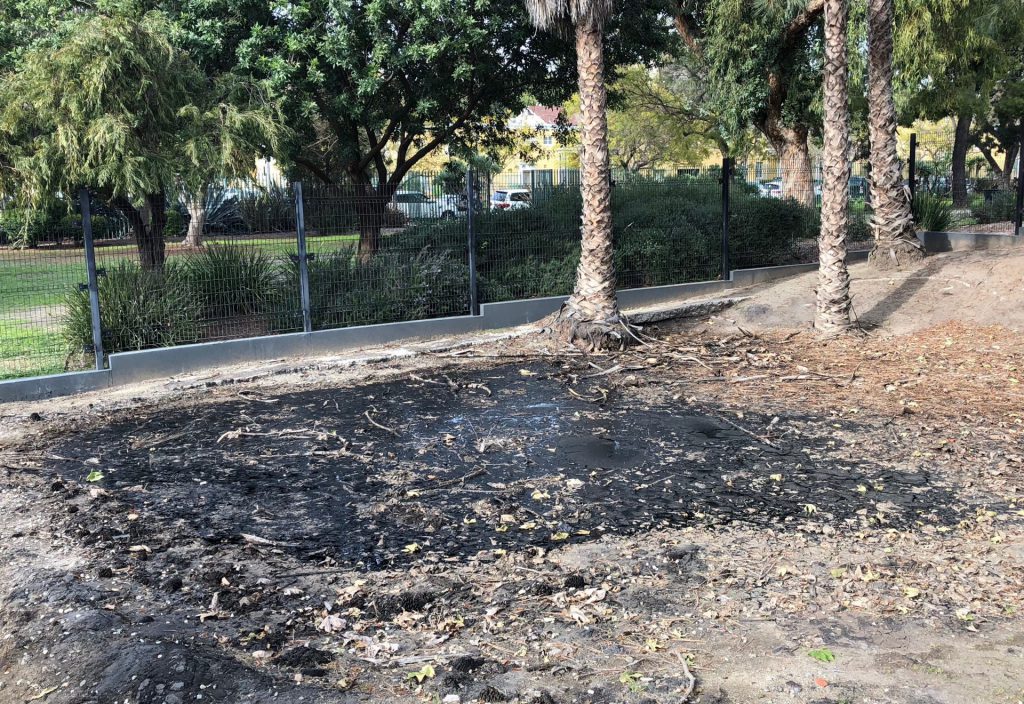 anyhow, we were exhausted at this point. and our three days of consecutive LA adventures came to a close. we are ready for more wilderness. 🙂