we just moved on from our two week stay in palm desert, california. it's pretty much a retirement/resort community, in the coachella valley region, just south of joshua tree national park. we settled in amongst the palm trees and began our stay.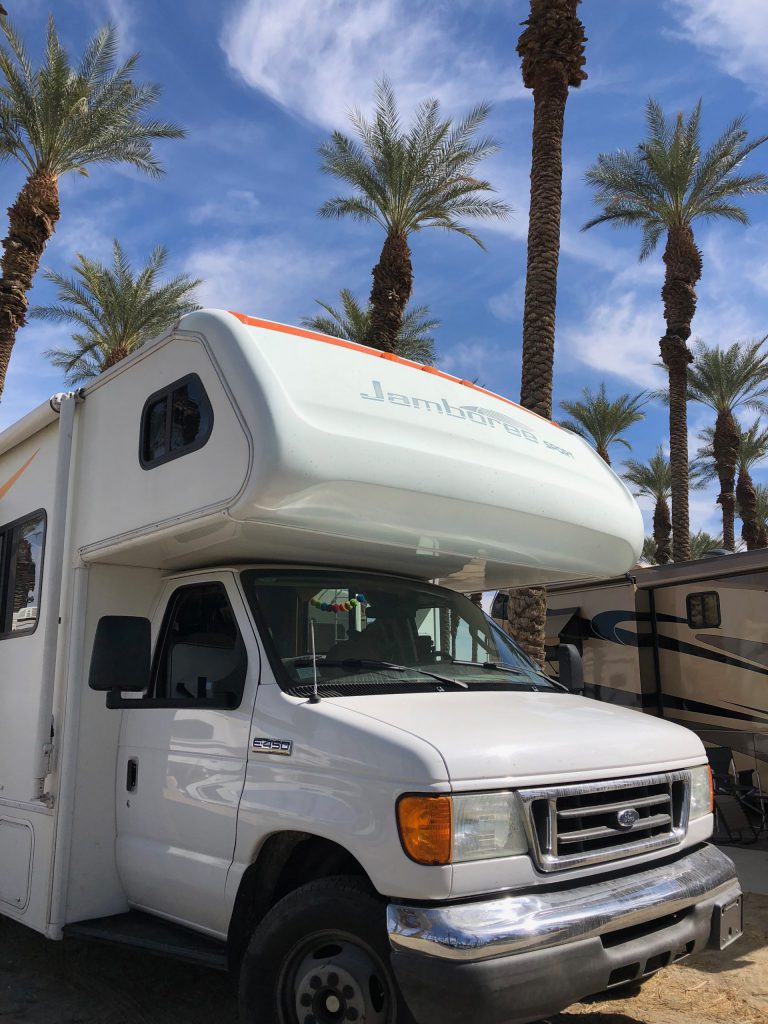 we found out there was a weekly "yard" sale in the park, so we decided it was the perfect opportunity to have a camper spring cleaning. while all of the bins were out, we stuffed anna into our storage area and put her to work vacuuming.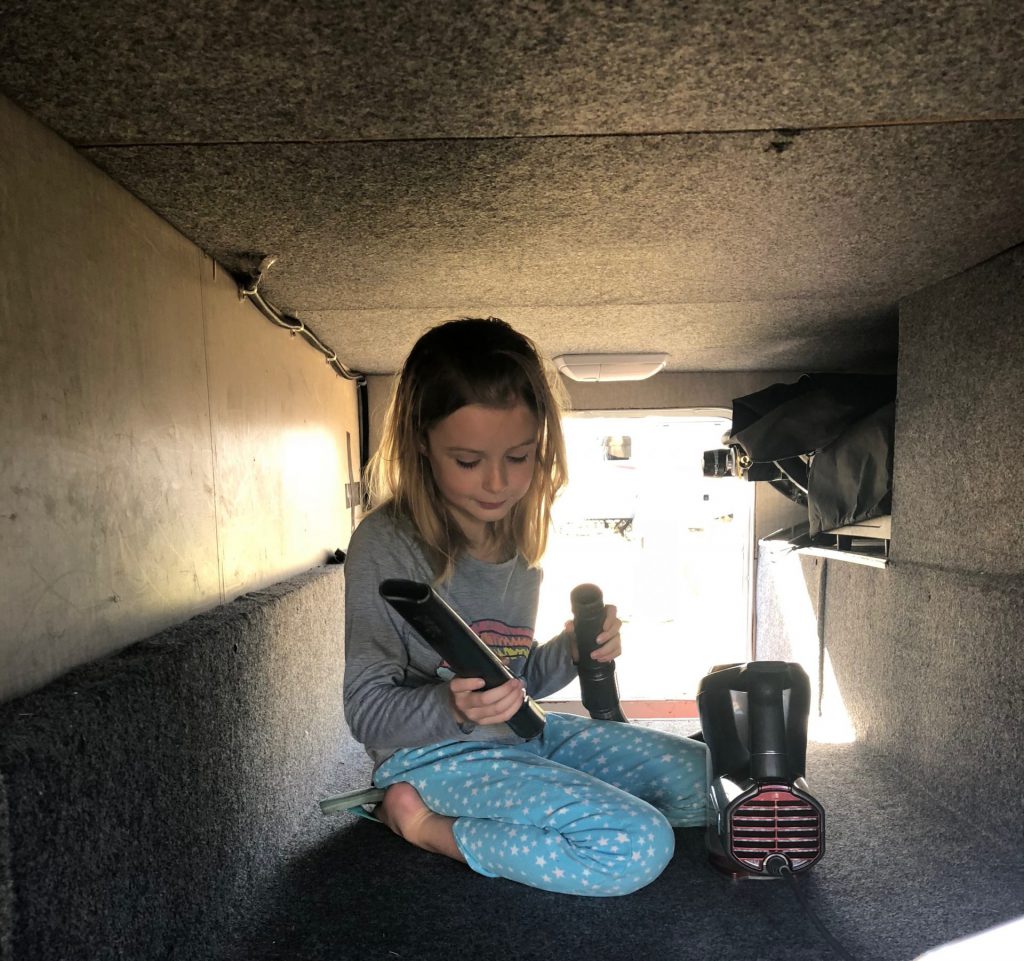 purging, in process.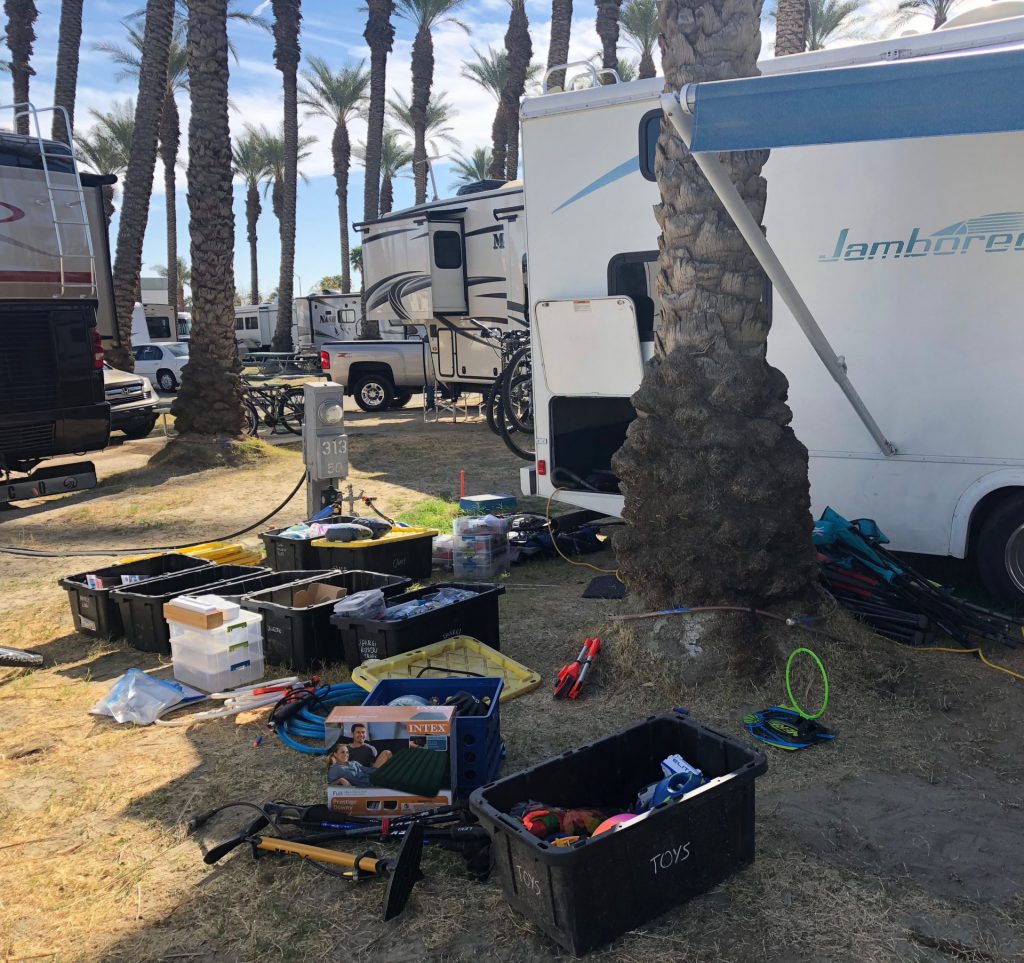 the kids were super excited to spend some time at the pool. unfortunately, the weather didn't really cooperate and it was pretty chilly for a lot of our stay. that, and the "family" hours at the pool were only 1pm-3:45. the rest of the time was "adults only" or the four hours of volleyball time declared by the members, who we were warned were not a group to be messed with. so, we went once. and that was it.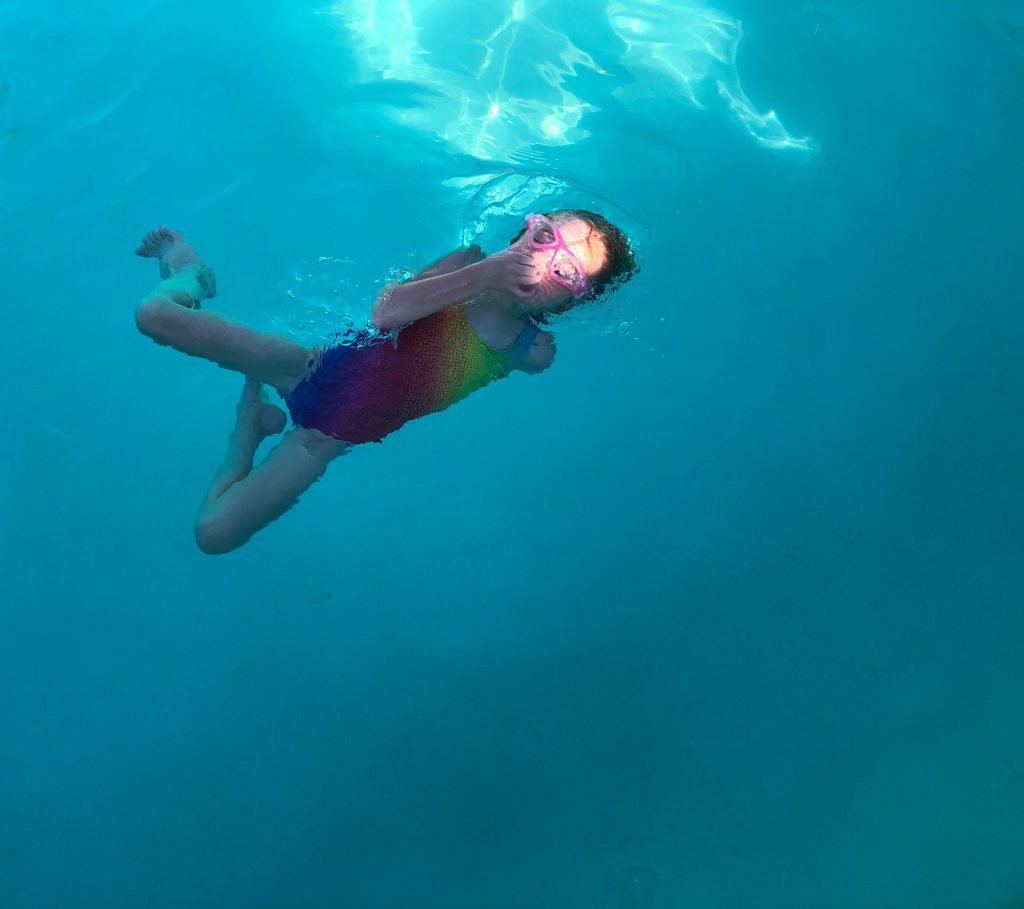 the kids were super stoked to get a care package from their cousins (and parents, i suppose). the made quick work of all the candy and are still working through the toys and such.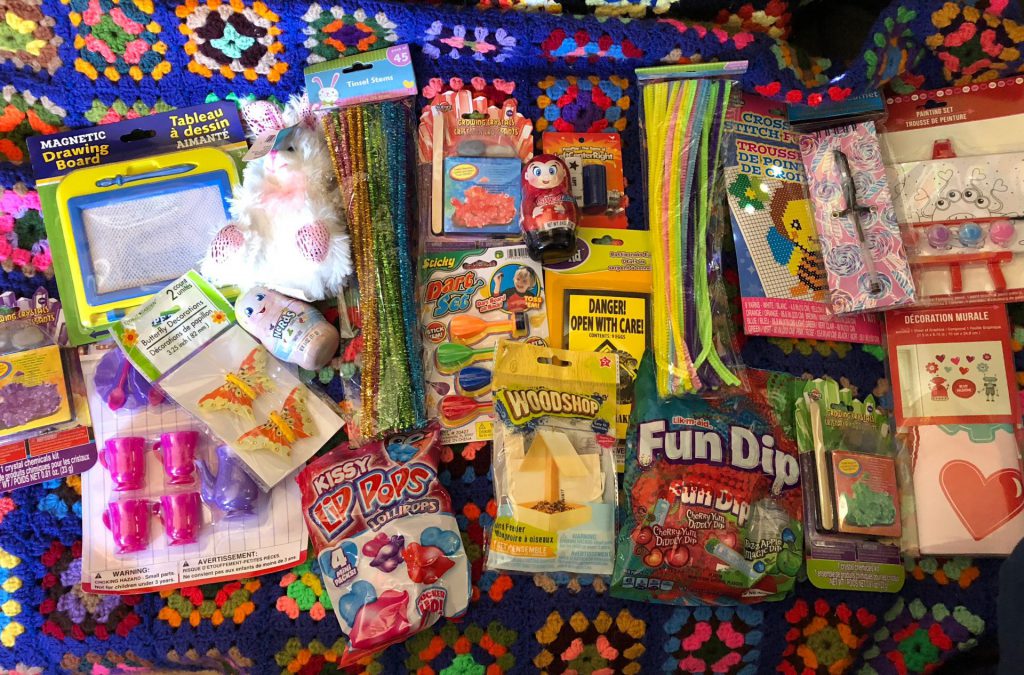 hazel. art time. making her own iphone. modeled after derek's phone.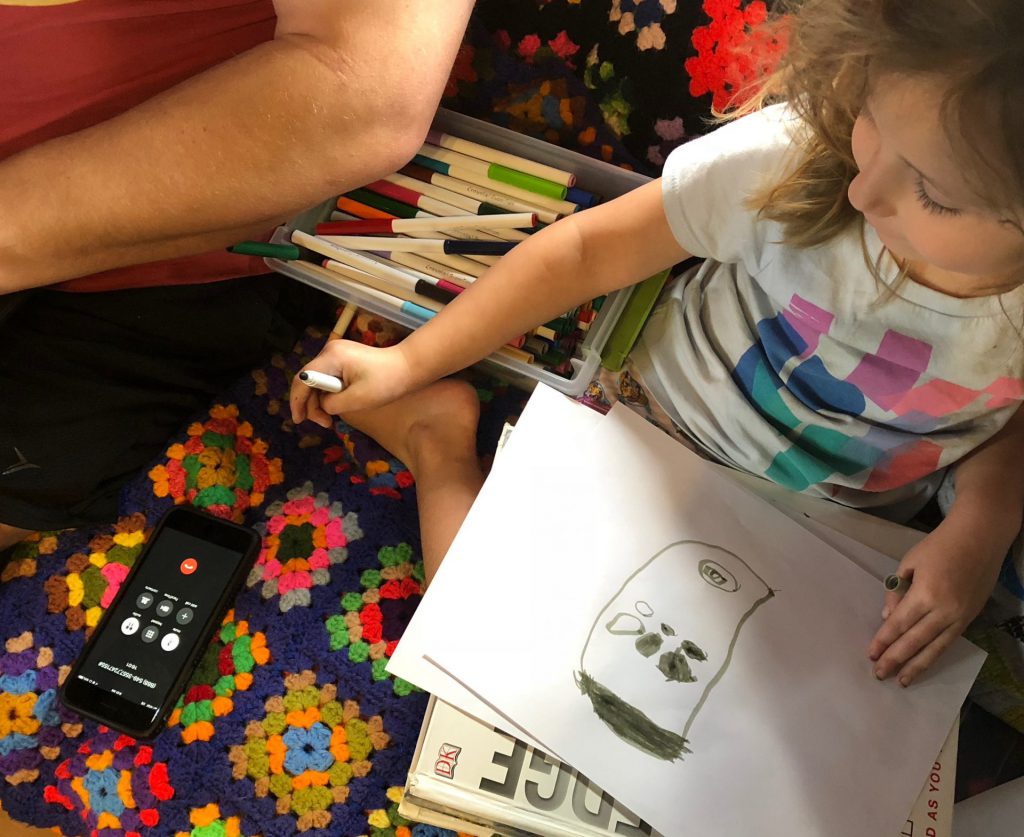 at some point, hazel turned into a big kid who can take showers. :(. and :).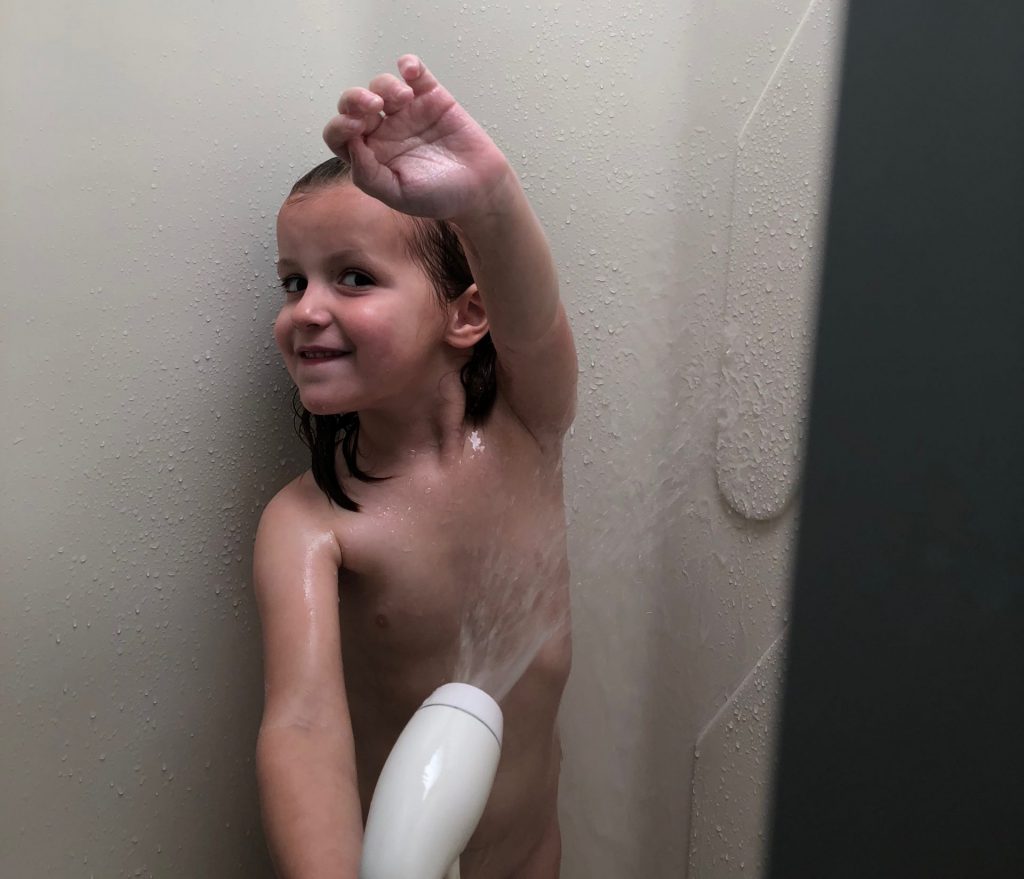 one of the best things about our stay in palm desert was that we got to meet some instagram friends in real life! first up, we met the crew of "journeying jacksons", brandy and jenn, and their two pups, astro and rosie. brandy works, to support their glamorous lifestyle, but we were able to spend a lot of quality time with jenn, who joined us for a bit of homeschool art class. she was a star student and painted a great little desert landscape.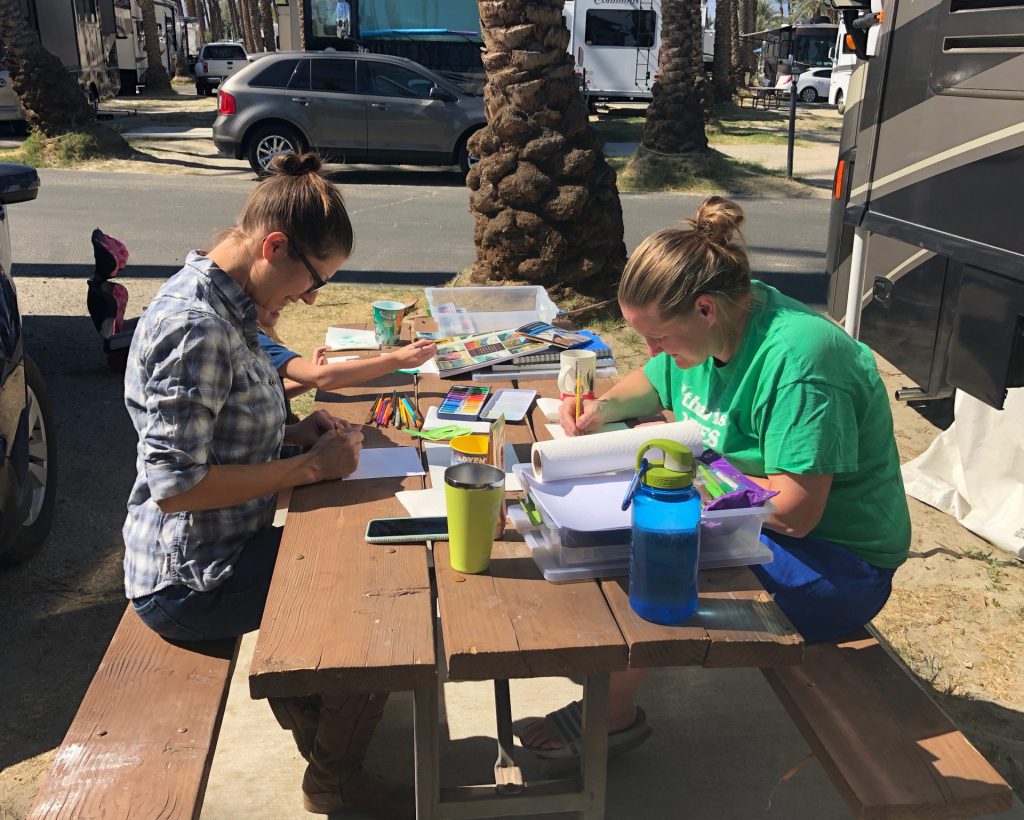 i stole this pic from her instagram, of our workspace.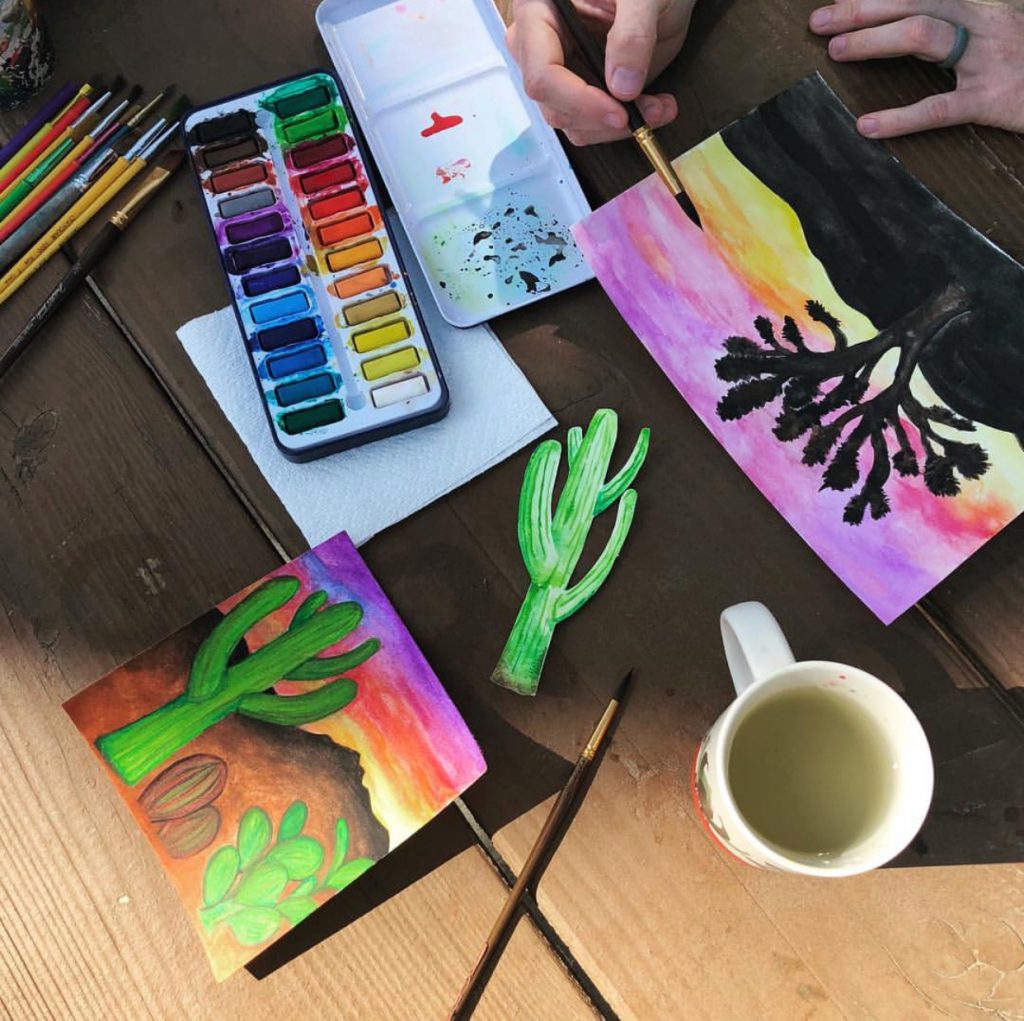 then, just some random pics of the kids, taken in portrait mode. just because. they are cute. or so i think.
anna. freckles. grizzle teeth.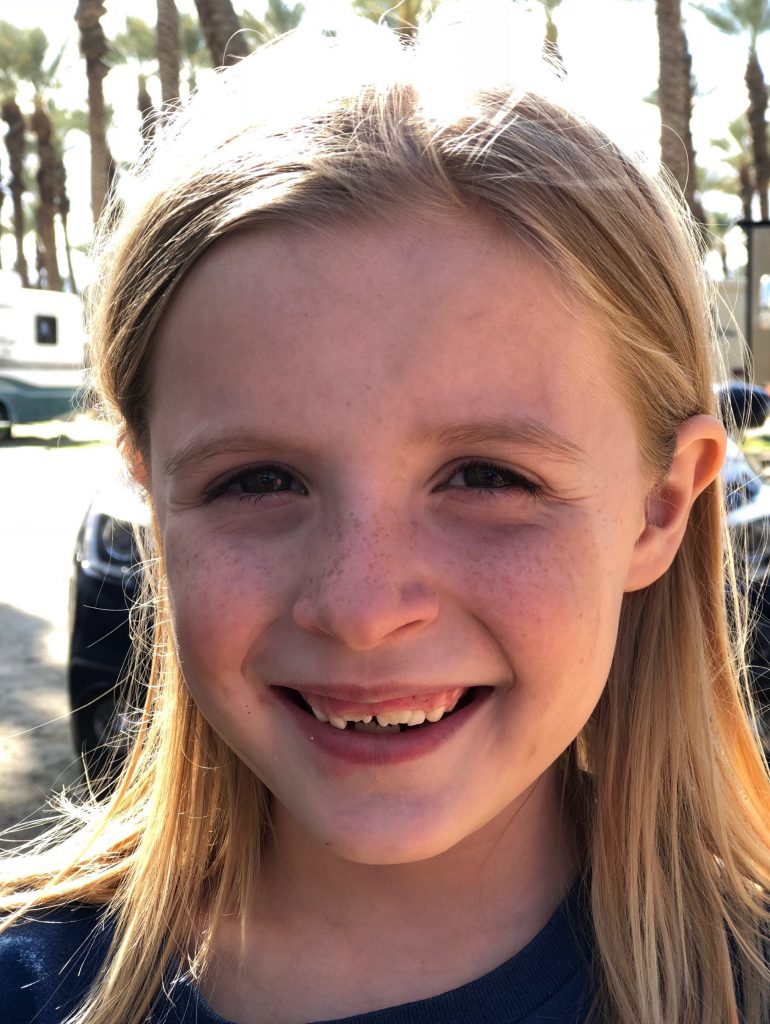 ike. slightly uncertain about the photo.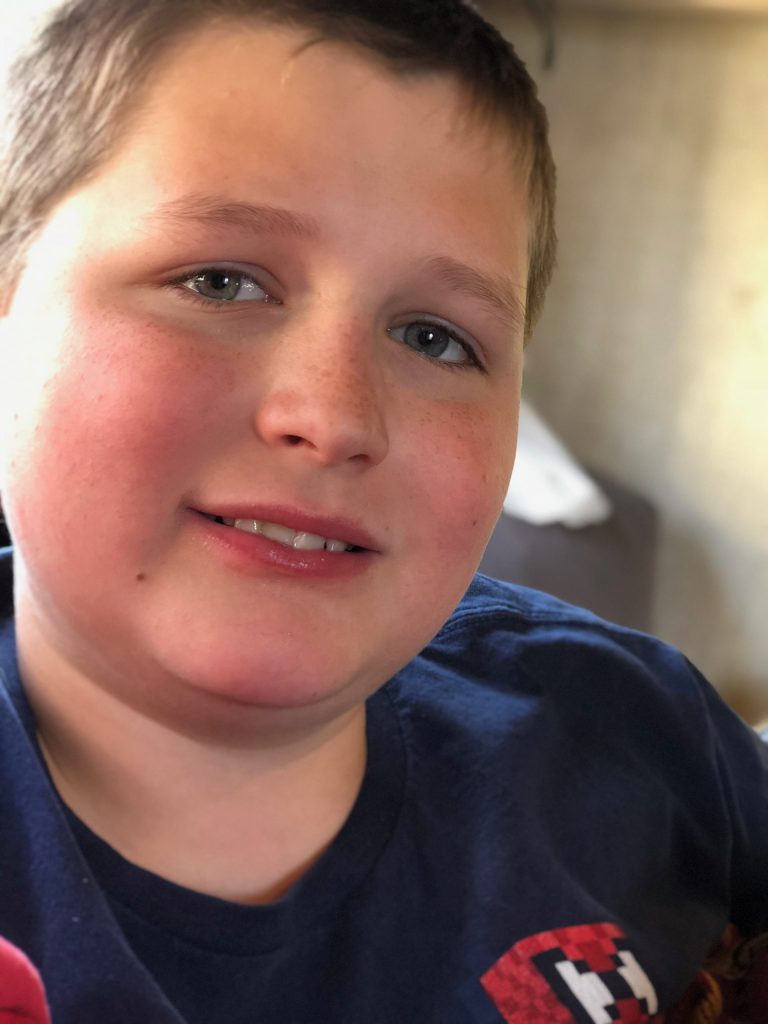 crazel. in a rare pic without crazy eyes.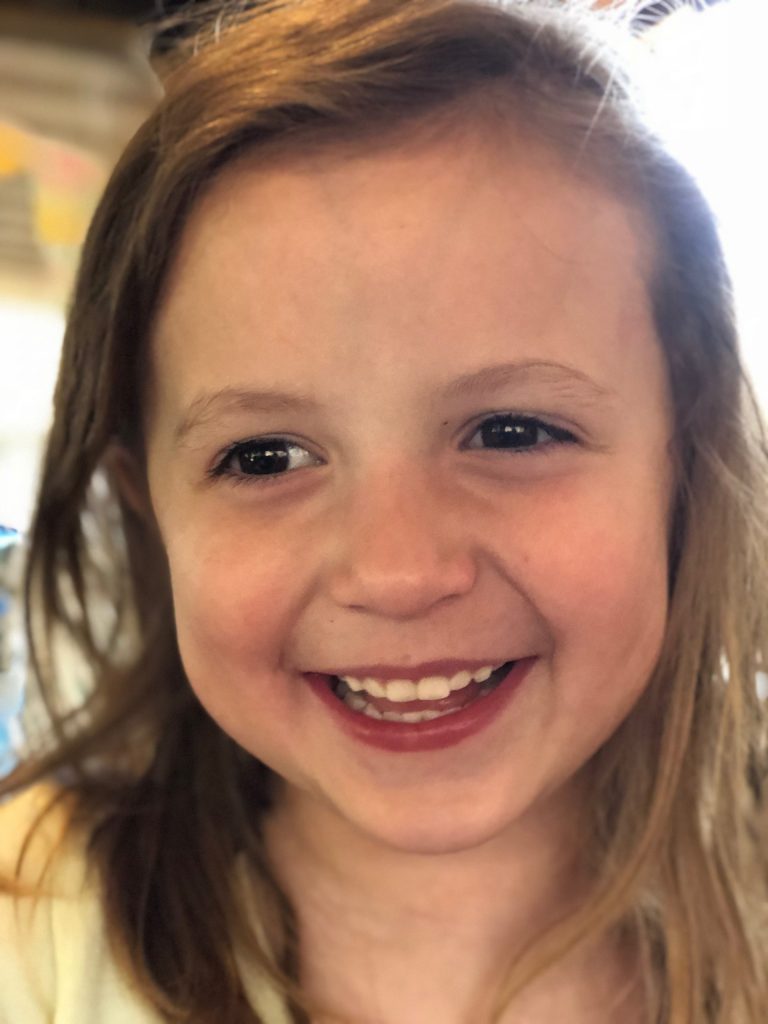 tea party.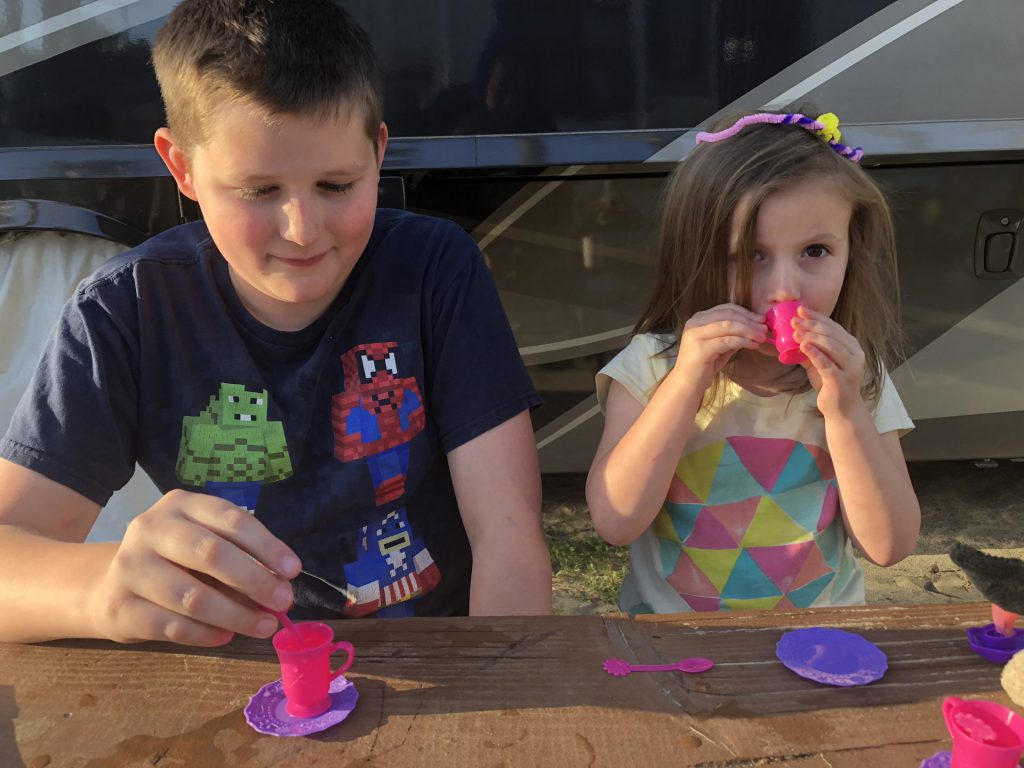 we also met another fulltime rv family, with two minecraft loving boys, so while isaac went to their place to have a minecraft play date, anna and i went to downtown palm springs with our new friends, to check out an art/craft/food fest. anna and brandy bonded over hot dogs.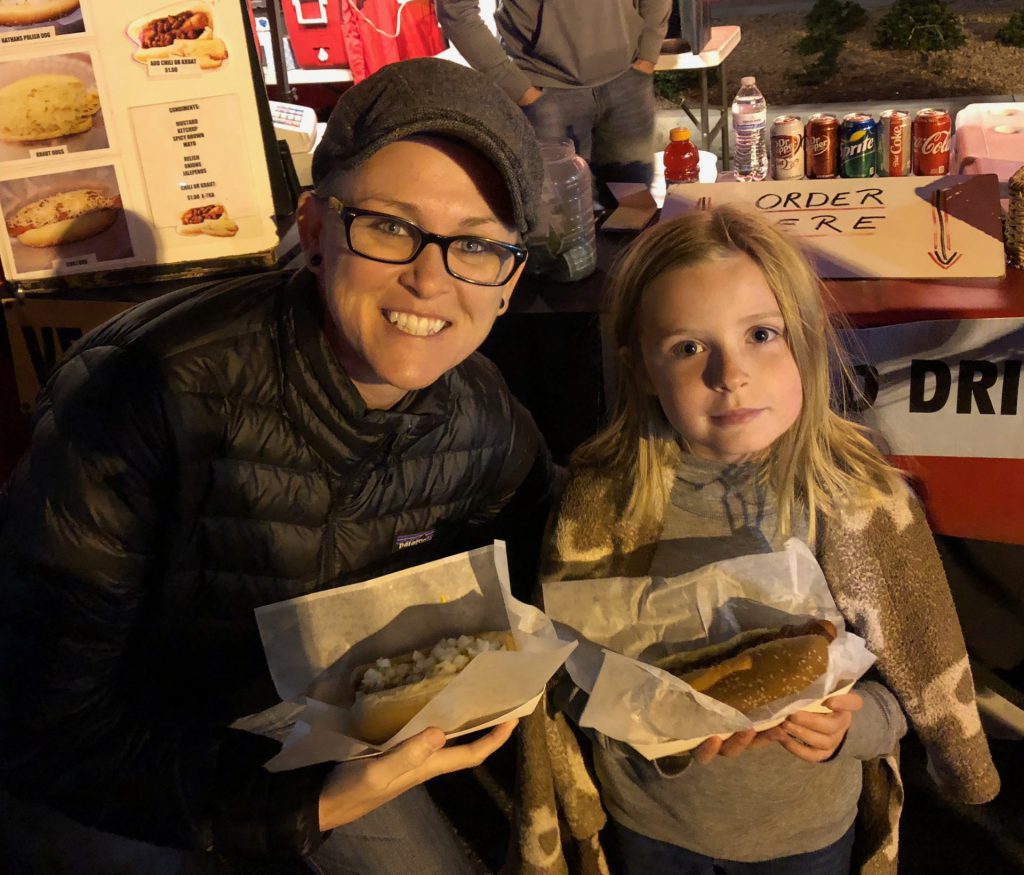 and we got to feed a horse.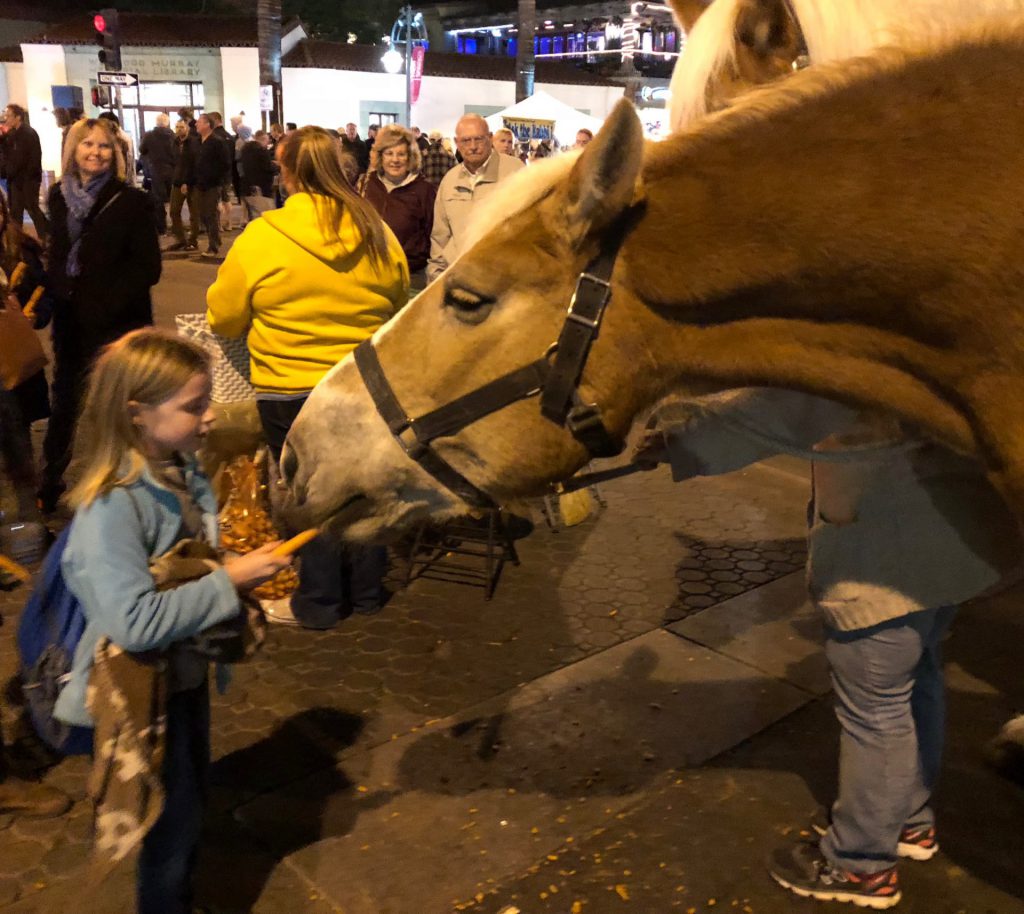 me and anna, and my favorite food group in art form.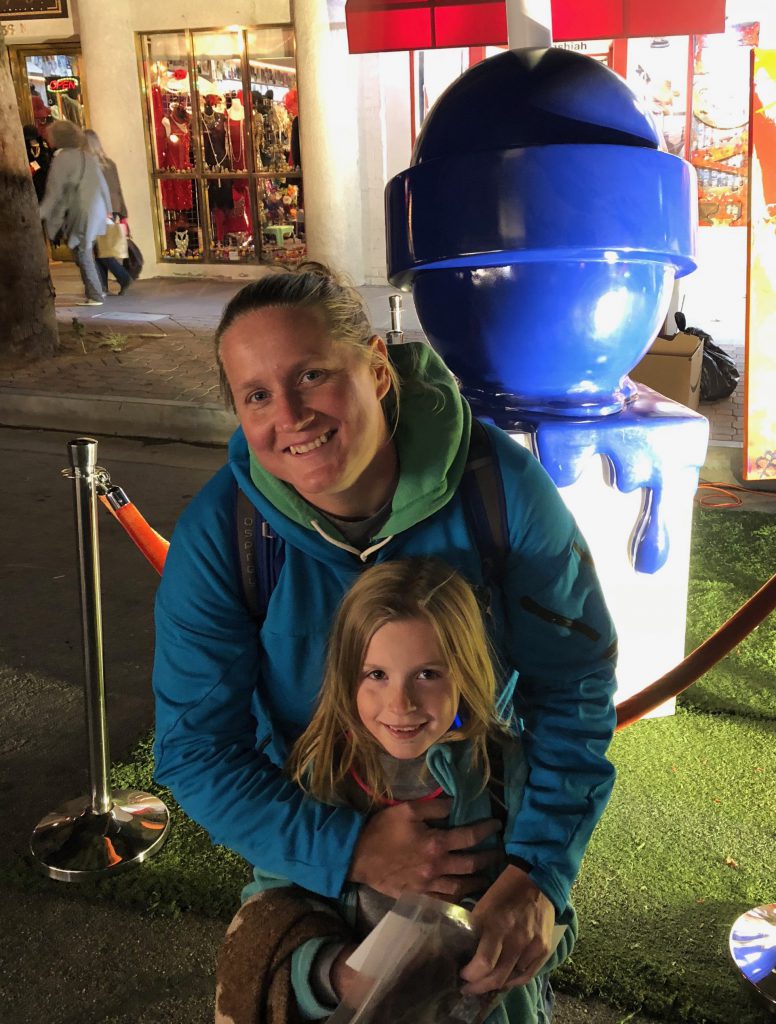 finally, a group shot, in front of a hotel, before we left.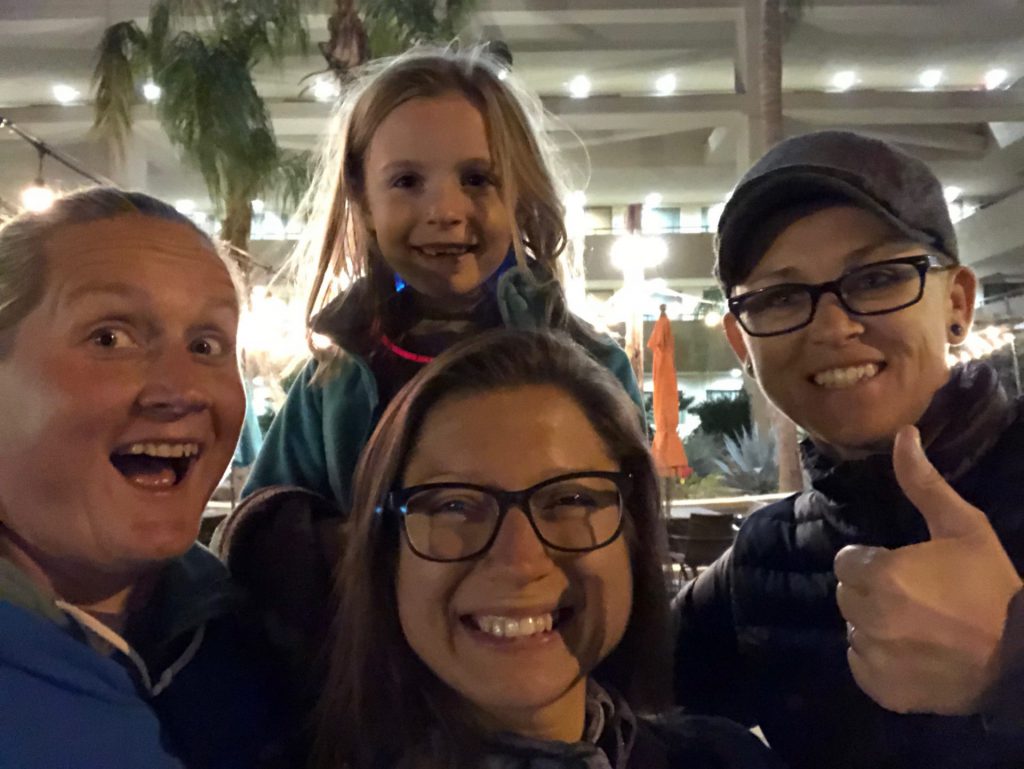 we also happened to have some friends in another campground nearby, so we were able to meet them at a childrens museum for a quick hangout while our paths crossed. we originally met them in massachusetts, and then again in washington in two different campgrounds. they have one little guy who is just a bit younger than hazel, with shared interests, who is pretty cute.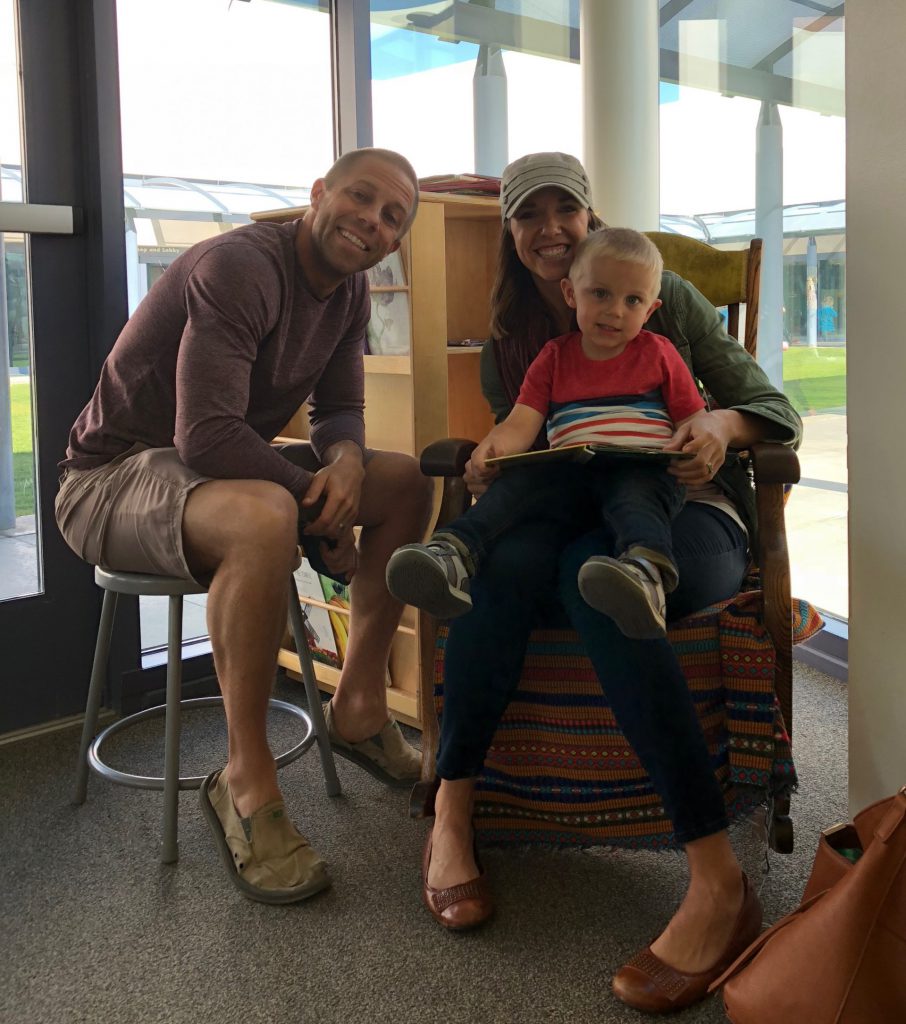 we spent a lot of our time in the lego area. because giant legos.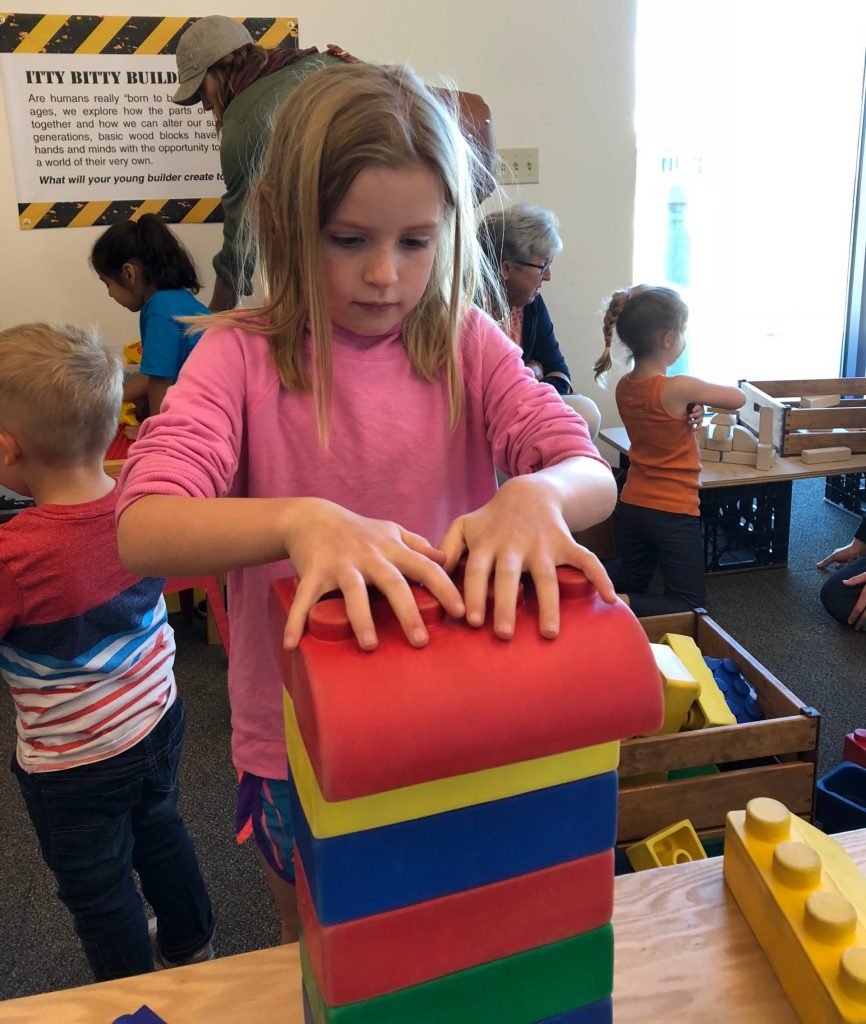 it was near the trains, so hazel alternated between the two, but the actual train engine situation was lacking, which caused a few toddler confrontations.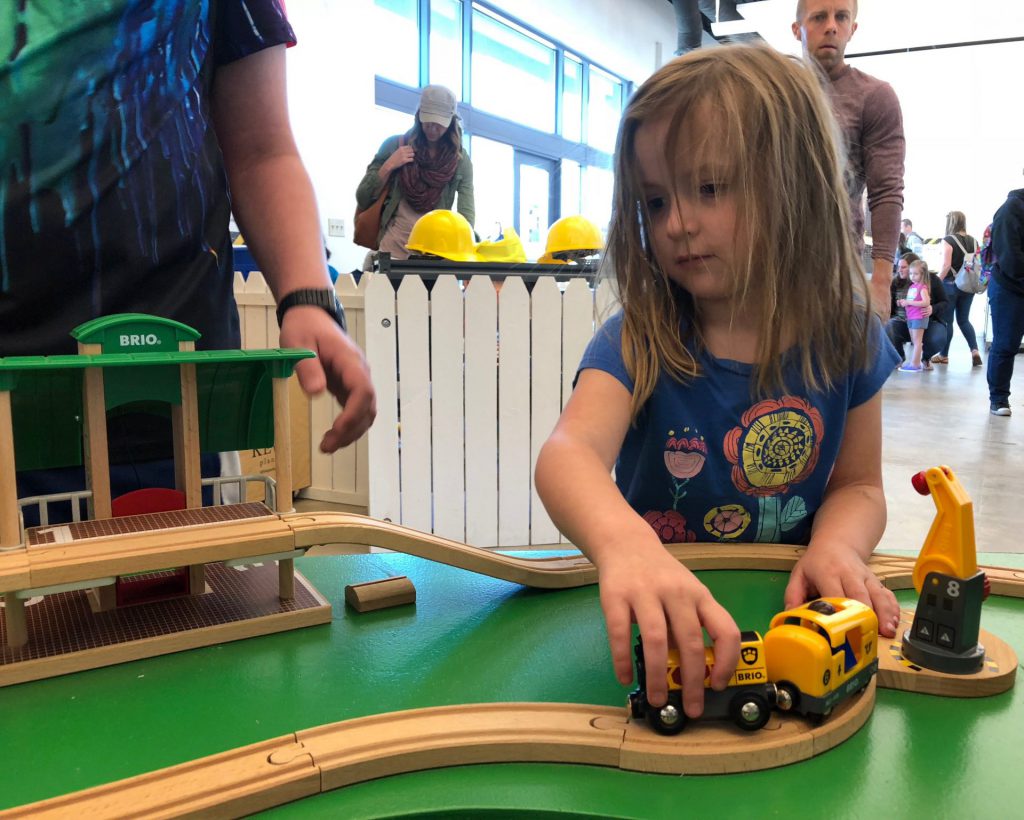 the main goal of all the kids in the lego area was to make a tower as tall as possible. anna was pretty pleased with this one that was taller than me and requested photo documentation. thankfully our friends helped out.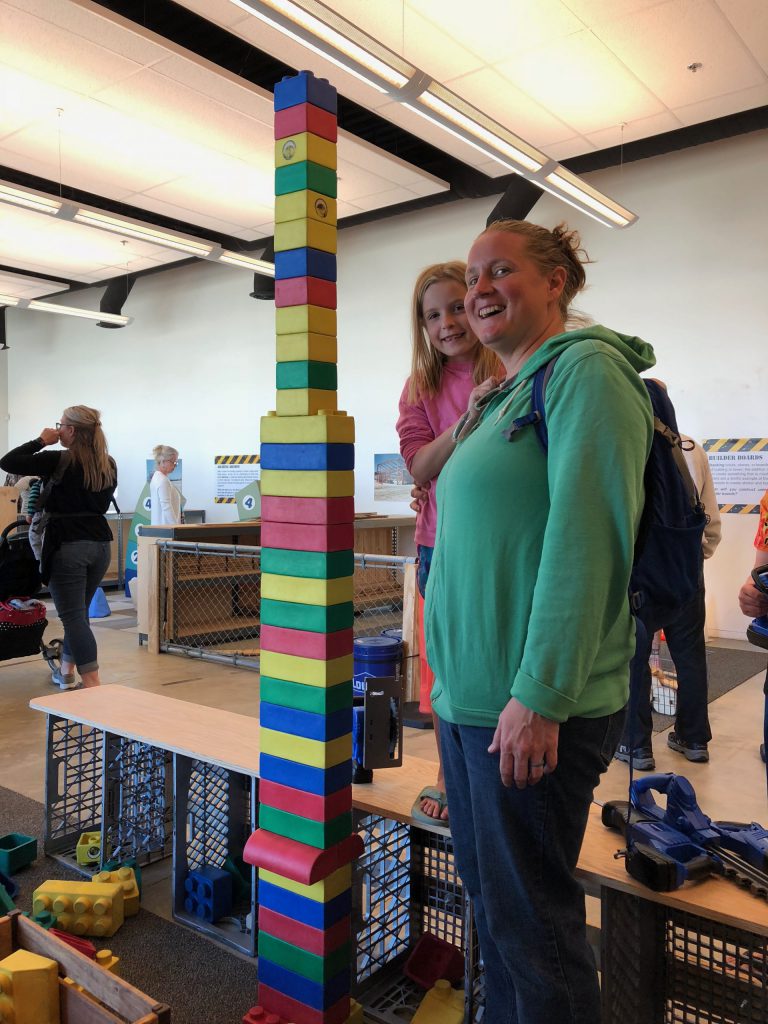 one of the coolest exhibits was the "build your own electric car" area. they used a little preassembled engine, and then could use trial and error with different gear and wheel sizes to make a car for this track. i put my math degree to good use and assembled a car that destroyed all the kids cars. i'm a great mom.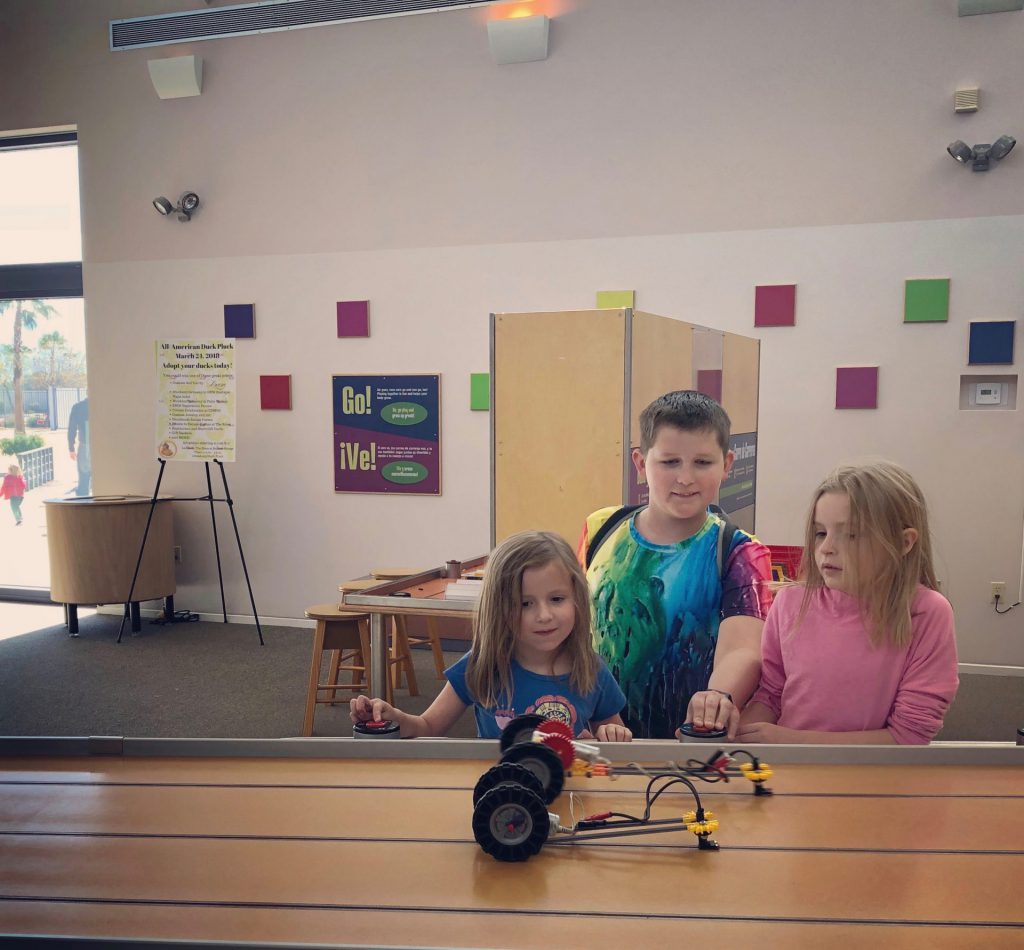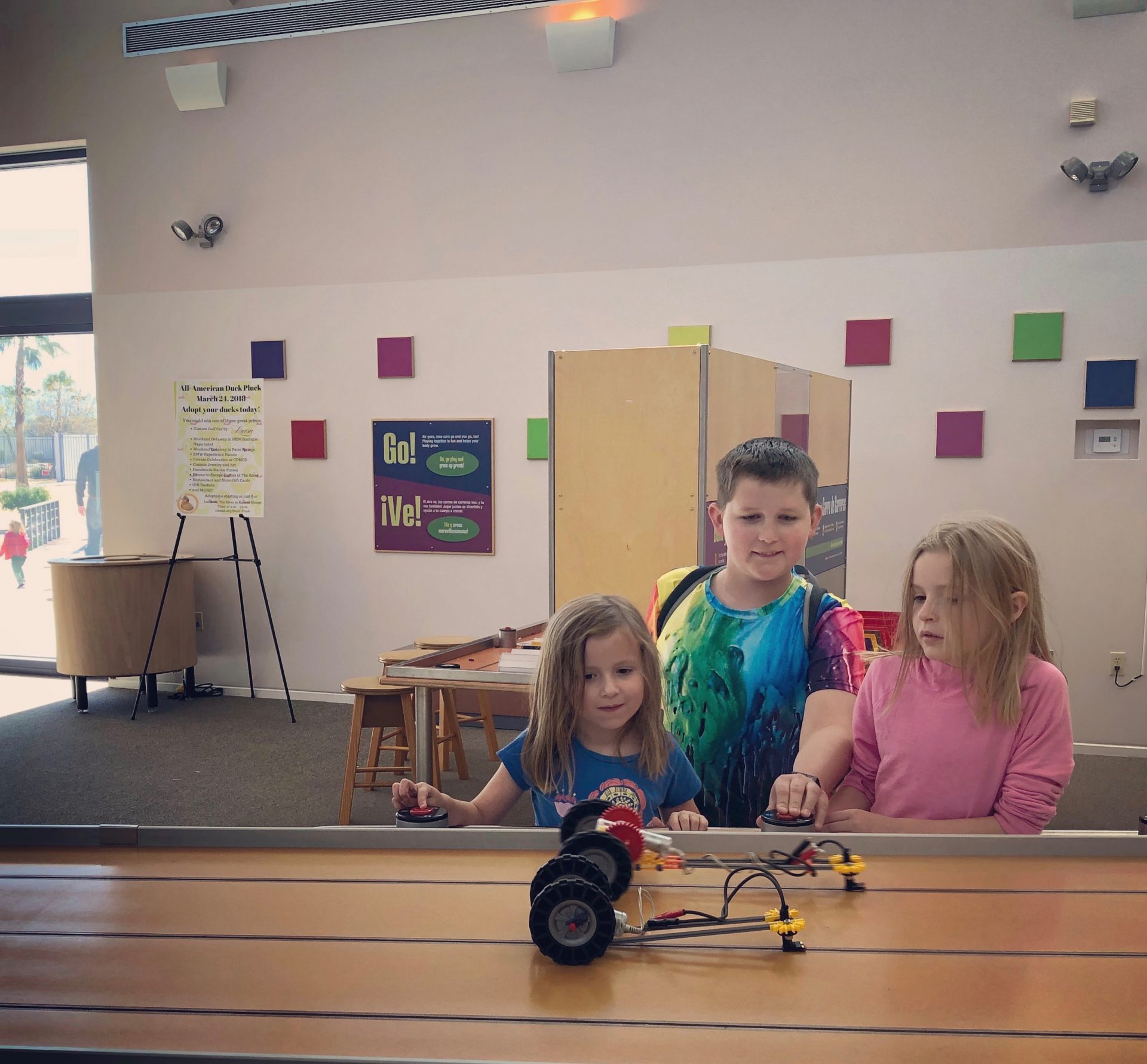 the view from the children's museum was pretty awesome. (the entire valley is awesome, but at our campground, squeezed amongst 200 or so fifth wheels and motorhomes…. well, it's a little hard to see).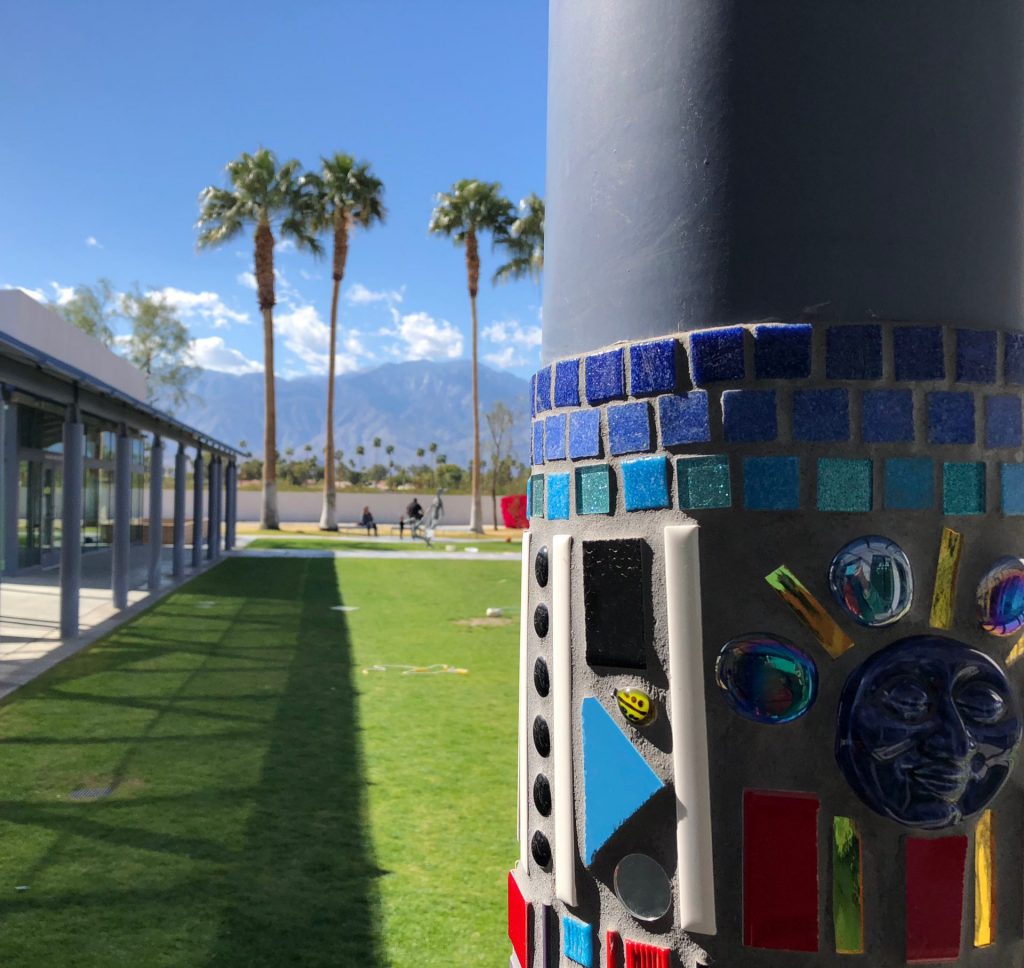 at the end of our first week, we had to bid farewell to our pals, the jacksons. we stopped by to deliver some kid art and just hang for a few before they left. (they may or may not expressed interest in taking anna of our hands, if we were ever interested.)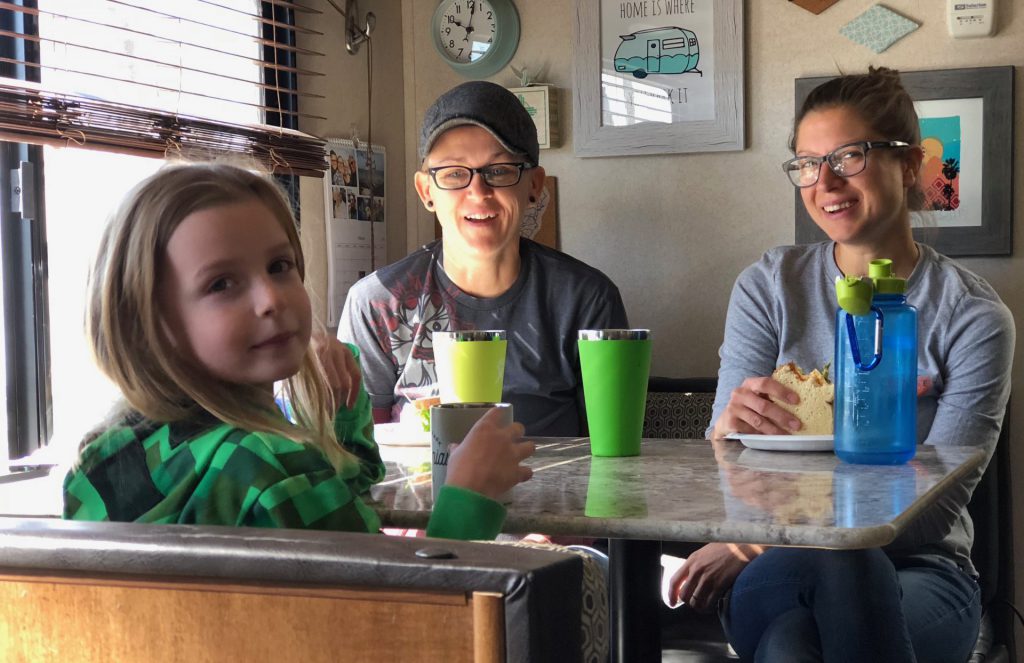 back at the camper, some nintendo switch action for the girls.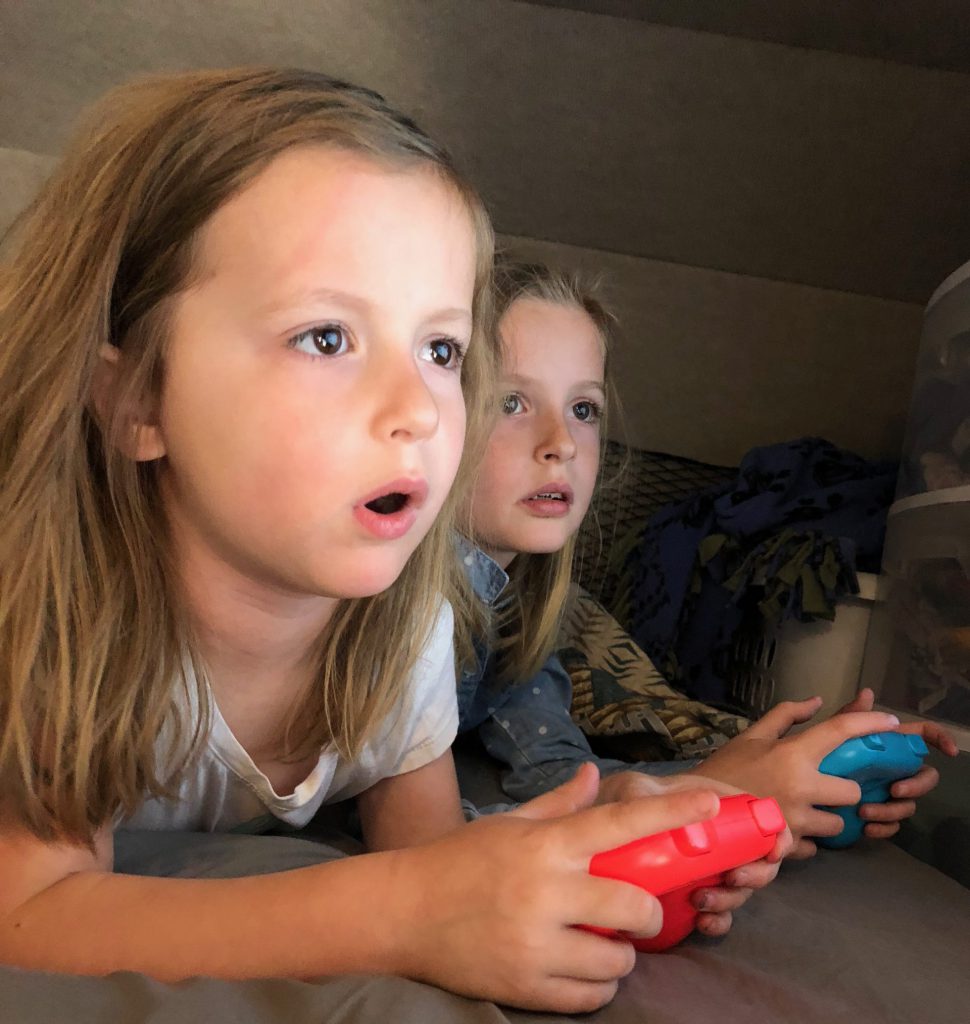 the next week, anna and i went on a pretty amazing camping trip in joshua tree, which i'll post about later. but, when we returned, isaac was at his friends' camper, and i think anna missed him. she made him this banner along with several notes about a party that he could only attend if he verbally committed to this same philosophy.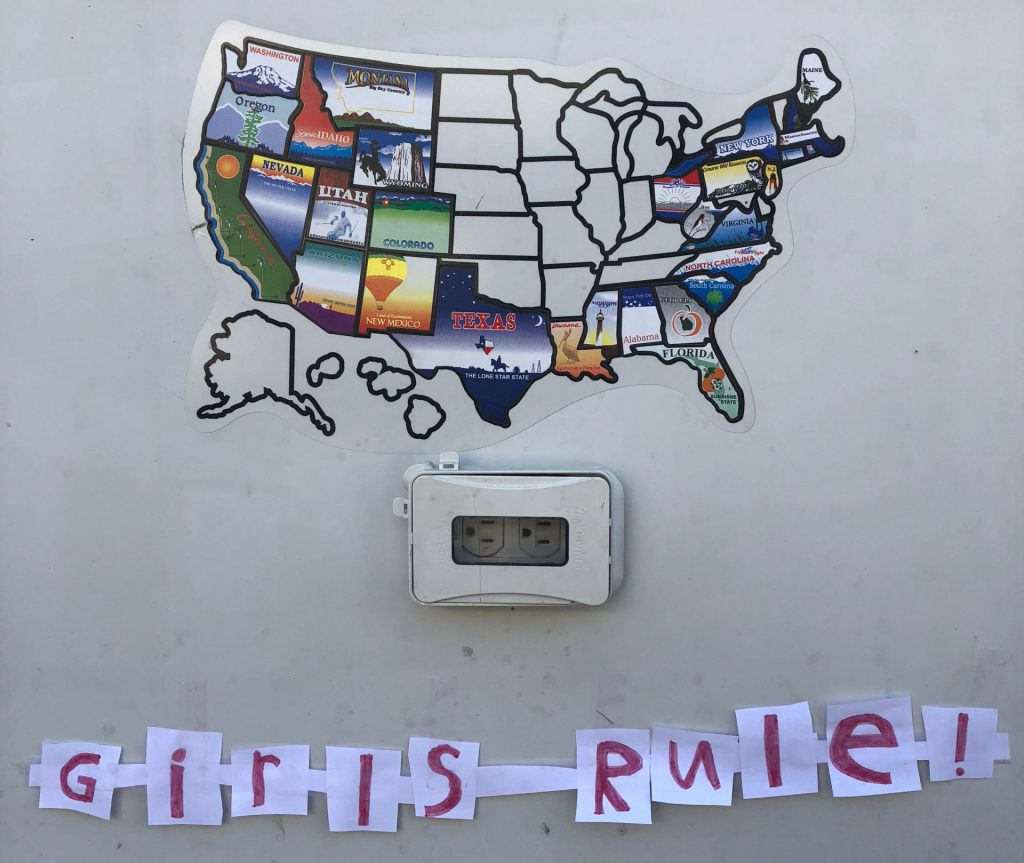 hazel school.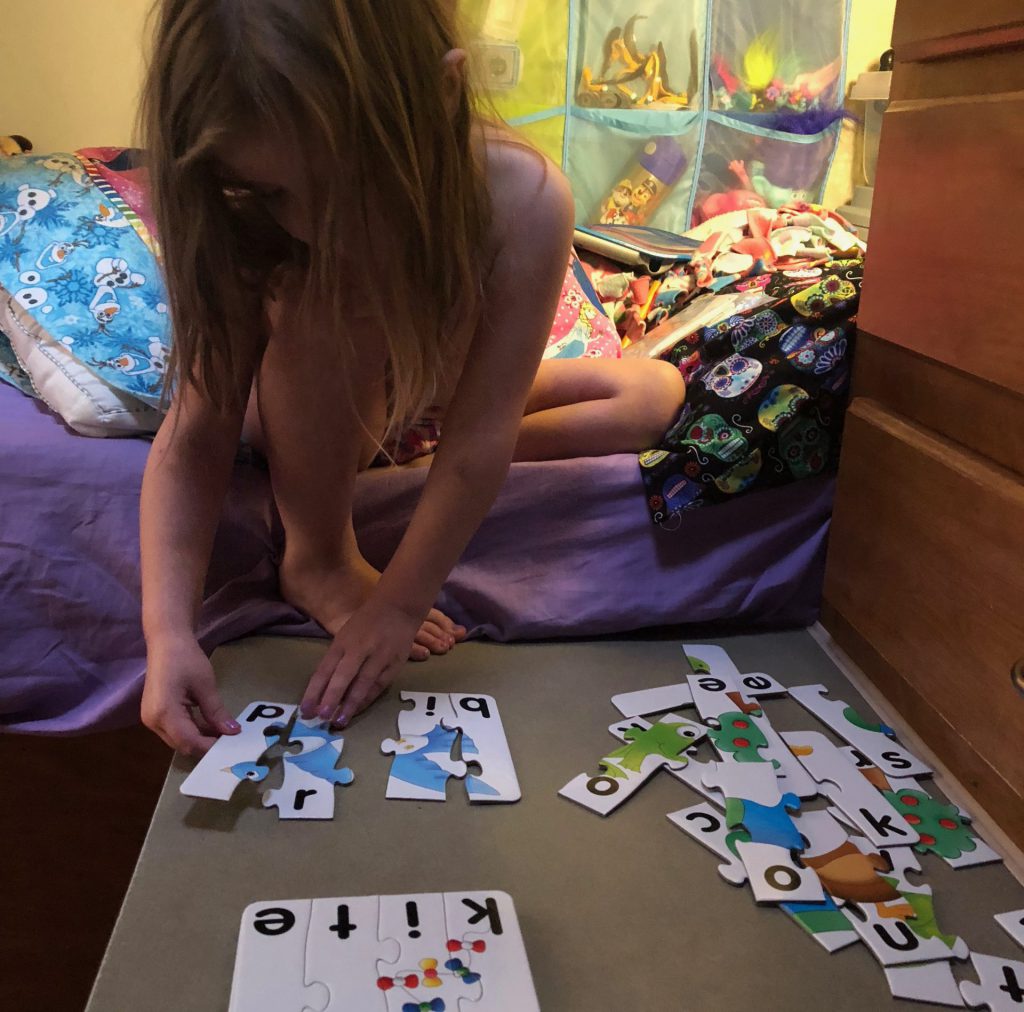 on our final day in the area, while cleaning and organizing, i attempted to put away some lego constructions that had been out for the entire two weeks at this campground. of course, that meant that everyone decided they wanted to play with said legos and how dare i even think that they were done with them just because they had been untouched for 12 days. isaac finished up a stop motion video that he had been working on. complete with an umbrella to block out the sun.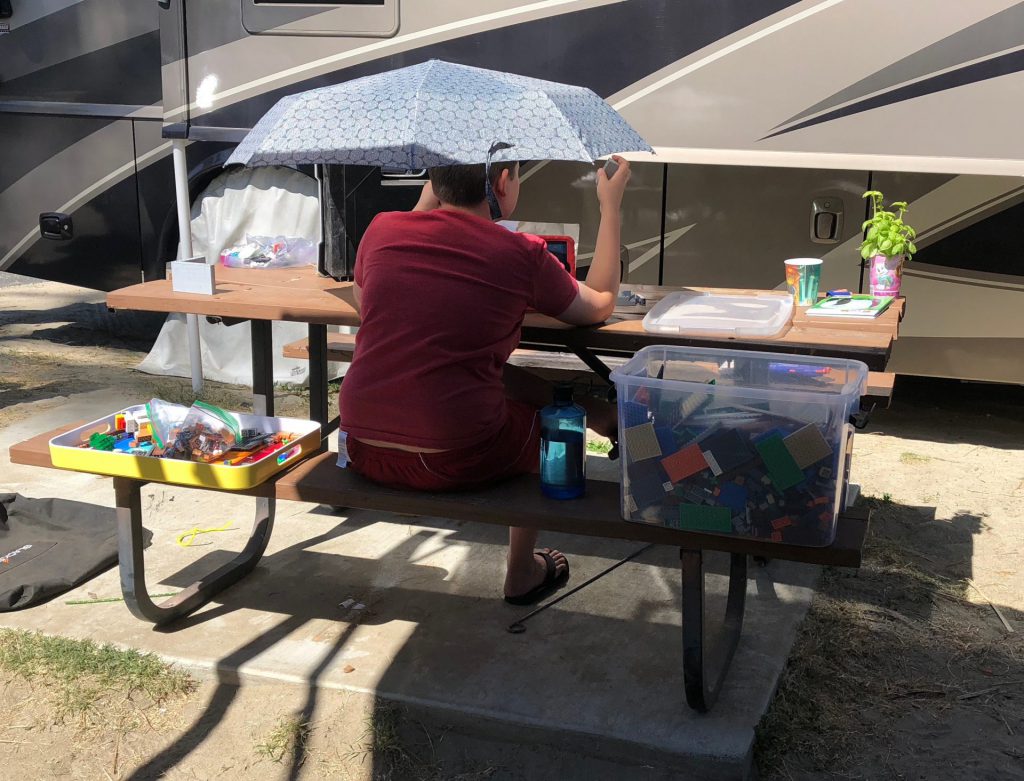 later, ike's buddies came over to play a bit more minecraft with the lidkids. they alternated between ipads and kindles and the nintendo ds and the nintendo switch. screens, screens, screens.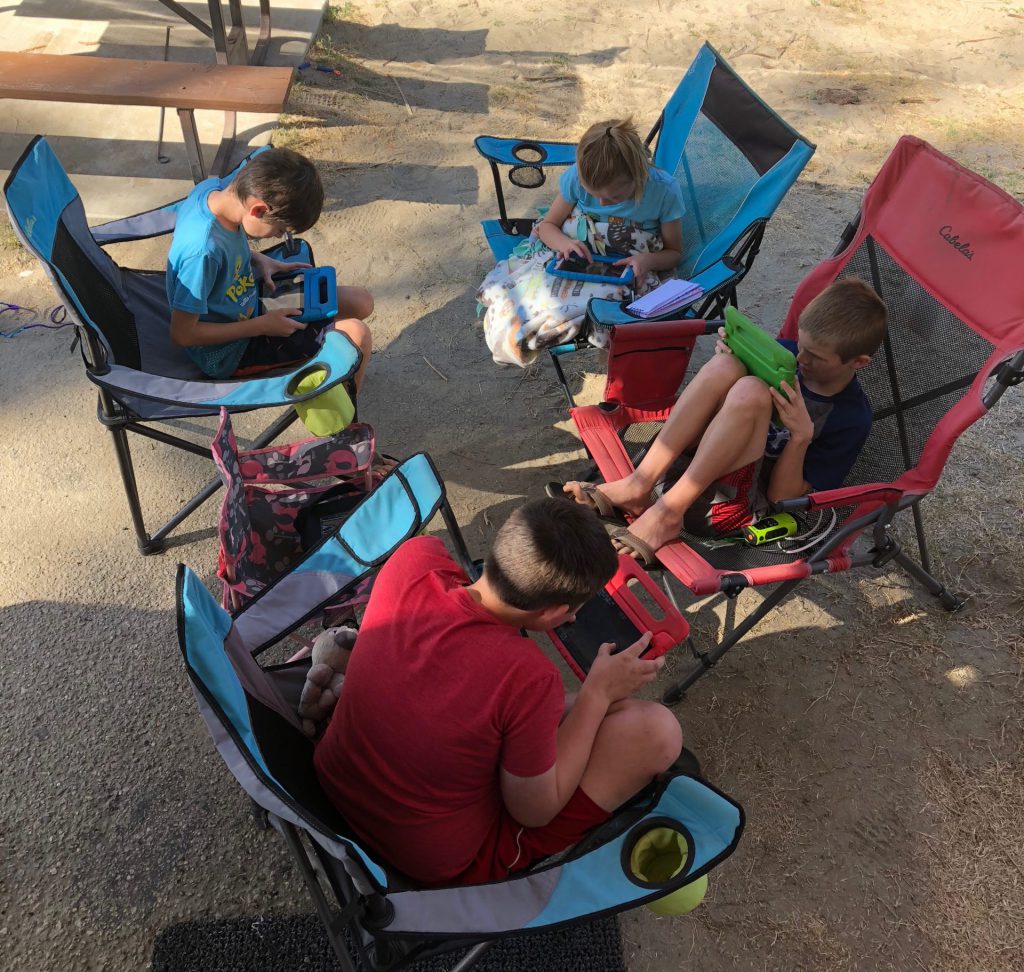 one final parting shot with the new friends. we actually spent the evening hanging out with their entire family, and we all hit it off, so hopefully we will get to spend more time with them in our travels. it's always pretty awesome to meet folks you like in this lifestyle, and we were lucky to meet two such families at this spot. but then it's always super sad to part ways.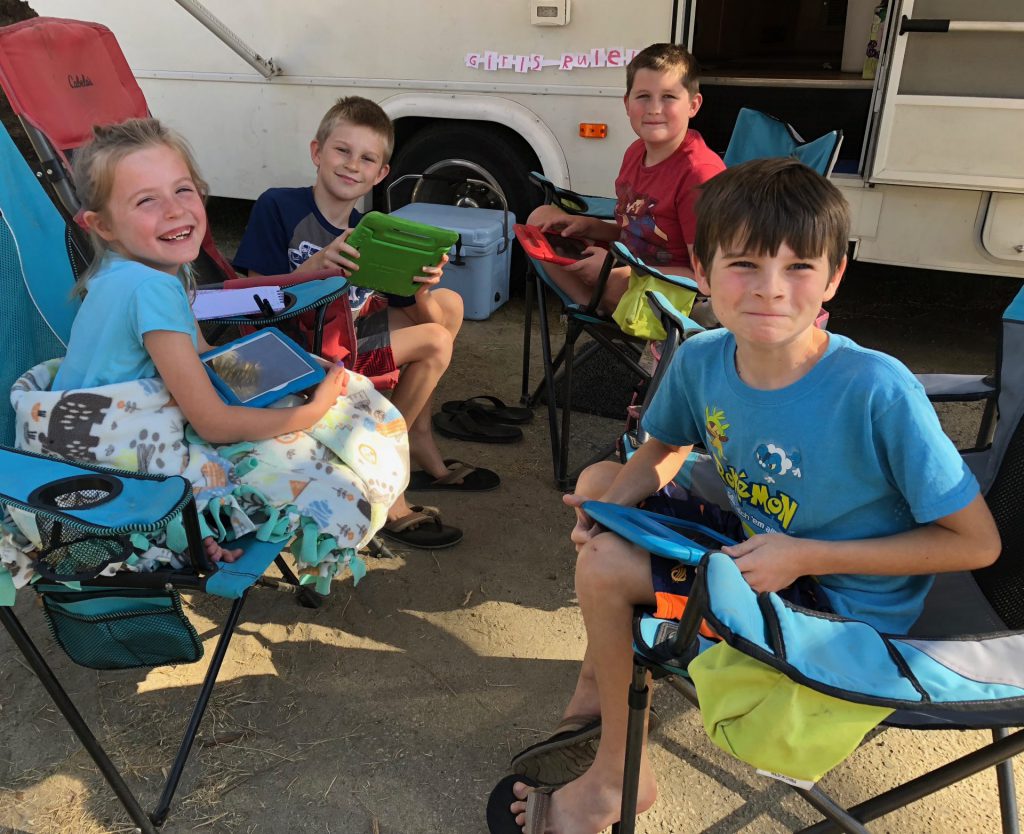 and that's the end of our palm desert time. and now we make our way to the coast.