we are currently staying in the palm springs, palm desert, coachella valley area of california. it's mostly a resort community type of area, so lots of golf courses and shopping and fine dining. but just a bit down the road, the landscape turns into dusty desert and tons of agriculture (thanks to irrigation). tucked away, in the middle of nowhere mostly, on an old WWII military base, is a little community called "slab city". it's filled with old rvs, many of them surrounded by various salvaged items to form a sort of compound. "slab city" is touted as "the last free place", and i think the folks that tend to be found there have chosen this place to be off the grid, away from all that makes america terrible. but it also feels a bit like a sad homeless camp.
whatever the case (or maybe some of both), slab city is flanked by a christian themed art installation (maybe?) called salvation mountain on one end, and east jesus, "an experimental, habitable, extensible artwork in progress" on the other.. on derek's day off, we decided to take a drive out and check out this one of a kind place for ourselves.
on the way in, the first sign of the area greets you on the side of the road.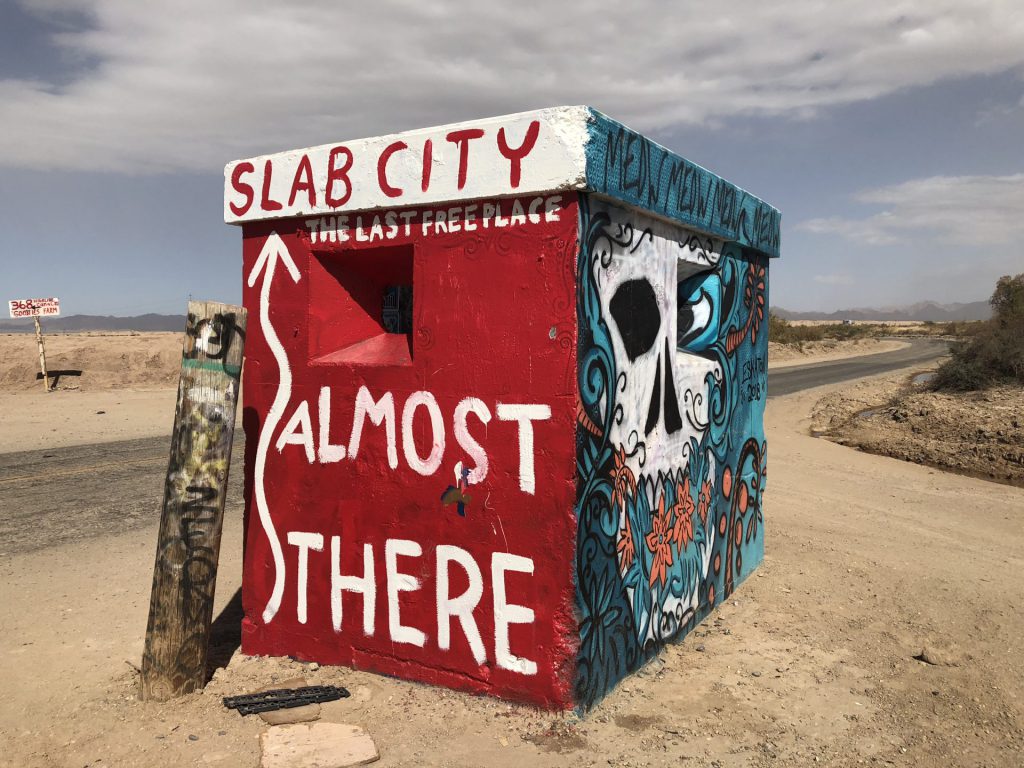 then, not too much further ahead, the bright colors of salvation pop up out of the neutral desert landscape.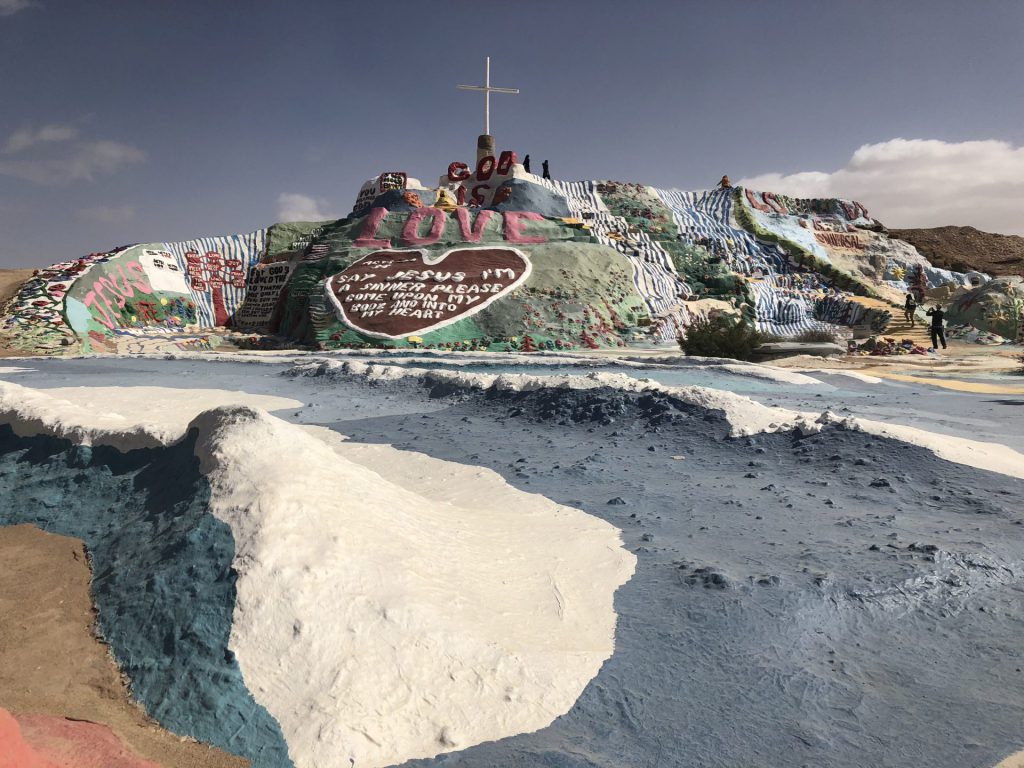 seriously. so much paint. and color.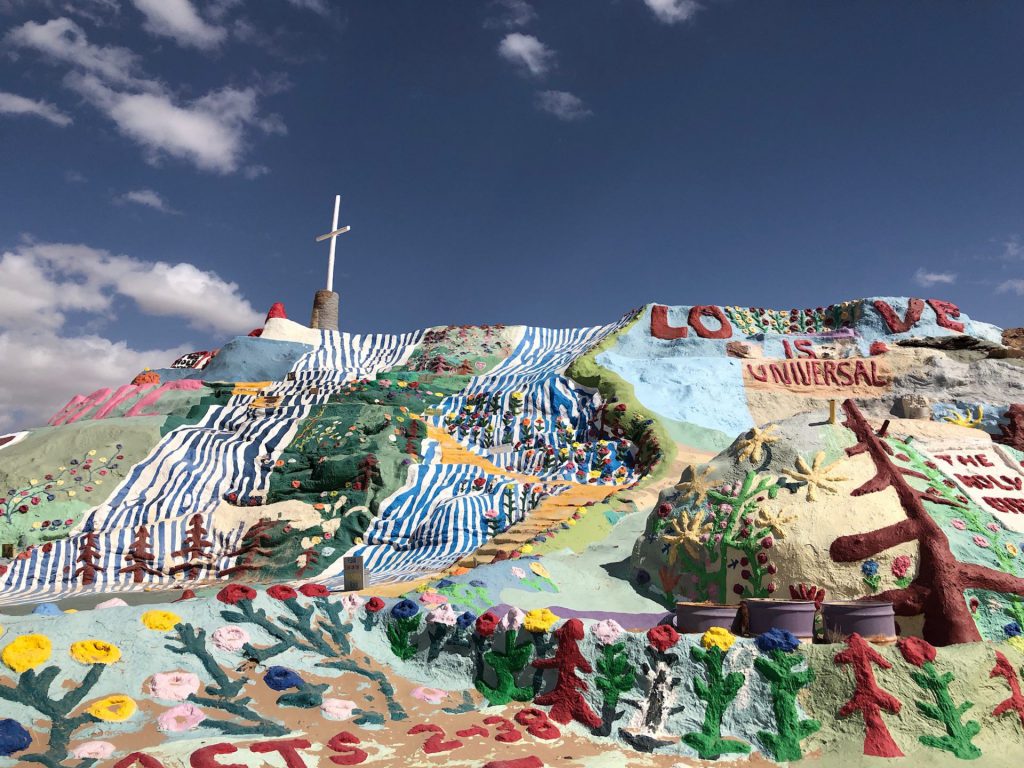 it was super windy, whipping sand into our faces and making the walk up and around the mountain a bit more unsteady.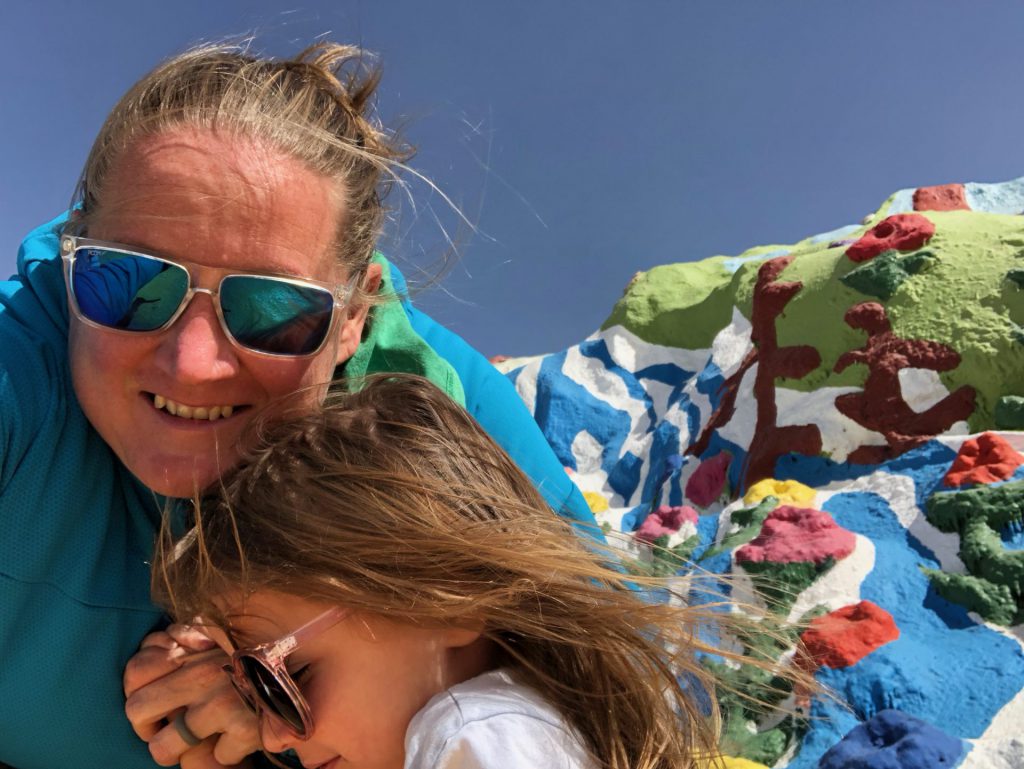 i ended up carrying the crazelnut. the wind and the footing was causing her some serious stress.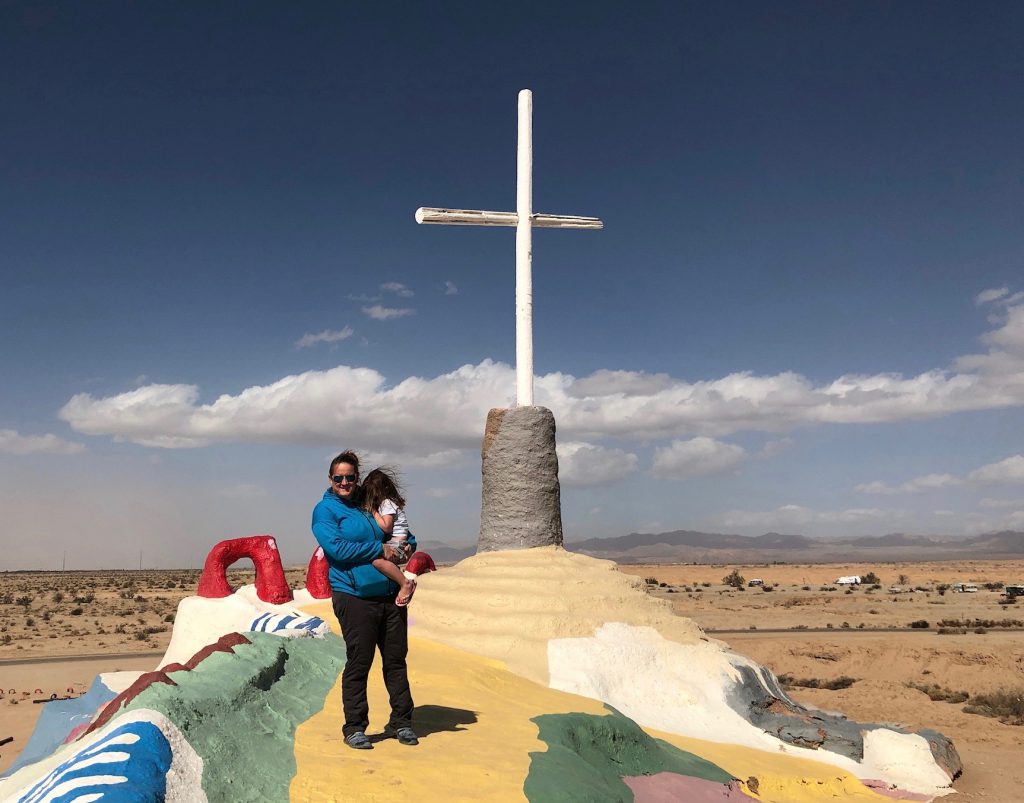 it was pretty cool. not only is there the mountain, but some rooms and caves, made out of adobe and straw and paint, with techniques borrowed from the navajo people.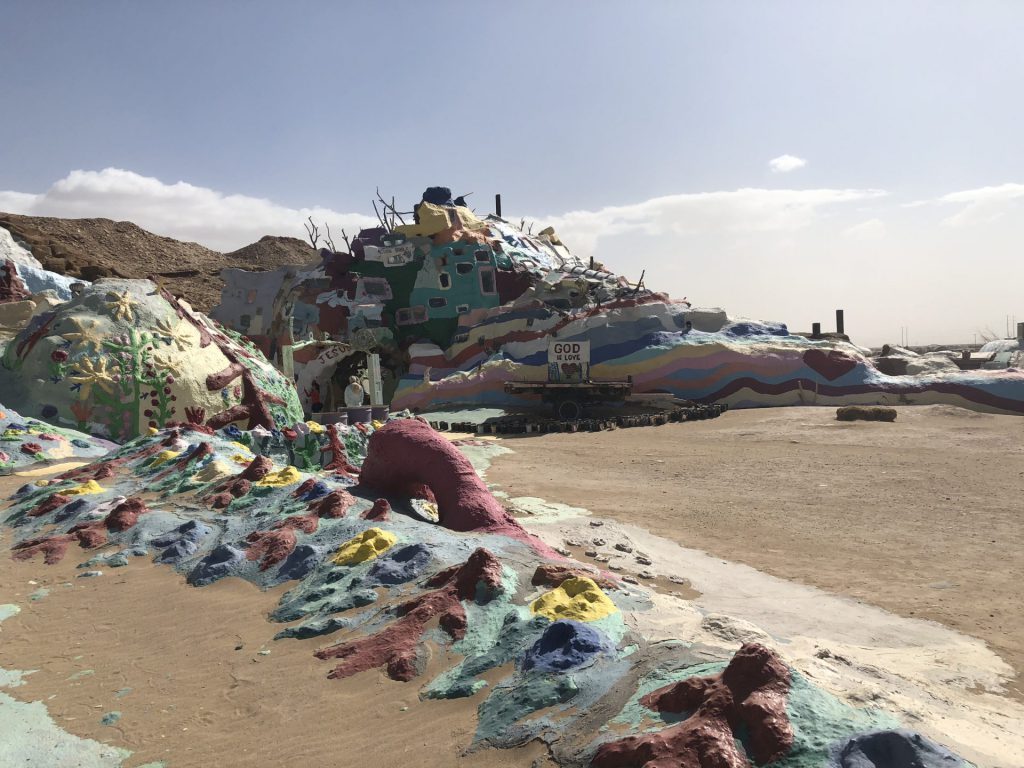 inside the rooms/caves.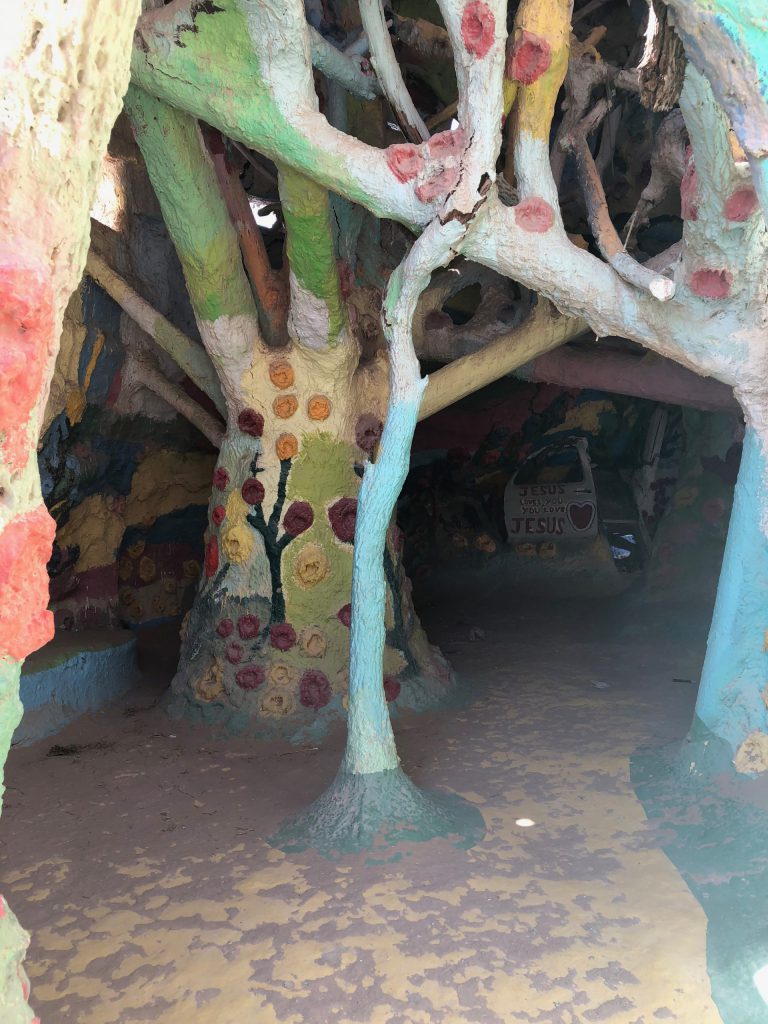 the whole thing was very interesting. and cool. and strange.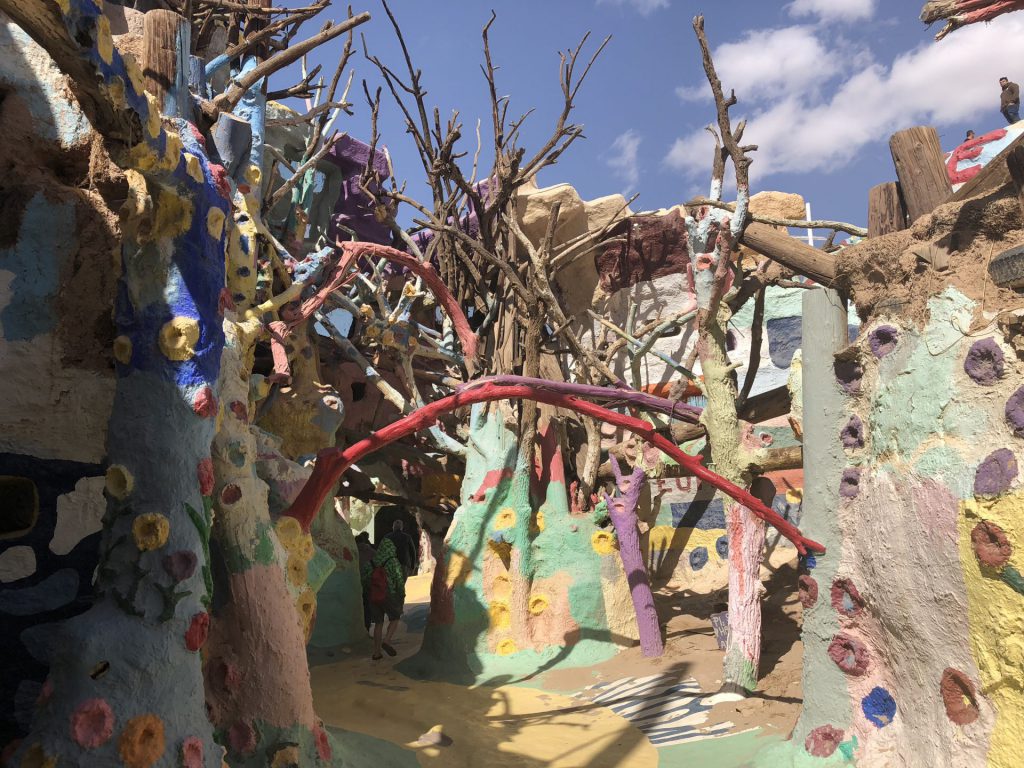 another little side cave/alter/memorial type area.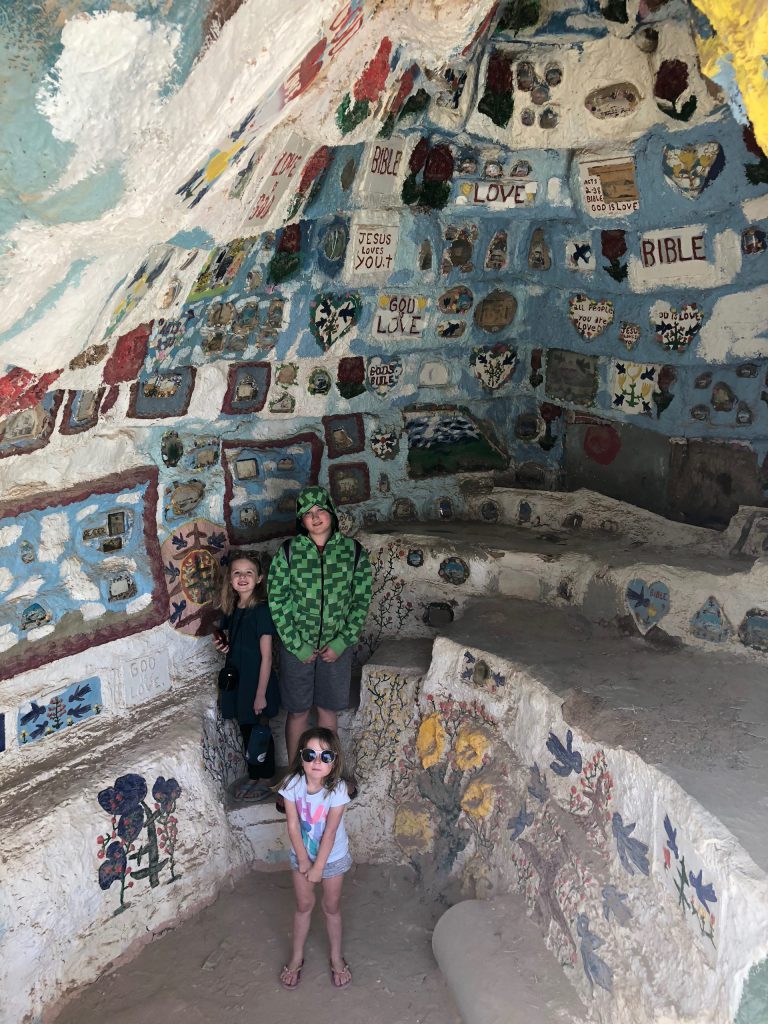 around the mountain, there are several vehicles and other little structures, which are similarly adorned with paint and colors and biblical sayings.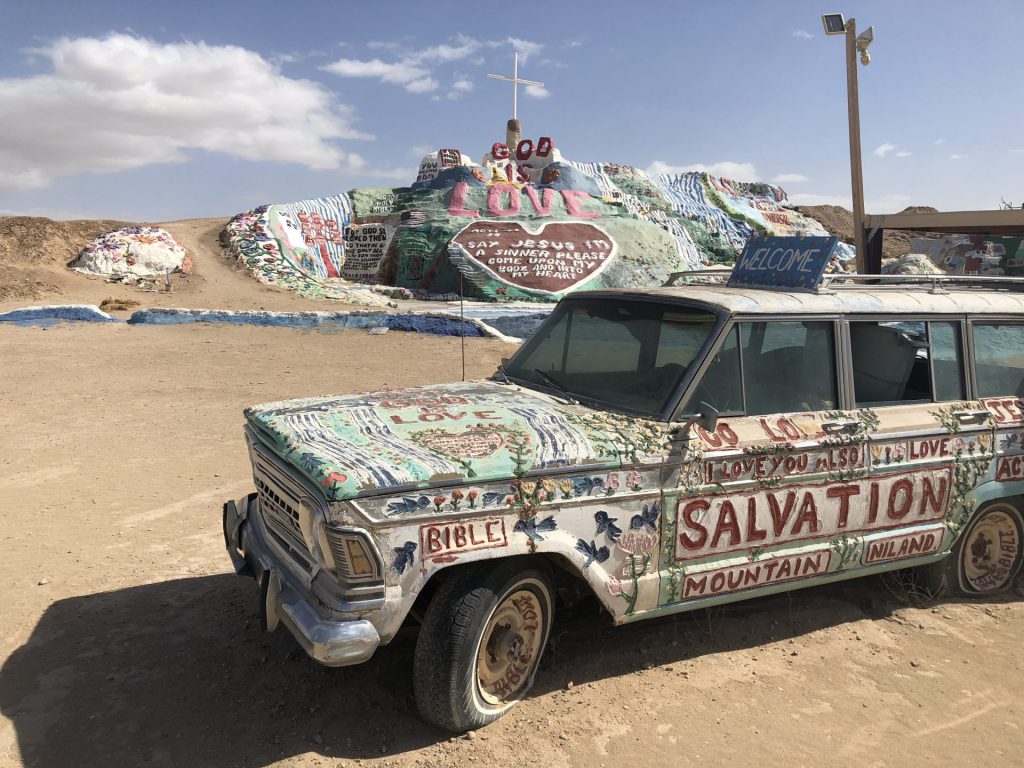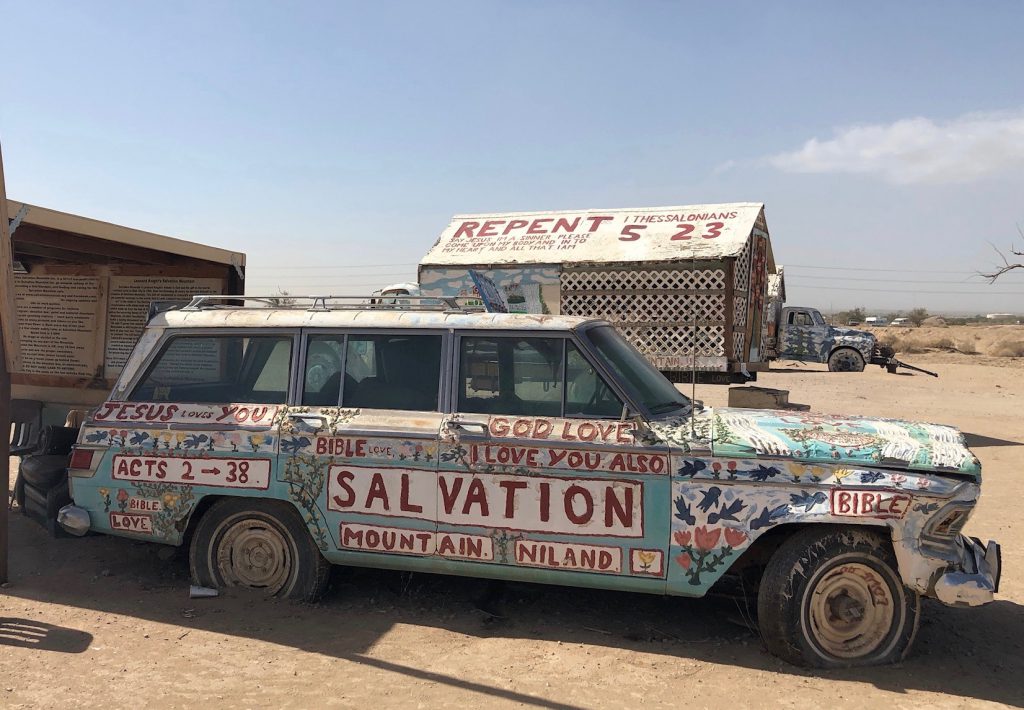 but my favorite thing was this miniature salvation mountain model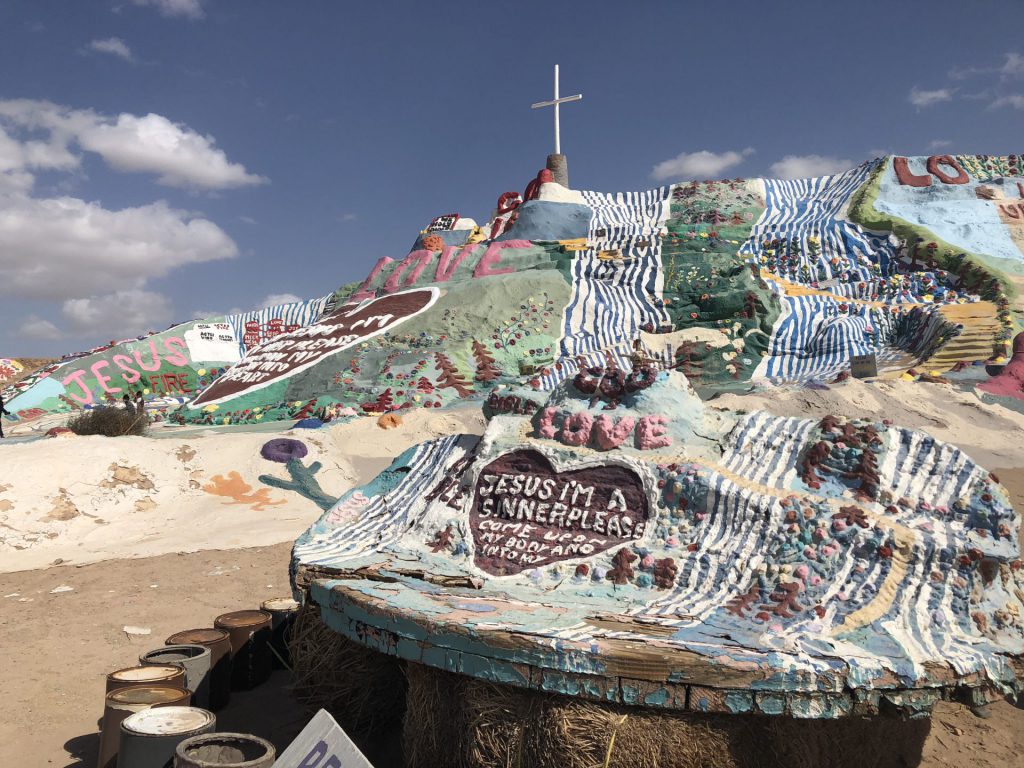 once we had our little tour, we loaded back up, and cruised through slab city, to get to east jesus. we were greeted by a fellow known as "the wizard" who explained the non-profit status of the place, joked about the terrible quality of the artwork and the general disposition of the artists who made it. and then he laid out the three rules.
1. you don't have to stay on the carpet. (which was laid out and winding around through the area to perhaps give a general flow to the observation of the art).
2. touch anything you want.
3. if something breaks when you touch it, just say it was broken when you got here, because the artists use shoddy materials and stuff breaks all the time.
he also gave us some general warnings about areas that might be slightly less kid friendly, and then sent us on our way.
there was so much to take in. everywhere you turned. a circuit board covered car.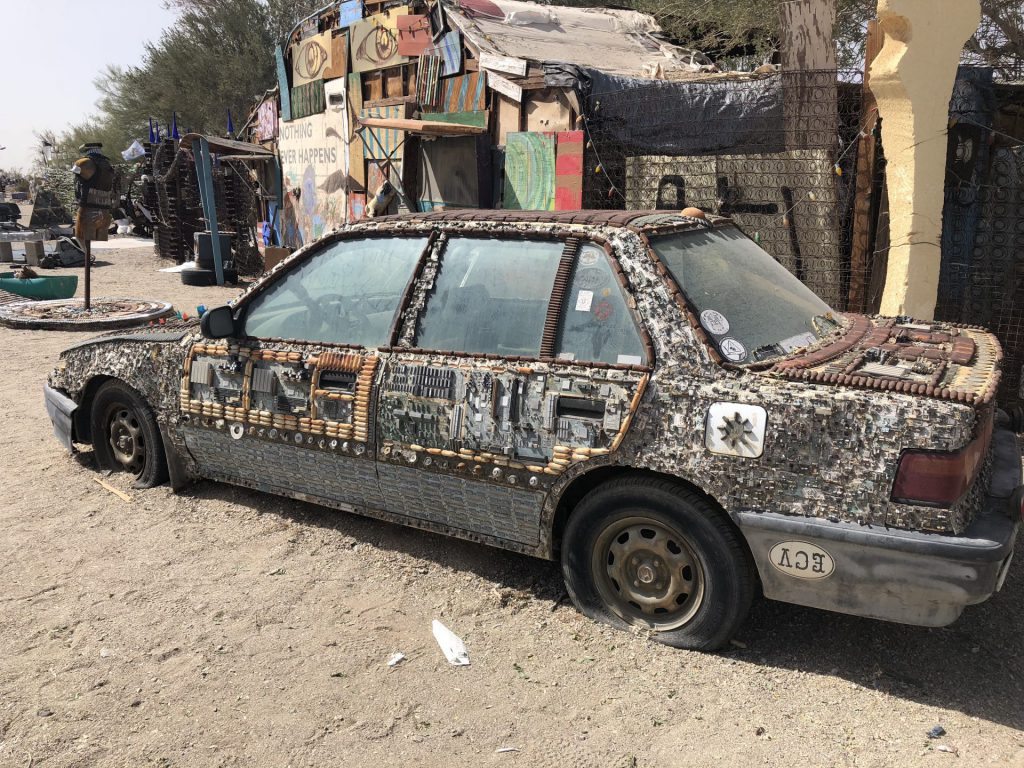 um. this.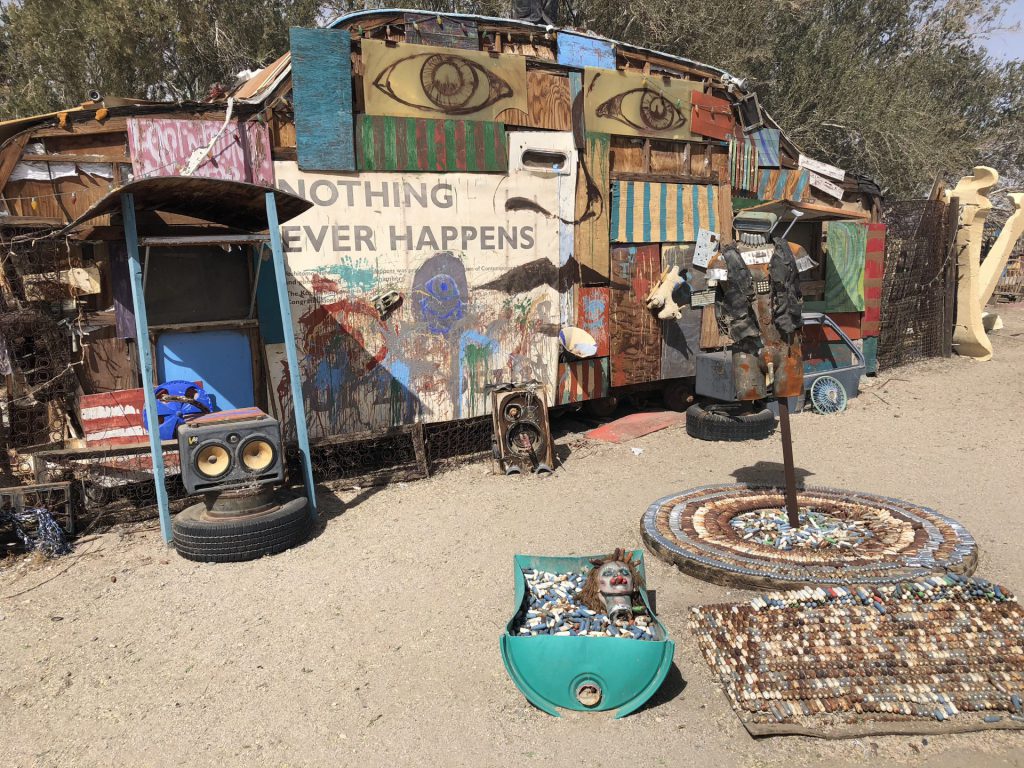 maybe my favorite. co2 cartridge creepy doll head.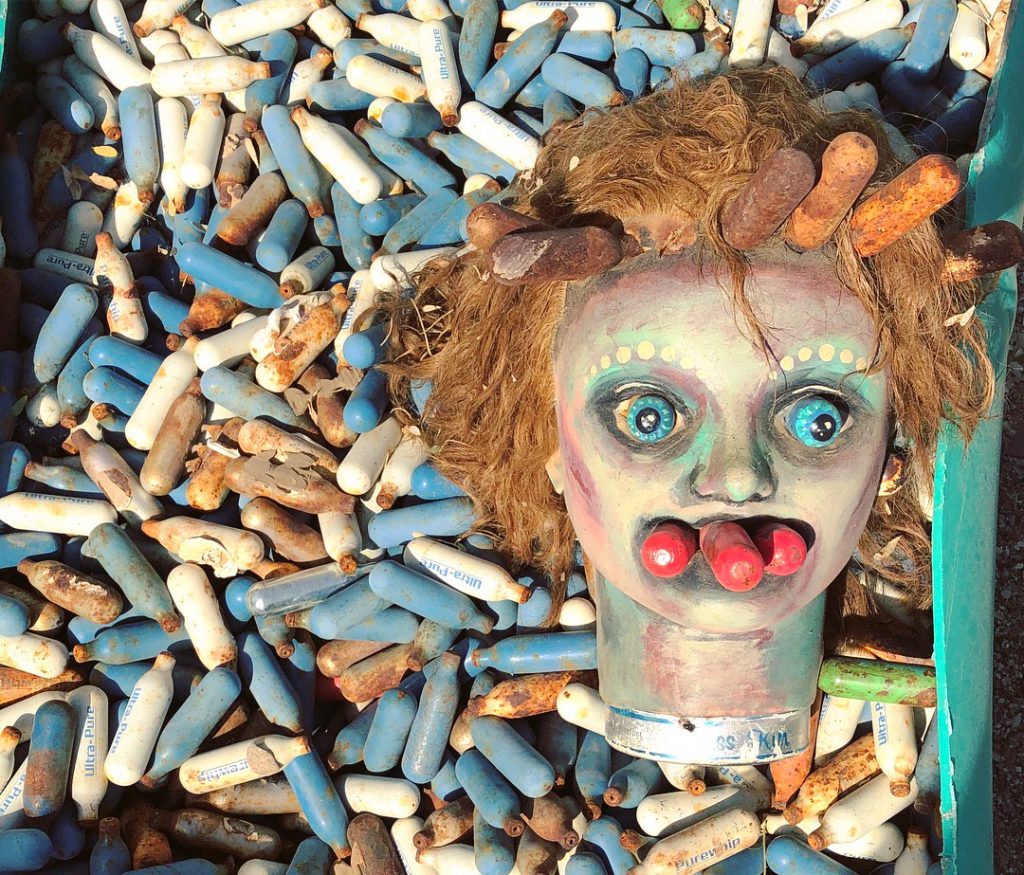 all throughout there were several pinwheels and fans and things that made noise when the wind (and there was lots of it) passed through, bringing the place to life.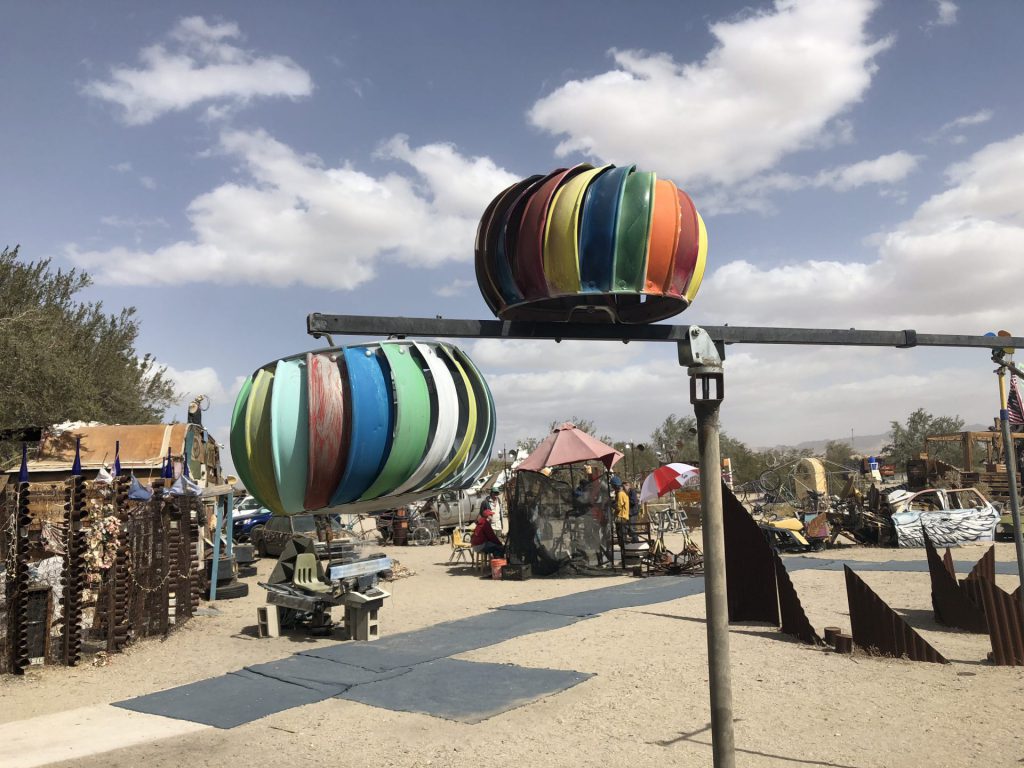 a sandbox of sorts, filled with toys.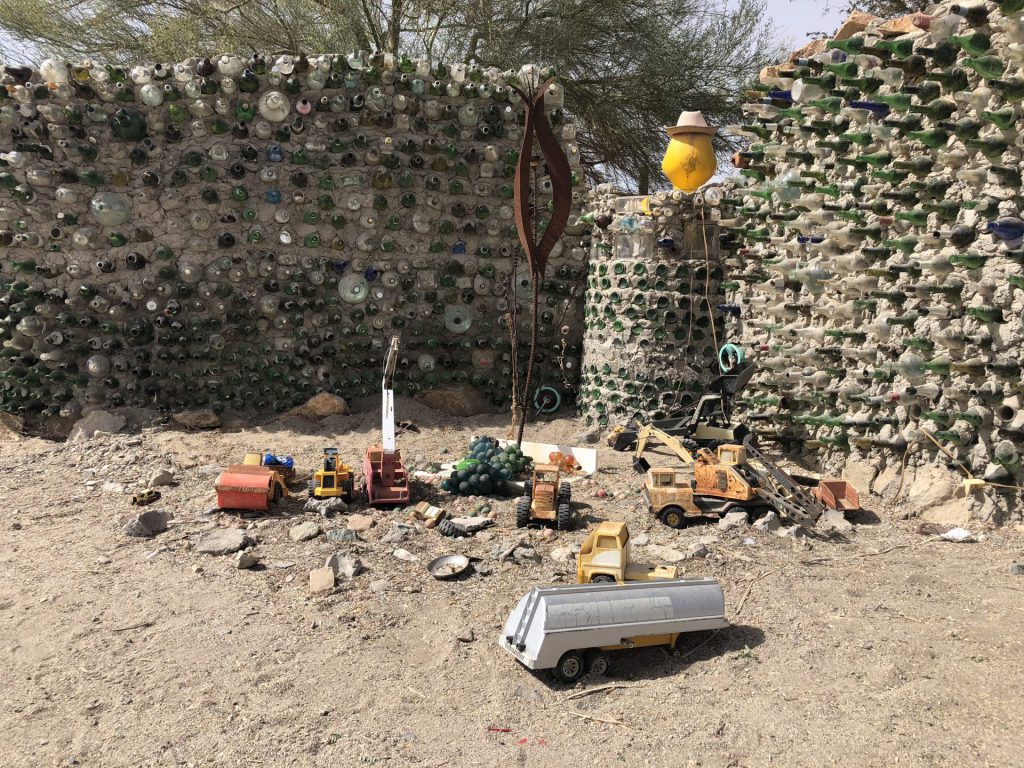 isaac wanted to get in and sit down in this bus.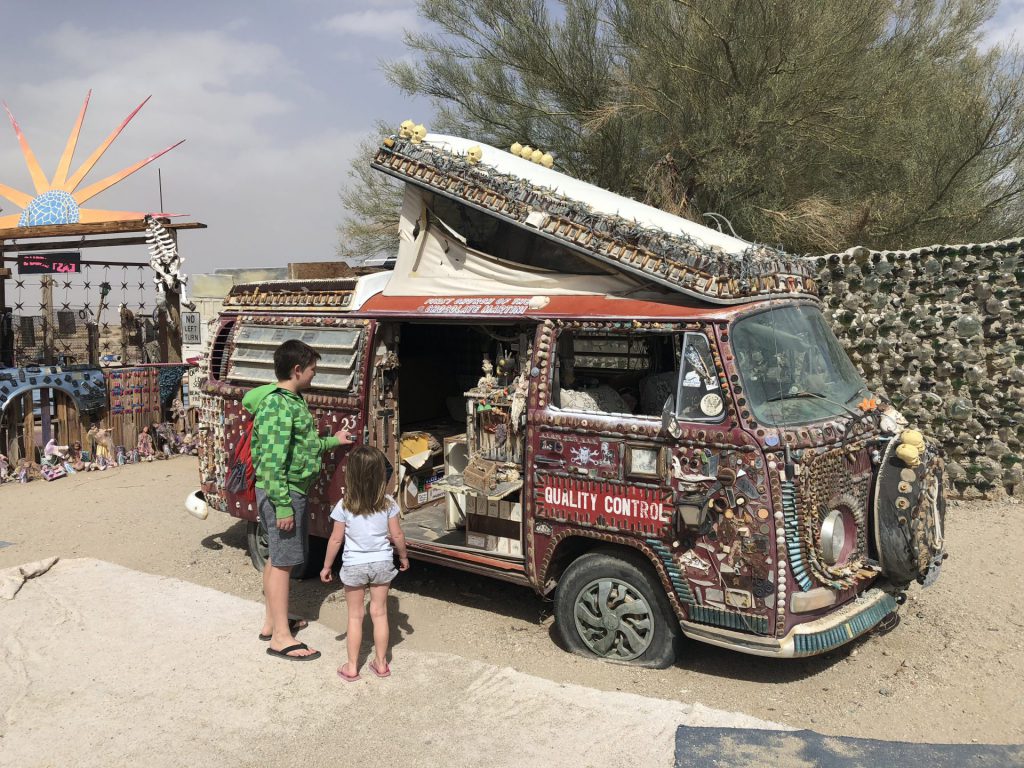 you know. just a car with a bunch of legs sticking out of it.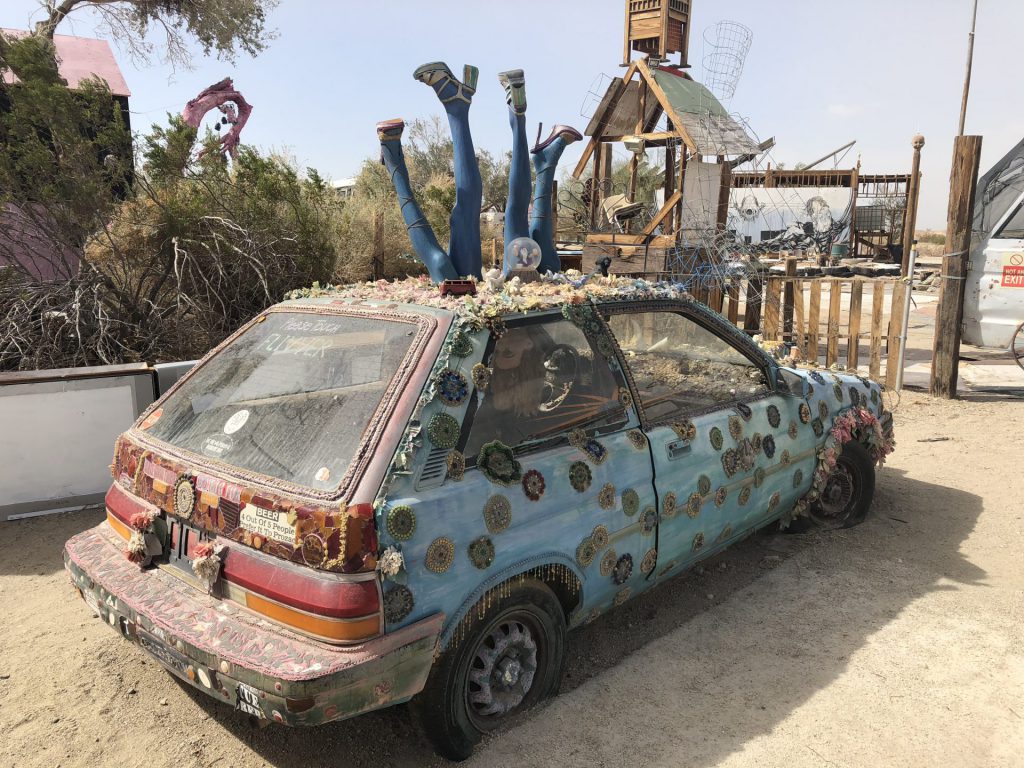 one of our favorites (and a lot of other people's favorites too, i assume, from the number of instagrams i discovered).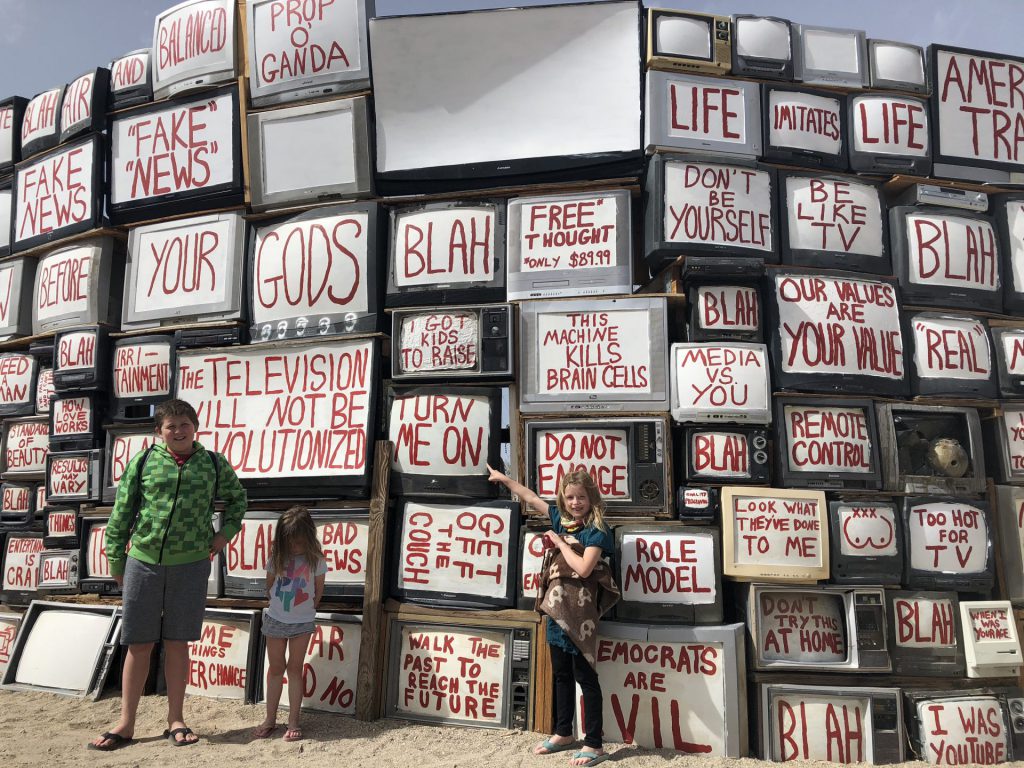 silver spray paint collage.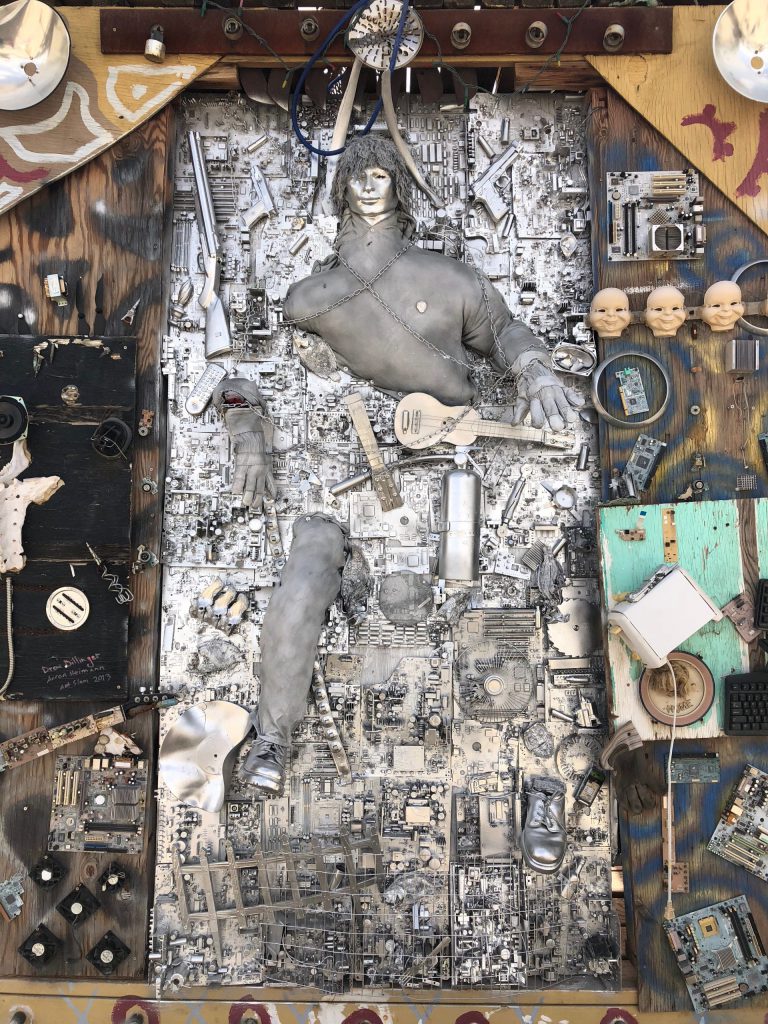 a tower of repurposed trash.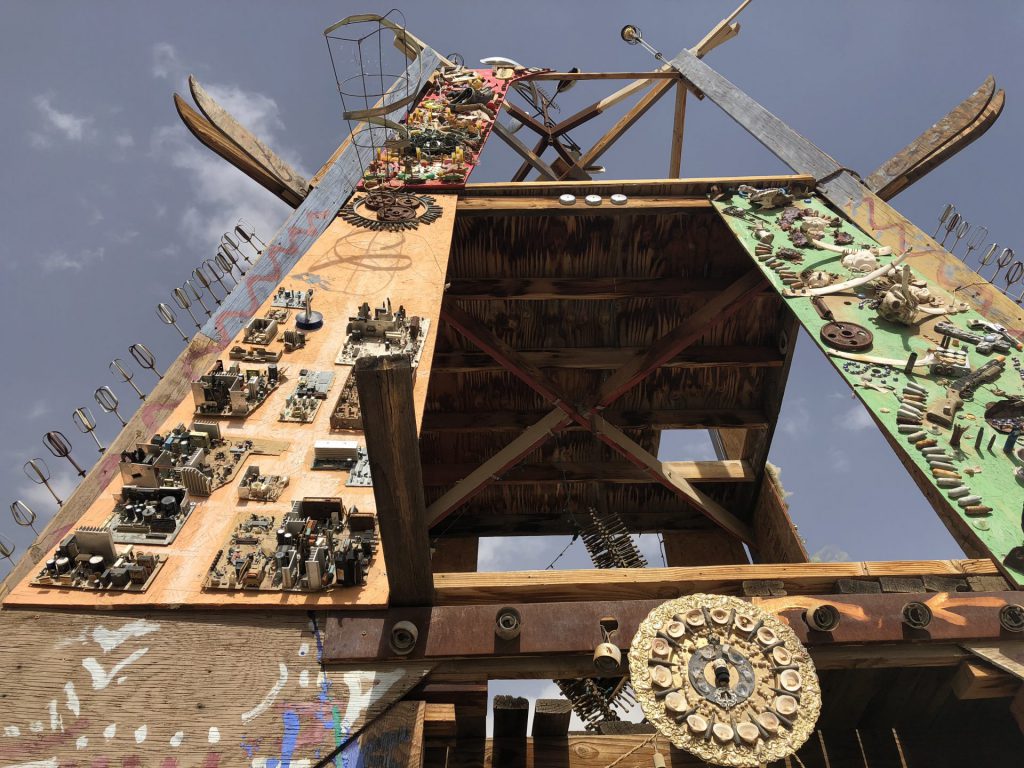 current mood.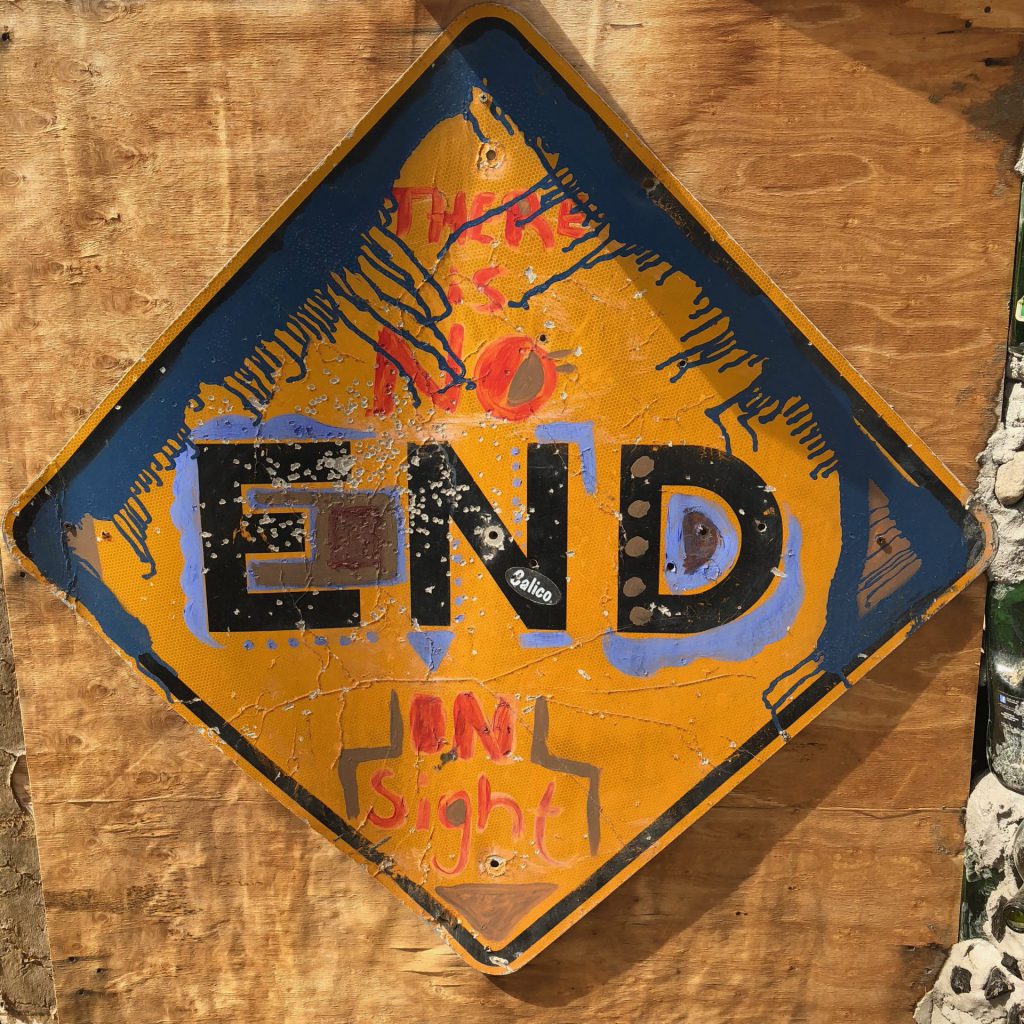 the kids loved it.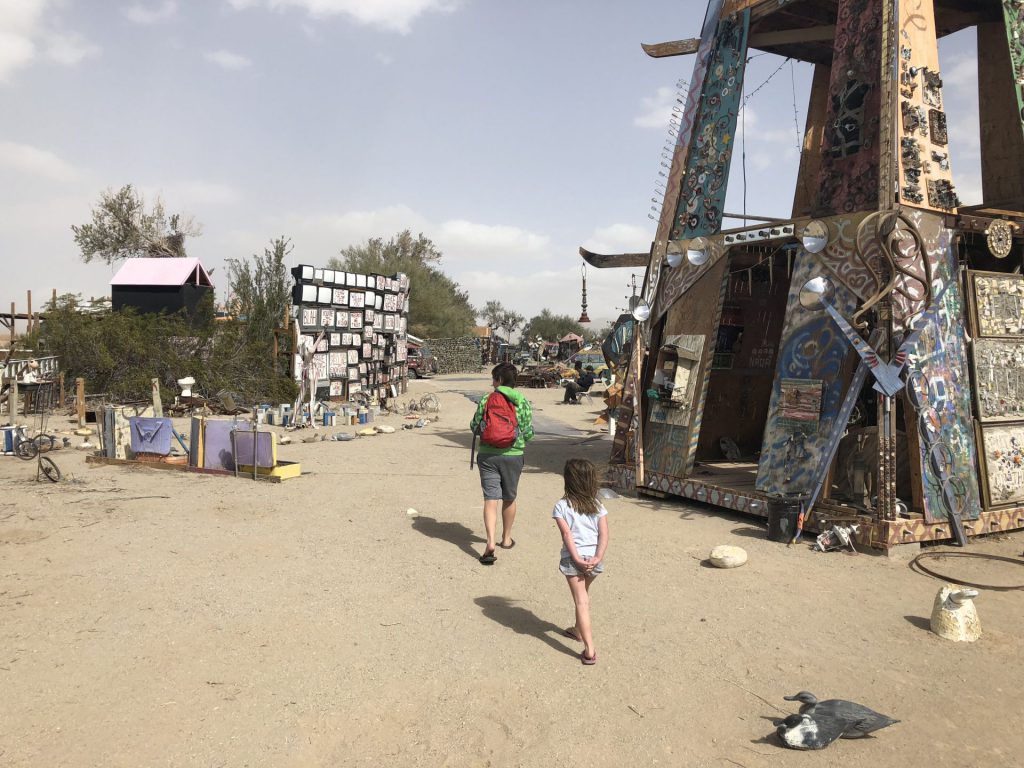 they loved finding all of the random items. ike thought this waffle maker was hilarious.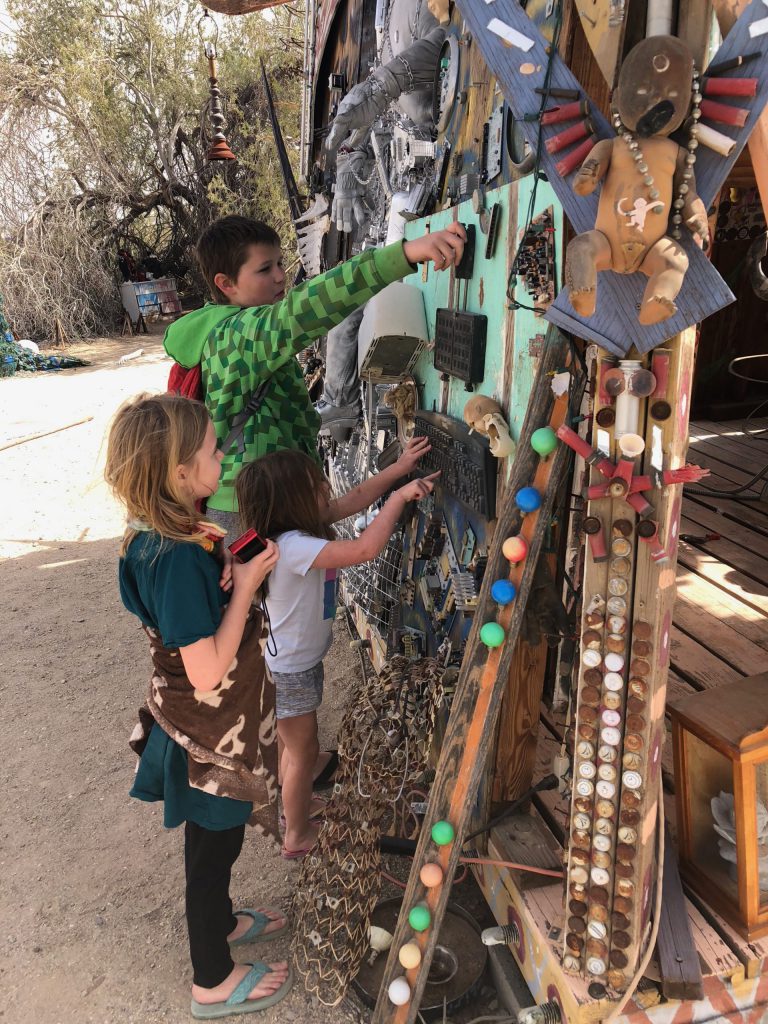 trashy t-rex.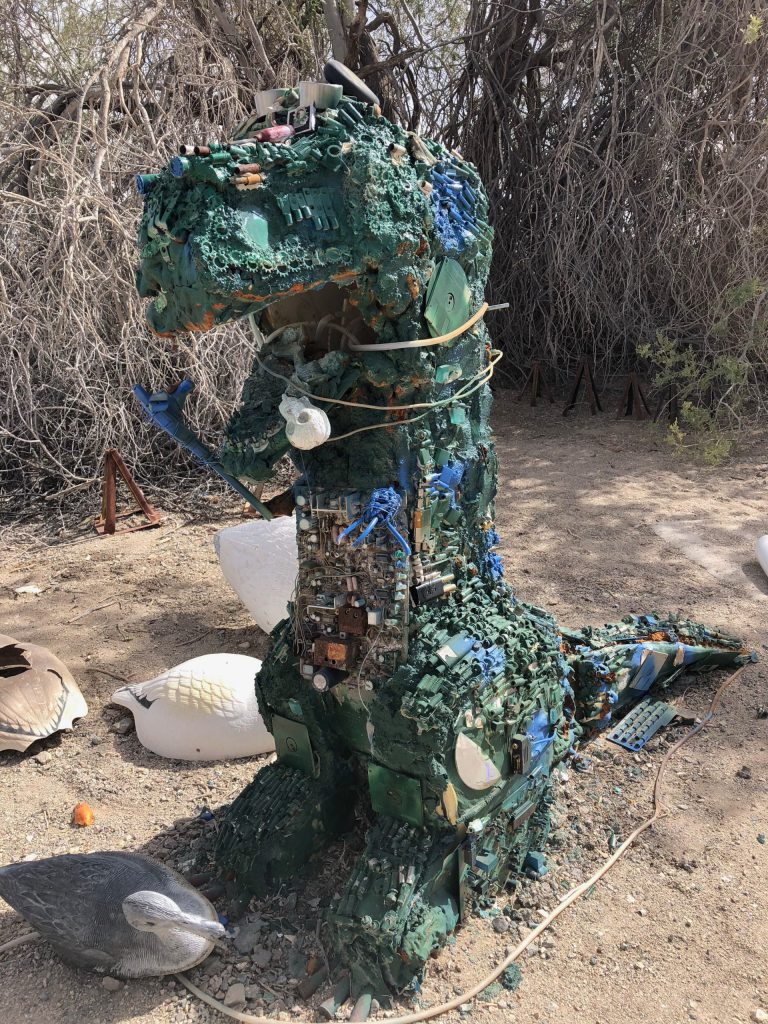 another pic (sans kids) of the tv wall.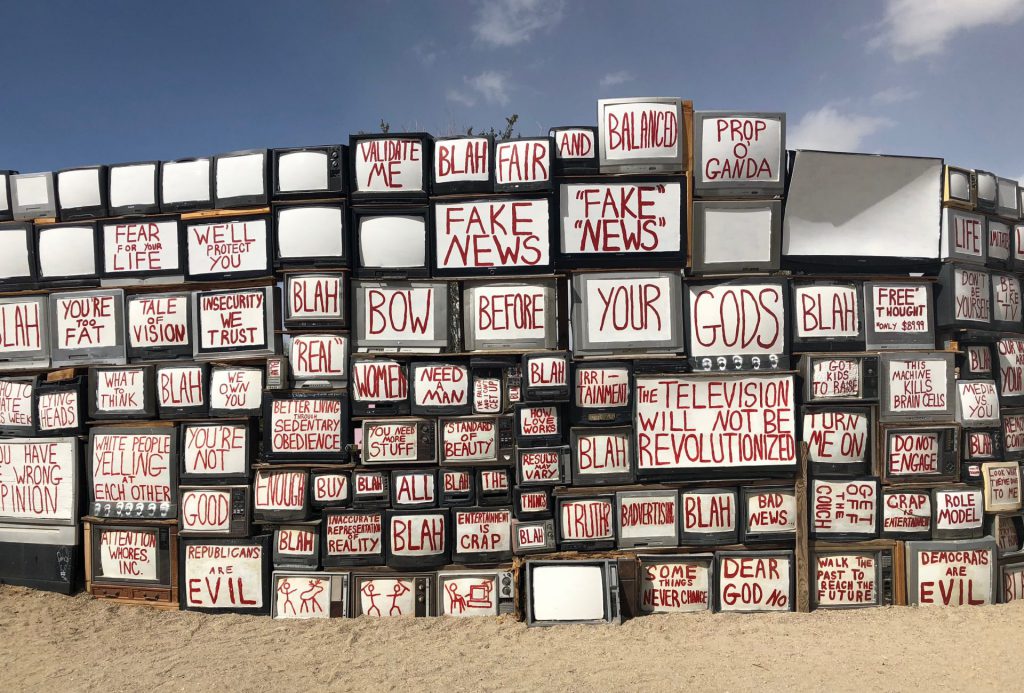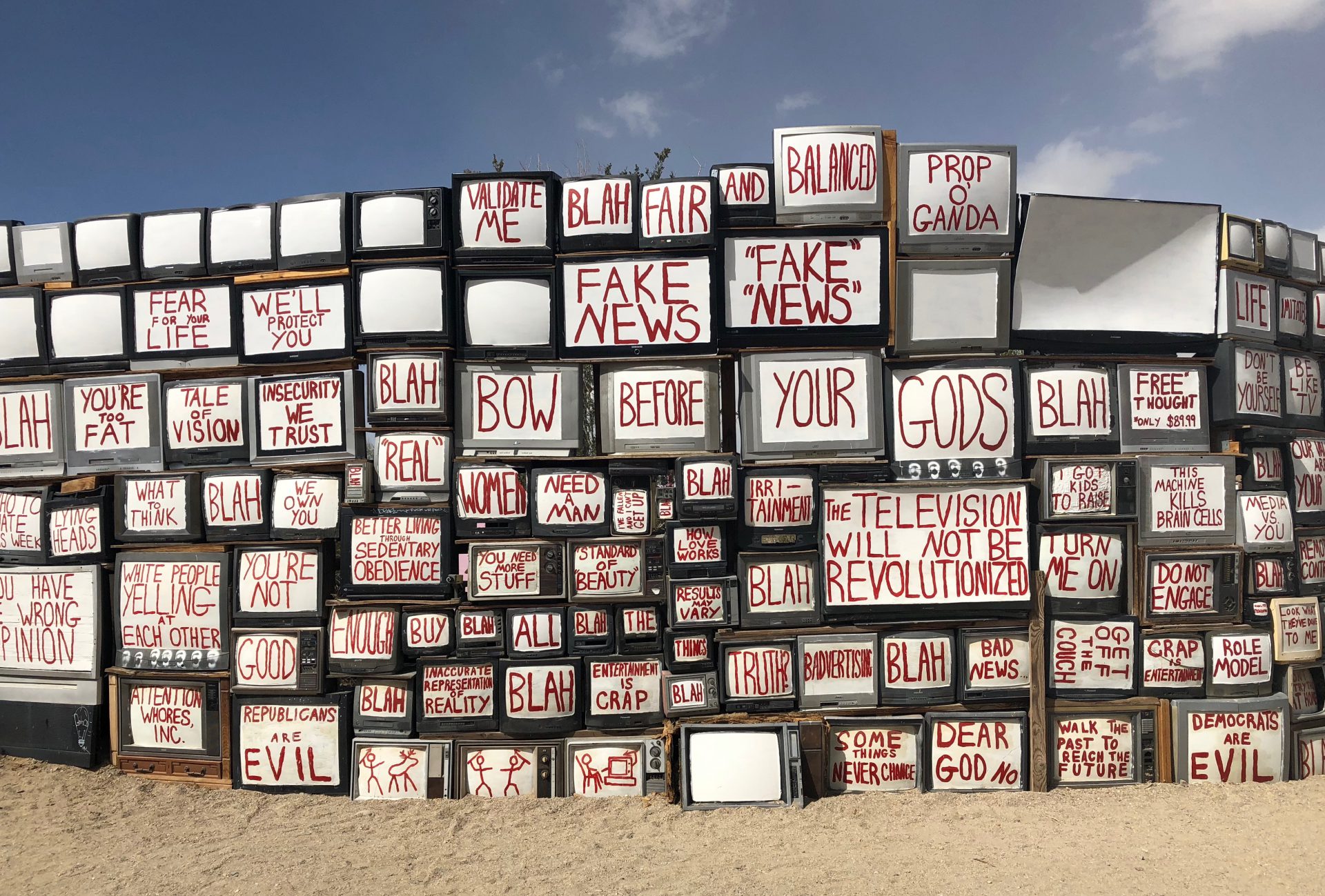 across from the tvs, there's a weird hexagon like room, with two chairs and a remote. i took a seat and couldn't help but snap this picture of anna, the little photographer in training, capturing a shot of the messages that probably don't make any sense to her.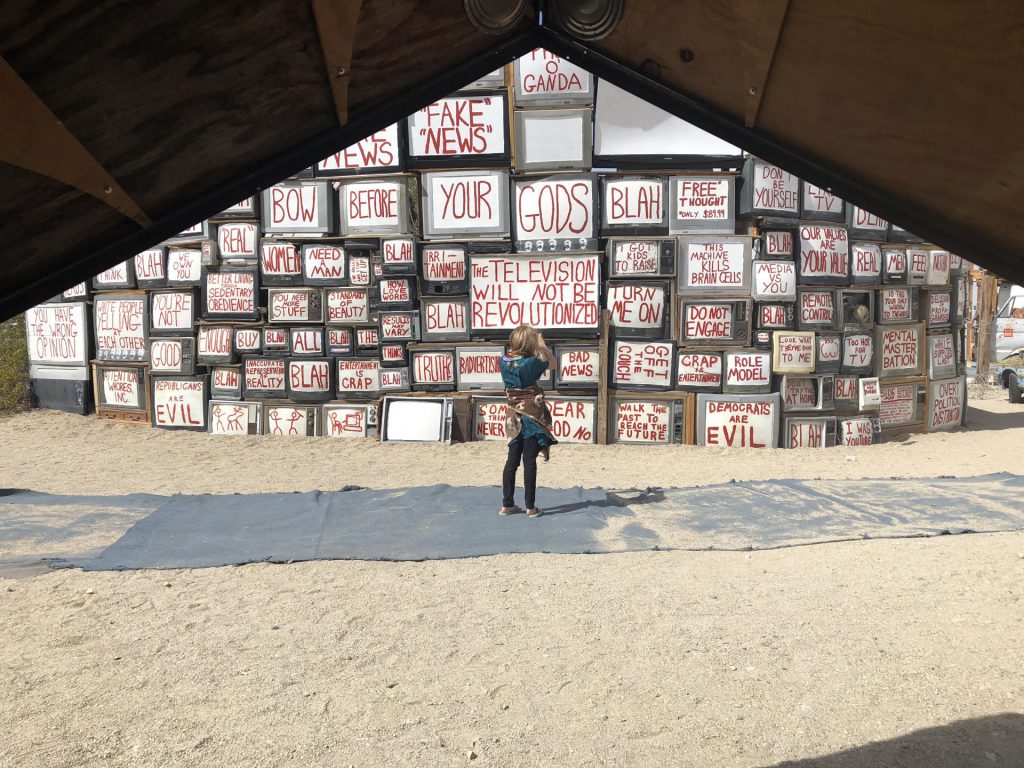 monster car.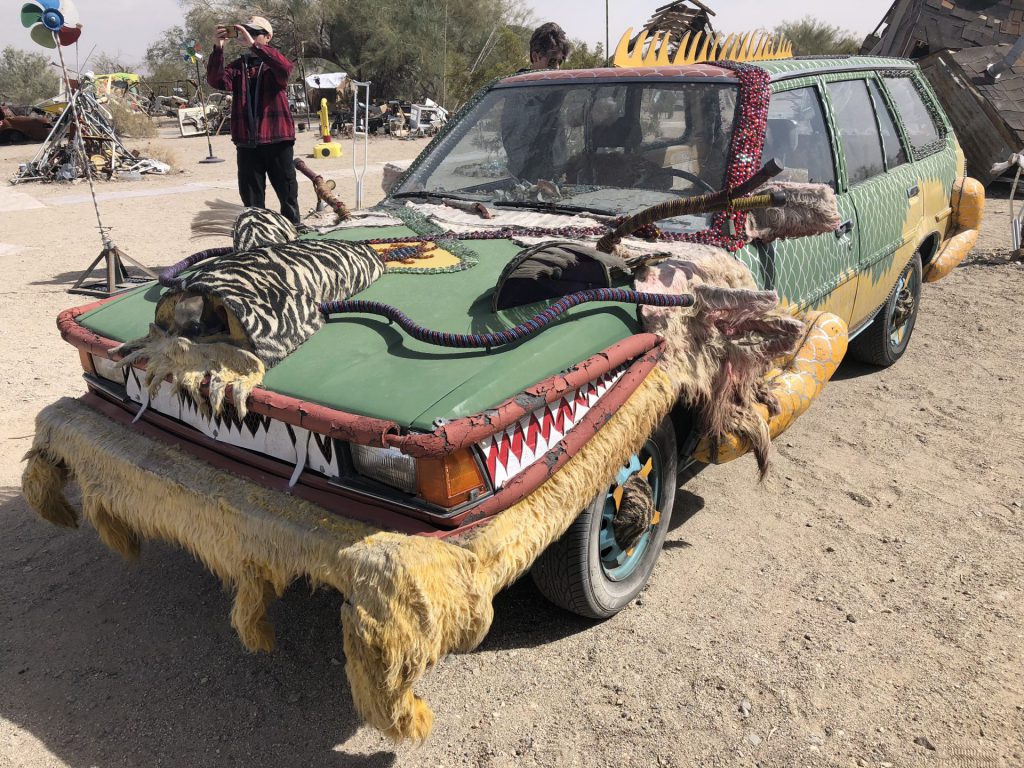 this might have been one of the more unsafe areas. just some broken glass piles, with some shards of wood protruding from the ground.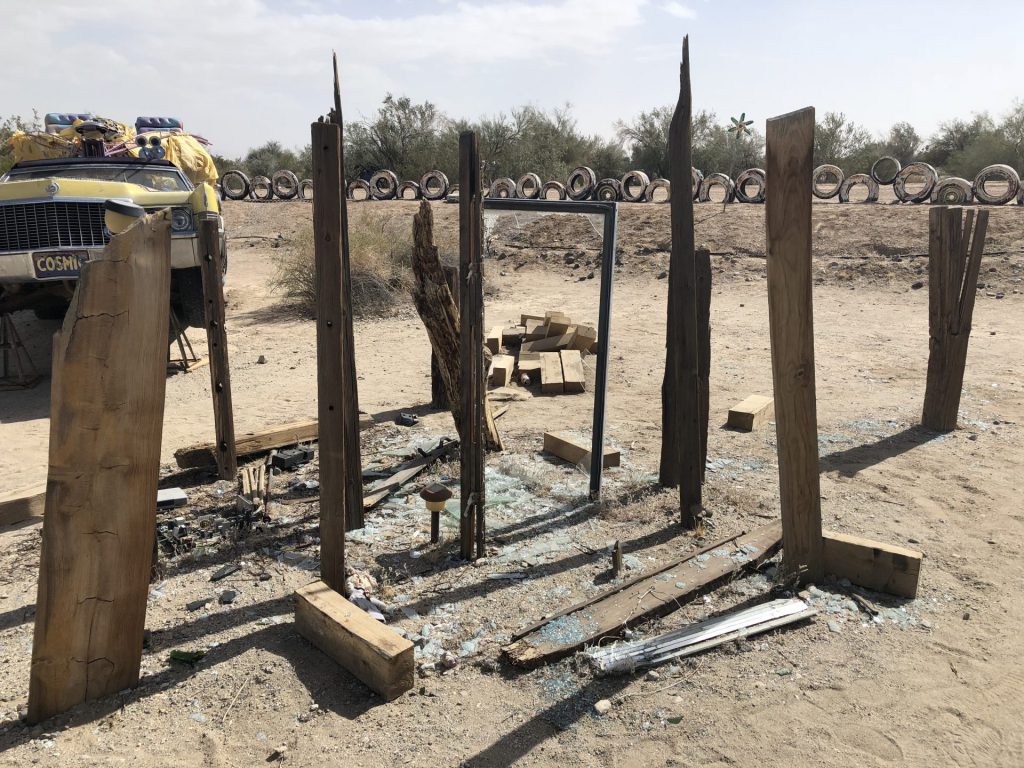 wicked witch sighting.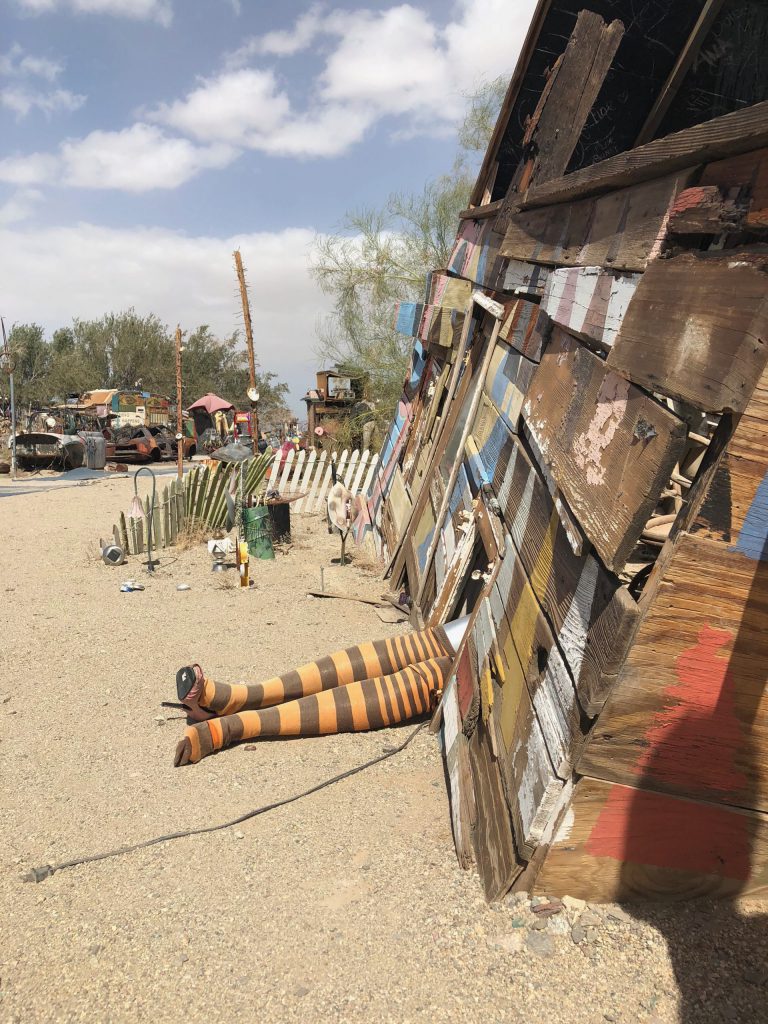 pretty trash.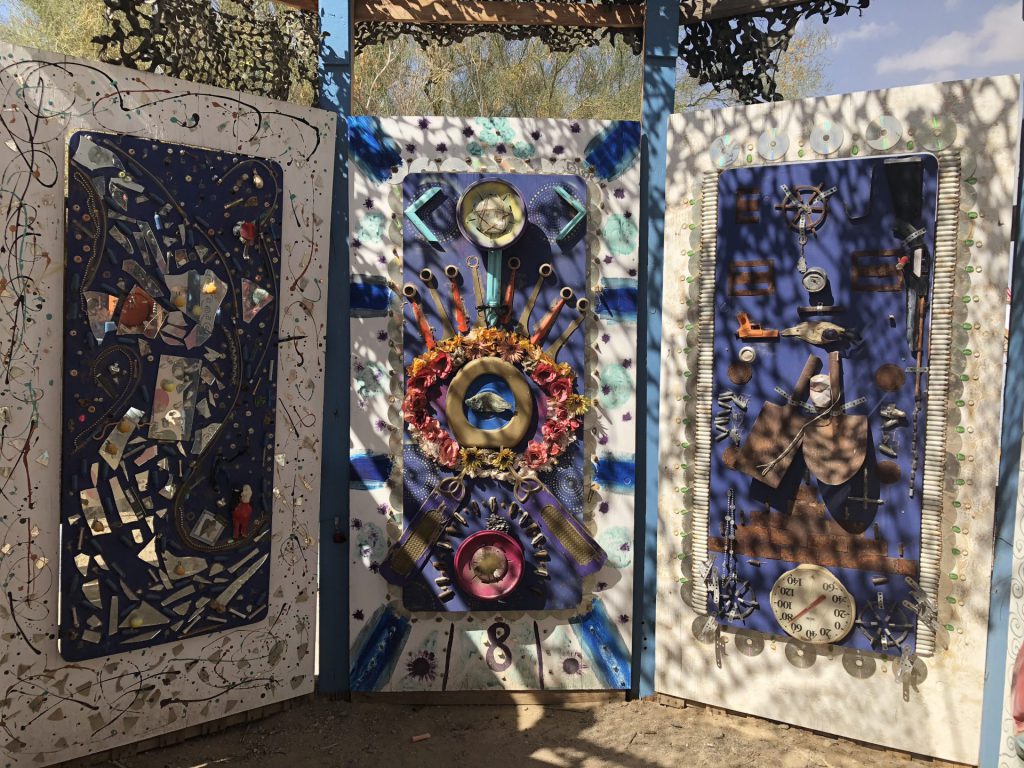 this guy is another popular instagram point of interest. he looks like he passed out and then started to melt.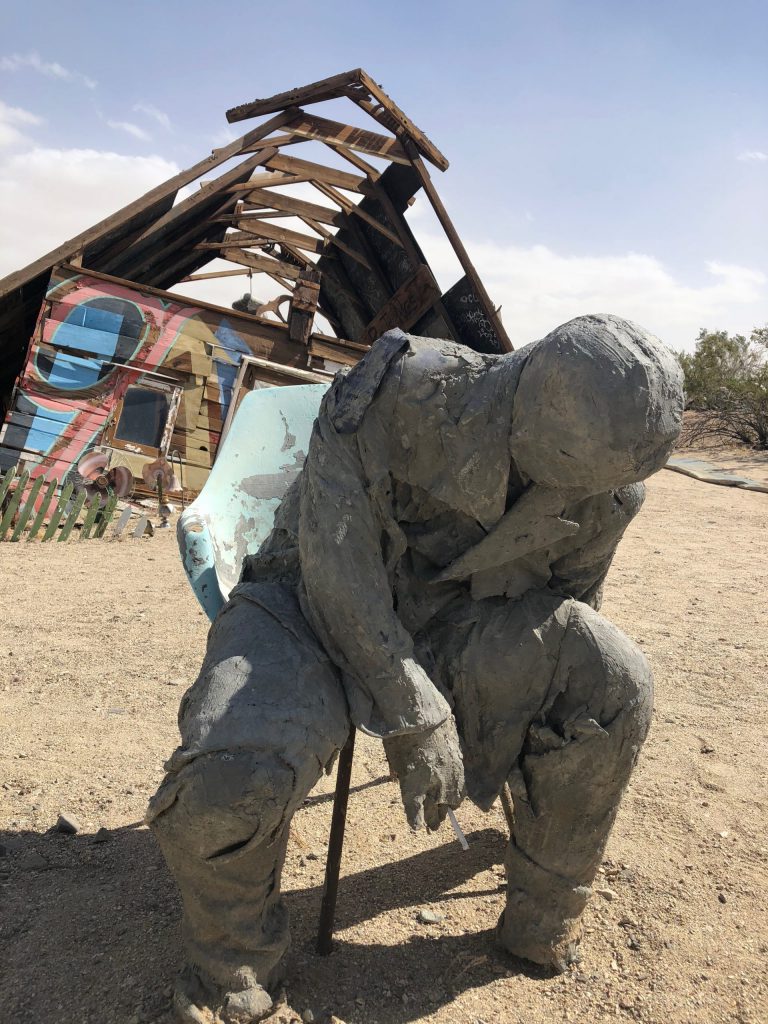 we were also warned about and/or encouraged to try the 12 foot see saw. isaac gave it a whirl, with derek just pulling down from the other end.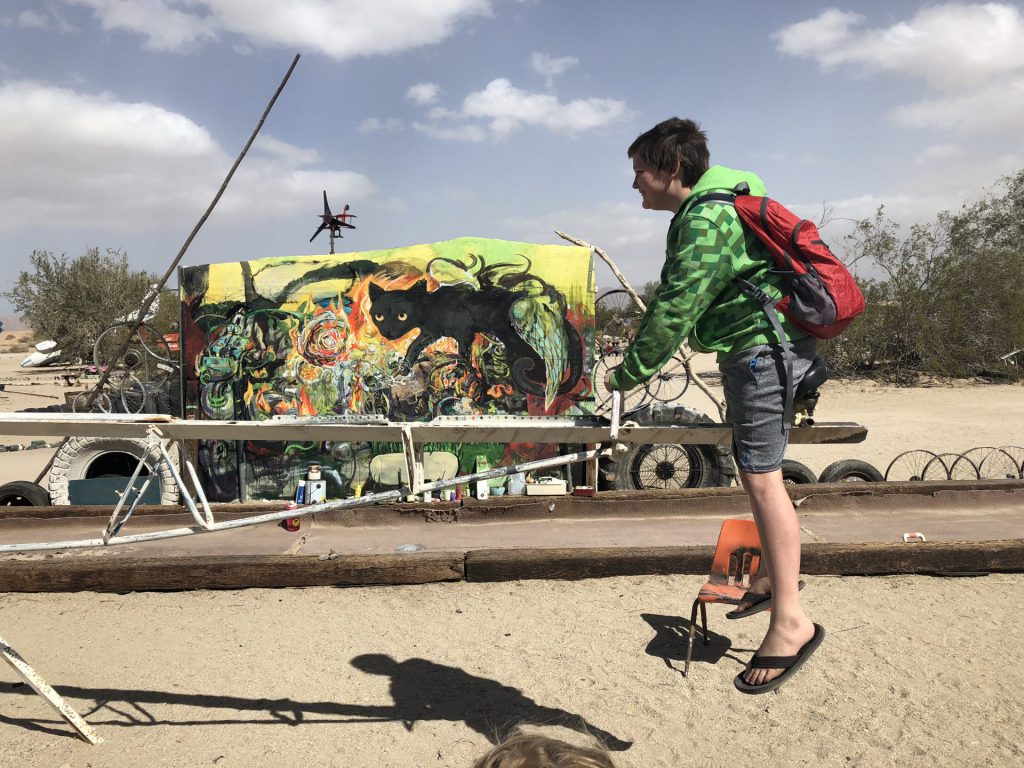 anna gave it a try too. neither of them would go to the top. and hazel wouldn't even get on.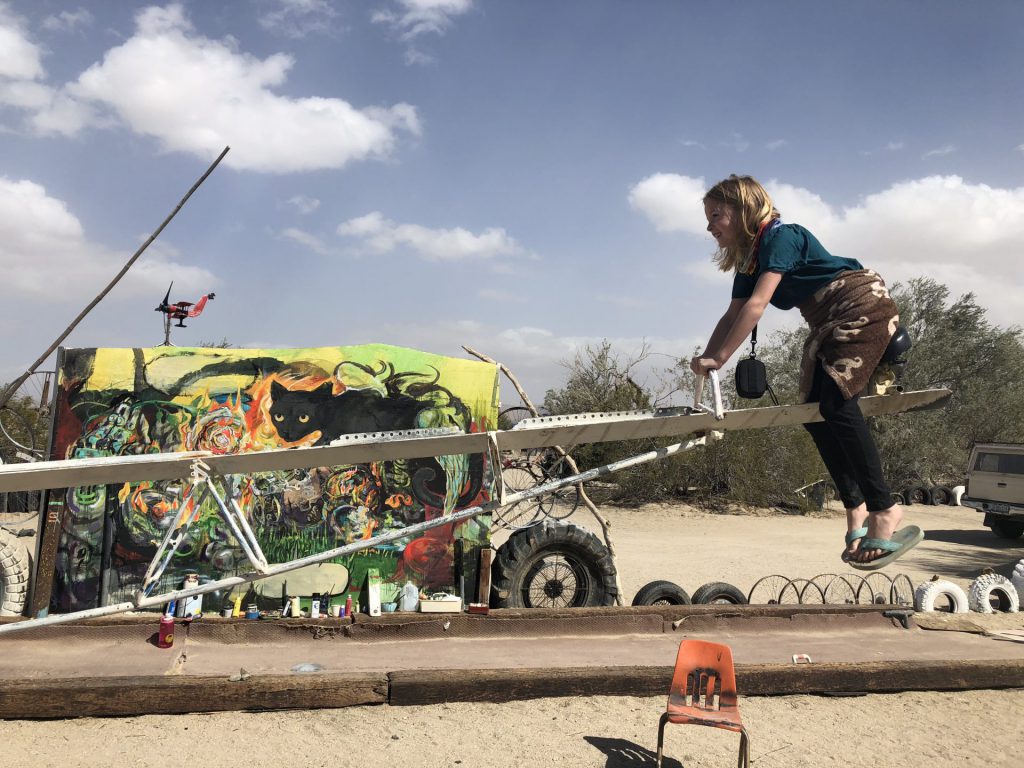 much of the art had a political slant.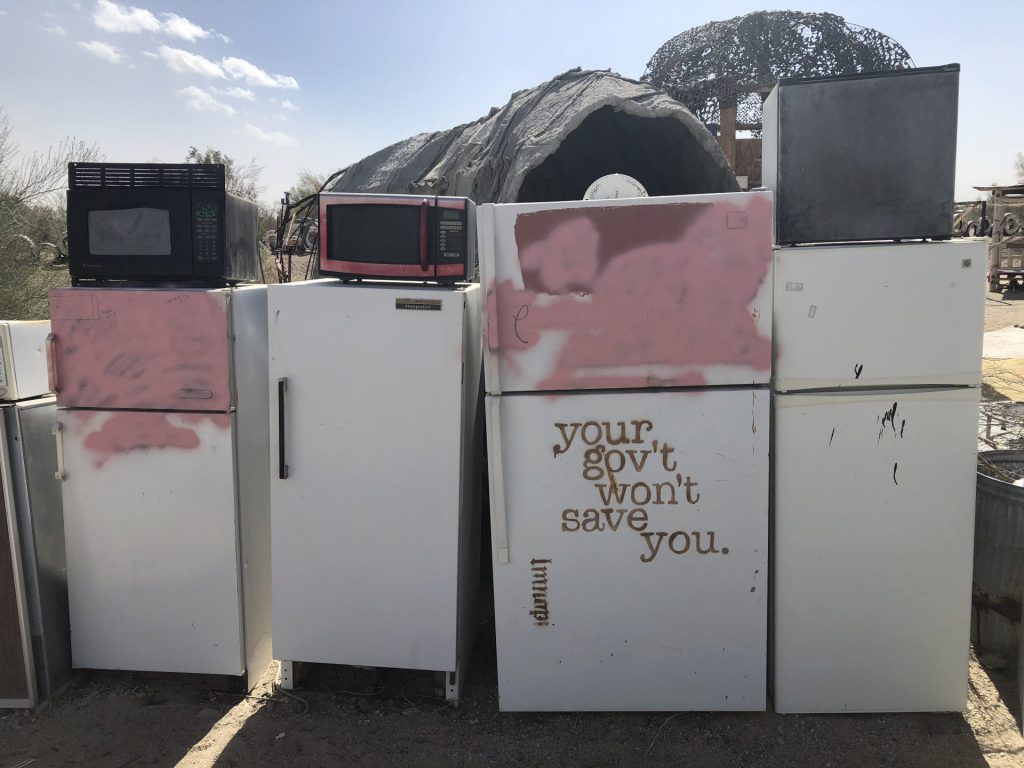 we took turns climbing to the top of the least safe observation deck. there were no railings at the top and the stairs leading up were a bit precarious, but we all survived.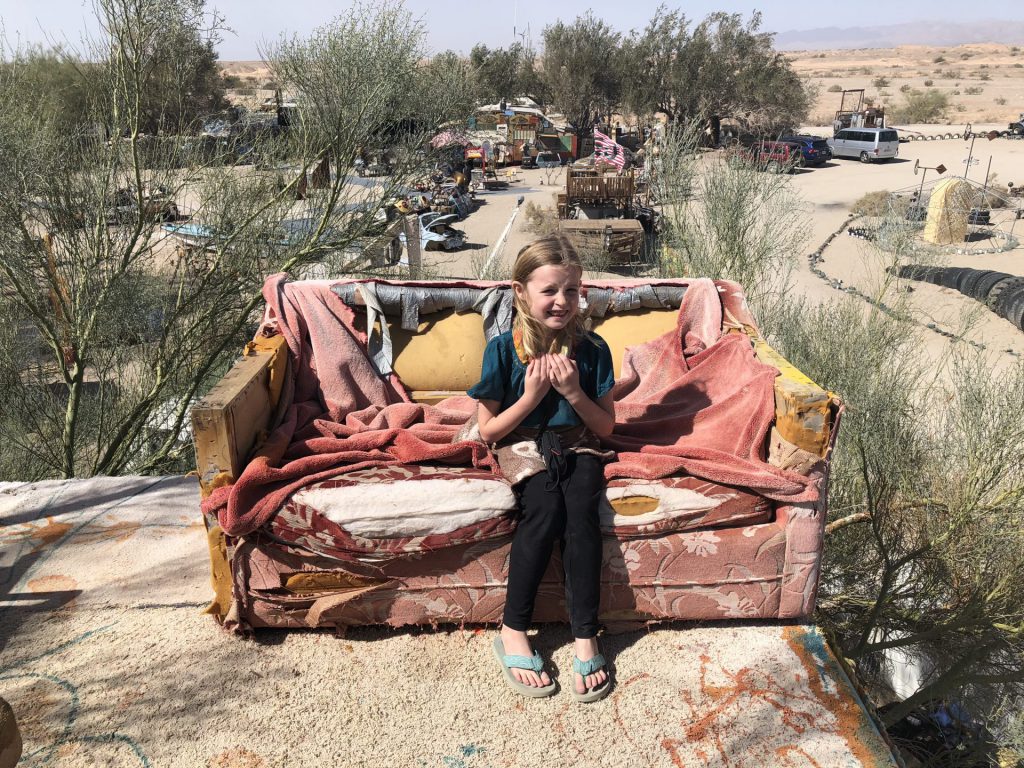 anna even went back up again, using this alternate route.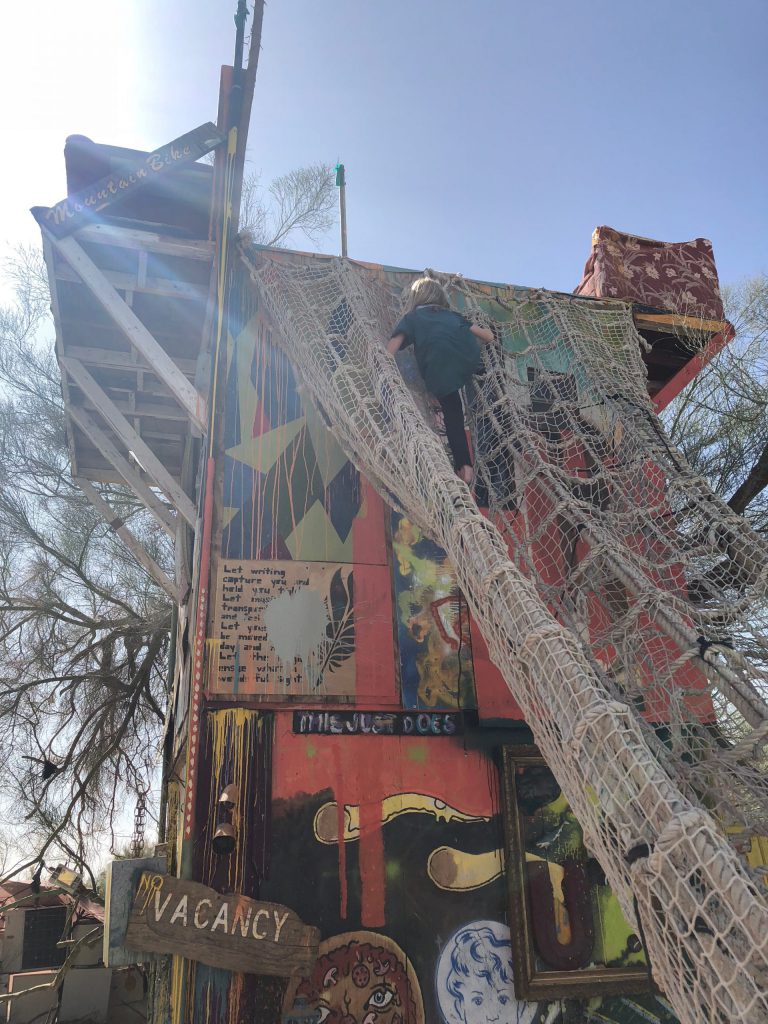 hazel, working on the engine and/or typing a term paper.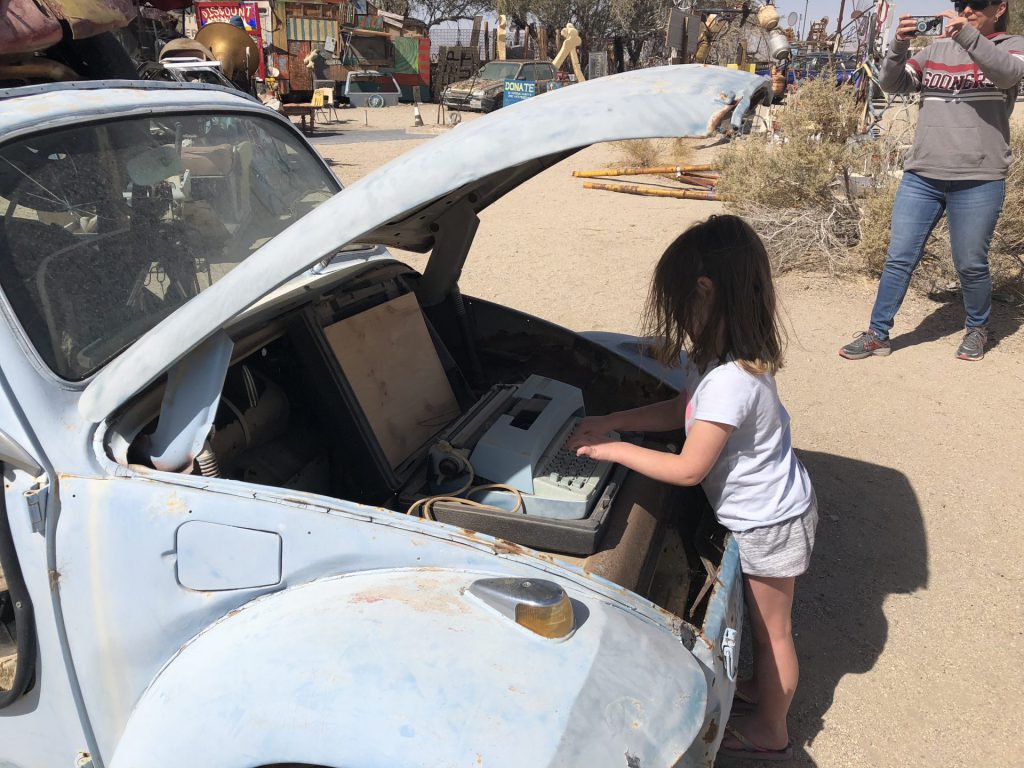 a friendly east jesus resident told us that they actually had this float up and running recently for a parade, but it died when they parked and it had to be towed back to it's final resting spot.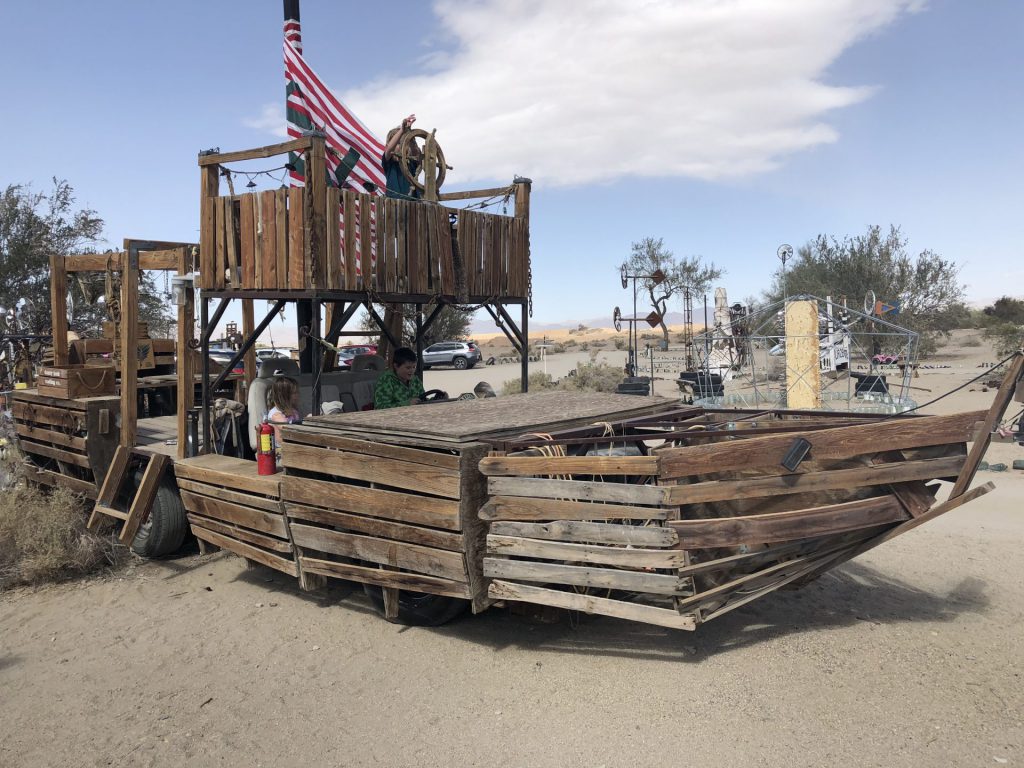 rusty can art.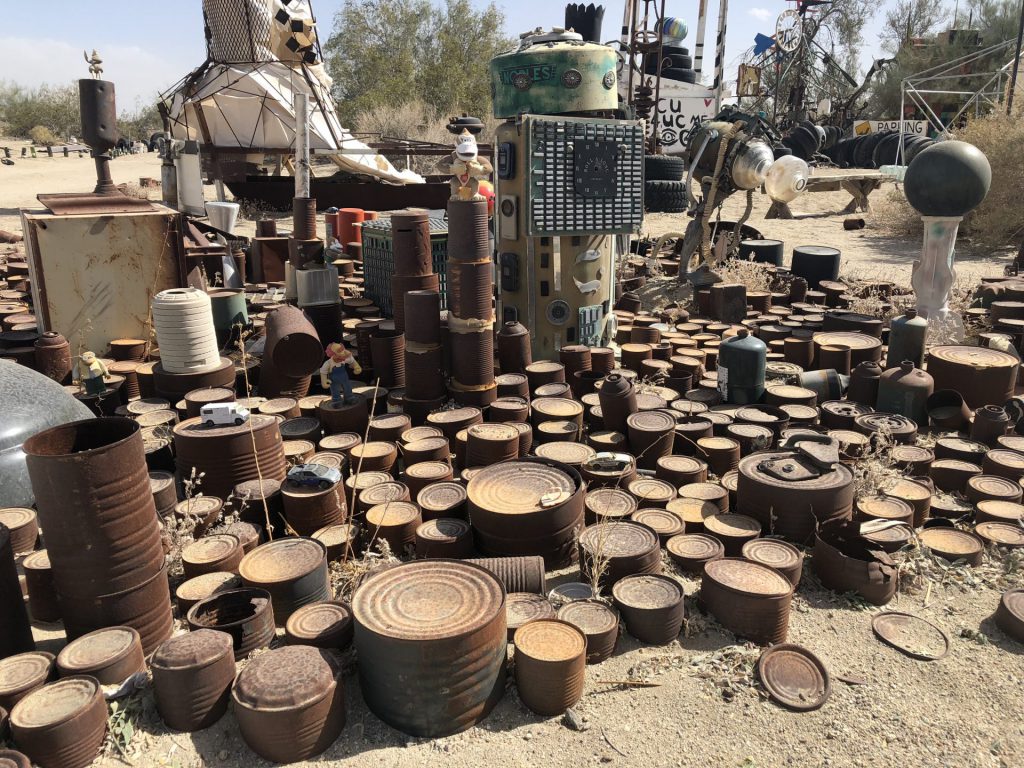 for a place "off the grid" i was surprised to learn there was a pretty good online presence, via website and social media accounts.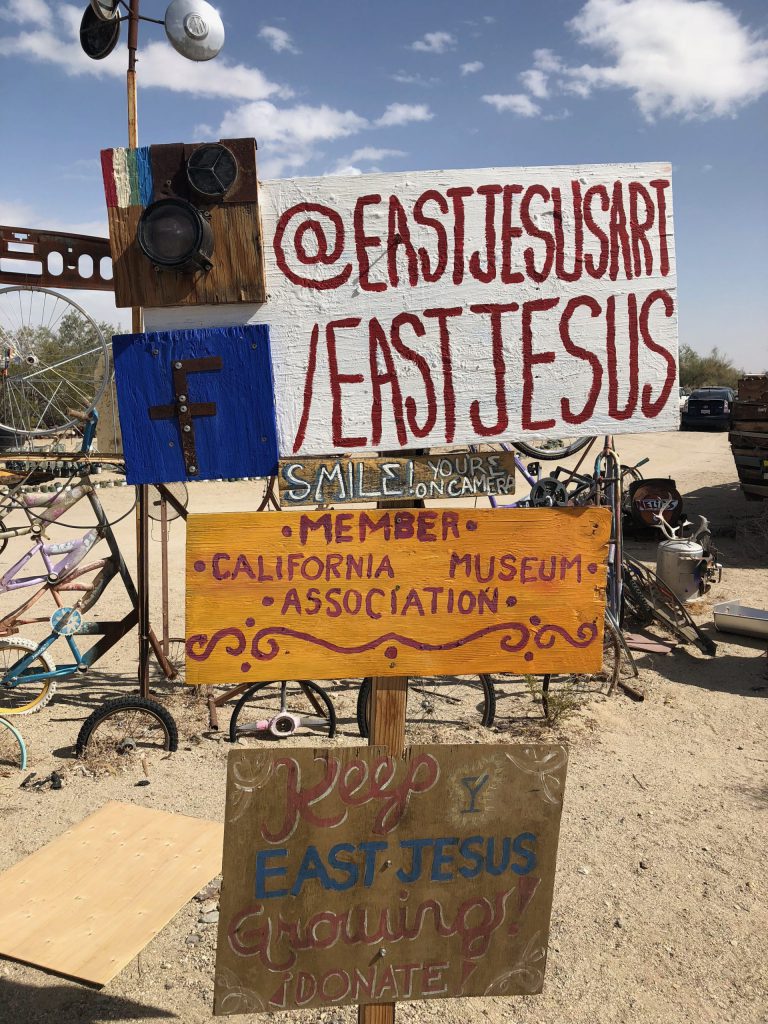 before we left, derek and the kids stopped to chat with and play chess with this fellow, who was glad for a bit of competition, but destroyed derek pretty quickly.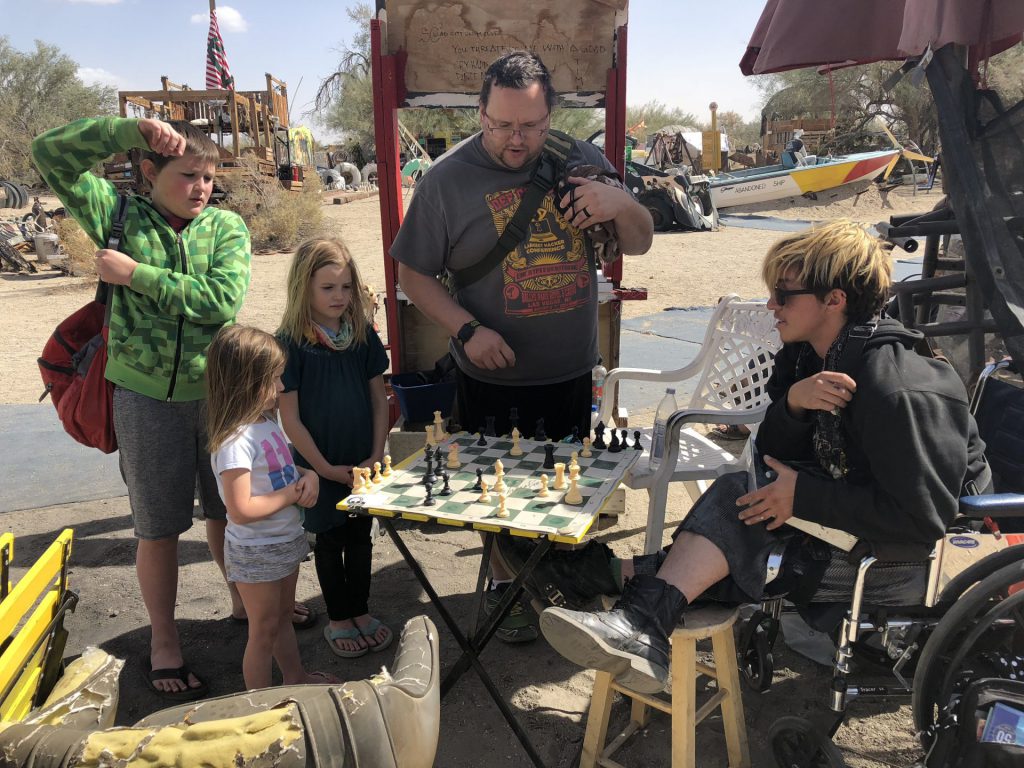 the entire experience was pretty cool and i'm so glad we went. we made the executive decision as we were leaving to swing by "obsidian butte" to see what it was all about. basically, it's where a lava flow met the sea and turned into a hunk of obsidian. the story of the salton sea is also quite and interesting one, if you want to give it a google. it's basically a super salty nasty bit of water, that is shrinking causing some issues for animal habitats and local residents health. it smelled bad. and looked gross. and we only stayed long enough to collect a few bits of obsidian to add to our collection of cool stuff.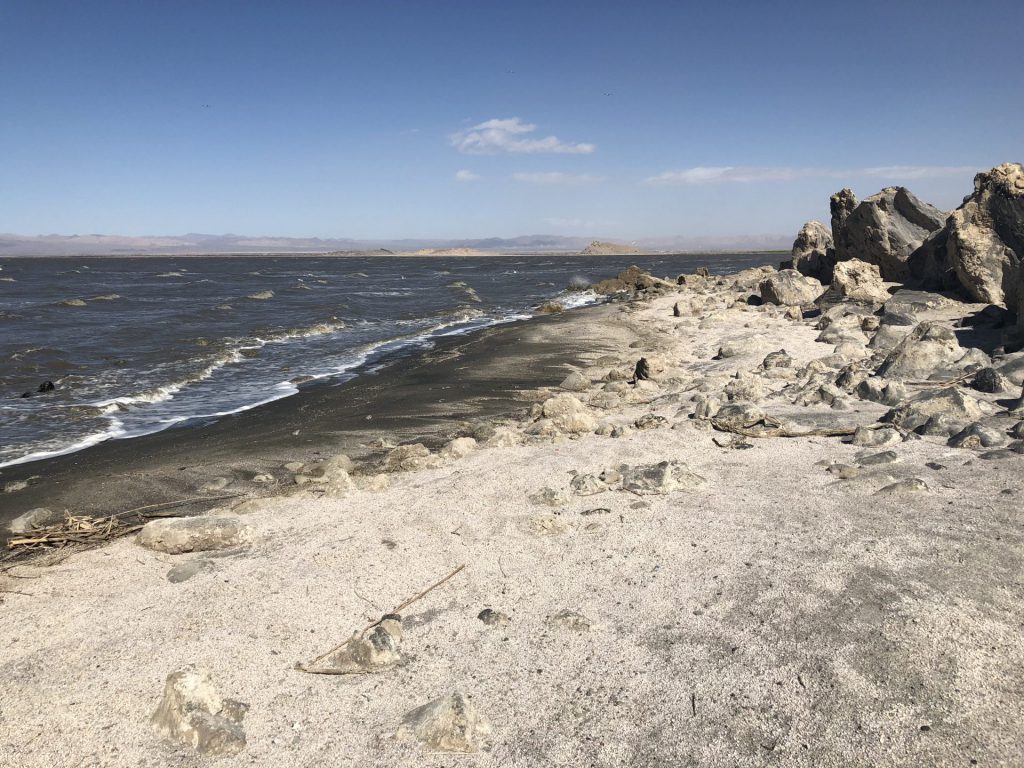 and that was our fun adventure day in the california desert.
you can read more about salvation mountain, here. and slab city, here. and east jesus has a pretty entertaining and informative website, here.