our last stop on our tour of pacific northwest national parks and big cities was mount rainier. after our time in monroe and visiting seattle, we made our way south to packwood, washington, which is just outside of the national park. as we were settling in, i noticed that i had a slight tickle in my throat and that foreboding sense of an oncoming cold. the kiddos also started to get sniffly and grouchy, and it was pretty clear that we were all coming down with something. ugh.
nonetheless, the next day was beautiful, so sick or not, we still planned to head into the park and get our visit started. we stopped at the ohanapecosh visitor center, nearest to us, and checked out some exhibits. hazel is always a big fan of the giant relief maps of the parks.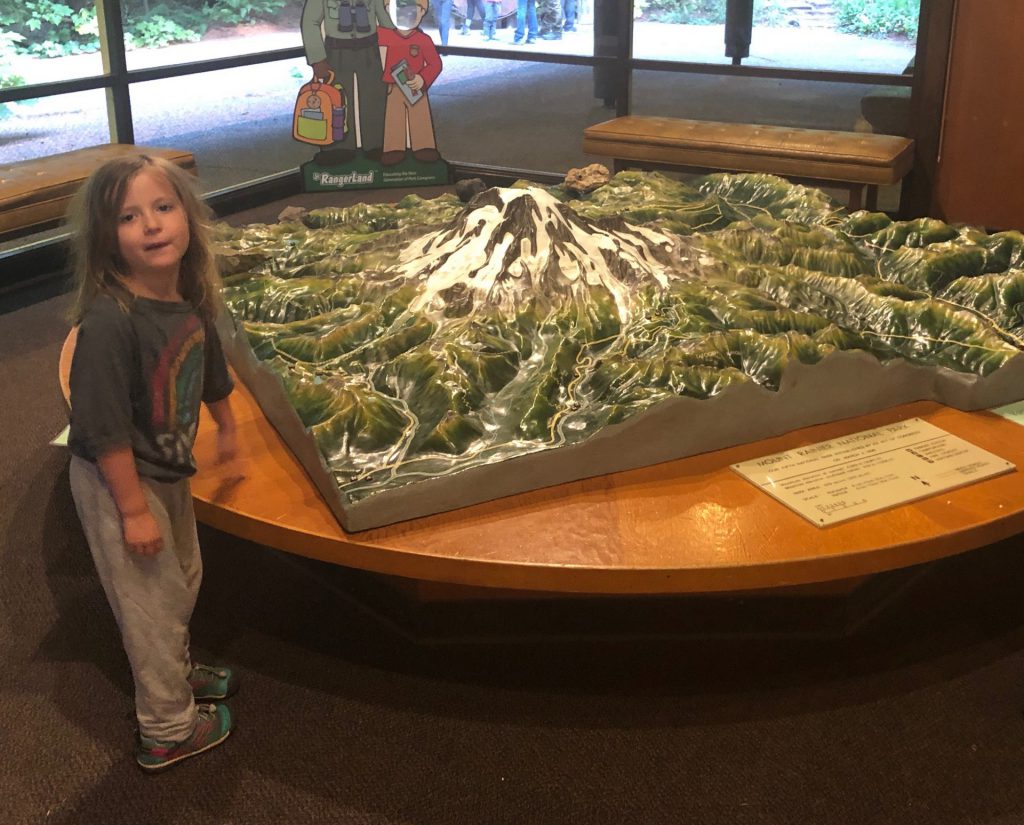 on our drive up the mountain (volcano), we stopped a million times to take pictures. every new view seemed exponentially more beautiful than the last.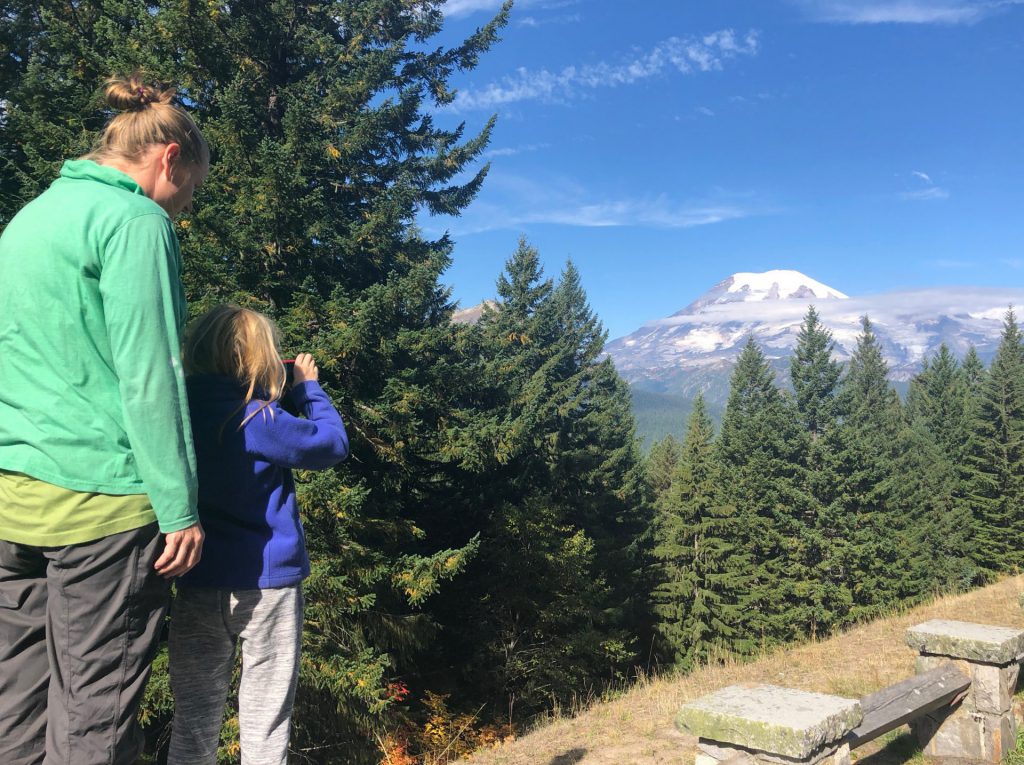 i'll try not to post too many.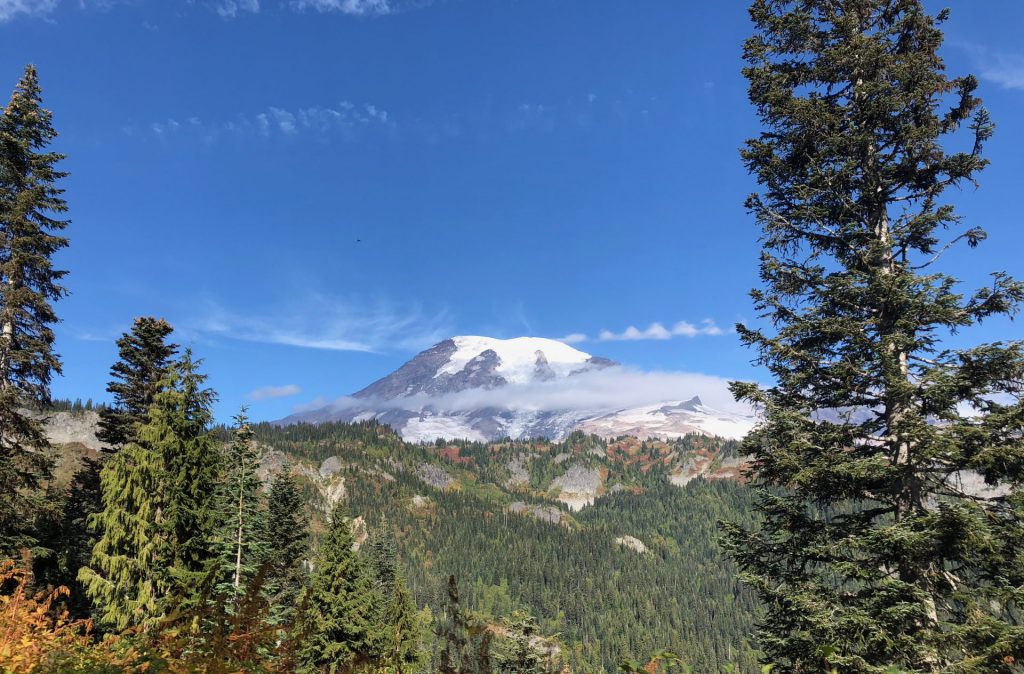 just before the paradise visitor center area, there's a couple of lakes, where on a calm and clear day, you can make out a reflection of mount rainier in the waters. that didn't happen on our day.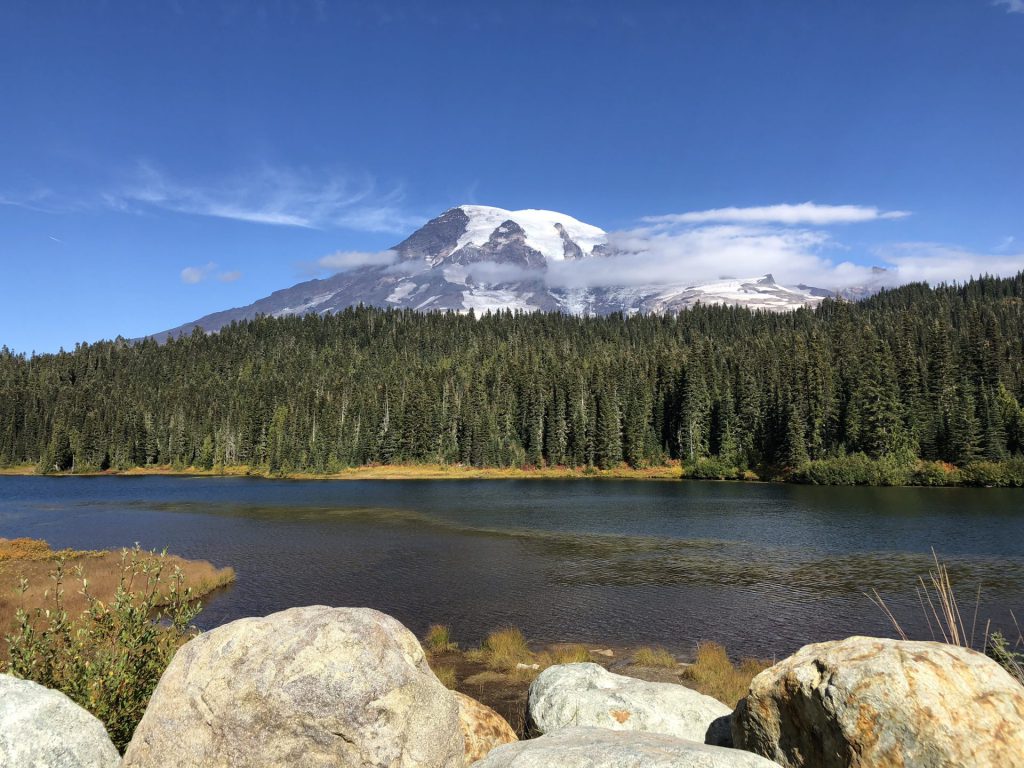 when we reached the visitor center, we were very surprised at how busy it was. we are used to busy national parks, but it's the end of the season here and the place was stuffed. we managed to get a decent parking spot, thankfully, or we would have probably scrapped the whole day.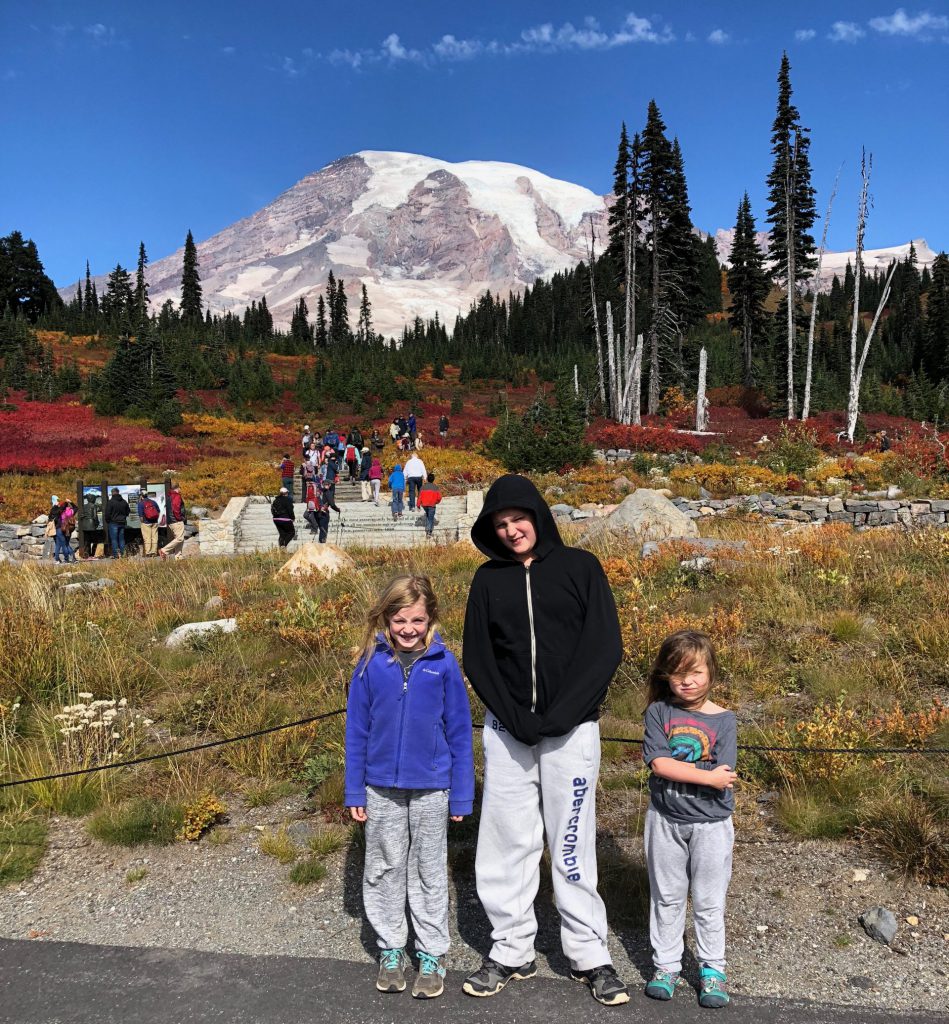 after a bit of consideration, we decided to try to take a short hike. i was bummed because we were all blah. and there were so many people. and my hydration pack was leaking. and there was a lot of whining. but, we pressed on.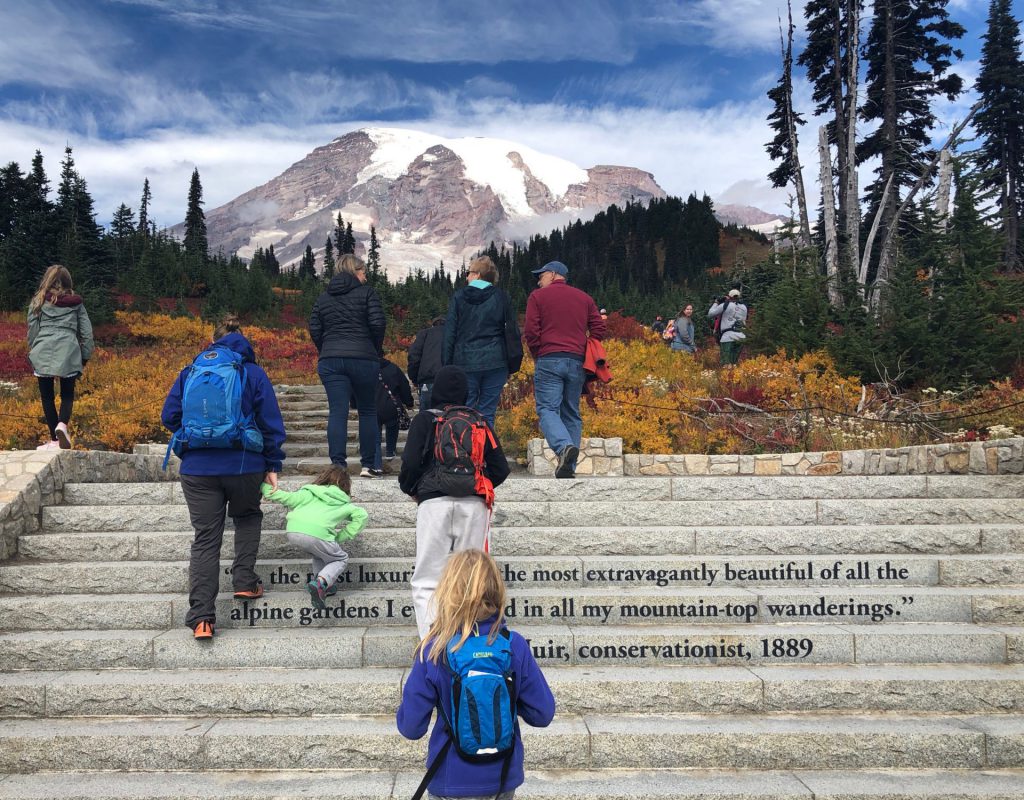 we opted for an easy-ish trail. a fellow hiker stopped to exchange photographer duties with us.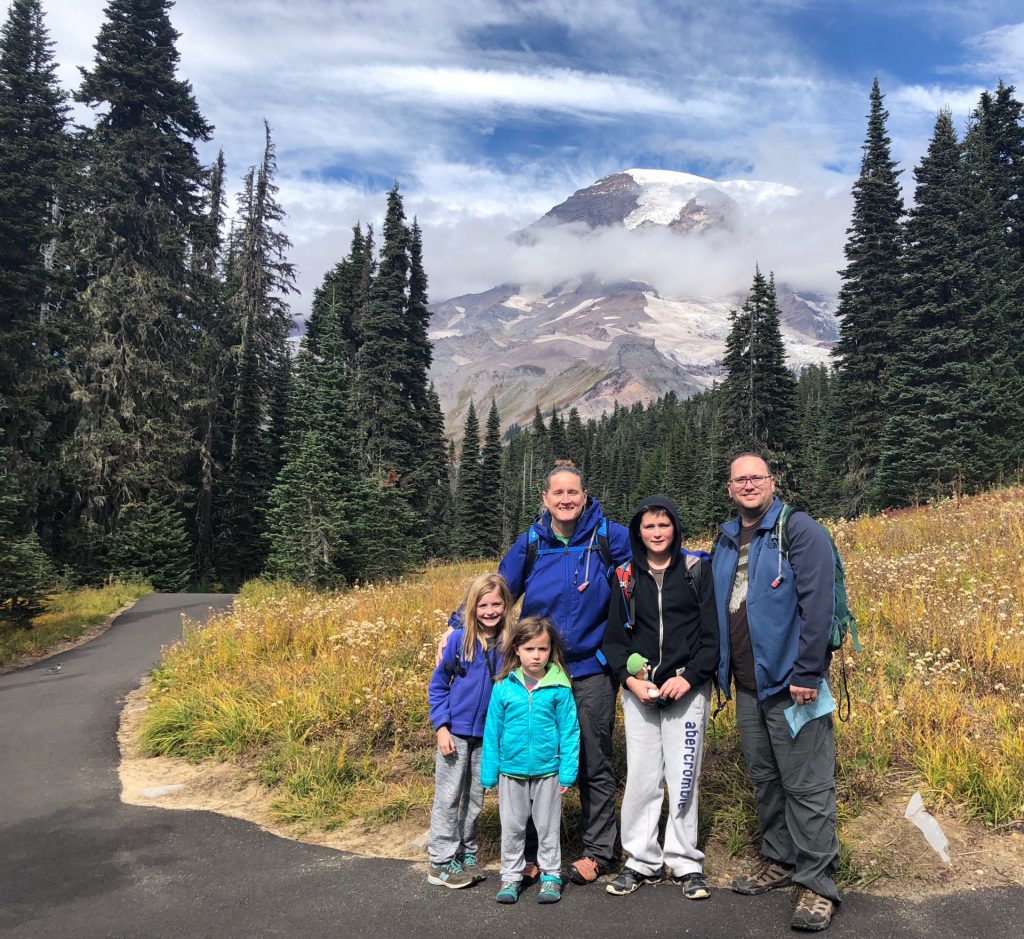 and then things went wrong. we took a wrong turn. and found ourselves on a really steep trail. the grumbling and whining amplified. by the time we realized it, we weren't going to turn back and do the other trail. it was a lost cause. we took another trail that led back to the visitor center and chalked it up to just not being our day.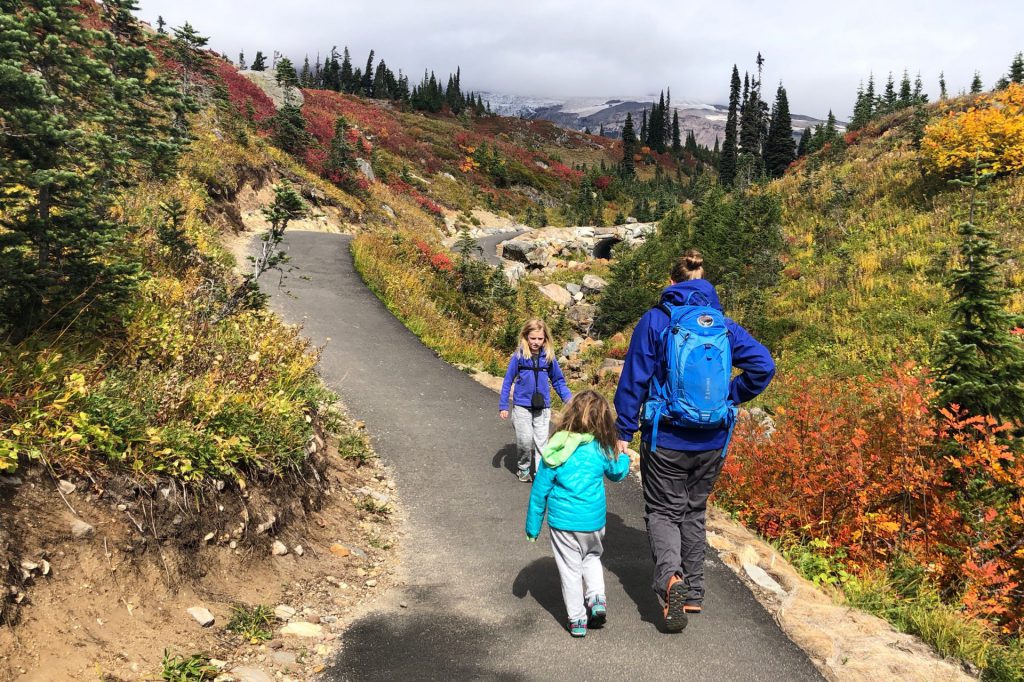 the good news was, the views on the trail back to the visitor center were really pretty, filled with changing colors of fall.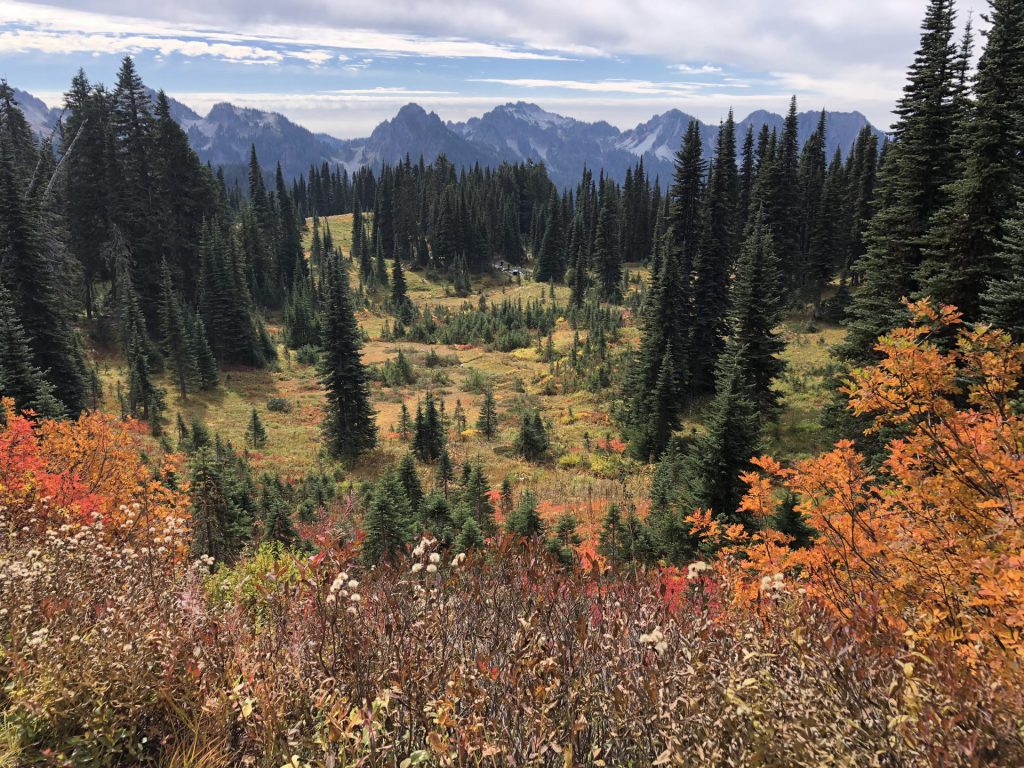 also. adding to our general discontent. as we hiked, mount rainier was covered in clouds. but still. colors.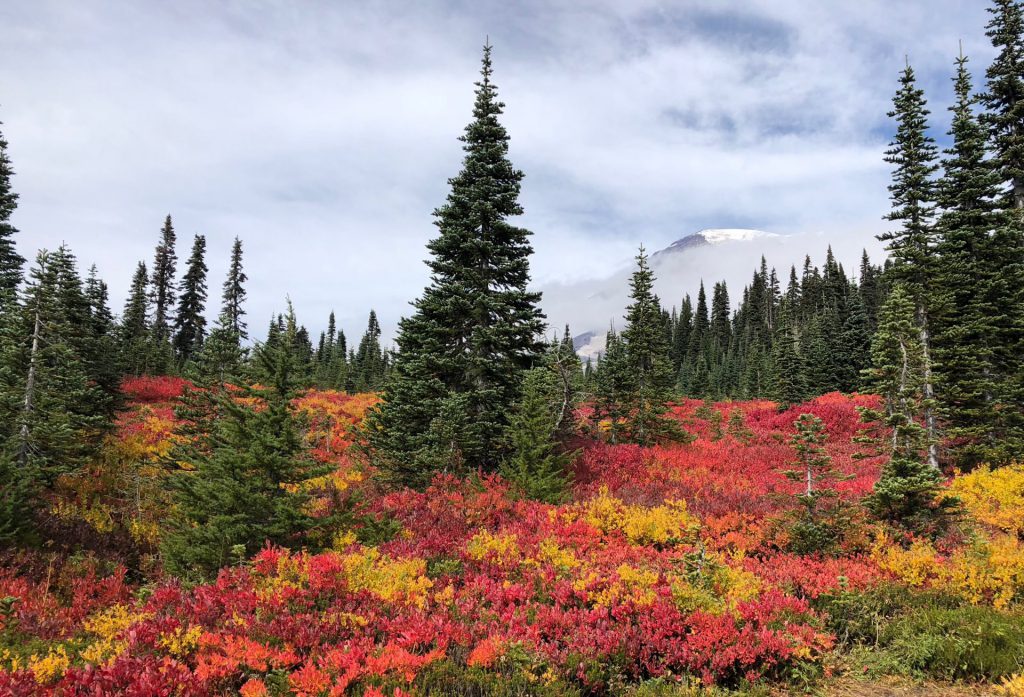 we found a good spot for a commemorative photo, but i can assure you we are all less happy than we appear in this shot.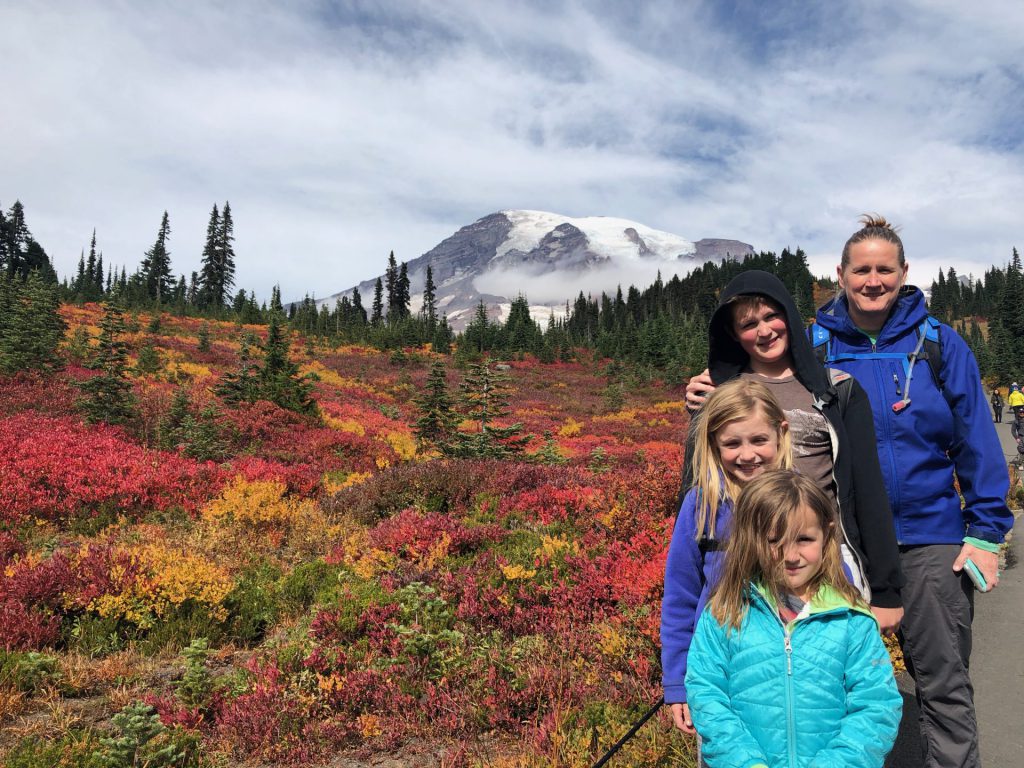 on our drive home, we noticed some folks intently looking down into the valley below the visitor center. we stopped to see what all the excitement was about and were told a mama bear with two cubs had been spotted, but they had since wandered off and out of sight. but, the views from there were pretty great, so it was still worth the stop.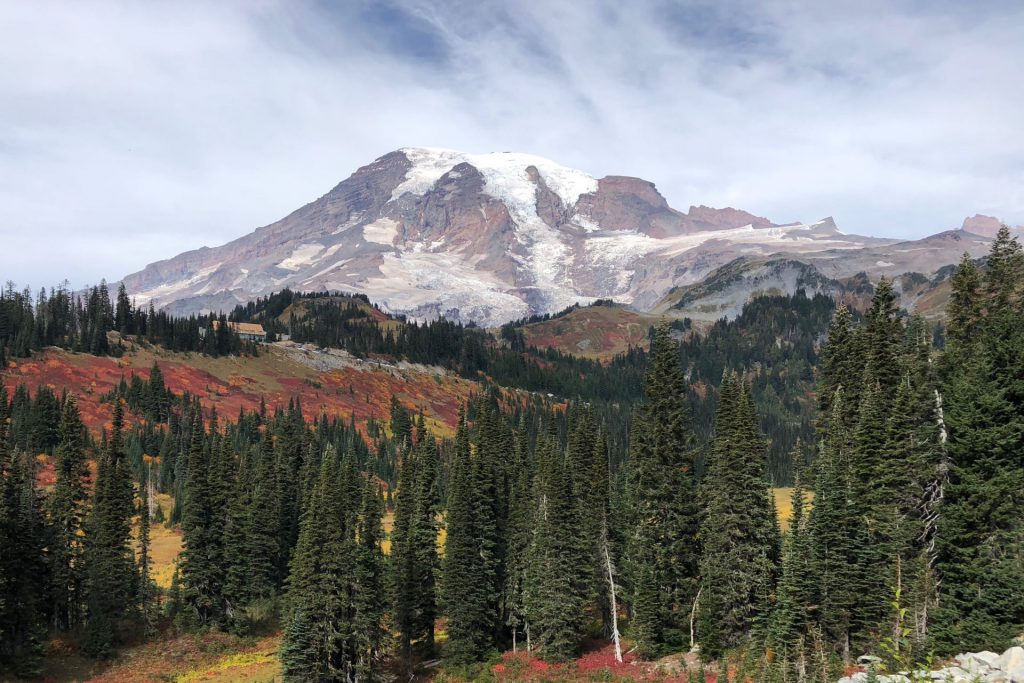 this place is seriously like a bob ross painting in real life. happy little trees.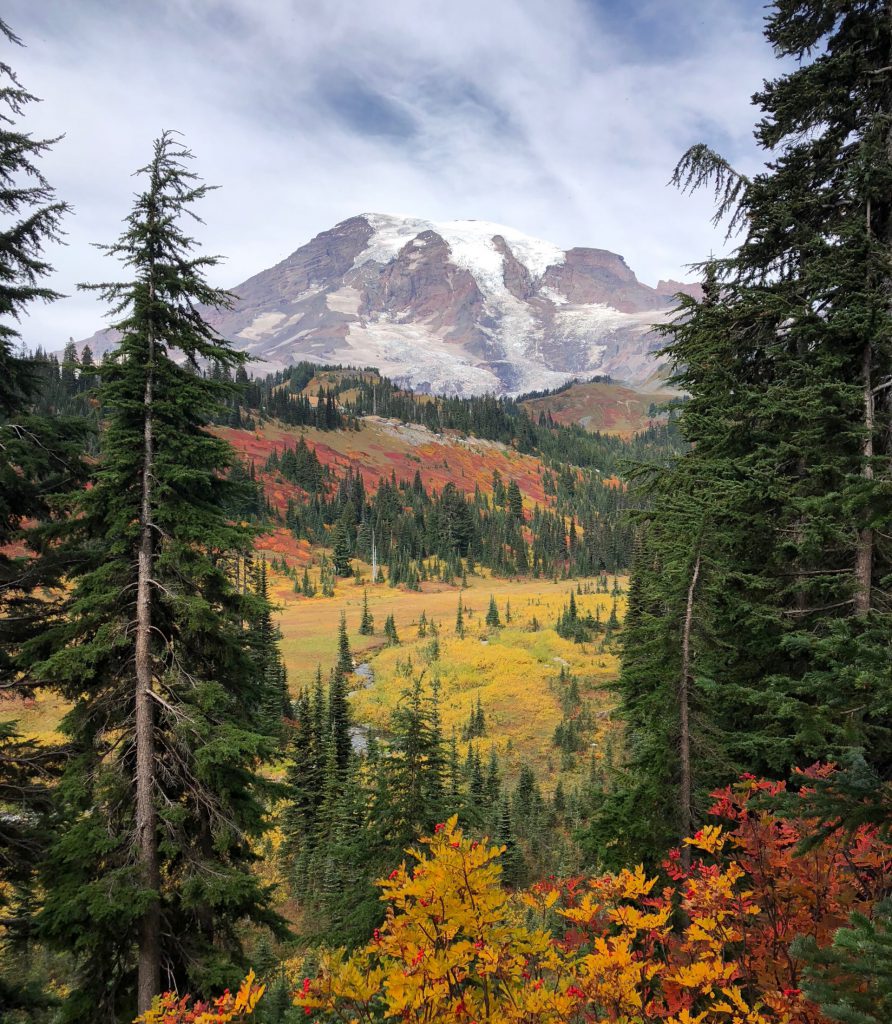 the next day was overcast and cold and we were all grumpy and sick, so we just laid around as any family would. the cold was mild and short lived and the next day we were all well on the mend. the weather was perfectly autumn-y, so this kid set up camp outside to do a bit of reading.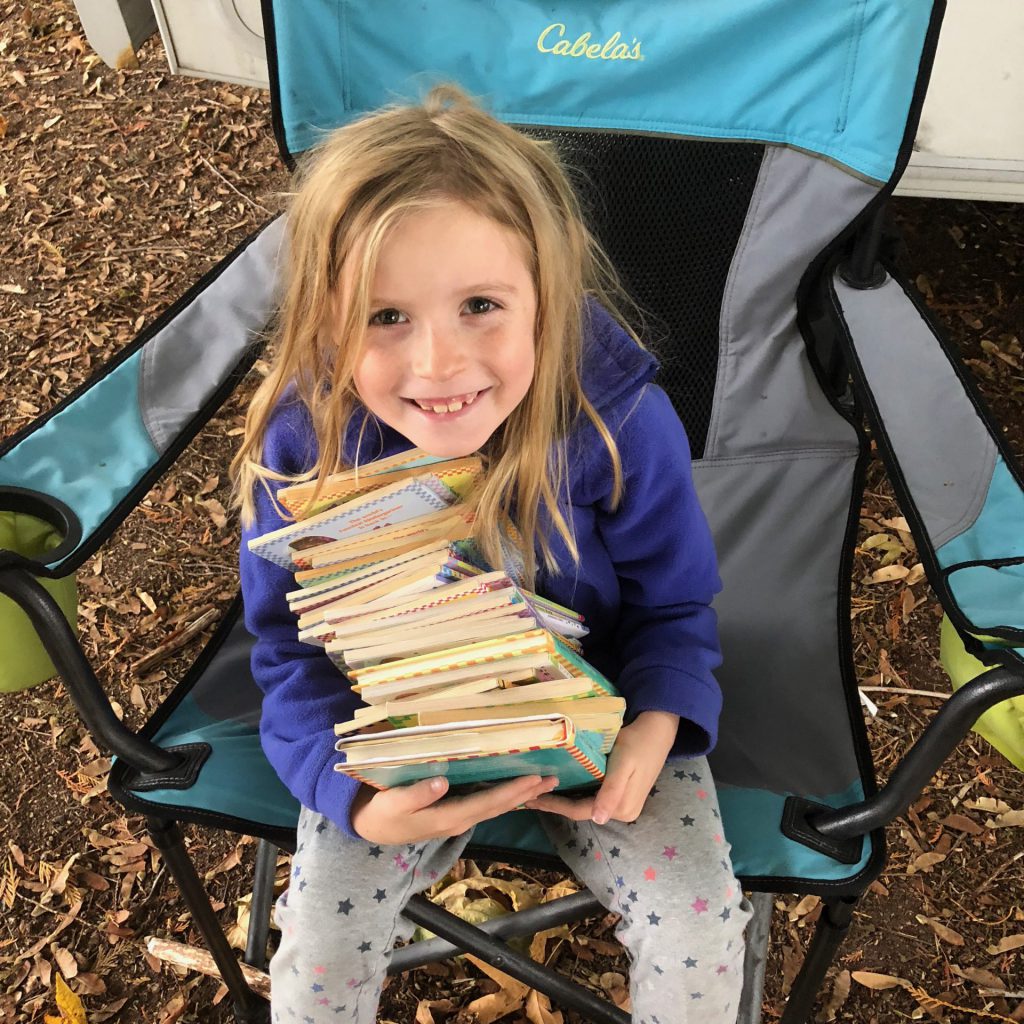 and we carefully put up the full extent of our halloween decor.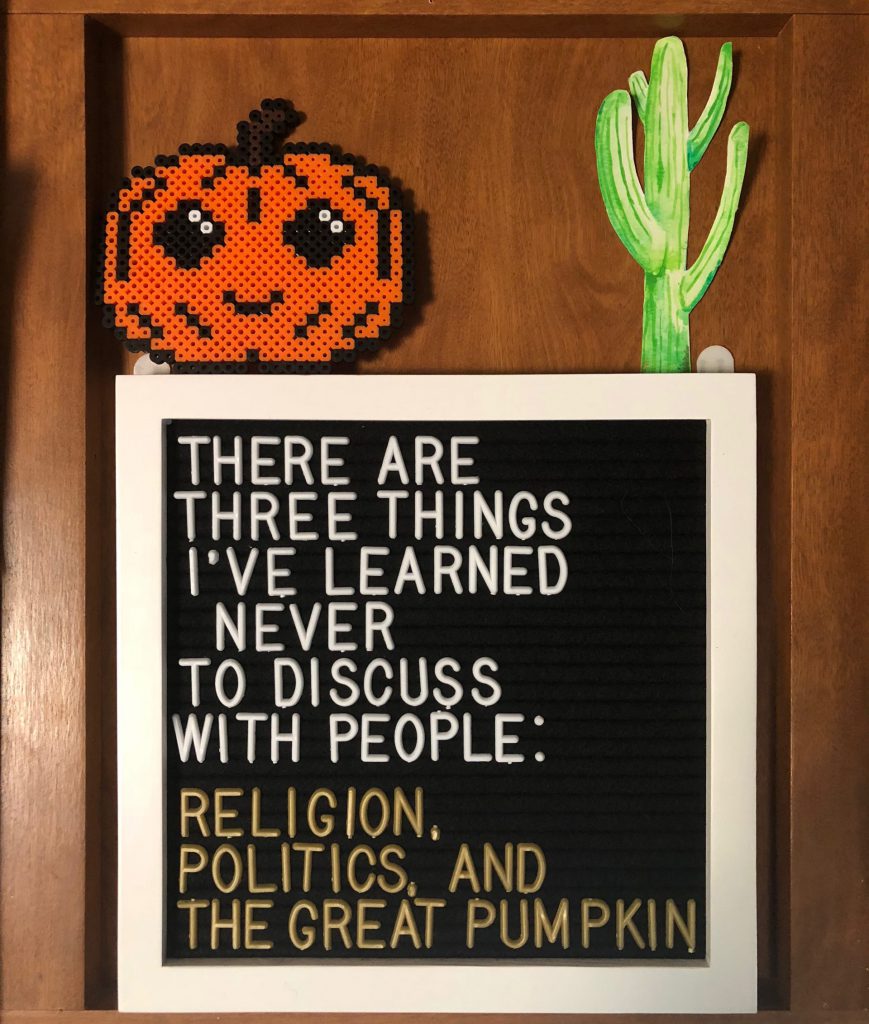 finally, when everyone was 100% and the weather was decent enough, we waited for derek to be done with work and went back into the park, to hike the grove of the patriarch trail, through a thick strand of old growth forest. as we searched for the trailhead, we happened upon a banana slug, our favorite pnw creature.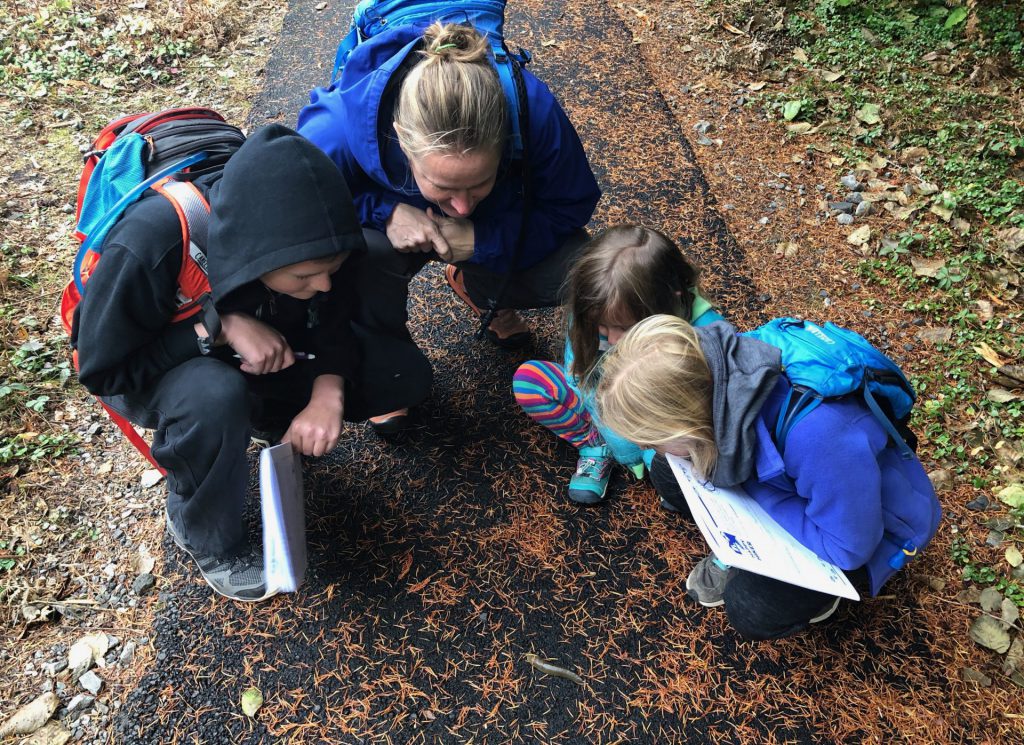 we definitely scared him and he shrunk right up and sucked his eyeball tentacles into his head. but he was still cool.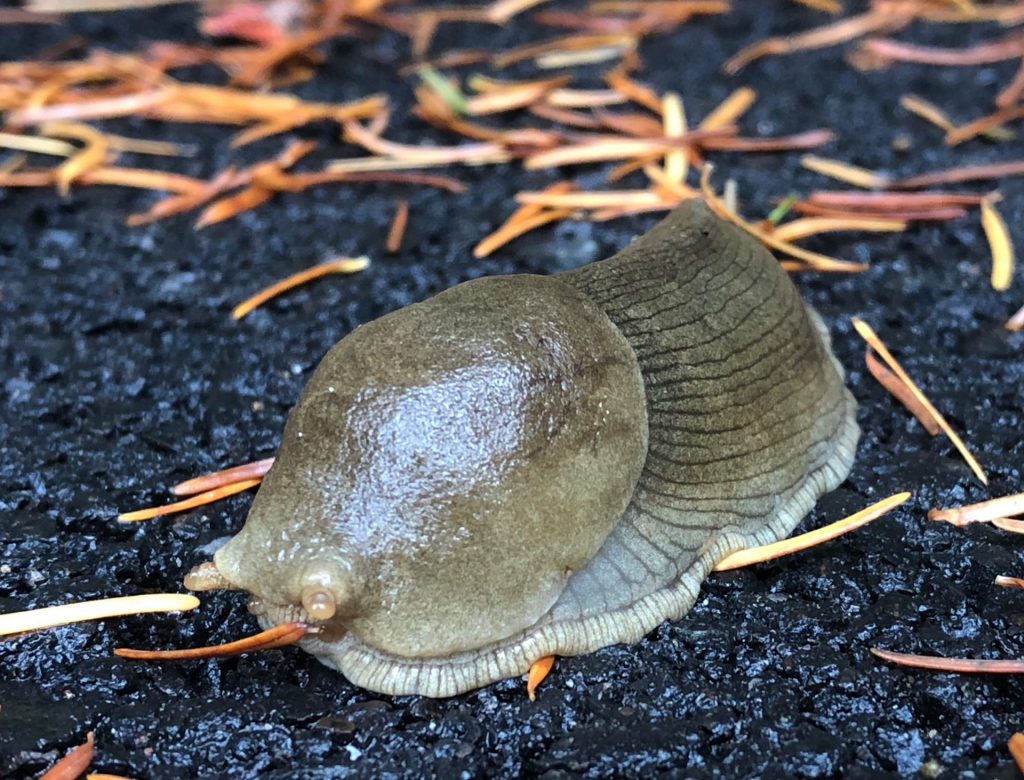 the hike followed along the ohanapecosh river. these two went to get a closer look.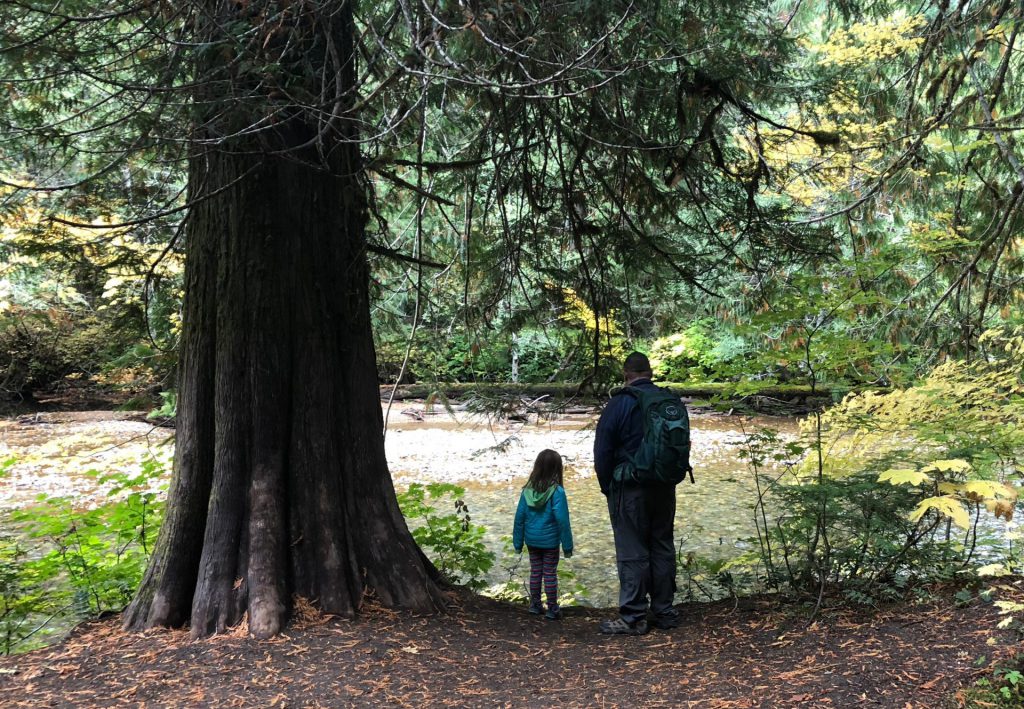 and then, another banana slug sighting. we have seen 7 or 8 at this point. and i'm thinking this guy was our last.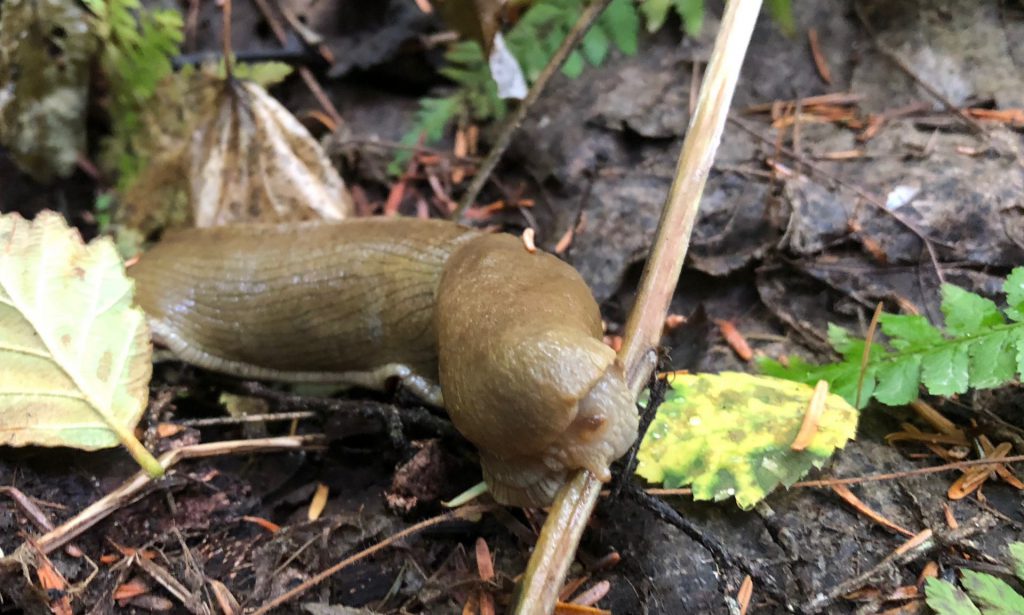 we also saw new and fun mushroom varieties.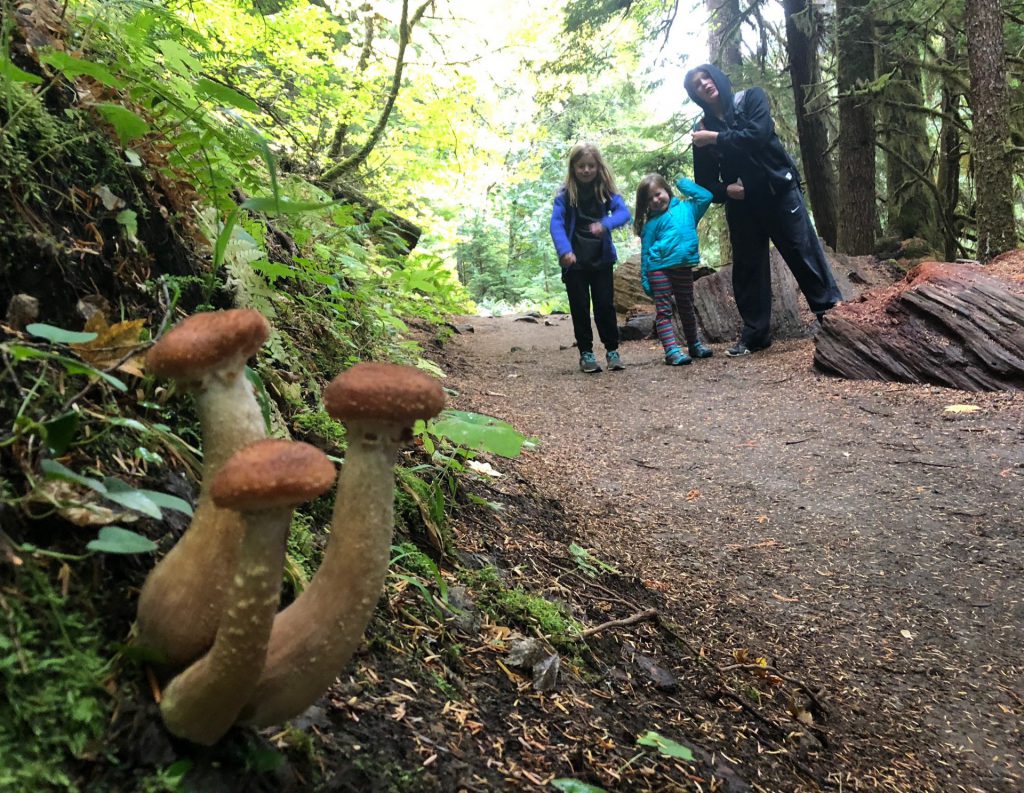 fun story. when derek was little, he ate a poisonous mushroom and had to have his stomach pumped. he didn't eat any on this day.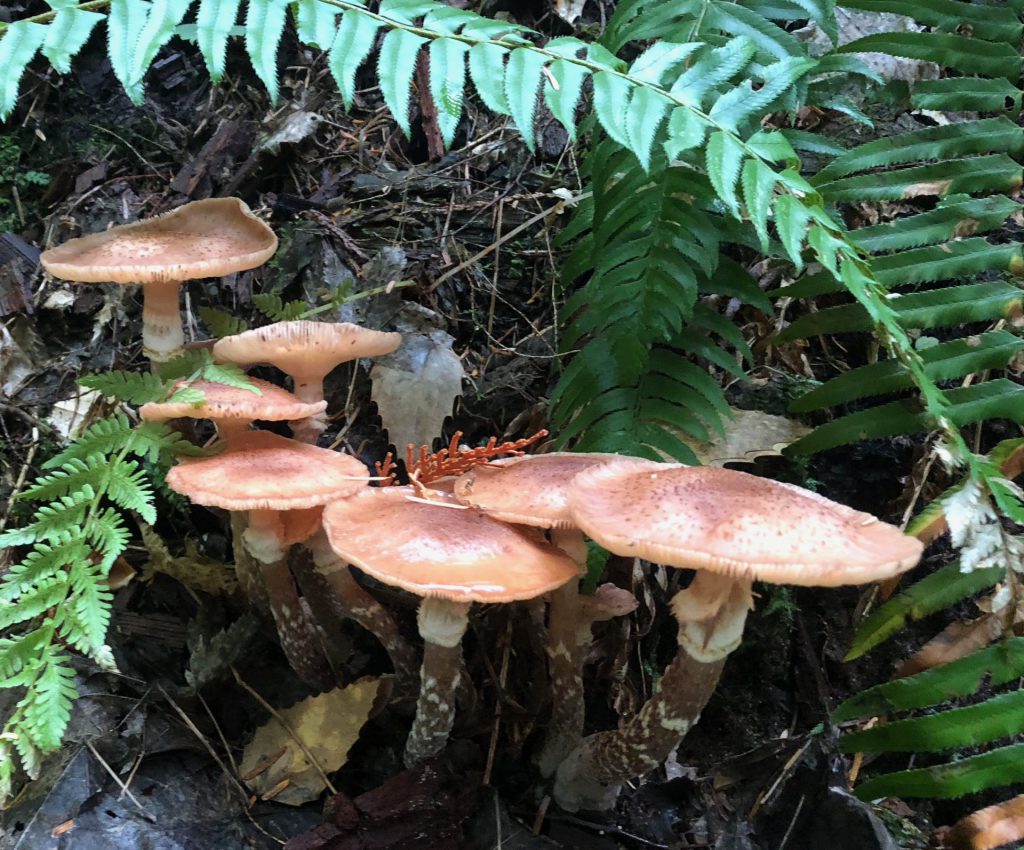 our favorite part of this hike was a cool suspension bridge that crosses the river.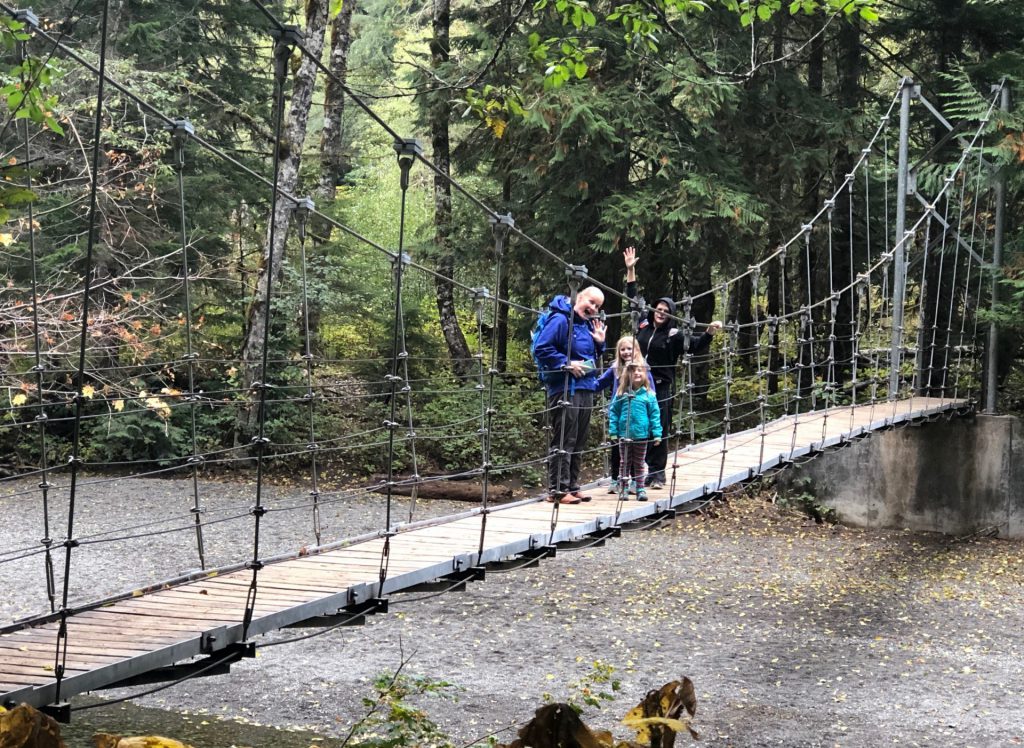 it was a great photo prop.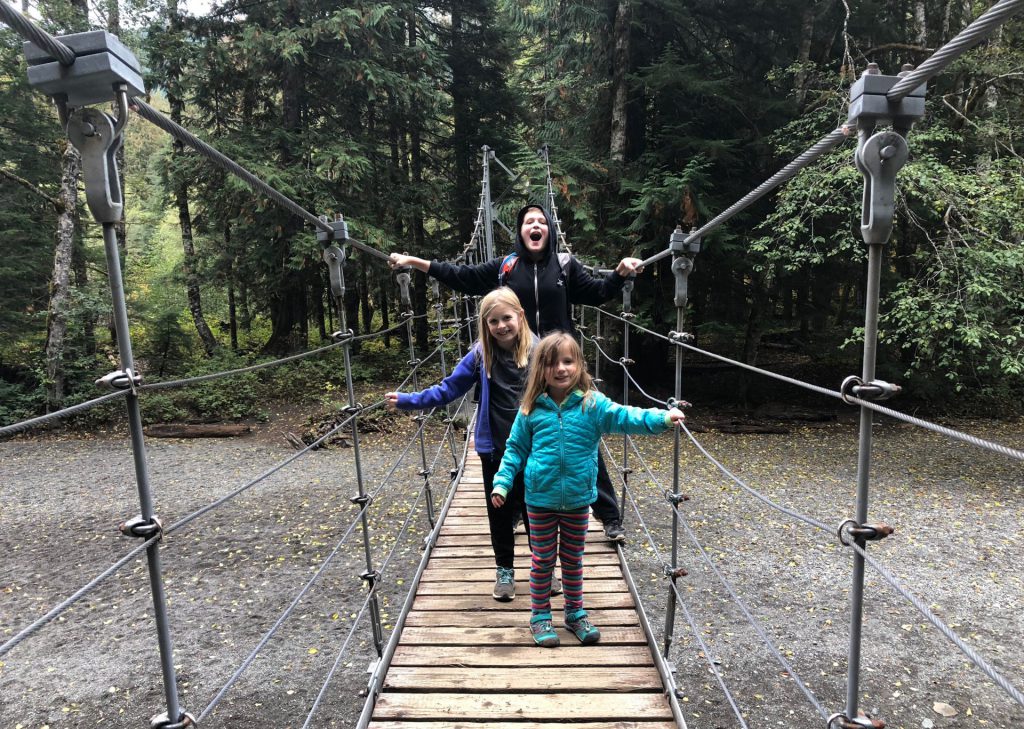 derek, bringing up the rear.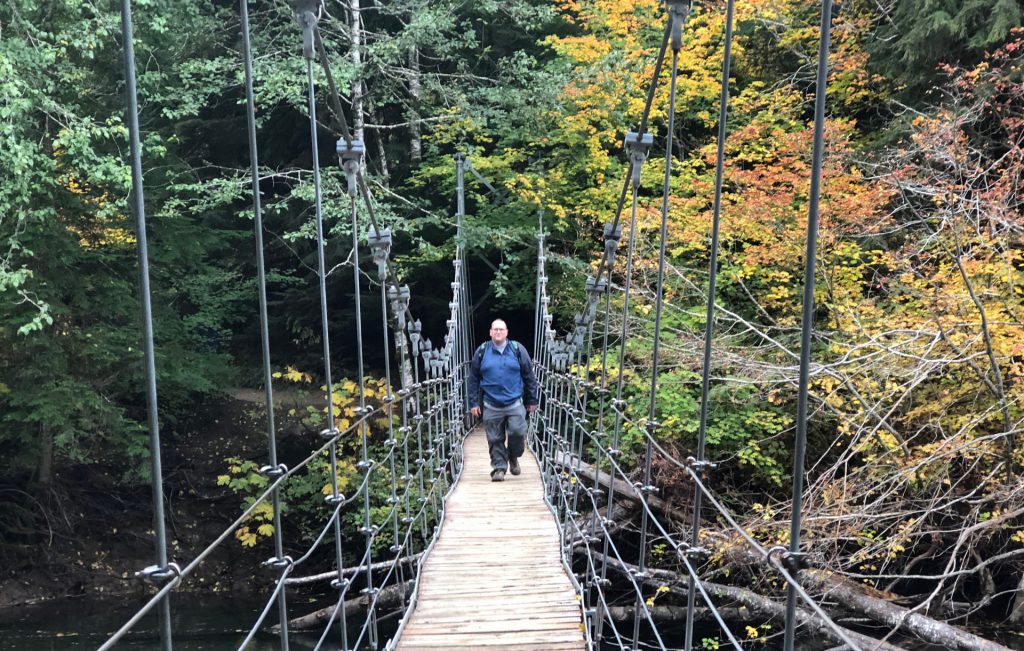 finally, we reached the really old stuff. and the really yellow leaves.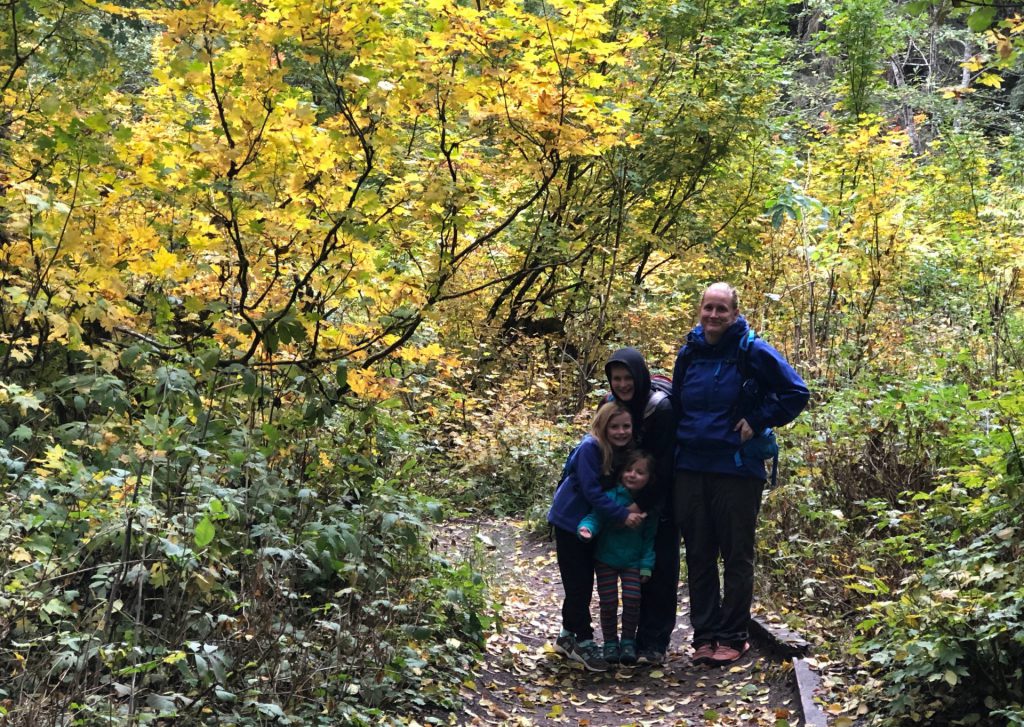 boardwalk into the woods.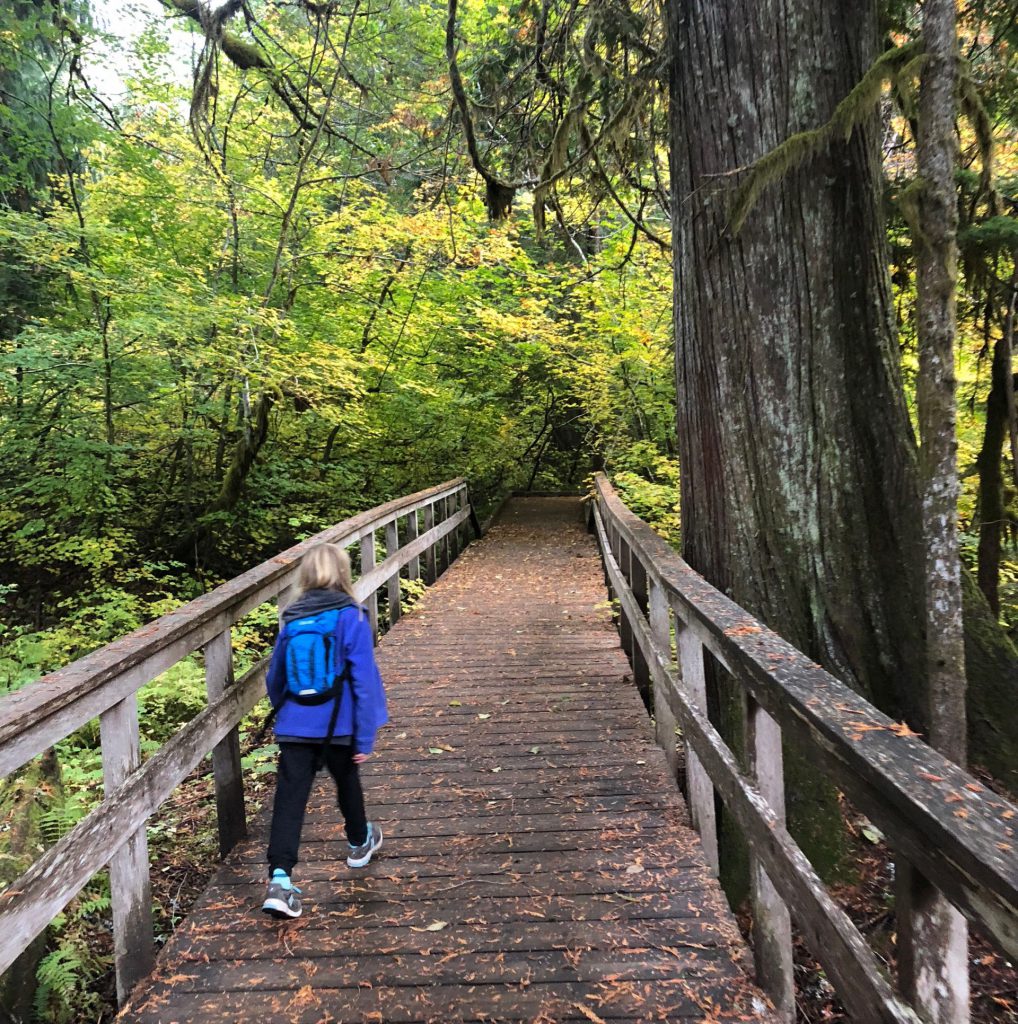 giant cedar. we have seen some pretty big trees lately, so the lidkids weren't exceptionally impressed.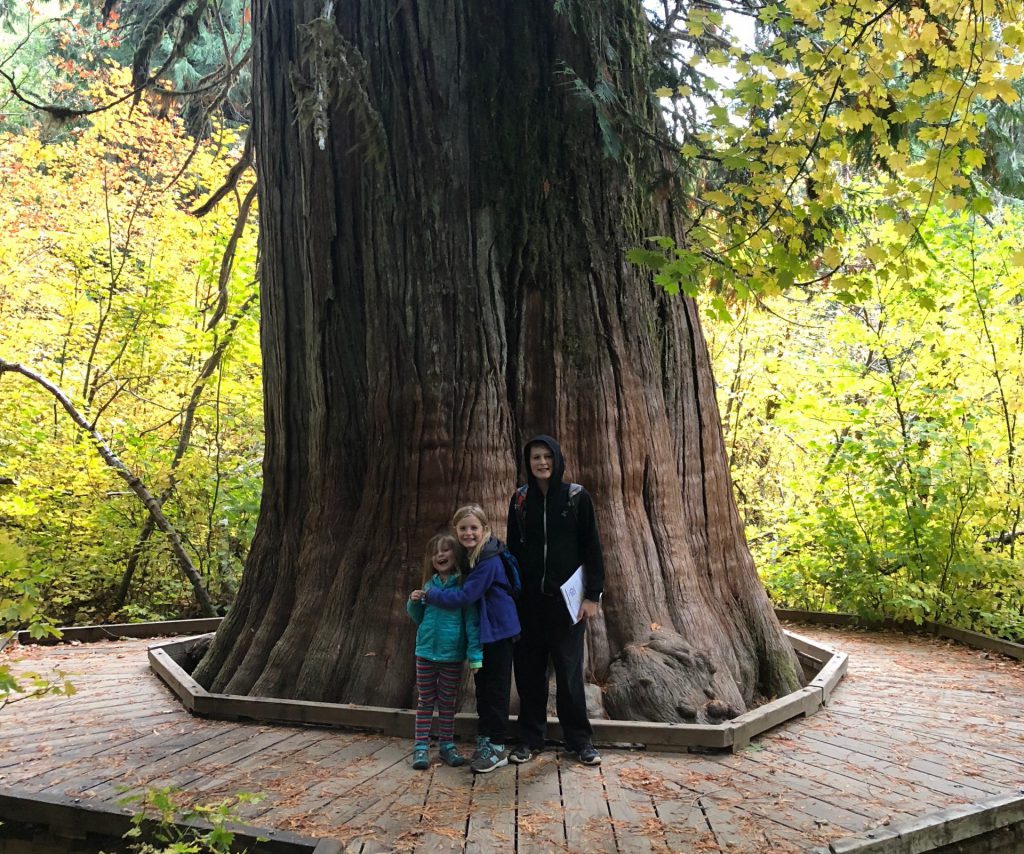 cute nature girls.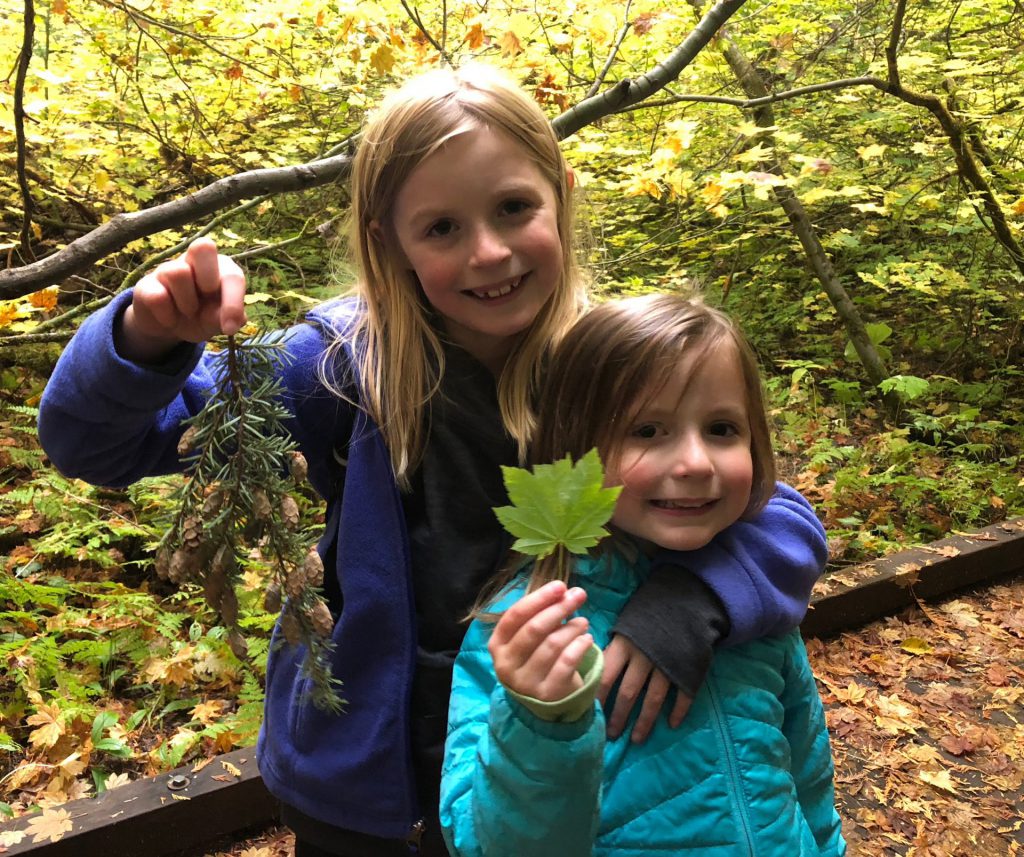 we thought this branch filled with tiny pinecones was the cutest.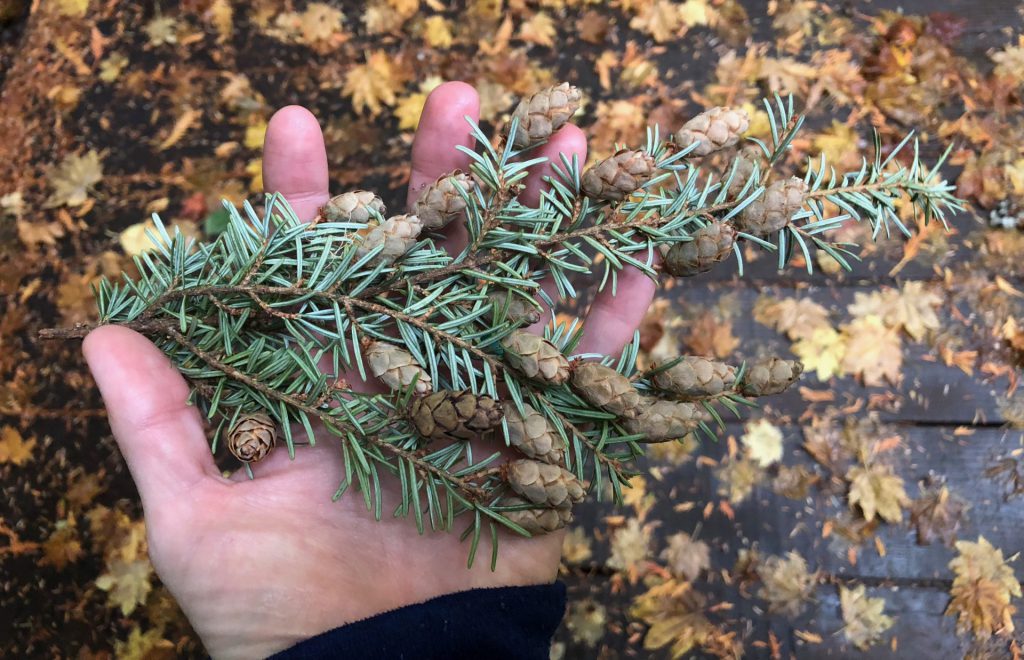 and then, back out. some more playtime on the suspension bridge.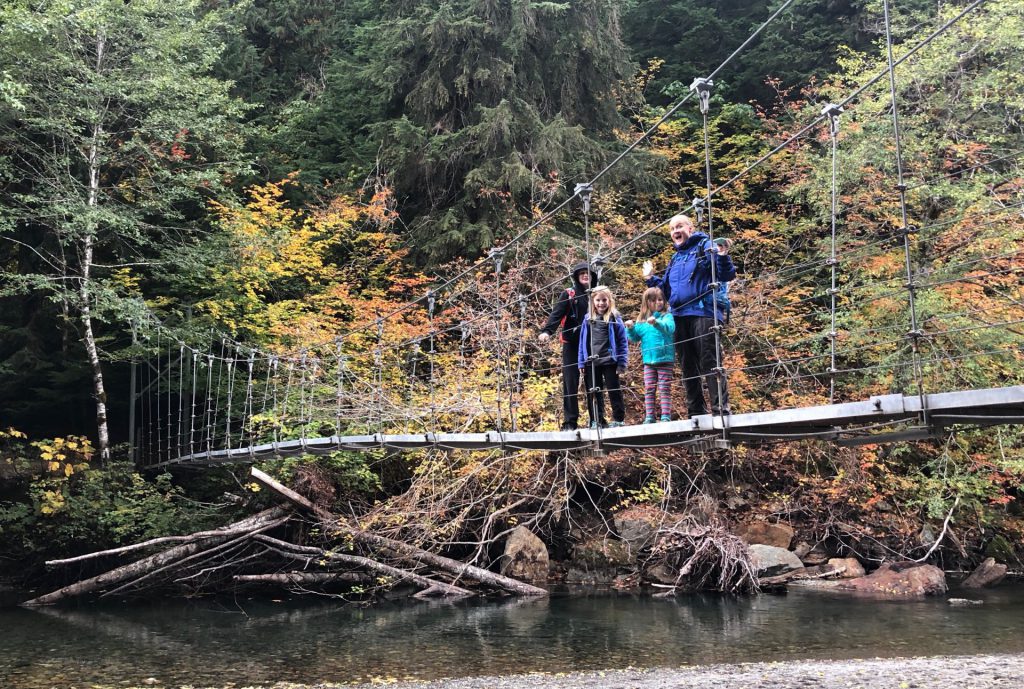 delightful children.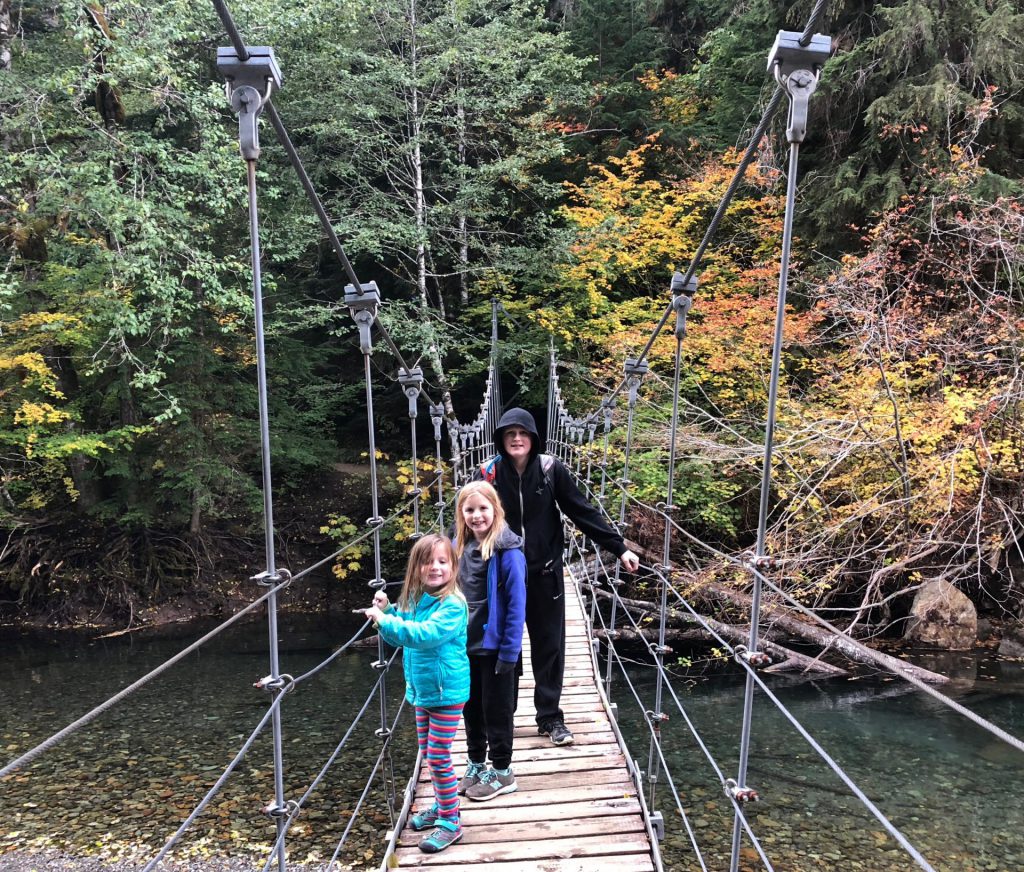 knuckleheads.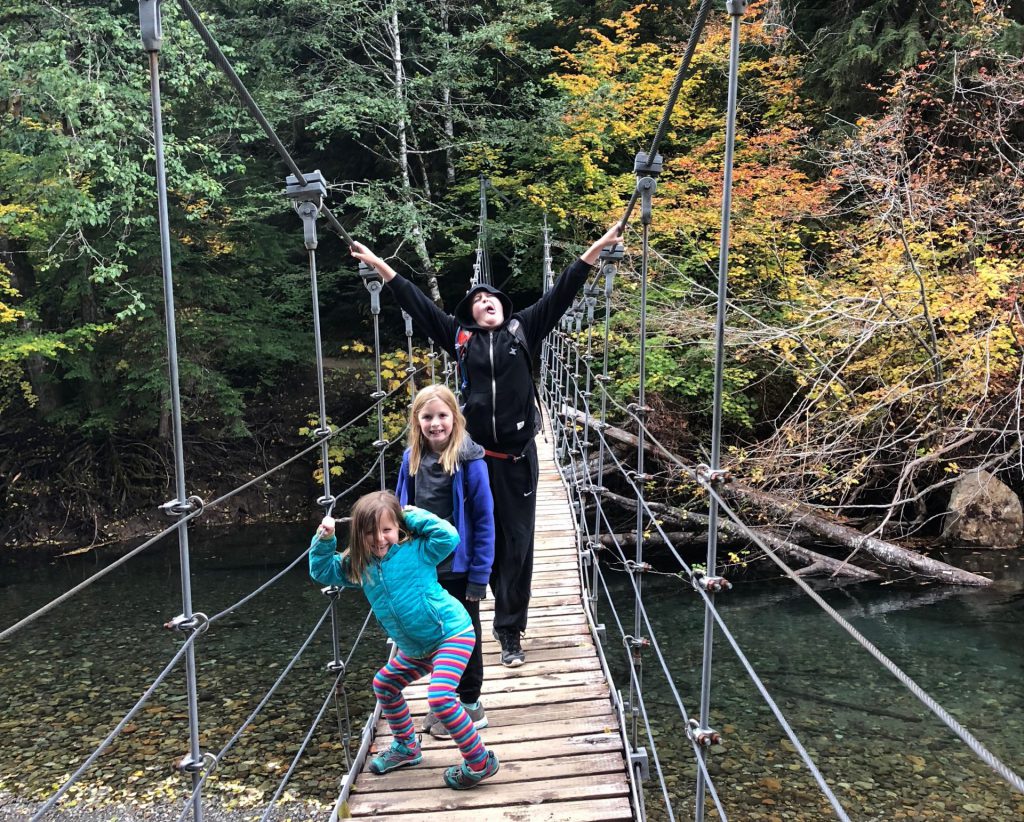 so. we had planned to go to the nearby ohanapecosh visitor center for the kids to wrap up their junior ranger badges. but. alas. it was closed for the season. so. we made the long drive back up to the paradise area, just in time for the kids to do their thing.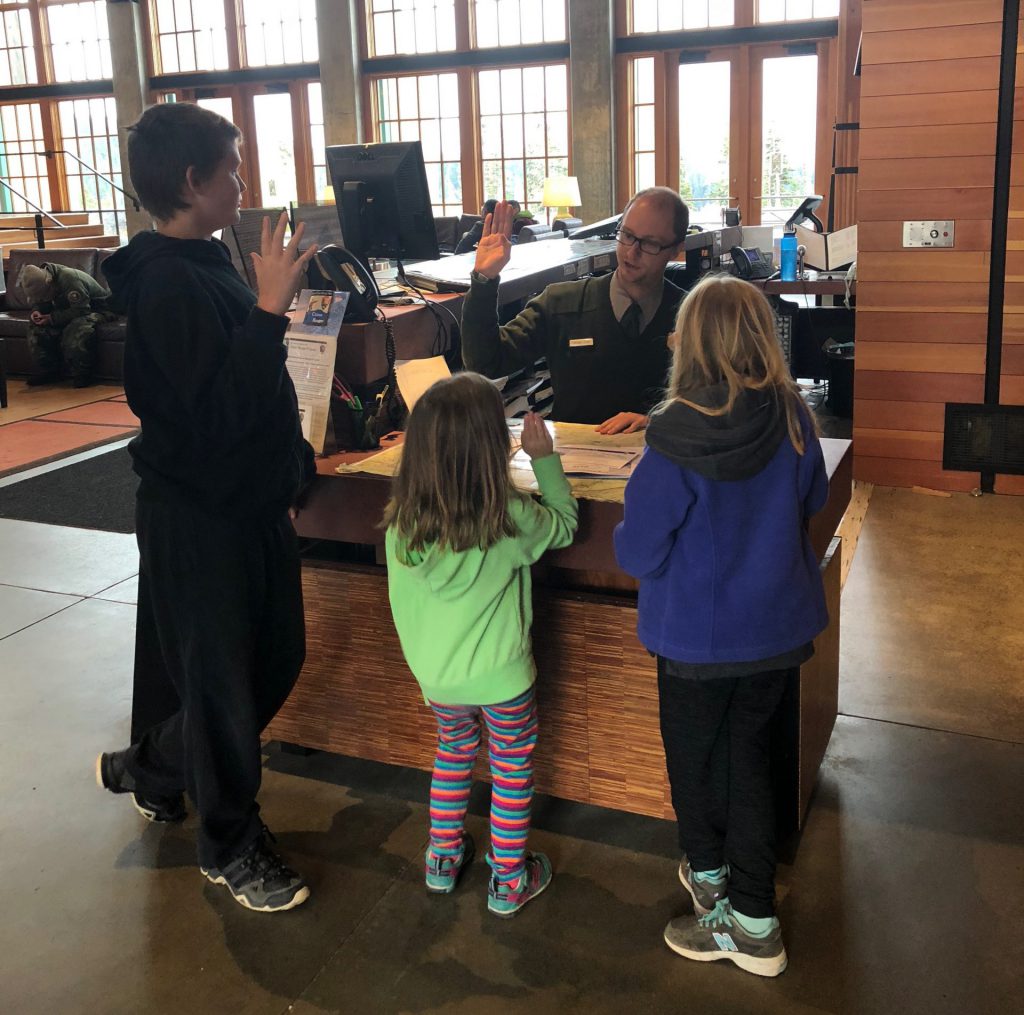 back at camp, anna decided it was time to get out all of her junior ranger flair and take a pic of it. she's a nerd.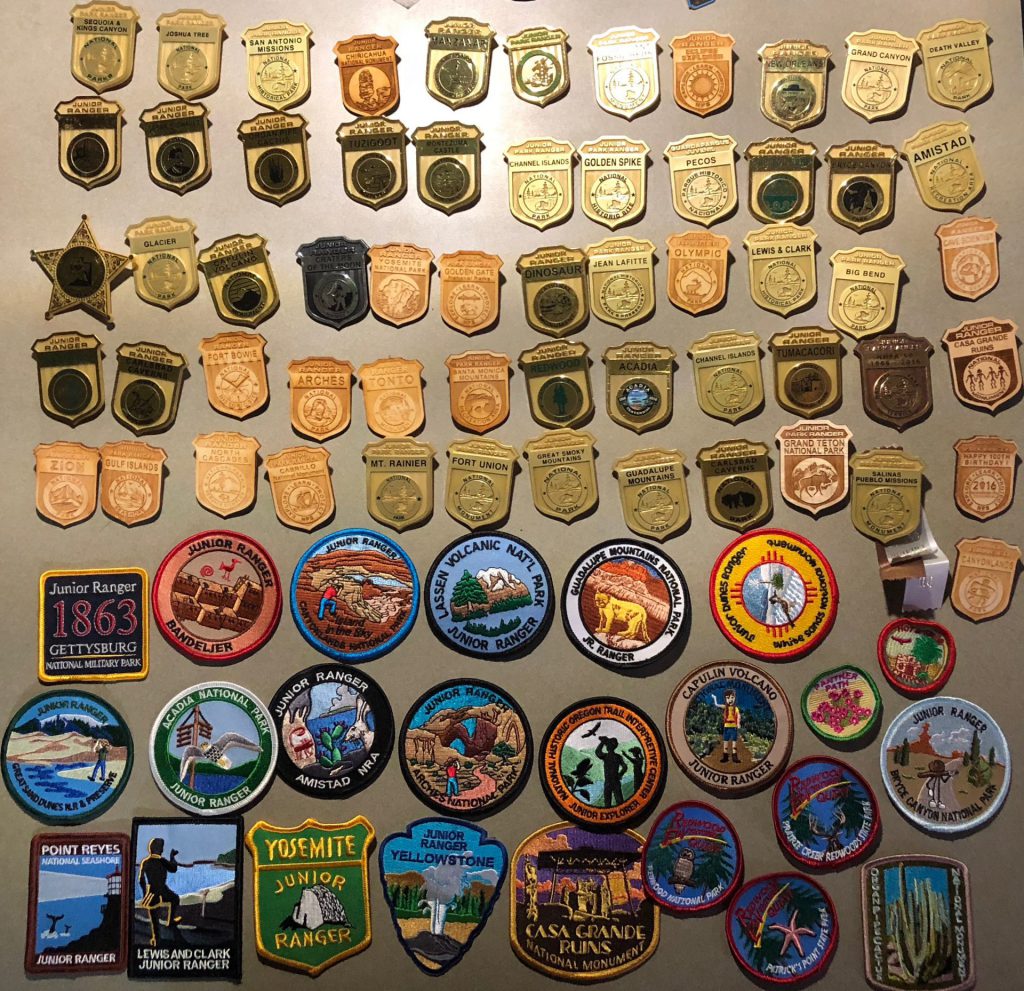 the next day was absolutely beautiful. so, anna and i packed up and went back into the park to go on a big hike and then to do a bit of tent camping. i'll post about that later. it was awesome….
when she and i got back, i dragged her to a thrift store, where she scoured the place for books, pajama bottoms, a winter hat, some slipper socks, and this plastic jewelry, which was quickly absconded by hazelnut.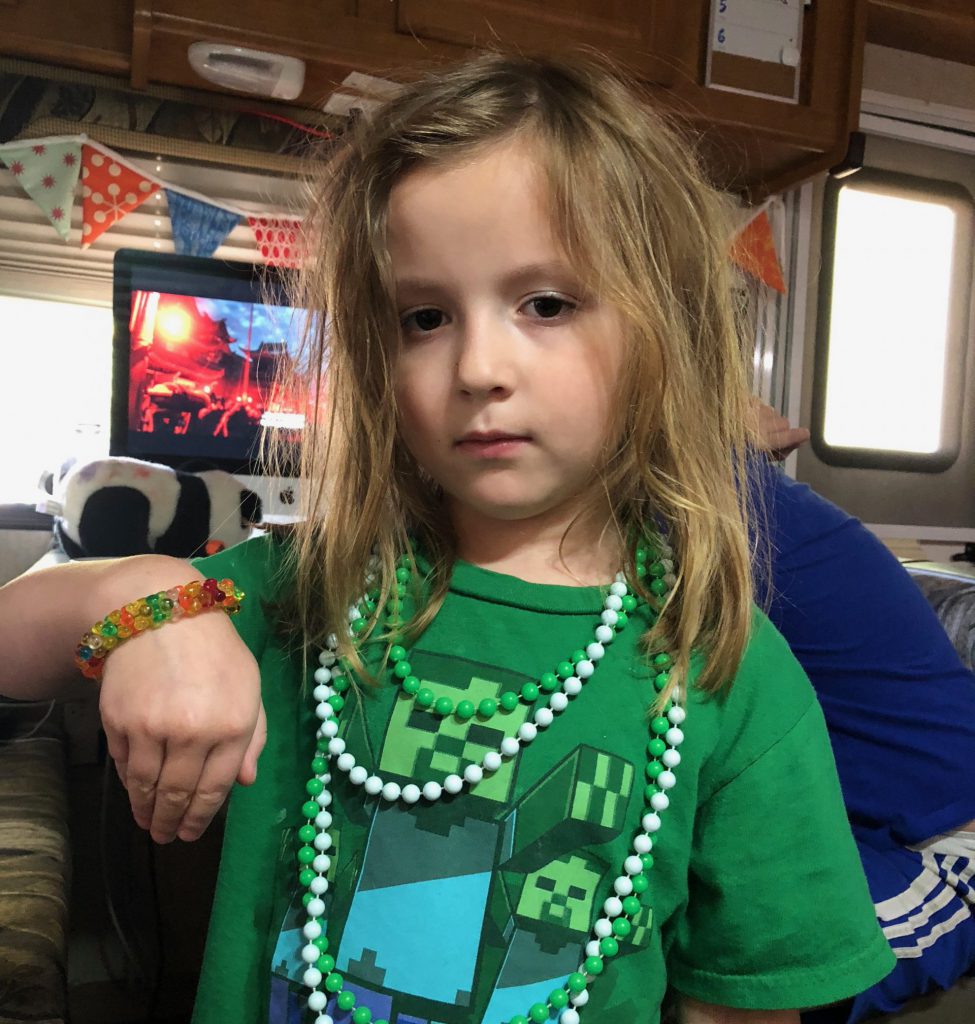 finally, our mount rainier time was up. our travel day was short, so we decided to be super lazy and slow moving and go out to breakfast. the only place we could find in the little town of packwood was the local pizzeria. derek and i split this FOUR EGG omelette and were sufficiently stuffed for the day.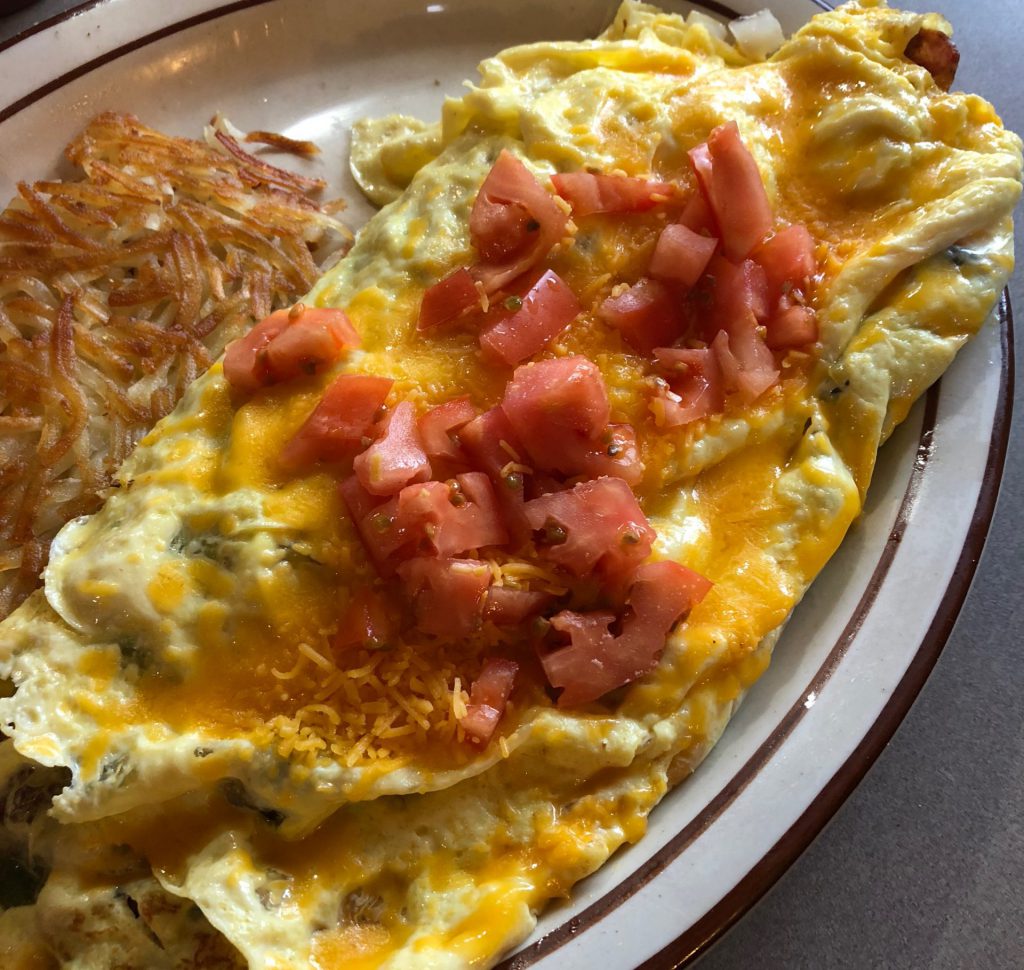 and then, we bid farewell to mount rainier and pressed onward.
next stop… mount saint helens.