after our whirlwind cascades trip, we moved on down the road a bit, to monroe, washington, which we planned to use as our base for traveling into seattle for a couple of days. we only had two "must see" spots on our list. everything else was up in the air. when i think of seattle, the first two things that come to mind are the space needle and pike place market. so, after our trafficky drive into the city, our first stop was the space needle.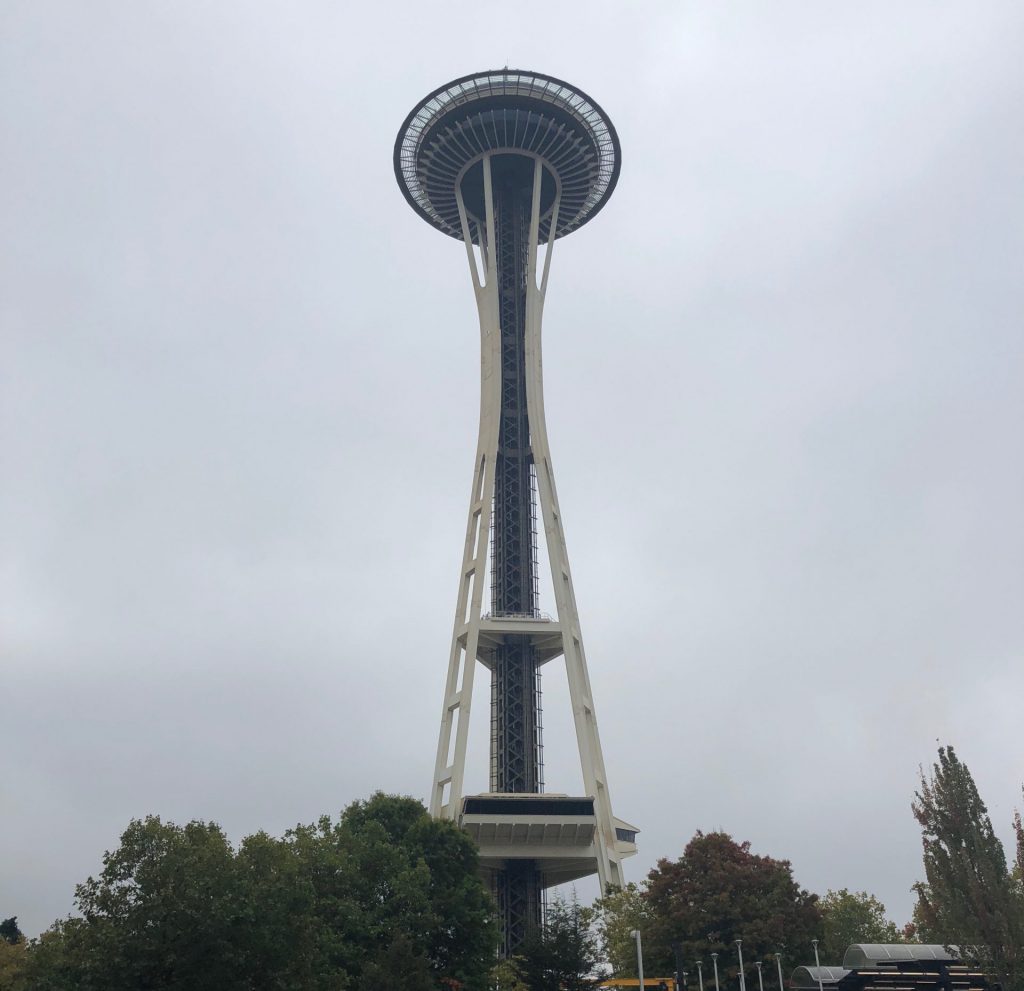 derek had booked a ride to the top for anna and i. isaac and hazel were not interested, so he took them to the artists at play park nearby.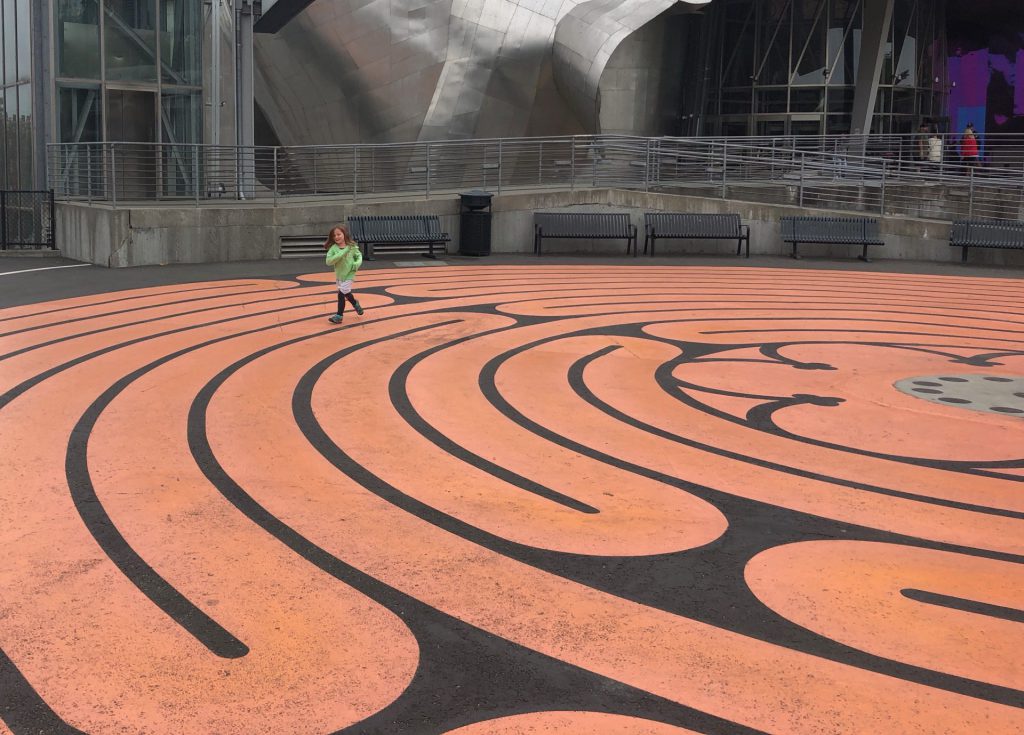 they found a safer version of the death trap merry-go-rounds i grew up with and pretty much set up camp there.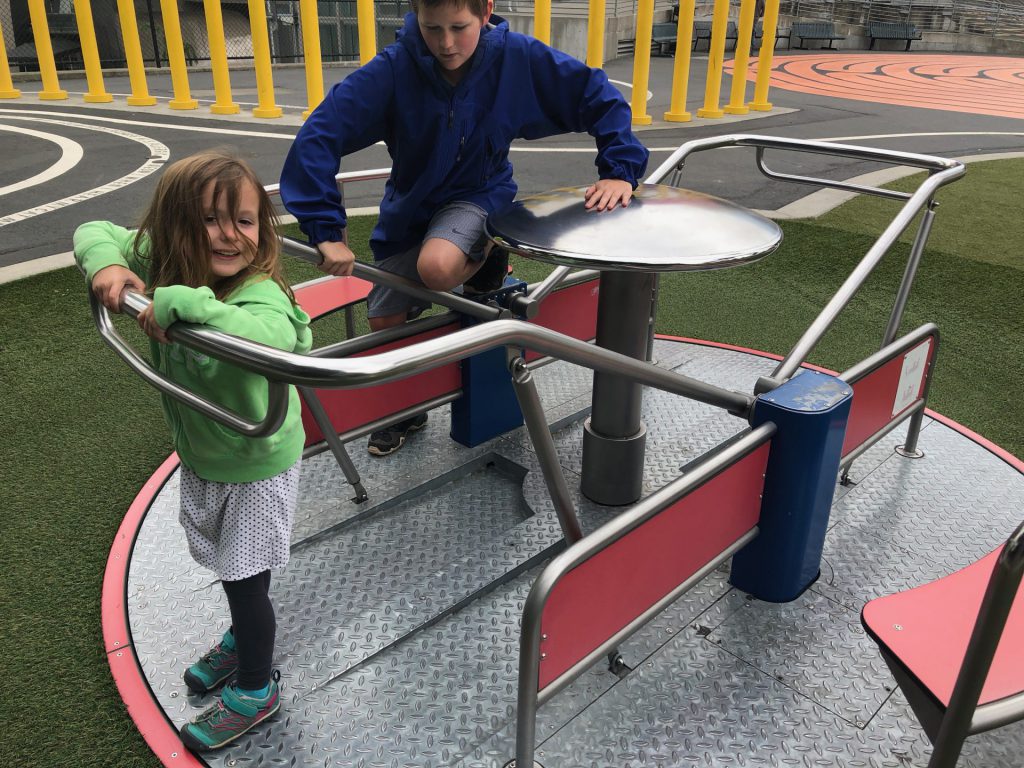 meanwhile, anna and i rode up the tiny elevator to the top of the space needle. which is hardly in space. and not all that exciting, after all.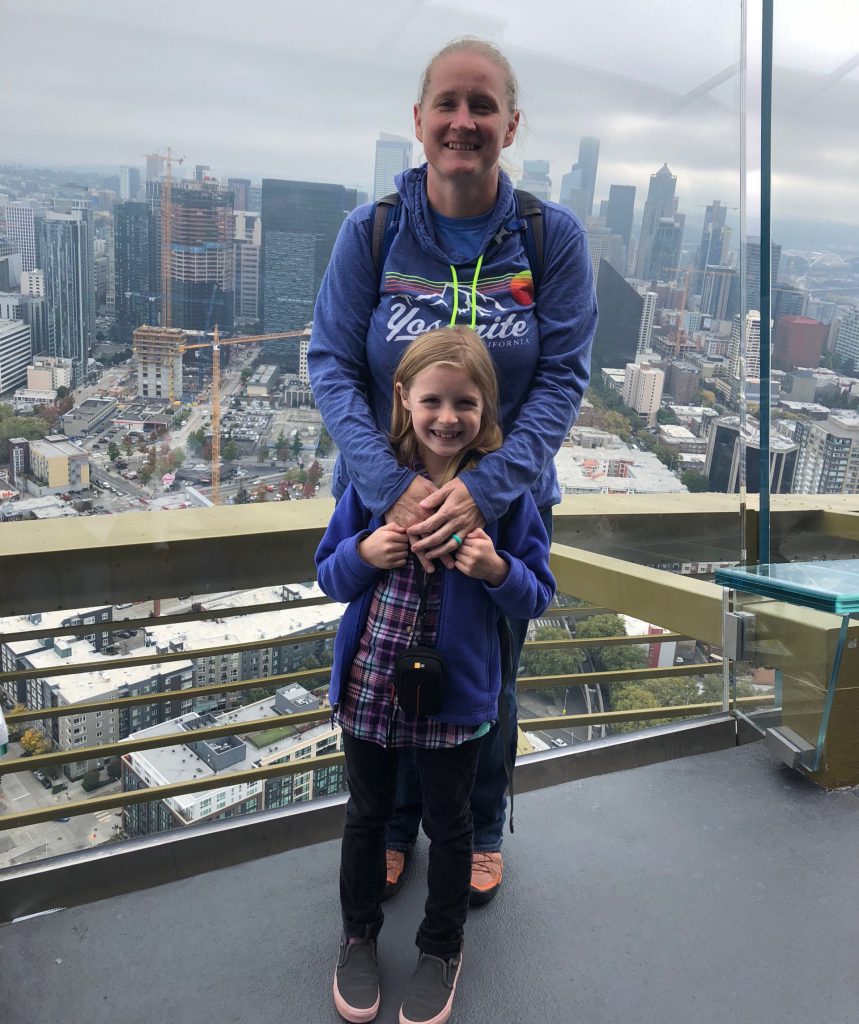 we walked around, taking pics, trying to see the rest of the fam at the playground, and checking out the things on the tops of the buildings. (one building painted giant spiders).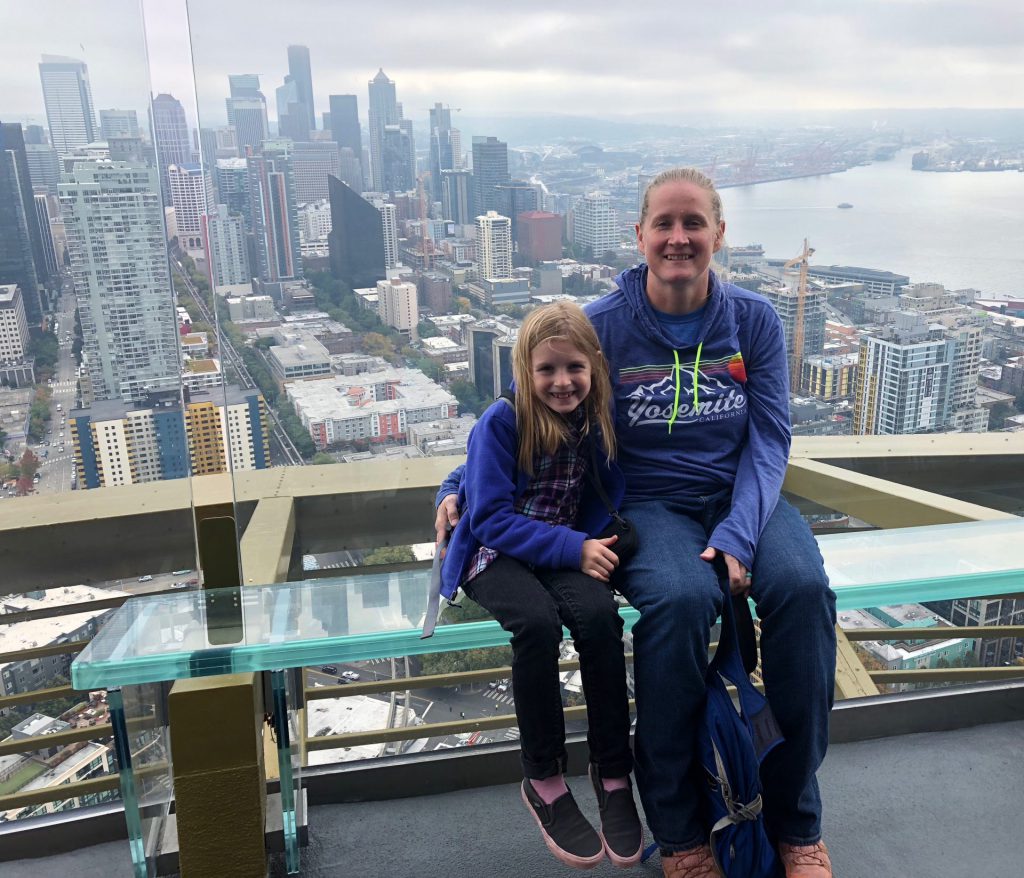 after our loop around, we wandered down to the glass floor part. where i wasn't sure what to expect. but it was far less scary than we thought.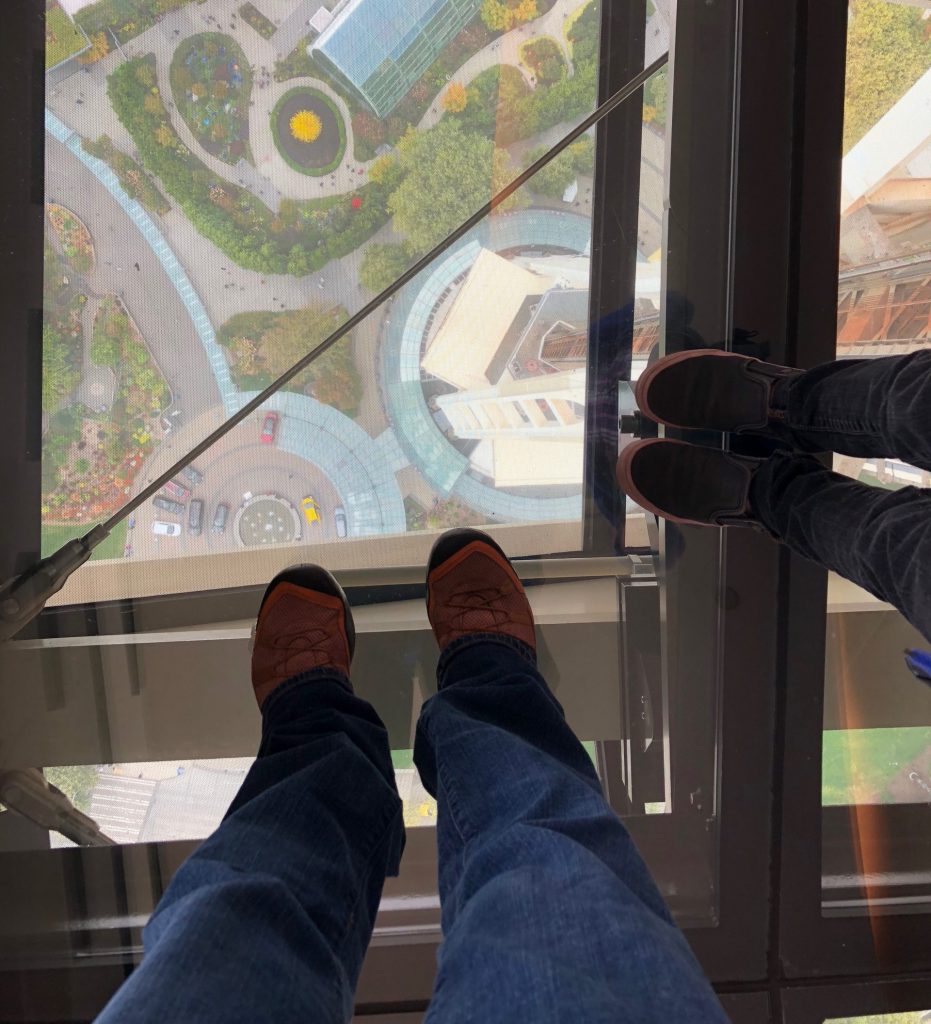 glass floor selfie.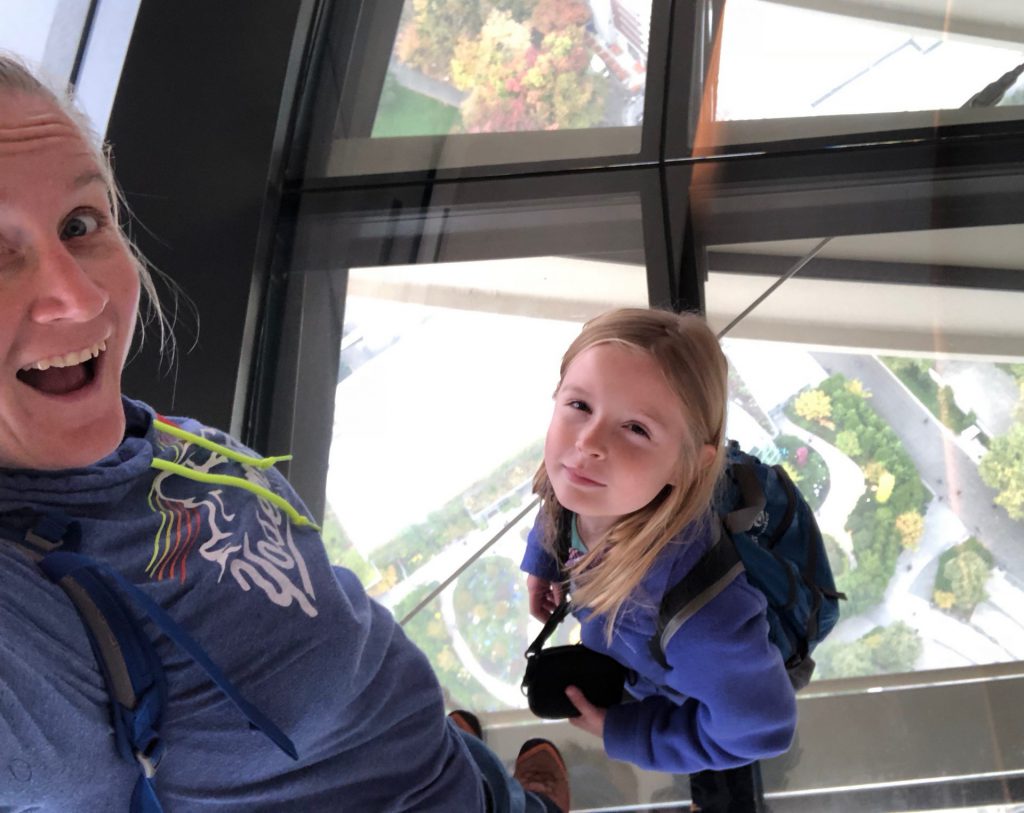 one more glass floor pic. from there, we found the elevator and concluded our rather expensive and rather disappointing space needle adventure.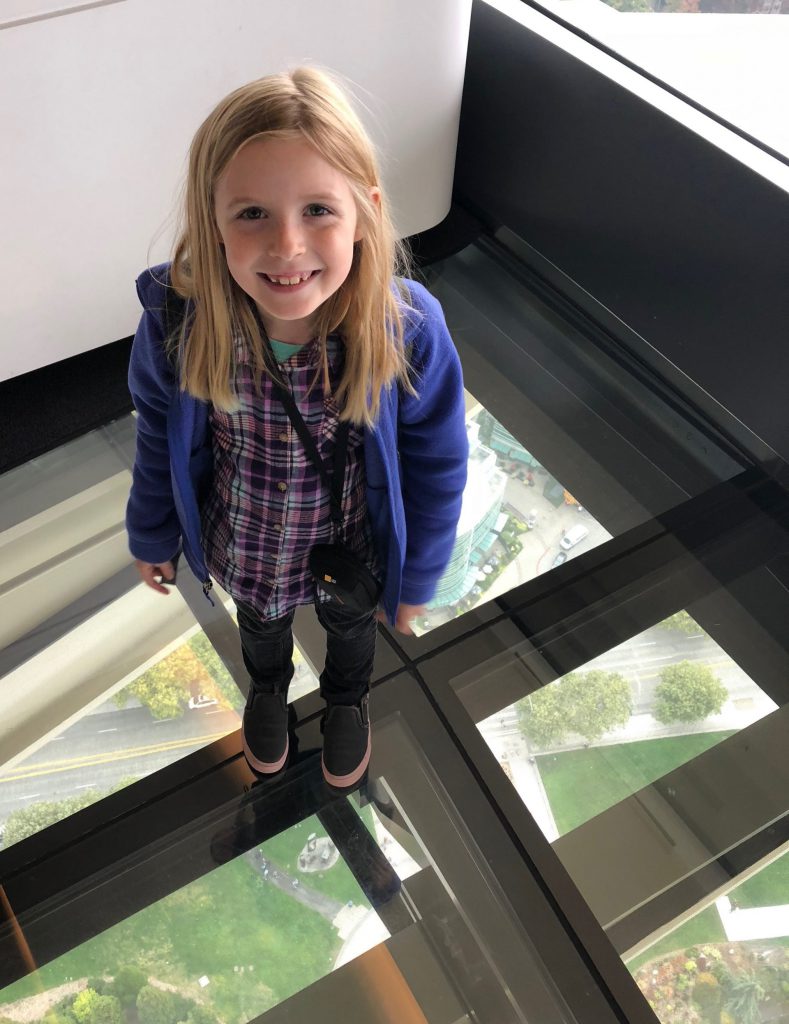 we wandered over to the park to meet up with the rest of the fam and then started towards pike place market. but first, a pic in front of the cool wall at the museum of pop culture (we debated going here, but decided in the end that it wasn't worth the cost for the whole gang).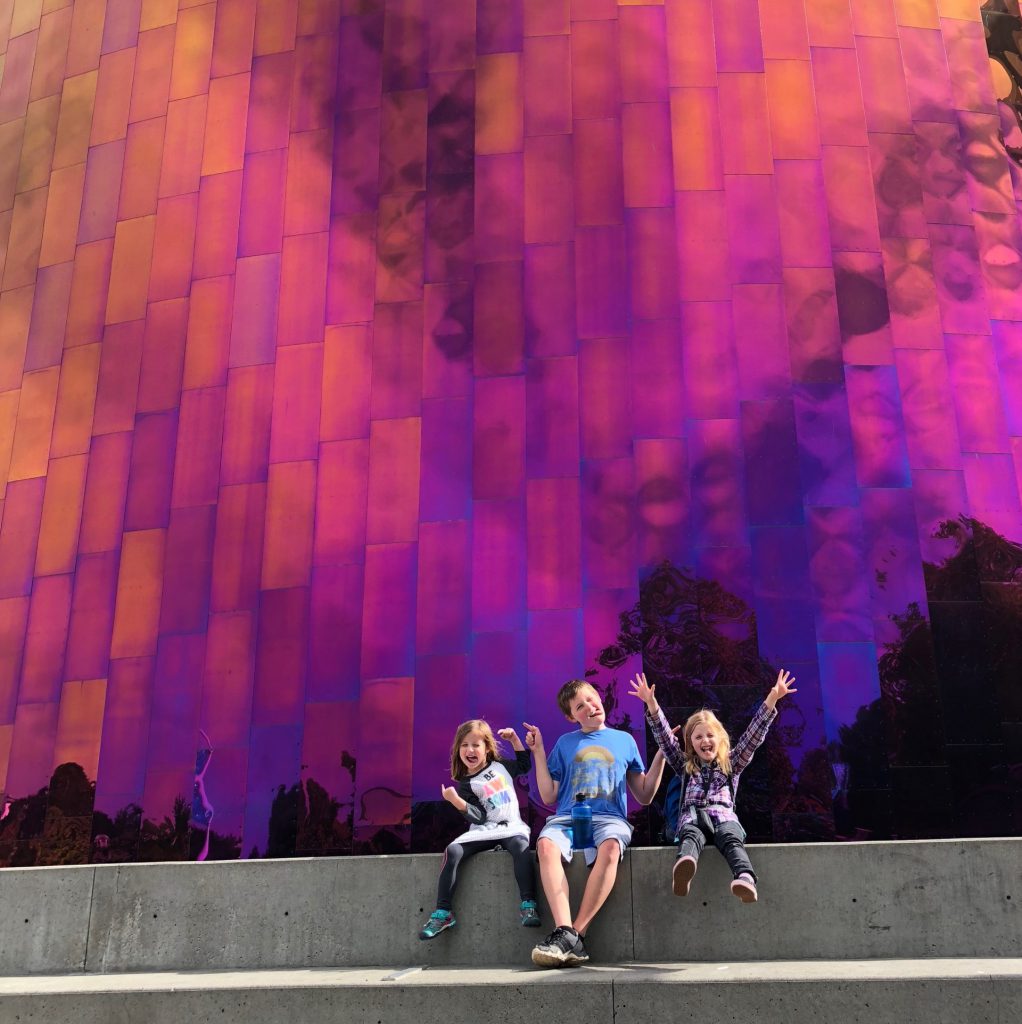 oh. and one more parting shot with the space needle. the sun was coming out, so it was much more photogenic. hazel, however, was not.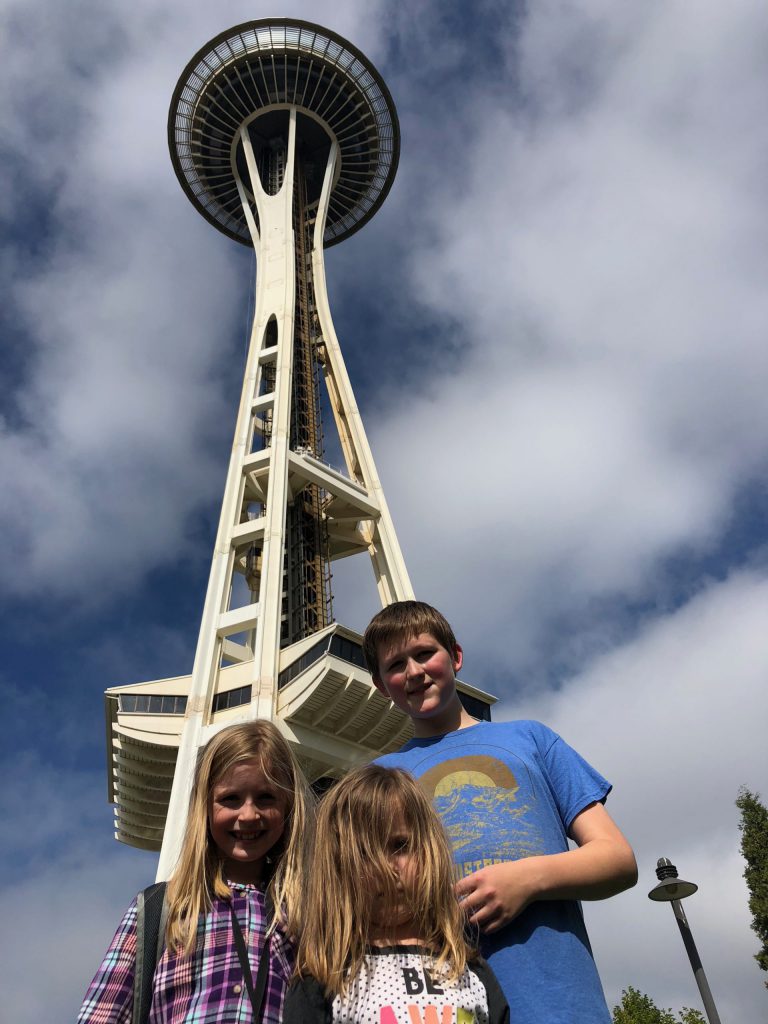 after we secured parking at pike place market, our first stop was the infamous gum wall in a nearby alley. there was maintenance worker making his way towards the wall with a pressure washer, so i'm not sure if this wall sees many cycles of gum art, or if they just try to keep it contained to one small area. but either way, with a pressure washer motor running and cold dirty water running down the alley, the experience was a bit grungy. i guess that's seattle for you.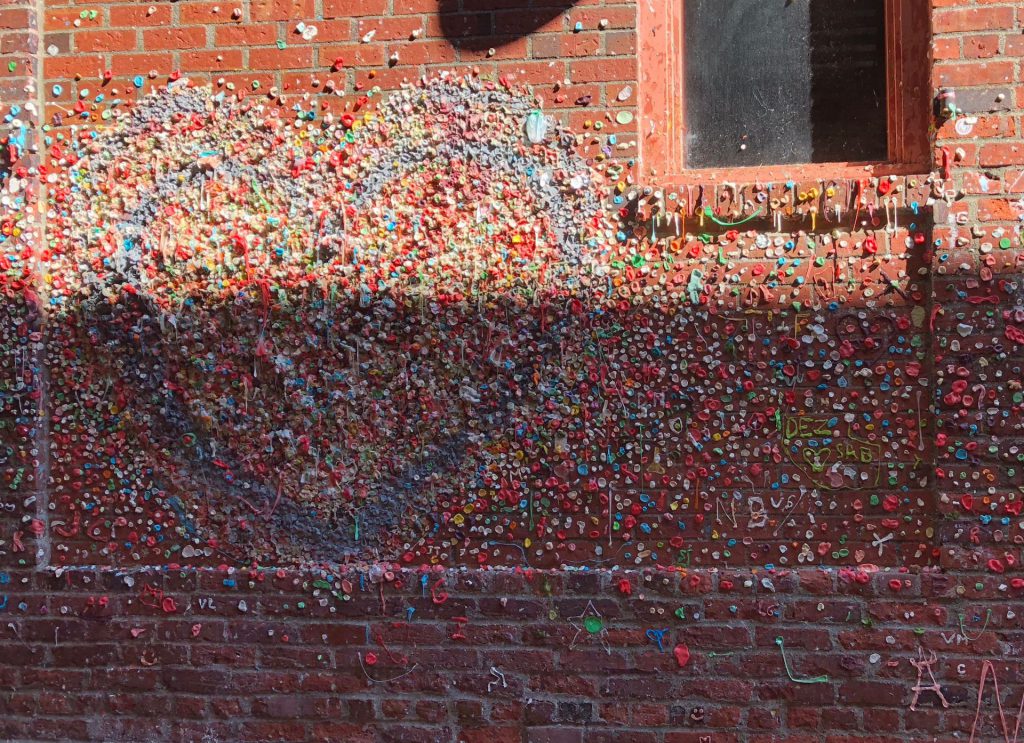 close up.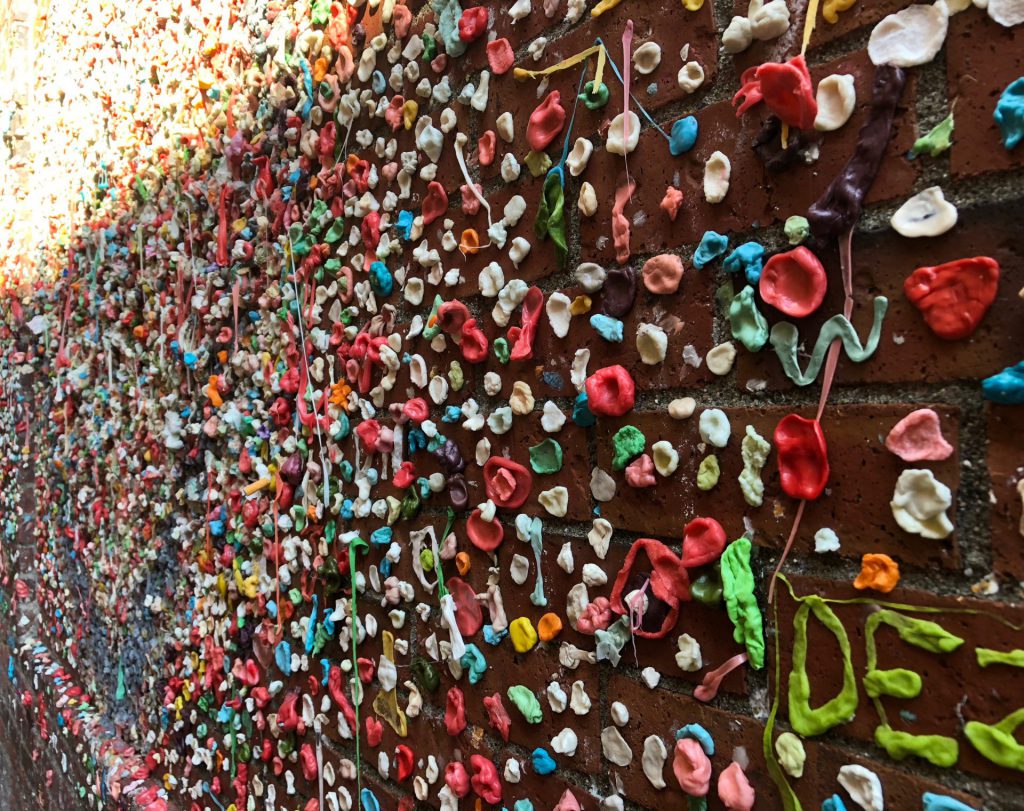 girls photo. the girls put their gum on the wall and then we quickly sanitized all parties and got out of there.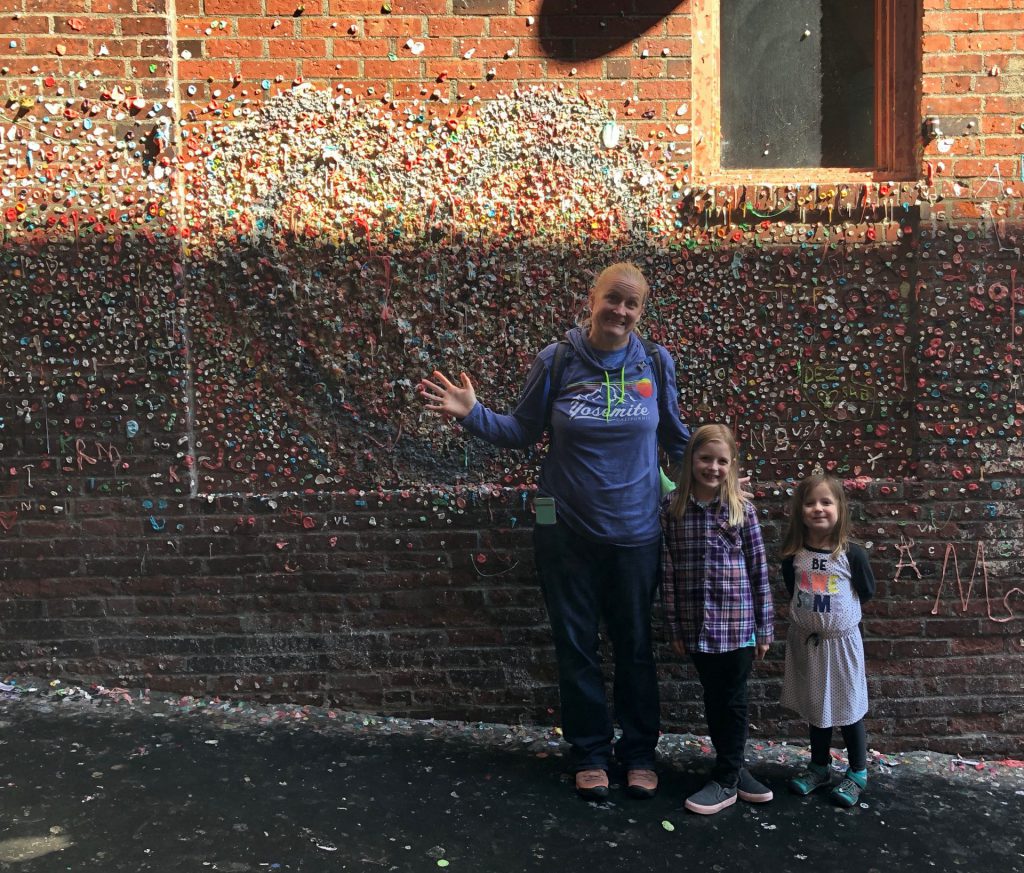 at a junction in the alley on the way out, we stopped to check out this graffiti and poster filled wall. a direct contradiction to the national park life we so much enjoy.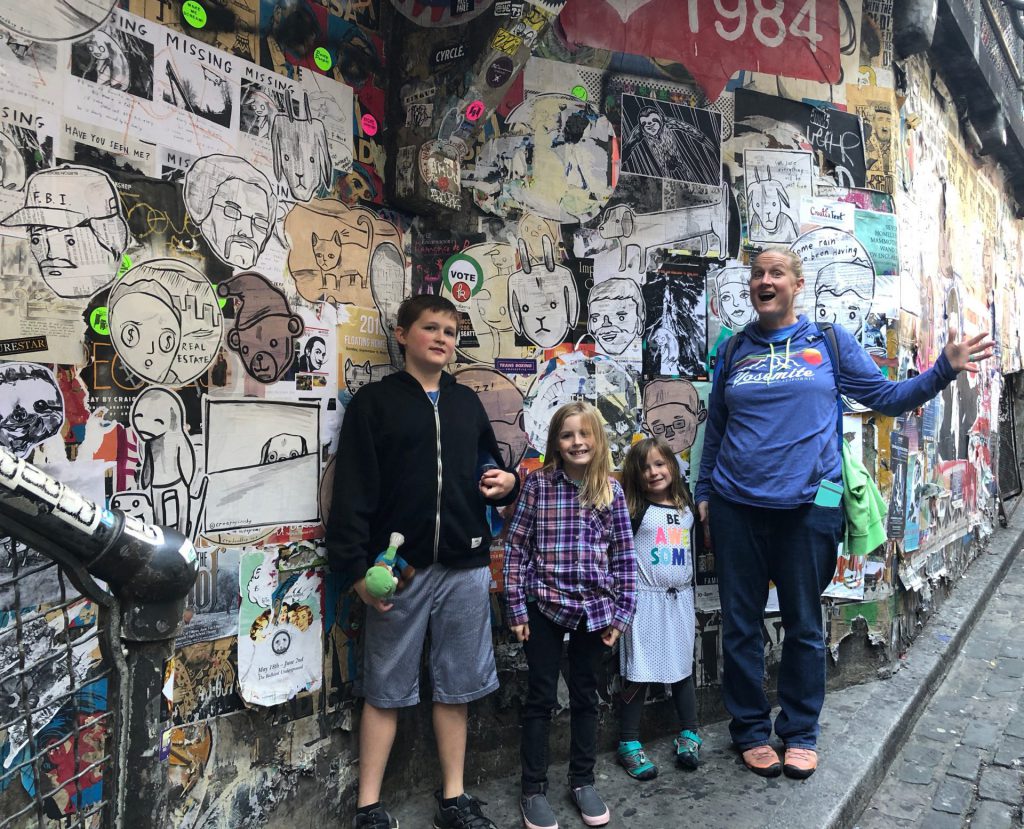 but still cool.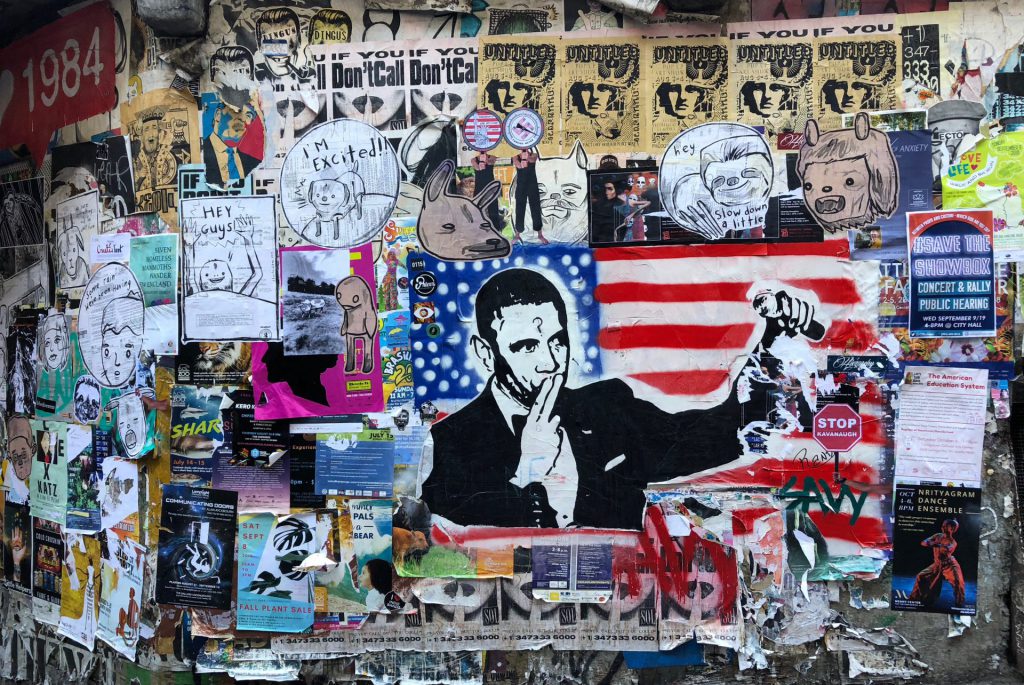 finally. pike place. we weren't exactly sure what we were doing. we didn't realize it at the time, but we actually started out at the main entrance, where the fish are thrown, but since no one was throwing fish, we ended up passing it by.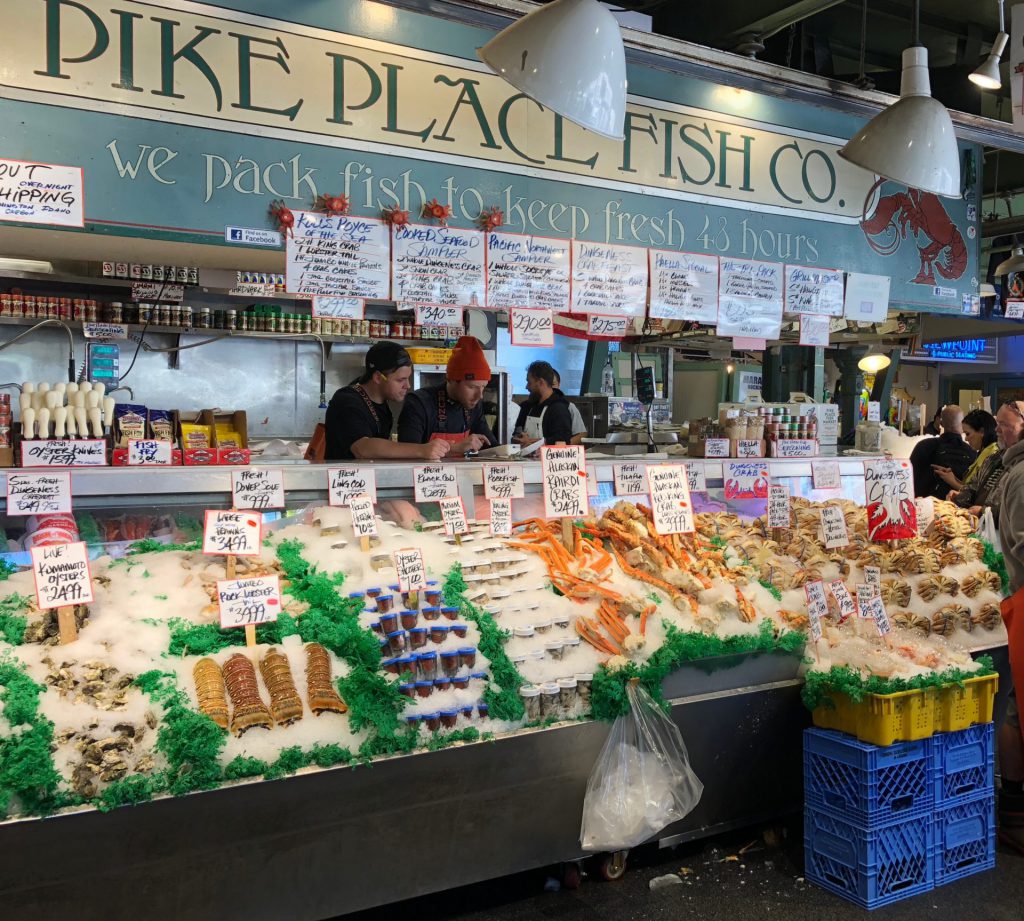 i wanted to buy all of the product. especially with such excellent marketing.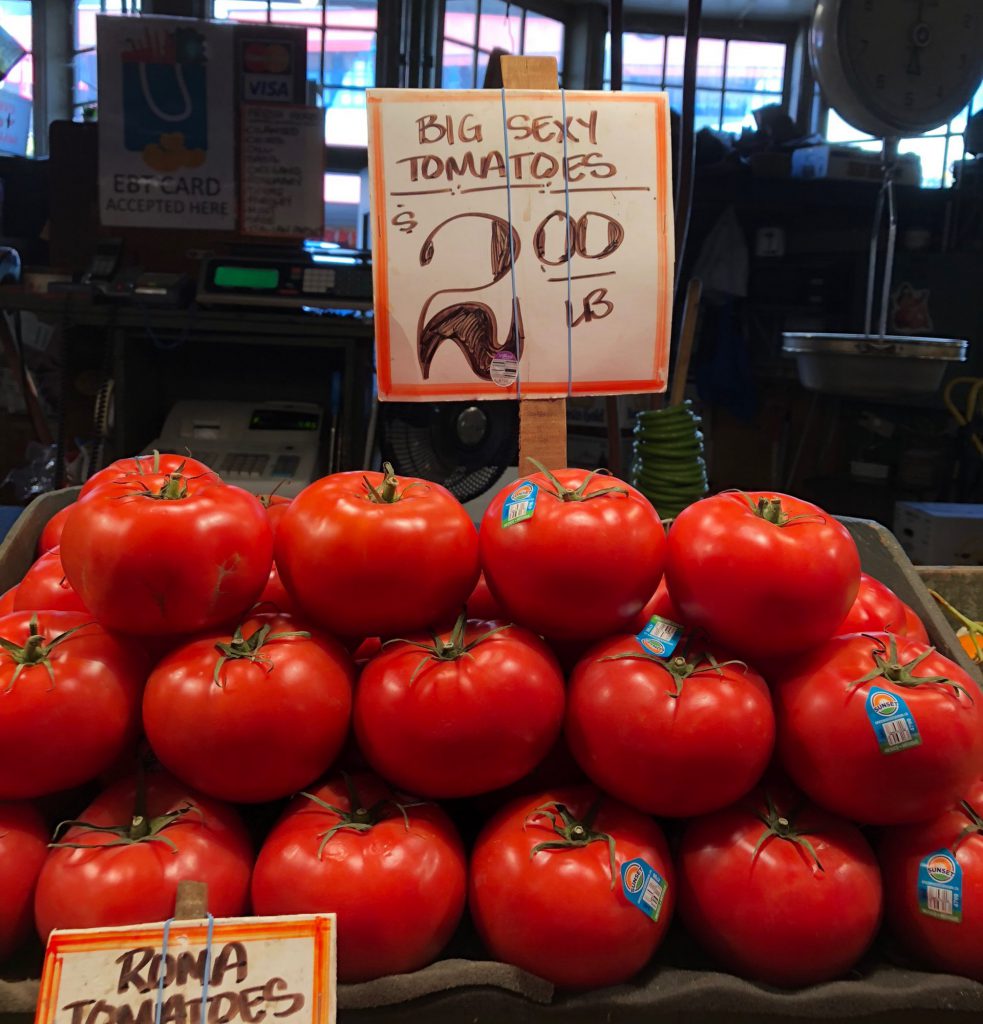 after we made our way through the stressful crowds of tourists and locals, and grabbed a quick and easy lunch (greek for derek and i, pizza for the kids), we popped out near the original starbucks store. we debated going in, but after we walked over and realized how crowded it was, we decided not to.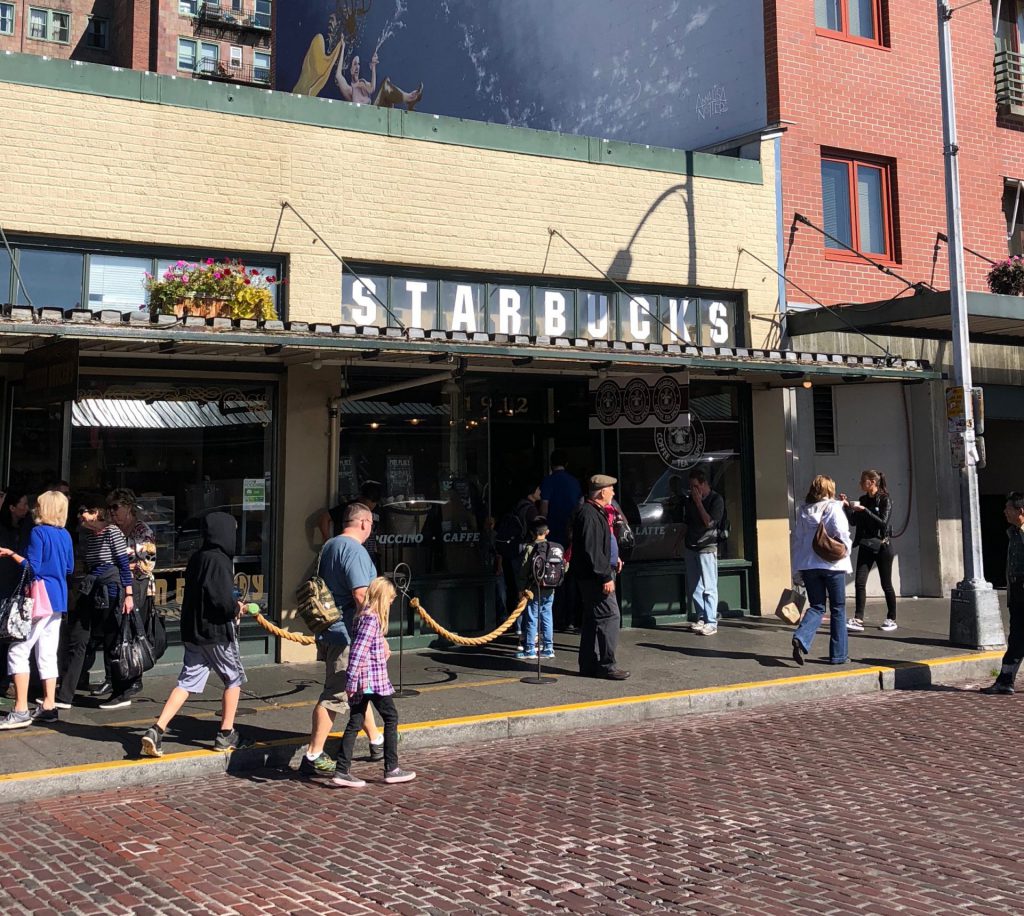 (i think this might have been the moment when a lightbulb went off in my head that i don't actually like big cities all that much, at least not big cities with three tiny people. if it was just derek and i, i think pike place and starbucks would have been way less stressful and enjoyable).
once we reached the end, we turned the ship around and marched back through the market, stopping for a few goodies. some beef jerky. a sunflower. we tasted some flavored hazelnuts. because, hazel, duh. we did not buy this: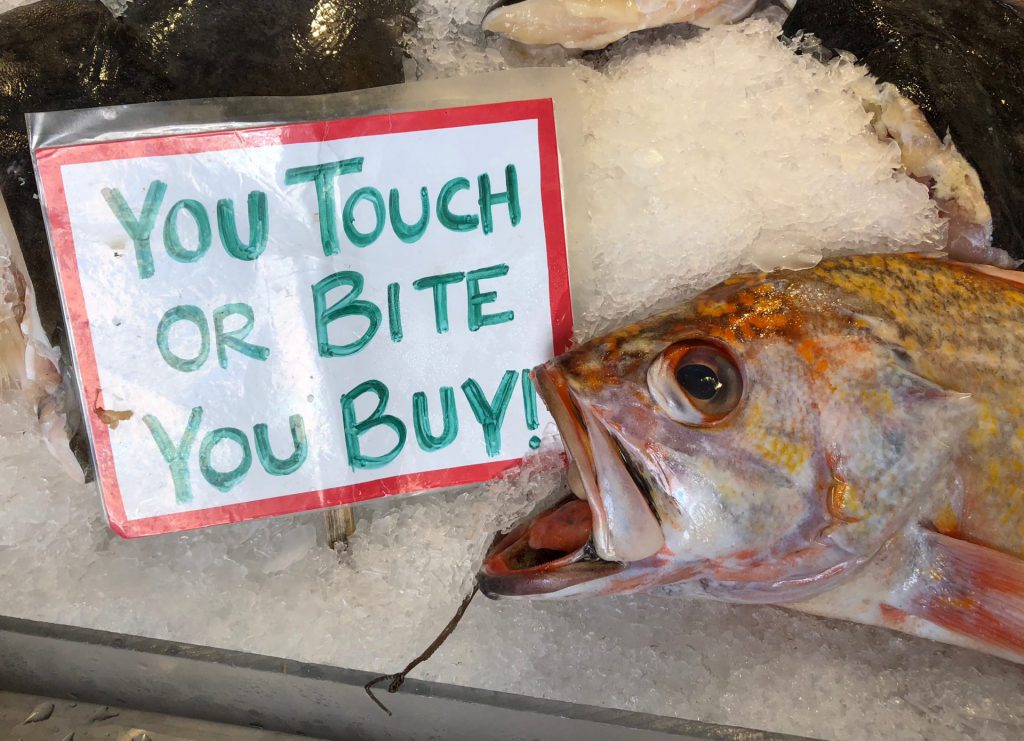 the seafood displays looked amazing, but those prices. yikes. take me to costco.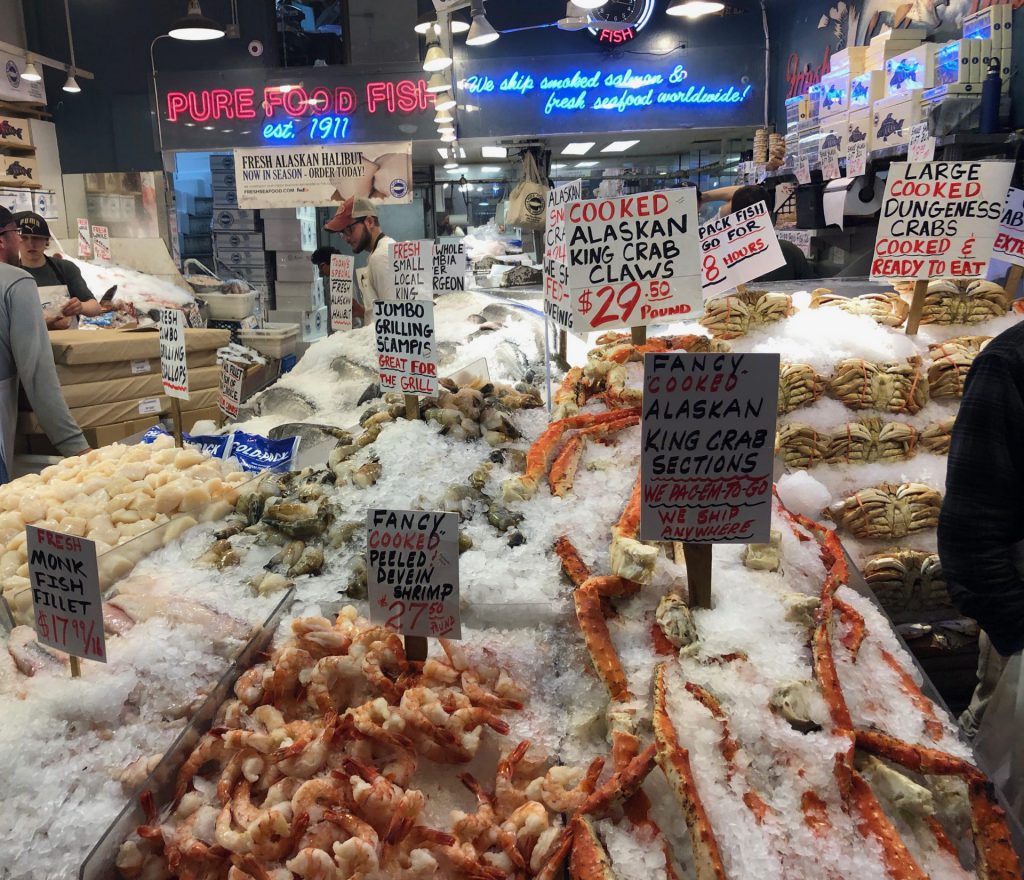 as we passed back by the first fish stall, there was a tour group surrounding it, and the guys put on a bit of a show, tossing giant sea life back and forth. i managed a decent video, but no good pics.
finally, we had to make good on our promise to get the kiddos a treat for being pretty darn good during this whole experiment in big city life. we happened upon a bakery, selling the most ginormous donuts for $5 each, so we bought a couple and found a nice (dirty and gross) quiet spot to sit down and enjoy them.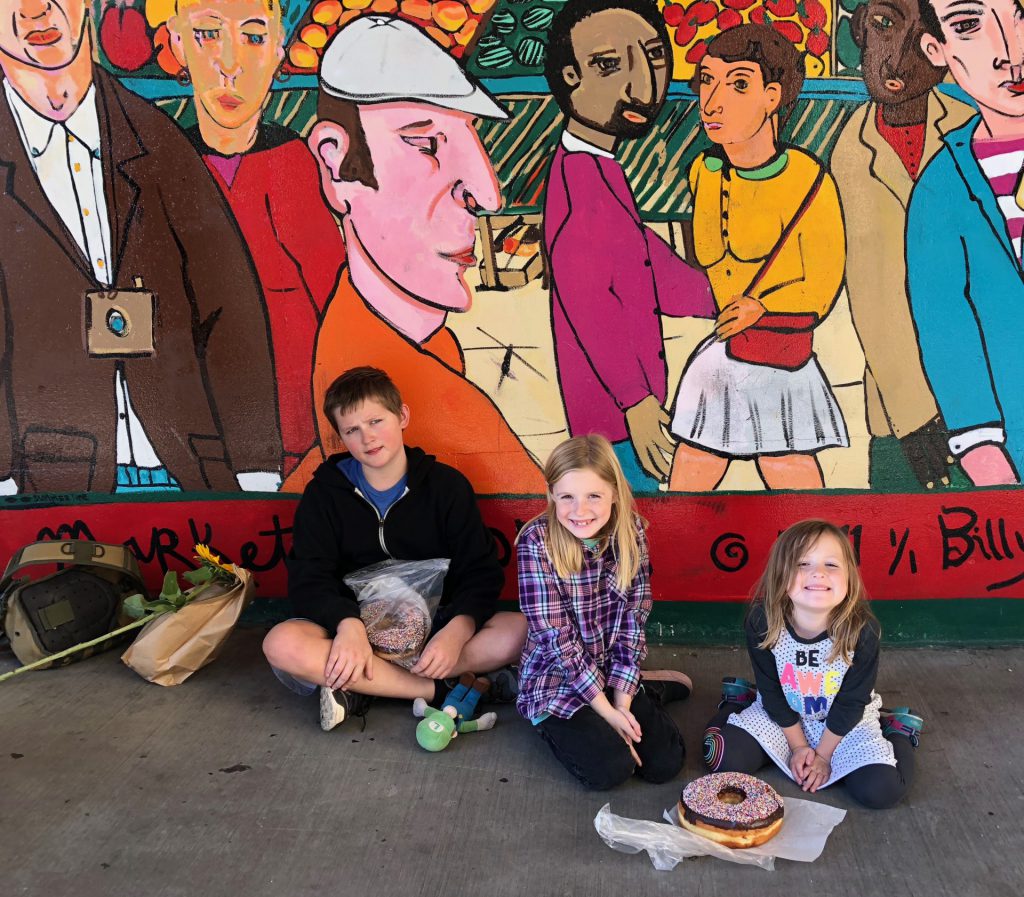 happy girls.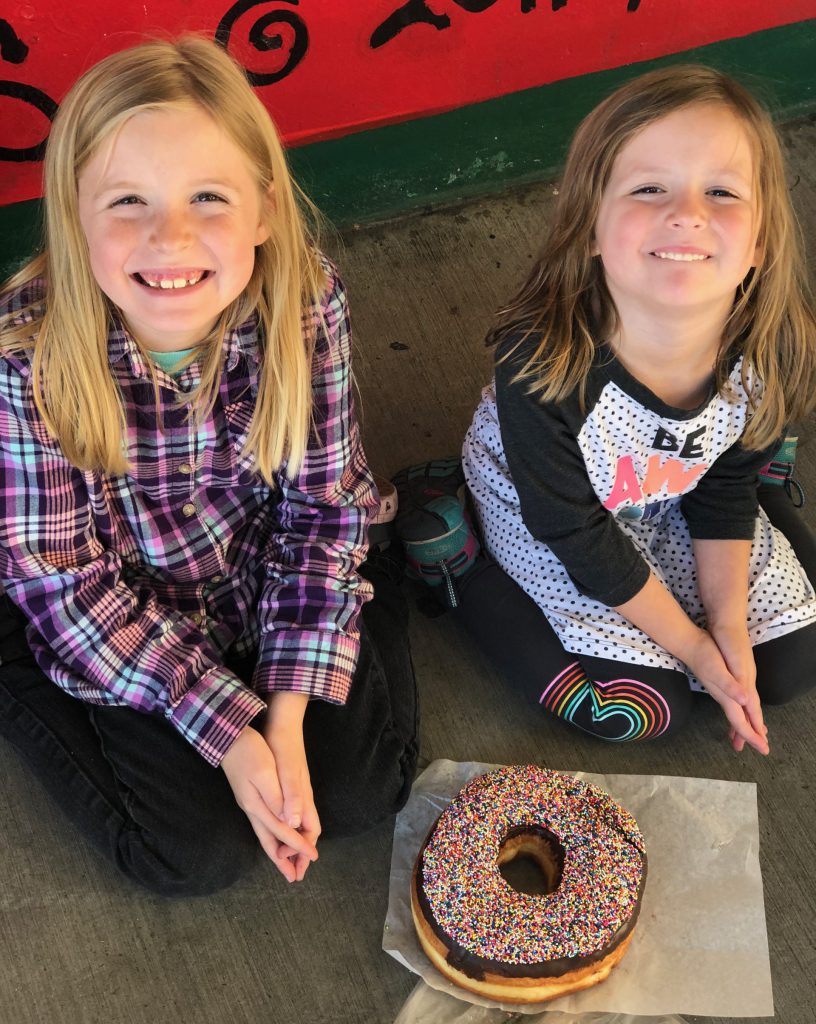 contemplating boy.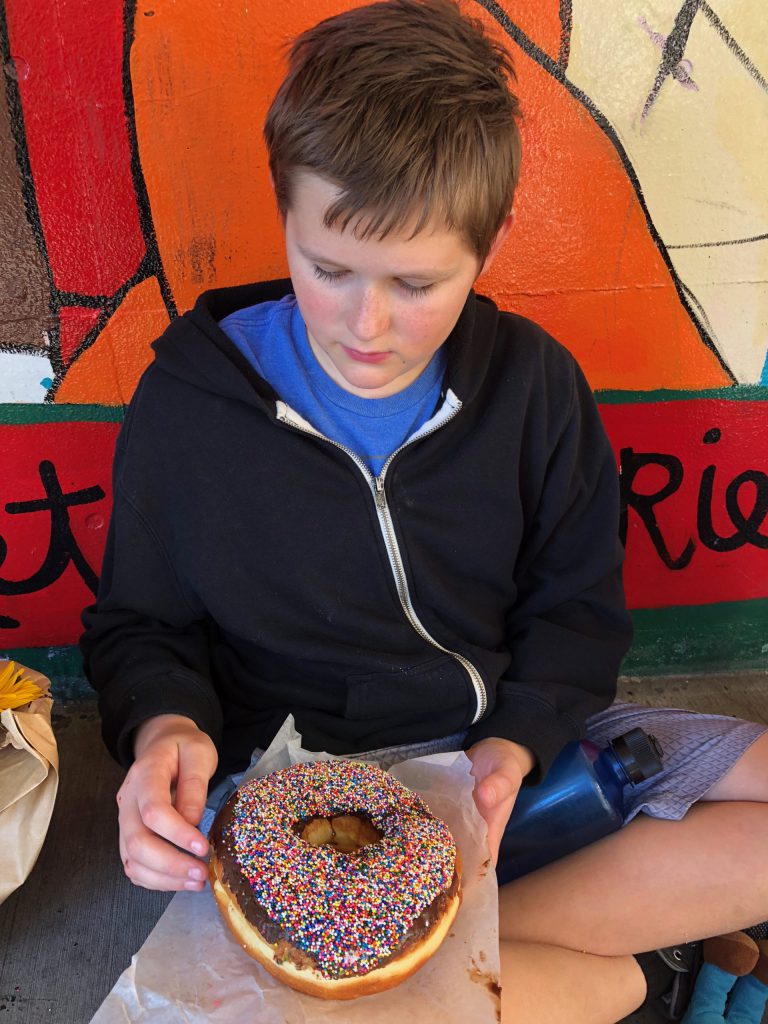 and. before we left, i was able to get the obligatory photo of the entrance to the market, with the iconic sign. too bad it was almost impossible to get a family photo without inadvertent photobombs. this was the best i got.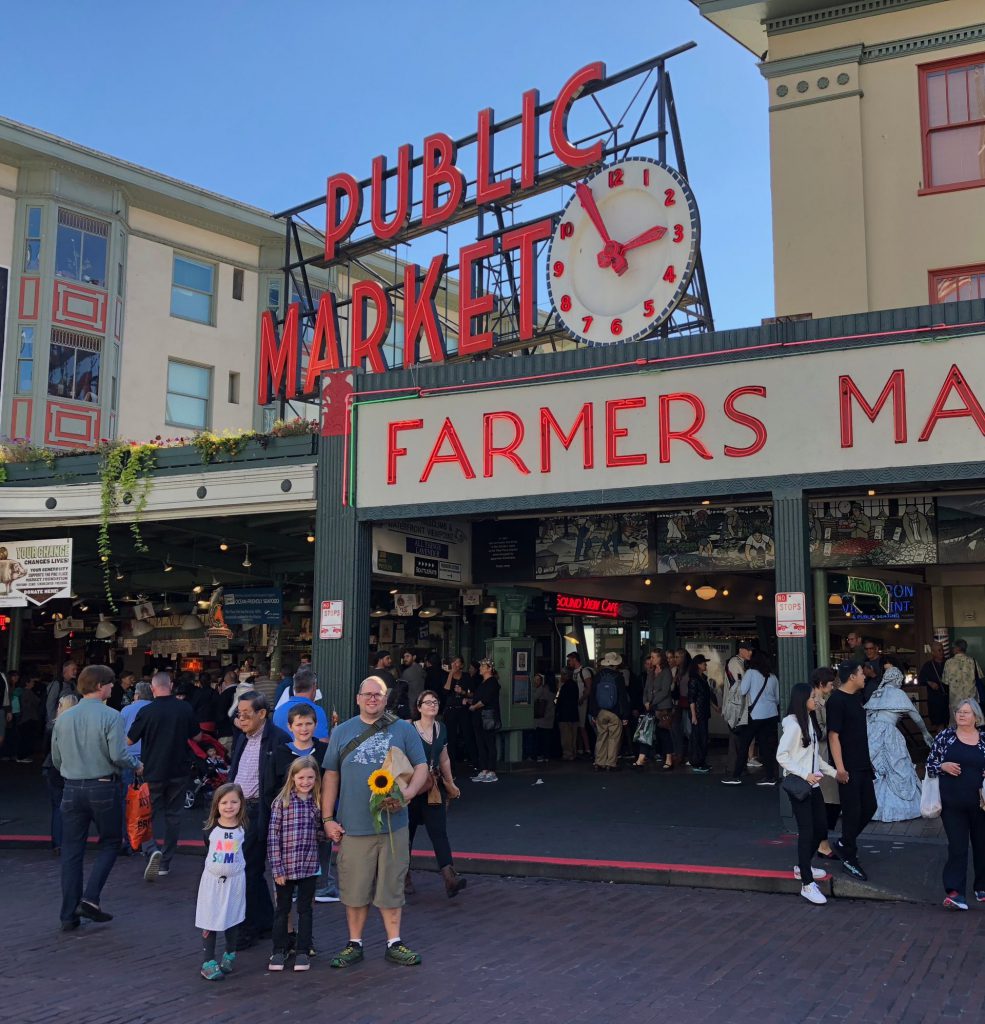 at this point, we decided to call it a day, in order to get ahead of afternoon traffic. after we were out of the actual city, we stopped at a trader joes and derek went to a mall to score his belated birthday and early christmas gift, an apple watch. and then, we were able to meet up with a friend we met on the road about a year ago in crescent bar, washington. anna has penpalled a bit with annalise, who lives with her grandmother in a seattle suburb. they met us at a cold stone creamery, where the kids stuffed their faces with more sugar and then ran around like crazy people in a nearby courtyard until it was time to part ways.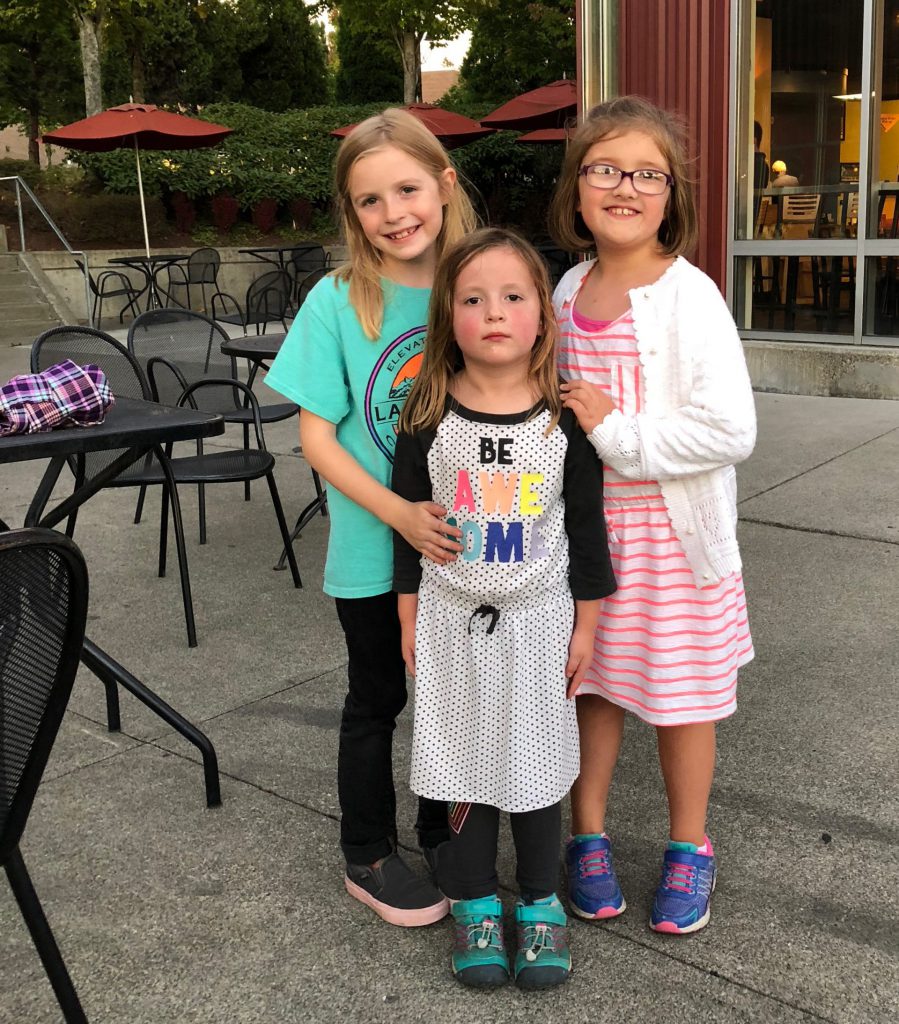 once we were back at camp, and all settled in, we decided that we would not be going back to seattle for day two. the things on our list of possibilities were the aquarium and a science museum and the glass museum/garden. the first two of those things are similar to places we have been dozens of times. and the glass musuem would probably be of very little interest to the tiny folk. plus. the traffic. and stress. and money. so. we decided to have a lazy day.
we actually ended up running a few errands. derek had to return a video game to gamestop. and he had bought me some fabric at a local quilt shop that i wasn't particularly fond of, so i returned that and attempted to pick out replacements. but it was hard. because i have no plans for quilts. and the shop was SOOO big. and they were sort of unfriendly. i guess since they had all of our money already and this wasn't bringing in more, and i'm only passing through, they could just be dismissive and unhelpful. whatever. i miss my old shops in ws/nc. i mean. look at the cashier lady scouring at me.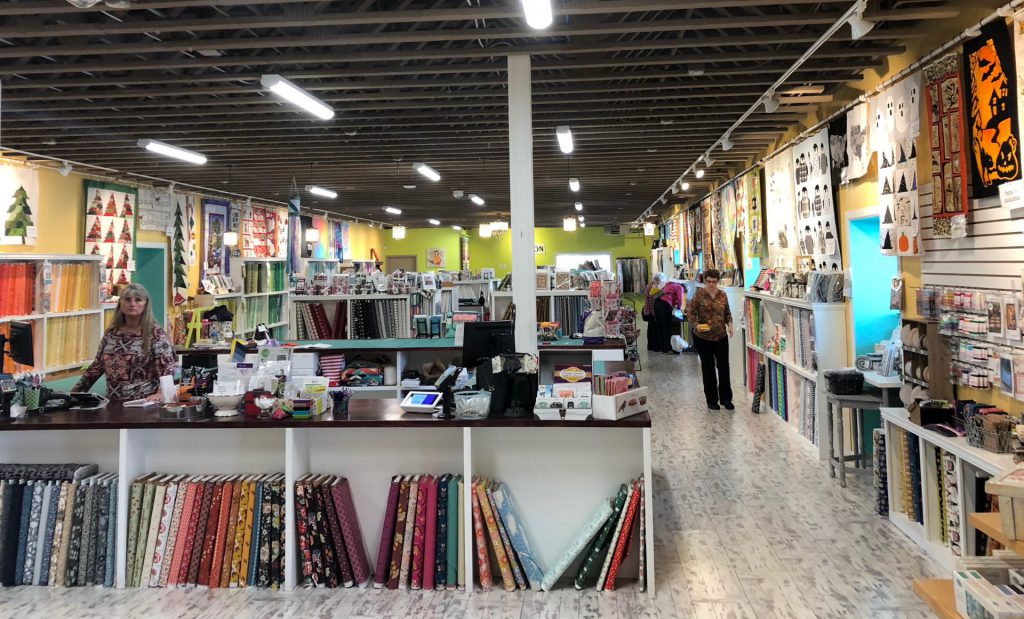 i also hit up a local thrift store on our way back to camp, where i scored another rainbow mug, which are basically my favorite. (i also went back the next day to get some orange tupperware that i originally passed up, but decided in the end was absolutely necessary).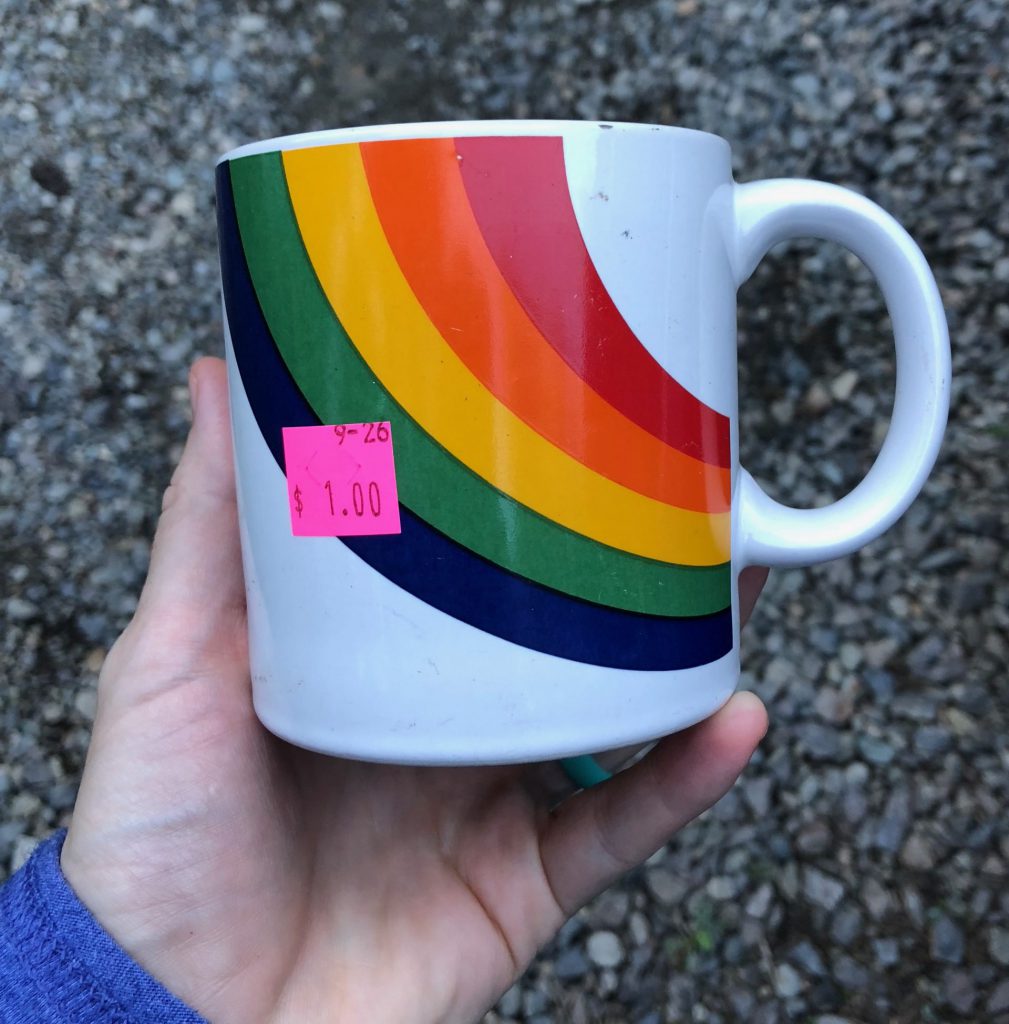 and then, as part of our crazy week of north cascades, seattle, and mount rainier, it was time to move on to the next spot…. derek and isaac went straight to mount rainier. i stopped in puyallup, to visit with my uncle skip and aunt pam. they fed us lunch and my uncle took me on a ride in my cousin's little red triumph.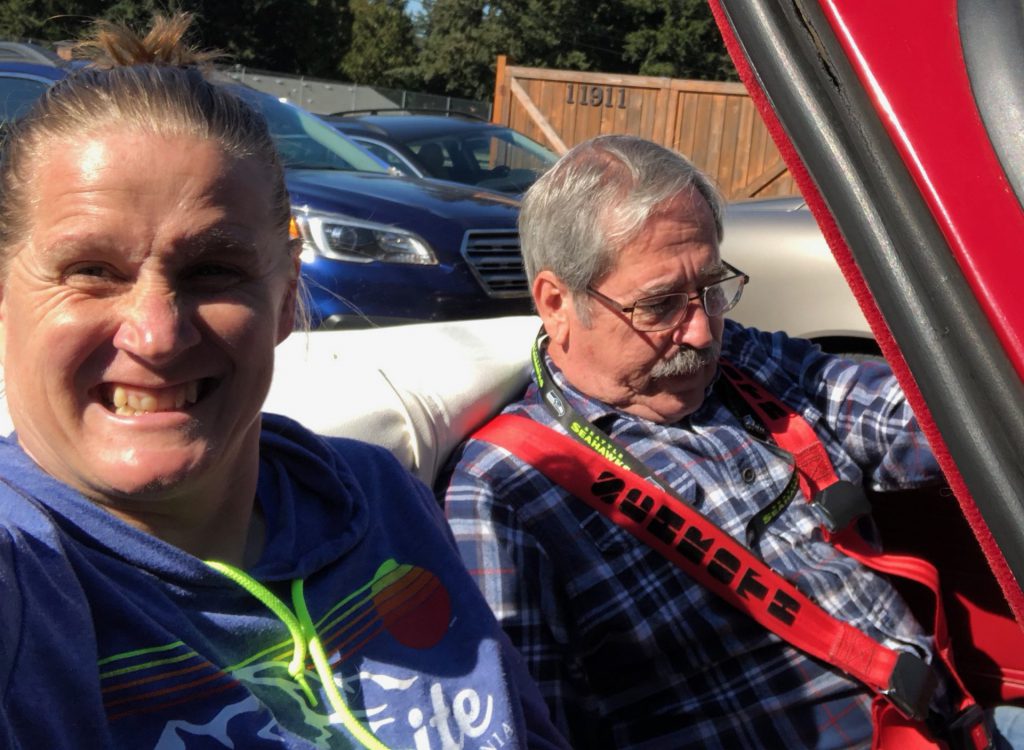 and anna and hazel used the opportunity to get in all the golden retriever snuggles. we decided when we settle, we are getting at least three golden retrievers. hazel wants to name them all lucy.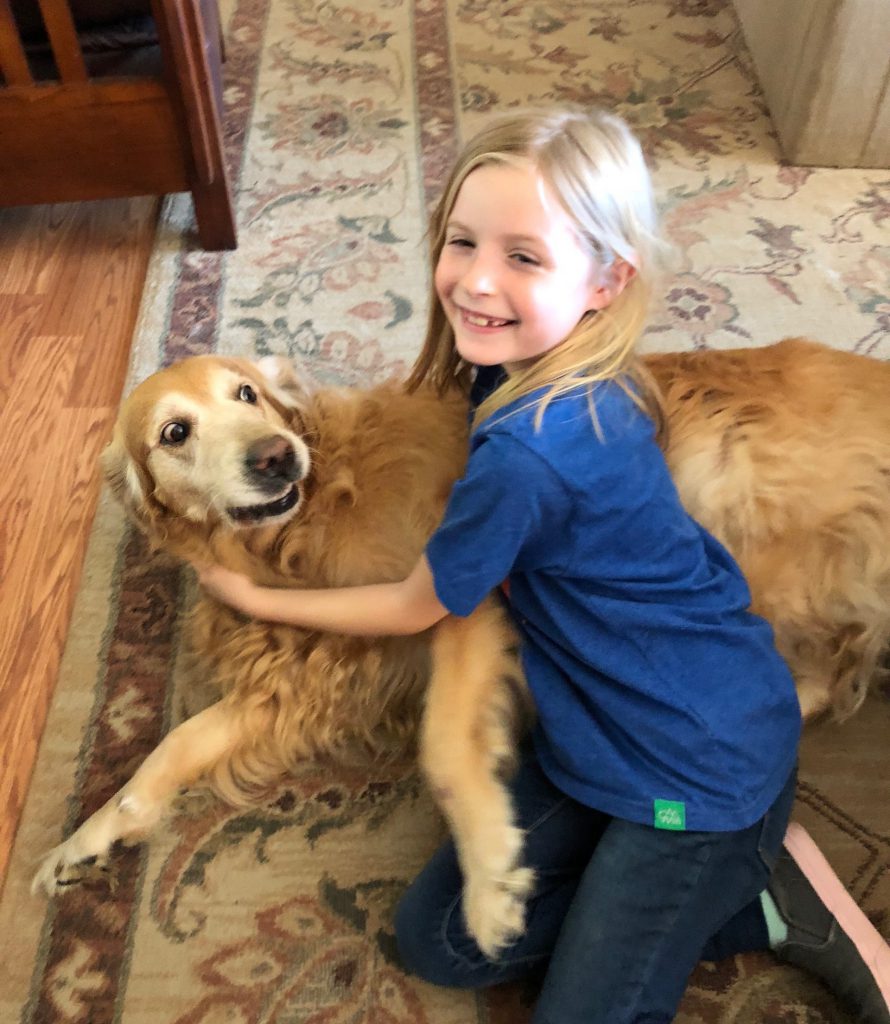 anyhoooooo… that concludes our seattle-ish adventures. and i'll try to reference this post the next time we find ourselves near a big city and we think we want to plan all sorts of activities. we are not city folk. we are outdoor people. i'm sure of it.