on our first (and bonus day) on the north side of olympic national park, the weather was overcast and rainy, so we decided it would be a good day to find a rainforesty type of hike. there's several actual rainforests in olympic, but the sol duc area is sort of on the edge of hoh and has some of the same feel. plus there's a waterfall at the end, so we were all in.
the trail was damp and soggy.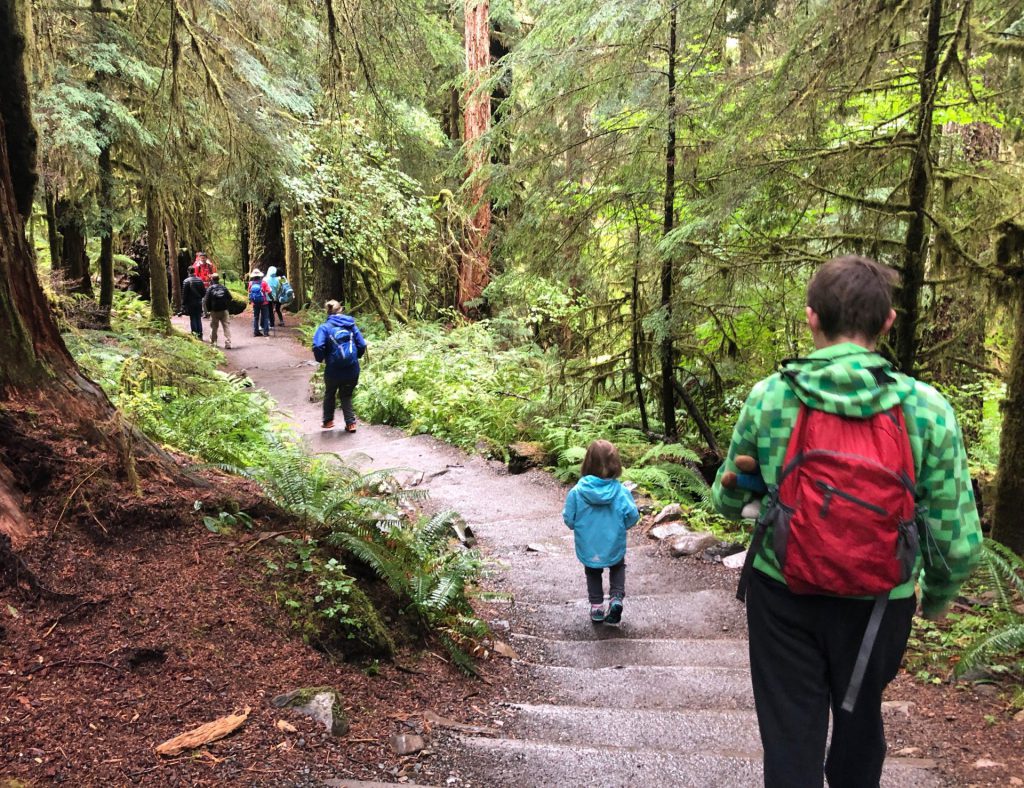 and filled with foot bridges, which are always a kid fave.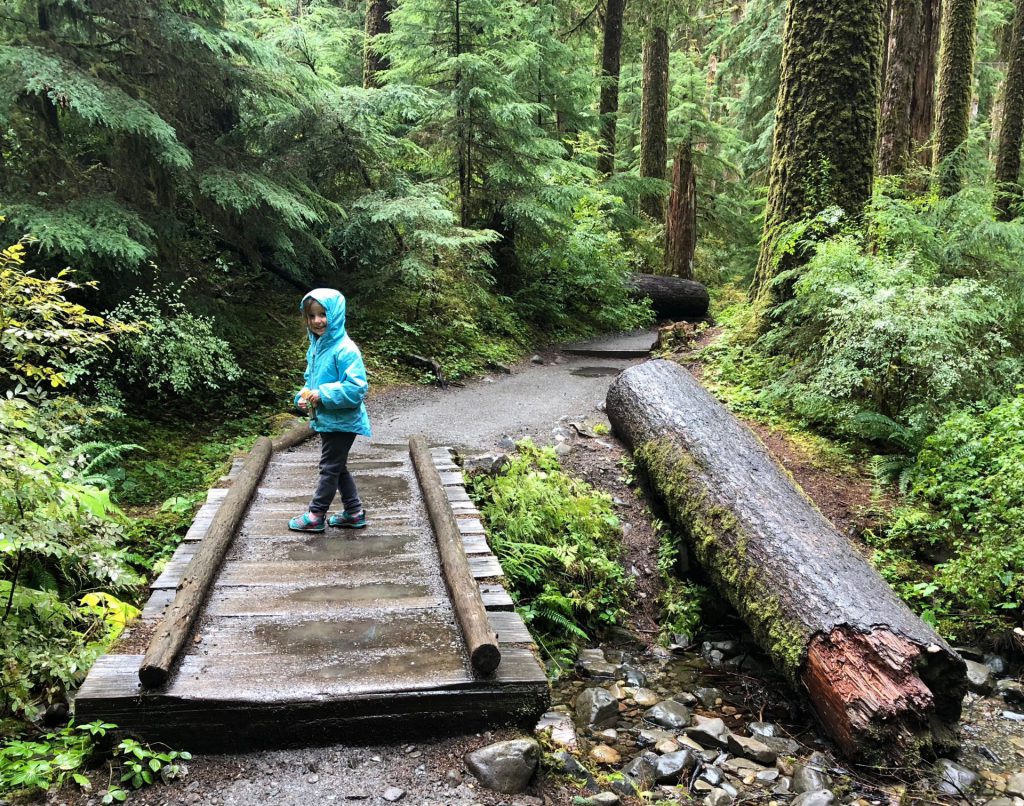 lots of green. isaac was camouflage.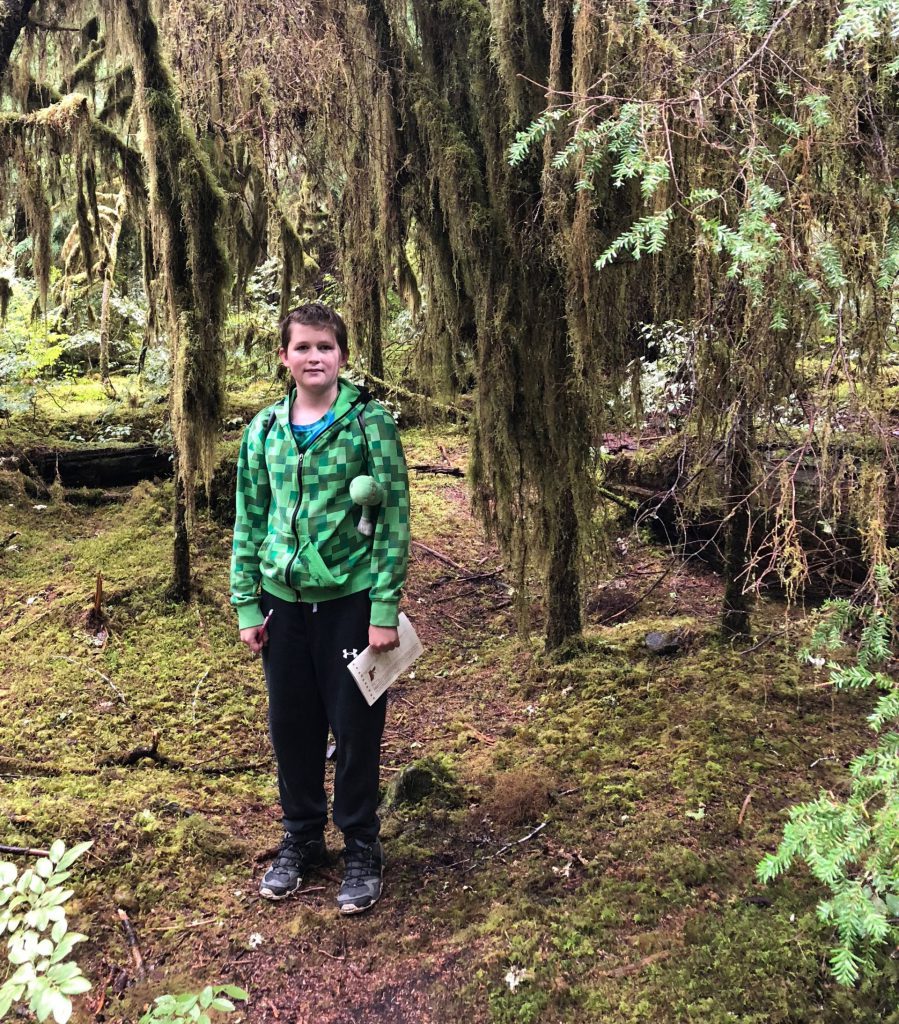 my gang, strolling along.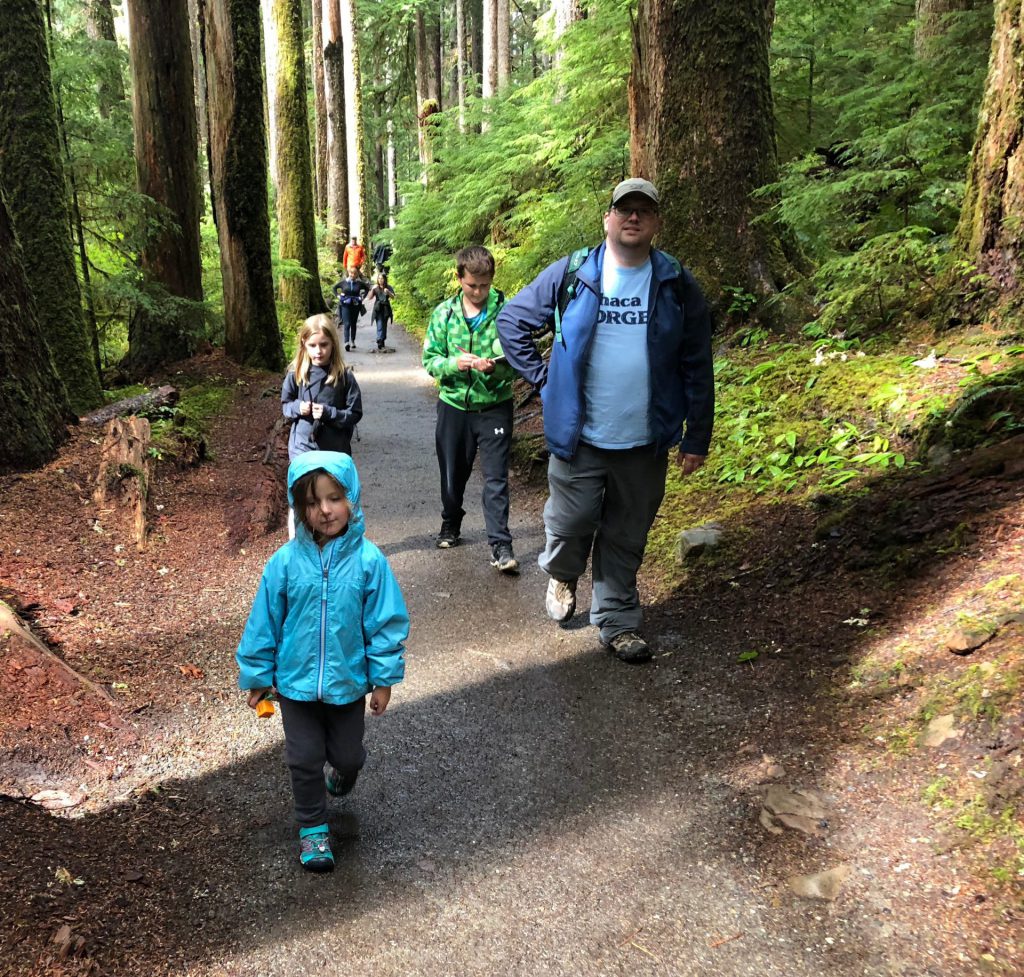 we saw lots of strange plant life. we decided not to try these blueberries.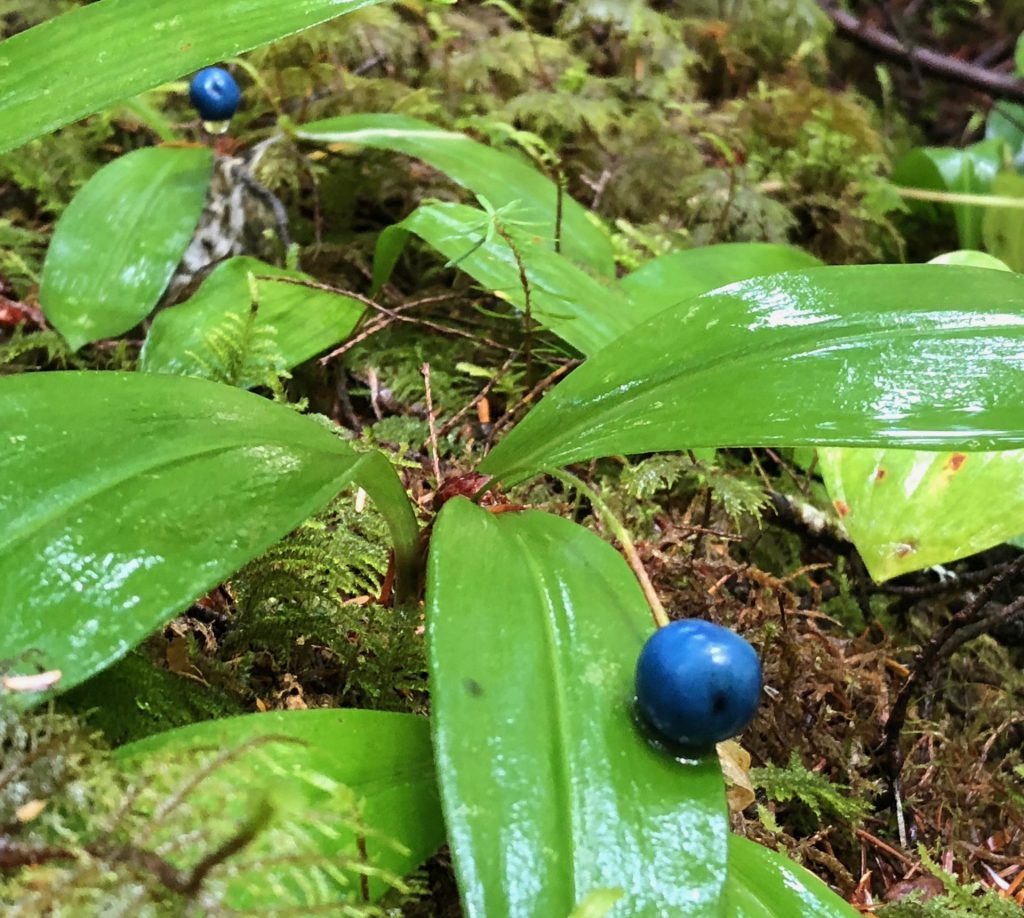 the crazelnut, as seen through a hole in some tree roots.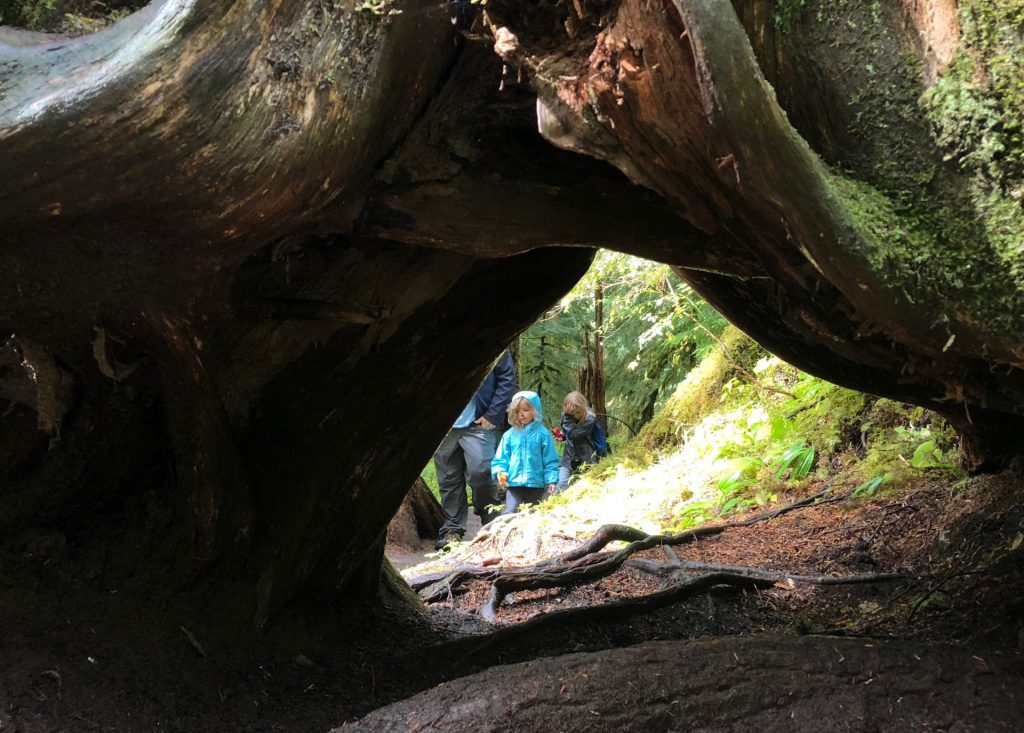 future nature photographer at work.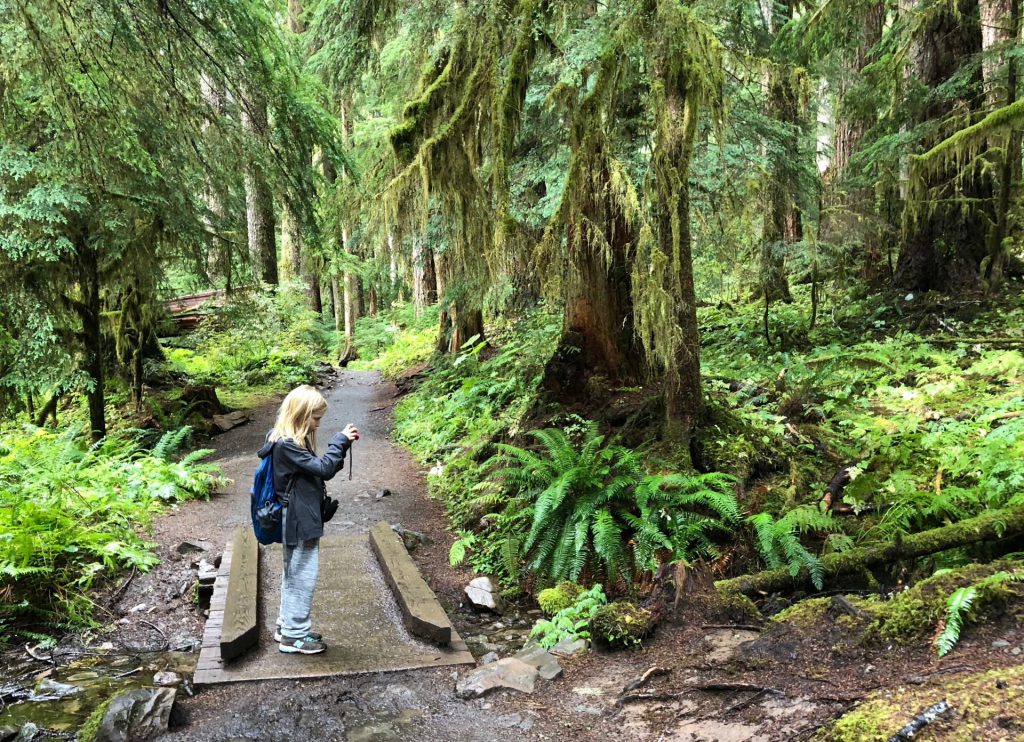 finally, we arrived at the falls. this is the view from the bridge.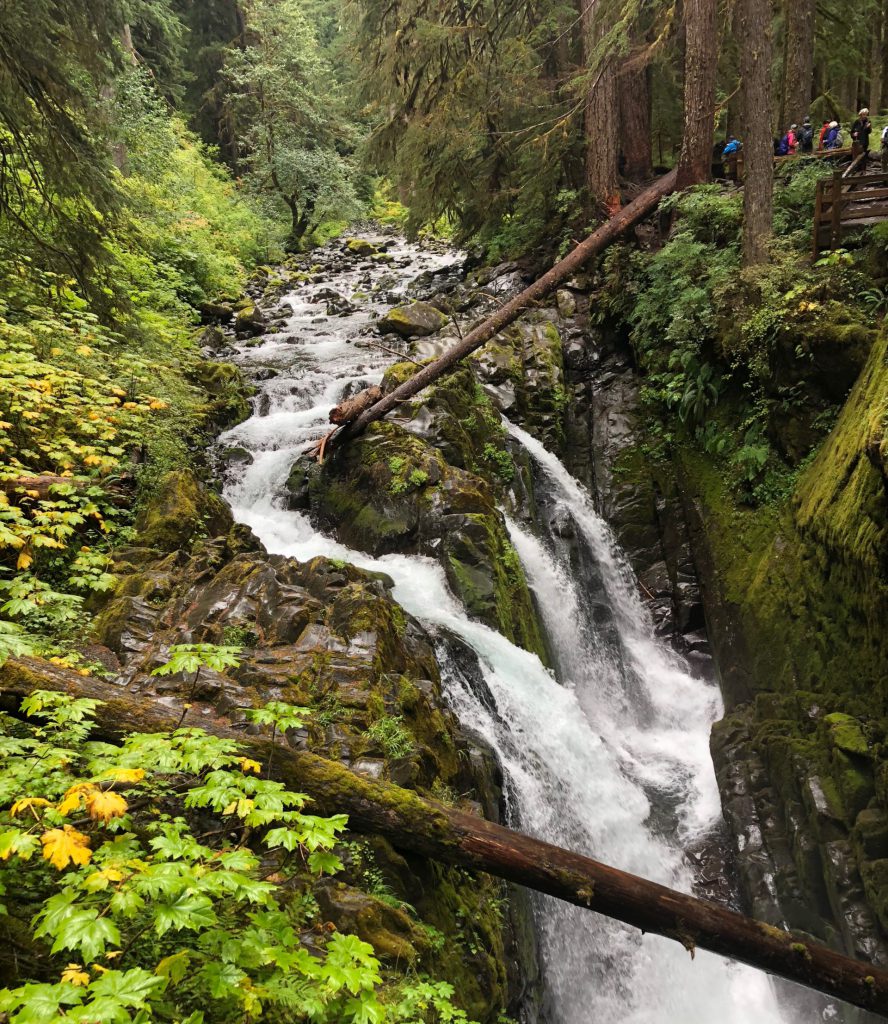 and a view from the side.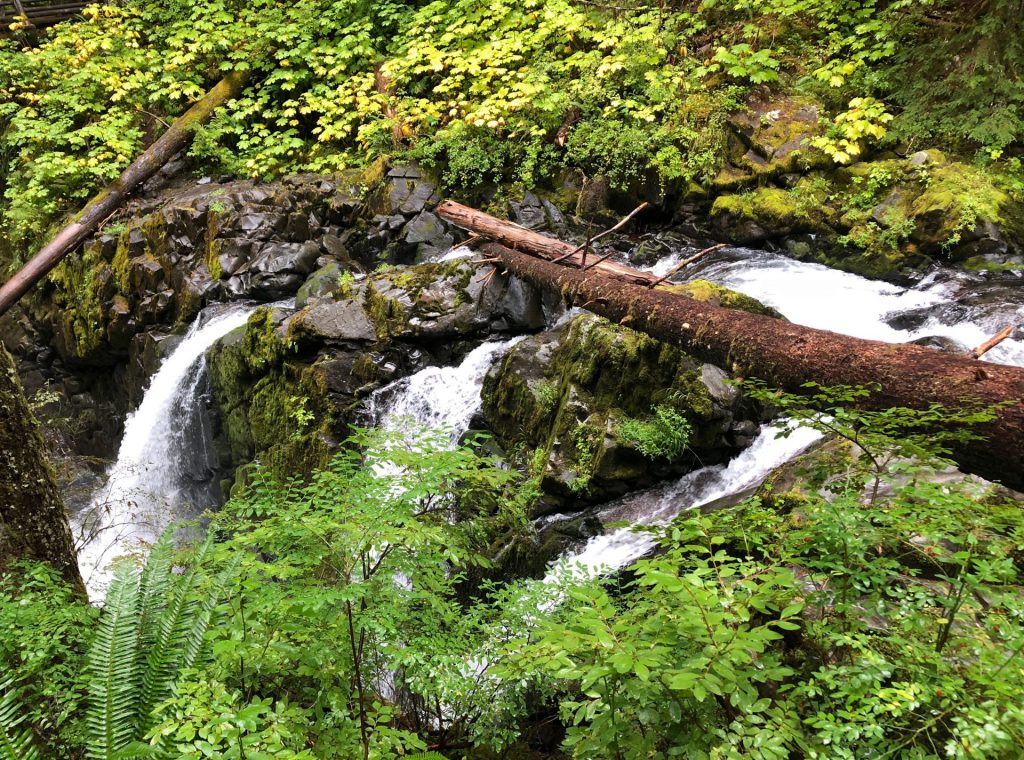 anna and i ventured a bit further up the trail to see if we couldn't find something cool. instead, i bit it on a slippery rock.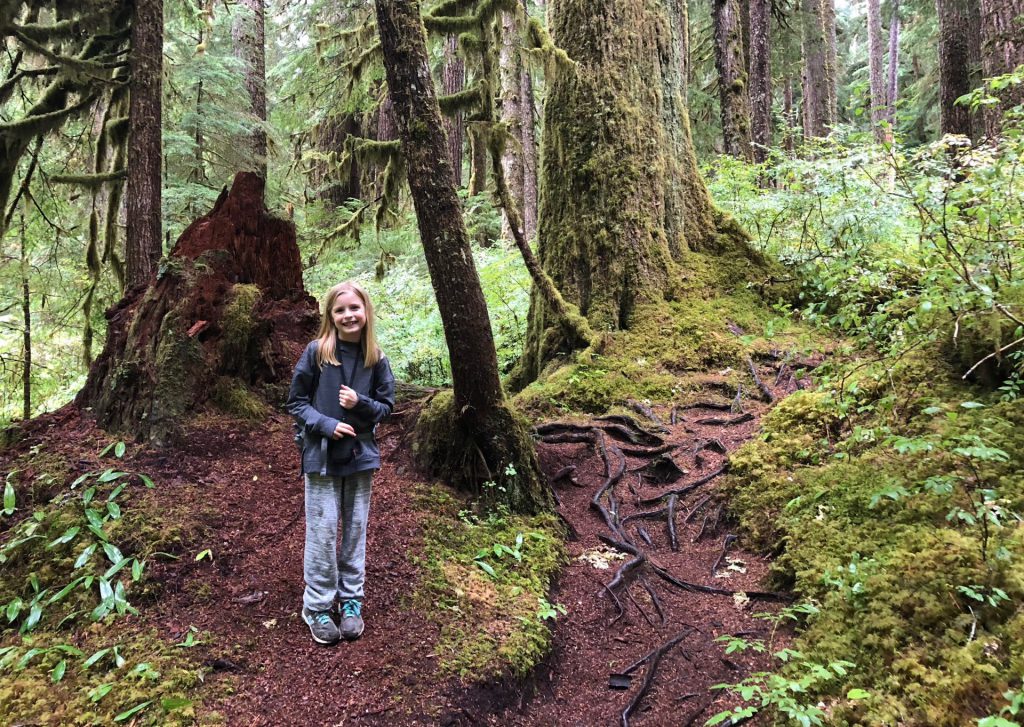 on the way back, hazel and her eagle eye, spotted this banana slug, so we stopped to admire and take pictures for a bit.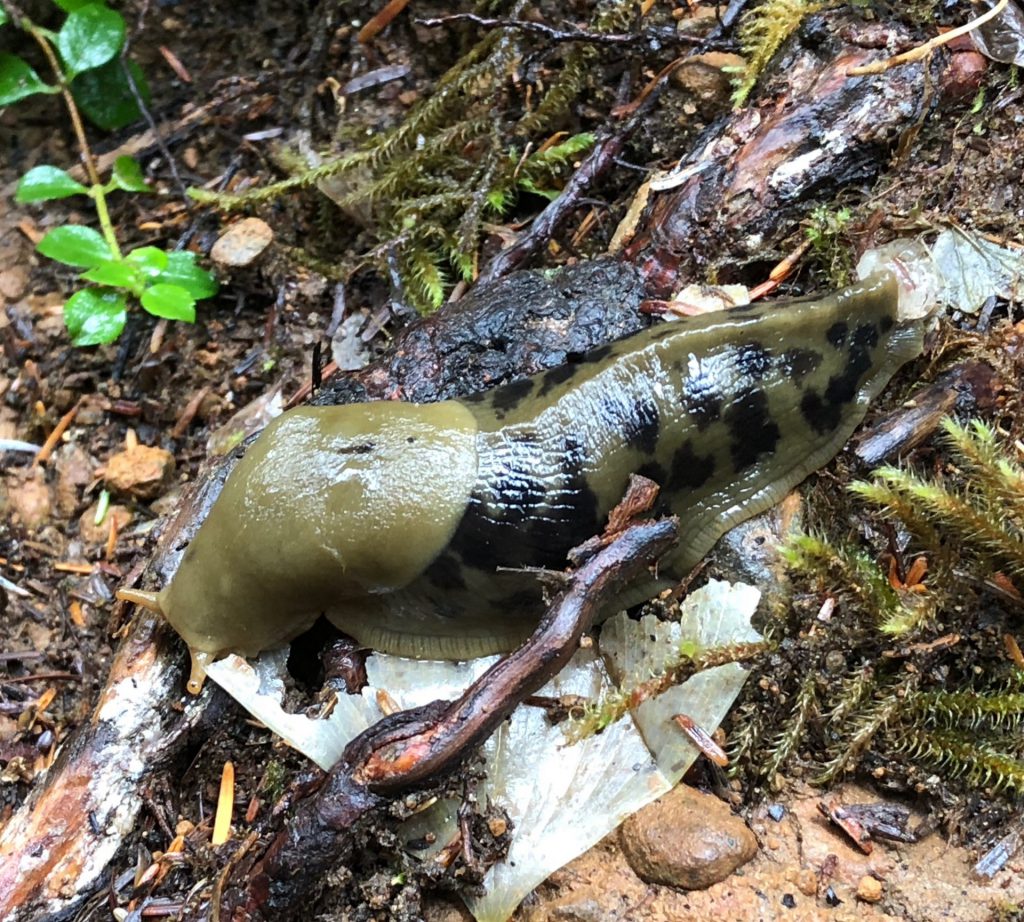 before we left, derek took a pic of me and the kiddos on the bridge over the falls, in a rare moment of it not being occupied by other hikers.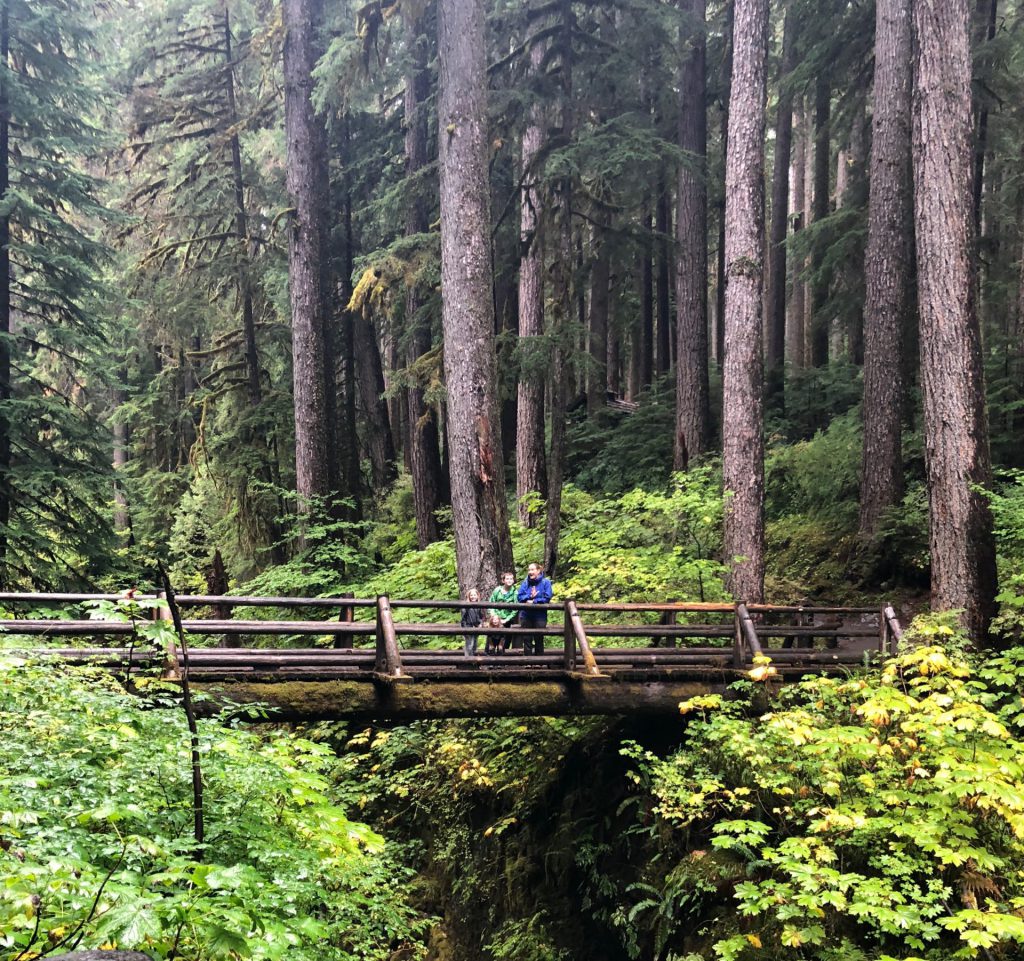 and then we were on our way back. we stopped to admire all sorts of mushroomery.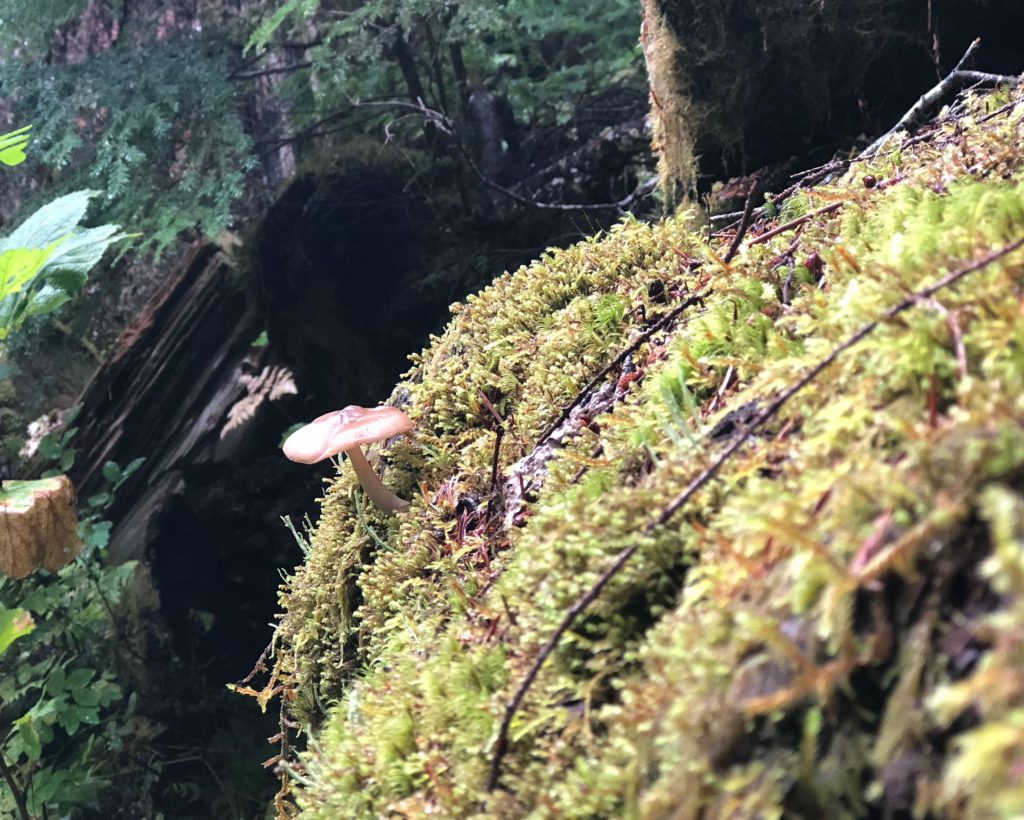 we are fans. anna has like 900 pics of them.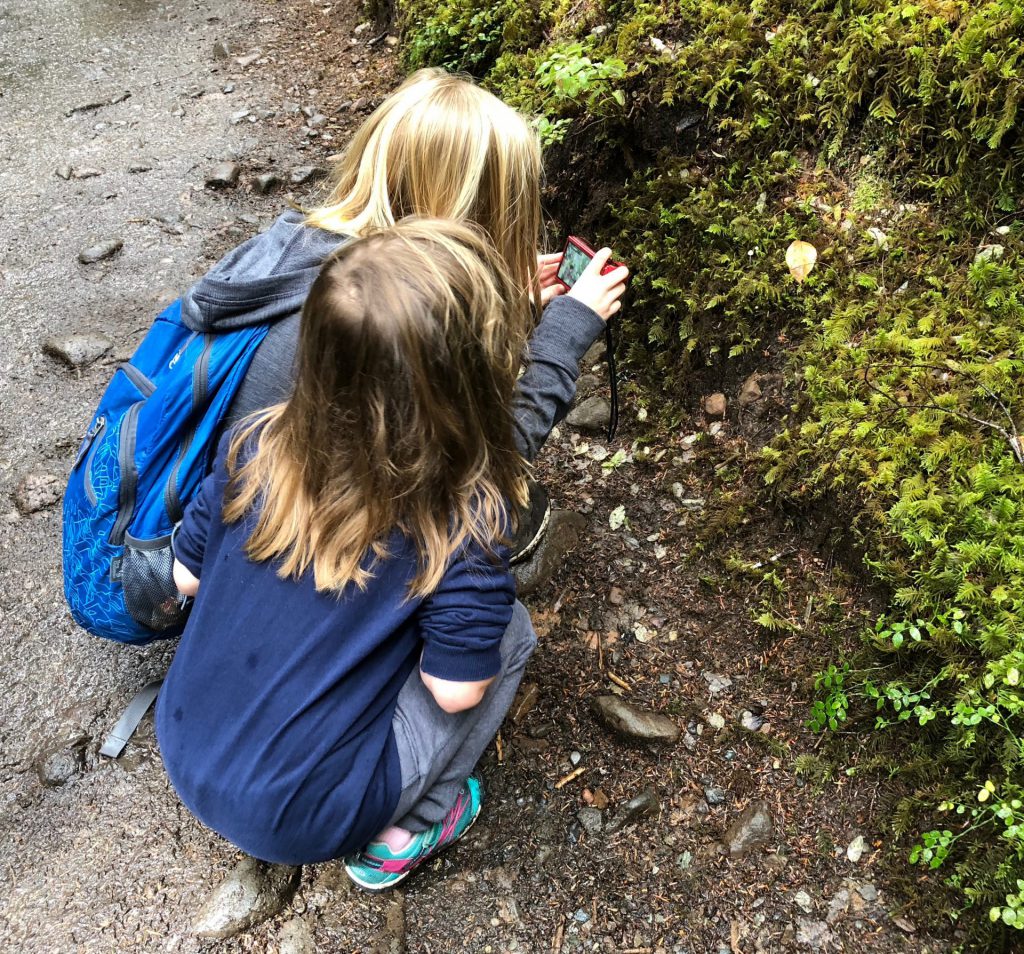 the tiny ones are the cutest.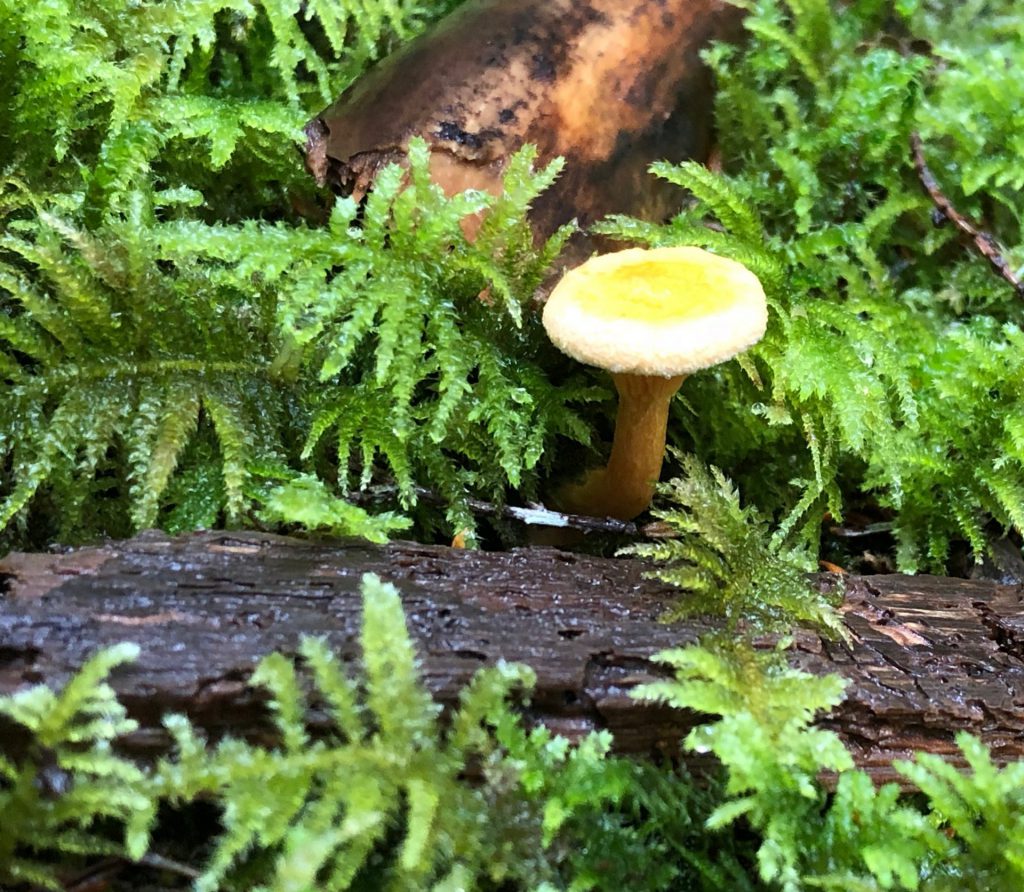 on our drive back, we stopped at the salmon cascades, a quick little stroll out to some rapids, where dedicated salmon are fighting their way upstream to spawn and die. we watched for quite awhile, amazed every time one made a leaping attempt to get up the falls. i managed a few good videos but not many great photos of the acrobatics.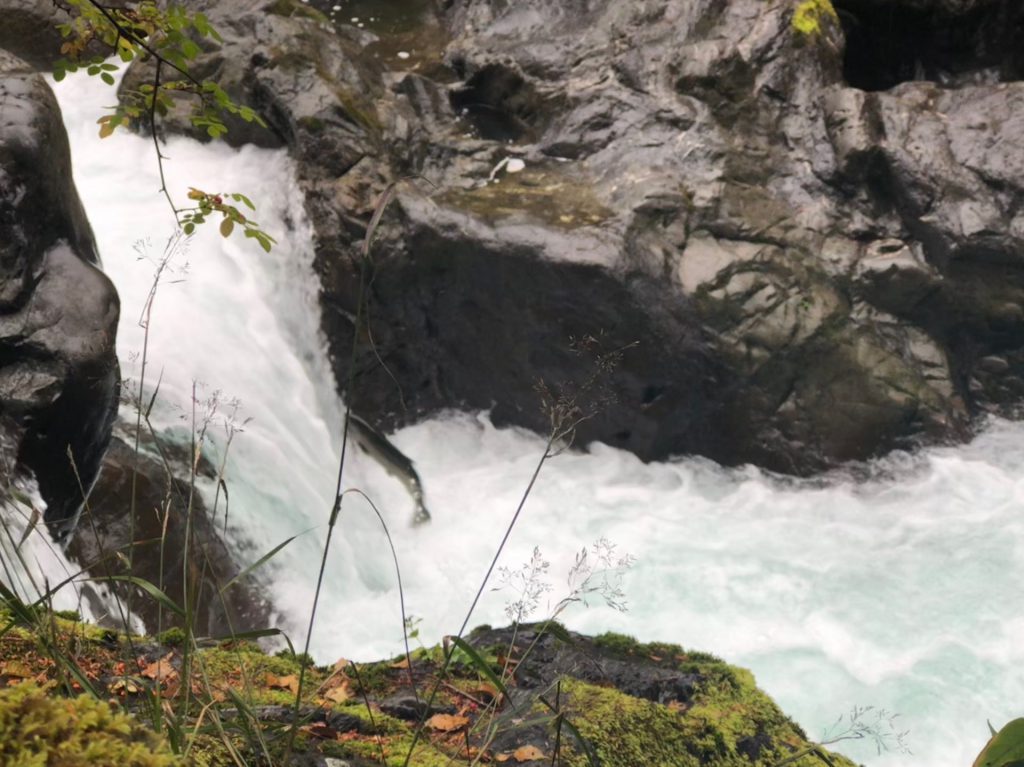 this was definitely one of the coolest things we have seen. all three lidkids agree.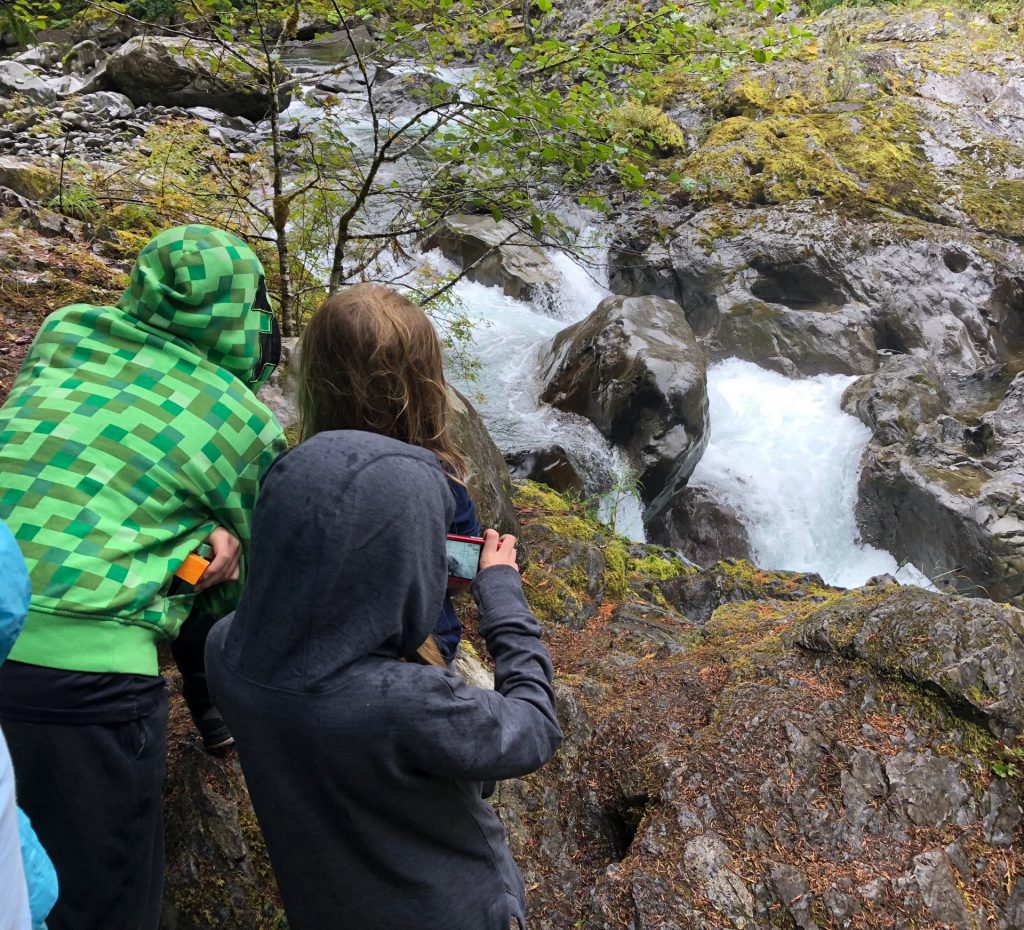 after this hike, we rolled back over to walmart, scooped up the camper, and made our way to the next campsite….
this is where i should pause to tell you that we met up and camped with friends for a week at our next spot. we met jenn and brandy when we were in palm springs in the late winter. we hit it off and made plans to hang out at sequim bay state park for a week when our paths diverged again. so. after we were all settled in, we made plans to go up to hurricane ridge in olympic (future blog post). when that was a fail, because it was gray and overcast and like 4 inches of visibility, we drove back down and went on a late afternoon hike at marymere falls. i'm glad they talked us into it, because it was pretty great, and we don't usually do late afternoon things with tiny grumpy people. (my kids love jenn and brandy, so they were perfectly behaved).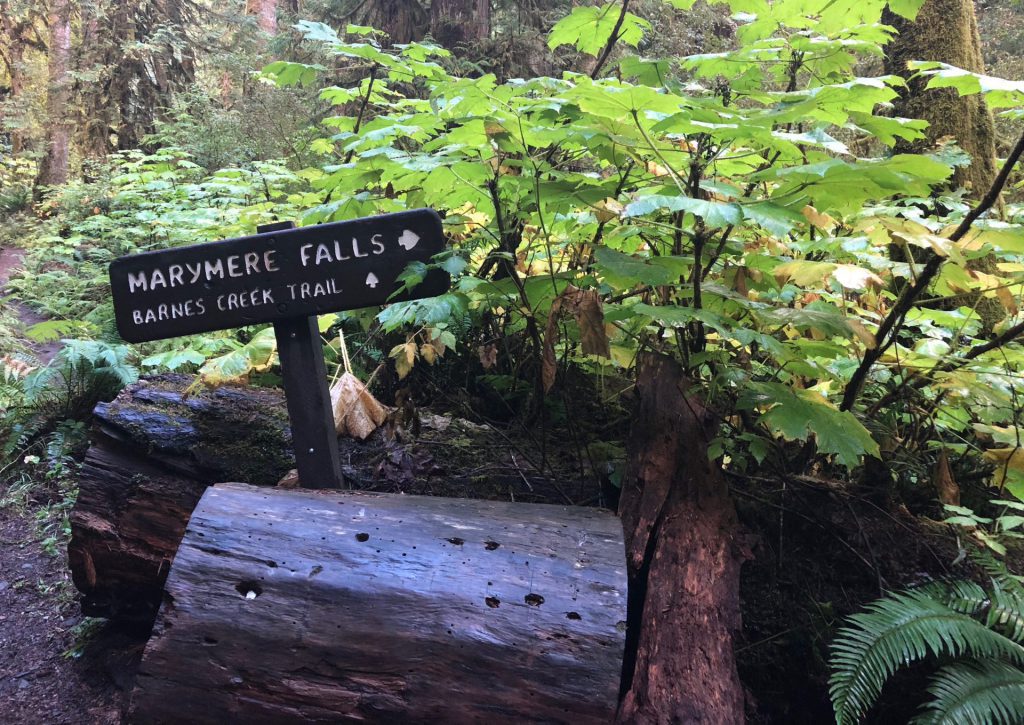 brandy and derek, talking shop. she's a computery sort.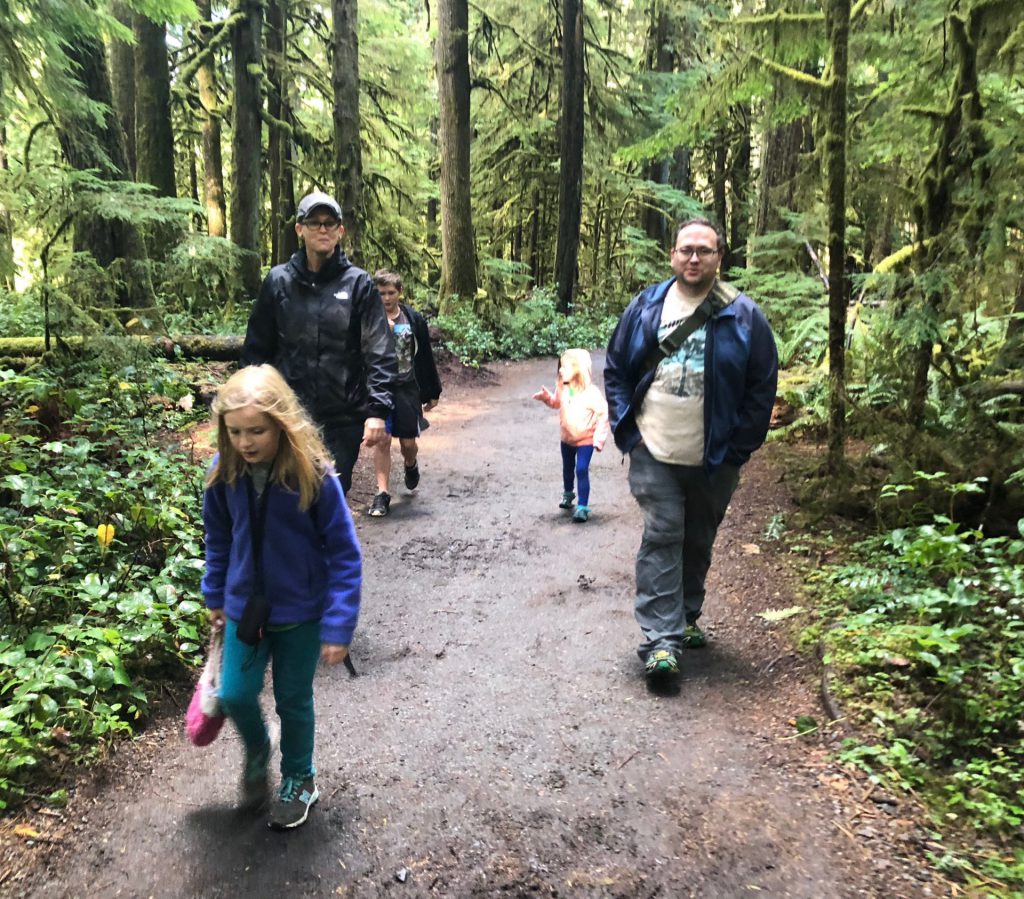 we had another banana slug sighting! this one was spotted by brandy and was almost white and might be my favorite so far.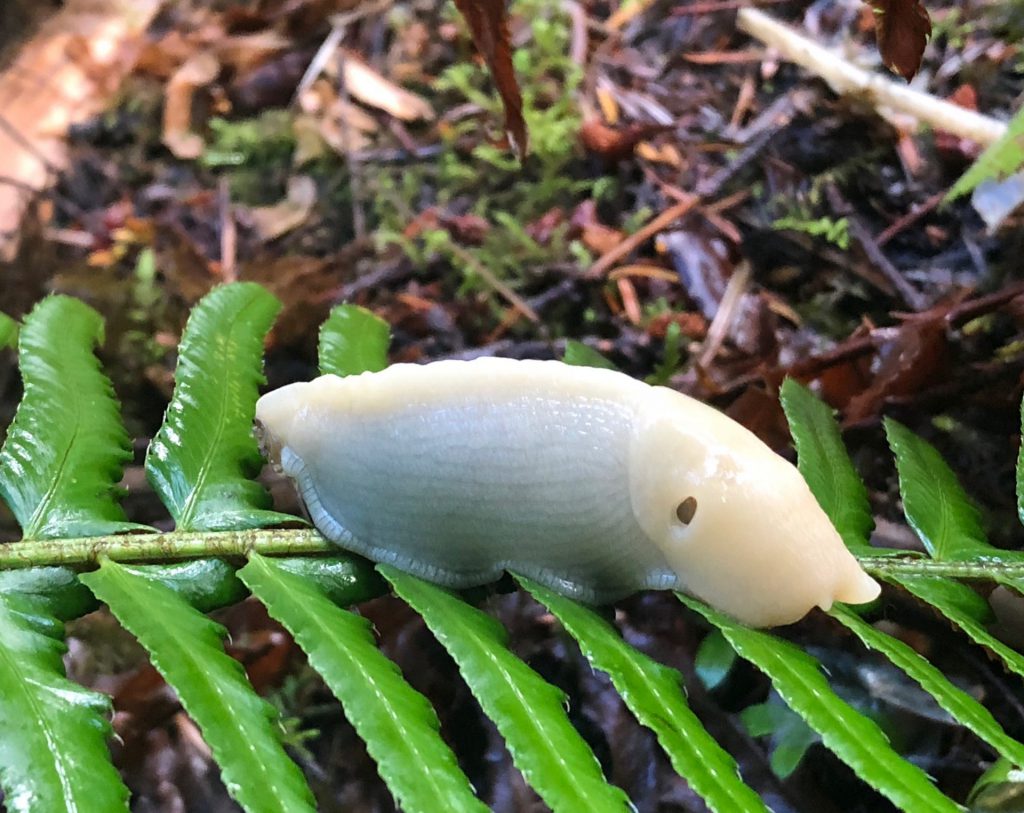 this trail was also soggy and damp and had lots of cool bridges, which make for obvious places for a photoshoot.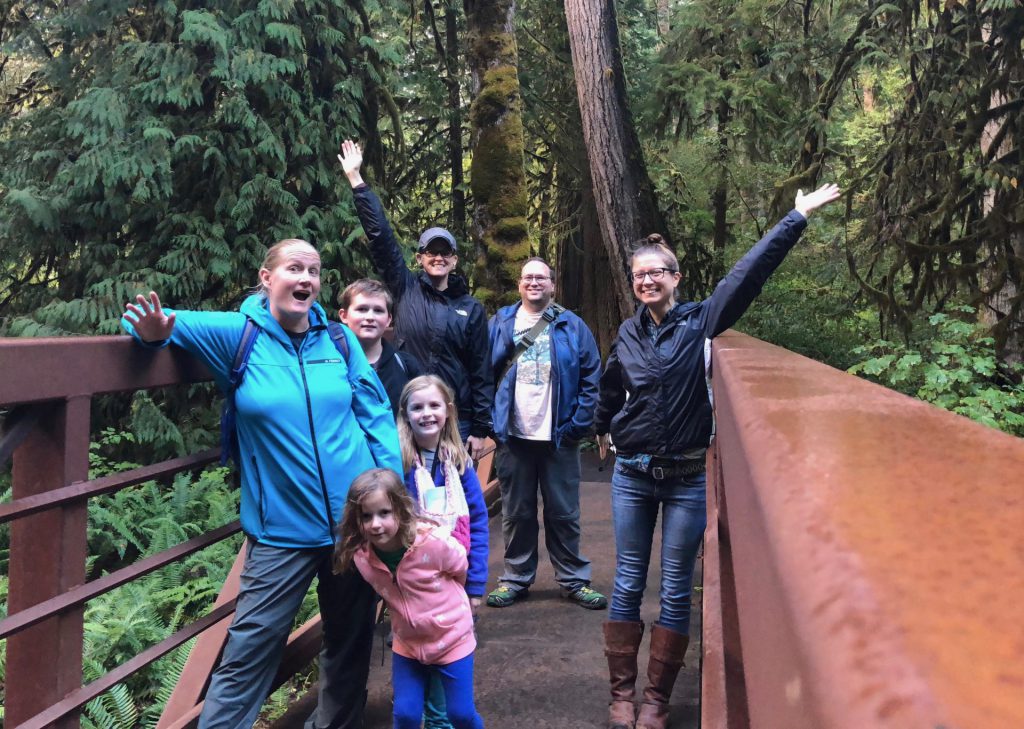 see what i mean? (derek took this one so he doesn't get to be in it).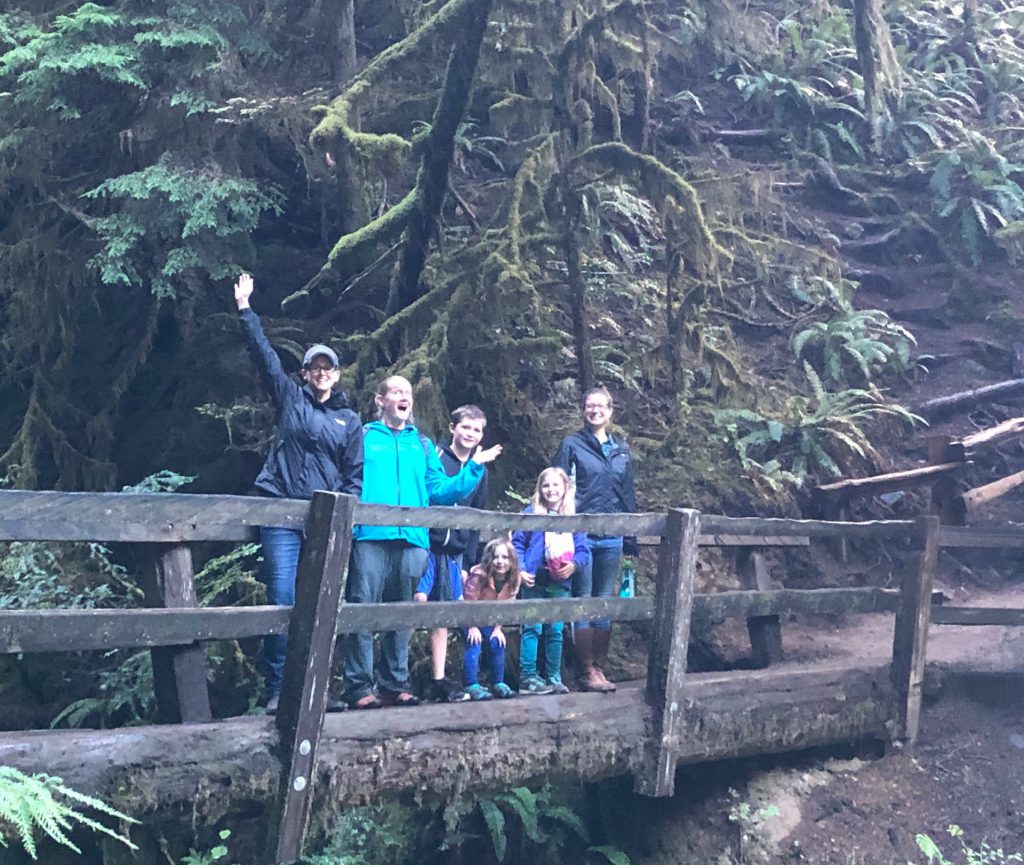 foot bridge foot pic.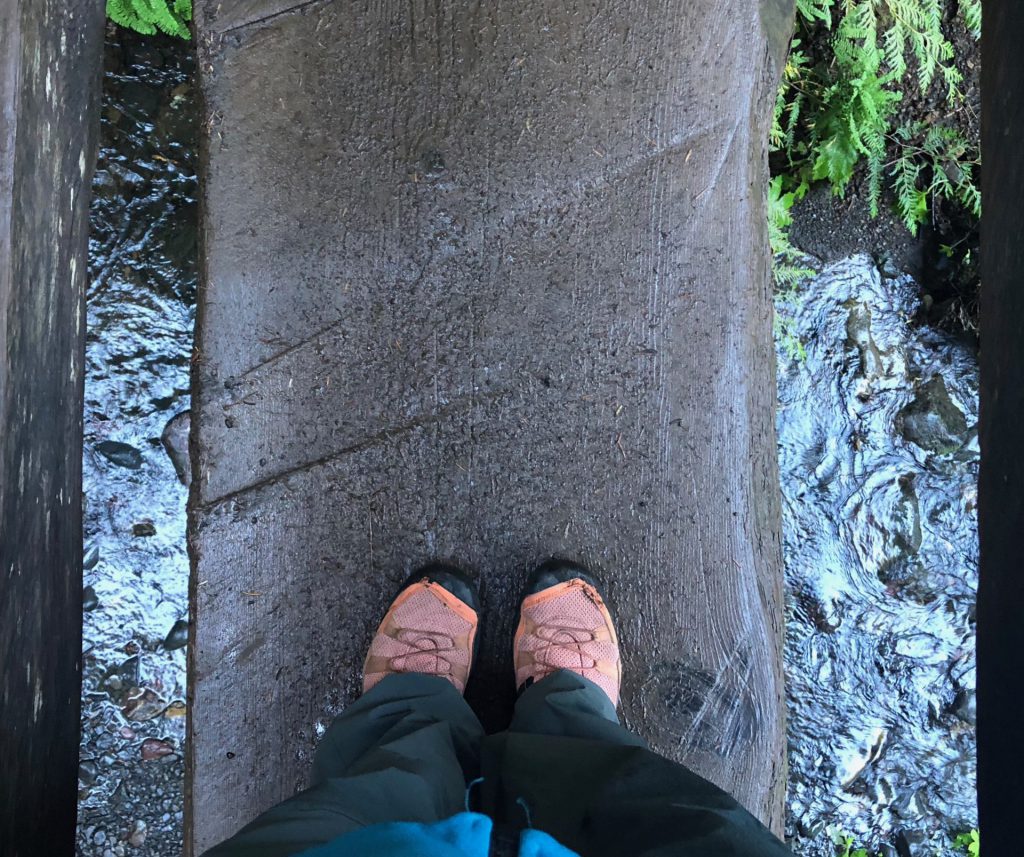 marymere falls is really tall, unlike the tumbling, graduated falls of sol duc. we stopped to admire it for a bit.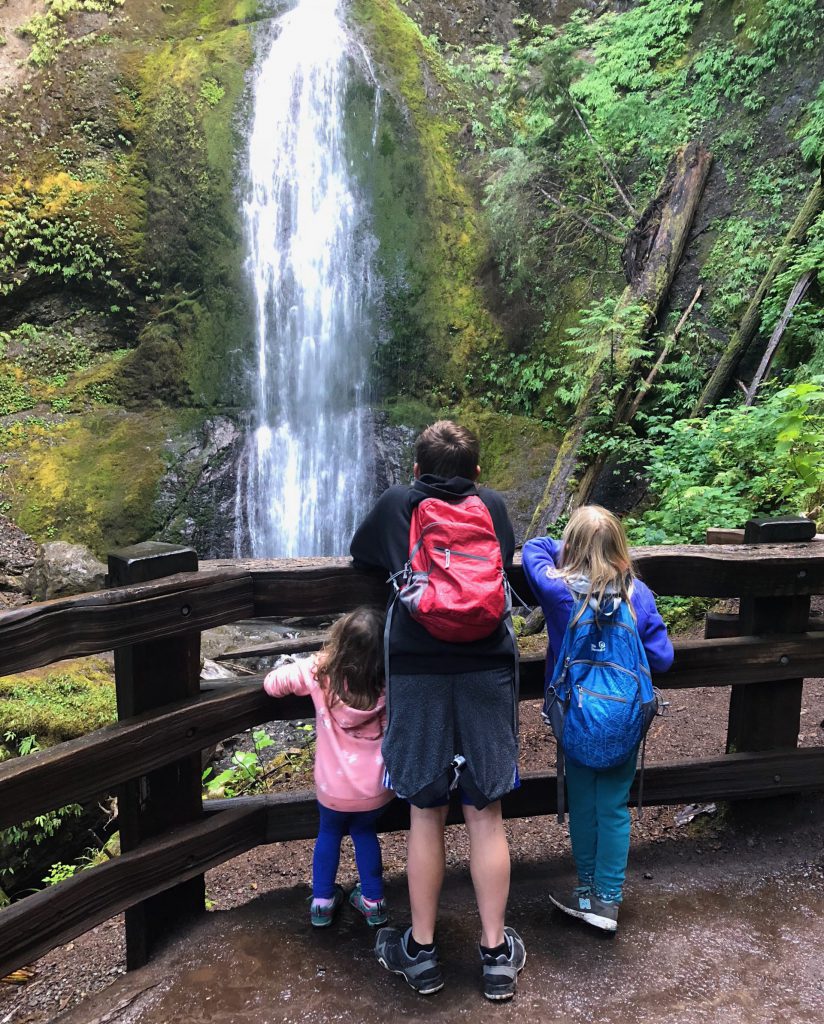 and get an official commemorative pic.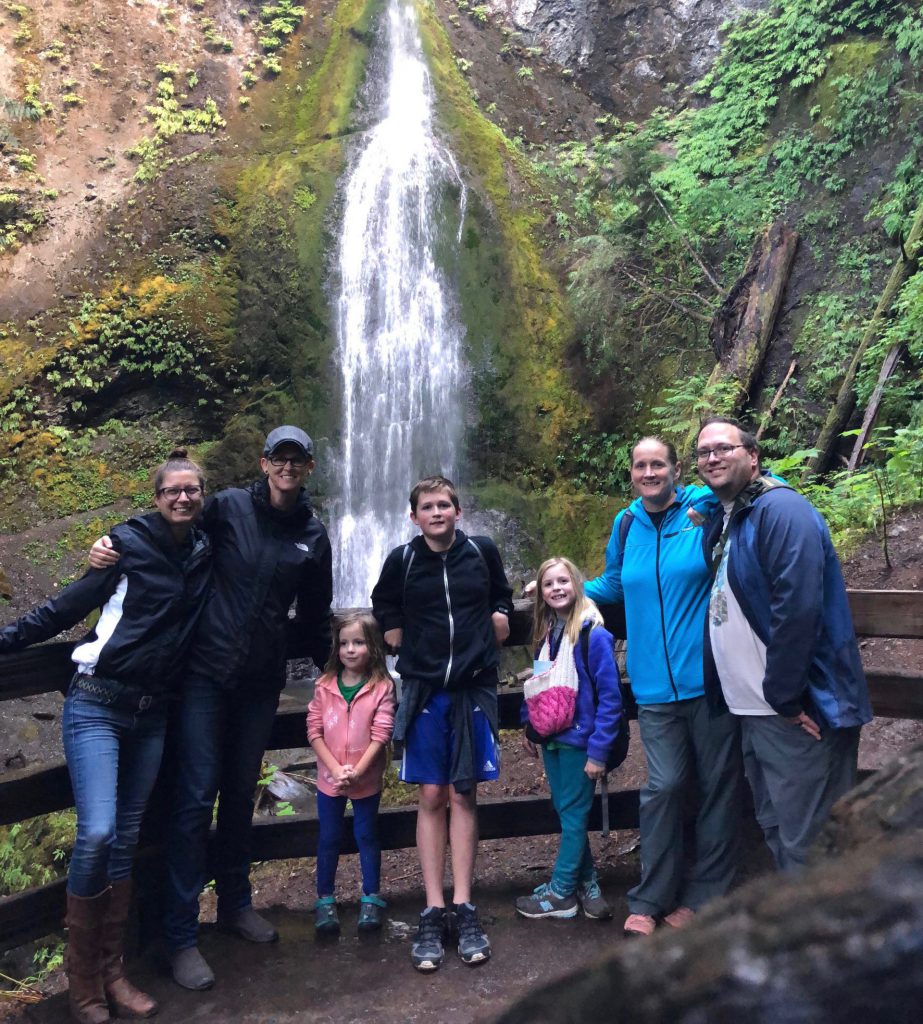 and then up a few more stairs to a different viewpoint.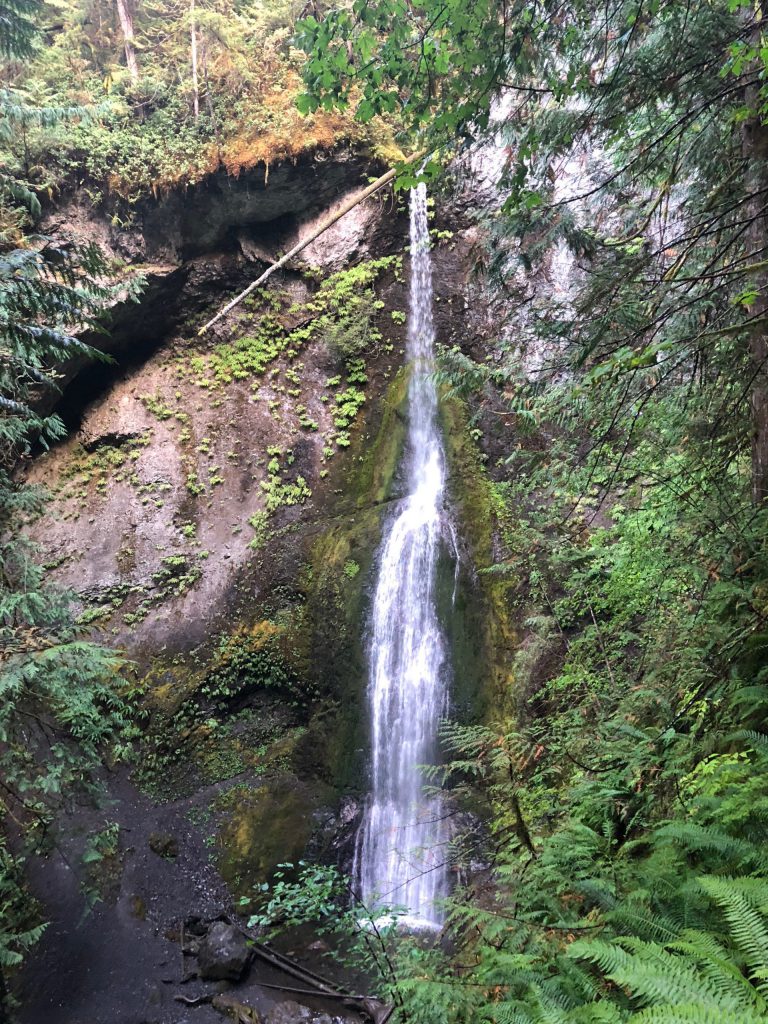 on our way back, we spotted some more cool shrooms. orange this time.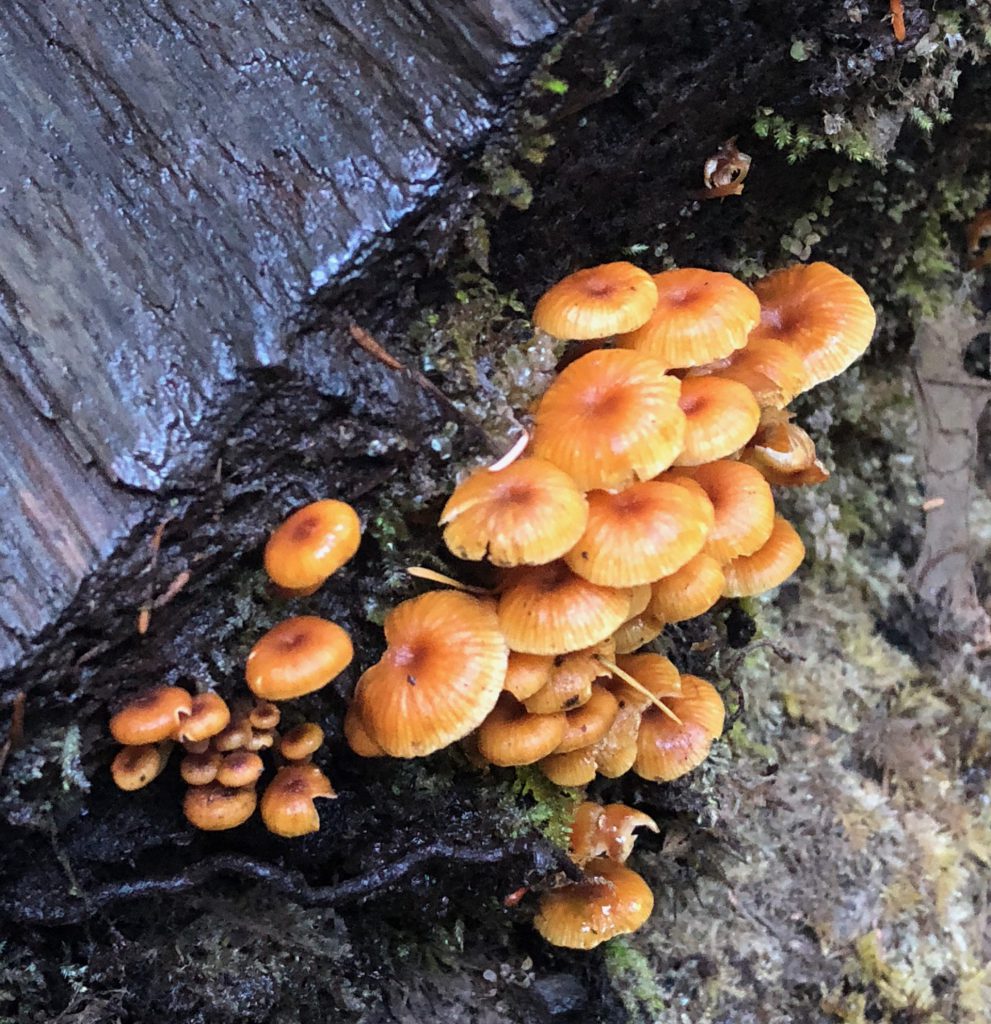 hazel crossing a bridge at some point. sent to me by jenn.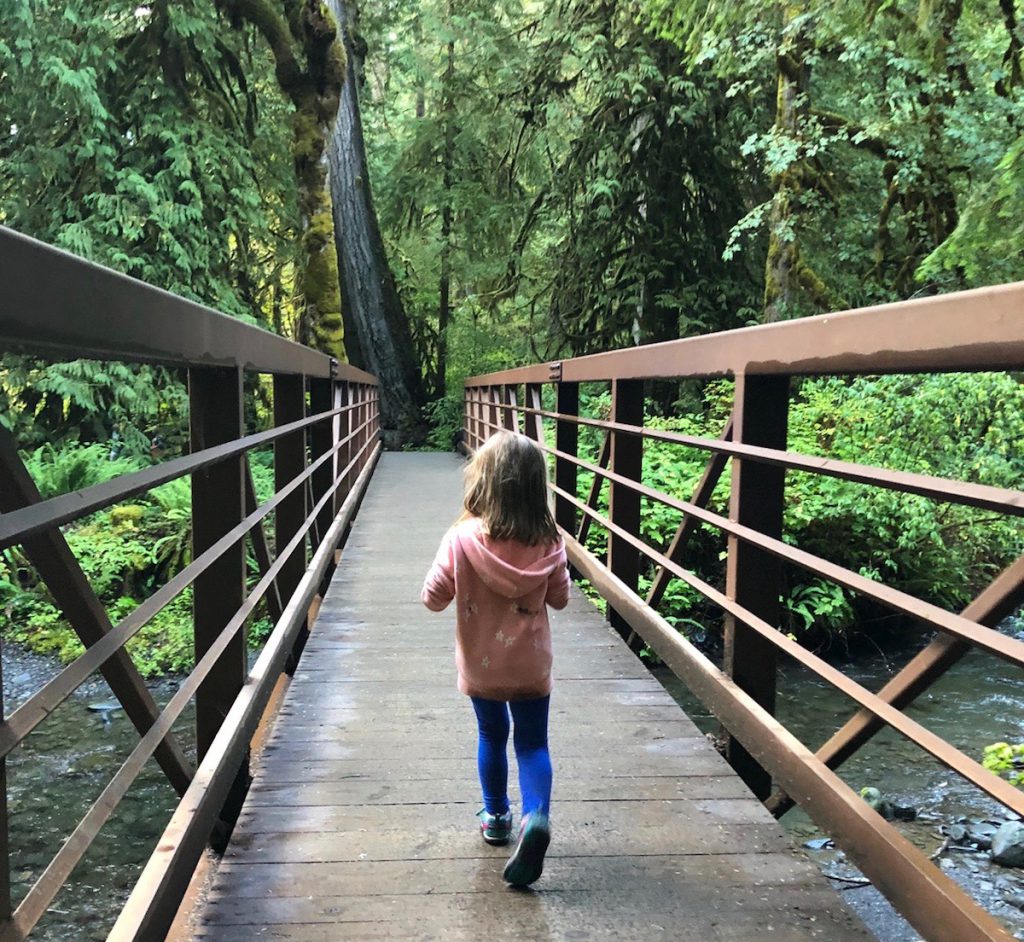 on our way home, as we followed jenn and brandy, the overcast drizzle parted and a pretty rad rainbow came out.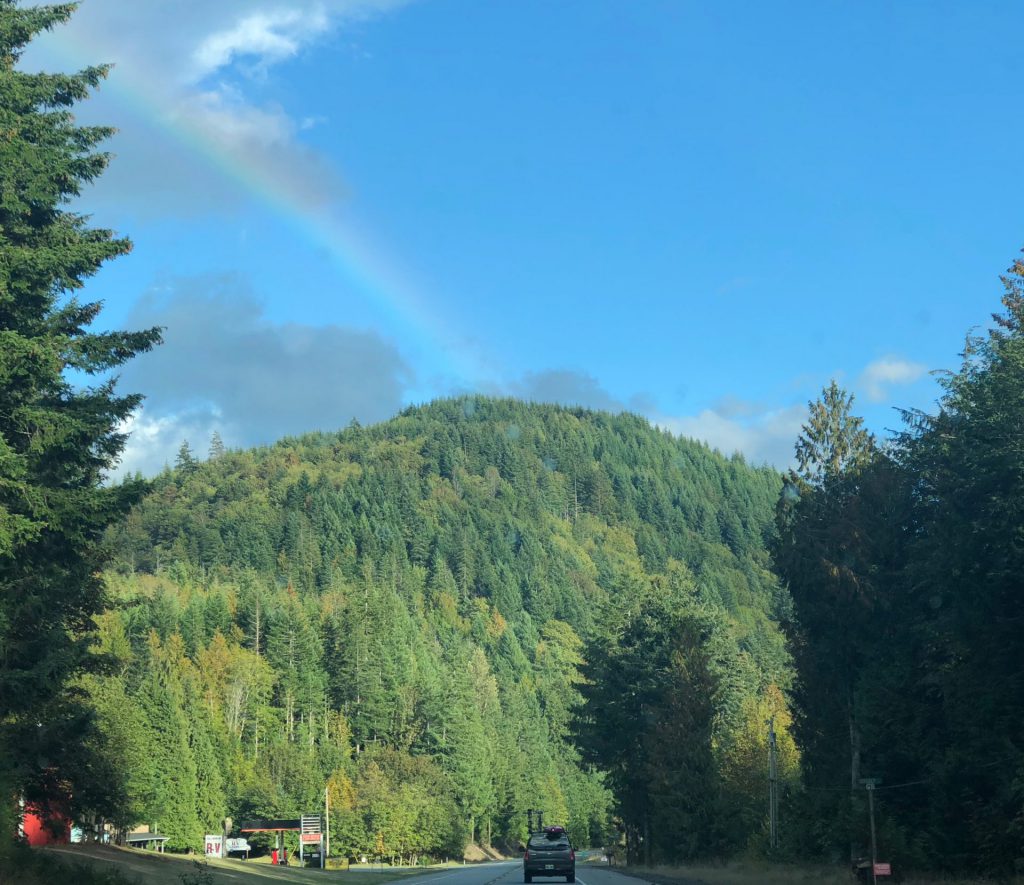 and. that's the end of my tale of two rainforesty waterfall hikes in olympic national park.