our second day in the everglades took us down to the southside of the park to pretty much the southernmost tip of the florida peninsula (not counting the keys and their claim to that famous location). the flamingo visitor center was closed, due to some extensive damage by hurricane irma, but there was a makeshift visitor center, and a marina, where we planned to rent a pontoon to go up into some canals, bays and mangroves to do some exploring.
but first, on our drive over to the flamingo side of the park, we stopped off for a little stroll at a hardwood hammock, to get a feel for that part of the ecosystem. basically the hardwood hammocks are little islands of raised land where different types of plants can take root, where they wouldn't be able to in the rest of the everglades. it creates an entirely different environment, and used to be home to tons of mammals, but they have been all but decimated by the invasive burmese python population. anyhooo. we made our obligatory trek, and stopped at a little pond, on our way to flamingo.
after we checked out the temporary visitor center trailer (and spent all our money on books and patches and stickers and t-shirts), we walked around the marina a bit, hoping to spot a manatee or a crocodile. we saw one glimpse of a far off manatee, and no crocs, but got a pretty good look at this osprey, who has built its nest in the marina.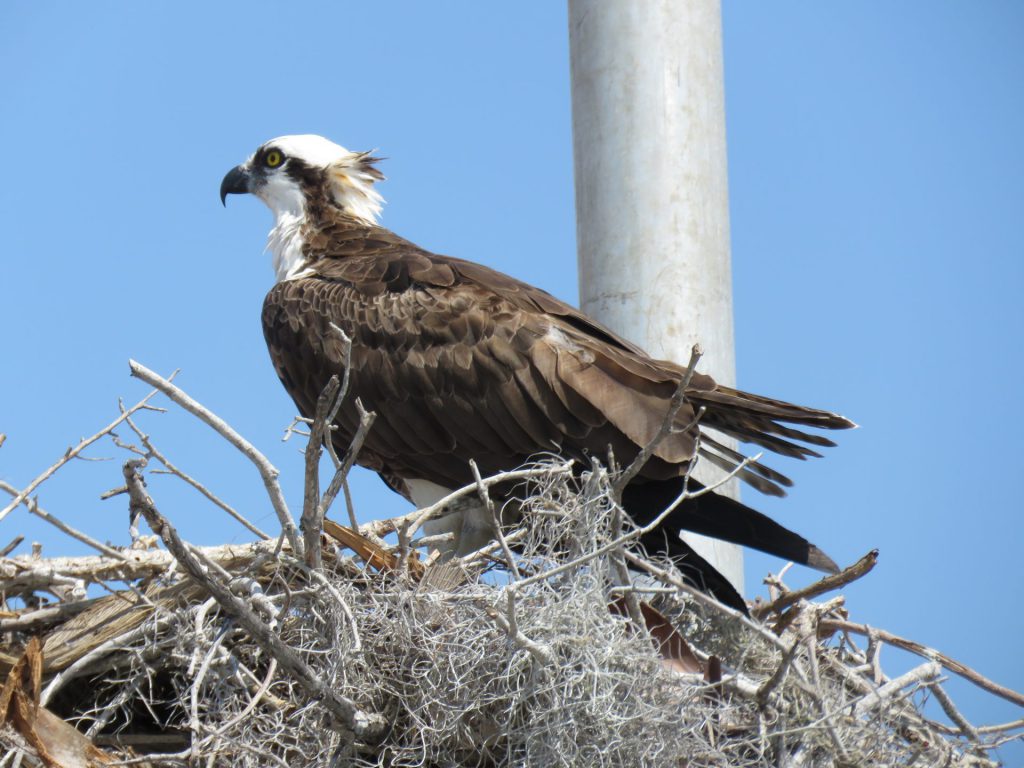 then, it was time for our pontoon rental. we piled in and off we went. we rode up a man made canal that has since been dammed up, because it was disrupting the ecosystem. derek captained the ship for our journey, and we settled in for our afternoon at sea.
our first order of business was lunch. i packed us up a pontoon feast of meats and cheeses and fruits and veggies and nuts and crackers.
one of the cool things we have learned a lot about in southern florida has been the mangrove trees. they filter water and create buffers to the crashing waters of the ocean and provide a safe habitat for smaller and younger sea life. they also look really cool. i narrowed down the 30 pics i took to these two:
after we went through the canal, and across two bays, we hoped to explore some mangrove canals and mazes. but, the depth of the water was so low, we got caught in some mud and decided it wasn't the best plan.
we raced back through the bays, racing our little party boat through the open waters. hahaha.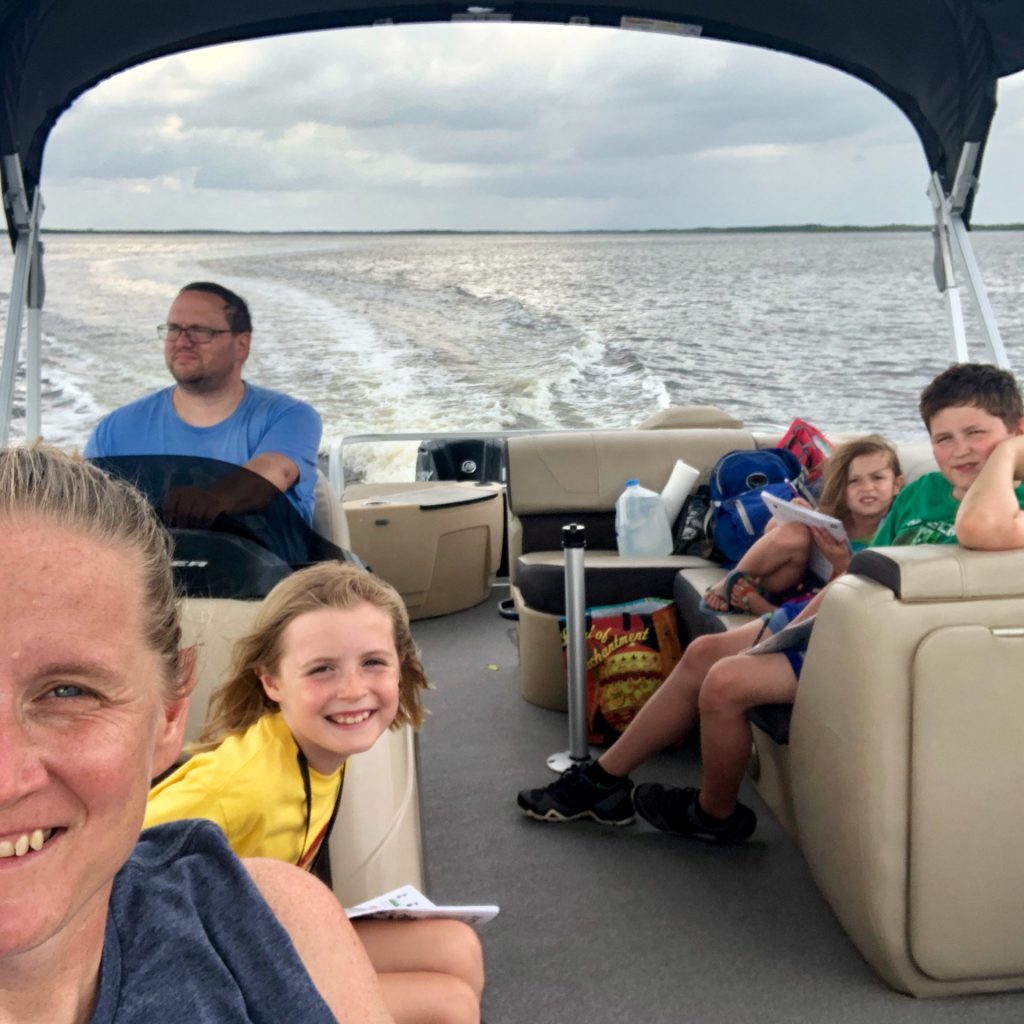 on our ride back through the canal, we drove so extra crazy slow and scoured the bank for a crocodile sighting. we had heard from some canoers that there were some to be seen, but we came up empty. (salt water crocs are a little harder to come by than their fresh water alligator cousins in the northern parts of the park. another interesting fact. southern florida is the only place where you can find them both). we did see a lot of cool birds, like this white egret, so we'll take it.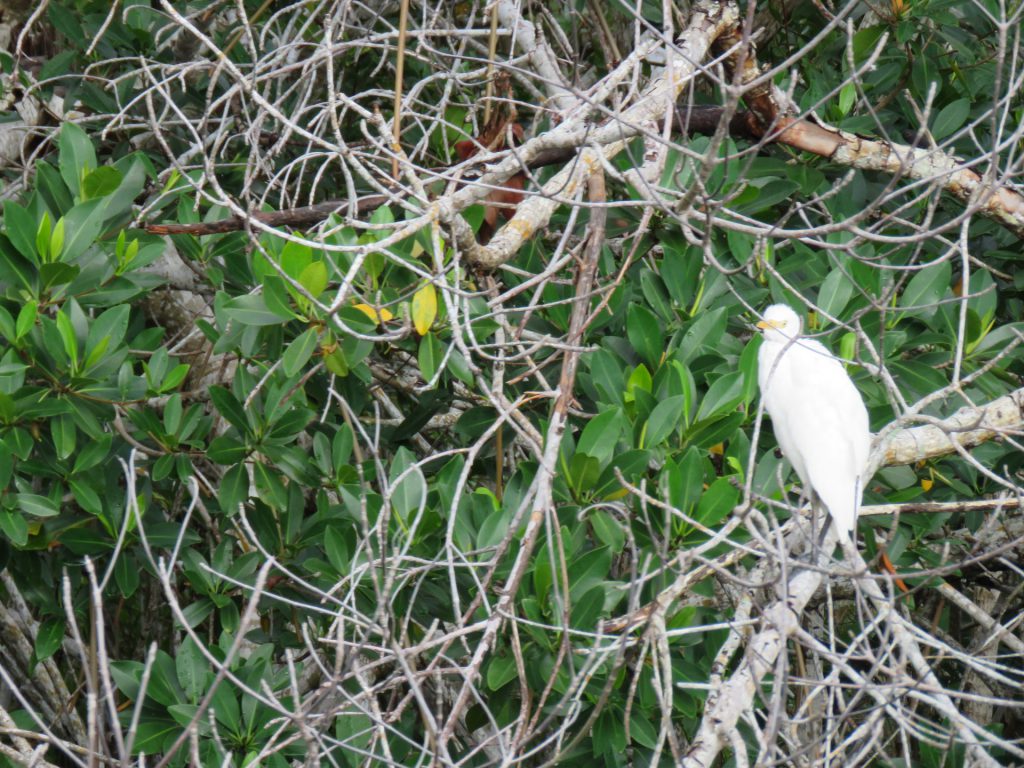 overall, it was a pretty good day. we took a happy family selfie to commemorate.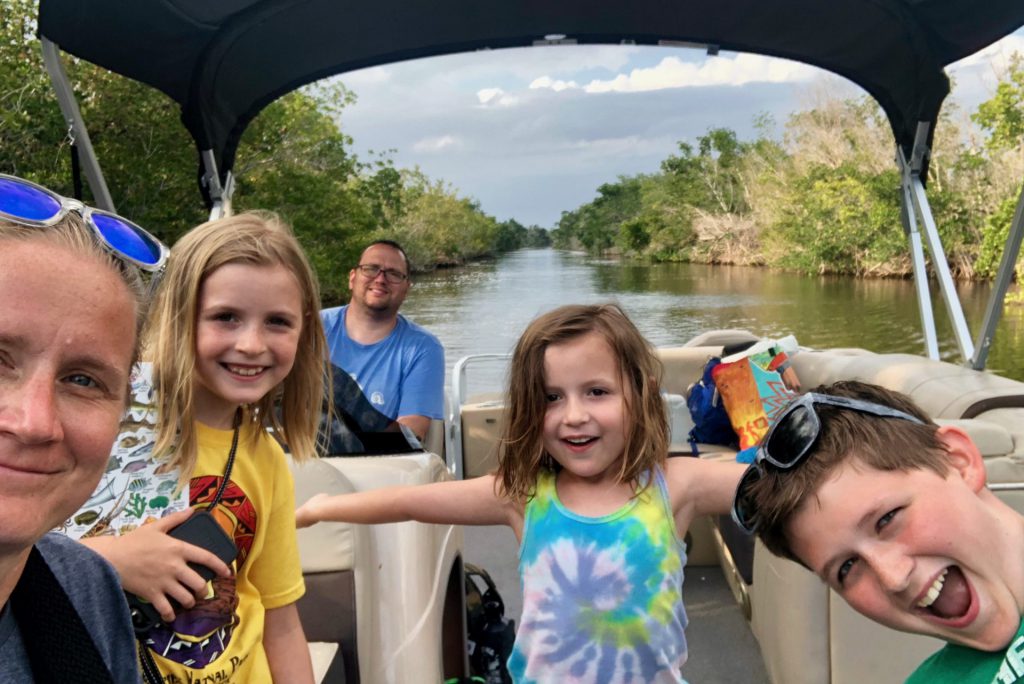 after we unloaded from the pontoon, and while we were waiting for it to be refueled and washed (muddy adventures) and inspected for damage, a boat captain from a tour that had been out when we were pointed out a crocodile to us. we had literally stopped just short of it when we turned around in the canal and missed it. so annoying. anyhooo. i busted out the fancy zoom camera for a sort of decent pic. but, it was so far away that hazel was unable to spot it, so it was still disappointing. thankfully, she didn't really seem to mind. either way, i present to you, our lone croc sighting….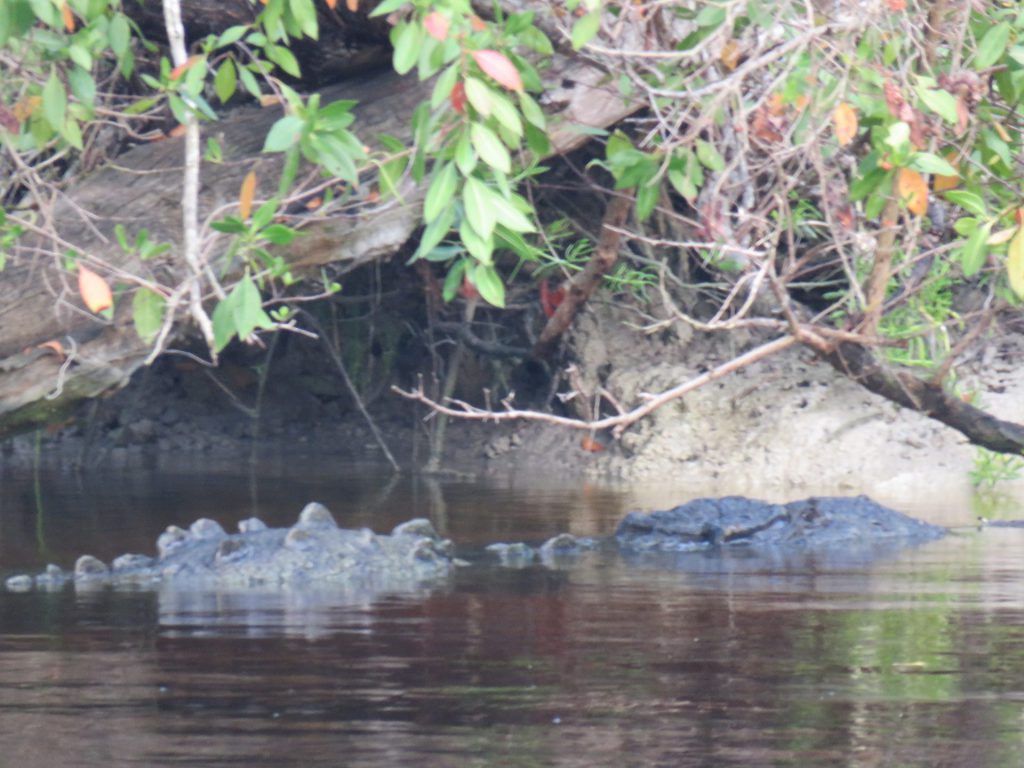 and thus concludes our adventures on the south side of everglades, at the flamingo visitor center area.