after the sunshiny, beachy, florida keys, we stopped at the muggy, buggy florida everglades for a bit of exploring and learning. i won't lie, i wasn't super excited about this park, but it ended up being pretty interesting.
our first adventure was to head to the north side of the park, for an airboat ride through the canals of the marshy wetlands. it was a cool experience, but it wasn't super educational or anything. it was really loud, there was a group of very obnoxious individuals on our boat, and the guide just recited rehearsed lines at different intervals. we didn't even see an alligator until the very end, and from too far off to document.
when we were done, part of our paid experience was the opportunity to hold a freakishly docile baby alligator. i am still not sure how i felt about this part of it, but i still participated. isaac and hazel decided not to, but anna was all in.
i should be clear, the airboat ride was through a private company and not any way affiliated with the everglades national park, and i'm not sure if we even went into the boundaries of the park, but it was everglades stuff.
our next stop was just down the road, at the shark valley visitor center. we missed the first tram tour that takes you out to a tower that overlooks the huge grassy marshy plains of the everglades. so, we signed up for the next one and killed an hour with a little stroll along the bobcat trail. most of that time was spent checking out these super cute baby alligators that were only a few feet off the trail. (the mom was nearby, as well as a ranger, making sure no one messed with them or got too close).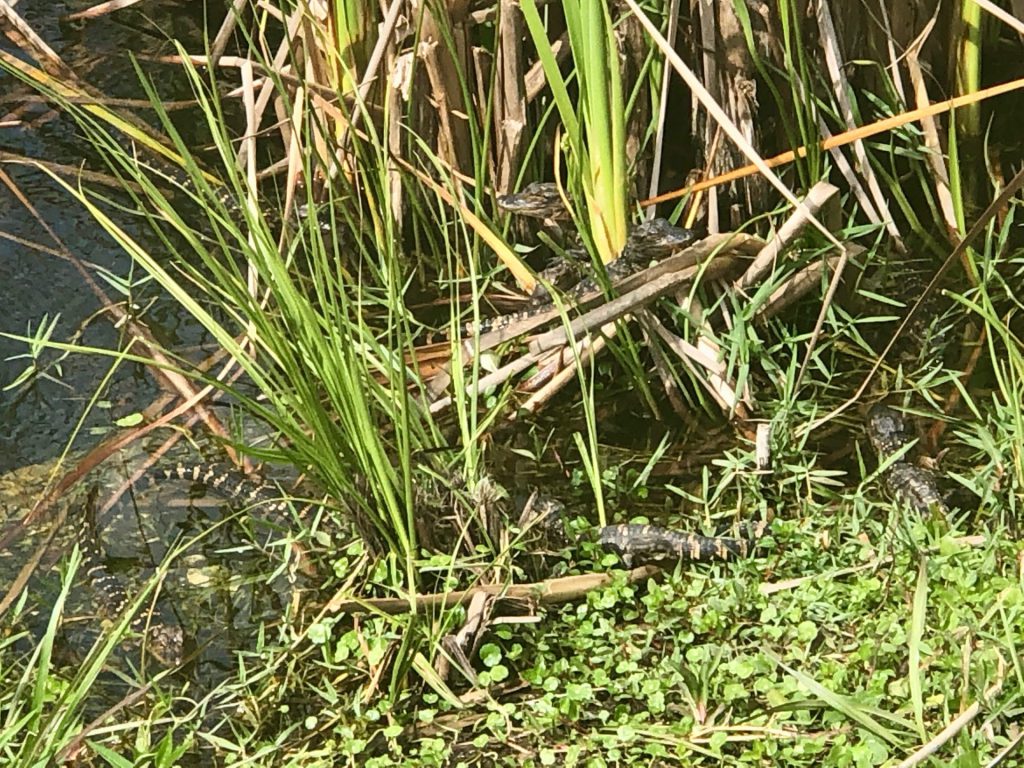 on our walk, we saw some cool stuff, like two sparring lizards, anhingas, turtles, and lots of other birds and fish.
the tram tour ended up being pretty fantastic. our guide was very informative and we saw tons of wildlife, mostly birds, and an occasional gator. it was hard to get decent pics, for one because i didn't have the fancy zoomy camera, and for two because the tram driver never came to a complete stop. we did have one sighting of a roseated spoonbill (bird) which anna has declared her favorite of the everglades. hazel just took the opportunity to catch a hot and sweaty nap.
at the tower, we were only able to go up to the first level, due to some hurricane irma damage, but we still got a pretty great view of the vast everglades.
so, our first everglades day gave us a good glimpse into the ecosystems and wildlife of the area, as well as the politics and poor decision making that has threatened them. it's no zion or glacier, but it's quite interesting and important.