well. we have learned that big cities aren't our favorite. they are always sort of a letdown (boston, austin, los angeles, san francisco, seattle, portland…) our kids are usually dragging. it's so expensive. parking and traffic is annoying. and the cool things to do are usually not all that kid friendly. but still, we decided to give it another try in miami.
we tried to plan things we thought would be less touristy and more fun for the kids. first up, derek planned an outing to little havana. turns out, it's actually a small, touristy section of what is considered little havana, the rest of which is considered slightly sketchy and not a good part of town. the touristy part has been preserved-ish for historic and touristy reasons.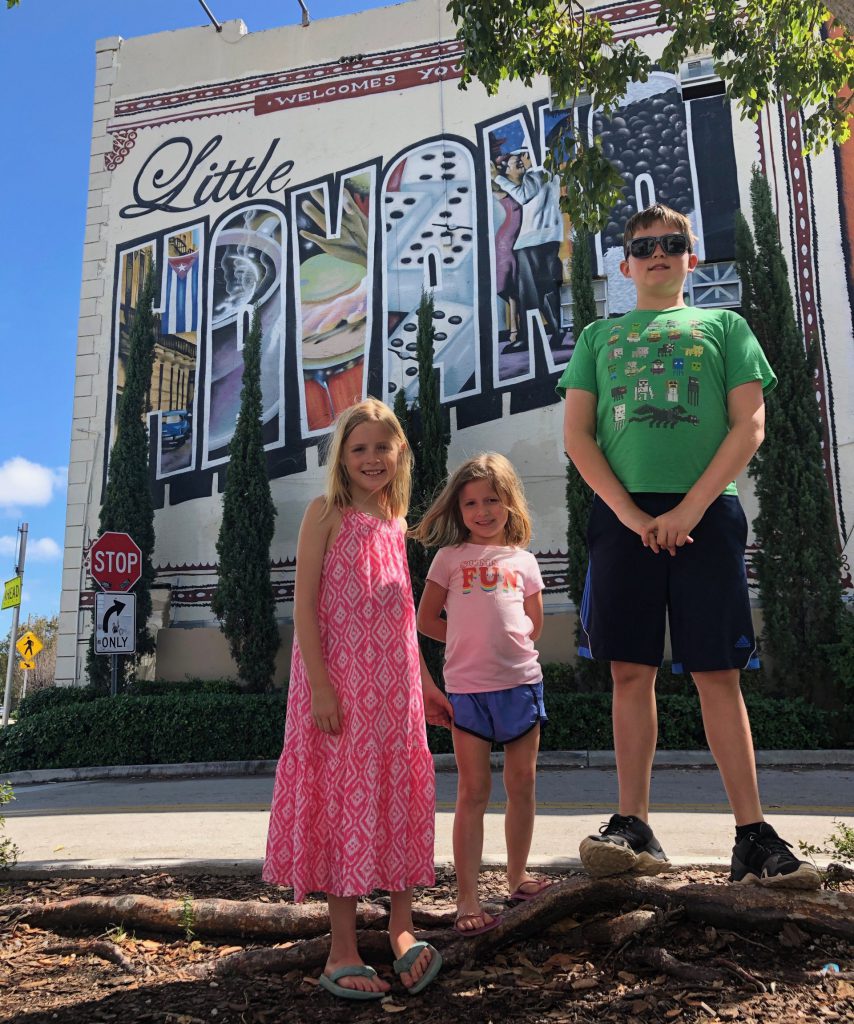 our first stop was versailles cafe, for a cuban breakfast buffet. there was soooo much food. the kids mostly stuck with carbs. i managed to keep it keto, even if i maybe ate my days worth of calories in one meal. also. cuban coffee. so, it's served presweetened, as a little espresso-like shot, with a cup full of milk. i tried one sip. delicious. but then ordered an american coffee, for keto purposes.
pre-feast.

my fare.
one of the things we read about on calle ocho, the main walking strip of tourist little havana, was the collection of painted rooster statues. we saw several and were determined to get our picture with each one. well. at least hazel was. isaac refused the usa themed rooster, because it looked like donald trump. accurate. but our favorite was the fine art chicken, which was covered in famous artworks, rendered into rooster form. mona lisa, american gothic, frida kahlo, a few van goghs. i took lots of pictures, but as you'll discover, this post is already quite long.
hazel and rooster.

trump.

artist chicken.

rooster + fam.
there were several murals along our little tourist walking strip. at the time, we didn't know that we were about to be ultra mural overloaded later in the day.
anyhow. most of the strip was just dumb shops, playing loud thumping music, hawking terrible souvenirs or cuban clothes. we popped in a couple, looking for a cool sticker, to no avail. the coolest parts of our walk were a quick stop in domino park, where we watched a bunch of old dudes play dominos. an art store type place, where we scored a pretty fun, colorful mug (not shown). and azucar ice cream shop, where we bought some very expensive and fast melting ice cream for the lidkids.
before we left, we scored a tiny little shot of splenda sweetened cuban coffee. but this is when things took a turn. by the time we were back in the car, hazel and anna were covered in melted ice cream, and becoming very frustrated with the clean up effort. i tried to help, but we are going through a thing with one kid now, where efforts to help or give guidance are met with increasing frustrations. so, as i cleaned up and everyone got more mad at each other, our visit to miami fell right into place with other big cities. then. derek spilled my cuban coffee everywhere and that was it. miami was the worst.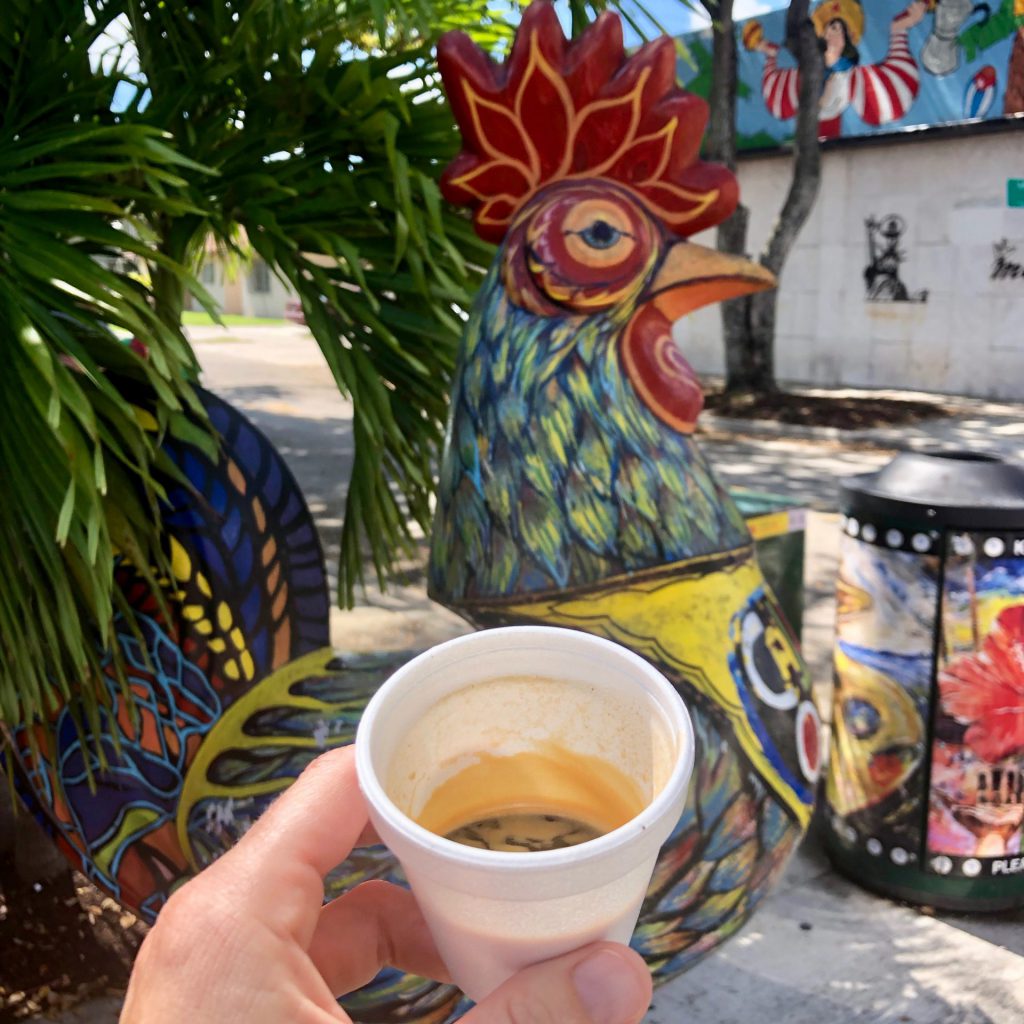 but. we tried to salvage it. first we went to a local bookstore for a bit. the kids read and picked out some new books. i sat in a chair and decompressed. and we chatted with a local mom who told us that a pretty cool place to go was the wynwood walls, a giant collection of murals and art. (and people). we decided to give it a go….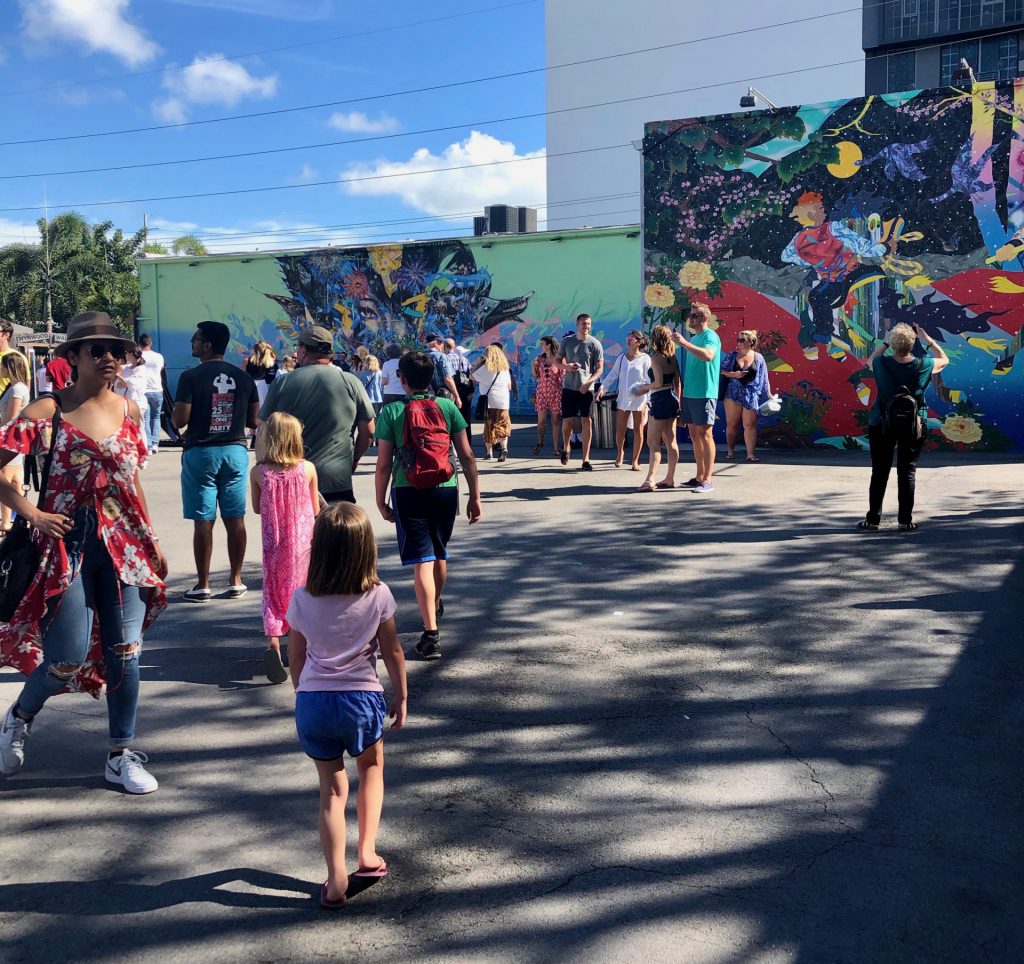 well. she was right. there were soooo many murals. and they were so colorful. we were fans. well. i was. and hazel. the older two fluctuated in and out of various degrees of agreeability and pleasantness. i took about 200 pictures, but i've narrowed it down to a "select" "few" for you. see you on the other side….
there were also several art galleries in the same little courtyard as all the murals, so we popped into those to check out some cool art.
and that was pretty much it. we picked up a few souvenirs, and then hit the road. our campground was about an hour south and we were pretty tired from fighting with a big city. and maybe next time we are near one, we will finally remember that we prefer the wilderness.