soooo. biscayne national park is pretty much mostly underwater. we did some research to try to figure out the best way for our family to experience the park, given our varying degrees of swimming abilities, adventurousness, curiosity, and enthusiasm. we settled on a boat ride out to one of the keys, where there was a lighthouse and a walking trail. on the day of our scheduled trip, the weather was perfect, the waters were beautiful, and we were excited… off we went…
sooooo. about that lighthouse. um. it's not a functional lighthouse. it was built by the rich guy who owned the island in the early 1900s, pretty much for decoration. it's even on the wrong side of the key. ugh. but, we were still excited to climb it and get some pretty views.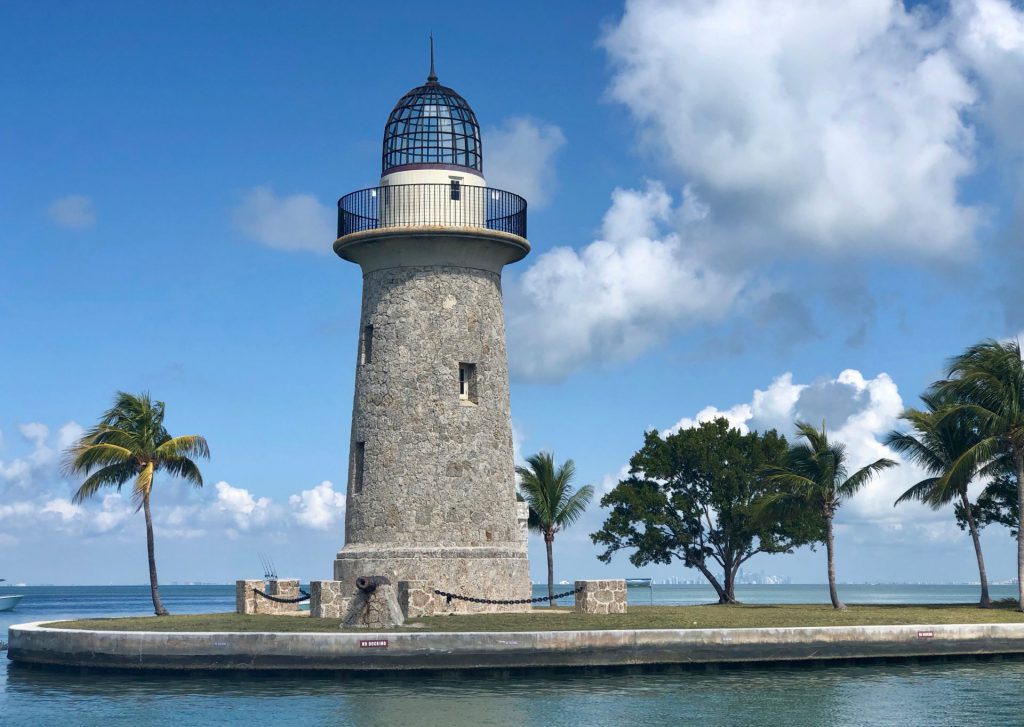 you know. views of all the rich miami folk who had driven their boats over for the day, or to camp, and who were BLASTING music, despite pretty clear signs about not doing that. oh well.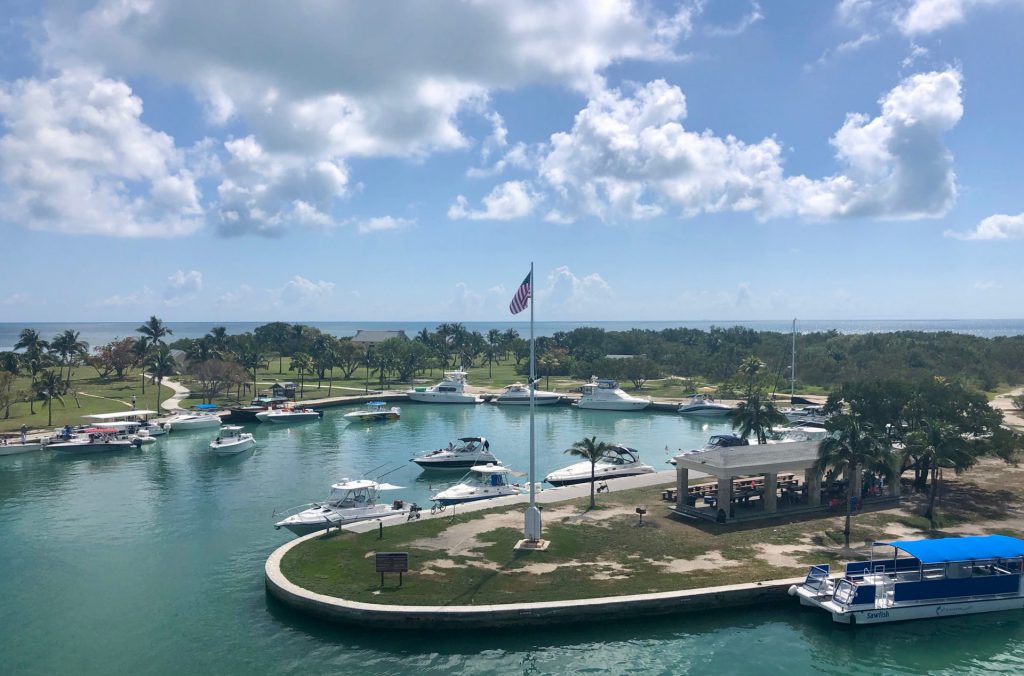 the views in other directions were much more delightful.
we could see the miami skyline in the distance. so, i guess that was cool.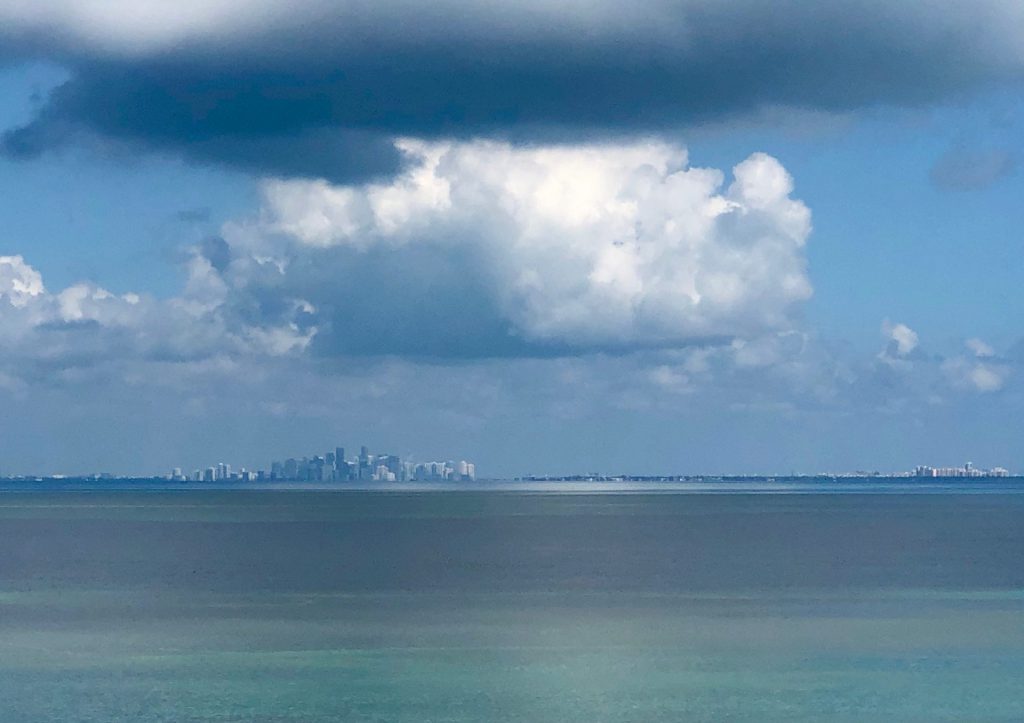 commemorative lighthouse lidkid pic.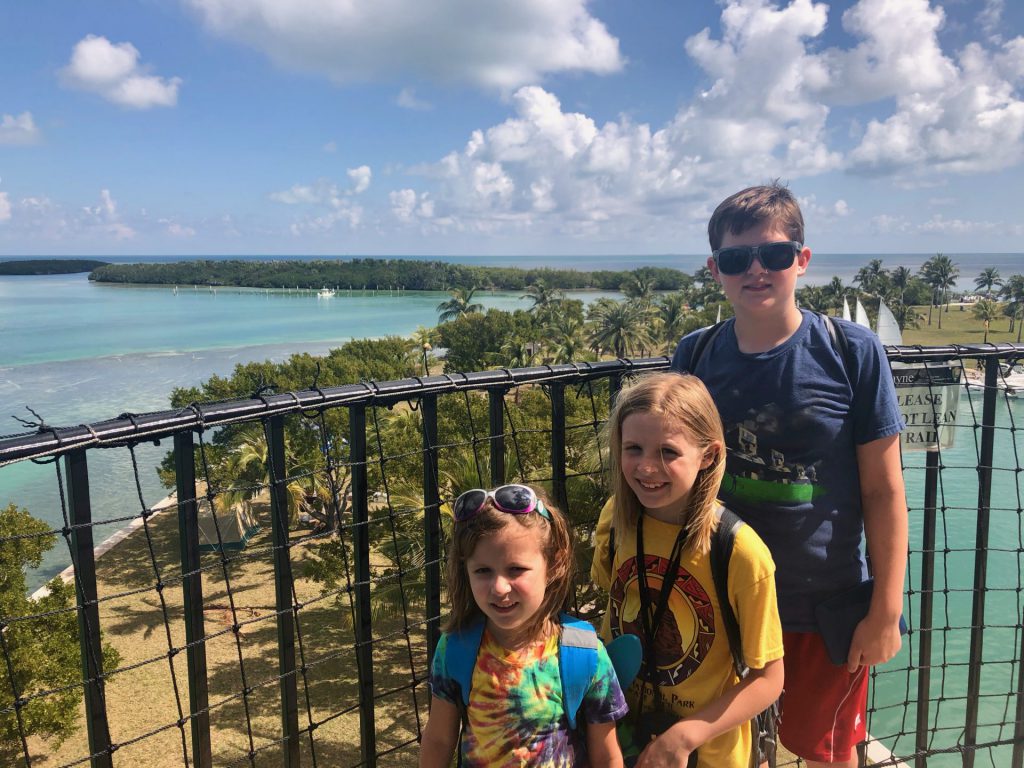 after the lighthouse, we made our way over to a little beachy area. despite how it appears in my pictures, we were stuffed between two docked boats, one of which had a posse of people in a tent on the beach, playing their music for our enjoyment. the girls had fun, finding hermit crabs and tiny old coral bits. isaac even joined them for a moment before spending the rest of his time obsessing over how to get his socks and shoes back on his wet, sandy feet.
hermit crab findings. i tried really hard to get a pic of them out of their shells, but they were pretty shy once they were plucked from the sea.
then, like that, it was time to report back to our boat to head to the mainland. i tried to line up the girls for a lovely parting shot. but hazel was mad about having to leave. (isaac had finally succeeded in getting his feet dry and un-sandy, so he stayed away from the water.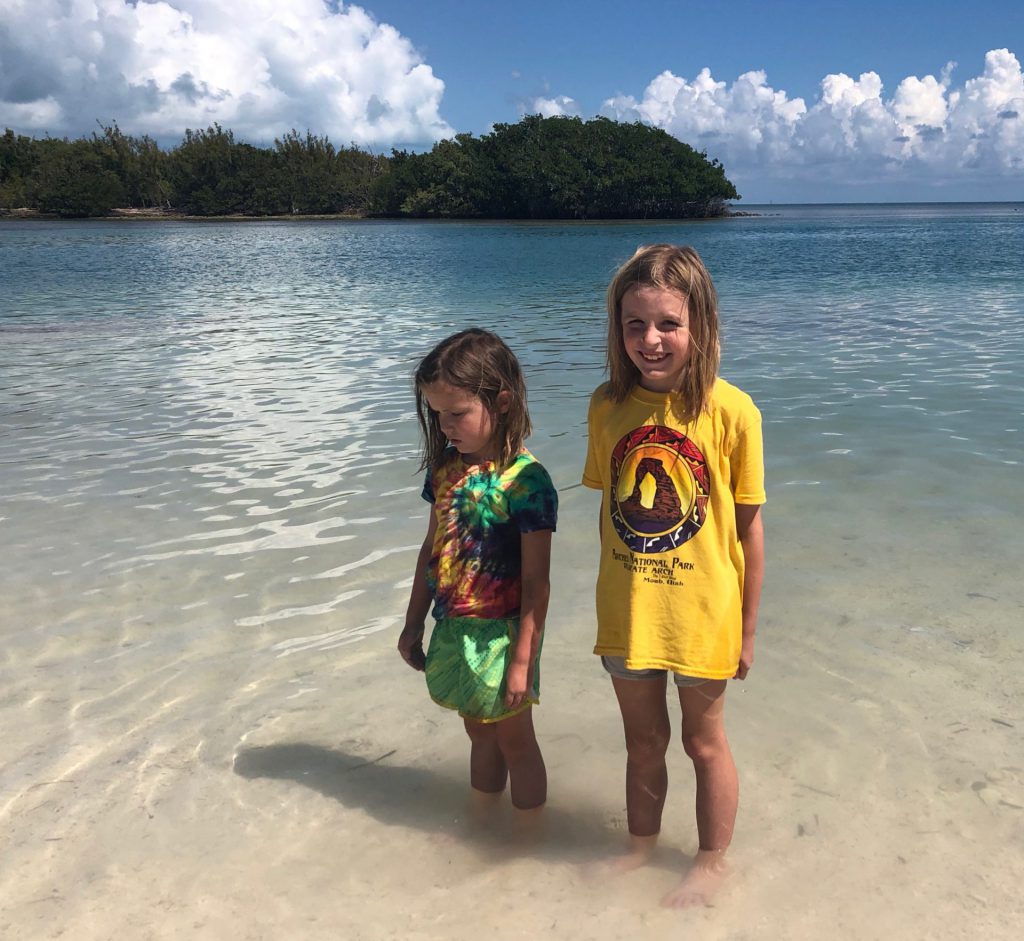 it was determined (by me) that as long as you were looking up, this place was beautiful. palm trees. sunshine. fluffy clouds. but if you glanced down, we were reminded that this was more of a party spot for miami folk than a pristine national park. there was trash everywhere, beer caps, wrappers, broken glass, cigarette butts, old cigars…. lovely.
we walked along the wall of the key, which was pretty, but gave us another reminder of the not natural-ness of the park. we spotted all of the "prop scars" in the sea grass from boaters getting too close and getting their motors down into the sea grass and sandy bottom and ripping it all to shreds. (our tour guide pointed this out from the lighthouse and we even got to watch one such boater carve out a new scar in real time).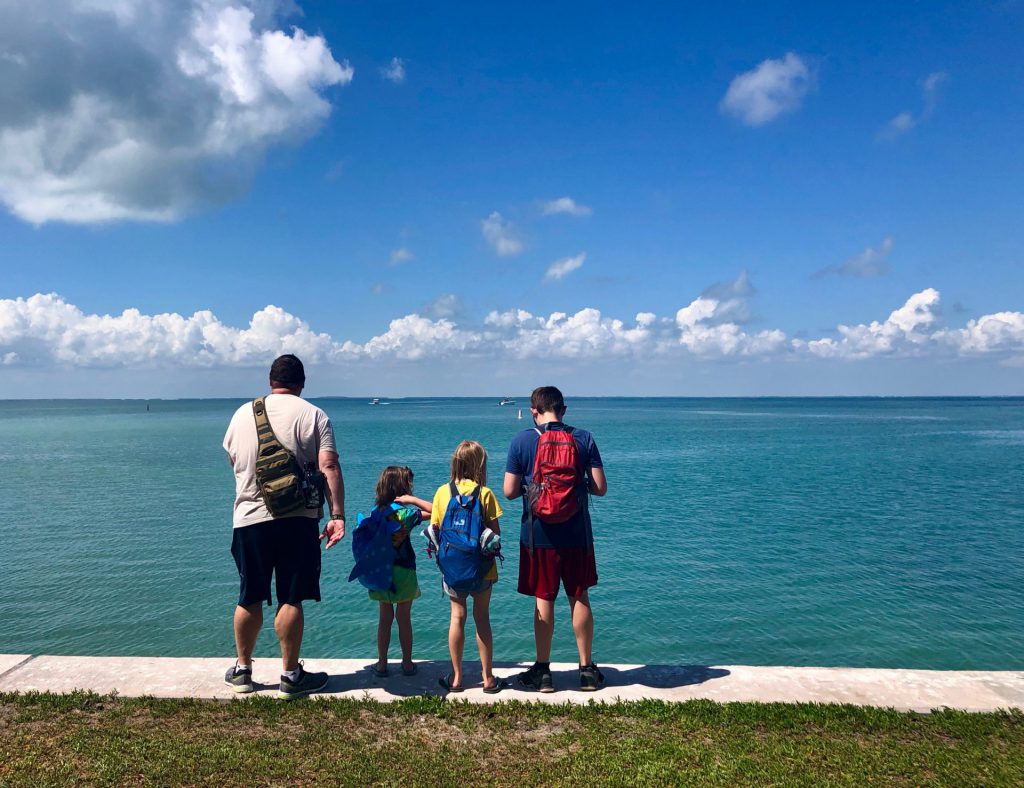 back on the boat, it was a lovely, sunny, splashy ride home.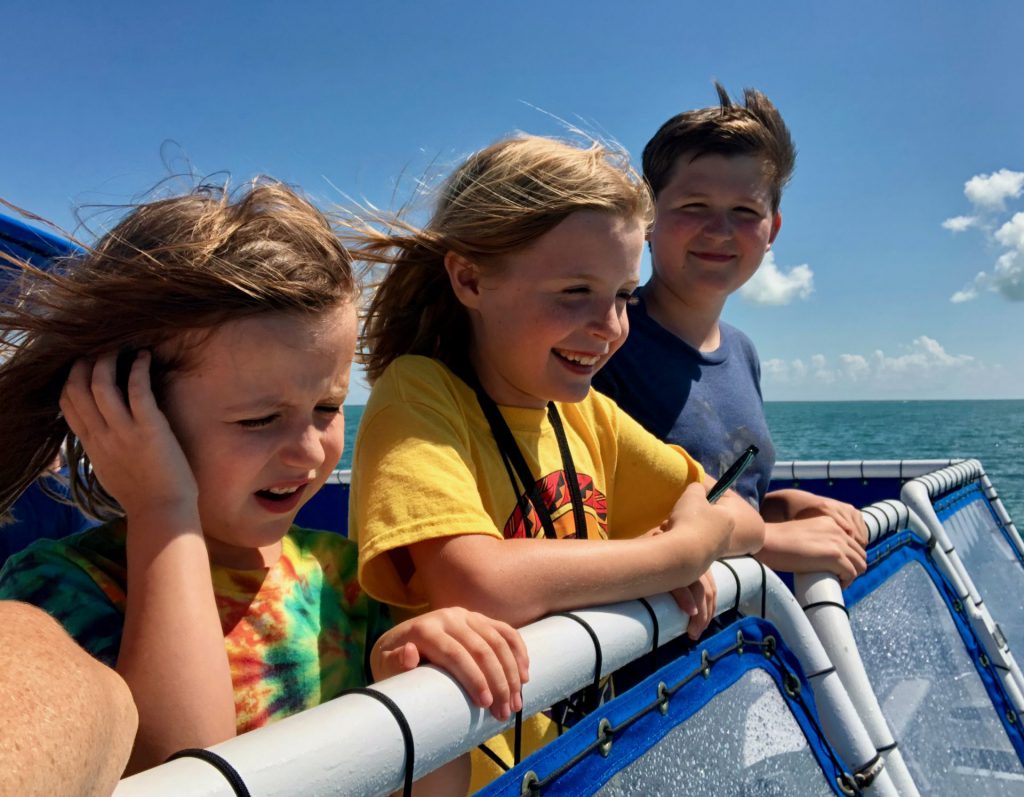 at the visitor center, we finished up our junior ranger books for biscayne, checked out their epic touch table, and got sworn in as junior rangers. this volunteer ranger was one of the best we've had. she looked carefully at the books and asked the kids age appropriate questions about what they saw and wrote for different things. and she gave us a pretty informative little lesson about corals.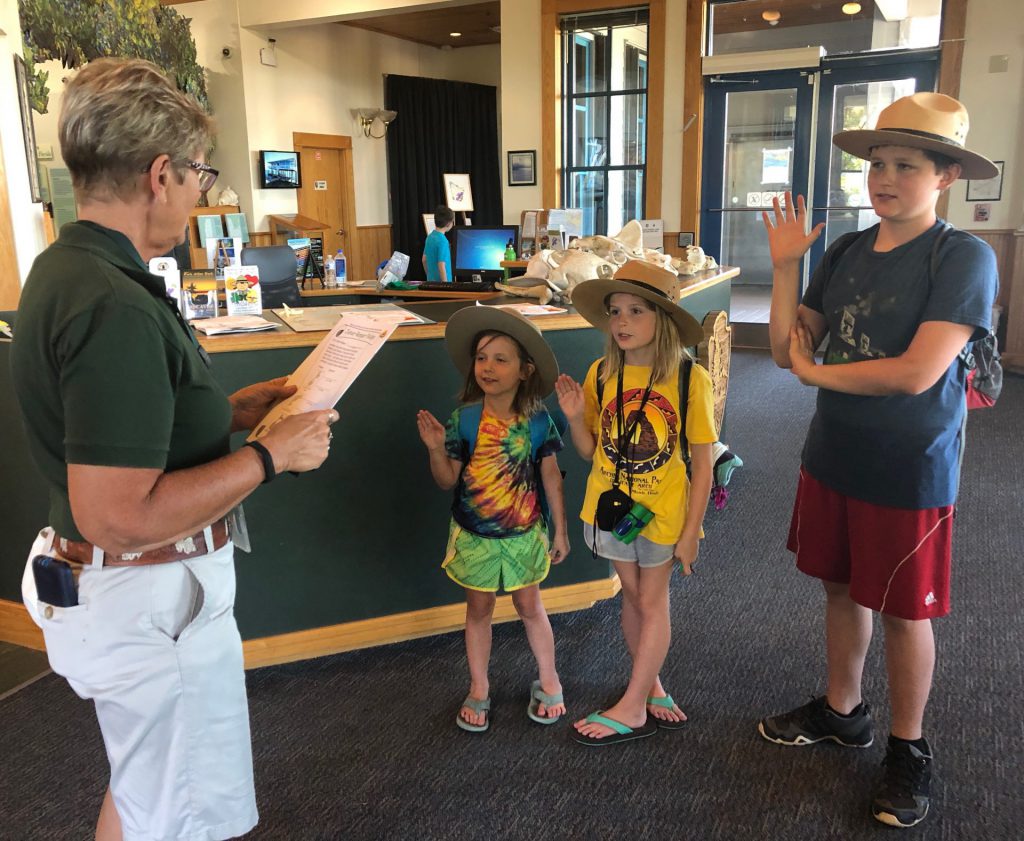 so… the lidkids obtained the trifecta of south florida junior ranger badges, and received the bonus patch. they were super excited about their new flair, as they should be.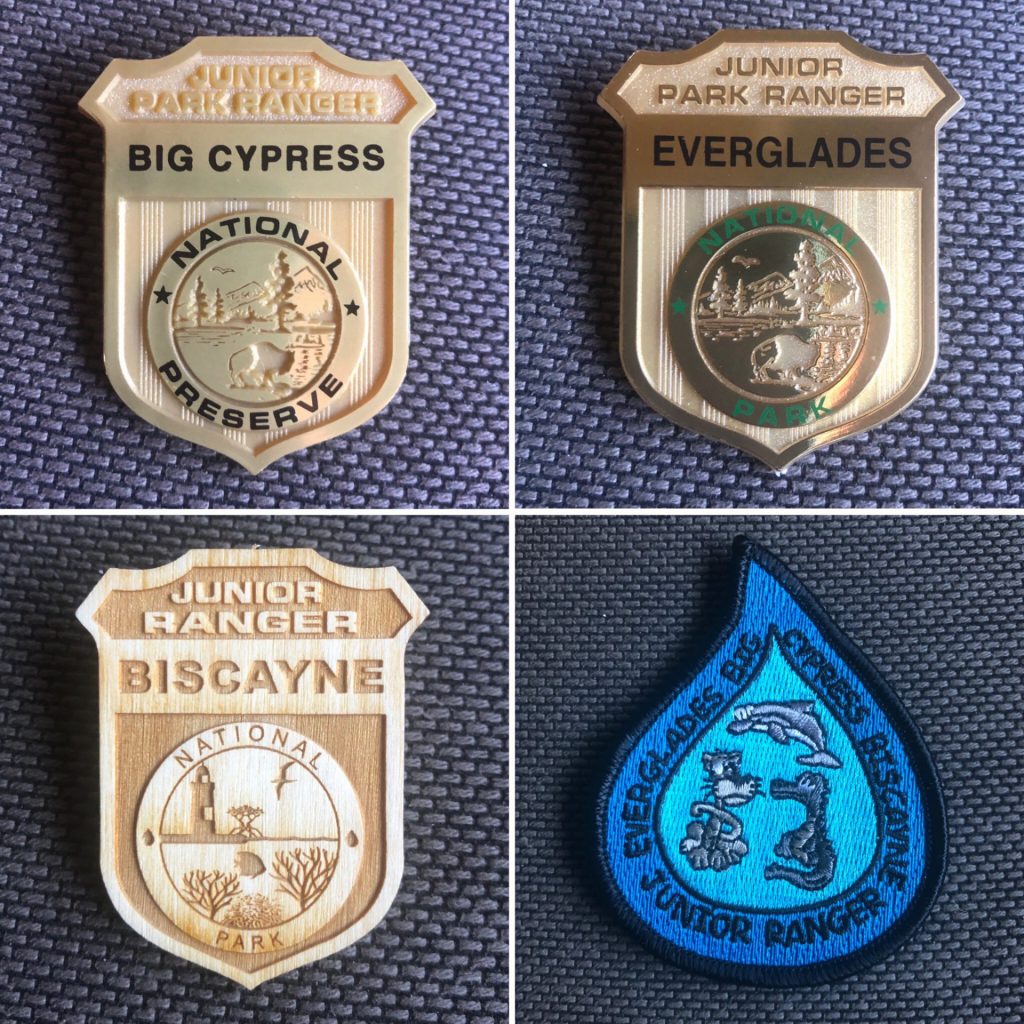 unfortunately, this is the extent to which we would experience biscayne bay. a visit to a party island. hooray. 🙂