as soon as we booked florida keys campground reservation, i knew i had to go to the sea turtle hospital. i had heard such great things about it, and our money goes to a good cause. so, derek booked us a tour in advance, and i'm thankful he did, because on the day of our trip (a random monday), they were turning people away.
the tour was super informative. we brushed up on our sea turtle biology, why they are endangered, and what the hospital is all about.
then, we were off to visit the patients. our first stop was a big tank full of younger green sea turtles, who hilariously kept swimming straight into walls.
then we walked around several smaller tanks, most holding individual turtles with some more serious health issues. some of them had lost hunks of their shells or a fin to a shark or boat. some had been caught in fishing line. some had come in with "impactions" (basically their digestive system is jammed up from too many shells or more likely, a bunch of human trash). one of them just didn't play nice with others. we were sort of in the back of the group, so i had a hard time putting the information from the guide with the turtle she was talking about.
we spent the most amount of time at a big tank (a former motel swimming pool) that gets water pumped in from the sea, and was home to dozens of turtles. several of them had bubbles in their shells, caused by boat hits, which makes them unable to fully submerge in the water, and unable to be released into the wild. the hospital puts weights on them to help with this, but it's not a permanent solution.
we were also able to feed the turtles from the deck of the pool, which was probably everyones favorite part.
on our way out, we walked past a little nursery area for some super tiny tiny turtles. these guys were only an inch or so long, and super cute, and almost impossible to photograph through the mess cover. thankfully, my being in the back of the group paid off for this….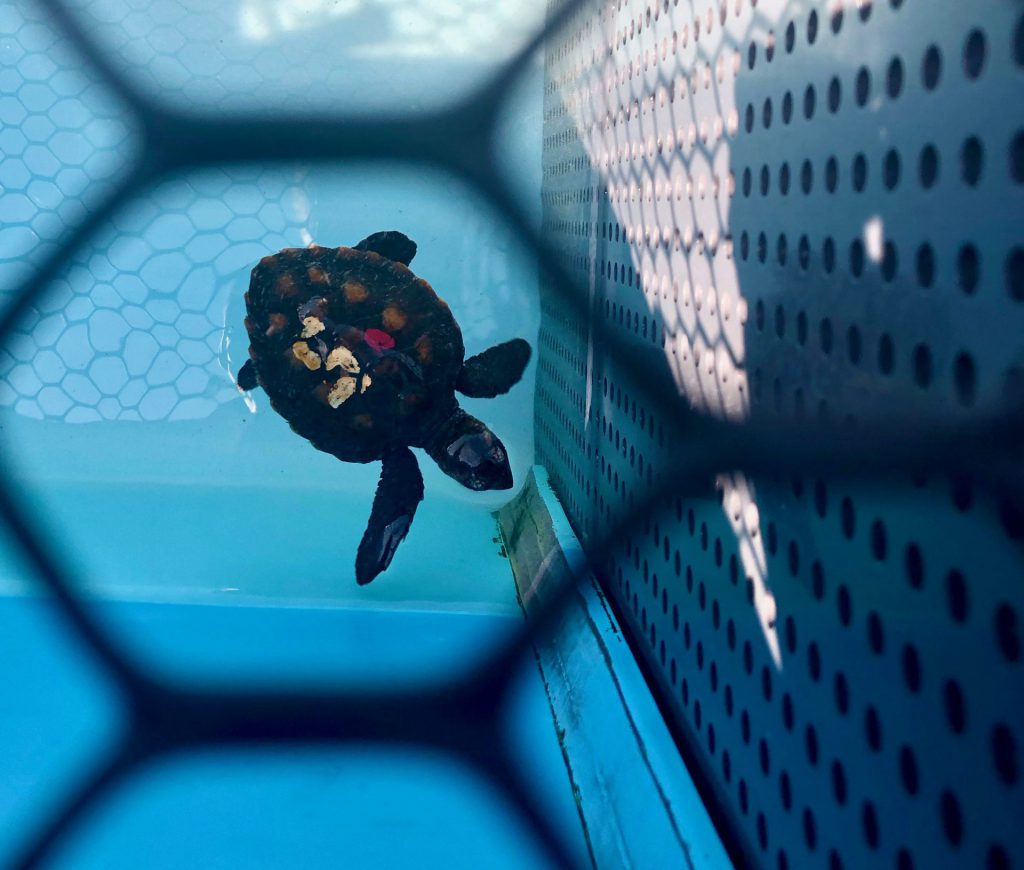 so. this was pretty much a fantastic excursion. hazel has since declared that she wants to be a turtle doctor/rescuer when she grows up, so any trip that gives my five year old a defined career path is a good one. 🙂