after three days (one, two, three) of pretty great adventures and excursions, our charleston trip was winding down. on our last evening, we partook in some local flavors. obviously i had to have a praline. (the kids went with fudge) and derek cooked up some local caught fish. i also strolled over to harris teeter for a selection of various local beers.
prah-leen.

local beers. (the mango ipa was the best).
one of the things on our to do list for charleston was visiting the old slave mart museum. but, upon researching, realized this was probably just too much for the kiddos. lots of reading and information. not a lot of artifacts or videos. :).
so, in the morning before we had to check out, i ditched the fam, and walked over for a quick visit. basically, the museum is located on the actual showroom floor of one of the biggest slave "markets" where african americans were auctioned off like cattle. this one was particularly popular because it had it's own kitchen and jail area, where the slaves could be housed while they awaited auction. you know. fattened up. wounds healed. cleaned up. sickening, really.
the tour was so full of information (and no photos allowed, so this was all i capture of my experience). and the stories of how slaves resisted and fought back were particularly inspiring. part of the museum was devoted to just that. how we tend to focus on the sad, depressing photos and stories that tug at our heart strings, but descendants want you to know the stories of resilience and strength and culture of their ancestors.
unimaginable.
on my walk home, the gate to a local cemetery was open, so i stopped in for a peek.
initially, the plan was for me to get back quickly so that derek could check out the museum too. but, in the end he decided not to go, so we packed things up in the hotel, and rolled out to the curb. while he got the car, we may have skipped across the street to sample and purchase some delicious cookies.
on the way out of town, we just had to stop at boxcar betty's. i had received a hot tip from a fellow traveler that this was not to be missed. and since i was already sufficiently derailed from the keto diet, it was a no brainer. it's basically just entirely chicken sandwiches, with various toppings. i went with the signature "box car" which had peach coleslaw, pimento cheese, some sort of spicy sauce, and pickles. i was skeptical of the combo but it was soooo good.
mmmmm.

the box car.

box car betty's enthusiasts.
while we waited. these faces…
goofball one.

goofball two.
our last stop before the long drive home was a little fabric shop called five eighths seams. i had relatively low hopes, because none of my quilty/travel friends had heard of it, but i was pleasantly surprised. and i pretty much hit the jackpot. the first row is all $10 one yard cuts. i love that castle fabric. and royal family is the cutest (and i'm already making a quilt from it). and those unicorns i will hoard until i die. the middle row is all anna maria horner fabrics that i don't have. and i happened to be working on an epic quilt with my stash of her fabrics, so this was perfect timing. and the last row, just some items i really liked.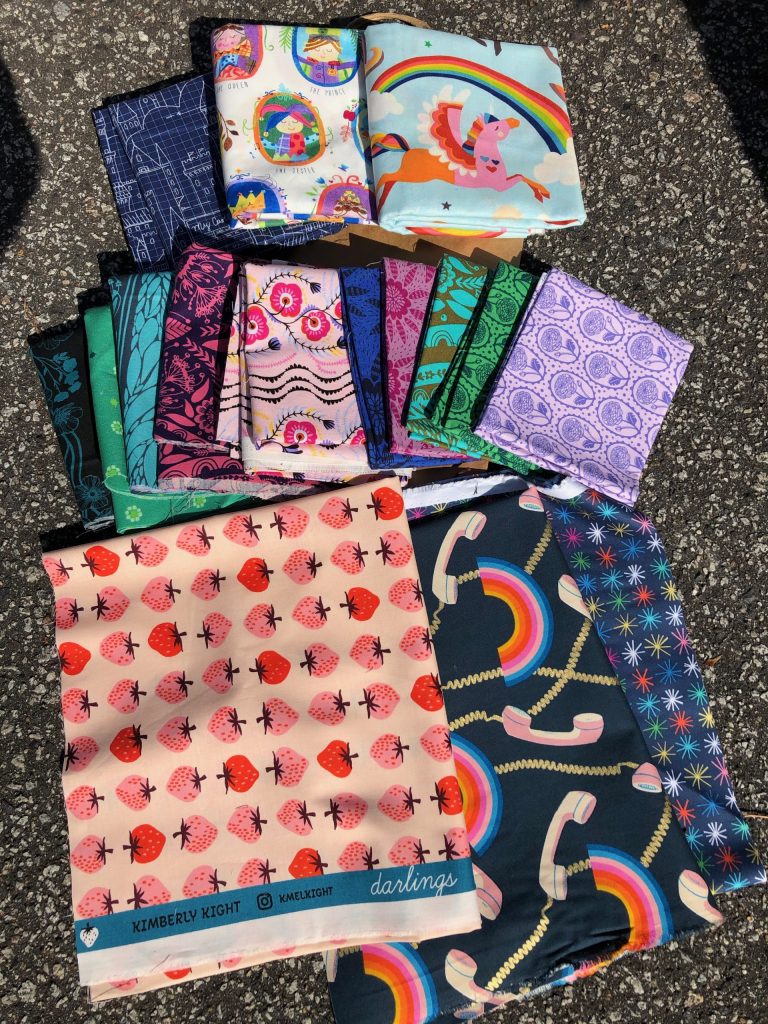 and then. the long and boring drive home. and charleston is in the books.