in the interest of catching this blog up, i'm lumping together all of my sewing and quilting exploits from october and november (and december if i'm being honest because there was literally NONE in that month).
firstly, my pal heather's birthday is at the end of october and she's an avid reader. i shrunk down the "tall tales" paper pieced pattern for these little books to be able to fit three of them on an open wide zipper pouch, and i think it turned out super cute.
in my september sewing post, i mentioned that i had started a single girl quilt, along with hundreds of other quilters who joined an instagram sewalong. it turned out to be one of my favorite quilts ever (but aren't they always?). i used up a lot of scraps, got some sewing mojo back, and brought my quilting journey full circle. my very first quilt was for a baby anna, in 2010, and it was this same pattern, before i had any idea what i was doing.
it spent a lot of time on the design wall, while i contemplated the final layout.

completed quilt top.

stained glass quilt top photo.
when i posted the top to my instagram and asked for quilting suggestions, i was pleasantly surprised when the designer of the pattern, denyse schmidt, commented and suggested horizontal lines in the background, stitch in the ditch around the rings, and vertical straight lines inside the rings. obviously, i took the advice and got to work. (fortunately, straight-ish lines and stitching in the ditch are in my quilting wheelhouse).
the stupid built in kitchen table makes for a great quilting space.
you can't really tell in the next few pictures, but i decided on a dark gray striped sort of binding. the helpful ladies at my local quilt shop suggested it and demonstrated an easy way to make bias binding (because i wanted the pattern to be diagonal). it turned out great. and it was time for photoshoots. and as usual, i took pics in every corner of the house, as well as outside, hoping for the best lighting that shows off the vibrant colors as well as the quilting. it's a hard life.
ruby thinks all quilts are hers.

you can sort of see the quilting.

attempt at quilt swirl photo.
this is the best pic i got i think. you can see the quilting. and it's still mostly colorful. and, you can even see the binding i chose. it is about 62′ square after washing and is perfect for couch snuggles and road trips and it is often hijacked by thieving lidkids.
with my sewing mojo seemingly back, i was hopeful to make a bunch of christmas things. i bought a super cute paper pieced christmas tree pattern, and got to work on some. but then i fizzled out. so, i present to you now, the extent of my christmas sewing for 2019.
i DID, however, manage a pretty epic autumn themed sewing project. when halloween was over and i put away my halloween themed pillow, i needed an autumn/thanksgiving pillow to replace it. tired of leaves leaves leaves, i searched for something different and came across a really intricate cornucopia paper pieced pattern. i wasn't sure my skills were quite up to the challenge, but i went for it anyways. i scavenged my stash, picked up a few extra bits at sewingly yours, and got to work.
there are so many different fabrics, you have to make a swatch cheat sheet.
there were a dozen or so sections, which consisted of small subsections, which consisted of up to 15 or so tiny fabric pieces. it was very fiddly. but, i chugged away. and even found a mistake in the pattern, reported it to the designer, and scored a store credit as a thank you. so, i am feeling quite proud of myself. heeee..
section c.

paper piecing tools.

the back. ugh.

pretty fall scraps.

the final result.
i made the mistake of using a bit of steam as i tried to get this sucker to lie flat and go together. getting some of the last big parts to line up was a bit of a struggle. my only regrets are the yellow striped fabric for the pepper, and the white oval on the stem of the pumpkin. also, you might have noticed, i left out the "we give thanks". i wasn't crazy about it and it was something like 120 more pieces.
anyhoo. i quilted with diagonal lines all over, so it would distract from the pattern. and because it was like four days before thanksgiving and i needed it done. 🙂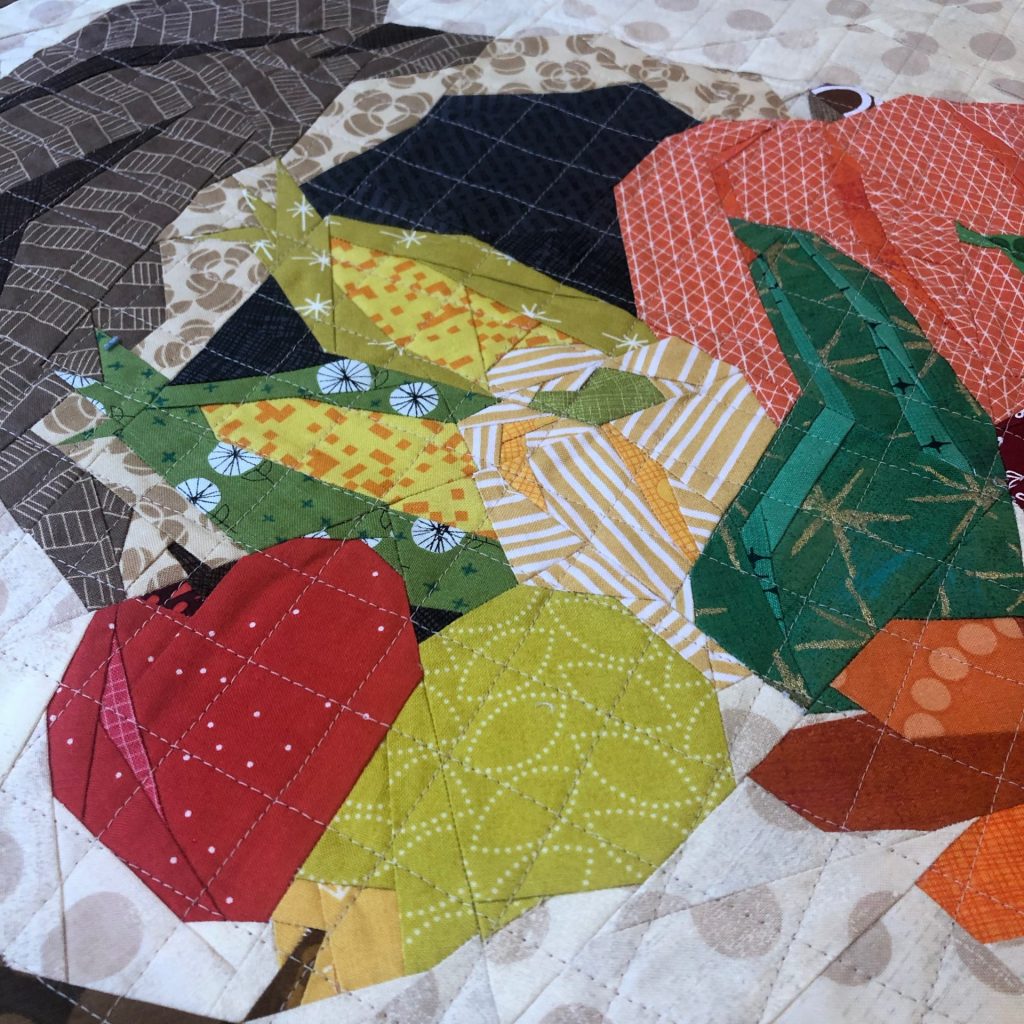 and… i turned it into a ginormous pillow. i'm super happy with it, but i'm sort of nervous about how it will hold up through lidkids and storage and ruby and whatever else. most of the folks that make these finicky patterns turn them into wall hangings, safe from the turmoil of regular usage.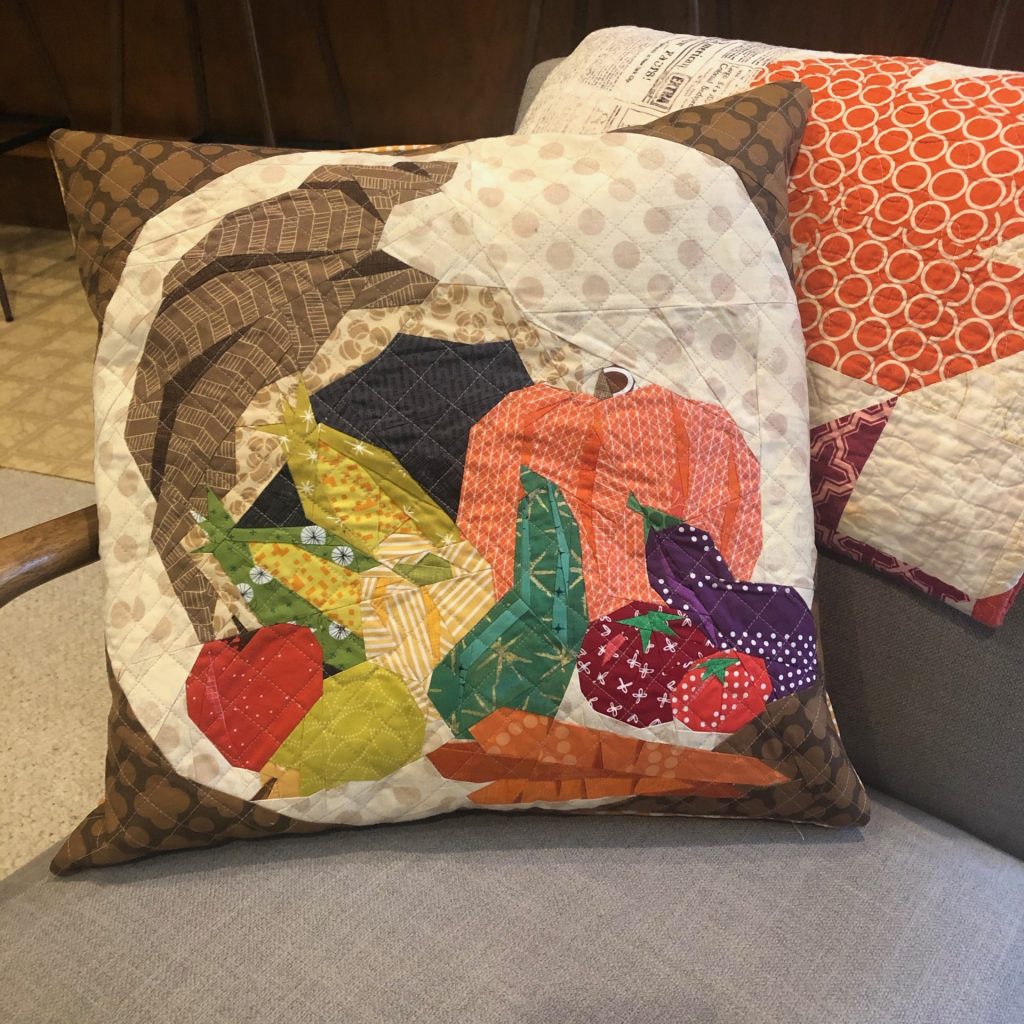 and. that concludes my sewing for the month. year. decade. ha.